This week has largely been clear blue skies, albeit a little cooler than the mini heat wave we had over the holidays - highs have been around 40°F more so than 70°F. But to be honest, we don't mind - in fact, this is exactly the kind of weather we love, especially when, like this week, we've mainly been stuck inside working.
Wastewater Permit Update
And there's been a lot happening this week! 10 days ago, when I wrote our last weekly update post, we had sent our engineer everything needed to submit our Wastewater Permit application. Well, soon after we had confirmation from Vermont State that they had received our application!
The Wastewater Permit is critical, not just because it lets us build a septic system on our property but because it's a prerequisite of our Zoning Permit - the permit we need to begin construction on the property.
So imagine our delight when this week, barely a week later, we had confirmation that our Wastewater Permit had been approved!
This is a huge milestone, so now the pressure is back on us to get the Zoning Permit submitted ASAP so that, hopefully, it's approved by the time we get back to Vermont in early March.
Current Use Exemption
But we were already pretty excited this week as we had confirmation from the state department that our Current Use Exemption application (that will let us clear trees in an area around the house) has been processed by the state and sent to the town for valuation.
And then, less than 24 hours later, the town confirmed they had completed the valuation and sent it back to the state for final processing! Fingers crossed it gets finalized soon, as we really want to start clearing trees while the ground is frozen as soon as we get back.
Tonga Volcano
In a recent blog post I shared that we had bought an Airthings View Plus - a WiFi-enabled air quality monitor that can measure temperature, humidity, pressure, VOCs, CO2 and PM2.5.
Since we already have more than a dozen temperature and humidity sensors around the RV, we were really most interested in the VOC, CO2 and PM2.5 monitoring.
Well, this week it was the barometric pressure sensor that turned out to be the most interesting!
The eruption of the Hunga Tonga volcano in Tonga created a massive shockwave that began traveling around the world. In fact, it was so strong, that we were able to detect it more than 7,500 miles away using the Airthings View Plus in our RV!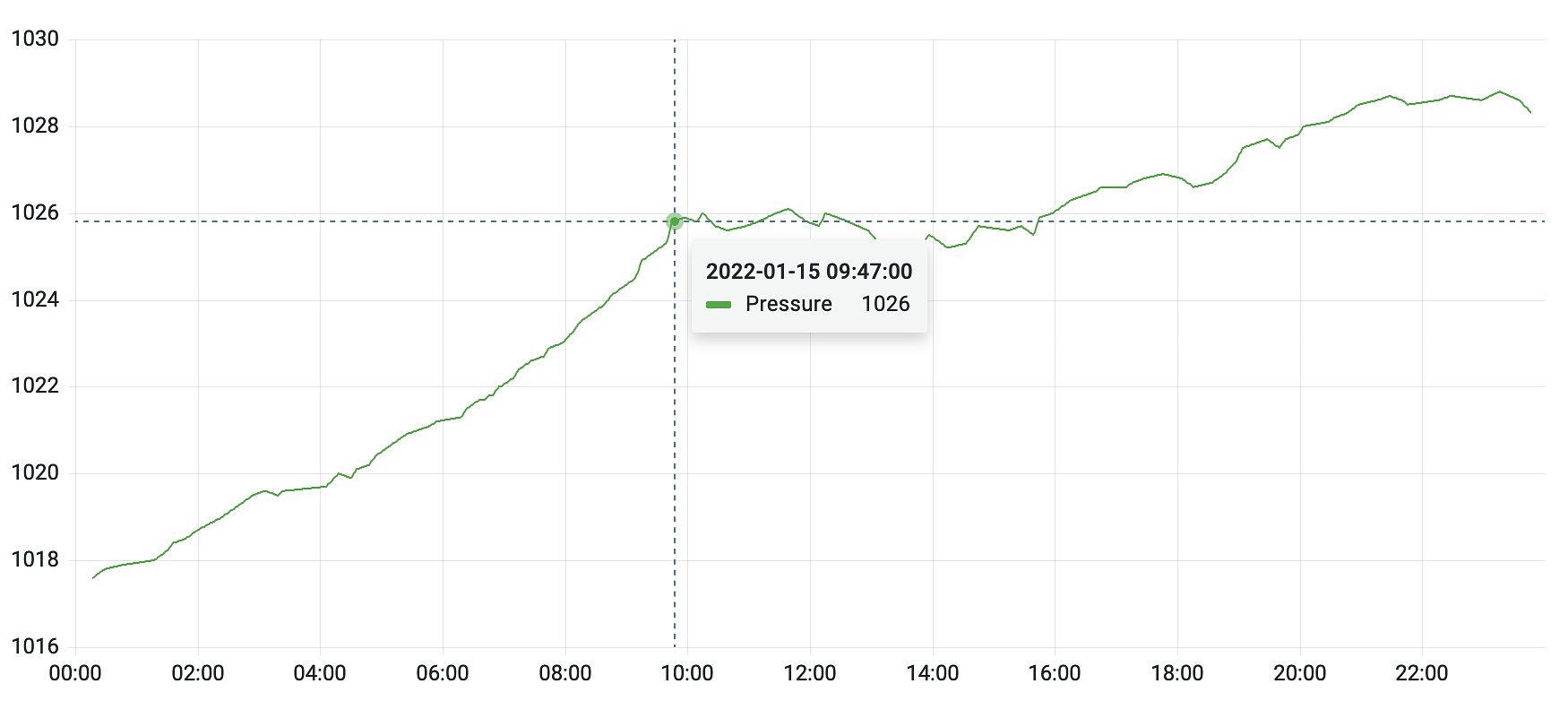 It's a testament to the incredible power of the eruption that it was measurable around the world on simple monitoring equipment like our air quality sensor!
Road Trip
The big focus for us this week is preparing for our upcoming road trip. Tomorrow morning we're setting out on what will be a 5,000 mile road trip over the next 2-3 weeks.
Our first stop will be at the RV Supershow in Tampa, FL where we're looking forward to seeing some friends we haven't seen for a very long time, including Phil & Stacy from You, Me & the RV. I'm also looking forward to seeing the latest and greatest from the RV industry, particularly in the realm of IoT and Smart RV - topics very close to my heart.
From there we'll be heading to Texas to empty our storage unit into a U-haul trailer, before taking it up to Vermont, stopping in Virginia along the way.
This whole trip we'll be without our RV - just us and the truck - because we need the tow hitch available to bring the U-haul trailer back. Our RV is staying where it is, under the watchful eyes of our neighbor and RV park owners, as well as our home automation system and cameras.
Apart from our stay in a hotel for a month this time last year (and we emptied almost everything from the RV into the hotel room), this will be the longest we've been away from our RV since we first hit the road. Needless to say, we're a little bit rusty when it comes to packing so we've been making a very thorough packing list!
I think we've timed our trip south pretty well. This morning when I woke up, it was about 29°F outside - chilly but nothing like the back home in Vermont where it was -12°F this morning! By contrast, the weather forecast for Tampa, FL has highs of around 70°F next week - lovely!