As an Amazon Associate we earn from qualifying purchases.
November heat wave
In Vermont, a typical November sees daytime highs struggling to reach 50°F and nights below freezing.
November 2022 was anything but typical. As November began, we had a heat wave, with daytime temperatures well above 70°F. With so much work still to do, we couldn't pass up this opportunity!
We had just recently completed the septic system, our last big project of the year after also getting our well drilled and electricity connected. We've been felling trees since March, and our log pile had grown, multiplied and grown some more - it was time to get milling.
Milling lumber
Knowing there was no way we could process the hundreds and hundreds of logs we have stacked, we decided to focus on two things:
Build the infrastructure and workflow for milling logs as efficiently as possible;
Process the highest priority logs - particularly some of the large ones.
One reason we hadn't started milling sooner was the lack of clear, flat space where we could stack the boards. With the grading work completed for the year, we finally had a flat area at final grade, just adjacent to the driveway where we could set up the mill.
Using our Dewalt laser and level, we positioned perfectly leveled concrete blocks that would serve as the foundations for a number of lumber piles. We had decided on about 8 piles - each destined for a different board length and wood species.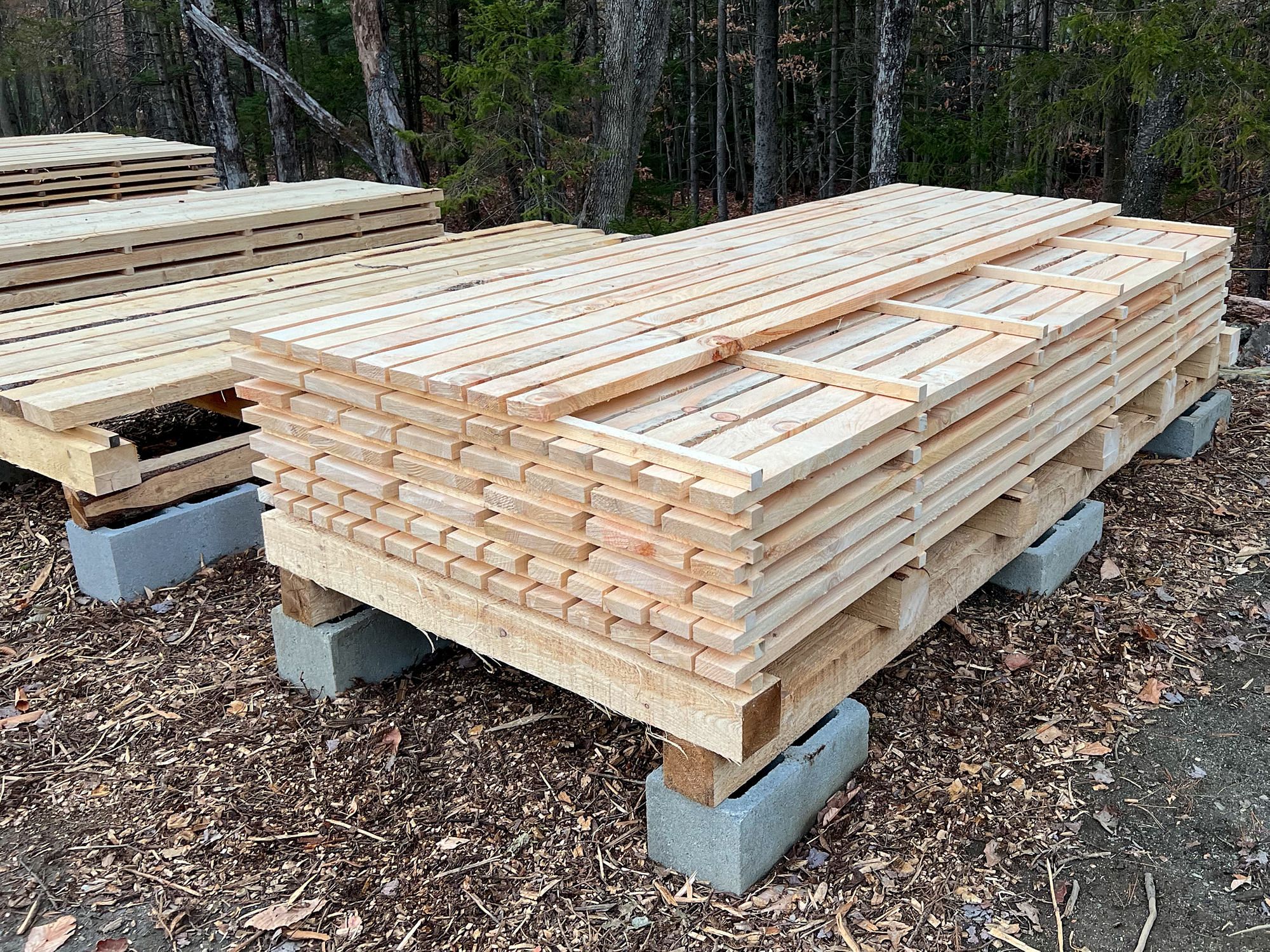 In parallel, we began pulling smaller spruce logs off our pile and loading them onto the sawmill, using it to mill them down into 4" x 4" cants - square-profile lengths to use as rails and bunks to create a perfectly flat, raised stacks for drying our milled wood.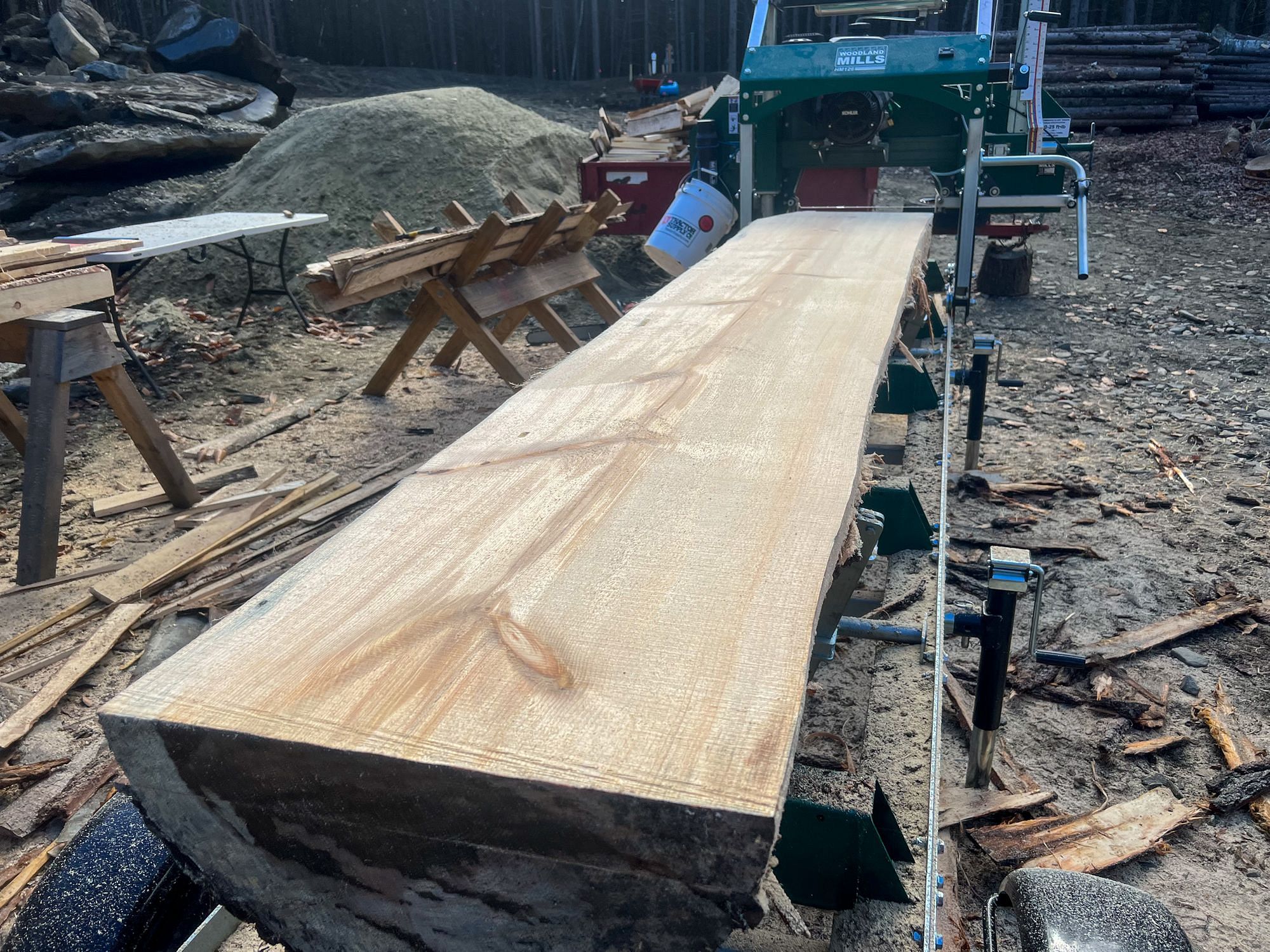 As Diana continued leveling more blocks and building more panels, I continued milling - 4x4 cants, 1x1 stickers (for spacing the boards) and boards depending on the log.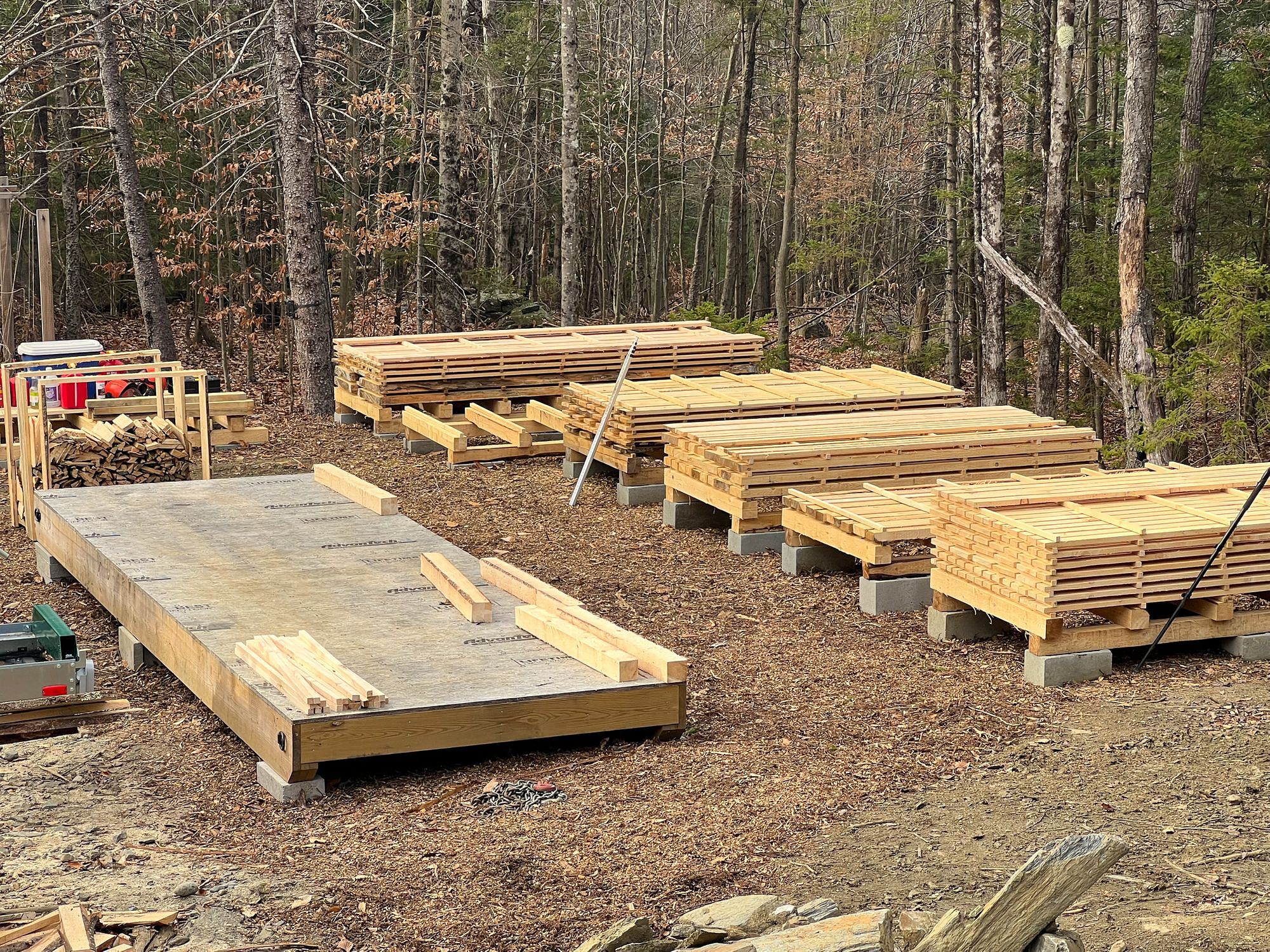 Soon our piles were growing nicely - not just lumber piles, but also our off-cuts and sawdust! Milling just one 8ft log produces 5-10 gallons of sawdust, and lots of bark off-cuts. The sawdust we collected in a bulk bag and later took round to a neighbor to use as mulch.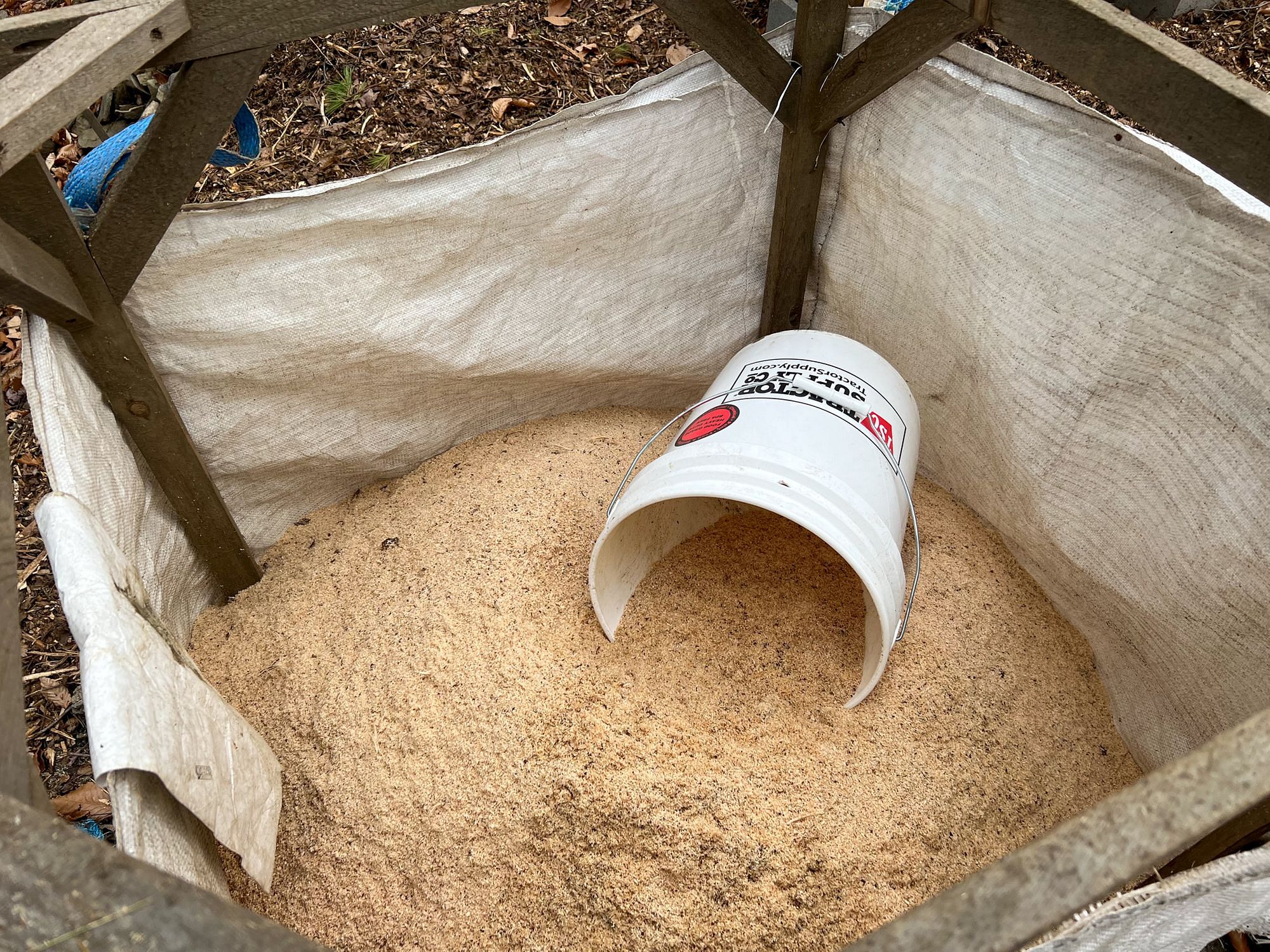 The bark off-cuts (and other small pieces) we cut down to 16" lengths and stacked on a pallet.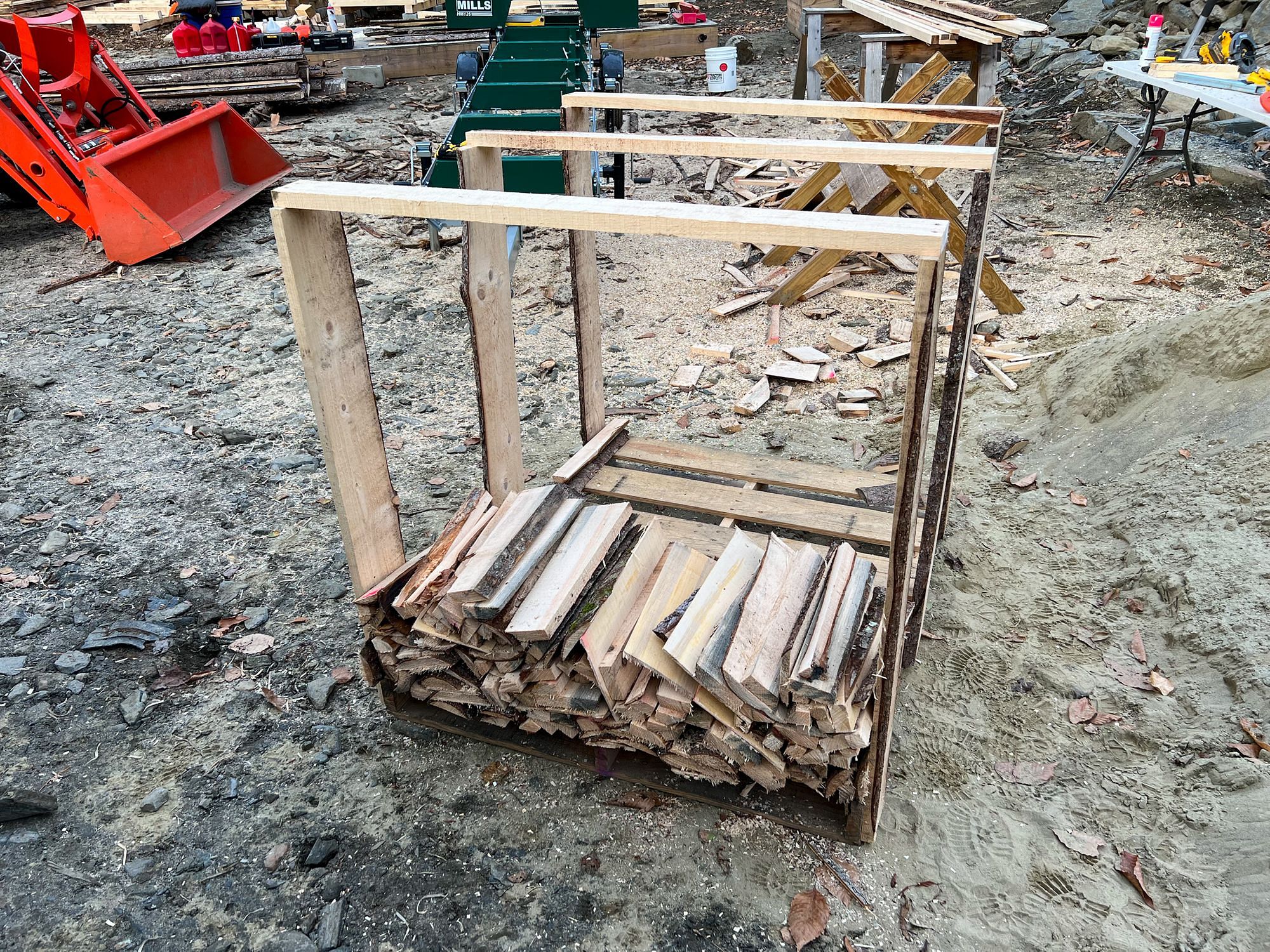 Splitting firewood
As well as milling lumber, we also wanted to split a load of firewood. Over the previous couple of months we had been taking logs too small to mill and cutting them down into 16" rounds for firewood using our Mingo Marker to make the process quick and easy.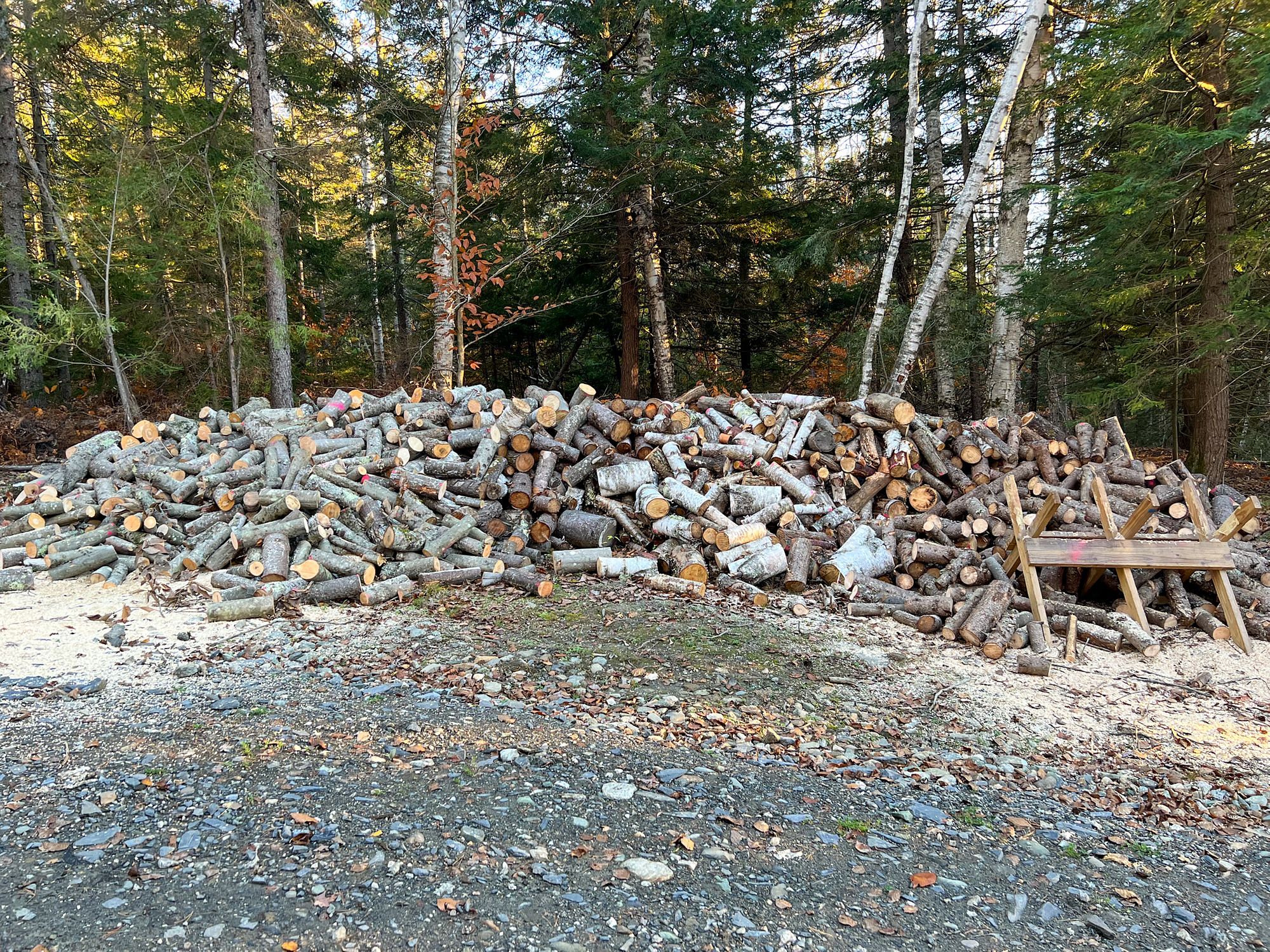 With our pile of rounds having grown absolutely huge, it was time to rent a log splitter. In anticipation of that, Diana designed a system using pallets to allow us to stack the split firewood, and then move the pallets around with the tractor.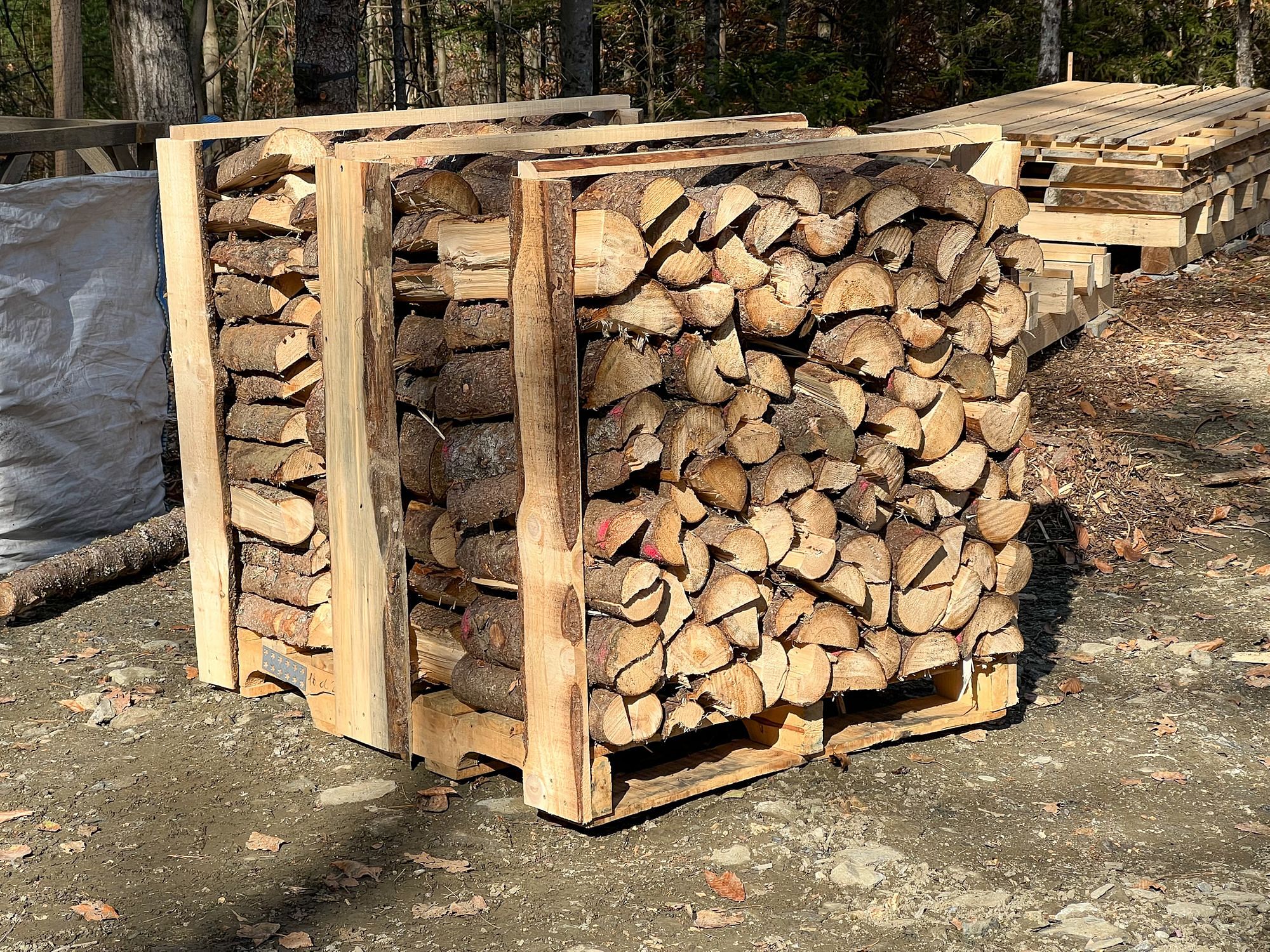 In the end, we had to rent the log splitter for two full days and we split almost 6 cords of firewood - the spruce mainly stacked on the portable pallets because it's light enough for the tractor to lift, and the heavier hardwoods loaded into the wagon and stacked in a more permanent position.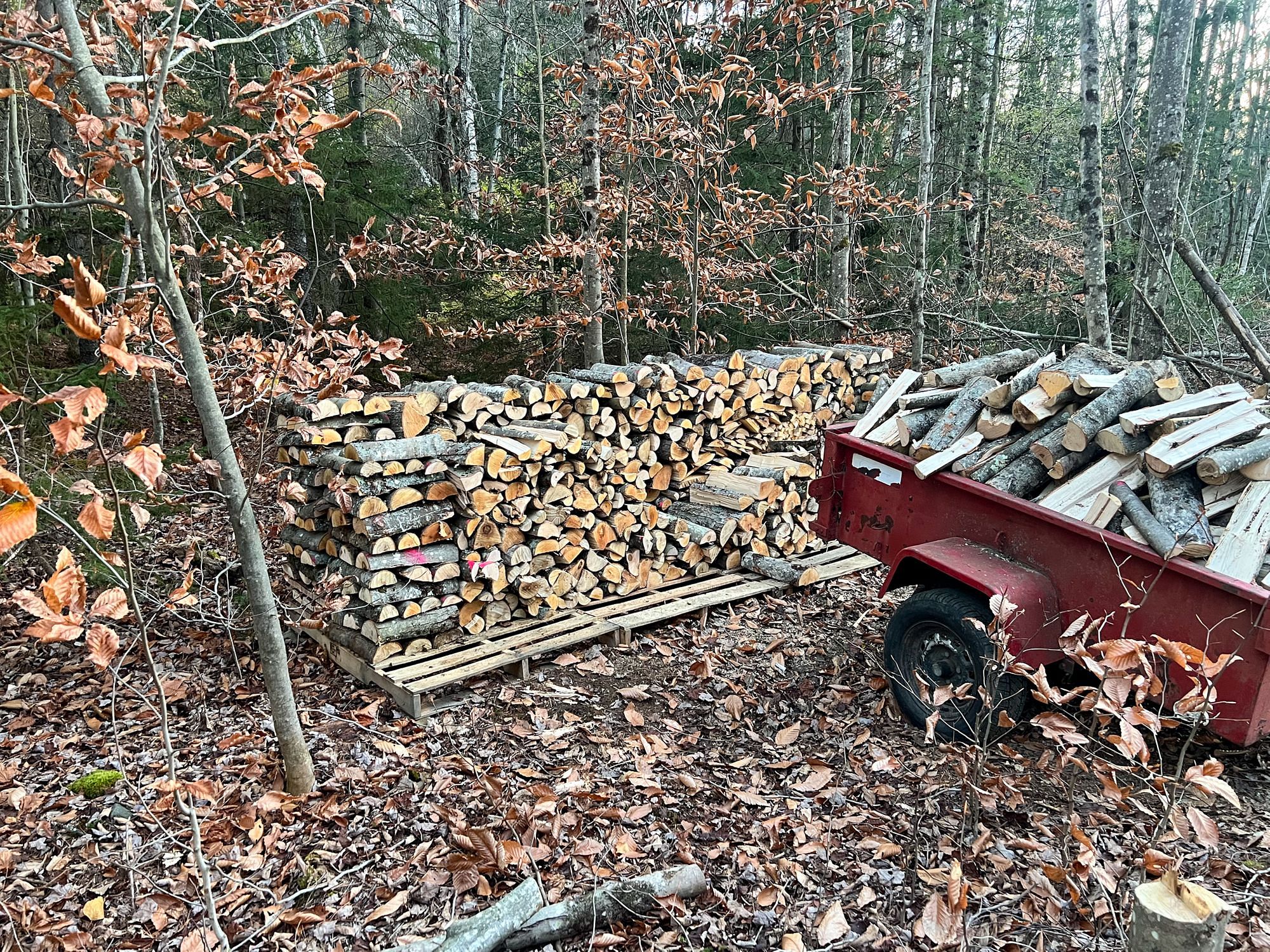 A hard few days' work, but good to have completed so our firewood can begin drying.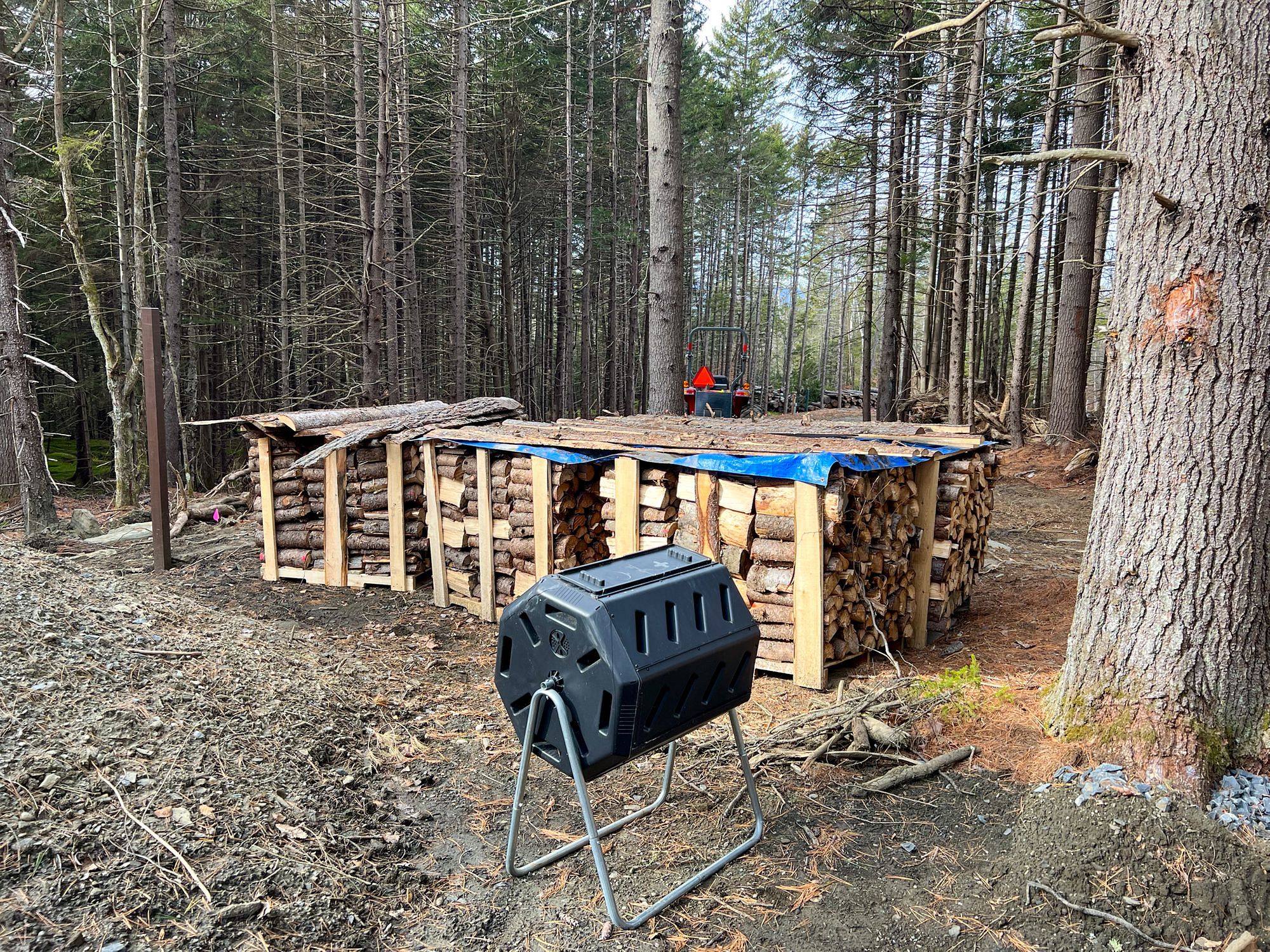 With both the firewood and lumber piles we covered them with a combination of tarps, used roofing panels that I had picked up cheap earlier in the year, and some bark off-cuts - mainly to add some weight and stop the roofing panels and tarps blowing away.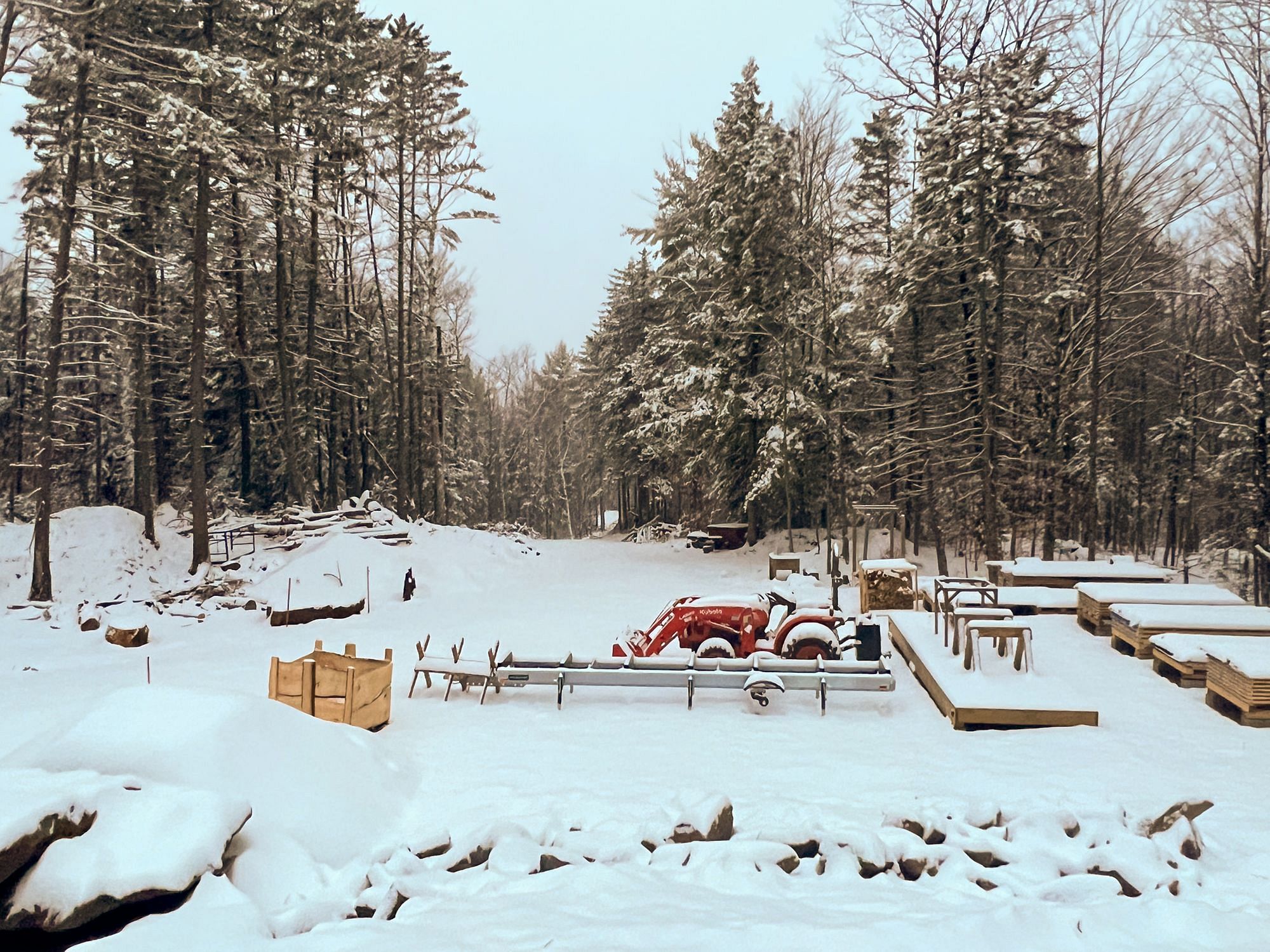 While we don't have a lot of use for firewood right now (just campfires and maple syrup making), the wood will at least begin drying and more importantly, it's out of the way! Around us, a cord of seasoned wood has been selling for around $200-300, so the ~6 cords or so that we have split is worth around $1,200-1,800 - or at least it will be when it's dry!
Winterizing
The weather turned cold almost overnight - plummeting from t-shirt highs to freezing temperatures and snow. Our plan was to leave Vermont just before Thanksgiving - leaving the RV stored on the property, and parking our truck at our friends' house.
It was time to turn our attention from building projects to winterizing - getting everything put away safely for winter, and preparing the RV for storage.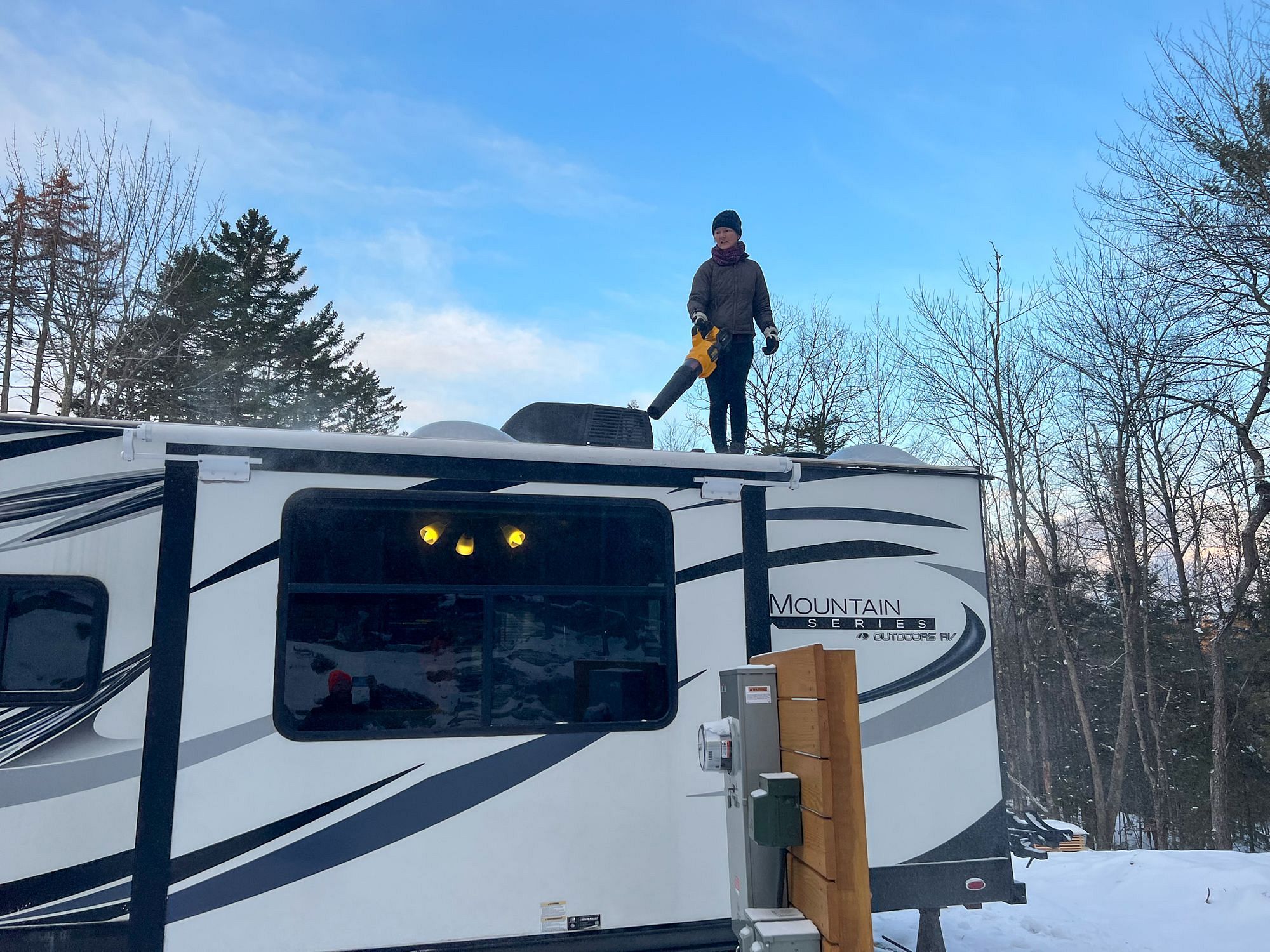 We have an off-site heated storage unit where we were able to move anything that we didn't want to freeze during the winter, as well as anything particularly valuable for which we wanted a little additional security. We had been steadily eating down most of the food in the RV, and by the time we left we just had a couple of totes with dry pantry items sealed inside that we left with a neighbor.
Having bought our rented shipping container earlier in the year, we planned once again to use it for secure, dry storage over the winter for as much as we could fit inside! Last year we had managed to fit our tractor and entire sawmill, but having since installed shelves, we had less space now.
However, with some very creative packing, we managed to fit everything inside that we wanted. Pretty much the only thing left outside was the sawmill trailer - we detached the saw-head and managed to fit that in the container to protect it from the elements.
That just left the RV itself. We emptied out anything that might be susceptible to damage from the cold, and removed anything that might be tempting to mice or other animals that manage to find a way inside - food, scented items and most textiles all removed. We followed the steps in our owners' manual to winterize the trailer and as our final act before leaving the property, wrapped it with a breathable RV cover to provide even more protection.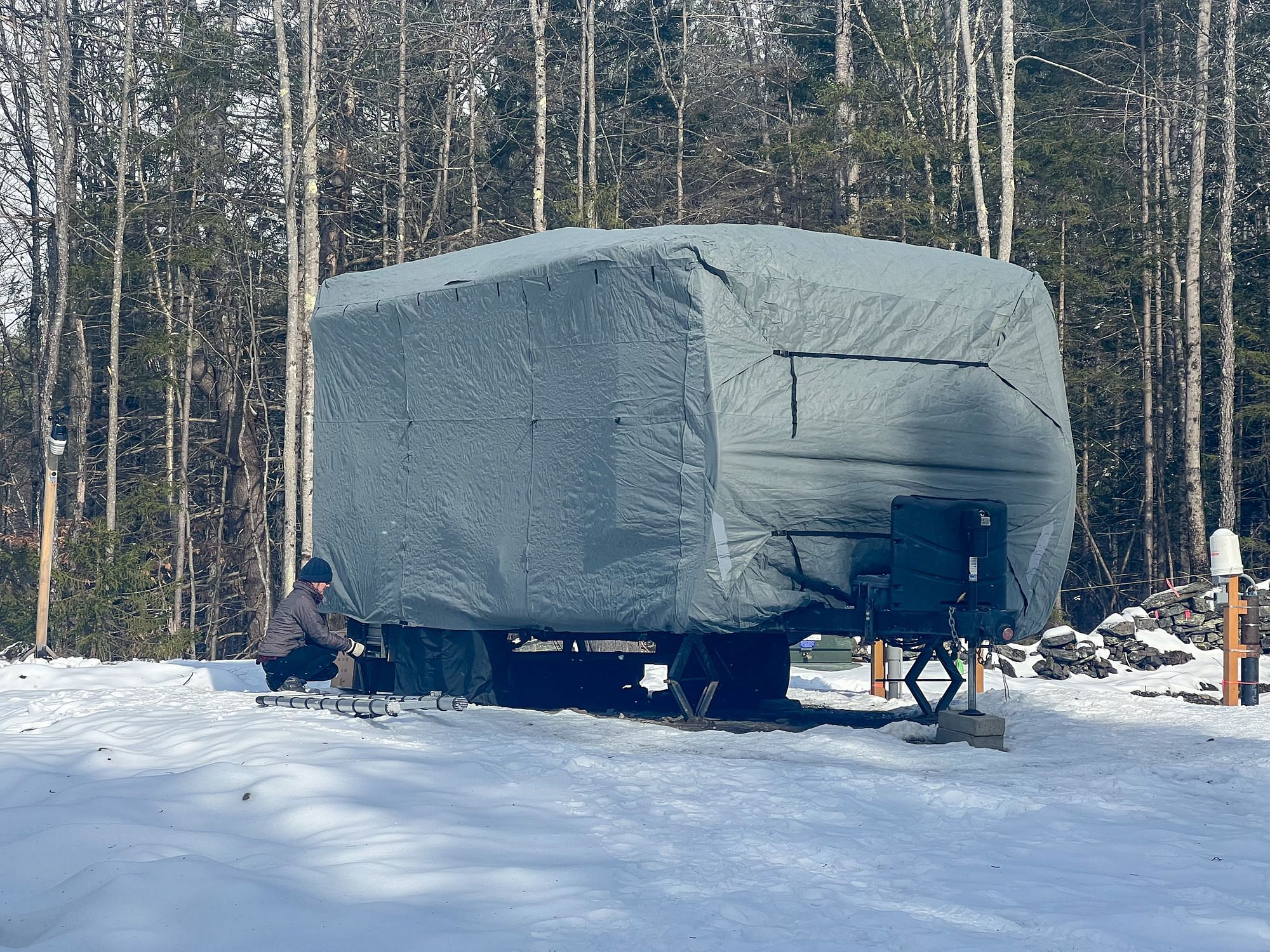 As well as the RV cover, we also installed some RV wheel covers too. During the trailer's inspection in November, we had to replace all four tires on the trailer due to both wear from mileage as well as degradation due to UV exposure. These new wheel covers will help protect our new tires - especially important since the RV is largely stationary while we're building our house.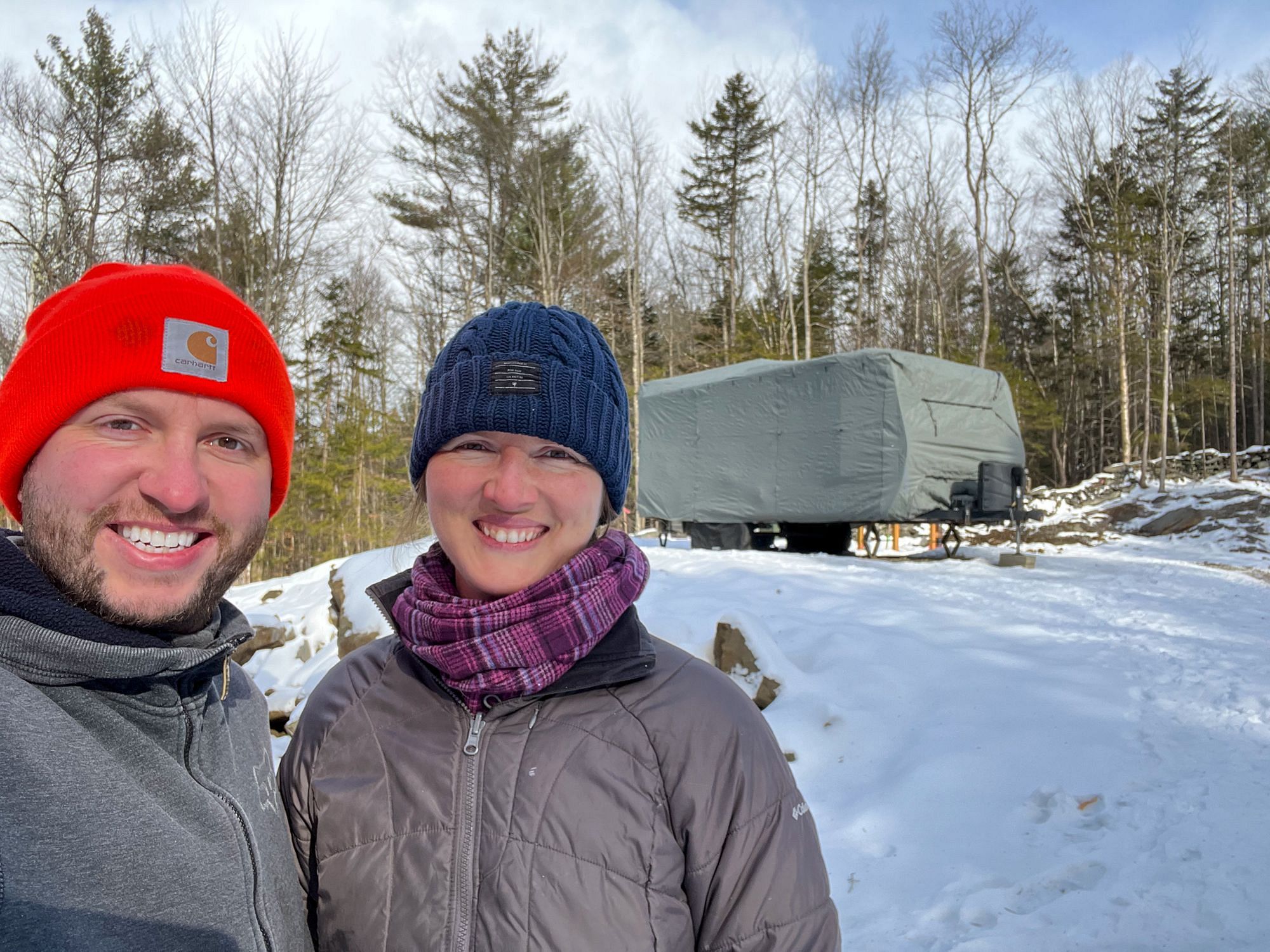 Our to-do list had well over 100 tasks on it, but we organized them by day, counting down to our departure day to make sure that things were done in the right order and nothing was missed.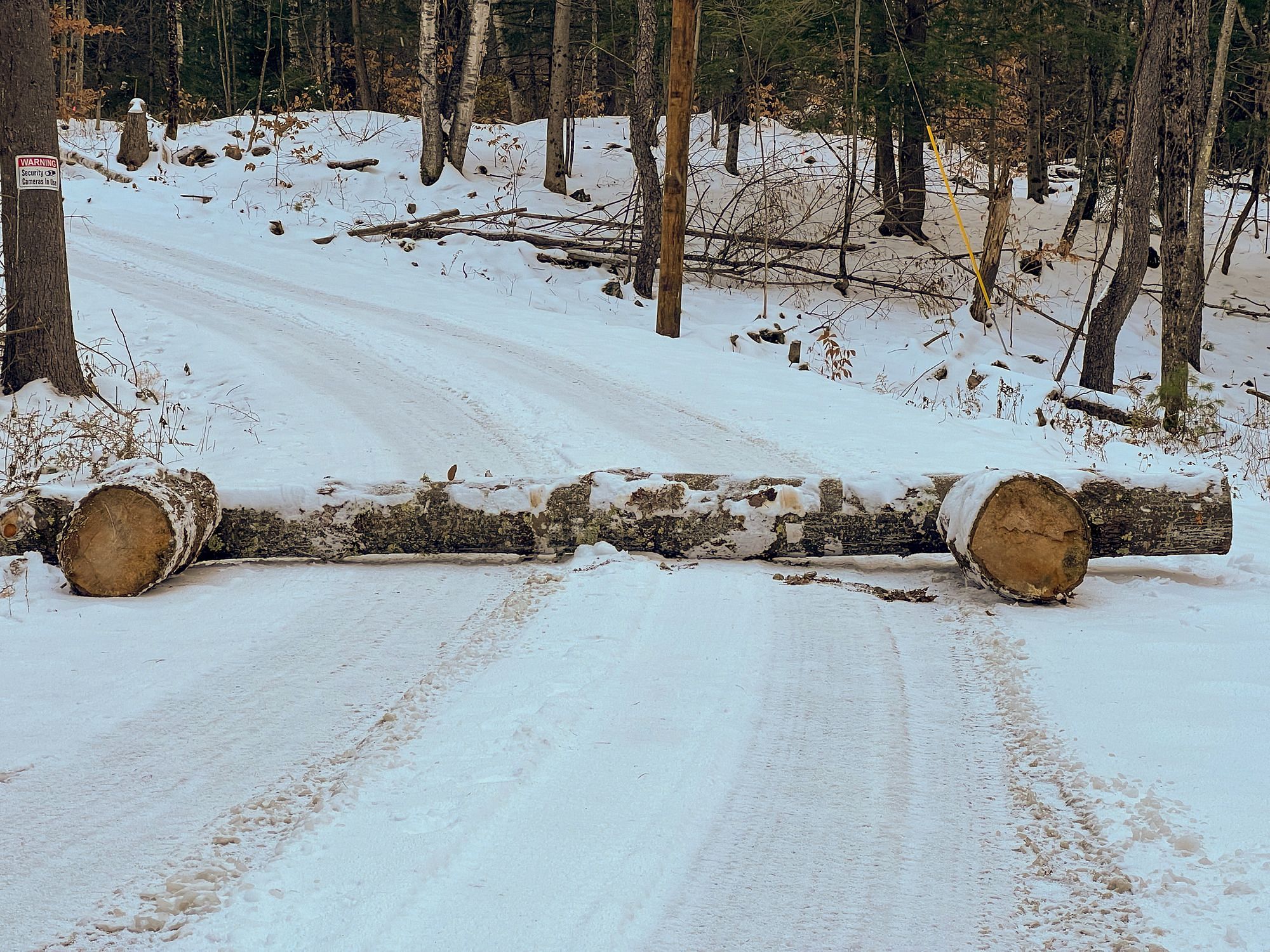 Remote monitoring & cameras
We disconnected power to the RV to protect it from any power surges and hopefully make it as safe as possible for the winter. With the power off, our home automation and monitoring system was completely shut down too.
We wanted to be able to remotely check in on things, so I mounted a weatherproof enclosure on our electrical backboard within which I installed a simplified monitoring system. To provide connectivity, we used a cellular modem / router that I had found earlier in the year at a thrift store for just $10.
I decided to use Home Assistant to manage everything, and installed it on a Raspberry Pi 3B+ I had lying around, but also connected a second Raspberry Pi for redundancy too.
Using an RTL-SDR, this lets me intercept the 433MHz temperature and humidity sensors around the RV, as well as our AcuRite Atlas weather station. We then redeployed our Wyze Outdoor Cameras - one in the RV and one outside - and connected the base station to the monitoring box as well.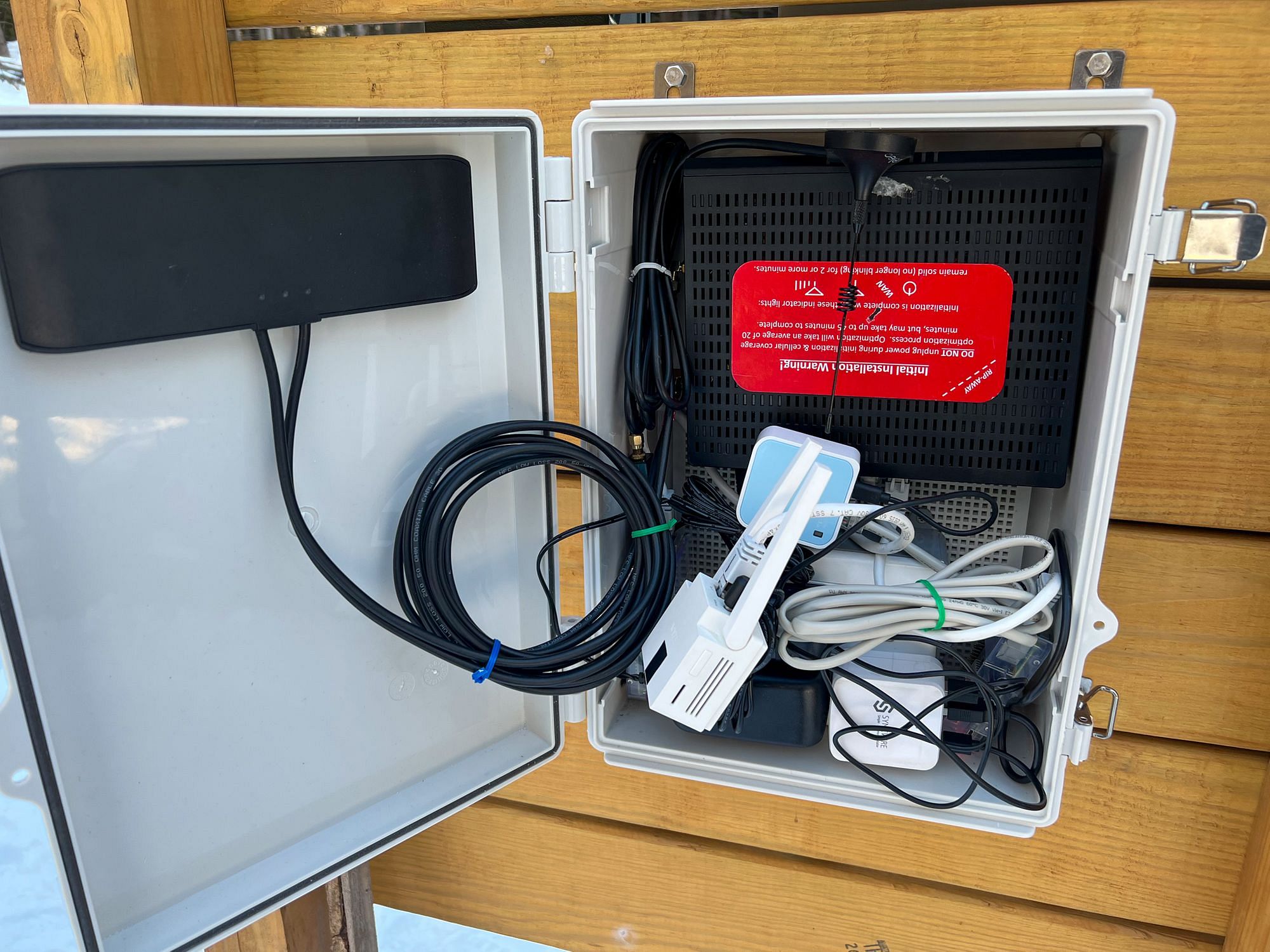 While the temporary setup is by no means perfect, it's been running really well the entire time so far and gives us great peace of mind being able to log on and check temperature or view the cameras wherever we are in the world.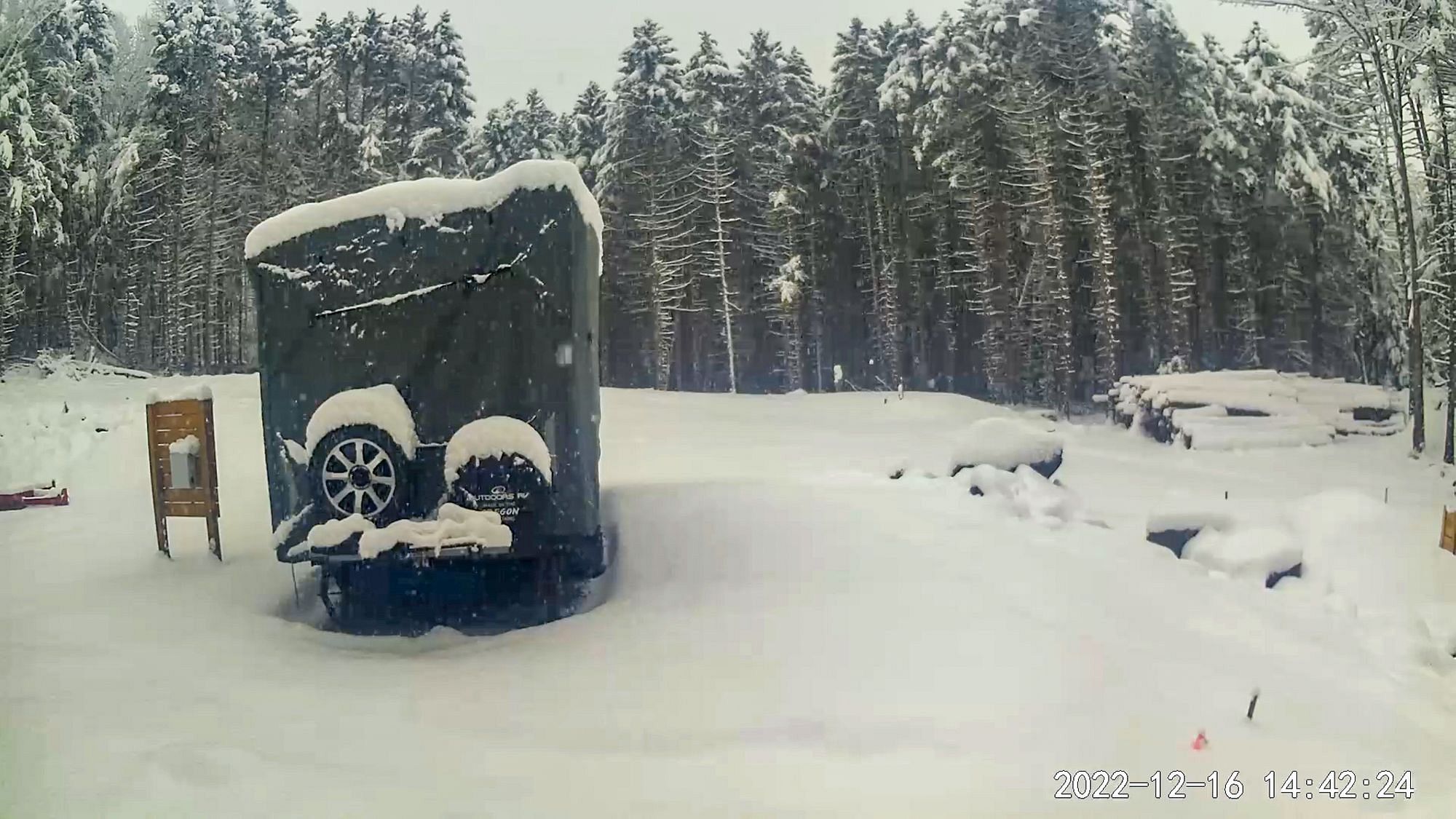 Thanksgiving in New York
With everything safely packed away and winterized, on Sunday November 20th, we were finally ready to leave Vermont for the winter.
We headed to our friends in upstate New York, spending a week over Thanksgiving with them. It was great to hang out with friends, relax by the fire, and frankly just recharge a little after a chaotic few weeks of lumber milling, firewood stacking, sorting, tidying, packing and winterizing!
Our friends had kindly agreed to not only let us park our truck at their house while we were in Europe, but also to periodically run it to keep the battery charged and make sure everything was running smoothly.
A few days after Thanksgiving, our friends dropped us at the Amtrak station to take the train to NYC. After comparing flight options to London, we had chosen to fly out of JFK using credit card points to pay for the transatlantic flights.
For the first time we tried using Apple AirTags to track our luggage on our journey. Despite having read mixed reports about how effective they would be, we found them to work really well! They let us keep an eye on all our bags and make sure our checked luggage made it onto the plane too.
We always prefer arriving early at airports and then hanging out in the lounge - much less stressful than arriving last minute. We had given ourselves plenty of time but the journey went quicker than expected so we ended up arriving 5 hours before our flight!
Seeing family in Europe
As we shared in a previous blog post, our plan is to spend this winter in Europe.
Diana's family is in Latvia, and mine is in the UK. We haven't been back to Europe to see family since 2018. In fact, we haven't even been on a flight since then either - quite a change given that before we started RVing in 2018 we were flying about once a month on average!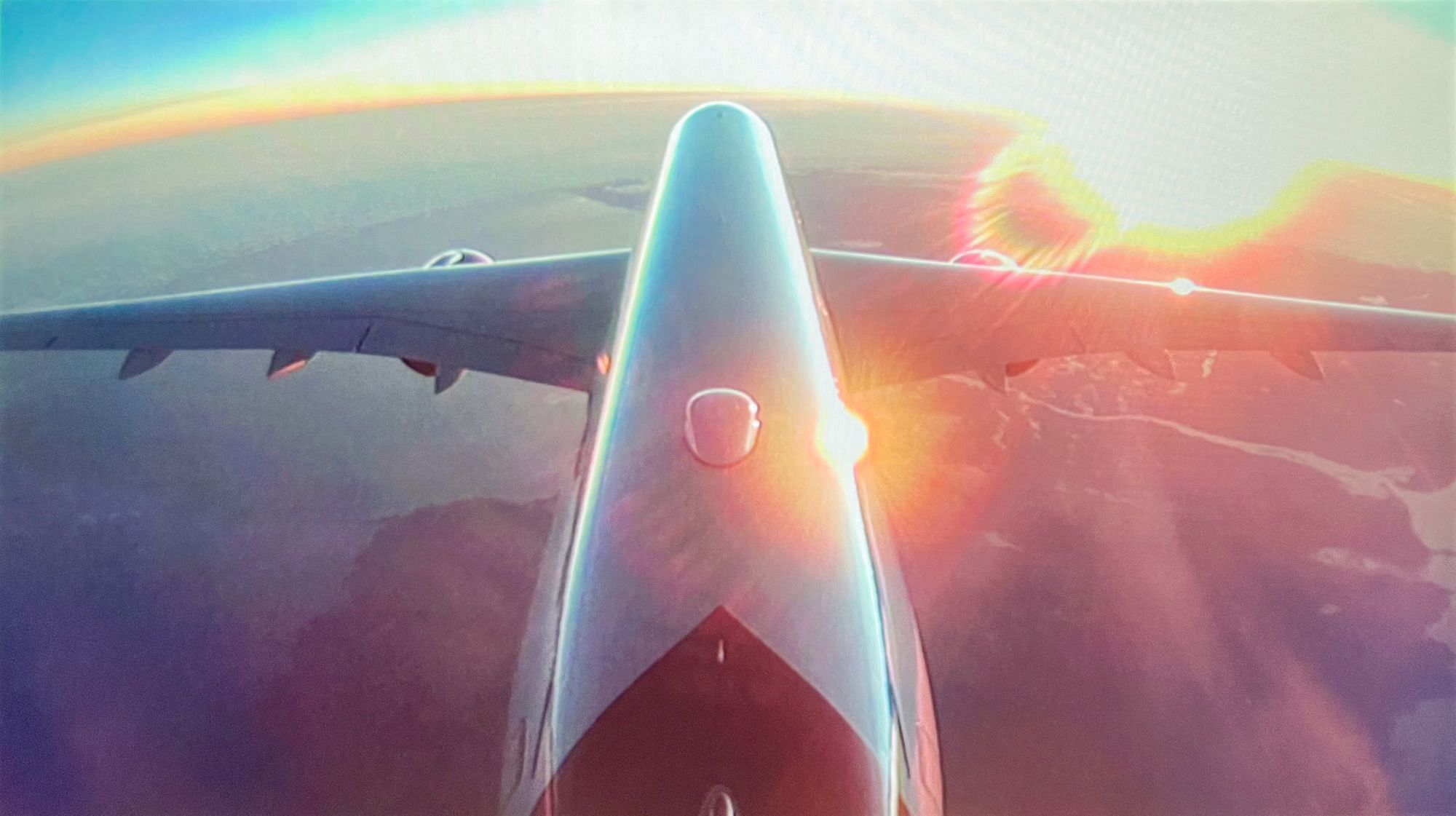 We were just about to book a trip to Europe in February 2020 - just days before the pandemic began closing borders and making international travel almost impossible. So needless to say, we were a little excited about heading back to Europe and seeing family once again.
We landed in London on November 29th, where my dad picked us up from the airport and drove us to their home in the Peak District. Just a few days later, Diana flew on to Latvia to see her family there - a divide-and-conquer strategy while I remained in the UK.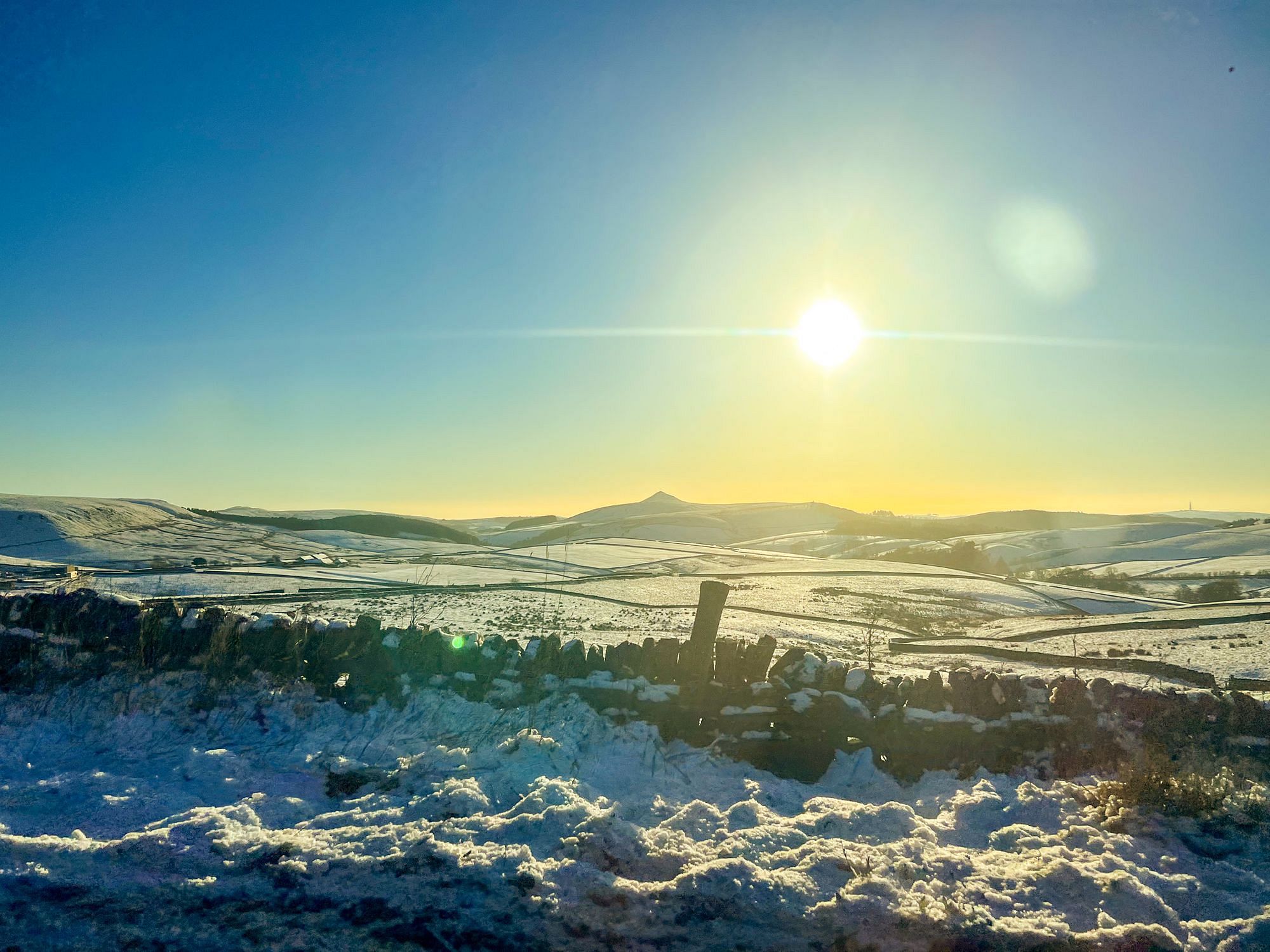 It was fun catching up with family, enjoying some wonderful hikes in beautiful countryside, and just generally unwinding. A few days before Christmas, Diana flew back to the UK, spending the holidays with us as we saw more of my family.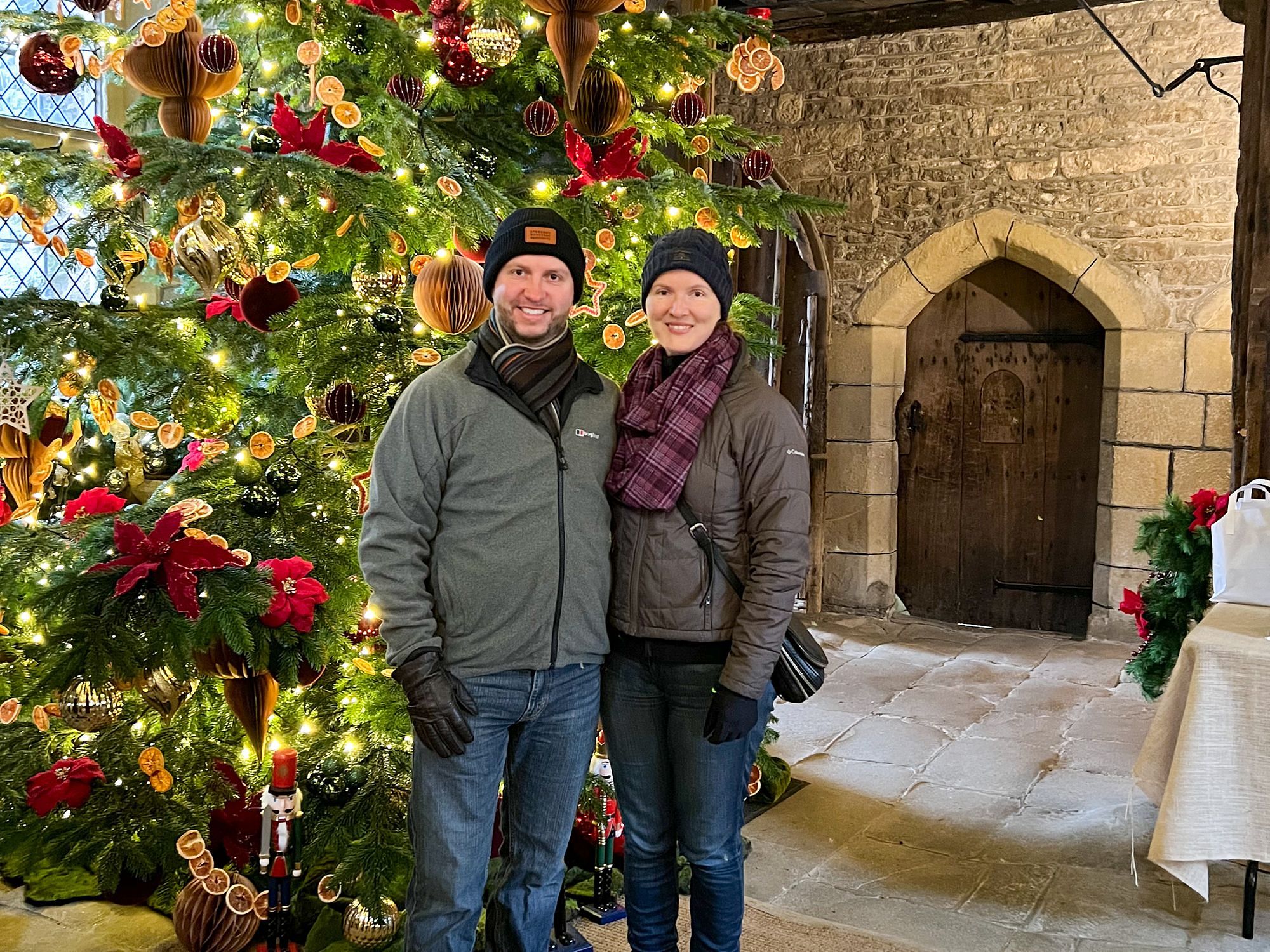 Just before New Year, Diana and I then both left the UK and flew to Latvia to spend a week over New Year with Diana's family and catch up with more of her friends back home.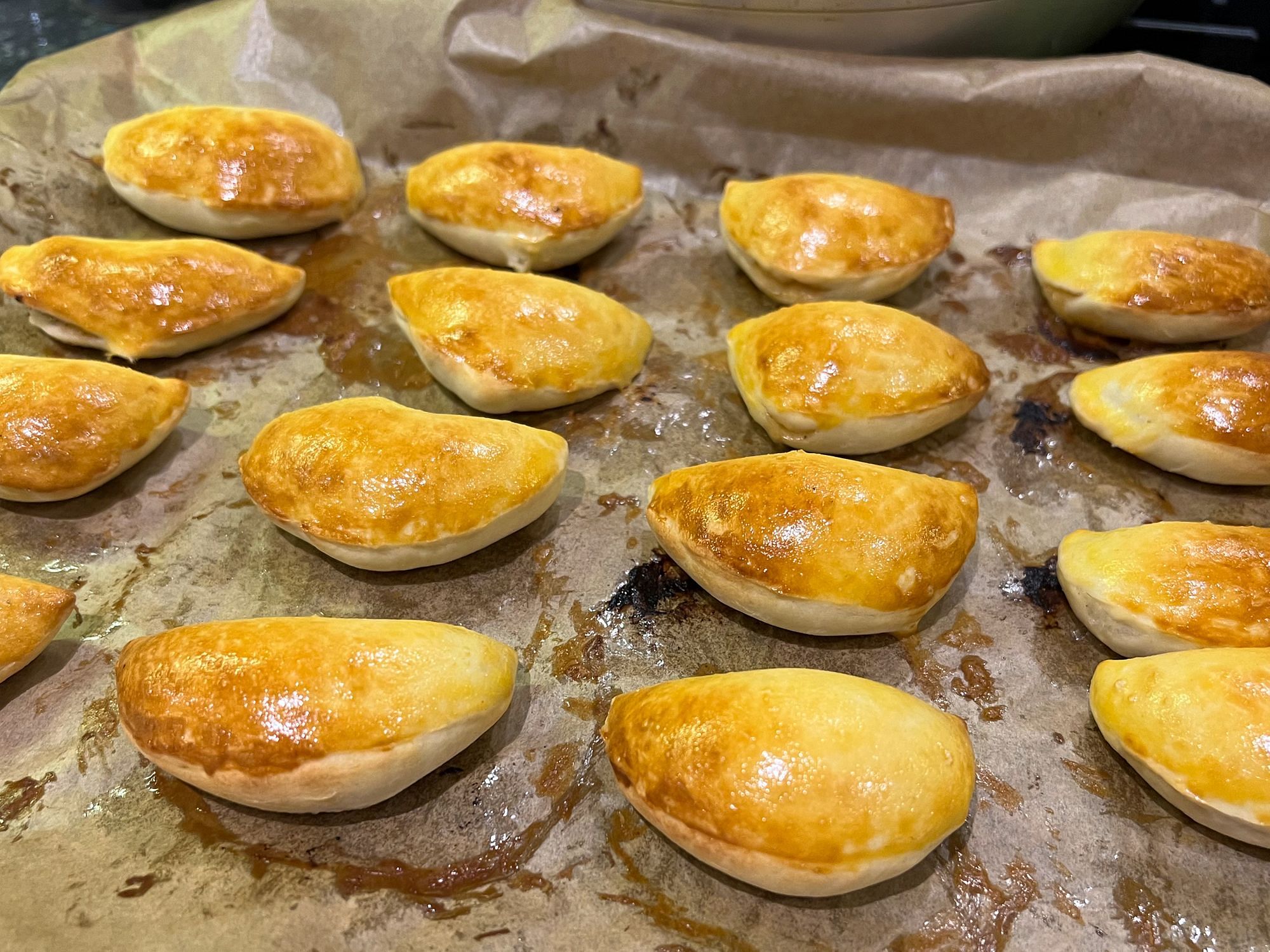 While in Latvia we took a trip to visit the Ogre Central Library - a high-efficiency building constructed from Cross Laminated Timber (CLT).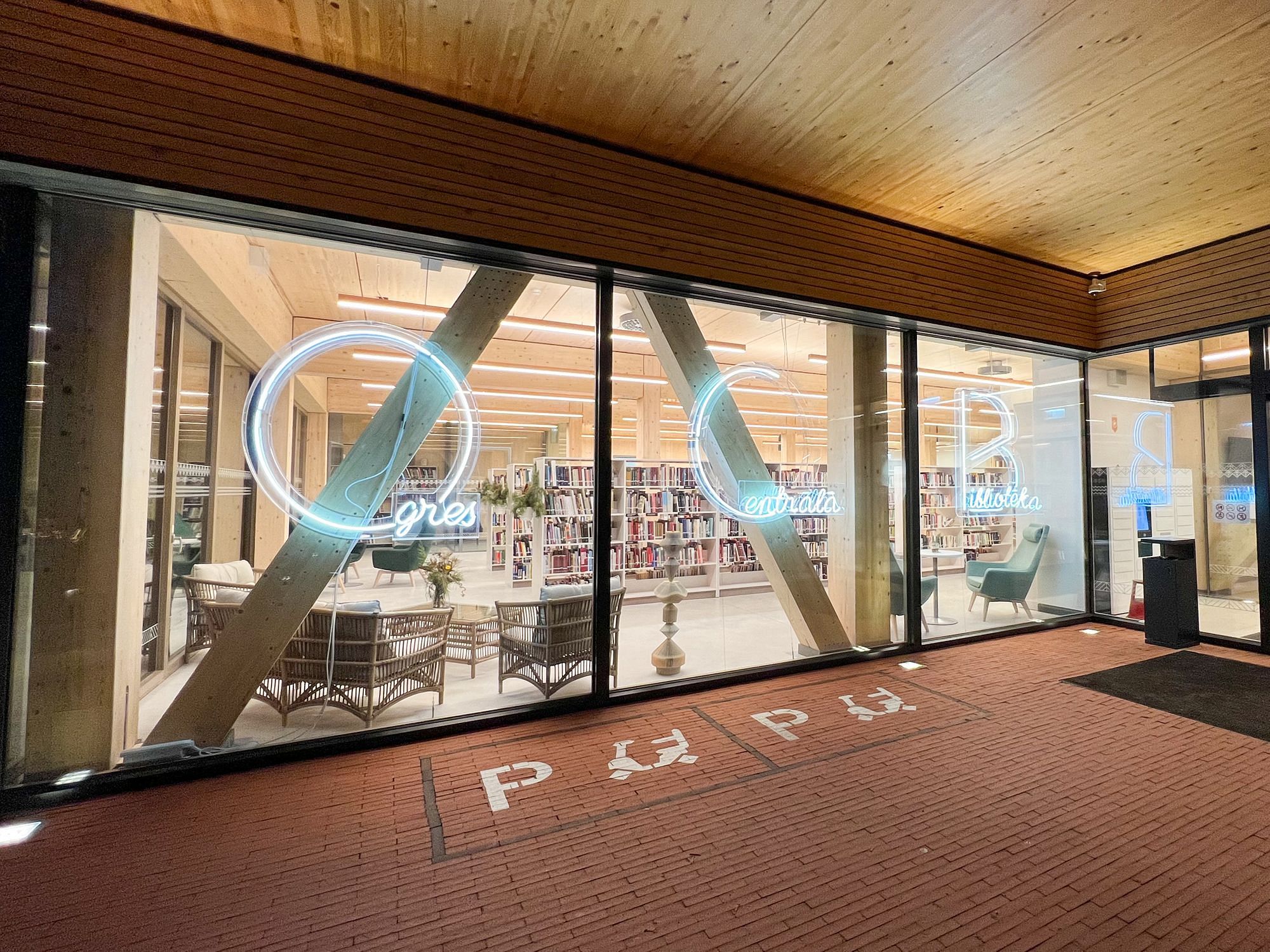 Flying to Italy
We'll be spending most of this winter in Rome, Italy, so a few days after New Year we flew from Riga, Latvia to Rome. Even though it's winter across Europe, the weather in Rome is at least a little warmer than back in Vermont!
We had timed our arrival in Rome so that we could see the La Befana (Epiphany) parade on January 5th. Unfortunately the Airbnb we had chosen wasn't available until a few days later so we booked a hotel for a few nights.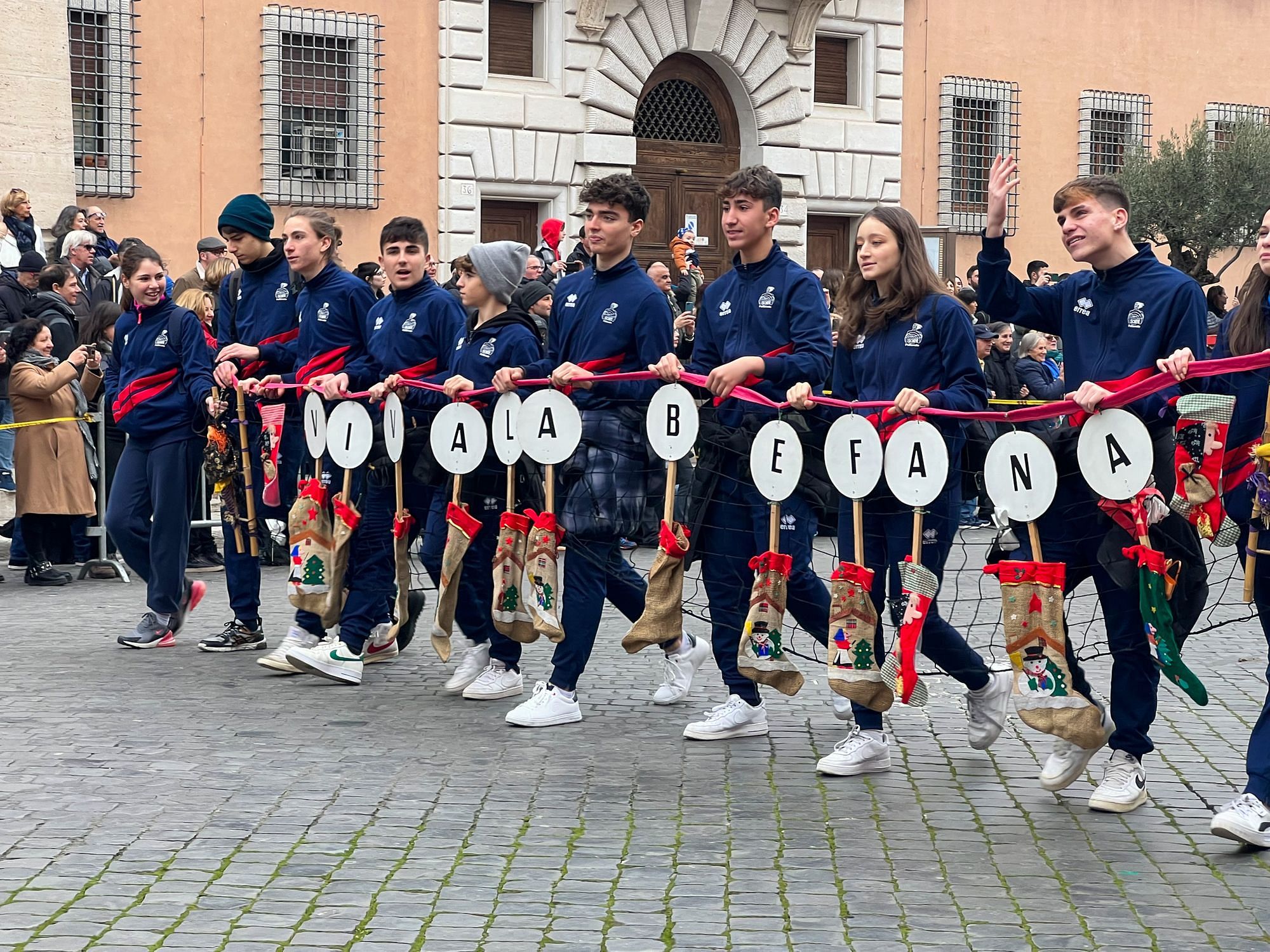 Having shopped around for hotels, we had eventually decided to use some perks from my American Express Platinum. We booked the NH Collection Roma Giustiniano for 3 nights - a 4* hotel just a few blocks from the Vatican City.
By booking through American Express Travel, not only did we receive $200 off the total price (a once-per year statement credit), but also a complimentary room upgrade on arrival (a junior suite in our case) and $100 to spend in the hotel - and their €15 breakfast buffet was excellent! Overall, the hotel cost us about $110 per day - not bad for a junior suite in a 4* hotel in central Rome on a public holiday weekend!
A few days ago we once again packed our bags and headed across the city to our Airbnb where we'll be spending the next 6 weeks. The apartment we're staying in is outside the city center - about an hour's walk or 20 minute tram ride away. Not only was it much cheaper than staying in the heart of Rome, but it's quieter and calmer here - something we preferred for a longer stay.
Once again, we were able to take advantage of some perks when booking the Airbnb, using credit card points to cover over half the total price.
Wrapping up
While a 3 month trip to Europe may seem extravagant, the reality is that we're just not in a position with the property to spend the winter there with the RV just yet. While we have power, water and septic available, the water and septic aren't winterized and manually filling and emptying our tanks once a week in freezing conditions wouldn't be much fun - not to mention the cost of heating the RV all winter long!
Last winter we headed south with our RV to Virginia, but chose to mix it up this year and visit family in Europe at a time of year when we wouldn't be able to make much progress with building anyway.
Winter is low season in Rome so prices are affordable anyway, but by taking advantage of credit card offers and points we've been able to save even more money. In fact, this whole European trip is likely to cost us less money than last year's stay in Virginia - which was already just about the cheapest place we found to snowbird with the RV!
The weather in Rome has so far been really pleasant, with daytime temperatures around 55-60°F (13-16°C) - warm enough to walk around comfortably without needing too many layers! It's a quieter time of year for tourists, so we're hoping to do lots of sightseeing while we're here.
We both love Italian cuisine and we're looking forward to not just eating at local restaurants but enrolling in some cooking classes too - tomorrow we'll be learning how to make fresh pasta!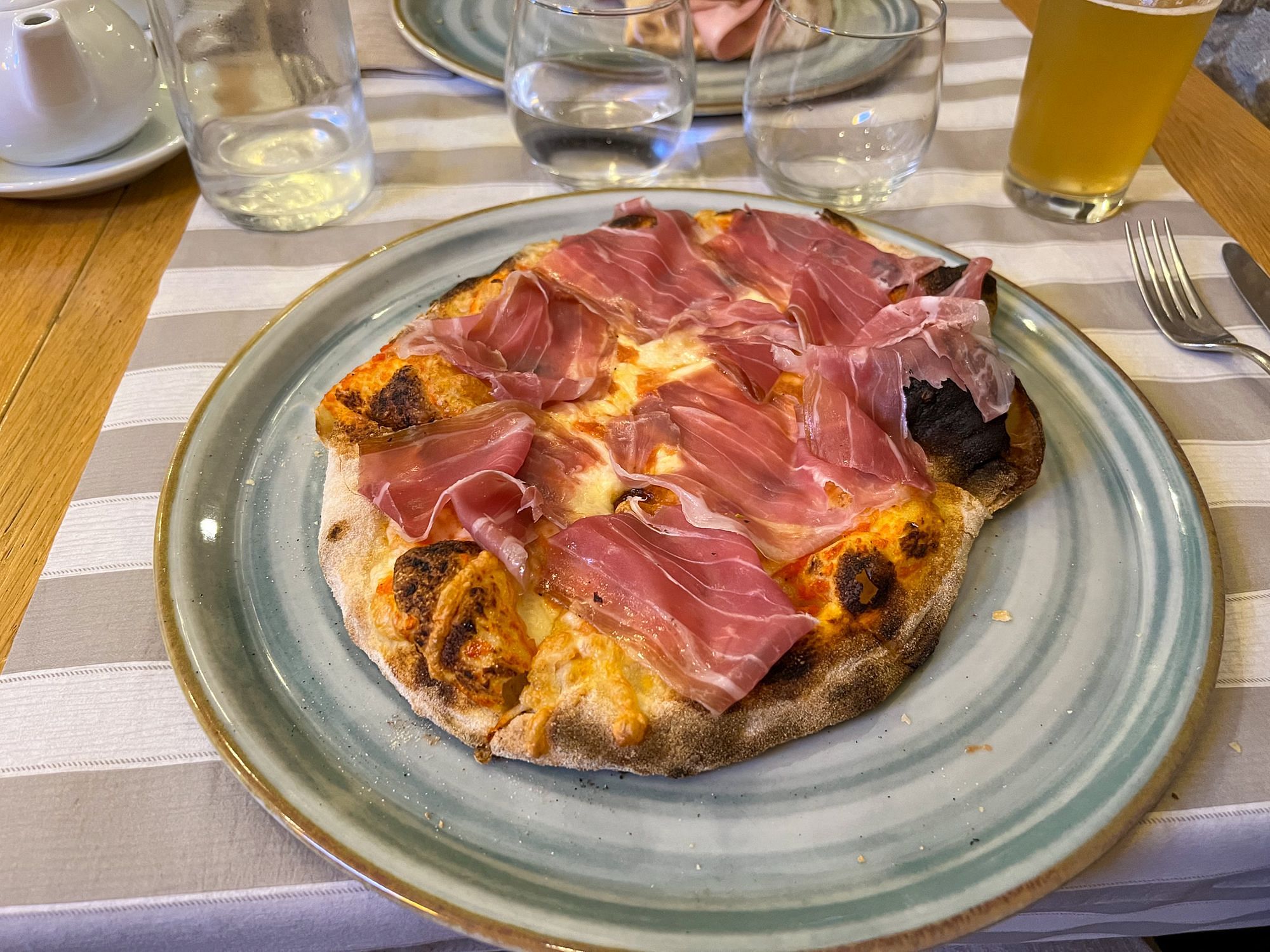 At the moment our plan is to return to the US in late February, however there are some things in the works that may delay that plan by a week or two. While we're excited to pick up work on our property again, we're looking forward to making the most of our time here in Europe!