Introduction
We had a dilemma. Our goal is to visit all 419 National Park Units, but it's impossible to visit Hohokam Pima National Monument. There's no Visitor Center, there's no Ranger Station, no Park Passport stamp, and the land itself is inaccessible with no plans ever to open it to visitation.
That photo above isn't even from Hohokam Pima - it's from Pueblo Grande. There's no National Park Service website for it (except one little article), and it doesn't have a 4-letter NPS code.
Hmmm.
Video
Location
Hohokam Pima National Monument protects an ancient Hohokam village about 20 miles southeast of Phoenix, AZ and about 10 miles southwest of Chandler, AZ. The site itself is located within the Gila River Indian Community. There is no public access and attempting to visit it directly is trespassing and is illegal. Do not even try!
History
Hohokam Pima National Monument was the 13th National Park Unit on our quest to visit all 419 National Park Units across the US. Maybe being number 13 was a foretelling, because we didn't feel very lucky: it's impossible to visit!
Designated as a National Monument in 1972, Hohokam Pima protects the ancient Hohokam village of Snaketown. It was first excavated in 1934 by the Gila Pueblo Foundation, and then again in 1964-65. The archeological digs revealed more than 60 midden mounds (ancient trash heaps), a central plaza, two oval shaped areas (originally thought to be ball courts, but newer theories suggest they could be dance floors), pit houses, and an extensive irrigation network.
However, after the excavations in the 1960s, the ruins were comprehensively backfilled to protect the site for future research, leaving nothing visible above ground. The Monument is located on the Gila River Indian Reservation, and the Gila River Indian Community does not allow public access to this incredibly sensitive area.
The archeological record is not definitive, but suggests that Snaketown may date back as far as 300BCE, remaining inhabited until as late as 1200CE. This predates the construction of nearby Casa Grande by some 50 years, so inhabitants of Snaketown would never have seen the great house. However, the people of Snaketown may well have visited the people living in the area around where Casa Grande would later be built, and perhaps even the Casa Grande ball court which was constructed around 900CE.
Snaketown is believed to have been one of the largest Hohokam settlements at up to 250 acres in size and a population of 1,000 to 3,000 people at its peak. It would have been surrounded by yet more farmland and smaller settlements.
Like many ruins in the area, it is unclear what caused the abandonment of Snaketown in the 12th century, but over-irrigation and soil depletion may be to blame. However, it is thought that the population may have dispersed quickly, since the archeological record shows many buildings all burned at the same time.
Name
If an inaccessible, reburied National Monument wasn't unusual enough already, wait until you learn about the name. I love a bit of etymology!
Hohokam is a mistransliteration by archeologist Hardy in the 1970s of the word Huhugam from the O'odham language, best translated as "those who have perished". Prior to this, archeologist Harold S Gladwin had used the term huhu-kam, commonly mistranslated as "those who are gone" to describe remains he was excavating in the Lower Gila Valley.
Strictly speaking therefore, Huhugam refers specifically to human life and not objects, such as ruins. Hohokam therefore refers to a culture and people from a particular time, and not the ruins themselves.
What about Pima?
That's even stranger!
The word "Pima" is believed to have come from the phrase "pi mac", used by the the O'odham people when they first encountered Spanish colonists. Somewhat predictably in an encounter between two groups with no shared language, the phrase "I don't know" comes up quite frequently. As it turns out, the phrase "pi mac" is O'odham for "I don't know", and not knowing what it meant, the Spanish adopted it as the name for the people - the "Pima" people!
So I guess "Hohokam Pima" would translate properly as "I don't know those who are gone".
But wait, there's more: Snaketown, a name that comes from the O'odham word "ska-kaik", meaning "place of snakes"
In 1865, the US Cavalry built Camp McDowell in the area near Snaketown. 2 years later in 1867, a retired soldier founded the Swilling Irrigating and Canal Company, using the remains of the ancient Snaketown canals. The company grew, and a settlement began to form.
That settlement was dubbed "Phoenix", named after the creature from Greek mythology reborn from its own ashes, in reference to the reinstatement of the old canals. This is supposedly the origin of the Arizona state capital city, Phoenix, that we know today.
Itinerary
And so, the question arises: what can we do that fulfills both the spirit of visiting Hohokam Pima National Monument to learn about the history, and the desire to check it off our list on our quest to visit them all?
It turns out there are a few options.
We decided to meet up with Scott Jones, who lives in Phoenix, AZ and is on a quest (amongst others) to visit all the National Park Units in the US. When we met him, he was already far further ahead than us - and in fact, he's now completed them all!
With his advice, we came up with a plan.
I-10
It's not strictly true that you can't access Hohokam Pima National Monument. The reality is that every day, thousands of people drive right through it: around mile marker 170 on I-10 where Goodyear Road crosses the interstate. Yes, I-10 crosses through the corner of the Hohokam Pima National Monument boundary.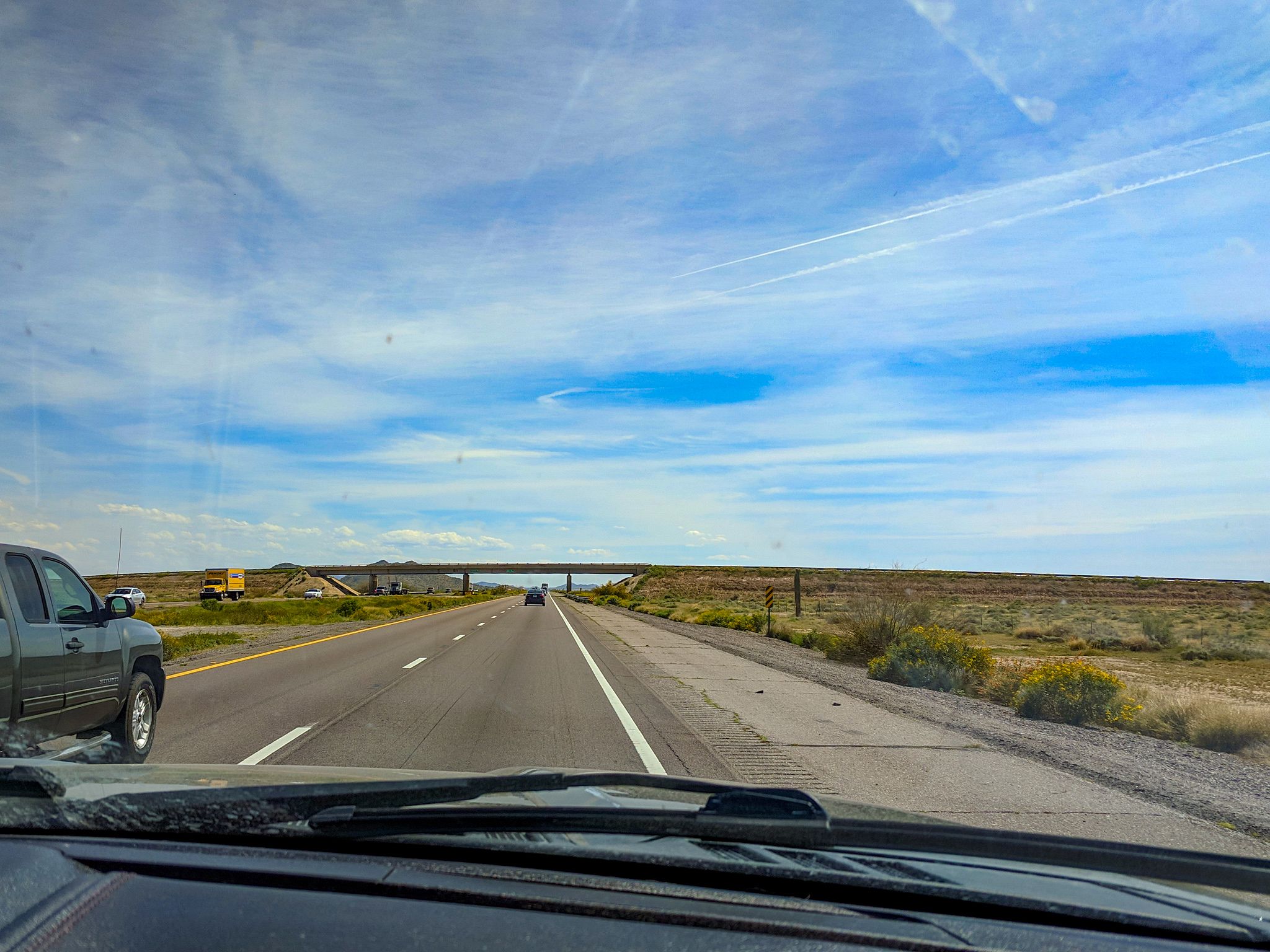 This is hardly a meaningful visit, and you can't stop. Stopping on the interstate would be both illegal and very dangerous. Nonetheless, it felt like something we had to do - so although we'd driven that road several times, oblivious that we were passing through the Monument, we did it again and watched the map as we did.
Pueblo Grande Museum
During our research, one recommendation was to visit Pueblo Grande Museum and Archaeological Park in the heart of Phoenix, AZ.
Although neither a National Park Unit property, nor directly related to Hohokam Pima National Monument, Pueblo Grande protects the remains of an ancient village inhabited and extensively irrigated by the Hohokam people.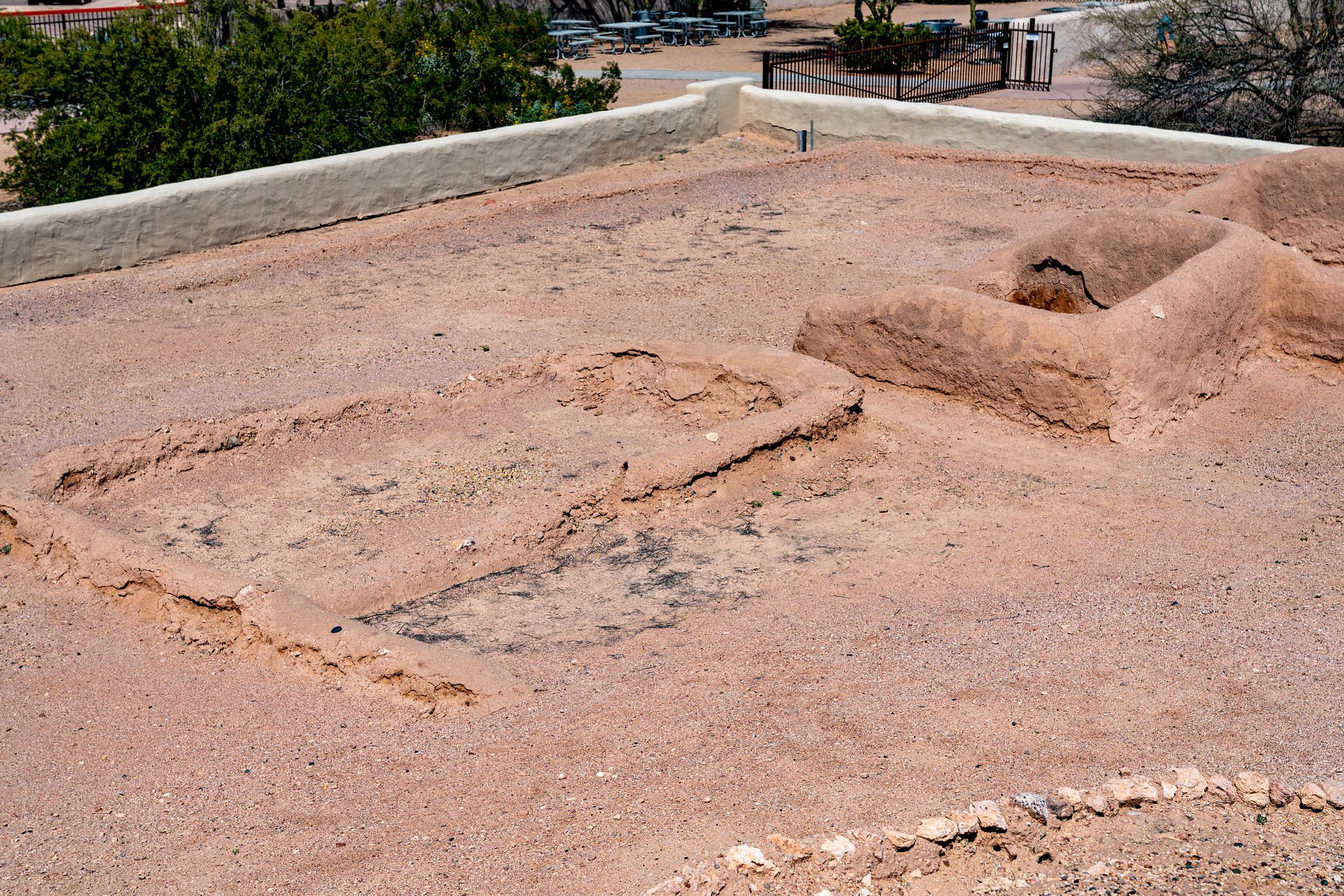 We visited the museum to learn more, and enjoyed our morning exploring the remains outside. We saw an ancient ball court and platform mound, and the trail wove around several replicated dwellings and an interpretative garden to help us imagine what life would have been like.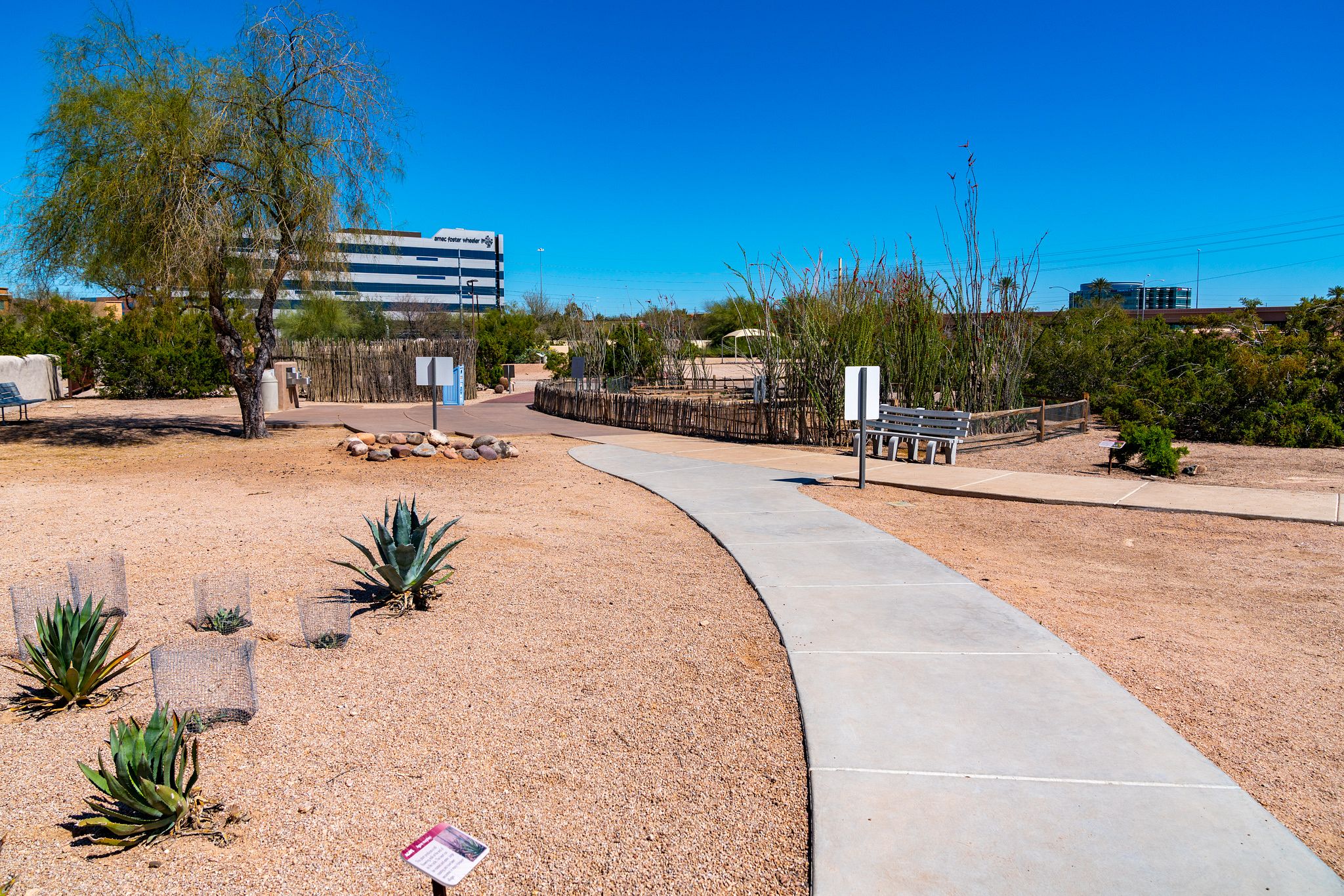 Inside the museum, we watched a fantastic video about the Hohokam people, and explored several galleries with not only artifacts from the excavations, but detailed information about the archeological process.
Regardless of whether or not you're interested in Hohokam Pima National Monument, this is a great museum in its own right and well worth a visit.
Huhugam Heritage Center
Possibly the best way to learn more is to visit the Huhugam Heritage Center (HHC), run by the Gila River Indian Community. Although not officially affiliated with either the National Park Service or Hohokam Pima National Monument itself (so no Park Passport stamp), it is now home to many of the artifacts from Snaketown that had previously been at the University of Arizona.
Perfect!
Except not. We had heard that the Huhugam Heritage Center has somewhat irregular opening times, with a tendency to be closed even when they say it should be open. Not a problem - we'll phone up and check the times and let them know we're coming.
We phoned, and an automated message began playing. They were closed for preparation for the Tenant Improvement Project, a huge project that would add 6,000 square feet of exhibit space. They would be closed until 2020 - over a year from now!
D'oh!
Staying in one place for a year is a little unrealistic (for us), so I guess this is something we'll have to do after they reopen next time we're in the area.
But if you're reading this in 2020 (or later), then be sure to contact the Huhugam Heritage Center and see if they're open - it sounds like the new exhibits will be amazing!
Conclusion
A "visit" like no other, Hohokam Pima stands apart from all other National Park Units. I can't recommend visiting there, since that would be illegal trespassing, but I can recommend visiting both the Pueblo Grande Museum and Archaeological Park in Phoenix, AZ as well as the Huhugam Heritage Center once it reopens.
There is so much to learn about the people, culture and ruins of the Hohokam people, and I feel like we've just scratched the surface. We had driven through the area several times, oblivious to the rich history right under our feet (wheels?), and exploring this area has given us a greater appreciation for that history.