As an Amazon Associate we earn from qualifying purchases.
To say we're exhausted would be an understatement. When we arrived back at the RV in Virginia on Monday afternoon, that concluded a road trip totaling over 4,000 miles in barely 2 weeks. When you take into consideration the 3 days we spent in Tampa and the 2 days skiing in New York, that's an average of more than 400 miles on each driving day!
But rather than kicking our feet up and relaxing this week, we've been straight back into it - catching up on video editing, consulting and admin work that we had put on hold while we had been away.
Skiing
We're often asked why we chose to live somewhere as cold in winter as Vermont rather than somewhere much warmer, say Florida. Well, one reason is that we love winter-sports, and there aren't many options for skiing or snowboarding in Florida!
This winter we've been down in Virginia, and while there are opportunities for skiing up in the mountains, it's not something we have chosen to do this year.
So it was good fun to join our friends skiing at Belleayre Mountain in New York this weekend. It was bitterly cold, with temperatures dropping down to around 5°F (-15°C) up on the mountain, but the snow conditions were great and on Sunday we were blessed with clear blue skies too!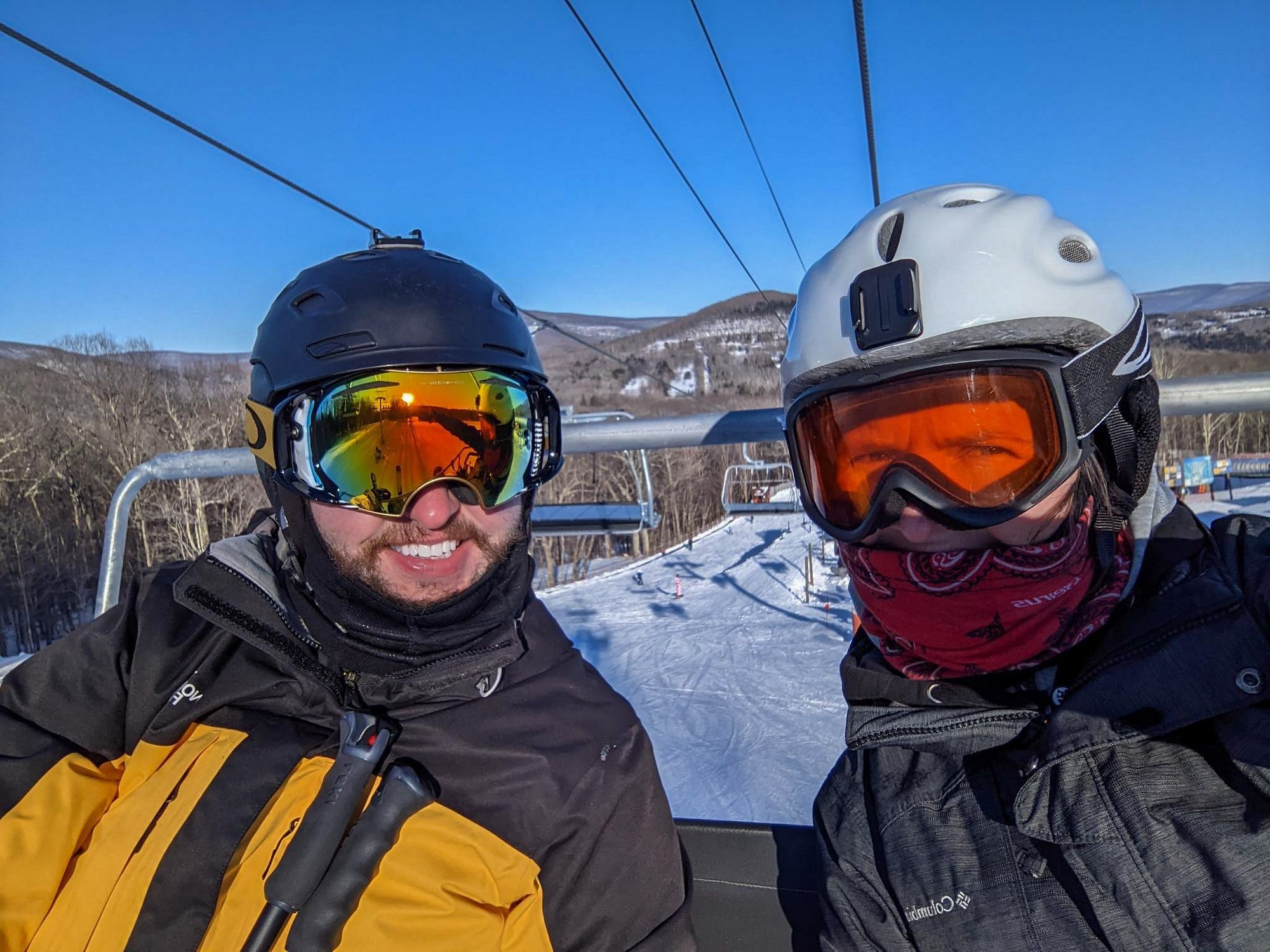 I bought all my ski equipment soon after I moved to the US back in 2014, at the time for ski trips to Tahoe which we enjoyed for several years before moving away from the area. But we brought all our gear with us on the road, and it's still doing great! In particular, my super-warm balaclava ski mask was the envy of the group, and as ever my ski carrier strap worked great - carrying skis is a real pain and I don't know why more people don't have one of these!
Return to Vermont
We're back in Virginia now, but the clock is already counting down to when we head back to Vermont. Our plan at the moment is to return to Vermont in early March - we're targeting March 1st, less than 4 weeks from now!
Obviously it's still going to be very cold and probably very snowy, but that's sort of the point! Vermont has an infamous mud season, and getting our RV onto the property once things have begun to thaw could be a real challenge, so we want to make sure we get back before then!
Also, our timeline has us breaking ground for the site work and septic installation in late May or early June, but before that we need to clear trees. About an acre of trees. Based on our rough calculations, that's around 300 trees for Diana and I to clear all by ourselves!
The best time to clear trees is winter, or at least, while everything is frozen. The trees aren't full of water so they aren't as heavy (nor will they need drying for as long), there's less foliage that needs chipping, and the ground isn't as muddy so it's easy to skid logs.
We'll share more about our preparations for returning to the property in the coming weeks, but needless to say, there's a lot to do to get ready for dry camping on our property for a few months or more!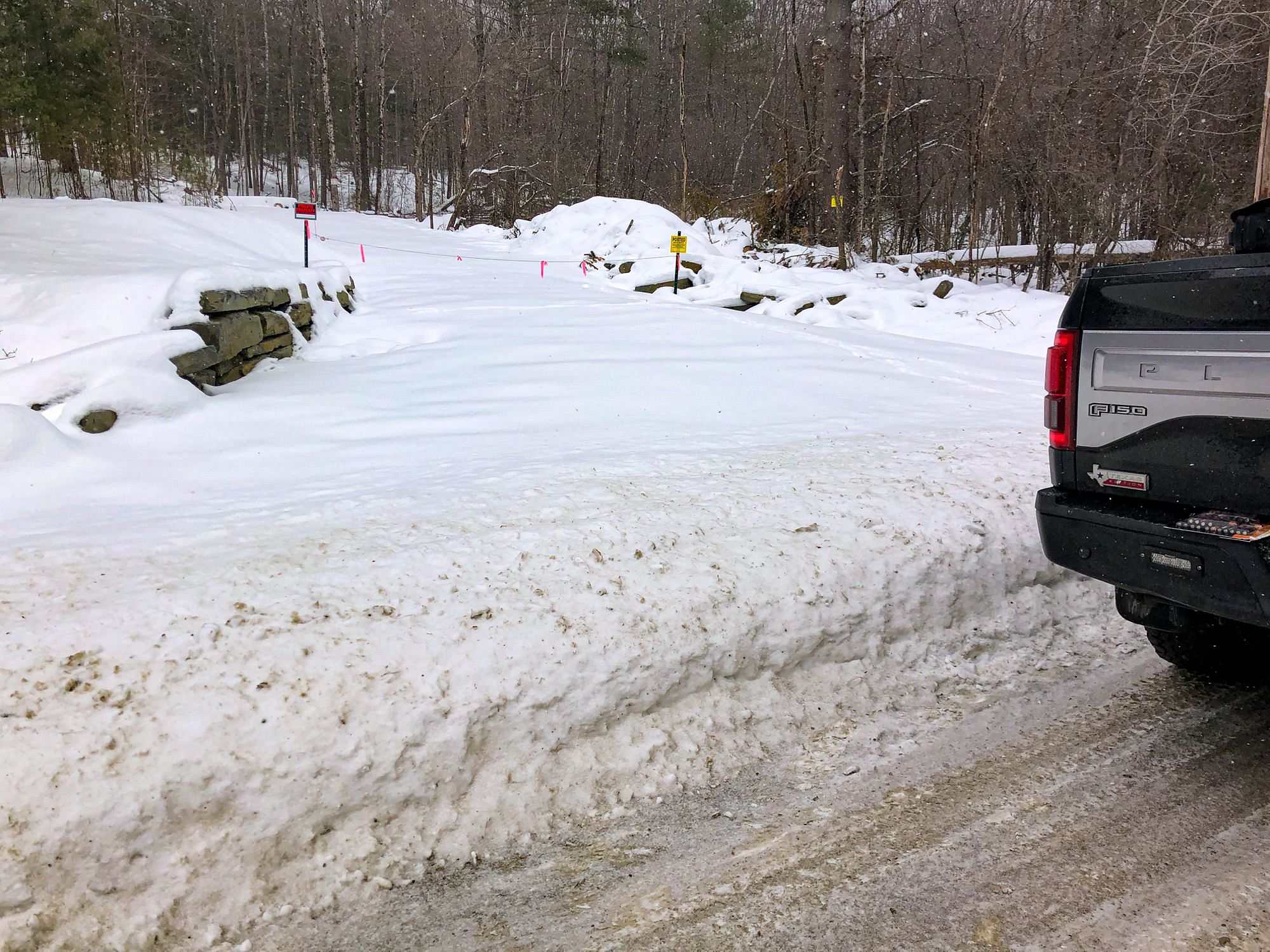 Fitness Coaching
I'll be honest, we ate a little too much over the holidays. Combined with a sudden drop in exercise as we transitioned from milling lumber to working on our laptops in the RV, we need to get back in shape and fast!
So this week we enlisted the help of our friend Christine, a fellow full-time RVer (and as of last year, a fellow Outdoors RV owner) who runs online fitness and nutrition coaching called Irene Iron Fitness. With her help, Diana and I are both hoping to lose some weight and build some muscle and core strength, ready for the heavy lifting needed to build our house!
It's early days, but so far we're really impressed with the program. If you want to shed a few pounds, tone up or just improve your diet, get in touch with Chris at Irene Iron Fitness and let her know we sent you!
Truck Mods
During our 4,000 mile road trip, our truck rolled over 100,000 miles - a significant milestone for any vehicle! While we've demanded a lot of our truck over the years (not least towing & off-roading), we've also tried to take good care of it, keeping up with regular oil changes and maintenance, and servicing it as necessary.
We've tried to keep the vehicle looking pretty stock over the years, but we've done plenty of mods to it - including new tires, brakes, suspension, skid plates, auxiliary lights, upfitter switches, rear high-current 12V connector, Apple CarPlay support and a ton of FORScan mods which is one of our most popular articles.
But since the truck has just rolled over 100,000 miles, I've decided to treat it to a few extra upgrades. The first of these was a couple of weeks ago when I replaced the cabin air filter - a desperately overdue but relatively simple task.
Then this week I installed new D-ring shackles on the front bumper, replacing the existing tow hooks.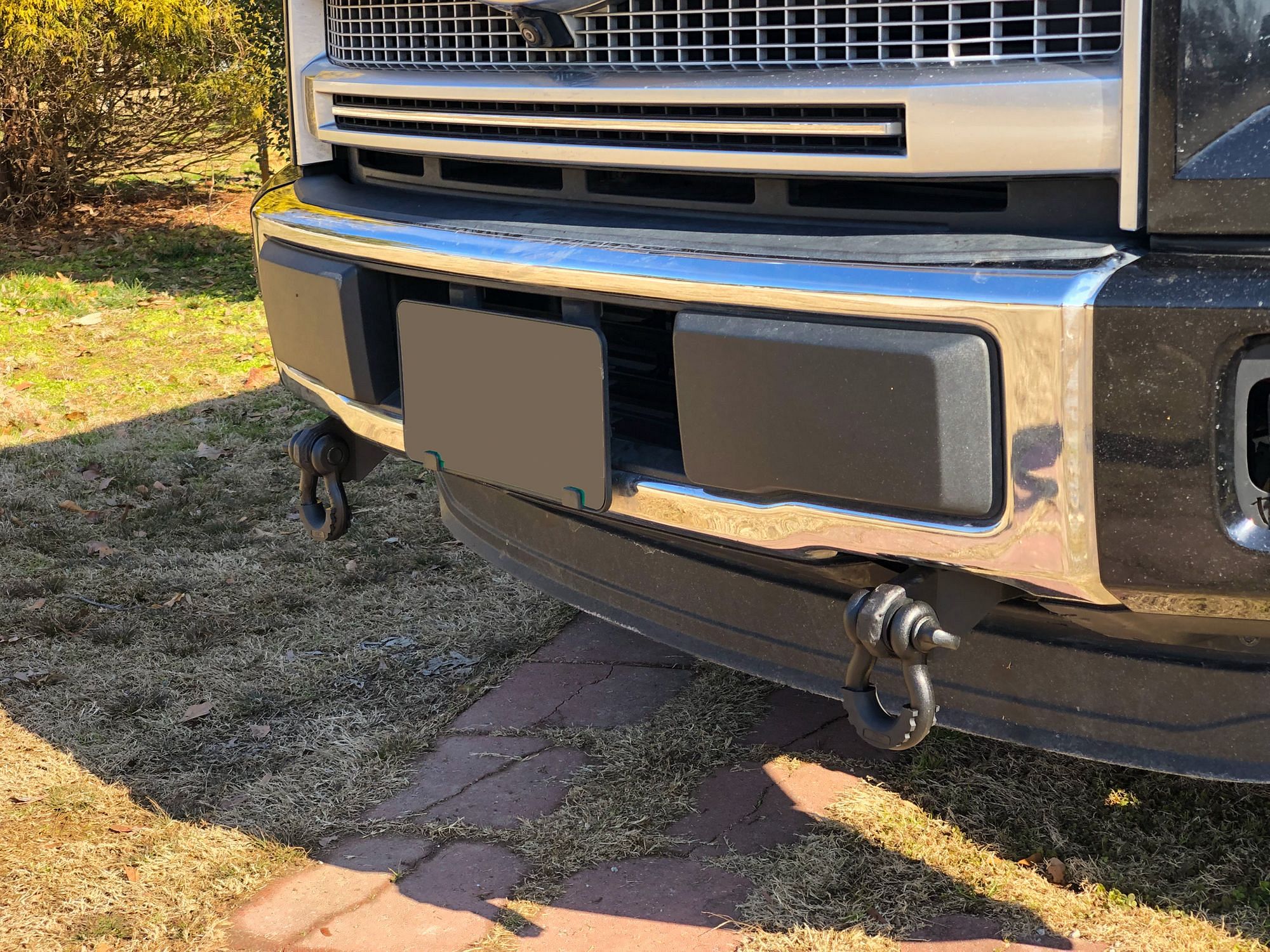 Not only should these be more corrosion-resistant than the OEM chrome tow hooks, but it'll be easier to get a tow strap through them when I inevitably need to use the truck to move something on the property, recover a vehicle, or even recovery myself! Plus, I think they look very cool!
I also replaced our dashcam which had died a while back. I guess these things don't last forever, but we were otherwise happy with it so we opted to replace it with the latest version of the same model, the VIOFO A119 V3.
Next week it's going in for a full service, and at this mileage it's typically recommended to replace most fluids, spark plugs and check on other items like timing belts that might need changing too. Fingers crossed there's not too much!
After that, I'll be taking it down to Discount Tire for some new shoes - not just tires, but wheels too! About a year ago I discovered we had cracked one of the rims - probably from hitting a pothole at some point. The repair shop was able to weld it closed and it's been OK since then, but I don't love driving around with it like that.
Ever since buying the truck, I've wanted to change the 20" rims to 18" rims. Smaller wheels means more tire sidewall - which in turn means less chance of cracked rims, a slightly smoother ride, more opportunity to air down for off-roading, slightly more sidewall tread (good for snow) and, again, I think they look good!
This seems like the perfect time to do it, so after much research, discussion and deliberation, we're going to switch our OEM wheels and 275/55R20 tires for MB Legacy wheels with 275/65R18 tires (almost the same overall diameter as our current ones). We'll stick with BFGoodrich KO2 tires since they've been working great for us.
We've actually been carrying around a 20" MB Legacy wheel with a second spare tire on it for a couple of years, and I really like the wheel. My only hesitation is that milled wheels are more susceptible to corrosion from the harsh road chemicals used in Vermont, but after much research, I think they'll be OK if I look after them.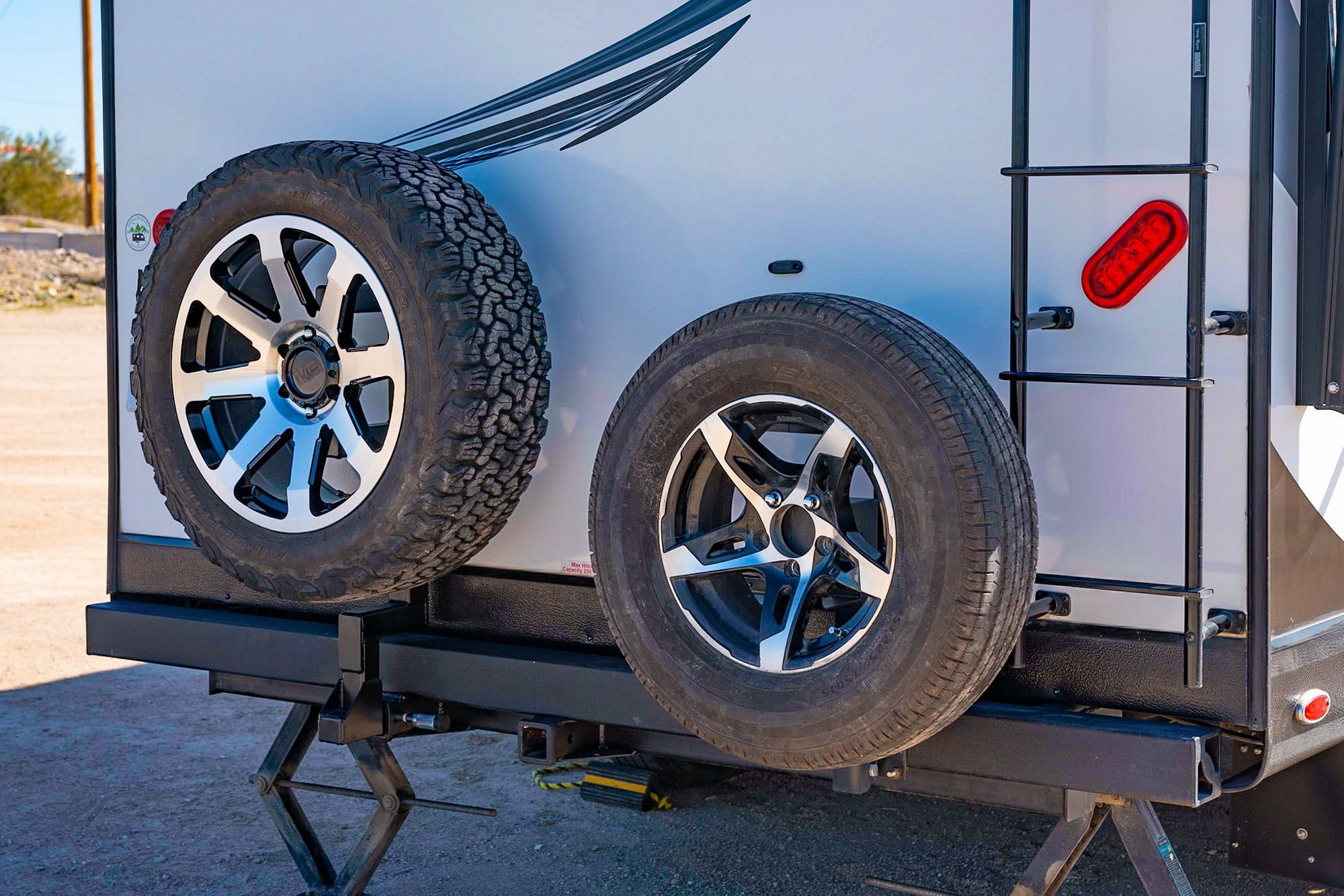 As for the tires, I did consider bumping up in size to the 275/70R18 which would be a 33" tire vs the 32" we have now, but decided the extra sidewall and lift wasn't worth it - not least because we'd have to buy new snow chains!
Tractor Tire Chains
It's not just the truck we're modding - it's time to pimp our tractor! OK, well kinda.
Tractors are obviously designed to drive on somewhat rougher terrain than a road-going vehicle, but they still have limits. And as it turns out, snow is often one of them!
While a little snow on relatively flat ground isn't an issue, our driveway is anything but flat, and it's currently under about a foot of snow and ice! We also need to be able to use the tractor not just on the driveway, but on the trails and in amongst the trees. Furthermore, we're not just driving the tractor in those places, we're using it to haul, push and lift things.
The bottom line is: we need more traction.
The solution, much like on a regular vehicle, is snow chains. But because we don't plan on using the tractor on paved surfaces with chains on, we can get significantly more aggressive chains.
However, our tractor has R14T tires - somewhere in between the less aggressive, industrial R4 tire and the much more aggressive R1 tire. A consequence of the R14 tire is that the way it's mounted on our Kubota L3901 means there is insufficient clearance for snow chains, something we knew before we bought the tractor.
To get around this, we're installing 3" BORA wheel spacers made by Motorsport Tech right here in the USA. These should be arriving early next week, and then we'll have to figure out how to install them - while not complex, it does involve removing the wheels which weigh around 500lbs each thanks to the beet juice! This isn't something we feel confident doing safely ourselves so we'll have to find a shop to help us.
Once our wheel spacers are mounted, we'll be able to install the snow chains ourselves - we're planning to buy some super aggressive European Diamond Studded chains to give us the maximum possible traction.
Wood Chipper
If you've been following us for a while, you'll know that in the process of clearing trees for our driveway, we ended up renting a wood chipper several times and creating a ton of woodchips!
While the Vermeer BC900XL chipper is great, renting it costs about $200 per day - not exactly cheap! So this winter, we decided we're going to buy our own wood chipper. Woodland Mills, manufacturer of our sawmill, also make wood chippers, and after much research we decided to purchase a Woodland Mills WC68 chipper - a tractor-mounted PTO chipper.
As with many other companies, Woodland Mills has been struggling with stock throughout the pandemic. Earlier this year, they were reporting estimated delivery timelines of around 4 weeks, so several weeks ago we called and inquired about ordering one to be delivered in early March.
We were told they couldn't hold an order for that long, so we'd have to call back a few weeks later. So last week we called back to place the order, and bad news.... Their stock situation had deteriorated significantly, and we were now looking at a delivery timeline as long as 12 weeks, meaning we may not get our wood chipper until late April!
Understandably (I think) we were more than a little disappointed by this, but we had little choice but to go ahead and place our order, and just hope it doesn't take that long else we're going to have a lot of things to chip after clearing all those trees by the time it arrives!