As an Amazon Associate we earn from qualifying purchases.
I hope you all had a wonderful Thanksgiving last week! We had a wonderful day - cooked ourselves a nice meal here in the trailer, and relaxed while watching a movie or two!
The weather has cooled down a little from the relative heat wave of a few weeks ago, but it's still been quite mild - it's not dropped below freezing all week, and even reached 59°F on Tuesday! So, we've been taking full advantage of the warm (and mostly dry) weather to check off a few things on our to-do list.
Christmas Pudding
Christmas Pudding is a traditional British pudding eaten at Christmas, and November 22, 2020 was Stir Up Sunday this year, the day that traditionally people would make their Christmas Pudding to give it time to age before Christmas.
November 22 was also the first day we could go grocery shopping after our 14-day quarantine in Vermont finished, so we headed into town to pick up groceries and the supplies for our Christmas Pudding - actually, I should say "Christmas Puddings" since we're making two!
It's easy to find Christmas Puddings for sale in stores back in the UK, but I've never been able to find them here in the US so, as before, I made my own. I've found Delia Smith's Traditional Christmas Pudding recipe to work really well - that's what I used last year too.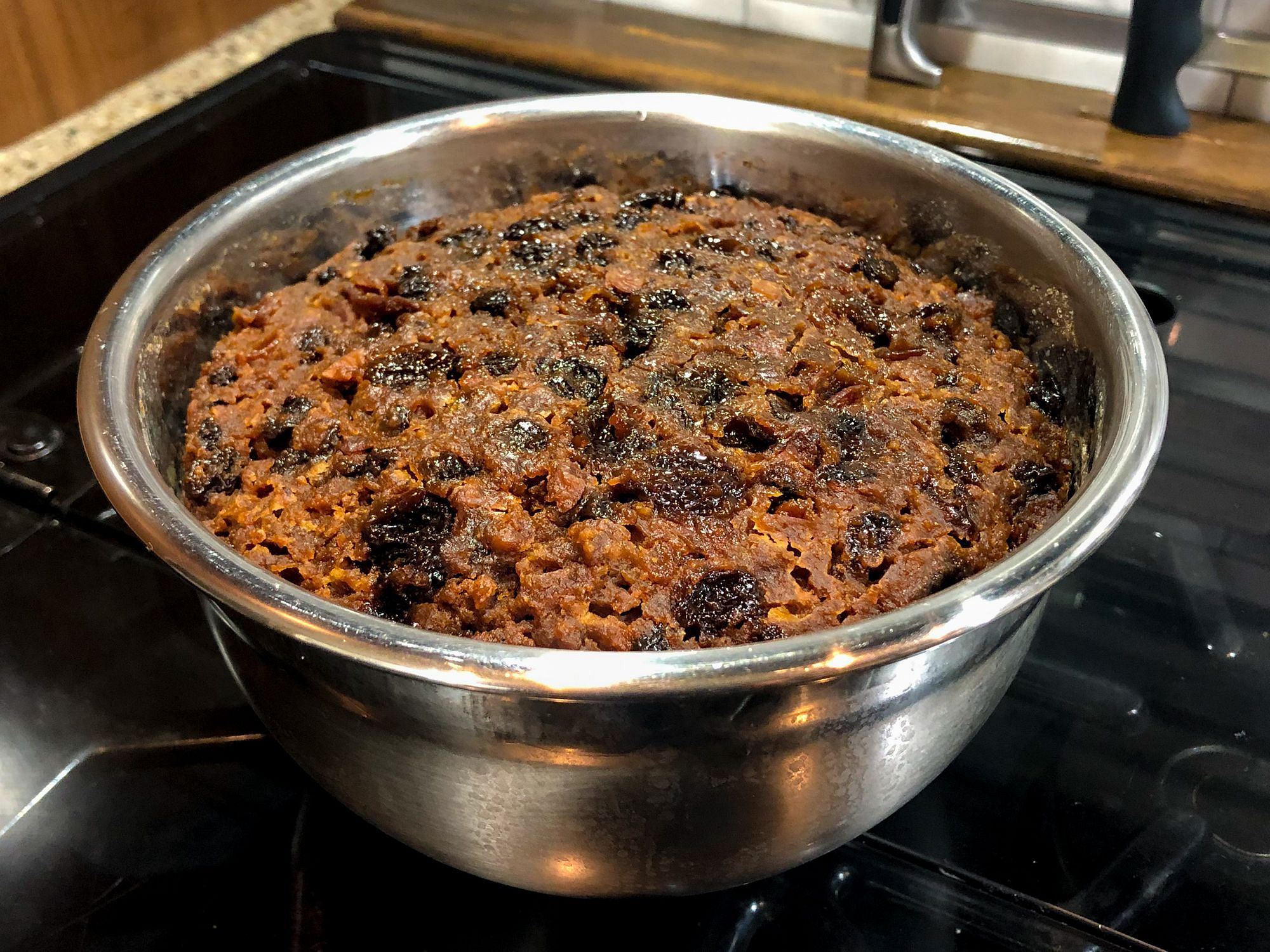 While it uses lots of ingredients, most can easily be found in grocery stores - the one I've struggled to find is Vegetarian Suet, but you can buy it online on Amazon. You can also omit the candied peel if you can't find that.
Christmas Pudding is really easy to make, and tastes amazing - especially with some flaming brandy poured over it on Christmas Day. If you want to make your own Christmas Pudding, it's not too late - give it a go!
Truck Service
The truck was due a service and oil change anyway, so this was the perfect time to get that done before the winter weather sets in.
In addition to the usual checks and fluid changes, I noticed afterwards that they sprayed some battery terminal protector on my battery terminals as well as all the various grounding bolts around the engine bay. I guess this was something they did to help protect the bolts from any corrosion, particularly from salt or chemicals in spray from the road. It's not something any other Ford Dealer has ever done, and I appreciated it!
Brakes
They also confirmed that the truck is in need of new brakes. I was already aware of this, so it was no big surprise, but I wanted to wait for confirmation.
It's been 35,000 miles since I had the brakes installed, which maybe isn't as long as I'd hoped they'd last, but probably isn't unreasonable given the amount of towing, and more importantly off-roading, that we've done.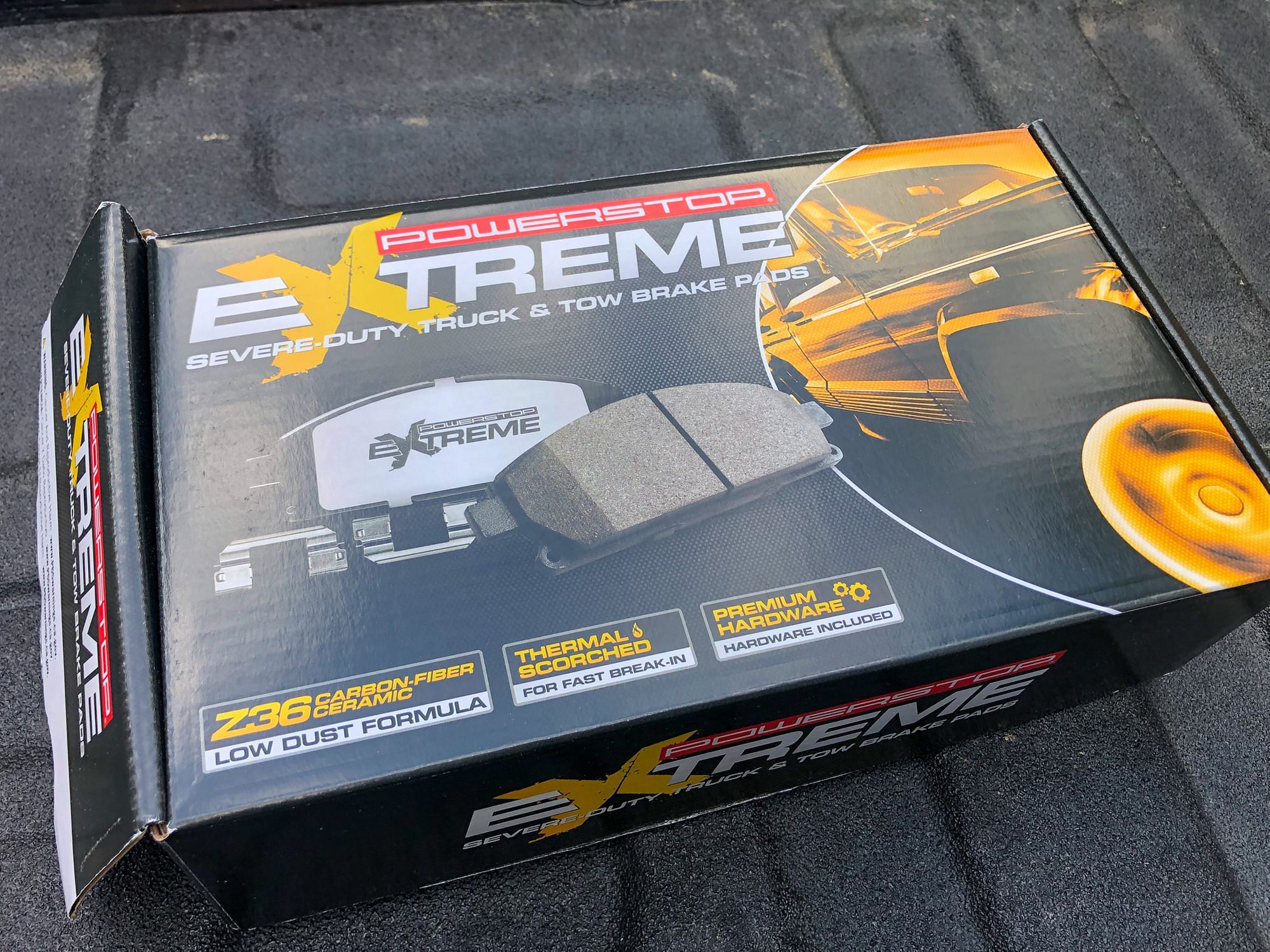 That said, I've been really happy with the performance of the Power Stop Z36 Truck & Tow Brake Kit, so we've chosen to go with the same again. I ordered them online and will have the dealership install them in the next week or so.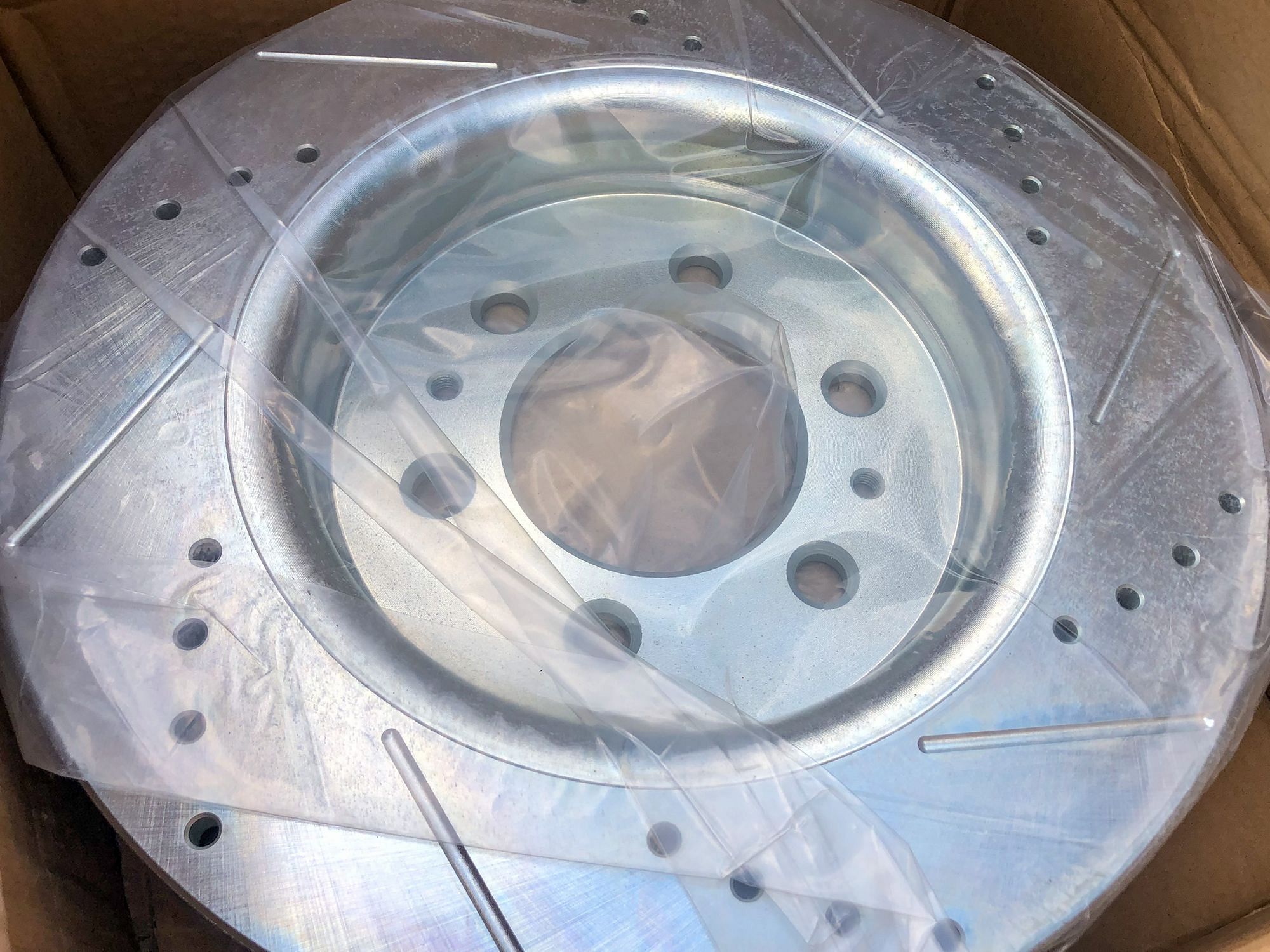 Suspension
A little more surprising was that the rear passenger-side shock on the truck had blown. We had upgraded to the Bilstein 5160 shocks just before we hit the road in July 2018, so they've lasted about 42,000 miles. Again, not as long as I'd hoped, but probably not unreasonable given our driving pattern.
As with the brakes, I've been really happy with these shocks, so we're sticking with the same. I ordered two more shocks (I want to replace both at the same time) online, and will have the dealership install these at the same time as the brakes in the next week or so.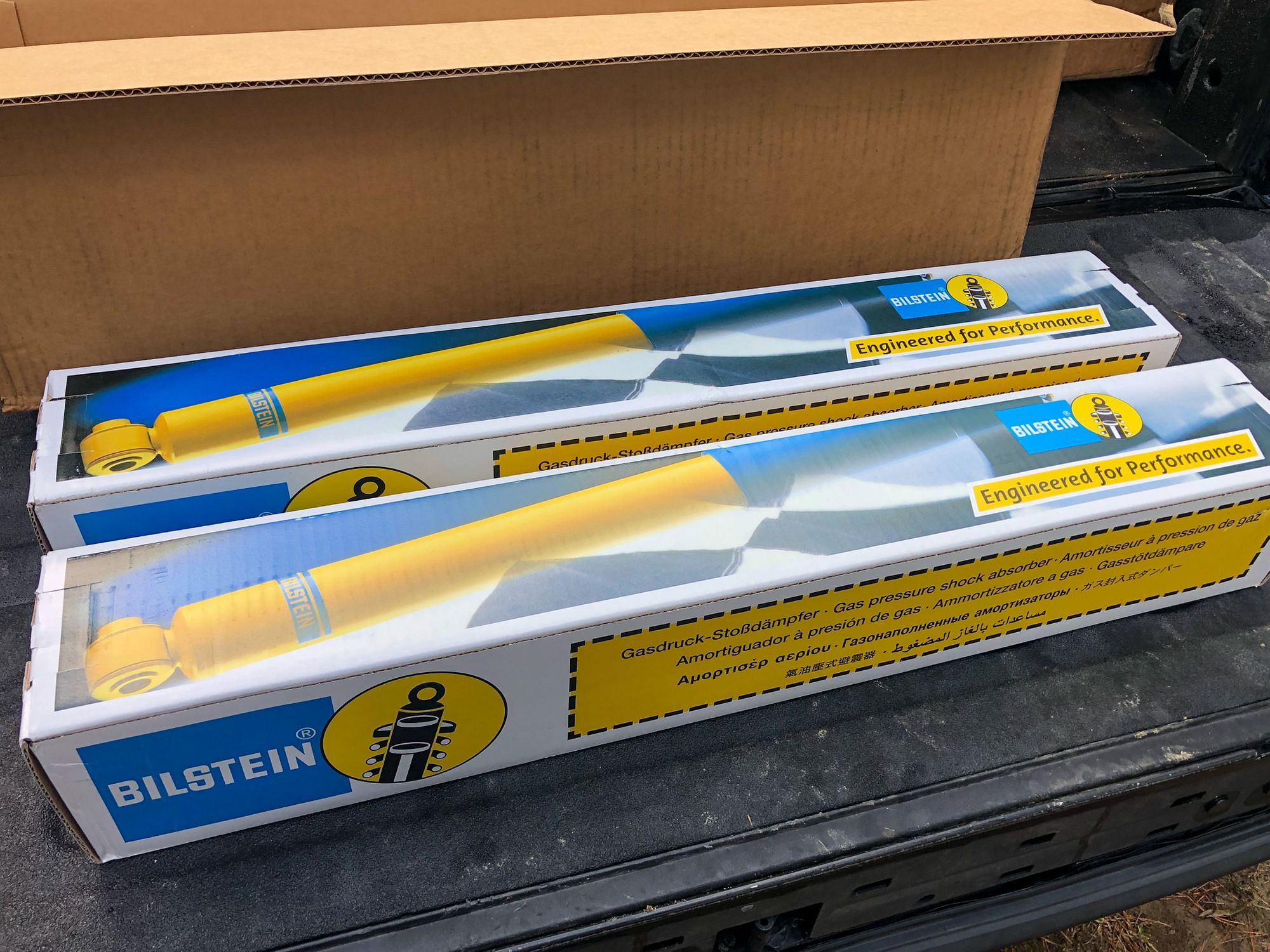 Our upgraded brakes and suspension are just a couple of the mods we've done to our Ford F-150 to improve its performance, comfort and safety while towing and off-roading. For a full list of all the mods we've done to the truck, check out our blog post, all about why we love our Ford F-150.
Tires
The truck is also in need of a couple of new tires. With COVID, I haven't been rotating the tires as much as I'd normally have done so the tires that are now at the front are getting pretty low on tread and in need of replacement.
We've been really happy with the BFGoodrich KO2 T/A All Terrain tires - they're quiet, comfortable and we haven't observed any reduction in fuel economy, while at the same have great traction for off-roading.
Considering the grip they provide off-road, they're also surprisingly hard-wearing. This pair needs replacing after about 33,000 miles, but again, that's with roughly half our miles spent towing, and several good off-road excursions as well!
The tires that are currently at the back still have quite a bit of life left in them so I'm not changing those now - they're probably good for at least another 10k miles. That means if they had been rotated and all worn equally, these tires would probably have done 40k miles which I think is pretty good considering our driving pattern!
However, it seems that these tires are out of stock everywhere! I've ordered some online from Tire Rack but they won't be here for another couple of weeks - while our tires are OK for now, I'm hoping to get the new ones on before any serious snowfall!
Propane Delivery
In our blog post about Preparing for Winter RV Living, I predicted we'd end up renting a large propane tank this winter.
Well, we did!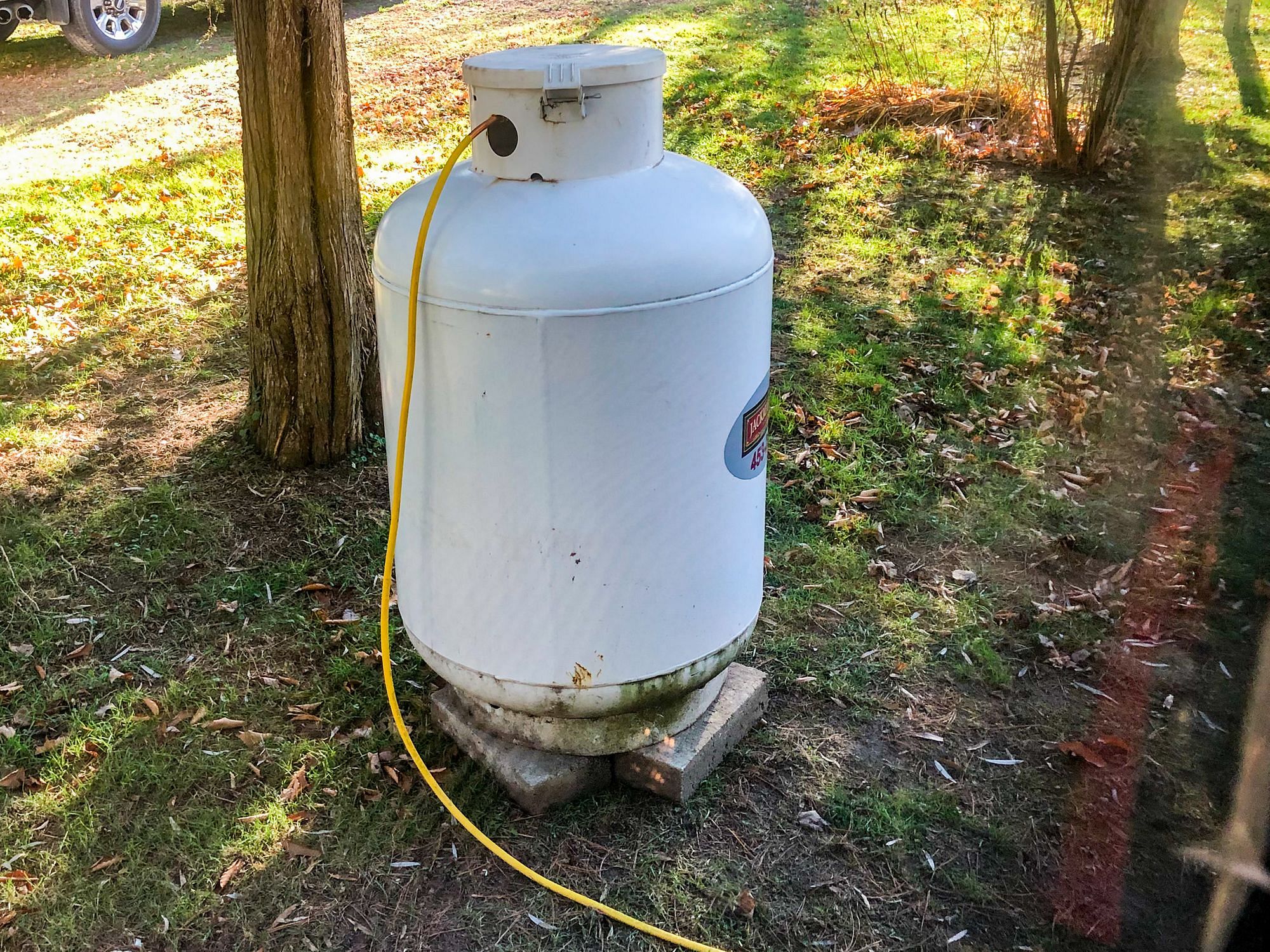 A couple of weeks ago, the local propane company delivered and installed a 100-gallon propane tank next to our RV. This is much better than relying on our normal 7-gallon tanks for a few reasons.
First, there's a lot less chance of running out of propane! When the weather gets really cold, we could easily start burning through more than a gallon of propane a day. At that rate, our smaller tanks would run out pretty fast, but 100 gallons will last us a long time!
Related to that, propane tanks begin to struggle at cold temperatures. The liquid propane inside doesn't evaporate as easily which leads to the pressure dropping, and eventually it drops so low that your appliances stop working. This effect worsens as the tank gets emptier, so although our small cylinders are 7 gallons, in cold weather we won't be able to use all of that capacity. This is less of an issue with bigger tanks.
Last, and maybe most importantly to me - it's one less thing on my regular "honey do" list! Filling propane tanks is a bit of a pain anyway, and not something I want to be doing in freezing temperatures every week!
MEATER+
Did you buy anything in the Black Friday and Cyber Monday sales this year? If you're shopping for gifts, then be sure to check out our Gift Ideas for RVers. It's full of our best suggestions for gifts that focus on experiences rather than "stuff".
We've been pretty well behaved this year, and didn't buy too much in the sales. One of the small, RV-friendly things we bought online arrived a couple of days ago and we haven't had a chance to try it out yet.
Every week we cook a Sunday Roast dinner - something I've always looked forward to. Since our oven is so small, recently we've been experimenting with using our Instant Pot and the Air Fryer Lid to roast the meat.
That's exactly what we did on Thanksgiving. Since a whole turkey would be far too much for just the two of us, and wouldn't fit in either our oven or our Instant Pot, we instead roasted a single turkey breast in our Instant Pot using our Air Fryer Lid.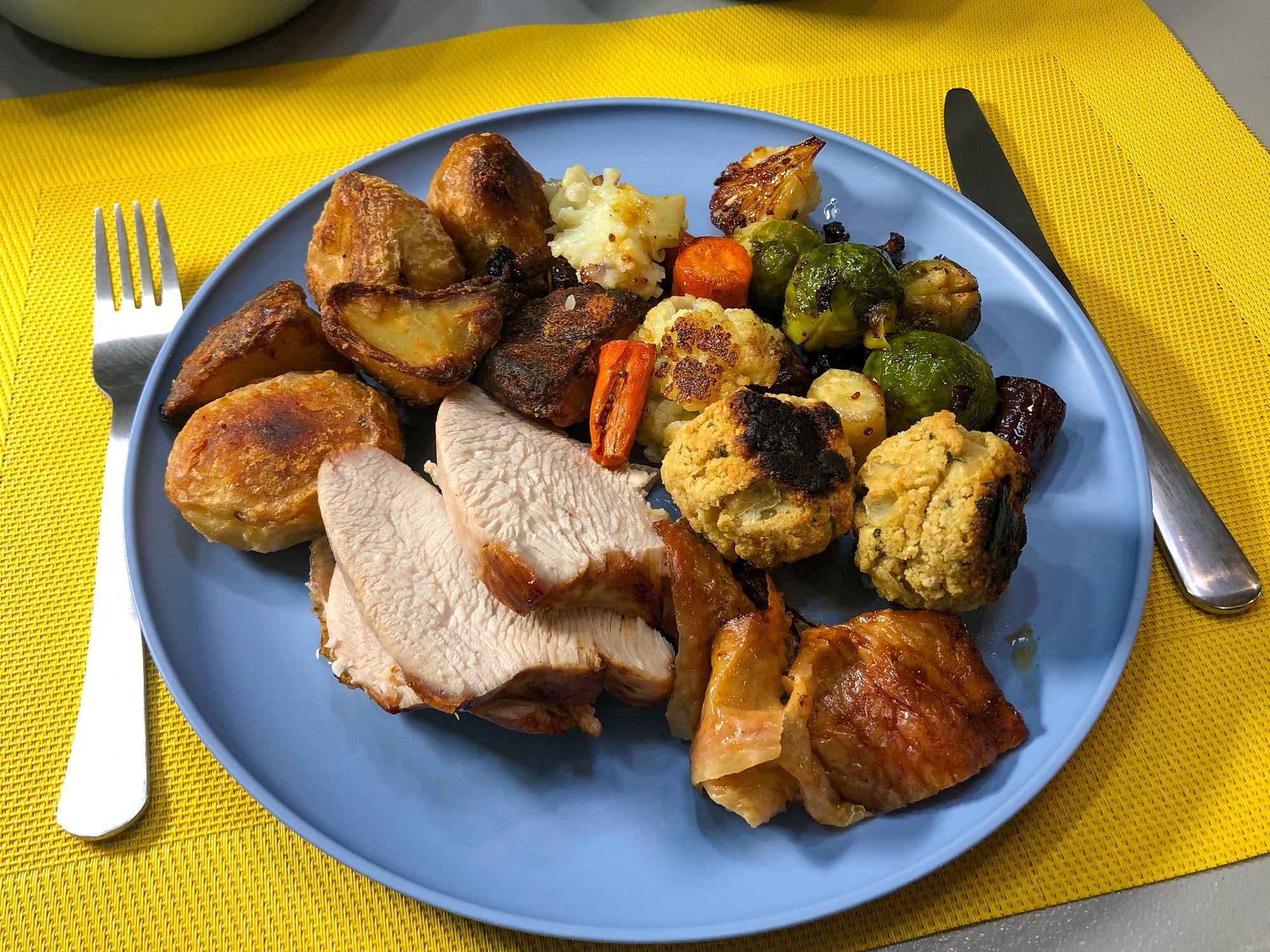 It was AMAZING! The skin was nice and crispy, and since we'd brined the turkey overnight, it was sooo tender inside!
To check the meat is cooked, I like to use a meat thermometer. However, I think our meat thermometer has stopped working - it seems to be reading significantly lower than it should be. Time for a new one!
We decided to try something a little fancy, so we bought a MEATER+. This is a wireless probe that connects to your phone via Bluetooth. You put the probe in the meat before you put it in the oven or air fryer, and it will measure the ambient temperature as well as the temperature inside the meat.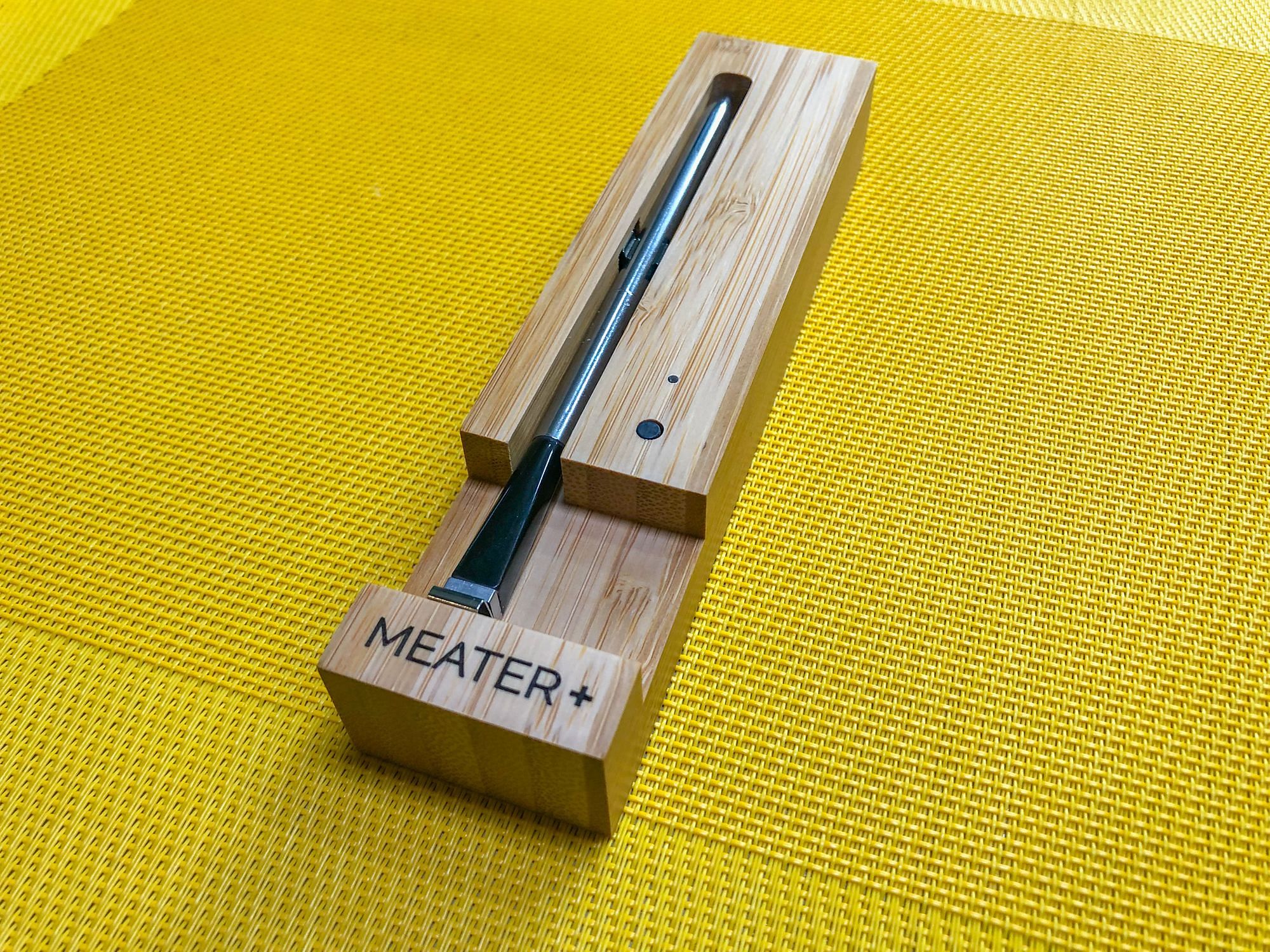 The app comes with a huge list of meats and recommended cooking temperatures, and using the data from the probe, it can even tell you how long left in the cooking time, as well as ensure you rest the meat for just the right amount of time.
I'm really looking forward to trying it out this weekend for our Sunday Roast, and we've added it to our RV Kitchen list on our Amazon Store page.
We'll keep you posted on how we like it!
Land Shopping
A couple of weeks ago, we shared our plans to build a home base, and specifically how we were looking for land in New England.
Since the weather has been pretty mild this week, it was a great opportunity to head out land shopping. Vermont's quarantine rules mean that we can't leave the state, even for a day trip, without quarantining for 14-days afterwards, so our land shopping is confined to Vermont for the time being.
Searching online, we identified five plots for sale that looked like they might fit our needs, then set out on a mini road-trip to go and see them. We try and be as thorough as possible with our online research, checking everything we can before spending time going to visit.
We're getting better, and this time we only immediately ruled out two of the plots after seeing them - one because the access road was so steep you couldn't even walk up it (we couldn't tell from Google Street View) and the other because the long access road would have needed serious improvements.
The other three plots weren't perfect, but were getting pretty close to what we're after. Finding somewhere that checks all our criteria isn't easy, but it feels like it's out there somewhere!