Life in Boise
Often when we "move house", especially if we move a longer distance, it takes some time to get used to our new location. Last week's mammoth 900 mile drive brought us out of the Arizona desert and up to our new home in Boise, ID.
We're camping here next to our good friend Cortni, also known as The Flipping Nomad, outside of her shop near Boise, ID. For the past couple months, we haven't had any neighbors at all and now we're overshadowed by the stunning Ultimate Montana.
That being said, if we have to have neighbors then we could do far worse - it's a pretty cool rig to look out at!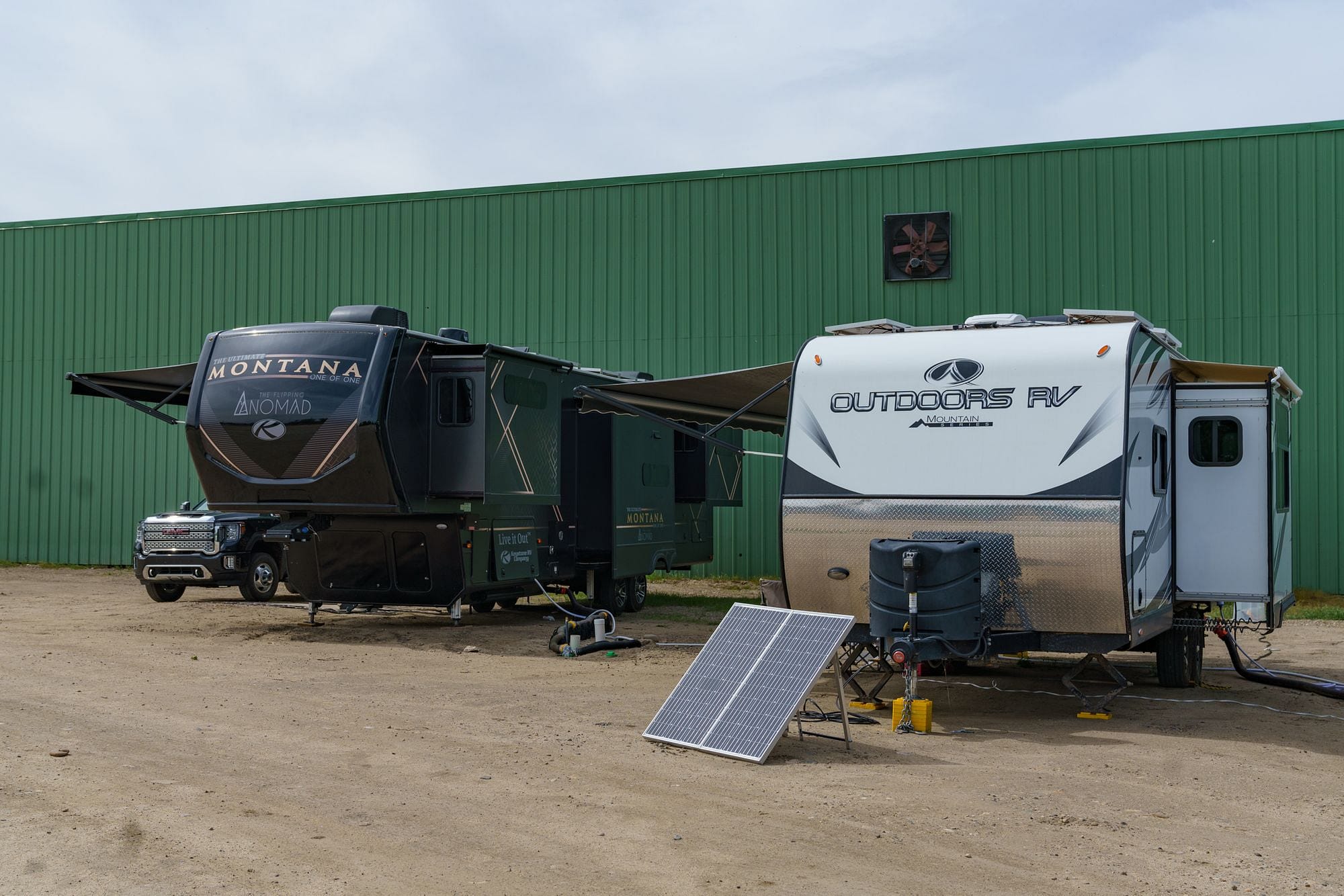 It's taken us a few days to get used to our new home. The weather is much cooler and nowhere near as dry as that which we had become accustomed to in Arizona - much more comfortable!
Not only have we changed timezone, but being further north has made the days longer too. Sunrise is about an hour later, but sunset is an hour and a half later. Our schedule of going to bed at 9pm doesn't work so well when the sun doesn't set until 8:45pm! We're still trying to work that one out!
There are also new noises to contend with - birds chirping loudly, noises from nearby businesses and road noise. Nothing too crazy, but it all takes a little getting used to after the silence of the remote desert boondocking we've been doing.
Landing in Boise also put an end to our boondocking streak - in the end we managed 114 days of boondocking!
I must admit, it's really nice to have hookups. While we enjoy the challenge of managing our limited resources when boondocking, it's nice to be able to relax and just not think about how much electricity or water we're using. We're able to shower every day and we're using every drop of hot water in our tank each time!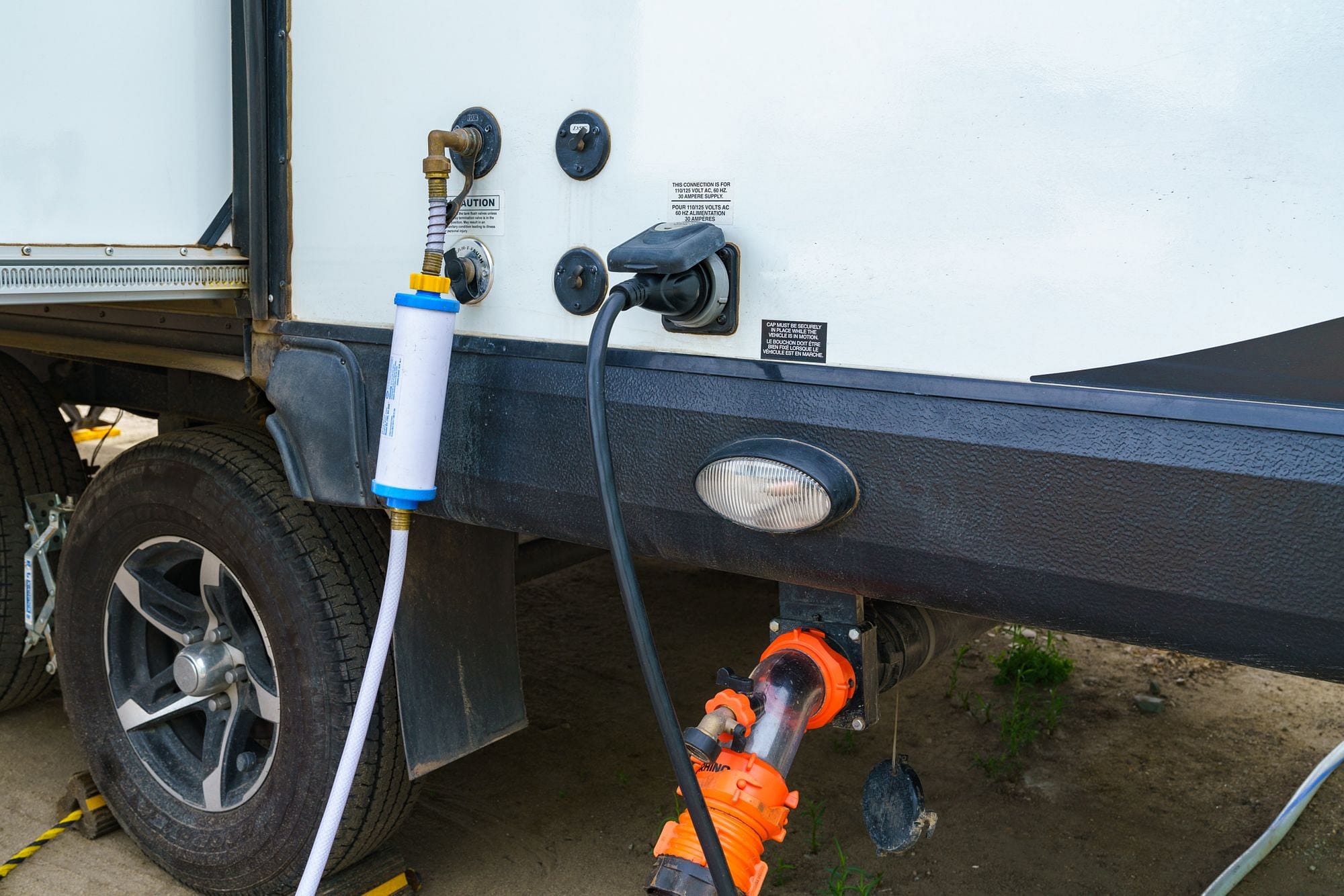 We've limited our shore power input to 15A so we don't pull too much current through the hookup we have access to, but our Victron MultiPlus 3000 will assist with power from the batteries if we need more power - e.g. to run the electric water heater and electric kettle at the same time.
Our solar panels will still charge our batteries when they drop below 100%, but even with the 15A limit on our shore power, the batteries don't get used much. One of the things I'd like to experiment with while we're here is to see what we can do to use the solar as much as possible - we might as well, right?
Truck battery
If you've been following our blog you may remember a month or so ago I noticed our truck battery was getting a little low. At the time I thought it might have just been from sitting idle, but it was draining too fast for that. I suspected I had a parasitic load somewhere but ruled that out.
In the end I resigned myself to the notion that our 4 year old truck battery might be reaching the end of its life. I don't really want to replace it while we're sitting in one place, so instead I've put it on life support - a battery tender.
When we were boondocking we could only power the battery tender during the day since it needs the inverter on and we turn that off overnight. But now we have shore power I can leave it running 24/7.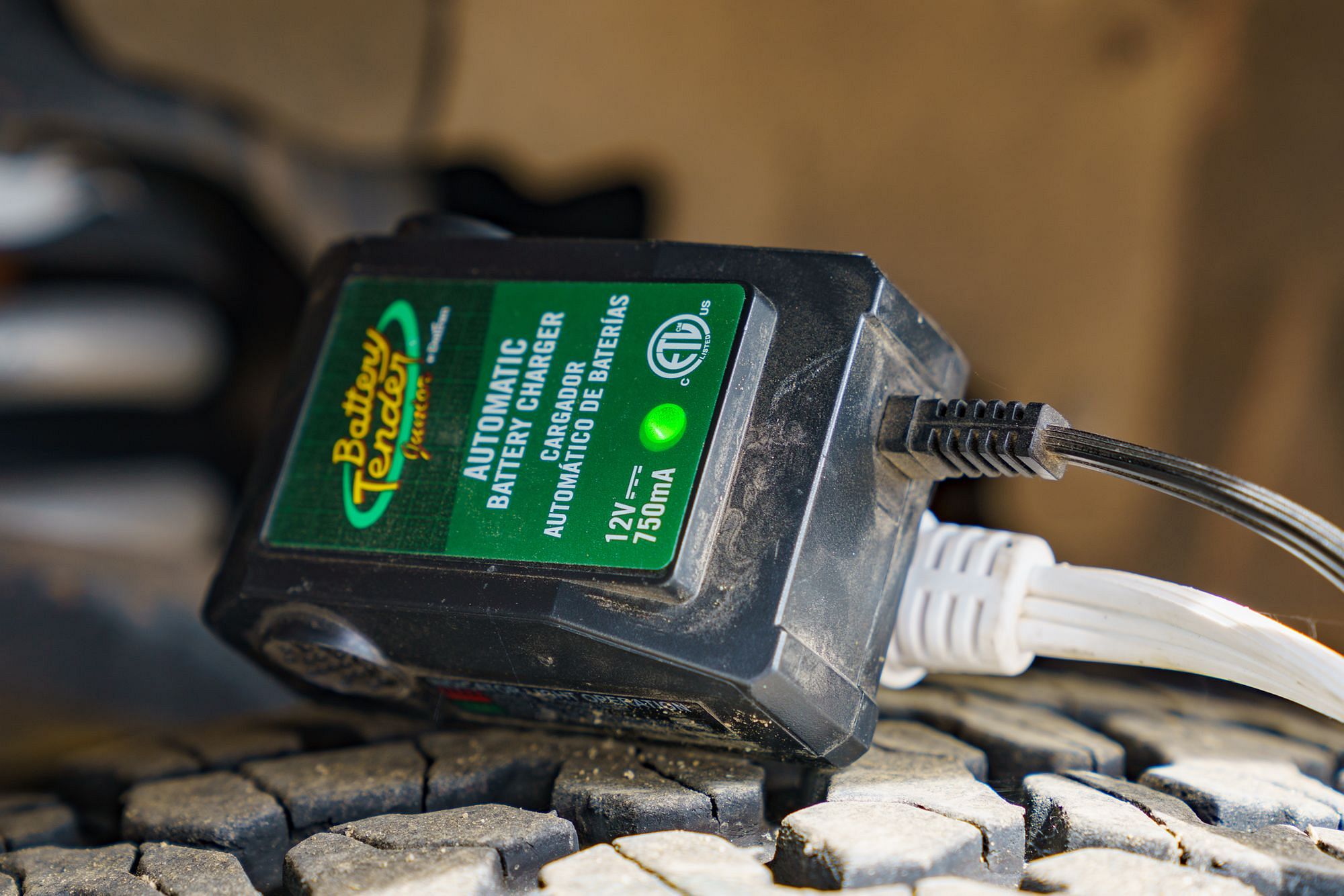 Even after our mammoth drive (which should have given the battery plenty of charge), it took the battery tender almost 4 days to give me the green light that the battery is fully charged. I think a new battery is in our future...!
Amazon deliveries
Living in an RV means we don't have lots of space to accumulate "stuff". My Amazon addiction from before we hit the road has been kept involuntarily in check as a result.
But my maker-brain is always thinking of new mods and enhancements for the RV, and often that means buying bits and pieces - usually nothing too large.
Down near Quartzsite, AZ there was nowhere convenient nearby to have an Amazon delivery shipped for free, and the shelter-in-place order made it even harder. So the last time we put in an Amazon order was mid-February.
Until now.
Now we have an address and we can receive deliveries again - so we've been catching up! Unfortunately Amazon's delivery scheduling seems to be all over the place. The 2-day guaranteed shipping is gone, and our orders are being spread out across multiple deliveries stretching out anything up to 3 weeks.
Fortunately nothing we've ordered is time critical, and getting things every few days is better than nothing. Actually, several orders have had their delivery timelines updated bringing the delivery dates forward significantly. We'll just have to wait and see I guess!
Self isolation
Having arrived from out of state, we're obliged to remain in self isolation for 14 days after arrival. We knew to expect this, and given the general guidance around travel and sheltering-in-place, it's not a big deal for us. In fact, it's really just more of what we were doing down in Arizona!
We're not in danger of running out of supplies any time soon - the big grocery shop we did in Blythe, CA over two weeks ago means we still have plenty of food in the fridge and freezer, let alone our pantry!
Plus, now we have friends nearby, if we needed something then it's nice to know we're not alone.
Bonus YouTube video
We've been continuing to work through our backlog of videos and blog posts, using content we filmed months ago, long before the lockdown happened. In fact, we're making so much progress that this week we were able to put out a bonus video this week!
If you haven't seen it, be sure to check it out - it's a very cool 360° video that you can scroll around while watching us drive along the Million Dollar Highway in Colorado while towing our trailer last July.
Remodel ideas
We're also working on a big upcoming project - a major remodeling effort inside our RV. It's something we've been planning for a few months but weren't sure when exactly we'd find time to do it. Since we can't travel at the moment, it's a perfect time to work on our RV!
Our overall plan is a major overhaul inside the RV to help it feel brighter and give us more usable space. We plan to repaint inside, rip out our dinette and replace it with a custom-built ergonomic workspace and a few more changes. No more spoilers though - stay tuned and we'll be sharing more as it happens.
Since our friend Cortni is something of a pro at these things, we bribed her with popcorn to give us some advice. We're really excited with the plans now, and once our self isolation is over and we can safely visit some local stores, Diana and I can start tackling the project!