As an Amazon Associate we earn from qualifying purchases.
RV Roof Update
Last week we shared the news that we had discovered mold in the ceiling of our RV, meaning not only does our RV need a new roof, but we had to move out into a hotel.
We don't conclusively know the root cause, and won't until the roof is removed - we think it's due to a build-up of moisture from living in the RV, but it may turn out to be a leak caused by something we'd done.
We're planning to tow the trailer 2,700 miles from Vermont to the Outdoors RV factory in La Grande, Oregon where they'll be able to repair the trailer. But we're waiting another couple of weeks before embarking on the journey - giving ourselves time to get things sorted and make the most out of our ski passes.
So there's not too much to update on that front, but a few things have changed.
First, we've almost completely emptied the trailer now. Our hotel room is full of boxes, bags and storage containers where we've emptied stuff out. But it's a good chance to sort through and see if we can downsize some things.
A few people wondered if the trailer is safe. We hope so! The RV park it's in always felt very safe, the owners and our neighbors are keeping an eye on it, and we have multiple security cameras and our home automation system still running. Oh, and it's pretty much empty anyway, so there's not much to steal inside, plus the RV itself is snowed in and has skirting on.
Second, we went back a few days ago to do a mold test kit. It seemed as though the attic space had dried out a little, but there was still a lot of moisture up there. Diana put her bioinformatics minor to good use and swabbed a sample from the ceiling to be sent off to a lab. We think a lot of the black areas might be mildew rather than mold, but we should find out in a week or so when the lab results are back, and either way, the roof still needs replacing.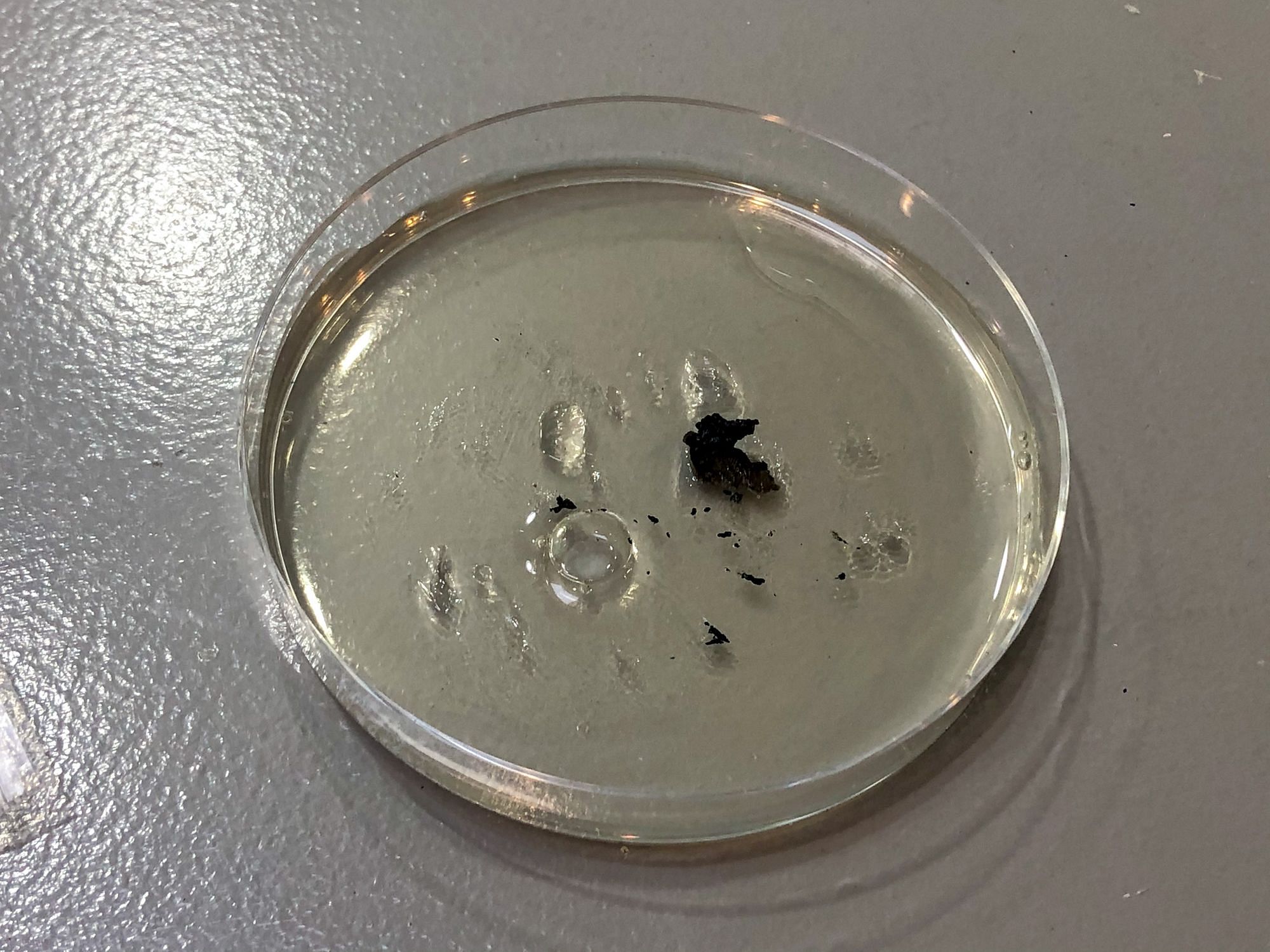 Yesterday we rented a storage container - and yes, it's climate-controlled! We're going to put everything from the trailer into there over the next couple of weeks before we head to Oregon with the bare necessities - keeping weight down to help the fuel economy, but also reducing the chance of mold spores spreading to our possessions.
At this stage, no news is good news. The thermostat is set to 45°F and the dehumidifier is running 24/7 - although in 5 days it had pulled out less than a pint of moisture, it's so dry inside!
Stay tuned!
Thank You
We were very nervous about sharing the news last week. How would people react? Would they be kind? Would people jump to conclusions and blame us for badly installed solar panels? Would they think less of us because of this? Had we failed at RVing?
Our fears turned out to be unfounded. Comments started pouring in on our blog post and YouTube video - hundreds of comments! And emails too - so many emails from people.
And every single one of them has been kind. People offered support, ideas and encouragement. People were sympathetic, sharing their own stories. People thanked us for sharing something so difficult. People admired our positive attitude.
To say we were relieved would be an understatement! I barely moved from my laptop for the next 6 hours, trying desperately to reply to and thank every comment and email that came through.
So I just want to say thank you. The internet can be an unforgiving place, but this reminded us that there are a lot of good, kind people out there. We're so grateful to our community of followers, and your support and encouragement is why we keep sharing our story.
Hotel Life
OK, let's lighten it up a little. It's been two weeks since we checked into the hotel, and we're trying to make the most of it!
So I thought I'd share ten light-hearted things we've learned about living in a hotel vs RV life:
It's noisy! It's a nice, clean 3* hotel, and as hotels go, it's pretty quiet. But after living in an RV, it's so loud! Compared to boondocking, or even in the RV park, we're not used to having neighbors on either side of us, above and below!
I really miss having a dishwasher. I hate washing up and in the RV, Diana does nearly all the washing up while I'm on drying duty. The hotel room's dishwasher is my best friend - it's going to be hard to lose it when we check out....
We have a LOT of stuff. This room is probably 4x the size of our RV, yet we've filled every closet, cupboard and drawer. And we still have a huge pile of boxes in the middle of the room. Clearly we've been employing some mad Tetris skills in the RV!
Diana is very good at hiding things. Books and papers, specifically. There are two boxes and one bag of books here and I have NO idea where they were in the RV. She won't tell me.
Long, hot showers are really nice after skiing. Our RV has a 6-gallon hot water tank, and in summer you can have a really long shower if you turn on both the electric and gas water heaters. But in winter, it doesn't work as well - I guess the water coming in is so much colder that the heaters can't heat the water as fast as we use it when showering, so showers max out at 10 minutes or so. I've managed a 30 minute shower in the hotel already....
A lot of our devices run on 12V. In the RV, this is great because it means we don't need the inverter to use them. In a hotel room, it's less ideal because there's no 12V. It's led to some interesting hacks, like using our truck battery lithium jump starter (similar to this one) to power the Apple TV.
Having a residential fridge is kind of nice. The extra space, knowing it cools down quickly, a very stable temperature - all improvements on our RV fridge. But, the compressor on the fridge isn't silent - we can hear it at night compared with our RV absorption fridge which is almost totally silent.
Not having an oven is a challenge. The hotel room has a full kitchen, except no oven. Since we already had a meal plan and a fridge full of ingredients, this has been difficult. However we did cook an entire roast dinner very successfully this week in our Instant Pot using the Air Fryer Lid and a MEATER+.
We miss our bed. Having a king-size bed is nice, and we brought our pillows and duvet with us. But the mattress in our RV is definitely more comfortable - it's the mattress that came with the RV, but we love it!
Home automation is amazing. In the hotel room, I can lie in bed with my phone and change the temperature on the thermostat. Except it's the thermostat in the RV! To change the temperature in the hotel room, I have to do it the old fashioned way and get out of bed! This is also noticeable when it comes to turning off all 8 light switches in the hotel room!
The hotel is just temporary, but we're having fun here. The staff are friendly, the room is well equipped, and we've made ourselves feel at home as best we can.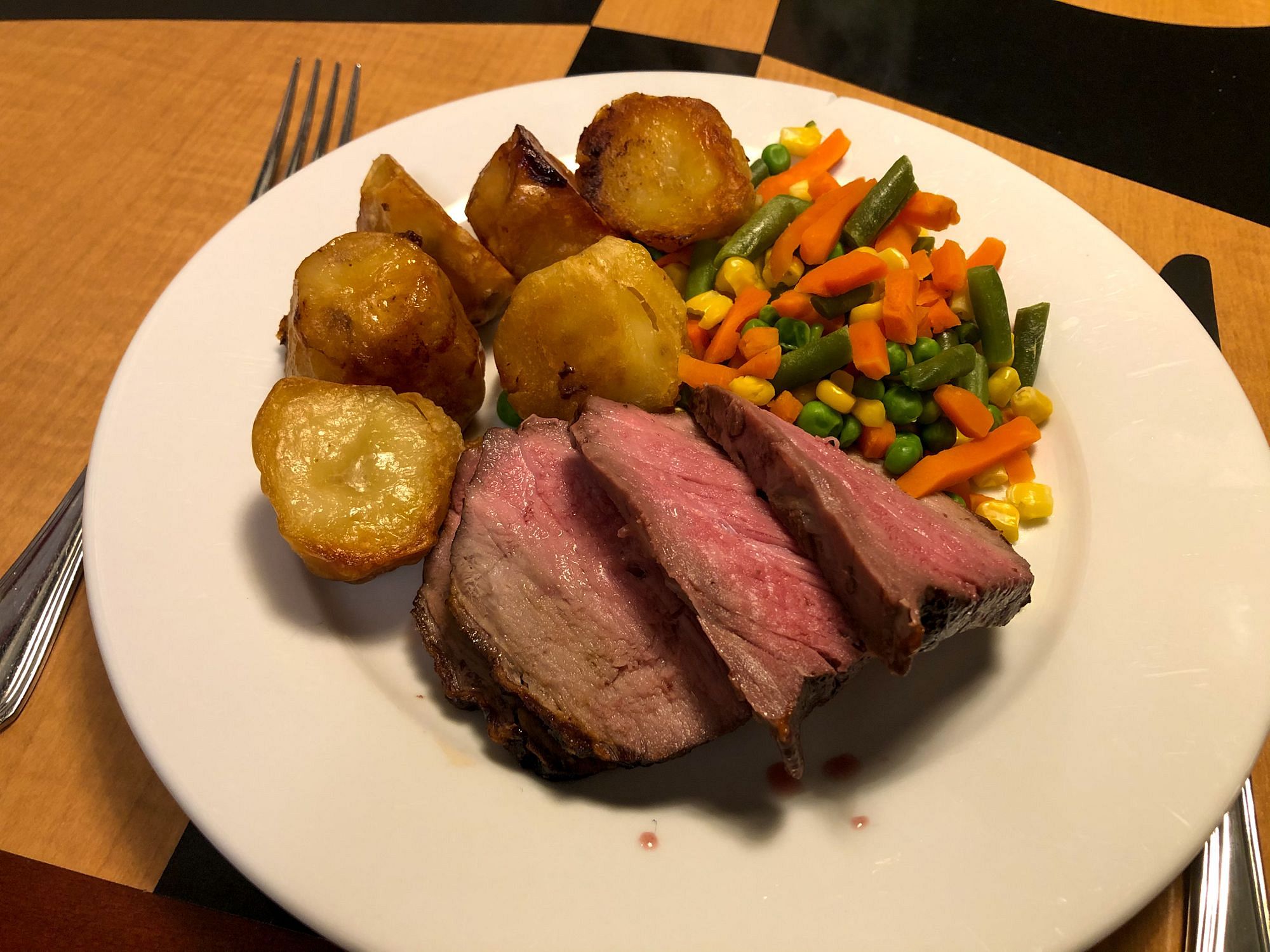 We also had our first fire alarm. It happened in the middle of the day on Saturday. Statistically, if you stay in a hotel long enough it's only a matter of time before you find yourself quickly pulling on your shoes and evacuating to the parking lot. It turned out to be a water leak which, for some reason, causes the fire alarm to sound.
There's even a fitness center and a pool which, due to COVID, are being operated on a reservation basis so it's just Diana and me in there. Private gym and pool!
Skiing
After we first moved into the hotel, our priority was getting our stuff out of the trailer and preparing it to be left empty for a few weeks. Once that was done, we could turn out attention to skiing.
Our RV is about an hour from Killington, the largest ski resort in the eastern US and the resort we've been skiing at so far this winter. However, our hotel is about 45 minutes away from the RV, in the wrong direction. An hour and 45 minutes is a long way to drive to go skiing!
Fortuntaely our ski passes are also valid at Sugarbush which is about an hour from the hotel. Sugarbush is a great resort - the second largest in Vermont (after Killington) and the third largest in New England.
Sugarbush is a lot of fun, and with 53 miles of trails there's plenty to keep us busy for the next couple of weeks while we're here.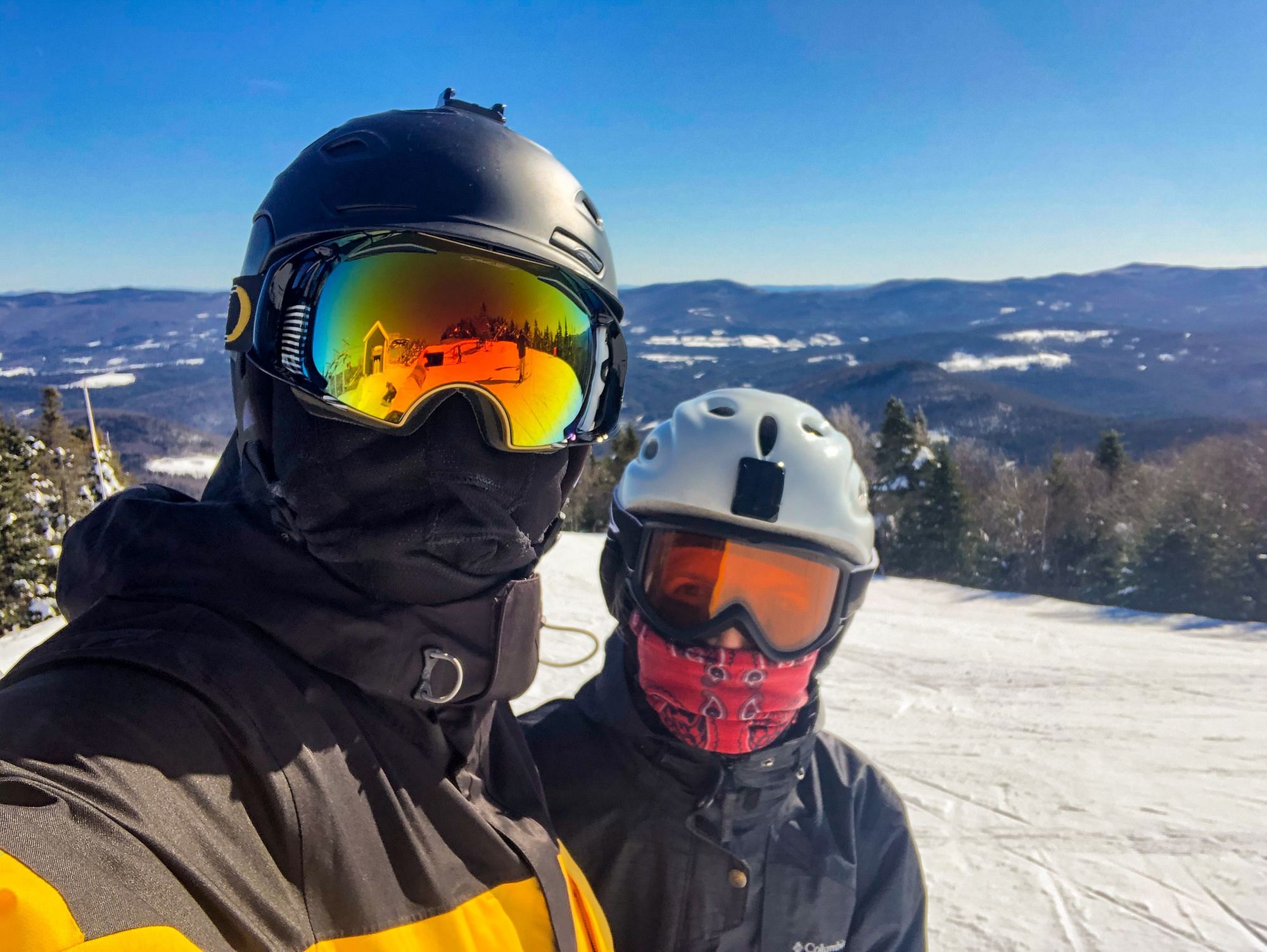 So far, our approach has been to head out early in the morning, leaving about 7:30am so we can be on the slopes by about 9am. We ski for a few hours and then leave shortly before noon so we can be back in time for lunch and work in the afternoon.
This has been working well, but it's been pretty cold lately and skiing in the morning means icy roads and colder conditions on the slopes. So we're going to try switching it up - working in the morning and skiing in the afternoon.
Property Search
Monday was Presidents' Day, and the Saturday and Sunday prior were therefore blackout dates on our ski passes - days we're not eligible to ski. We took full advantage and used the time to make some good progress on our property search.
We're working with a realtor who has been sending us lots of possible properties, and on Saturday we whittled down a list of about 40 candidates to a dozen or so that looked promising. Then on Sunday, we had a drive out to visit as many of them as possible - we managed to see 9 of them.
Visiting in winter is a mixed blessing. On the one hand, it's much harder to visualize what it could look like, or even walk the land, when there's a foot of snow on the ground. On the other hand, since we're looking at remote, rural plots, it's a good way to see how easy the land is to access in winter.
The online listings lack a lot of detail, and are sometimes just plain wrong. One of our must-have criteria is cable or fiber internet, and more often than not this isn't accurately listed.
So some properties we were able to rule out very quickly due to lack of internet-connectivity or, like one, poor access - the final half-mile of driveway was only open to snowmobiles!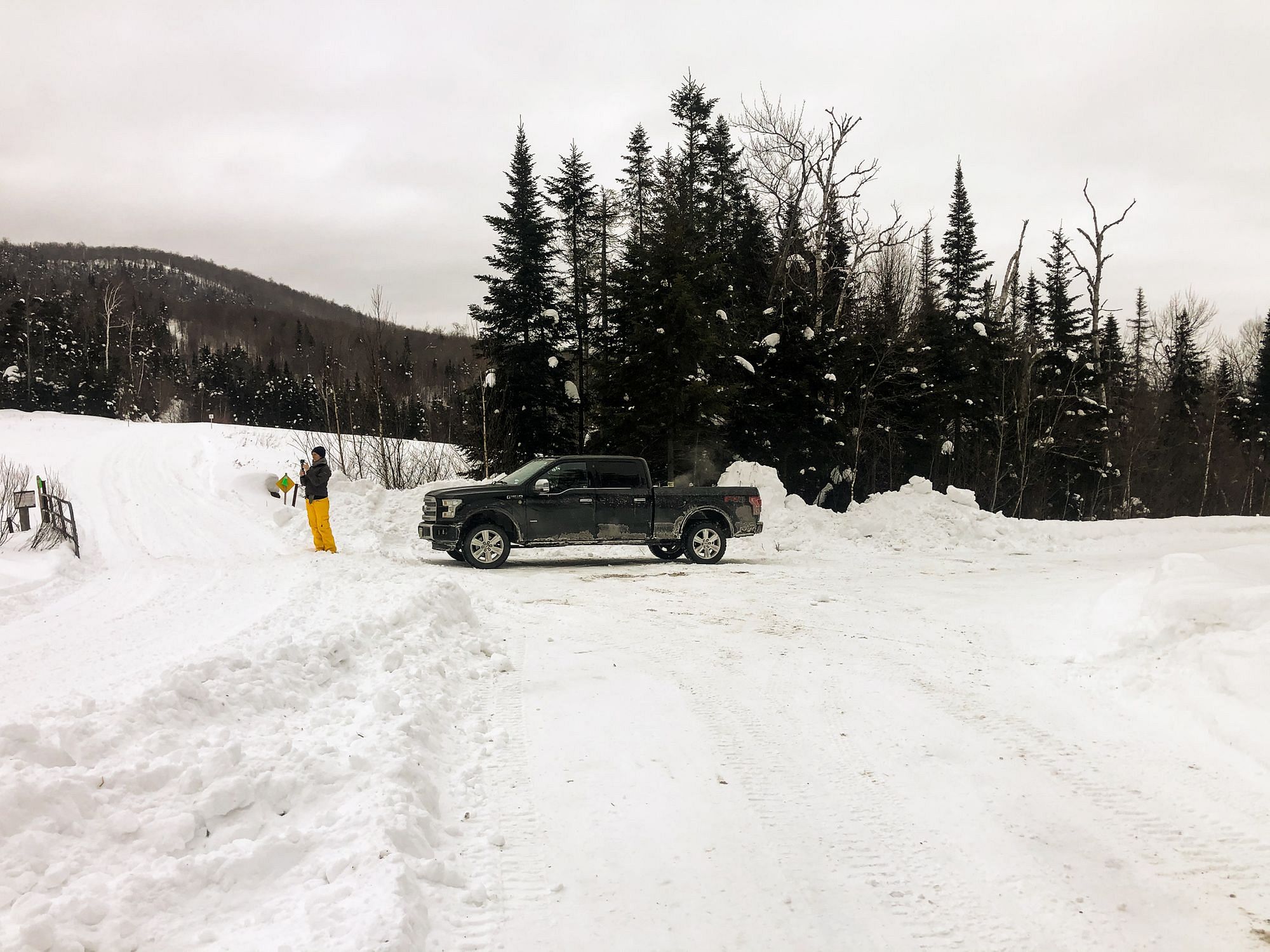 In the end, we found 4 properties that seemed to check all our boxes. We still have some questions about them, and obviously there's a lot of legal stuff to be done on each one (site surveys, deed title checks, wetland reviews, soil perc tests, etc), but it's promising. It's early days, but progress is being made!
Anyway, that's all for this week!