As an Amazon Associate we earn from qualifying purchases.
Let me begin by saying I'm not a food blogger. If you came here for photos of glistening food and carefully crafted recipes, then let me stop you right here.
I'm just a guy. A guy giving you a real, honest review of our experience with the Instant Pot Air Fryer Lid. A guy who was looking for a good quality air fryer that wouldn't take up a load of space in our tiny kitchen, but would still make really tasty food.
We're not sponsored by or affiliated with Instant Pot in any way. We bought our Instant Pot Air Fryer Lid on Amazon, and were surprised that so few people even knew it existed (including us until we were carefully researching the topic) that we thought we'd share our experience with it after a week of use, so you can decide if it's right for you too.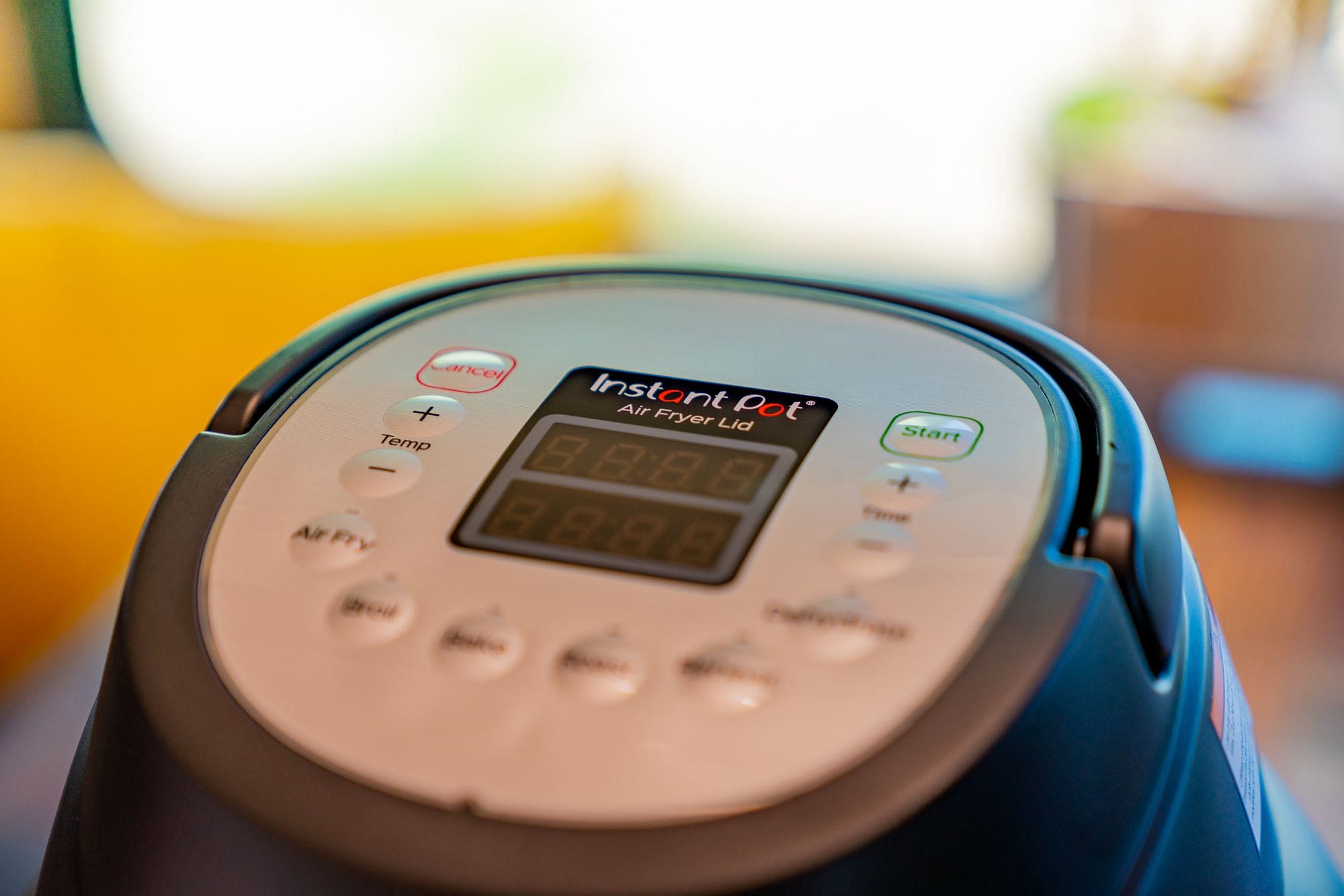 Air Fryer Lid vs Ninja Foodi vs Instant Pot Duo Crisp vs Mealthy CrispLid
We already owned a 6qt Instant Pot Ultra which doesn't seem to be all that popular any more, but is very similar to the 6qt Instant Pot Duo Plus.
We use our Instant Pot quite a lot - for everything from cooking dried beans to making hummus, homemade yogurt, soups, chili, sous-vide steak and even full meals like salmon with smashed potatoes. It works great!
We travel full time in our RV, and our small travel trailer has a tiny oven. It works great for a single tray of roast potatoes or a pizza on a pizza stone, but I wanted a countertop air fryer so we had a bit more flexibility.
Plus, I really wanted to try my hand at dehydrating garlic to make garlic powder, and some fruits to make some healthy snacks. Our propane oven just isn't ideal for that.
With limited storage space, a big new appliance was out of the question, unless it could replace our existing Instant Pot altogether. And that's how I started looking at the Instant Pot Duo Crisp and Ninja Foodi.
The Duo Crisp is Instant Pot's answer to the Ninja Foodi - a great combination pressure-cooker / air fryer that's been around for a little while now. I read several reviews online, and both seemed to have their advantages and disadvantages. But there were three main things that I didn't like about either of them:
They are big - much bigger than our current 6qt Instant Pot
They are expensive - there's nothing wrong with our Instant Pot, yet we don't have space to keep both and replacing a perfectly functional appliance just felt wrong
I'd lose capability - the Duo Crisp has no yogurt function, and the Ninja Foodi has no sous vide function (our Instant Pot Ultra can sous vide to ±5°F)
Honestly, I was disappointed. It felt like buying either of them would have lost me as much as I gained. And that's when I came across the Mealthy CrispLid.
What is this genius appliance? A replacement lid for my existing 6qt Instant Pot that turns it into an air fryer?! Sold!
And it was only then, as I researched the Mealthy CrispLid more, that I came across the Instant Pot Air Fryer Lid. I don't know how I hadn't come across it earlier, but I was fascinated. After reading yet more reviews, I settled on the Instant Pot Air Fryer Lid for two main reasons:
The Air Fryer Lid is more powerful than the Mealthy CrispLid, and reviews suggested it did a better job of crisping food more quickly and thoroughly
It's an official Instant Pot accessory and that made me feel a little better about it
So although the Air Fryer Lid is a little more expensive than the CrispLid, we decided to pull the trigger and order an Instant Pot Air Fryer Lid.
Unboxing
A few days later, a box arrived. A rather large box!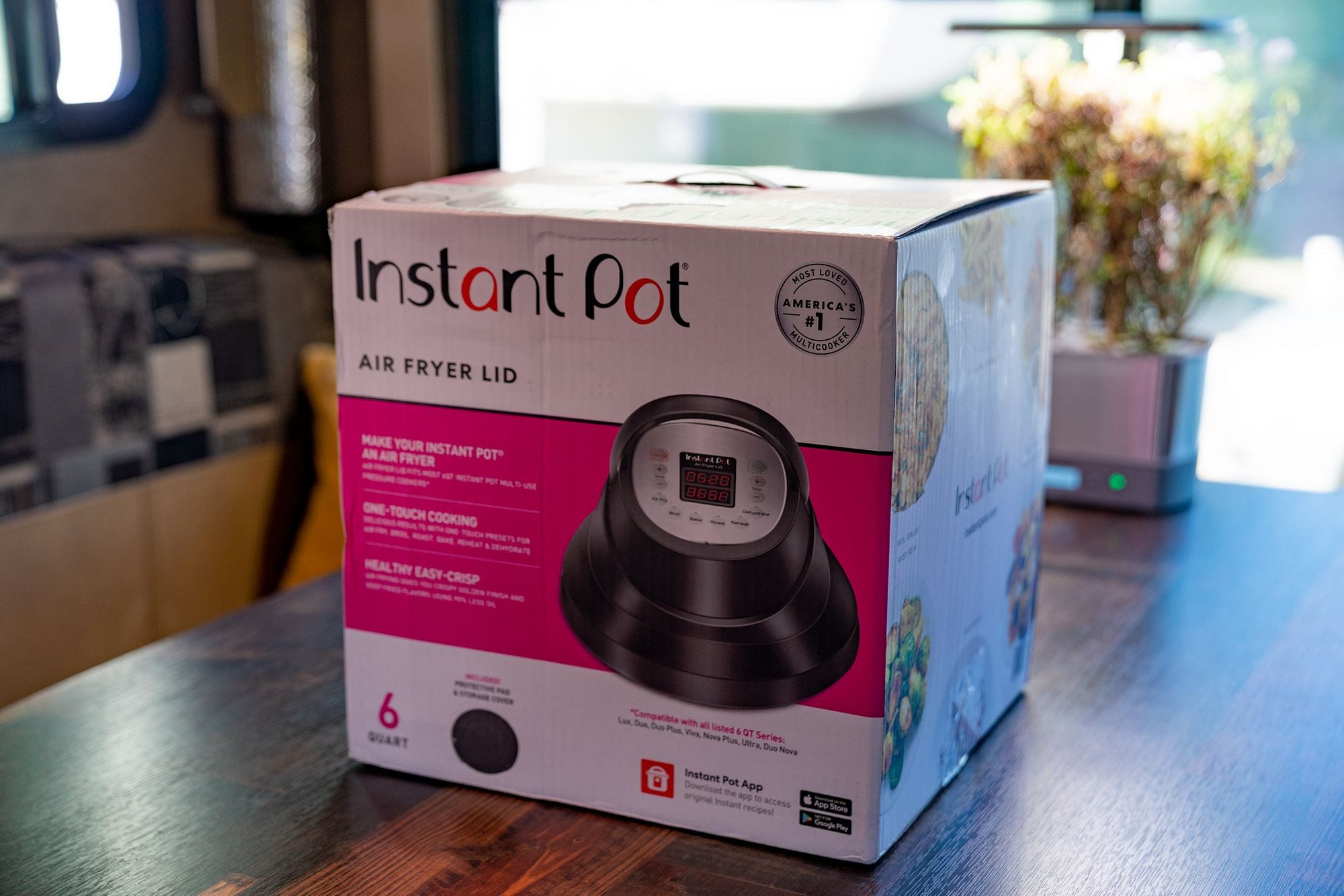 We opened the box, finding everything inside very well packaged in protective cardboard and plastic, as you'd expect for something like this.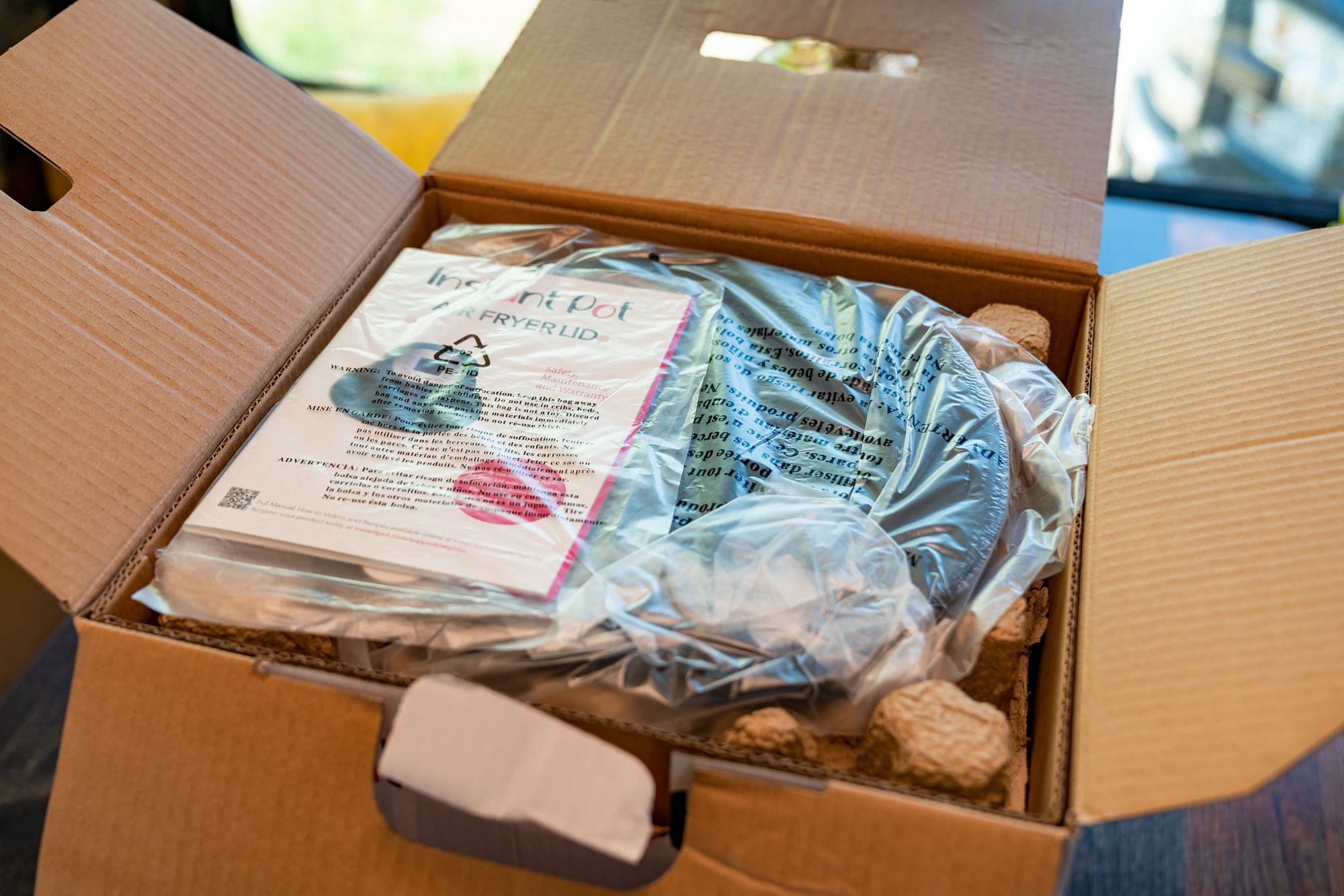 Although the Instant Pot Air Fryer Lid is an attachment that goes on top of your existing 6qt Instant Pot in place of the original lid, it also comes with several other parts.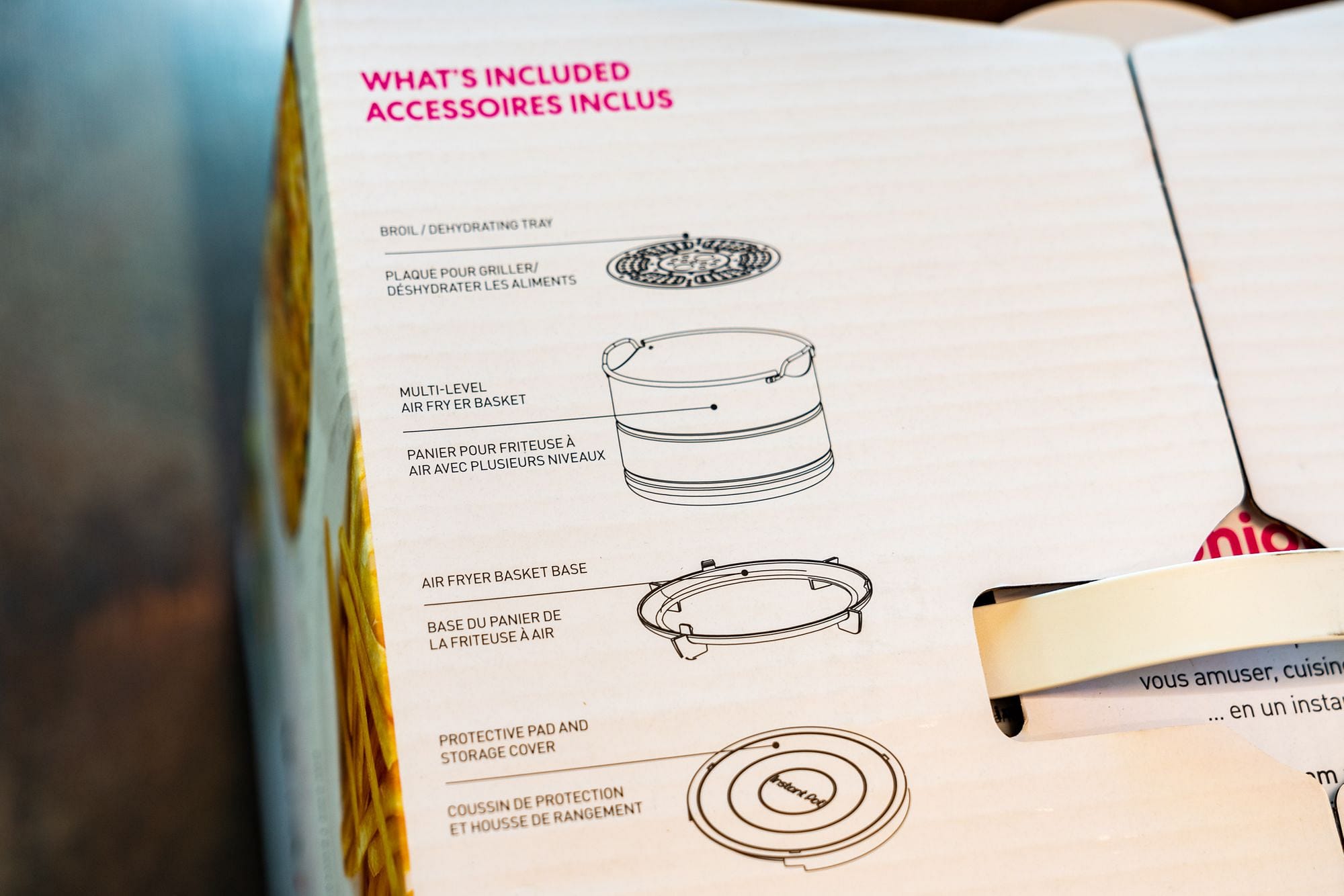 The Air Fryer Lid is essentially a large heating element and a fan that blows hot air onto the food below. Consequently, there are many cautionary notes about how hot the lid will get, and not to put it down on anything.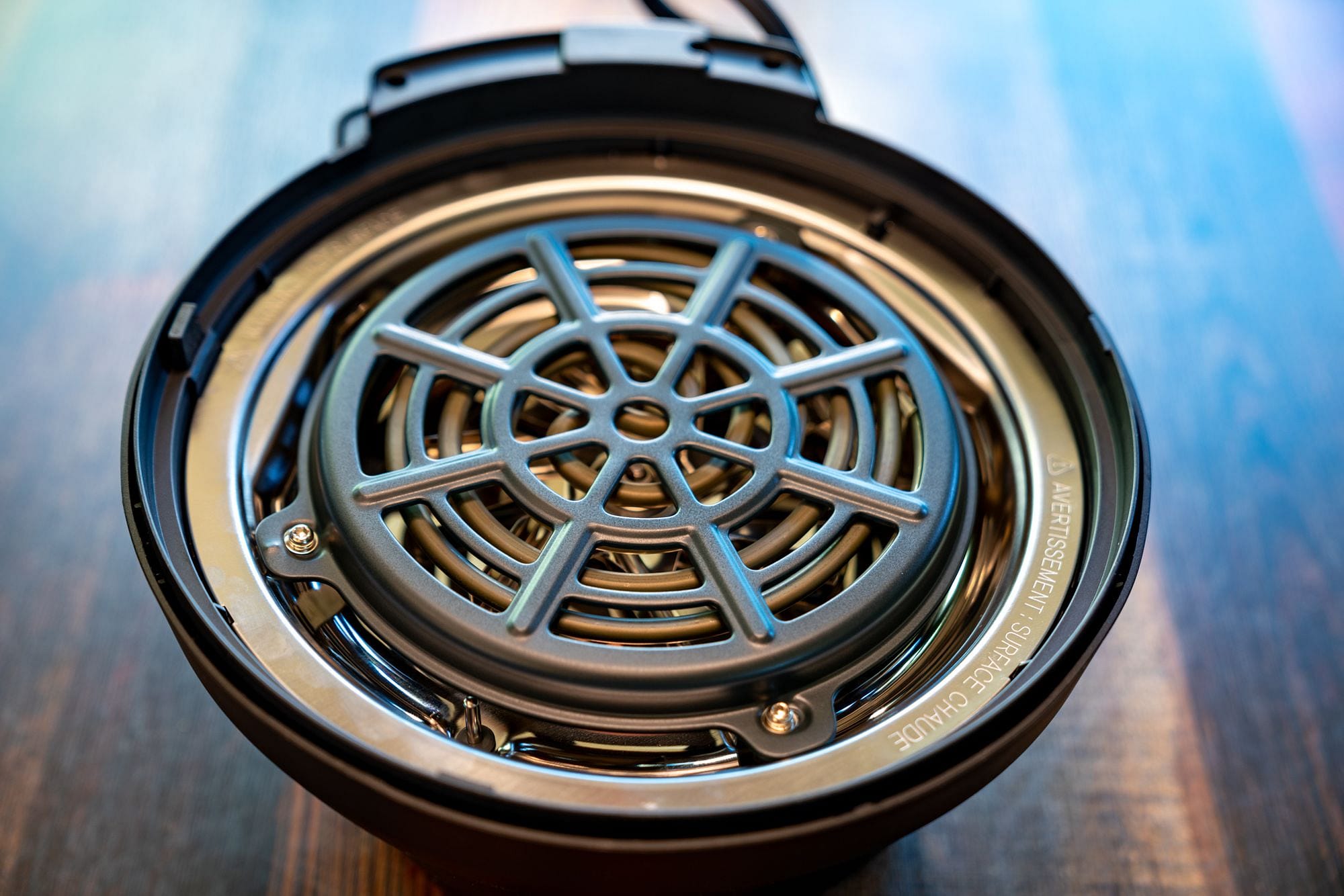 To assist you, the box also contains a protective pad and storage cover that the Air Fryer Lid can rest on when you lift it off, but also locks onto it for storage to protect the lid itself.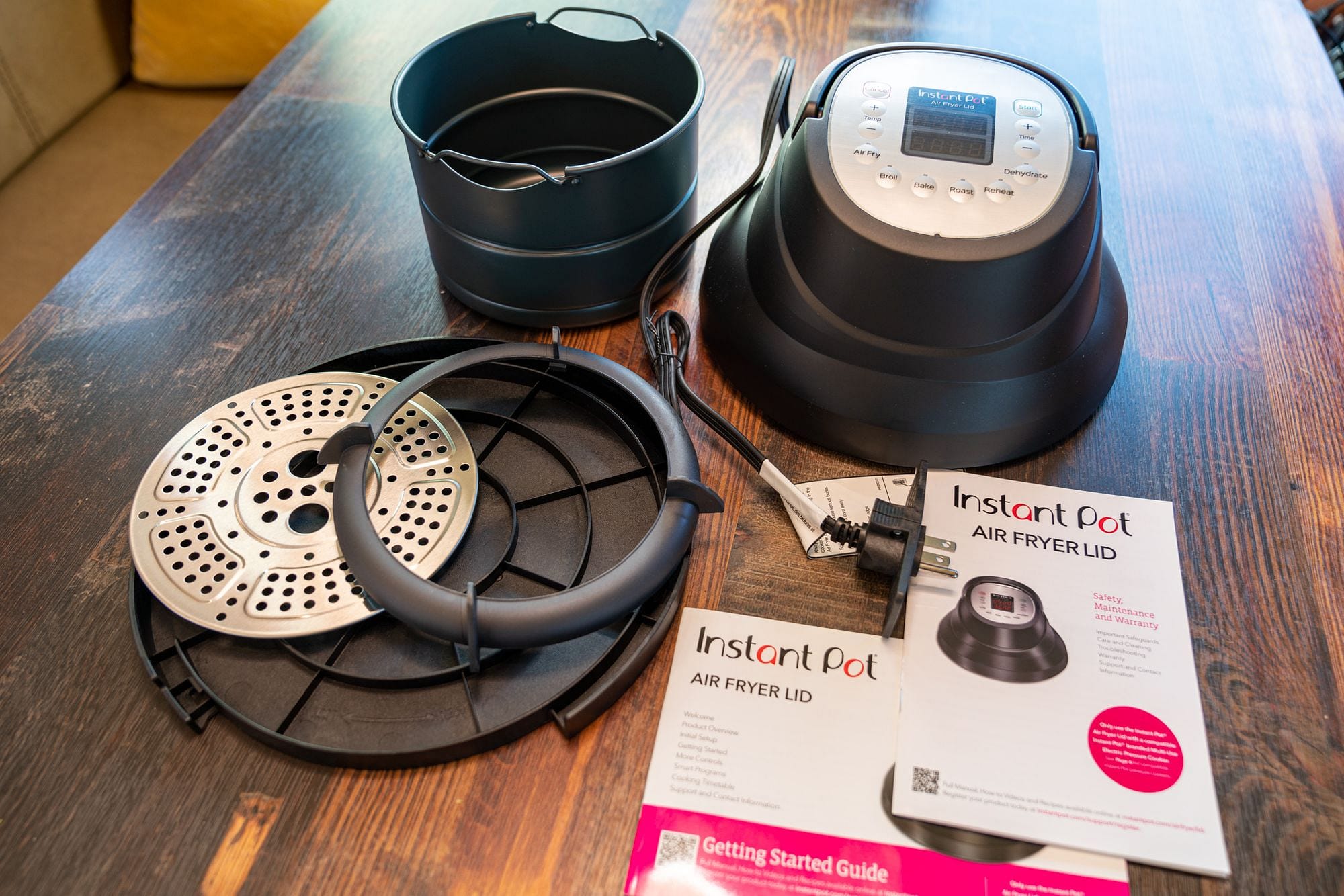 The accessories include an air fryer basket, complete with base stand and shelf that goes inside the basket to increase the capacity. This basket is used inside the stainless steel inner pot that comes with your Instant Pot - note that you cannot use a ceramic inner pot for air frying.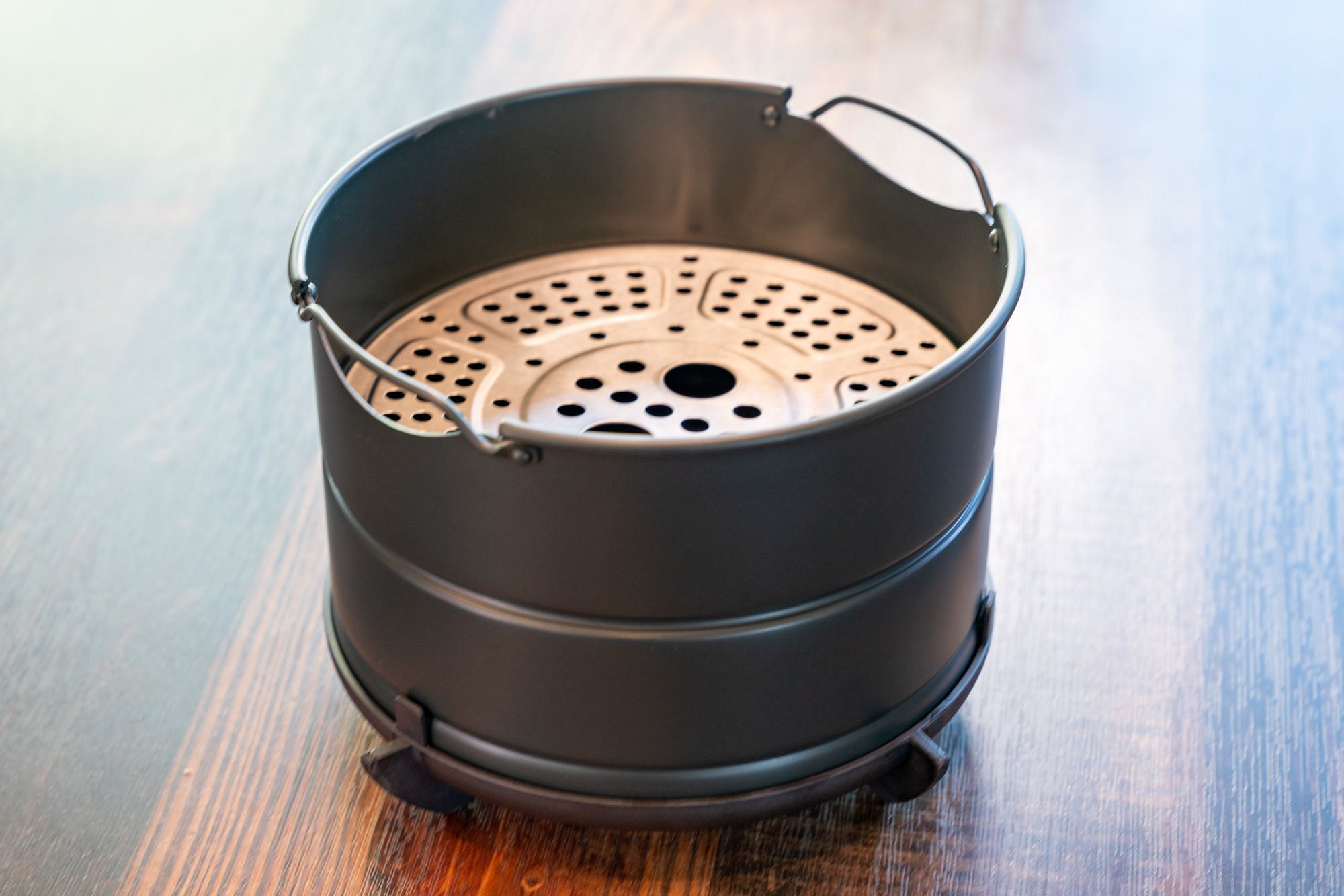 The Air Fryer Lid itself is tucked away at the bottom of the box. Lifting it out, you realize how heavy it is - it weighs almost 6lbs!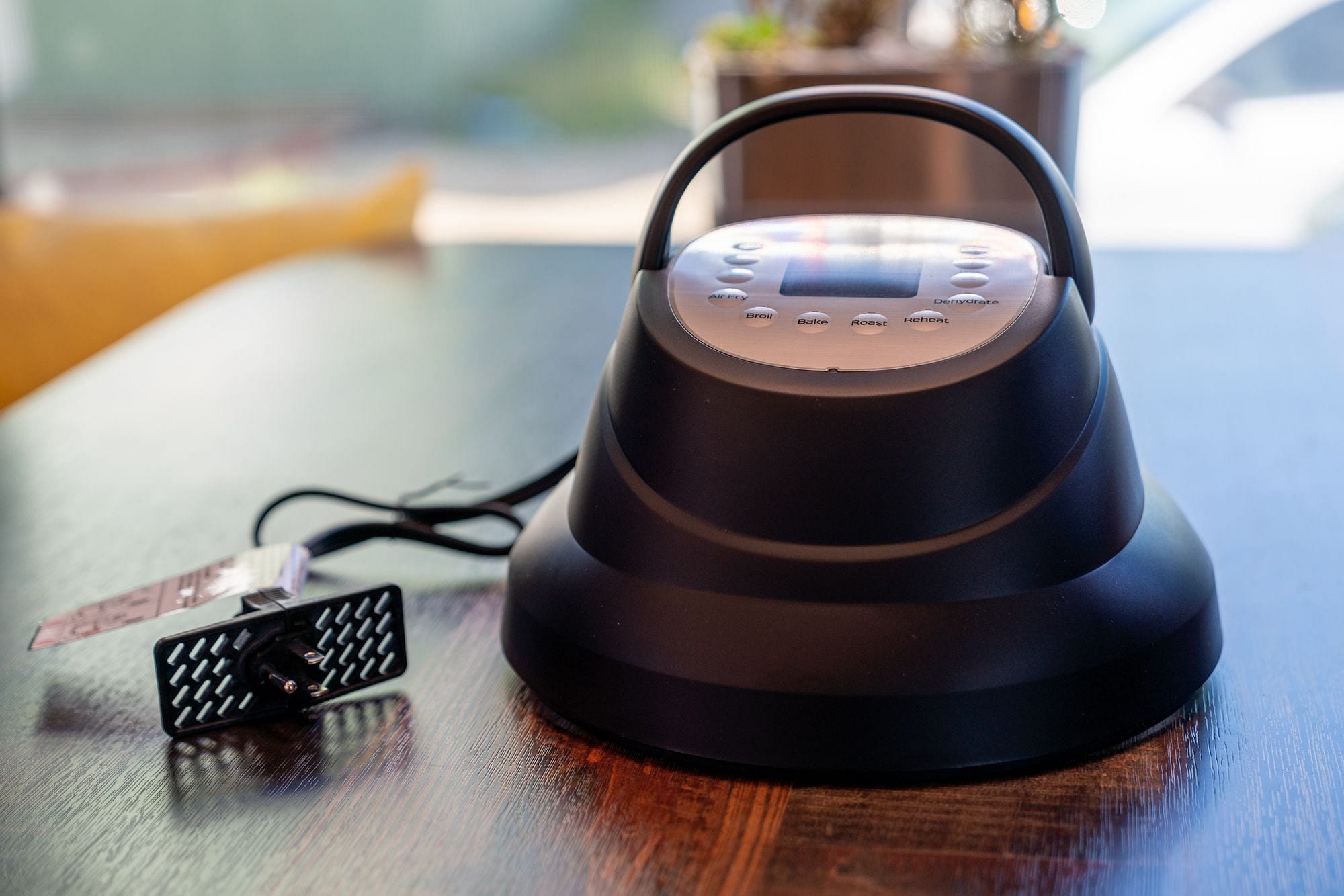 It's not small either, it's about the same size around as the Instant Pot and stands about 6" tall, not including the folding handle. Since our stove hood is quite low, this made it a pretty tight fit if we wanted to squeeze it underneath to make use of the extractor fan.
On the top of the Air Fryer Lid you will find controls that should look familiar to anyone who owns an Instant Pot.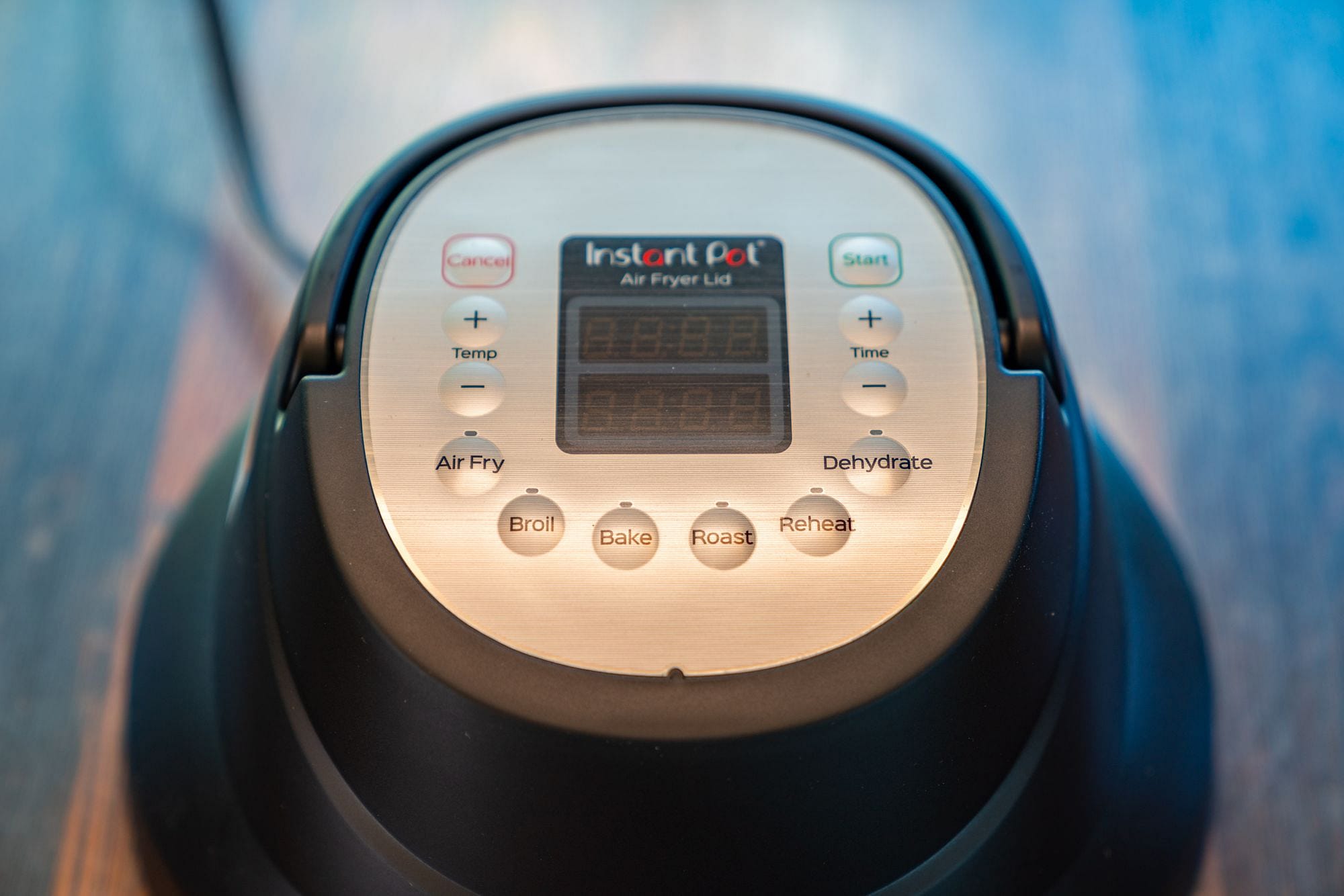 Also, let's talk about that plug. That plastic surround is not packaging - it's a permanent part of the molded plug, and the cable is hardwired into the lid at the other end, unlike the removable cord on the Instant Pot.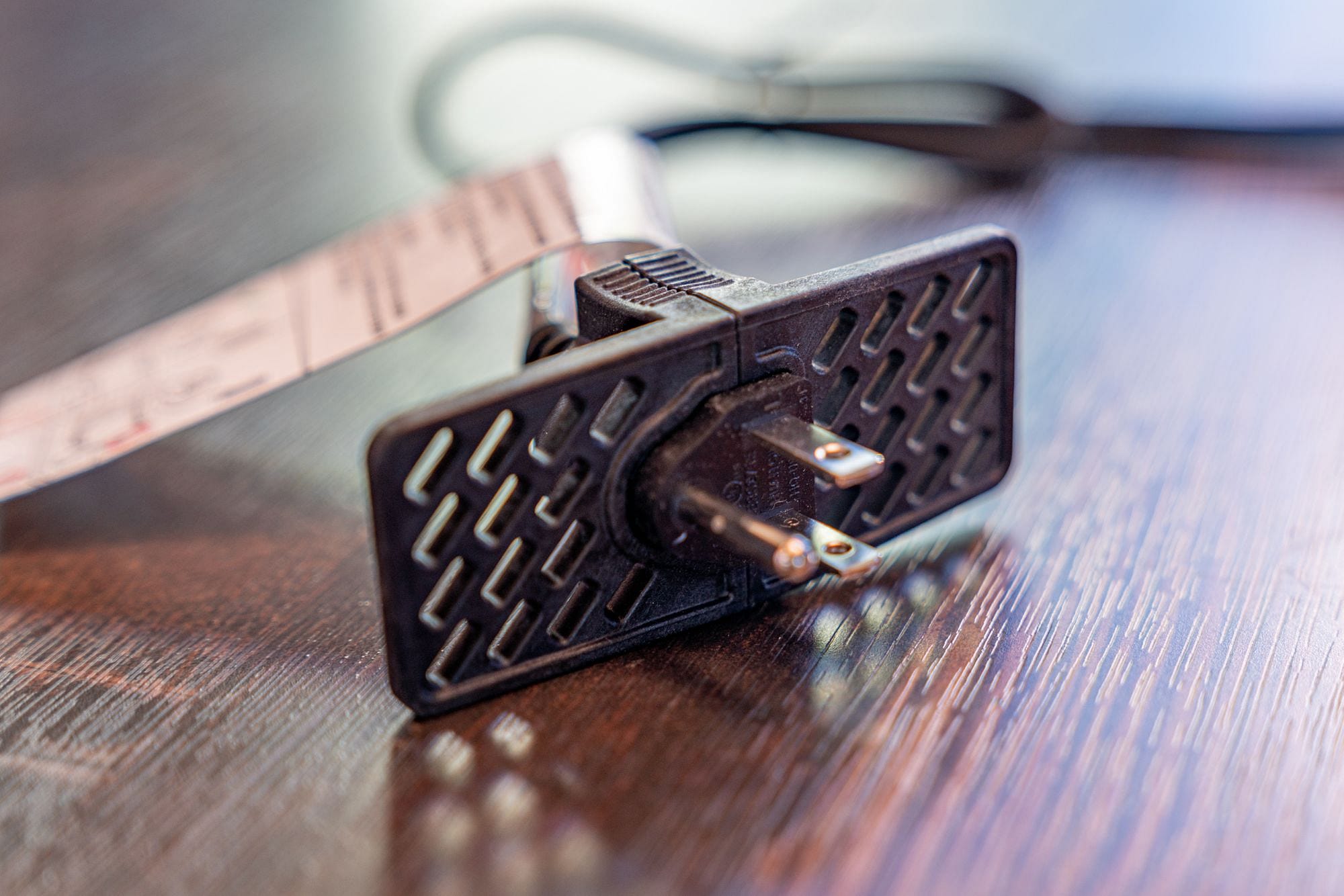 This is apparently a safety feature, designed to cover both outlets on a double-outlet, stopping you from accidentally plugging in the Instant Pot at the same time which is a big no-no.
Plus, with a high-power device like this, you could even trip your electrical breaker by running another big device at the same time from the same outlet. So while the giant plug does make sense, it does make the device a little more cumbersome to store and move around.
The Air Fryer Lid just sits on top of the 6qt Instant Pot. It doesn't lock in place like the original Instant Pot lid does, but when plugged into power it does make the familiar little jingle when it's seated correctly, and won't start running until it detects that it's correctly mounted.
But, you can see from this picture just how tall the entire setup is. Given the weight of the Instant Pot and the Air Fryer Lid, it's worth bearing in mind how big and heavy this combo-device becomes.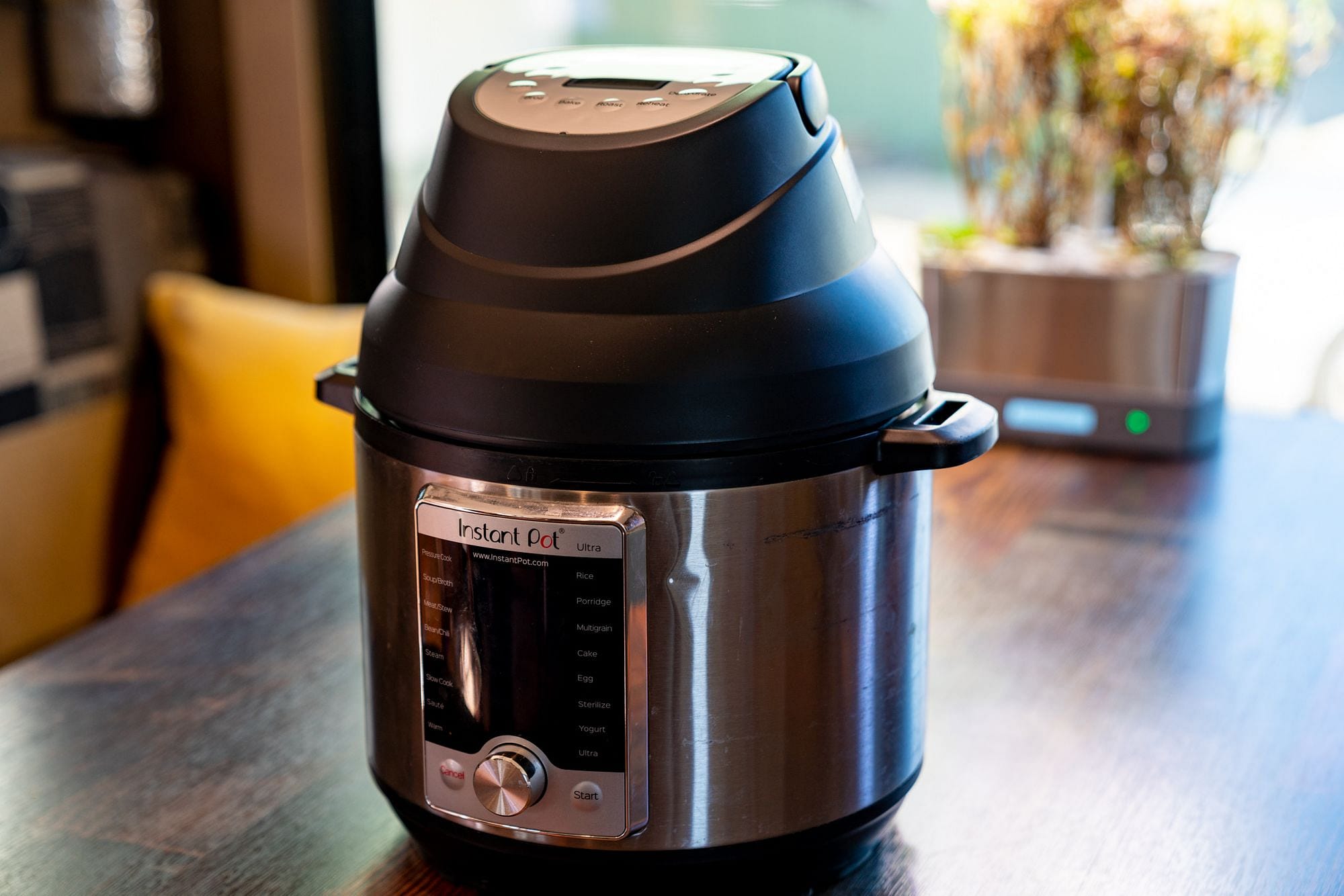 By the way, if you are wondering what the silver thing with plants in the background is, then be sure to check out our AeroGarden Harvest Elite review.
Anyway, enough of the unboxing - let's get onto how this actually performs!
Air Frying
Since this is an air fryer, it only made sense to start with testing out its Air Fryer mode. It arrived late afternoon, just in time for us to try out some sweet potato fries for dinner!
Before we used the air fryer, we washed all the parts to make sure they were clean.
Sweet Potato Fries
We peeled and chopped up two large sweet potatoes into sticks, then tossed them in some oil, salt, pepper and some smoked paprika. Not wanting to overload our brand new Air Fryer Lid, we chose to put half the portion into the basket, without using the shelf.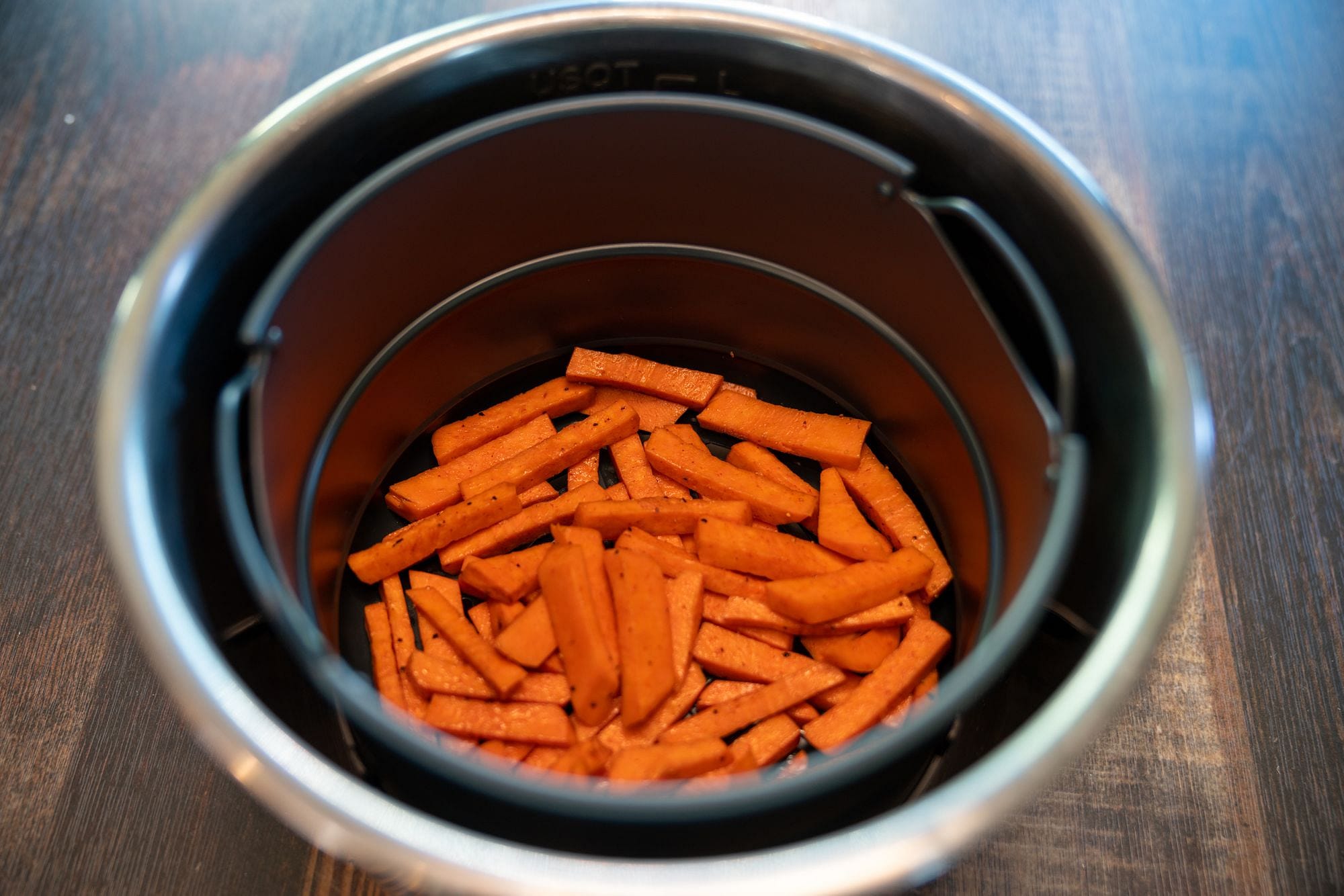 From reading a few recipes online, we decided to air fry them for 14 minutes at 400°F. We turned the air fryer on, selected the Air Fry mode, set the time and temperature, and hit Start. It started running straightaway, and after a minute or two it was up to temperature and the timer began.
Our first impressions were positive. The air fryer blows hot air out of the back, but it's not so hot that you'd burn yourself on it. Likewise, you can hear the fan running inside, but it's not loud - much quieter than the extractor fan in our kitchen.
I was also pleased to note there was no bad smell. Sometimes new appliances with big heating elements have a tendency to smell on their first use as they burn off some of the residue from manufacture and testing. We didn't detect any smell whatsoever, other than our fries of course!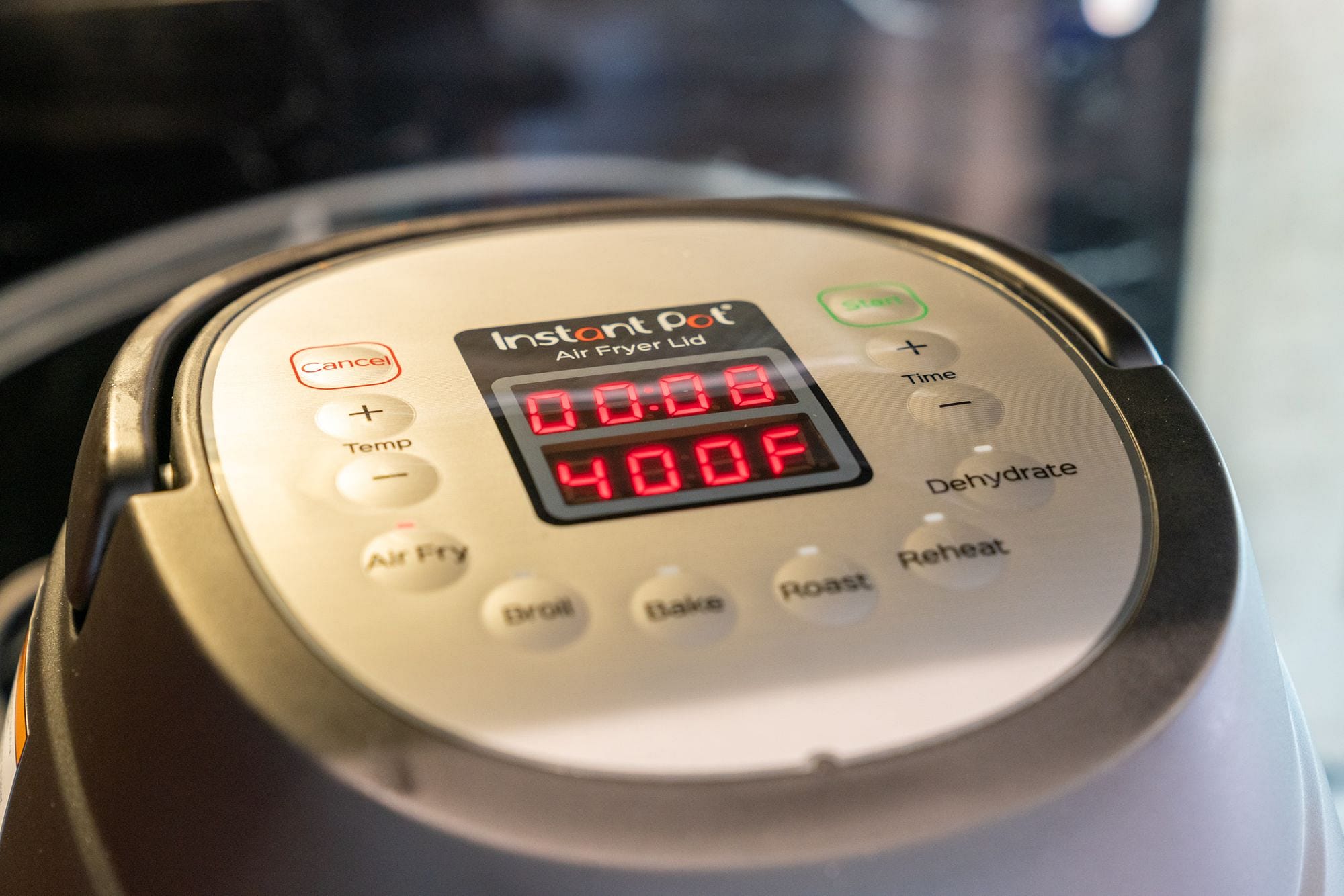 We were prompted by a beep and an on-screen message to turn the food after a few minutes, so we removed the lid and placed it down on the protective pad provided. The sweet potato fries weren't sticking at all, and I was able to shake the basket (using oven gloves, of course) to mix up the fries.
After the 14 minutes was up, we opened the lid. The fries were looking good, but we still didn't think they were quite ready. Unlike the Instant Pot, it's easy to put the Air Fryer Lid back on, and set it going again.
So after another 8 minutes (14 + 8 = 22 minutes in total), we checked on the fries and were happy.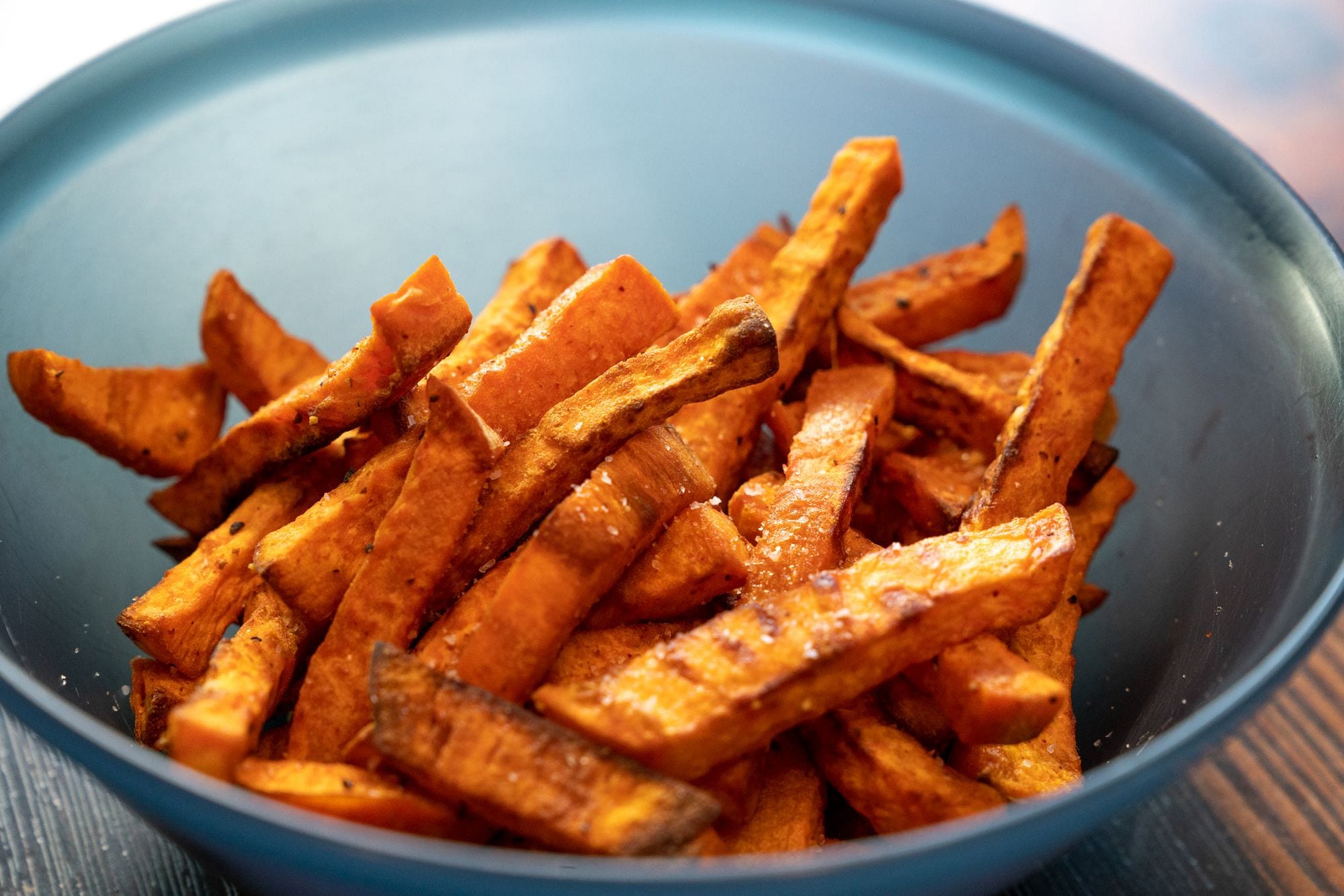 A sprinkling of salt and they were ready to eat! Meanwhile, I threw in the other half the sweet potato sticks we had cut and set them going for 22 minutes, shaking them half way through.
We've since cooked sweet potato fries again, but used the shelf and put half on the bottom and half on top. We air fried them for 22 minutes at 400°F, shaking halfway through and they turned out nice and evenly cooked - none seemed burned or under-cooked.
Salmon Fillets & Quinoa with Sweetcorn
Time to level it up a bit. How about using the Instant Pot twice - first for pressure cooking and then for air frying?
For dinner the next night, we decided to pressure cook some quinoa with sweetcorn, and serve it with a salmon fillet cooked with the air fryer.
Cooking the quinoa was simple enough - we put the dried quinoa and some frozen sweetcorn with some water in the Instant Pot using the normal lid, and cooked it on high pressure for 1 minute with 10 minutes of natural release, followed by quick release. I then portioned up the quinoa and rinsed out the stainless steel inner pot to reuse for the salmon.
I prepared the salmon fillets with a little oil, salt, pepper, smoked paprika and lemon juice, then placed them on the bottom of the air fryer basket inside the stainless steel inner pot.
I cooked the salmon for 14 minutes at 400°F on the Air Fry mode. I checked on them halfway through when prompted, but didn't turn them.
After the 14 minutes were up, I removed the lid and was pleased to see the salmon looking nice and crispy on top. One challenge with this style of air fryer is getting the food out, and this was a good example.
The skin underneath the salmon had just lightly stuck to the basket, and although I was able to free it, lifting the salmon out without it falling apart was more challenging. I managed it with one fillet, but not the other.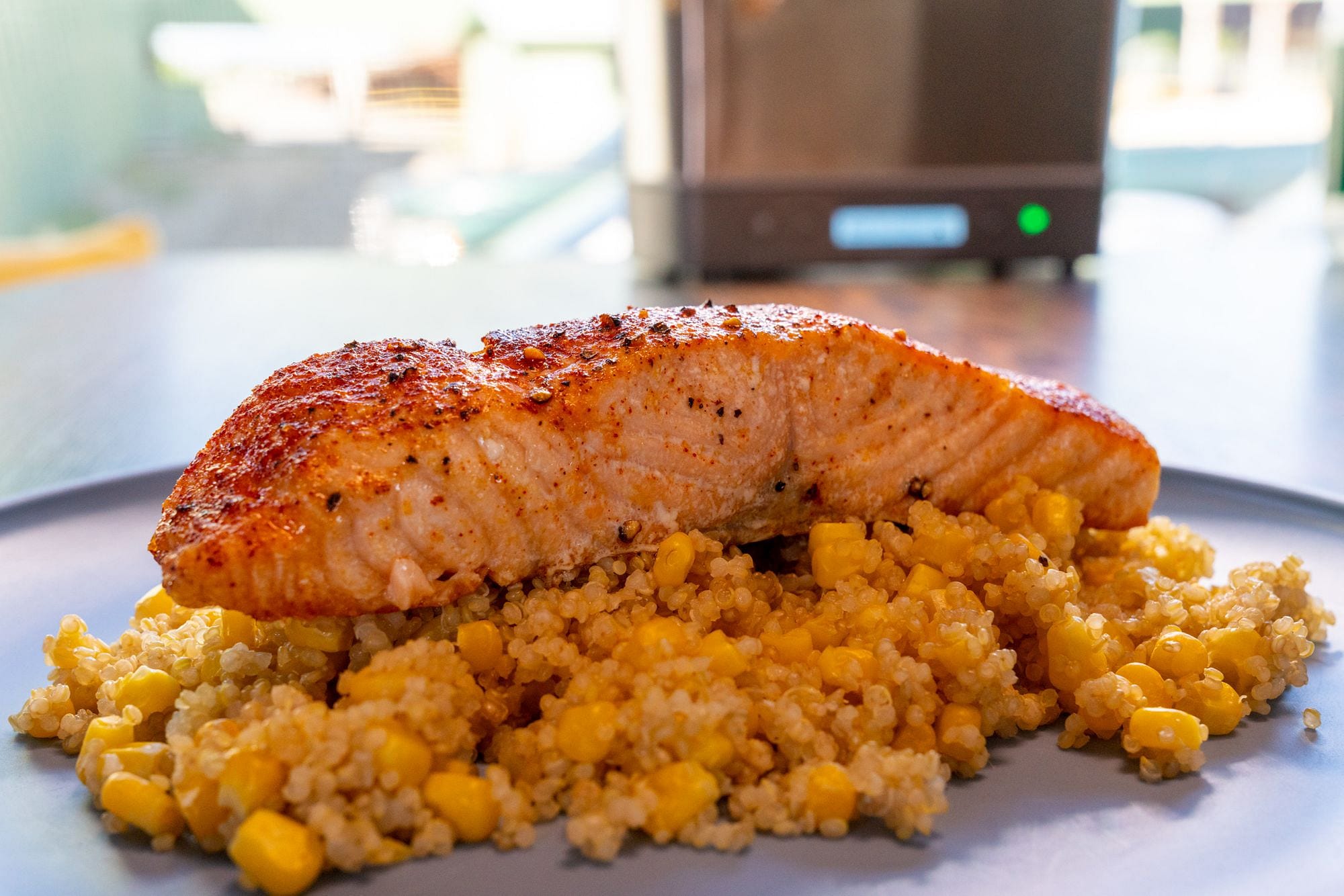 The salmon was beautifully cooked, and tender inside. You could probably get away with a little less time if you prefer your salmon less well done, but it turned out just the way we like it - probably more through luck than anything else.
This meal highlighted another issue with the Air Fryer Lid though. By the time we served up the salmon, the quinoa had been sitting on the plate for 15 minutes and had cooled. So just think about how you can keep food warm, or at least what order to cook things in, if you need to use the Instant Pot multiple times for the same meal.
Roasting
As is traditional in England where I'm from, we like to cook a Sunday Roast when we can. It's nothing too elaborate, just a nice simple meal to cook in our RV that reminds me of home.
Normally we roast the potatoes and meat in our propane oven, and honestly it works pretty well. But even turned to its hottest setting (supposedly 550°F), I've never been very successful at getting the fat to crisp up on top of a pork roasting joint and I was hoping the Air Fryer Lid might be the solution.
Roast Pork
We decided to cook the potatoes in the oven as normal, since a) you don't mess with a good thing, and b) Diana and I can easily eat our way through an entire tray of roast potatoes, and there was no way that the air fryer basket was going to contain enough potatoes.
I bought a small-ish pork roasting joint at the grocery store, and prepared it that morning. I scored the fat layer on top and coated it generously with salt and let it sit in the fridge for several hours. An hour or so before I was going to cook it, I pulled it out of the fridge to let it warm up. Before cooking, I dried it off, then rubbed it with oil, salt and pepper. Nothing fancy, just good, simple food.
According to a recipe I found online, it was going to need 18 minutes at 400°F. Interestingly, the recipe said to use the Air Fry mode, as opposed to the Roast mode that the Air Fryer Lid also has. Not wanting to deviate from the recipe too much, that's what I went with.
About half an hour before the potatoes were done, I put the pork joint inside the air fryer basket and set it to Air Fry for 18 minutes at 400°F. At the end, I took it out and used a meat thermometer to check the internal temperature, looking to see 145°F.
Instead, I saw 110°F! Erm, what?!
I put the lid back on and gave it another 12 minutes. It had stuck a little to the basket, but not too much. The meat thermometer showed the internal temperature was exactly 145°F, and the fat on top was nice and crispy! Perfect!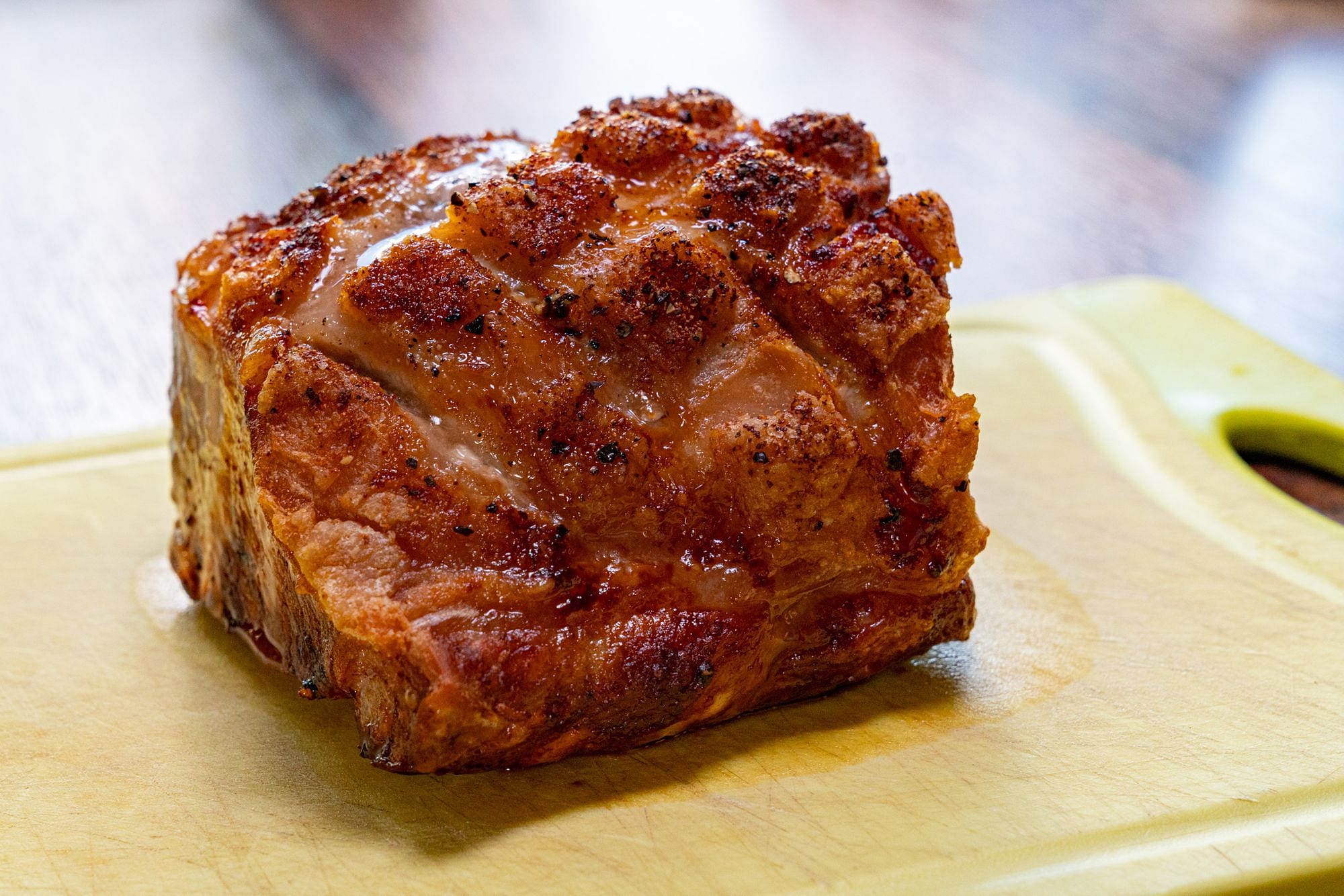 I wanted to rest it for 10 minutes, but the potatoes were ready and we were starving! So I rested it for 6 minutes while I steamed some carrots in the microwave - I couldn't run the microwave and Air Fryer Lid at the same time since they'd have tripped the breaker in our RV.
As Diana plated up the other ingredients, I sliced the pork. Honestly, I was a little disappointed. The meat seemed overcooked and a little dry.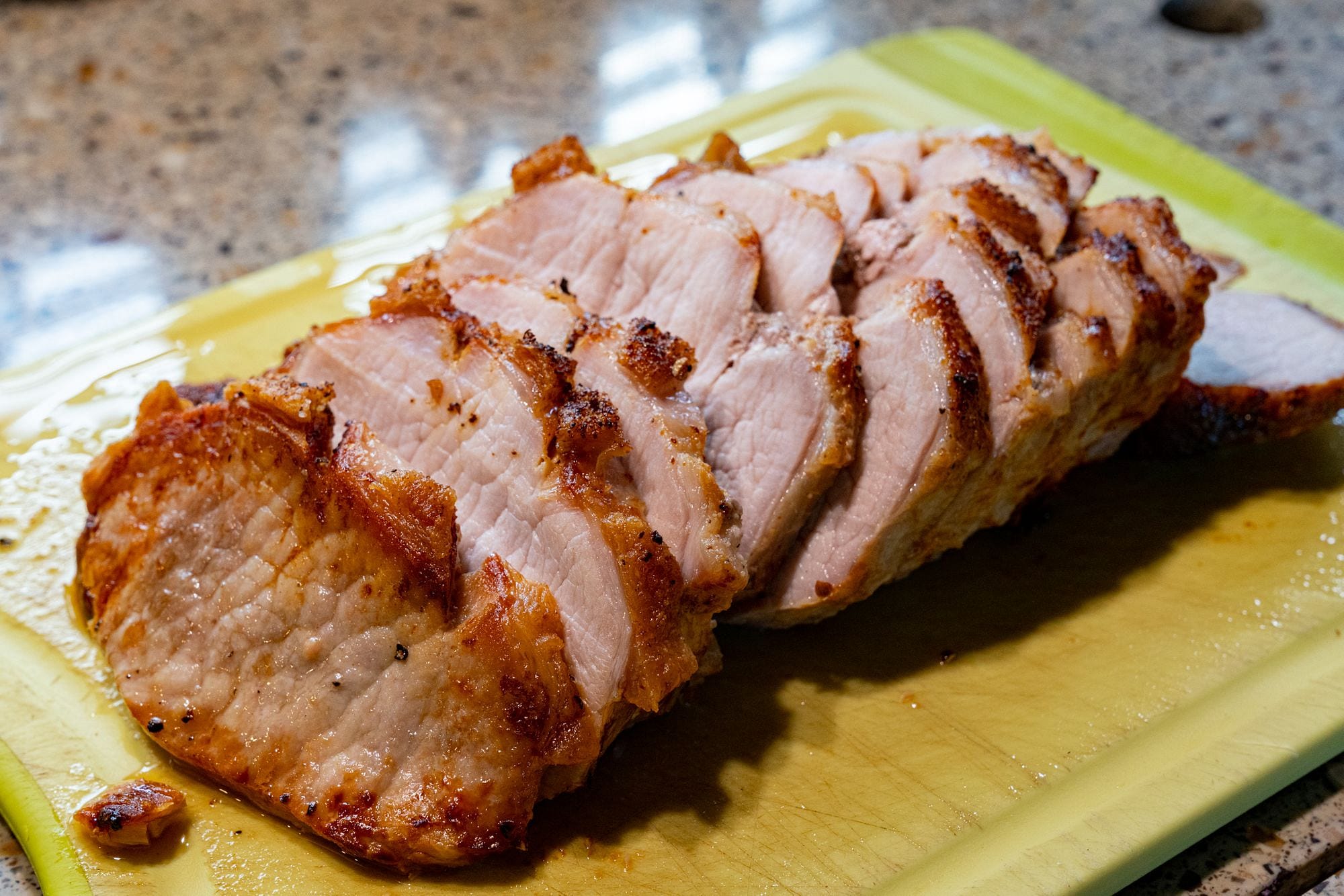 It wasn't too bad, but I think it could have done with less time in the air fryer. My suspicion is that my meat thermometer is broken and is reading high. I've been suspicious of it for a little while now anyway, but it seems like it might be much less accurate than I thought!
Either way, it still tasted good and that's the main thing, right?
Well, maybe. Honestly, we'll probably continue to use the oven to cook the meat for our Sunday Roast. The oven is on anyway, and there's space alongside the potatoes for a pork joint or some chicken breast.
And in our particular situation, having the Air Fryer Lid tie up the electrical outlets is a pain - it meant a rush to boil water for instant gravy (Bisto is the best and I won't hear otherwise) and use the microwave to steam some vegetables. But I'm confident that the Air Fryer Lid would do an excellent job of roasting meat if you got the timing right.
Pressure Cooking & Crisping
With our Quinoa and Salmon dish earlier, we used the Instant Pot first to pressure cook the quinoa, and then after rinsing it out, used it with the Air Fryer Lid to cook the salmon.
But what about a recipe that uses both features to cook the same food?
Pasta Bolognese
I found a recipe online for cheesy spaghetti, designed for the Ninja Foodi. As it turns out, searching for Ninja Foodi recipes is a great way to find dishes to cook with the Air Fryer Lid since the Ninja Foodi seems to be much more popular.
I adapted the recipe a little - swapping out ground beef for ground turkey since we had some in the freezer that we wanted to use up, and using fusilli instead of spaghetti since, again, that's what we had in the cupboard.
The recipe was pretty simple, but used several features of the Instant Pot so it would be a good way to put it through its paces.
I began by using the Sauté mode on the Instant Pot to brown the meat and onion, before adding some pasta sauce and water. Then I added the dry pasta, submerging it but not stirring it in, and set the Instant Pot to pressure cook on high pressure for 9 minutes before quick releasing.
When I opened the lid, it looked good! And ordinarily, this would have been a simple but tasty (if not the healthiest) meal. But with the Air Fryer Lid, I could do more!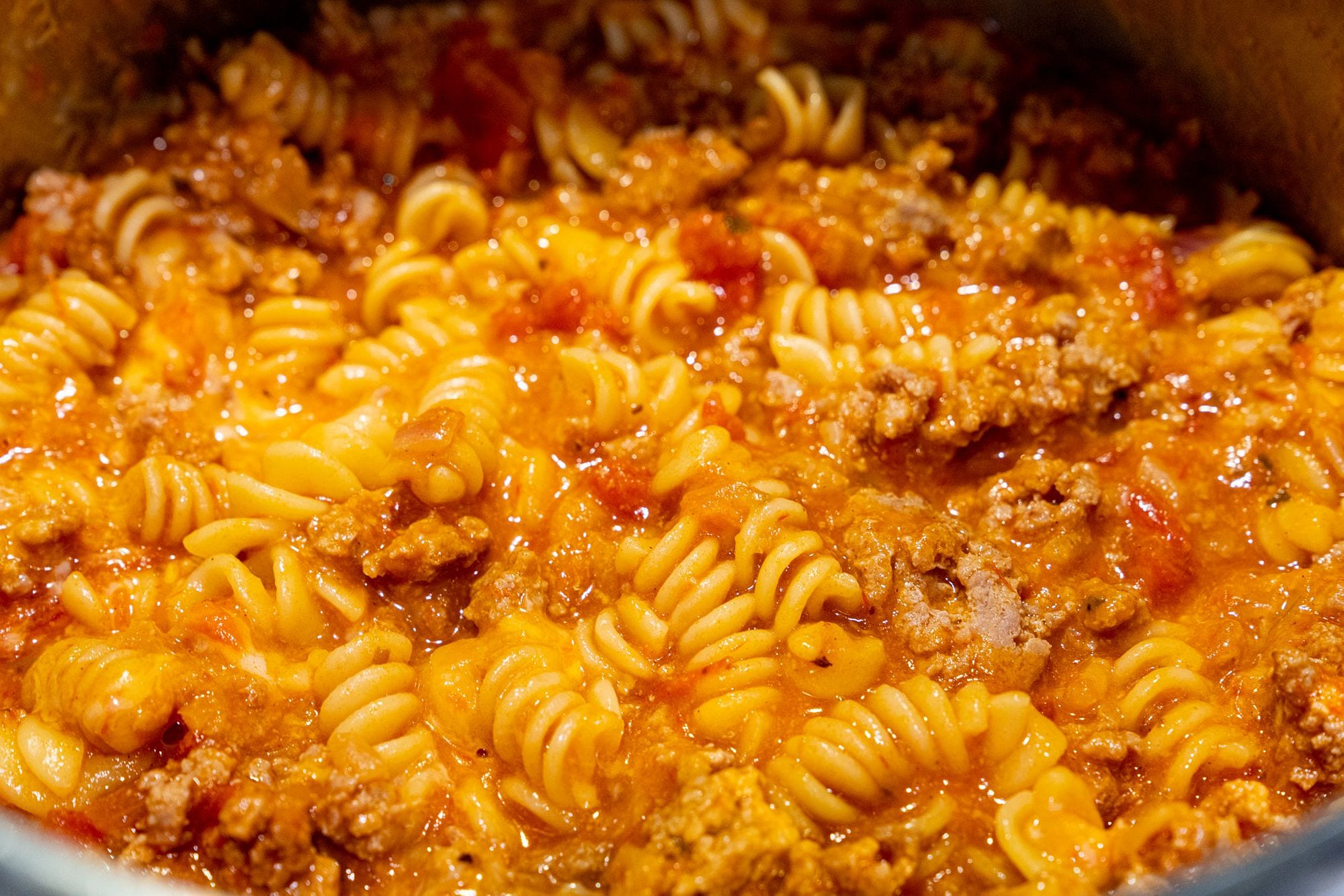 As per the recipe, I stirred in some cheese, and sprinkled more on top. Then I put the Air Fryer Lid on top and set it to Air Fry for 5 minutes at 400°F. The smell was fantastic, but when I opened the lid at the end of the time I was in for a treat!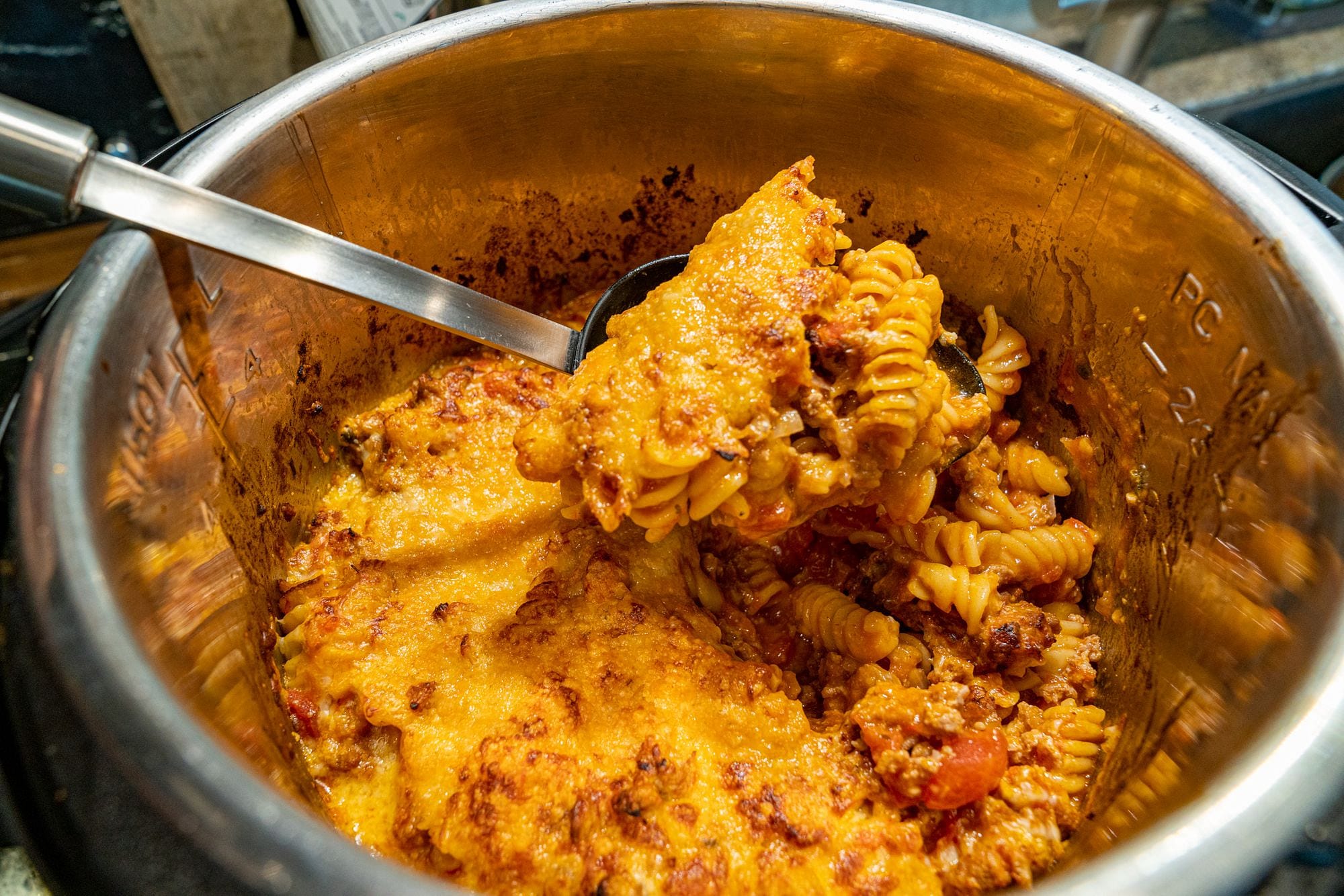 The cheese had melted and formed a beautiful crispy layer on top.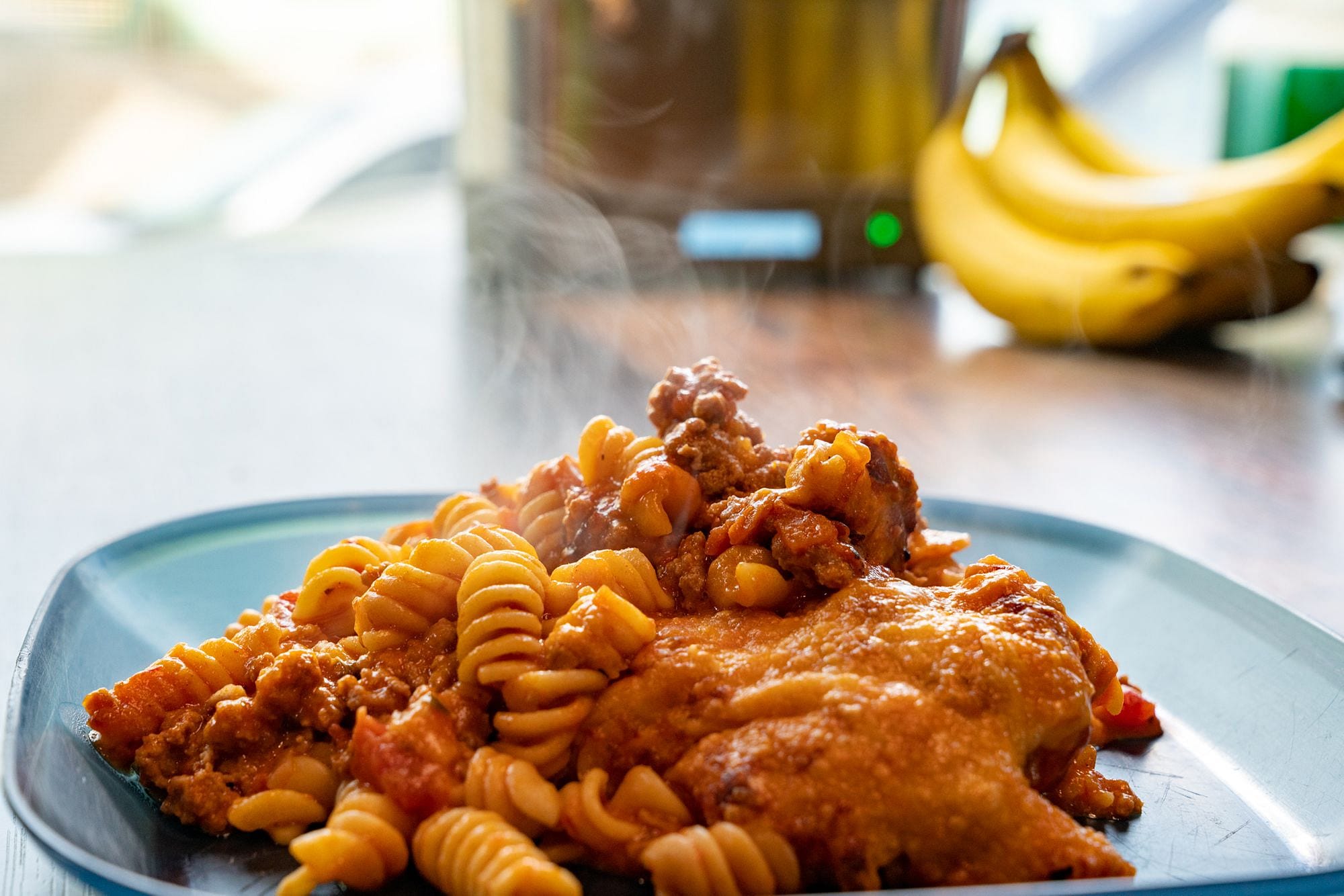 We plated up the food and devoured far more than we probably should have done! It was really good! Definitely one recipe we'll be adding to our repertoire and doing again!
That said, yet again we learned something about the Air Fryer Lid. The direct heat of the overhead heating element had done a great job of crisping up the cheese on top. It had also done a great job of burning the splashes of sauce and food on to the inside of the inner pot. While it didn't impact the taste of the food, it did make it a pain to clean! The stainless steel inner pot is usually fairly easy to clean, but I had to really scrub those burned on pieces to get them off.
Overall though, it was totally worth it for a fairly quick, easy and very tasty meal!
Dehydrating
For a while, I had been considering buying a dehydrator. They're not too expensive, but they're quite bulky, and space is a premium in our RV.
However, when our AeroGarden is running at full production, we get more basil than we can possibly use, and drying it would be a great way to store it. Plus, we could make best use of our limited fridge and freezer space too by dehydrating bell peppers, onion and make some healthy dried fruit snacks!
I've never dehydrated before (as you'll probably realize in a minute), but I wanted to start with garlic powder.
Garlic Powder
Back in December, we had collected a huge haul of fresh produce from POWWOW, a fantastic initiative in Arizona where you can collect up to 70lbs of fresh produce for just $12, and your money is used to help distribute food to homeless shelters and other people in need.
During our last "haul", we found ourselves with 3.5lbs of garlic. Not knowing what to do with it, we peeled and froze it all. It was still sitting in our freezer and we needed some way to use it up. Since we find ourselves using a lot of garlic powder, I wanted to try making our own.
The Air Fryer Lid has a Dehydrate mode, and that was one feature I was looking forward to trying out. So at the same time as buying the Air Fryer Lid, I also bought a set of dehydrator racks to go inside.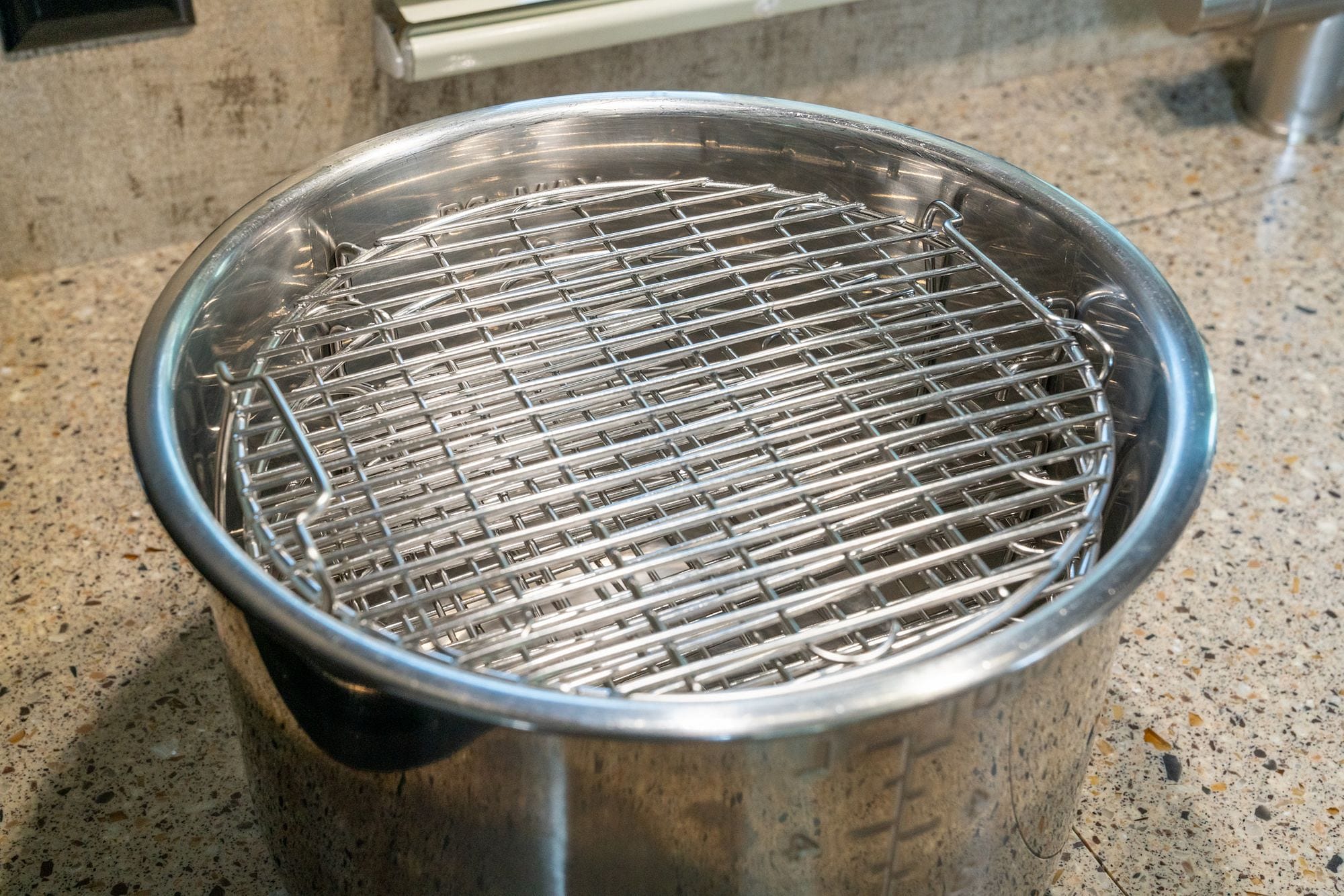 Now a word of warning here, the inner pot on the 6qt Instant Pot is smaller than 8qt Duo Crisp or even the smallest Ninja Foodi. And that's what most racks are designed for. However, I found a review suggesting these particular racks would fit, with a little persuasion.
Well, they technically weren't lying.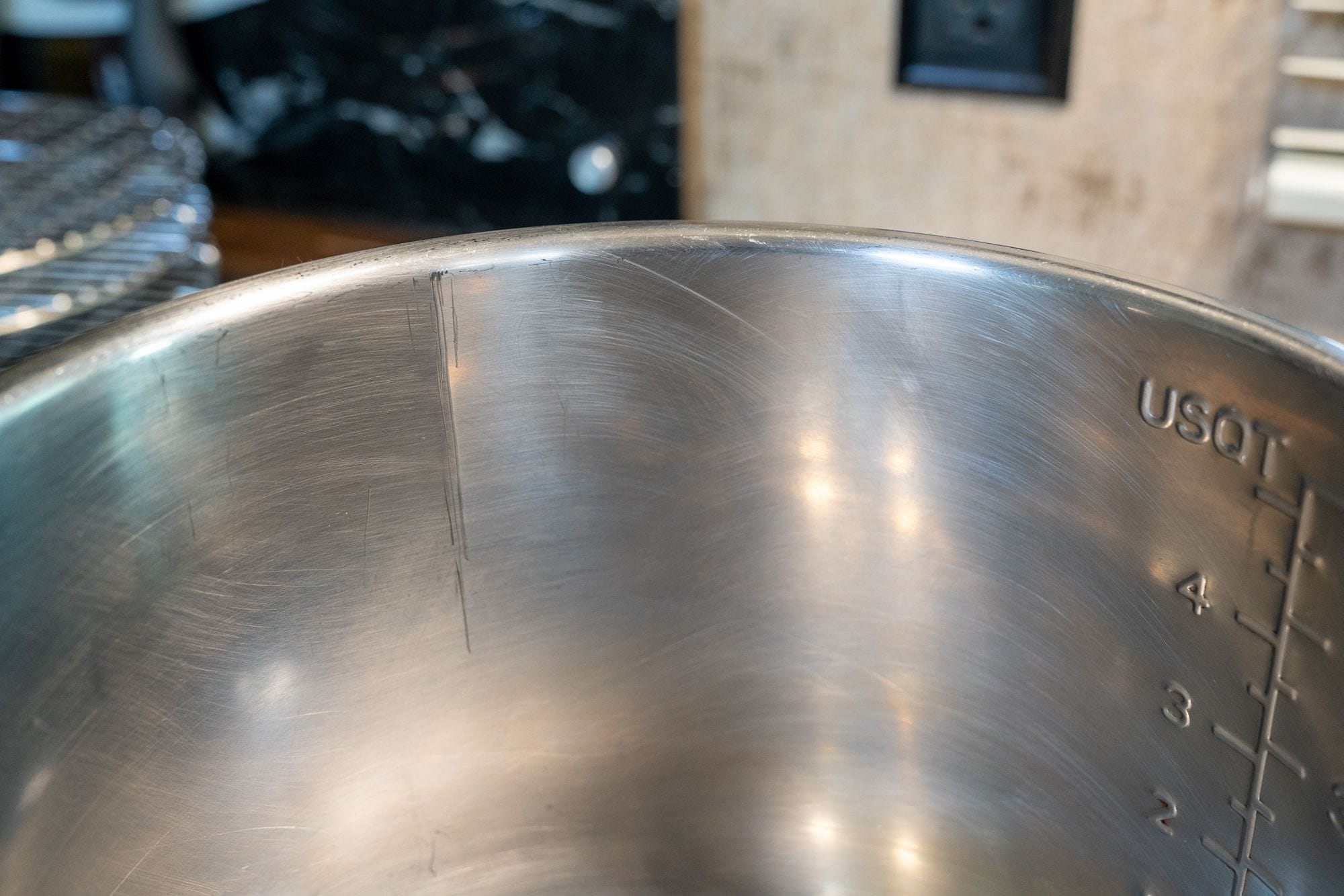 I did manage to squeeze all the racks in, but not without some collateral damage. I had to press hard to push them down, and in doing so scraped the inside of the inner pot. It's only cosmetic though.
Undeterred, I decided to go ahead. Since the spacing of the racks was quite wide, I was concerned the garlic would fall through, so I cut out donut-shaped pieces of parchment paper. I covered two racks in garlic - enough to test whether it worked or not. In total it was 83g or about 2.9oz of sliced garlic.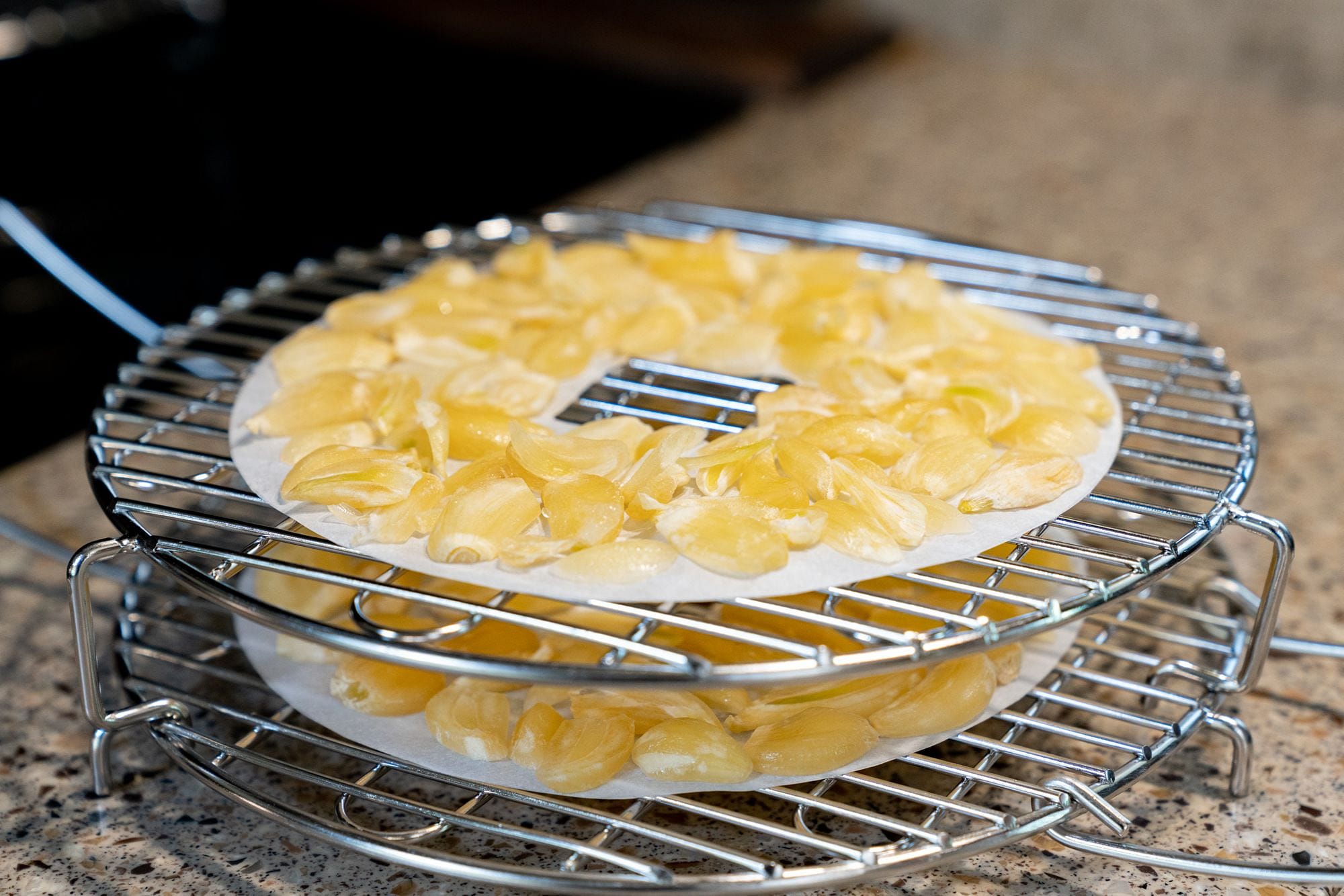 I lowered (read: pressed firmly) the racks into the Instant Pot, and put the Air Fryer Lid on. Articles I had read online suggested it would take 8-12 hours at 125°F for the garlic to dry enough that it would be crispy and break easily when snapped.
When dehydrating garlic, the advice is not to do it inside because of the smell, so I set it up outside out RV. I checked on the garlic a couple of times during the day, and found a problem.
Once the garlic had dried, it was no longer wet and heavy enough to hold down the parchment paper when the fan turned on in the Air Fryer Lid. The top piece of parchment paper was quickly emptied of almost all the garlic. So I simply emptied the garlic onto the rack, letting it fall through (because, really, I had no choice) and removed the top sheet of parchment paper.
After 7 hours, I reweighed the garlic and found it had dropped by 55%, now weighing just 37g or 1.3oz. But it still didn't seem dry, so I kept going. I ran it for another 5 hours, bring it to the full 12 hours. I checked on it again, and found it still didn't snap as cleanly as I liked, but it was definitely improving.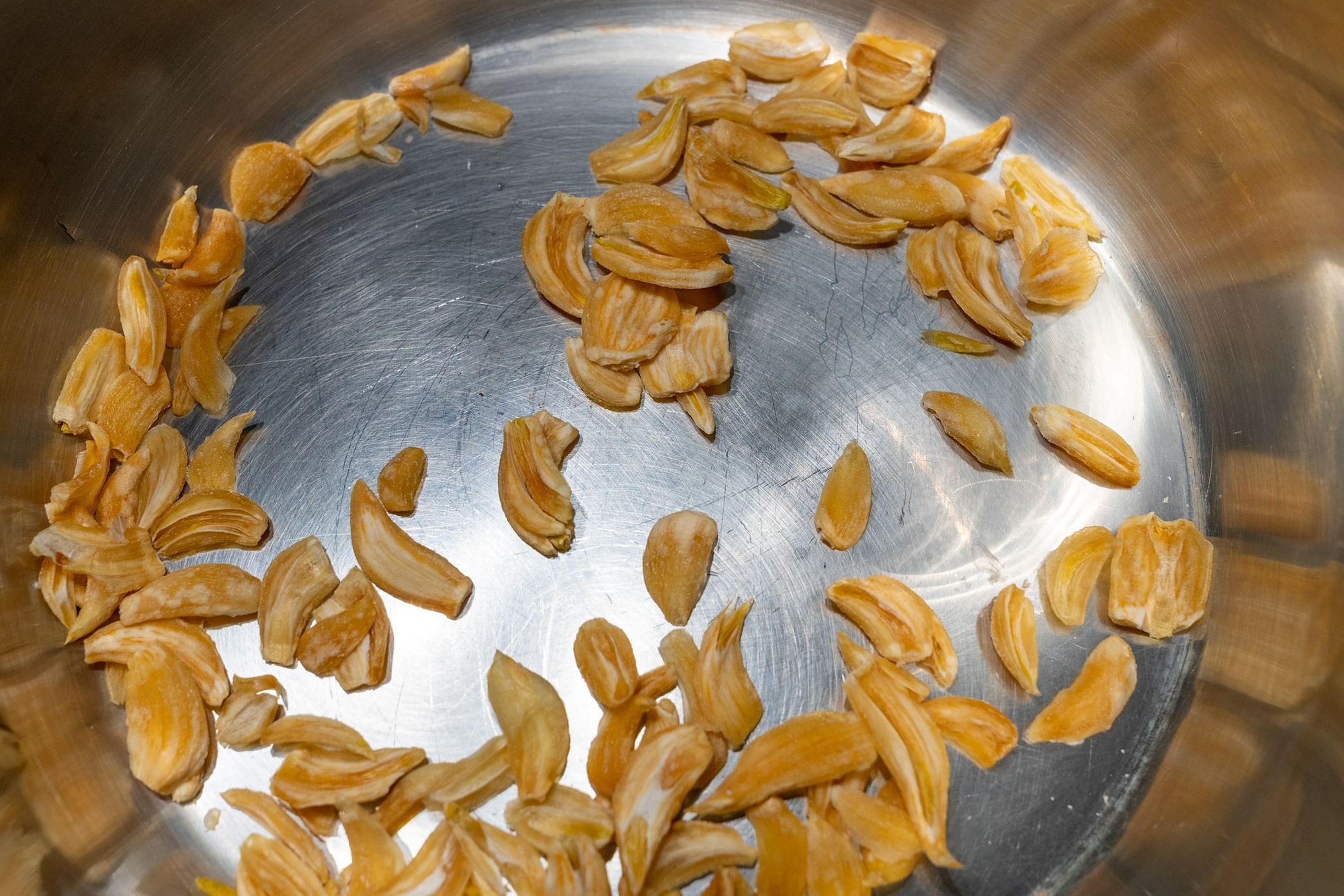 Not wanting to run it overnight inside our RV, nor leave it outside where it might attract animals, I left it off overnight. The next day we ran it for another 8 hours! I wanted to be 100% sure this garlic was dry!
So after a full 20 hours of dehydrating (!!), we called it. The garlic now weighed just 33g or 1.2oz - a full 60% loss in the original weight. However, it shows it didn't drop much after the initial 7 hours, so I'm confident it didn't need anywhere near the 20 hours we gave it. Ah well, no harm done!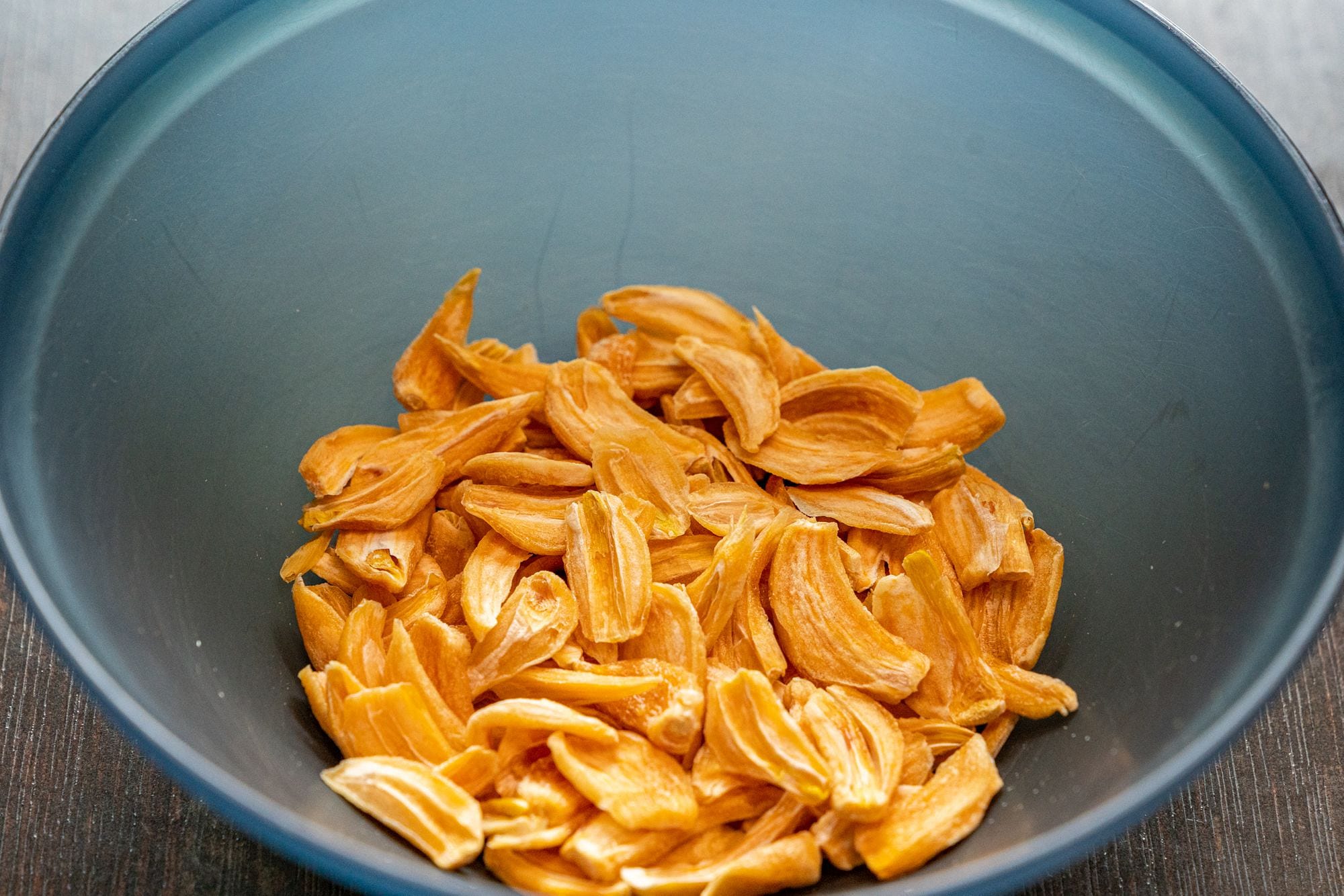 The next step in making garlic powder is to turn this dry, crispy garlic into the powder - and we chose to use our Ninja Chef Blender. We used its Flour / Mill mode and it made short work of pulverizing the garlic.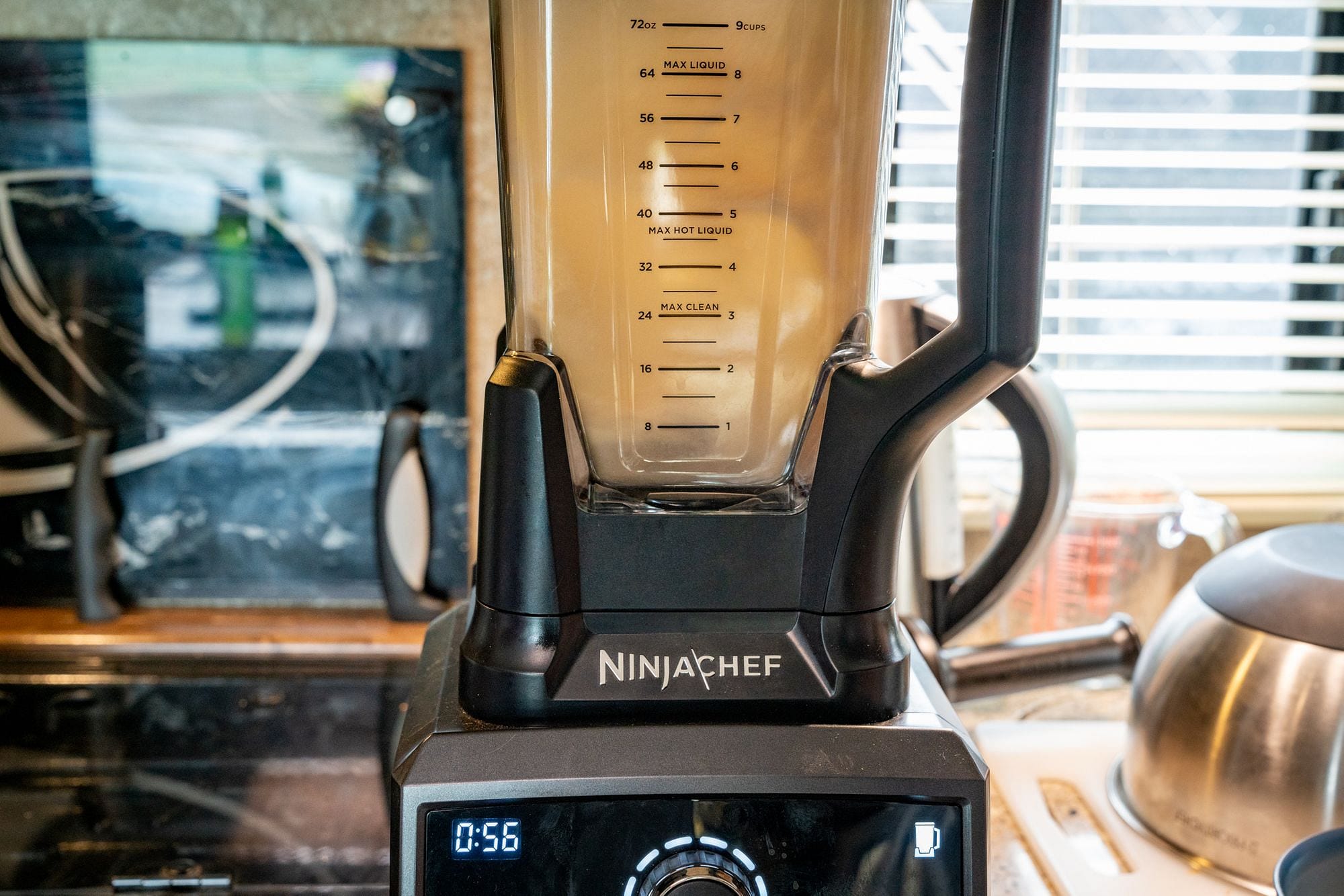 The result was a really fine powder, finer even than maybe we would have wanted, but definitely a powder!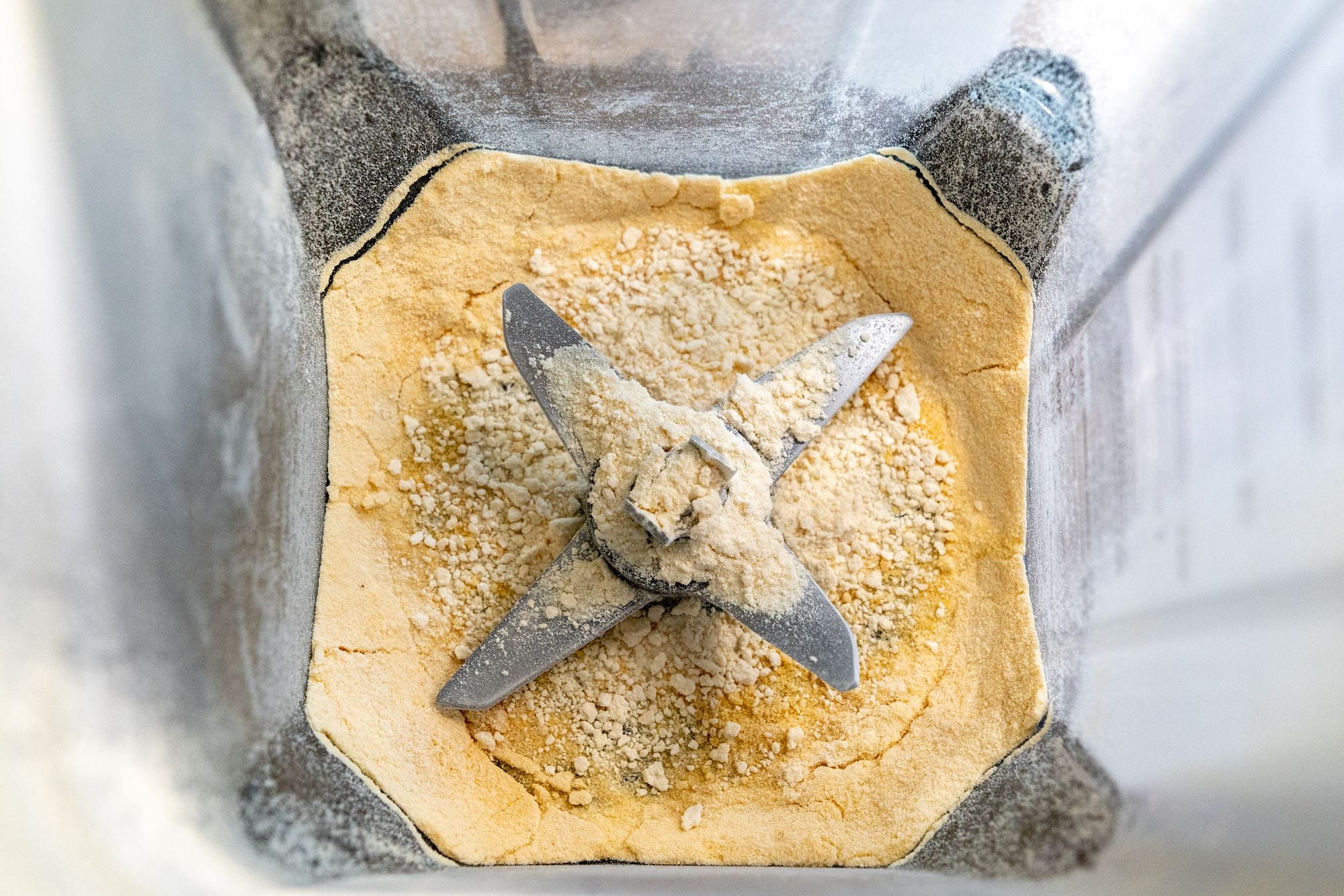 So how much garlic powder does that equate to? We had been saving an old Garlic Powder jar, and filled it with our homemade garlic powder.
Based on the weight listed on the jar, our powder should have about half-filled it, but it looks more like a third to me. The garlic powder smells amazing, which considering it's been sitting in the freezer for 6 months is pretty impressive. We've already used it a few times.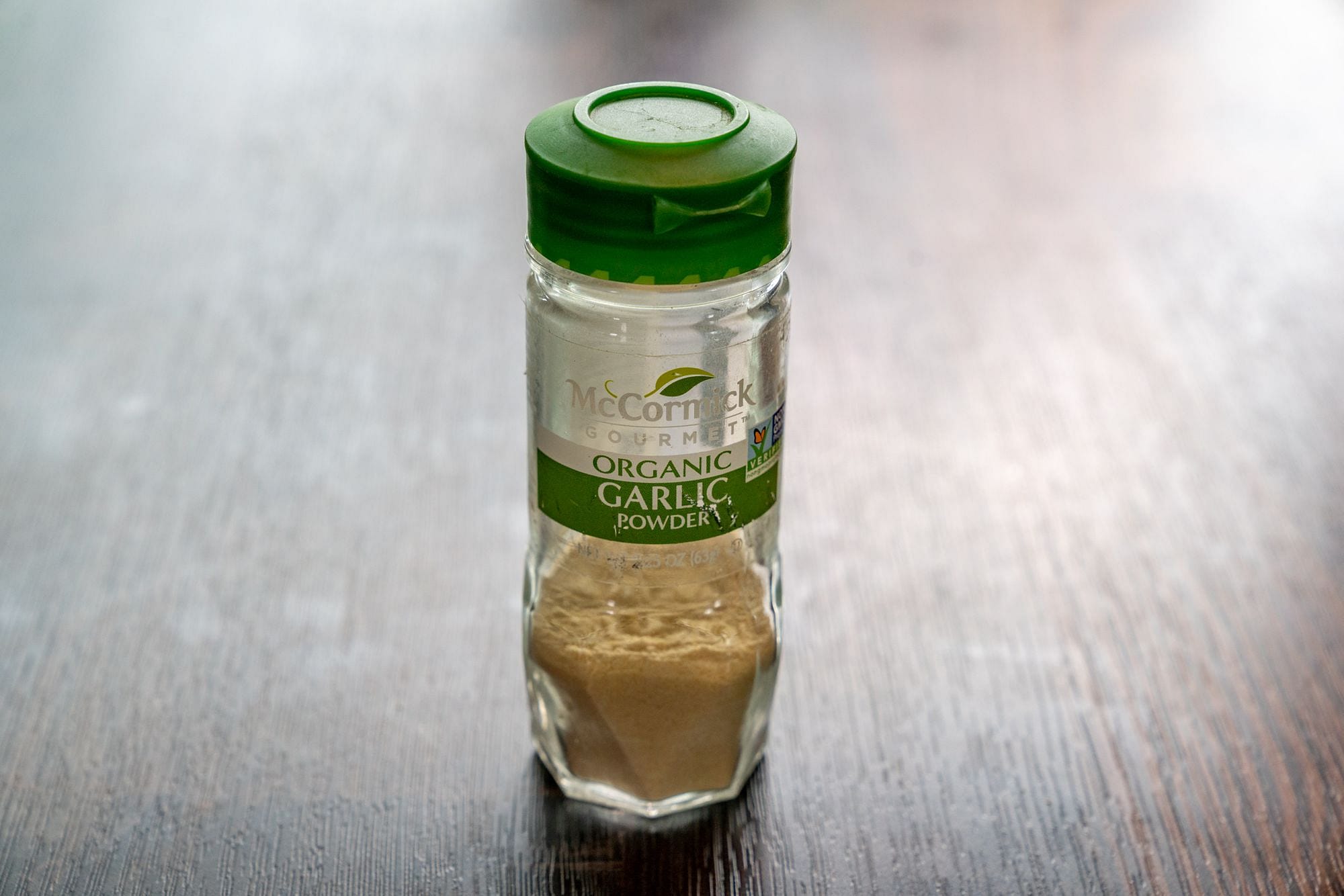 It does seem to clump up a little bit, but it's easy to break up with the handle of a spoon. Let me know in the comments if you have any tips for how to stop it clumping up - I'm confident there's no moisture left in there!
Although it might seem like a lot of effort for so little garlic powder, I was actually very pleased. It worked exactly as I had hoped, and although the process took a long time, I probably only spent about 10-15 minutes slicing the garlic and blending it at the end to make the powder.
Would I recommend the dehydrator racks? We'll probably use them since we have them. Although they're a tight fit and they will scratch our inner pot, the marks are purely cosmetic. You could also just use the air fryer basket, but then you'd be limited to two shelves. Using parchment paper didn't really work because the fan was just too powerful - maybe some silicone dehydrator liners would work better.
I'm looking forward to testing it out to dehydrate some other things - particularly bell peppers which we use a lot of in our morning egg scrambles and could easily substitute fresh (or frozen) for dehydrated.
Using the Air Fryer Lid in an RV
So far, I've reviewed the Air Fryer Lid, but what about some of the unique challenges of using it in an RV?
Broadly speaking, there are probably three big areas: utility, size and power consumption. I'll tackle each one of those in turn.
Utility
In an RV, space is a premium, and everything has to earn its place. Most items do this by serving multiple functions. In fact, that's exactly how we justified keeping our 6qt Instant Pot Ultra when we downsized from our house into our RV.
So is the Air Fryer Lid an essential RV item?
Honestly, no. We've survived just fine for almost 2 years of living in our RV full-time without one. We've been able to roast meat, cook pizzas and bake bread in our RV propane oven without any issue. The only completely new feature this brings is dehydrating, and let's be honest, that's not a necessity.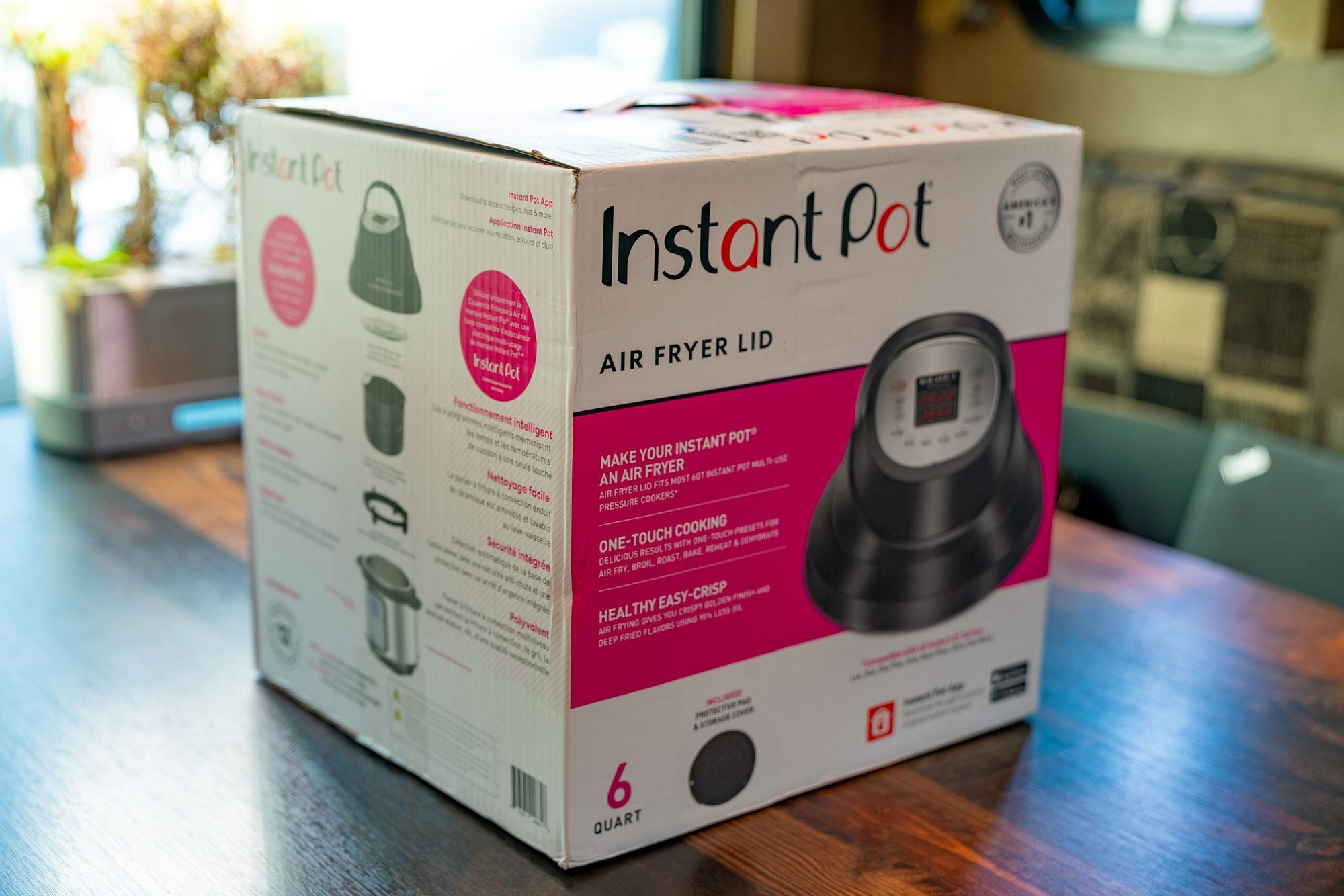 However, we do like to minimize our reliance on propane, and this lets us cook more things using electricity when we have abundant solar, or electrical hookups. We already had a 6qt Instant Pot, so adding the Air Fryer Lid gave us some more functionality.
If we hadn't already had an Instant Pot, both the Instant Pot Duo Crisp and Ninja Foodi would have been strong contenders. Ironically, we'd have lost the ability to make yogurt and / or sous vide had we "upgraded" to either of those devices. Plus, the Duo Crisp only comes in an 8qt version which is huge!
Size
Speaking of size, the Air Fryer Lid isn't exactly small!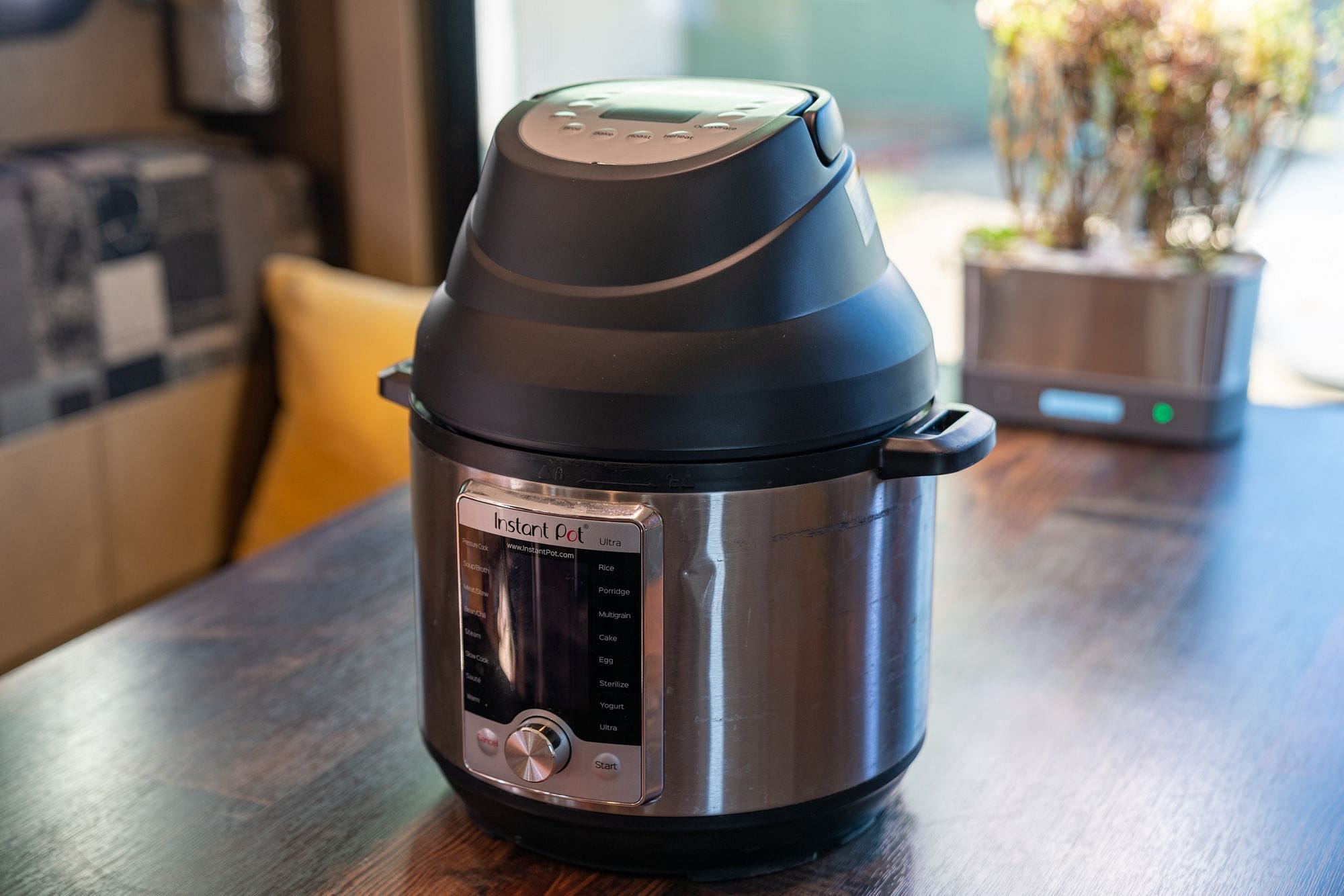 The lid isn't too far off the same size as the 6qt Instant Pot itself, and the non-detachable cord seems to have a mind of its own when you're trying to store it.
On the flip side, the protective cover that attaches to the bottom is a nice touch - that means it's completely flat and isn't going to get damaged, or damage other things it touches. We'll find space somewhere to store it...I hope!
If size is truly a premium, then you may want to consider the Mealthy CrispLid. It looks from the specifications that it might be a little smaller and lighter, so if you don't need (or want) the extra power, it could be a good option for you.
Power Consumption
Which nicely brings me to the power consumption....
If you've been reading this wondering how much power it draws, then you're not alone.
While Instant Pot rate this device at 1,500W, we haven't seen it pull more than 1,300W at any point. As best as I can tell, the fan seems to run all the time and draws about 50W, the remainder of the power is used by the heating element.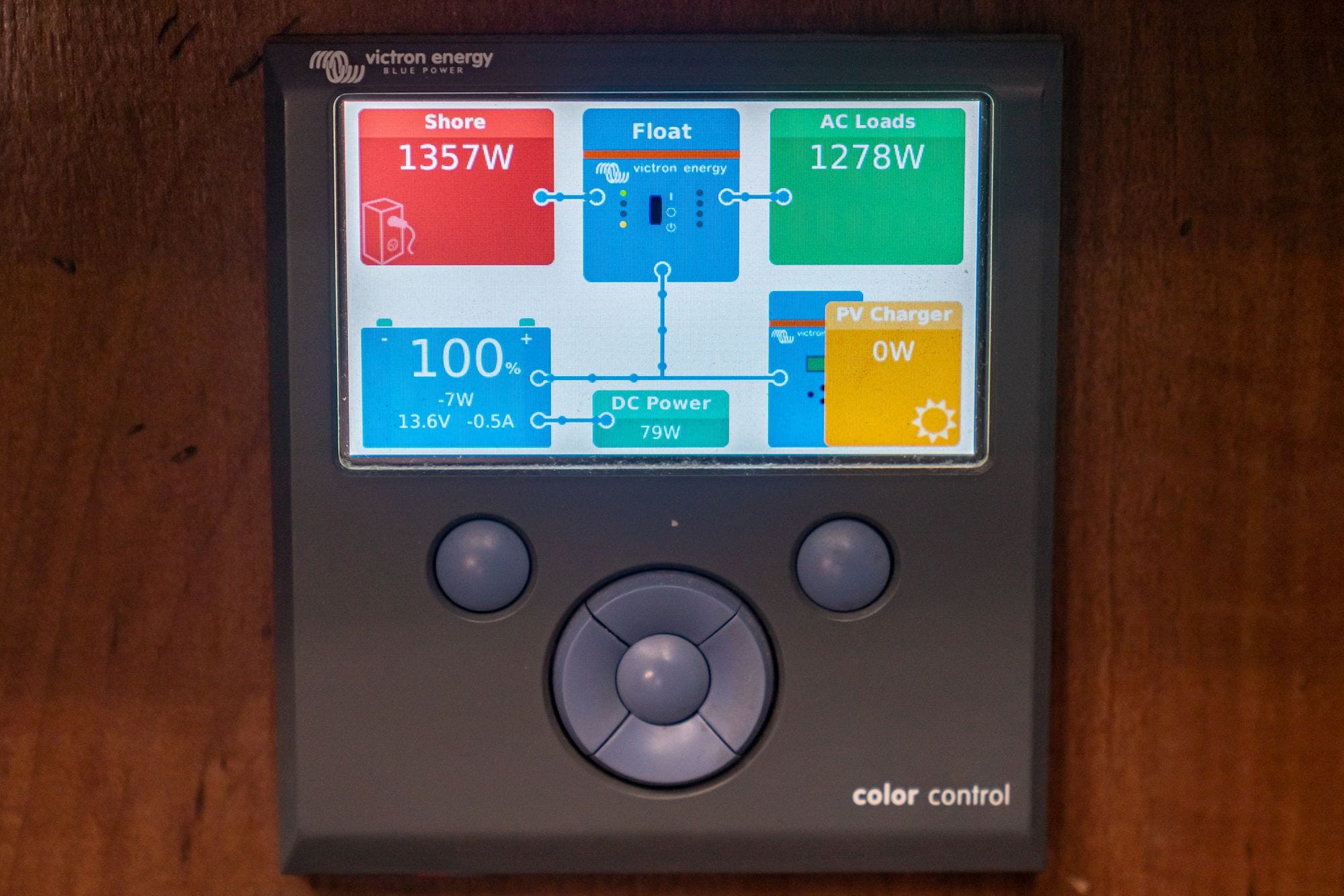 As with the Instant Pot itself, the heating element is either on or off, there's no partial heating. So to regulate heat (particularly for low heat modes like dehydrating), the Air Fryer Lid simply pulses the heating element on and off as required.
When running the Air Fryer Lid to dehydrate the garlic, the heating element turned on for about 5 seconds approximately every 4 minutes. I'm sure this varies slightly based on the ambient temperature outside - for our test it was about 70°F and the dehydrator was set to 125°F.
At that rate, in one hour the heating element would be turned on for just 75 seconds, so the heating element averages out to ~25W. Now add on the constant ~50W for the fan and it's equivalent to ~75W when averaged out. In other words, running it as a dehydrator for 8 hours would use ~600Wh, or ~50Ah at 12V.
By contrast, when running in Air Fry mode at 400°F, the heating element is turned on pretty much constantly. At a hefty 1,300W, that means the sweet potato fries used 480Wh (~40Ah @ 12V), the salmon fillets (not including the quinoa) used 300Wh (~25Ah @ 12V) and the pasta bolognese (again, just the air fryer component) used 110Wh (~9Ah @ 12V).
In other words, if you want to use the Instant Pot Air Fryer Lid in your RV and you don't have shore power, you'll want to make sure you have an inverter (or generator) that can deliver a continuous 1,300W, and enough batteries and solar (or a generator) to keep it going.
The other issue you might run into, especially on a 30 Amp rig like ours, is that it ties up your electrical outlets while running. For us, it doesn't just tie up the dual outlets thanks to its special plug, but since all our electrical outlets are on one 15 Amp circuit, we can't plug in other big electrical appliances at the same time - e.g. our electric kettle.
I found a sneaky solution in our case. I can't say I recommend it, but I happen to know that our fridge sits on its own dedicated 20 Amp circuit. The fridge itself plugs into an outlet on that circuit behind the cover outside.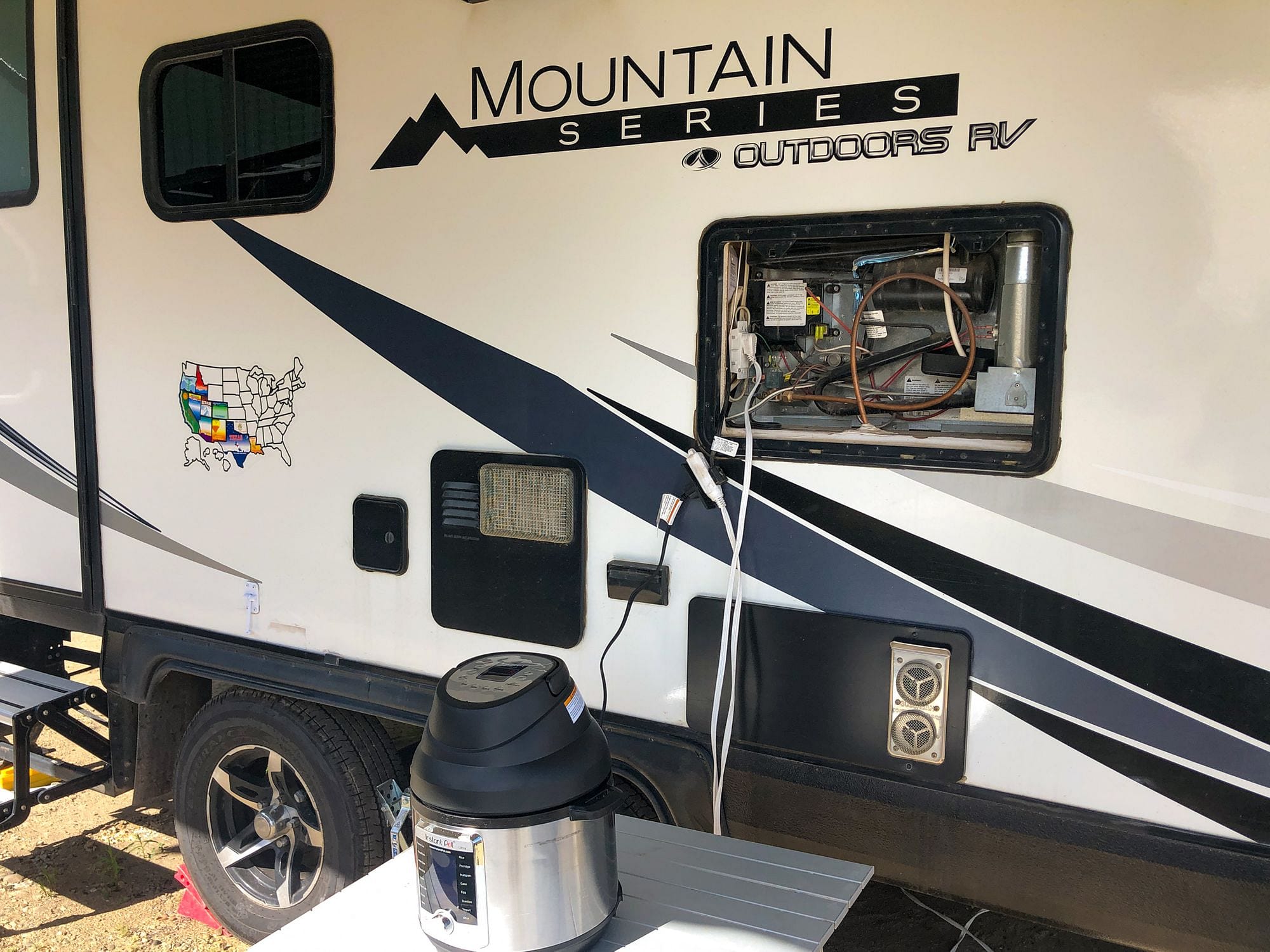 While an extension cord wouldn't usually be recommended for a high power appliance like this, for the short 5-second bursts in dehydrate mode I wasn't too concerned. Plus, thanks to the annoying special plug, I had to use an extension cord so I could keep the fridge plugged in!
Conclusion
So overall, what do I think? Like anything, there are pros and cons. In addition to the things I knew before I bought it, here's what else we learned:
Pros
Air drying works well - food comes out crispy and even throughout, nothing was burned or under-cooked.
The dehydrating feature worked well too - it didn't seem to get too hot and burn the garlic, and I suspect it worked about as fast as a normal dehydrator, albeit with a smaller quantity.
While it's bulky, the protective pad is a welcome accessory and makes storing it much easier.
Cons
It sounds obvious, but it ties up the Instant Pot when you're using it - no pressure cooking one thing while air frying something else.
If you're already cooking something else in the oven, now it's just one more thing you have to wash up - not too bad if you have a dishwasher.
Particularly for us in the RV, we have to be very conscious about running it at the same time as other big appliances so we don't trip a breaker.
Overall Verdict
Having used it for a week, we like it. Our Instant Pot Air Fryer Lid has earned the right to remain in our RV. It has given us another option for cooking that doesn't use propane, and unlocked some recipes that we've struggled to cook in our RV oven.
If you don't already have an Instant Pot and are looking for a multi-function appliance that can do it all, you might be better served by the Instant Pot Duo Crisp or the Ninja Foodi. Remember these are larger and may not have all of the functions of the other Instant Pots - e.g. yogurt making or sous-vide.
If you do already have a 6qt Instant Pot, then the Instant Pot Air Fryer Lid is a much cheaper upgrade to add an air frying capability to your Instant Pot. That's the situation we were in, and in hindsight I think we made the right decision.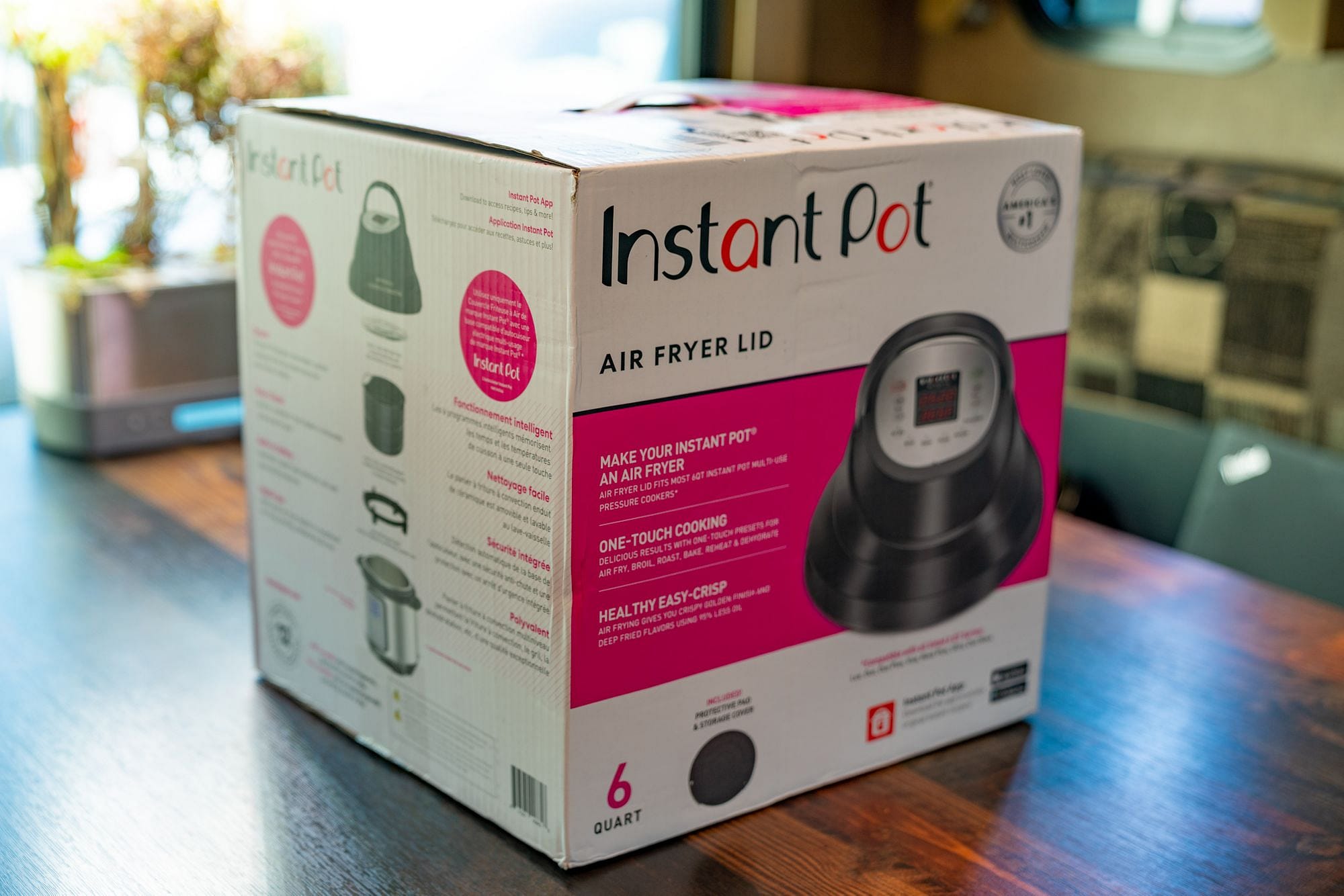 If you already have an Instant Pot but it's not the 6qt model, then the Air Fryer Lid is not for you - it only fits the 6qt models. However, the Mealthy CrispLid does fit on the 8qt models. I'm not aware of any options for the 3qt Instant Pot, but I suspect those would be too small for the air to circulate properly and work well.
We're looking forward to finding lots of new recipes to cook with our Instant Pot Air Fryer Lid, and trying out even more of its features.