I'm not going to lie, I was beginning to feel a bit cheated.
So many people have been telling us how extreme the winters are up here in Vermont; that we're crazy to spend the winter here in an RV. But as recently as two weeks ago, I was still in my shorts and t-shirt!
You may have seen the news last weekend about a big Nor'easter coming in, bringing cold weather and heavy snowfall across the northeast of the country. Several people contacted us to let us know about it and ensure we were safe and prepared.
The next morning, the National Weather Service in Burlington, VT tweeted out asking for people to send in reports of how much snowfall they'd had.
So I did: 0". No snow on the ground.
What's going on?!
Shoveling Snow
Well, this week the weather finally turned. We've had several days with overnight lows into the low 20°s, and daytime highs struggling to make it above freezing.
And then, yesterday, we had our first good snowfall. It snowed overnight and then all day long. I realize the novelty may wear off after a few months of this, but for now I'm sticking with: it's so pretty!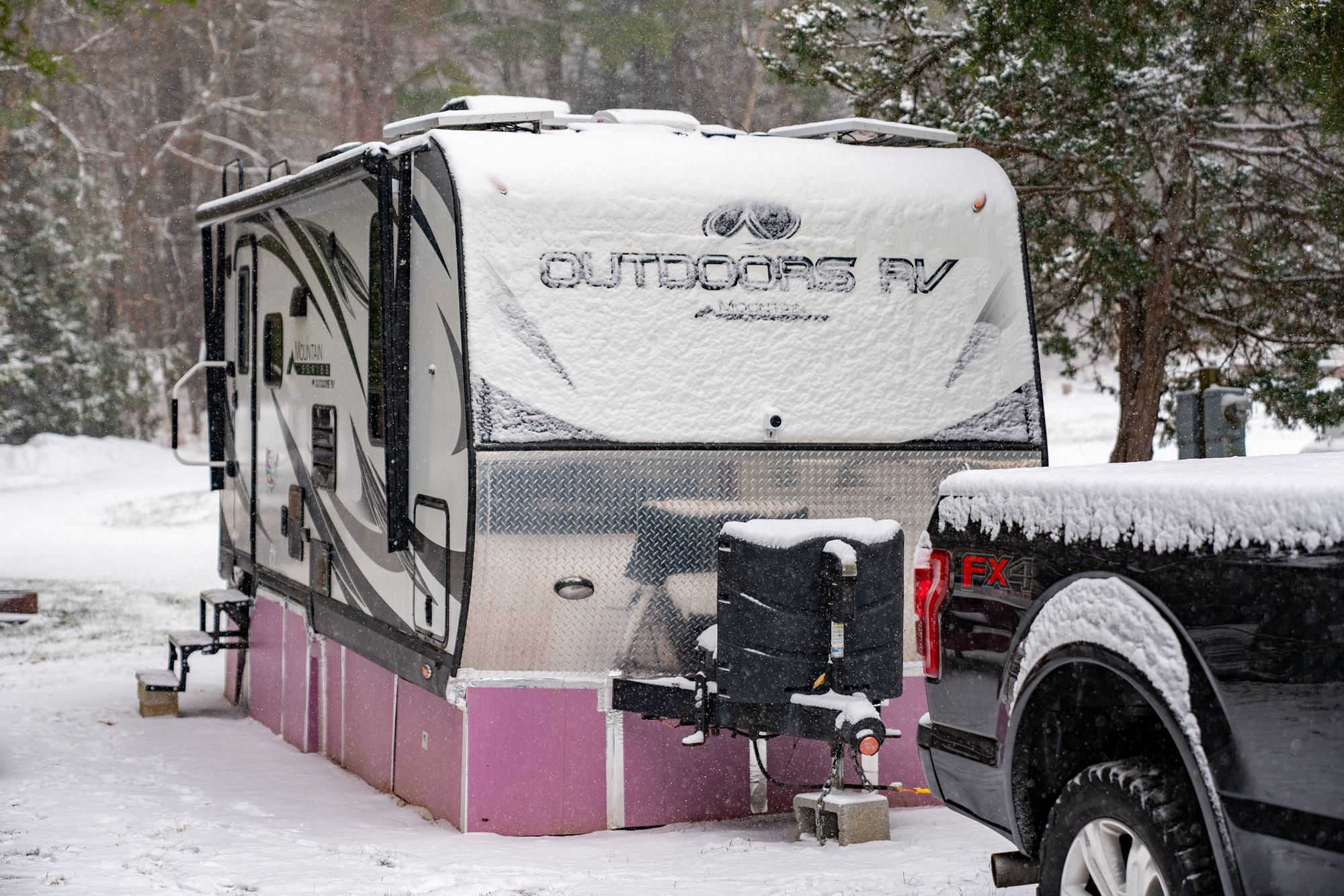 I had to drive to Burlington to pick up our skis and snowboards that we'd had waxed and tuned at REI, and buy a cable modem at Best Buy (more on that later!).
In California, we used to joke that driver-skill was water soluble - at the first sign of rain, the roads would turn to chaos. In snow, the situation was even worse! But here in Vermont, I guess they're used to it - everything seemed perfectly under control and normal. The snow plows were out, people were giving them lots of space and just generally driving appropriately for the conditions.
Our truck, with its new suspension and brakes (but the tires still haven't arrived), was great as always - and I was very appreciative of the heated seat and steering wheel!
When I got back, enough snow had fallen that I decided to start shoveling some snow. I cleared a path and used the snow I removed to pack around the bottom of our skirting, holding it firmly in place (it's really tightly wedged in already) and filling any small gaps and sealing it entirely.
The snow continued yesterday evening and overnight, so my nicely cleared walkway is gone - I guess I should get used to that!
Land Shopping
One of the main reasons we're here in Vermont is to look for somewhere to build a home base. We've been doing lots of research online, but nothing beats seeing a property in person, so last Sunday we headed out to look at some potential candidates.
The Nor'easter last weekend hadn't reached us, but had dumped some snow on the mountains and in the area where we were looking at properties. We're planning a full write-up and video on what we look for when we go and check out a property, but needless to say, it's a little harder when it's covered in snow!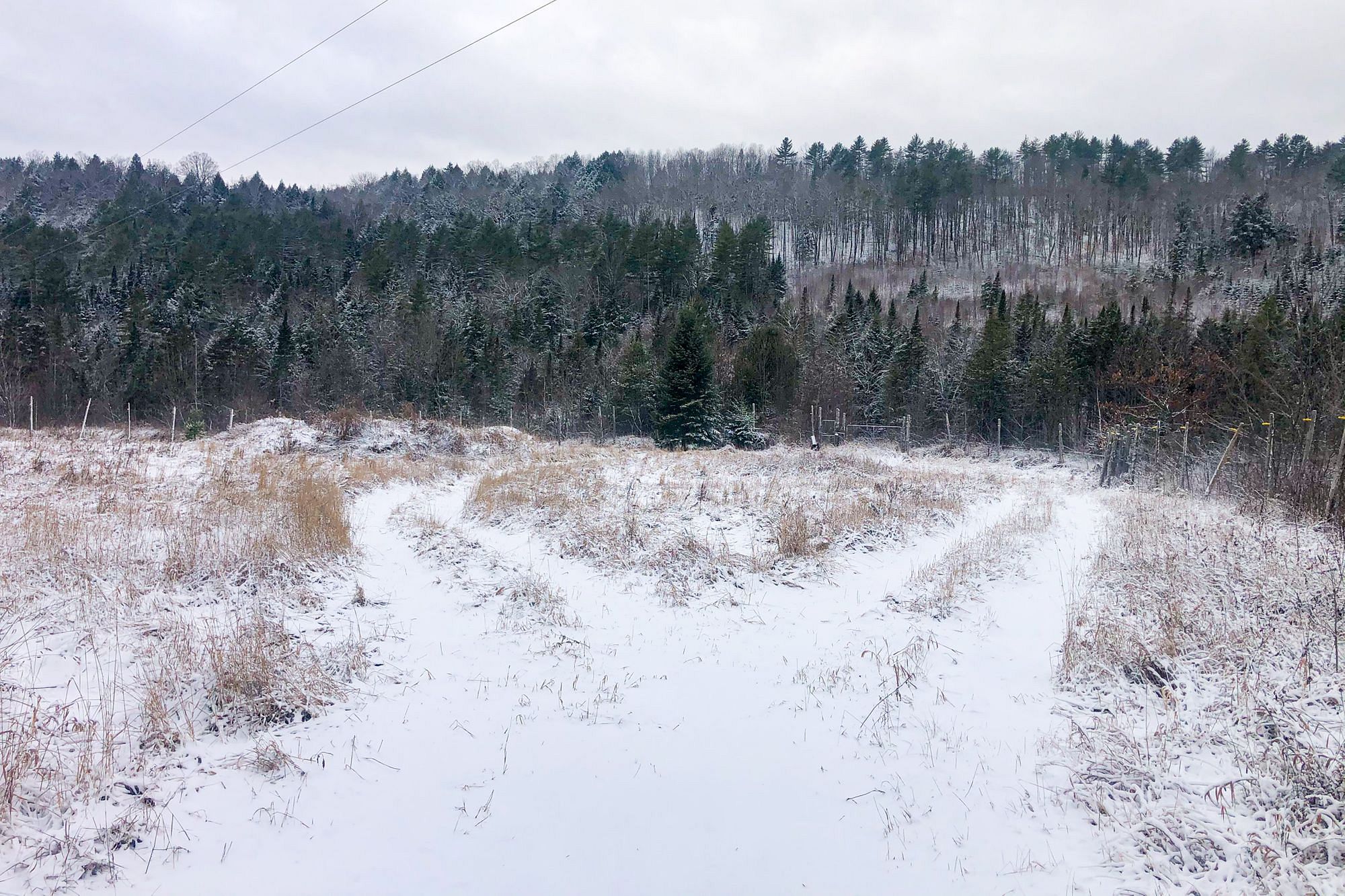 However, one big positive is that it really gives you a sense for what the access roads are like! We're looking at rural, arguably even remote, properties - most have been down at least a couple of miles of unpaved roads.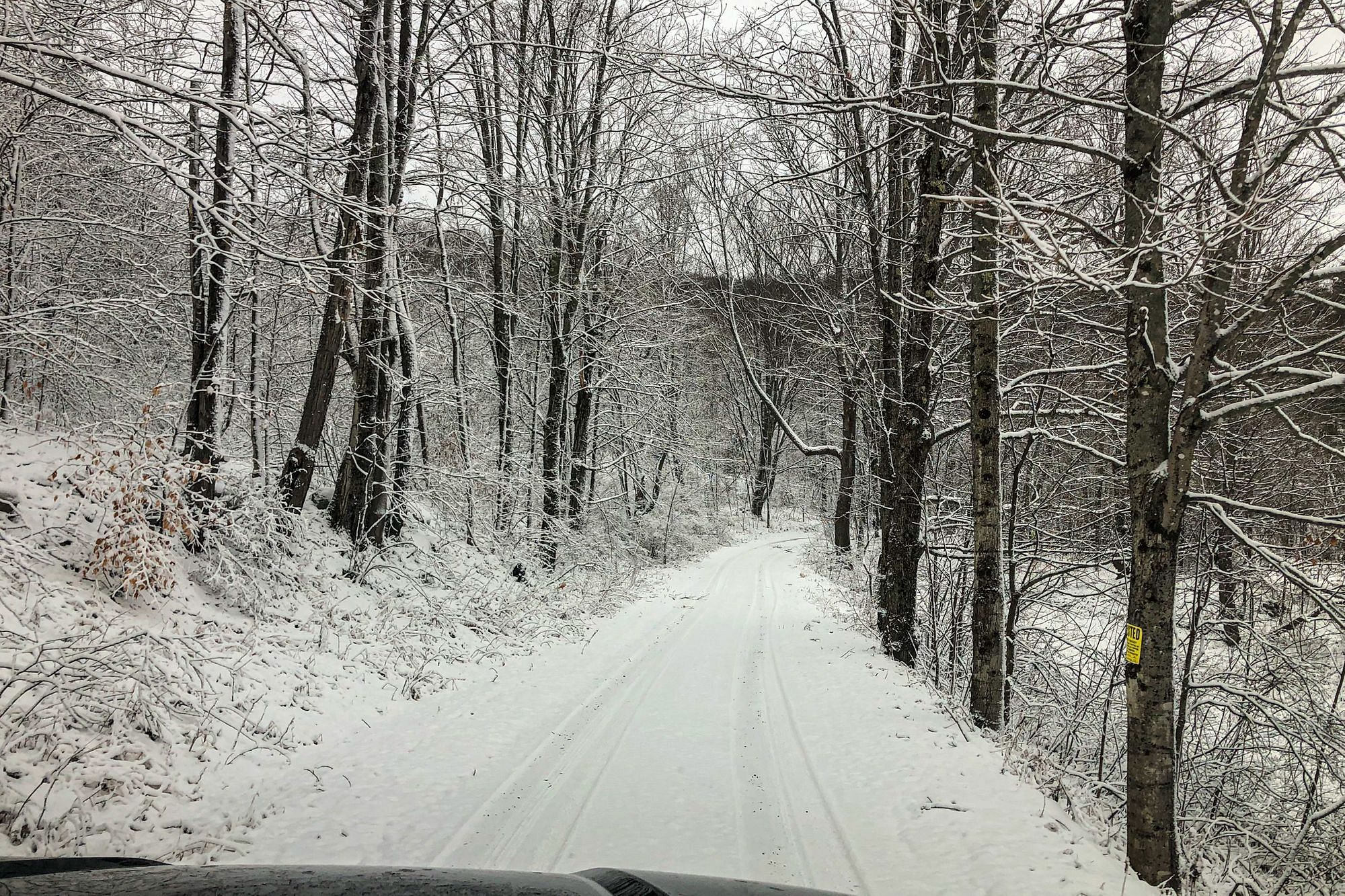 We ruled out a couple of properties straight away (mainly due to topography), but a couple looked interesting. One we really liked - it's 50+ acres, has several good spots to build a house, has a beautiful stream running through it. But, poor internet connectivity - no cell signal on AT&T or Verizon, and no cable to the property. The best available is telephone-based DSL. Maybe StarLink can help us out?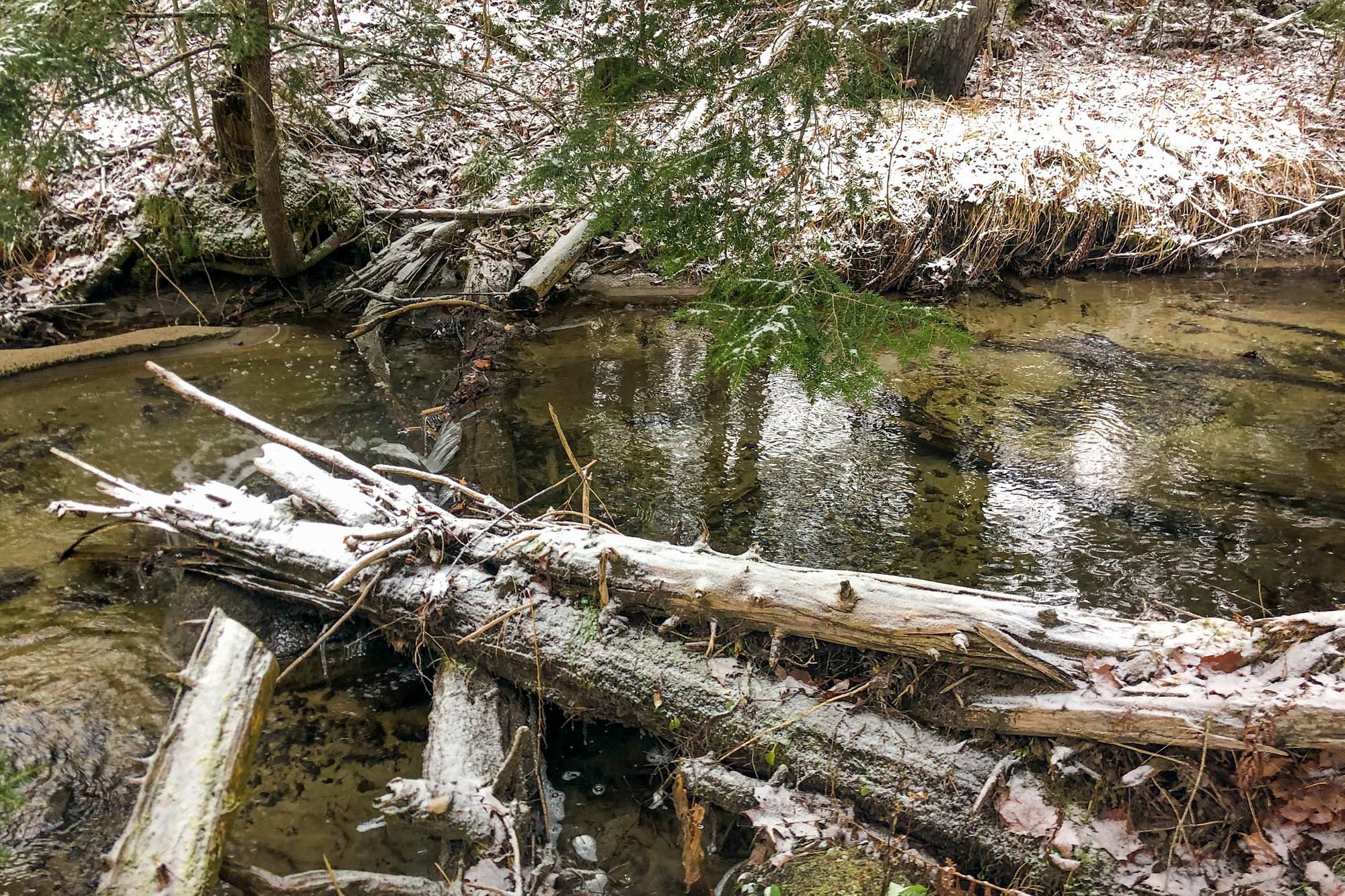 Anyway, our search for property continues!
Cable Internet
A little bit of exciting news this week. Yesterday, we finally got connected to cable internet in our RV! Fast internet is vital to us - not just so we can stream movies during these cold winter evenings, but we also work full-time in the RV.
It's taken a few weeks to get things scheduled, and technically we're only on a temporary line (using a splitter on our neighbor's line), but we now have a 100Mbps connection straight to our RV.
It came just in time for the first serious snowfall, and I think we're now finally ready for winter. Speaking of which, don't forget to check out today's video, all about our winter RV preparations: