Even before we bought our tractor, we had spoken with our dealer about recommendations for using the tractor in the snow - something we knew we'd need to deal with in Vermont. His recommendation was to install snow chains on the rear tractor tires.
Much like on any other vehicle, snow chains wrap around the tractor tires to provide increased traction in snowy or icy conditions. Unlike a regular vehicle, our tractor isn't used on public roads, so we could add some really aggressive chains for maximum traction without worrying about the damage they'd inflict on a paved road.
However, because of the specific tractor and tire combination we had chosen (R14T tires on a Kubota L3901 tractor), before we could install tire chains we also needed to install wheel spacers. This is necessary to provide some clearance between the wheel well and the tire for the chains. On some tractors a similar effect can be achieved by turning the wheel around, but that doesn't work with ours.
Knowing we'd be returning to Vermont in early March with snow on the ground and potentially months of cold weather still ahead of us, we pre-ordered everything ahead of time so we could get it installed as soon as we returned. With the benefit of hindsight, we really should have done this last year before we left for winter!
We are not affiliated with Motorsport Tech or TireChain.com and we paid full retail price for all the parts following our own detailed research. All opinions in this article are our own.
BORA Wheel Spacers
Tractor wheel spacers are simply round pieces of metal with bolt-holes in that mount between the wheel hub and the wheel, moving the wheel further out from the body of the tractor.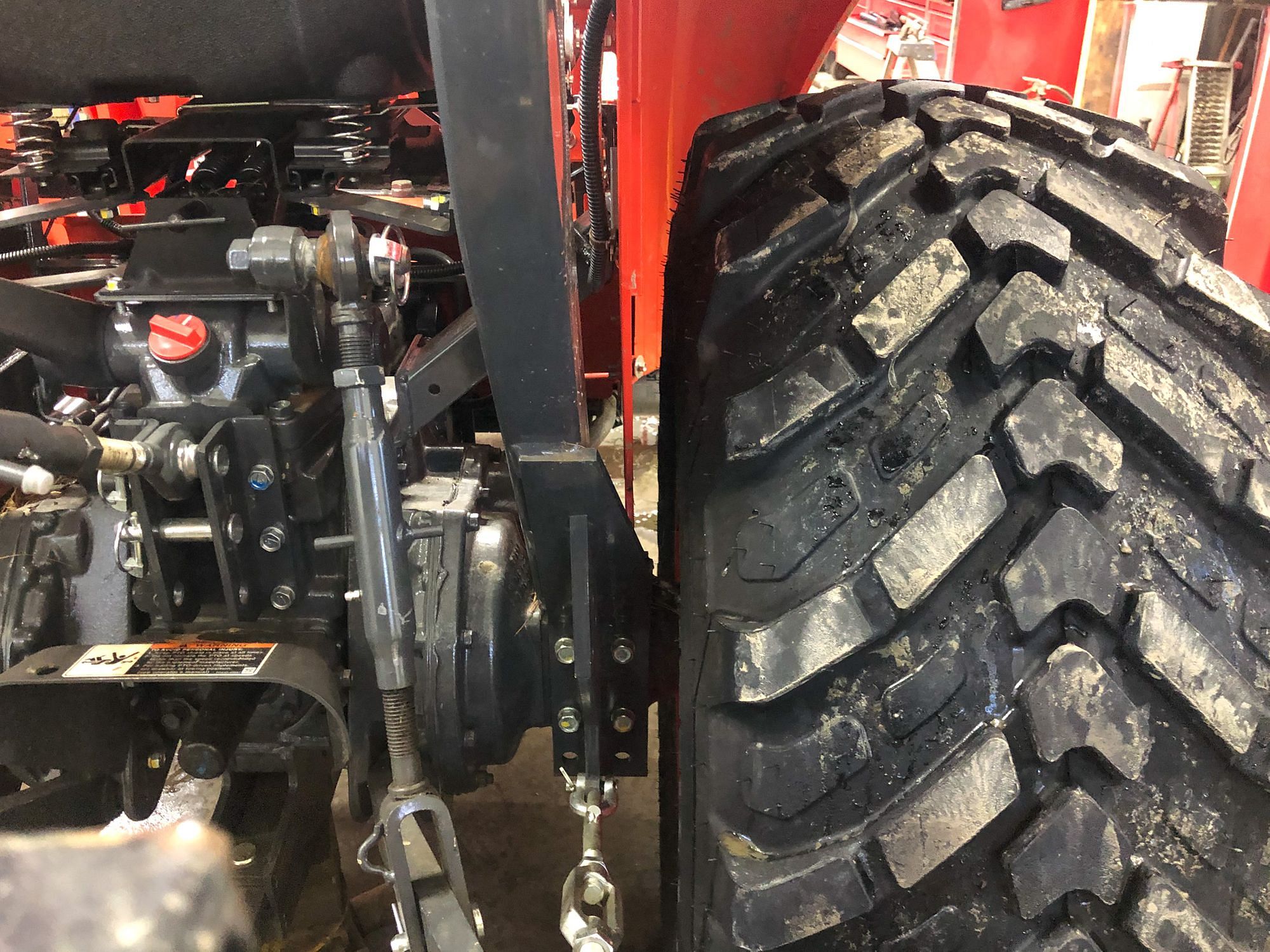 Our dealer recommended 3" BORA wheel spacers from Motorsport Tech. These are made in the USA with Alcoa 6061-T6 aluminum using a CNC machine. From my own research, these were very highly recommended!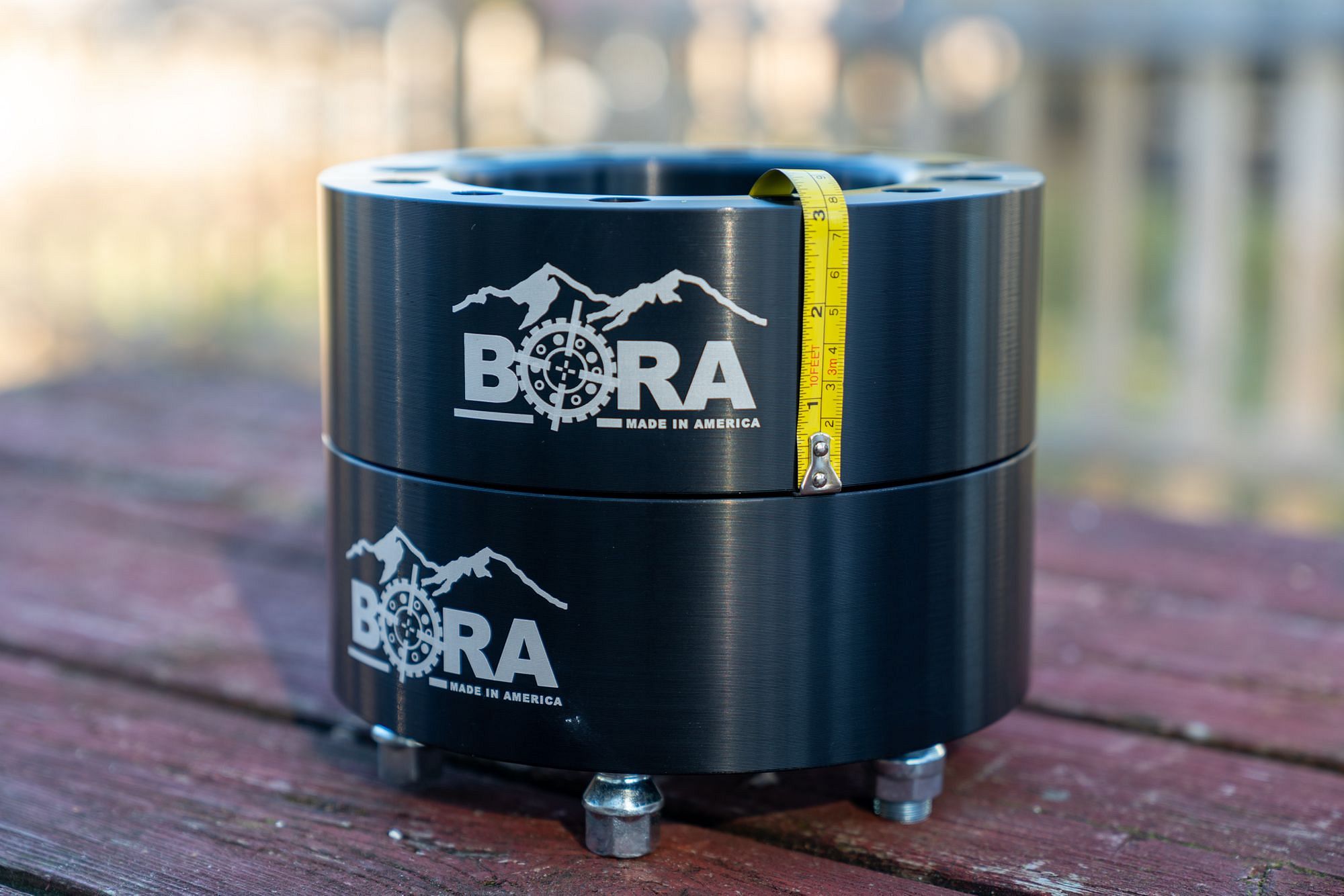 Some forum posts I found recommended explicitly requesting solid core construction (rather than the standard, hollow core) when ordering the wheel spacers, and I asked the manufacturer about that. Their recommendation was not to bother - it increases the cost and they are sufficiently confident in the durability of the standard design that they come with a lifetime warranty anyway!
Wheel spacers don't just help for installing tire chains. Because they increase the rear track width of the tractor, they make it more stable, particularly when traversing across a slope or on uneven ground. It's therefore a popular modification with people who need to, for example, mow across a slope.
But there's a trade-off - a wider tractor can be less maneuverable in tight spaces, and you need to consider the width compared to any attachments you use. In our case, we chose 3" spacers which mean the rear track width is just about the same as our bucket width so when we're pushing snow or similar with the bucket, the rear tires don't sit outside the line we're driving.
I spoke to Motorsport Tech a couple of times on the phone with a few questions - particularly around lead times and shipping. We were told it would likely take a couple of weeks to build them, and that turned out to be accurate. We asked them to hold the order for another couple of weeks as we were traveling at the time, and then had them shipped to a local FedEx for collection.
The box was small (about 10x9x9 inches) but relatively heavy at 18lbs.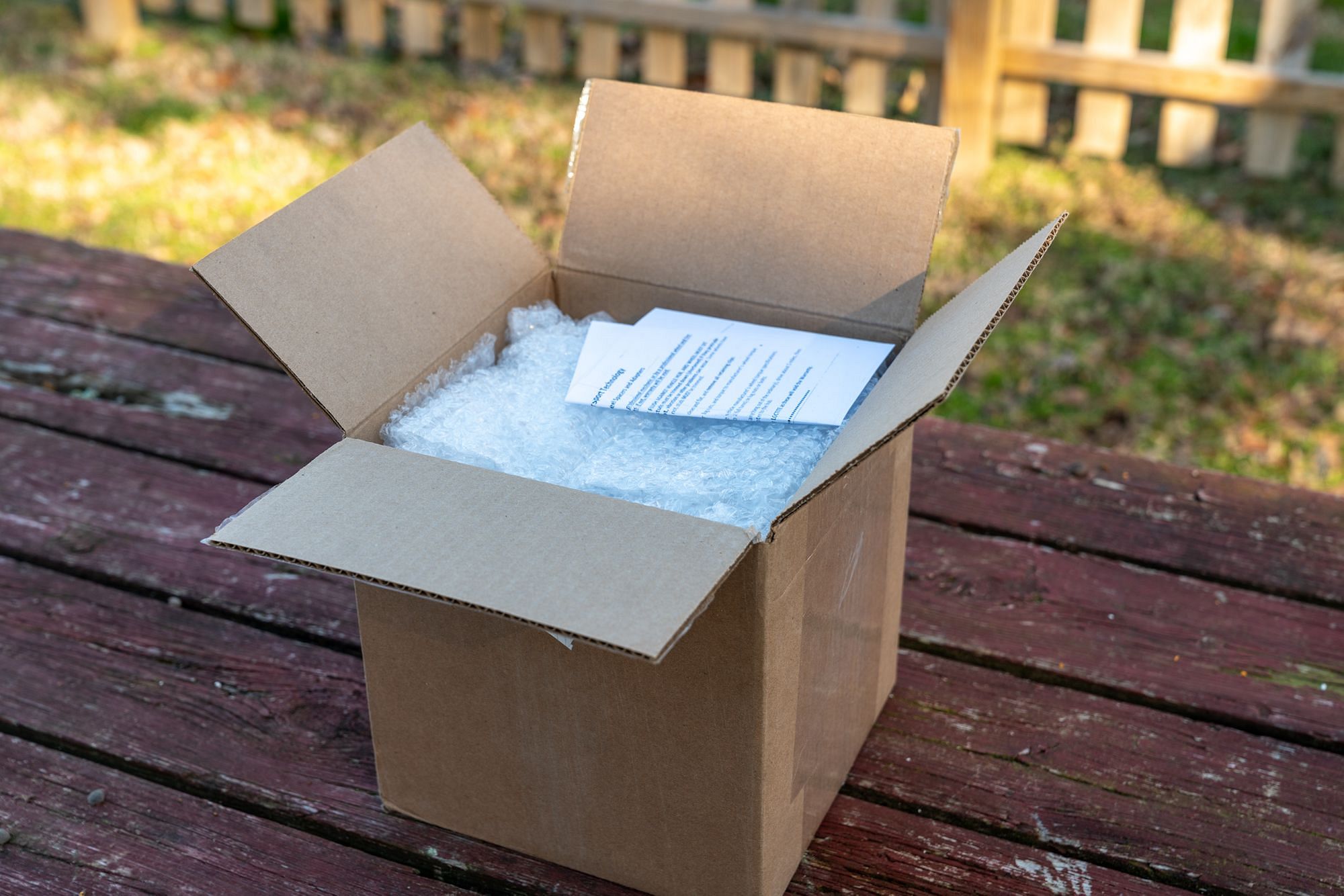 Installation
Installation of the wheel spacers is relatively straightforward - remove the wheels, bolt on the spacers, and reinstall the wheels.
But there's a gotcha: our tractor wheels are loaded with beet juice to provide additional ballast, so they are heavy! Doing this ourselves in icy conditions would be risky and dangerous, so we enlisted some help from a neighbor! We jacked tractor up, and removed one wheel at a time for the installation.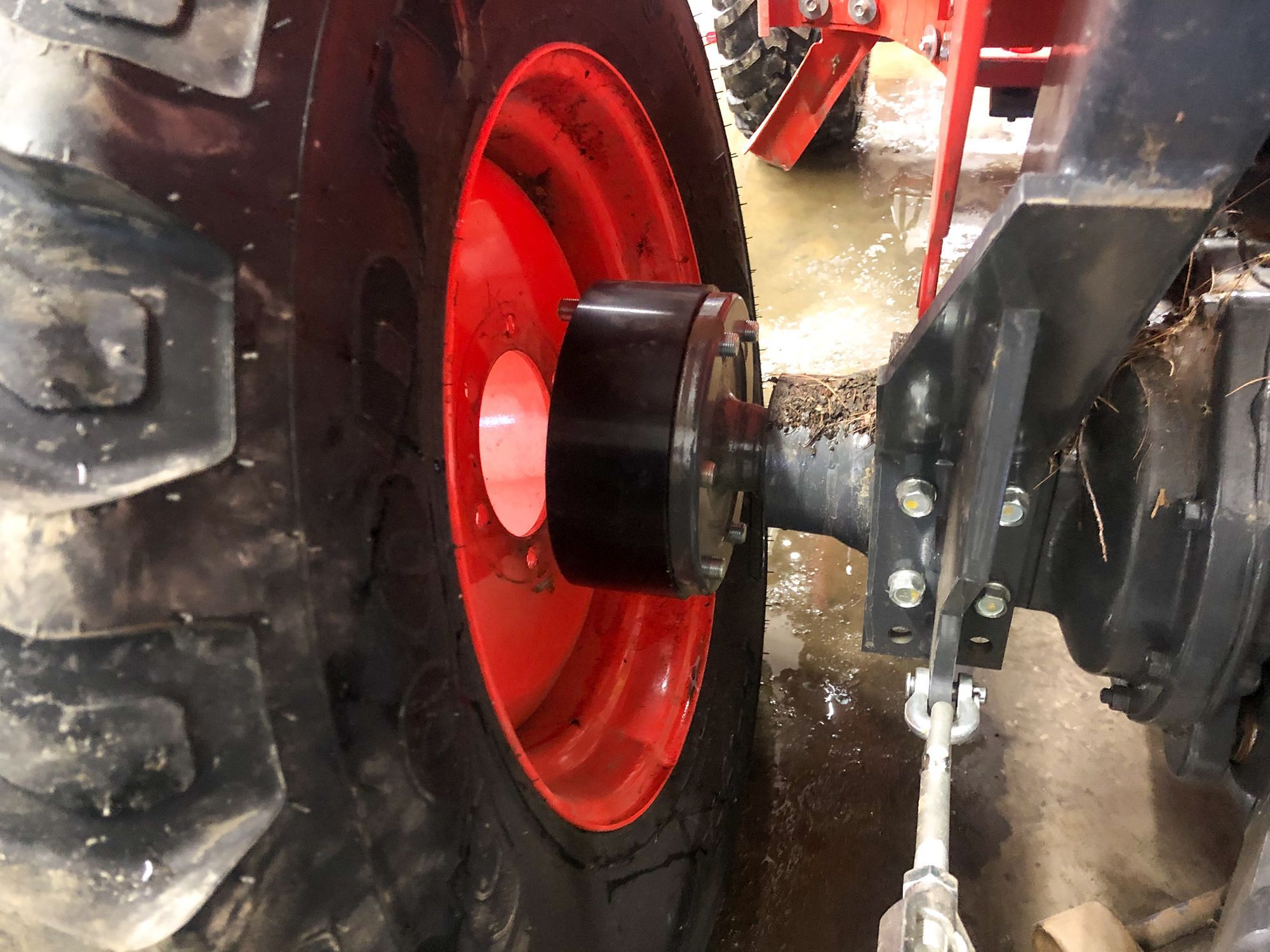 With the wheel removed, the wheel spacer was bolted on and tightened to the manufacturer's recommended torque specification, then the wheel was re-added. Even with two of us, those wheels are no joke to move around!
You can clearly see from the photo how the wheel spacer moves the wheel out laterally to provide additional clearance for the chain on the inside of the wheel well.
Just driving the tractor home, I couldn't really feel a difference with the wheel spacers, but now that the tires do stick out more you can see them more easily when looking to the side.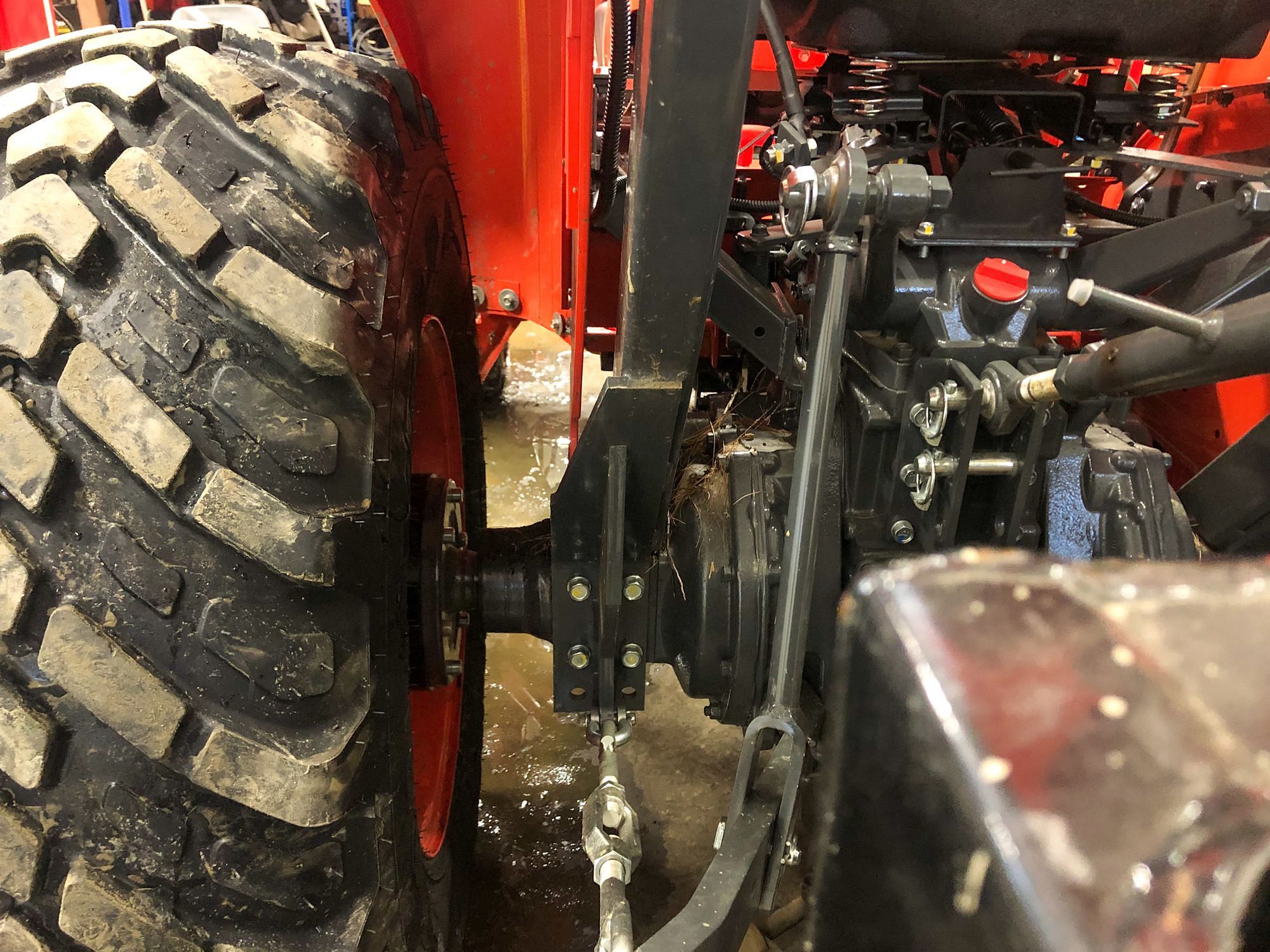 European Diamond Studded Snow Tire Chains
With the wheel spacers installed, we could move onto the tire chains. From my research, we chose to buy online from TireChains.com.
As with the wheel spacers, we had ordered these ahead of time online and had them shipped to a local UPS Store in Virginia where we were spending the winter.
Since the tractor wasn't going to be operated on a public road or paved surface, our driveway is a rough sub-base, and we wanted maximum traction for plowing, maneuvering in the trees in snow, and our relatively steep driveway, we wanted the most aggressive chains we could find.
We settled on a set of 2 European Diamond Studded tractor tire chains, sized to fit the 15-19.5 rear tires on our Kubota L3901 compact tractor. These high quality chains are made from case hardened high strength alloy 10B21 steel.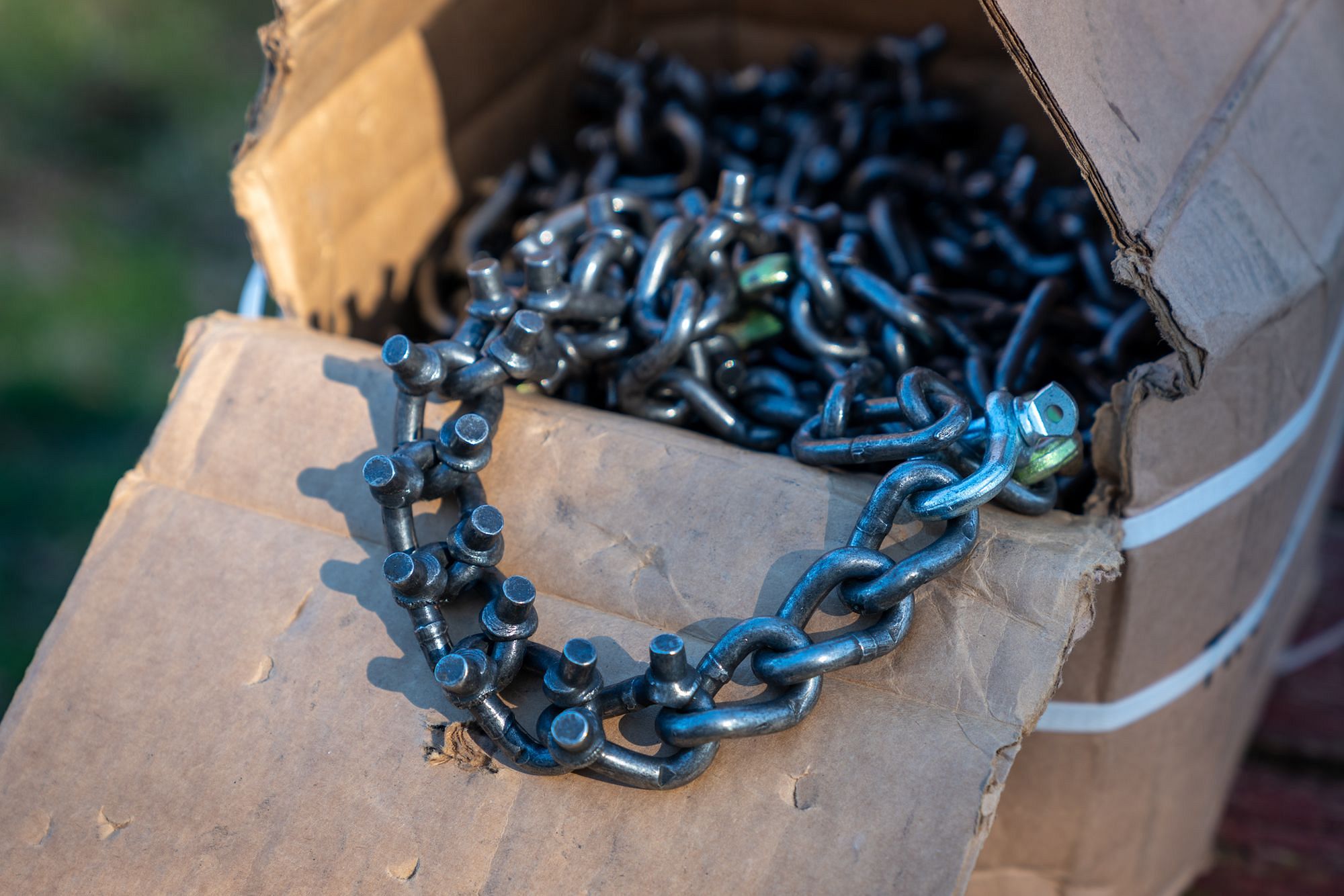 The European diamond design minimizes the gaps between cross chains and offers a smoother ride compared to the traditional "ladder" design with straight cross chains.
Rather than simply smooth chain links as might be typical for on-road chains, these aggressive off-road chains have 3/8" studs on them for maximum traction in adverse conditions.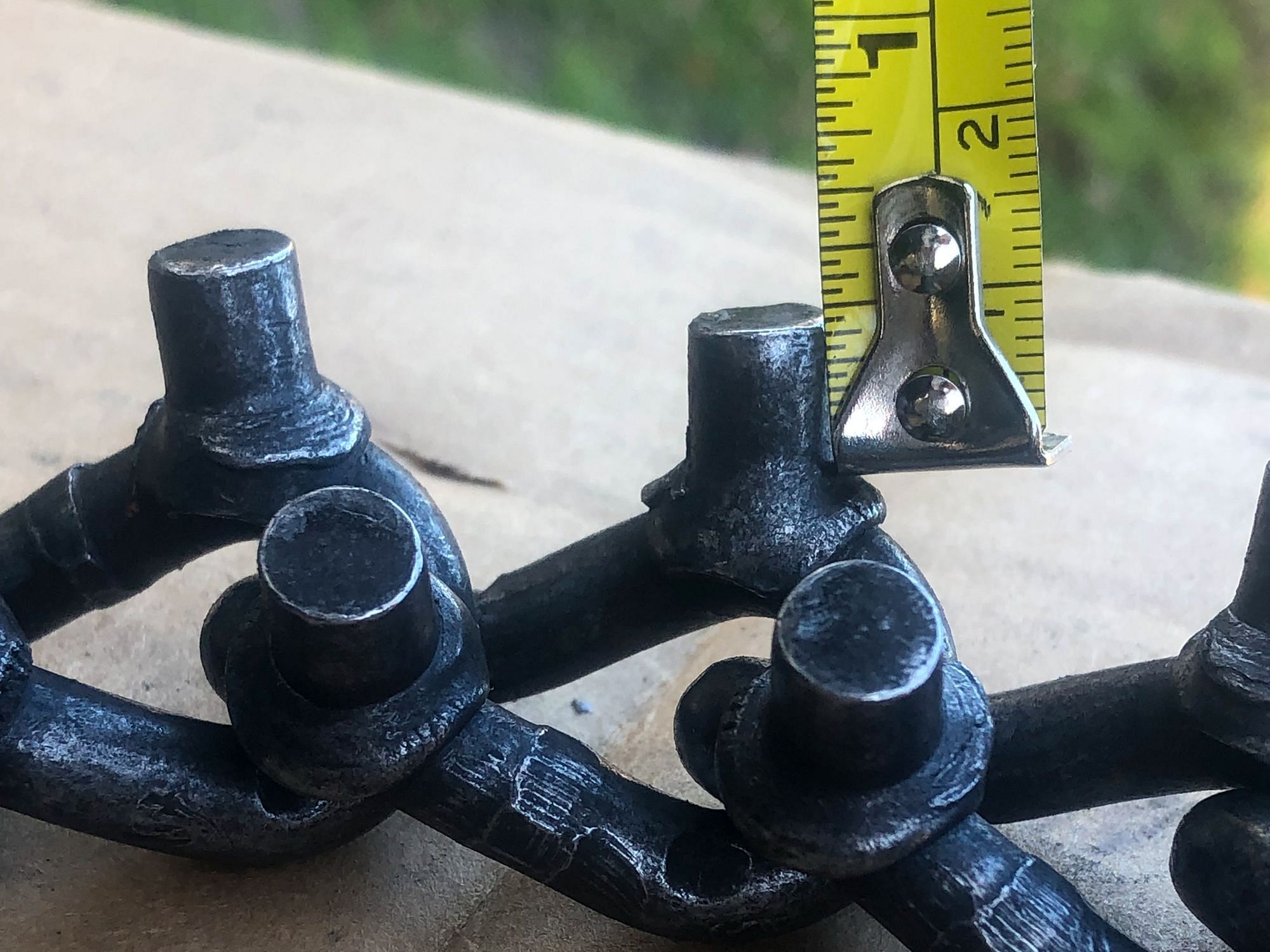 They're also really heavy! The UPS Store where we collected them were very curious about what was in each of these 67lb boxes!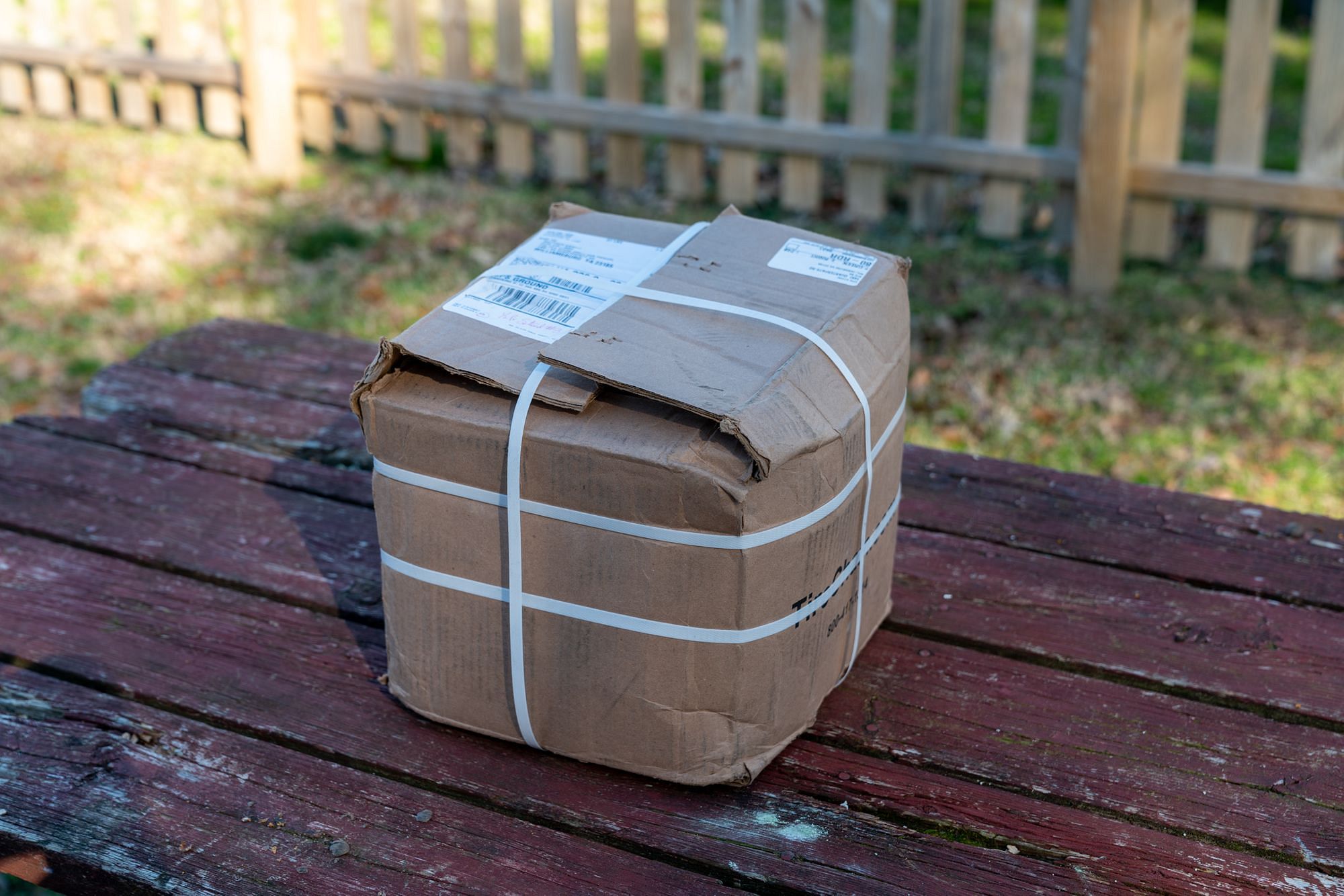 As well as the chains, we also bought a pair of spring tensioners - one for each wheel.
Installation
It took me about an hour to install the chains on the tractor by following the instructions provided with the product. The first step was laying the chains out on the floor behind each tire and making sure they weren't tangled.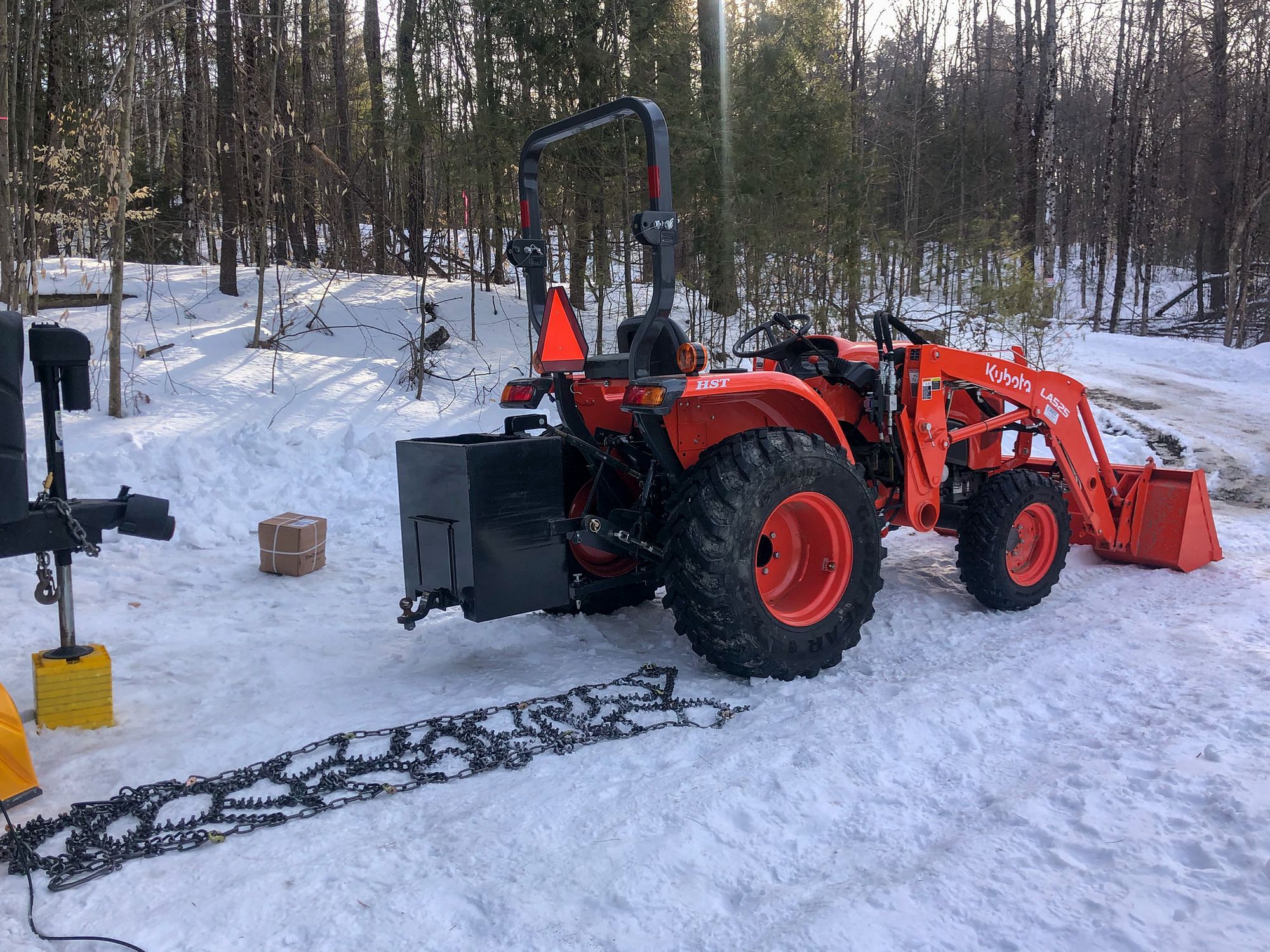 By far the hardest part was hammering the pin in the C-coupler shackles out - I didn't realize this needed doing so already had the chains in position on the tires, so I had to do this while balancing the clamps on a rock on the tire. Once I had the process figured out, it moved fairly quickly and soon enough the tire chains were mounted, adjusted and tensioned (they also need re-checking for tension after a short while of usage).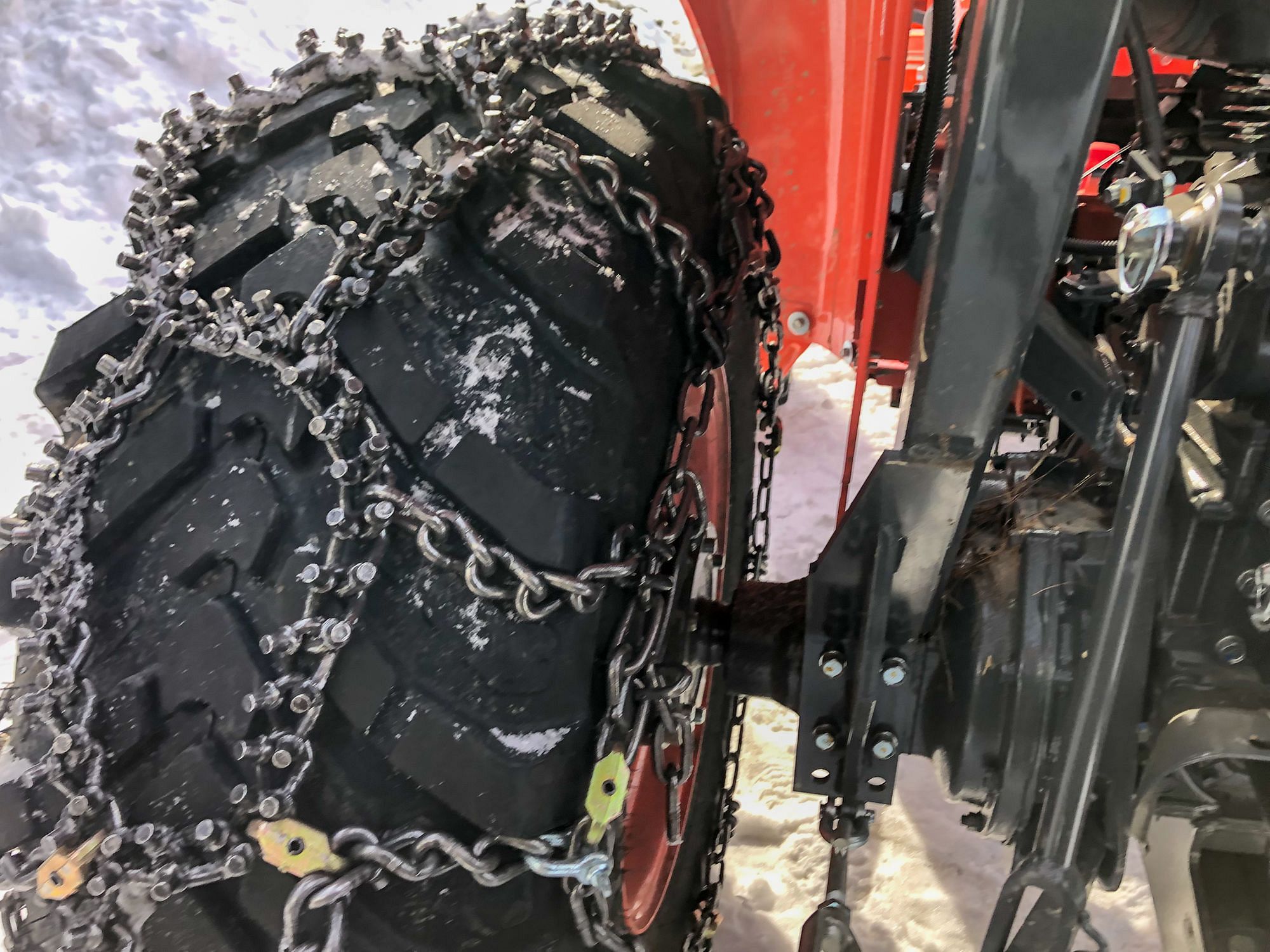 We were keen to get them installed as we needed to offload our new Woodland Mills WC68 Wood Chipper from the back of my truck into our shipping container before it rained, and there are some very icy patches on our driveway!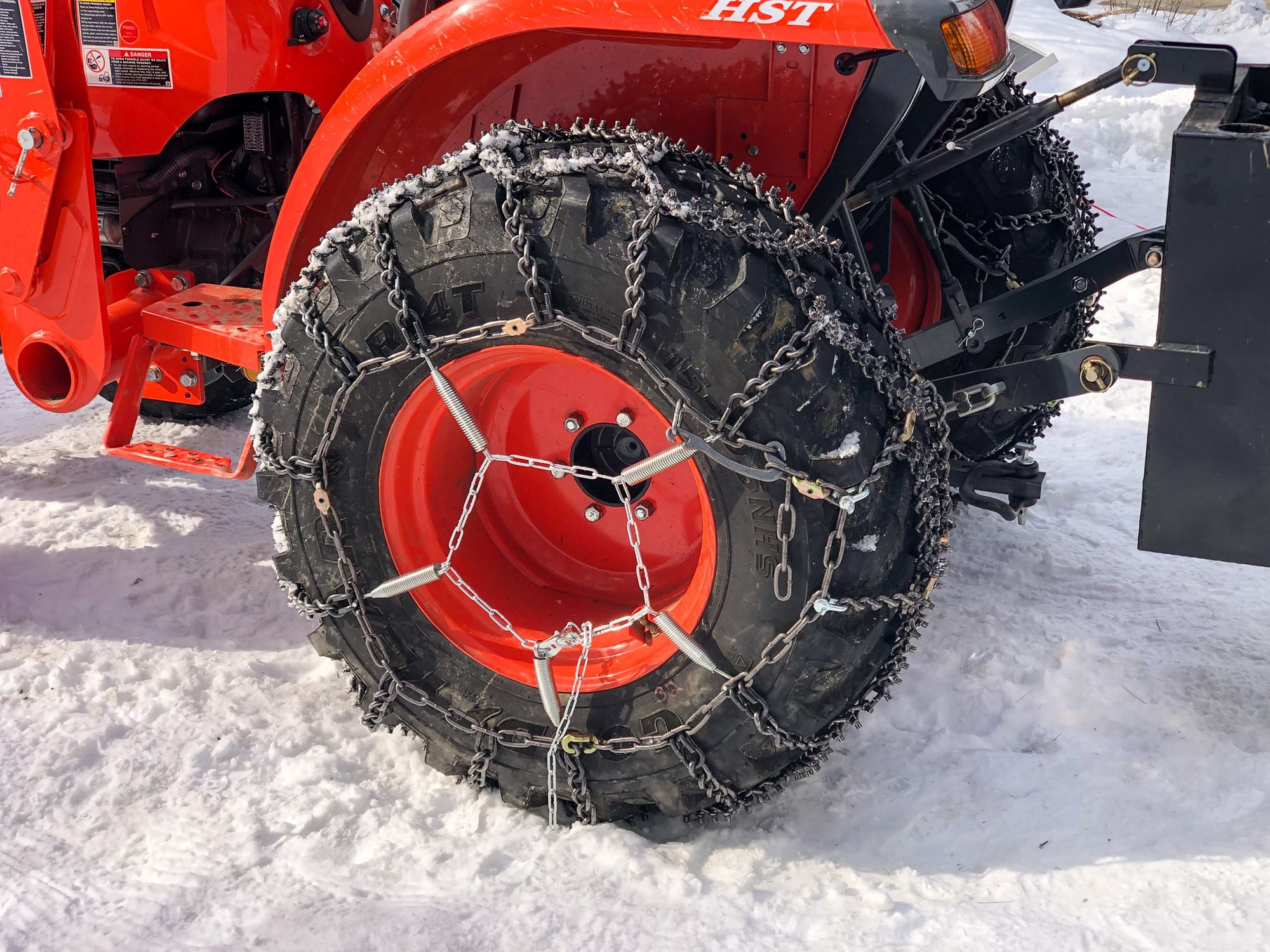 Summary
Before installing the tire chains, I had been using the tractor to clear some snow on our driveway, and as much fun as it was sliding around with all four wheels spinning on the ice and snow at times, I really needed more traction.
Our new snow tire chains do just that. Don't expect them to be miracle workers - it's absolutely still possible to lose traction even with the chains on, but they make a huge difference.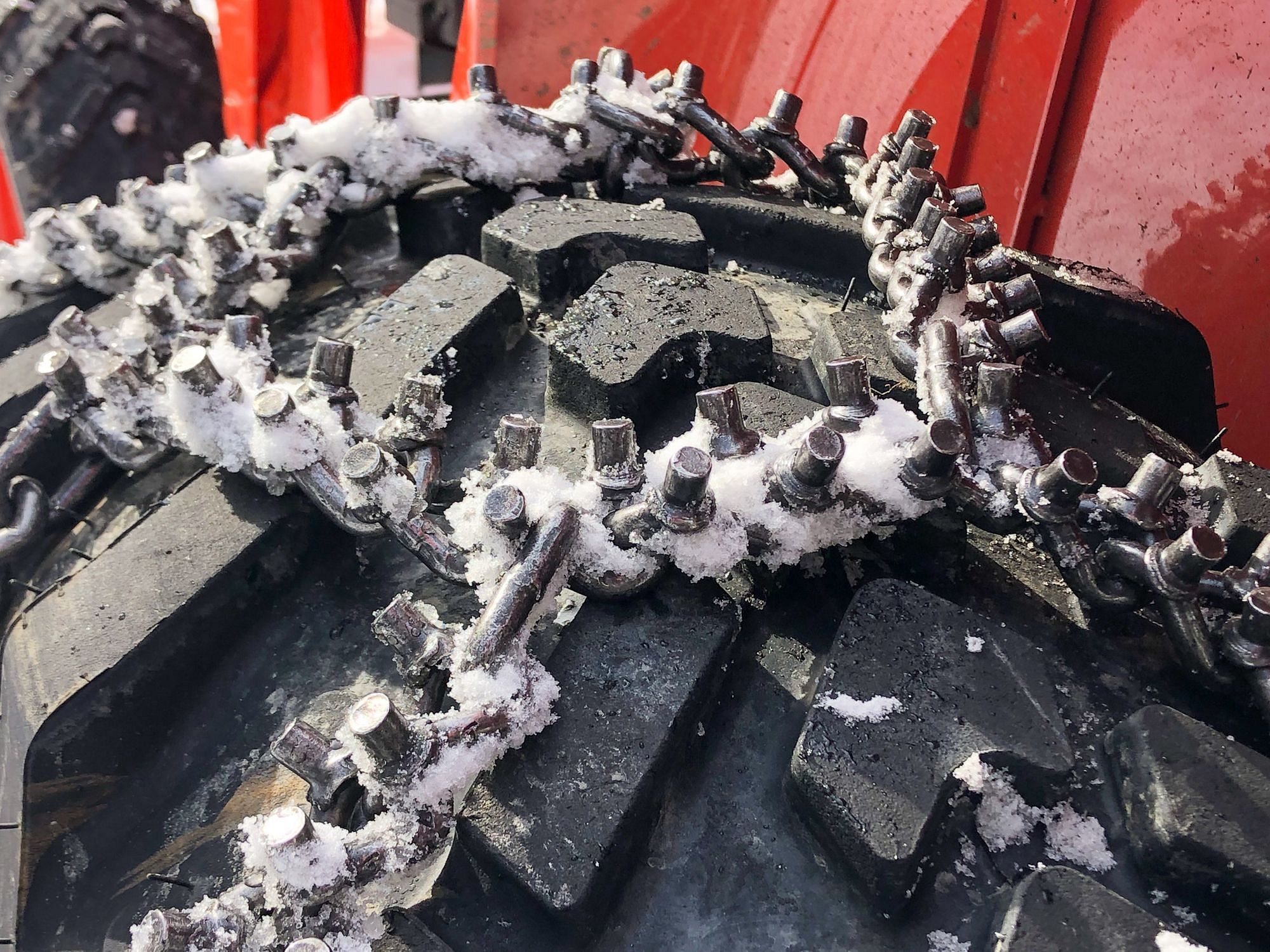 As an example, lifting the wood chipper crate out of the back of my truck meant putting a 900lb load on the front of the tractor, reducing the weight on the rear tires and hence reducing traction. Without the chains on, I don't think we'd have managed to drive up the driveway with the crate on the front of the tractor. With the chains, we managed the maneuver successfully and safely.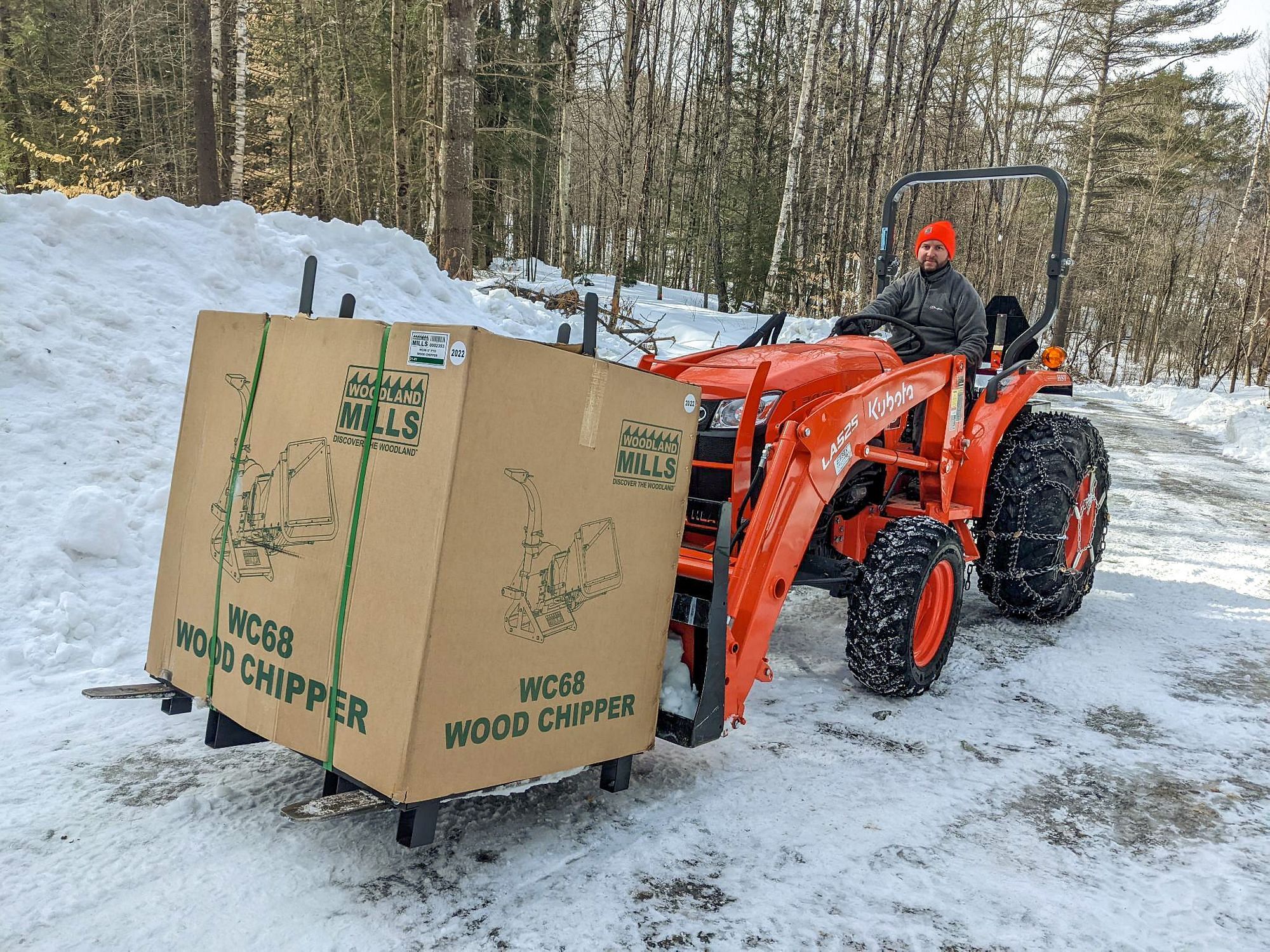 The tire chains were not a cheap investment - $380 for the wheel spacers and almost $1,200 for the chains and tensioners.
However, when living in a climate like we have in Vermont, they're an invaluable tool. Trying to operate the tractor or plow with it in winter without these chains is a fool's errand at best, and downright dangerous at worst.
Knowing that we given ourselves the best possible chance of success with these high-quality European diamond studded chains and BORA 3" wheel spacers is very reassuring. From our limited initial testing of them, they're doing exactly what we hoped.