New England is famed for its distinct seasons, and is arguably at its most beautiful in fall when the foliage changes color.
Introduction
Although we've been living full-time in our RV for over two years now, nearly all of our exploration has been on the west coast. But about a month ago, we headed east, preparing to spend fall and winter in New England.
After finishing our quarantine period in upstate New York, we were ready to start exploring.
We headed further north, to northern New Hampshire. Our goal: to follow the fall color change as it moved through the state.
Already, I've learned two things about the fall colors:
As many photographs as I had seen, the reality is even more impressive - the colors are so rich, it's absolutely stunning!
The colors change fast! Within the space of just a few days, the colors change completely - I hadn't appreciated just how quickly that would happen.
The further north you are, the earlier the color change happens - so we started up north and we'll continue to explore further south as the colors change.
Timerland Campground
Our base for exploring northern New Hampshire is Timberland Campground, just west of Gorham, NH. We initially booked one week, but we like it so much that we've extended for another week!
The campground has everything from tent camping to full RV hookup sites, and they even have cabins for rental if you don't have an RV and tent camping isn't your thing!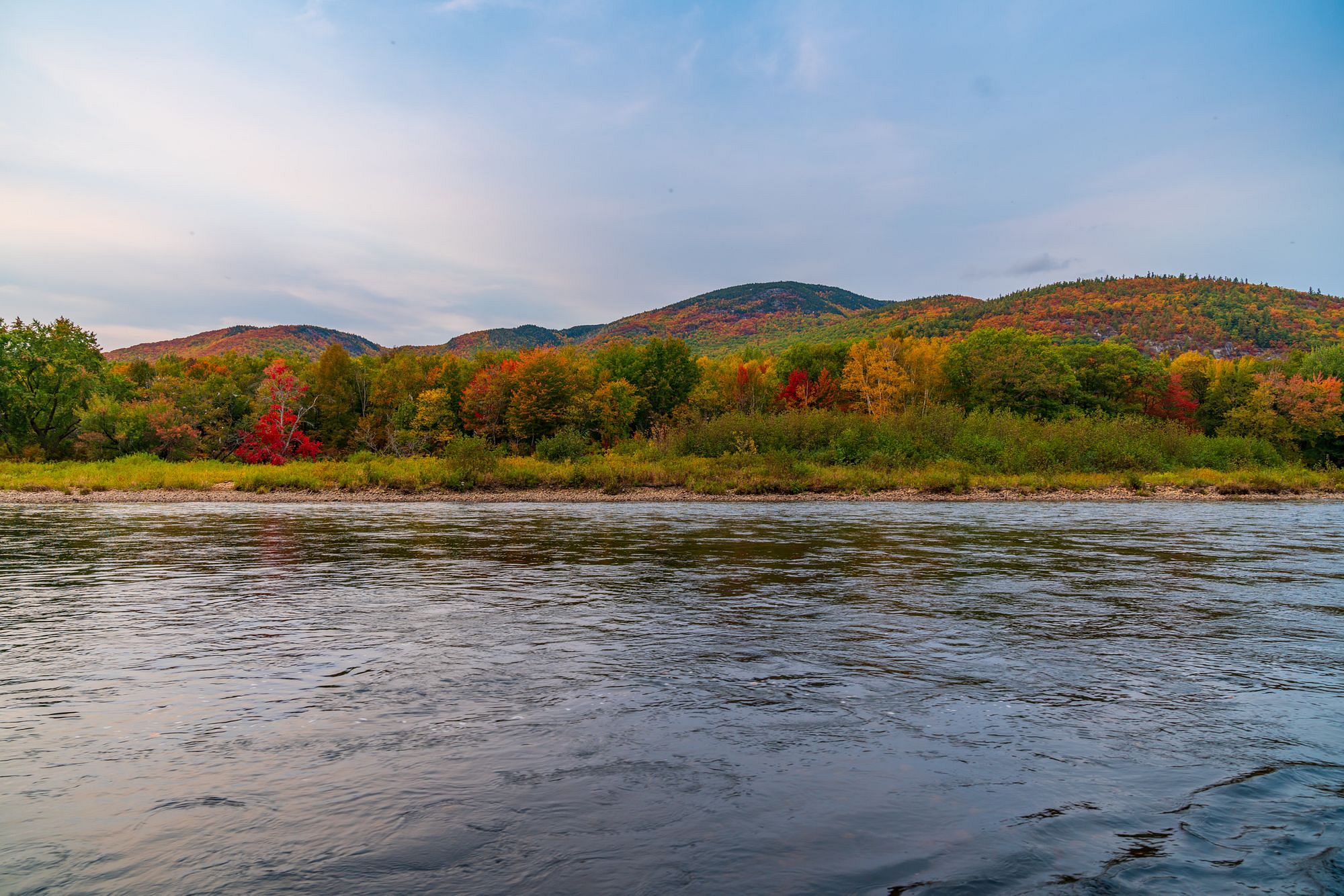 We're staying in a site with 20 Amp electrical hookups and water - no sewer. The owners say it's really intended for smaller trailers than ours - popups for example.
But we had no problems getting our trailer in here, and our electrical upgrades mean we can easily run on a 20 Amp plug - we've actually throttled ourselves to 10 Amps to avoid too much voltage drop.
We're paying $34 per night, but if you stay for a week you only pay for 6 days, so it works out at $204 per week, or ~$29 per night. For an extra $5 per night we could have had 30 Amp hookups, but we just didn't need it. And for $43 per night ($258 per week) we could have had full hookups.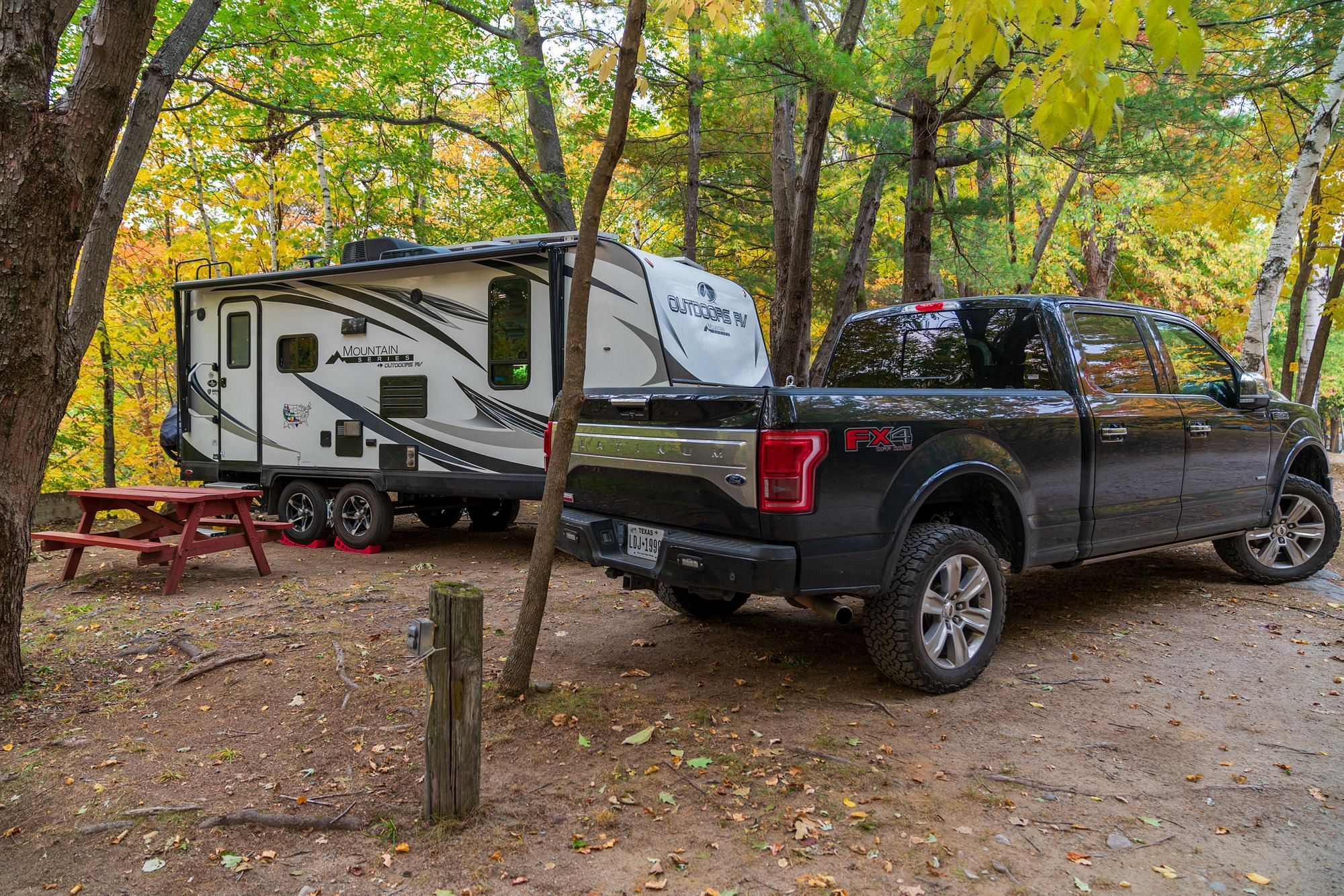 We just didn't feel the need - when you're used to boondocking as much as we are, having water and electric at the site is already a luxury! We'll make use of the on-site dump station once a week or so.
New Hampshire Leaf Peeping Itinerary
Each day, we could see the leaves changing color. We knew we had to get out exploring before we missed it, so on Monday we headed out to explore!
We wanted to head north, up into the North Woods, and planned a 1-day itinerary. The itinerary included driving through some beautiful areas, a short hike, a break for lunch and then a stop to see a covered bridge on the way back.
Thirteen Mile Woods
From Gorham we headed north, up through Berlin (where we had to make a very special stop!) towards Thirteen Mile Woods. The road hugs the Androscoggin River, and for miles we were seeing these strange rock piles every few hundred feet in the middle of the river.
These turned out to be Boom Piers, a relic left over from Berlin's days in the lumber industry. They served to divide the river, allowing two competing companies to share the river for sending lumber downstream.
The scenery was stunning - brightly colored trees flanking the river. We stopped first at Seven Islands Bridge, just south of Errol to take some photos.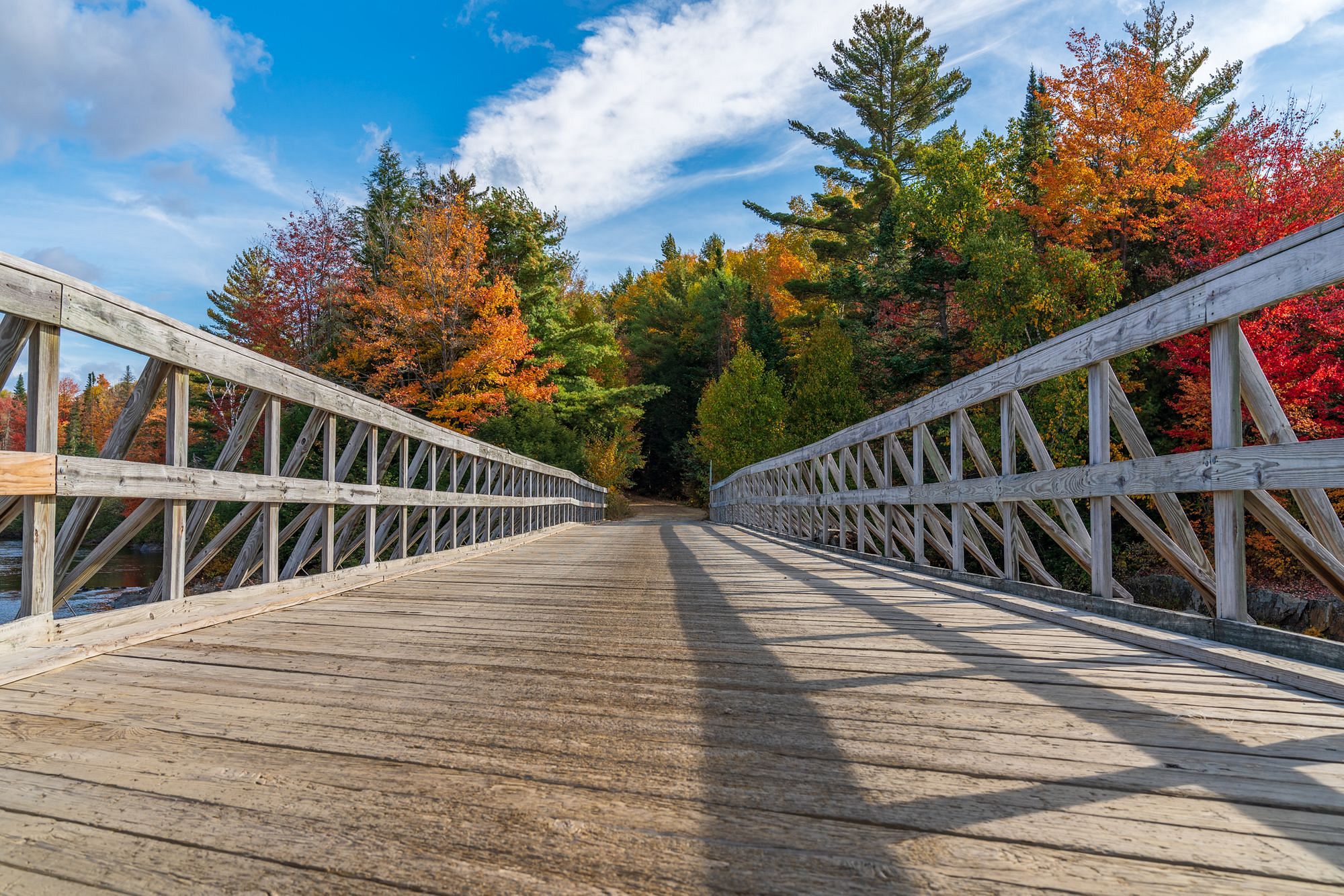 Further up, we stopped again at a pull out where the river made a wide, sweeping meander.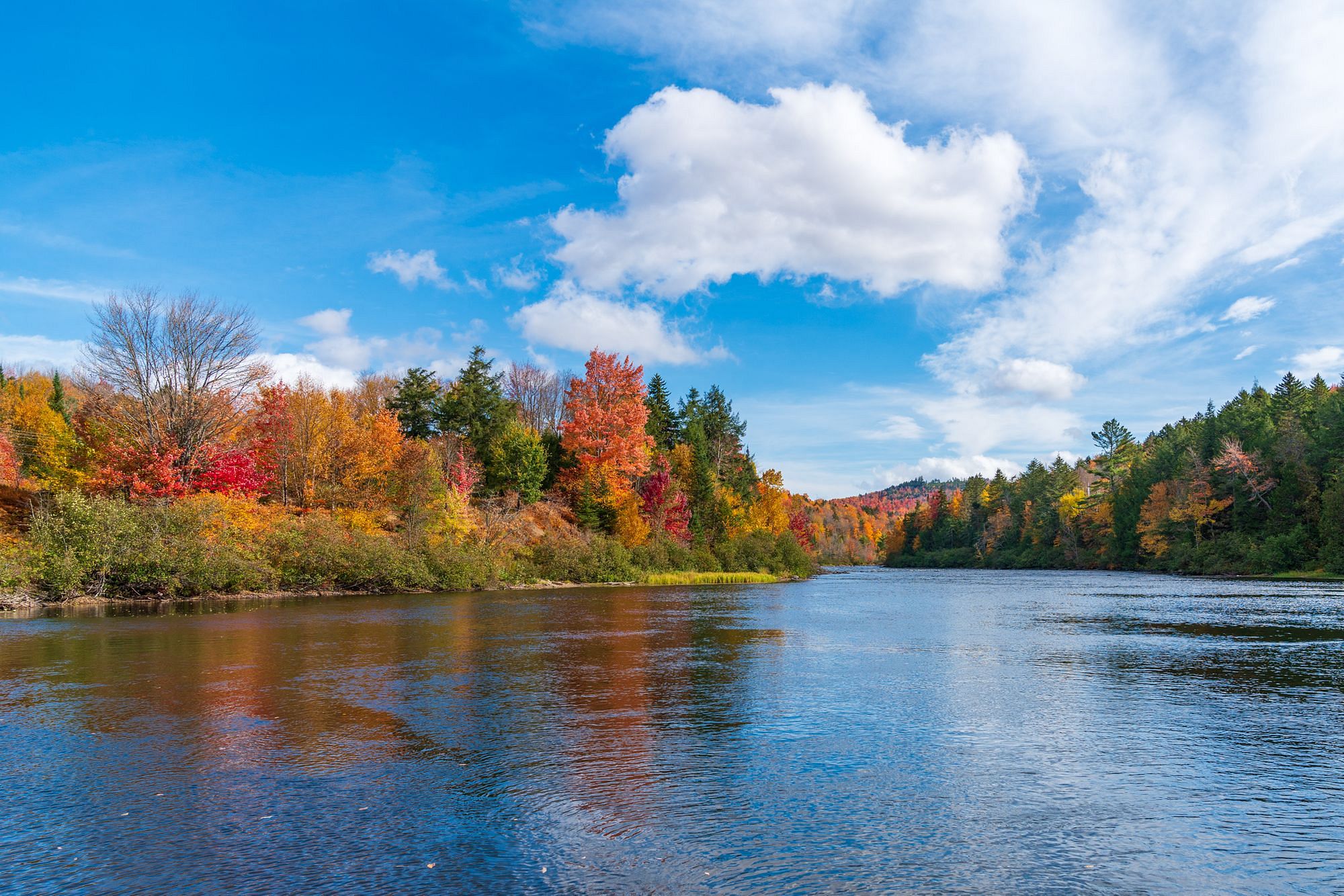 Table Rock Trail
Our itinerary included a short hike along the Table Rock Trail, starting at the trailhead on NH-26 - about halfway between Errol and Colebrook.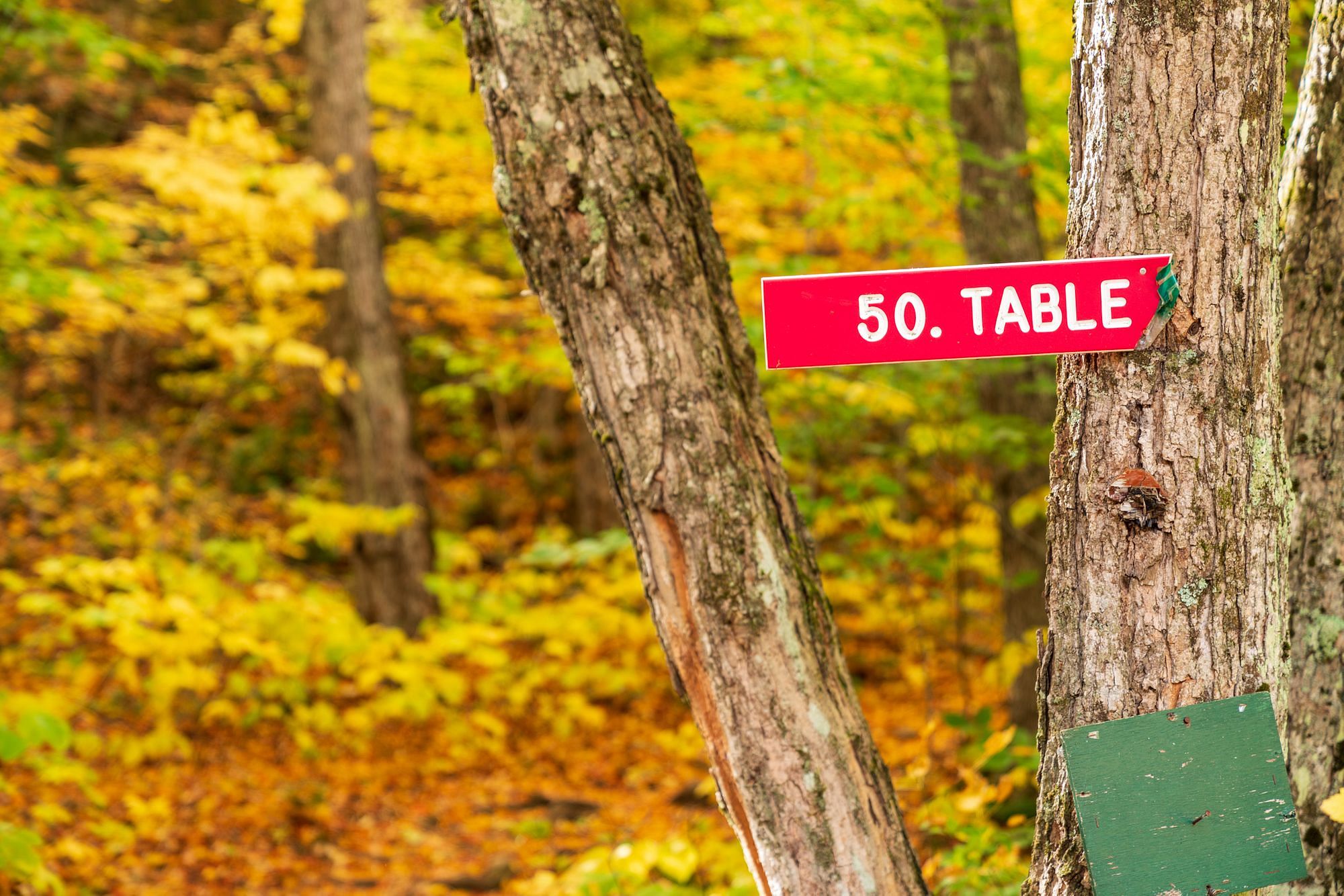 As the name implies, this trail leads up to Table Rock. The trail is steep, particularly at the beginning, and gets rocky in places as it climbs up through the forest. I was not prepared for what we found at the top.
Table Rock juts straight out, and the panoramic views are incredible!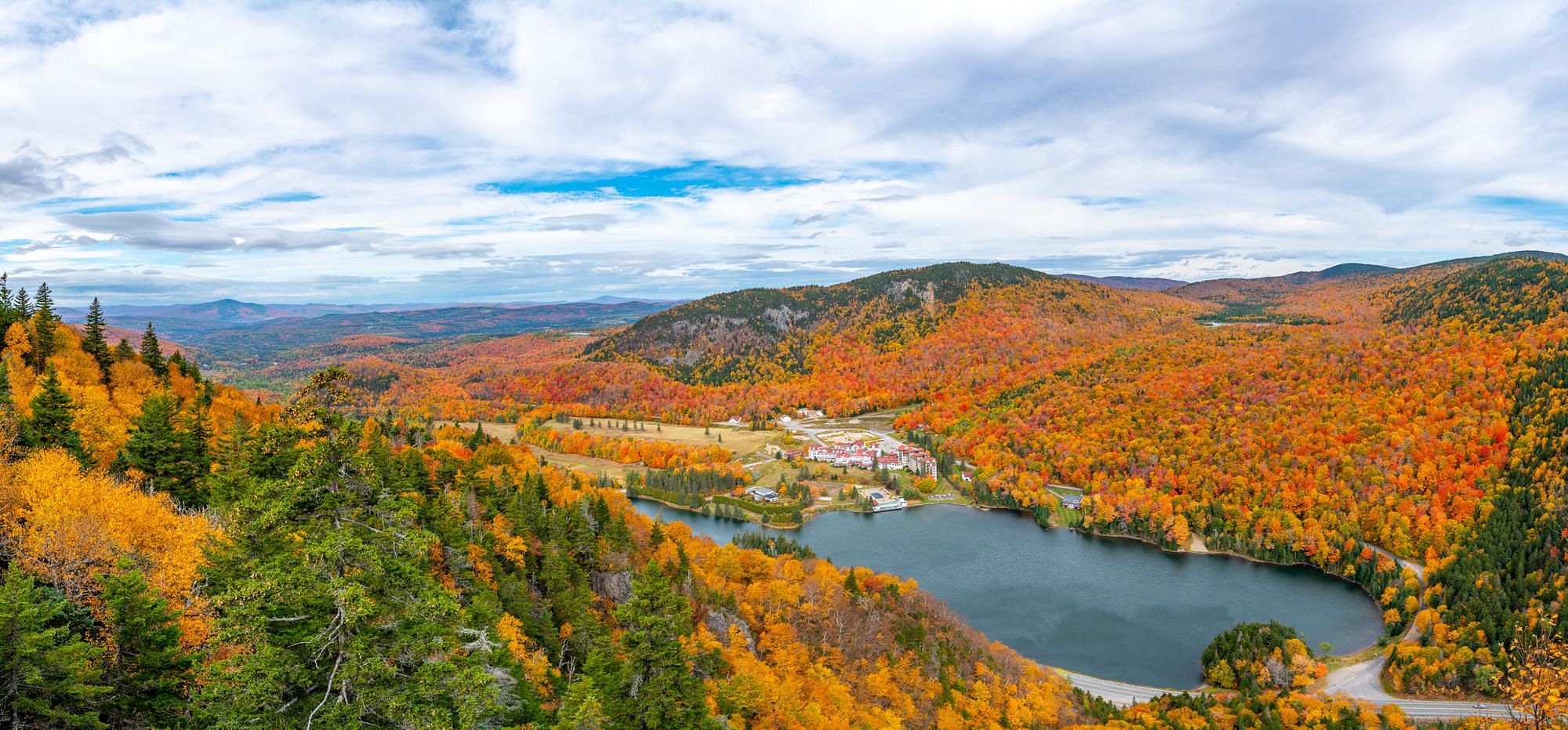 We spent about half an hour at the top, soaking in the views looking north at the amazing colors of the forest surrounding The Balsams, a resort on the shores of Lake Gloriette.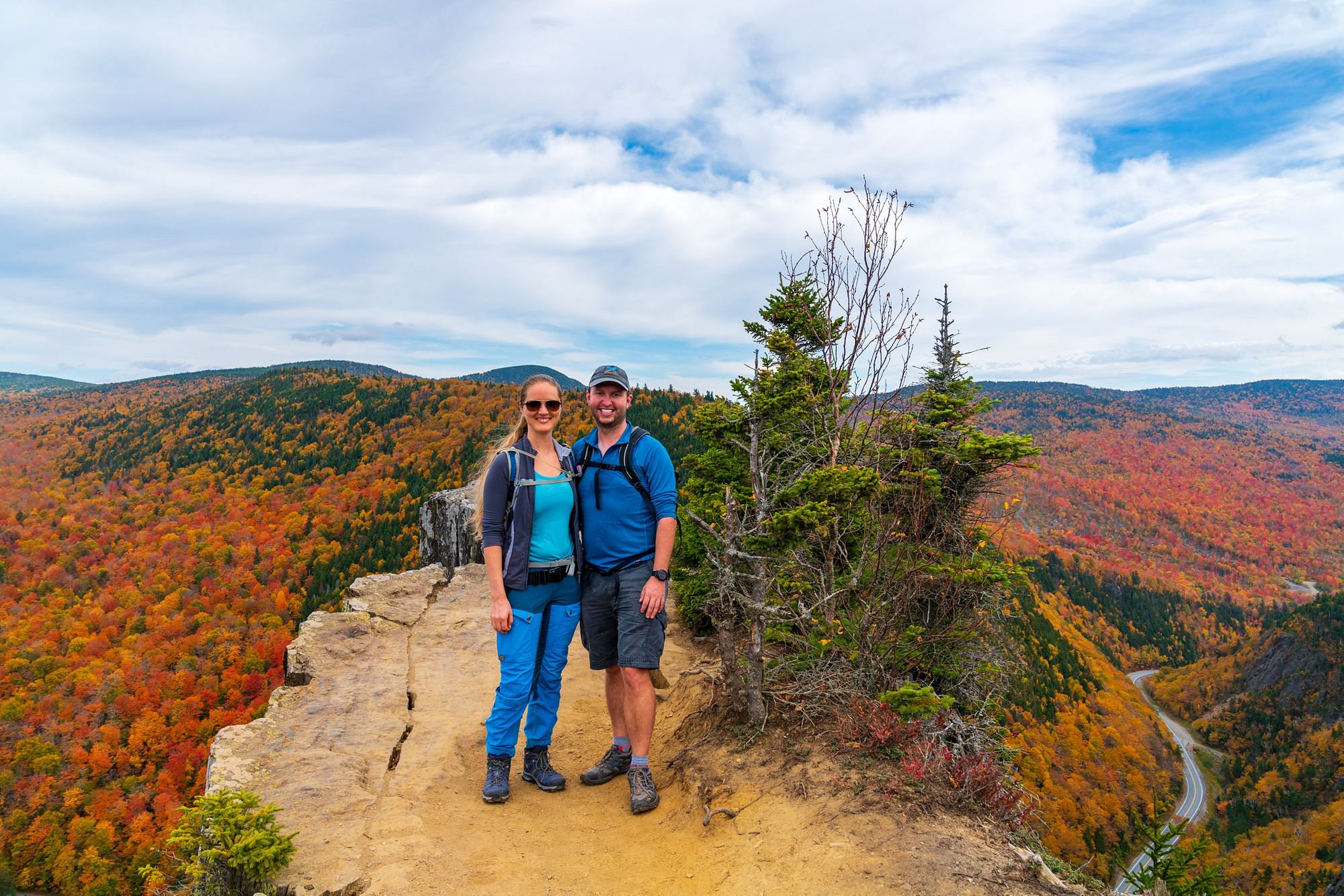 If you do decide to hike to Table Rock (and I highly recommend it), be sure to take the right trail. Although ours was steep and rocky in places, it's technically the easy route - there is apparently a much steeper trail too!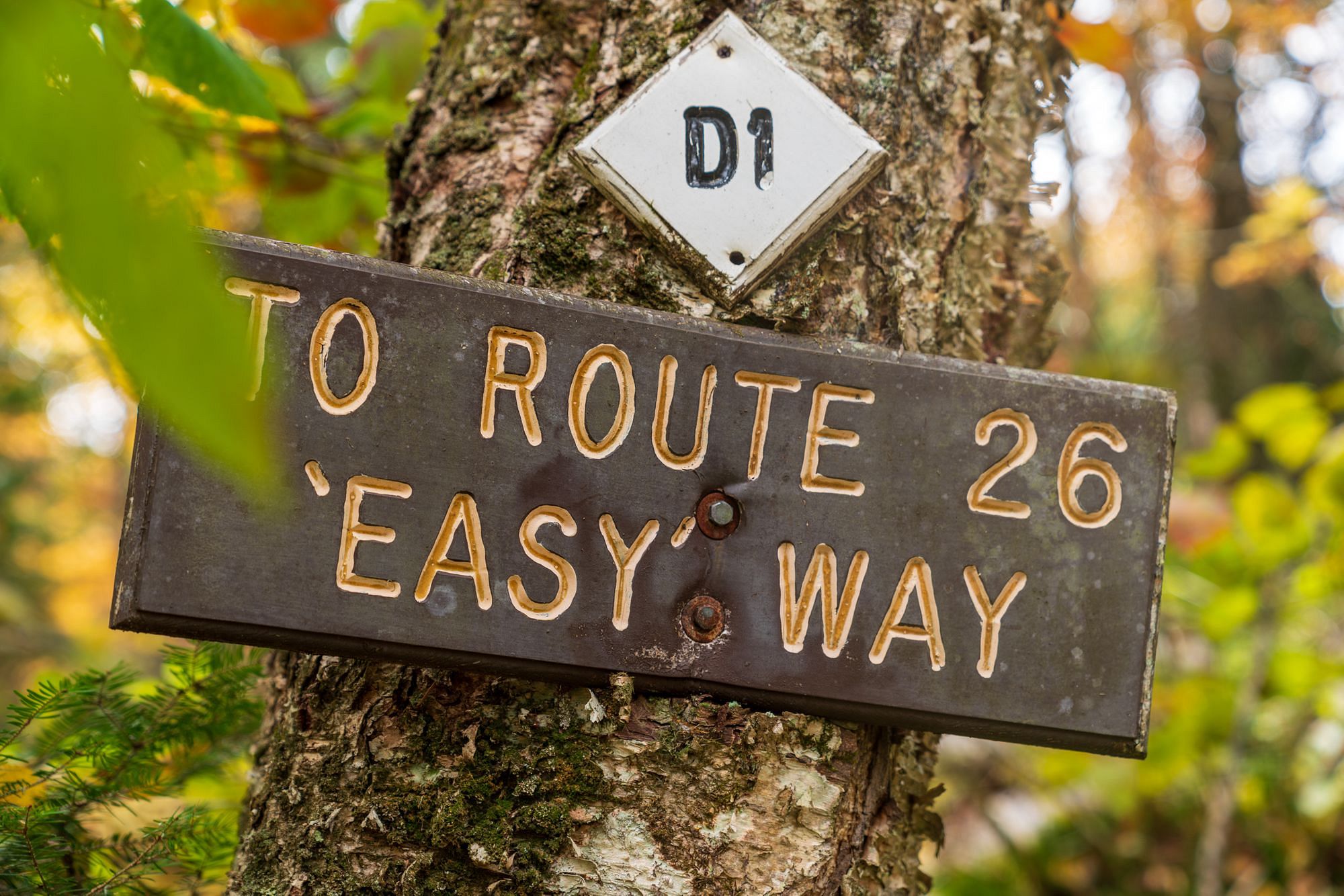 Overall, the hike was about 1.9 miles in total (just under a mile each way), and we climbed 750ft. I highly recommend this trail!
Beaver Brook Falls Scenic Area
We spent longer than planned on the trail - not because we were hiking slowly, but because we spent so long enjoying the views! By the time we made it back down, it was time for lunch.
We continued up NH-26 to Colebrook, then turned up onto NH-45. Our lunch stop was Beaver Brook Falls Wayside - a nice grassy area with some picnic tables near the waterfall.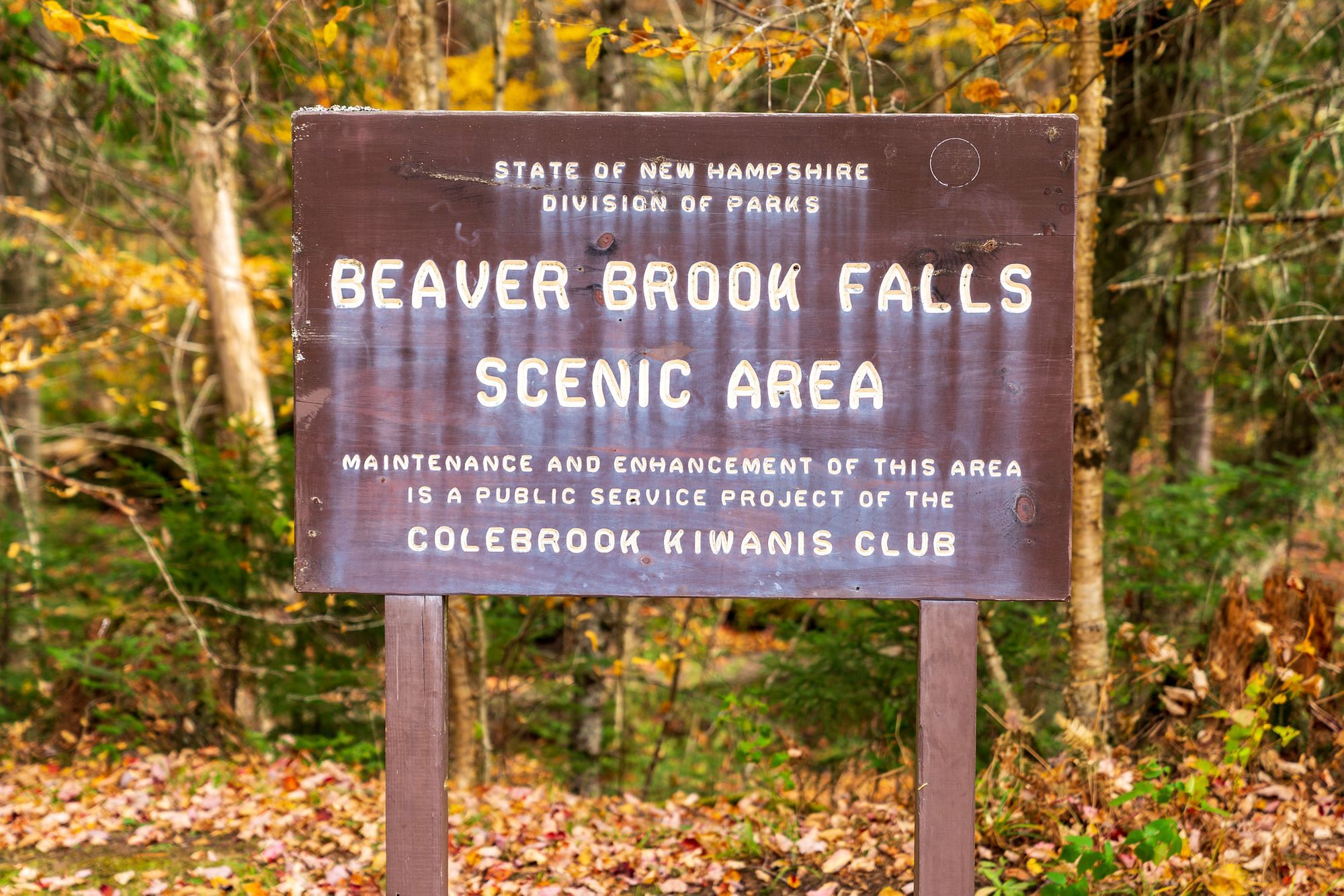 We had packed food in the car (chickpea and quinoa salad) and enjoyed a nice relaxing lunch before taking some photos of the waterfall. As well as the picnic tables, there are also a couple of restrooms.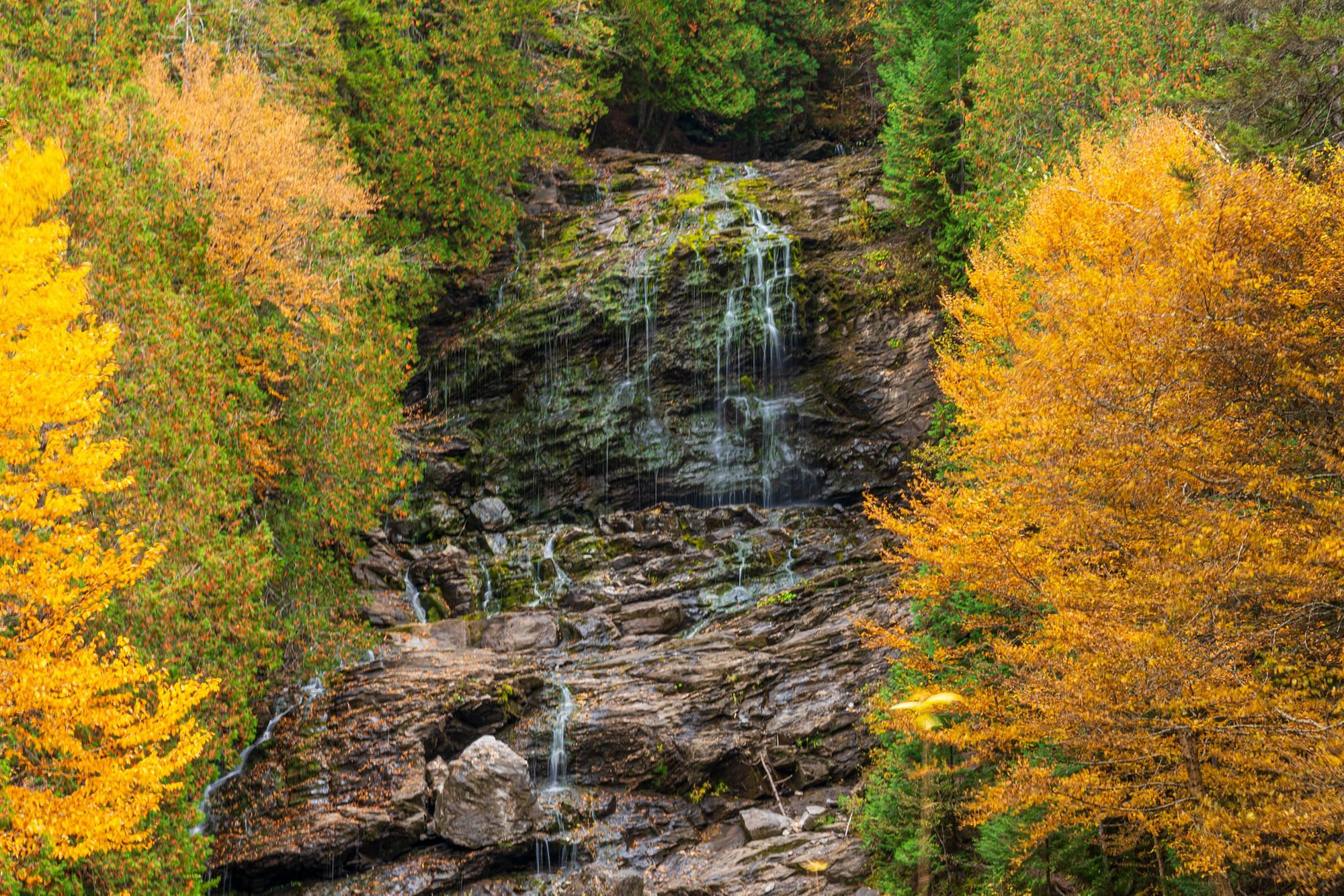 Stark Covered Bridge
Our final stop on the way back to Timberland Campground was the covered bridge in Stark. I must admit, I don't know much about covered bridges, only that there seem to be quite a few - in fact, there are 54 in New Hampshire alone.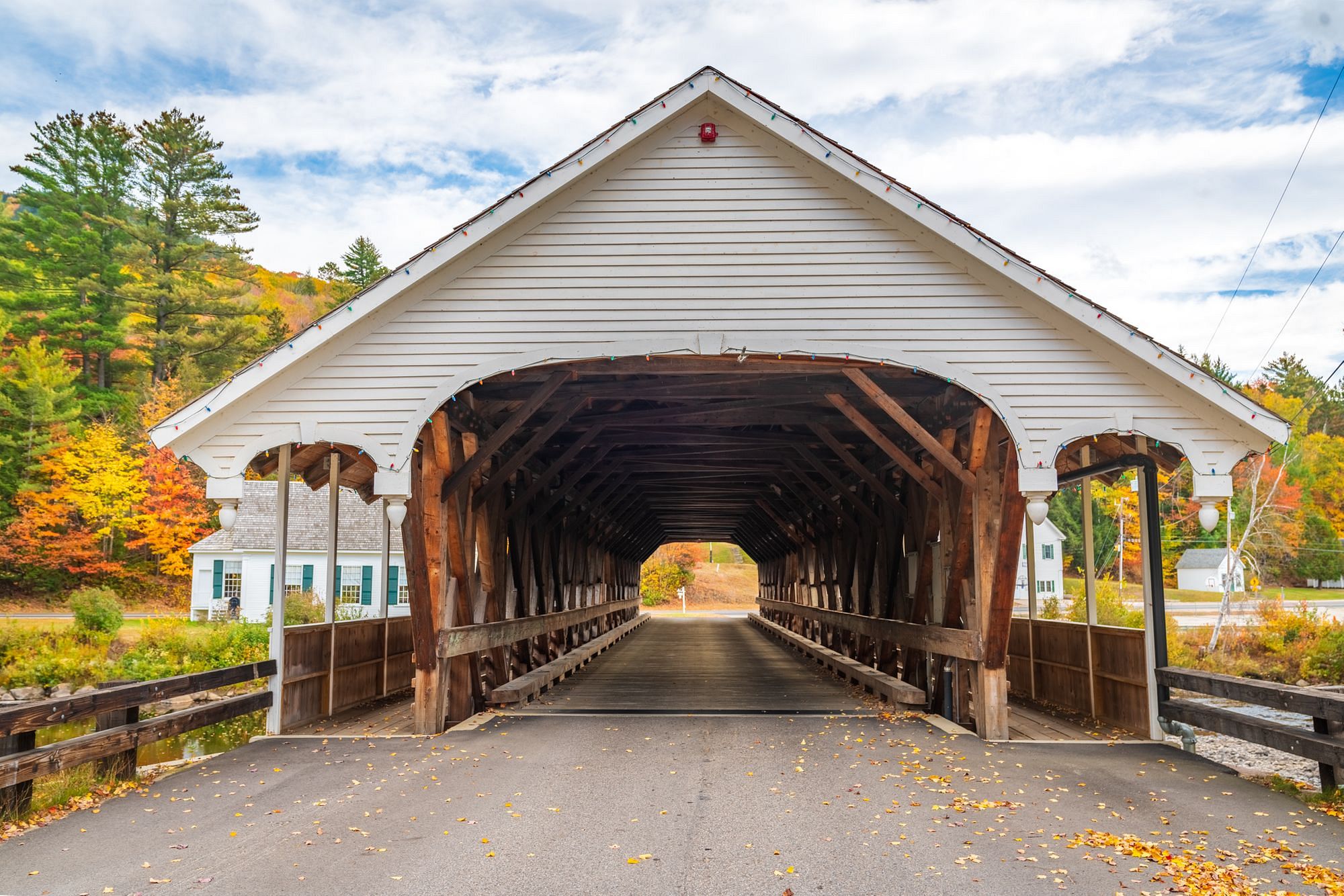 I look forward to visiting more of them and trying to learn some of the history behind each one. For now, all I know is that they look stunning surrounded by the fall colors!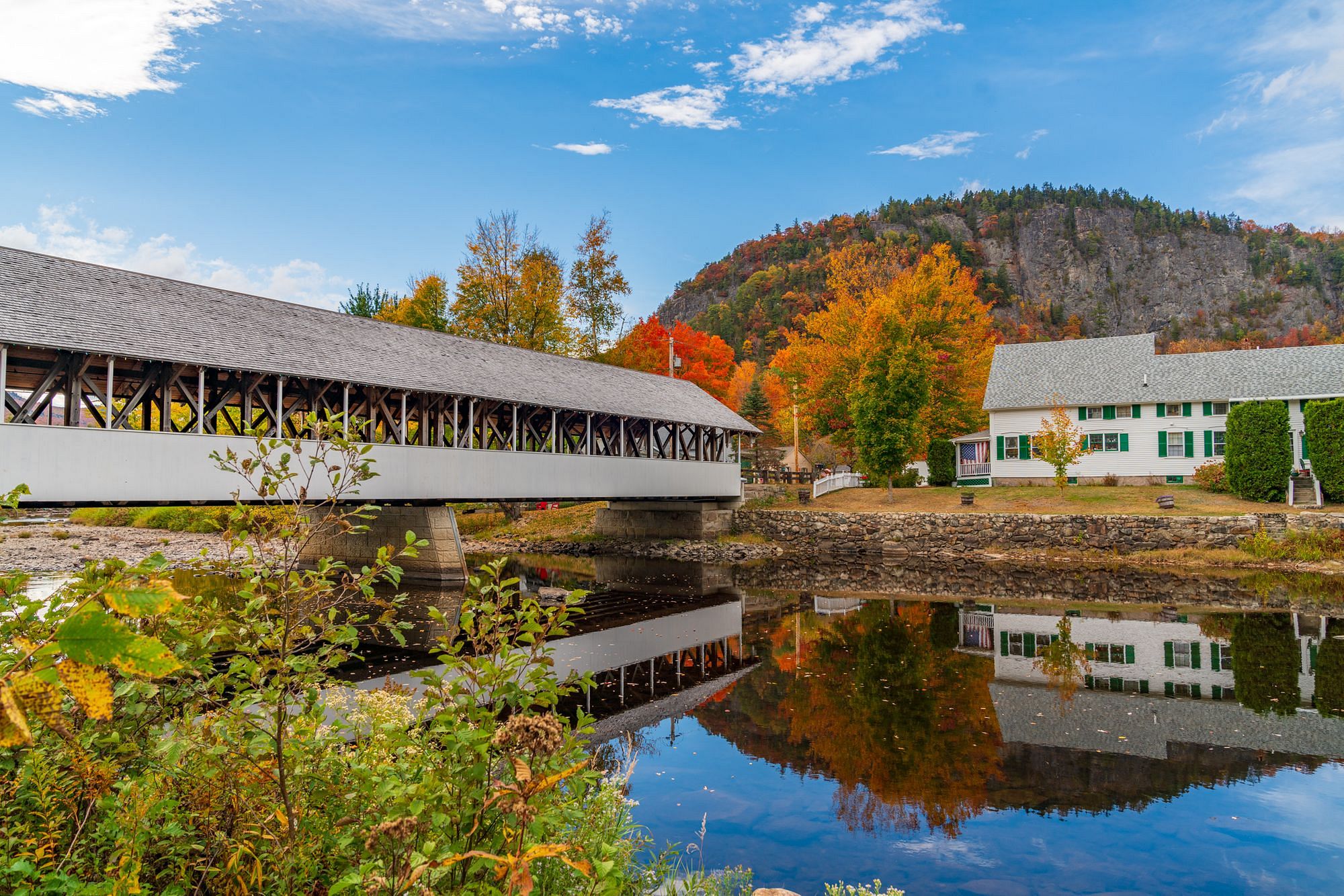 So far, the fall colors here in New Hampshire have exceeded my expectations in every way. Over the next couple of weeks we're planning to do some more exploration to see more of the fall colors, and maybe even a few more covered bridges.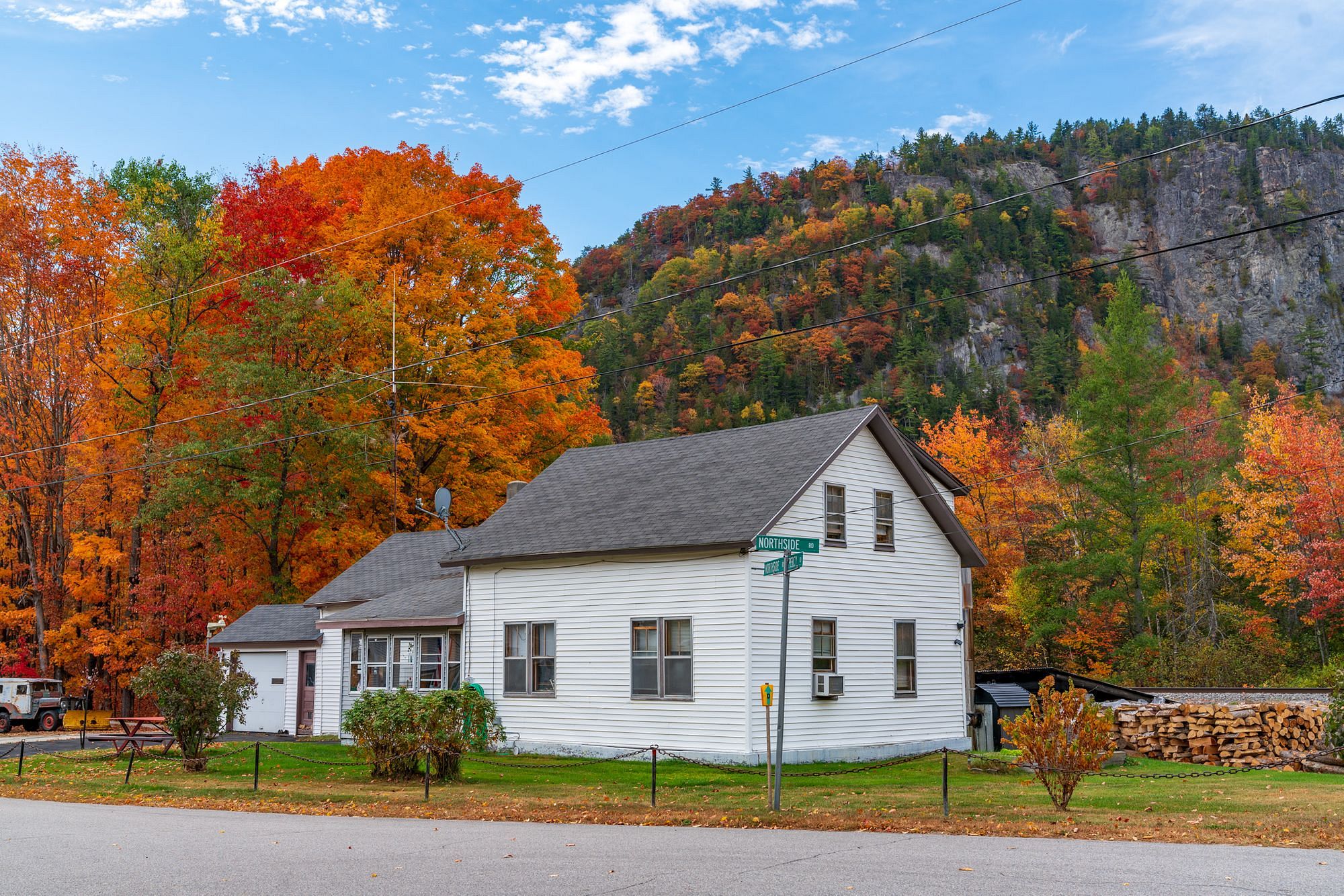 Let us know in the comments below if you have any recommendations for must-see places in New Hampshire this fall!