As an Amazon Associate we earn from qualifying purchases.
Introduction
While here in Rome, we want to experience and learn as much as we can - not just its rich history and cultural attractions, but also Italian cuisine. We love Italian cooking, and living in an RV hasn't deterred us - in fact, a pizza stone is one of our must-have RV accessories.
We've already enjoyed some wonderful meals at local restaurants in Rome, but we also want to learn some new cooking skills we can take home with us to the US.
Emanuele Faini
We've done cooking classes in the past, like when we joined Phil & Stacy from Today is Someday for a cooking class at Sur La Table in San Antonio, TX.
For me, what makes a great cooking class is one where you leave with new skills and experience that you can use at home - without needing a professional kitchen or specialist appliances to replicate what you did in class.
After searching around online, we found two very similar looking cooking classes on Airbnb - Professional Lab Pasta Experience for €59 and Five shapes of fresh pasta in Antica Osteria for €49. In fact, they weren't just similar - they were almost identical. They were both run by the same chef, Emanuele Faini, and cover the same content - the only differences were location and availability.
Emanuele Faini's parents have run a pasta factory Pastificio Faini since the 1980s, rated as one of the best in Rome. In 2018, he decided to start offering professional training in pasta making in the "ex Pastificio Faini". That course is the €59 one we had found online with over 1,900 reviews and a 4.99 rating on Airbnb.
Five shapes of fresh pasta in Antica Osteria
Just a couple of months ago, he opened a new venue in a small former restaurant and began offering the same course there too. This is the €49 course and the one we chose to sign up for.
The venue is just a short walk from Rome's main train station, Roma Termini. We arrived early and enjoyed an espresso at a cafe across the road.
Inside the venue, we were joined by 8 others. The former restaurant is small, but a perfect size for a class of 10 - split into a clean, well-appointed kitchen area and a large table where we sat as Emanuele gave us a brief introduction to pasta making and an overview of the course.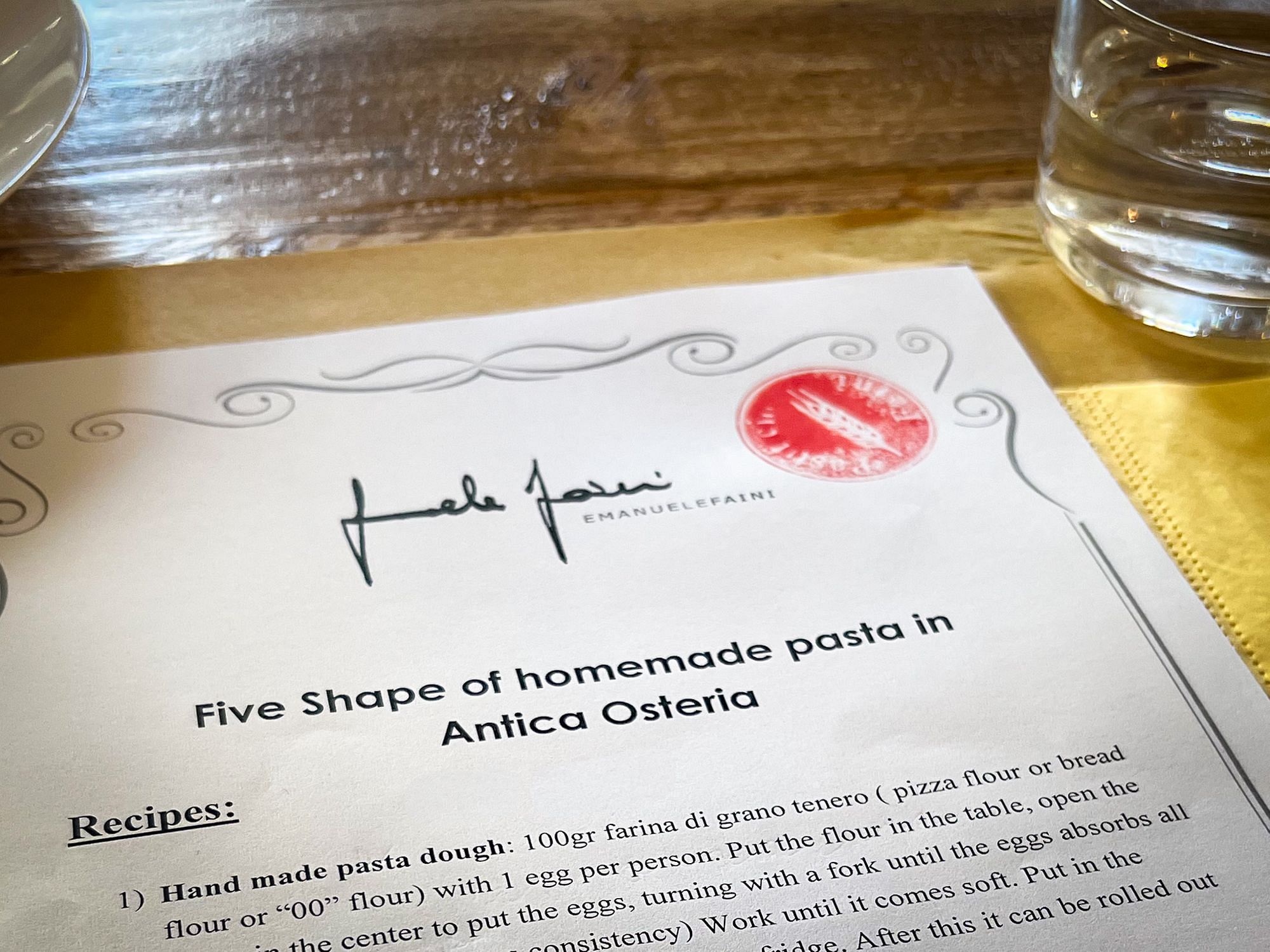 What makes great pasta?
As much as we enjoy eating pasta, I must confess to never having given much thought to what makes great pasta - I normally just pick up a box of dry pasta from the grocery store.
Emanuele talked through how there are essentially three grades of pasta:
Dry pasta, such as we would typically buy in the grocery store;
Fresh pasta, that you might find in the refrigerated section of the store;
Handmade pasta, like we would be making on the course.
Within these three broad categories, there are still nuances to be aware of.
For example, the quality of dry pasta depends on how quickly it is dried. Mass-produced dry pasta is often dried quickly and at high temperature. This results in a yellow-ish color and is considered lower quality than its lighter-colored counterparts that are dried much slower and at lower temperature.
Another characteristic to look out for is the surface texture of the pasta. Cheap, mass produced pasta is typically smooth to the touch, whereas more expensive versions have a much rougher texture. This rough texture is highly desirable as the larger surface area allows more starch to be released and lets the sauce stick to the pasta.
Restaurants will typically use fresh pasta, but this is almost always bought in from local suppliers rather than being handmade on site. Only in 5* hotel restaurants or Michelin-starred restaurants are you likely to find the very best handmade pasta.
Handmade pasta
The pinnacle of pasta making is handmade pasta.
Prior to the class, I was imagining that would involve something like a Kitchenaid Stand Mixer and pasta machine, but the course description had explained we'd be using just basic kitchen tools instead.
As it turns out, we needed little more than a large cutting board, fork, rolling pin and knife to make perfect pasta. This isn't just the cheap option - it actually makes better pasta than a pasta machine, and I don't think a machine would save much time either.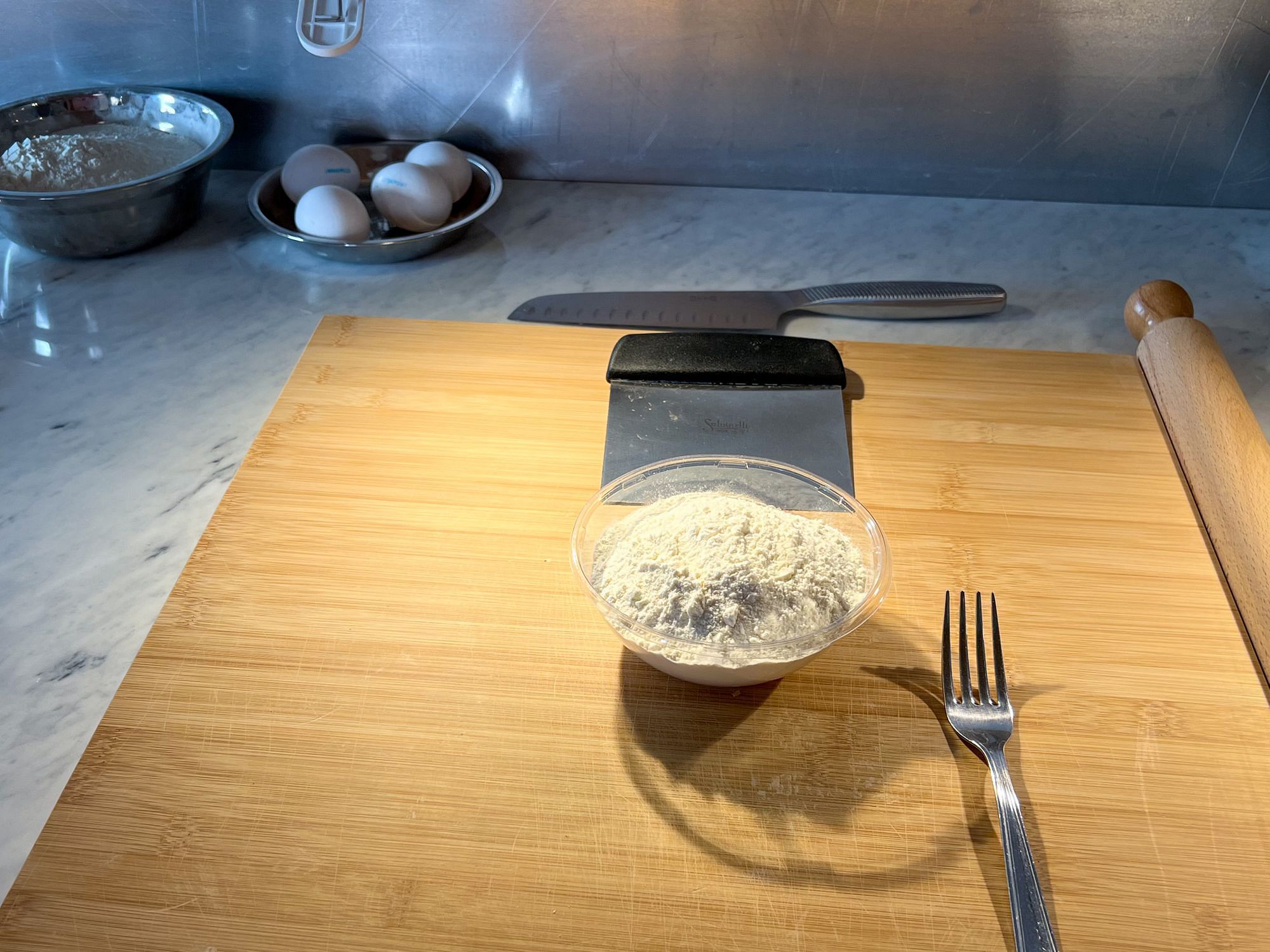 Why? Emanuele illustrated the point by way of a demonstration with a pasta machine. Rolling the pasta through the machine resulted in a smooth surface texture - and we had already learned that a rough texture is better. That rough texture is exactly what you get using a wood cutting board and rolling pin.
Pasta making
I'm not going to go through everything we learned in detail - there's no way that I, in a blog post, could possibly convey the tips and tricks we learned in class. Emanuele and the other staff were great teachers, leading by example at each stage before letting us loose to repeat what we had just been shown at our own station.
We began by making the pasta dough using nothing more than around 200g of "00" flour and 2 eggs, mixing it together on the chopping board with a fork. While the dough was resting, we made a simple ricotta and spinach filling, enjoying a glass of prosecco while we "worked".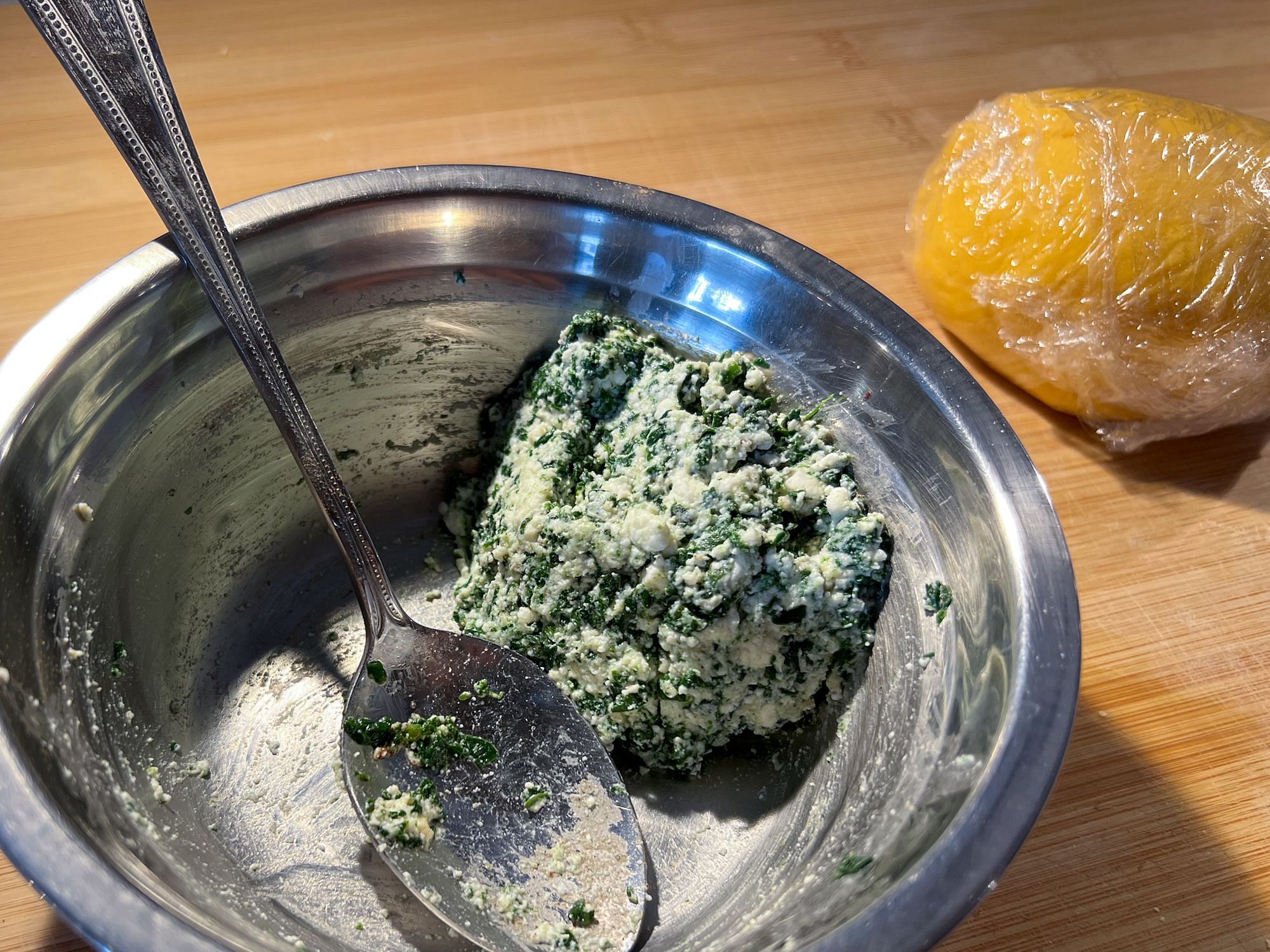 Emanuele then showed us possibly the simplest pasta sauce you can imagine - using just tomato passata (a strained, uncooked tomato purée), onion, butter, salt and pepper.
After the dough had rested, we were taught how to roll it using a large wooden rolling pin instead of a pasta machine.
In less than 10 minutes our small ball of dough had been transformed into a huge thin sheet of pasta dough.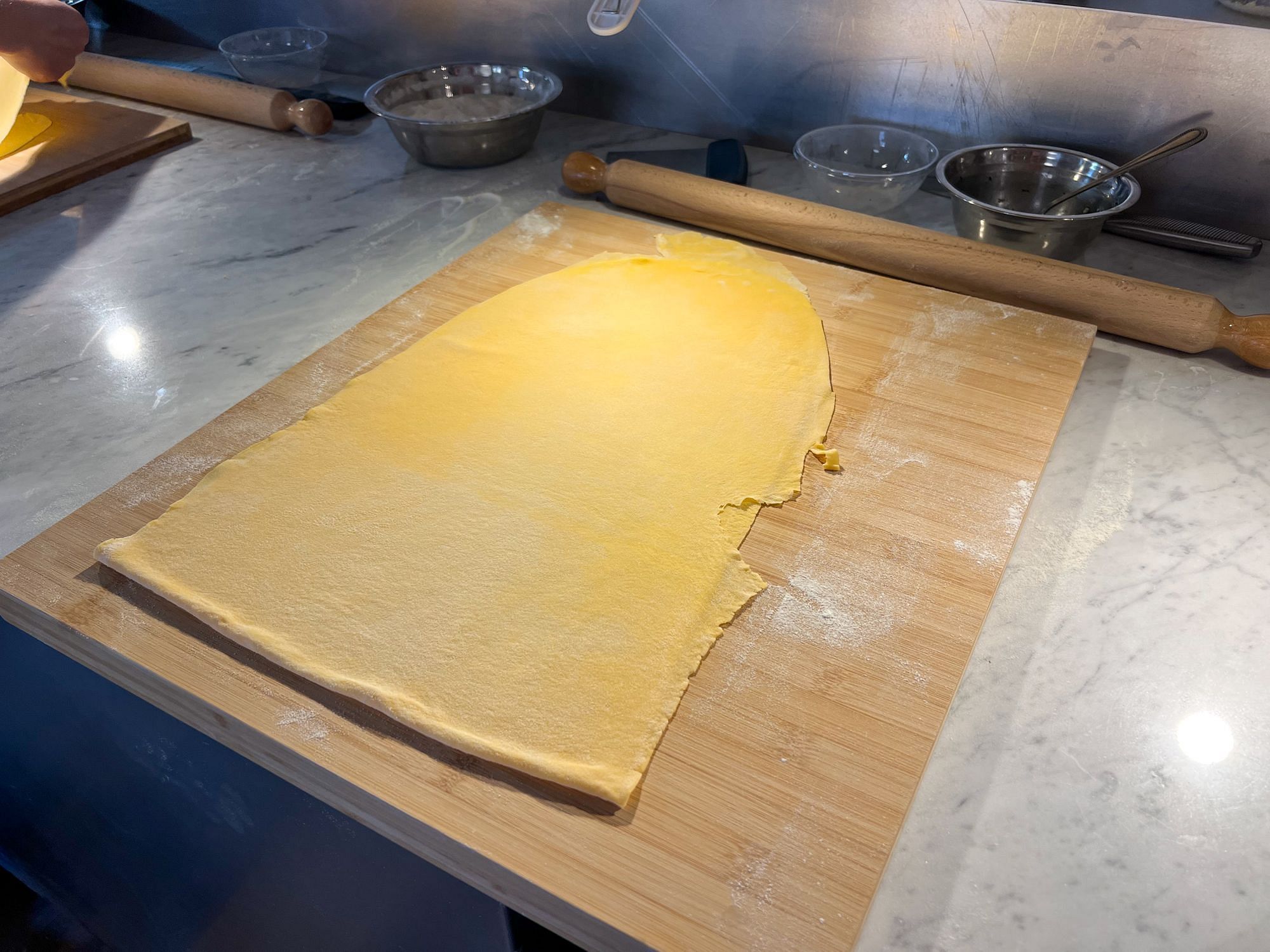 We used half of the dough to make shapes like ravioli and tortellini, stuffed with the spinach and ricotta filling we had made earlier.
The other half of the dough we made into fettuccine and pappardelle - long, thin strips of pasta.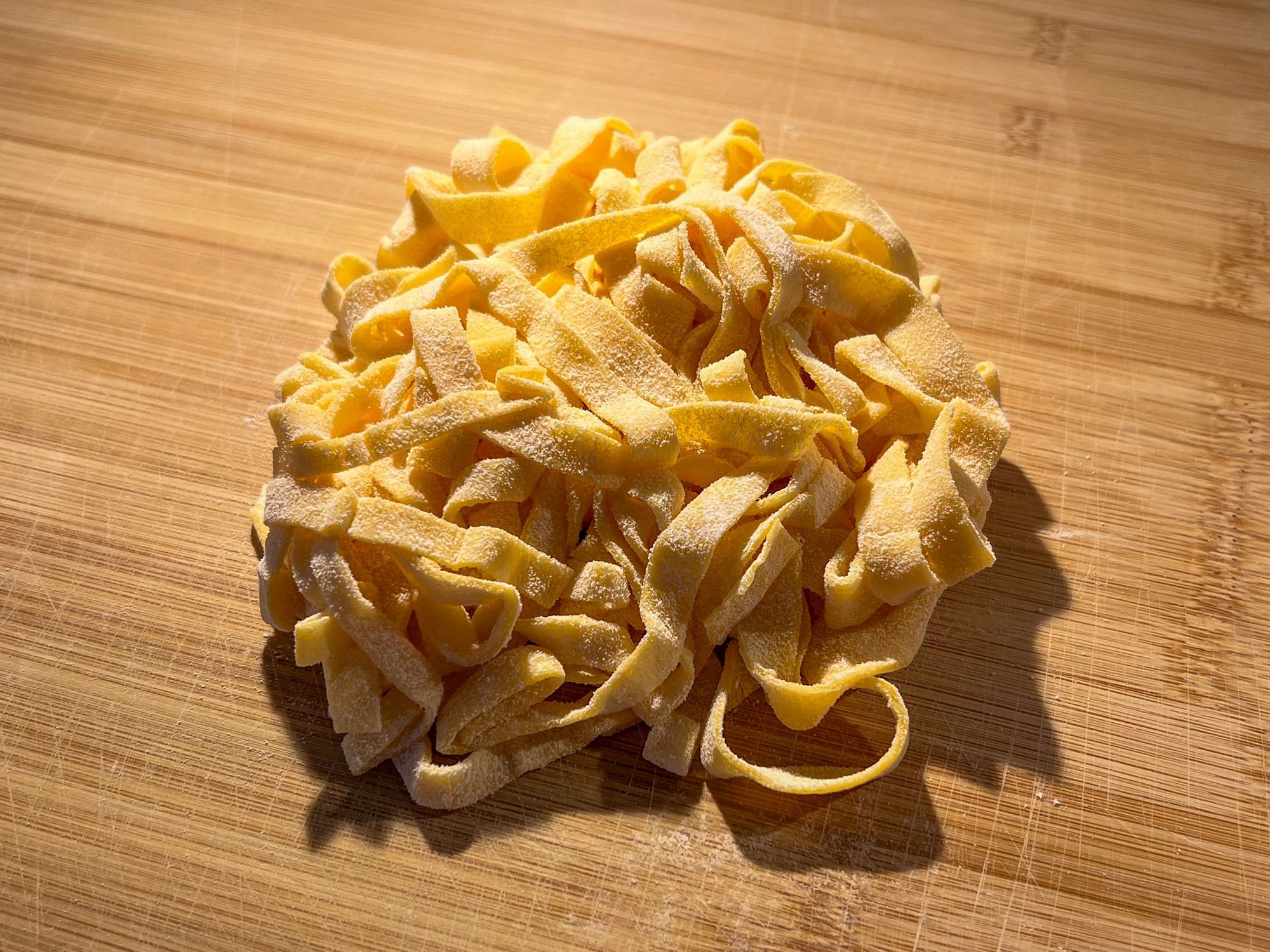 We were also shown what to do with the leftover dough pieces and given recipe ideas for using them.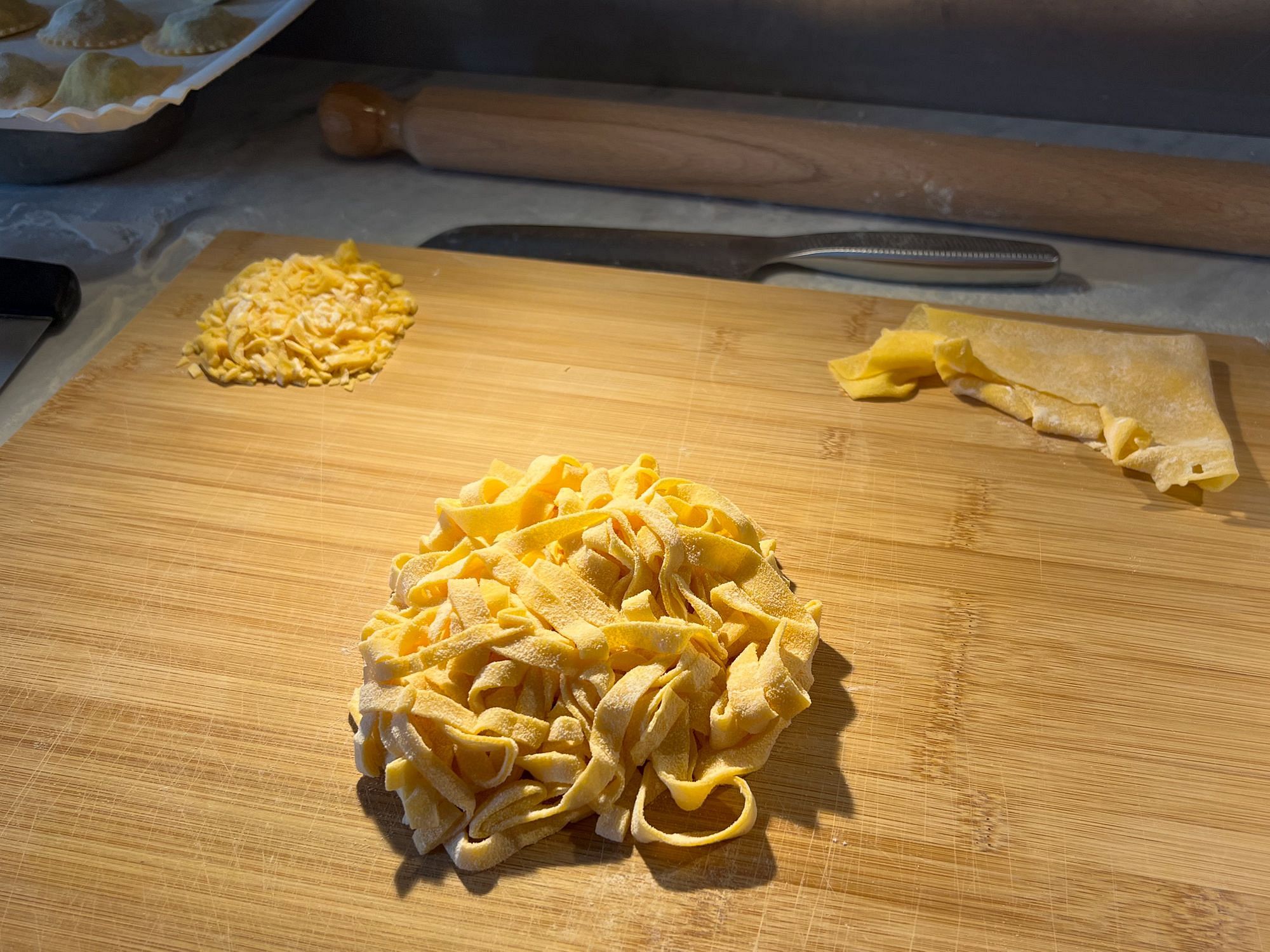 Finally, Emanuele demonstrated making egg-less pappardelle, using just flour and water - demonstrating how easy it is to flavor or color pasta by adding some cacao powder to the dough.
Lunch
Having finished making all the pasta, we (the students) sat down at the dining table with a glass of red wine as Emanuele and his staff cooked it for us to enjoy for lunch.
The stuffed pasta shapes were cooked separately so that we could each eat our own, served with the tomato sauce that Emanuele had prepared earlier. I might be biased, but I think it was the best pasta I've ever tasted - compliments to the chef!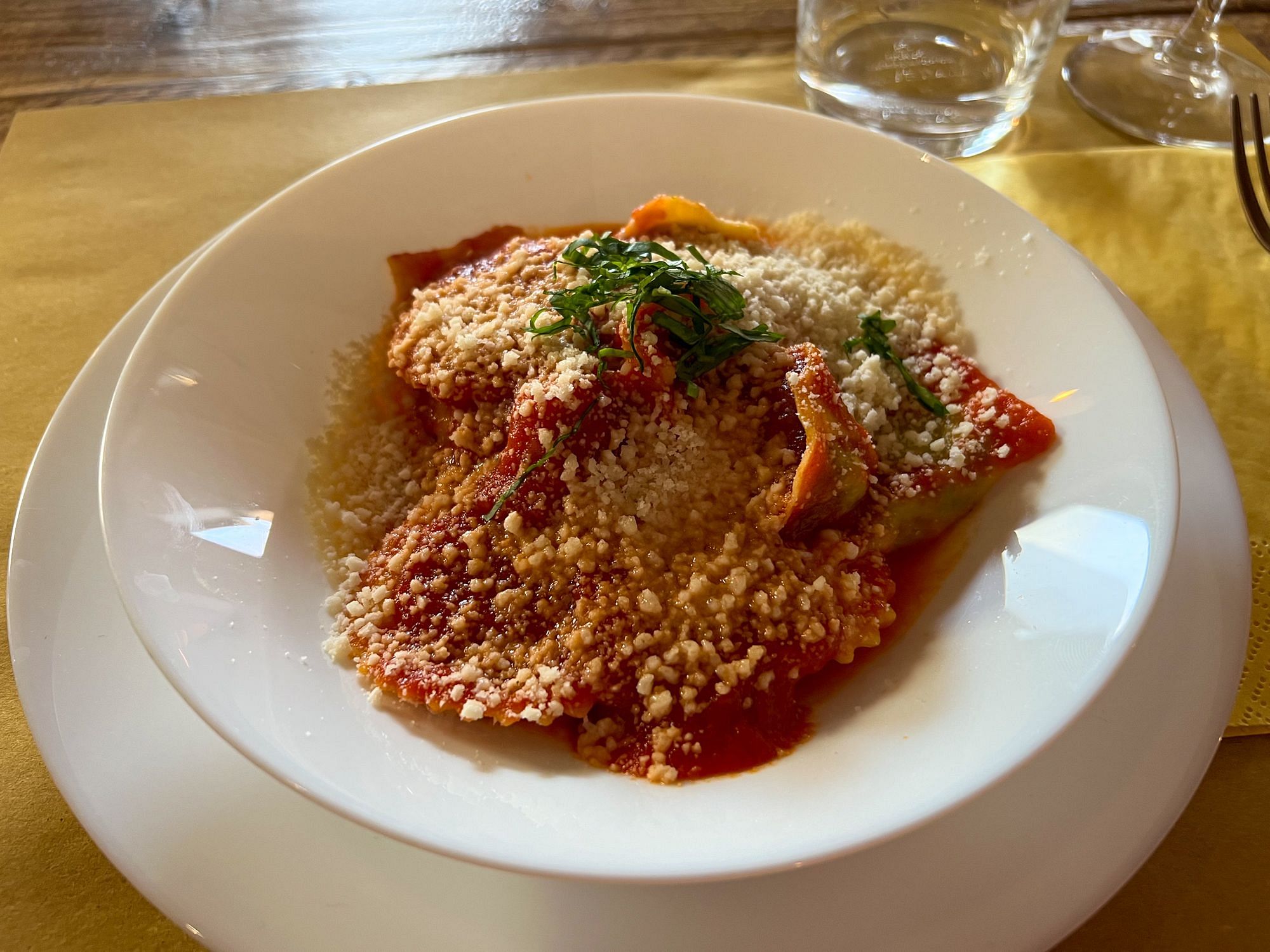 It was followed with the fettuccine and pappardelle - this time ours was all cooked together along with the egg-less pasta that Emanuele had made. He showed us how to serve this with cheese and pepper, a simple but infamous dish known as Cacio e Pepe Pasta.
The egg-less pasta was easily identifiable thanks to the addition of cacao giving it a distinctive dark-brown color, and it was interesting to compare the texture and taste of the two types of pasta. While both were great, we preferred the egg pasta to its egg-less variant in this particular dish,
Finally, we were treated to a handmade tiramisu, prepared fresh in front of us by Emanuele. While I'm not normally one for deserts, this was absolutely delicious, and the perfect conclusion to what had been a great cooking class and wonderful meal.
Wrapping it up
As I said at the start of this blog post I said that a great cooking class is one where you leave with new skills and experience that you can use at home. That's exactly what we got from Five shapes of fresh pasta in Antica Osteria with Emanuele Faini here in Rome.
In just a few hours, we learned simple techniques for making incredible handmade pasta without any fancy tools or machines - just things that most people will likely already have in their kitchen.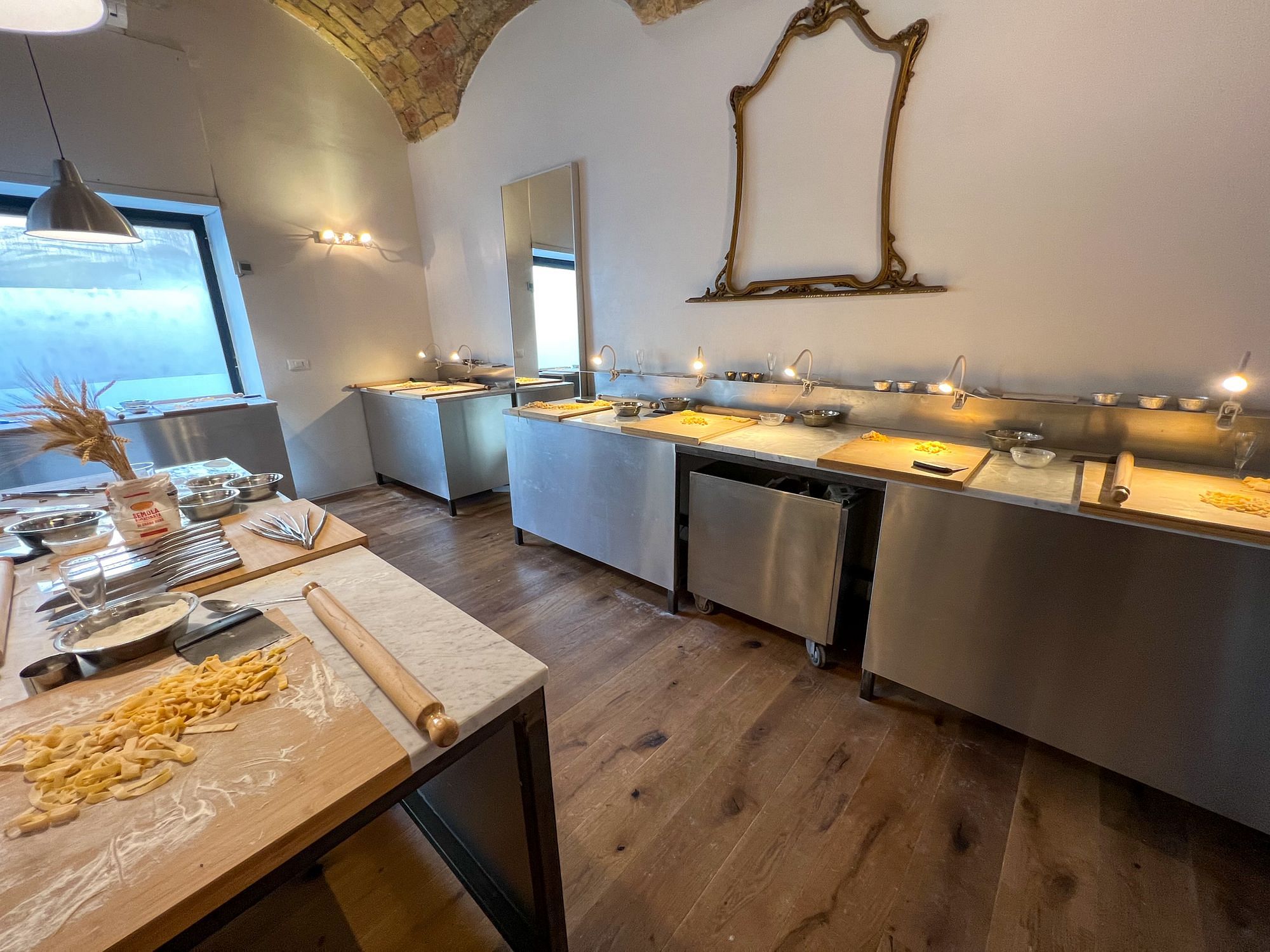 We paid full price (€49 each) for this cooking class and were in no way compensated for this blog post. Regardless, I can highly recommend Emanuel's pasta making class to anyone who finds themselves in Rome and wants to learn how to make great pasta at home.
My only disappointment? He only teaches pasta making so we're back to the drawing board to find a pizza making class!
Update: Friday, January 13th 2023
We made pasta at our Airbnb for the first time! The only tool we didn't have was the ravioli cutter which cost us €0.80 at a shop nearby. It turned out great!