After the hectic working schedule last week, things have been a little quieter this week. We're still waiting on a number of things outside our control, and until a couple more of those items are resolved, there's not a huge amount we can do at the property.
Last weekend was our 3-year nomadiversary, but we also have some exciting plans to share this week too!
Growing Tomatoes
One of our ambitions with our new property is to grow some of our own food - particularly the fresh fruit and vegetables that we eat on a daily basis. But like with many other aspects of our new property, this will be a big learning experience for us.
So, in our normal style, we decided to start with a little experiment - growing tomatoes.
We've grown a few things in pots at our house, and grown herbs in the AeroGarden our RV before, it's a little trickier growing something bigger in an RV!
One option was to grow things at the property, but we have no running water, we're not there every day, and we'd have to protect the plants from the deer and other animals we know frequent the land. So instead we opted to start by growing tomatoes directly in a bag of compost.
This is something that I remember as being fairly commonplace in the UK, but seems far less well known here in the US. Instead we improvised, using a regular bag of compost with drainage holes cut underneath and two tomato plants planted on top.
We were a little skeptical about whether the drainage would be sufficient, whether the plants would be happy in confinement, whether we could provide adequate support for the growing plants, and whether we would get to the fruit before the local wildlife!
Well, it's been just over 10 weeks since we planted them, and they've been doing great with nothing but a light watering every few days!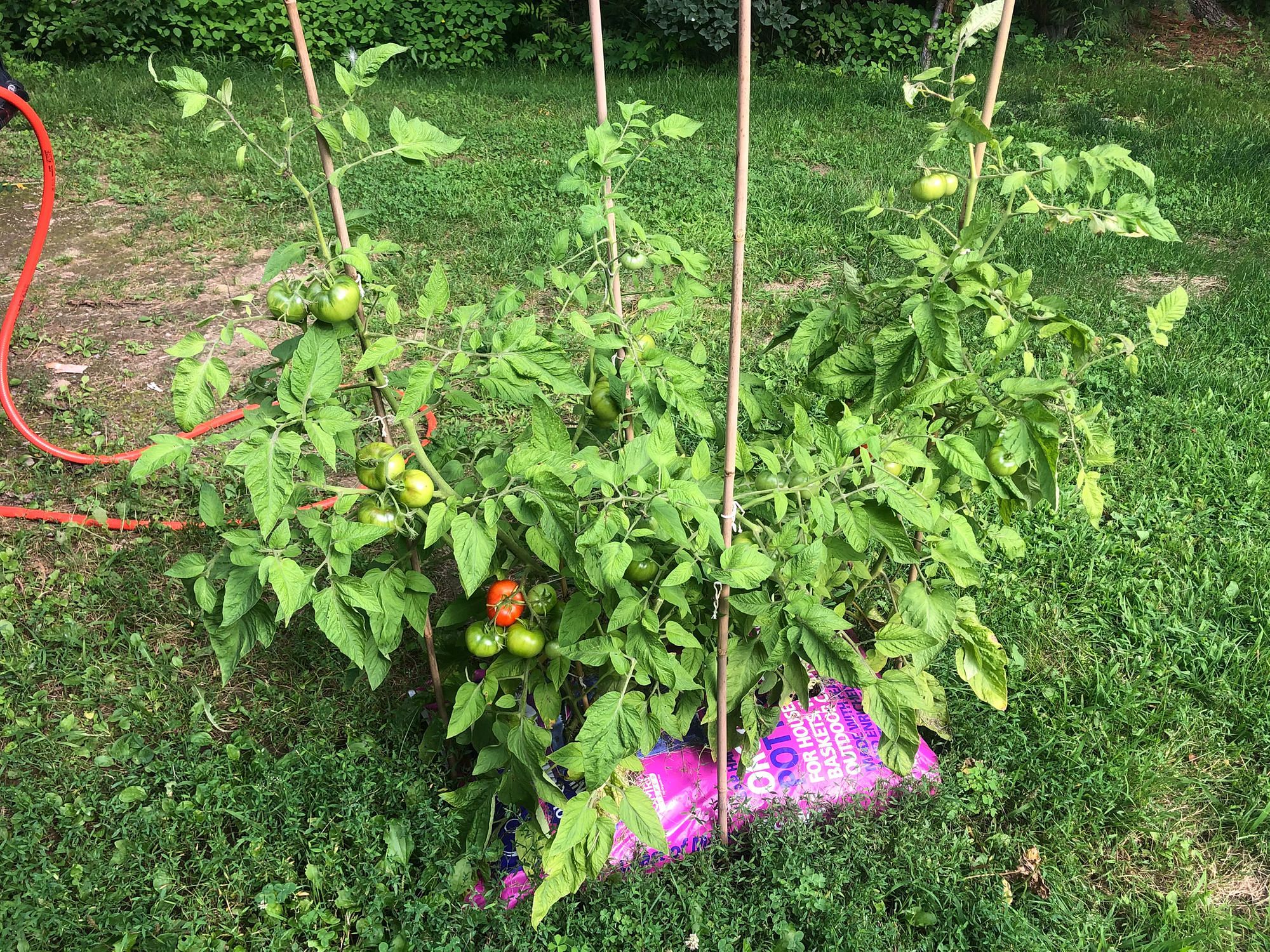 This week our first few tomatoes have begun turning red, and today we've harvested our first one!
We had this with lunch today and it tasted so good - less than 2 minutes between harvesting it and eating it. We've counted about 40 tomatoes in total between the two plants, so we're looking forward to plenty more fresh tomatoes over the coming weeks.
Survey & Site Plan
This week we have seen the first draft of the survey that was done on our property. We were expecting it a couple of weeks ago, but it's taken longer than expected. However, once we get the final version through, we'll be able to finalize the site plan with our architects.
This will be a huge milestone because it will unlock lots of exciting new things - specifically, it will enable us to:
Remove part of our property from Current Use, allowing us to clear the trees for the entire house site;
Finalize the exact path of the driveway in and around the house site, so that our contractor can put the driveway exactly where we want it, giving us vehicular access for well-pump trucks, concrete trucks, delivery trucks, etc;
Clear the trees we need to for immediate construction work on the mechanical building;
Mark out all the building, road and other locations on the ground in real life and start to get a sense for what it will all look like;
Finish the designs (that our engineer is working on) for our septic system and submit the wastewater permit, a prerequisite for our zoning permit.
Yes, it's a big deal!
Yestermorrow
Diana and I flourish on embracing new adventures, researching the challenges and learning the skills to succeed. We've made no secret of the fact that building a house is a brand new experience for us - we don't pretend to be experts at this by any means.
But we think we're pretty good at developing new skills, and honestly, it's something we both love doing. We might be inexperienced, but we're not naive, so throughout the build we're investing the time and money in training that will help do a good job and work safely.
Already we've done a number of such training courses - including the Game of Logging chainsaw training course I recently took, and Diana's course at Yestermorrow Design & Build School on Basic Construction Cost Estimating.
Well, Diana's back at it again, with another course at Yestermorrow - this time it's their signature course, Certificate in Residential Design and Construction. It began a few weeks ago with 5 weeks of online design courses, followed by 3 weeks of intensive in-person learning.
The syllabus is intensive, covering topics including design, building science, building anatomy, anatomy, blueprint reading, framing, carpentry, flooring, roofing, finishing, window & door installation, plumbing and electrical - each of these being a combination of classroom learning and hands-on experience where Diana will be part of a small team of students helping to construct an actual building.
Yeah, pretty expansive!
Again, we're under no illusion that somehow this will transform Diana into a master carpenter, but it's an introduction to another set of skills that we'll be relying on to help make this project a success.