Day 1 - Tuesday (Fremont, CA)
It's 5:15am on Tuesday morning and that sound is the alarm clock. We need to get out of bed and get rid of this mattress.
As an Amazon Associate we earn from qualifying purchases.
No, literally. Today we will be leaving our apartment in Fremont, CA for the last time and hitting the road in RV. We've packed, stored, sold or donated everything we own, and the apartment is almost completely empty - apart from the last few things to go in the RV...and the mattress we slept on.
We have found a mattress recycling place called DR3 in Oakland, CA and they open at 6am - despite not being able to get through to them on the phone, the most recent Google review is from just a month ago and we hope they'll take our old Ikea mattress! We want to get there nice and early to beat as much of the morning rush hour as possible. Throwing on the clothes we had laid out for the morning, we fold the mattress in half, wrapping it in tie-downs and drag it out of the apartment to the truck - it fits, even letting us close the bed cover over the top.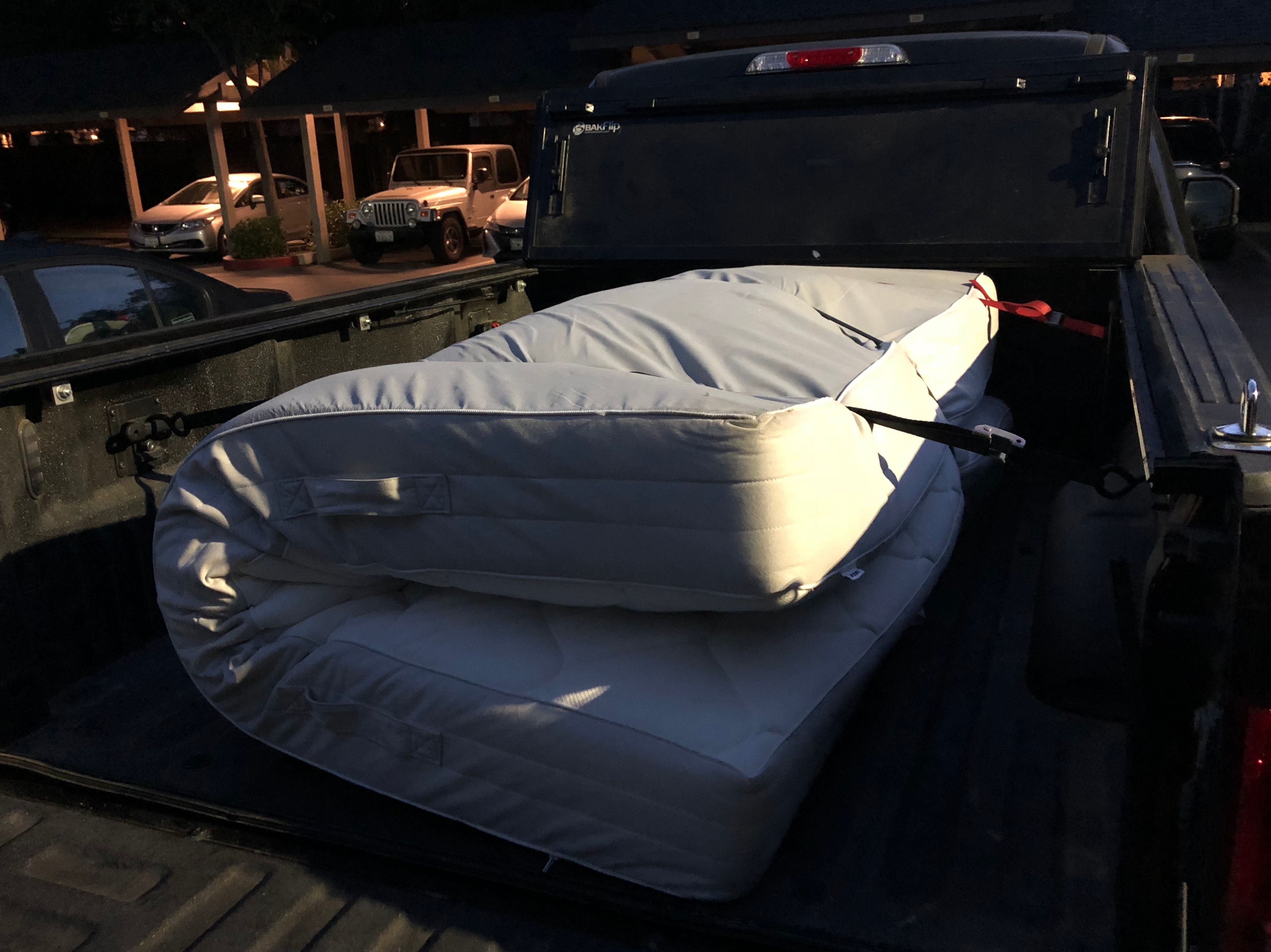 We have a schedule for the day.
6am: drop off the mattress
7am: a hearty breakfast at Country Way
8am: empty the apartment and load everything into the truck
10am: pick up groceries for the road at Trader Joe's
11am: load everything into the RV at the storage place
12pm: get the truck washed and fill up with gas
1pm: hit the road
The mattress drop off went well. If you're in the Bay Area, I recommend DR3 in Oakland - an assuming roller door is the entrance to this recycling facility. We backed our truck up, dragged the mattress onto the unloading platform, and we were good to go. No charge, no hassle - could not have been easier.
Breakfast was great - eggs and hash browns (plus ham, for me) - if you were wondering. Country Way has been our guilty pleasure for hearty breakfasts since moving to Fremont - good food, good service, good prices.
Emptying the apartment took a while. Although we had done a couple trips over to the RV with stuff in the week prior, and had sold most of our furniture (bed, sofas, table, drawers, etc), it's the odds-and-ends leftover that take time to go through. We chose to divide and conquer. Diana would focus on bringing everything into the main living area and sorting it, and I would take things out of the apartment.
First, the items that we had been unable (or, honestly, too lazy) to sell already. There was nothing major, but these were all in good condition and it seemed criminal to throw them out - a cheap Ikea coffee table, small Ikea shelves, some floor and bedside lamps, an old computer monitor, etc. Our apartment complex has a refuse area where the big dumpsters are stored. I decided to set up a little stand next to this so that other residents would see and, hopefully, take these items for themselves.
And sure enough, within an hour, nearly everything was taken. It feels good to know that these perfectly good items were staying out of the landfill and going to a new family.
Over the next hour and a half, we loaded the bikes and everything else left in the apartment into the truck - bikes in the truck bed and everything else in the back of the cab.
A little ahead of our "schedule", at around 9:45am, we handed back our keys to the apartment at the letting office, and went grocery shopping at Trader Joe's. Ever the planners, we had devised a meal plan for the following days on the road to ensure we wouldn't have to navigate grocery store parking lots with the trailer in tow, and this kept us honest on our Trader Joe's visit. Piling a few (heavy) grocery bags onto Diana's lap in the front seat, we headed for our trailer.
We know we've packed too much. We've downsized twice in the past 4 months - first from a 4-bedroom house to our 1-bedroom apartment, and now to the trailer. Following Marie Kondo's advice from The Life-Changing Magic of Tidying Up we have KonMari'd our possessions to get on the road. But still there's a lot here.
As Diana set to work packing things into our 21ft RV (very literally packing - the sorting and organizing can happen later!), I used our new Viair 400P-RV air compressor to inflate all our RV's tires. From using our EEZTire Tire Pressure Monitoring System (TPMS) on our short trip a week before, we knew that the tires were just a little on the low side - 75psi vs the recommended 80psi. Using our new compressor took just minutes to inflate each one up to 80psi. And the gauge is accurate too - comparing with the EEZTire TPMS in the cab showed 80psi exactly on every tire!
Once done with that, I headed off to have the truck washed at a nearby hand car wash, and fill up with gas. We plan to use Fuelly to track our fuel consumption over time, and it made sense to start with a completely full tank as we hit the road. With an Instagram-ready truck all nice and clean, by the time I got back, Diana had just about finished packing things away in the RV.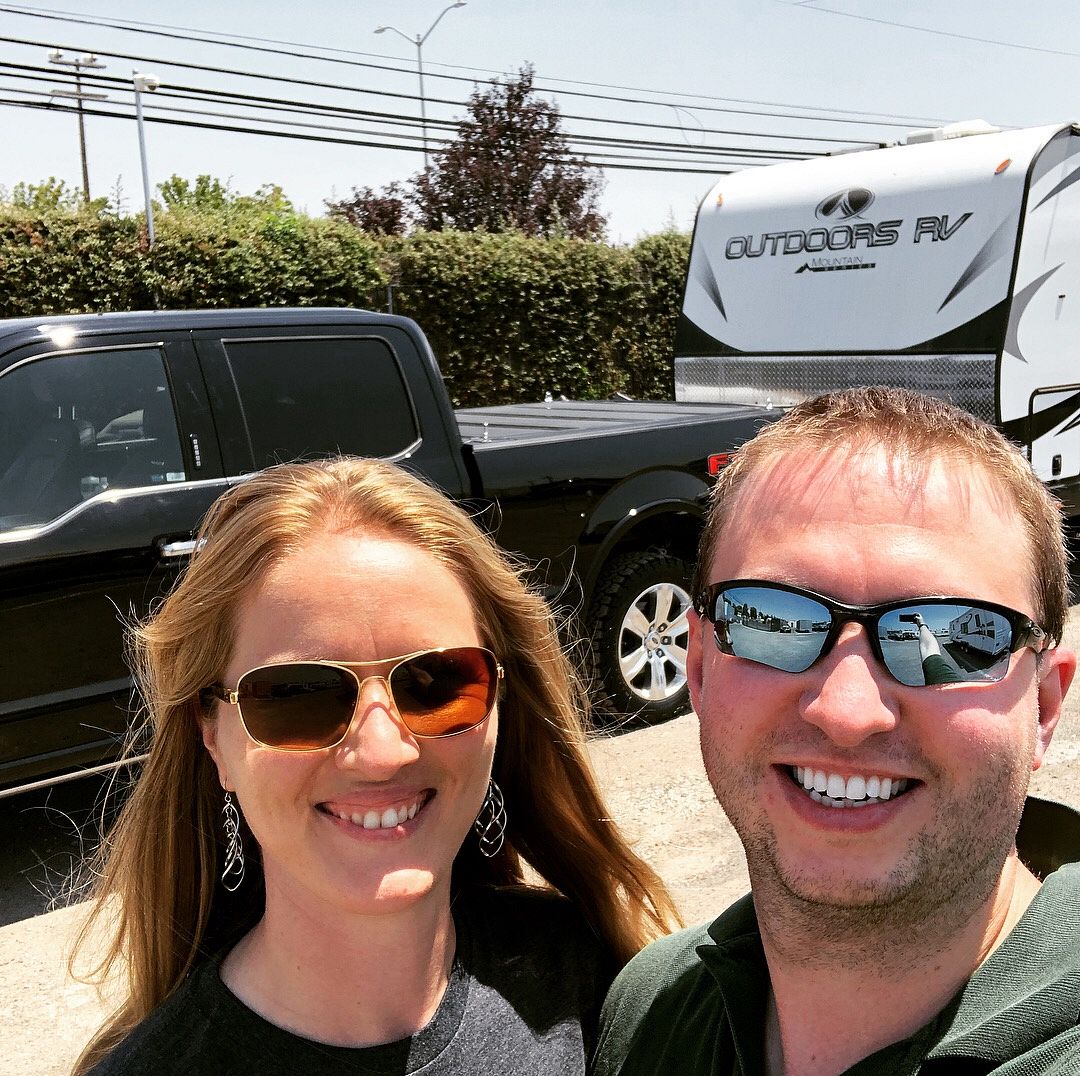 We hitched the trailer to the truck and hit the road 1:45pm - a little behind when we had planned to leave, but still plenty of time for the short, 90-mile drive to the KOA campground at Los Banos on I-5.
The drive down was uneventful (phew!), and the truck and trailer towed very smoothly. We arrived about 2 hours later at the KOA, after a brief stop at a nearby gas station so we could hit the road with a full tank the next day, and took our time to level the trailer but left it hooked up to the truck for a quick getaway.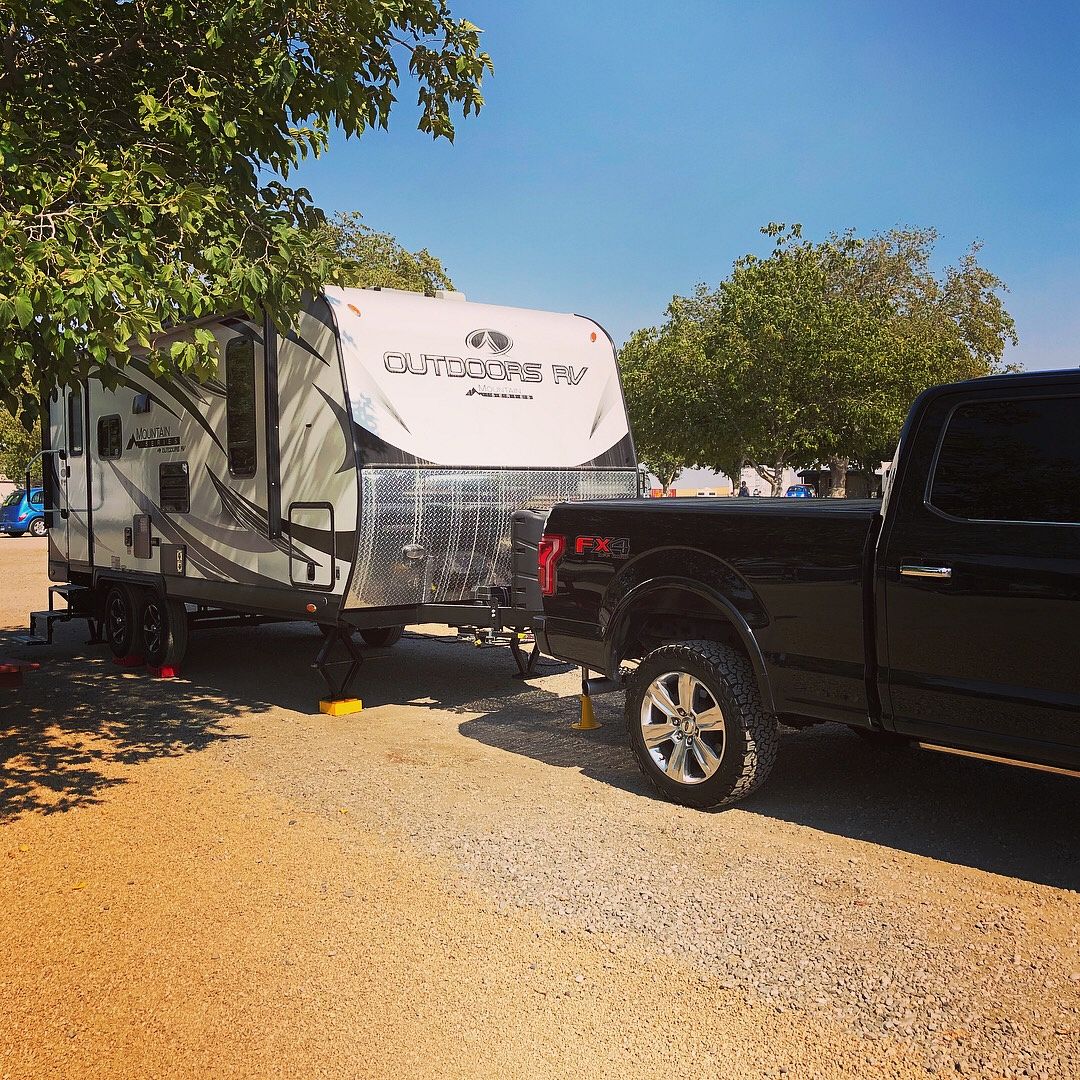 Whenever we stay at a campground, we like to take a stroll around. Partly this is just to stretch our legs after driving, but really we're just very nosey and like to see what rigs other people have - wondering what journey they're on, why they chose that RV, and so on. On this evening, we were treated to a beautiful sunset in the hazy California skies - we stood watching it, knowing it would be the last California sunset we would see for many months.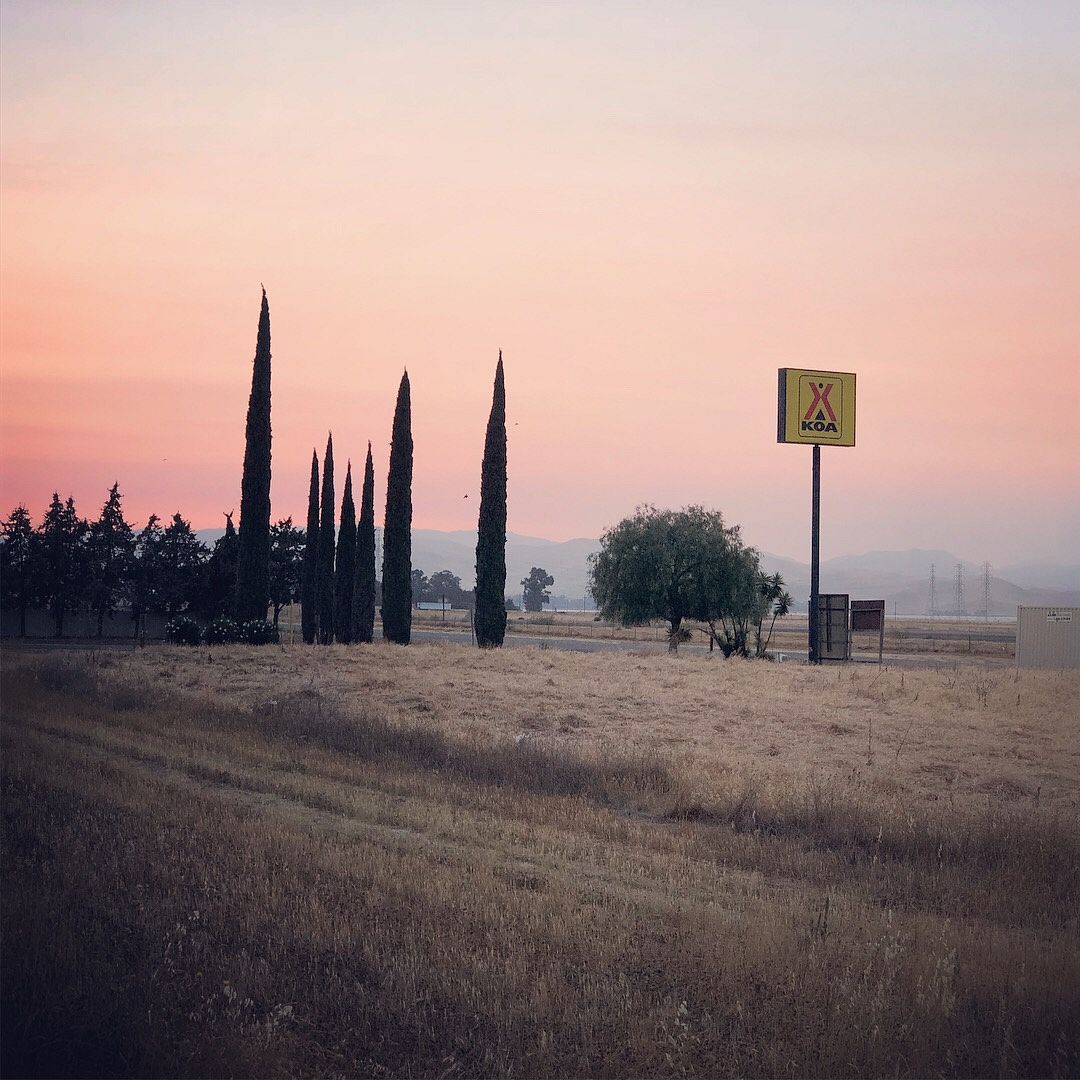 I remember when I first moved to California, being blown away by how beautiful the sunsets were - that was over 4 years ago and I'm still in love!
Day 2 - Wednesday (Los Banos, CA)
Woah, that's loud! I had used my phone rather than my usual alarm clock to wake us up at 5:30am, but my heart rate still jumped as it went off at full volume right next to my ear inside the RV!
Diana and I are both morning people - Diana didn't used to be, but she is a total convert now! We wanted to wake up early and hit the road to cover as many miles before traffic might build up, and more importantly, temperatures would rise. It was going to be a long drive today, heading south to Arizona, and we knew it would be hot.
We cleared things up, packed them away safely for traveling, filled water bottles and prepared to leave. We were on the road at 6:33am, cruise control on at 55mph (the towing speed limit in California) and heading south on I-5. After 85 miles, we stopped at a rest area for a bathroom break - Diana had made me promise to have frequent breaks as I have a habit of driving for hours without stopping until I have to refuel.
After a quick stop, we jumped back in the truck and rejoined I-5S. But something was wrong. A warning light had appeared on the dash - the little "wrench" symbol indicating something wasn't right, and a message saying to "Check owner's manual", but with no indication what was actually wrong. We pulled off at the next exit a mile or so down the road, but it quickly became apparent the truck would not change down below 3rd gear. We rolled to the stop sign at the top of the exit ramp. I was holding my breath as I asked the truck to pull away from the stop sign, with the trailer in tow, up hill, in 3rd gear, to let us roll into the truck parking area. It worked.
We stopped and turned off the engine. All the gauges had been fine - transmission temperature, engine temperature, tire pressures, boost pressure. There were no strange noises. We opened the hood, not knowing what to look for, but there was nothing amiss that we could see.
Turning the engine on again, the warning had disappeared. When we had started before, I had inadvertently knocked the transmission into manual (M) rather than drive (D) mode. Maybe this had caused the issue? Or maybe the series of bootup checks that these modern trucks do hadn't had a chance to complete before I pulled away. 3rd gear is the fallback gear on this truck - it doesn't require electrical power, so if something goes wrong, the truck moves into so-called limp-mode in 3rd gear. This is likely what I had somehow triggered.
Either way, I'd be making sure to give the truck time to go through it's bootup procedure before driving away, and would be keeping a close eye on it to make sure it doesn't happen again.
We made great progress down I-5, turning off at Bakersfield onto SR-58 and heading east. If you aren't familiar with SR-58, it's hilly - crossing over the Tehachapi Mountains - but beautiful. The truck pulled admirably up the long hill climbs, and the wind, though powerful enough to move the wind turbines, didn't cause any issues with trailer sway either. The fuel economy dropped though - from around 10.5mpg at 55mph on I-5, we were now closer to around 5mpg thanks to these long climbs. I was watching the fuel gauge drop dangerously fast, but it looked like we would make it to Barstow, our intended goal.
We did. I put 32 gallons into the truck's 36-gallon tank, so we were definitely cutting it closer than I'd like, but we'd made it. It was now 12:26pm, so lunch was in order - tortillas with hummus, ham, cheese and slices of cucumber, freshly prepared in our towable kitchen!
Early afternoon also meant the temperatures were climbing. Fast. Over the next few hours, as we headed east, skirting the southern border of the Mojave Desert, we had temperatures consistently hovering around 110F. Passing through Needles, CA (the city with the record for the hottest rain ever recorded, at 115F!), we peaked at 118F according to the truck! Tire temperatures were even higher, maxing out around 125F, but they never got much more than 10F above ambient temperature so we weren't too concerned.
Hitting the Arizona border meant new speed limits - gone was the 55mph towing limit in California, and we could now tow at up to 75mph. Having not towed the trailer out of state before, we had never been above 55mph with it. Cautiously I edged up the speed, testing to see what felt comfortable. Although we weren't trying to rush, we did have ground to cover, and 75mph vs 55mph is a big time saving when you're traveling 600+ miles in a day!
Given the heat, the light wind outside, and the fact it was getting into late afternoon, I settled in at 65mph for the drive to Kingman, AZ - our destination for the day.
We pulled into the Blake Ranch RV Park & Horse Motel just east of Kingman, AZ at just before 5pm - having driven 530 miles today. We had found this place on Google Maps during the drive, and reserved a site over the phone. July and August are considered off-season here (due to the heat), so we paid $35.69 (about $8 less than on-season) for one night with full hookups. The park was almost completely empty, but the staff were friendly, everything was really clean, and the site was a good size. I did unhook the trailer because the site wasn't quite level front-to-back, and the front was too high when hitched up to the truck. All in though, this was a lovely campground and we'd highly recommend it.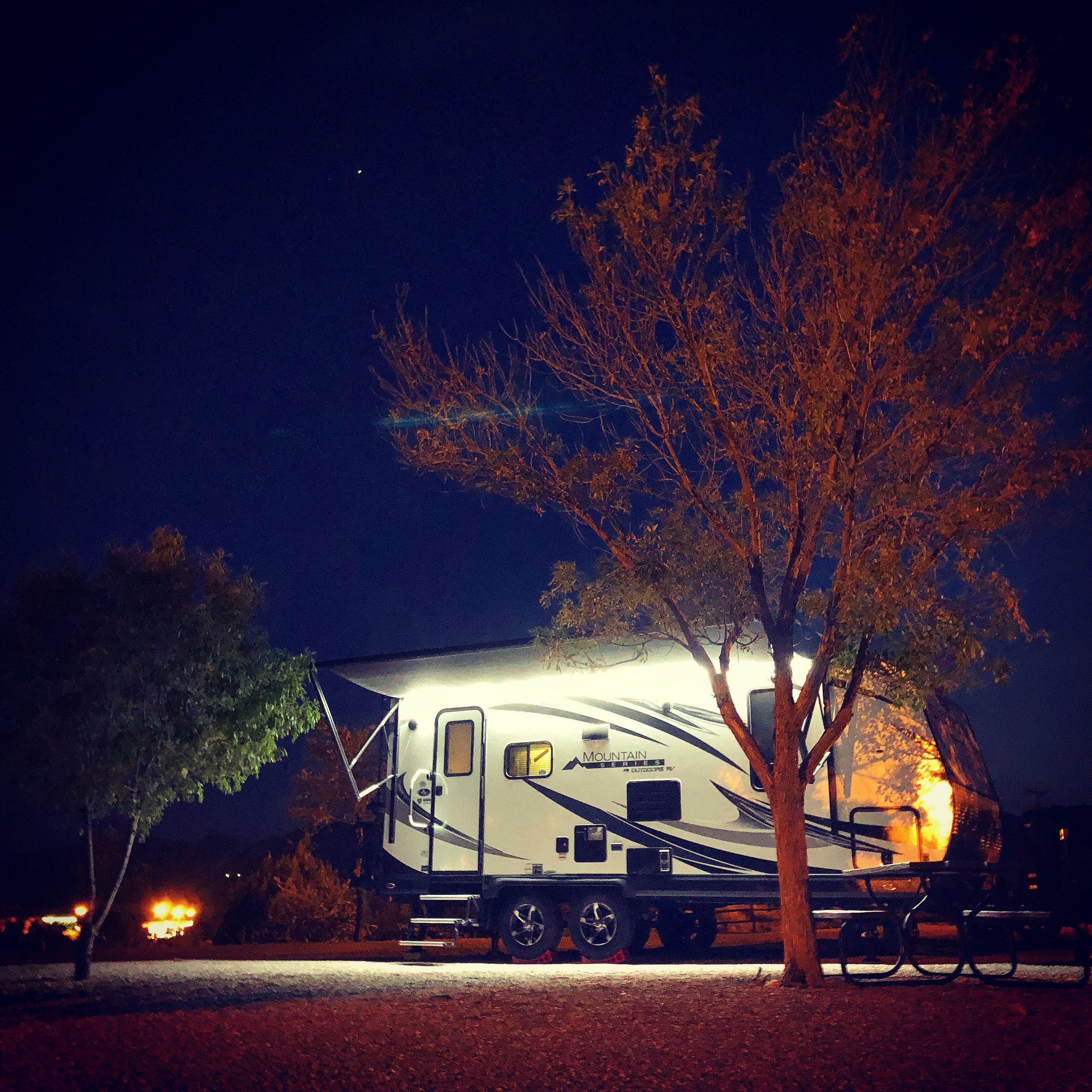 On our stroll around the campground, the clear skies of the early evening revealed 4 planets all at once - Mars, Saturn, Jupiter and Venus, all easily visible with the naked eye. A lovely way to end a long day!
Day 3 - Thursday (Kingman, AZ)
Again, the 5:30am alarm goes off. Having slightly optimized our morning routine, but now having to reattach the trailer, we left the campground at 6:14am. Today we would cover even more distance, over 560 miles, but with the higher speed limits in Arizona and New Mexico, we hoped to be there a little earlier since we'd be losing an hour with the timezone change acting against us.
Once we had rejoined I-40E, our GPS directions were laughably straightforward - "Turn right in 565 miles".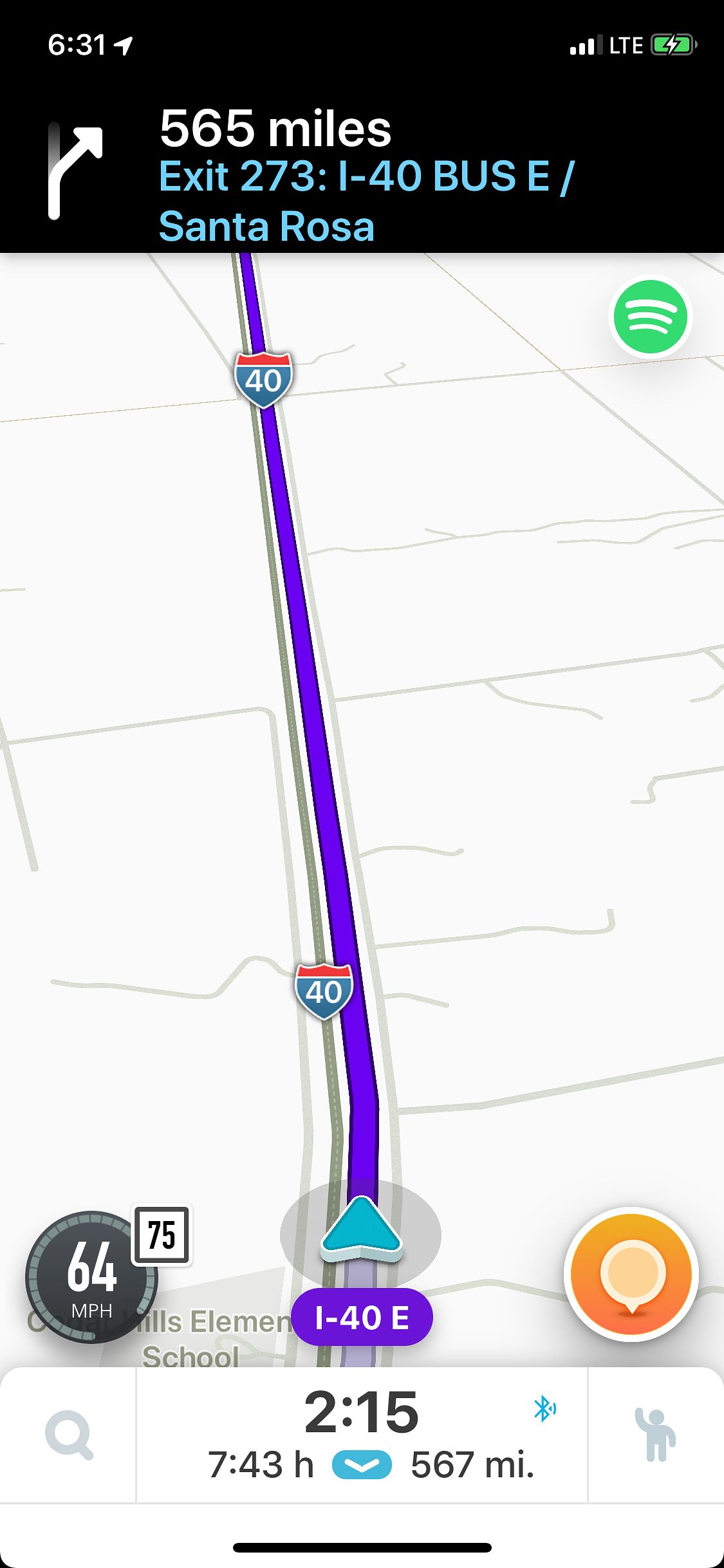 We would be roughly following the famous Historic Route 66, often known as the Mother Road or Main Street America. Our journey was punctuated with references to Route 66 - diners and shops all using its moniker, as well as Will Rogers - a humorist from the 1920-30s to whom Route 66 was dedicated, so it's sometimes known as the Will Rogers Highway
At 75mph, our fuel economy was hovering around 7mpg, so gas stops were regular - we stopped around every 150-200 miles to fill up, often pulling off the interstate between gas stops to refill water bottles or go to the bathroom in the trailer. For anyone with a microbladder, towing your own bathroom around with you is a new level of convenience!
The weather forecast had threatened thunderstorms and rain on our journey, but fortunately none transpired - although we got close enough to one storm that we skirted that we could see the rain and lightning flashing on both sides, but blue skies immediately above us.
Having left Arizona, and passed Albuquerque, NM, an otherwise uneventful day brought us to our campground in Santa Rosa, NM at 5:07pm, having filled up with gas just down the road.
In Santa Rosa we stayed at the Santa Rosa Campground & RV Park (it does what it says on the tin!), paying $28.87 for 30A electrical and water hookup but no sewer - we weren't bothering to hook up the sewer hose for these quick overnighters, so there was no sense paying for it.
The campground is on Route 66, and we used the long day's drive to justify a 5 minute walk down the road to the simply-named Route 66 Restaurant, rather than cooking in the RV.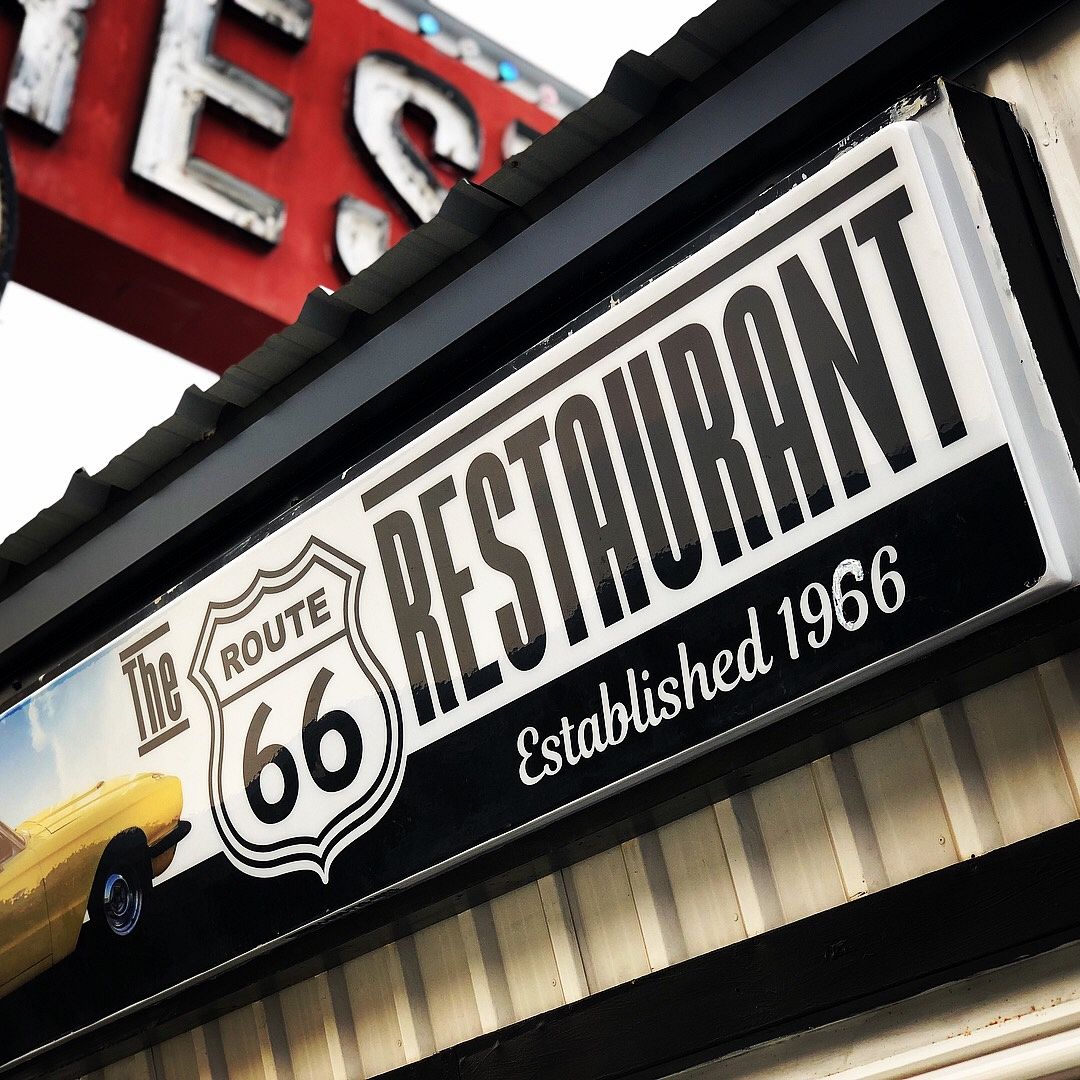 We each had tacos, chips and salsa - the food was simple but good, and we used their WiFi to download some YouTube videos to watch later in the RV without burning through our data limits.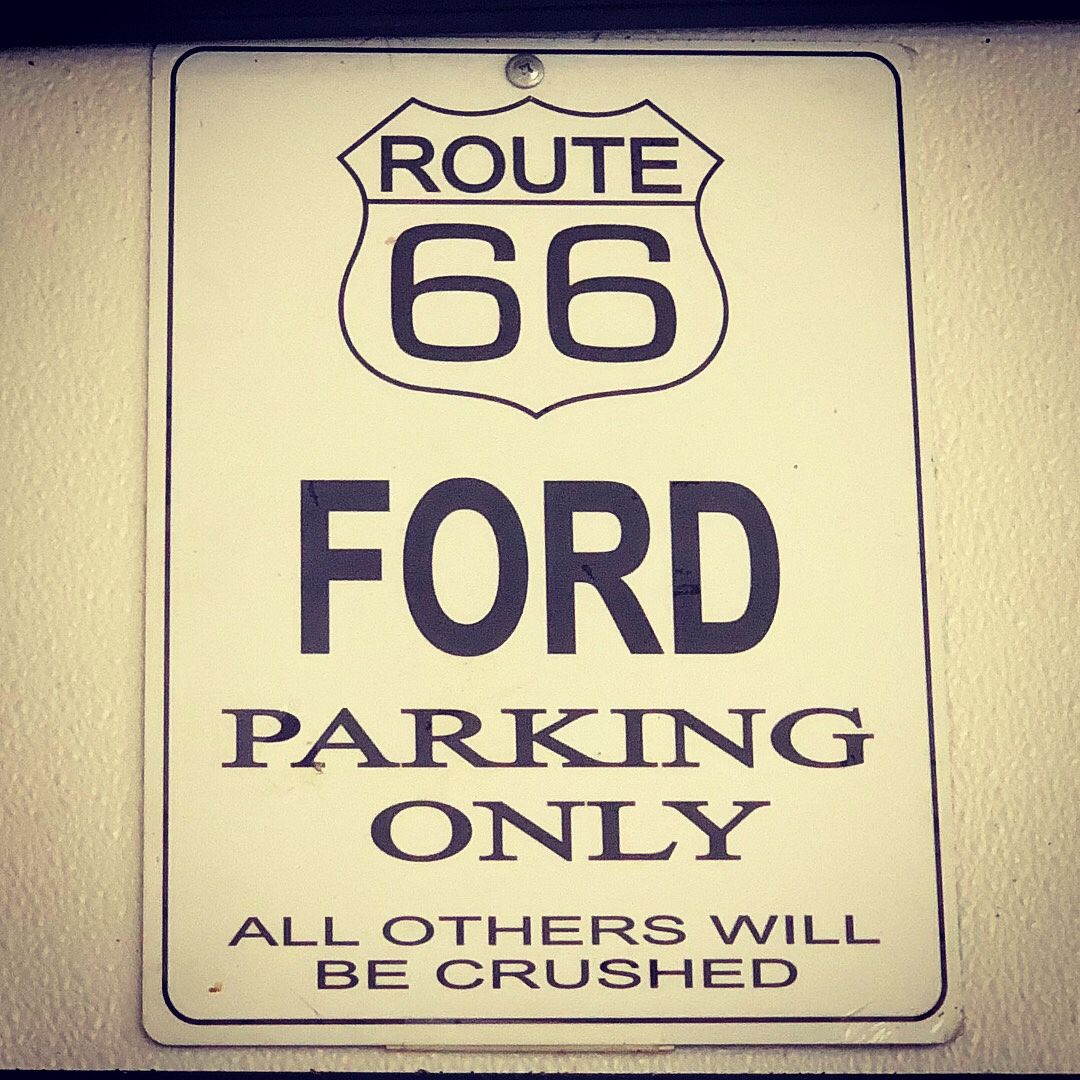 We went to bed early, about 9pm, to get some rest after the long drive, with another long day due tomorrow.
Shortly after midnight we were woken up. There was a tapping sound on the roof. We quickly realized it was rain. Then the thunder came - loud thunderclaps accompanied by bright lightning flashes through our skylight. It had rained on the RV before, but still we were anxious that there may be a leak somewhere. We turned on the lights and checked - nothing. Phew! Happy that we would remain dry inside the RV, we drifted off back to sleep to the rhythmic sound of the rain drops landing on the roof just a few feet above us.
Day 4 - Friday (Santa Rosa, NM)
As soon as the early morning alarm went off (yes, we were sticking with 5:30am local time despite the timezone change), I threw some clothes on and went outside to see how much rain we had had overnight.
Wow.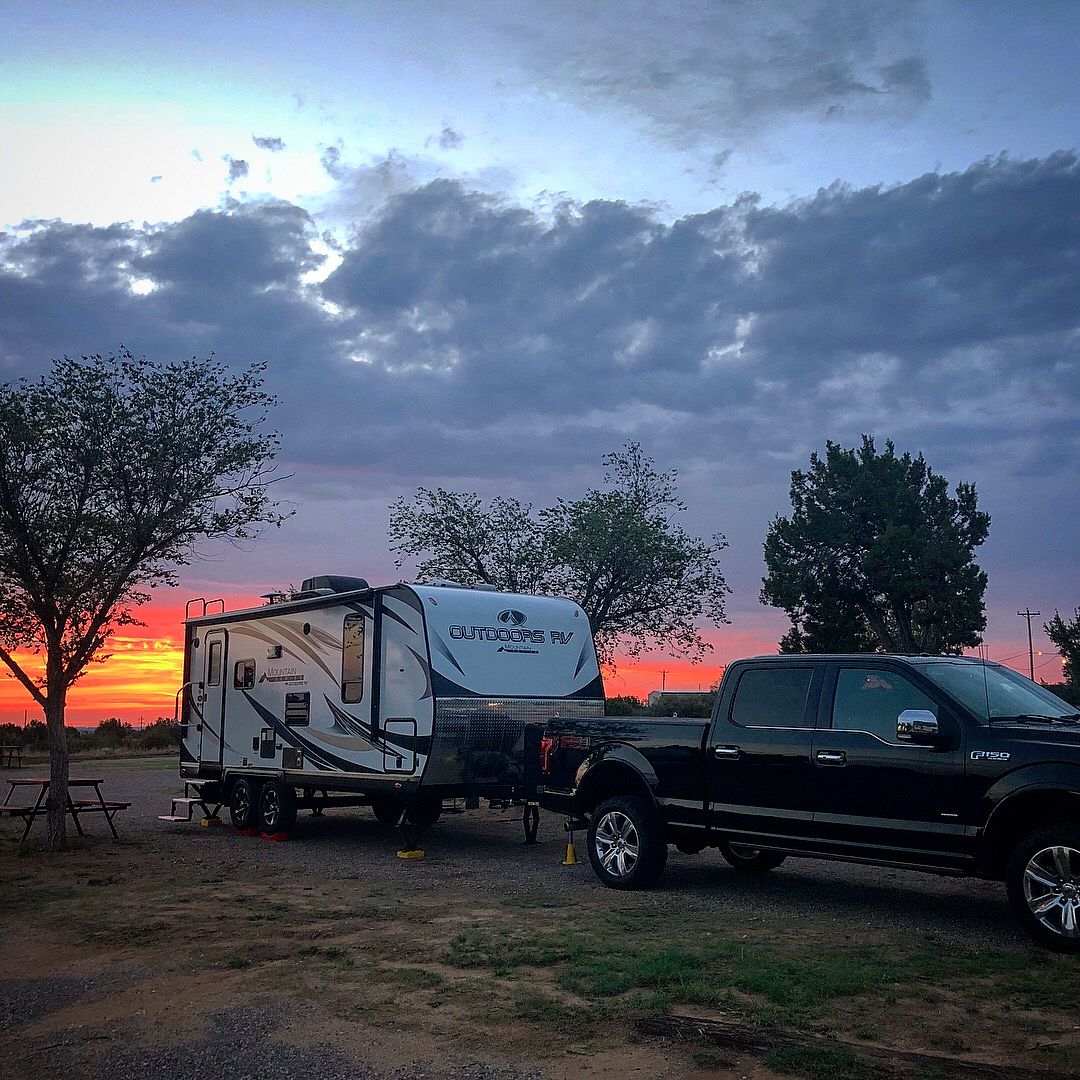 I have no other words. The sky was bright orange - so rich that it almost looked fluorescent. In the distance, along the horizon, the early morning sun was lighting up the low clouds that blanketed the sky around us, but left a patch of clear blue sky peeking through just above us.
The ground was dry. The picnic tables were dry. The truck was dry. I climbed up on the roof of our RV, intending to wipe standing water off our slide-out, but the roof was dry too. In fact, the only evidence it had rained the night before was the streak marks in the dust on the roof, and the little round holes in the sandy ground where the rain drops had landed.
We packed our things carefully away in the trailer, made some flasks of tea and filled our water bottles, then set off.
As an aside, we found a fun little game in discovering which cupboards or drawers would have opened in the RV each time we stopped. There were the usual culprits - the dinette drawers were favorites for sliding open, and the bath towels seem to dislike the hooks on which they were hanging. But my favorite was the time we opened the trailer to find a lone water bottle on the floor - it had been thrown out of the top pantry cupboard which had then closed again, as though trying to convince us of its innocence. We're watching that cupboard closely....
Today's drive would take us across the border into Texas, and as I had gleefully discovered the night before, that indeed "this is the way to Amarillo". Diana had to therefore endure me singing Tony Christie's song, repeatedly, at every sight of a signpost to Amarillo. It was a long drive; there were many.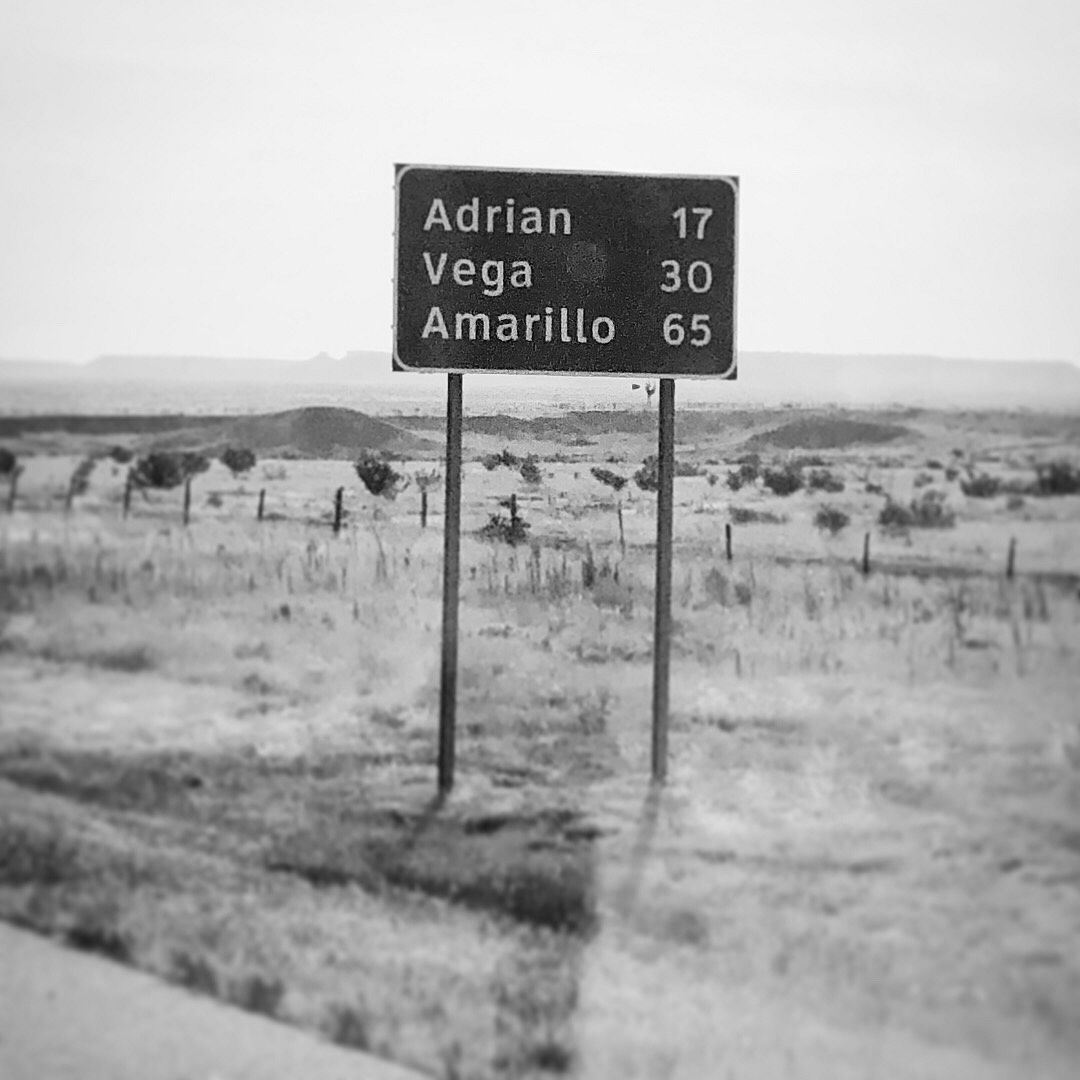 As we crossed over into Texas, the speed limit dropped down to 70mph, but any hope for respite in our speed-induced gas guzzling habit was dashed by the headwinds. The wind turbines were all spinning happily in the wind, but it was hitting us pretty much head on and killing our fuel economy. Regardless, we pressed on, stopping for gas when our tank was low, and stopping for bathroom breaks when our tanks were full!
Our target was to reach Rhome, TX and spend the night at a campground there - 485 miles total for the day. Rhome is a little way north west of Fort Worth and our path would take us right between Fort Worth and Dallas - not something we wanted to do on a Friday evening during rush hour. We'd stop in Rhome for the night, then leave early the next morning to get through the stretches of urban highway whilst the traffic is light.
With no reservation, we stayed at Lee's County Campground, just outside of Rhome, down a small county road leading off US-287. As we pulled into the campground shortly after 3:30pm we were met by the owner and his dog who directed us to an empty site. The campground was basic, but had what we needed - a nearly level site, 30A electrical and water hookups. We paid $20, reduced, he said, from $40 due to the heat, and spent the evening hiding from the heat inside our RV with the AC turned on.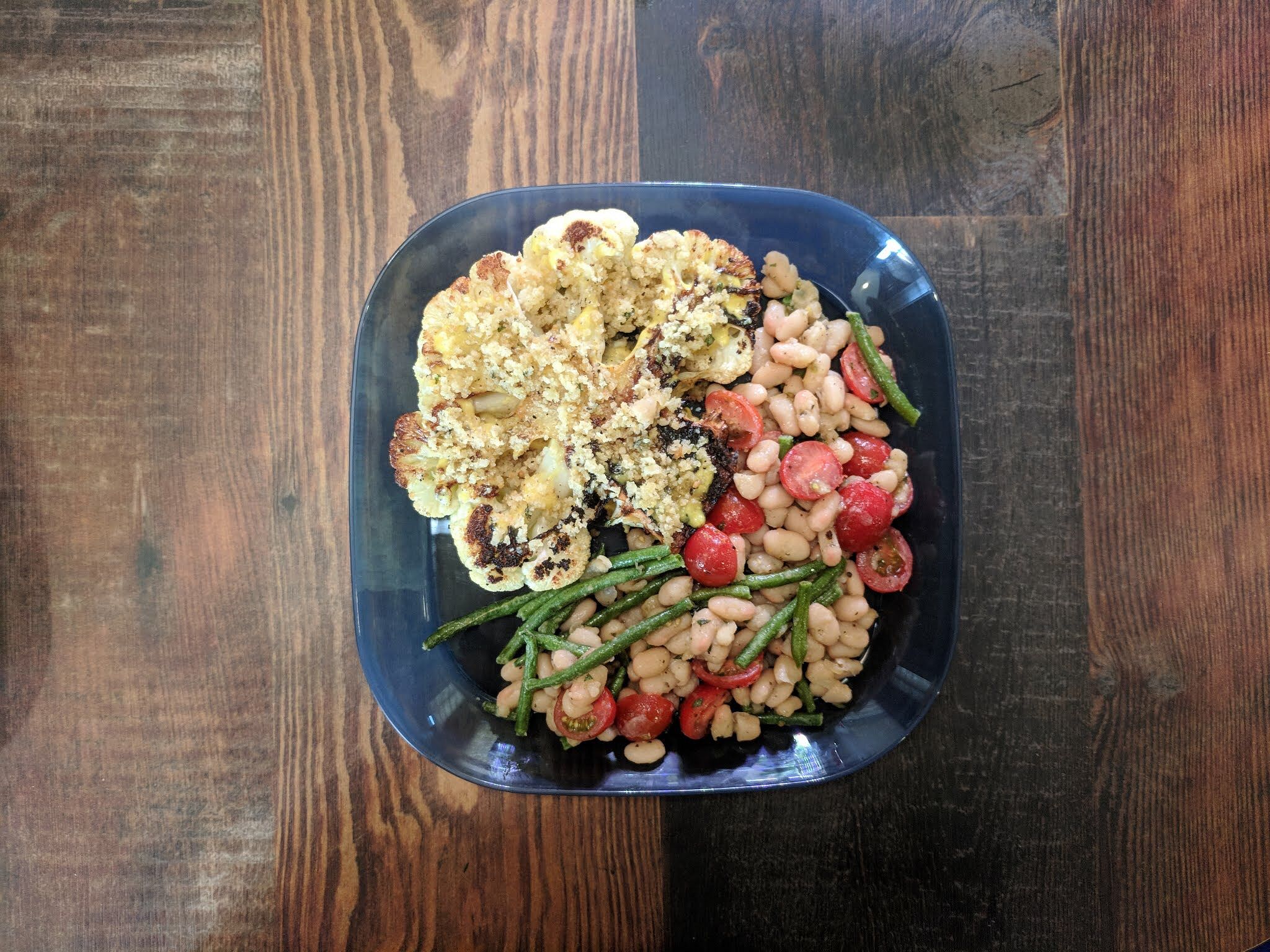 Diana cooked us a wonderful dinner - grilled cauliflower steak with a green bean, white bean and tomato salad.
Day 5 - Saturday (Rhome, TX)
Our last day of driving, and a much shorter day - just 280 miles to go. The alarm went off and we were up straight away. We got dressed, packed things away, made tea and filled water bottles. With the truck and trailer still connected, it was a case of raising the jacks and removing the levelers.
I used the super-bright Rigid Industries lights I had installed in the bumper last year to illuminate the hitch whilst I checked all the connections. And, out of consideration for our still-sleeping neighbors, switched from the impact driver to the electric drill driver to raise the stabilizer jacks.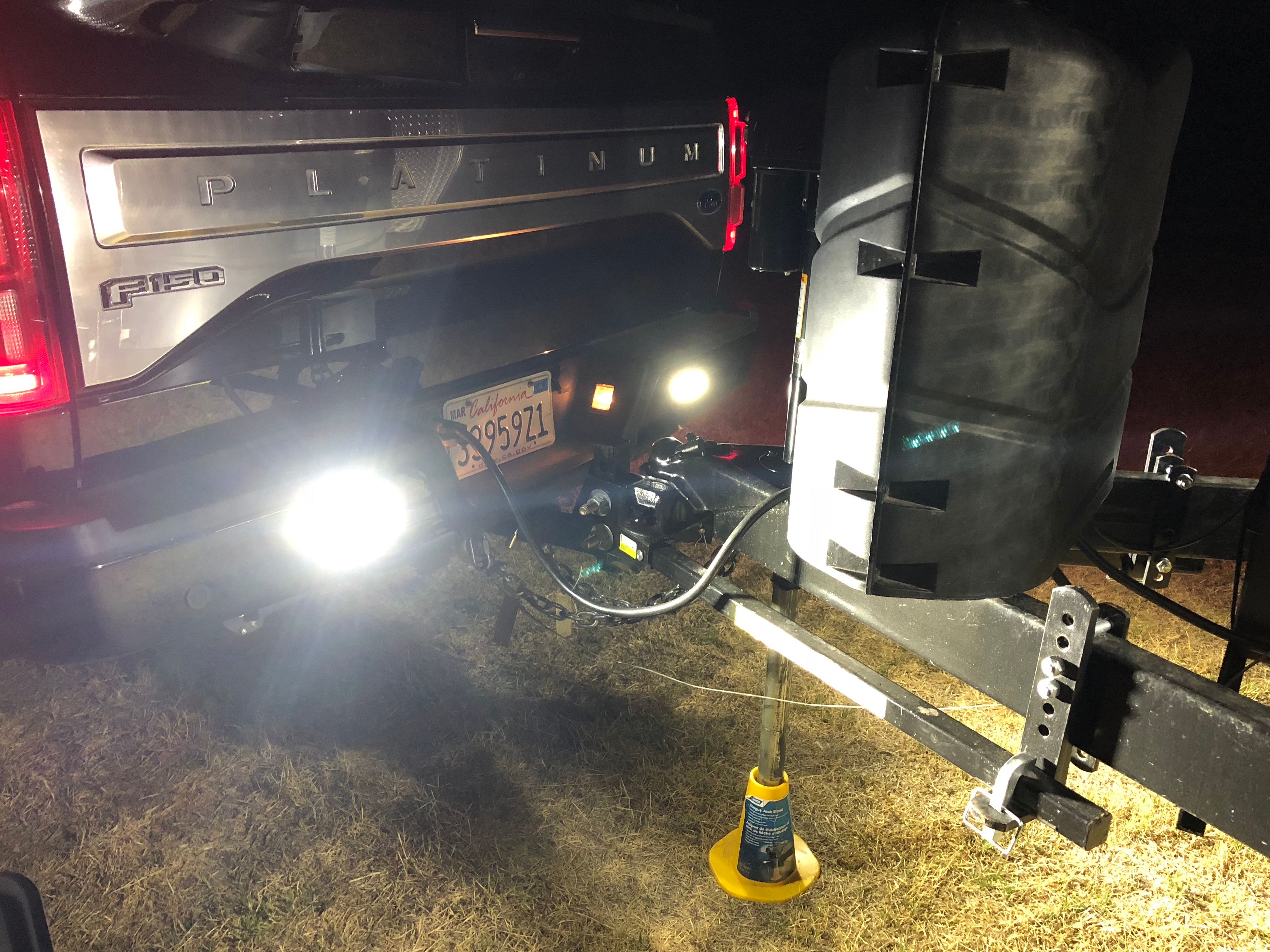 By 6:10am we were on the road - our earliest start yet. Sunrise happened around 6:45am, by which time we were winding our way through the complex tangle of highways that thread around Dallas and Fort Worth - Waze was truly earning its keep!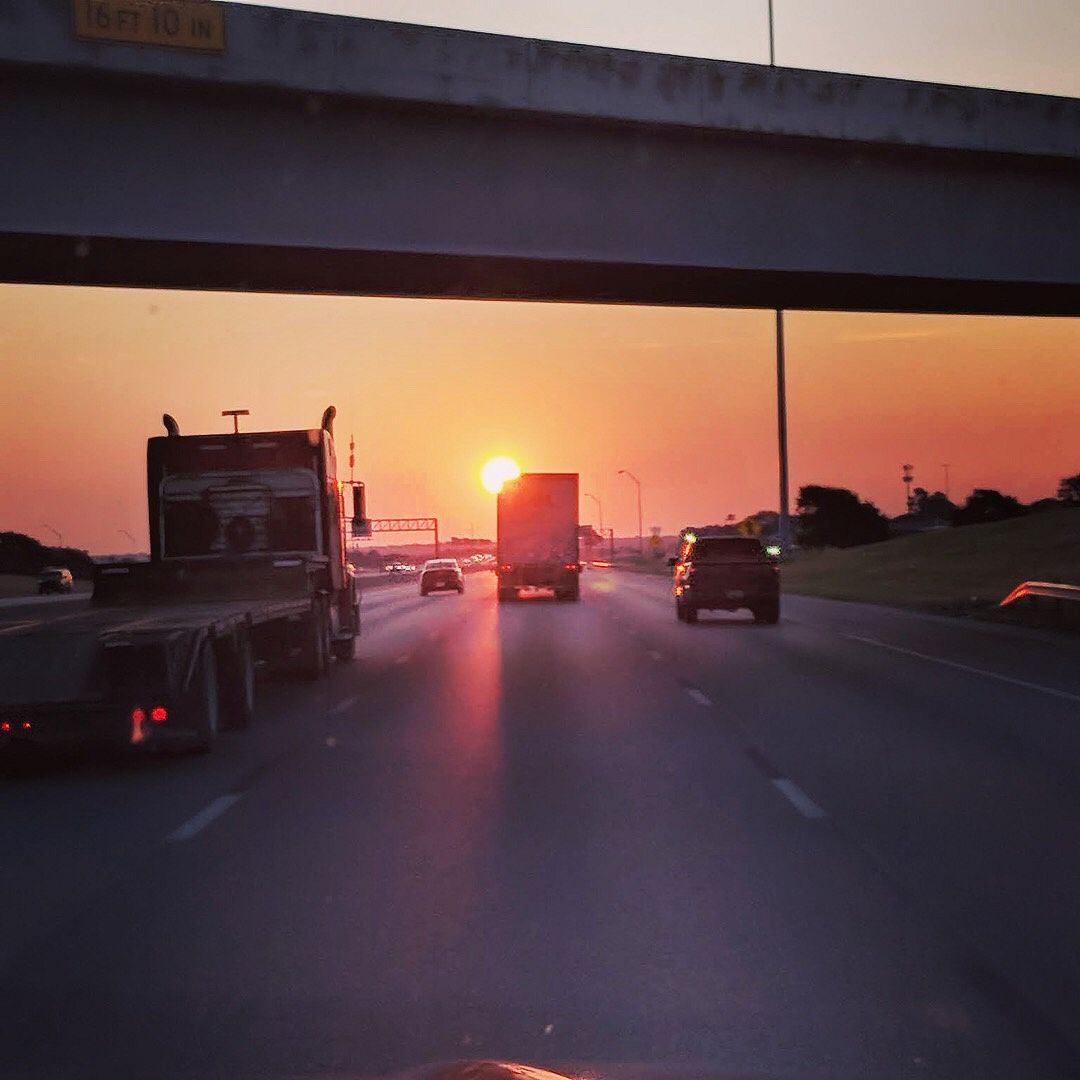 Playing it very safe with regular gas fill-ups, but keen to cover ground quickly, we made it to Livingston, TX at about 11:10am. We headed straight for the Walmart to get some bottled water and replenish our supplies - we were on our last bottle now!
It's unclear to me why the designer of this particular Walmart's parking lot enjoyed causing so much misery, but the road layout meant I had to drive the truck and trailer past all the empty spaces at the back (separated from me by a small grass verge), navigate the hoards of people, carts and chaotic vehicles at the front of the store, and then drive all the way to the back. Two tentative uses of my horn, one stubborn driver waiting for a space, one expert (if I may say so myself) reversing maneuver, one window down, one friendly RV-owning pedestrian, and too many apology waves to count, and we made it to the back of the parking lot and parked up.
Inside we filled four gallon-sized bottles with Primo water ($1 for each refillable bottle, and $0.27 per gallon of water) and carried them back to the truck. From here it was just a 10-minute drive down to the Escapee's campground at Rainbow's End. We arrived, and although the office was closed, we were greeted by Bert - the park manager and husband of the office manager. He helped us find our site and took us over.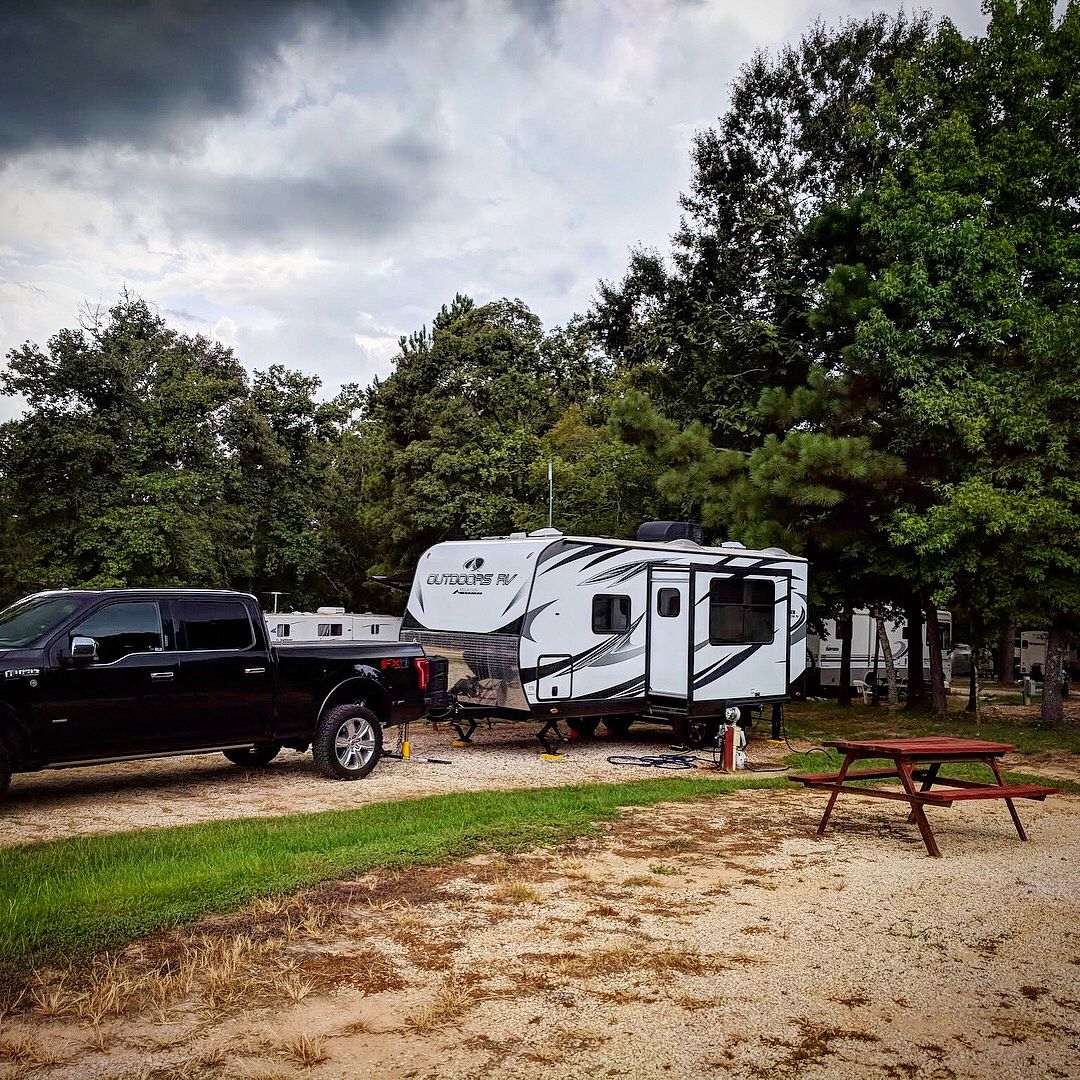 It's Sunday as I write this, and we've been here just over 24 hours now. Just based on our initial observations, we really like it here. Last night we met some wonderful people at the Friendly / Social Hour - several were long-time residents or visitors to Rainbow's End and regaled stories for us. Yes, it's hot and humid outside, and we're once again hiding in here with the AC on, but the WiFi is fast, the park is beautiful, and the people friendly - that works for me!
We're here for the next 2 weeks or so, before we head off on a 5-week trip to Europe. Between now and then we have a lot to get done - moving vehicles and drivers licenses to Texas and becoming Texas residents, sorting and organizing everything in the RV so we can find things, installing our electrical upgrades, and many other trailer mods. In addition, we need to plan our itinerary for the next few months and get our YouTube channel started.
Summary
We like to track things. Lots of things - we should track how many things. But here are a few things we thought you might like to know.
Between Tuesday and Saturday we covered 1,960.5 miles with a total of 34 hours and 45 minutes of driving. Each night whilst on the road we stayed in a different state - CA, AZ, NM and finally TX.
We haven't filled the tank up since we arrived here, but on the journey down we spent $825 on 258 gallons of gas at an average price of $3.19 per gallon. That works out at about $0.42 per mile - certainly not cheap, but we had budgeted for this trip so we were expecting this.
More than that though, we've learnt about our RV. Aside from the minor issue on day 2, both the truck and trailer have been very well behaved. In hot temperatures and long days of driving, it has been easy to drive and at times I would nearly forget I was towing. We've learnt which rogue cupboards and drawers need reprimanding (or maybe just adjusting the latches), and we know our RV's AC can turn a mobile sauna into a fridge in no time at all.
For us, this is just the start of the journey - this RV is where we'll be living whilst we travel full-time, and already it feels like home.
Stay tuned to here more about our adventures.