As an Amazon Associate we earn from qualifying purchases.
Animal Friends
We know there are animals on our property. We've seen deer and porcupines ourselves, and we've seen scat from bears and coyotes. We installed some cameras about a month ago, and although they didn't pick anything up at first, this week they had some surprises for us!
We have three cameras on the property, and a fourth ready to install, but all the action happened on just one camera - the one we'd set up to keep an eye on our tractor!
Our first visitor was a domestic cat - this site is well over 1,000ft from the road, so this cat has roamed a long way if it's from a nearby house!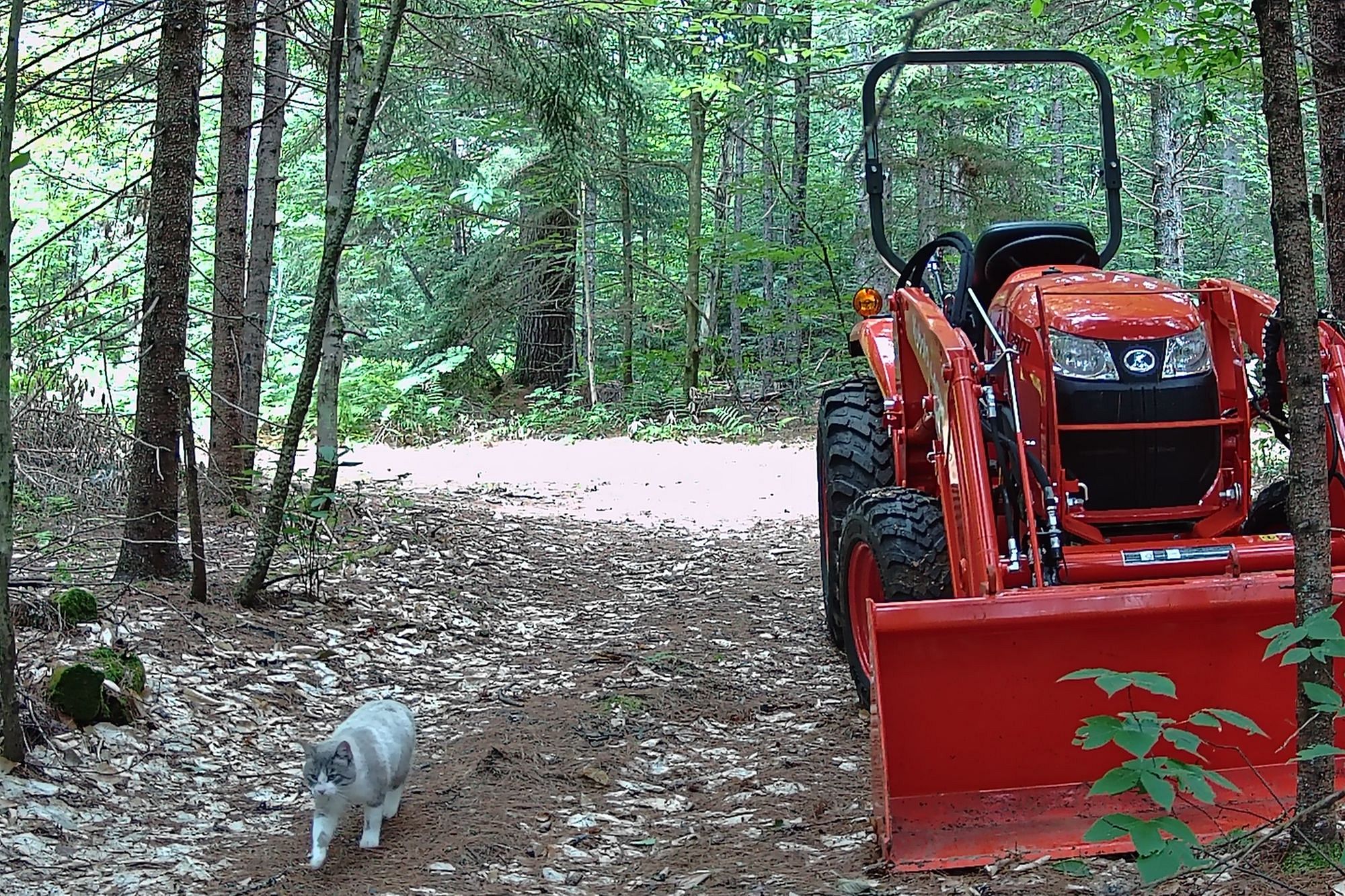 As you might expect in this area, we had a lot of photos (and videos) of deer! They were all really cool to watch, but here's one of my favorites.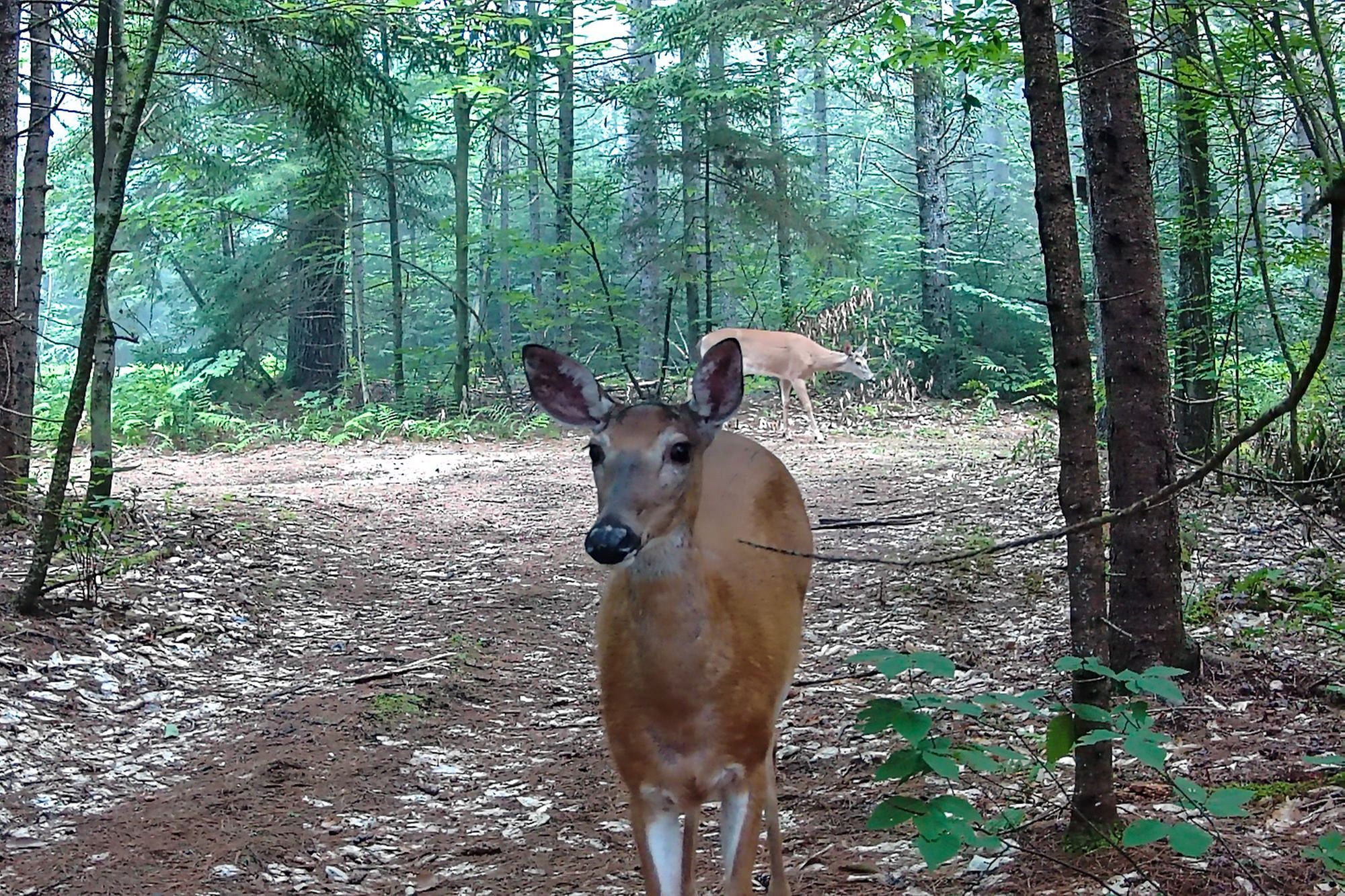 One of the videos also captured not one but two fairly large black bears walking through! They weren't both in shot at the same time, but here's one of them. We also saw bear scat down on the road at the bottom of the property, so we know they're active in the area.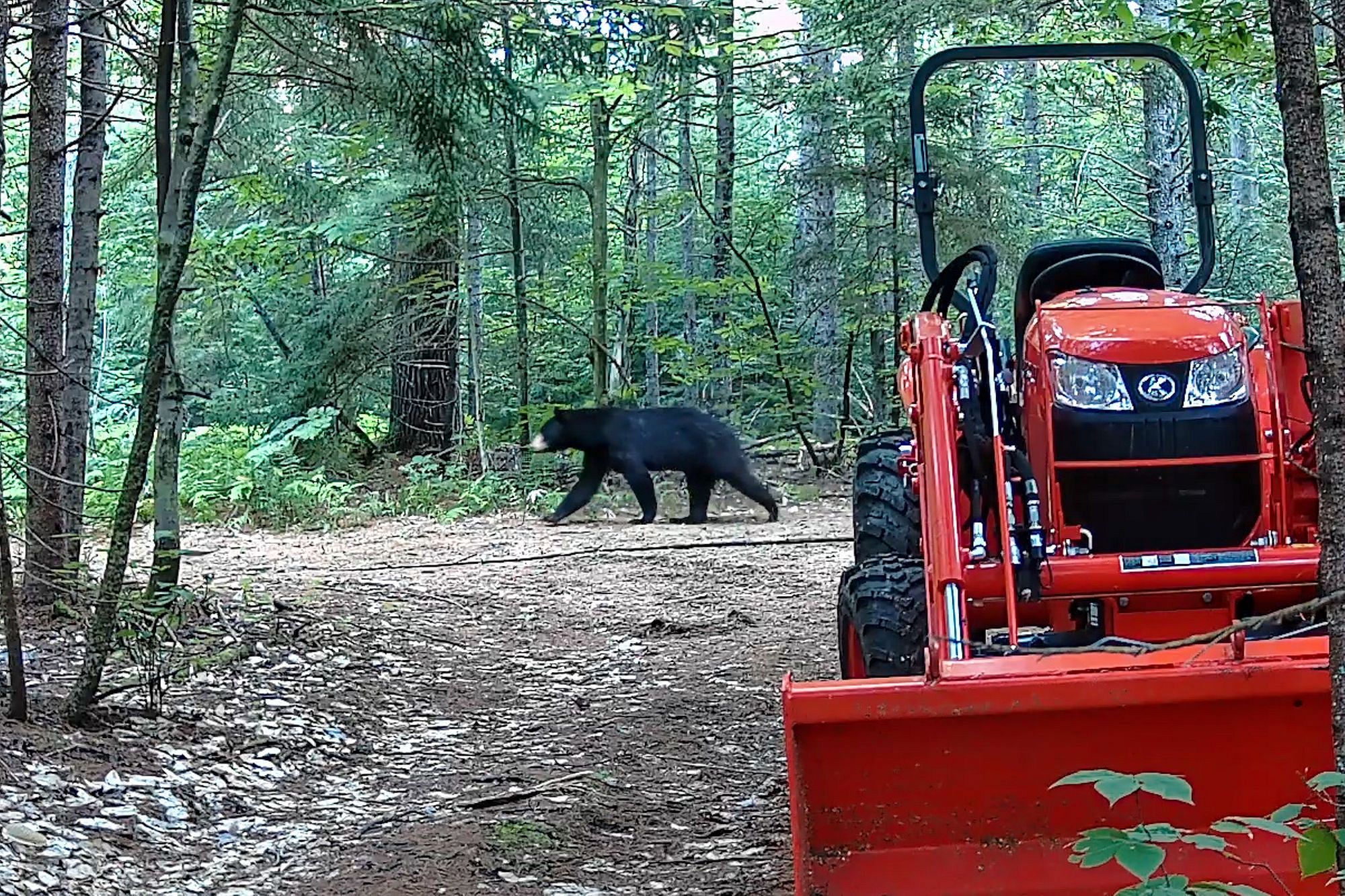 And last, although it's a little blurry, our camera caught a video and a photo of a coyote running through as well - just the one.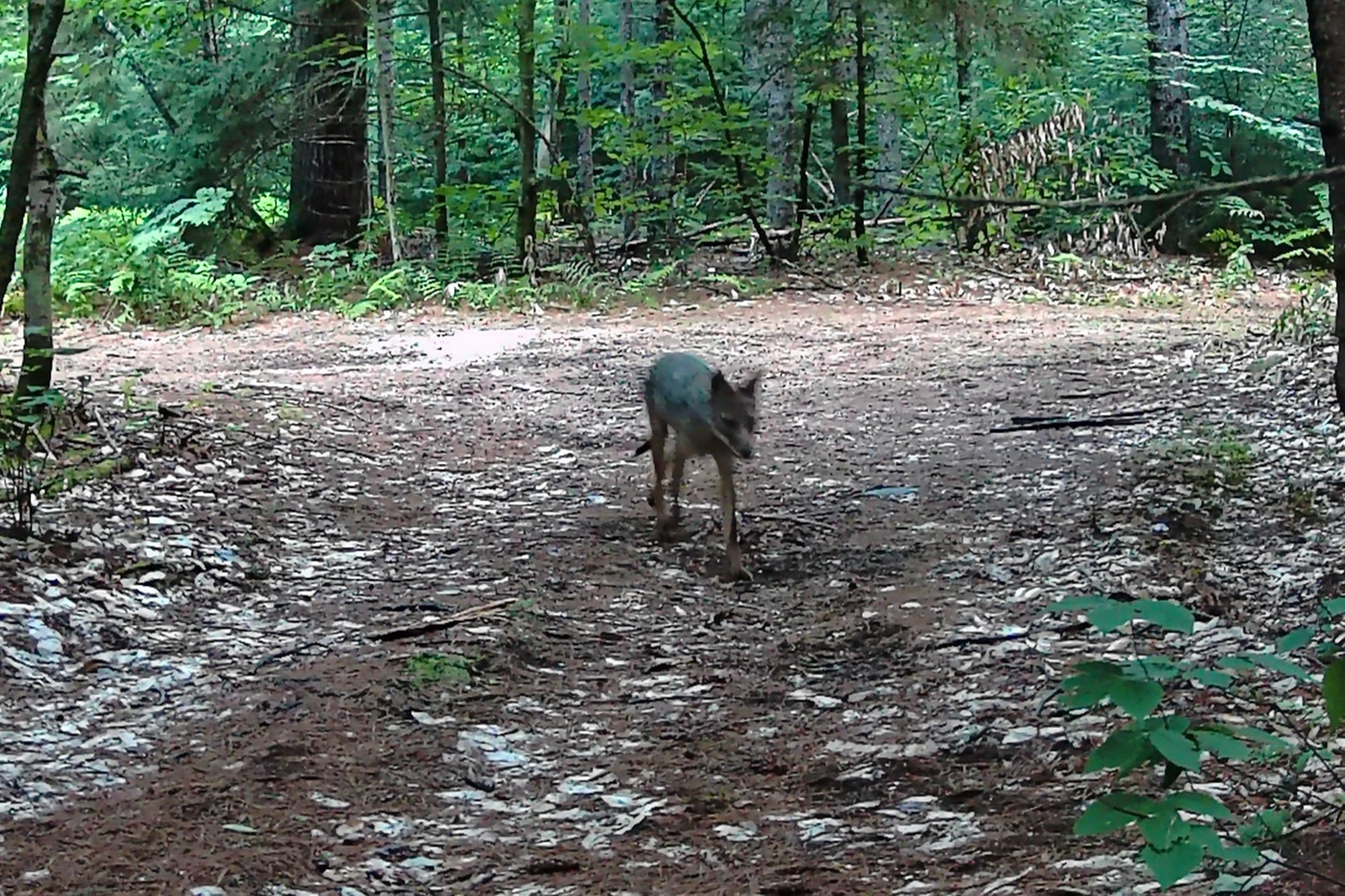 I've cropped in pretty tight on some of these and most were taken in fairly low light levels - overall I'm really impressed with the quality. We're looking forward to getting lots more cool photos and videos of the wildlife on the property!
Meeting Neighbors
Other than our animal friends, we've also met people too - in person, not caught on camera! Since we first started looking at our property, long before we bought it, we started meeting the neighbors. Our big black truck with Texas plates parked on the road stood out and several people stopped by.
Everyone we've met has been incredibly friendly! Even though we're only commuting to the property a few times a week, we already feel like we've been welcomed into the neighborhood. For us this is hugely important - as much as we're looking for some solitude on our property, being part of a community is something we're really passionate about.
Although construction is going to create some noise and disruption, we're doing everything we can to minimize the impact on people around us - keeping the site tidy and clean, making sure noisy activities (like running the wood chipper) aren't happening too early or late, and keeping people informed about what's going on.
This week we stopped by a few of our neighbors to say hello more formally, and get to know one another. It was nice to spend some time chatting with them, learning about the area, the people and the history. Needless to say, we're more excited than ever about moving in!
Driveway Prep
Over the past few weeks we've been working on clearing a path for the new driveway so that when our contractor turns up with his crew, they can get stuck right in as quickly as possible.
We spoke with him in advance about it and agreed we'd try and clear anything under 6" diameter. In the end, we've cleared most stuff under about 10" - why should he have all the fun?!
The terrain was a little too rough for us to get the tractor in, so we've been doing all the work by hand. It's been hard work, but hopefully it'll help make things a little quicker.
By clearing as much brush and as many smaller trees as possible, not only have we reduced the amount of work that they need to do before they can get in with heavy machinery, but it's also made it much easier for us to see where the driveway will go.
Earlier this week, we had a call from our contractor confirming that his team will be on-site next Monday to get started. This is the call we've been waiting for!
As with anything of this nature, dates can and often do change - due to unexpected delays on previous jobs, weather, etc. But in just a few days' time, construction will begin on our brand new driveway! We expect the construction will take about 2 weeks and we plan to be on-site every day to help where we can.
Well, I'll be there every day. Diana's in-person classes at Yestermorrow start on August 23rd so she'll be learning a bunch of new skills to help us build our dream home!
Transfer Station
Do you really know a place until you've been to the local transfer station? In case you're not familiar with the term, a transfer station is where local residents can take solid waste, household refuse and recycling. We won't have a trash collection service at our property, and Vermont has some pretty stringent recycling rules, so it's important we're familiar with the setup.
We had first visited a week or so ago to drop off some old, rusty barbed wire we had pulled out from along the wall while clearing the driveway.
There's also a stump dump - a place to drop of yard waste - but it's not open every day. This week we stopped at the stump dump to check it out. While we've had great success with the wood chipper for getting rid of a lot of the material we've been clearing, that's not always appropriate.
In particular, we are steadily accumulating tree stumps that won't fit through the chipper. One option is to put these in the forest and let nature do its thing, or we could let them dry out and then burn them. But our stump dump will also accept them free of charge - so we can pile them into the truck bed or onto a trailer and take them down.
We also have some invasive species - namely common honeysuckle and common buckthorn - that we're working to remove from the property. Chipping these just risks spreading them even more, so if we can load them up and take them down to the stump dump, that's another great option.
Build Timeline
A few people have asked lately what our timeline is for the build.
The honest answer is that we don't really have a rigid schedule that we're trying to hit. This is our first time embarking on a project like this and we'd much rather take our time and build it right than rush to hit some artificially self-imposed deadline.
On top of that, we've been living very comfortably in our RV for the last 3 years - it's not big, but it's our home and we still love living in it. So while we're keen to build our dream home, we're not in a rush to get out of the RV.
Although we don't have a build schedule per se, we do have a rough timeline in mind. Our hope had been to get our mechanical building constructed before winter this year, but at this stage that's probably looking unlikely - we likely won't get all the permits we need until late September at the earliest, which leaves us barely 2 months before winter really sets in.
For an experienced construction crew with everything lined up that'd be no problem. For Diana and I constructing our first building, that's probably ambitious! But even if we don't get it built this year, we'll be ready to start work as soon as the weather permits in spring next year - hopefully around March or April.
Once the mechanical building is in place and we have all the utilities installed, we'll be able to get the RV on-site which will be a huge milestone for us. That will make working much easier as we won't be driving back and forth an hour each way every day to the site.
We'll also be a lot more flexible about when we can work. Right now we usually only head out if the weather forecast is looking good for most of the day, but once we're living on-site we'll be able to squeeze in work whenever the weather permits.
With that in mind, we're hoping we should be able to make a lot of progress on the house next year - at the very least we'd hope to have everything dried in before winter next year. If that's the case we'll be able to continue working inside through the cold weather.
So all in, if I had to guess, I'd say we're probably ~2 years away from having the house completed and being moved in, but we don't really know! I fully expect to look back on this blog post in the future and smile.
Lumber Prices
One advantage of our build being slightly behind where we thought it might be is that lumber prices have begun to fall...fast! The official way to track lumber prices is through the lumber futures. These peaked at almost $1,700 on May 7 this year, and as I write this article, they're sitting at $500. That's insane!
But what matters to us as consumers isn't the futures, but the actual prices in store. We've been frequent customers at Home Depot of late, and so even though we'll likely buy our lumber from a local lumber yard, we've been checking on the Home Depot lumber prices each time we stop in.
Earlier this year we were seeing prices of over $14 for a 8ft 2x6, and checking earlier today they're now under $9. Hopefully the trend will continue, and all the other parts and materials we need will follow suit. Conduit, I'm looking at you!
Network Infrastructure
Historically, utilities in your home referred to water, sewer, electric and potentially telephone. Nowadays, at least for us, telephone is no longer a consideration - Diana and I were each trying to remember earlier when we last had a landline phone in our homes and we think it's been at least 10 years for either of us.
The modern equivalent is internet connectivity, and one of our must-have requirements for the new property was fiber internet at the road. Our property is served by up to 800Mbps fiber internet. It's kind of funny that our rural Vermont land has faster internet than my apartment in London or any of our homes in the San Francisco Bay Area!
But it's not just about getting internet access in, it's about what we do with it once it's on site.
I'm passionate about self-hosting - the idea of operating and managing your own technology infrastructure rather than relying on hosted solutions provided by Google, Amazon and others. It's something we've been doing very successfully in our RV, and are looking to expand out on our property.
So this week I've been continuing to work on our designs for the networking and technology infrastructure. There are lots of details still to work out, but the basic concept is to link all the buildings and the driveway with fiber networking, giving us speeds of at least 10Gbps anywhere on the property.
By using enterprise grade switching hardware, a dedicated firewall, and high speed WiFi access points around the property, my goal is to provide secure, reliable and fast connectivity wherever we are.
Winter Plans
On a different note, we've been thinking about what we might do this winter. Our hope had been that we might have our RV on our property before winter, but even if that were the case it wasn't a certainty that we'd stay in the RV in Vermont all winter.
Given that it's increasingly looking like we might struggle to get to that point anyway, we've been looking at our options. A lot of it depends on how the COVID situation is looking this winter in different areas - partly how safe we feel traveling and partly whether we can do the things we want to do there.
One option is to stay here, in the RV at the campground in Vermont like last winter. The RV definitely felt smaller in winter as we weren't able to use the outdoor space around us as much, but we still had a lot of fun! We could ski and snowboard again, plus we'd be near the site if there are things we could do - e.g. milling lumber.
Another option is to head off in the RV. We've not spent time down the east coast, so we could head south down towards Florida and spend the winter there in the warmth. Or head back to the desert southwest, and meet up with friends who we'll inevitably bump into in the Arizona desert.
Or we could put the RV in storage and travel to Europe. It's been 3 years since Diana or I last visited Europe and saw friends and family - we're long overdue a visit! At this stage, we're keeping all our options open and seeing how things develop - both here in Vermont and further afield!