Introduction
We visited Mesa Verde National Park in July 2019, as part of a two week road-trip with Diana's brother Jānis who was visiting us on vacation from Poland.
Given our mishap at Curecanti National Recreation Area, we were hoping our visit to Mesa Verde National Park would be more successful. We had driven down the Million Dollar Highway and were camping at a boondocking spot between Durango and Mancos, CO.
We were only there for 2 days, and we spent the first day relaxing a little after our whistle-stop journey through Rocky Mountain National Park, Black Canyon of the Gunnison National Park, and Curecanti National Recreation Area.
That left us with just one day to explore Mesa Verde National Park, our 30th stop on our quests to visit ALL the National Park Units in the US.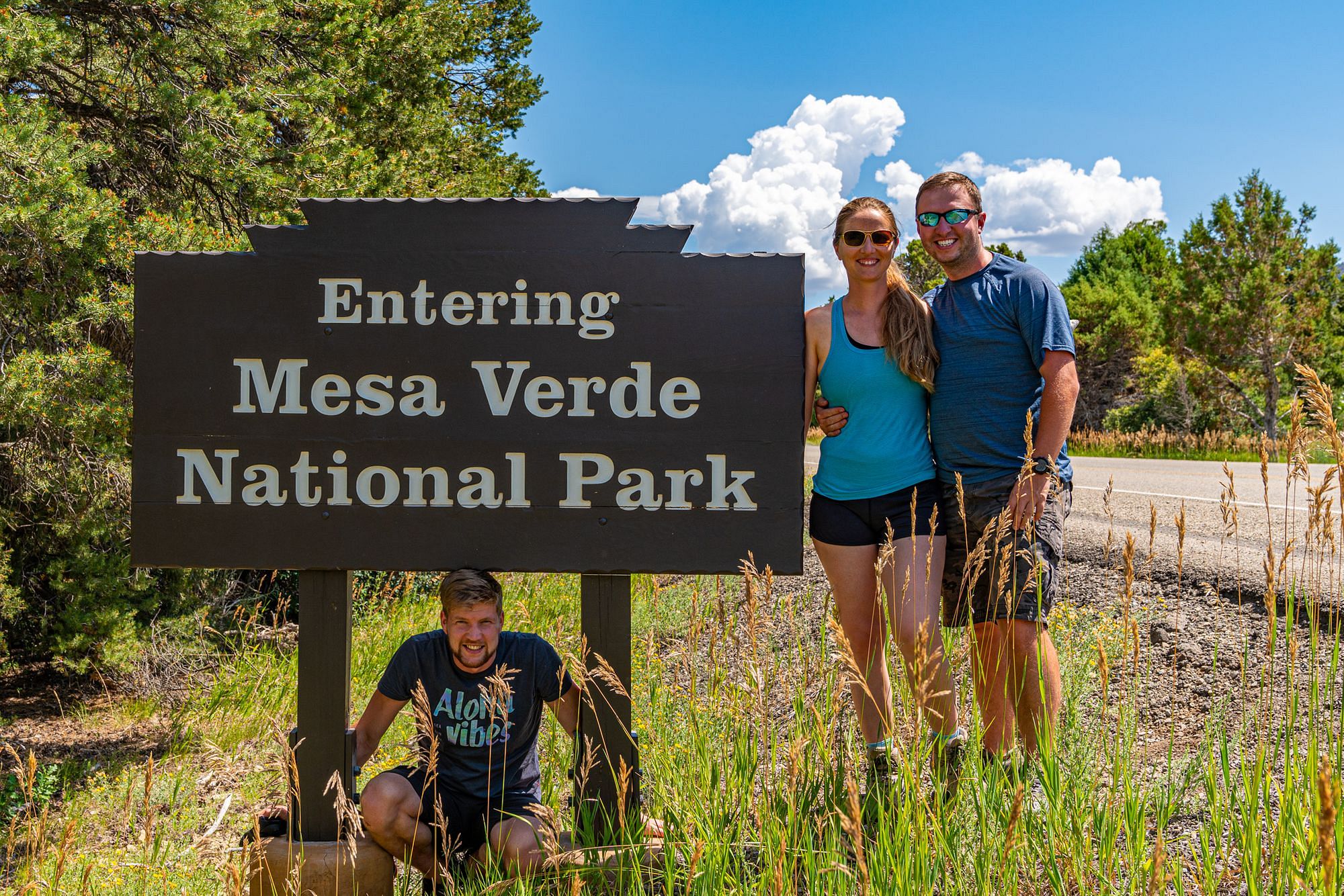 Location
Mesa Verde National Park is located in the Four Corners area of southwestern Colorado, west of Mancos, CO.
Video
Background
Recognized as both a National Park and UNESCO World Heritage Site, Mesa Verde National Park is well known around the world.
Name
The area was named Mesa Verde by the first Spanish explorers Francisco Atanasio Domínguez and Silvestre Vélez de Escalante who visited the area in 1776. They named it for its tree-covered plateaus, but never discovered the secrets the area held.
Mesa Verde is Spanish for "green table". Despite its name however, it's not actually a mesa - rather, it's a cuesta. A mesa is flat on top, whereas a cuesta is tilted.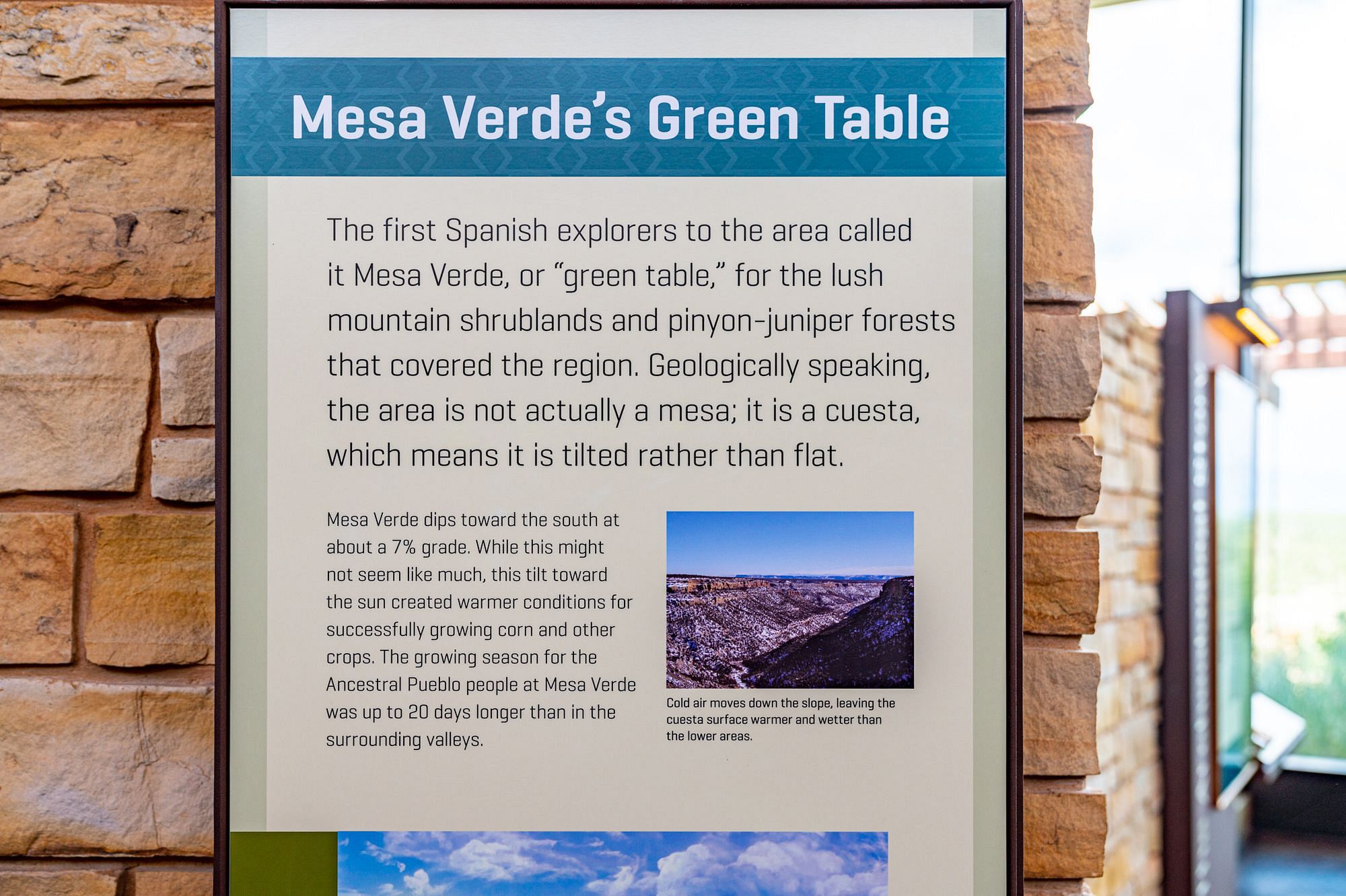 Far from a point of pedantry, this distinction is critical. Mesa Verde is tilted south at a 7% grade, and this sun-facing tilt created warmer conditions that allowed the Ancestral Puebloans to farm the area so successfully. In fact, the cuesta's tilt meant the growing season was up to 20 days longer than in surrounding valleys.
Furthermore, Mesa Veda isn't even a single cuesta, but rather a collection of cuestas among the canyons.
History
Mesa Verde National Park protects almost 5,000 known archaeological sites, including 600 cliff dwellings. The area was inhabited by the Ancestral Pueblo people for over 700 years, from 600 to 1300 CE and the sites they left behind are some of the best preserved in the US.
But the history of Mesa Verde National Park starts far earlier.
As long ago as 9,500 BCE, nomadic Paleo-Indians arrived in the area, following herds of big game. While they may have only lived in the area seasonally, a warming climate allowed their population to swell.
Starting with the Archaic period around 6000 BCE, there was a permanent population at Mesa Verde, living in crude mud and wood houses. They had an extensive trade network that stretched all the way to the Pacific Ocean.
The Basketmaker culture, starting around 1000 BCE brought permanent pithouses as the Basketmaker II people began to forage and farm - relying less on wild food sources and more on crops they grew and farmed themselves.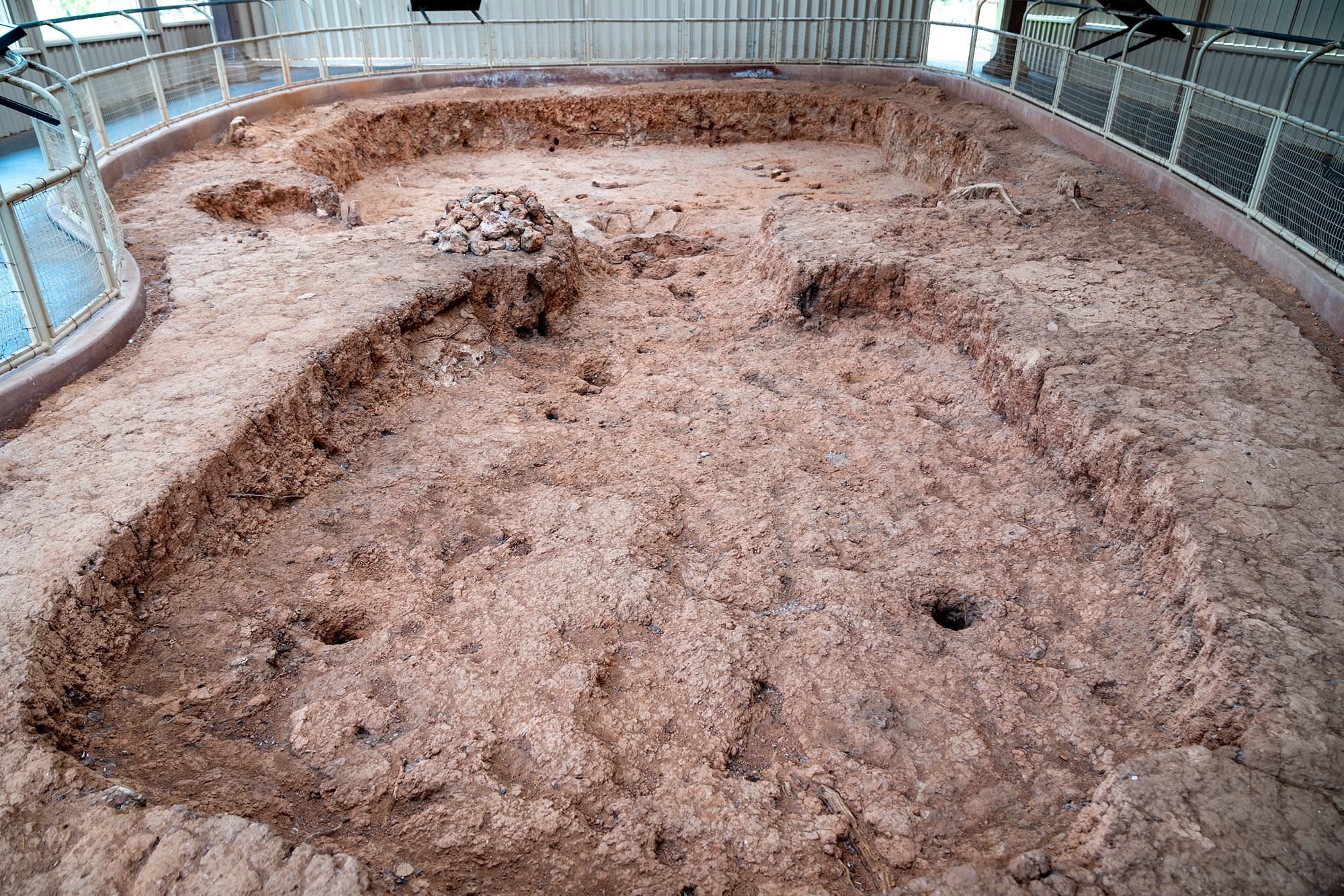 Towards the end of the Basketmaker era, around 700 CE, the population at Mesa Verde could have been as many as 1,500 people. They had introduced beans and corn, and were building large, above-ground buildings.
750 CE is typically regarded as the start of the Pueblo period - a period lasting until around 1300 CE when Mesa Verde was abandoned. During this time, they built pueblos and kivas increasing both their capacity for food storage and their own population density.
Architecture at Mesa Verde was heavily influenced by the Chacoan System (originating in Chaco Canyon to the south) - with Chaco-style masonry buildings like Far View House appearing around the 11th century CE.
From 1130 to 1180 CE, a major regional drought meant people migrated from nearby areas such as Chaco Canyon to Mesa Verde with more reliable sources of water. But the collapse of the Chaco system left Mesa Verde isolated from the surrounding area.
The vast increase in population had a profound impact on the architecture starting in the 13th century CE. This is when some of Mesa Verde most elaborate buildings were constructed - massive multi-story structures such as Cliff Palace, the largest cliff dwelling in Mesa Verde National Park.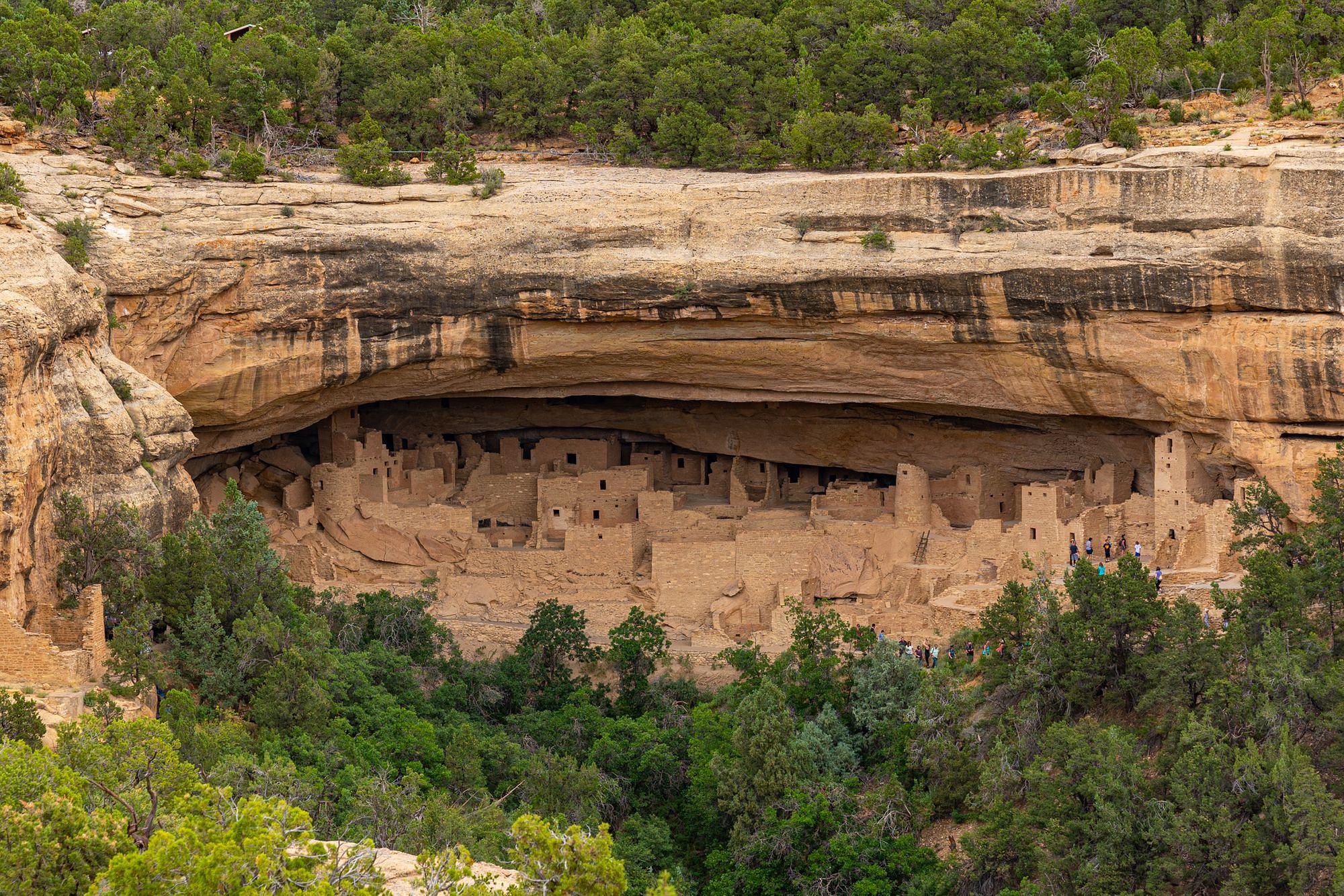 Around 1200 CE there were 22,000 people living at Mesa Verde, and the population continued to grow until 1260 CE. However, annual rainfall had been regularly below average and a severe drought from 1276 to 1299 CE was the final straw. The last tree cut for construction in Mesa Verde was felled in 1281 CE, and the last inhabitants abandoned the area around 1285 CE.
Warfare and violence characterized the final years of habitation at Mesa Verde, with archaeological evidence suggesting some victims were scalped, dismembered and even cannibalized. Modern day-descendants of these Ancestral Puebloan people are reluctant to speak about this dark period in history.
National Park Designation
It wasn't until the late 19th century that the archaeological importance of Mesa Verde was understood by Americans.
It was Virginia McClurg, a journalist for the New York Daily Graphic who discovered several archaeological sites in 1885. Inspired, she launched a campaign in 1887 to protect the area.
In 1891, Swedish explorer Gustaf Nordenskiöld visited Mesa Verde, removing hundreds of artifacts and sending them back to Sweden where they eventually ended up at the National Museum of Finland.
By the turn of the 20th century, there was an increasing problem with curio seekers visiting Mesa Verde, and removing artifacts. In fact, a number of specimens of pottery vessels can now be found in the British Museum in London.
To protect the area and to "preserve the works of man", US Congress and President Theodore Roosevelt established Mesa Verde National Park on June 29, 1906. This makes it one of the oldest National Parks in the system - predating the establishment of the National Park Service by 10 years. It's also the first park created for the specific purpose of protecting and preserving human works.
Itinerary
With just one day to visit Mesa Verde National Park, we wanted to explore as much as possible. Typically our first stop would be the Visitor Center, but not today!
Cliff Palace
About a month prior, we had reserved tickets for the Cliff Palace Early Bird tour, which starts at 8am. It's around 20 miles from the park entrance to Cliff Palace, all the way at the southern end. An organized Ranger-guided tour like this is now the only way to visit Cliff Palace.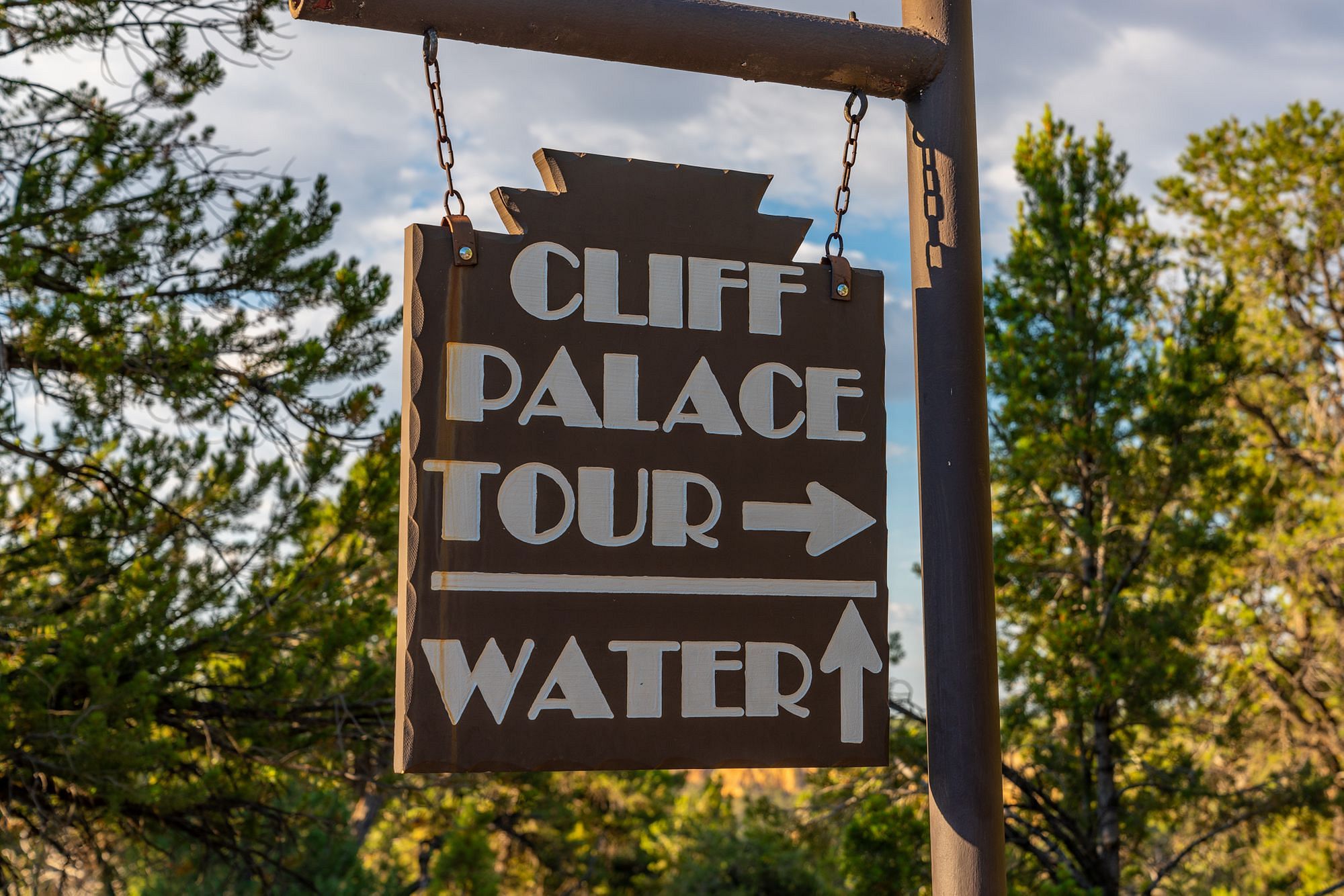 We gave ourselves plenty of time to enjoy the scenic drive through the park, and arrived more than half an hour early. The 1-hour tour started promptly at 8am, with our Ranger guide giving us an introduction and some rules to follow.
From the parking lot, we followed the trail down; the path is narrow and very steep in places.
We rounded the corner, and Cliff Palace came into view....wow!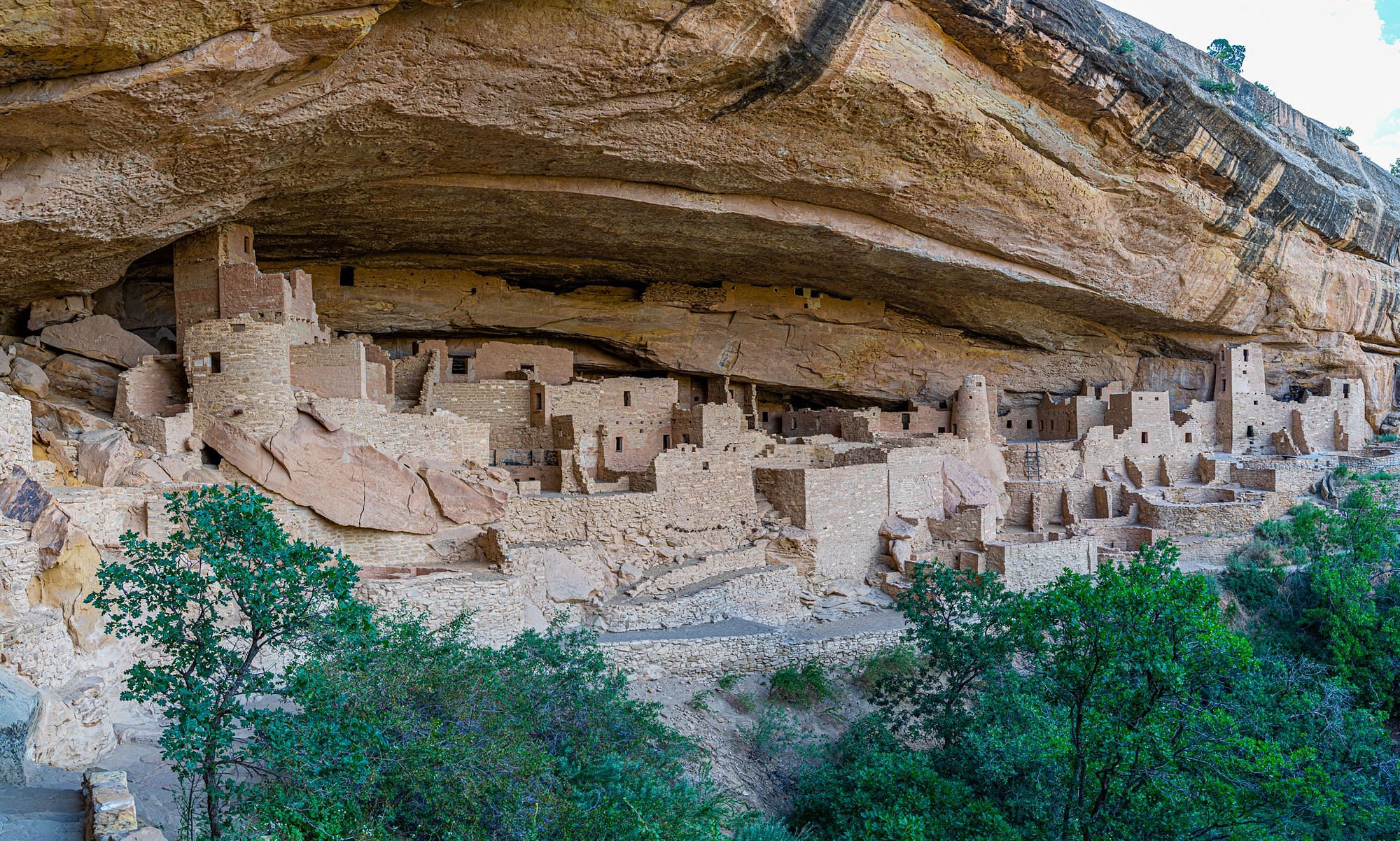 Cliff Palace is one of the most iconic views of any National Park - it is the quintessential cliff dwelling picture!
We continued along the path, right into the heart of Cliff Palace. Our guide stopped us several times to help explain some of the things we were looking at.
Cliff Palace is an incredible complex of multi-story towers, buildings and kivas of all sizes. We learned from the Ranger about some of the scientific research that is ongoing at the park, as researchers learn more about the building materials used and how best to preserve and protect the structures.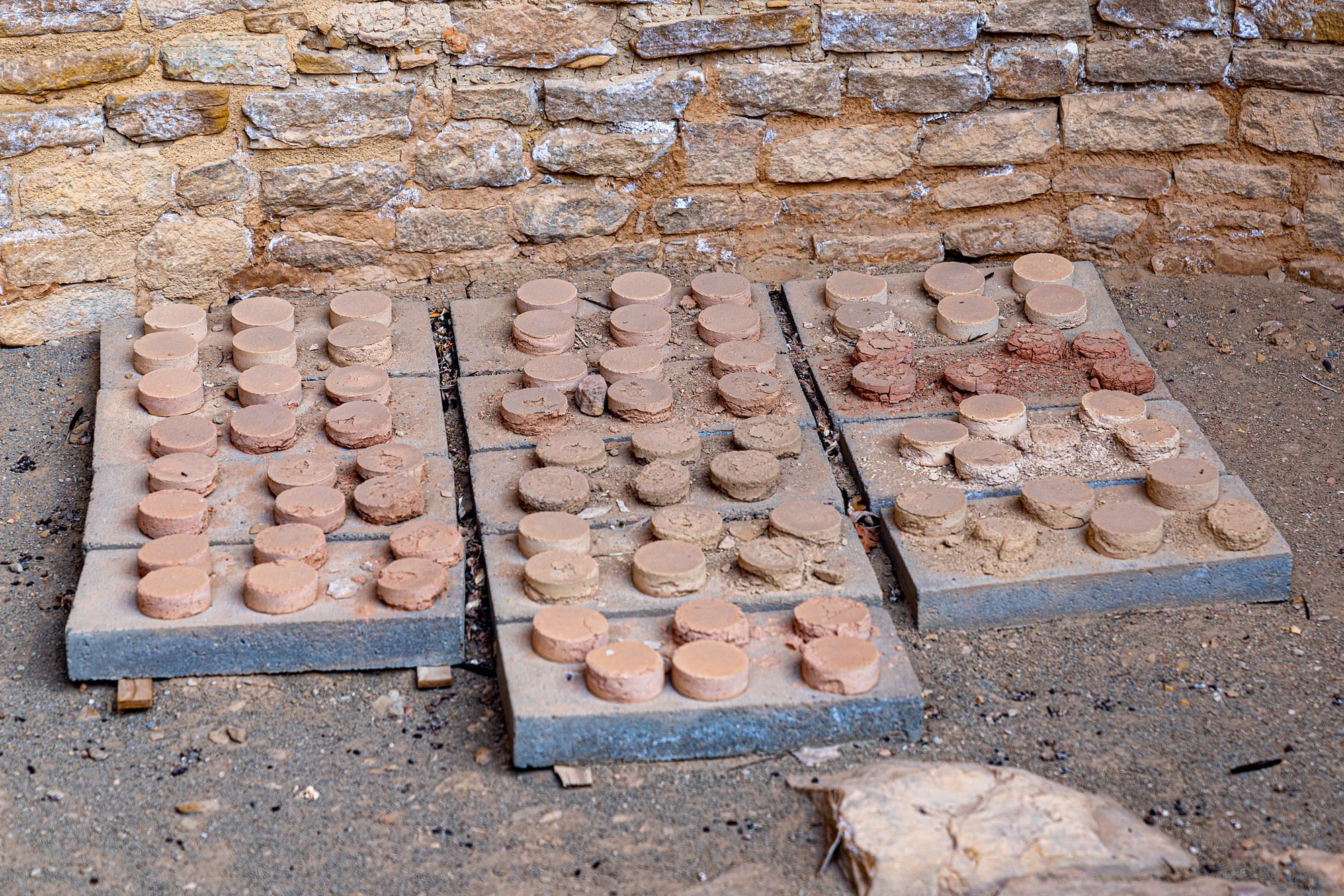 Although we weren't able to touch anything since the oils in our skin can damage the delicate structures, we had an opportunity to explore and take photos.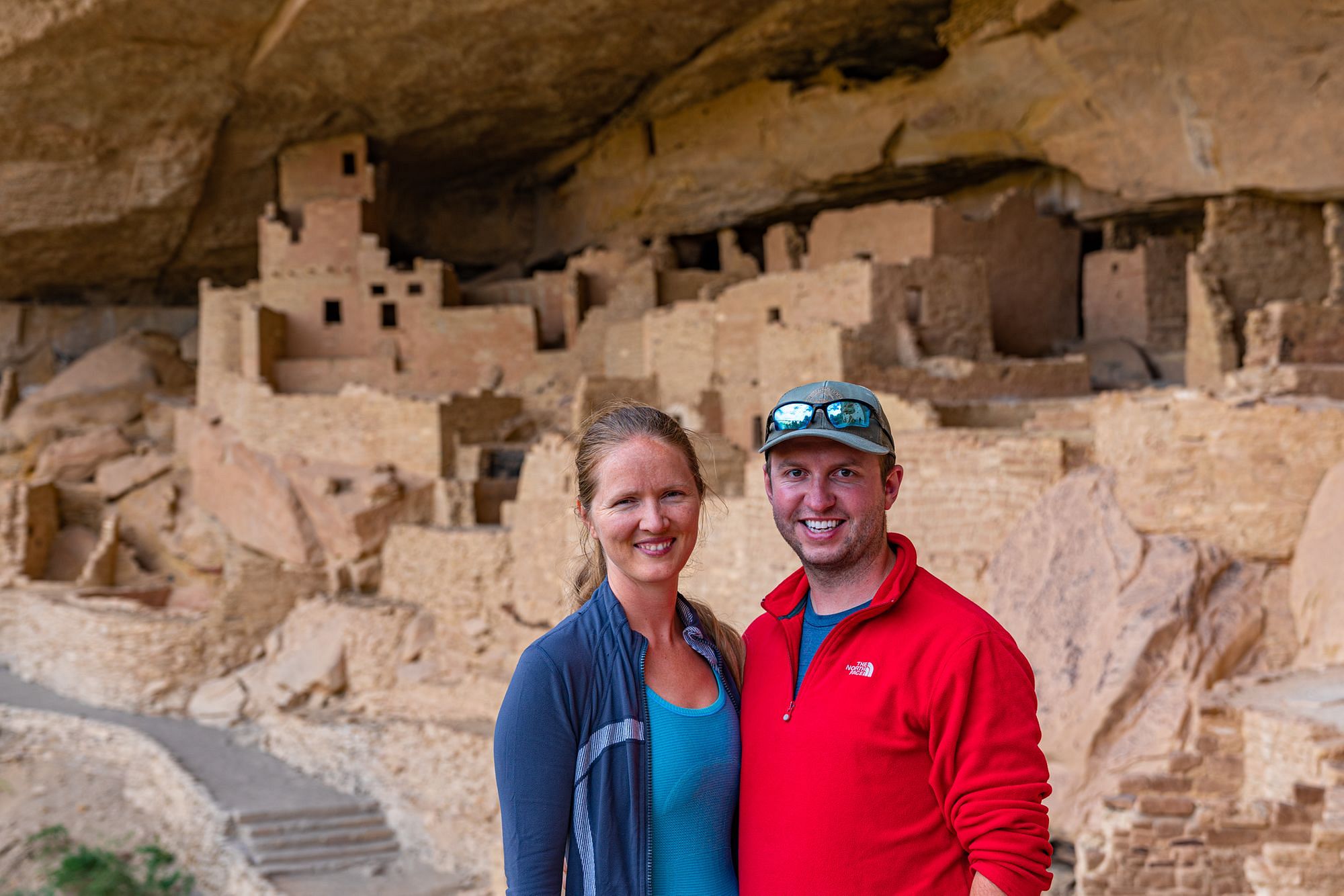 Eventually it was time to move on, and the Ranger led us out the other side as a new group appeared behind us. It was humbling to think that these dwellings are around 800 years old and are still standing today!
Spruce Tree Terrace
It was only 9am in the morning and we had lots more to explore! We drove over to the Spruce Tree Terrace where we stamped our Park Passport and picked up a guidebook for the Mesa Top Loop.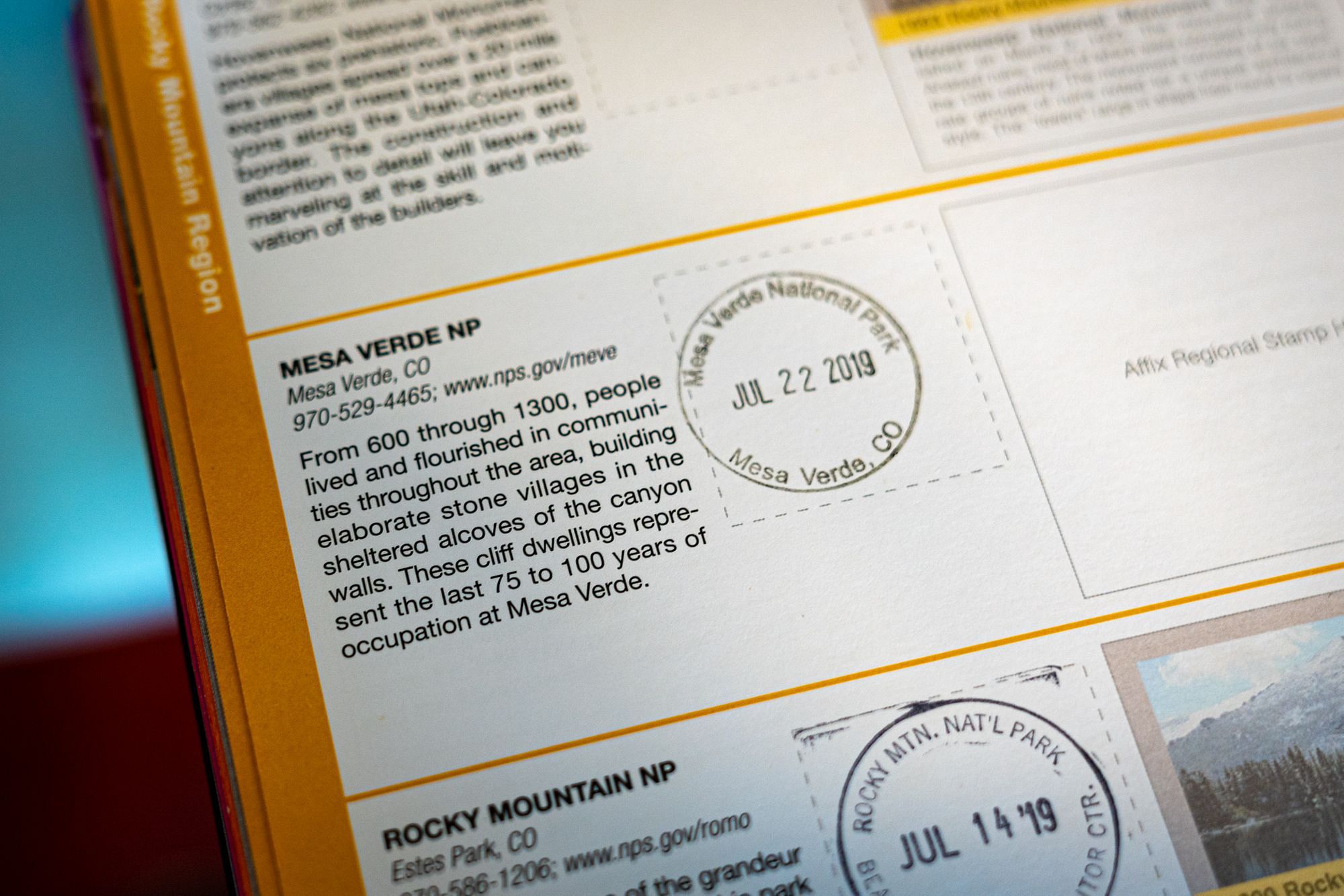 Mesa Top Loop
The Mesa Top Loop is a 6 mile scenic drive with numerous stopping points along the way. While each stop has information display signs, the guidebook provided extra interesting information.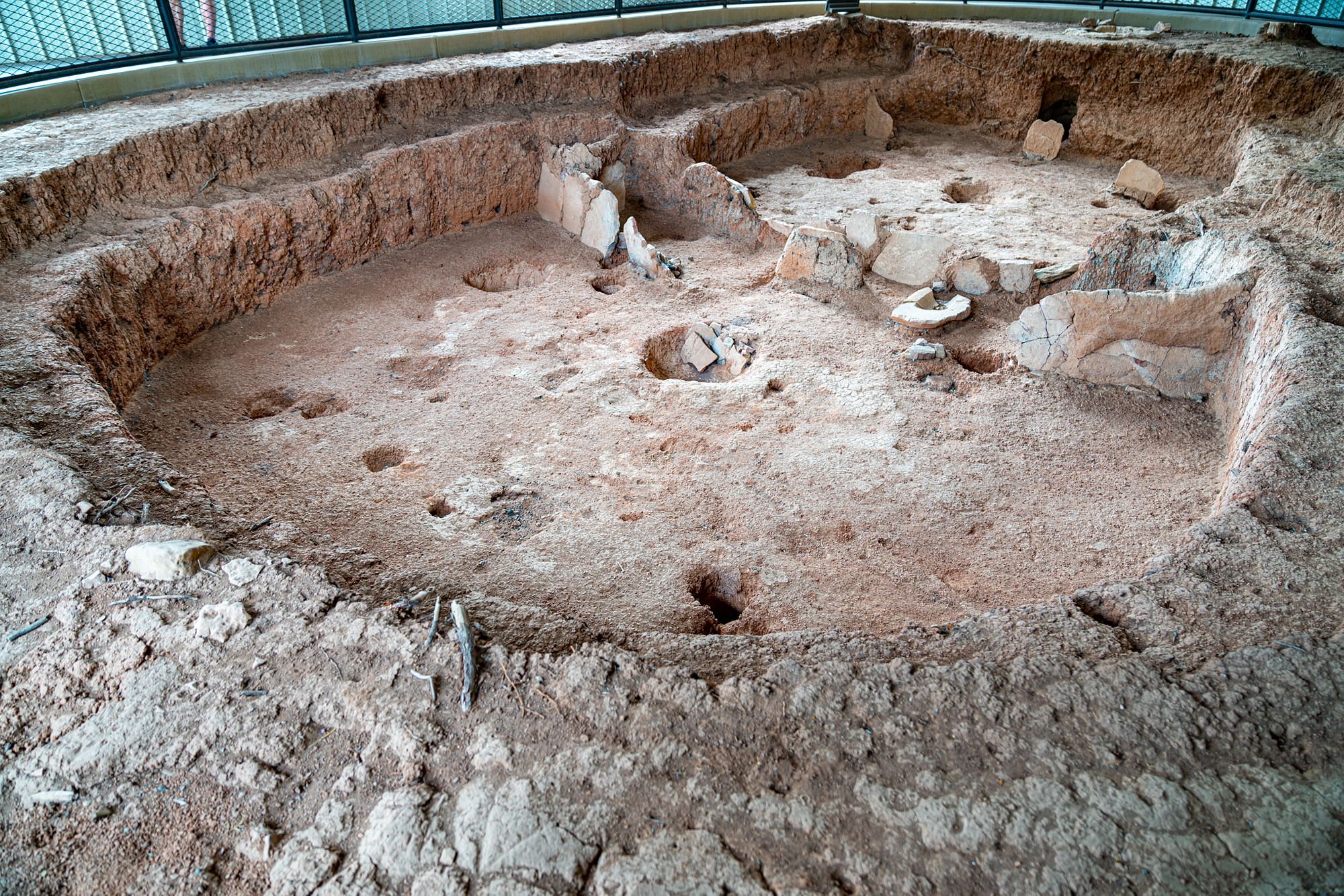 We stopped at most, but not all of the sites - some were pithouses and others were viewpoints. We particularly enjoyed the views from Sun Point View and Sun Temple where we were looking out over Cliff Canyon. Cliff Palace is situated on the opposite wall of the same canyon.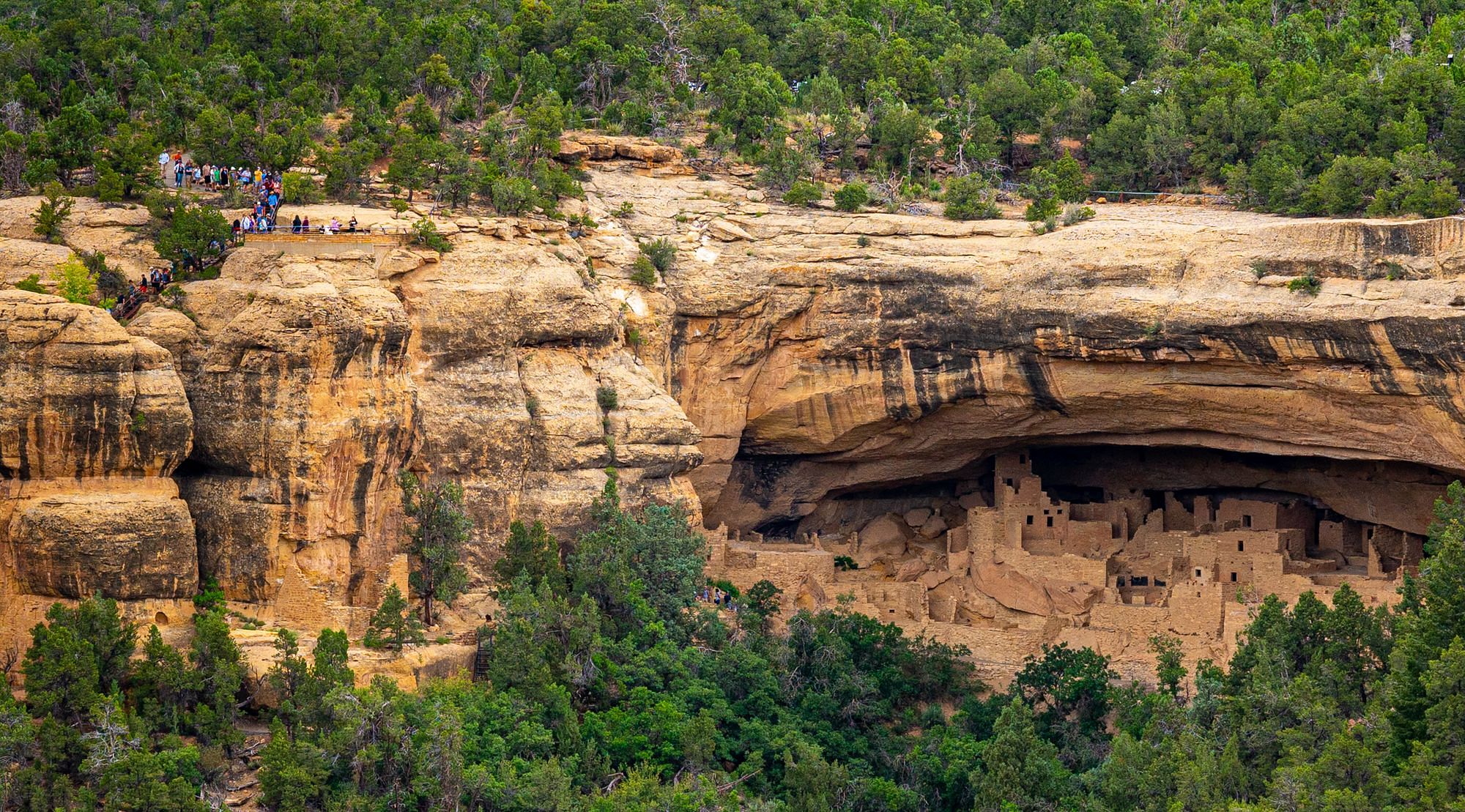 Wetherill Mesa
One thing to note about Mesa Verde National Park is that it takes a while to drive around. While the park itself isn't huge, the roads have to navigate around the canyons, and the speed limits are generally low.
Driving from Mesa Top Loop to Wetherill Mesa took 35 minutes to drive the 18 miles, even though it was only about 3 miles away as the crow flies!
There's a large parking area here and although it was summer, it was a Monday so it was much quieter than at the weekend. By the time we arrived, it was shortly before noon. There is a covered area with a gift shop and some tables, so we sat down to enjoy the lunch we had packed.
Step House
After some lunch, we set off from the car for a short hike to see the Step House. This is a short trail, just 1 mile round-trip, that begins from the Wetherill Mesa Kiosk. It's relatively steep however, with about 100ft of ascent and descent.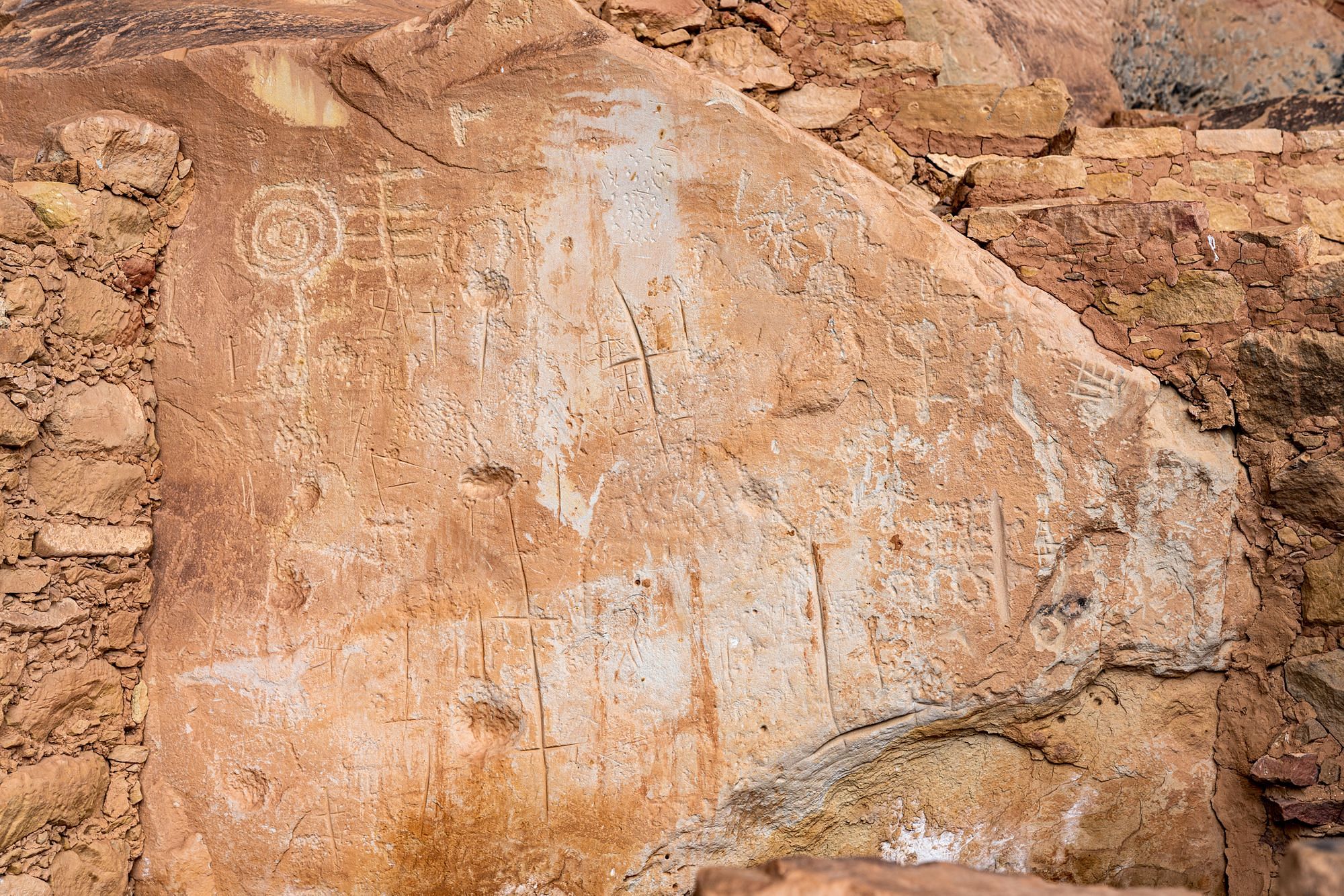 While much of Step House is crumbling, it's still fascinating to see. It was also interesting to see the inscriptions on the rock and think back to how they compared to those we've seen in other places, such as at El Morro National Monument.
Long House Loop
Our second and final trail at Wetherill Mesa was along sections of the Long House Loop trail. While the entire Long House Loop trail is paved, we hiked on some unpaved sections to see archaeological sites within the Badger House Community.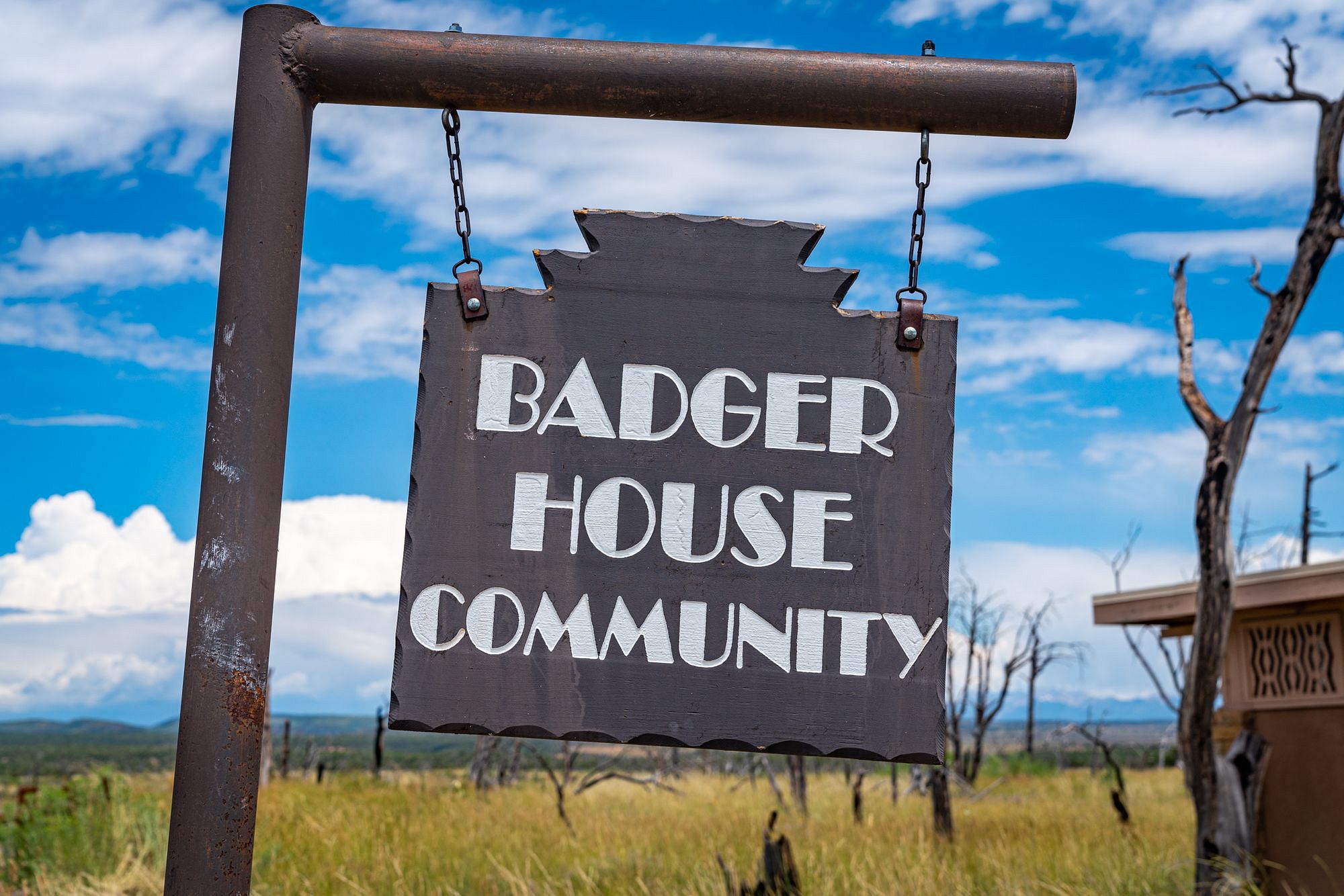 With relatively little time to explore, we chose not to hike the entire 6 mile Long House Loop paved trail all the way to Kodak House, and instead cut it short at Long House.
Tickets are required to view Long House, and since we didn't have any the best we could manage was to admire it from afar at the viewpoint facing it.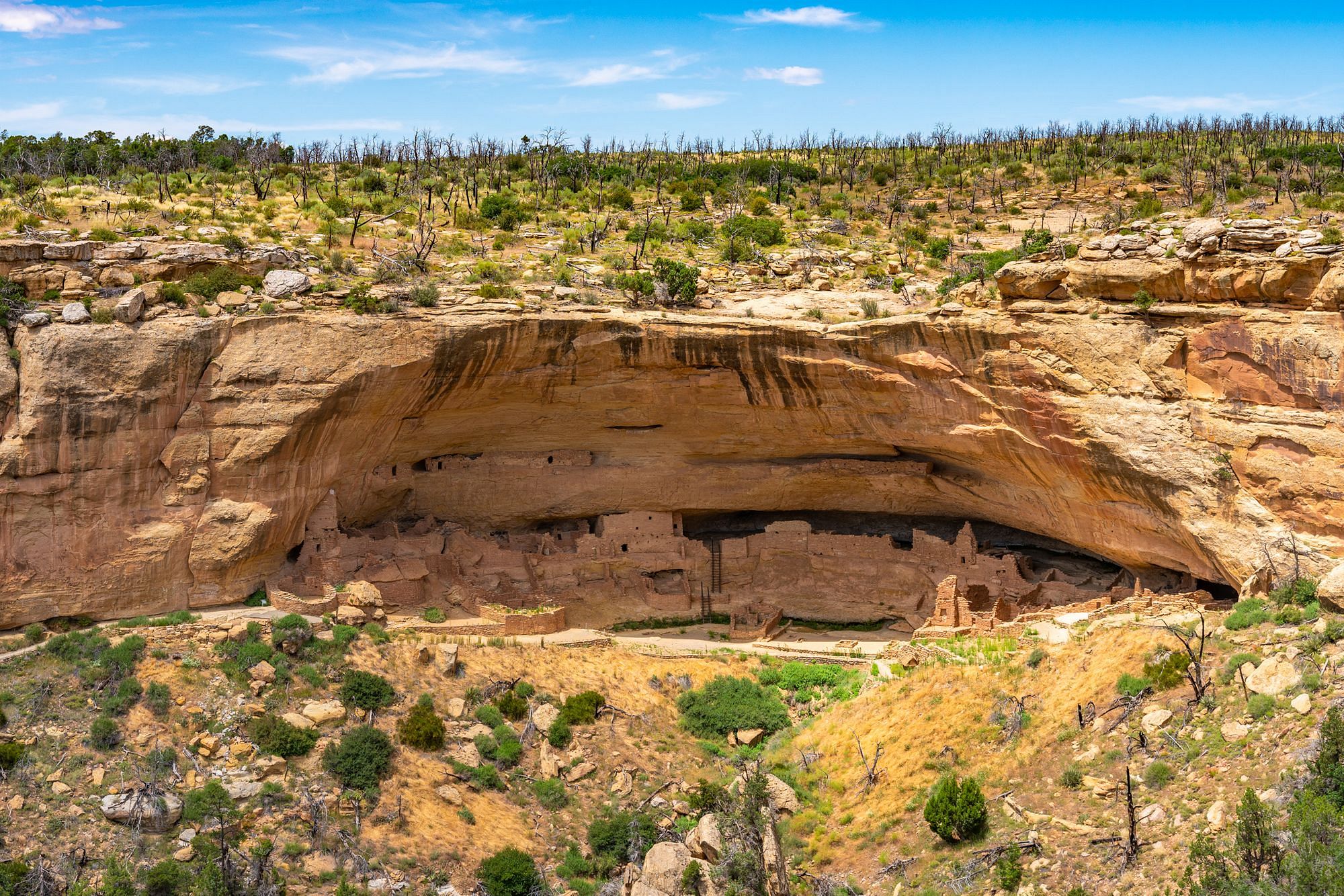 Overall we hiked about 2.2 miles out to the Badger House community and back via the Long House overlook viewpoint.
Visitor & Research Center
After hiking in the hot summer sun, we were exhausted! Rather than pushing ourselves further, we decided to call it a day. We had seen several of the highlights, and definitely whet our appetite to return and spend more time explore Mesa Verde National Park.
On the way out, we stopped by the Mesa Verde Visitor & Research Center.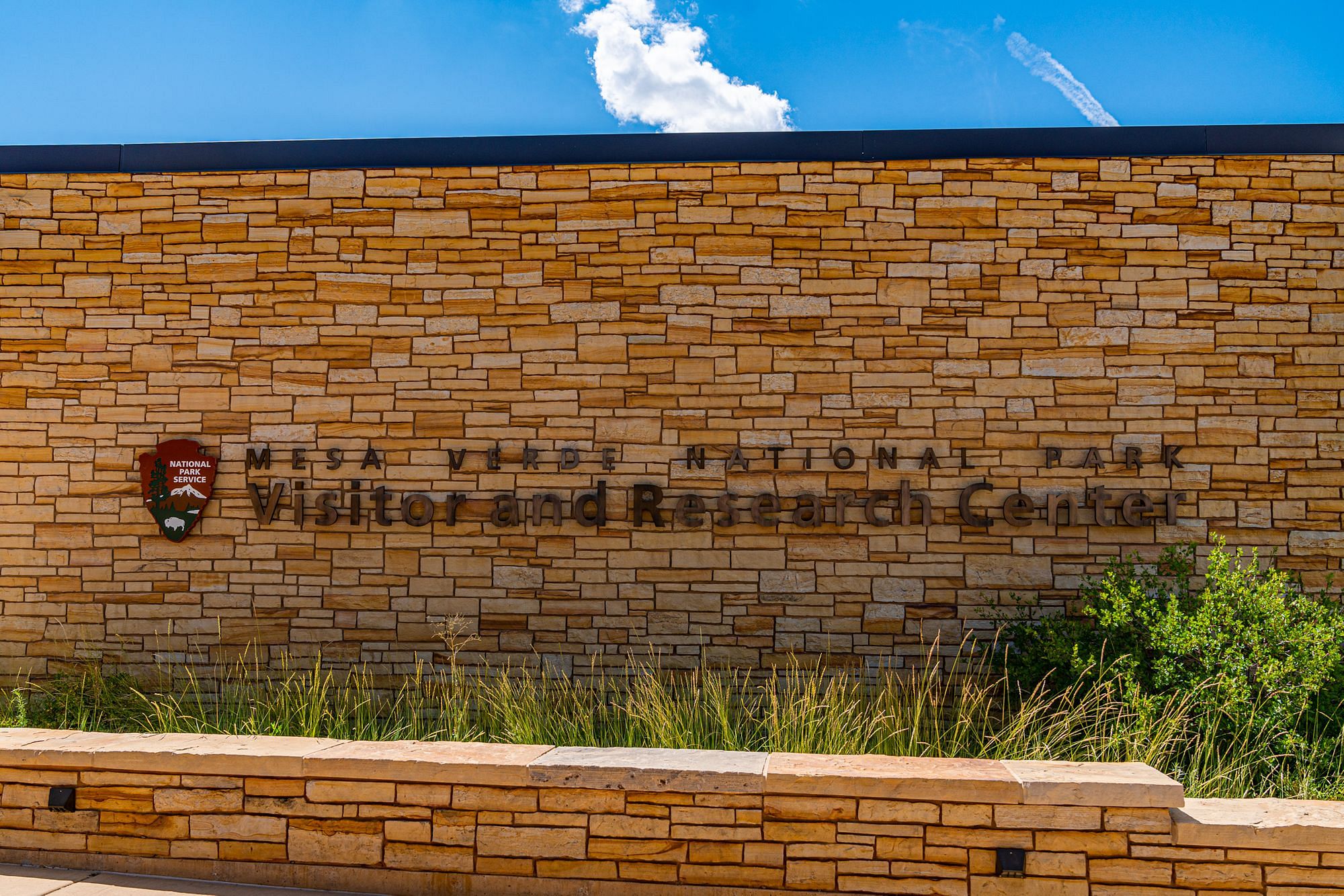 This seriously impressive facility was built in 2012 at a cost of $12.2m. It's undoubtedly one of the most impressive Visitor Centers we've seen! Situated right by the entrance to the park, just off US Highway 160, it's well worth a visit even if you don't have time to explore Mesa Verde itself.
In addition to information display signs and a very well stocked gift shop, you can also reserve tours and buy tickets here. Even though we had just finished our day exploring Mesa Verde National Park, we still enjoyed reading the signs and learning more about its geology and history.
Furthermore, it houses a state-of-the-art research and storage facility with a museum collection of over three million artifacts!
Conclusion
Mesa Verde National Park absolutely deserves its place as one of the nation's most recognizable archaeological sites. The human history preserved here is astonishing, and new discoveries are still being made today.
While its location in the Four Corners area of Colorado means it's unlikely to be an area you happen upon by chance, it's well worth a visit!
In our day of exploring we hit the highlights, but there's much more to see.
But with Jānis visiting we want to keep moving, so join us as we head east to Great Sand Dunes National Park - the one that did not go as planned!