As an Amazon Associate we earn from qualifying purchases.
We bought our 2016 Ford F-150 Platinum in California, and since then it has been registered in Texas and most recently Vermont as it's served as our daily driver, commuter, ATV-hauler, house-mover, road tripper, off-roader and for the past 3½ years our travel trailer's tow vehicle.
It's just about to roll over 100,000 miles, so I've decided to treat it with a few little mods and upgrades, in addition to its scheduled 100k service. The first of these is something I probably should have been paying far more attention to long before now - our cabin air filter.
Cabin Air Filter
Unlike the engine air filter which filters air used for combustion in the engine, the cabin air filter is an integral part of the vehicle's HVAC system and filters the air that you breathe inside the truck cab.
A good cabin air filter will remove dust, pollen and other harmful pollutants from the air before they reach the cab, protecting the driver and passengers, particularly in heavy traffic, on dusty roads, or in areas impacted by wildfires.
As with any air filter, they need periodic replacement, but they're not necessarily something that may be replaced by your dealer or auto shop when you take it in for a regular service or oil change.
In fact, I honestly have no idea if or when my cabin air filter has ever been replaced! Definitely time for a new one.
Microgard 4107HP
An easy option would be to install an OEM part like the Motorcraft FA1883 air filter. It's a solid choice, and honestly I have no complaints about the air filter we have (even as old as it is!).
However I wanted to see if I could find something a little better. After purchasing an Airthings View Plus air quality monitor for our RV in December, we've become acutely aware of the air quality around us - even bringing the monitor with us on our road trip to Florida and Texas!
The first option I stumbled upon was the Bosch 6081C which has a HEPA air filter and can provide filtration efficiency of 99.97% at 0.3 microns - pretty good!
But as I continued my research I came across the Microgard 4107HP cabin air filter. The Microgard 4107HP not only matches the Bosch HEPA filtering but adds an activated carbon layer to absorb odors, gases and other pollutants.
Reviews seemed generally very positive, the only common negative theme being a reduction in airflow (and hence cooling ability) as a result of the more restrictive filter. Even though we're in Florida right now, we live in Vermont and so maximum cooling ability isn't necessarily a major concern.
So I decided to take a gamble and picked up a Microgard 4017HP HEPA cabin air filter for $25 at O'Reilly Auto Parts, favoring the additional filtration even at the risk of reduced cooling ability.
F-150 Install
For reasons I doubt I'll ever truly understand, replacing the cabin air filter in a Ford F-150 isn't a trivial exercise - unlike the engine air filter which takes about 15 seconds and no tools.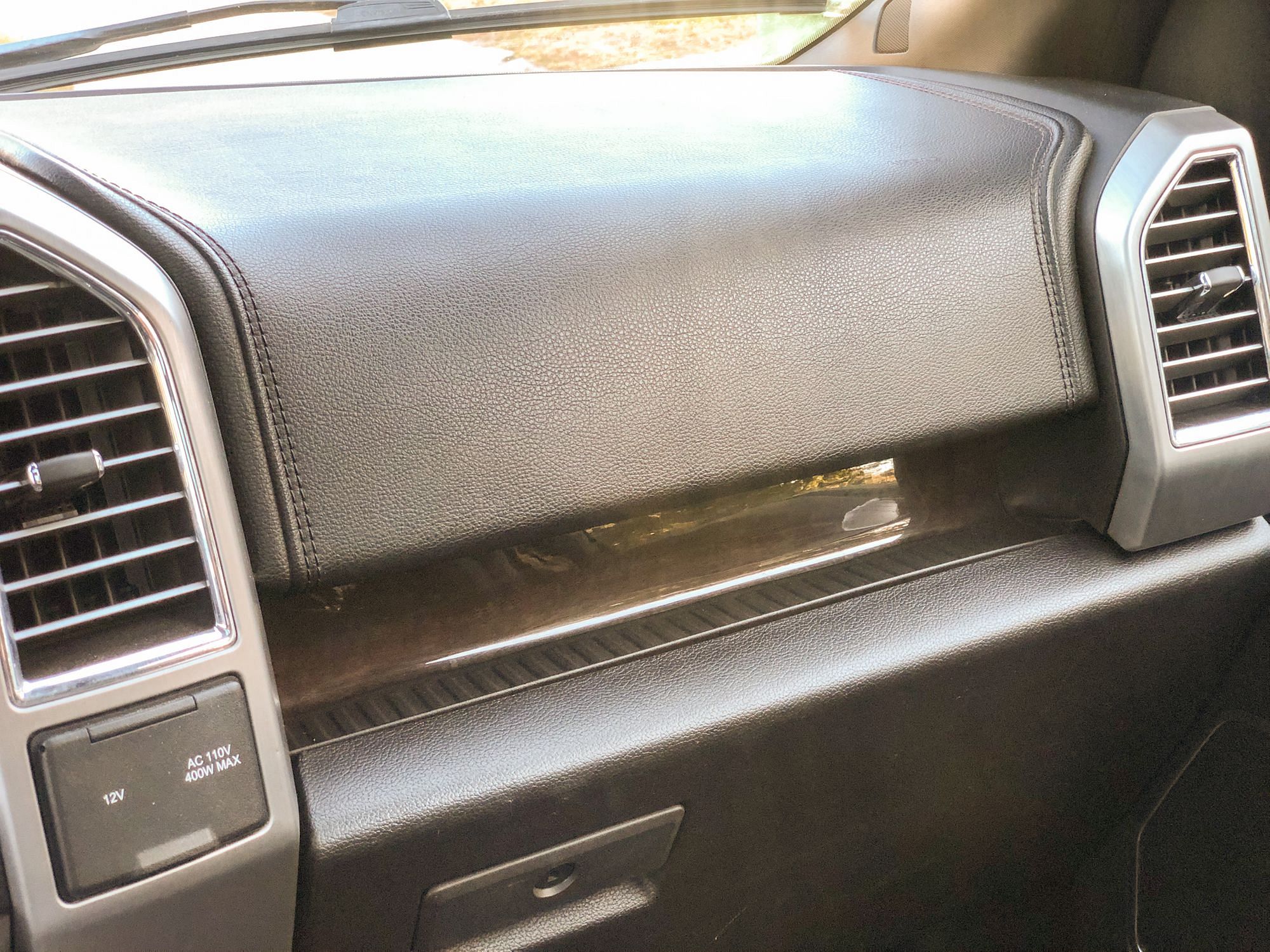 The cabin air filter in an F-150, as with many other vehicles, is located behind the glove box on the passenger side of the vehicle. Accessing it means partially removing the glove box assembly, requiring plastic trim tools and a 7mm socket.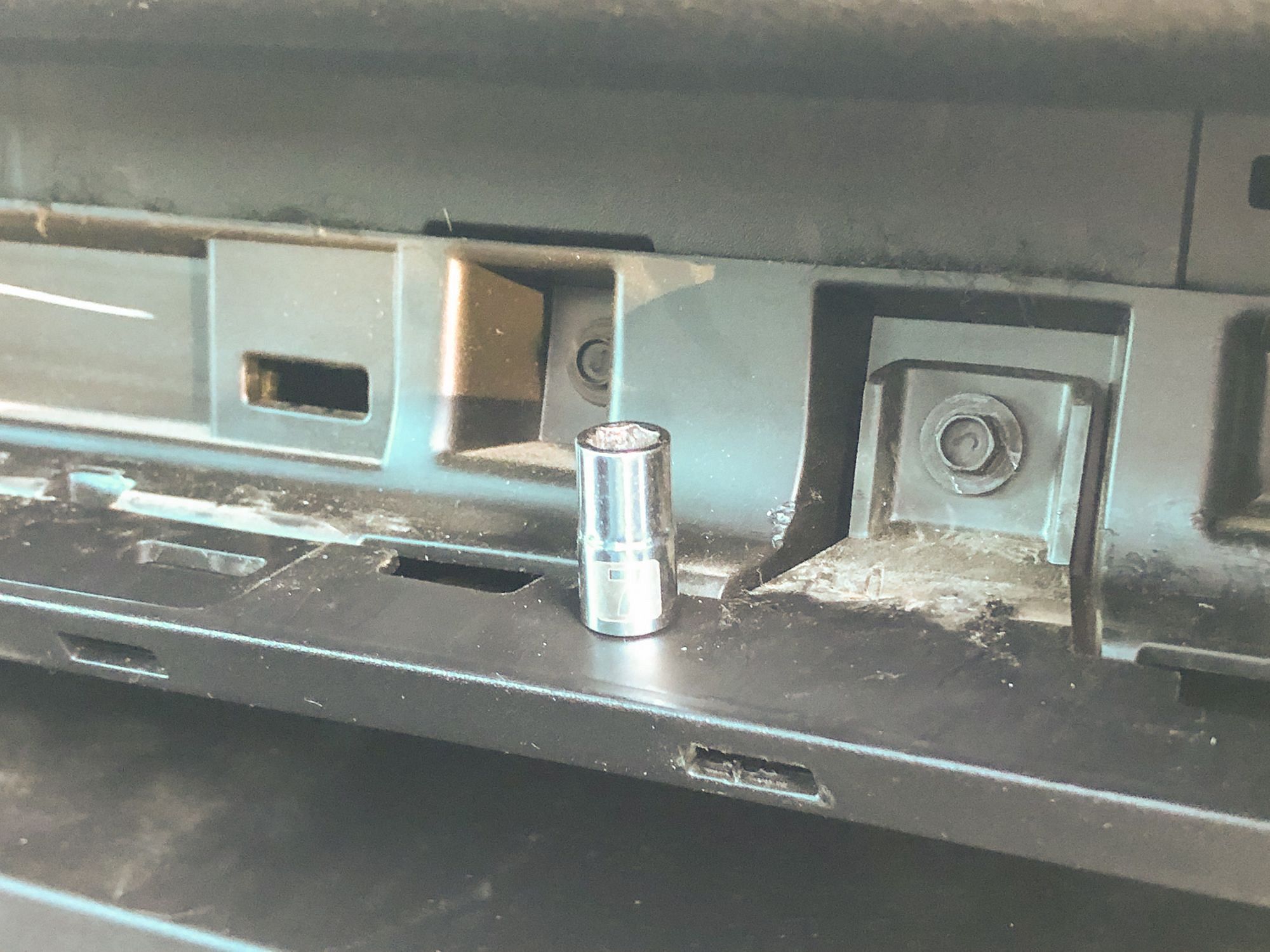 I picked up this SunplusTrade Trim Removal Tool Kit several years ago when I added the upfitter switches to the truck, and they've come in useful on many occasions since then - including this one!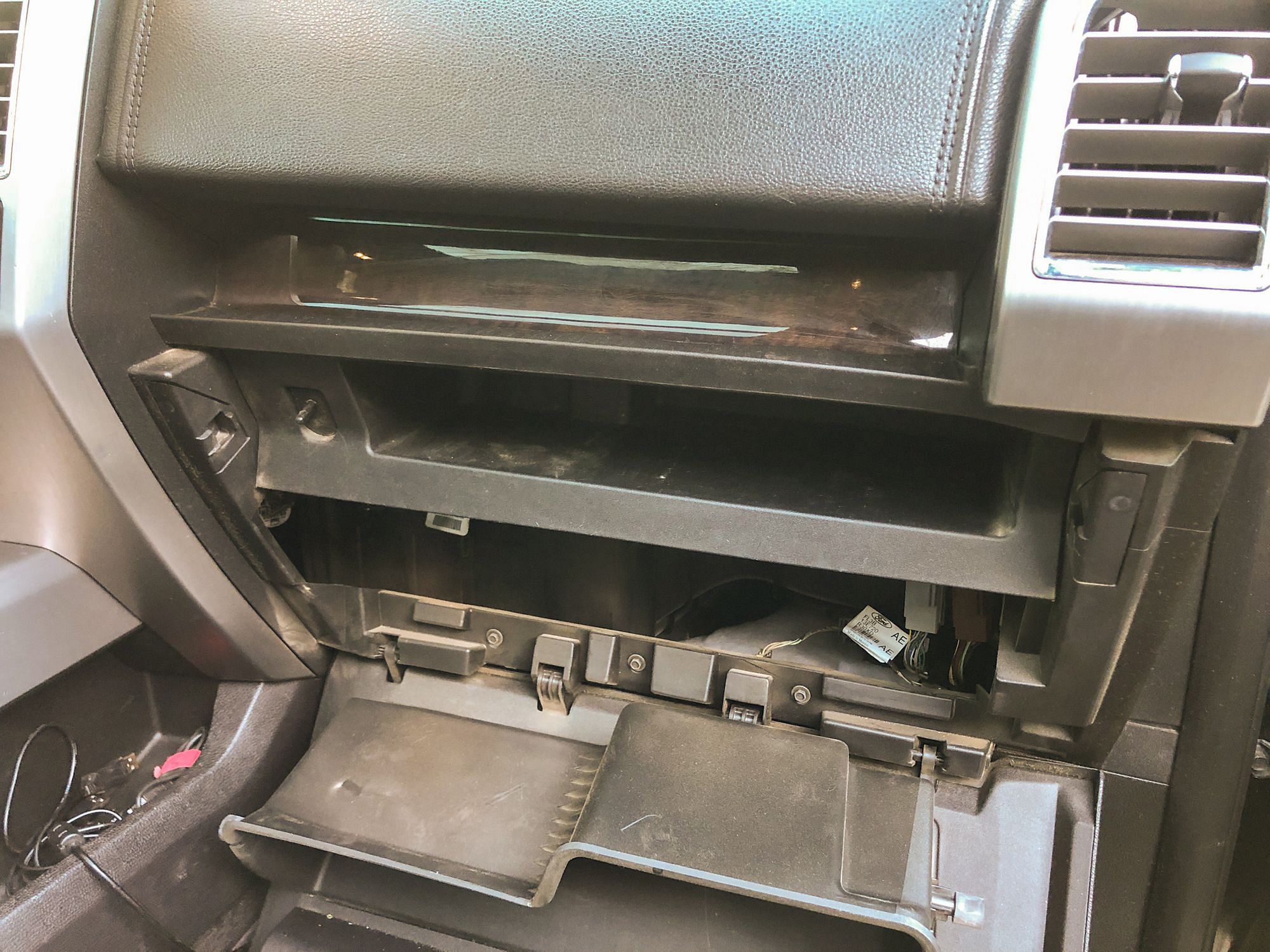 Rather than stepping through the process in this blog post, I'll instead just refer you to this exellent YouTube video by dial2fast that I used:
In summary, the steps are:
Open the glovebox, disconnect the latches and fully drop the door down
Remove the rubber tray
Remove the plastic trim piece (this was by far the trickiest part and you will need trim removal tools for this)
Unscrew and remove the glove box trim
Remove the cabin air filter door
Replace the cabin air filter
Reverse the steps above to reassemble the glove box
In total, it took me about 15 minutes to do - including the time taken to find my tools in the truck bed!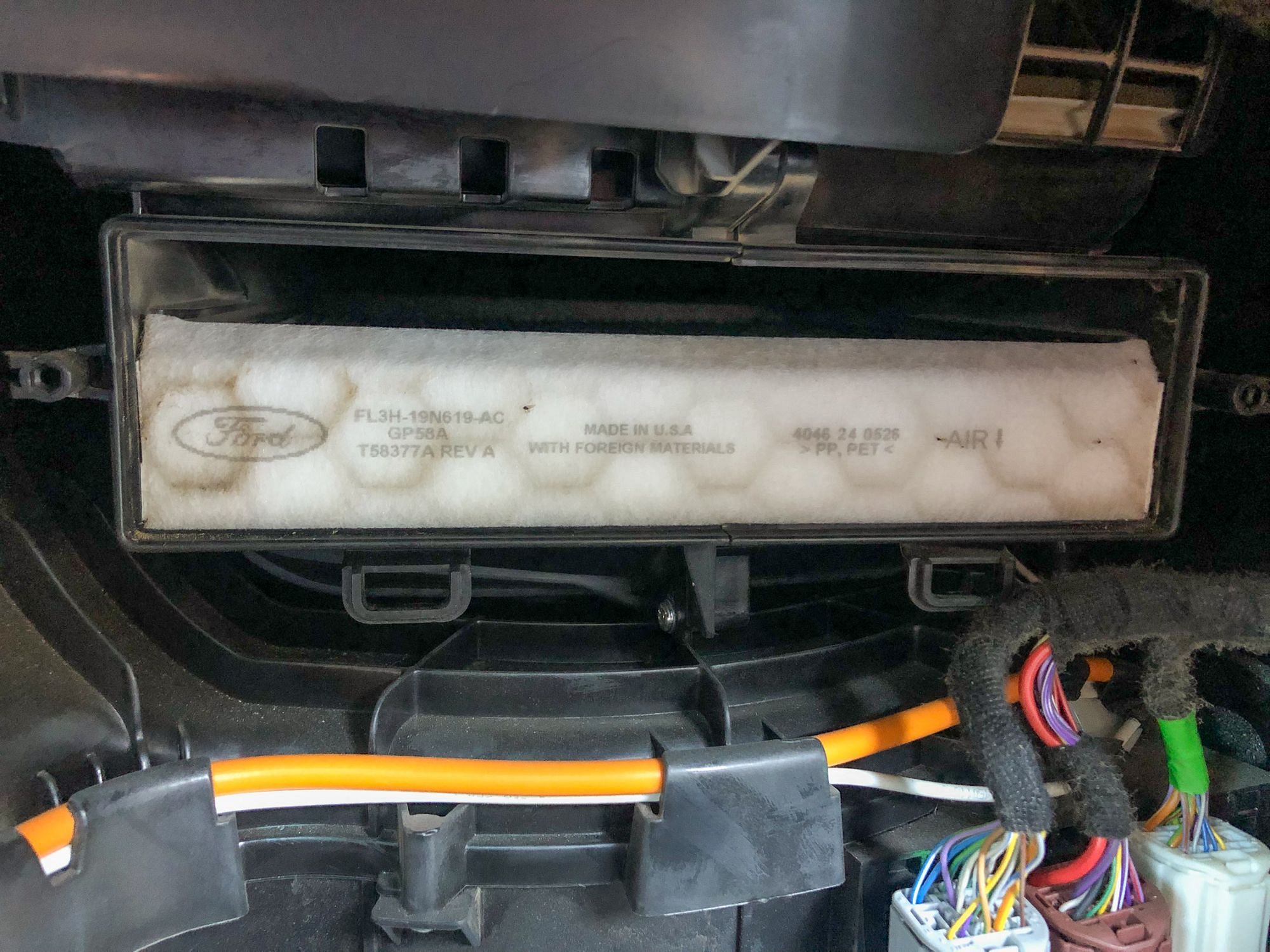 The old filter was absolutely disgusting - as I said at the start of the blog post, I have no idea when it was last replaced, but my guess is a long time ago!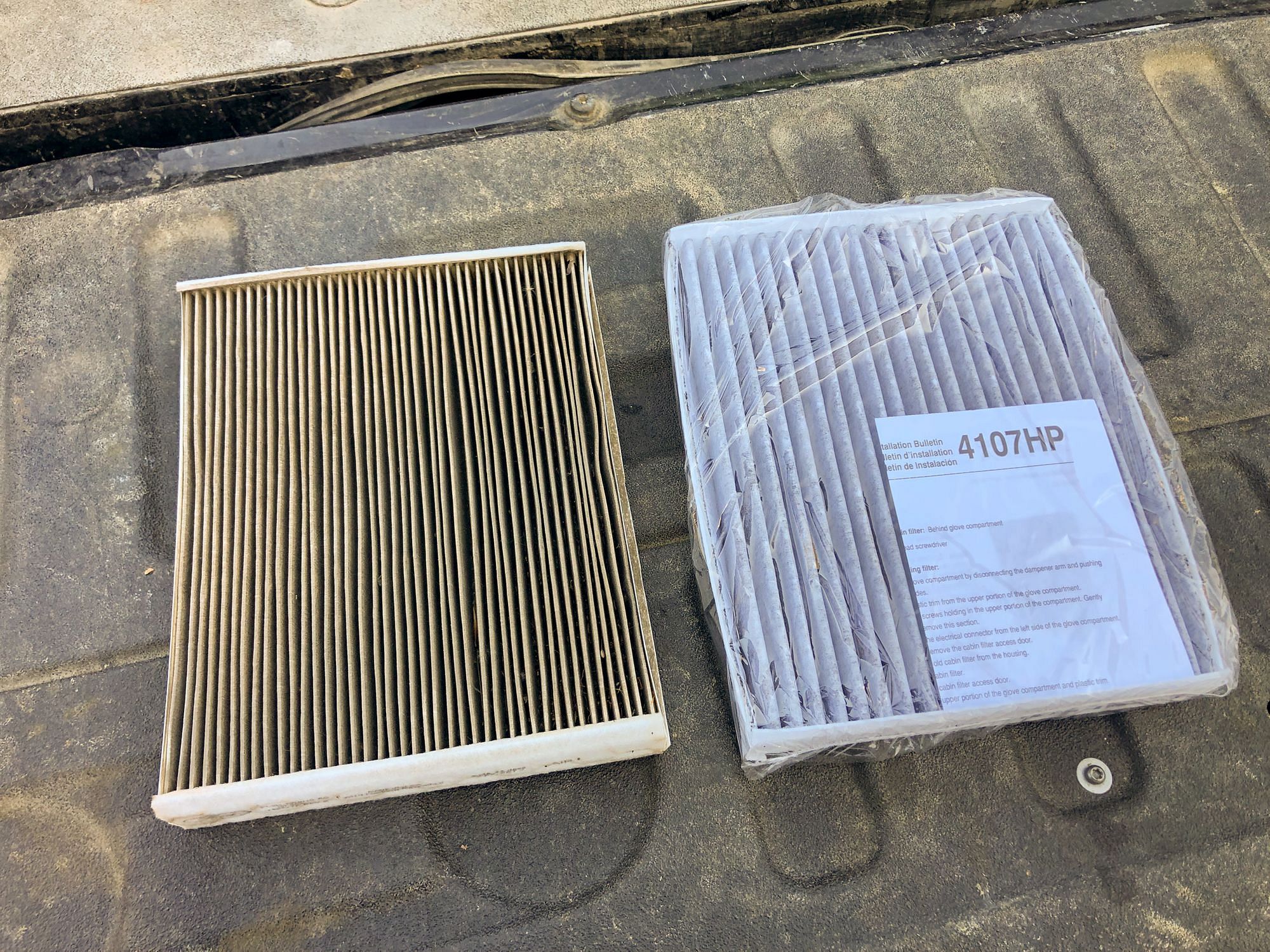 With the new filter installed and everything re-assembled, I tested the A/C to make sure everything was working.
I realize it's not a very scientific test, but I honestly couldn't detect any different in airflow between the old and the new - although given how clogged my old air filter was, maybe it's not the best comparison!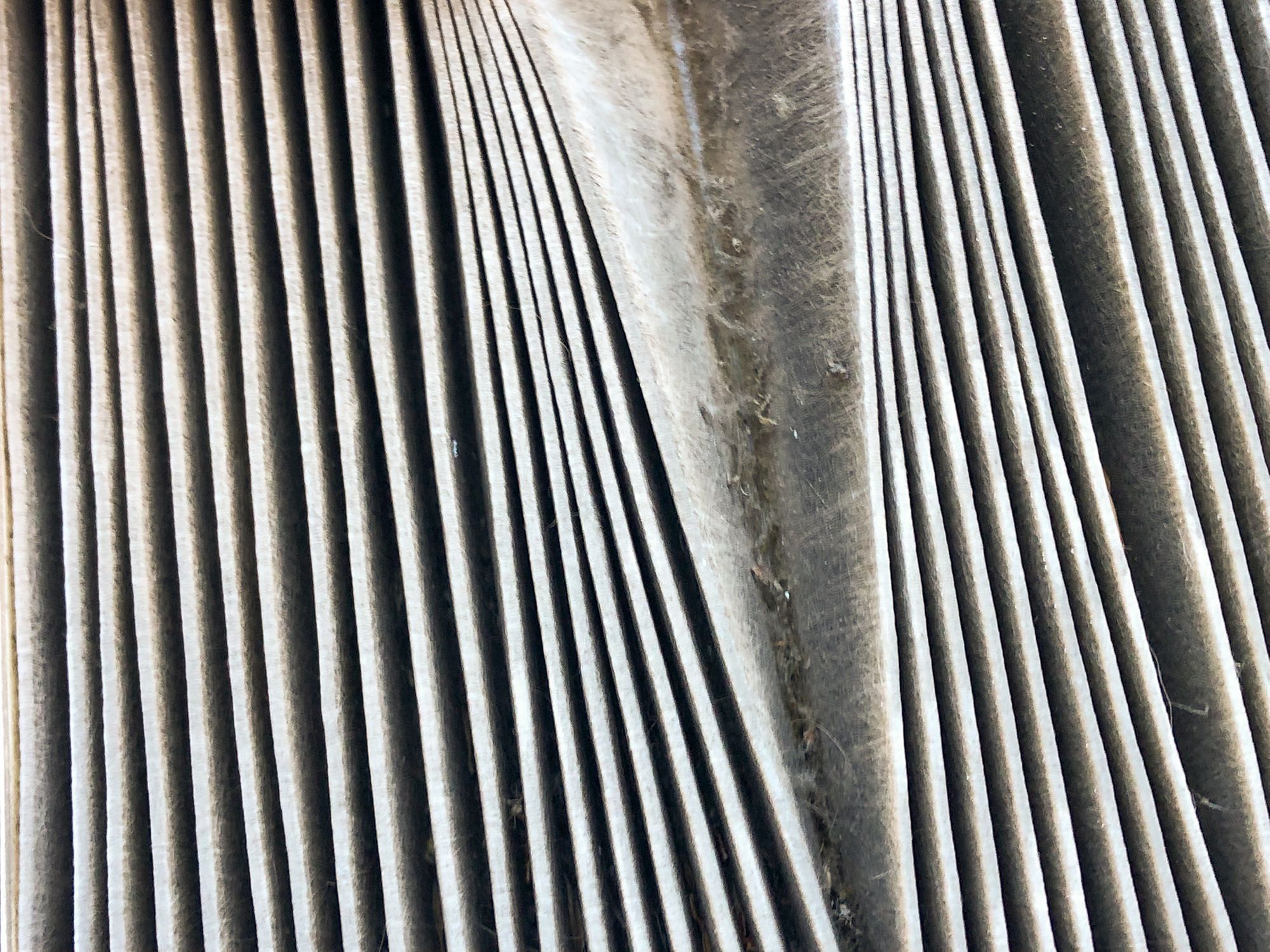 Summary
Although replacing the cabin air filter isn't as straightforward as replacing the engine air filter, it's definitely something I'm going to be more diligent about in future, and make sure we change our cabin air filter at least every 10-20,000 miles.
From our initial testing and driving around, the Microgard 4107HP HEPA cabin air filter seems to be working just fine, and we haven't noticed any particular reduction in cooling ability.
If you don't know when your cabin air filter was last changed, then consider this a gentle prompt to do it yourself or ask your dealer or auto shop to do it at your next service.