As an Amazon Associate we earn from qualifying purchases.
If you've seen some of our recent blog posts, you'll know that we've been busy working on some projects on the property.
First, we were very excited about the arrival of our new sawmill! It took us a couple of days to assemble it, but it's important to do this carefully - if it's not square, level and flat, nothing we mill ever will be either!
With the sawmill assembled, we immediately began milling! Our first project was simple - milling some spruce to create the stickers and cants we need to stack our lumber for drying. We were briefly distracted and built some saw horses too - these have already proven themselves incredibly useful!
Speaking of drying lumber, we're building a solar kiln! We bought some pressure treated lumber and sheet materials to build the floor assembly, but the rest we'll be building out of our own lumber.
Milling Pine
We won't have time to frame the solar kiln before we leave Vermont and head south in just over 2 weeks time, but we do want to try and mill all the lumber we'll need for it so it can begin drying over winter - yes, despite the extreme cold, lumber can still dry during winter!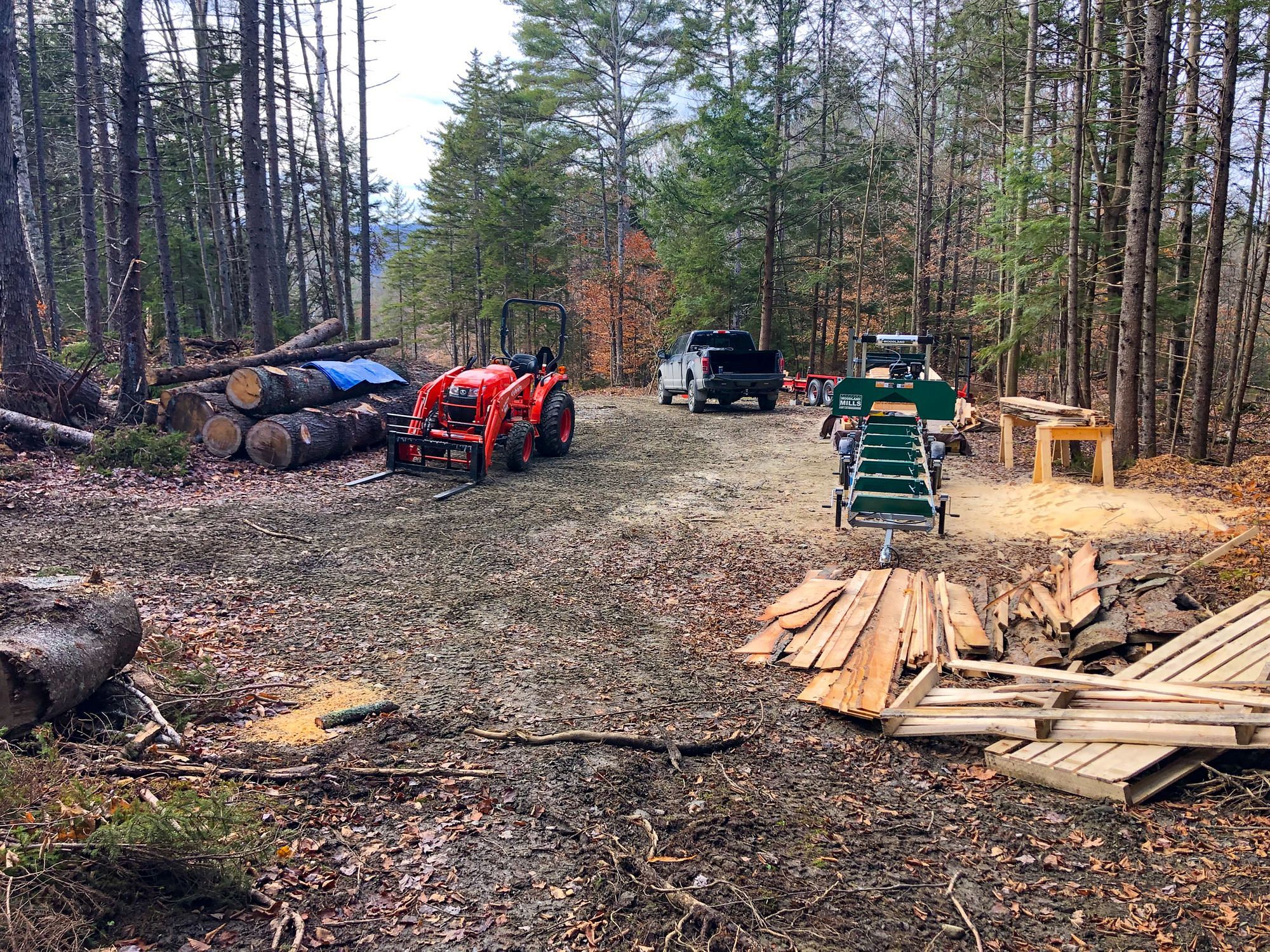 We're going to build the solar kiln mostly out of pine - 2x4s for the framing and 1x material for the board-and-batten siding. The solar kiln is just under 19ft long and about 6.5ft wide, so we need to mill a lot of lumber!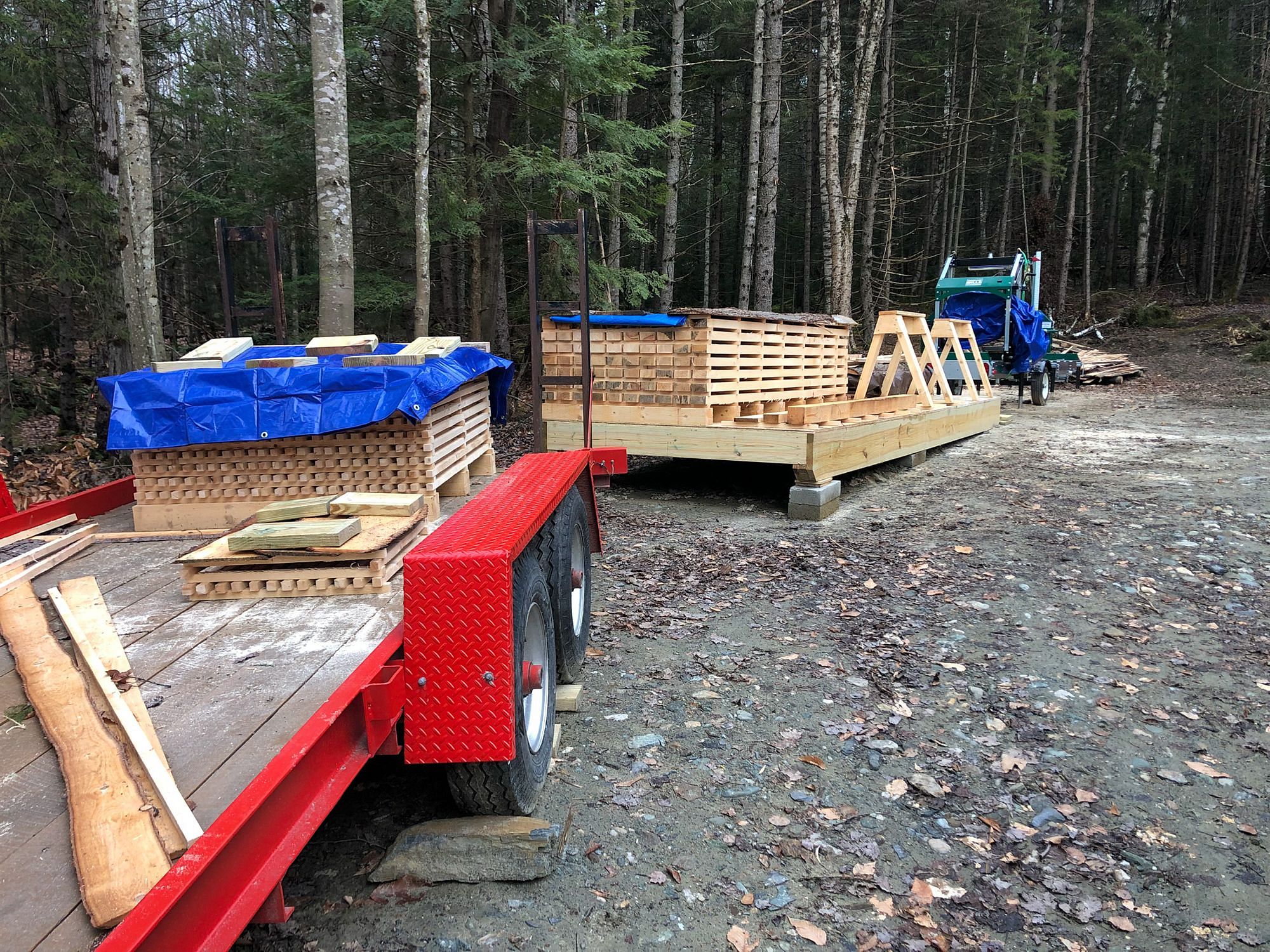 As a result, we've spent almost every dry day at the property, milling the logs from trees that were cleared for our driveway. We're still new to milling so we're taking it slow and steady - learning as we go and getting a little quicker each time.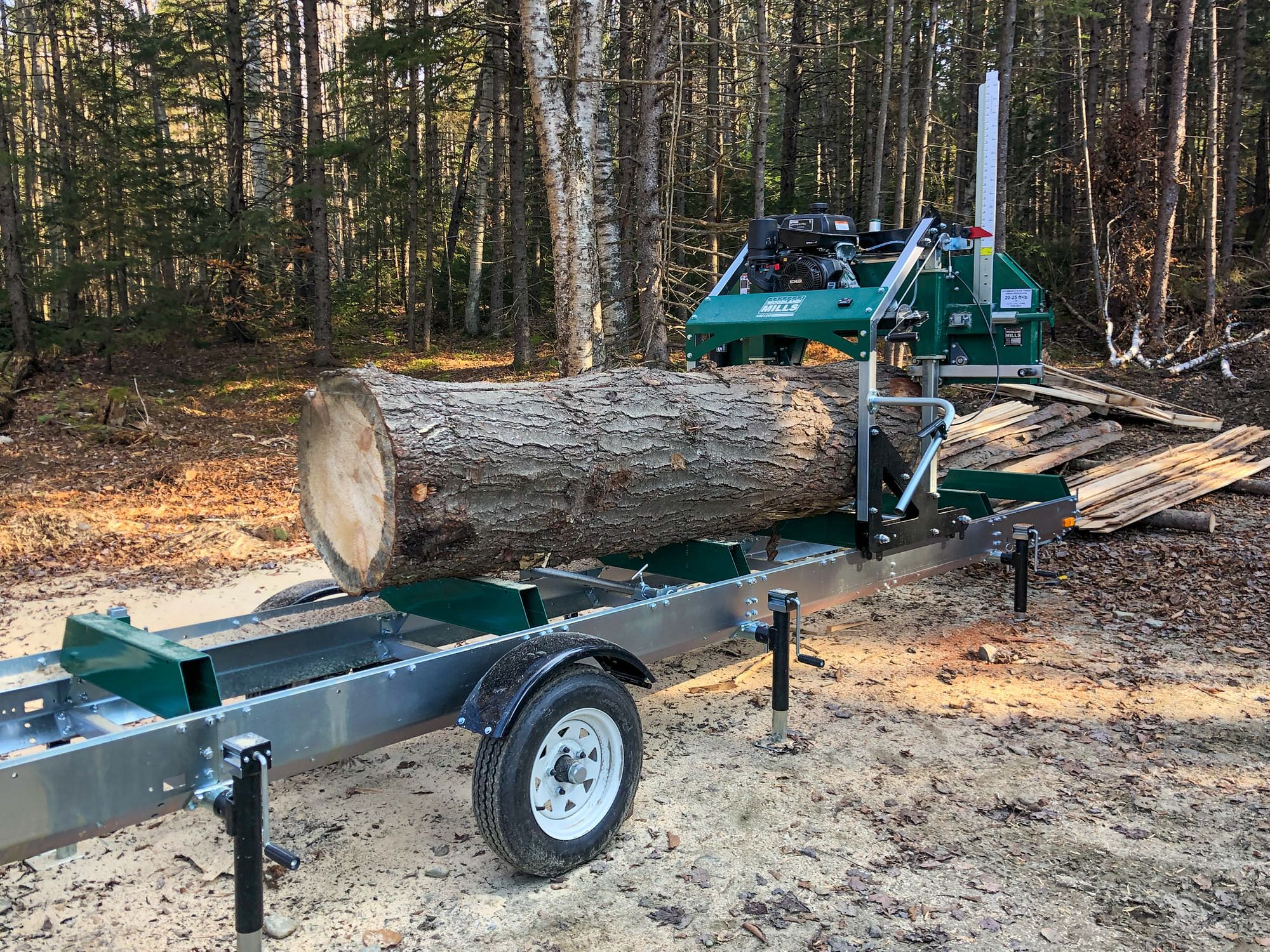 Even so, the sum total of our efforts so far means we've probably milled less than 10% of the logs we have!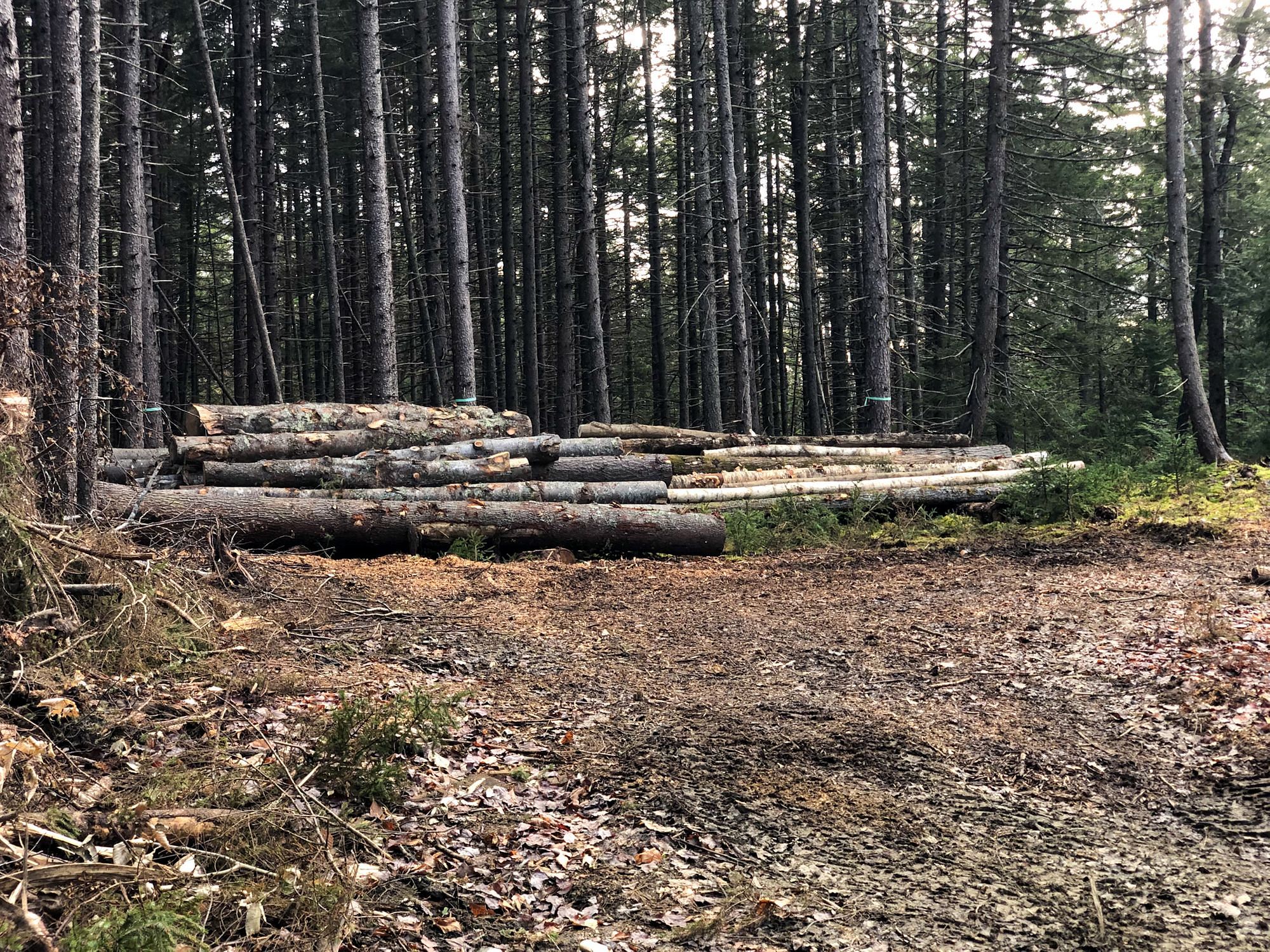 We've set ourselves the timeline of Thanksgiving to mill as much as we can by then. We're heading south for winter with the RV on December 1st, so that gives us a few days to get everything packed up and ready to leave.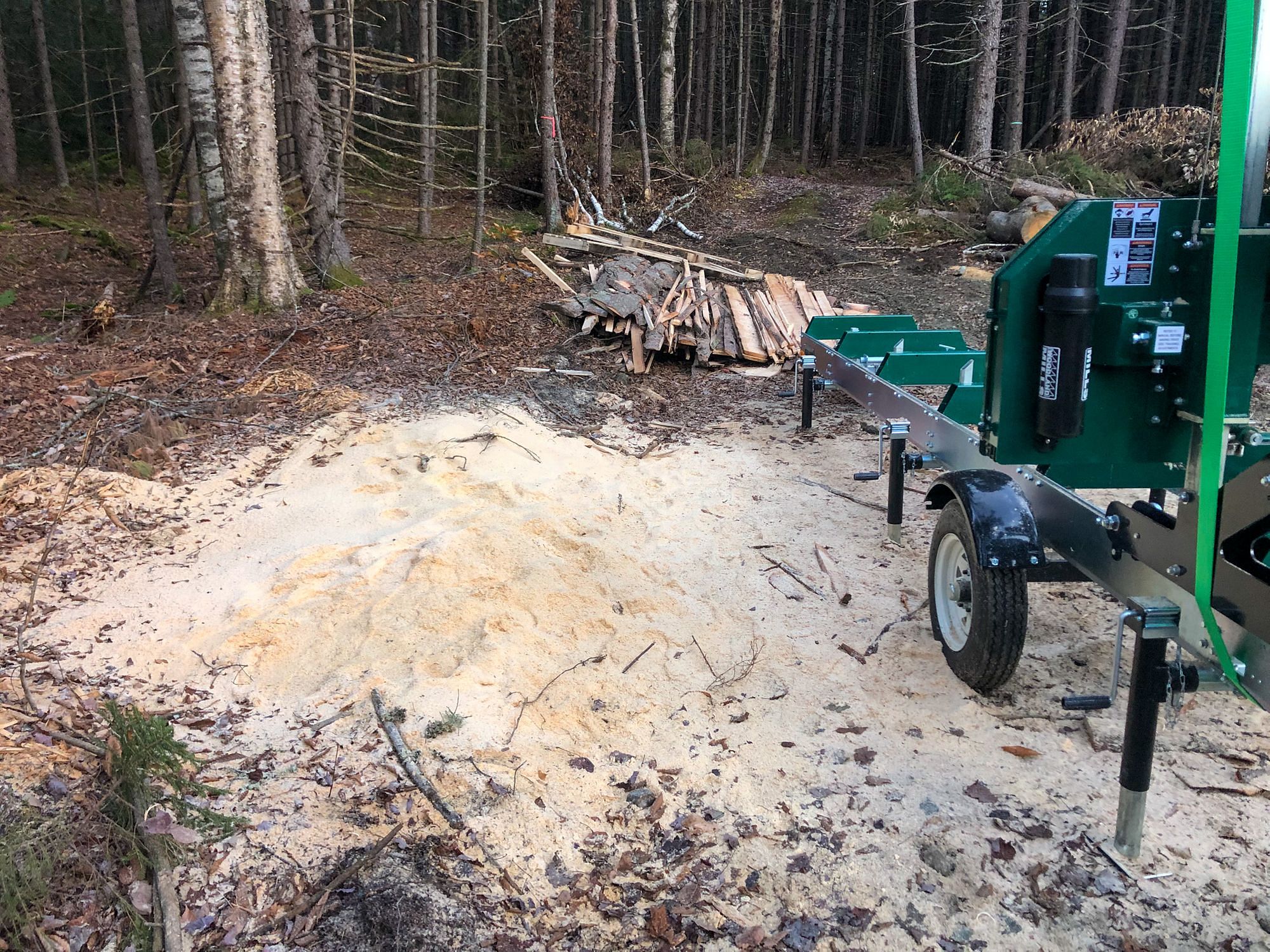 Heated Storage
A month or two ago we took delivery of a rented 40ft high-cube shipping container.
It's been immeasurably useful for storing all our tools and materials - things that we were previously transporting back and forth every day in the truck bed. It's also given us room to store things that were previously in an unheated storage unit nearby - things like our solar panels and the foam insulation board that's now part of the solar kiln!
In fact, it's even big enough that we've been parking the tractor in there each evening - keeping it a little more secure as well as protected from the elements.
But the shipping container, obviously, isn't heated - and that means it's going to freeze this winter. The freezing temperatures mean that condensation could be a real challenge, especially for any expensive tools left inside.
So after much consideration, we've rented a 5x15 heated storage unit nearby. While we'll still leave the tractor and sawmill inside the shipping container this winter, we'll move all our tools and anything else valuable to the heated storage unit where they'll stay safe and warm until we return in spring.
When we moved into our RV 3 years ago, we rented a climate-controlled storage unit in Houston, TX.
This winter, we're planning to drive down to Texas (without the RV), empty that storage unit and bring everything back here to Vermont. So although 5x15 is larger than we need right now, the extra space is needed to fit everything from our 5x8 unit in Texas.
Canceling our Grapple
You may recall we've mentioned a few times that we ordered a grapple from Everything Attachments for our Kubota L3901 tractor. Well, after some discussion, we've canceled our order.
We originally placed our order on June 14th, despite an estimated lead time of 14 weeks which meant a delivery date in mid-to-late September. Unfortunately, our order has been delayed again and again. Based on the latest information we have, it probably won't ship until early December, after we've already left Vermont for winter.
To be clear, I'm not blaming Everything Attachments at all. They, like so many other businesses, are struggling with supply chain challenges and unprecedented demand. I also don't feel too bad about canceling the order (they were totally fine about it) - when I spoke to them in late August, our order was about halfway down an order list totalling about 600.
We did consider having them hold our order until spring and ship it once we were back in Vermont, but the delay isn't the only reason we canceled.
The reality is that a grapple would make some tasks with the tractor much easier - carrying logs, moving brush piles, etc. But that's just the thing - it makes them easier, but we can already just about manage with the pallet forks and bucket. Yes, a hydraulic grapple would be easier than forks, but we've learned to manage.
Given the grapple costs over $2,300, that's a lot of money to spend to just make something easier! We can always change our mind later and order a grapple, but for now, our order is canceled.
Wood Chipper
We've talked about wood chipping so much on our blog and YouTube channel that we sometimes joke we're turning into a wood chipping channel!
But the reality is that wood chipping is a great way to dispose of a lot of our forest waste, and wood chips are really useful for us - for spreading on our trails, mulching areas near the driveway, and allowing to compost for garden projects later.
Plus, with the sawmill, we're starting to produce a ton of offcuts. Sure, some of them we can burn in campfires, but we've already got a lot of firewood for that!
Our approach so far has been to wait until we've got lots of chipping to do, then rent the 6" or even the 9" wood chipper from Essex Equipment and churn through as much as we can in a day. These are powerful chippers and this approach does work well, but there are some drawbacks.
First, is cost. Renting the 9" chipper costs well over $200 per day, and the 6" chipper isn't much cheaper.
Second, is convenience. We have to leave our RV around 5:30am to collect the chipper when they open at 7am so we can have it for as long as possible before returning it by 5pm when they close. Plus we are reliant on its availability - we tried to rent it last week, but the soonest they could do was more than a week out. Booking that far out is a gamble on the weather if nothing else!
Third, is intensity. By this I mean that chipping is hard work, and doing nothing but non-stop chipping for a day is tough! We've never been brave enough to try multiple days in a row!
So, we've come up with a new plan. We're going to buy our own wood chipper!
Rather than the tow-behind chippers like we've been renting, we're planning to buy one that connects to the 3-point hitch on our tractor and is powered by the Power Take-Off (PTO) on the back of the tractor too. Specifically, we're looking at the Woodland Mills WC68 - yes, the same company that makes our sawmill.
The Woodland Mills WC68 can chip wood up to 6" diameter, which honestly is perfect for 95% of what we need. Our tractor puts out just over 30hp on the PTO shaft, right in the middle of the specs for that chipper. By comparison, the 6" chipper we've been renting has a 25hp engine and the 9" chipper has a 35hp engine.
We know it won't likely be as powerful as the tow-behind chippers we've been renting, but we won't have to pay to use it each time (other than diesel in the tractor), and we can use it whenever we want, even just for an hour or so. We can always rent the big 9" chipper for a day from time to time if we do have some really big stuff too.
There is a lead time of about 1-2 months at the moment, so we'll order it early next year so it's ready for when we return to Vermont.
Miter Saw
Building a house requires a pretty comprehensive set of tools, and I've learned over the years that having the right tool for the job isn't just more productive, it's also often safer and leads to better quality results.
As I'm sure most people are all too aware of, lots of things are backordered right now - not just grapples and wood chippers!
One tool we know we'll need is a miter saw. I know, a lot can be accomplished with a circular saw but there are situations when a miter saw is a better choice. Specifically, we wanted the Dewalt DHS790 - a 12" sliding double bevel miter saw that's powered by two Flexvolt batteries! Yes, a cordless miter saw!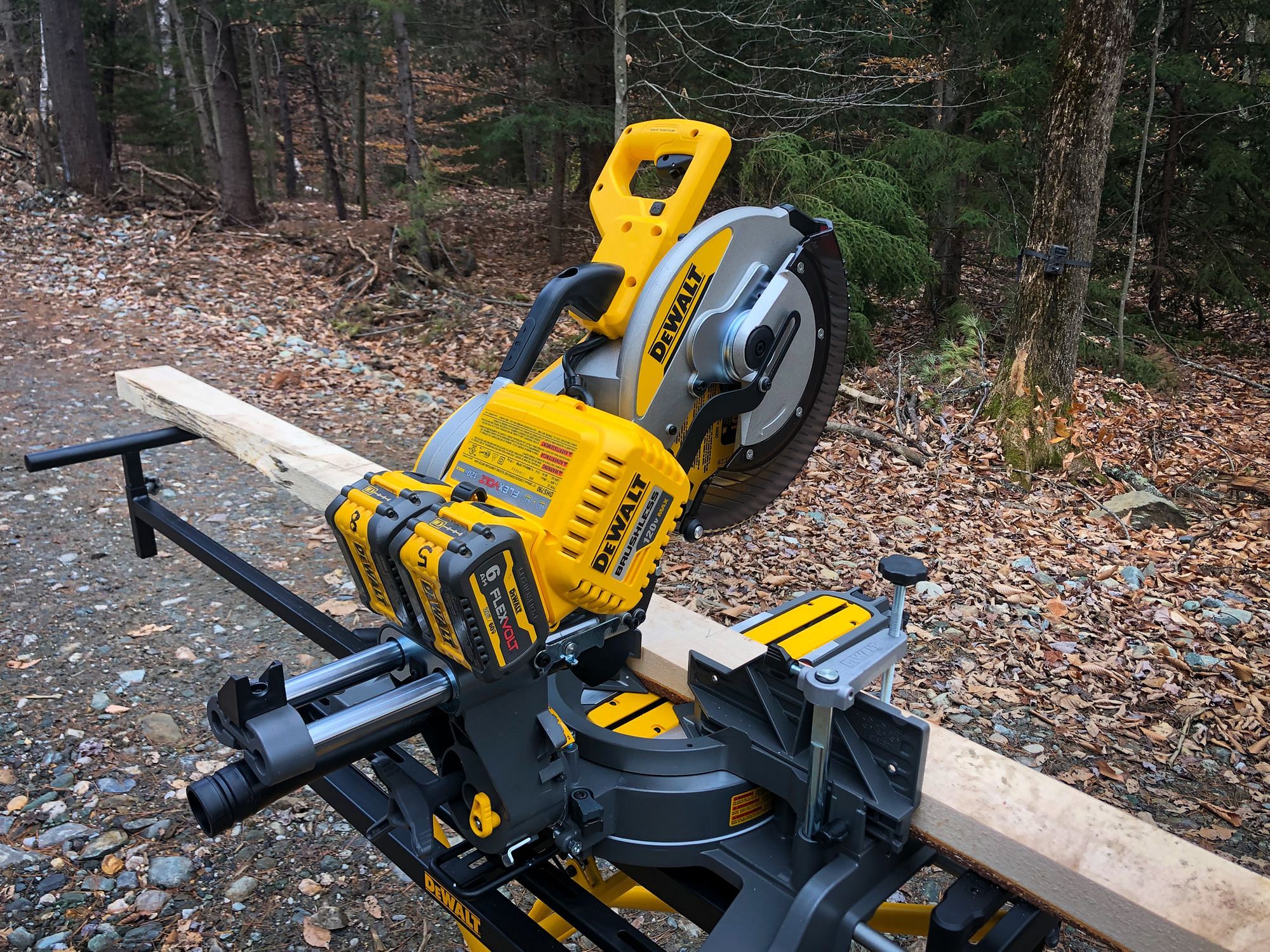 We've been on the lookout for a little while, but it's been out of stock nationwide. Then, just over a week ago, they suddenly appeared in stock on the Home Depot website. Even though we technically don't need the miter saw just yet, we decided to snag one anyway. It arrived last week and it's a beast! Along with the rolling stand, it weighs in at over 100lbs, and having run a couple of test cuts through it, it's not short on power!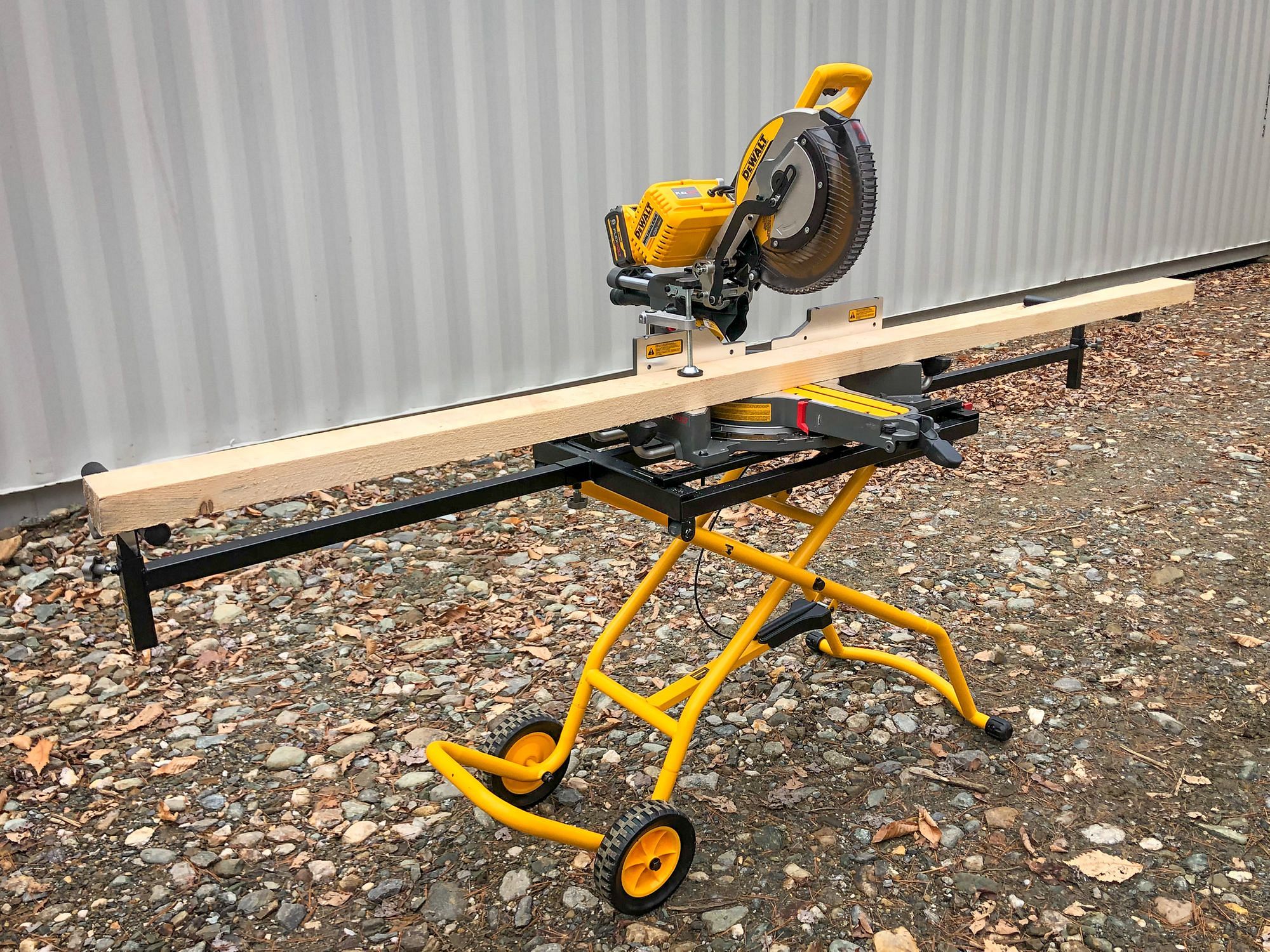 Planning for Power
Another big tool we'll need next year is a table saw. While Dewalt does make a cordless table saw, we're looking to buy the SawStop Jobsite Saw PRO because of its advanced safety features, as well as a sturdier build for things like the fence.
But because it's not cordless, that means we'll need a way to power it. We'll have our RV on-site next year and our RV's inverter is beefy enough to run the table saw.
Not for very long though, as even with 400Ah of Battle Born lithium batteries, we don't have any solar on the RV any more!
Which opens up the broader question of how we're going to get power on the property until we have the electric utilities hooked up.
Well, the reality is we're going to need a generator. After more than 3 years on the road, we've prided ourselves on being able to live off-grid, powered by the sun and never owning a generator.
But, we're also realists. We'd need a lot of solar to be fully off-grid in a forest in Vermont in spring next year, not to mention the power to build a house!
So the question is, which generator should we buy? Ideally we want something relatively quiet, small and portable so that we can take it with us when we go RVing (we haven't decided what to do with solar on the RV yet). But it also needs to be powerful enough to run the table saw.
If you have a recommendation for a generator, please let us know! Leave us a comment below or send us an email. In particular, if anyone has a small (~1,600W) portable inverter generator and a table saw and can confirm it works, I'd love to hear from you!
Coffee Upgrade
OK, now for something a little lighter!
Being a Brit, I grew up drinking a lot more tea than coffee. But over the last few years I've been steadily transitioning, and trying to up my coffee game at the same time.
The biggest change was a few years ago, migrating from instant coffee (yes, that's how most people drink coffee at home in the UK) to "real" coffee - using pre-ground coffee in our Clever Dripper.
This year I've been experimenting with grinding my own coffee beans.
My first attempt was using a manual burr grinder. This worked well, but was slooooow - several minutes of cranking the handle to grind enough for one cup.
Things improved when I realized that the shaft on the manual grinder fits the clutch on my cordless drill. Although it's not much quicker (you want to keep the speed low to avoid excessive heat), it's a lot less work!
Having learned to enjoy freshly ground coffee, I decided I wanted a proper electric coffee grinder. The problem is a distinct lack of space in our RV!
So last week, I took a bit of a gamble and bought a cordless electric coffee grinder! I can keep it in a cupboard when it's not in use, and there are no cables to worry about. It charges via USB-C and the battery life seems pretty good - I've not had to recharge it yet!
As for the quality, I'm really impressed! I'm sure the purists out there will reject it for not being a burr grinder and leaving the coffee unevenly ground. I'm happy to say I haven't reached that level of coffee connoisseuring yet, and with 10 seconds of grinding it makes a very nice cup of coffee!
And since it's really just a small blender, it can be used for other things too - mixing spices or even making a small portion of marinade as we used it for yesterday.
First Snow
While milling at the property a week or two ago we had our first few snowflakes. It was too warm for them to settle and it only lasted a few minutes, but it was a good reminder that winter is on its way.
Over the weekend, we had some more substantial snow fall, including a good storm on Saturday night that dropped a couple of inches up on the mountains. Compared to the reds and oranges in fall just a few weeks ago, the landscape is starkly different - but still absolutely beautiful. The snow also made the roads a little more treacherous, especially up on the mountain passes.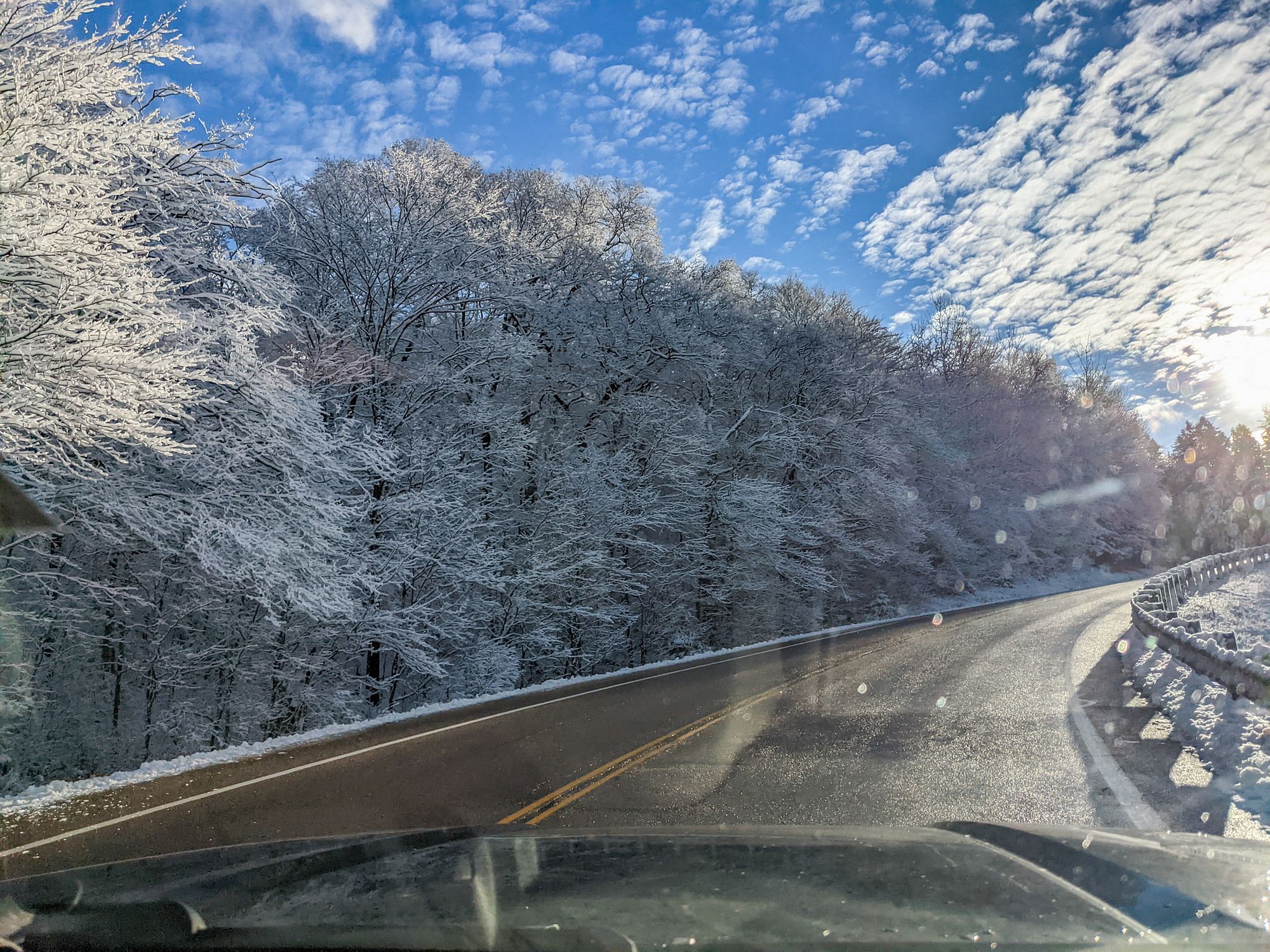 Anyway, that's about it for this update. It feels very busy right now. We're trying to get as much milling done as possible, but also get ready to hit the road in just over 2 weeks time - we still don't know where we're going to spend the winter, but somewhere warmer than here!