Introduction
What comes to mind when you think about Mojave National Preserve?
Perhaps, like many, you think of an arid area in the middle of the Mojave Desert? A desolate wilderness full of nothingness. Dusty, rocky desert for miles around.
Then keep reading and let us show you what you're missing out on. With sand dunes, cinder cones, Joshua Tree forests, technical overlanding, wildflowers, abandoned homesteads, and... garden gnomes, the Mojave National Preserve is rich in wonders!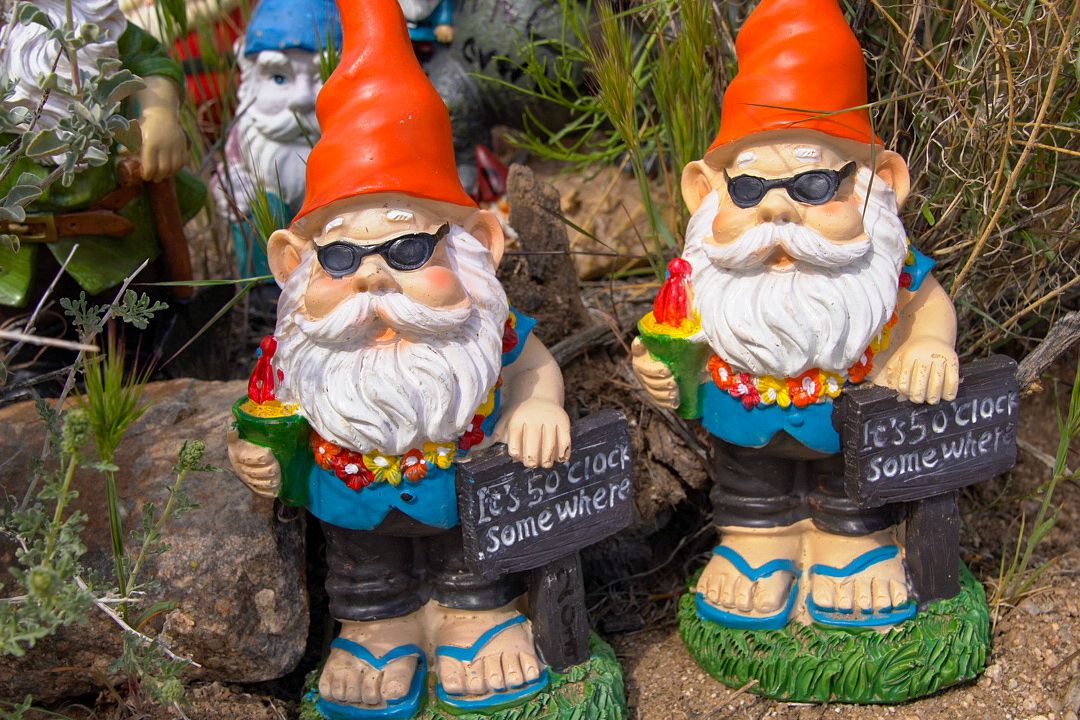 We visited Mojave National Preserve in April 2019 on our journey along Route 66 starting at its west terminus in Los Angeles. After a few nights camping in the Channel Islands National Park, Mojave National Preserve is our 18th stop on our quest to visit ALL the National Park Units in the US.
Location
Mojave National Preserve is located mid-way between Los Angeles, CA and Las Vegas, NV. It is hemmed in by I-40 to the South and I-15 to the North, with the nearest cities being Baker, CA on I-15 to the North, Barstow, CA to the West and Fort Mohave, AZ to the East.
Video
Background
Although it may not be at the top of your bucket list, maybe it should be! Mojave National Preserve is full of superlatives.
Mojave Desert
At over 1.5 million acres in size, it's absolutely massive. In fact, it's the 3rd largest National Park Unit in the lower 48 states - beaten only by Death Valley National Park and Yellowstone National Park. Within the unit boundaries, 695,000 acres are designated as a wilderness area affording extra protections.
It's situated within the Mojave Desert, the smallest but hottest and driest of the four deserts in North America. It typically receives less than 2 inches of rain per year, with winter low temperatures down to around 25ºF and summer highs up to 130ºF! Temperatures within Mojave National Preserve are only slightly more moderate - winter lows averaging 30ºF and summer highs above 90ºF.
While much of the Mojave Desert lies above 2,000ft elevation (and is hence known as the "high desert"), the lowest point in North America can also be found here - Badwater Basin in Death Valley National Park.
The Mojave Desert is itself bordered by the Great Basin Desert to the North and the Sonoran Desert to the South and East.
Joshua Trees
Despite its inhospitable climate, it's home to as many as 2,000 species of plants. But maybe the most famous is the Joshua Tree, a tree-like member of the Yucca genus which is found almost exclusively in the Mojave Desert and whose presence helps denote the desert's boundaries.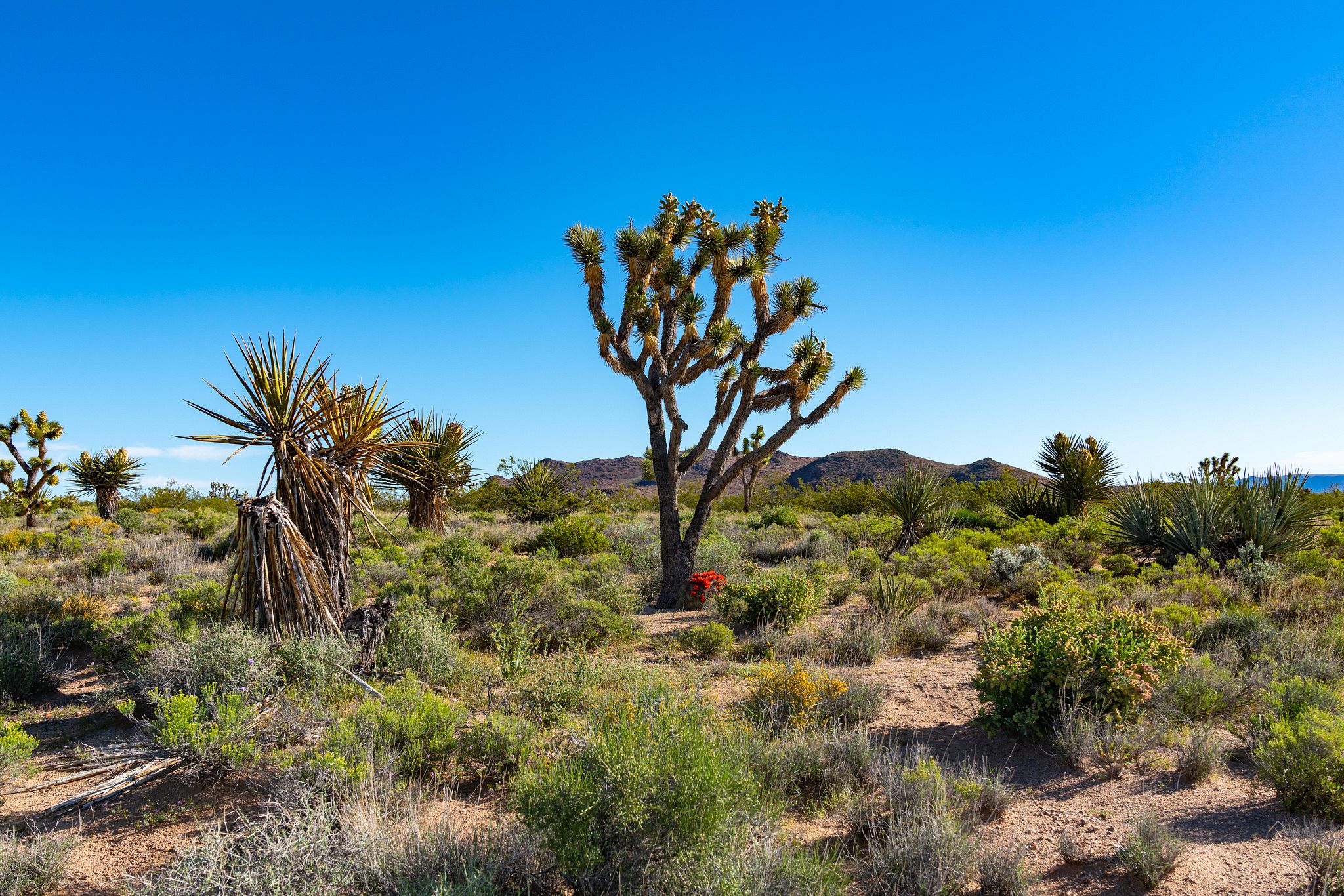 While Joshua Tree National Park may be the more famous, the world's largest and densest Joshua Tree forest is found in Mojave National Preserve - covering Cima Dome and Shadow Valley.
History
The Mojave Desert was once occupied by the Chemehuevi - an indigenous people of the Great Basin. They lived on desert plants (fruits of the prickly pear, mesquite and agave) and hunted deer and bighorn sheep.
In the 1770s, Spanish Franciscan Friar Francis Garcés accompanied Juan Bautista de Anza (remember that name from Tumacácori National Historical Park?) on several expeditions to explore what would become the western areas of the United States.
On one such expedition in 1776, Garcés met members of the Mojave Tribe as they crossed the Mojave Desert. Over the proceeding decades, more explorers would follow the same route along the Mohave Trail, including Jedediah Smith (whose party were the first American citizens to cross the Mojave Trail) in 1826.
In the years after, Mexican traders from New Mexico established trade routes in the area that became known as the Old Spanish Trail to California. In 1830, the Mohave Trail was incorporated into the Main Route of the Old Spanish Trail.
Following the Mexican-American War, in 1848 the land was taken from Mexico by the US and in 1858 the Mohave Trail became the Mojave Road.
The land was later placed under the jurisdiction of the Bureau of Land Management (BLM), and known as the East Mojave National Scenic Area. On Halloween in 1994, Mojave National Preserve was established with the passage of the California Desert Protection Act by US Congress.
Mojave Road
With increased trade traffic moving through the area, conflicts between Mohaves and settlers arose, resulting in the Mohave War of 1858-9.
Although a peace treaty was signed in 1859, US army posts were established along the route - at Beale's Crossing in 1859, Camp Cady in 1860 and further smaller outposts along the trail in the 1860s. The army protected settlers and travelers of the route until 1871.
Nowadays the Mojave Road (also known as Old Government Road) runs for 133 miles from Beale's Crossing to Manix Wash. Four-wheel drive is recommended (a very strong recommendation!) for most of the route which typically takes 2-3 days to drive.
We drove the Mojave Road back in October 2017 with a friend. We enjoyed the experience so much and it's such a great way to explore the Mojave National Preserve that we decided to do it again!
Driving the Mojave Road
The Mojave Road is no joke - 133 miles of off-road driving through remote and inaccessible wilderness. With no cell signal, if something goes wrong help is hard to contact and a long way away!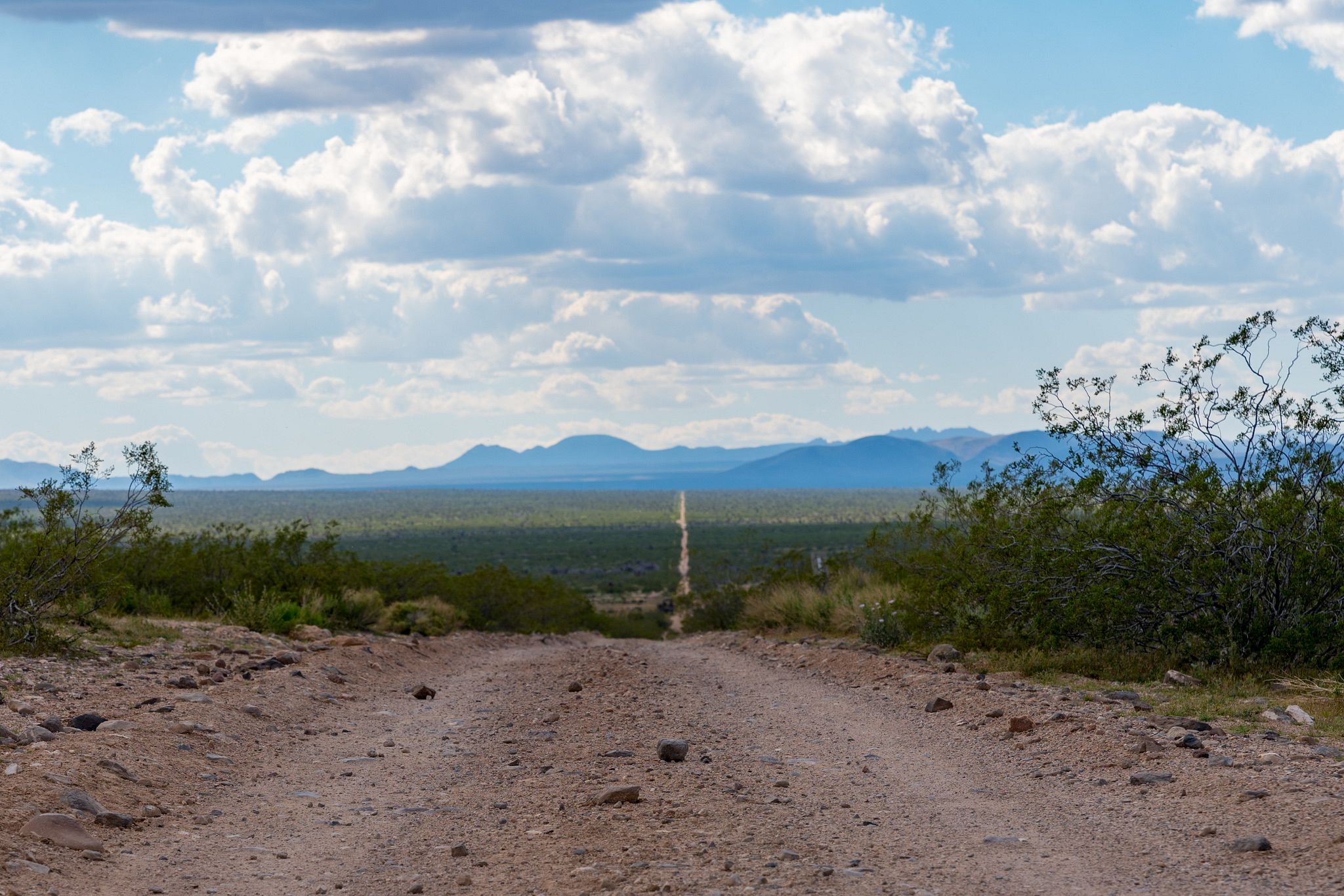 Our plan was to traverse the majority of the Mojave Road, starting on the East at Fort Mohave and driving West through the entire Mojave National Preserve. Last time we continued all the way through Afton Canyon with its river crossing, but we didn't feel the need to do the deep water crossing in our F-150 again, so this time we'd return back to I-15 shortly after crossing Soda Lake.
Preparation
If you're planning to drive the Mojave Road, then I would consider Dennis Casebier's Mojave Road Guide to be essential. This amazing book includes lots of interesting history as well as mile-by-mile directions along the road - in fact, oftentimes there are directions every few hundred feet! Additionally we were able to load in our GPS track from last time for us to follow. Combined, these made navigation very straightforward.
Being responsible, ordinarily this isn't a trip we'd prefer to do alone. However, with a limited time window we were unable to coordinate a run with anyone else. Having done it before we knew what to expect, and the weather conditions were good.
We still took a few extra precautions, however. We planned out a route with expected camping locations each night as well as
We would be carrying out Garmin inReach satellite communicator which allows us to send & receive text messages regardless of cell signal. We coordinated with some friends to check-in with them regularly.
Lastly, we contacted the National Park Rangers at Kelso Depot Visitor Center. Not only were we able to confirm the latest conditions along the route, but we also logged our journey with them. We gave them our details as well as a description of our vehicle, and told them what time we expected to make it to Kelso Depot Visitor Center. If we didn't arrive within a few hours of that, they would know to raise the alarm.
As far as packing, we carry a wide range of off-road gear in our truck anyway, so that made things easier. We packed up our camping gear (tent, sleeping bags, etc), plenty of food and water the night before - ready for an early start the next day.
The following morning we moved our trailer to a storage section at Newberry Mountain RV Park, and set out for the starting point at Fort Mohave. Here we filled the truck with gas (and a 2.5 gallon gas can as a backup) and picked up some last minute supplies.
Lastly, we aired down our tires to around 35psi. We normally have them around 45psi for towing, but we didn't want to air down too low - we've found 35psi works great most of the time and we can always air down a little more if we need the traction.
Time to hit the road!
Day 1: Fort Piute
The Mojave Rd starts from a dirt road overlooking the Colorado River, inside the Fort Mojave Indian Reservation.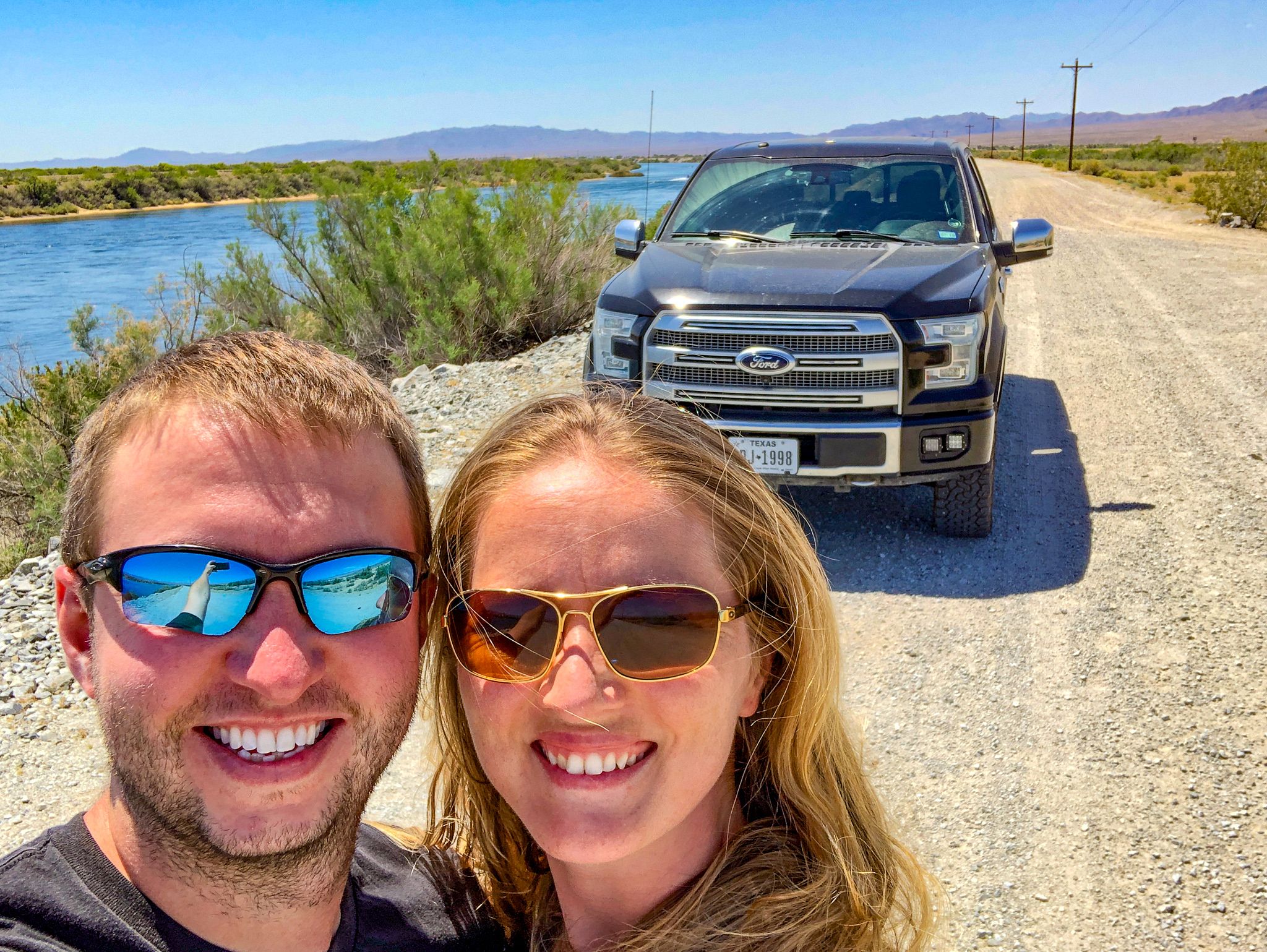 The first few miles are easy-going - the road weaves its way through the desert until it crosses the Needles Highway. From here, sandy washes give way to some rocky sections.
In our long-wheelbase truck, we took these slowly to avoid scraping anything. Last time we did this route we didn't have our upgraded suspension and the 2" lift that provides was much appreciated!
Our tactic when off-roading is to use as few driver aids as possible until we need them. That means we ran in 2WD the whole time - saving 4WD, 4L and the rear diff-locker for when they were really needed. Not only does that help us to sense how hard the truck is working, but we know we've always got a few extras to help out should we get stuck. The only exception to this is when we face a tough obstacle - then we'll set the truck up as best we can to avoid getting stuck in the first place.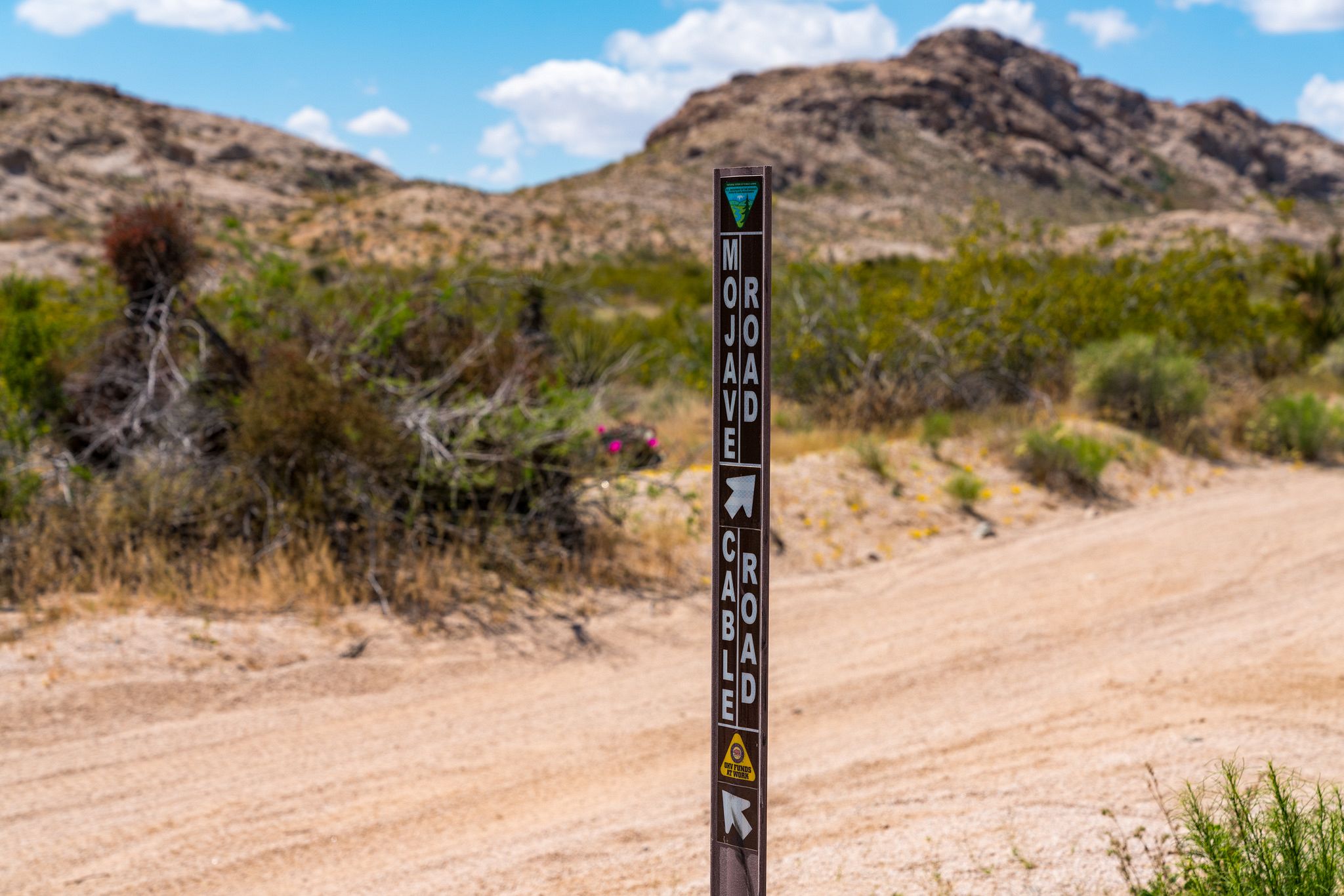 We navigated all the rocky sections happily in 2WD, and wove our way through the Dead Mountains. We found a nice little spot to pull off for some lunch - nothing fancy, just a quick bite to eat on the road!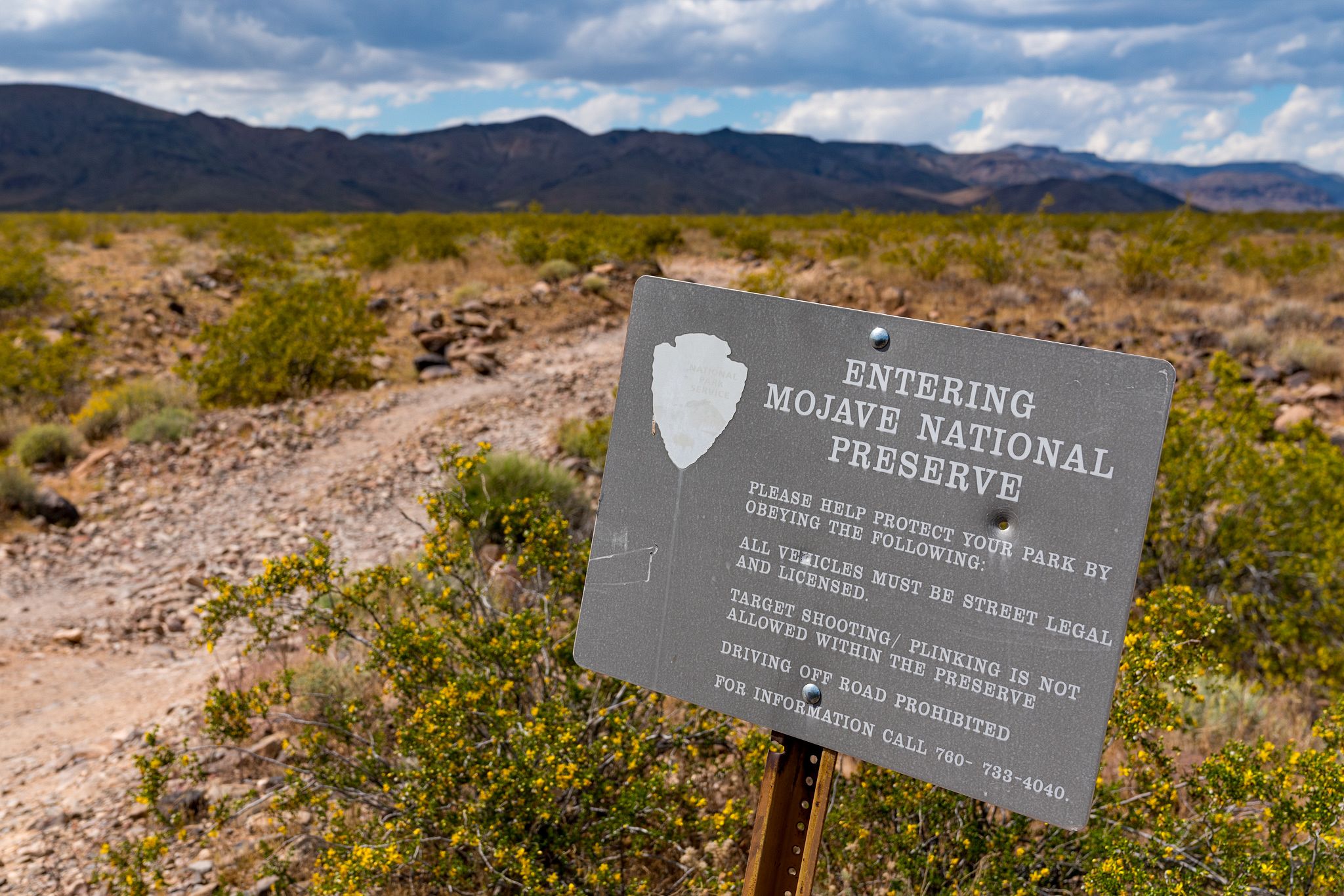 From about mile-marker 14, the road improves significantly - it's maintained by local private landowners. And it's almost dead straight as it heads due west, crossing US-95 on the way to Fort Piute.
The trail splits at mile-marker 22 - a 2-mile each-way detour took us up to Fort Piute. Originally named Fort Beale, it was constructed in 1867 as an outpost of Camp Cady to protect the water source at Piute Springs - the end of the surface flow of Piute Creek nearby.
We took a short stroll around the area and took some photos, then jumped back in the truck for the last stretch of the day. We headed back the way we came and rejoined the Service Road for a couple miles south.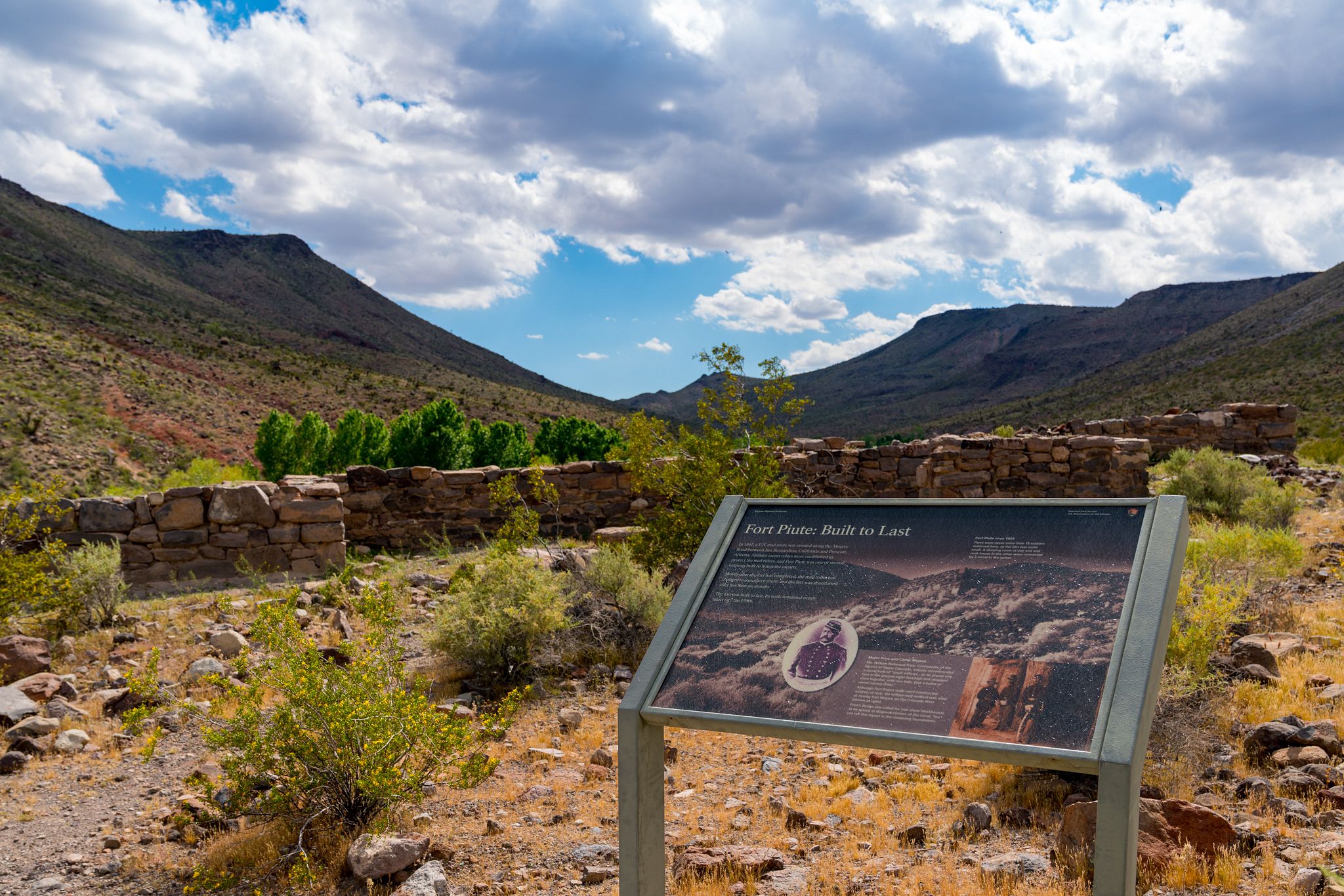 We turned off west onto the Cable Road. This used to be maintained by AT&T but maintenance stopped when the underground cables were removed. Volunteers from local 4WD groups have helped maintain the road, but it was closed in April 2016 due to several major washouts.
Fortunately the road is open again, but it's rough going in places as it climbs steeply up into the Piute Range.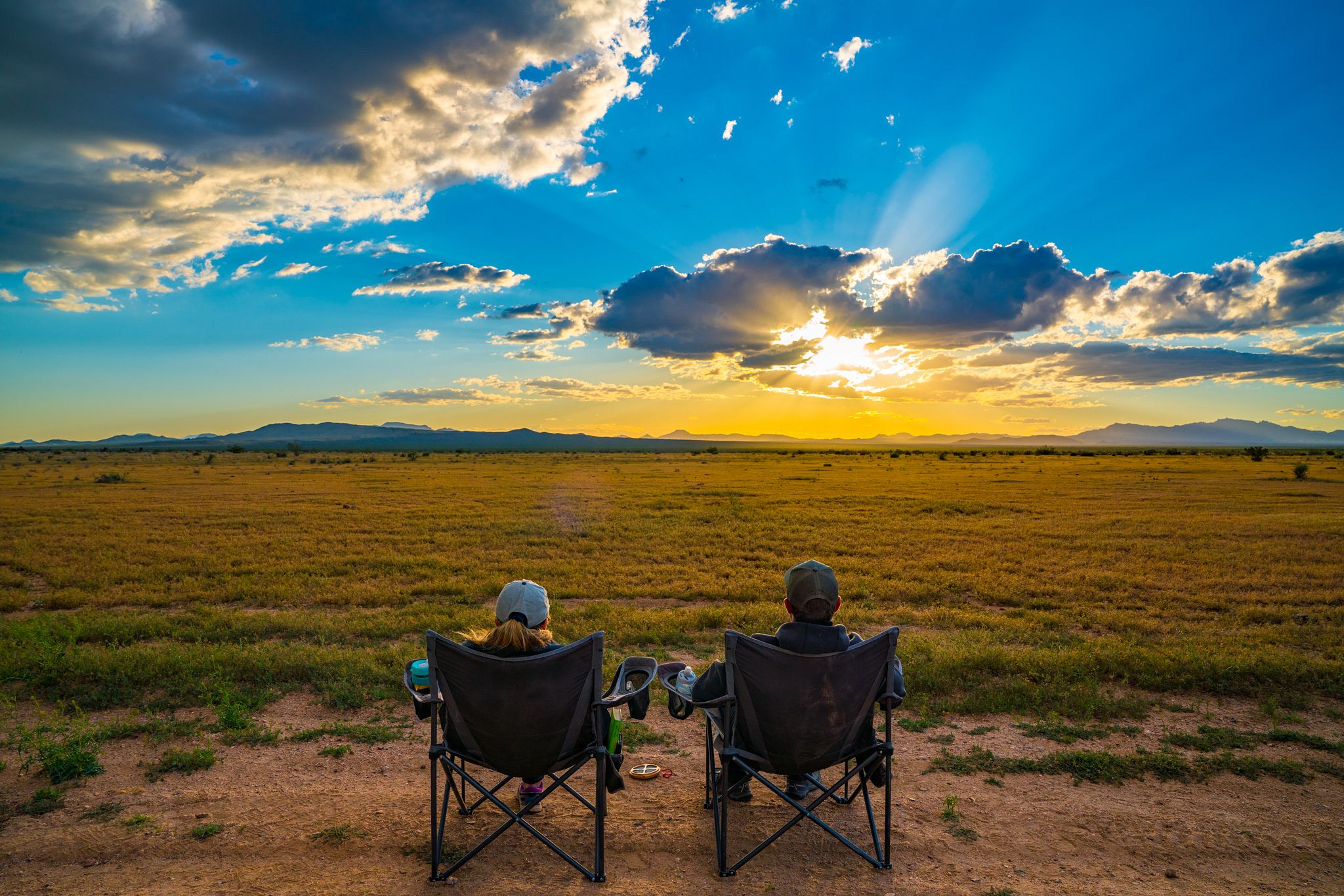 At the top, the road passes nearby Piute Corral - our stopping point for the day. Taking care not to disturb this beautiful historic corral, we set up our tent and settled down to enjoy some dinner and a beautiful sunset!
Day 2: Joshua Trees, Kelso & Cinder Cone Lava Beds
Rising early the next morning, we packed up our tent and decided to put some miles under our belts before breakfast.
One of the things I enjoy most about driving the Mojave Road is how the terrain varies from one area to the next. The rocky trails of the lower elevation (around ~2,200ft) from the day before are gone, and the high elevation (climbing up through 4,000ft) now brings sandy washes - and some of the roughest sections of the Mojave Rd.
And Joshua Trees!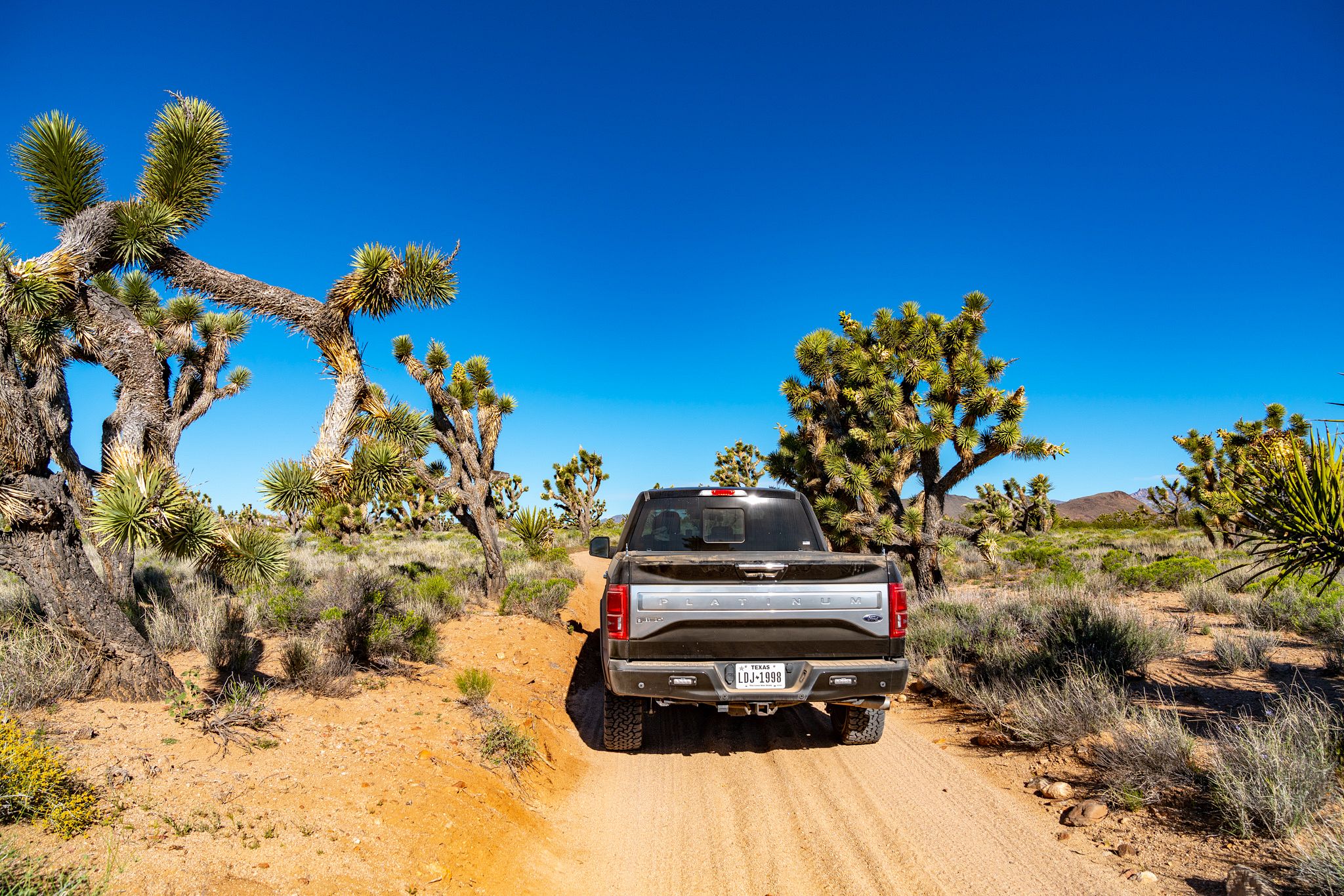 At first just a few sparse Joshua Trees dotted the landscape, but the further we drove, the more Joshua Trees appeared. Some were so close to the road that we had to take care not to hit them with the truck.
Since we were there in April, we were also treated to some beautiful wildflowers and flowering cacti. It's hard to think of the Mojave Desert as a barren, desolate landscape when surrounded by bright flowering cacti and majestic Joshua Trees!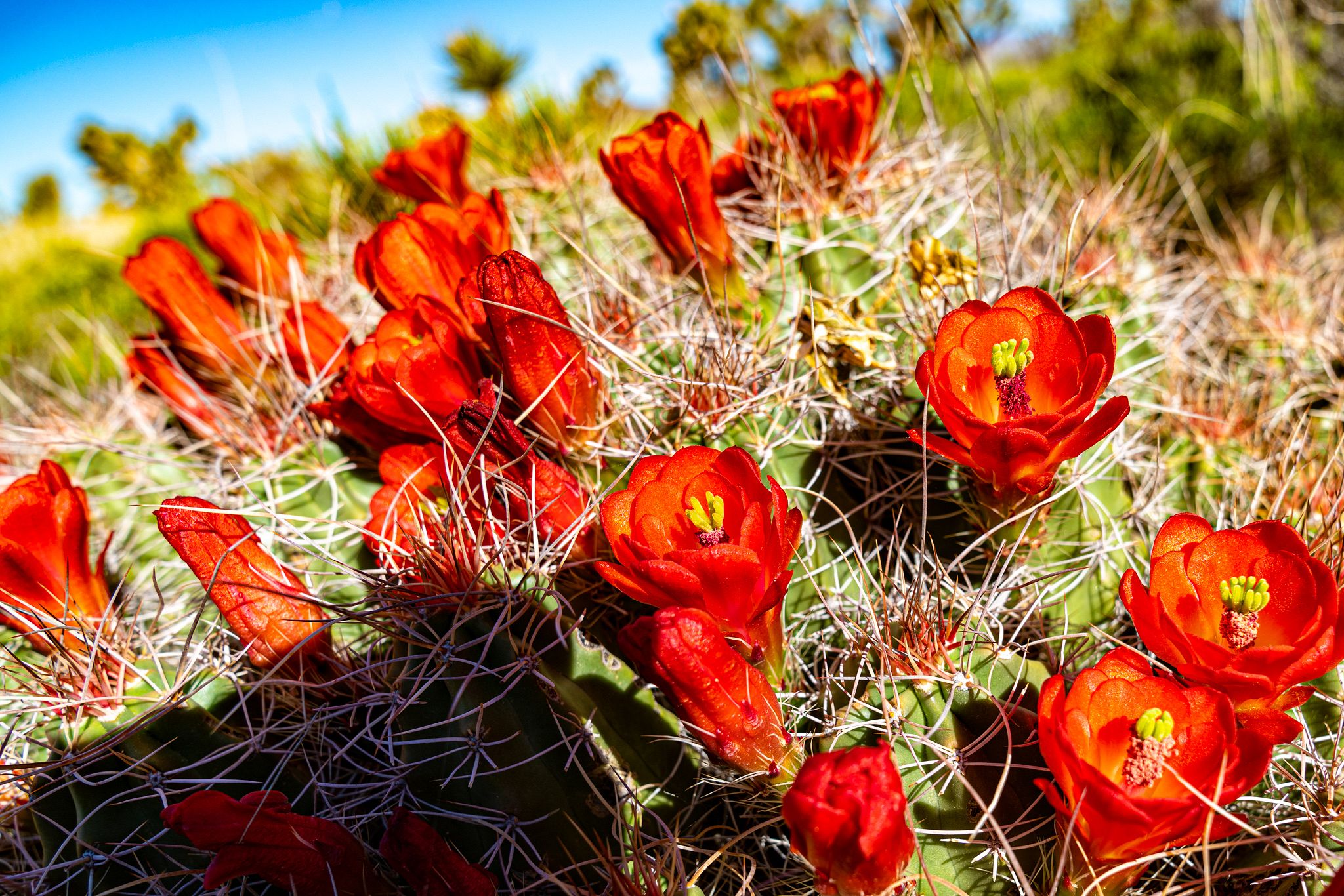 There used to be an old school bus around mile-marker 37, but this was removed shortly after our last trip in October 2017.
The National Park Service have done a great job of cleaning up the area - it used to be littered with thousands of bullet casings from where people had used the bus for target practice. We couldn't find a single casing this time!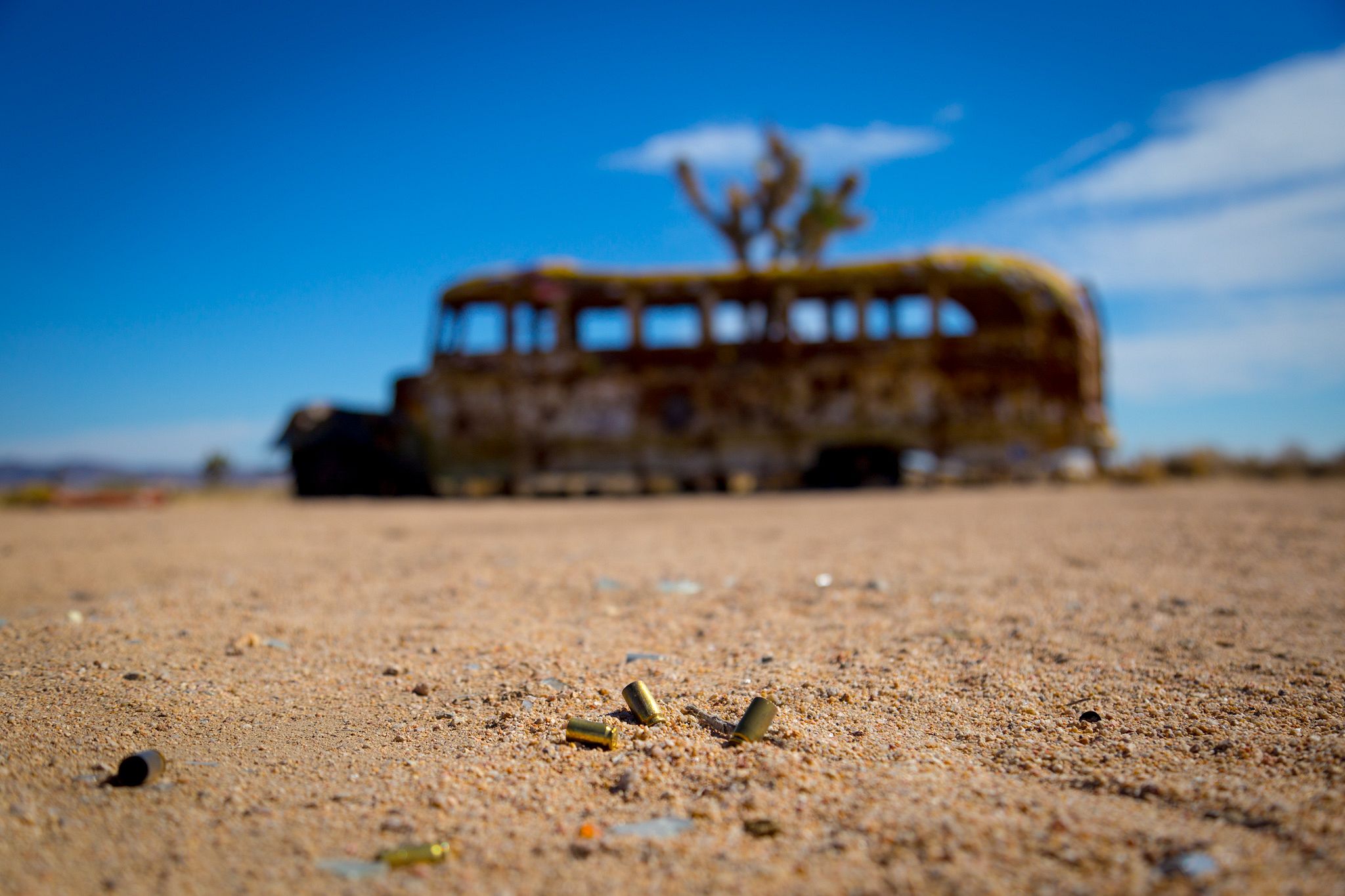 Just after mile-marker 41 is the famous Penny Can. A right of passage for all travelers is to drop a penny into the can - so we paid our dues!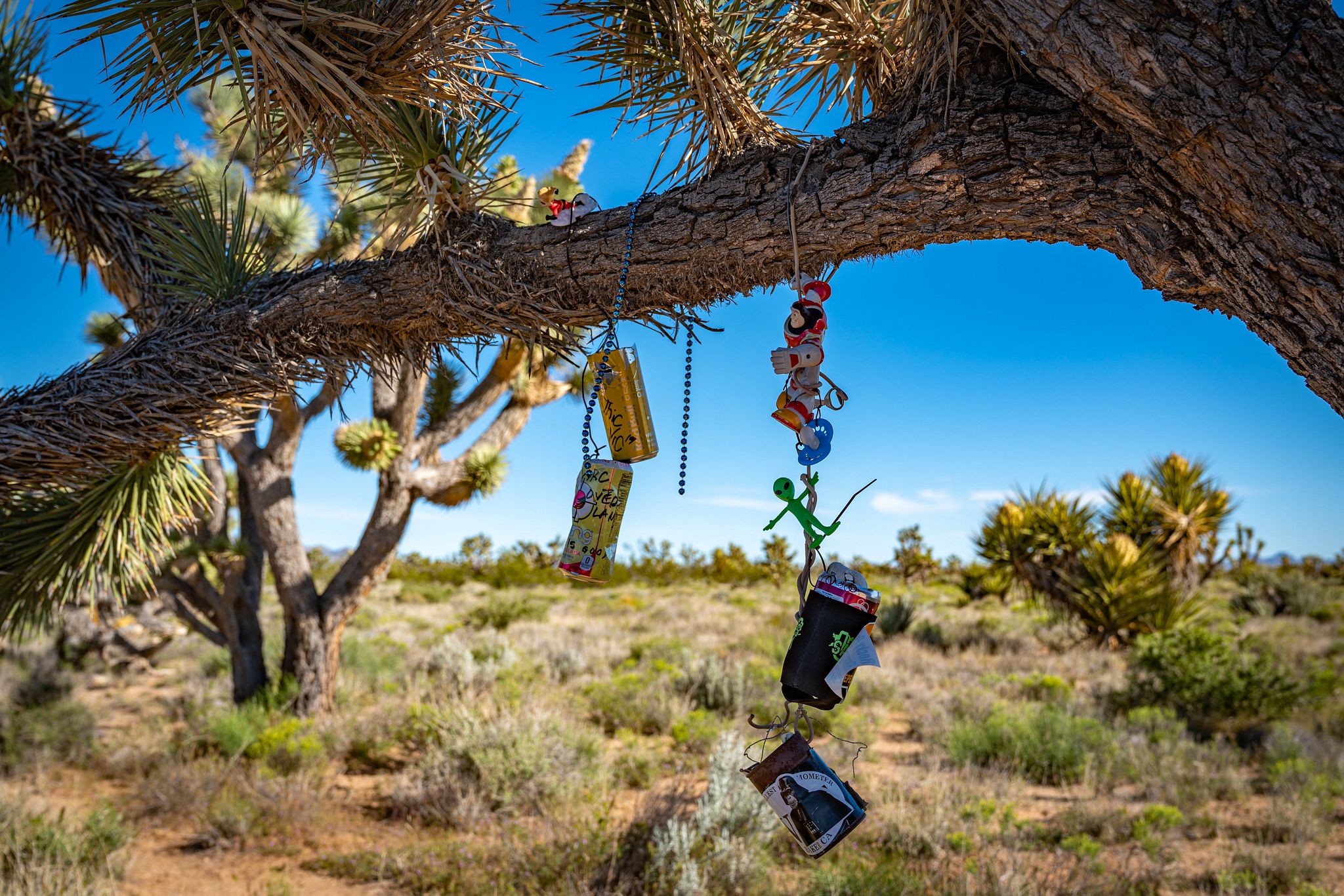 The Mojave Road intersects Ivanpah-Lanfair Road at mile-marker 42 - a high speed, maintained county road connecting Goffs (17 miles South) with Ivanpah (19 miles North).
We found a little space just past the Nevada Southern Railway historical monument to stop in and have some breakfast - oatmeal and a cup of tea!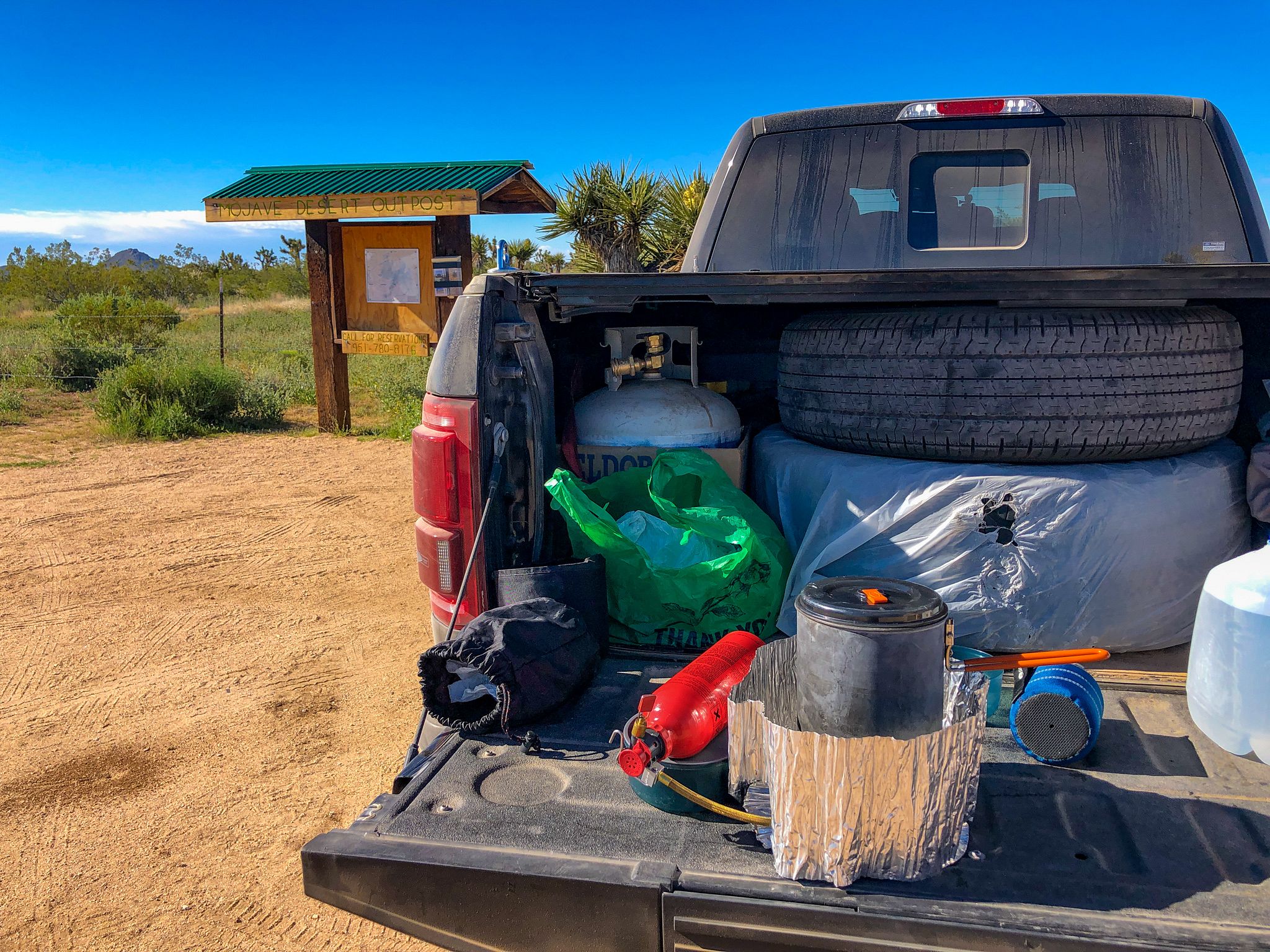 The road continues to wind its way through the Joshua Trees, offering vast panoramic views all around. Until....
7 miles later, just before mile-marker 50, we reached Watson Wash. This was the one section I had been nervous about. It's a steep, very heavily rutted hill, and the conditions can change drastically following rainstorms.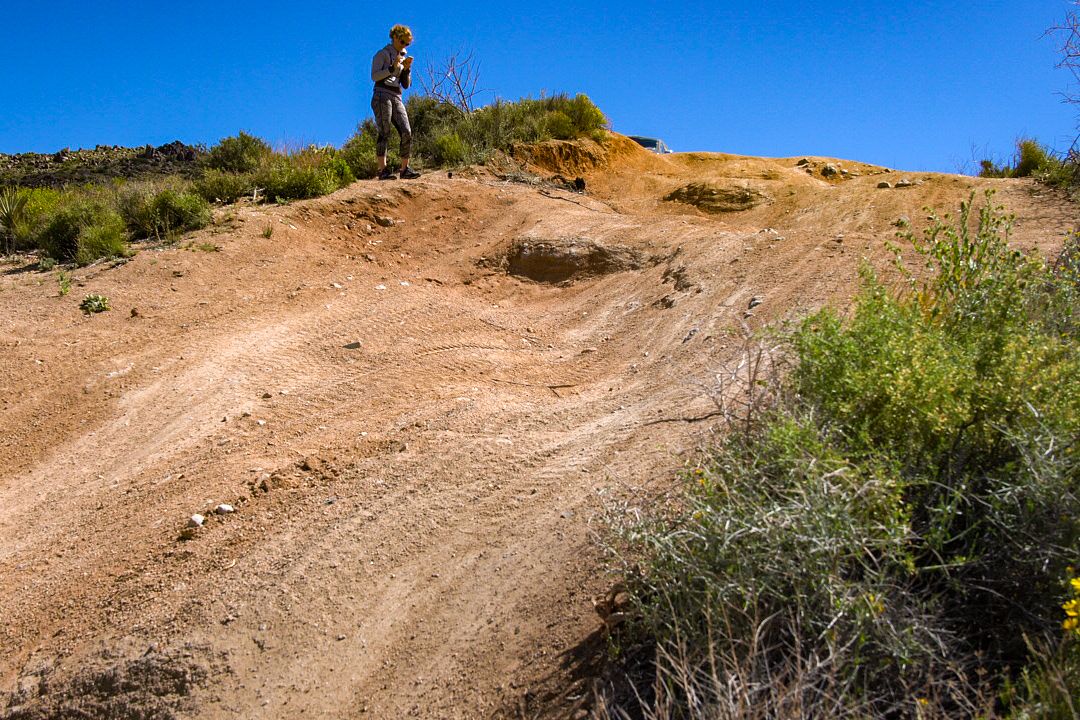 We did it before, but we were with a friend and his Jeep - with a winch for backup if we needed it. Our backup plan this time was a bypass around the obstacle - but I was keen to try it if it looked doable.
It was every bit as steep as I remembered it. Diana would be my spotter and we'd inch our way down. The truck's long wheelbase would be its weakness here - particularly the long rear overhang - but hopefully the upgraded suspension would help.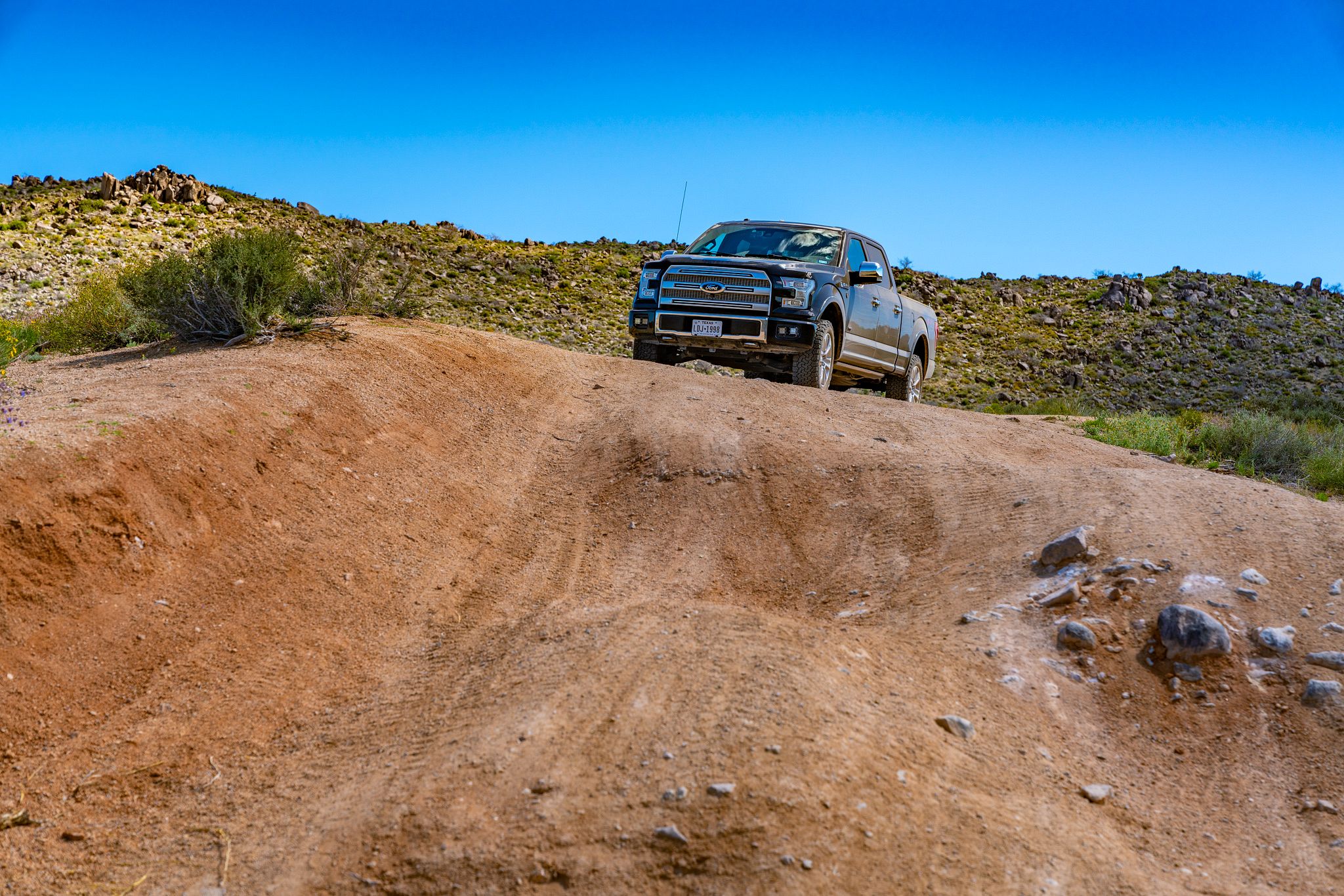 We set up several cameras to record our descent, and for the first time engaged 4WD on the truck - 4L (4WD low speed transmission) in fact. With a little sliding but otherwise no drama, the truck crawled down the slick hill. This obstacle was one of the reasons we chose to drive east-west - I don't think we'd have made it up this hill in the other direction!
Relieved at our success, we continued on the trail past Rock Spring. Unlike last time, we didn't stop to hike up to find the spring. Rock Spring was once an important source of water in this pass through the Providence Mountains. An army post called Camp Rock Spring was established here in 1866, but was abandoned in 1868 when US Mail was no longer transported along the Mojave Road.
Just a few miles further, at around mile-marker 53, the road loops up through Government Holes. The first well here was dug in 1859 by Phineas Banning (after whom Banning, CA was named) and was called Banning's Well. It was subsequently enlarged by US soldiers in 1860 and became known as Government Holes - even though there's no evidence there has ever been more than one well.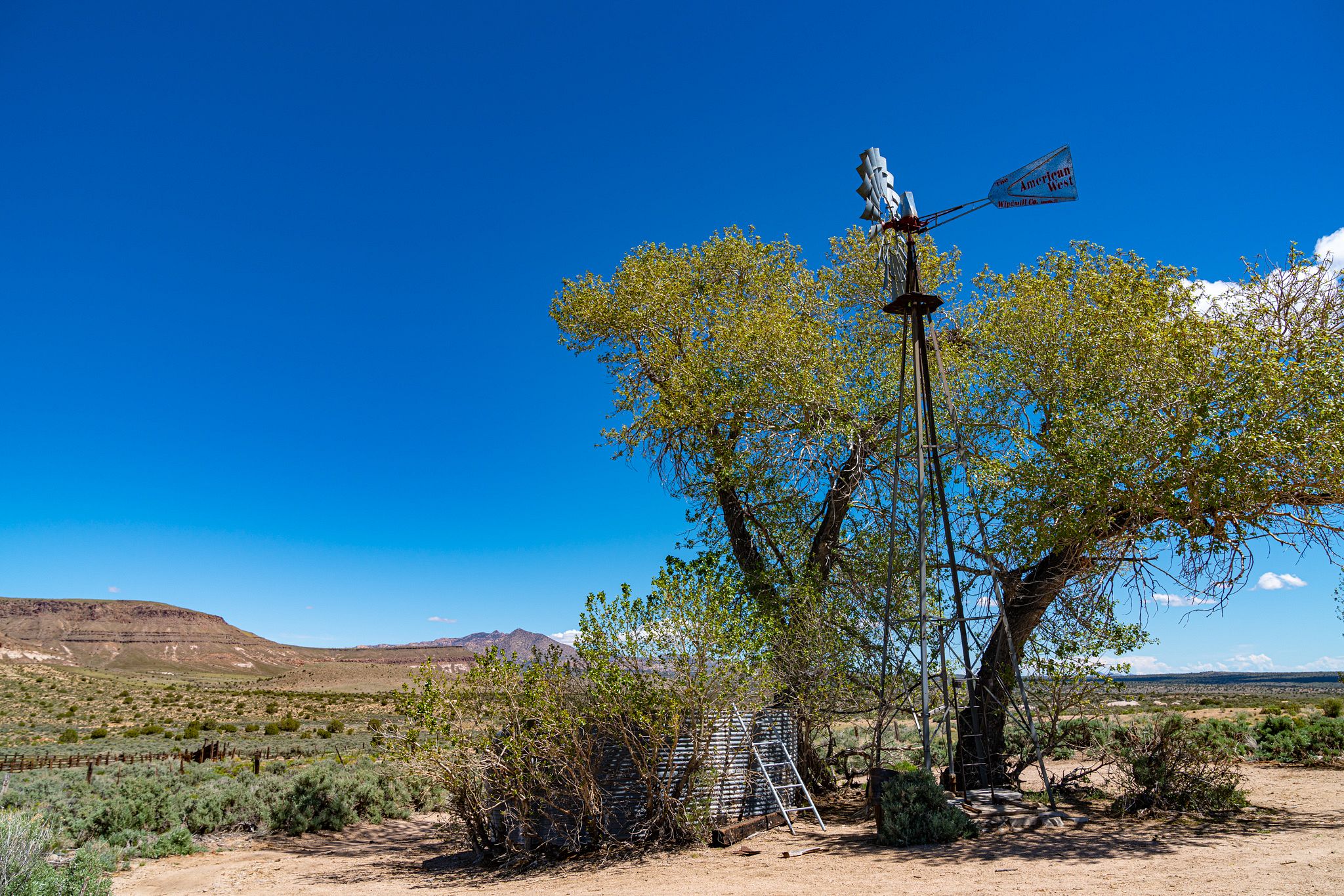 Although close to Rock Spring, this was another strategically important point on the old wagon road thanks to its abundant water. Although more exposed at high elevation than Rock Spring, its water was more reliable. Old wooden corrals, watering troughs and a windmill are still visible, and the water still flows!
The Mojave Road turns into Cedar Canyon Road and is well maintained until it reaches Kelso-Cima Road at mile-marker 62.
Here, we departed briefly to drive 14-miles south down Kelso-Cima Road to the Kelso Visitor Center. We had to check in with the National Park Staff and make sure they knew we were OK! They were expecting us and marked that we were safe and well. They were also able to confirm that they had not received any reports about poor conditions on the route ahead.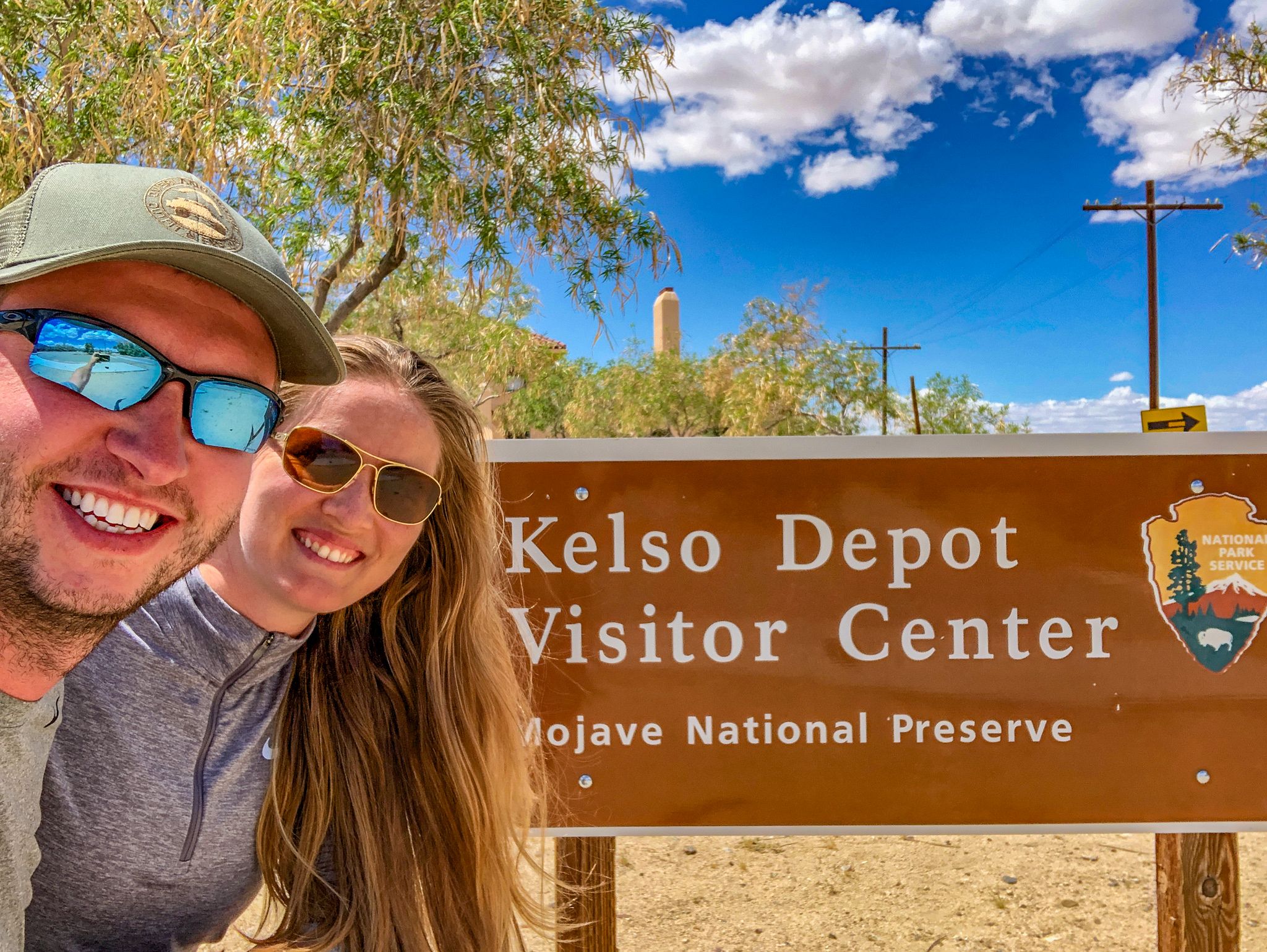 We filled our water jugs and headed back up the Kelso-Cima Road to rejoin the Mojave Road. The next section to Marl Springs is beautiful, but rough going! The trail crosses the large Kelso Wash, offering some of the best views of the entire trail. The Joshua Trees are a welcome distraction from the constant washboard surface and numerous dry washes that you have to drive through.
About 8-miles later we arrived at Marl Springs which has two springs - the upper and lower spring. We parked the truck in a small parking area near the lower spring and explored around. This would have been another popular stopping point for travelers on the road, and could be thought of as the most vital water source on the Mojave Road - it's almost 30-miles west to the next water source, down in the barren and hot desert around Soda Lake.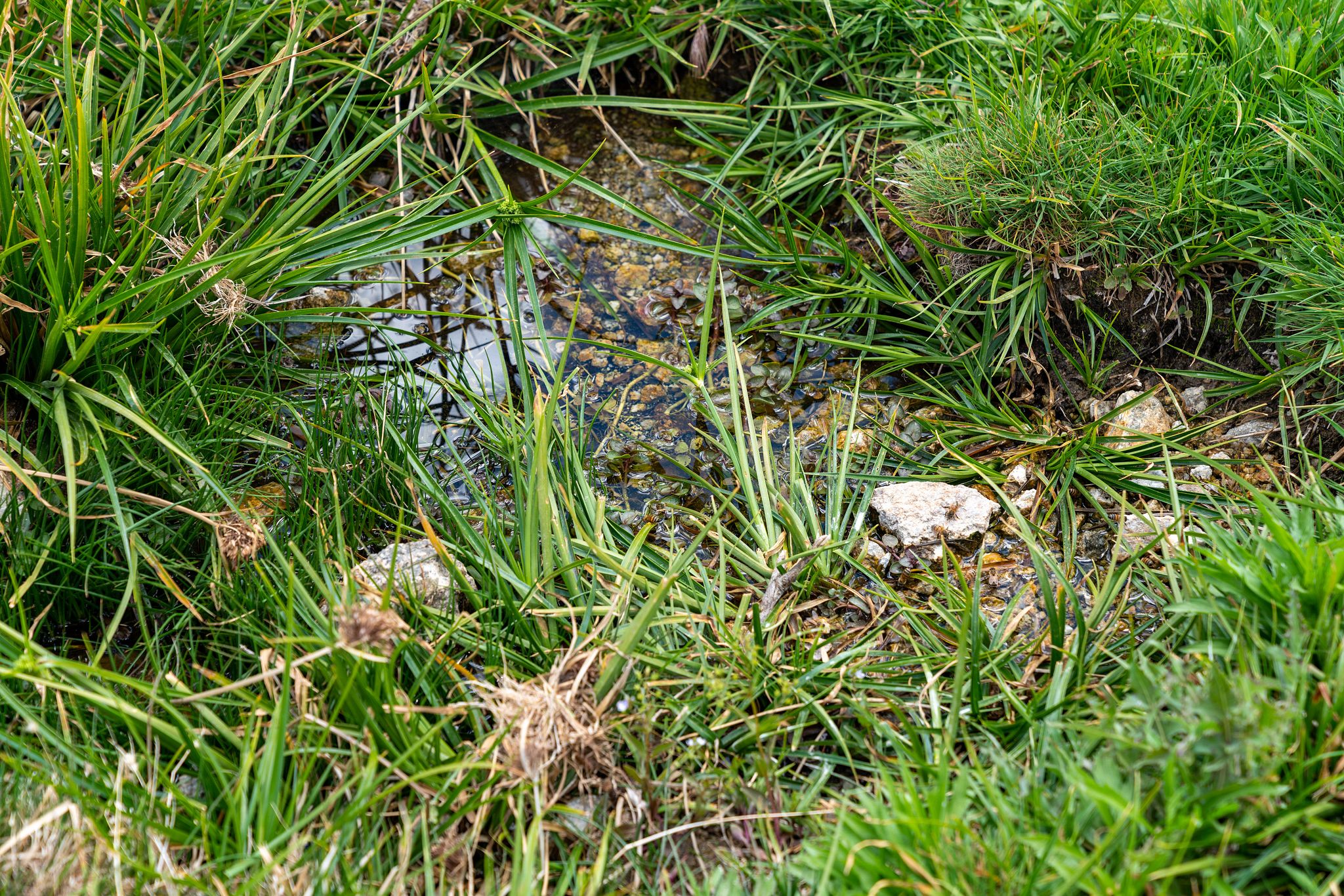 An outpost was maintained here for the winter of 1867-8, known simply as "the outpost at Marl Springs". Less than 2 weeks after the outpost started operating, the three soldiers stationed there were attacked by 20-30 desert Indians - believed to be the only time that the desert Indians attacked a fortified position on the Mojave Road in California.
The soldiers sought refuge in the outpost overnight, until the next morning when 150 soldiers arrived. The attacking Indians fled, and no casualties were reported. Marl Springs was never attacked again.
We didn't stop long as we had two more exciting stops before reaching our stopping point for the day.
The first of those was just a few miles further along the trail - the infamous Mojave Road Mailbox. Here, miles and miles from the nearest paved road, is a mailbox - erected by the Friends of the Mojave Road in 1983. Travelers are asked to sign the register to say they've passed through - so we did!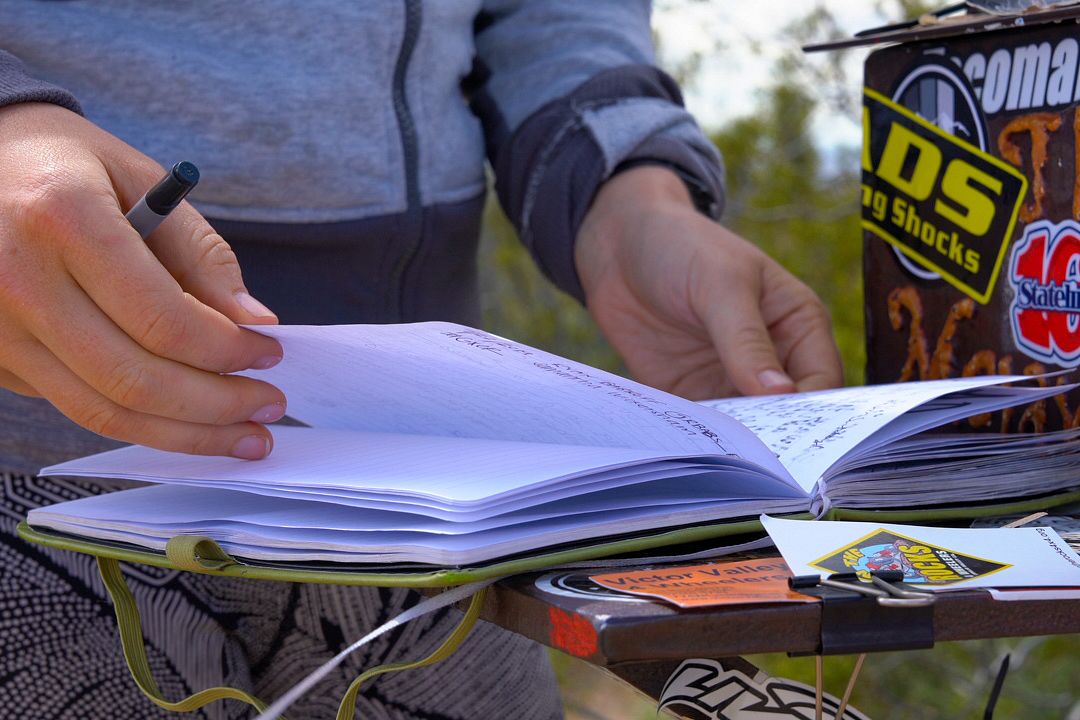 As if a remote mailbox wasn't surreal enough, what's behind the Mojave Mailbox is surely one of the strangest scenes we've ever come across. A small desert trail loops back through the Joshua Trees past certain...attractions!
One of these, known as Jeep Rock is just that, a rock covered in tiny toy vehicles.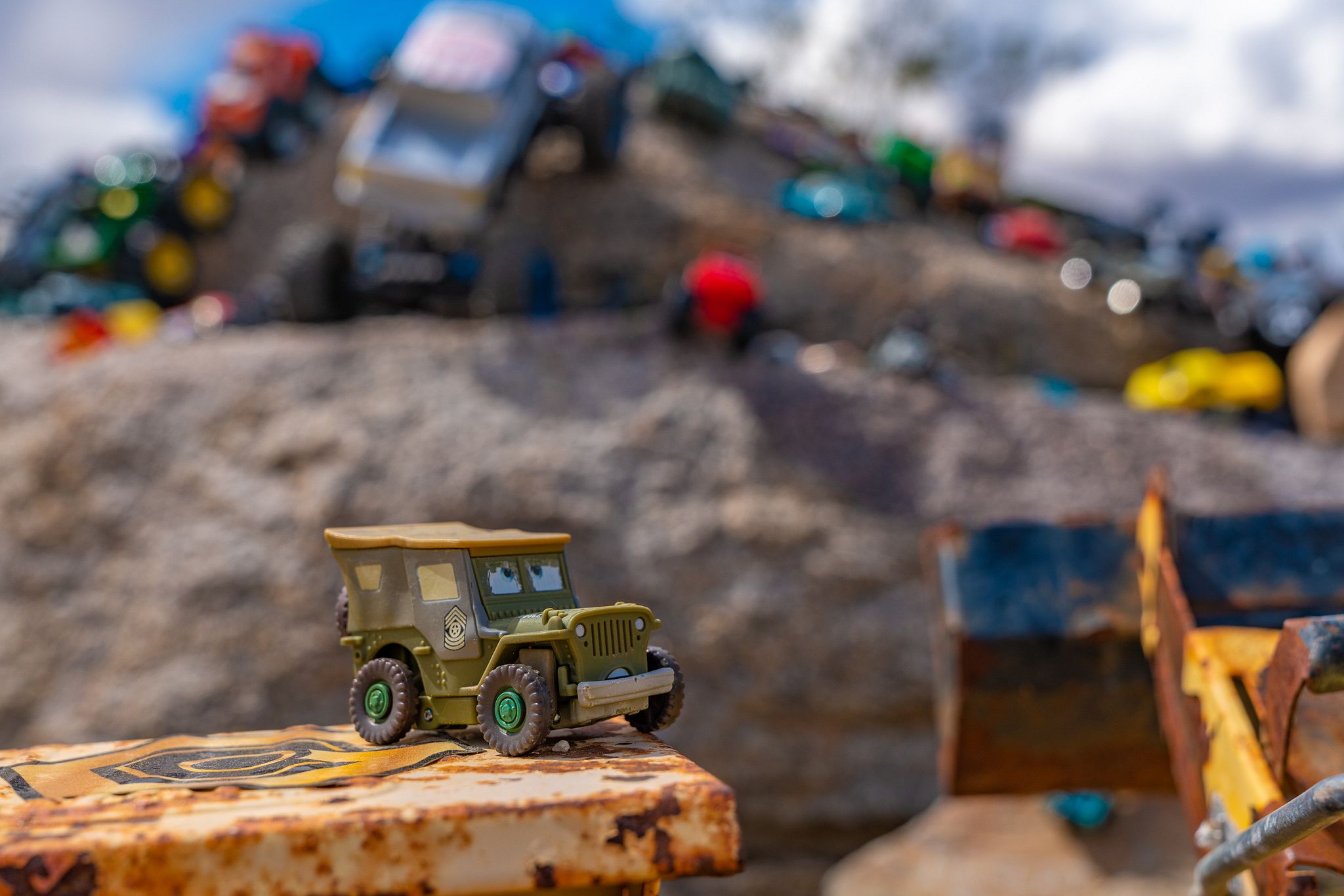 There's also a frog garden, with hundreds of ornamental frogs perched next to one another.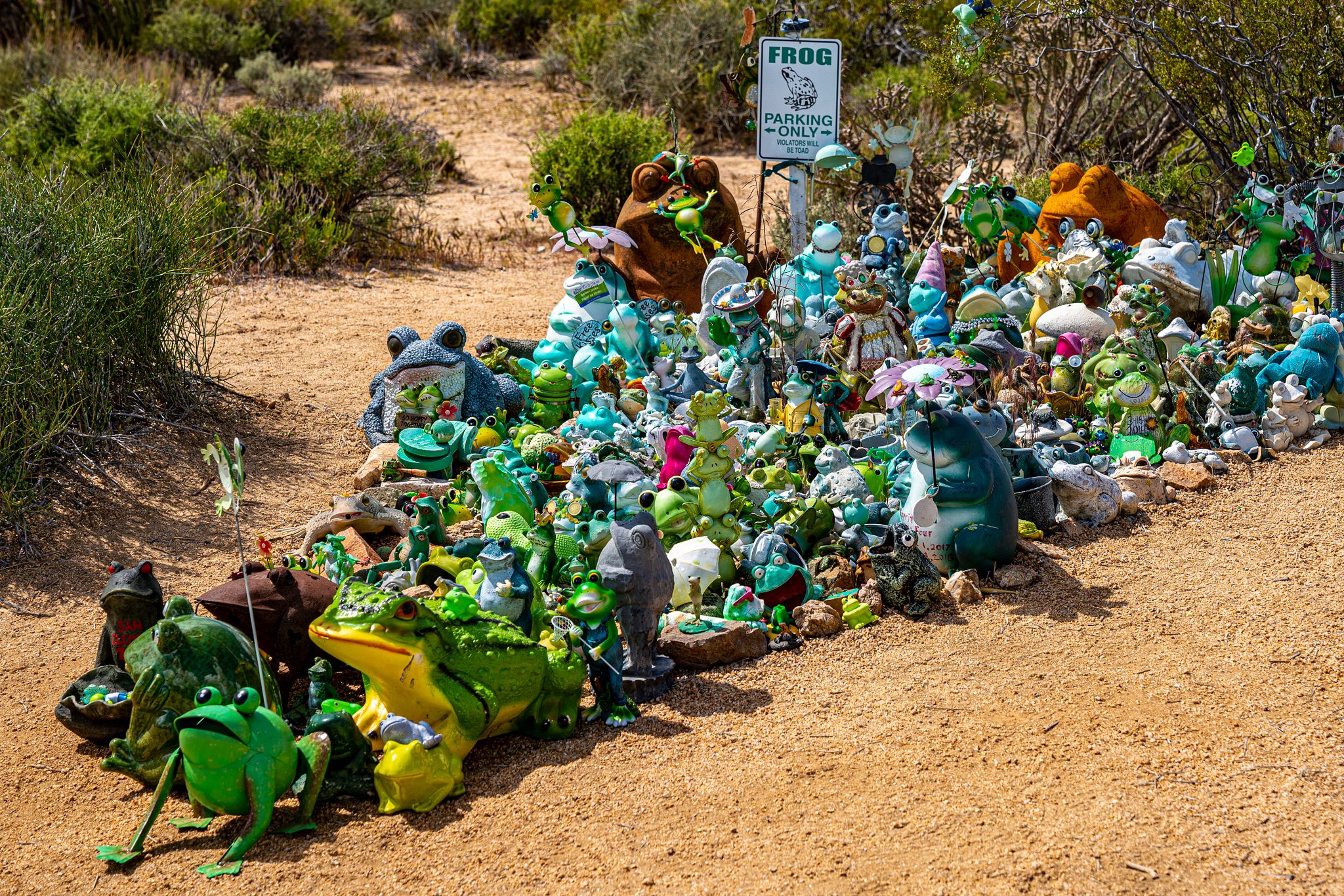 A collection of gnomes is clustered around a nearby tree too.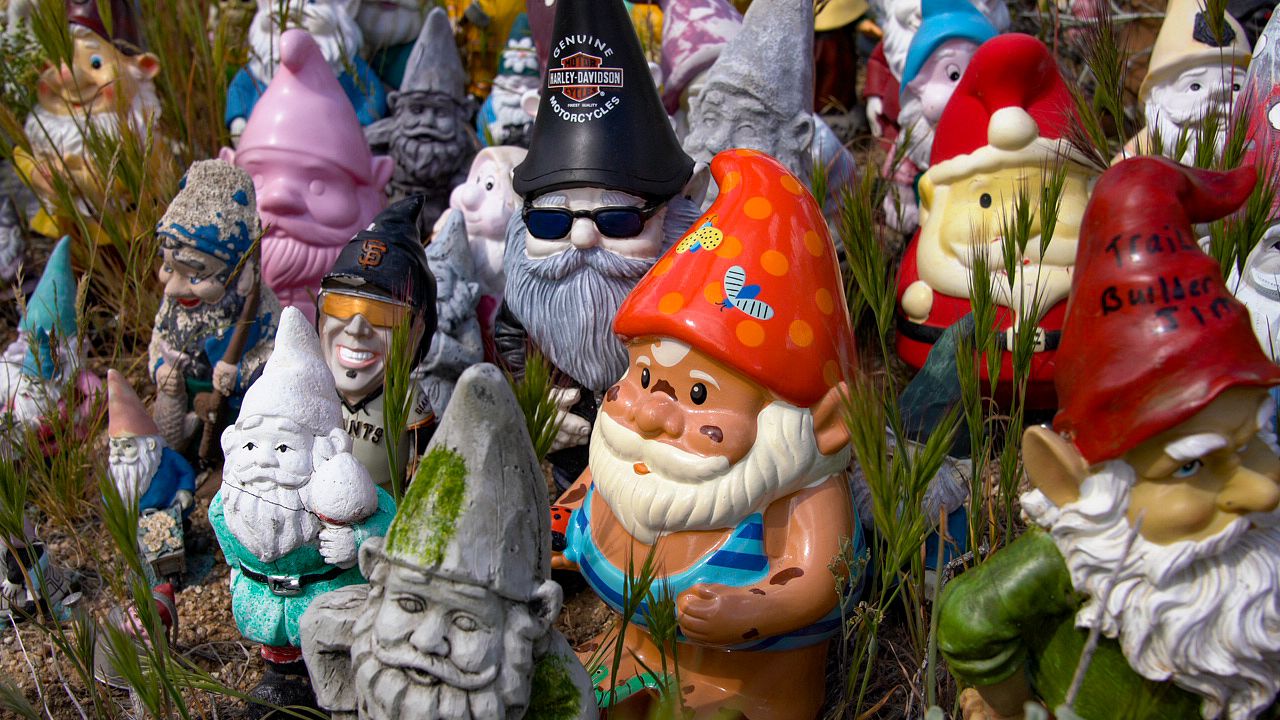 Despite the vast quantity of these tiny ornaments and toys, the area is actually very well maintained - they're all carefully placed and organized!
Our final stop of the day was another 5 miles down the road before turning north onto Aiken Cinder Mine Road for about 3 miles. The landscape all around here is filled with lava flows and cinder cones - many of which show the scars of recent prospecting.
We parked the car to go and explore the Lava Tubes. A metal staircase leads down underground - it's surreal and more than a little bit scary, stepping down into the darkness miles away from anywhere!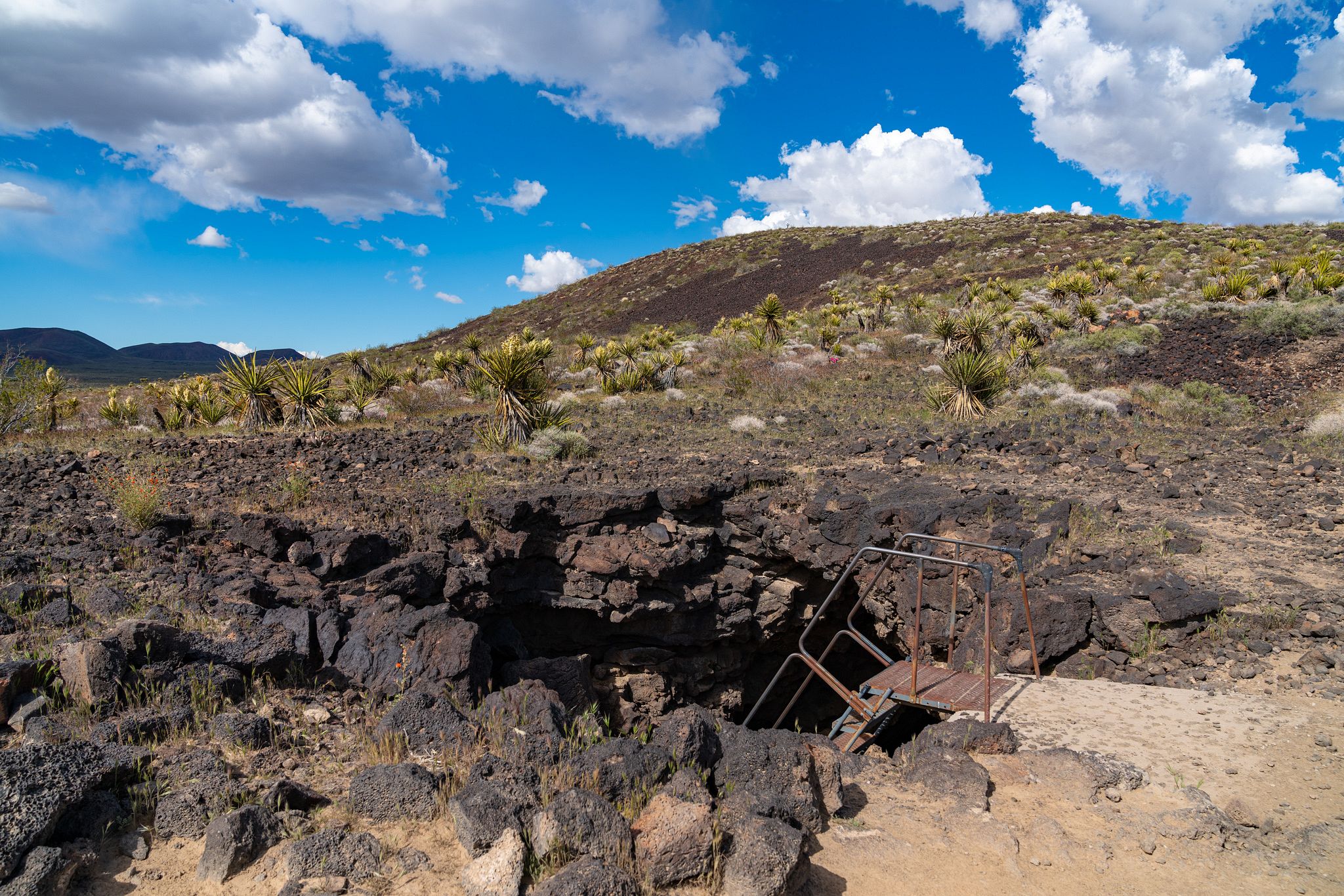 It was a very cool experience though - something we didn't do last time we were here.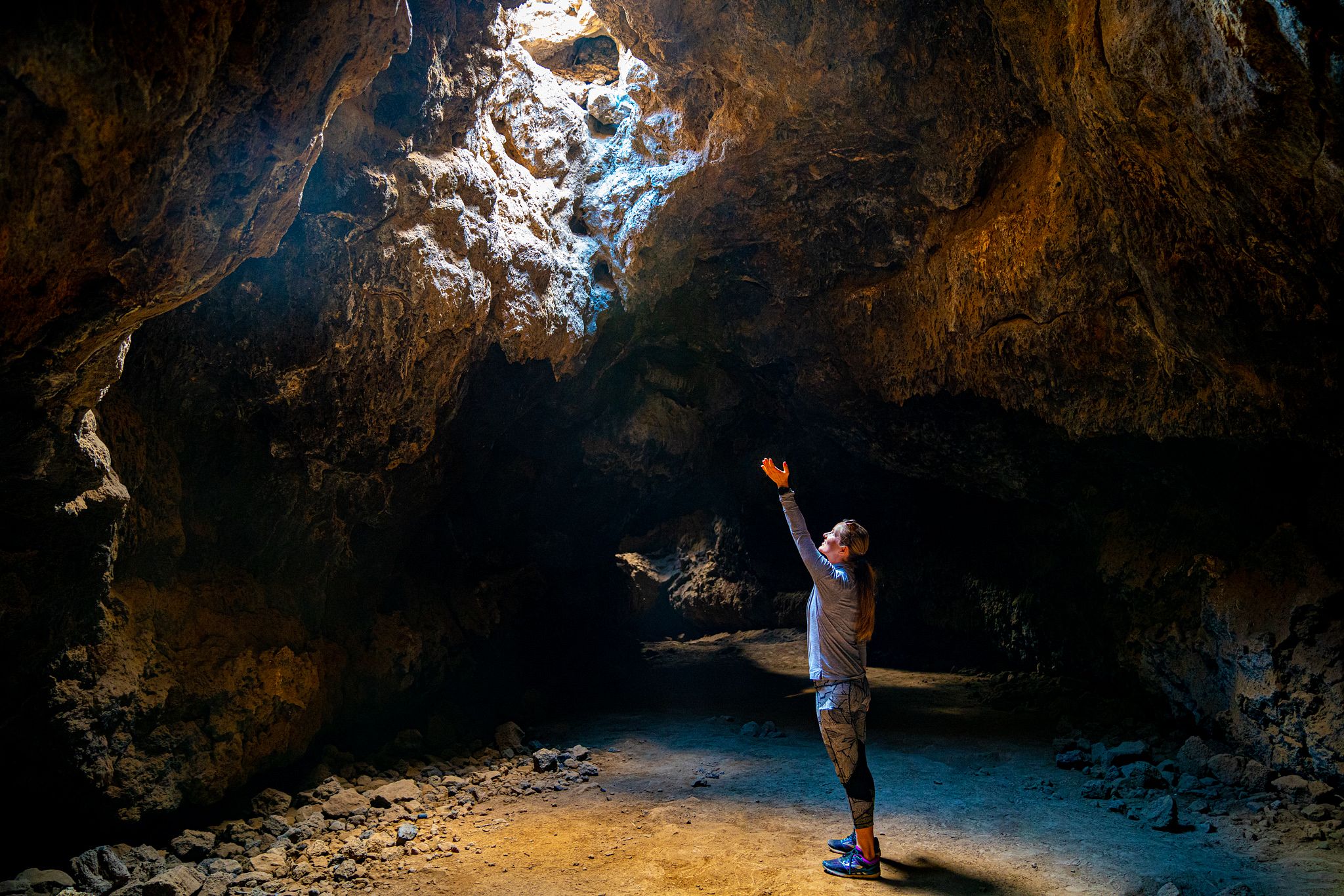 The final 10 miles or so of driving for the day took us through sand dunes. Conditions were good and it's great fun driving through them! The deep sand can easily bog down easily 4WD vehicles though so we had to be a little careful with the path we took.
The Mojave Road crosses Kelbaker Road, and just a few hundred feet north of this crossing is where we chose to camp for the night. We stopped here last time too, and the rocks offer some protection from the wind.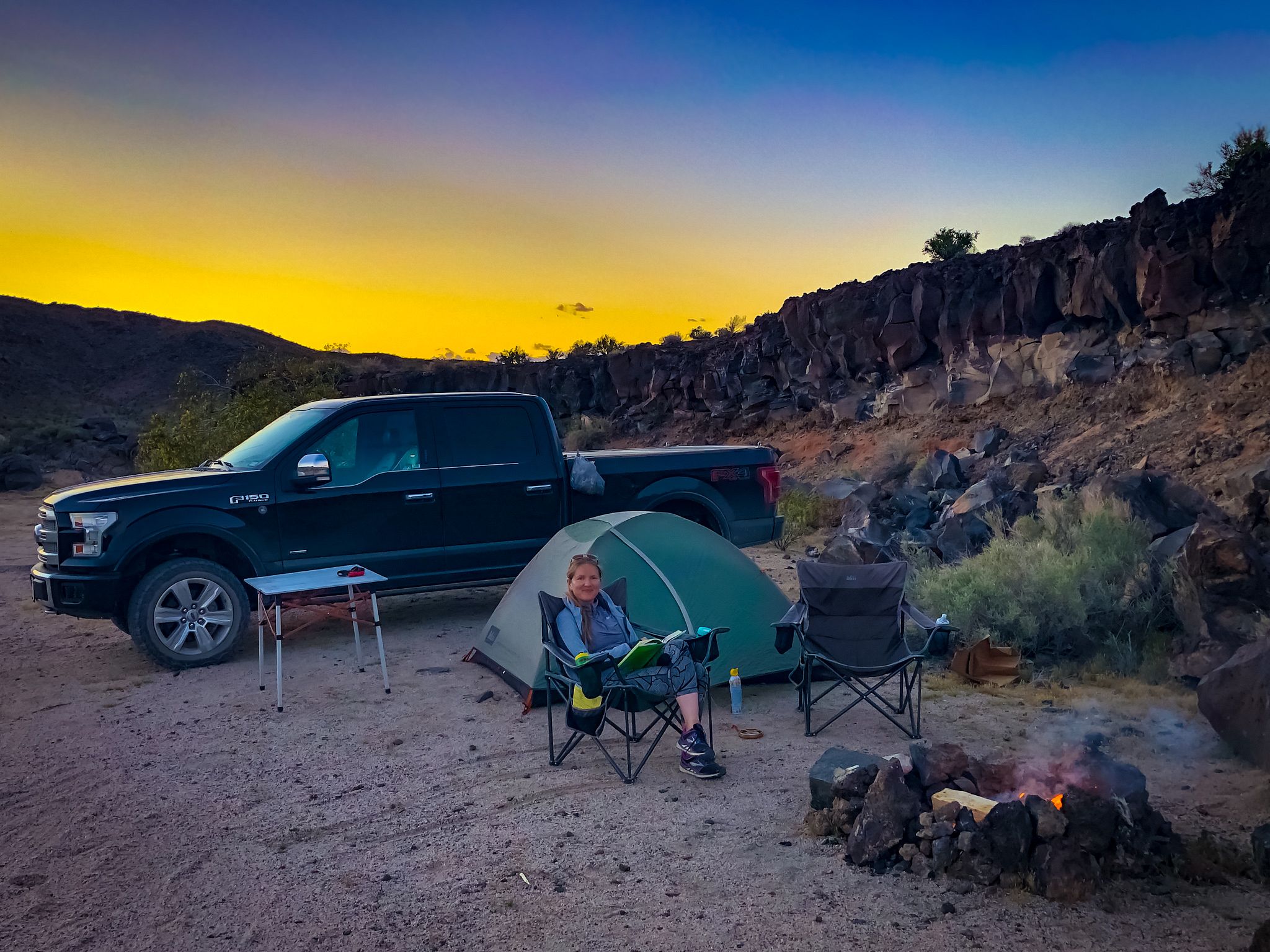 With no city lights, nobody else around and a cloudless night, we were afforded some beautiful views of the Milky Way in the starry night sky! What a perfect way to end an extraordinary day.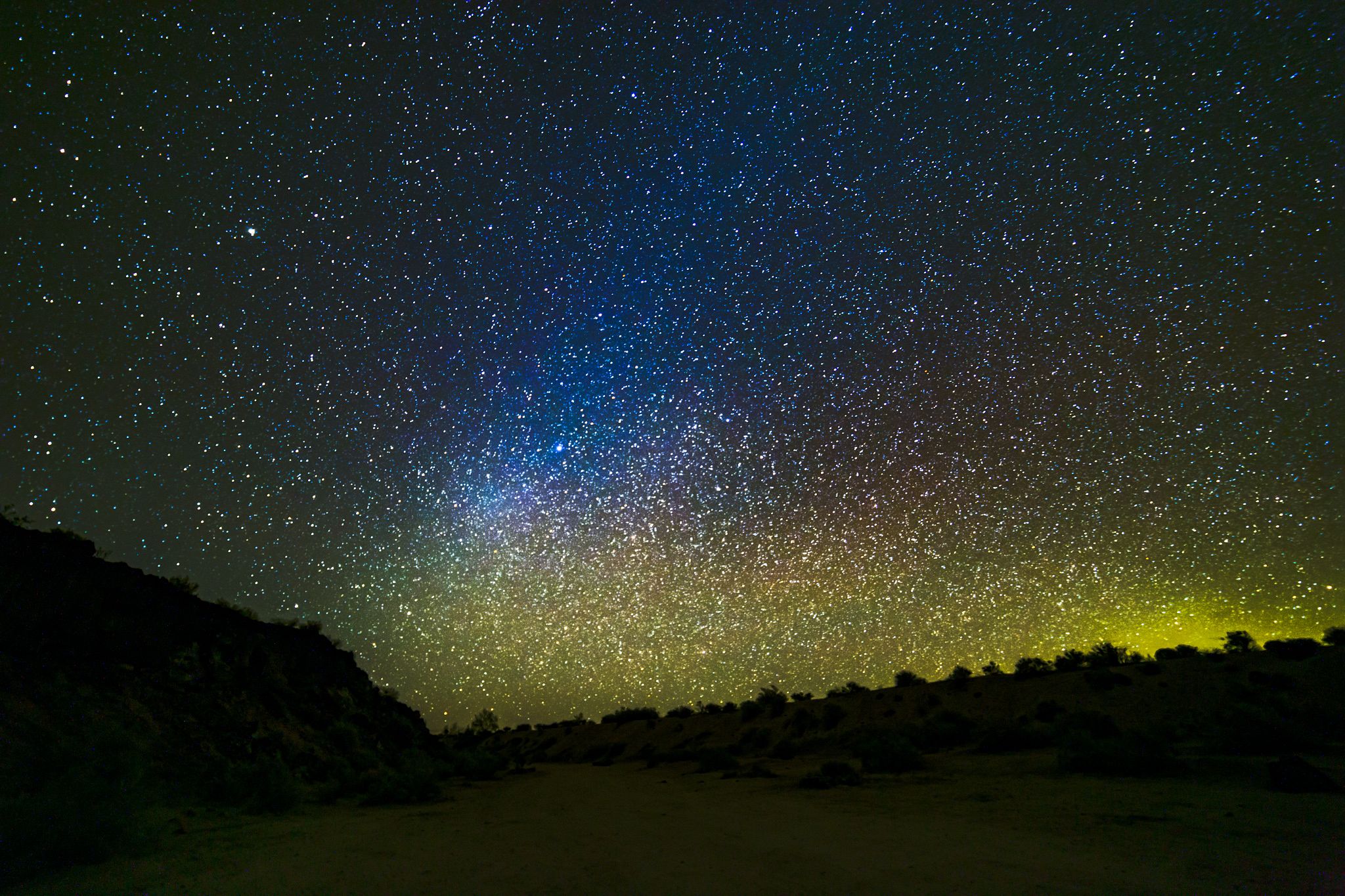 Day 3: Soda Lake & Sand Dunes
We woke up around 7am, ready to hit the trail. We had a long day ahead of us - not only did we still have some more miles on the Mojave Road to cover, but we had to get back to our RV in storage and get hooked up. From there, we would end up traveling all the way to Flagstaff, AZ - a long day!
A short distance along the trail, we passed by Seventeenmile Point, so named because it was believed to be mid-way between Soda Springs and Marl Springs - 17-miles in each direction, making it the longest stretch of the Mojave Road without water.
The sandy dunes of the day before gave way to the alluvium of the desert floor, before becoming very rocky and slow going - an area known as Devil's Playground. We stopped for breakfast just on the eastern edge of Soda Lake.
Soda Lake looks very different depending on how recently it rained. Moisture on the lake brings the bright white salts to the surface, gleaming white once the water evaporates. Gradually, the wind brings dust in from the West which turns the surface a dull brown.
Soda Lake can also be one of the most treacherous stretches of the Mojave Road - dust blown in by the winds turns to sticky mud following the rains. Even 4WD vehicles can easily get stuck.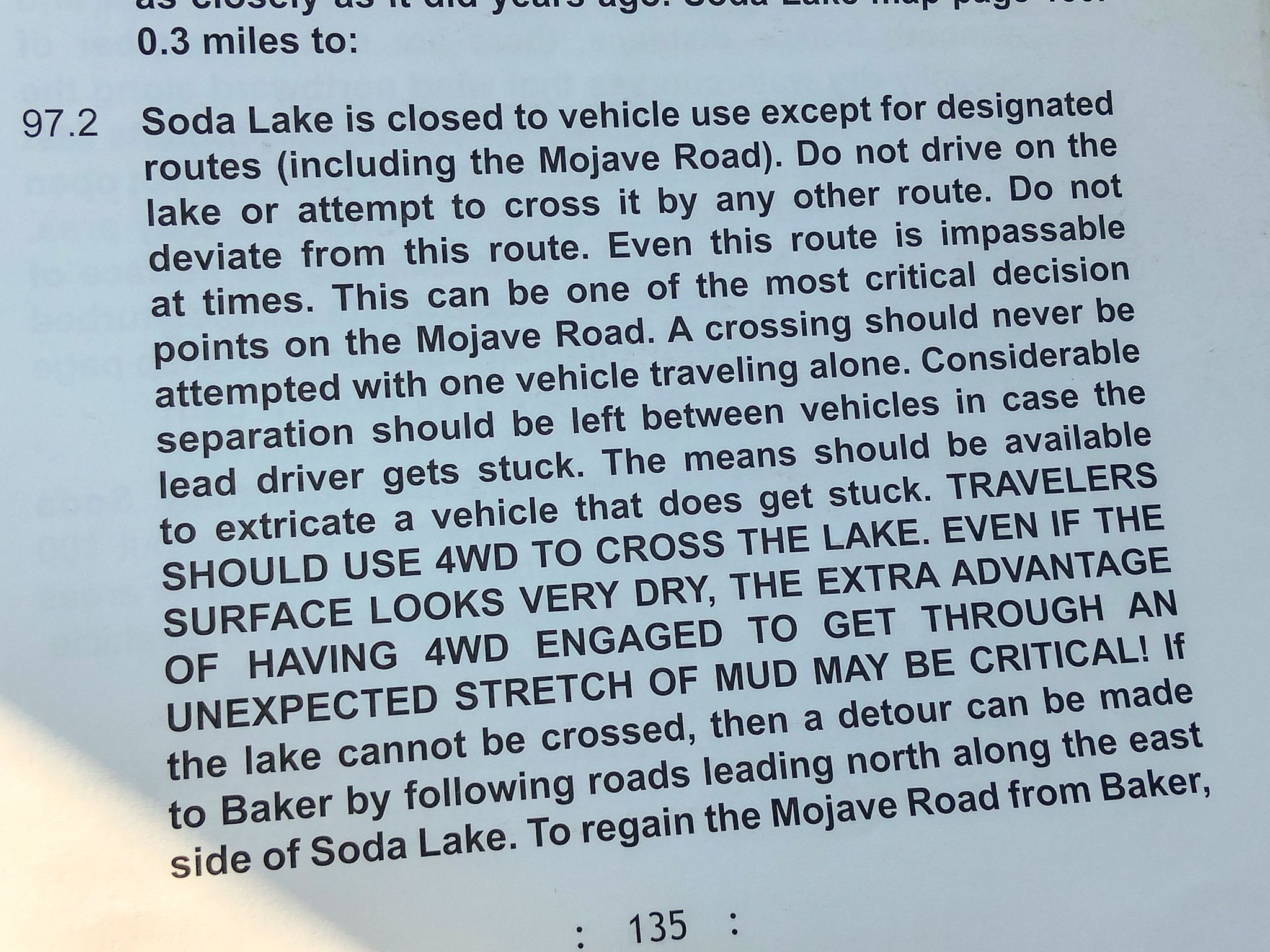 Although it's not advisable to cross alone, there was nobody else in sight. But the National Park staff at Kelso Depot Visitor Center had said Soda Lake conditions should be good, and everything looked to be dry and hard.
As it turned out, the crossing was uneventful. We engaged 4WD out of an abundance of caution, but the surface was smooth and solid - we sailed across its with no issues whatsoever.
4-miles out into Soda Lake is a pile of rocks known as Traveler's Monument. Another rite of passage is to place a stone on the pile - we added one we had picked up for the purpose at breakfast.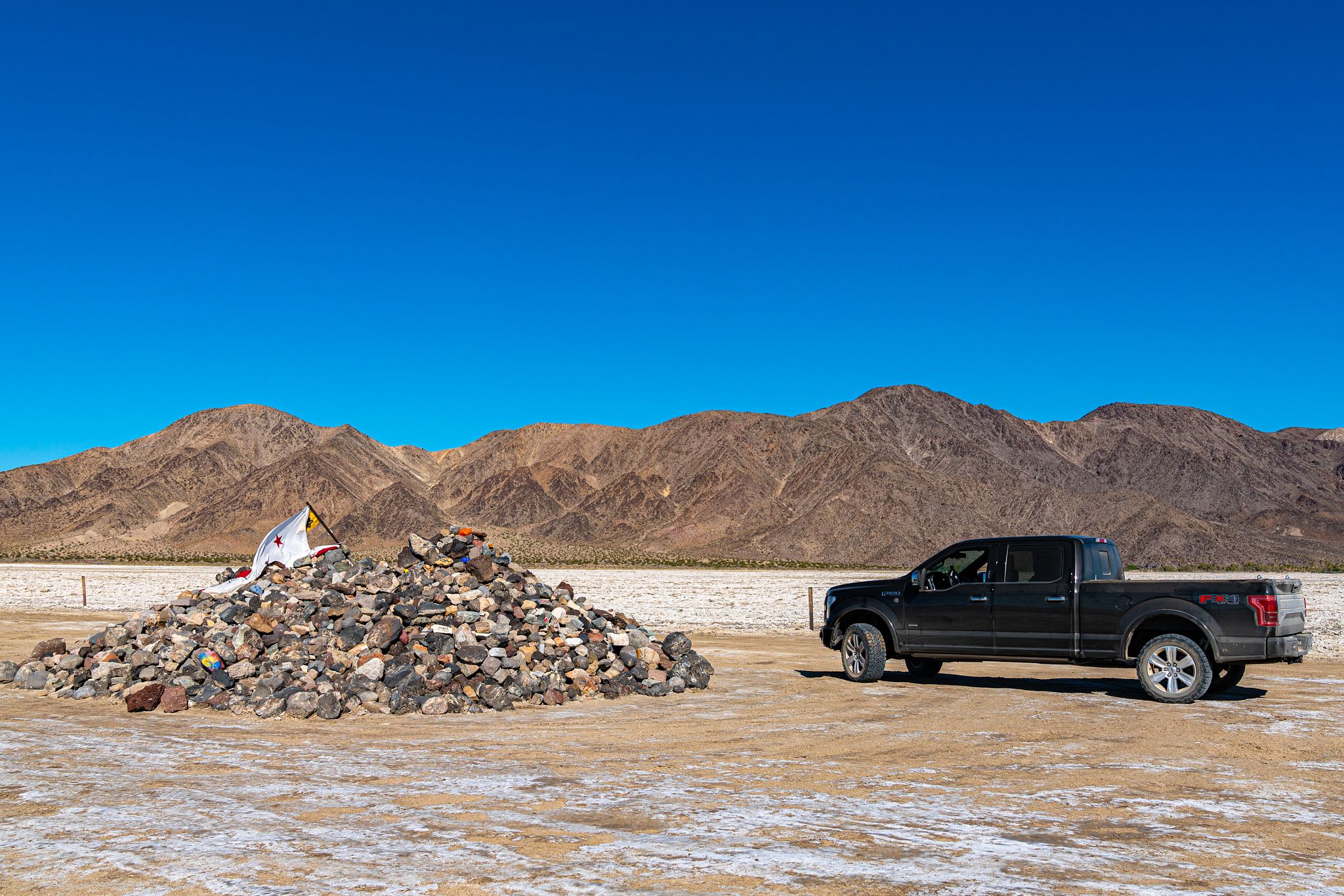 If you climb to the top of Traveler's Monument and look down, there is a brass plaque. Only those who have been there may know its message. Sorry!
From Soda Lake, the road continues west through the Soda Mountains. This is one of my favorite sections of the entire Mojave Road - the dry washes are VERY fun to drive! The sand is loose but not so deep that you're likely to get stuck (as long as you're paying attention) and the area is wide and open so visibility is good.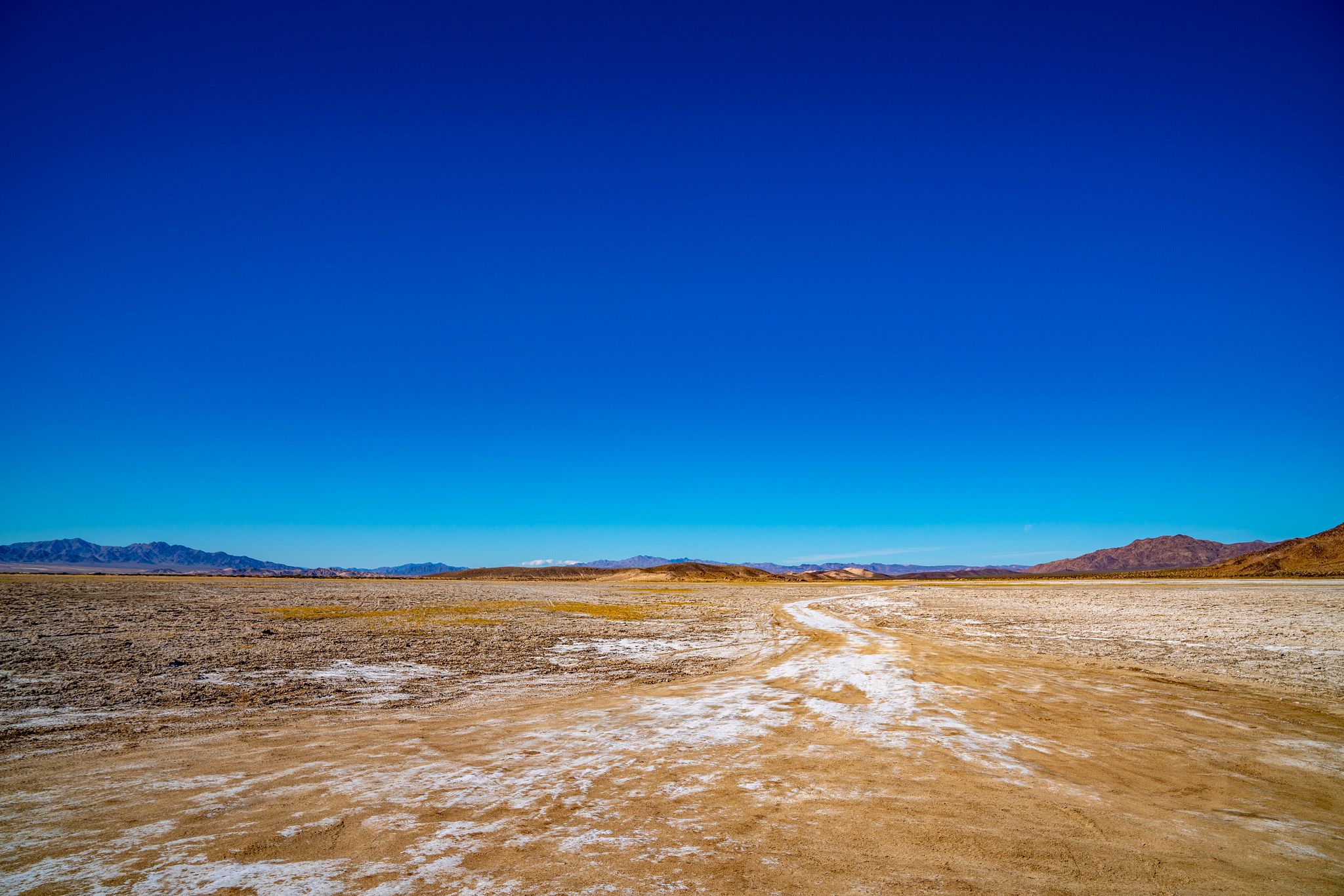 Although I had done nearly all the driving up until now, Diana enjoyed doing some of the driving through here - she has a surprisingly heavy right foot!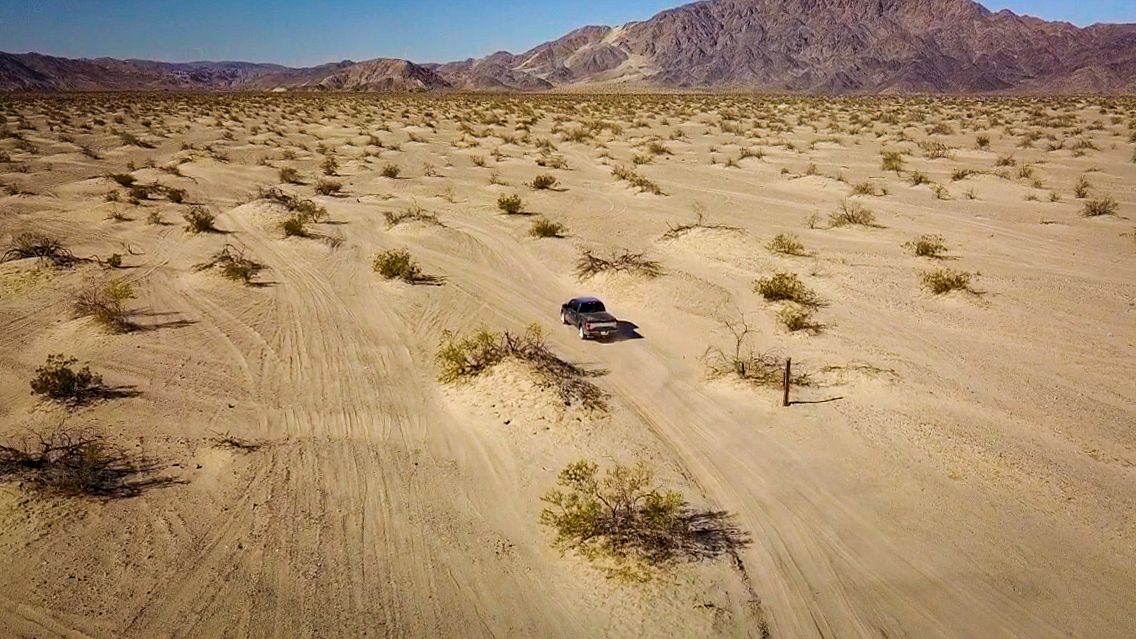 We drove about 15-miles west from Soda Lake to the intersection with Basin Road. Further West from here is Afton Canyon. It's a beautiful section of the Mojave Road, but it reaches a point where the only route forward involves a water crossing.
It varies in depth, but was over 2ft deep when we crossed last time. Deep water crossings like that aren't great in the F-150, and doing it on our own seemed reckless.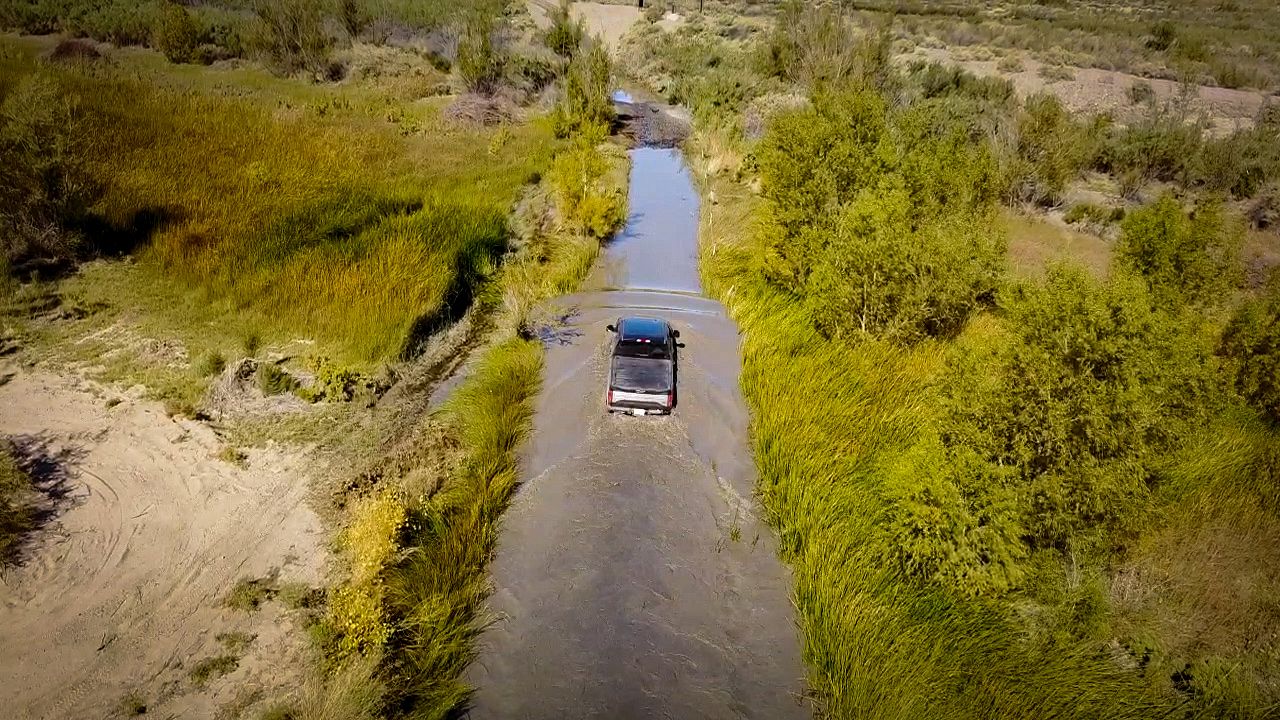 So instead we chose to head north for several miles on Basin Road until we reached I-15 - the end of our Mojave Road crossing.
Back on paved roads, we wasted no time in driving back to our RV. While we had planned to stay around the area a little longer, a heat wave with temperatures in excess of 95ºF was forecast for the next few days and we had no desire to boondock without AC in those conditions.
Instead, we'd continue our journey along Route 66, eastbound to Flagstaff, AZ to visit our next National Park Unit - Sunset Crater Volcano National Monument.
Conclusion
Even though we've driven the Mojave Road twice now, I'd still go again. And again. And again!
I love the remoteness, and with the right vehicle it's safely and responsibly accessible. 4WD is definitely required, although we only used it for the steep descent at Watson Wash, and as a precaution crossing Soda Lake. The bigger requirement, in my opinion, is high clearance - that made a big different in some of the rocky sections!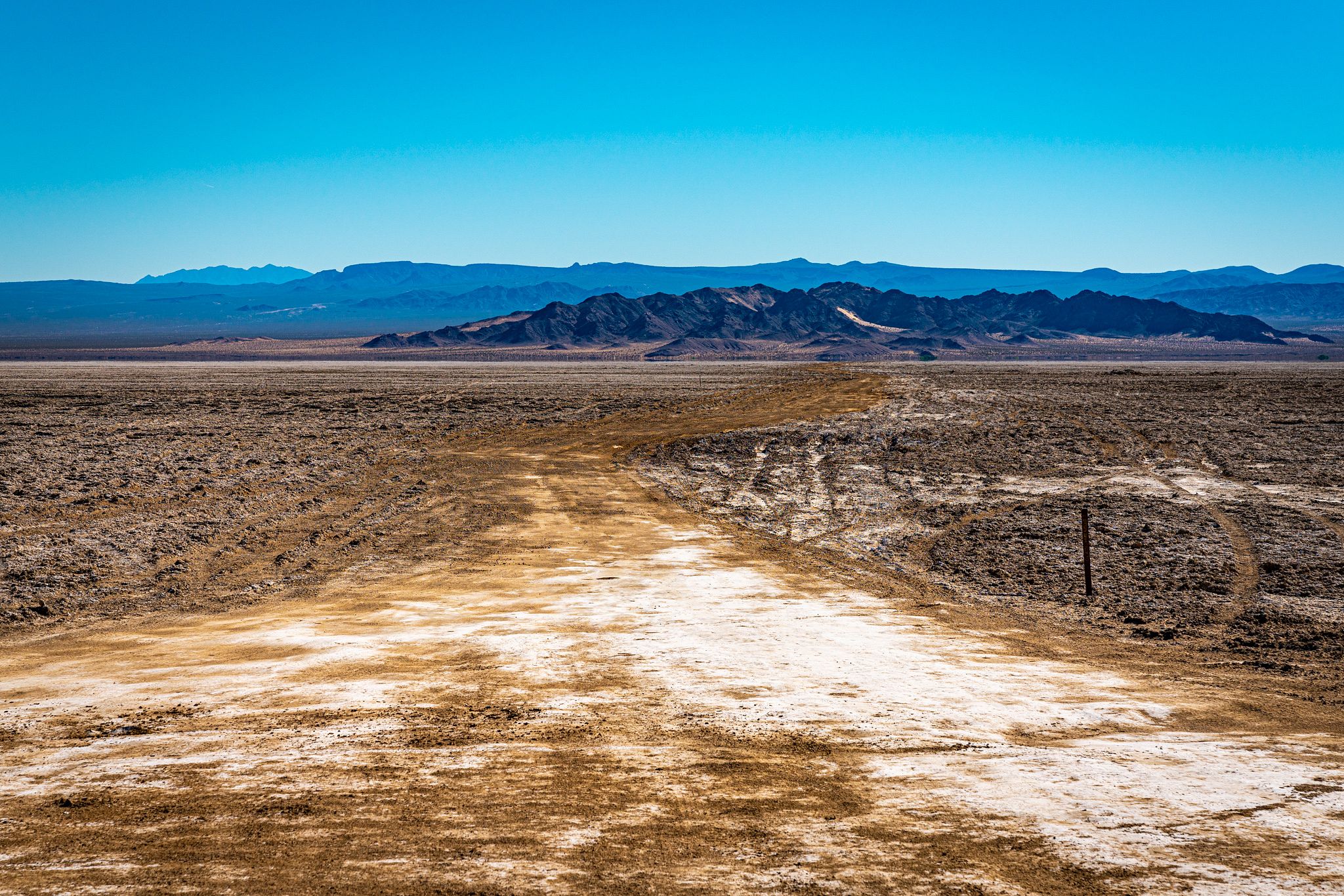 Don't have 4WD, or nervous about going alone? Check out Overland Bound - a nationwide community of overland enthusiasts. They aim to make overloading accessible, safe and sustainable. Their members regularly plan trips drive the Mojave Road, and are always open to people joining them.
I know for sure it won't be our last time - either visiting Mojave National Preserve or driving the Mojave Road. There are plenty of areas of Mojave National Preserve that we want to explore more - the singing sand of the Kelso Dunes, and the Joshua Tree forest on Cima Dome amongst them.
And as always, the desert is ever changing - from season to season, and following rains. Always more to experience.
Have you been to Mojave National Preserve? Have you driven the Mojave Road? Let us know in the comments below!
As for us, we'll see you next time when we visit Sunset Crater Volcano National Monument near Flagstaff, AZ!