We installed the AcuRite 986 wireless temperature sensors in our RV fridge and freezer so we can ensure our food stays safely chilled.
As an Amazon Associate we earn from qualifying purchases.
Introduction
Our travel trailer came with a fairly standard RV fridge - a Norcold N611. It's an absorption fridge with a capacity of 6 cubic feet and can either run on propane or 110V AC electricity.
Although replacing the original heavy, wood panel doors with magnetic dry erase doors was one of the first upgrades we did in our RV, the fridge has avoided further mods...until now.
Unlike residential fridges which use a compressor, RV fridges cool using absorption. Somewhat counter intuitively, they actually work by heating fluid - hence how they can cool your food by burning propane.
But absorption fridges are less efficient and less powerful than compressor-driven fridges. So much so that many people are choosing to swap their RV fridge out for a residential model. Unfortunately, without making significant changes to our electrical setup, that wouldn't be a feasible route for us given the amount we boondock off-grid.
However, we have noticed (like many others) that the fridge and freezer temperatures do change as we travel - particularly seeming to respond to the outside weather and our elevation. We've learned to avoid opening the doors more than necessary, and not to put things we don't want to risk freezing near the top of the fridge.
Recently though, an unusually large grocery shop filled both our fridge and freezer to their limits!
We knew that our fridge and freezer would struggle to keep all that food cool, but we had no way to know for sure how cold things were. We needed data!
Why monitor temperatures?
To avoid a bacteria called Listeria, the temperature in your fridge should remain below 40°F at all times. And for safe longer term storage of food, your freezer should remain at 0°F or below.
In fact, according to the US Food & Drug Administration (FDA), food can be safely stored indefinitely at temperatures below 0°F - although the quality will decrease the longer it's left.
Without monitoring, we had no idea how cold our fridge and freezer were. Sure, things seemed cold - food in the freezer was solid and frozen, and cold drinks from the fridge were definitely cold! But we wanted to know for sure.
What we needed was some way to see exactly what the temperature was inside our fridge and freezer at all times, without opening the doors and letting all the cold air out. Furthermore, we wanted to know if the temperature in either the fridge or freezer had risen to unsafe levels, preferably with an alarm so we could intervene.
Why we chose the AcuRite 986
I set about trying to find something that would fit all our requirements. It should:
have separate fridge and freezer temperature sensors
show historical minimum / maximum temperatures
be wireless so we can read the temperature without opening the door
At the recommendation of several others, I settled on the AcuRite 986 refrigerate thermometer with two wireless temperature sensors. We bought the Standard version, but they also sell a Premium model - as far as I can tell, the difference is purely aesthetic and I personally prefer the look of the Standard model.
It's an inexpensive setup that includes two wireless temperature sensors (one for the fridge and one for the freezer) and a head unit that magnetically attaches to the fridge door and displays the temperatures.
It looks pretty sleek, and with our magnetic fridge and freezer doors, it was exactly what we were after!
The only feature it doesn't have that I sort of wish it did, is humidity monitoring for the fridge. While it's hard to control humidity in a fridge, it's also important for food preservation and it would have been nice to keep an eye on. Not a big deal though.
Unboxing the AcuRite 986
We ordered our AcuRite 986 from Amazon, and it arrived a few days later, packaged in a relatively unremarkable brown box - a simple label betrayed its contents.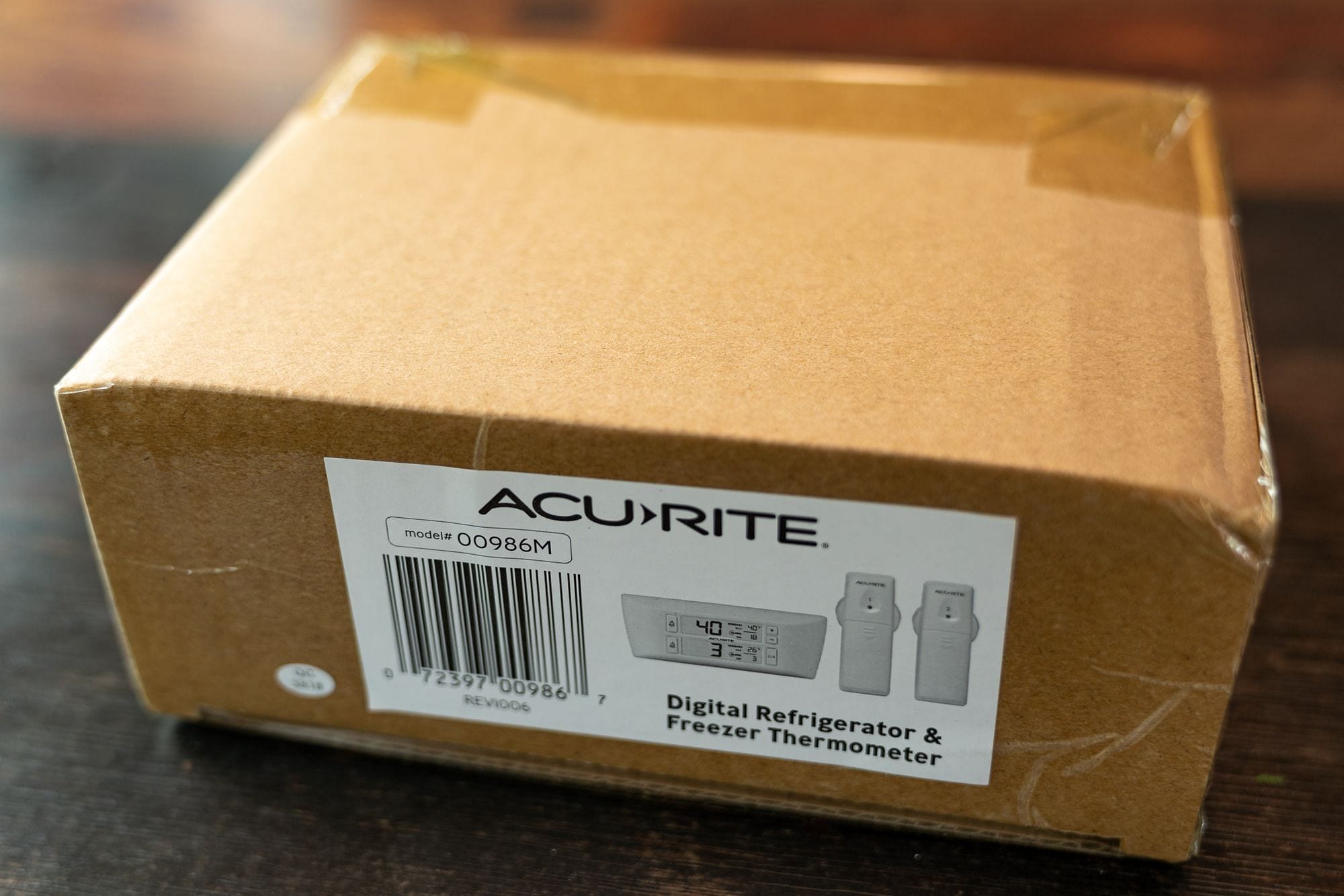 Inside the box was the main display and two temperature sensors. The sensors are labeled 1 and 2, and the instructions recommend you use 1 for the fridge and 2 for the freezer.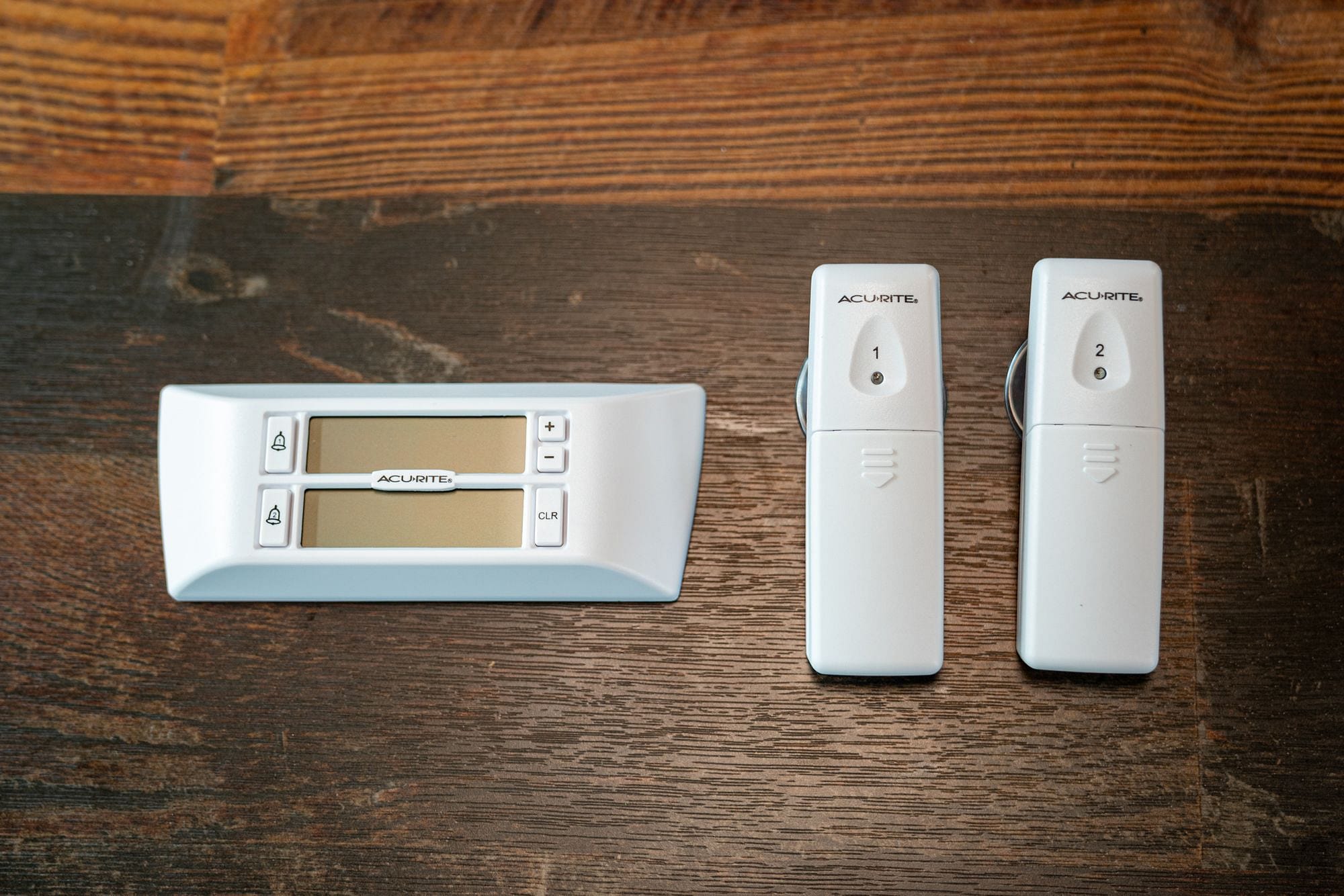 However, we decided to use them the opposite way around (1 in the freezer and 2 in the fridge) as the display is configured to show the temperature for sensor 1 at the top, and sensor 2 at the bottom. Since our RV fridge has the freezer compartment at the top and the fridge at the bottom, it makes more sense for the temperatures to be displayed in the same order.
Installing batteries
I was a little disappointed to see that the AcuRite 986 didn't come with batteries. I'm so used to devices being supplied with batteries these days that I hadn't checked before ordering.
The main display takes two AAA batteries. We always keep plenty of Amazon Basics AAA batteries on hand since they're common in so many sensors and remotes - I just don't feel it's worthwhile using expensive branded batteries in these appliances.
The temperature sensors use two AA batteries each. Although we had some of these, for cold temperature applications (particularly the freezer sensor), the manual recommends using Lithium AA batteries. These fare much better and will last much longer in cold temperatures.
Unfortunately I didn't have any so I went ahead and installed two normal alkaline AA batteries.
I ordered some Lithium AA batteries though and will swap these in next time the batteries need changing.
Mounting the sensors
The temperature sensors can be mounted a couple of ways - using either the built-in clip or the already-attached suction cup. I really liked that they thought of this, and didn't just leave it up to you to figure out how to mount the sensor.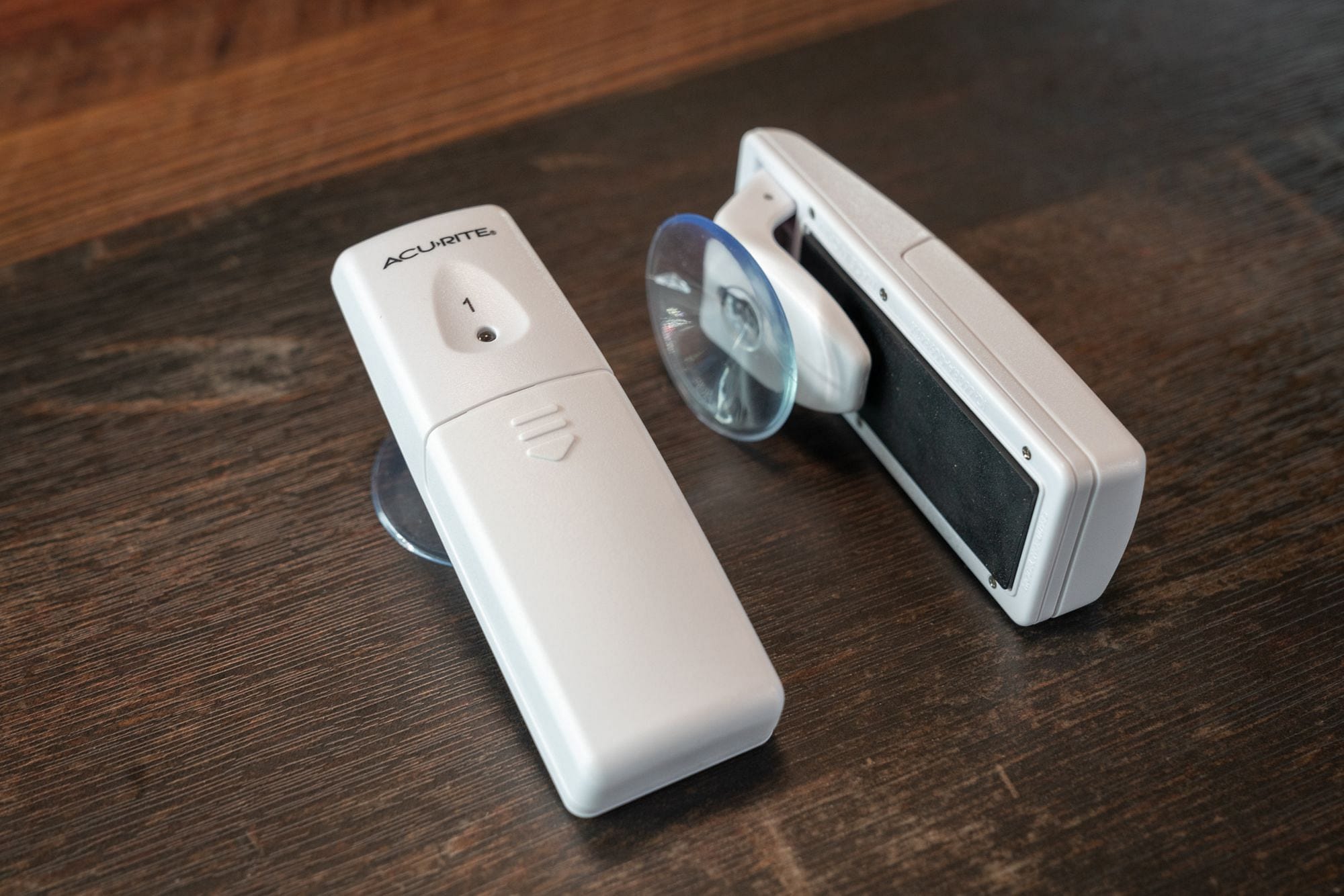 If you wanted to, you could even remove the suction cup and attach it with a screw - not that I have any screws in our fridge though!
I made use of the suction mount to stick the fridge sensor at the top of the fridge. This keeps it out of the way and lets us make full use of the space available. So far it's stayed in place, but we haven't moved the RV since installing it so that will be the real test. If it falls off, I might just relocate it onto a shelf using the clip.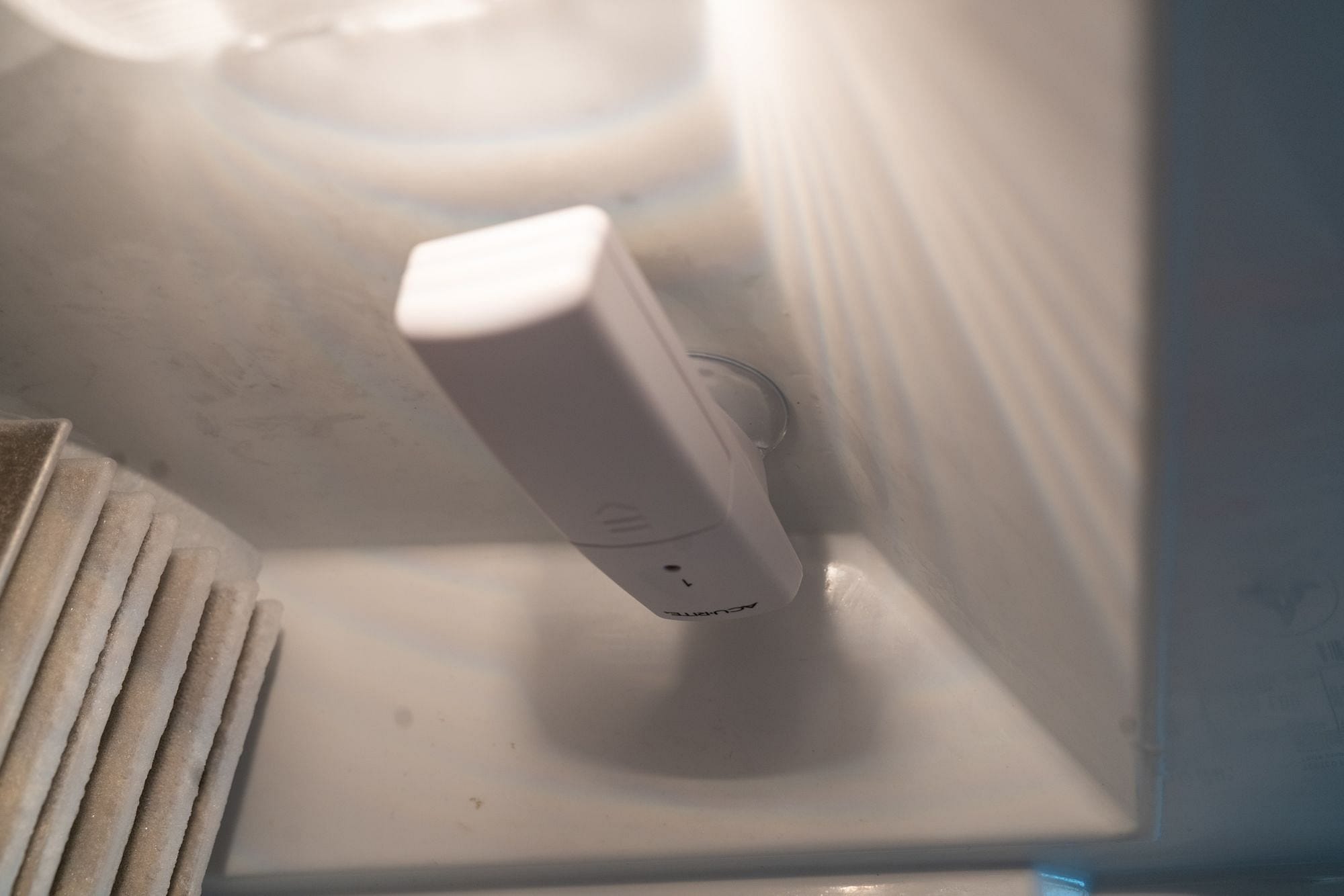 It's worth noting that the top of the fridge is where the cooling fins are, so that's likely to be the coldest part of our fridge. Just bear that in mind when reading the temperatures - the bottom of the fridge could be warmer, especially if the fridge is full and there isn't much airflow.
The manual does say that the suction cup doesn't adhere well in freezing conditions. Given the layout of our freezer, there was no obvious place to suction mount it anyway, so instead I chose to simply clip it onto the shelf.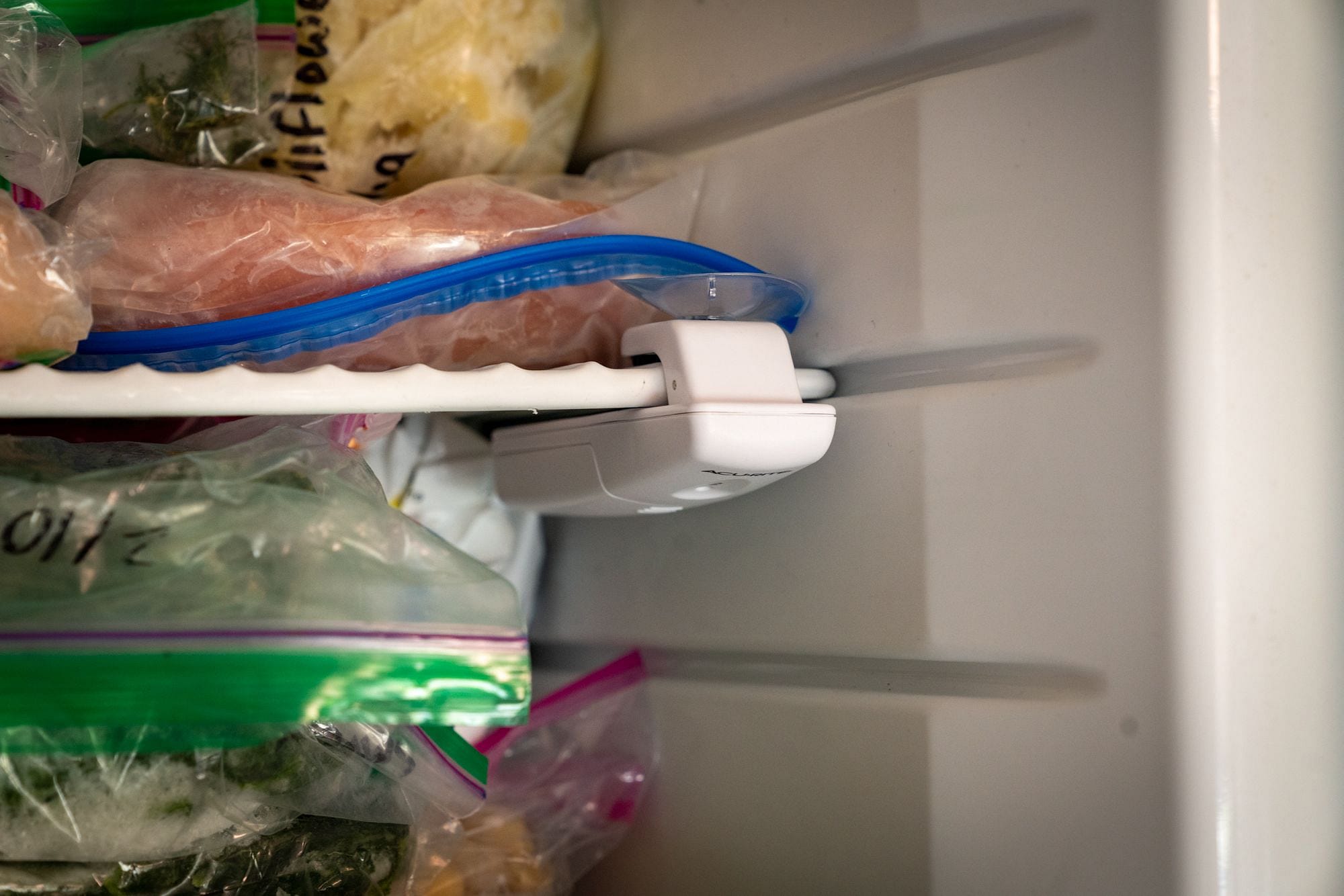 Setting alarms
The AcuRite 986 comes with an alarm feature for both the fridge and freezer. These are preset with the FDA's recommended minimum and maximum temperatures - for the fridge that's 33°F to 40°F, and the for the freezer it's -22°F to 0°F. If like us, you swapped the sensors around though, these temperature thresholds will be wrong.
Fortunately, the alarm temperatures are customizable.
For now, I've left the alarms turned off as I learn a little more about the ranges I should expect our fridge and freezer to stay within.
Monitoring temperatures
So does it work?
Yes! The sensors update every 2 minutes or so, and seem to respond appropriately after we've opened the door.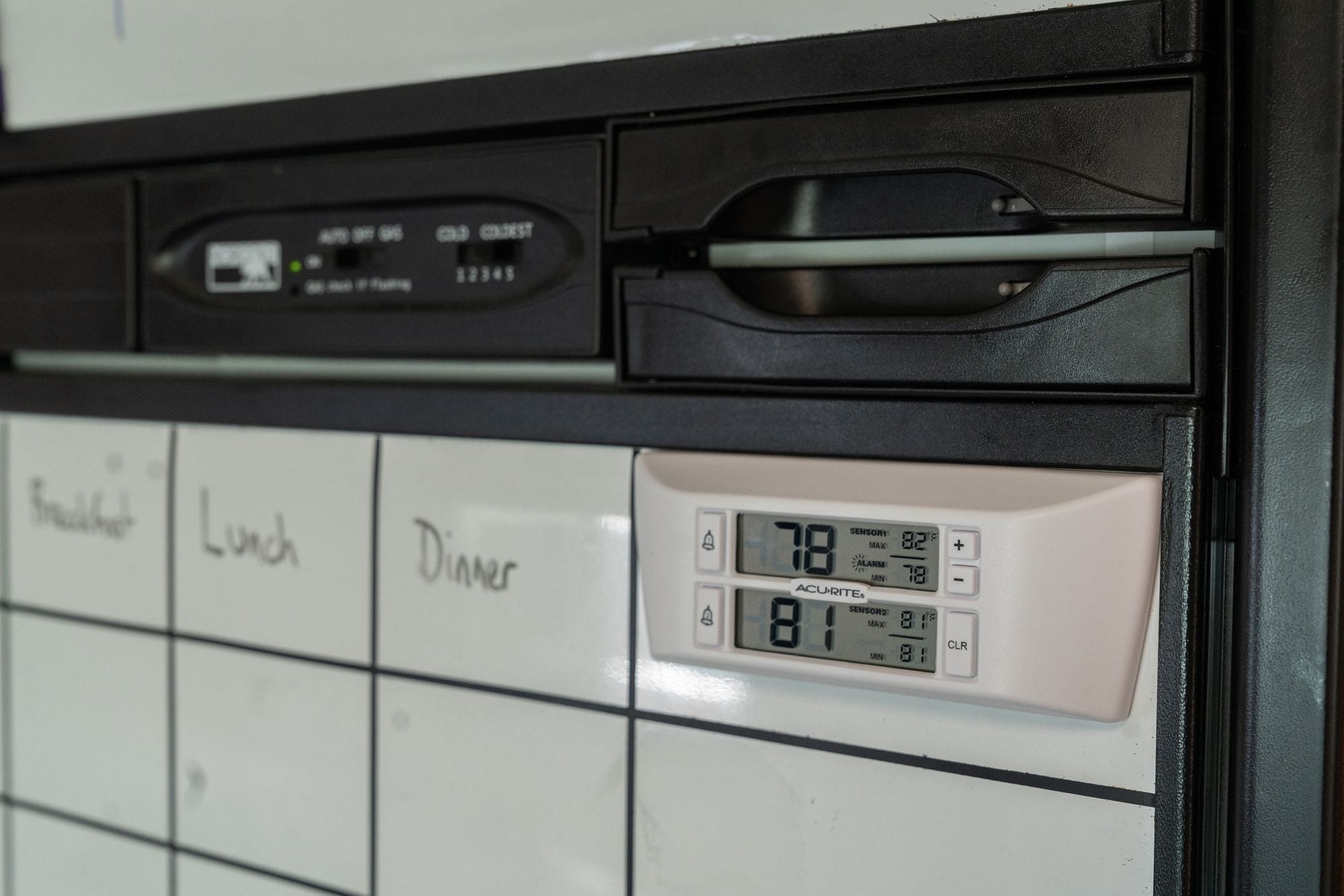 I'm keeping a close eye on the temperatures, and even though the RV is staying in one place, I've noticed fairly large temperature swings. Especially when we add in a load of new groceries, it takes a long time for the fridge, and particularly the freezer, to cool down again!
It's noteworthy that even though our fridge is on shore power and set to its coldest setting, the freezer temperature has never reached 0°F or below. I hadn't realized it wasn't getting cold enough for safe, long-term storage of food - something pretty important to us!
Honestly, I'm kind of kicking myself that we didn't add these sooner. Compared even to the price of the food in our fridge, these sensors are very inexpensive. They work well and I would recommend the AcuRite 986 to anyone who cares about keeping their fridge and freezer at safe temperatures.
Especially if you travel like we do, they will provide the information you need to adjust the temperature dial on your fridge to keep your food cold.
Hacking the sensors
Checking the temperature on the display is all well and good, but it's very...manual. Sure, the minimum and maximum values give a little insight into the history, and the alarm can be configured to sound if something goes wrong.
But I want more data.
How long does the fridge take to cool down when you fill it with groceries? How much variation is there in the temperature in normal operation? What's the effect of opening the door? What do the 1-5 settings on our fridge correspond to in real temperature? Does the fridge cool more effectively on propane or AC mode? If we add fans to the fridge, how much difference will they make?
So many questions!
To answer these, accessing data isn't enough - I need to log and record it over time. And that's not something I can do manually. No, I need automatically read the data from the sensors and log it in our monitoring system.
I've already done something similar with the wireless sensors for our Ambient Weather WS-10 Weather Station, and these sensors use 433MHz RF transmissions too...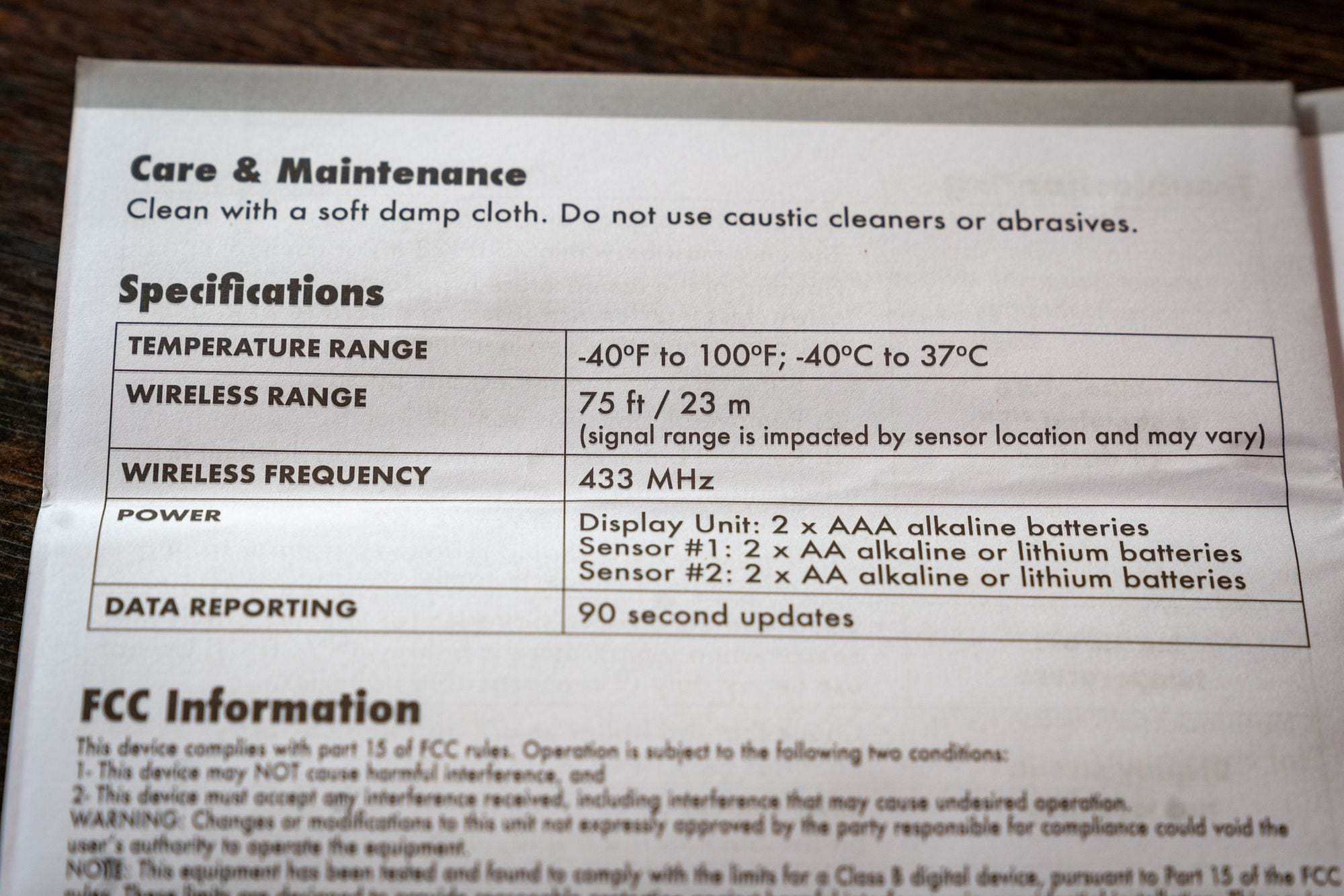 Stay tuned for the next blog post on this topic where I'll be intercepting and decoding the RF signal from the AcuRite 986 temperature sensors, then building an Arduino-based device to relay the data to our home automation system!