It's not a castle, and has nothing to do with Montezuma! We visit these well-preserved cliff dwellings to find out more.
Introduction
Flagstaff, AZ is a perfect base location for visiting 5 different National Monuments. The day after visiting Sunset Crater Volcano National Monument and Wupatki National Monument, we were heading out again.
This time we were heading just over 50-miles south down I-17 to visit Montezuma Castle National Monument and Tuzigoot National Monument.
Montezuma Castle National Monument is our 21st National Park Unit on our quest to visit ALL the National Park units in the US. We visited in April 2019.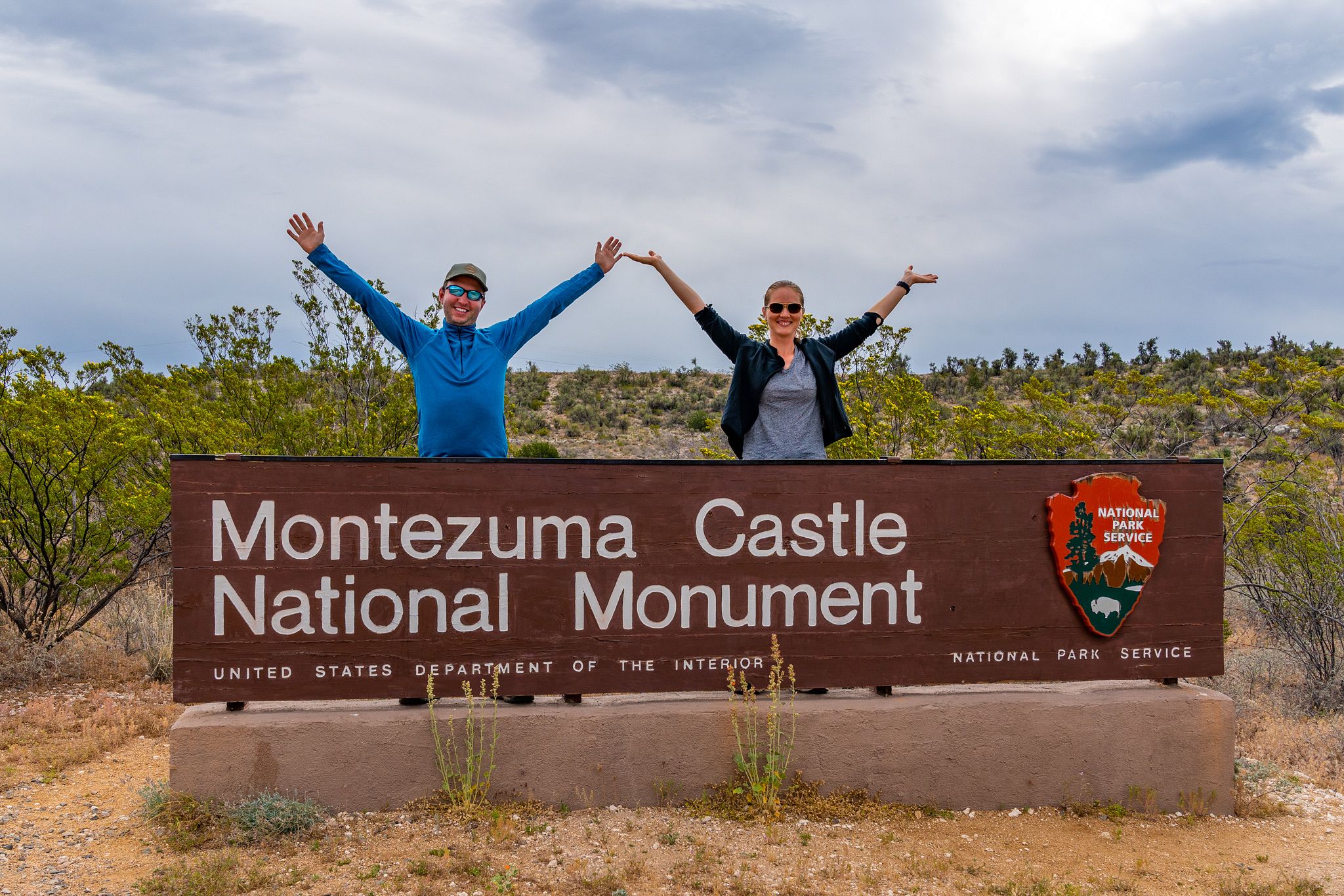 Location
The main site at Montezuma Castle National Monument is just a few miles from I-17 at exist 289.
Video
Background
Like several other National Monuments we had visited recently (Gila Cliff Dwellings National Monument and Tonto National Monument), Montezuma Castle National Monument protects a set of cliff dwellings.
History
The dwellings were built over a period of three centuries, between approximately 1100 and 1425 CE by the Sinagua people. The main structure, the so-called "Castle A", has five stories, at least 45 rooms, and sits 90 feet above the ground in the limestone cliffs.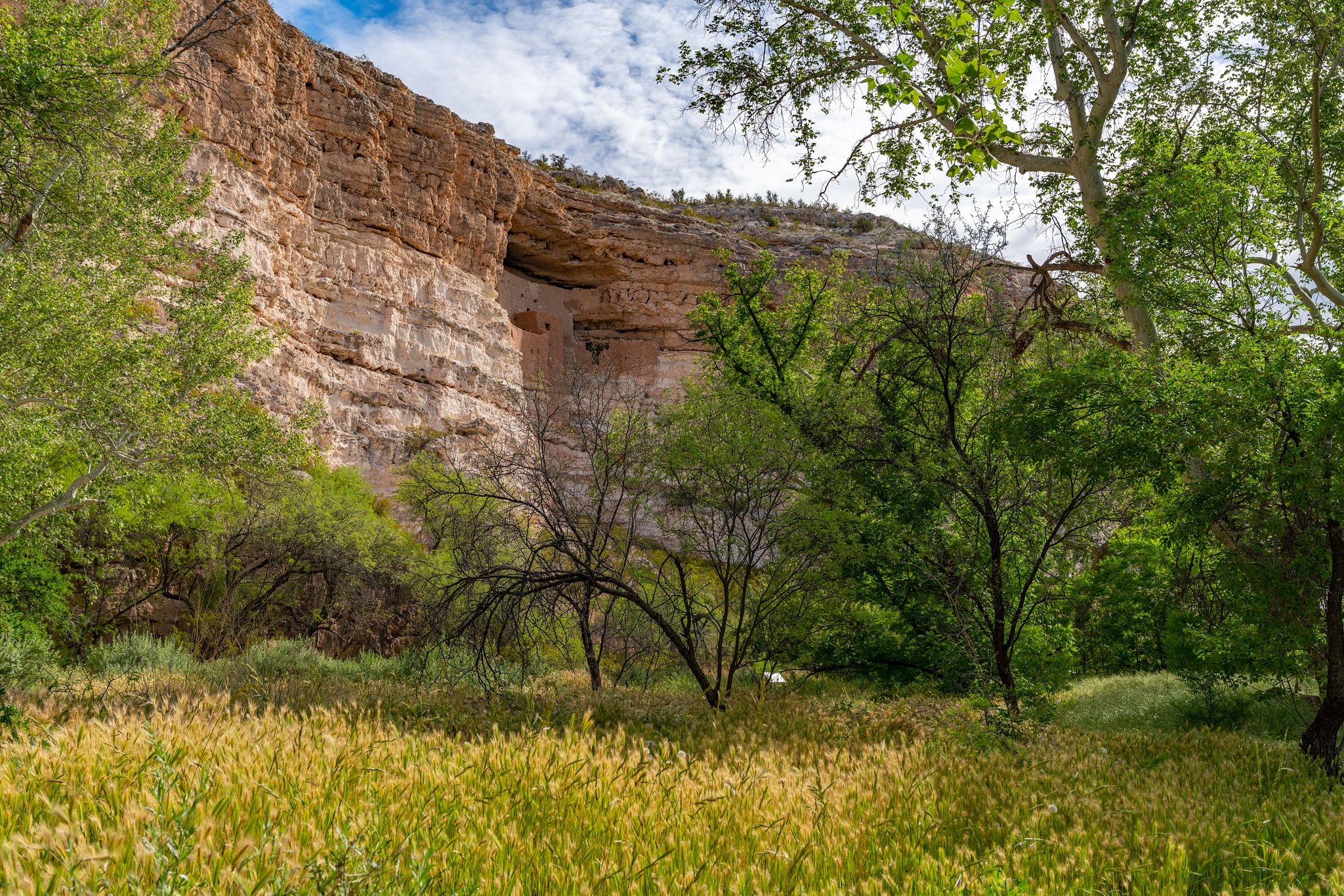 It was excavated in 1933 by the National Park Service and contributed greatly to our understanding of the Sinagua people who lived here.
Evidence shows that people first started settling in the area around 1050 CE, but the eruption at Sunset Crater Volcano about 60-miles north in the late 11th century caused a temporary evacuation.
However, around 1125 CE, the area was resettled. The eruption deposited nutrient rich sediments in the soils, and they relied on the Verde River for irrigation.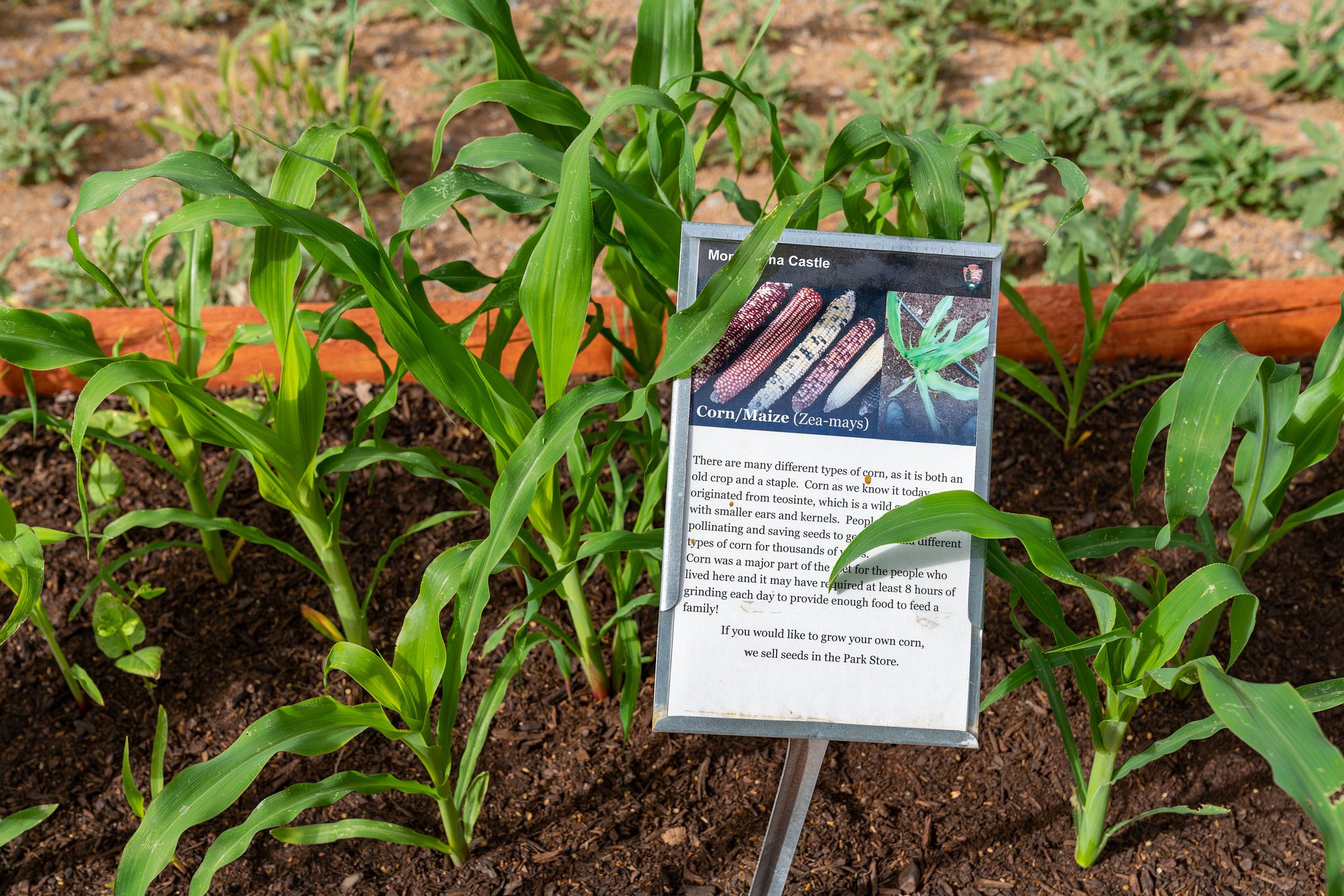 It is thought that construction of Castle A began around this time, continuing gradually over generations. While Castle A would have housed 30-50 people at its peak around 1300 CE, archaeological evidence suggests an even larger structure may have sat adjacent to it.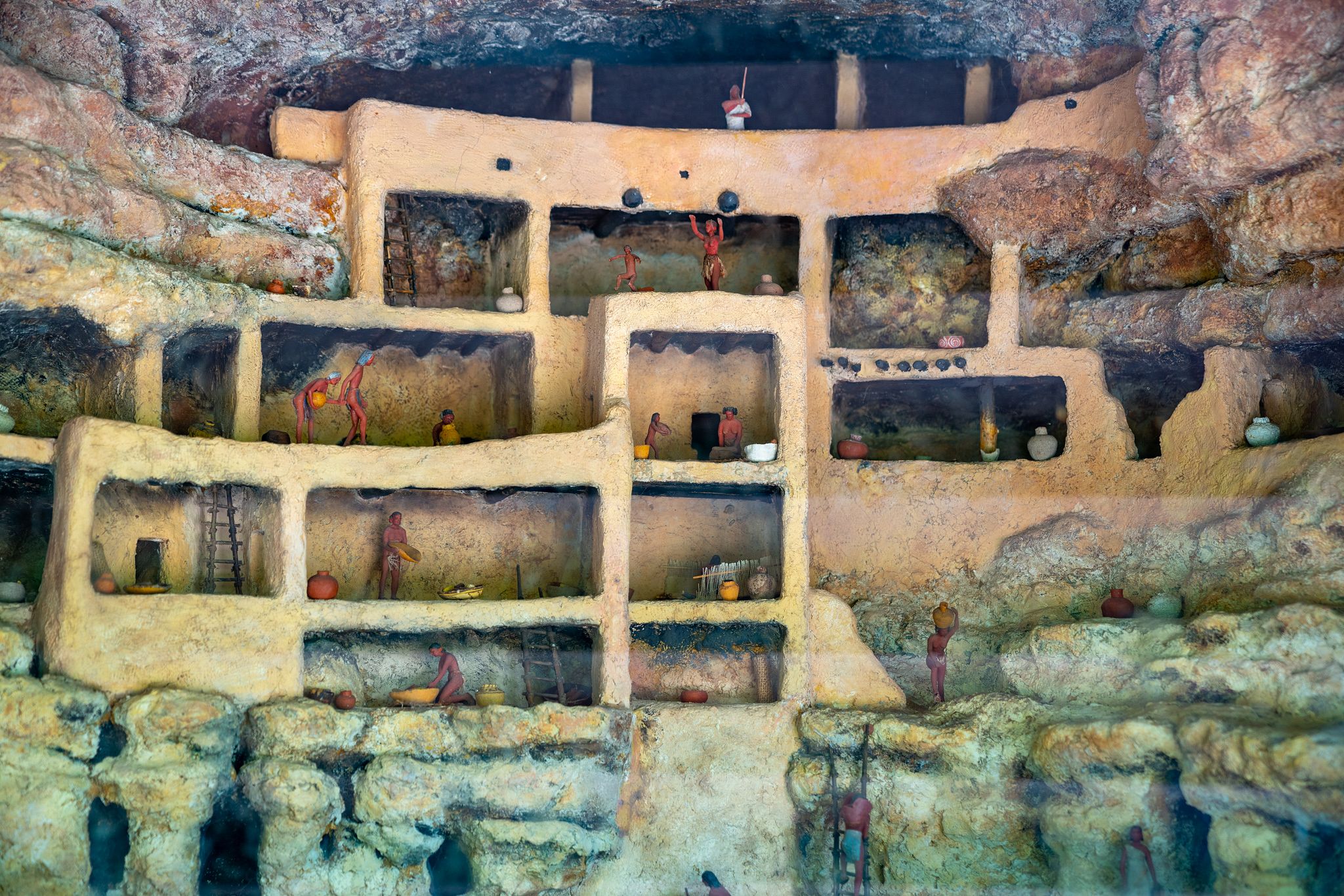 Like many settlements in the area, they were abandoned suddenly - and for reasons unknown. It's thought that people left Montezuma Castle around 1425 CE and migrated elsewhere.
Almost untouched for centuries, Montezuma Castle has remained remarkably well preserved until the modern day.
Name
Montezuma Castle really is a misnomer!
The structure would never have served the role of a castle in the traditional sense. Instead it was simply a set of dwellings - more like an apartment complex!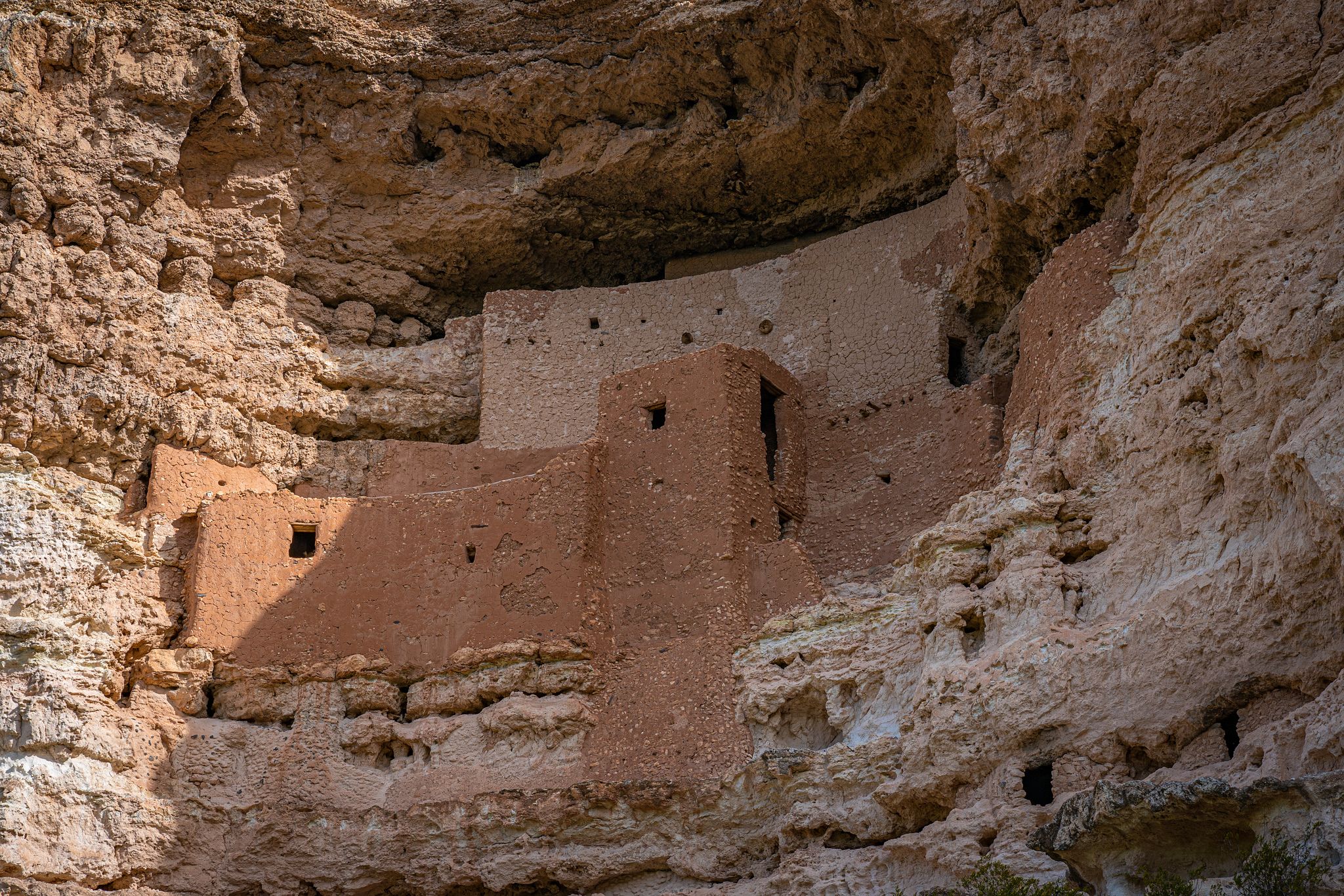 And why is it named "Montezuma"? When the ruins were first discovered by European-Americans in the 1860s, they were believed to have been built by Aztec Emperor Montezuma. There was frequently a notion that many archaeological sites were Aztec in origin.
We now know that Montezuma Castle had nothing to do with the Aztecs at all. And in fact, the dwellings were abandoned 40 years before Emperor Montezuma was born in 1466 CE.
So there you have it: Montezuma Castle isn't a castle and has nothing to do with Montezuma!
National Monument Designation
On June 8, 1906, US Congress passed the Antiquities Act of 1906, which was then signed into law by President Theodore Roosevelt.
By the end of 1906, Roosevelt had used his new-found powers to establish four National Monuments without needing approval from the US Congress.
Among these was Montezuma Castle National Monument on December 8, 1906.
Montezuma Well
Montezuma Well is about a 10-mile drive from the main Montezuma site.
The well is a natural limestone sink hole, formed when a large underground cavern collapsed. It's 386-feet from rim-to-rim, and the water level stays very steady even during times of drought.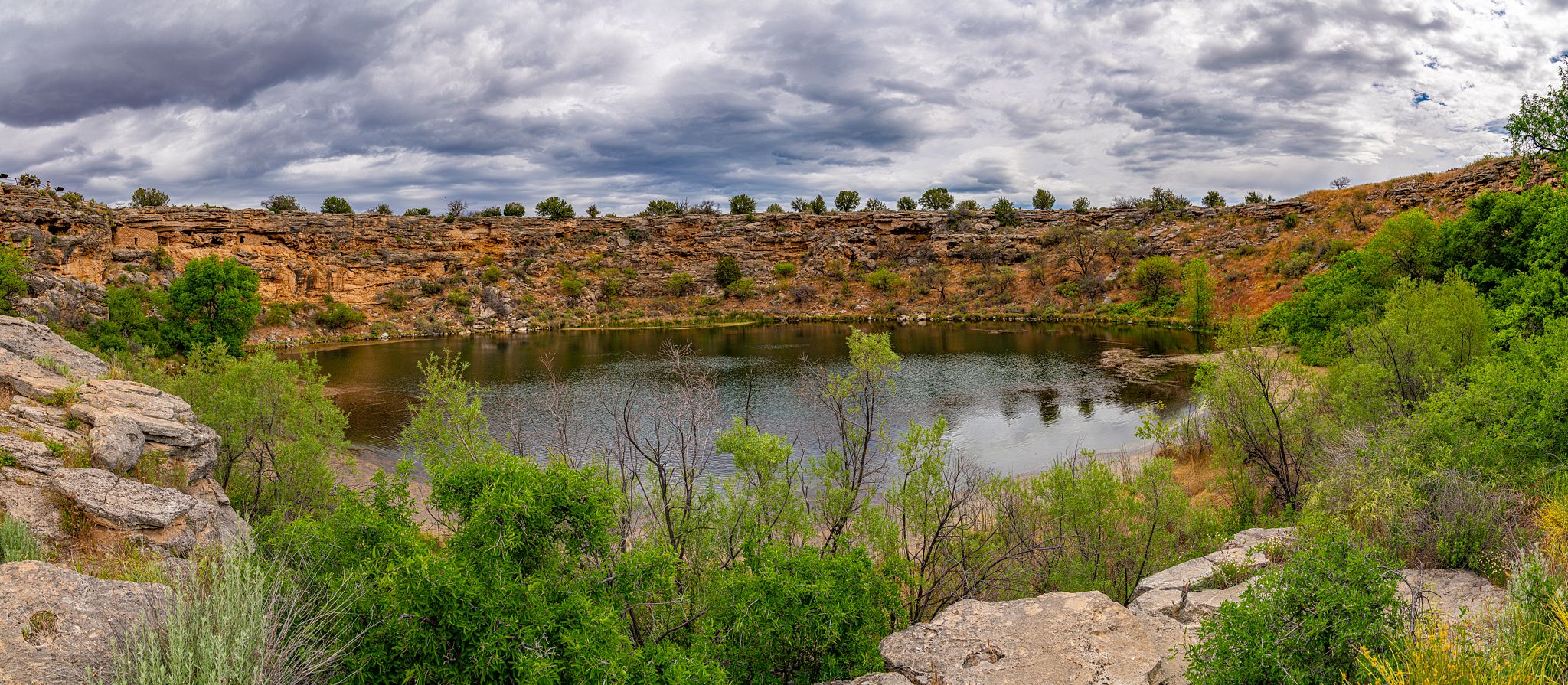 Fed by an underground spring, about 1.5 million gallons of water flow through the well each day. The water is highly carbonated and has high levels of arsenic.
This prevents fish from populating the well but it does contain five endemic species: an algae, a springsnail, a water scorpion, an amphipod and a leech. That's the most endemic species of any spring in the southwestern United States!
There are ruins of dwellings in the cliffs around the well, dating back to the same time period as those at Montezuma Castle.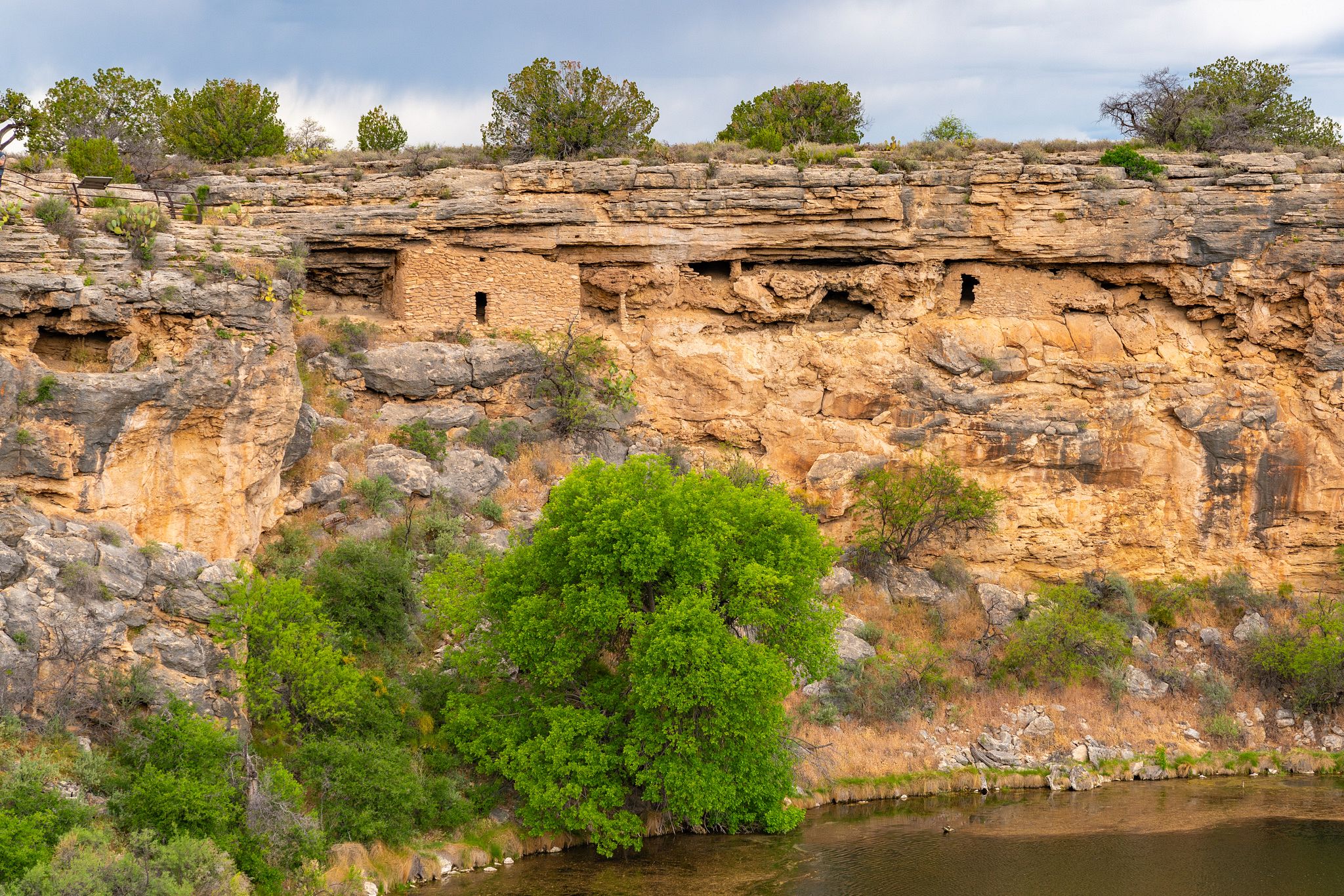 However, some time around 700 CE, a 7-mile long canal was built, diverting the well's outflow into a network of irrigation canals - enough to irrigate up to 60 acres of land!
Much of the original canal is still visible - some of it still in use. But even the abandoned sections can still be seen, since the high concentrations of lime in the well water deposited a cement-like coating on the canal, preserving its shape and path.
Itinerary
The National Monument is actually split into two separate sites: Montezuma Castle, and Montezuma Well. We started at the main Montezuma Castle site, since this is where the Visitor Center is located.
Visitor Center
As usual, we started our visit at the Visitor Center - making sure to log the visit with a stamp in our Park Passport.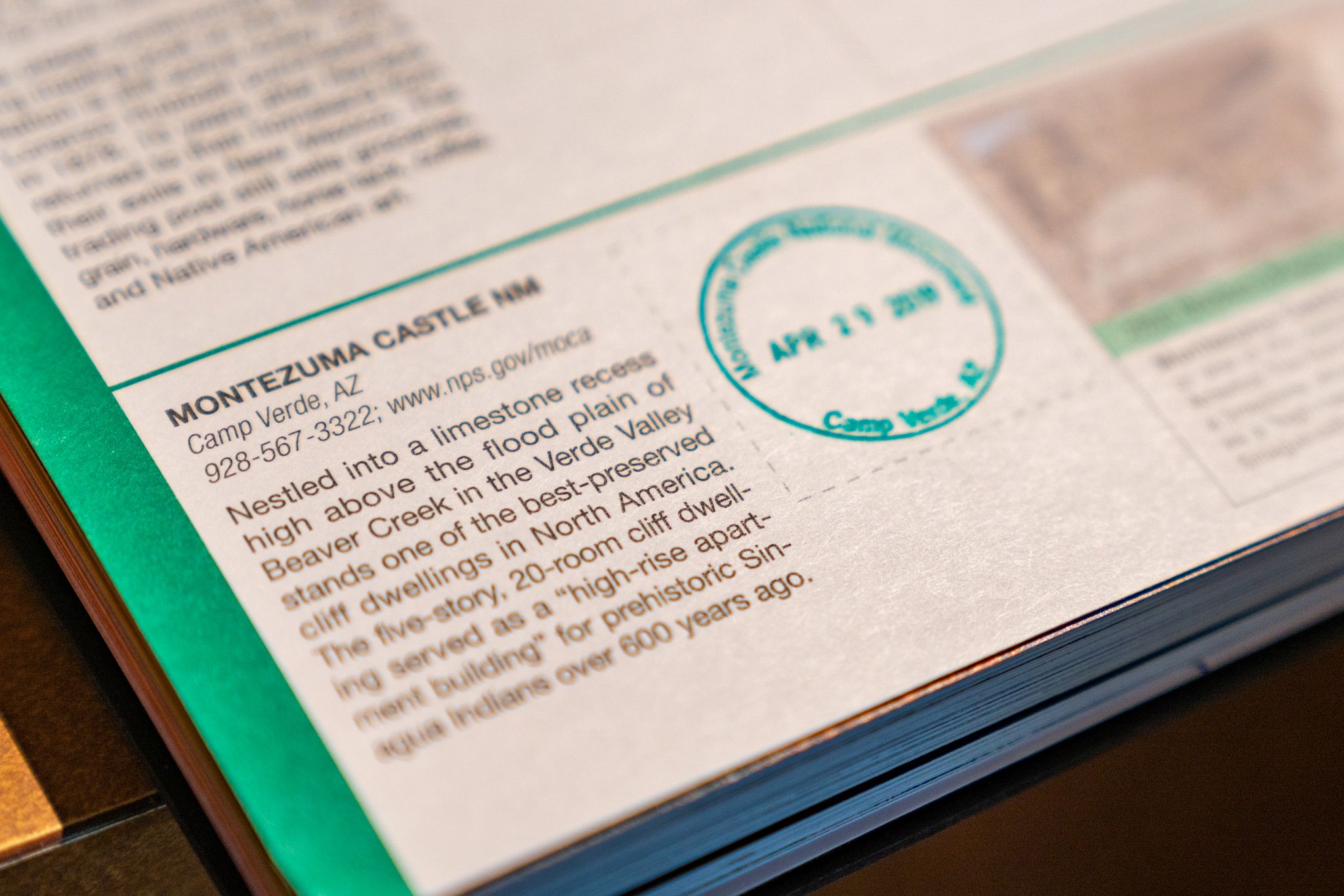 The Visitor Center has a museum area where you can learn more about the timeline of events at Montezuma Castle and the surrounding area. Learning history by visiting the places where it happened is so powerful - we always love these displays!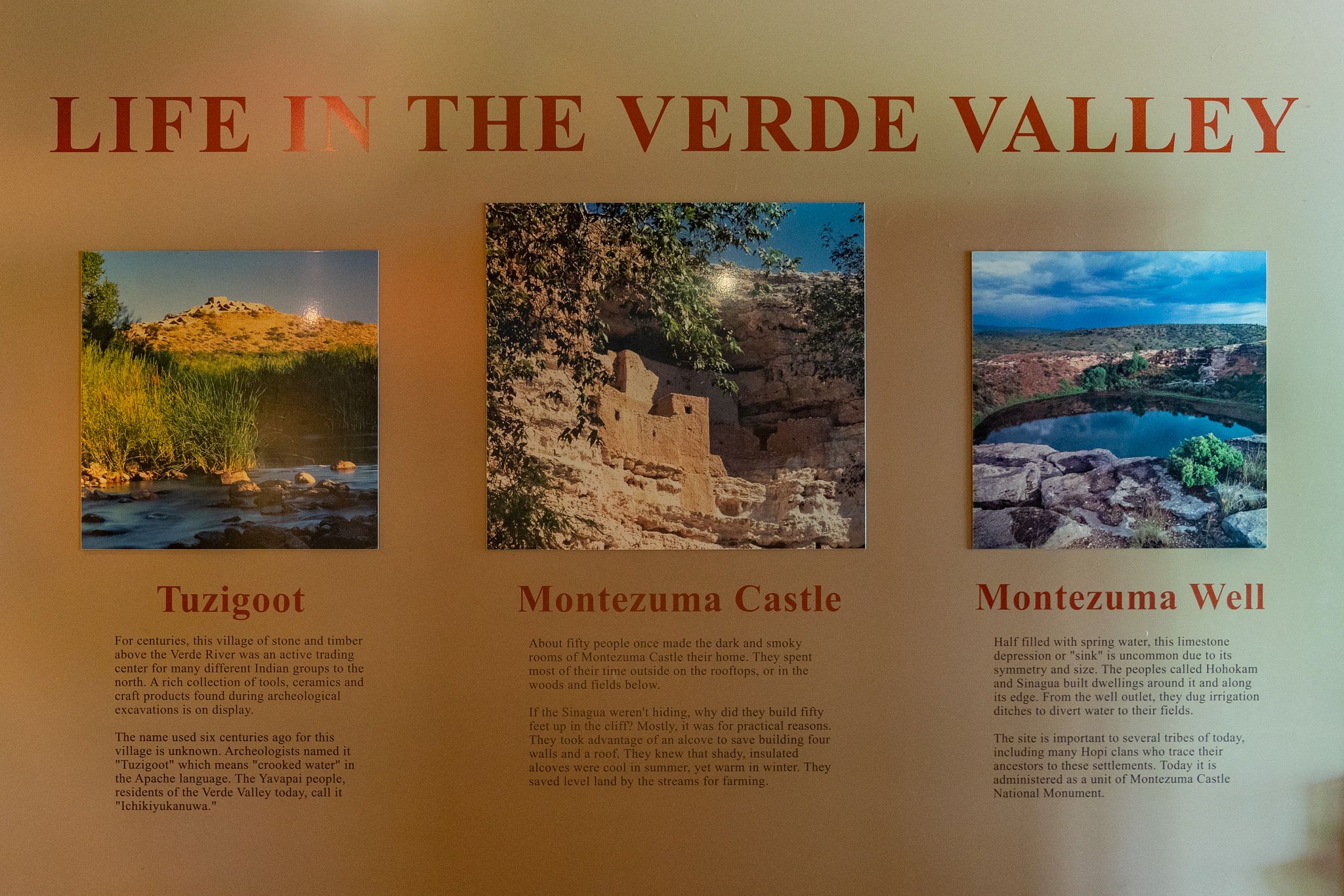 Montezuma Castle
Although it used to be possible to visit inside the ruins, access was closed in 1951 due to concerns both about visitor safety and to protect the dwellings from further damage and erosion.
Nowadays, a short 1/3-mile paved trail winds its way through the grounds. It first passes along the base of the cliffs, the dwellings high above us.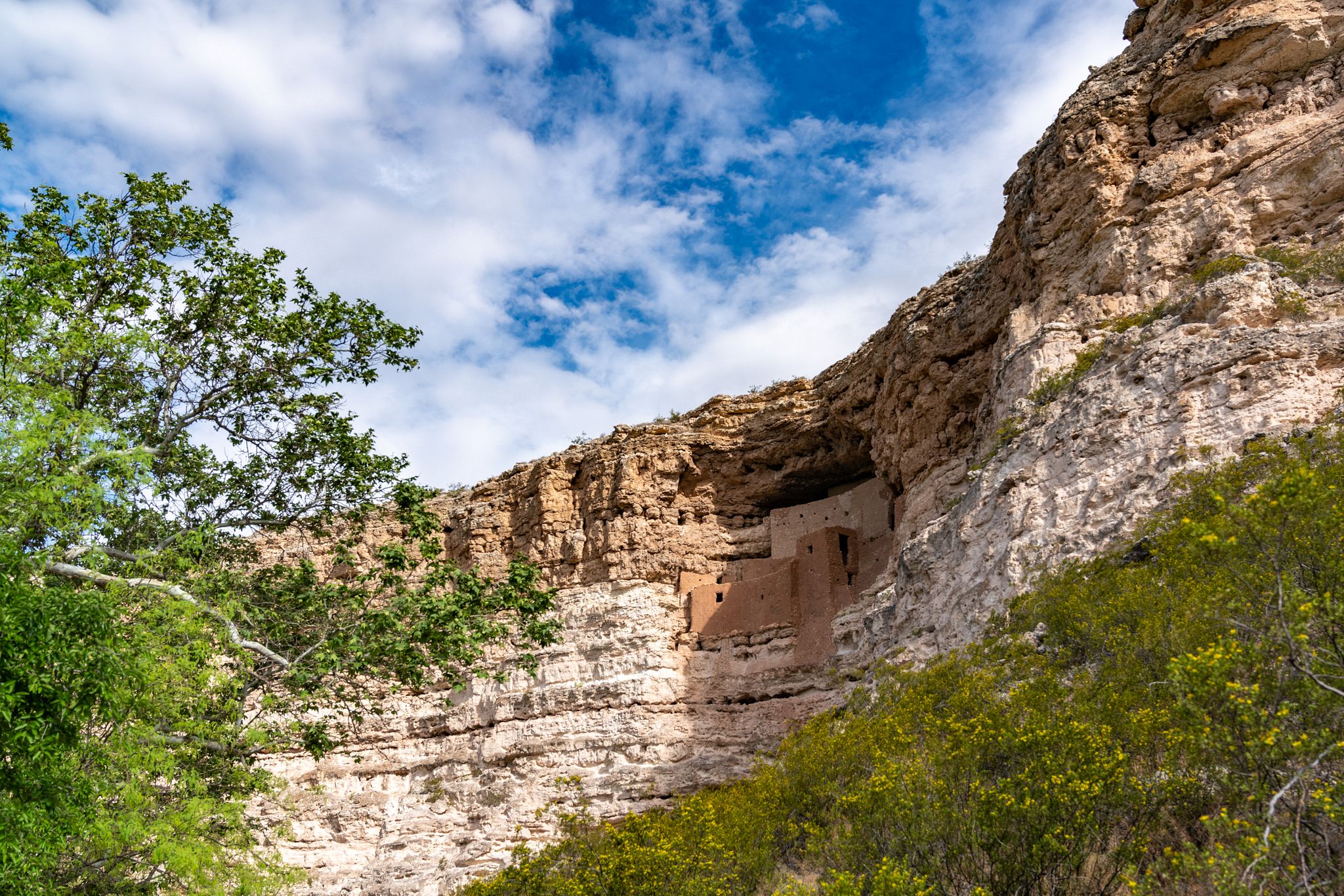 We took our time, imagining what life would have been like here 700 years ago. Castle A is remarkably well preserved, and you can clearly discern the different levels of the building.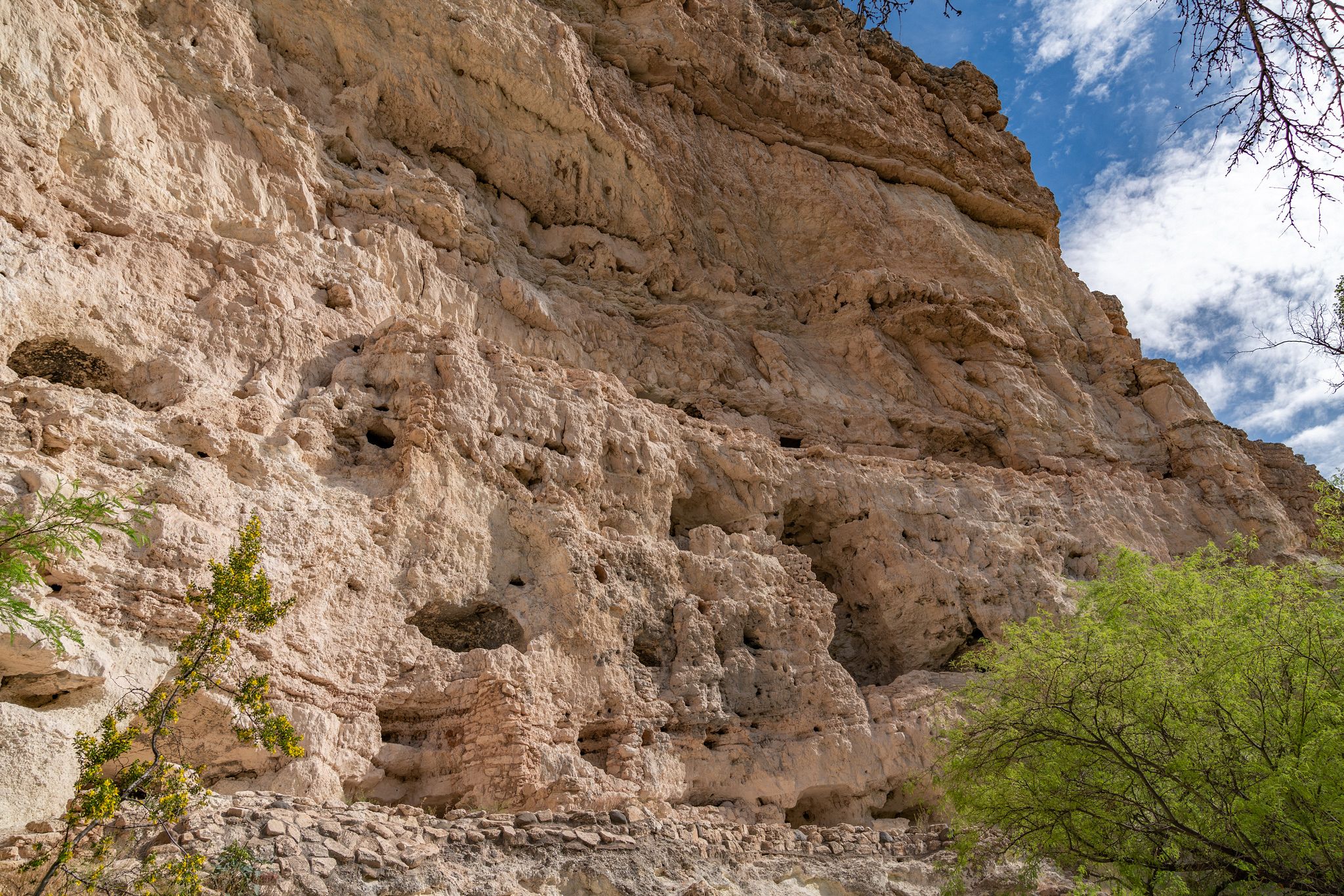 Slightly further along the cliff wall are more ruins. These could easily be missed as they're in far worse condition.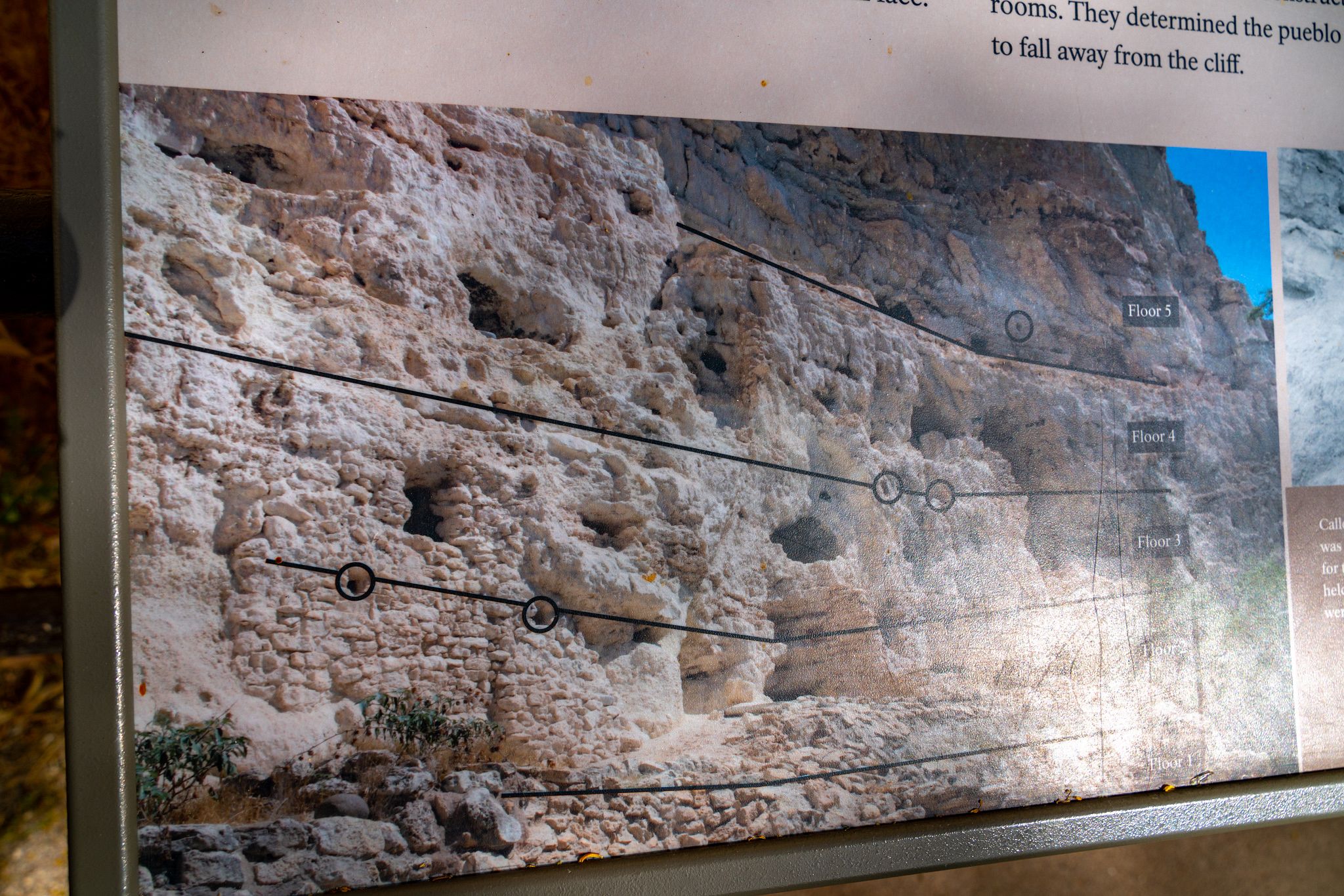 The trail loops around next to the river as it circles back to the Visitor Center.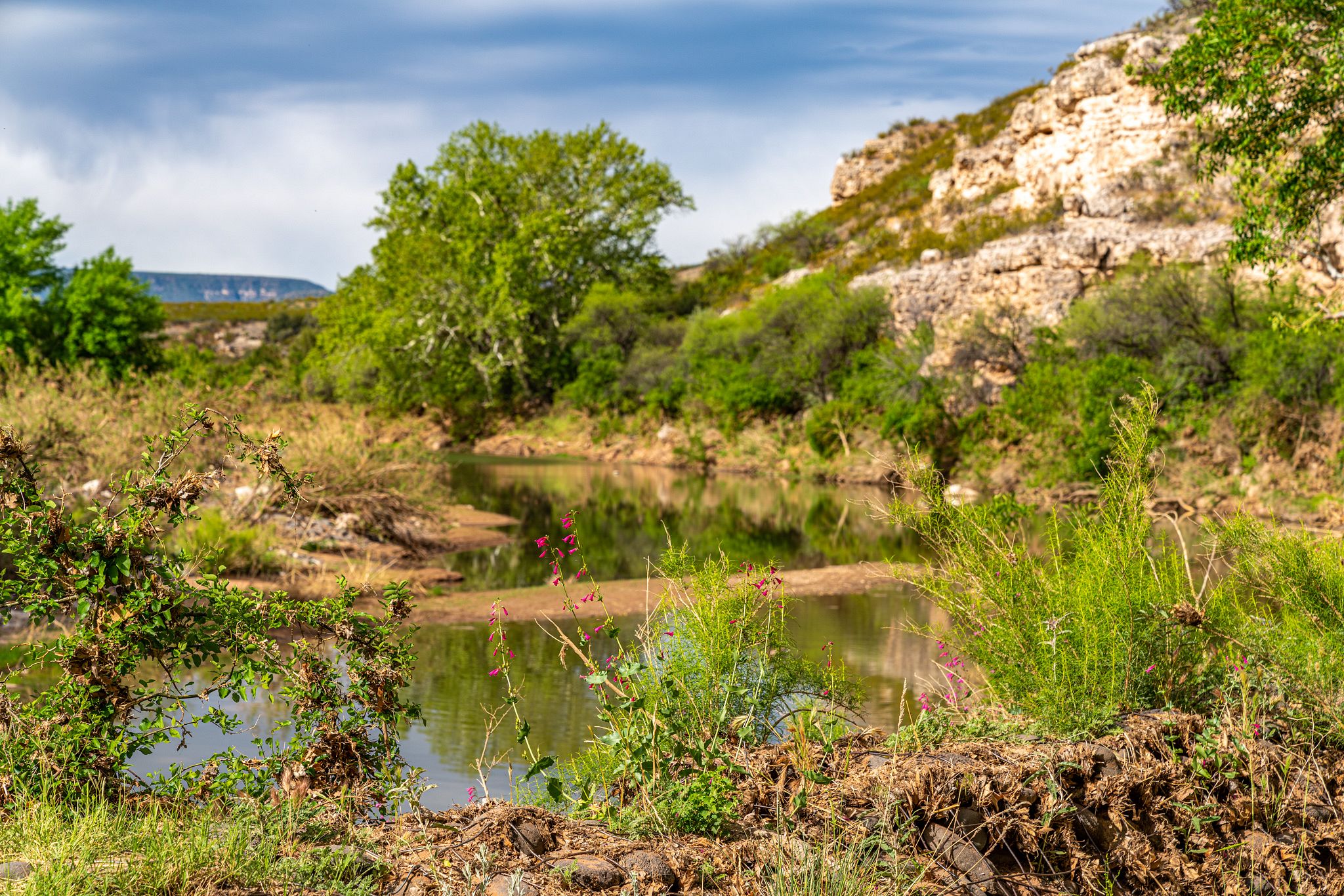 Montezuma Well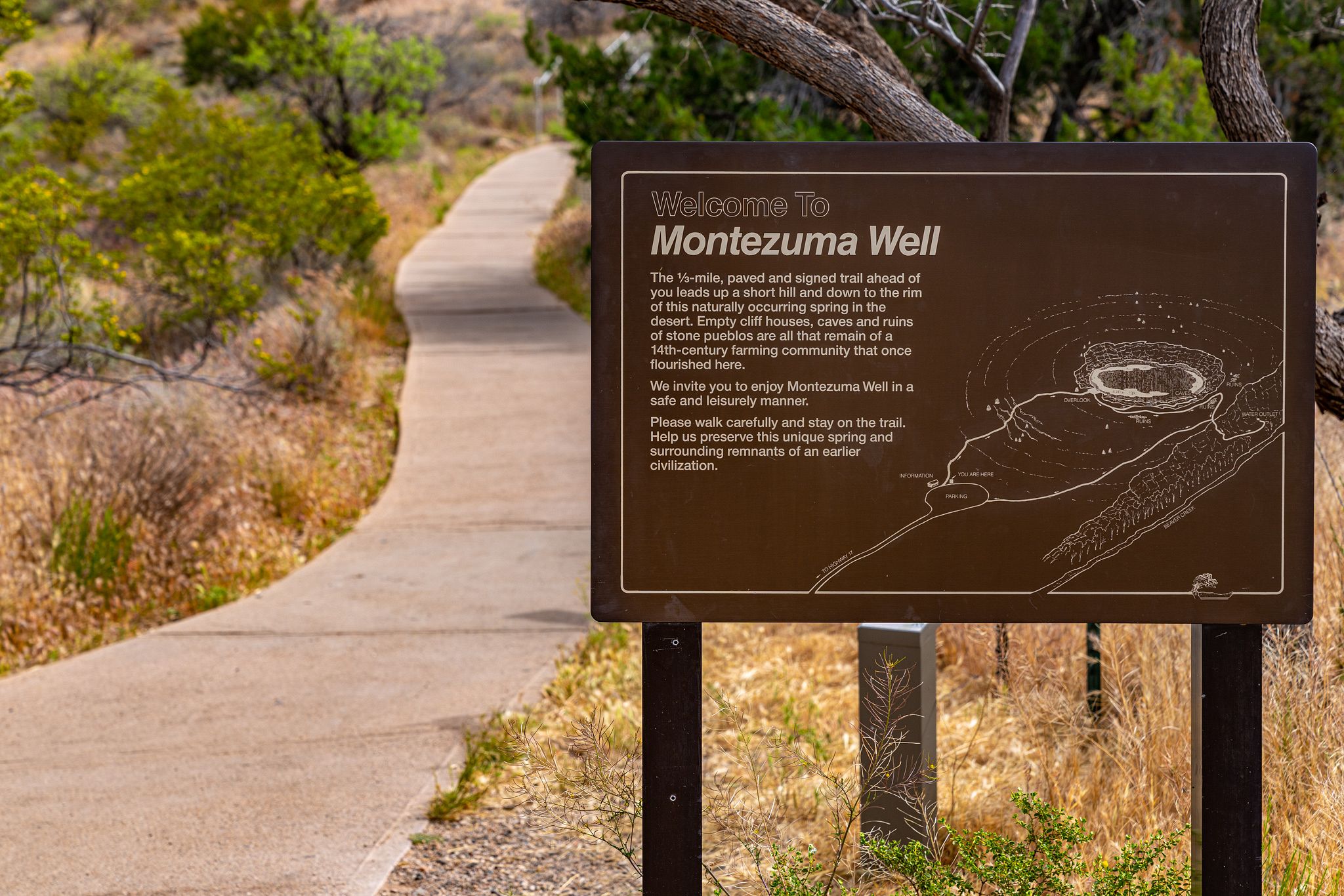 We parked near the entrance to the Montezuma Well trail, and hiked up the path to the rim of well, constantly replenished with water at a steady 74ºF.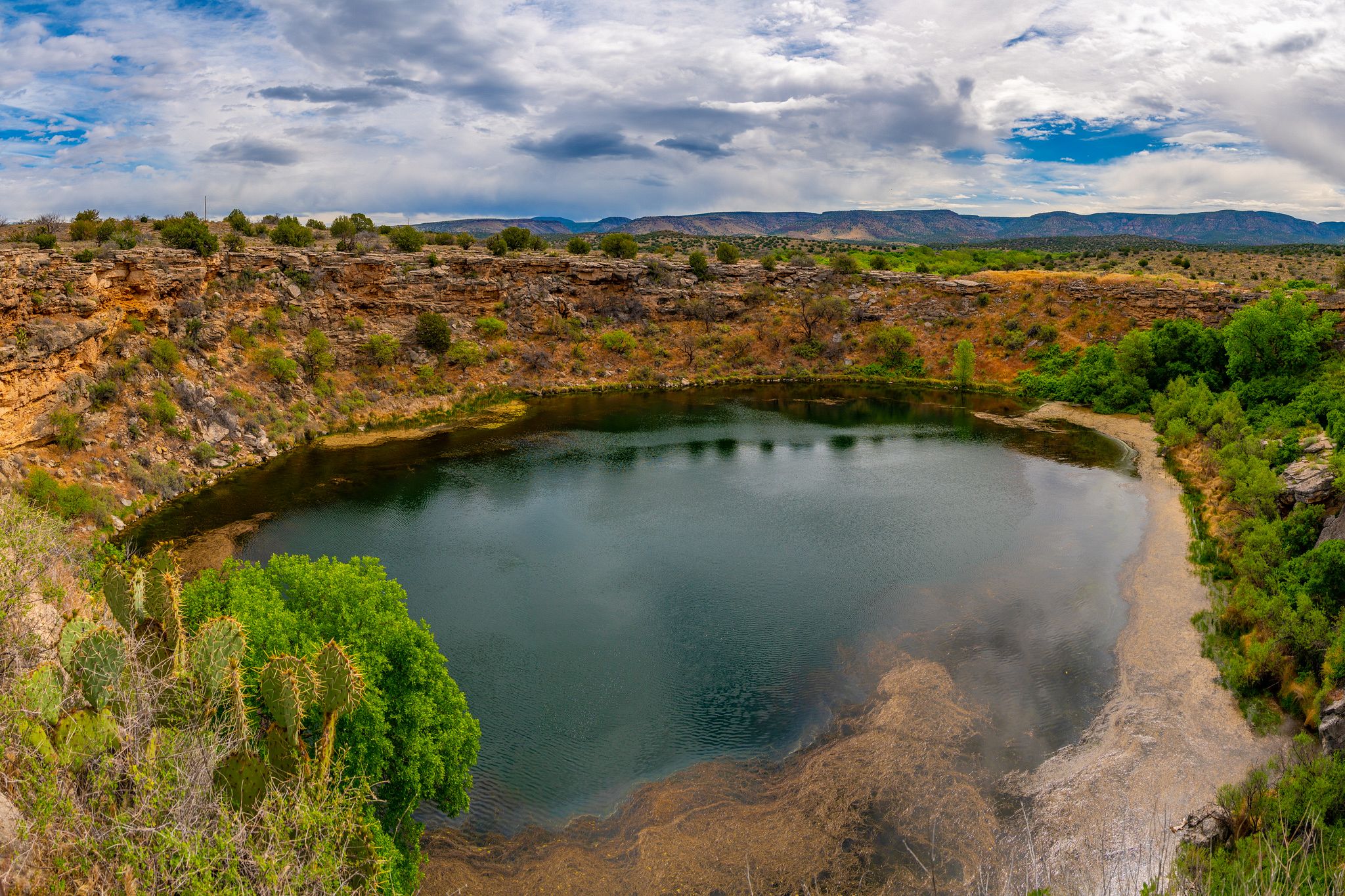 We chose to hike the short distance down to the edge of the water. Down here, next to Swallet Ruin, the temperature is up to 20ºF cooler than at the rim.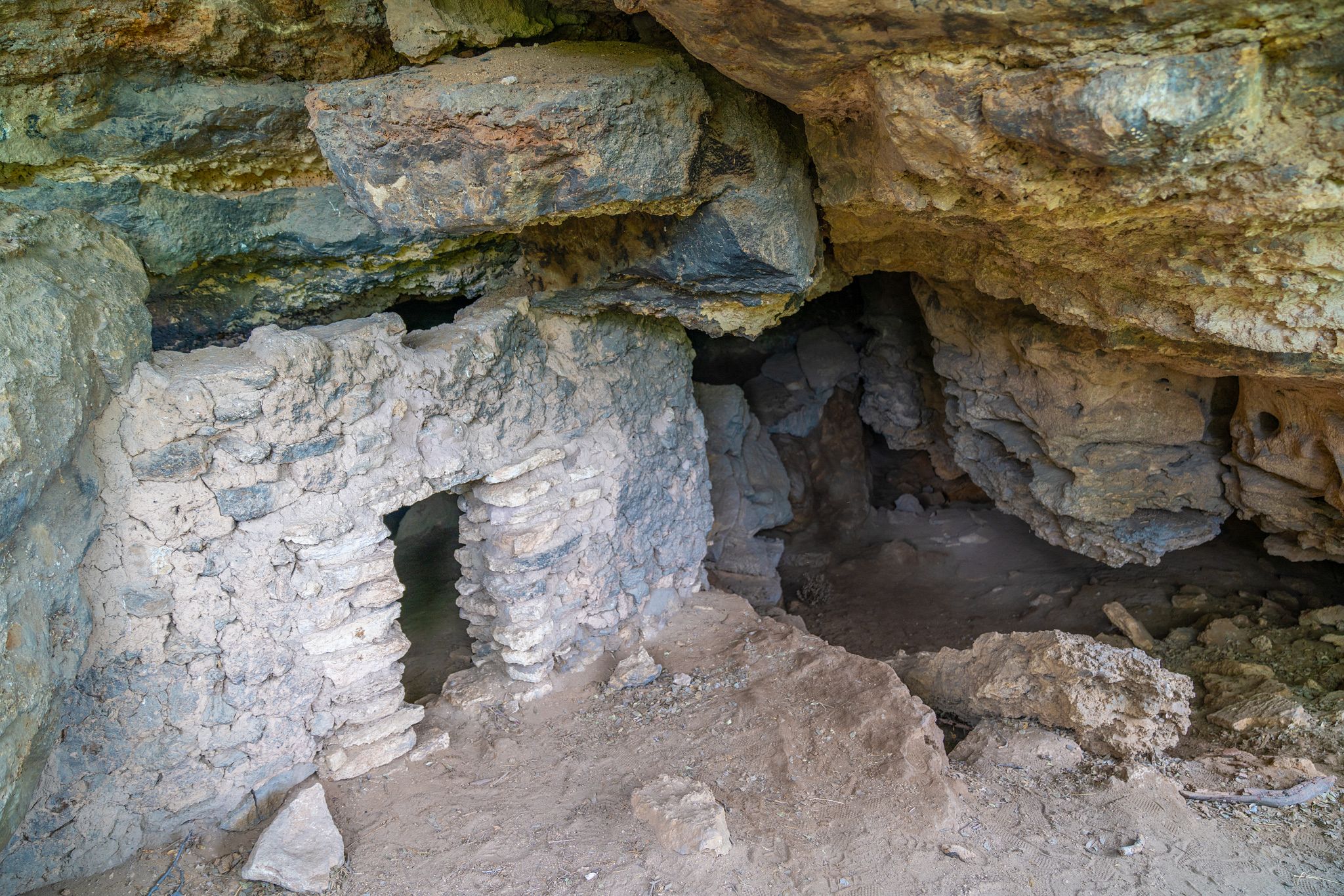 It's down here, near Swallet Ruin, that the water drains from the well - entering a swallet that flows through over 150-feet of limestone to the irrigation ditch on the other side.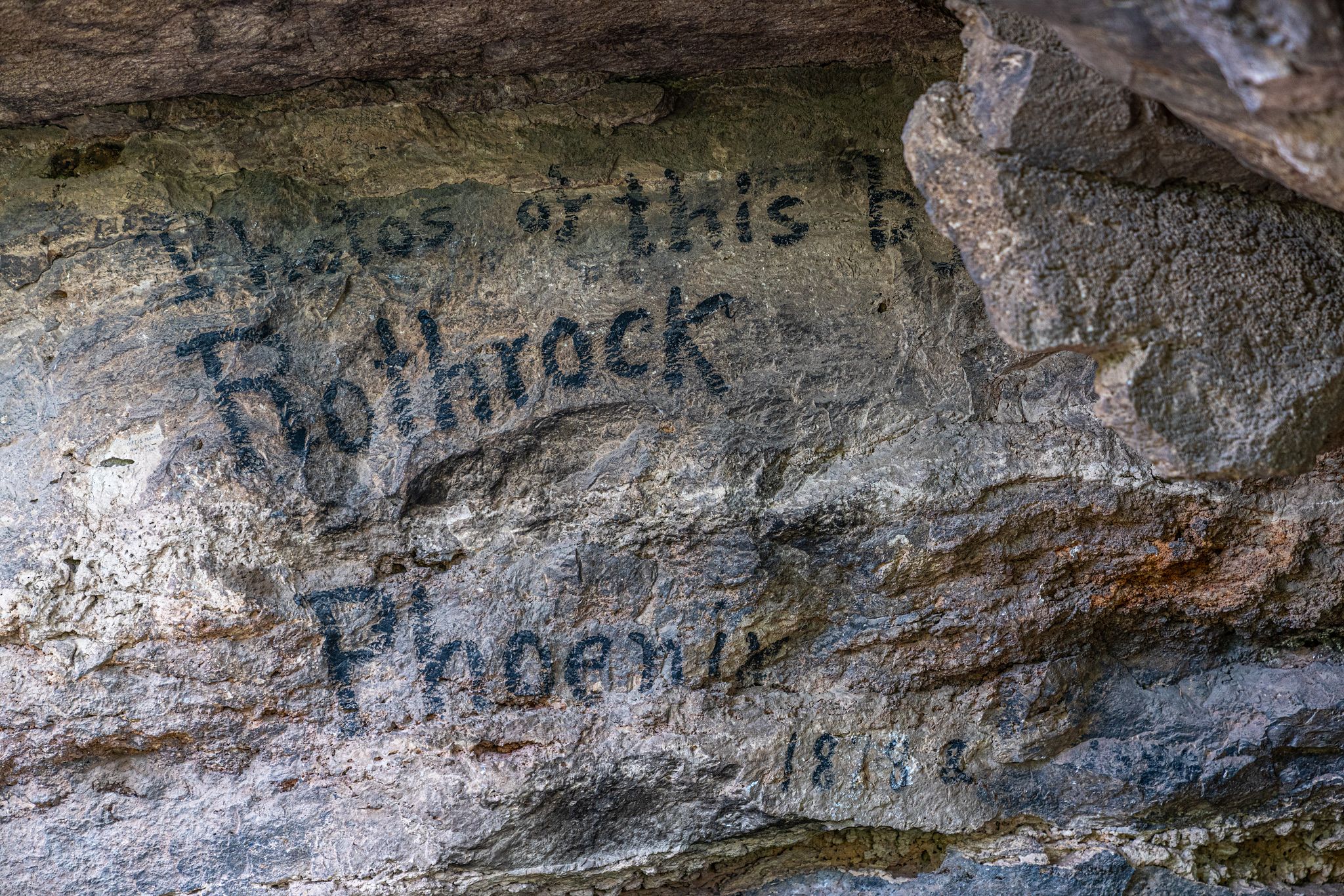 We followed the path back up to the rim, then continued a little further to see the water re-emerge on the other side of the limestone. It's amazing to think that sections of this canal are over 1,000 years old!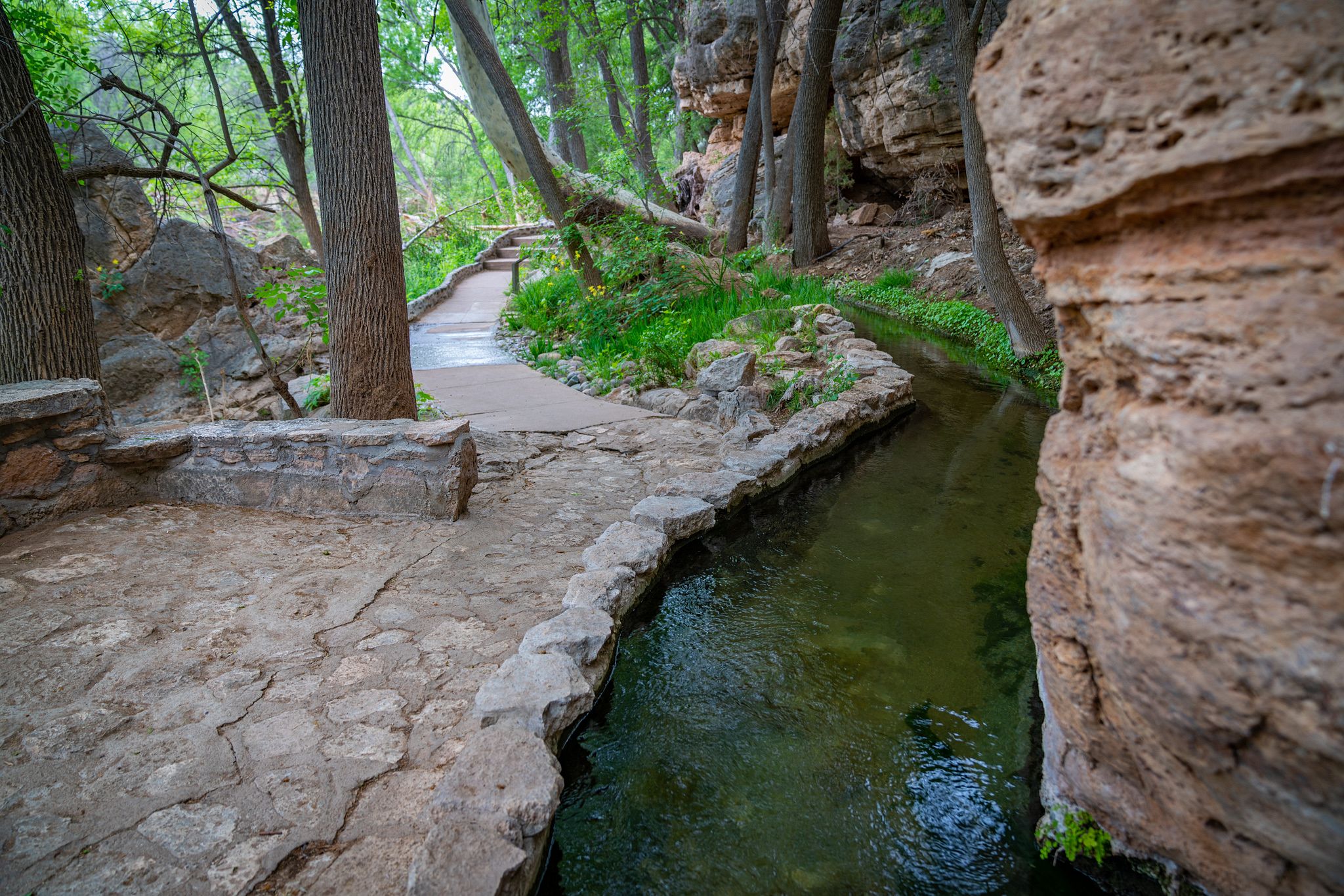 Furthermore, the irrigation canal is still used today - residents in nearby Rimrock, AZ use the water for their gardens and livestock!
The trail loops back to the parking lot. At around 1-mile including the short detours to the Swallet Ruin and irrigation canal outlet, it didn't take long to hike - but it did include around 150ft of elevation gain so be prepared!
Conclusion
While Montezuma Castle may not be the best known cliff dwelling, its remarkable condition make it worth a stop. And being so conveniently located just a couple miles off I-17 give you no excuse not to stop in!
Exploring just the castle takes less than an hour; and about the same for Montezuma Well.
But while you're in the area, why not add in a stop at Tuzigoot National Monument. In fact, that's what we did, so join us next time and find out more!
Learn More
If you enjoyed this blog post and still want to learn more, visit our dedicated Montezuma Castle National Monument page with a map and links to lots more useful resources!
Finally, make sure to check out these videos on YouTube, and don't forget to subscribe to our channel to be notified when we publish new videos!