Although technically we were free to travel as much as we wanted when we lived in a house, the reality is that you are always pulled back to one place: home. You can go on vacation, then return home. You can visit friends, then return home. Always the same place.
Now, our home is quite literally wherever we park it - returning home has changed its meaning.
And this took time to get used to. We kept forgetting we had the freedom to move. We had a plan to visit the National Parks, and we felt obliged to stick to it. It took 6 months or so for us to learn that our plan should be considered more like a weather forecast: it's what we think is going to happen, but it may change.
Truck Update
I woke up on Monday morning, feeling very uneasy about the truck situation. Although the staff at Summit Ford in Silverthorne, CO had been very friendly when I visited last Thursday, something didn't feel right. With the appointment not scheduled for almost another 2 weeks, I felt vulnerable.
The truck would be with them for Thursday and Friday - and if something went wrong, it'd be stuck with them over the weekend too. I looked at our options for camping near Silverthorne - no boondocking spots nearby, and all the National Forest campgrounds were fully reserved. Hotels in the area were expensive too - around $120 per night for a 2* hotel.
I also didn't like the fact that they'd said they would need to lift the entire truck cab and body off the frame in order to do the work. Not only does that seem like an opportunity for things to squeak and rattle when it's reassembled, but we have custom wiring for our DC-DC charger that would need to be cut or disconnected. And when I asked on Internet forums, people agreed that removing the cab was unnecessary.
In many ways, as full-time RVers we're more vulnerable in these situations. We're so reliant on our vehicles, that if something goes wrong, we have to sit and wait in situ until it's fixed. But our vehicle is still running - they had given us the green light to keep driving (and towing) until our scheduled appointment.
I decided to embrace that freedom. Durango Ford had worked on my truck back in June to fix a known issue with the 4WD system. I had phoned one morning and explained the situation - they booked me in that morning, and 4 hours later I left with brand new 4WD actuators and hubs, all covered under warranty. They did good work, they have lots of service bays, and it was just an altogether pleasant experience.
I called the Durango Ford in Durango, CO almost 300 miles away from Summit Ford in Silverthorne, CO. I explained the situation and that I had had a double blown exhaust manifold diagnosed by another Ford dealer, but wanted them to do the work. Not long after, I had an appointment booked for the following Monday (3 days sooner than Summit Ford could fit me in), they had confirmed all the necessary parts were already in stock, and that they could give us a ride to and from a boondocking spot while they had my truck. Oh, and they said they don't need to lift the cab off the body - they will just go in via the fender shrouds. Perfect!
Conscious that Summit Ford may need to order parts, I immediately called them to let them know. They asked if I wanted to cancel or just reschedule the appointment, so I told them that as I had explained at the time, we didn't really want to wait 2 weeks for an appointment so I had found another dealer. He just replied "OK", and hung up the line. Wow. Although they had been friendly until then, that just seemed unnecessary.
Time for a change of plans - we need to make it to Durango, CO by next week. No normal people would drive 275 miles to visit a different dealer, but that's one of the benefits of this lifestyle - we are often able to choose where we take our business.
So later this week we'll drive to Durango and set ourselves up there for a few nights while the truck is repaired - fingers crossed it all works out!
Twin Lakes Boondocking
We had thoroughly enjoyed camping near Leadville, but after 11 days we were approaching our 14-day stay limit and our tanks were getting very full. While there, we were fortunate enough to meet Jerry and Tricia who have recently bought an Outdoors RV too - they've been followers of our site for a while, and have implemented several of the electrical upgrades that we shared on our site, including 2 Battle Born batteries and a DC-DC charger.
But next, we wanted to join some friends boondocking near Twin Lakes. The area is staggeringly beautiful, but they had told us about a camping spot on top of "the hill". They said it was too steep to get up in their vans, but maybe, just maybe we could make it. And if we could, we'd be rewarded with magical views.
We arrived in the area, and saw "the hill". It sure was steep, but it looked like it might be doable. After all, one of the main reasons we bought an Outdoors RV 21RBS travel trailer and tow it with an off-road capable Ford F-150 is so that we can go places other people can't.
We walked up the hill. Just. It really was steep - loose sand, big rocks and tree stumps made it hard to climb up it on foot! At the top of the hill was a dirt road, with a small pull-out just large enough for our trailer. But the views. Oh my! The views were incredible! We had to try and get up here.
Diana didn't feel comfortable being in the truck, and I wanted a spotter, so she climbed out. One of our friends watched (and videoed us) as I attempted the climb. This was no trivial climb. I switched to 4WD Low, and engaged my rear locker.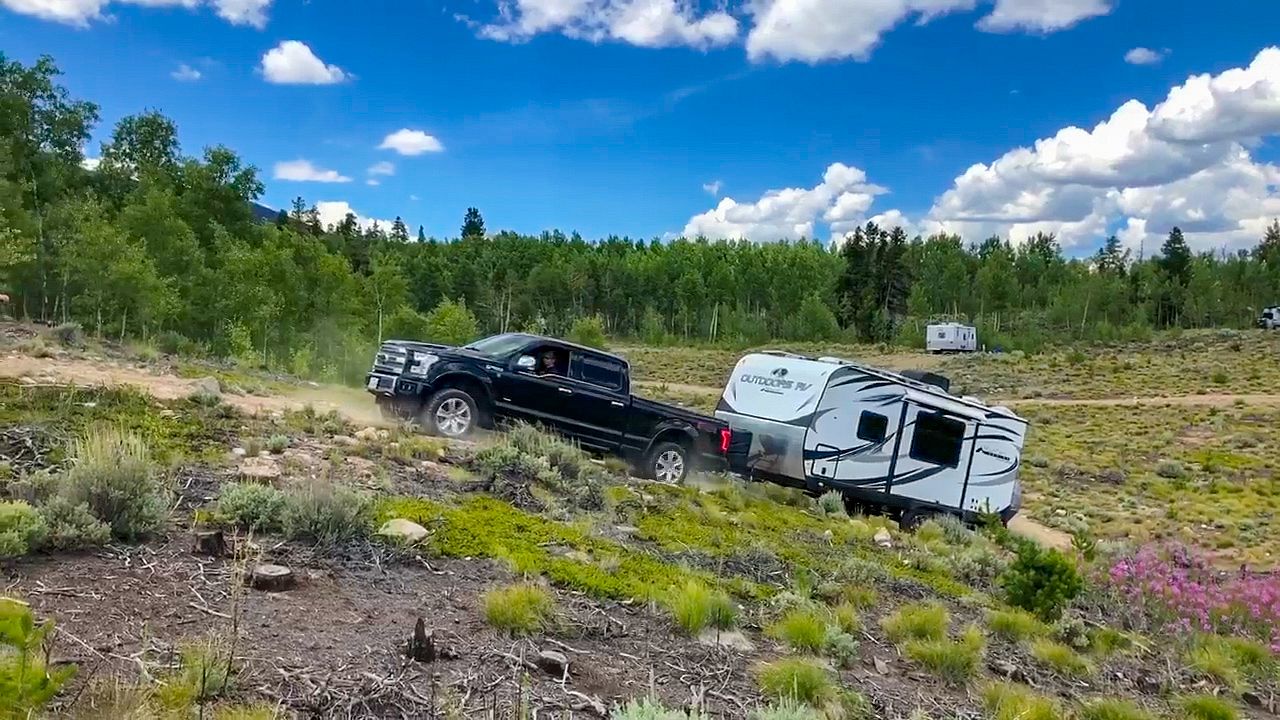 The first two attempts failed. The truck wheels dropped into deep ruts in the ground and lost traction. I found a new line, and on the third attempt, made it up the hill. Needless to say, everything inside the RV (and truck!) was shaken around - and although no cupboards had come open (yay to bungee cords!), anything not fixed down had gone for a little journey around the trailer.
But most importantly, we'd made it. We leveled the trailer, disconnected the truck and got set up.
This. This is why we bought an Outdoors RV. A friend of ours who had been here a week prior said that in the 2 weeks they were here, they'd only seen a couple of dirt bikes and an overland rig make it up. And we had made it, towing our travel trailer. Outdoors RV aren't messing around with these trailers - without the high clearance and off-road suspension, there's no way the trailer would have made it up. Same with the truck too - our BFGoodrich KO2 tires and off-road suspension gave us the traction we needed to pull a combined weight of 14,000lbs up the sandy climb.
I'm sitting on the top of the hill, next to our RV as I write this blog post, looking out across the Twin Lakes. Our vehicles have given us the freedom to visit places like this, and we're incredibly grateful for that. By the time you're reading this, we'll have already left - it's a shame our stay here will be so short, but we want to start making our way over towards Durango.

Future Travels
We've really enjoyed the past couple months spent exploring Colorado - it's an incredibly beautiful state, and the people have been immeasurably friendly and welcoming. Thank you, Colorado!
But after Durango, we'll be starting to make our way out of Colorado. We'll have a few last stops along the way, but then it'll be time to leave. I don't want to reveal exactly where we're going yet, but I can say we're heading to Oregon and we're very excited about why!
Stay tuned, and make sure to subscribe to our newsletter so you don't miss out on the next leg of our journey!