As an Amazon Associate we earn from qualifying purchases.
It's amazing what a difference a week can make. And that's why we were watching the weather so carefully before our return to Vermont early last week.
At the start of last week when we arrived, there was a foot or more of snow across the entire property. It was so much that Diana was even able to snowboard down our driveway!
Days were cold, and nights were colder - last Friday the overnight low dropped to a bone-chilling 2°F (-17°C)!
The person plowing for our neighbor stopped by and offered to plow our driveway. He tried, but the snow was too deep for his plow truck to make it up the hill! Using the tractor I managed to clear a lot of the snow, but without the snow chains installed on the tractor, it was hard going. Fortunately we now have the tire chains on the tractor and they make a huge difference!
The next day, our neighbor stopped by with his tractor-mounted snow-blower and cleared the remainder of the deep snow from our driveway for us.
Then, at the weekend, it all changed. Saturday was mild, but Sunday was actually hot! Climate records for the date were smashed across Vermont, with the capital Montpelier, not too far from us, reaching an unprecedented 68°F (20°C)! We went out for dinner on Sunday evening and even at 7pm, it was still 62°F (17°C) outside.
Needless to say, between some scattered rain showers in the morning and the unseasonal warmth, a lot of the snow melted.
But melting snow turns into water, and what does that mean? Mud season!
Mud Season
Mud season is sometimes known as the 5th season here in New England, and happens between late winter and early spring. In reality, it can last weeks or months, depending on how fast the snow melts and if more snow falls again afterwards.
While we experienced mud season while staying in Vermont last year, this is our first taste while living in the RV on our property.
Mud season wreaks havoc on roads, particularly unpaved roads like the town-maintained road leading to our property. We remember it well from visiting the property last year, and it's a mess! The normally solid, hard-pack surface turns to deep, soft, wet mud, and every passing vehicle creates deep ruts as it carves its way through.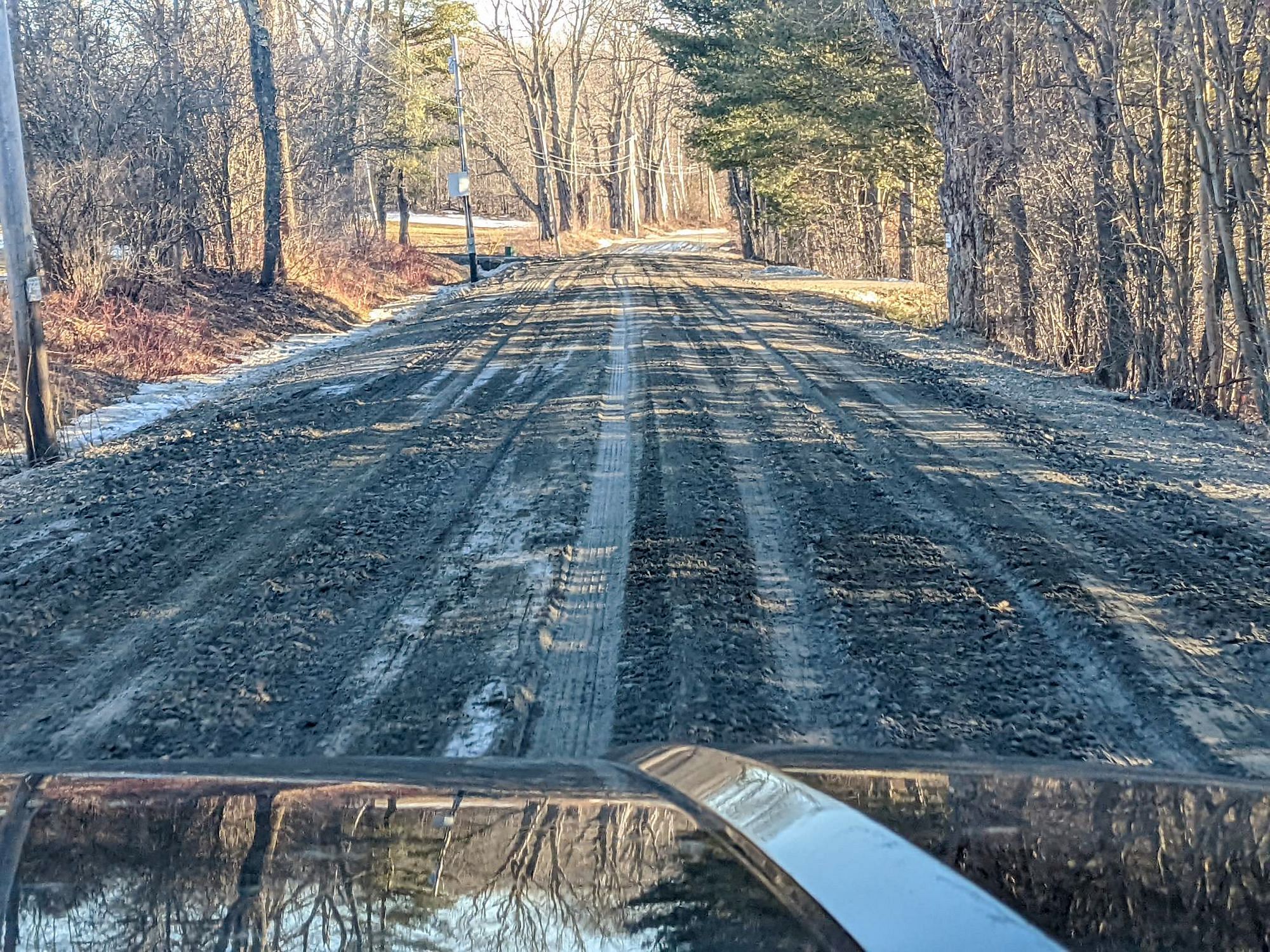 So far this year our truck has made it through in 2WD without getting stuck, and the new tires are handling both the snow and mud really well!
But, there's almost certainly worse to come as the season continues, and I suspect it's only a matter of time before someone knocks on our door and asks for help pulling them out with either our truck or tractor, since one of the worst sections is fairly close to our property.
In brighter news, our driveway is holding up incredibly well! Even though we only have the sub-base down so far, the driveway was built solid, designed to resist exactly these conditions.
We're also keeping a close eye on where water accumulates or runs, and we've made one or two small channels to direct the water off the driveway.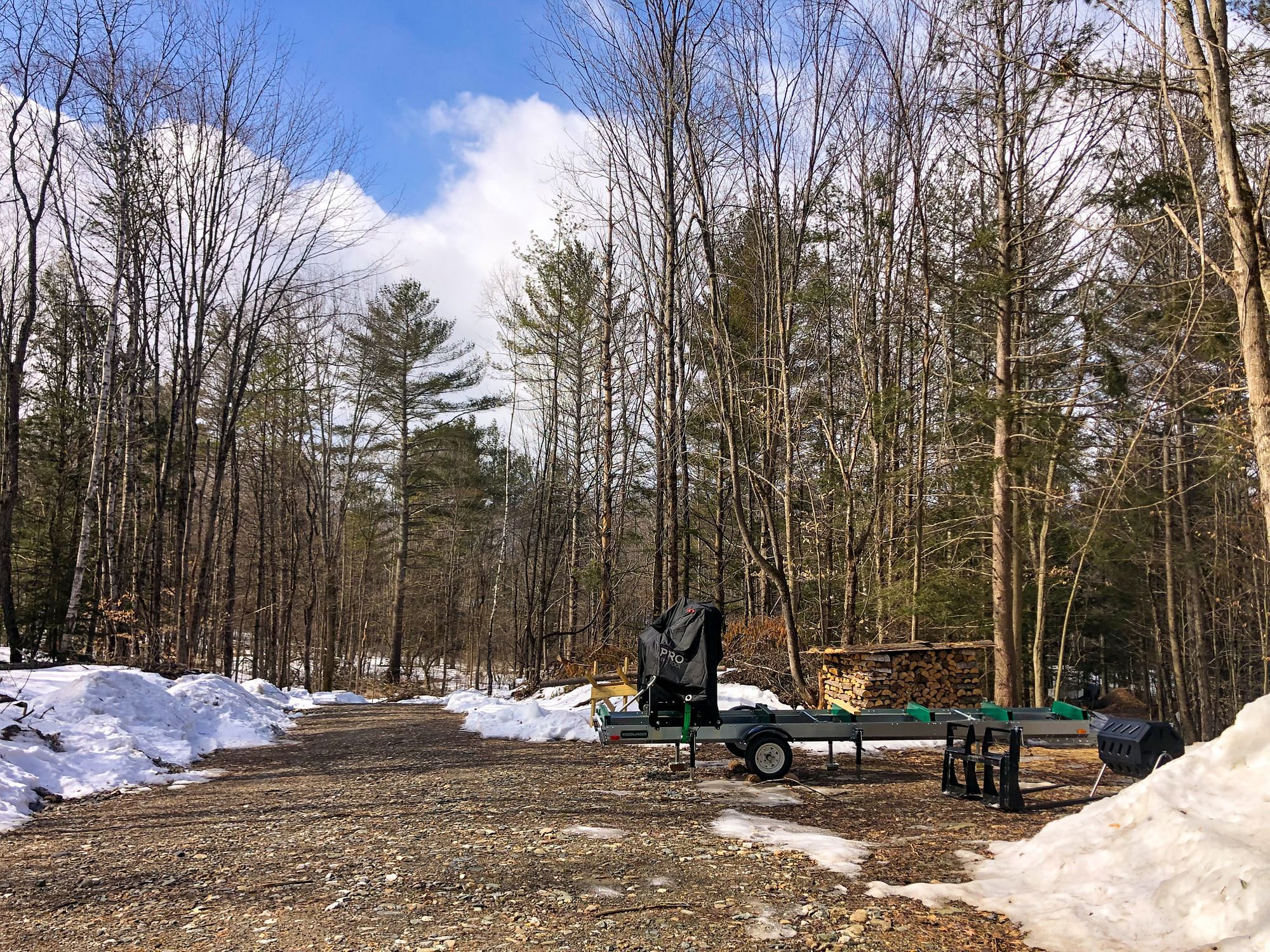 King Arthur Baking
About two years ago, around the start of the pandemic we, like many others, began experimenting with baking bread. I have no idea why - it was like some primal urge to do so!
But since then we have begun to really enjoy making our own sourdough bread, even in our RV oven! Our most recent foray has been homemade sourdough English muffins which taste delicious!
So far we've been following recipes from King Arthur Flour, and it turns out that the company is based on Norwich, VT - not too far from us. Better yet, it's not just a factory there - they have a shop and a cafe!
This year we're trying to develop a routine where we work during the week and then have weekends off to explore the local area - get to know what's around us, visit some fun places, and explore local restaurants.
How better to kick-off our arrival in Vermont than a visit to the King Arthur Flour Company Bakery!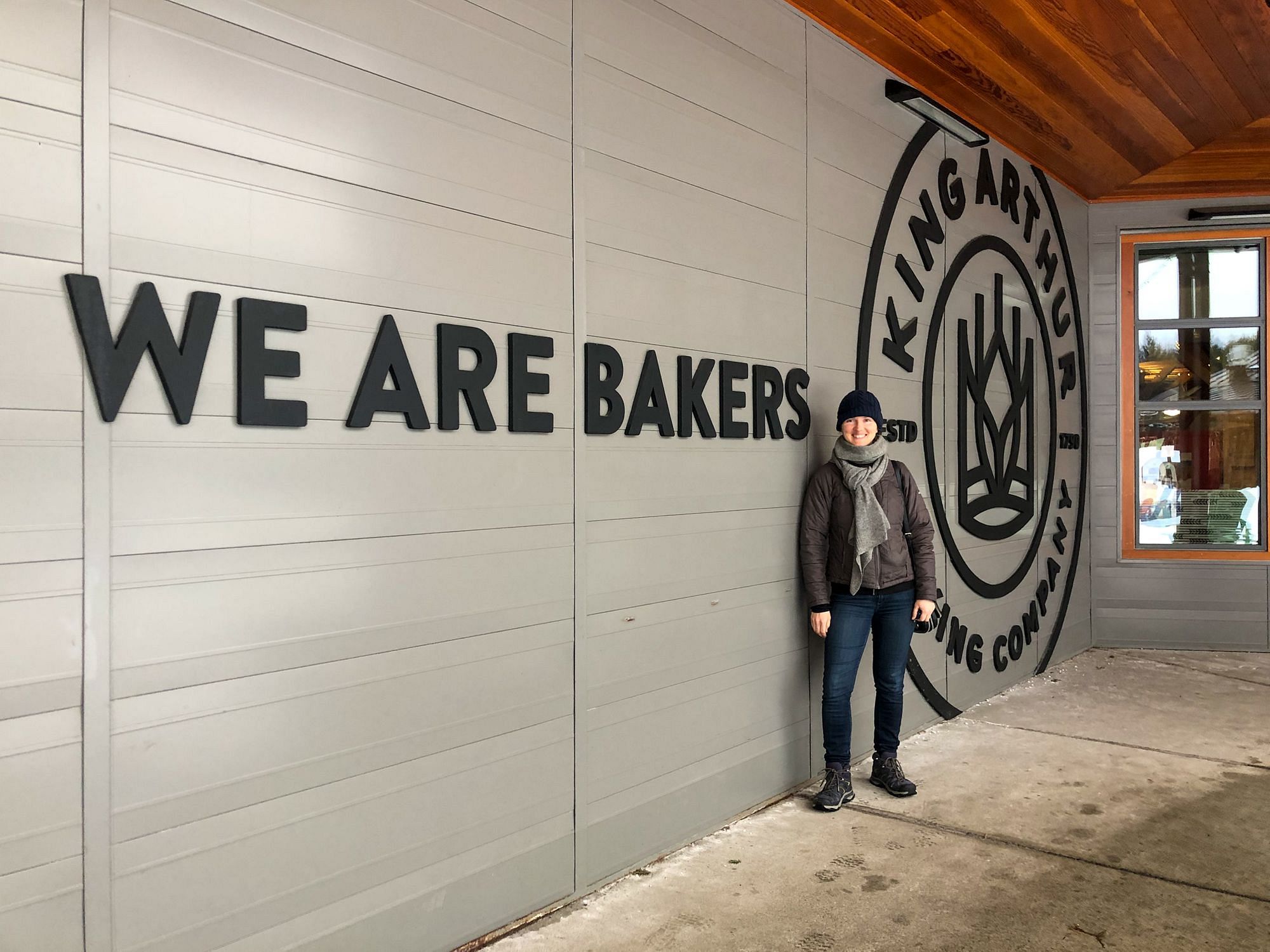 It turns out this is a dangerous place; their shop is really well stocked with quality baking tools and ingredients, and their bakery is irresistible!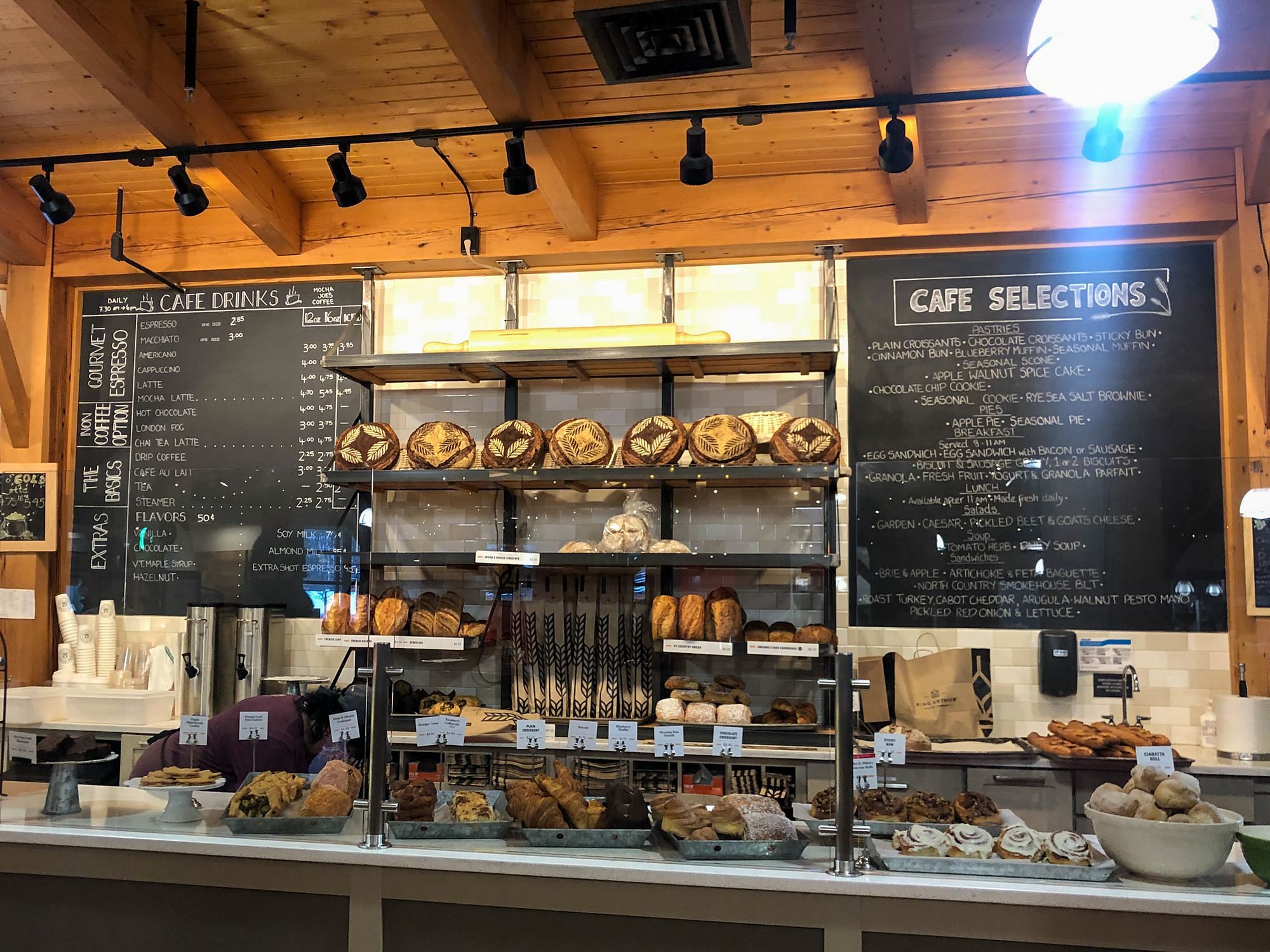 I suspect this won't be our last time visiting....
Off-grid RV living
I won't bore you with all the details, but the bottom line is that our preparations for living off-grid in the RV are working really well.
Our solar panels are helping offset our electricity usage, but as expected provide nowhere near enough at this time of year, so we're running one of our generators for a couple of hours each day to recharge the batteries.
As for propane, I published a blog post earlier this week about why we've chosen to stick with refilling the two 30lb tanks on our RV rather than have a big tank delivered.
So far that's working out well for us, although yesterday our new Mopeka propane tank sensors arrived so I'll be installing those later today.
Our Aquatank II water bladder has been working well for hauling fresh water from our neighbor, and we've found a local pumping service who will be coming to dump our tanks once a week to ensure we have plenty of capacity. Given we're used to boondocking for up to 2 weeks at a time before emptying our tanks and that we're showering mainly at a local gym, this is like luxury for us!
Wood chipper update
On Friday last week I made the huge 800 mile round trip drive to Buffalo, NY and back to collect our new Woodland Mills WC68 wood chipper. Hopefully we're done with big drives for a while now!
This is a PTO-driven, tractor-mounted wood chipper, and yesterday I assembled it on the back of our Kubota L3901 compact tractor.
Our goal is to get everything lined up so we can start felling trees early next week, and the wood chipper is a key tool in our arsenal. We also bought some more builder bags that we'll fill with wood chips so we can move them around more easily.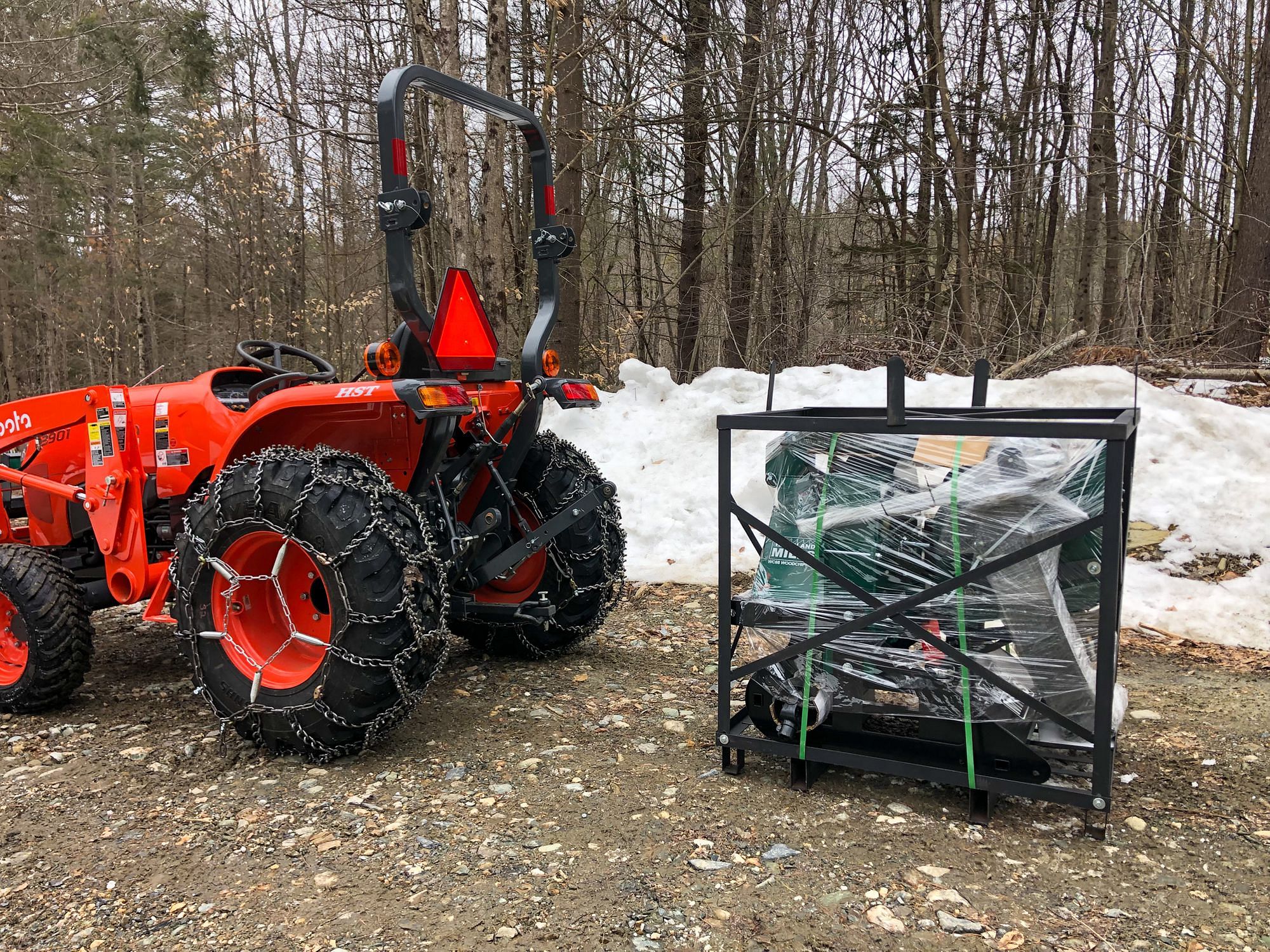 Shipping container organization
Our 40ft shipping container is proving invaluable for dry, secure storage space, but we knew we had to do something to organize it! At the weekend we picked up some steel shelves from Home Depot which have really helped.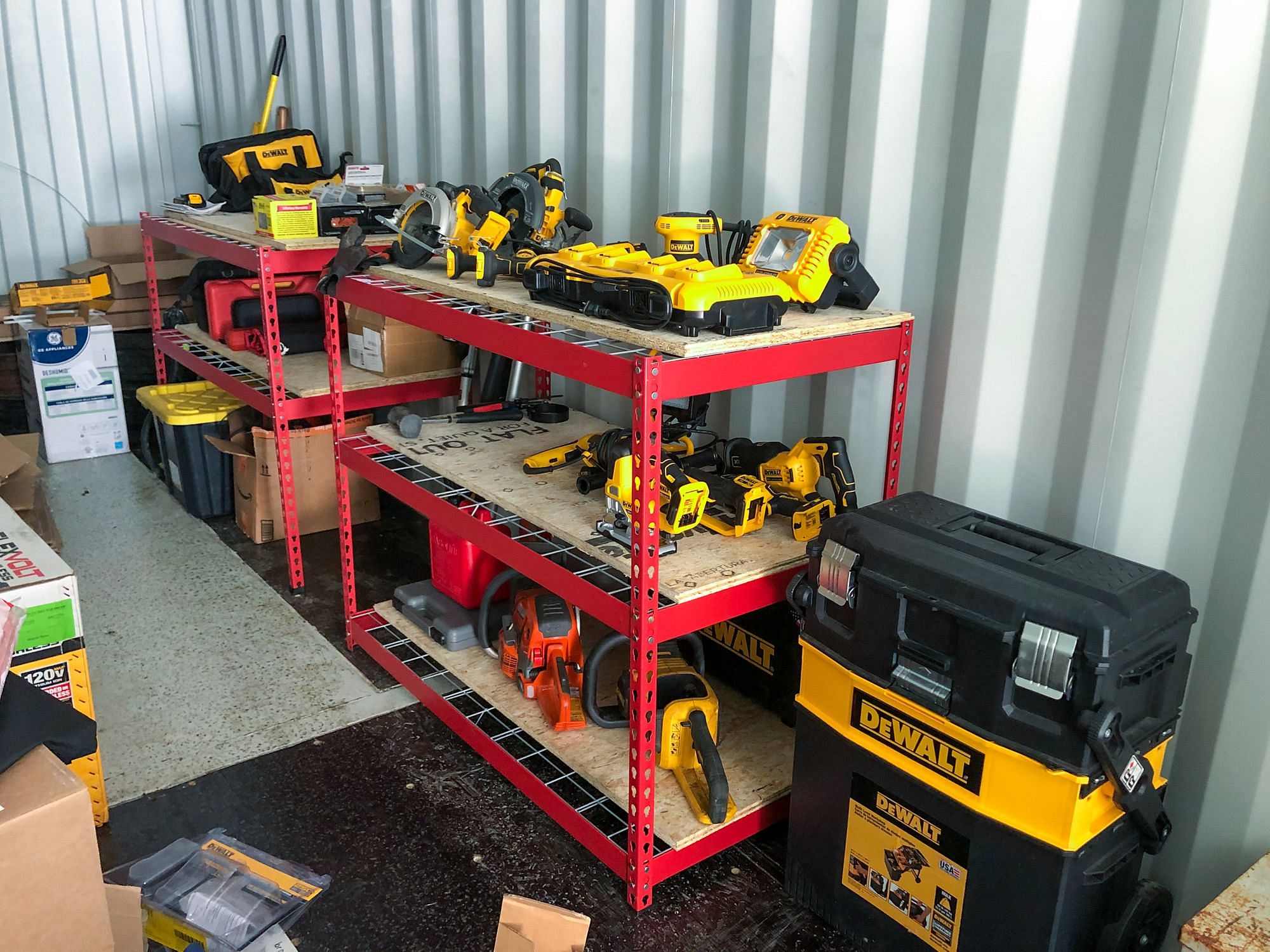 Shelves are great, but we also need various boxes, totes, caddies and other storage options. While we could buy these, we chose instead to build these.
We've been buying tools when we see sales and we have a good selection of tools now, so all we need is material! Although we milled a lot of 2x4s last year, these are earmarked for our solar kiln build that we'll be continuing in the near future.
Instead of buying lumber, we instead chose to reclaim some! Several weeks ago we bought a book about building with pallets, and we've been looking forward to trying out a few projects from it. So at the weekend we picked up some free heat-treated (not chemically-treated) pallets from a store that posted an ad on Craigslist.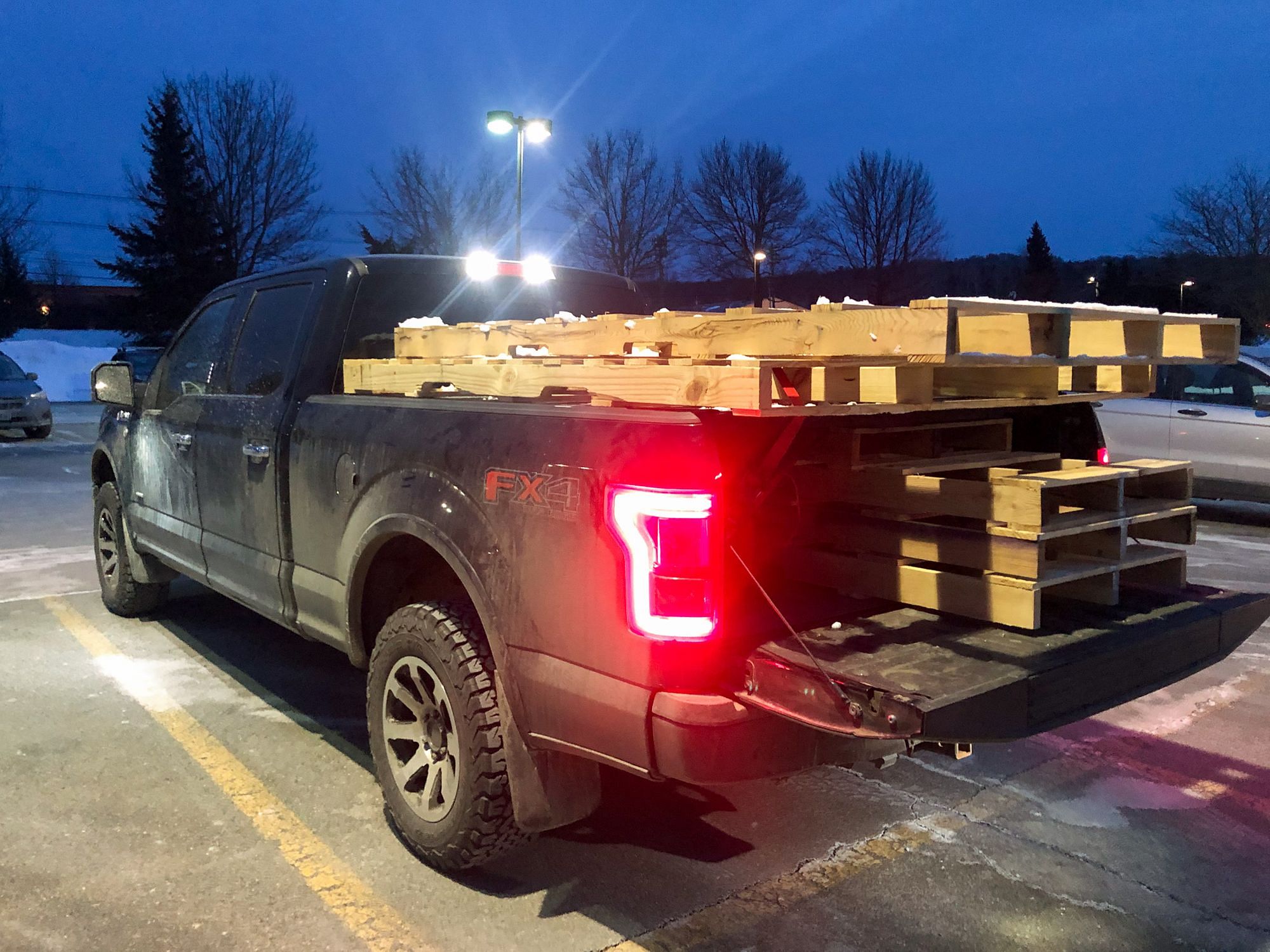 I disassembled the pallets and made my first project - a simple caddy for carrying things. It was more of a test than anything else, but I'm heading back out there today with a few more practical projects in mind.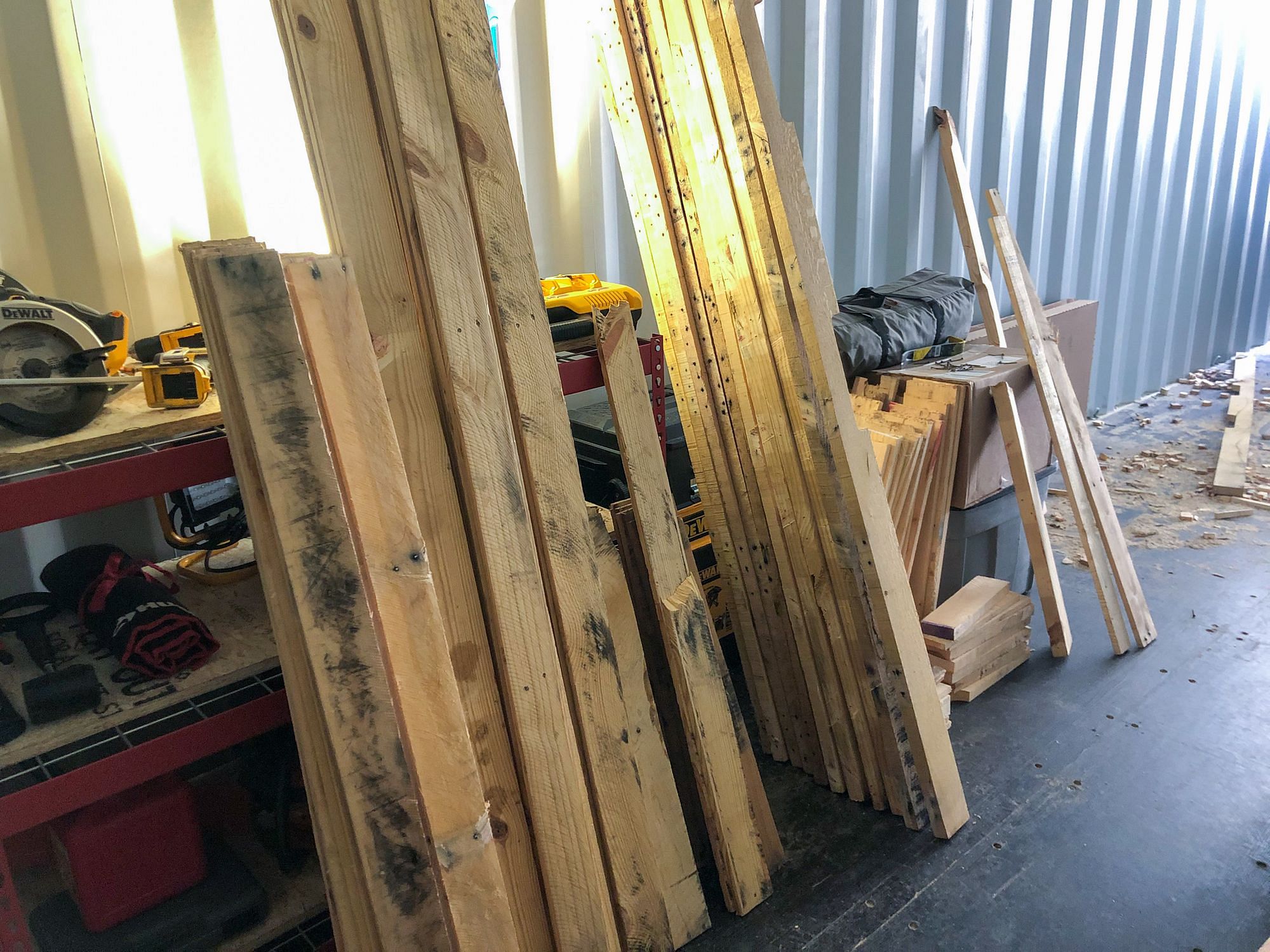 I'll be sharing more details about the pallet projects in the near future.
Maple tapping
Last, but in no way least, we've been tapping some maple trees this week! It is Vermont after all - did you know Vermont produces nearly half of America's maple syrup?!
We have a lot of sugar maples on our property, and while most of them are further back, we do have a couple down near the driveway where they're easily accessible.
In anticipation of our return to Vermont, we bought a maple tapping kit which came with the taps, tubes and filters needed - we picked up some BPA-free food-grade buckets and lids from Tractor Supply.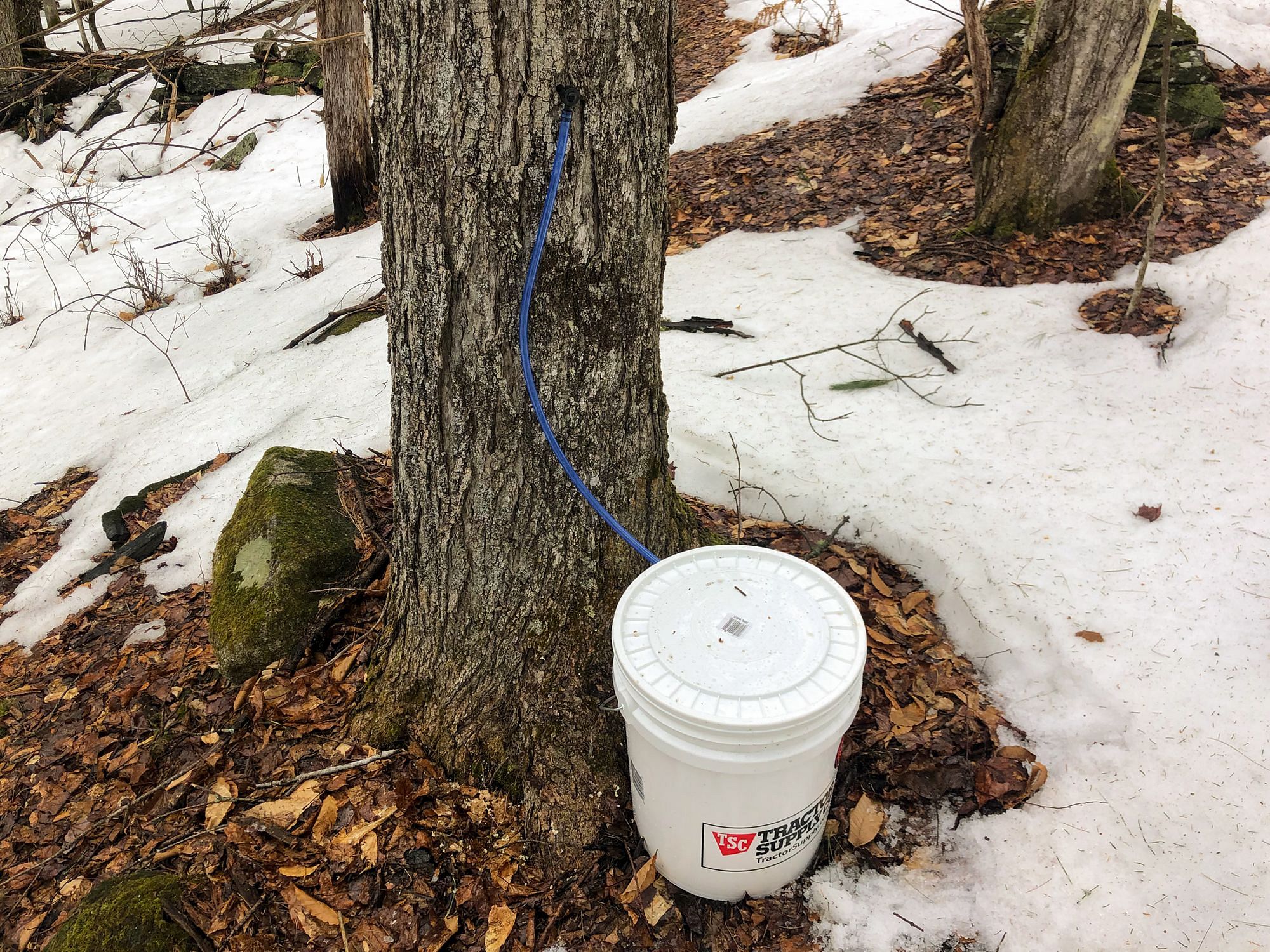 This is really just an experiment so we have only tapped two trees - I'm giving ourselves a 50% probability of success! The weather forecast for the next week or so is pretty much perfect for maple tapping - below freezing overnight, and up above 40°F during the daytime. Wish us luck!
As for me, I'm heading back outside into the cold!