As an Amazon Associate we earn from qualifying purchases.
There are a lot of blog posts and videos online that talk about all the accessories you need to buy for your RV. It can be overwhelming - there's so much to buy!
We know how you feel - we felt exactly the same when we bought our first RV. We've been living in our RV full-time for almost 3 years since then, and along the way we've learned what's really essential.
In this blog post, that's what we're going to focus on - the bare essentials. Of course there are lots of other things you can buy to make your life easier or more comfortable, or perhaps just to fit your style of camping. But our advice is to start with the bare minimum, try it out and see what's missing.
Let's get stuck in with our list of absolute essential RV accessories for your first RV camping trip to an RV park.
Wheel Chocks
First on our list is wheel chocks. Chocking your vehicle is always a good idea, but particularly if you have a trailer like we do, you want to make sure your RV isn't going to move (or roll away!) when you unhitch from your tow vehicle.
Wheel chocks should go in front and behind your wheel to prevent it from rolling forwards or backwards. There are lots of different things you can use to chock your wheels - even just some big blocks of wood!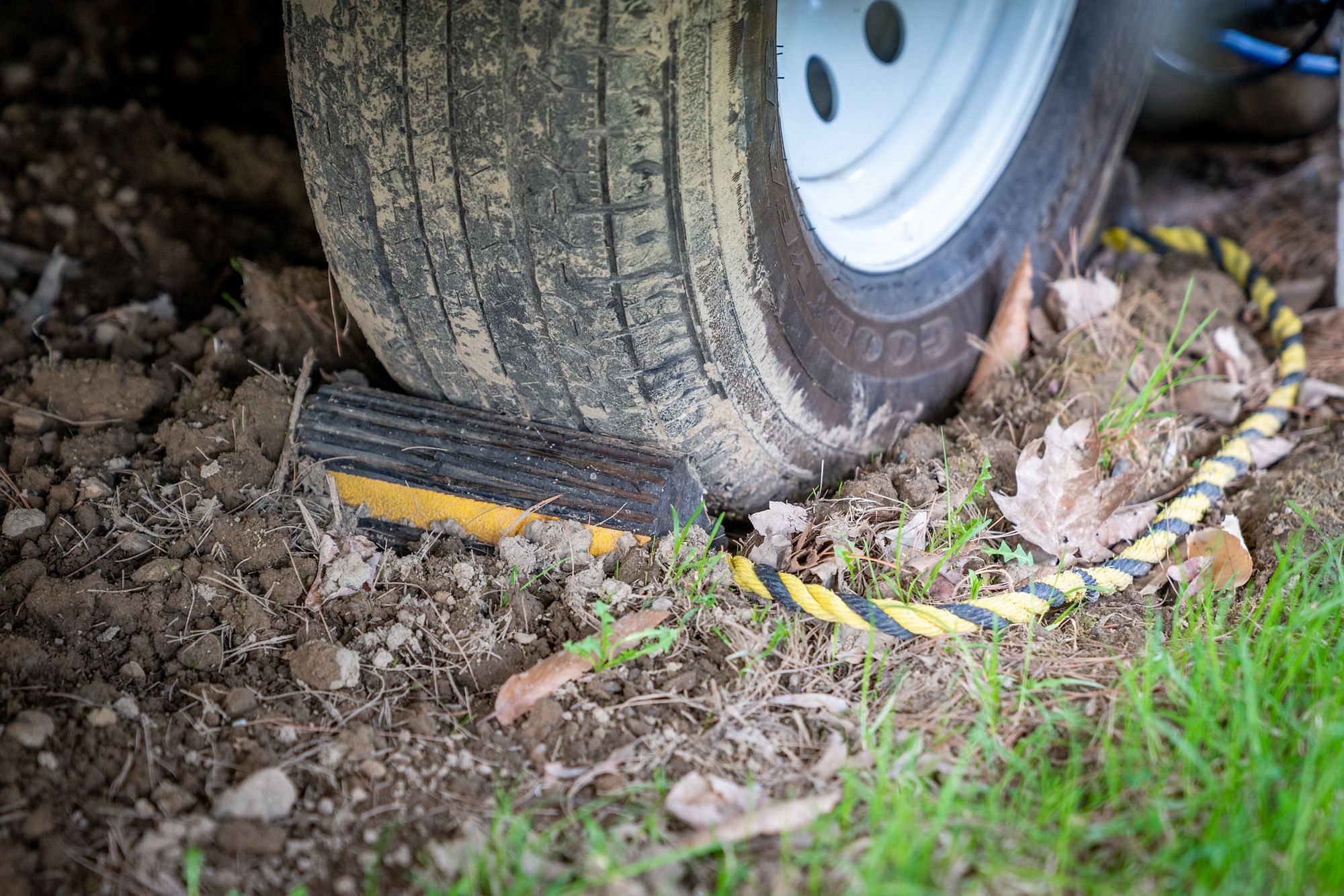 But our preference is these rubber wheel chocks with a rope. The rubber is nice and grippy on almost any surface - from mud like we have here, to slick, wet pavement. The rope makes it really quick to pull them out afterwards.
Leveling Blocks
We've talked about chocks, and next on our list is blocks! There are a number of places where blocks come in handy - under the tongue jack, stabilizer jacks and the wheels. As with chocks, you don't need anything fancy for blocks, and many people just using pieces of wood.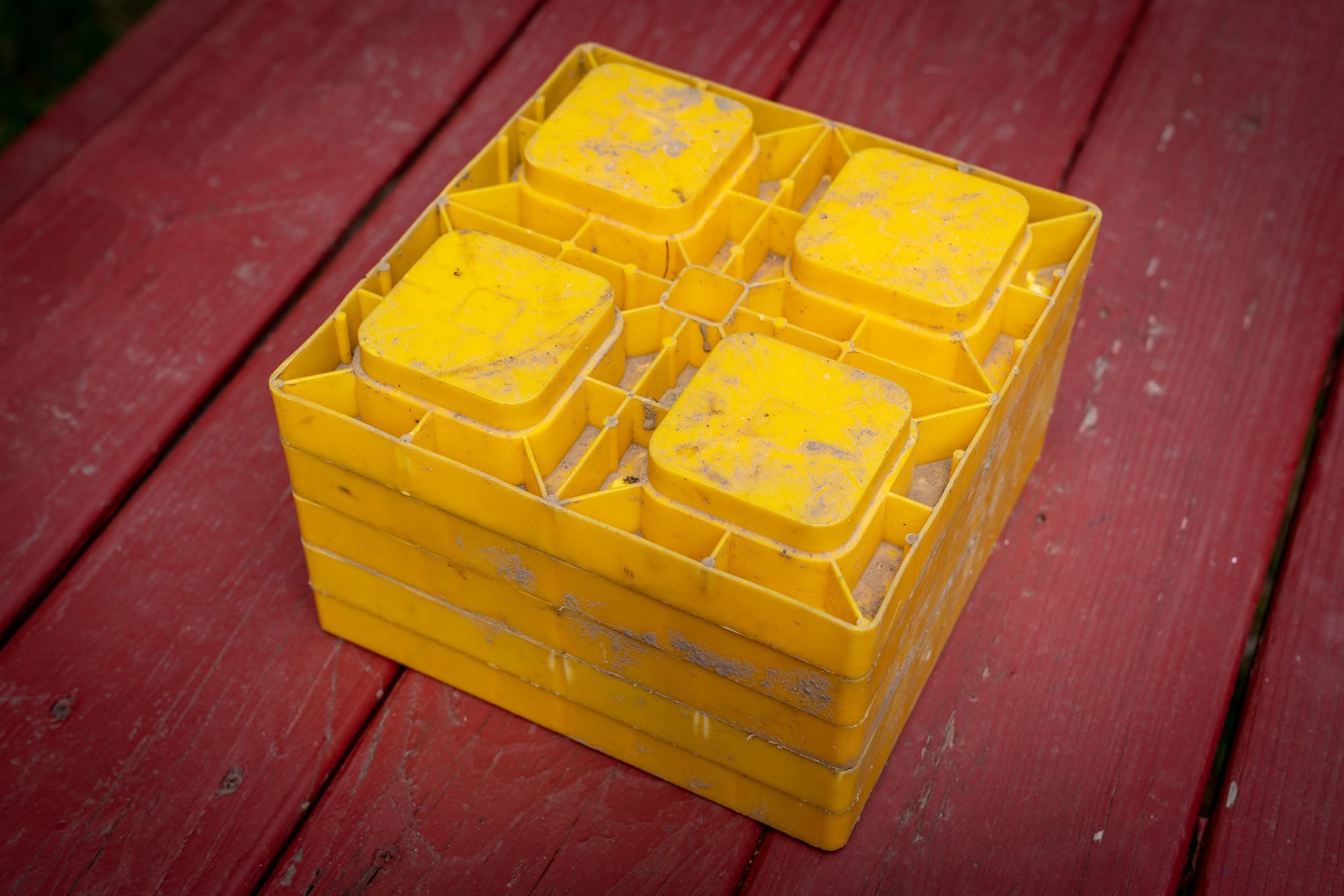 We really like these stackable yellow blocks though. They're relatively inexpensive, lightweight and surprisingly strong - ours have been used daily for almost 3 years and we haven't broken one yet!
Power Cord
If you're buying a new RV, there's a good chance that it might come with an electrical cord. If not, you'll need to buy one. Make sure you get the right size power cable for your RV - if it's a 30 Amp RV then you'll need a 30 Amp cable, and similarly you'd need a 50 Amp cable for a 50 Amp RV.
How do you know which it is? 30A plugs have three prongs on, whereas 50A plugs have 4 prongs so it's easy to look at the power connection and see what type you have.
When we first started, a lot of people told us that we would need an extension cable too. 3 years later, we still don't have one! Maybe if you have a larger RV where you can't get close to the pedestal or you know the park you're staying has the pedestal further away, then go ahead and get one - again, make sure to get the right one for your RV.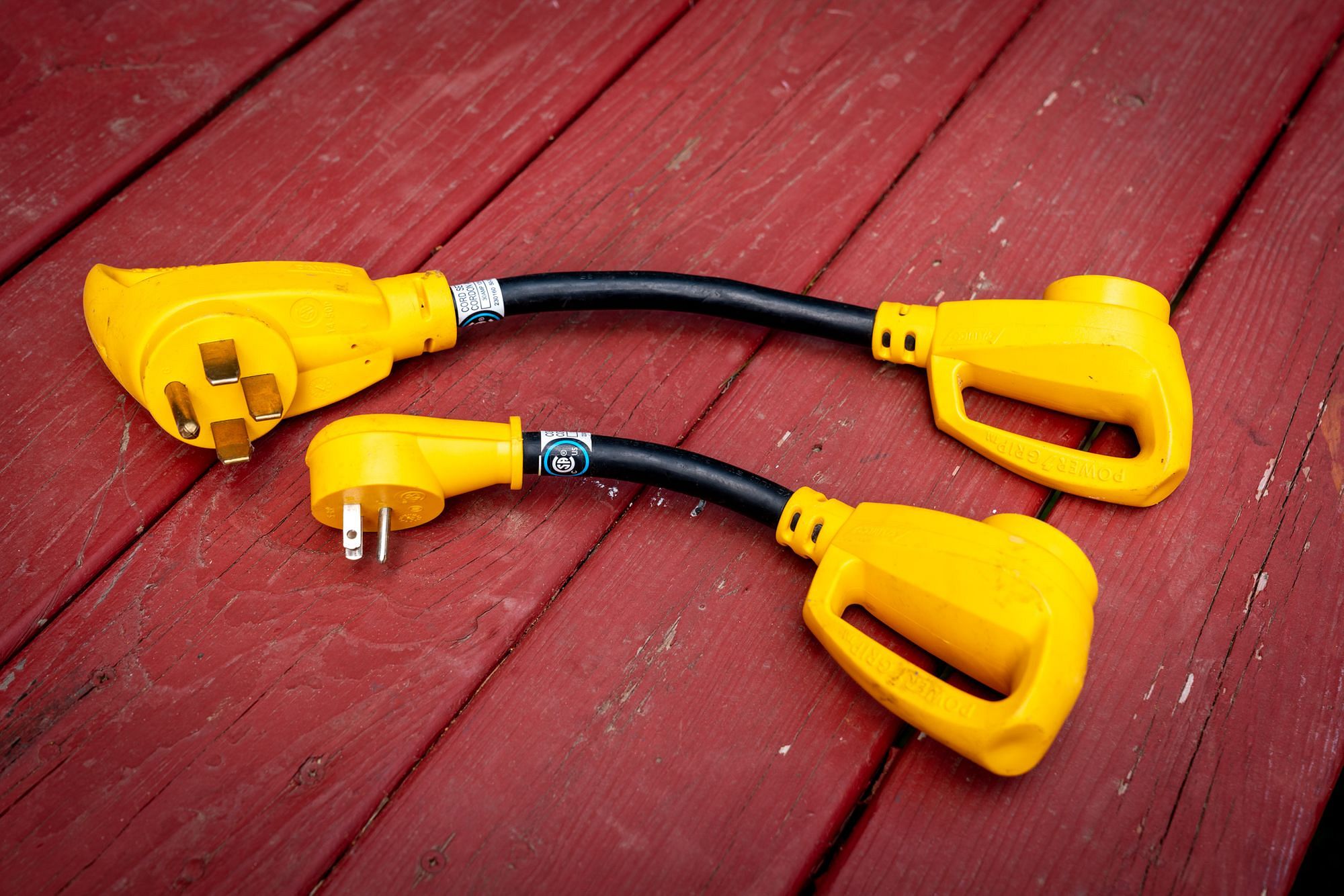 One accessory that I wouldn't say is essential, but may be useful is a dogbone adapter. These convert between different sizes of plugs - for instance, letting us plug our 30A cable into a 15A or 50A shore power outlet. We've only used these a handful of times so I wouldn't say they're essential, but if you know you're staying somewhere that you'll need one then make sure to pick one up.
EMS or Surge Protector
If you saw our recent electrical tour video, you'll know that we highly recommend you use an Electrical Monitoring System (EMS) or surge protector to protect your RV's electrical system from power surges, low voltage, and other situations that might cause damage.
We have a hardwired one, but you can buy portable ones too that just plug in at the pedestal - just like this one: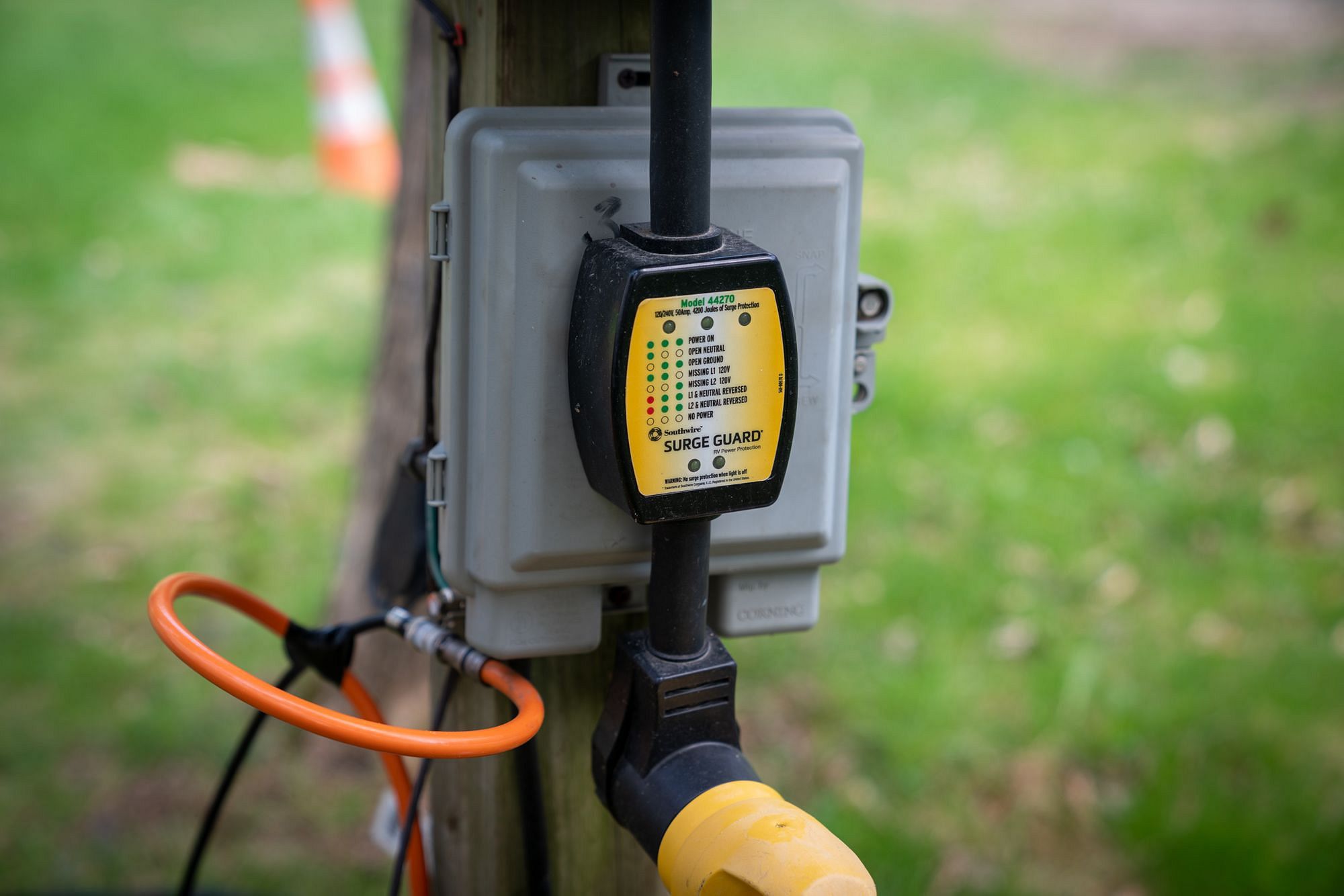 These aren't cheap, but they're a lot cheaper than replacing damaged wiring and appliances in your RV! But if you get a portable one, don't forget it when you leave!
Drinking Water Hose
Having a good hose for your fresh water is really important, whether you're hooking your RV up to a city water connection or just filling your fresh tank.
Although the fittings are the same as a regular garden hose, don't use one of those! Your water will taste rubbery and it's not good for you. Instead you'll want to find a hose designed for carrying drinking water, like this white Camco hose that we've been using for the past few years.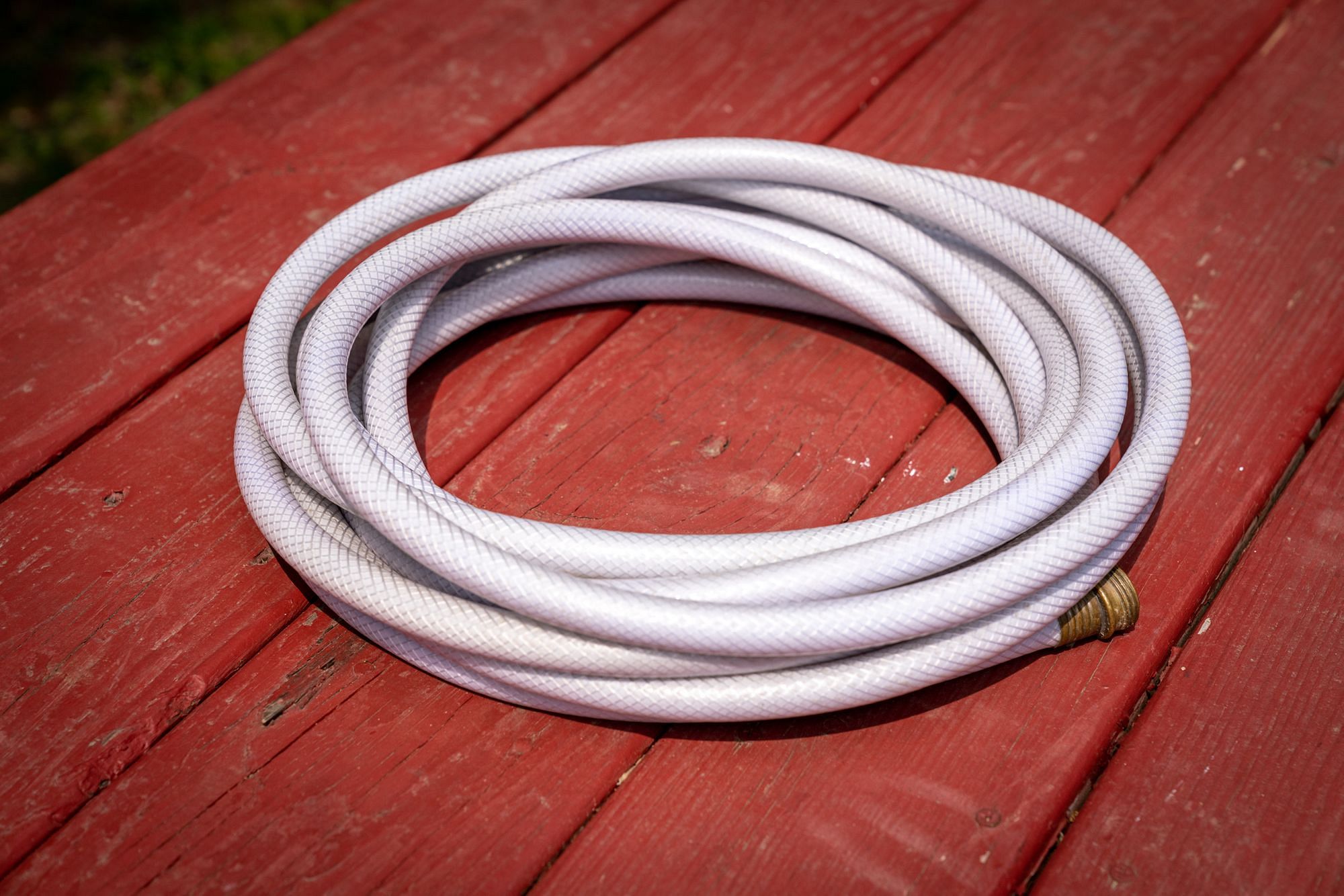 When we very first started, we used a Zero-G hose - a fancier hose that packs down much smaller, doesn't kink, and is overall just a bit more manageable.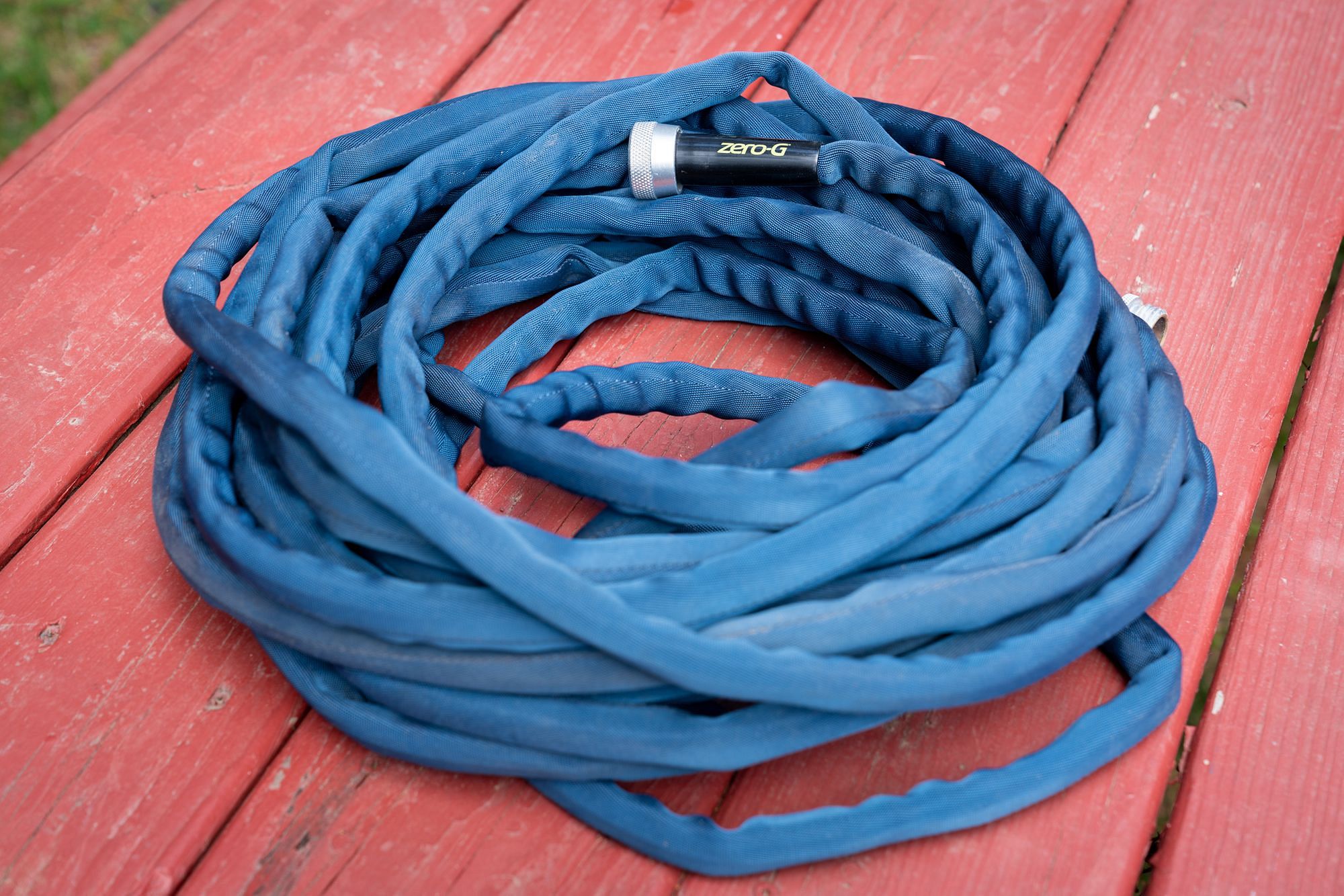 Unfortunately we hooked it up to a city water supply with a particularly high water pressure within the first few weeks of being on the road and the pressure was high enough to damage the hose. We've held onto it as a spare just in case, but as long as you protect it, these hoses can be great.
Water Pressure Regulator
A water pressure regulator doesn't just protect your hose (if you install it on the supply side unlike us!), but more importantly it also protects the plumbing inside your RV.
For a long time we've been using the relatively inexpensive inline pressure regulators, but we've found they tend to fail after about a year or so - they just begin to leak from inside the mechanism itself.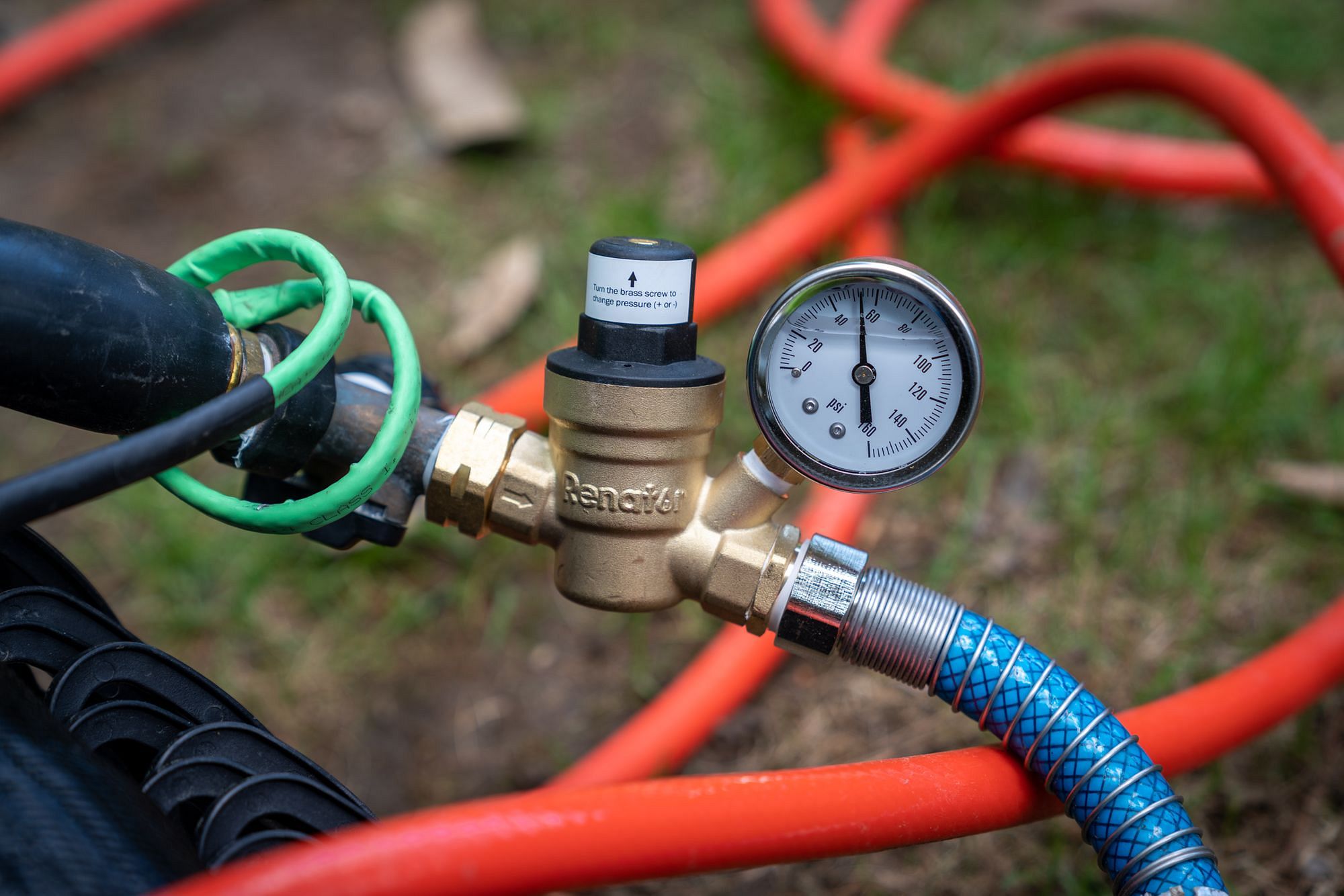 We've recently switched to this new regulator with a gauge and a screw that allows us to set the pressure. This is more expensive, but it should be more durable. An ideal pressure for an RV is usually somewhere around 45-50psi.
Water Filter
Sticking with the theme of water, another accessory we highly recommend you use is a water filter. Even if you're not planning on drinking the water inside your RV, I'd still highly recommend you get an inline filter to help keep sediment and dirt out of the plumbing lines in the RV.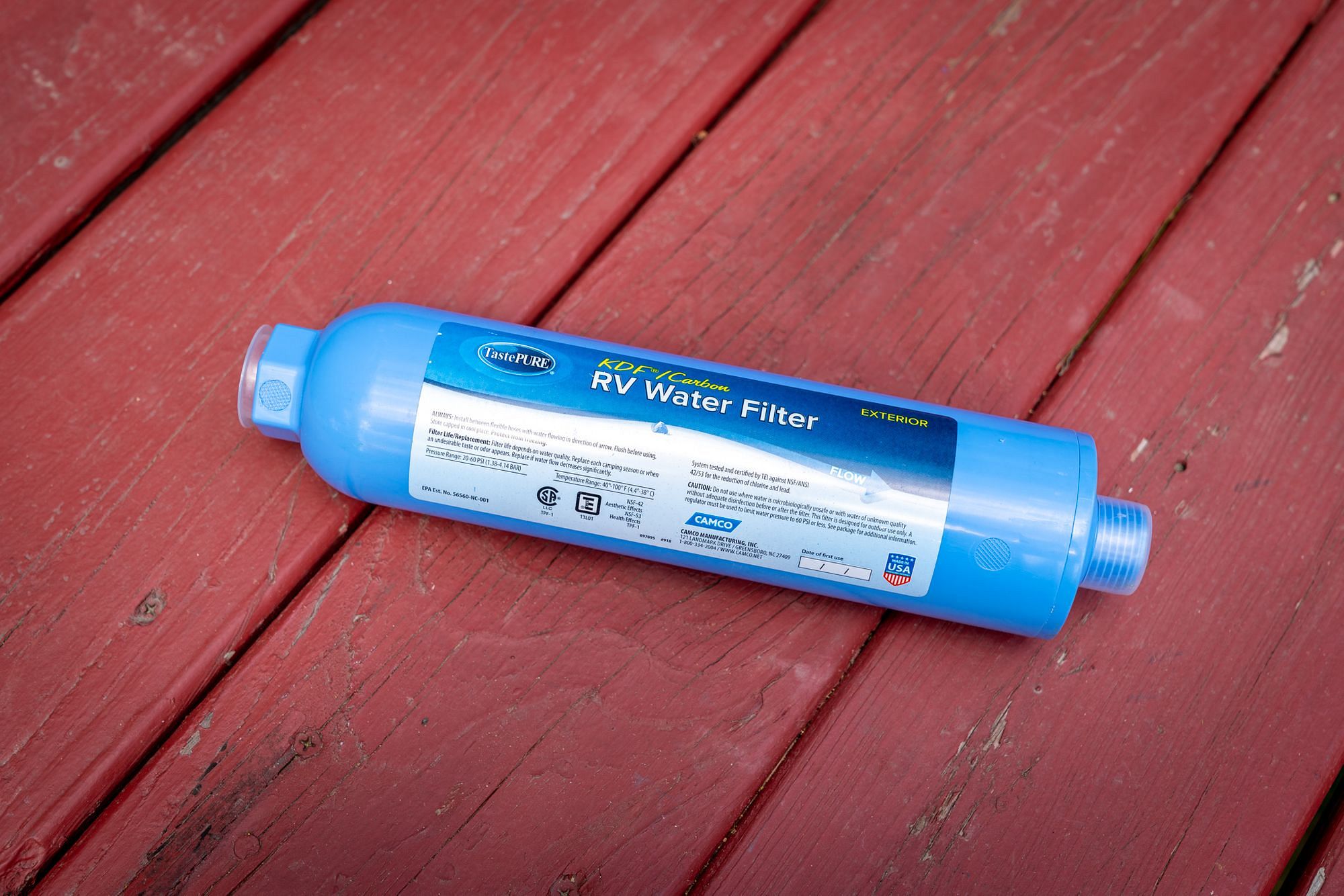 These blue, inline filters are ubiquitous and while far from perfect, do a good job of keeping out the sediment. If you use one of these, you can either connect it to the RV park's city water connection directly, or if you want to put it at the RV end, then I recommend using a right-angle connector to avoid stressing the connector.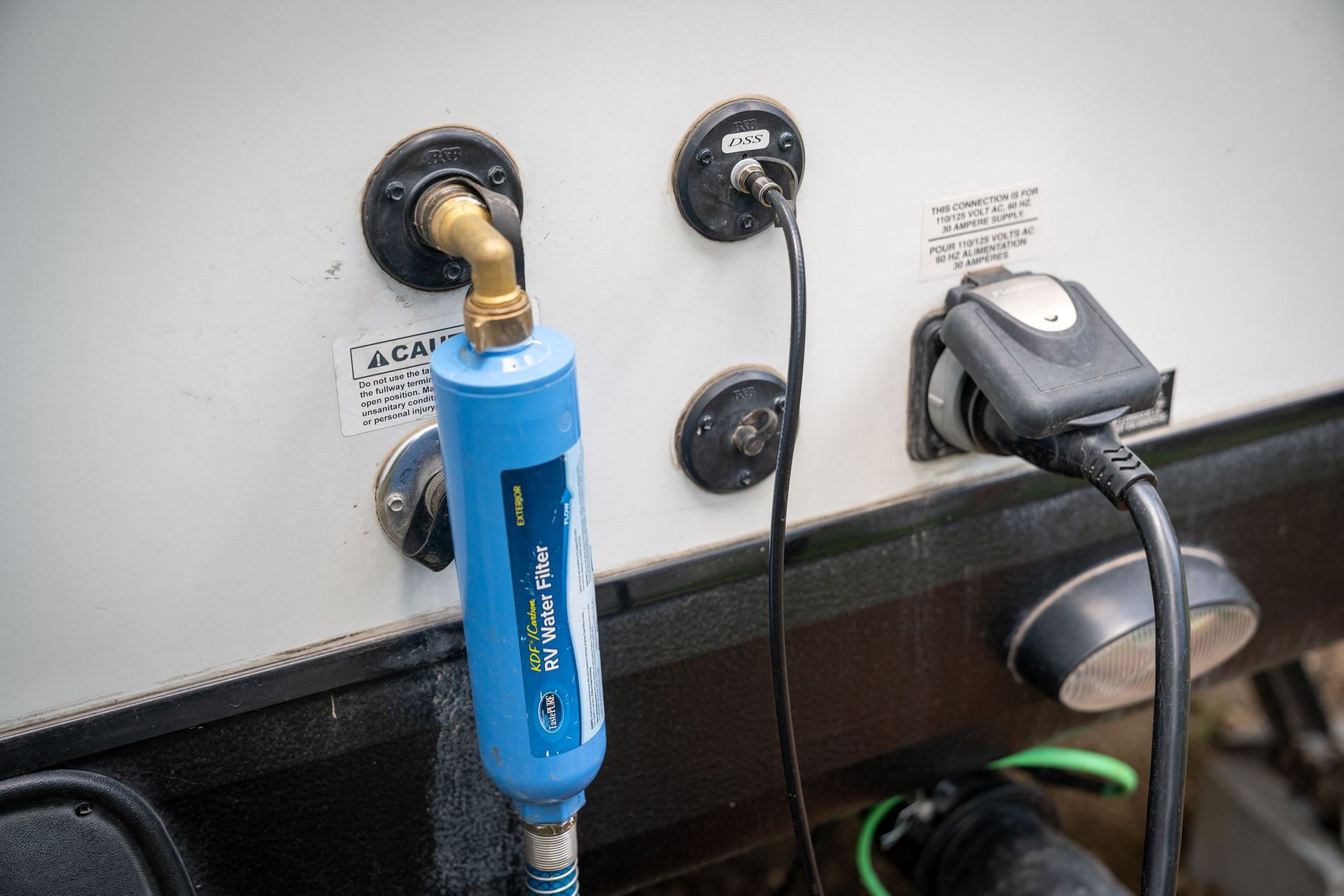 If you're interested in learning more about filtering your water for drinking, check out the upgrade we did to install a high-end carbon ceramic filter.
Flush Hose
There is one hose you don't want to be drinking out of - the flush hose! This is a dedicated hose for flushing your black tank out after dumping - either using a dedicated San-T-Flush connection or a backwash adapter for your sewer hose.
We like our Camco flush hose because it's bright orange and there's no chance of confusing it with our other hoses.
Is it essential? Yes! Keeping your black tank clean is really important - especially if you are only using your trailer from time to time. If, erm, "debris" starts to accumulate in the tank it can be really hard to clear out so keeping it clean from day one is the key to avoiding problems.
Gloves
Since we're on the subject of dumping, we should probably talk about gloves. You can skip these if you want, but you're braver than me! I'd rather have a little protection for my hands when dumping.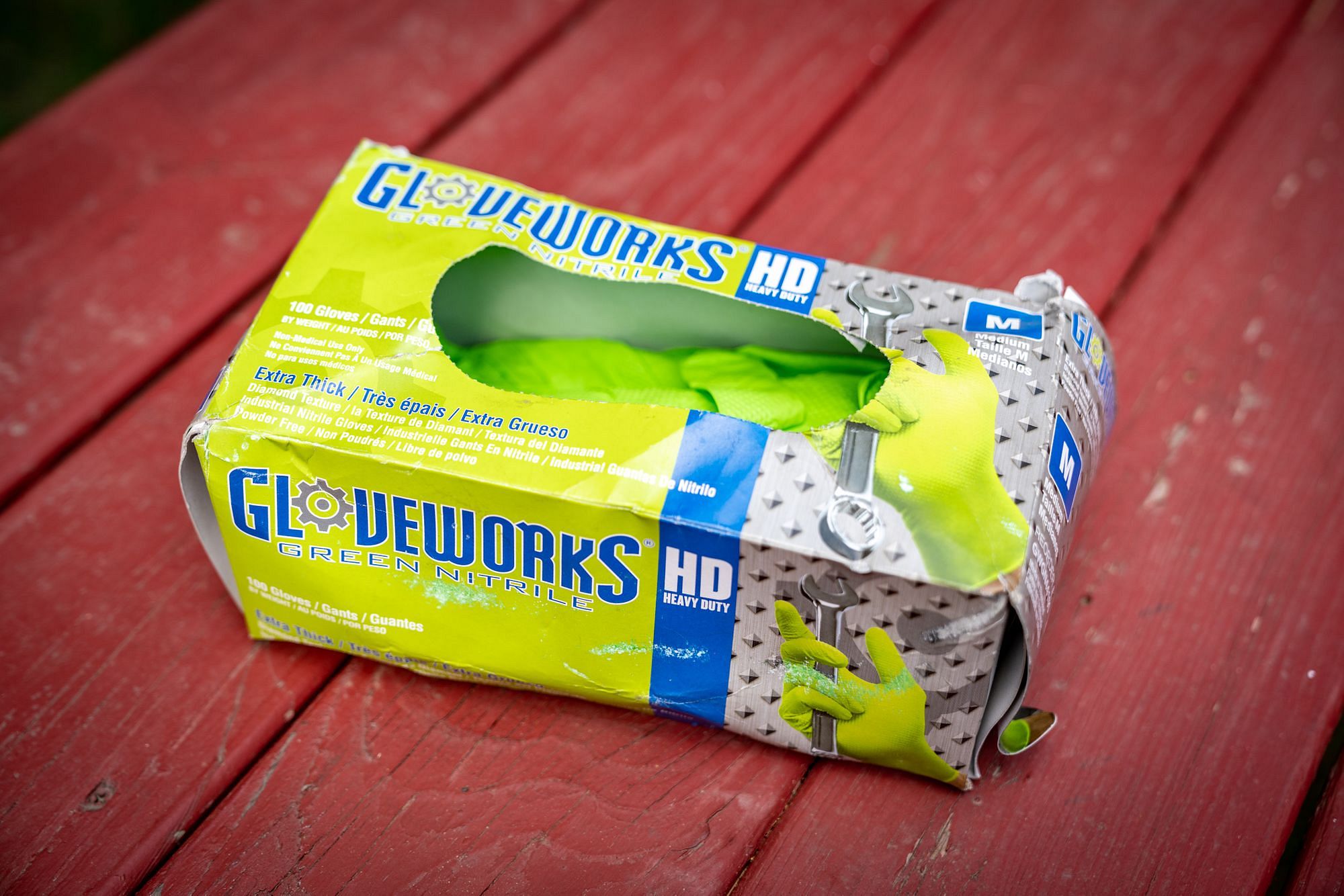 We've tried several different gloves over the years, but these are now our go-to favorites. There's nothing worse than having your gloves tear on your when dumping (trust me, we've been there in the past), and that's why we love these green nitrile gloves - they're really heavy duty and are textured for a little extra grip when dumping.
In fact, more than once we've donated a pair of gloves (no really, we don't want them back!) to people at the dump station who had forgotten gloves or had theirs tear. Highly recommended.
Sewer Hose
OK, every RVers favorite topic - dumping the tanks! To do this, you'll need a sewer hose. Most RVs come with a 4-pin bayonet type system for the sewer hose - ours is no exception.
One of the first things we bought when we got our RV was a Camco RhinoFLEX sewer hose (this one is similar to ours but with a clear-fitting which I'd highly recommend). And three years later, it's still going strong - the exact same one we started with.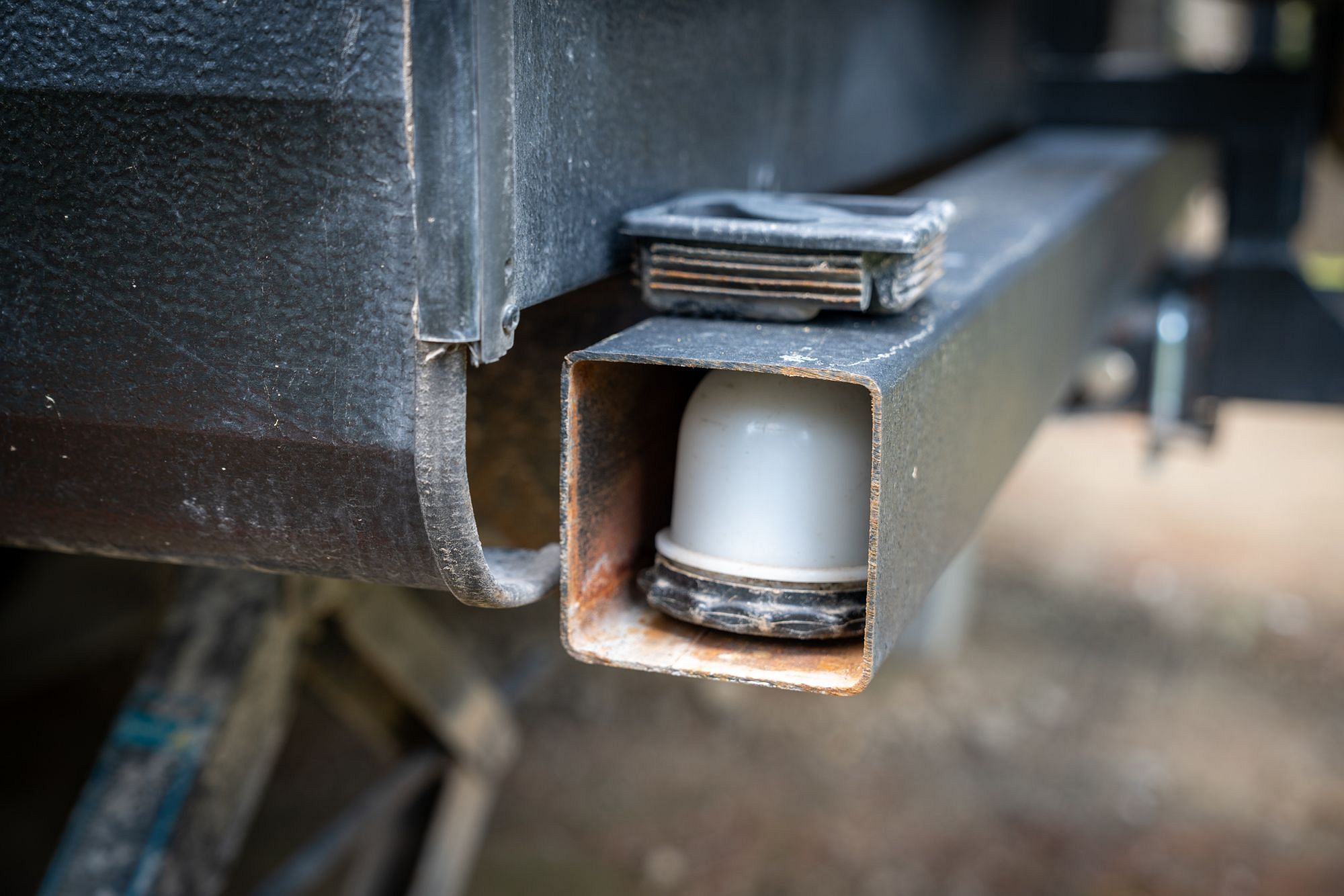 We've been running a different sewer hose this winter - our NoFreezeWaterHose heated sewer hose - but we still have our other sewer hose, stored in the back bumper.
Although not strictly essential, you might also want to consider a clear adapter so you can see the waste water running through. Why on earth would you want to look at that? Well, while it might not be pleasant, it's a great way to know when everything has finished dumping, and then when you flush, you can see when the flush water starts running clear too.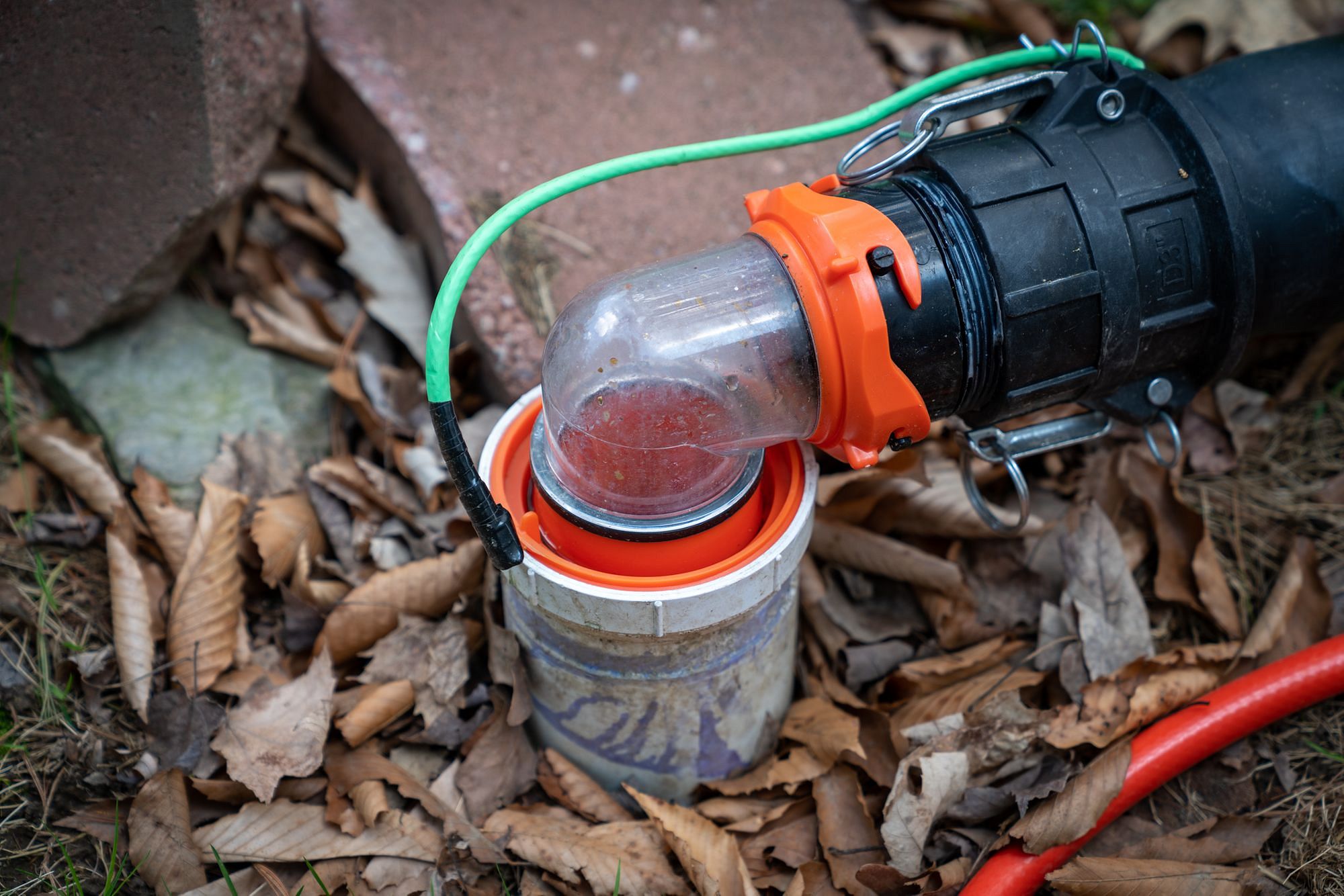 RV Toilet Tissue
Sticking on the theme of waste, but moving inside the trailer (I hope!), you'll want some toilet tissue designed for RV systems. Although technically the black tank on your RV is a holding tank not a septic tank, having a toilet tissue that breaks down in contact with water will help avoid any clogs or blockages.
There are lots of choices here, and there are plenty of strong opinions out there! We've always been happy with Camco RV & Marine Toilet Tissue - it's readily available at Walmart and we've had great success with it.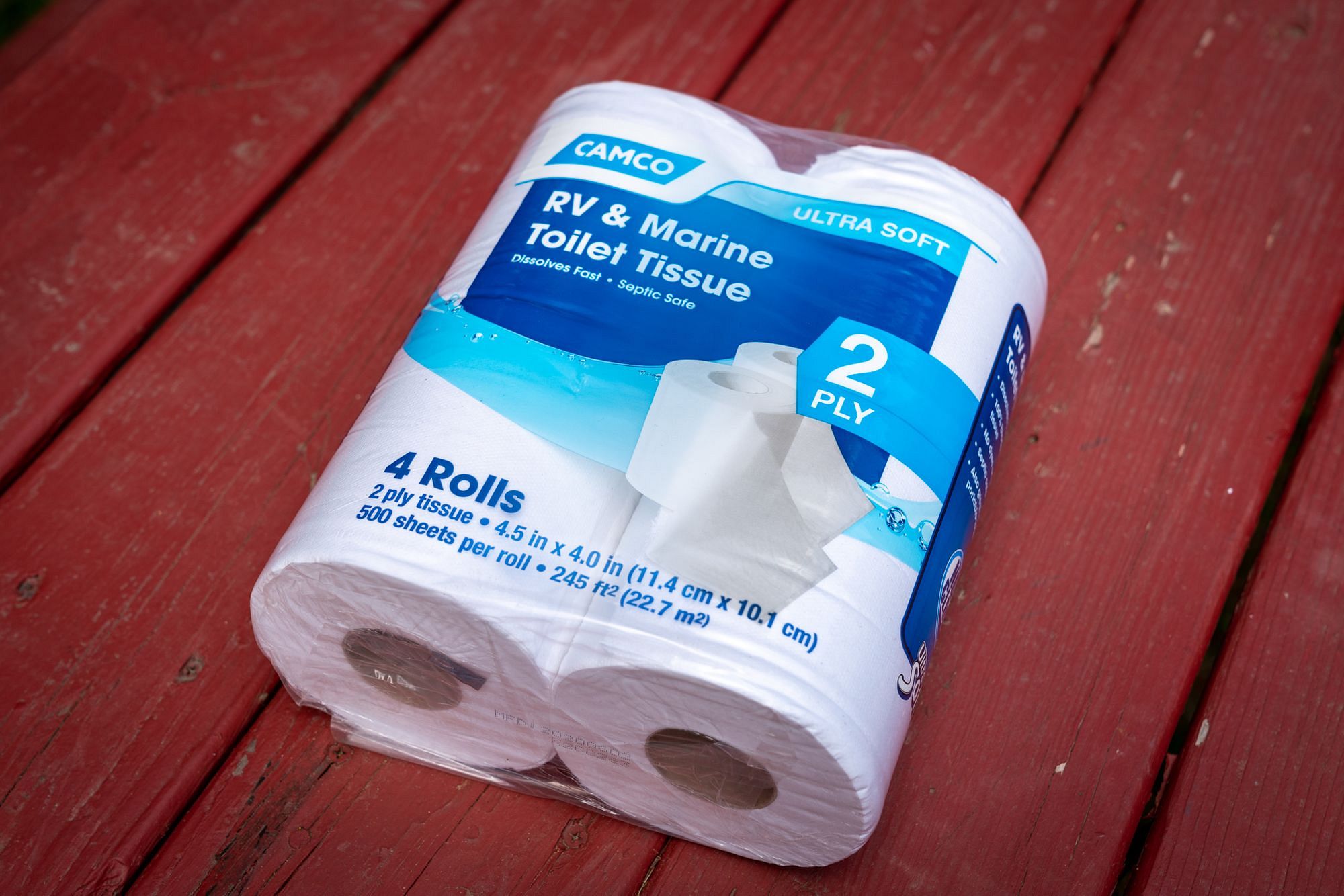 RV Toilet Treatment
Nobody likes a stinky black tank, and one of the easiest ways to solve this is with simple black tank treatment tablets. Again, there are lots of different options out there and we haven't thoroughly tested them - we just typically pick up whatever's available in the store when we run out.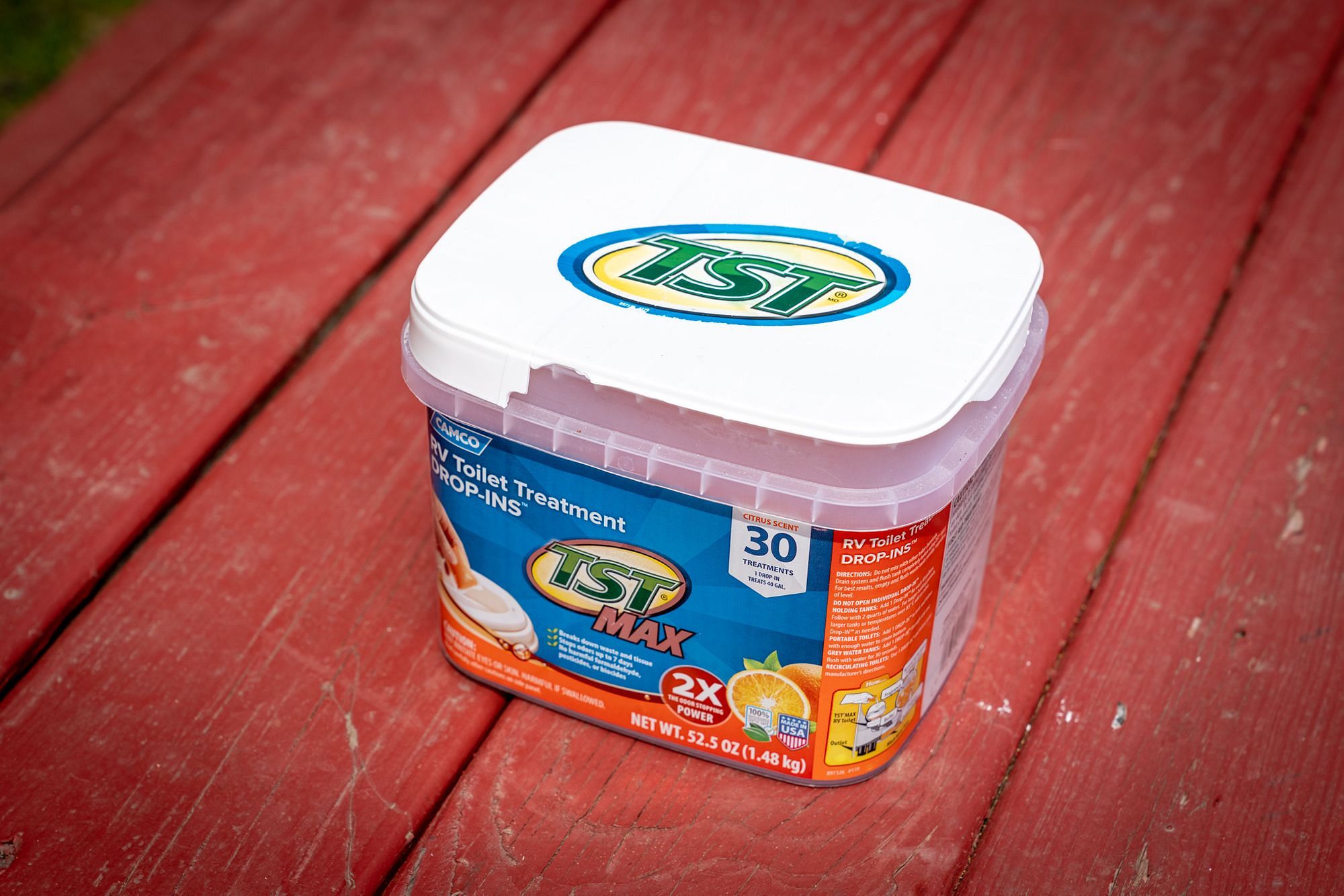 The last few times we've bought Camco TST Max toilet treatment and it seems to work well to keep any odors at bay.
Broom
This last item is something we should have bought before we went RVing, but didn't. It seems that no matter where we camp, dust and dirt quickly finds its way inside the RV. Unlike in our house where we had a Roomba, we needed a quick way to clean the floor.
So, after our first night of full-timing in the RV, we stopped at a Walmart and picked up a simple plastic broom. Ours has the angled brush head which really helps in the tight spaces inside the RV. As with many other items on the list, it's still getting daily use almost three years later!
Summary
So there you have it - that's our list of absolute essentials that we think you should have for your very first camping trip this summer.
Of course, there is a seemingly unending list of other items you may choose to add over time - things that make RV life easier, more comfortable or just suit your style of camping.
We've seen countless lists and had many people telling us we needed lots of things that we still don't own - like a propane firepit, generator and large outdoor mat. Sure, those things all have their place and if they work for you then go for it!
But our message is simple - start with the absolute basics, see what you're missing, and then go from there. Also, remember to check out our Amazon store with links to not just our essential accessories, but all the other things we recommend for RV life.
What did you think of our list? Are there things on here you could live without, or perhaps some things missing that you think are essential? Let us know in the comments below, and happy camping!