Introduction
Wow, what a ride that was! It's hard to believe how much we managed to do in just one month!
That's right. As incredible as it sounds, we visited our first National Park Unit of Season 2 on April 9th, and finished exactly one month later on May 9th!
Video
Be sure to check out our Season 2 recap video as we look back on some of the memories we made on this journey!
National Park Units
After finishing Season 1 in early April at Organ Pipe Cactus National Monument, we crossed from Arizona over into California and spent a few days in the beautiful Anza-Borrego Desert State Park.
Cabrillo National Monument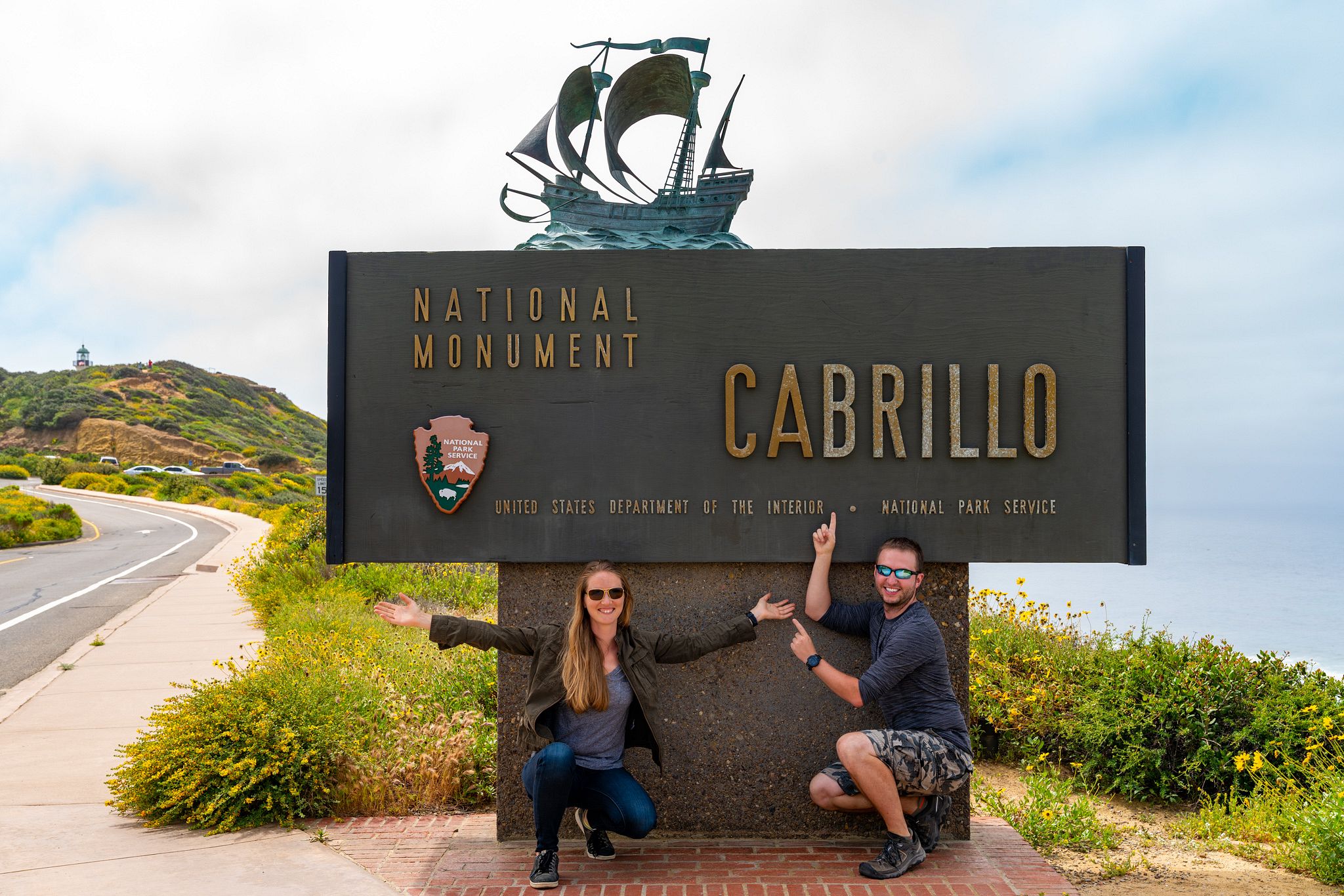 With the trailer in tow, we stopped in at our first unit of Season 2: Cabrillo National Monument in San Diego, CA. In addition to learning about the history of the lighthouse and the Cabrillo expedition, we also had our 15 minutes of fame! A Google Street View car passing through not only captured our truck and trailer, but if you scroll back towards the Visitor Center, you can see the two of us as well!
Santa Monica Mountains National Recreation Area
We continued further up the coast and dry camped at Thornhill Broome Campground for a few nights while we explored the stunning Santa Monica Mountains National Recreation Area. Despite vast areas having been devastated by wildfires a few months prior, the scenery was still spectacular.

Sadly, a couple nights later while camping at Emma Wood State Beach, our portable solar panel was stolen - both the electrical cable and cable lock were cut overnight.
Channel Islands National Park
We left our RV in the parking lot at Ventura Harbor as we boarded the ferry over to Santa Cruz Island for our trip to the Channel Islands National Park - our first non-mainland National Park Unit.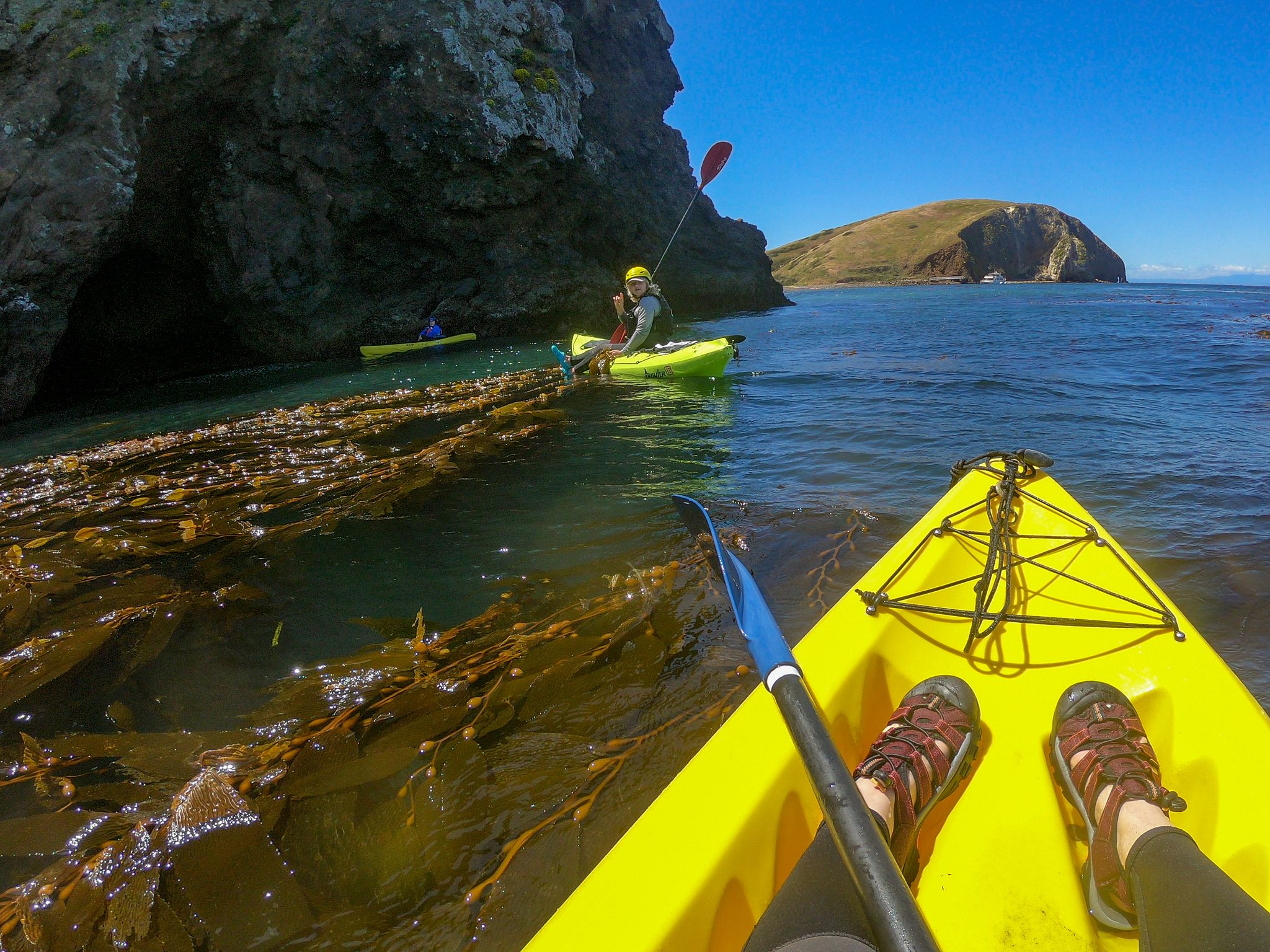 The experience was phenomenal - camping in our tent for 2 nights and days filled with kayaking and hiking.
Mojave National Preserve
Back on terra firma, we headed east in style - following Historic Route 66 from Santa Monica Pier through the heart of Los Angeles, CA on a Friday afternoon on our way to Newberry Mountain RV Park near Barstow, CA.
We ate dinner at the Bagdad Café (named after the movie), and prepared for our next adventure - a 3-day overlanding expedition across the Mojave Road through the heart of the Mojave National Preserve.
It was the second time we had driven that route, and it was just as magical the second time around. Tent camping with beautiful sunsets, negotiating tricky off-road obstacles, and driving through a Joshua Tree forest - what's not to love?!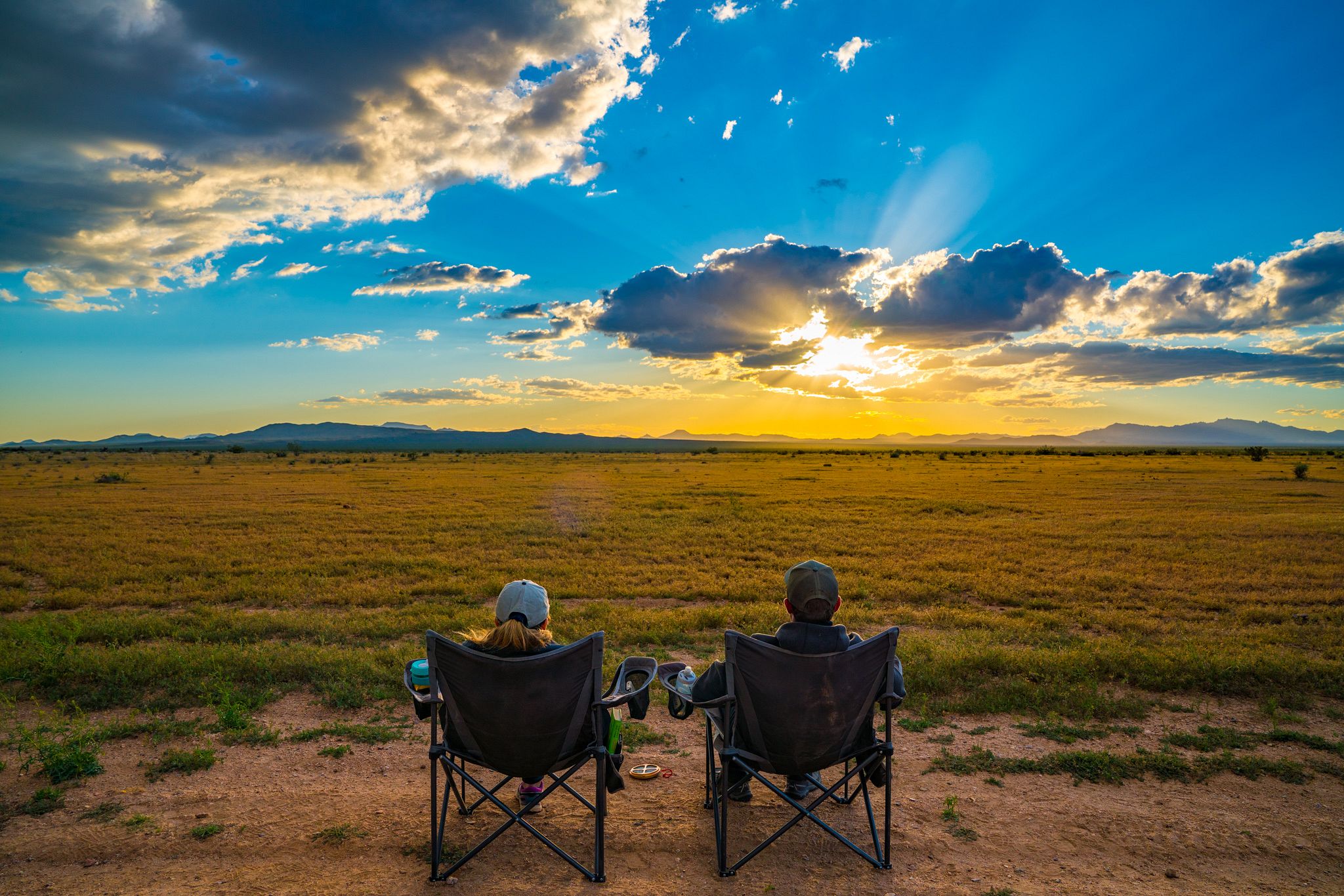 We woke up on the 3rd morning on the Mojave Road and decided to head to higher elevations before a heat wave promising temperatures in the high 90s rolled through!
Sunset Crater Volcano National Monument
So that's what we did! We picked up the RV and headed to Flagstaff, AZ to explore five National Monuments in the area.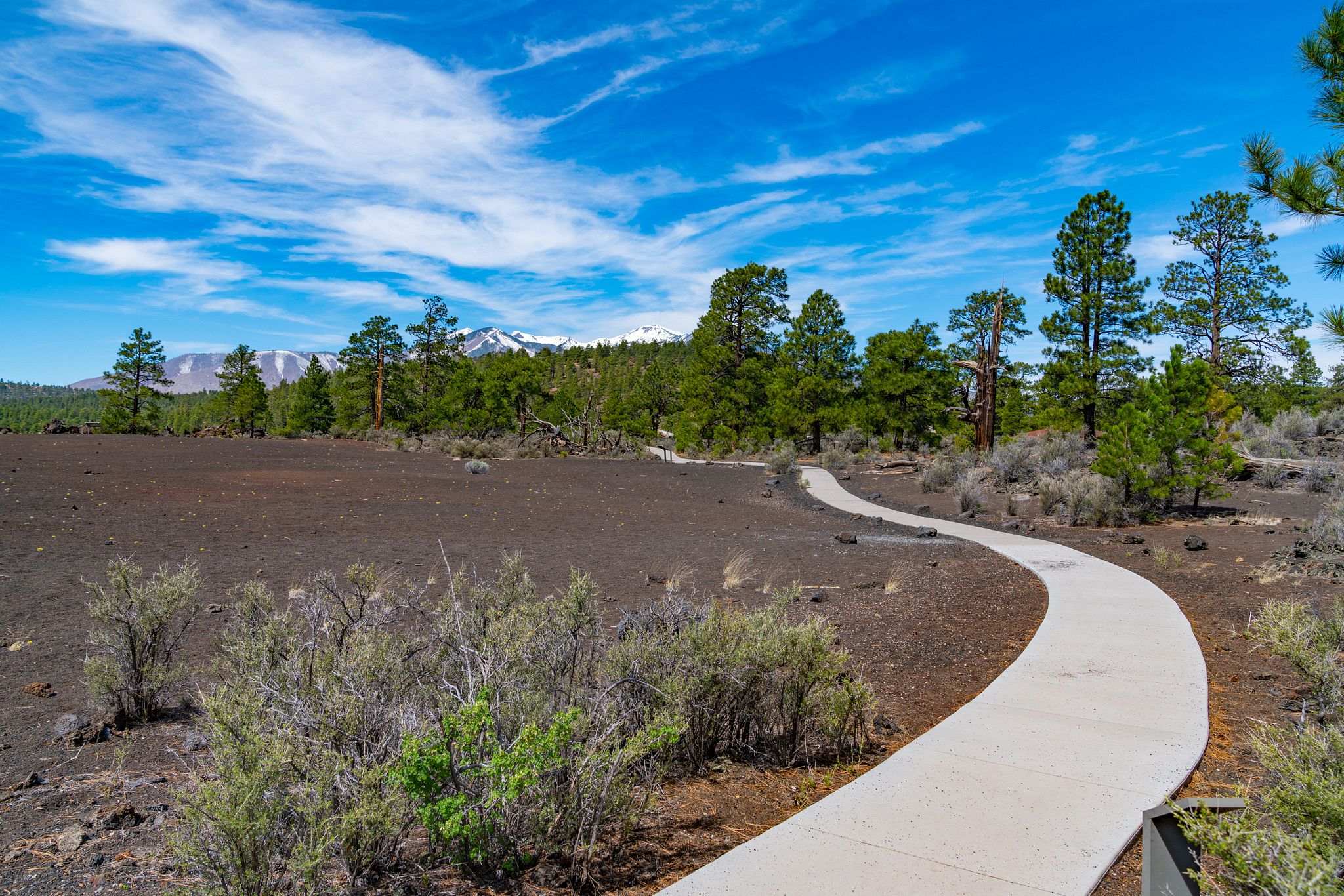 The first was Sunset Crater Volcano National Monument just north of Flagstaff. We hiked several trails and learned about the catastrophic eruption almost 1,000 years ago that changed the landscape forever.
Wupatki National Monument
The same day, we headed a little further north to visit Wupatki National Monument. We were lucky to snag a place on a Ranger-guided tour where the ground was covered in fragments of ancient pottery wherever we looked!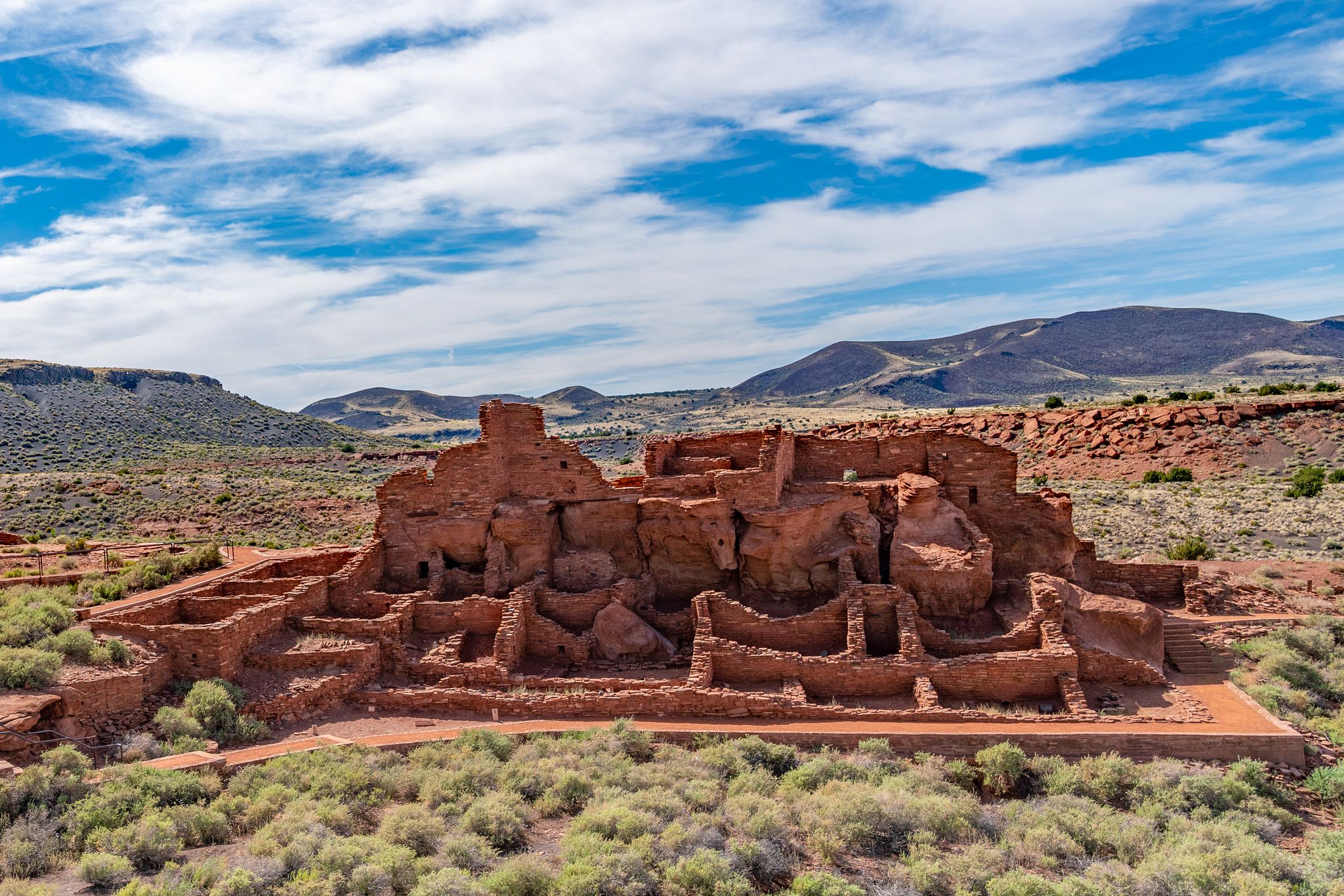 We rounded off our visit with a tour around Wupatki Pueblo - the 100-room multistory building that gives the monument its name.
Montezuma Castle National Monument
The next day was another double-unit day, starting with Montezuma Castle National Monument in the morning.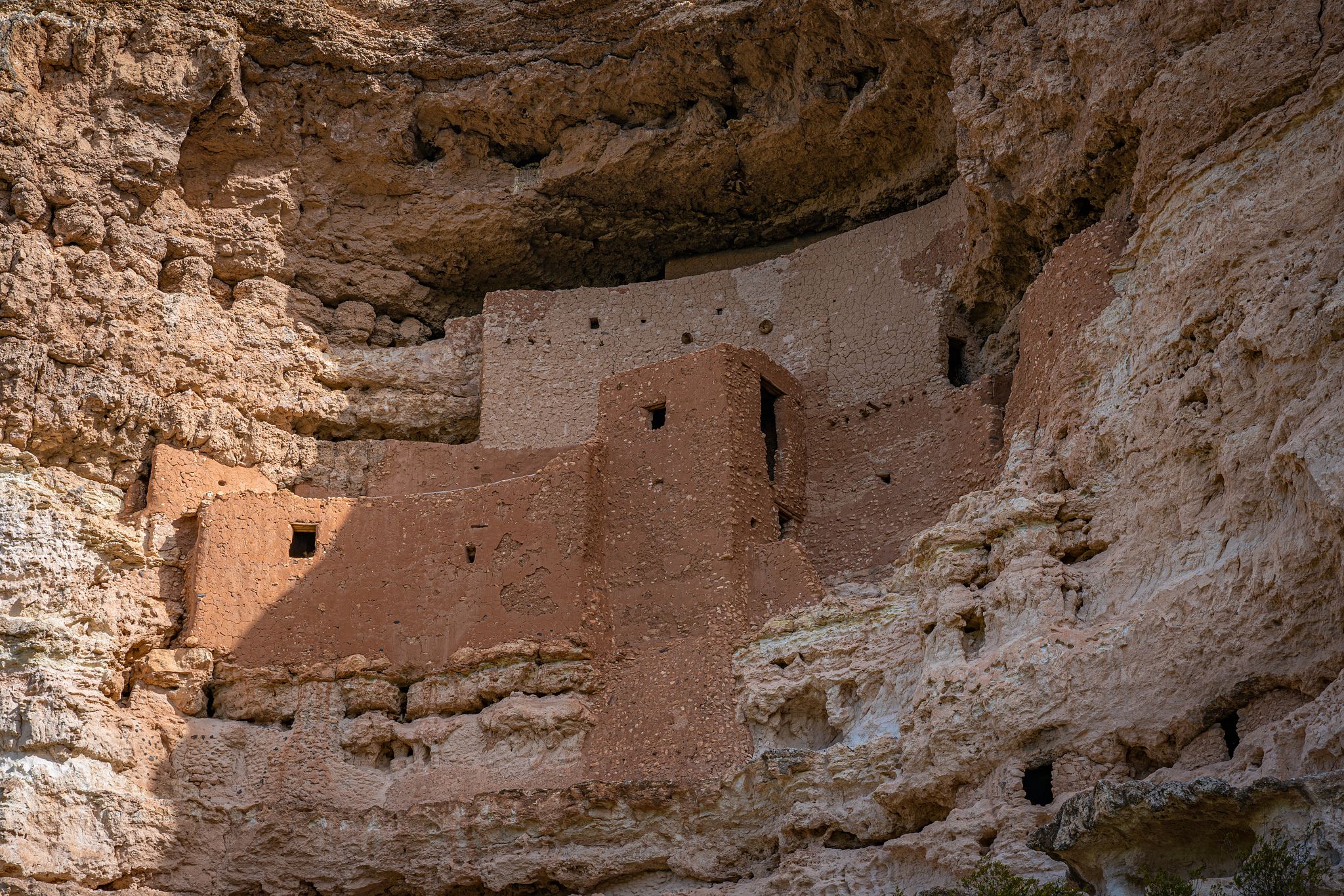 We visited both sites - the main area with its stunning castle nestled up in the cliffs as well as Montezuma Well with its natural limestone sinkhole surrounded by cliff dwellings.
Tuzigoot National Monument
That same afternoon we drove 20 miles up the road to visit Tuzigoot National Monument.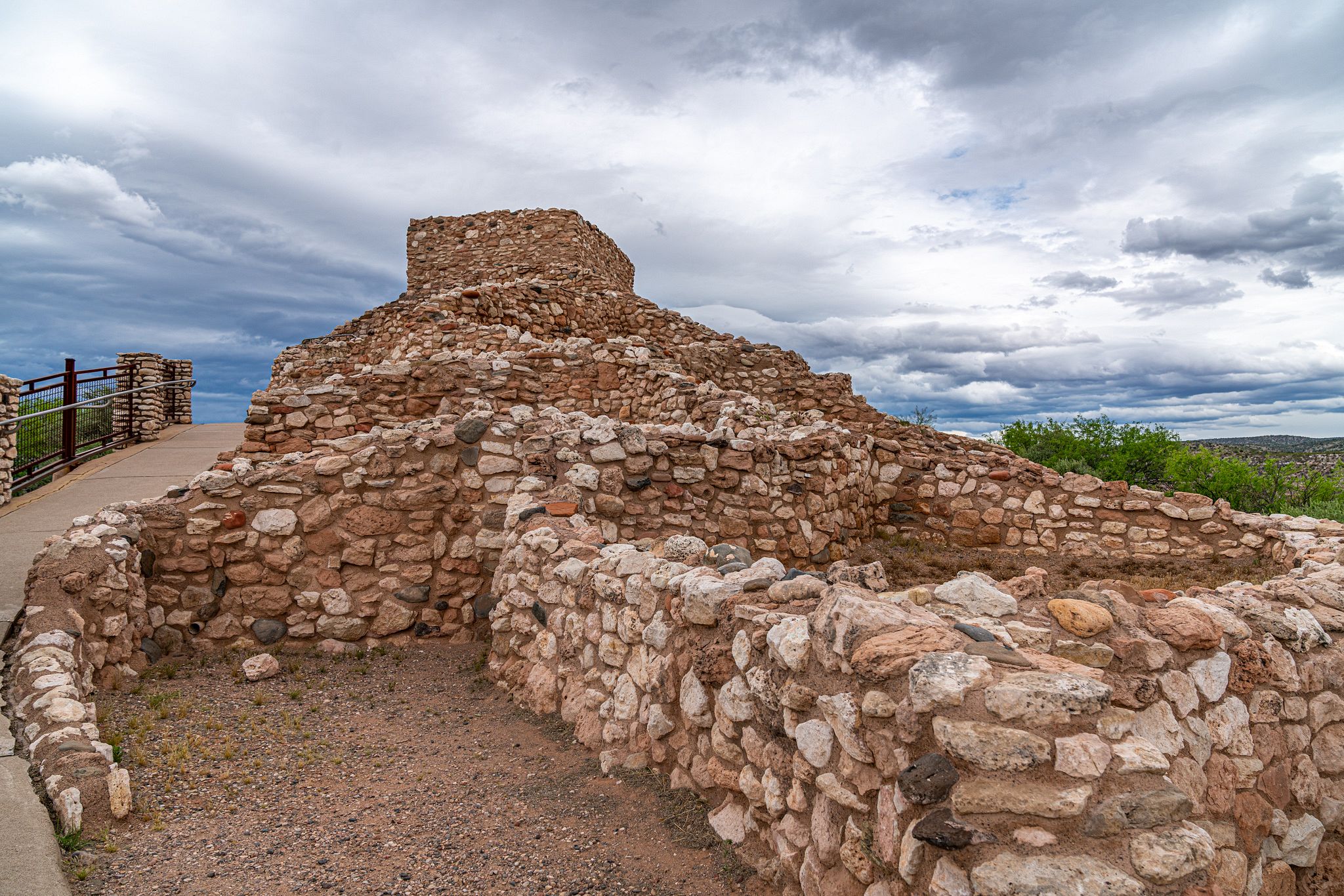 We enjoyed visiting the museum, filled with meticulously reconstructed Ancestral Puebloan pottery. But the highlight was hiking the short trail to the top of the mount to see the best preserved pueblo built by the Sinagua people in the Verde Valley.
Walnut Canyon National Monument
Having been exploring non-stop for a little while, we treated ourselves to a day off - I think we deserved it!
But just one day. The next day we were back at it again - this time to explore Walnut Canyon National Monument, just 10 miles outside Flagstaff.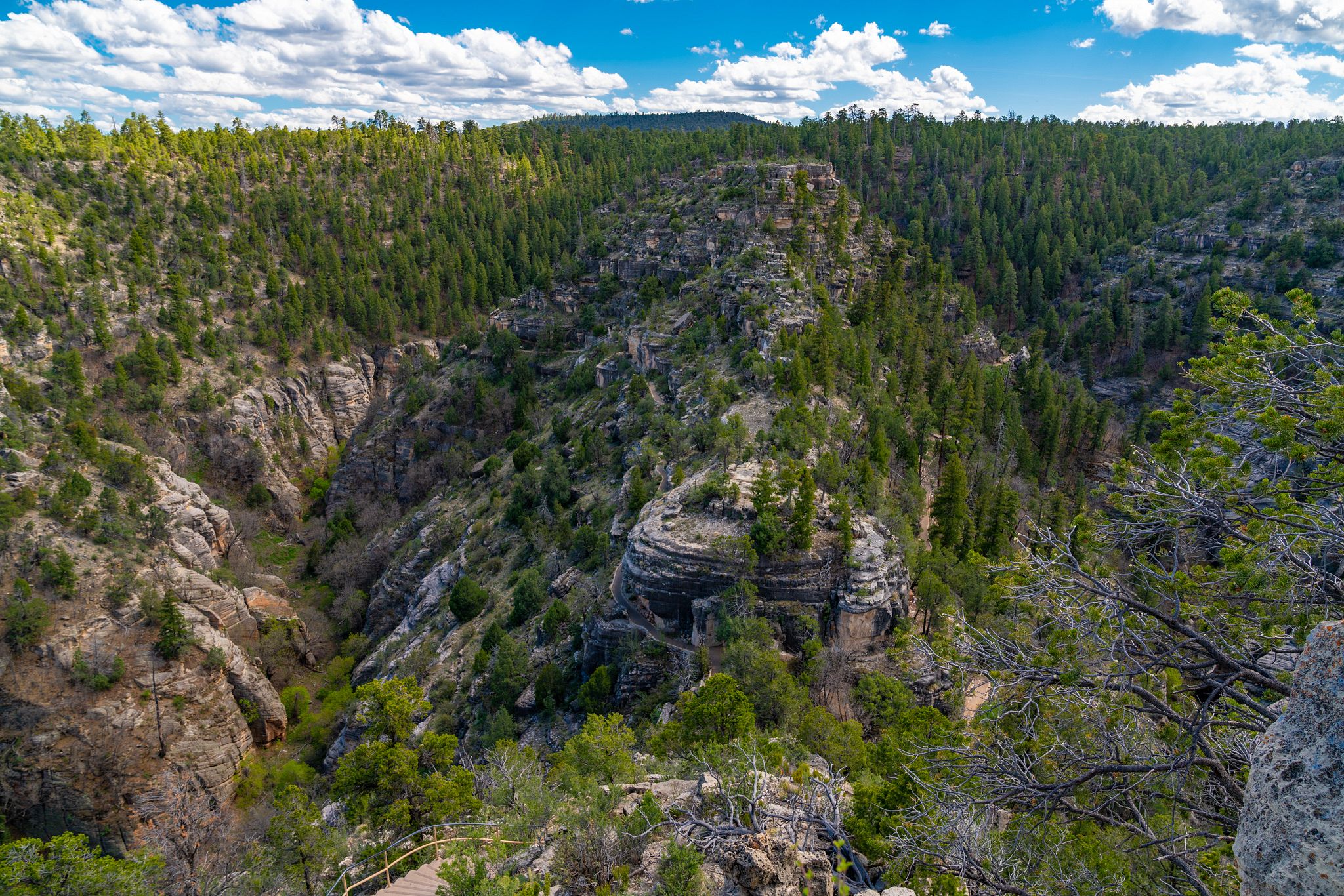 We spent the afternoon there, hiking the easy Rim Trail as well as the more challenging Island Trail with its 273 steps! Seeing the cliff dwellings up close as well as views across the canyon made it totally worthwhile!
Petrified Forest National Park
The very next day we were back on the road - on Route 66 (well, I-40) heading east. We stopped in at Winslow, AZ made famous by the Eagles in their 1972 song Take It Easy!
We spent the next 3 days exploring as much as we could at Petrified Forest National Park - driving the scenic road, exploring the vista points and even squeezing in a couple of back-country wilderness hikes.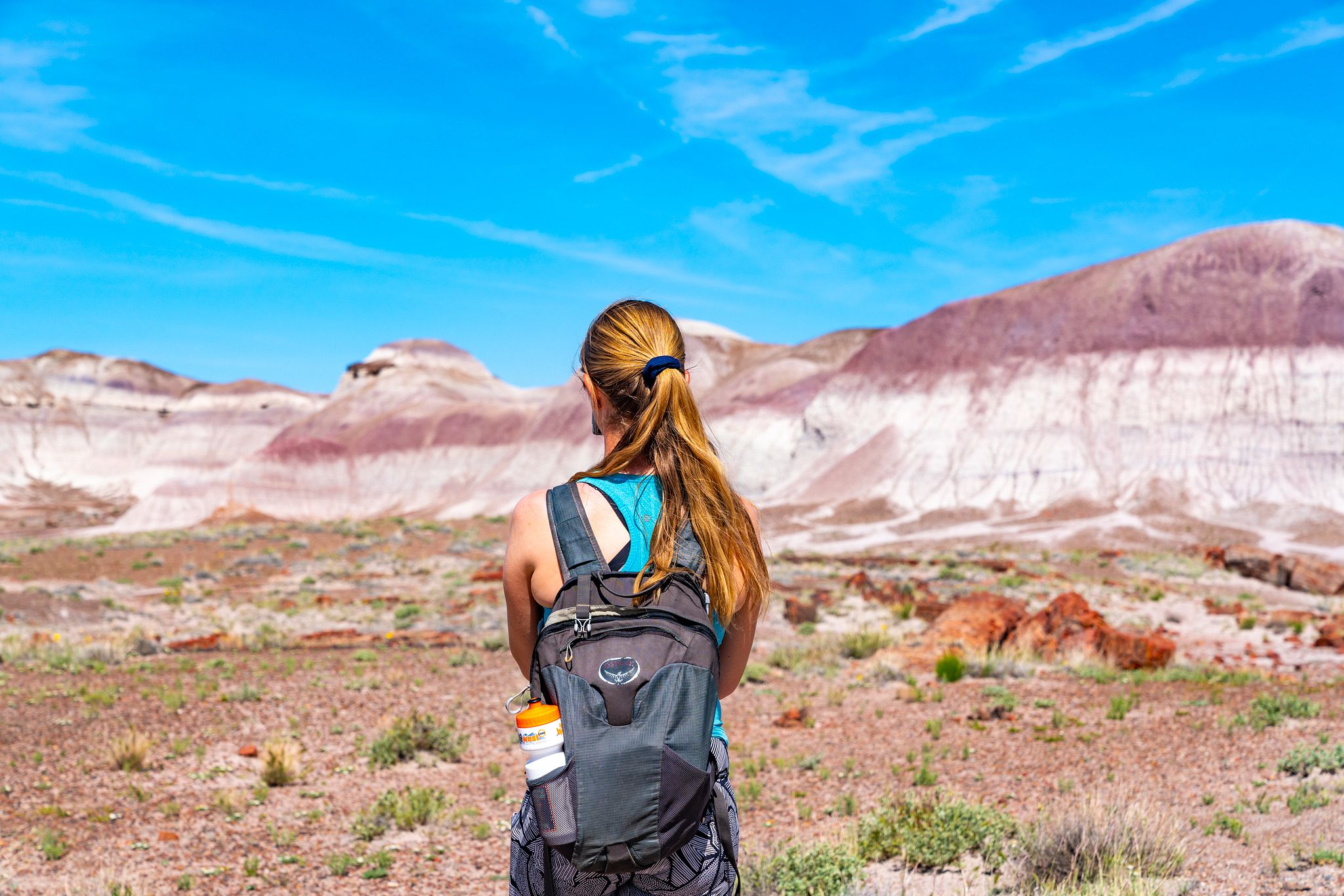 If you've never been to Petrified Forest National Park then add it to your bucket list right now!
El Morro National Monument
Crossing the state border into New Mexico, we stayed at Joe Skeen Campground (free, but run by the BLM) near Grants, NM. From here we could visit our last two units.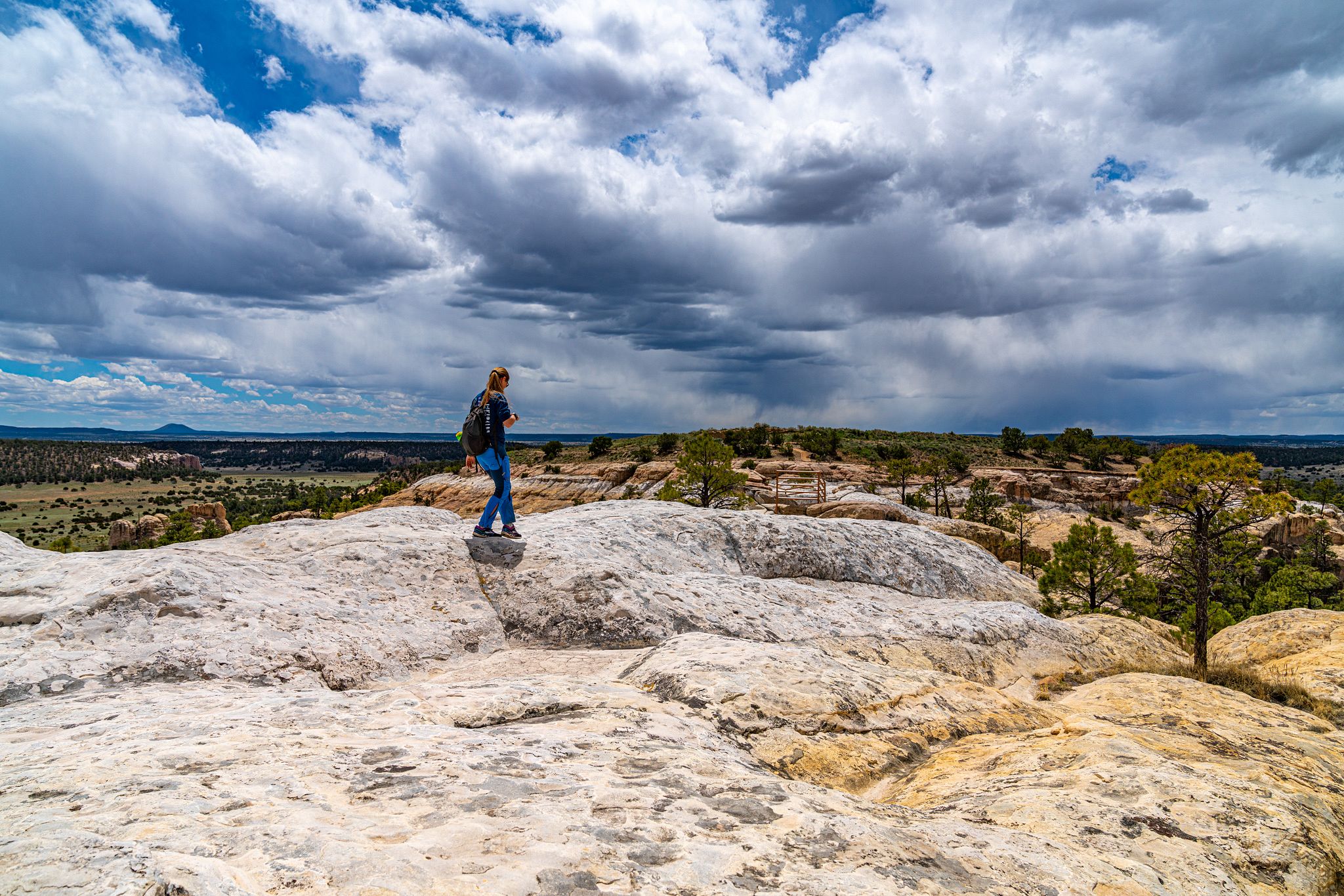 The first was El Morro National Monument. In this barren desert, the small pool of water beneath the headland was a veritable oasis. So much so that not only was a huge pueblo built atop the bluff, but its cliff walls have been carved with inscriptions for almost a thousand years by travelers passing through.
El Malpais National Monument
Our 12th and final stop of Season 2 was El Malpais National Monument. Meaning "the badlands" in Spanish, the landscape is dominated by the vast and rugged lava fields.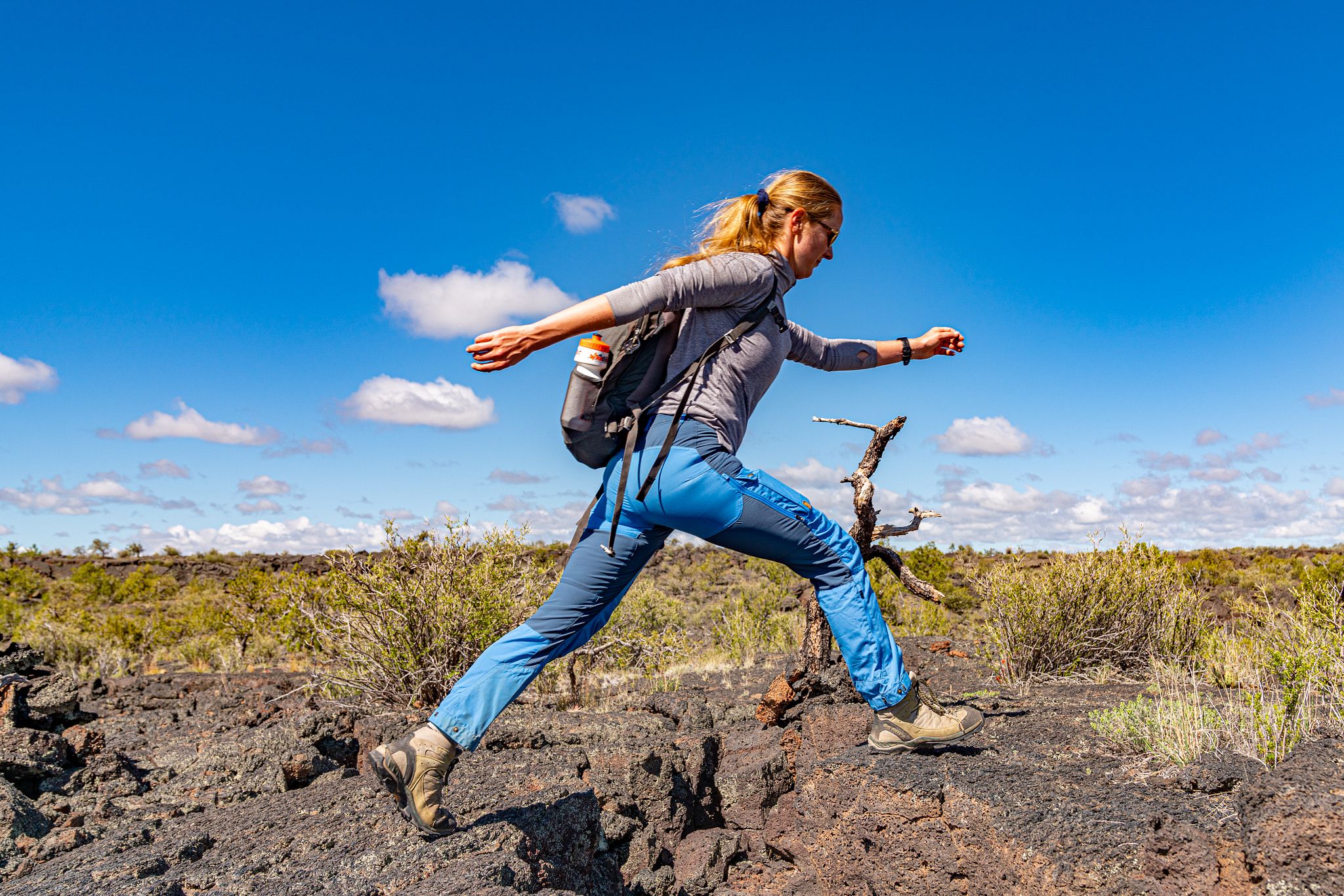 Although the weather was refusing to cooperate, we still managed to find a couple days to get out and do some hiking around El Calderon and even out onto the lava fields along the Zuni-Acoma Trail.
Albuquerque
Our final destination was Albuquerque, NM. We had been invited to a wedding in Oklahoma City in mid-May, but due to the threat of tornadoes at that time of year, we decided to leave the RV in Albuquerque and just take the truck to OK.
That turned out to be a great decision, as we left a day early on our way back to Albuquerque - tornadoes clipping at our heels! 12-hours later and we could have been in real trouble!
We used our time in Albuquerque to put another 200W of solar panels on the roof of our RV to replace solar power we had lost when our 100W panel was stolen.
Highlights
With so much packed in just one month, picking highlights seems almost impossible! As we've said before, every National Park Unit has something unique to offer, and these 12 were no different.
But there are a few moments that stand out.
Watching the sunset while sitting on the cliffs on Santa Cruz Island in the Channel Islands National Park is an experience I'll never forget.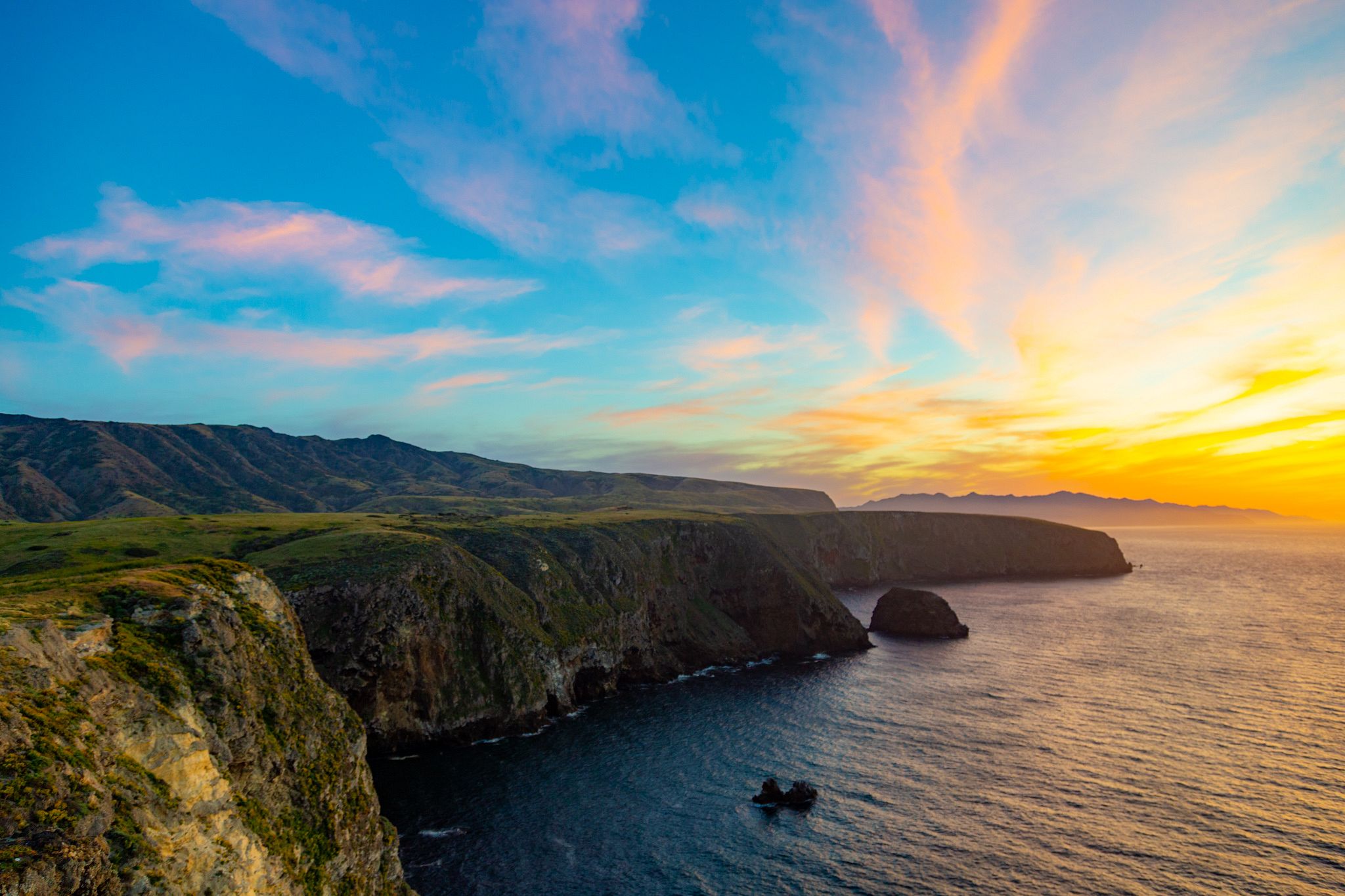 Continuing the theme of seclusion, the magic of driving across the Mojave Road through the Mojave National Preserve will never cease to amaze me. Beautiful, brightly colored wildflowers lining the road beneath majestic Joshua Trees! All without nobody else in sight and miles of wilderness all around!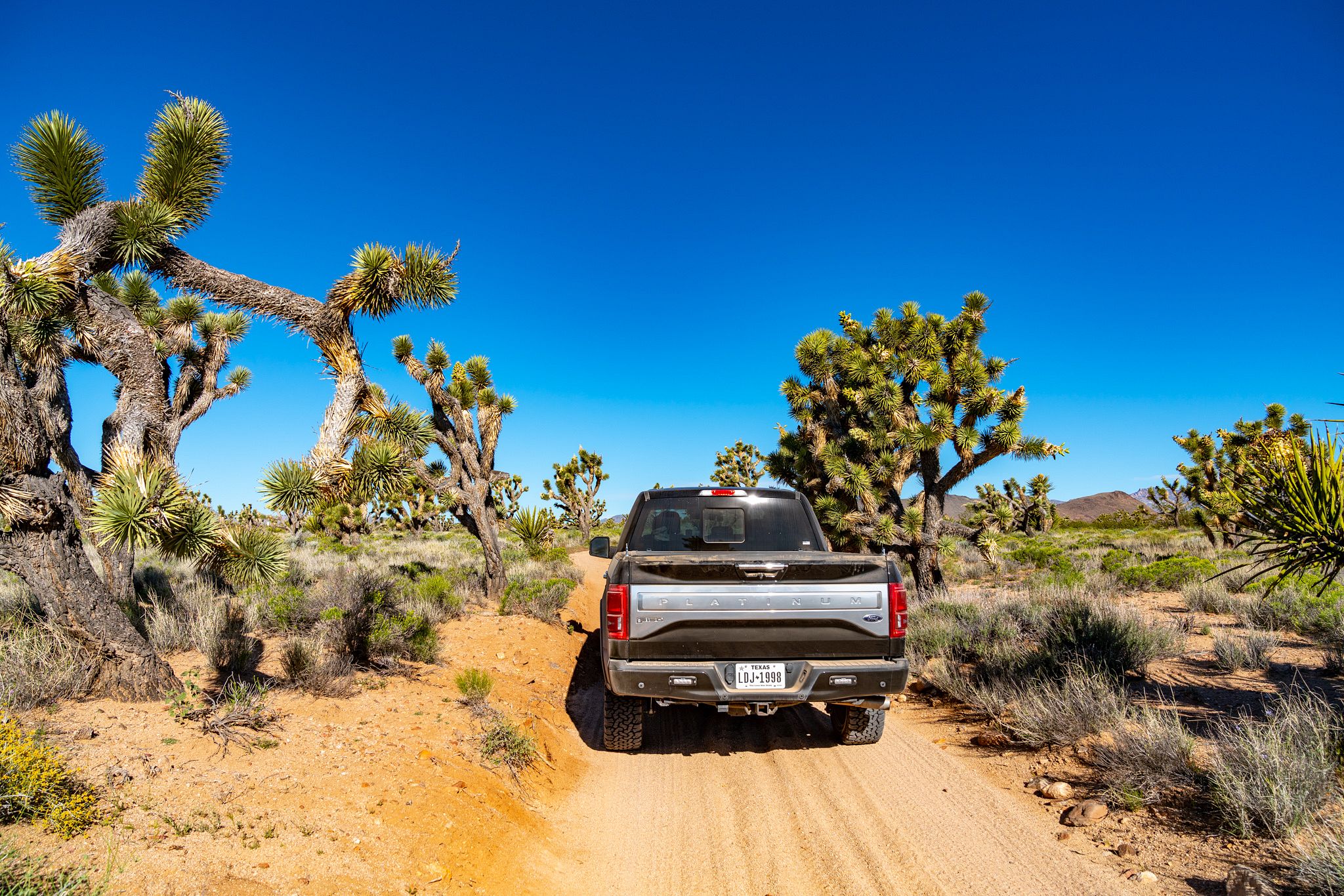 Where Next?
At the end of Season 2, we've now visited 26 National Park Units - we have a long way to go on our quest to visit all 419 National Park Units in the US!
But this was always about the journey, not the destination. We're enjoying not just visiting each place, but exploring it - hiking, kayaking, driving, learning! There's so much to see and do!
We really hope you enjoyed following our journey in Season 2 as much as we did - and be sure to check out the Season 2 Wrap Up video if you haven't already.
So where are we heading for Season 3?
Colorado!
We're heading north from Albuquerque, up into Colorado. So join us as we have a fun-filled, action-packed trip around the colorful state with more hiking, exploration, and even some off-road driving gone very wrong!
If you haven't already done so, be sure to subscribe to our weekly newsletter of behind-the-scenes news and updates, and our YouTube channel to be notified when each new video is published!