Introduction
That's because we've launched our brand new website! We've been busy working over the winter - while Diana has been working on editing videos, I've been busy on the website.
Our old website was OK. It was something we pulled together fairly quickly to get us up and running when we hit the road.
Goals
But we always had aspirations of something better. We set ourselves a lofty goal:
"We want to have the best travel blog website on the internet!"
This encompasses so many things. From a technical standpoint, we wanted the website to be:
Secure: not just to protect the website itself, but also to respect your privacy.
Accessible: as much as possible, the website should be available to everyone!
Mobile-first: over 60% of our visitors are on their smartphone, so the site is built for mobile as a priority.
Fast: making the site load quickly improves the user experience for everyone, but particularly those with slow or data-limited internet access - for example, RVers with throttled cellular internet plans!
Beyond those basics, we want the site to be easy (and fun!) to use. We cover topics from RV mods to articles about our National Park adventures, so making the information easy to find and presenting it clearly is imperative.
New Features
The initial launch of the new website was designed to replicate as many of the features of the old site as possible, while focusing on getting it launched as quickly as possible - my background in Product Management came in handy!
That being said, there are a few new features I managed to sneak in.
Comments
While it was possible to add comments on the old website, it was a little clunky. The comments wouldn't appear straightaway, and you had no way of knowing if or when a reply had been posted.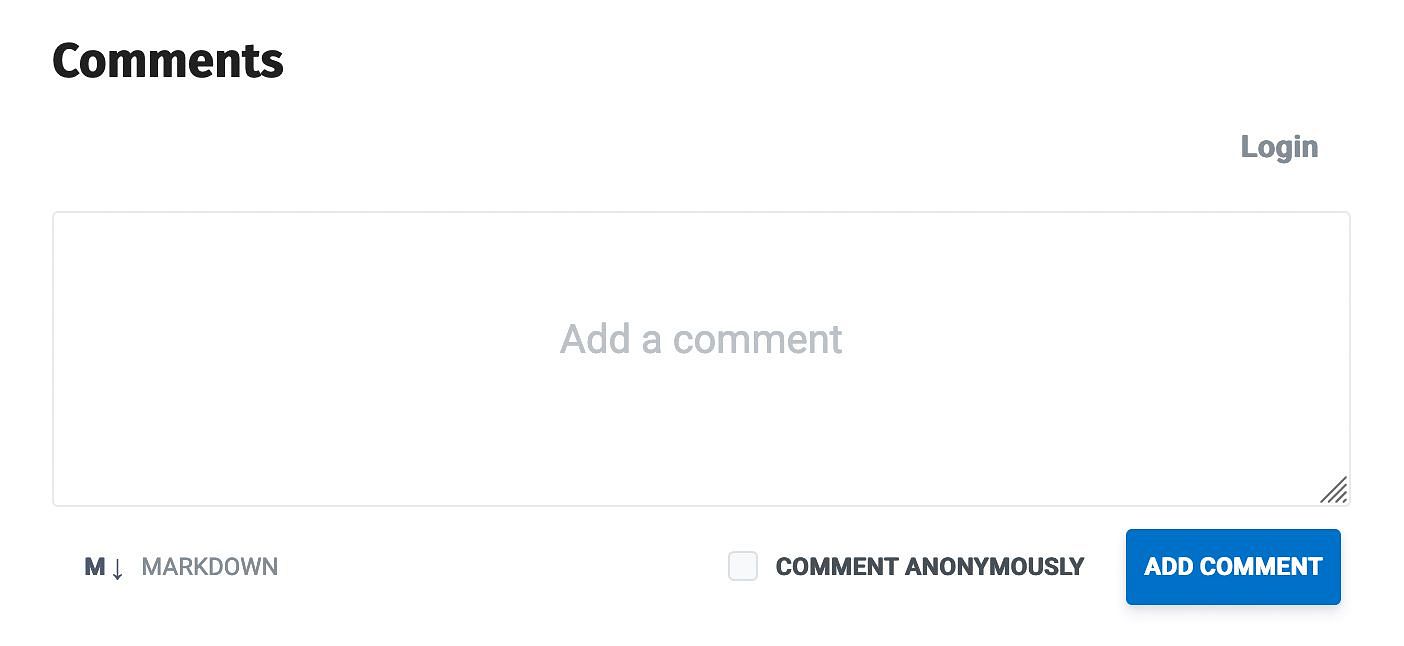 Now we have a brand new commenting system! You can still post anonymously if you want (back to the "respecting your privacy" goal), but if you do leave your email address then you can choose to be notified about replies.
If you haven't already done so, give it a go - there's a comment box at the bottom of each blog post.
Mobile App
Although we don't (yet) have an app in the Apple iTunes or Google Play store, we do have a mobile app of sorts. When you're browsing the website on your iPhone or Android phone, you can choose to Add to Home Screen.
In Safari on an iPhone or iPad, click the share icon at the bottom of the screen and click Add to Home Screen. You might have to swipe up on the menu to find it in the list.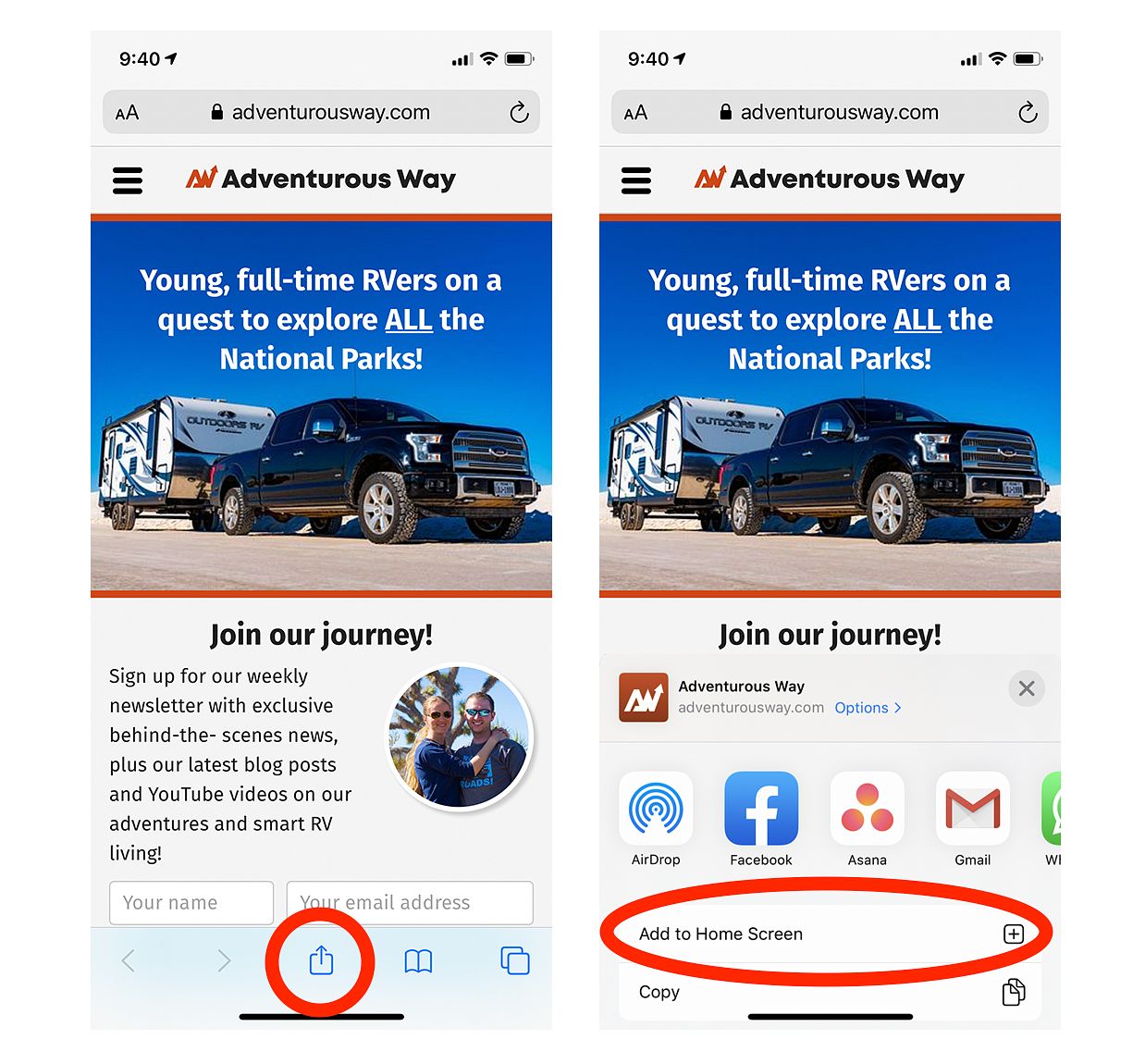 On Android, click the burger menu in the top right, then choose Add to Home Screen and then Add in the dialog that pops up.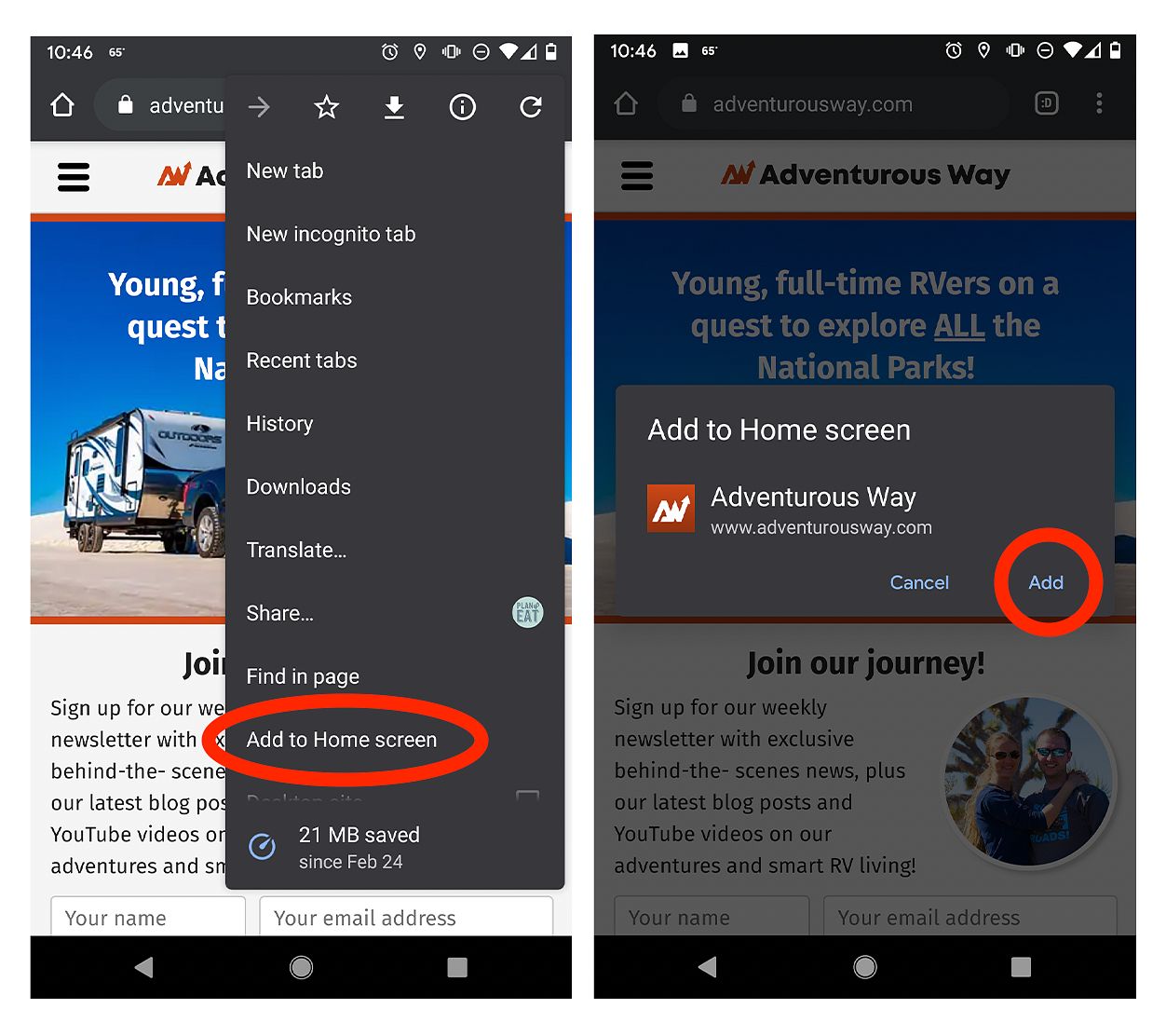 This will add an icon to launch Adventurous Way on your phone's home screen. When you click this icon, you'll see our shiny new app!
It has all the same content, but takes full advantage of your phone's screen and native app features to give you the best possible experience, so check it out!
Coming Soon
This is just the beginning - now we have a solid foundation in place, there are so many more things we can't wait to add in!
So keep your eyes peeled for new features, including a brand new search feature, push notifications, video transcripts, and interactive calculators for RV topics such as towing weights and electrical systems.
And of course, you can look forward to new content every week as we continue to publish blog posts and videos about our adventures! Make sure you're subscribed to our newsletter so you don't miss out, and of course, don't forget to follow us on Facebook and YouTube!