As an Amazon Associate we earn from qualifying purchases.
Happy New Year - we made it to 2022! By all accounts, 2021 was a difficult year for many, and while we had our own share of challenges, we always try to remain optimistic and focus on the positives.
When we look back, it's incredible to think of all the things that we did in 2021, including:
Phew; what a busy year it's been!
I can confidently say we could never have predicted what 2021 had in store for us, but we will look back fondly on our accomplishments - and we've certainly picked up a few stories for telling around the campfire!
2022 Building Plans
We like to have a plan, but sometimes plans need to change - as 2021 reminded us!
"The best laid plans of mice and men ... oft go awry" — John Steinbeck
But nonetheless, we do have plans for 2022 - I wonder how accurate they'll turn out to be.
It should come as no surprise that our focus this year is working on our property, but you may be surprised to hear that we aren't planning to start work on the house itself. Instead we're going to be working on a utility building. Let me explain.
We've been living full-time in our RV for over 3½ years and while we're very comfortable in the RV, we need electricity, water and sewer hookups to remain in one place comfortably for an extended period of time (especially during winter). Our property has electricity at the road, but we'll be digging a well for water and installing our own septic system.
Typically, these utilities would terminate at the house itself, but we've opted to do something different. We're building a detached utility building that will serve as the terminus for these utilities, before distributing them to the other buildings - the house, but also maybe a workshop and garage in future.
The reason for this is two-fold. First, it means we can have working utilities on-site, and hence connect up our RV, without having to build the whole house. Second, it means we have a clean, safe and dedicated space for all the equipment associated with those utilities. Typically you might find these in a basement, but the very shallow bedrock on our property means there's a good chance we won't have a basement.
One half of the utility building will house all the components of our grid-tied battery-backed-up solar system, a full server rack for secure on-site file storage, home automation, media distribution, security systems, and a fiber network backbone, as well as water storage, filtration and boost pump. The other half of the utility building will be storage - invaluable to us while living in the RV, but will also house our skis, bikes, camping gear, etc in future too.
We've spent the past weeks and months iterating on our specifications for this building, and we shared those (as well as our design ideas) with our architects this week. While the structure of the building is relatively straightforward, a lot of careful planning needs to be done for the utilities so that everything needed for the house (and beyond) is done correctly.
As I type this, we still don't have the permits we need to start work, and while we intend to do as much as possible ourselves, there are some things we will need outside help for - like installing a well, grading the site, pouring concrete and installing the septic tanks. Timelines for many businesses are a mess right now, so to some degree we'll be at their mercy.
So that's really our goal for this year - construct the utility building. Will we achieve it? We don't know but we hope so - it's going to be tough!
No Escape from Snow
Meanwhile, down here in Virginia the weather has been all over the place!
At 9pm on New Year's Day, it was over 70°F outside, but it was all downhill from there and by 7am on Tuesday we had hit an overnight low of just 25°F - cold enough that we were very pleased to have our heated hoses!
Along with the cooling temperatures came snow - not the light, fluffy snow we had become accustomed to in Vermont, but thick, heavy, wet snow that sticks to everything and turns to ice.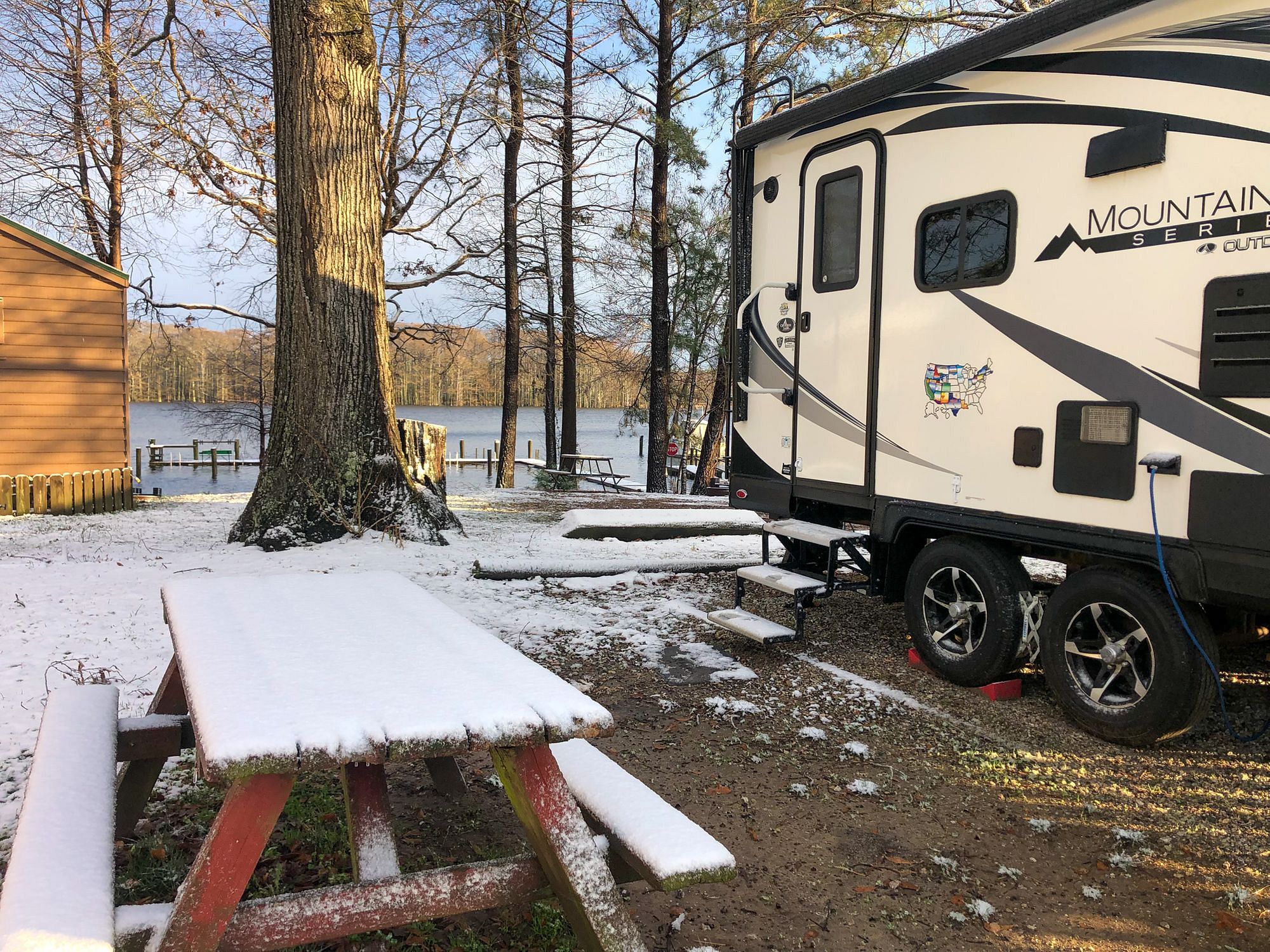 While we were safe and warm in our RV, sadly the same wasn't true for others - a 40-mile stretch of I-95 just north of Richmond, VA was shut down for around 24 hours after a truck jackknifed on the interstate, stranding hundreds of motorists in their vehicles all Monday night in the freezing conditions.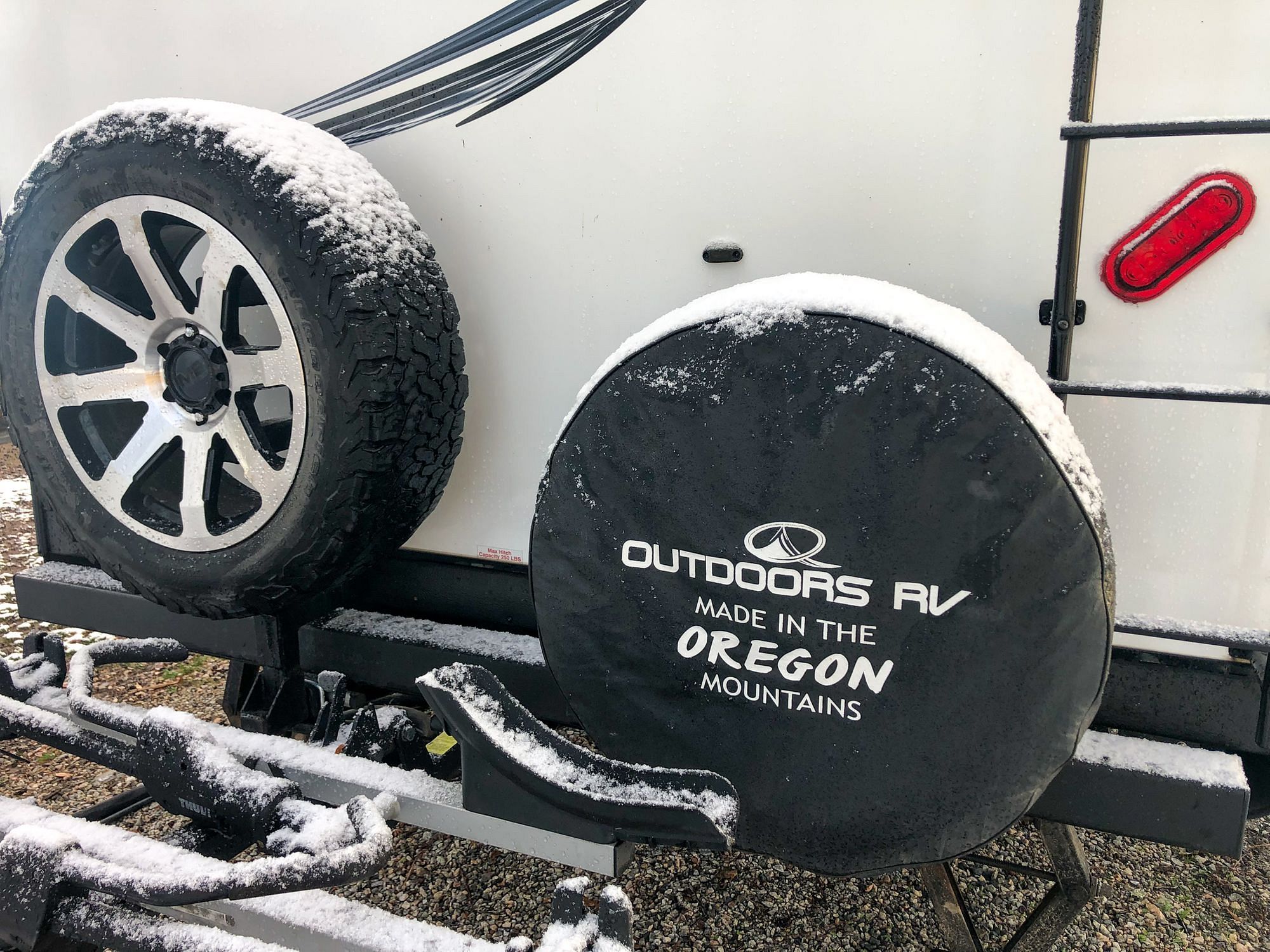 The campground we're staying at is right next to the river, and all that snow caused the water levels to rise 4ft or more - in fact, it's only this morning that they've dropped back down to normal levels. The forecast for the week ahead has daytime highs around 40-50°F with overnight lows typically in the 20°Fs - too cold for some, but very comfortable for us.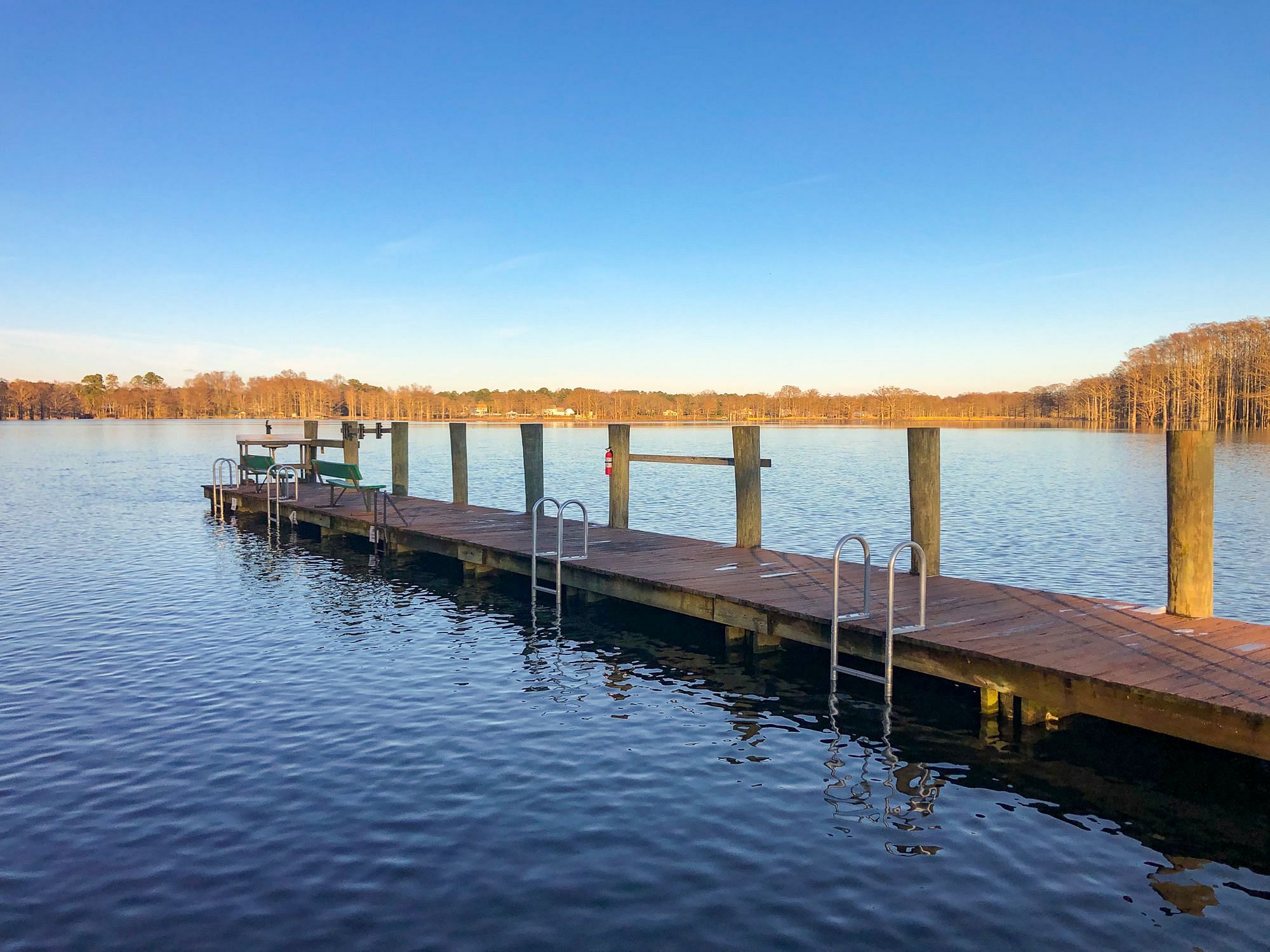 The site we're in has electricity included so our portable electric space heater is working overtime and saving us propane, while we're keeping a close eye on temperatures to make sure nothing underneath the RV will freeze while we're not running the ducted furnace - so far, so good!
Back in Vermont, we've heard from neighbors and friends that the area around our property currently has about 4" of snow, after several very cold days in the past week or so. We may not have had the big snowfalls of the year yet (these typically come in February and March), but we're hoping for a relatively mild winter so we can get our RV back on the property in early March!
Clean Start
The new year is a great opportunity for a clean start, and we've made a few New Year's resolutions of our own - not least to try and undo some of the overeating and drinking around the holidays! But it appears that many of the devices in our RV feel the same way!
On the drive down here a few weeks ago we noticed that the battery had died on one of our Tire Pressure Monitoring System (TPMS) sensors on the RV. While I was thinking about the TPMS, I also decided to go ahead and work on a mod that's been on my list for a long time - make our TPMS fit a GoPro mount.
I thought I was going to have to 3D print a special mounting bracket, but as I started looking into it I realized it was going to be much simpler. A few minutes later, with nothing more than a 3/16" drill bit (not even a drill, just reaming it by hand), I had modified our EEZTire TPMS to fit a GoPro mount.
Check out our blog post above and see how simple this mod was. My only frustration is that I didn't do this sooner - it is far more secure than the windshield mount, and we have a bunch of GoPro mounts we can use if we choose to position it somewhere else in future.
Perhaps as a form of empathy, batteries around our RV began dying. First, the display for our weather station - the sensors of which form an integral part of our home automation system, capturing temperature readings from 7 different locations in and around our RV.
Then, our AcuRite 986 fridge and freezer temperature display batteries died. The sensors themselves appear to be fine still (impressive that they've lasted over 18 months in such cold conditions) and are feeding data into our home automation system, but it's still nice to have the display on the fridge so I need to replace those too.
Last, our blender, a Ninja Chef, wanted to play too. Not containing a battery it instead decided to begin showing symptoms of failed bearings - a loud screeching sound, a funky smell, and the base of the jug being hot to the touch after use.
While we've made extensive use of the blender for everything from soup to smoothies, dressings to almond butter, it's a little disappointing to see it failing since it's less than 2 years old - we bought it in March 2020. Let us know if you have any recommendations!
Speaking of a "clean start", a few weeks ago we bought an Airthings View Plus air quality monitor which monitors PM2.5, CO2, VOCs, Radon, humidity, temperature and pressure. It takes a week or so to calibrate, but the results since then have been...enlightening! It has absolutely changed our behaviors, so look out for an upcoming review and why you may want to consider getting an air quality monitor too!
I'll simply sign off today by wishing you a very Happy New Year!