As an Amazon Associate we earn from qualifying purchases.
In our last update blog post, I teased that we were making a trip over towards Boston to pick up a few items that had been on our shopping list for a little while. It was a long day - we didn't get back until gone 7pm - but we returned with some exciting new tools!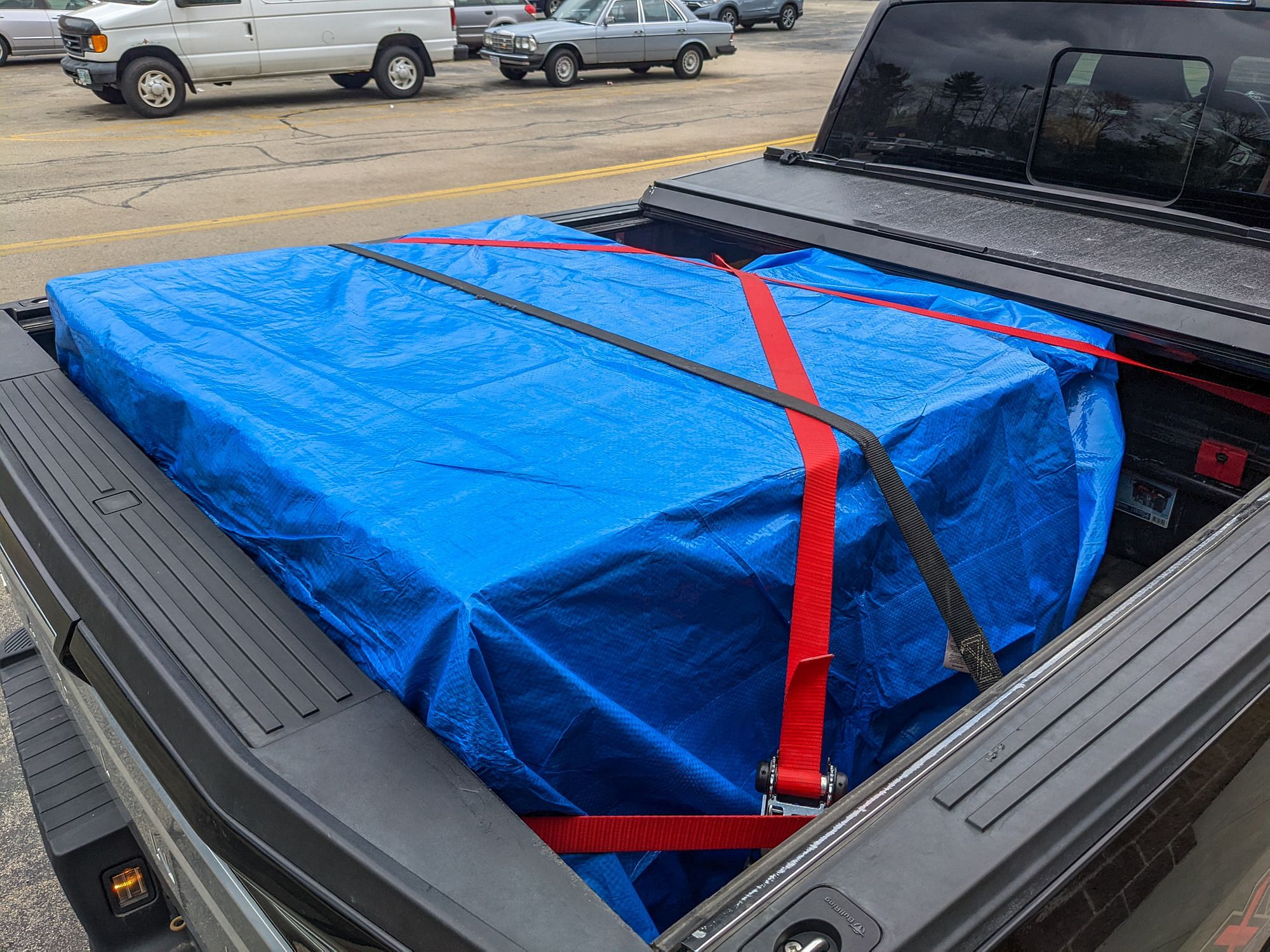 Sawstop Jobsite Table Saw
While there are, I'm sure, plenty of job sites out there where they rip down sheet goods with nothing more than a circular saw and a keen eye, a table saw is an item we've been planning to invest in for a little while.
That's because for us, we're not just framing a house, we're also working on everything from garden projects to trim work, cabinetry to siding. And a good table saw is an incredibly versatile tool that can help ensure speed, accuracy and repeatability in woodworking.
I do say invest though, because this table saw wasn't cheap. We bought the Sawstop Jobsite Table Saw - a high-end, durable and accurate table saw costing $1,499 (and prices are going up next month). We chose it due to its patented safety system and the overall quality of the tool. While it's overkill for simple framing, our hope is that it will last us a long time and be suitable later on in the build when we're working on more intricate woodworking projects.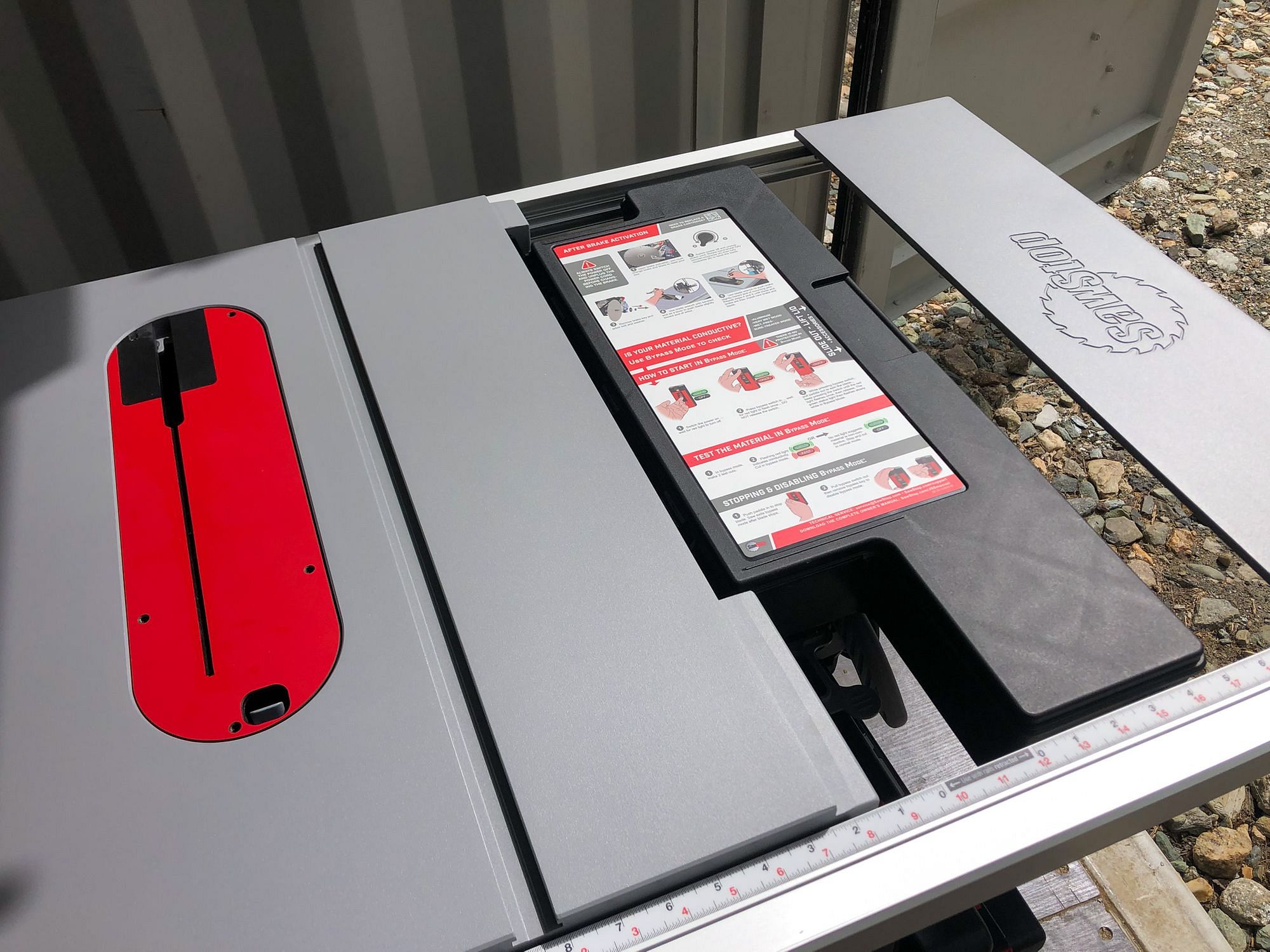 We picked up several accessories for the table saw at the same time - including a thin kerf glue line ripping blade and a couple of featherboards. I've already made a couple of simple projects using it, but my plan is to start building out some jigs - partly as good practice projects, and partly because they'll make life much easier in future.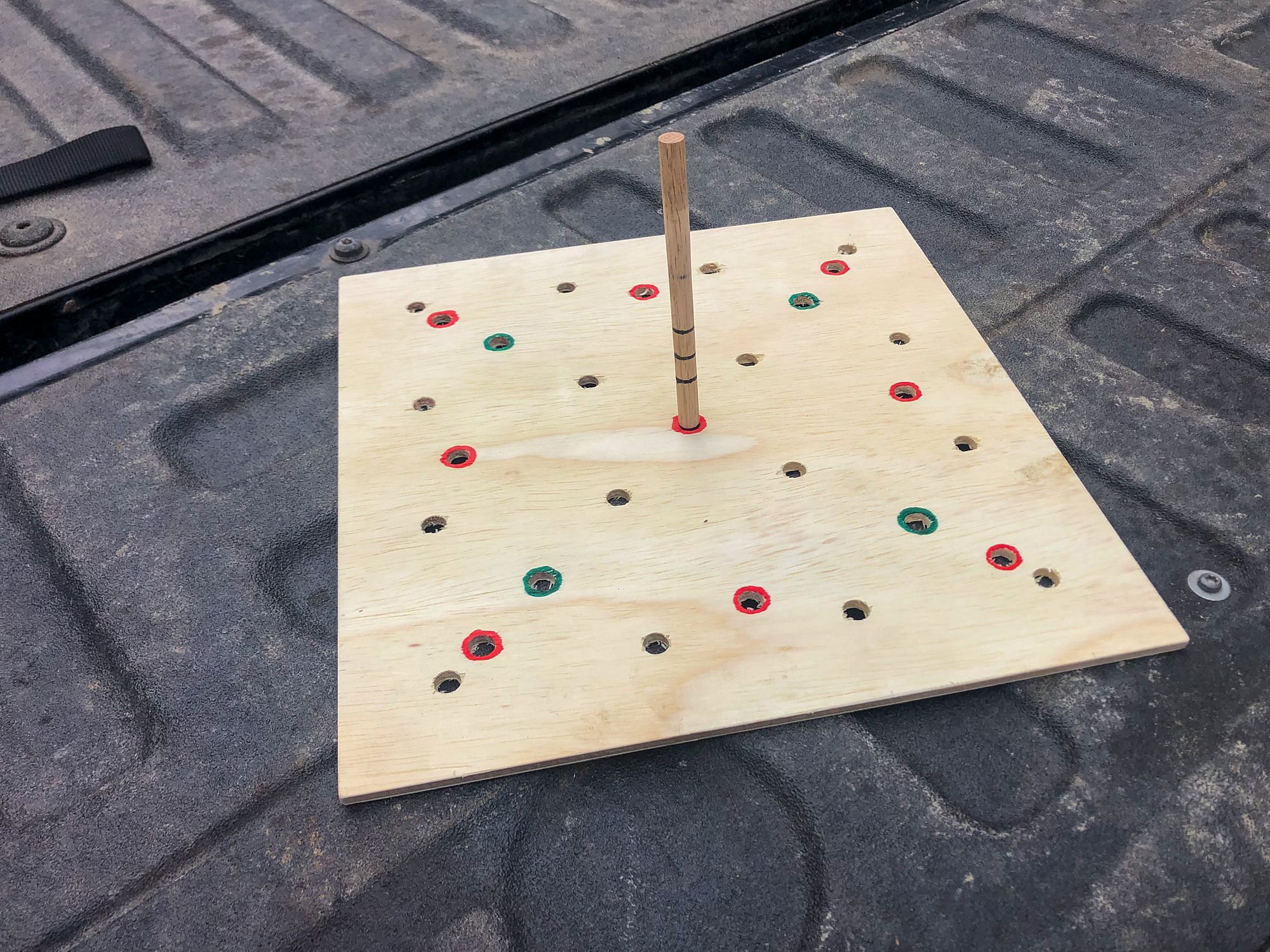 Dewalt DW735X Planer
Along with the table saw we also picked up another big shop tool - a thickness planer. Specifically, we bought the Dewalt DW735X thickness planer which can handle boards up to 13" wide and 6" thick.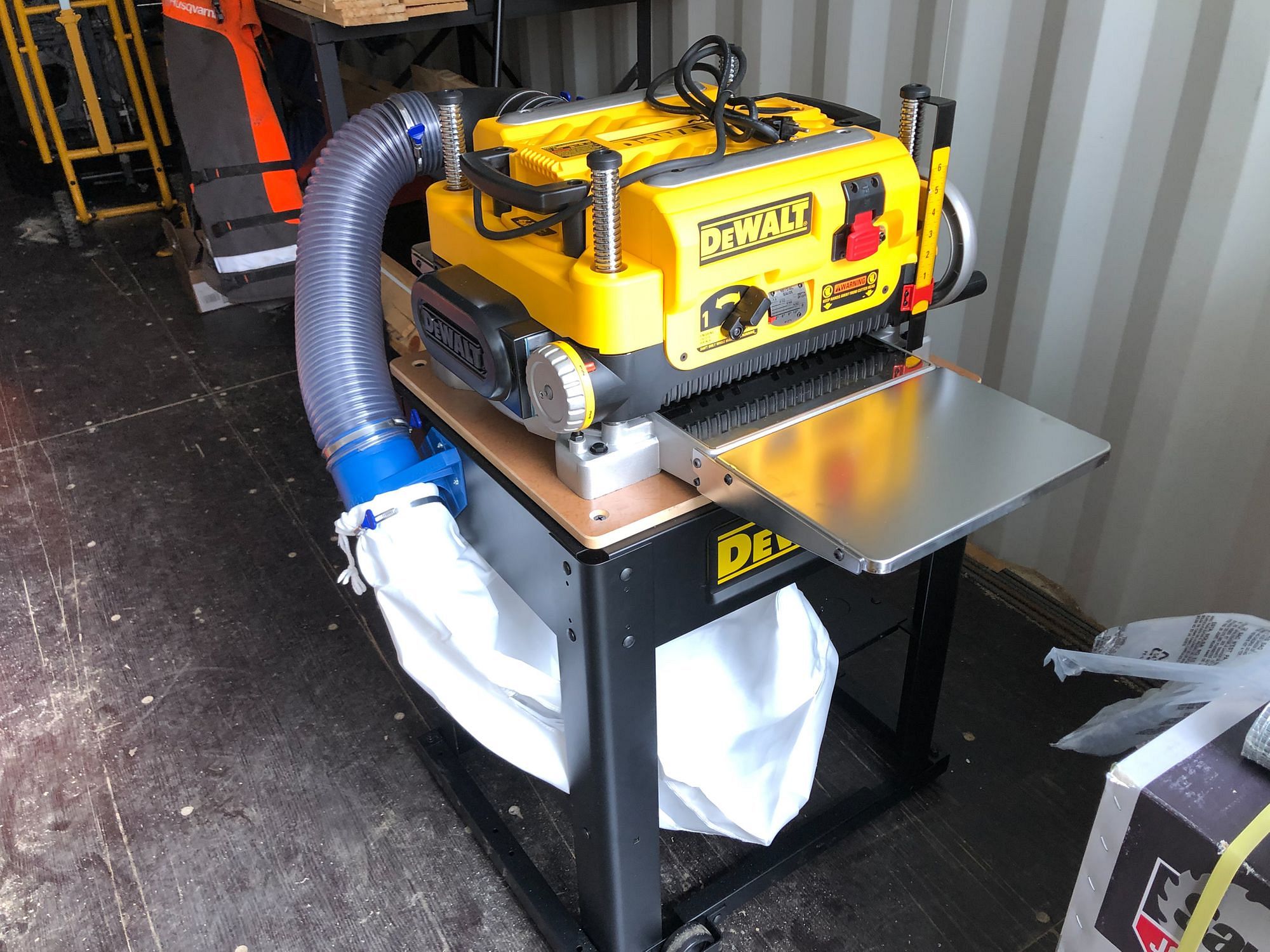 If you're not familiar with this tool, you feed in a piece of lumber and it will plane one surface down to make the board a very specific thickness.
While it can't straighten a crooked board, it will remove variations in thickness, leaving the board completely smooth and flat. In other words, this will help us take the lumber we've milled and turn it into perfectly square, smooth, surfaced boards that we can build things with.
I've run a few boards through it so far and...woah, it's amazing! It's a very similar feeling to using the sawmill to turn a log into rough sawn lumber - the thickness planer turns this rough sawn lumber into smooth, surfaced, dimensional lumber.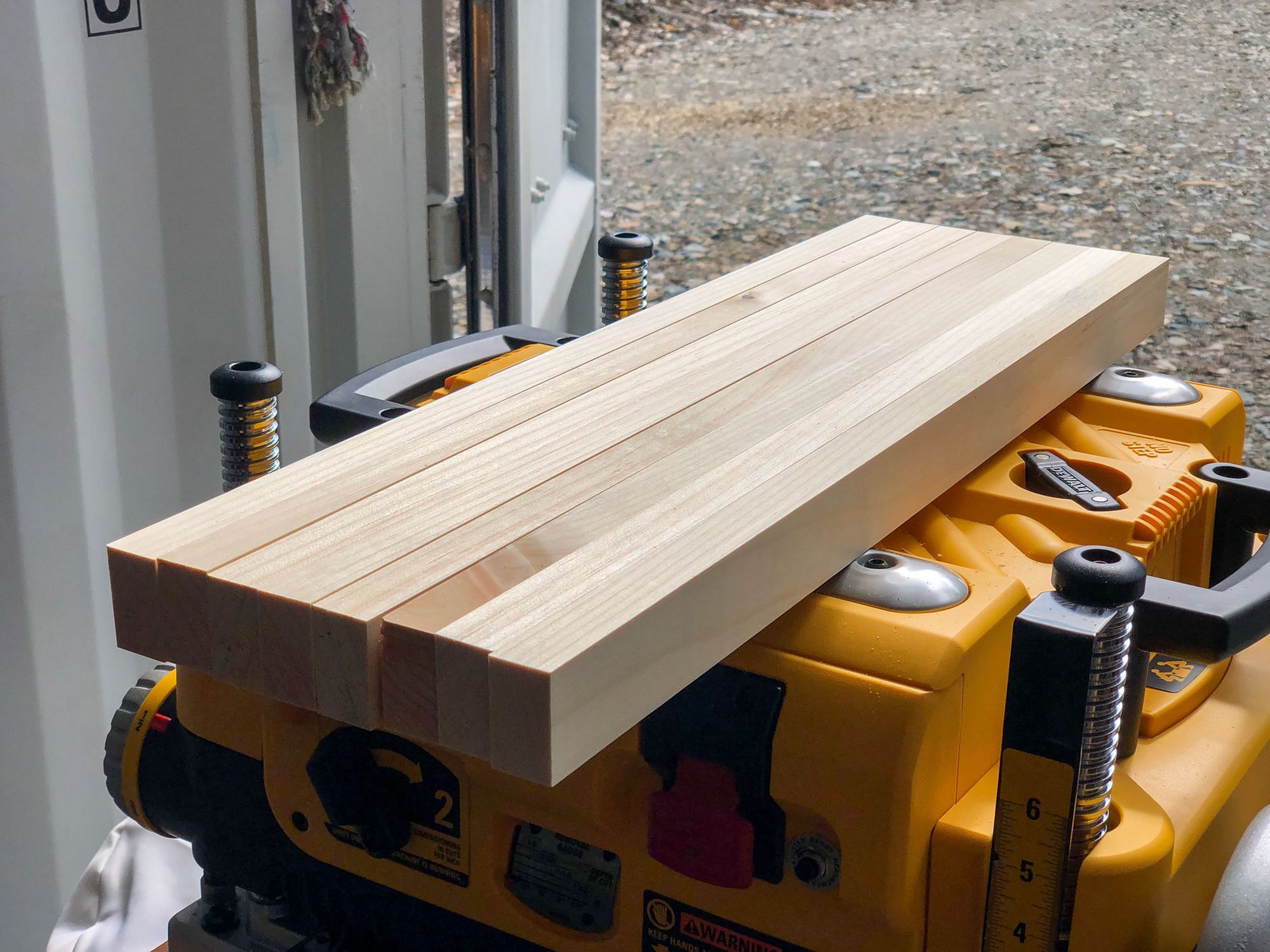 As a first practice project I built a soil sifter that we can use to sieve out large particles from soil. I modeled it after one I found on Amazon, so if you want one but don't want to build your own, check it out!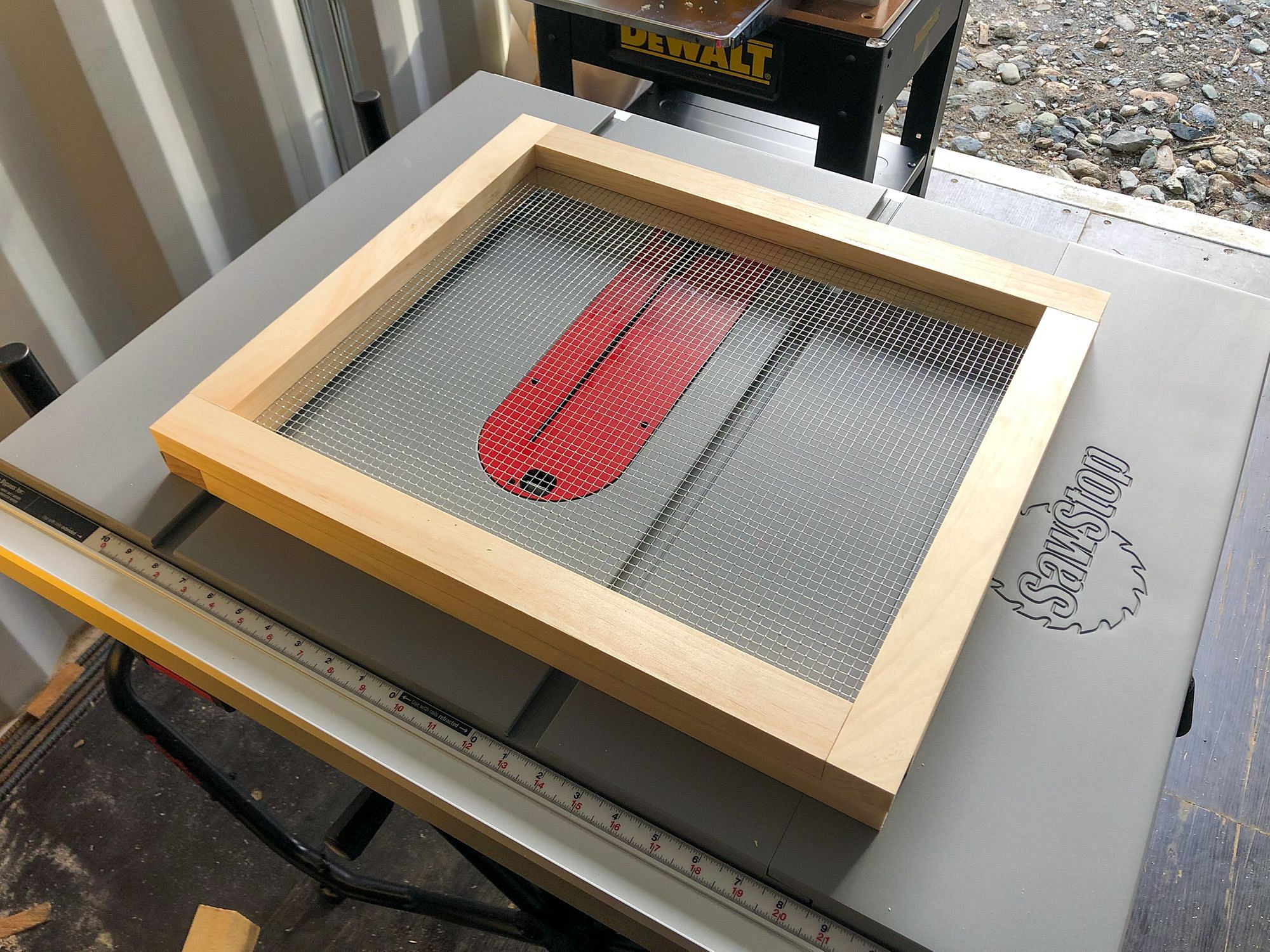 One side effect of the planer is it creates a lot of shavings - we're passing these on to our neighbors with chickens so nothing is going to waste.
I'm really excited now to mill some hardwood (maple, birch, cherry, ash, etc), dry it in our solar kiln (which we need to carry on building soon...) and then put it through the planer.
IKEA Storage Boxes
Maybe not as exciting as the two new big tools, but we also made a trip to IKEA, mainly to pick up some storage boxes of various sizes. If you hadn't noticed, Diana and I both like keeping things organized, and now we've got the shipping container we have a little more space in which to sort things.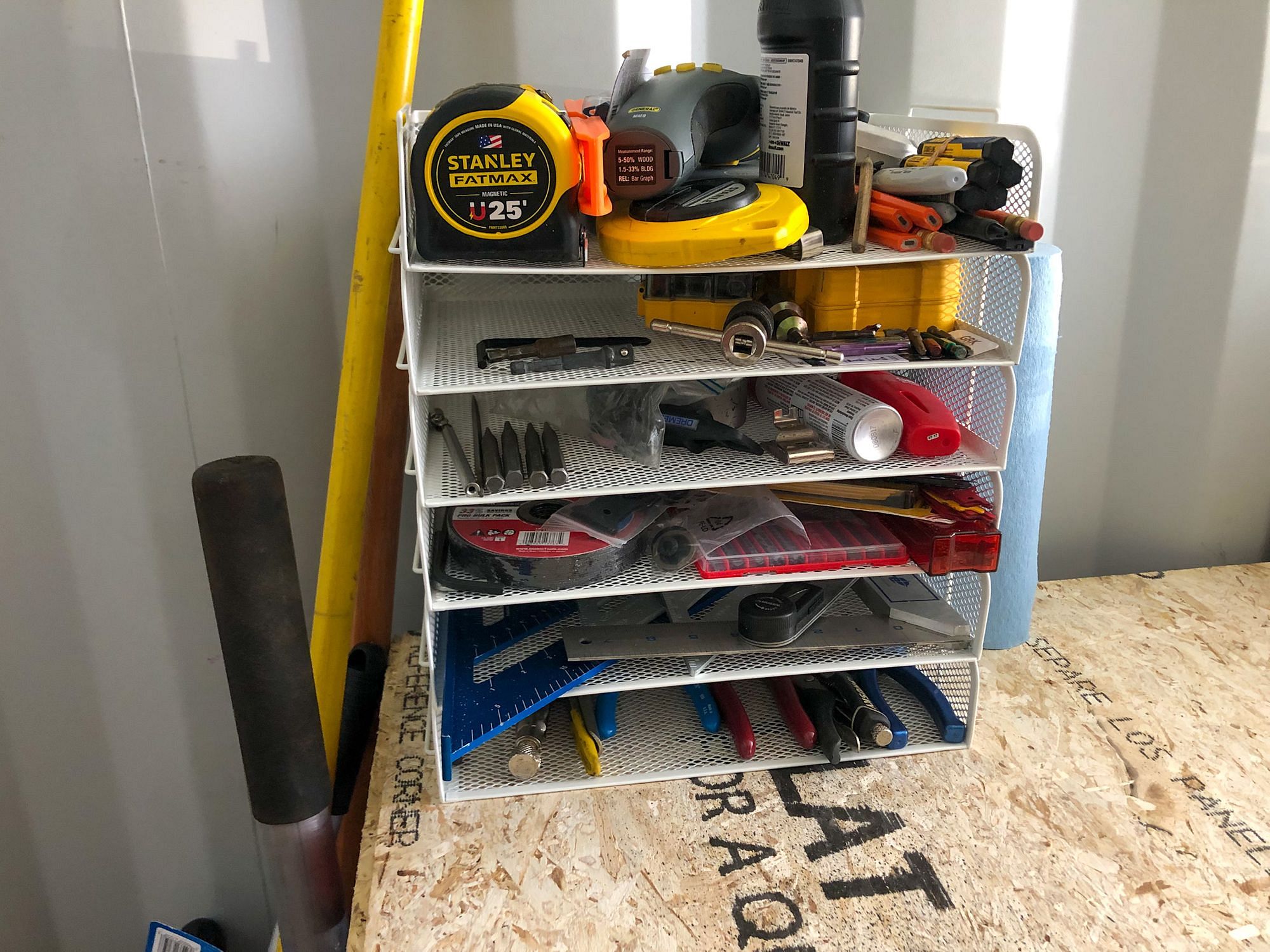 In particular, we bought some 16-gallon recycling bins to separate out all the different items that we can reuse or recycle, and some smaller containers for organizing our tools, fasteners and more.
We have tools that we bought last year, tools that we kept in the truck or RV, and tools that were in our Texas storage unit. Last week we spent half a day going through all of them, sorting out what we had and organizing them so they're easy to find. The next job is to print some labels for all the boxes!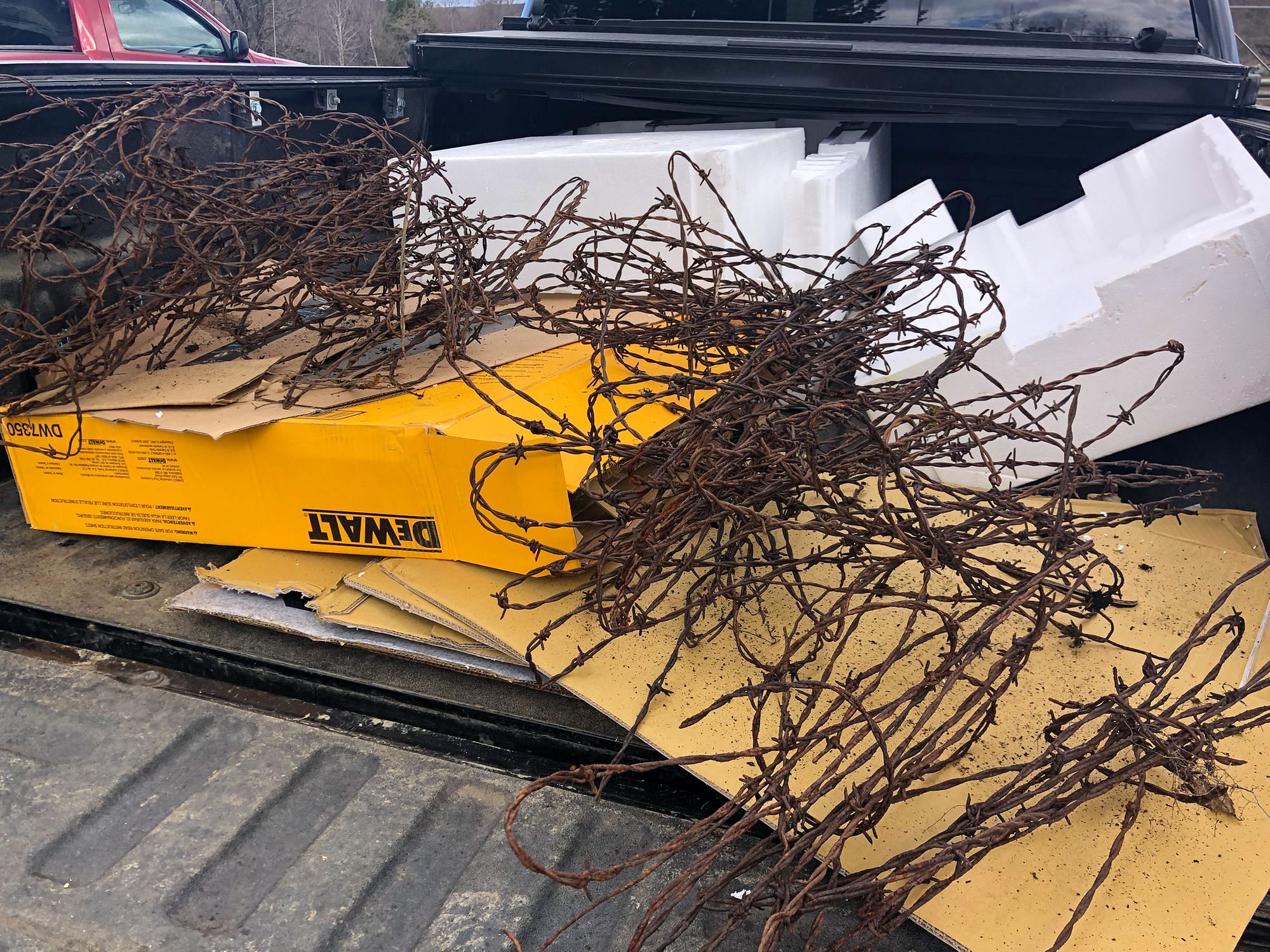 DIY Log Raised Bed
A few weeks ago I built an elevated herb planter that will sit outside our RV and we'll use as a miniature herb garden. I built this from a combination of our own milled lumber, some rough sawn hemlock we bought from a nearby sawmill, and even some recycled pallet wood.
While it's great (it's now full of potting mix but we're waiting another week or two before planting anything in it), we needed something bigger for planting vegetables, so we decided to build a raised bed.
But, in our typical fashion, we didn't just buy some lumber or concrete blocks, we decided to build our own using raw, un-milled spruce logs - after all, we have a lot of them on hand right now!
It was Diana's inspiration, and I must admit, I was skeptical. But, I was happy to be wrong - it turned out great! After building it, we filled it with layers of different materials according to the principles of Hügelkultur, including two-thirds of a yard of local garden mix compost & soil that we hauled in the back of the truck bed from a local supplier.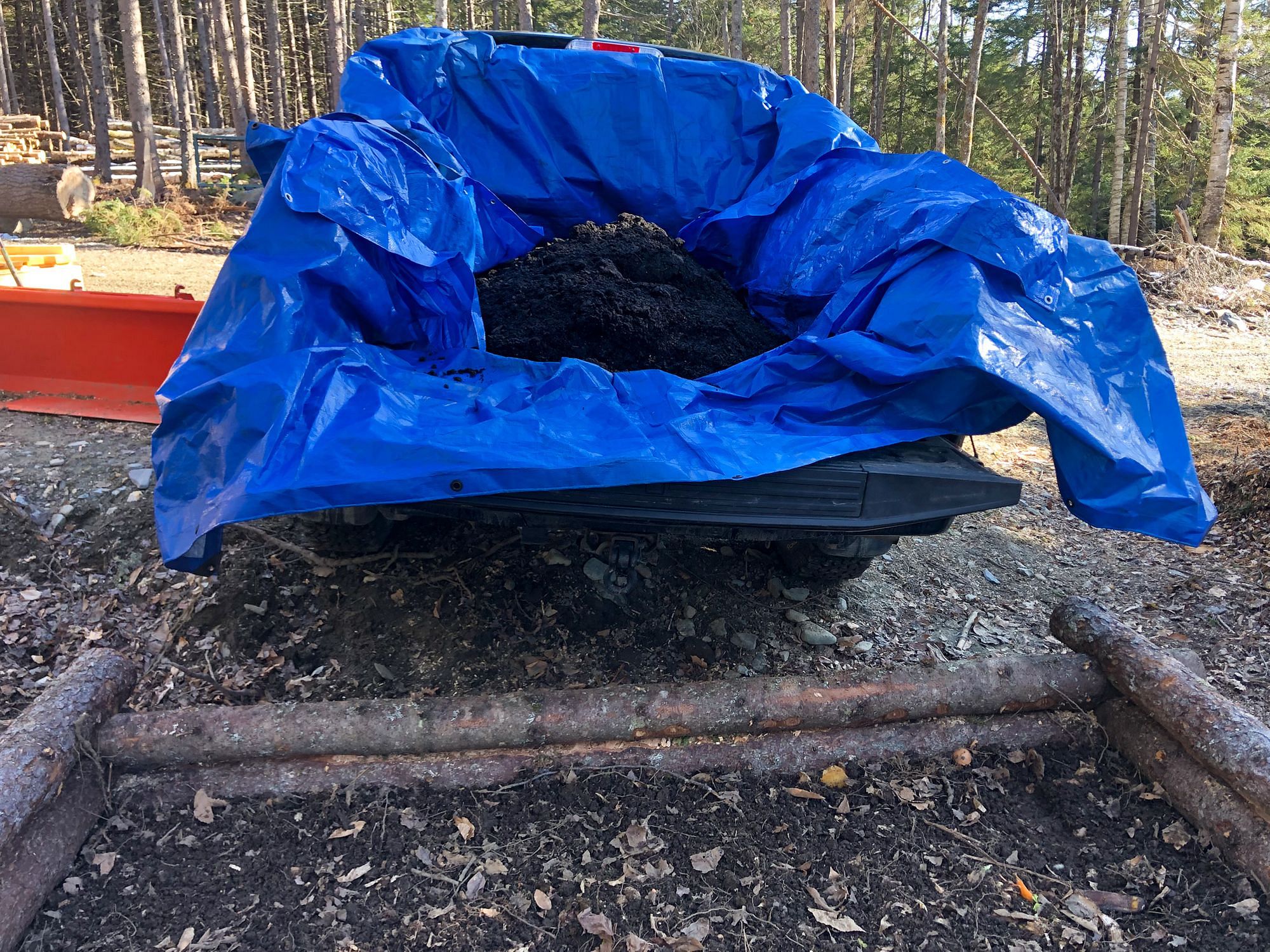 The first couple of plants (green onions and cauliflower) have been planted, and more are germinating in the RV awaiting transplanting in the next couple of weeks. We'll need to sort out some deer protection pretty quickly though I think!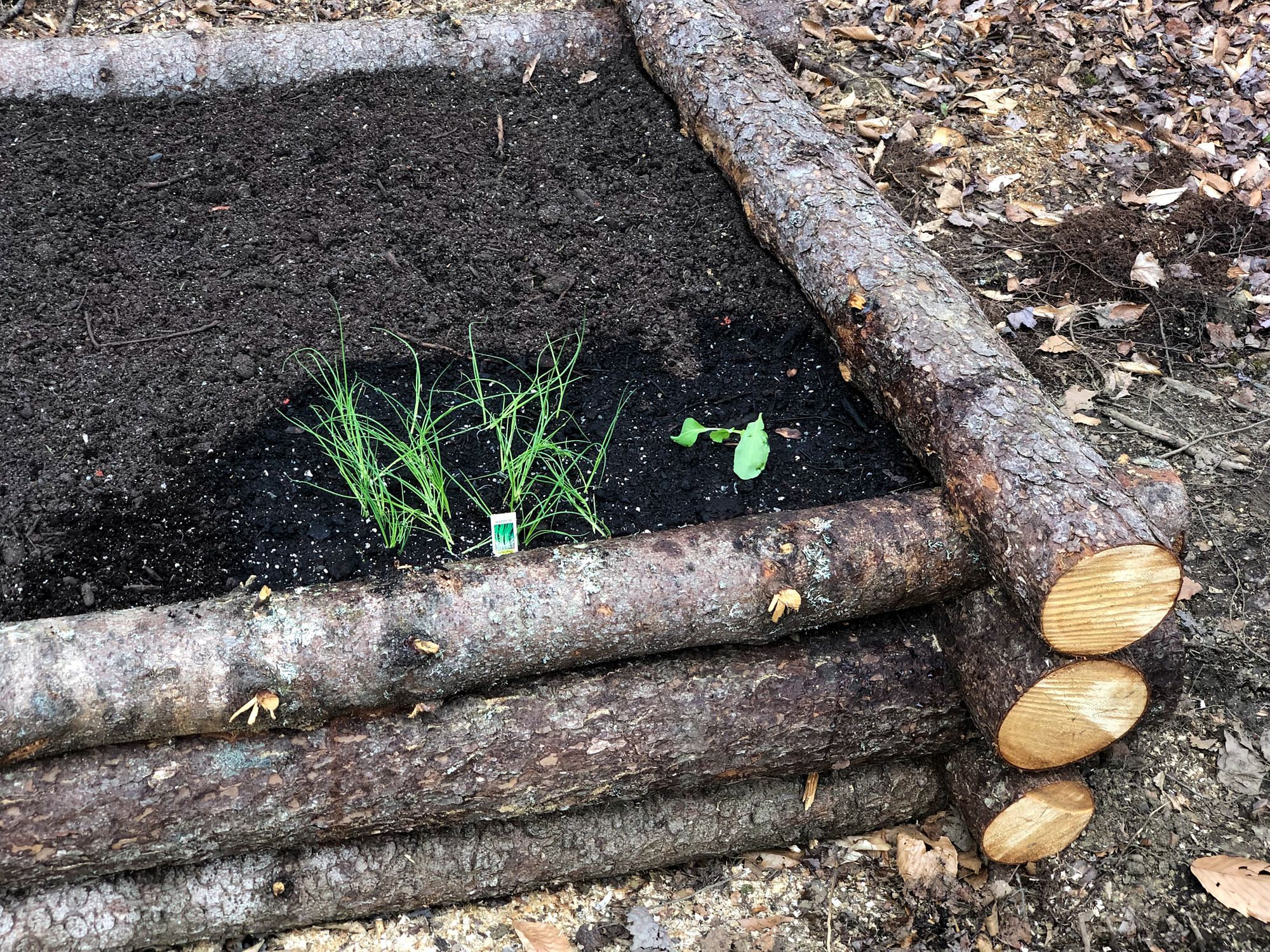 Engineer Visit
Before we started clearing trees, we laid out the rough outline of the buildings using a couple of known points and a tape measure. We did that with 12" of snow on the ground and, obviously, a lot of trees in the way!
But now we've cleared a lot of trees, and our attention will soon be turning to the septic system, we wanted to get our engineer on-site to check our working. Last week he stopped by and roughly marked out the buildings and septic site.
It turns out our marking was pretty accurate - we had the well to within a couple of feet, and while the buildings were about 10 feet off, we had already realized that when we uncovered another marker after the snow melted!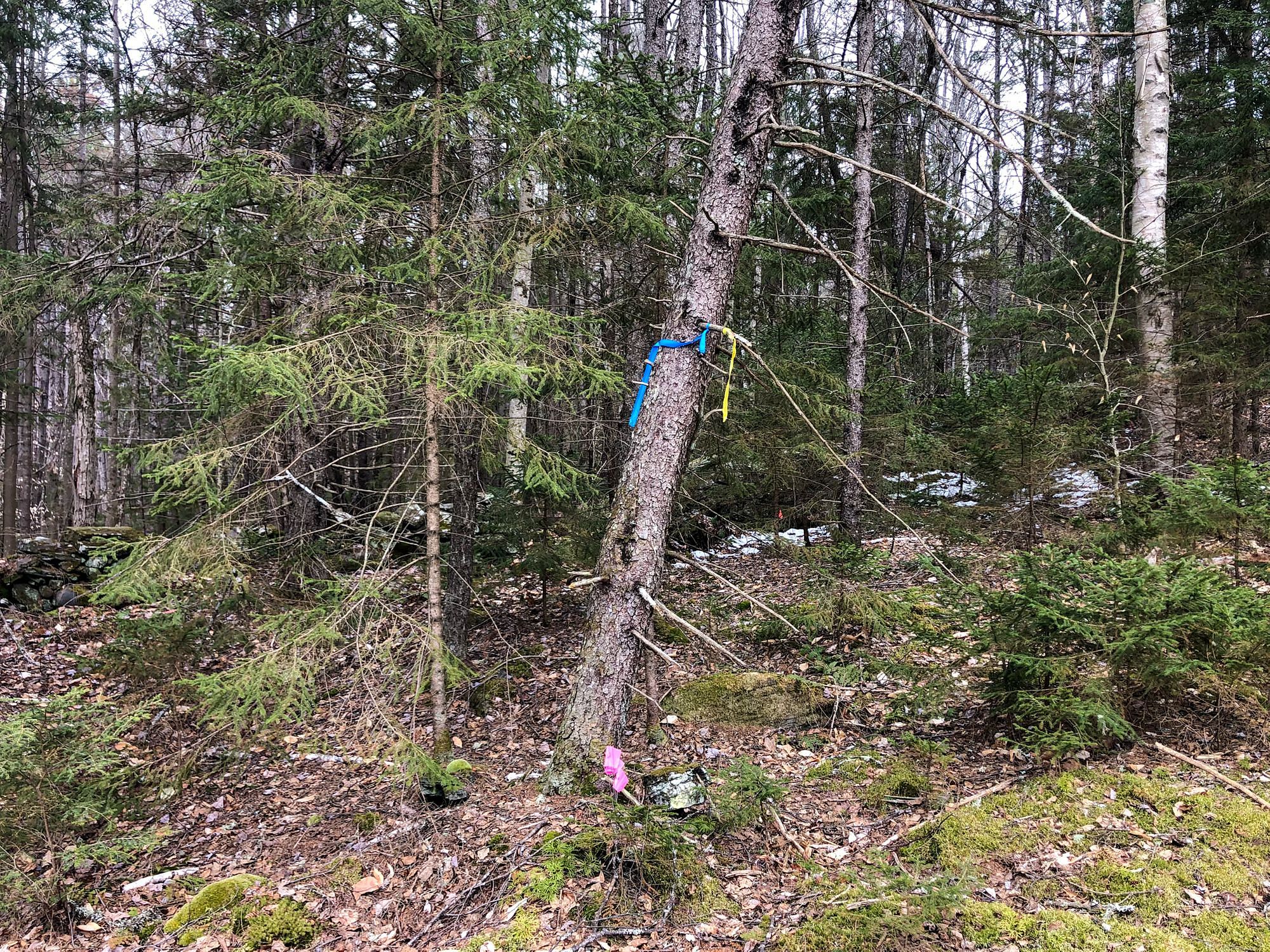 So the good news is that we've been clearing the correct trees! The even better news is we don't have to clear quite as much as we thought for the septic system (although there are still a lot we will need to clear). We had thought that the line from the septic pump tank up to the leech field would involve clearing a huge tranche of land, but we can actually run it up alongside the existing logging road, which will make our lives much easier.
Site Clearing Update
With everything else going on, we've still been trying to focus on felling trees as much as possible. However, it seemed as though things were conspiring against us - not just rain, but snow too!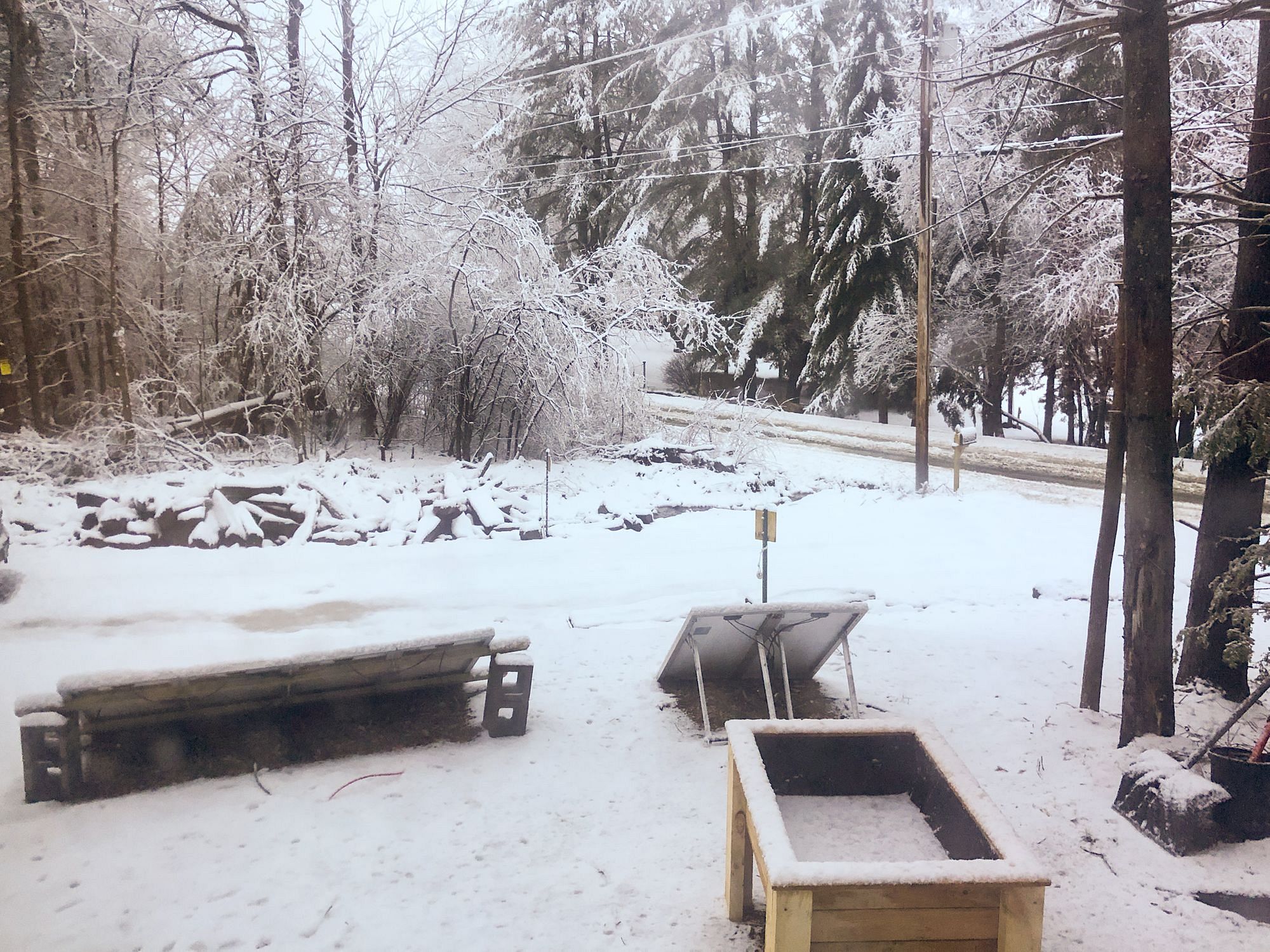 Plus we broke a belt on the chipper, putting that out of action! Fortunately, just a couple of days prior we had decided to order a spare parts kit for the chipper because we wanted an extra set of blades, and the kit included a belt, so it was only out of action for 2 days before the new belt arrived.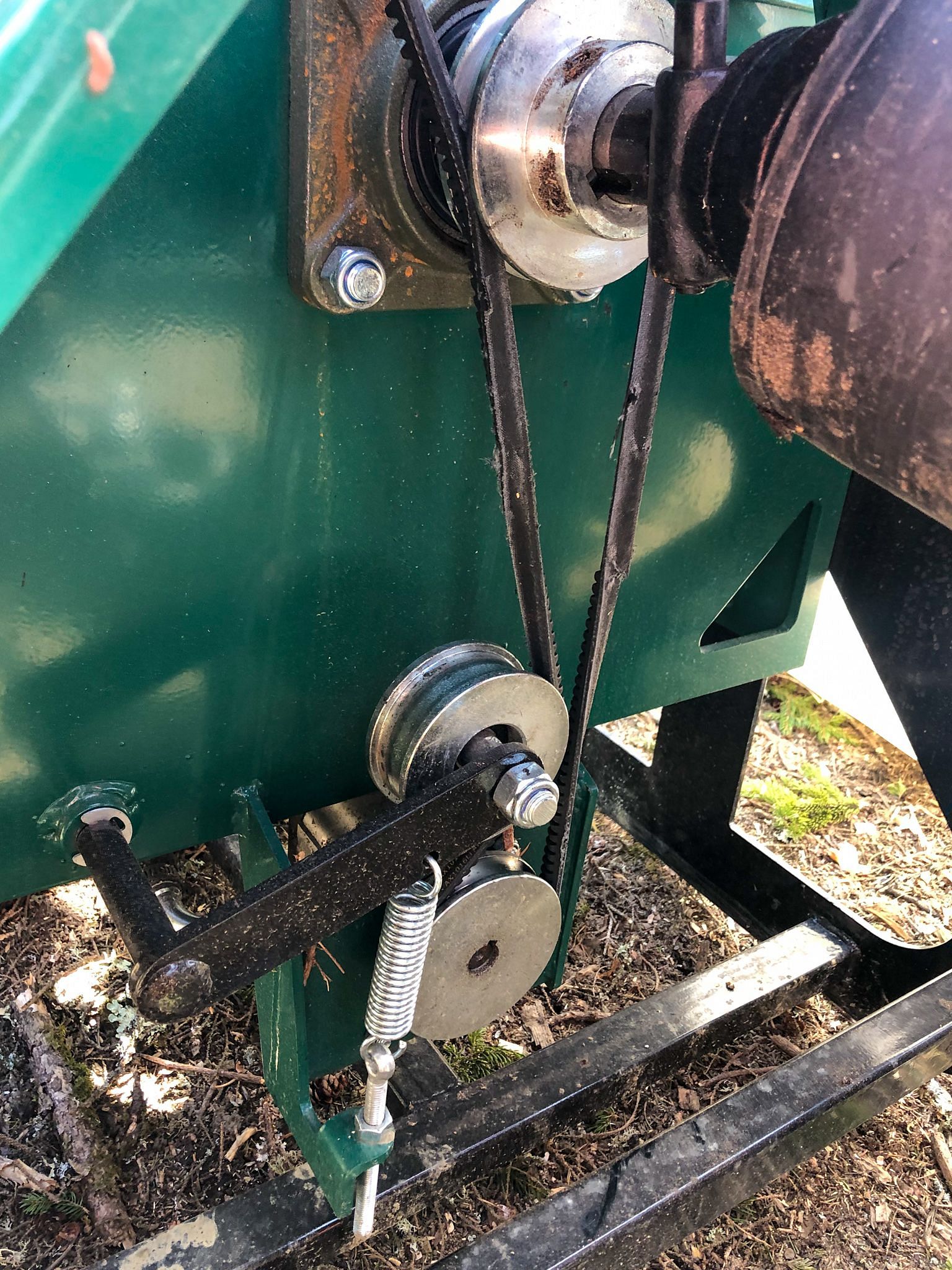 Since the last update a little over a week ago we've cleared 11 more trees bringing our total to 148, and produced another 5 cubic yards of wood chips - including 2 yards that we filled by chipping some slash left over from the driveway clearing last year in an area where we want to plant some hazelnut trees.
The weather forecast this week is looking a little more promising, however Diana's attending an Efficiency Vermont conference for two days this week which will limit our progress (I won't fell trees when I'm here on the property alone). So I guess I'd better stop writing blog posts and get outside!