As an Amazon Associate we earn from qualifying purchases.
Introduction
We're back on the road again!
OK, this is not the way to wanted things to turn out, but this is real life and sometimes you've just got to deal with what comes your way.
Our RV has been in one spot since November last year when we arrived in Vermont - almost 4 months ago. We weren't planning on leaving so soon, but after discovering mold in our RV roof, we were forced to move into a hotel for a month while we worked out a plan to get the trailer repaired.
Well, the time has come. We're driving about 5,600 miles round-trip to Oregon and back, to take our trailer to the Outdoors RV factory where they're going to replace the roof.
Preparing the Truck
To make sure our truck was ready for the winter conditions, we took it in for service in November last year. We also replaced the rear shocks and put two new tires on to replace a pair that were getting low on tread - they hadn't been rotated as often as I'd have liked due to some long drives and COVID.
I typically run our F-150 on Regular 87 gas as I've never been able to detect enough of an improvement in performance or fuel economy to justify Premium 91 gas. But Ford does recommend using Premium 91 gas when towing, and that's what we do.
While we usually try to only use the top half of the tank (i.e. fill up when it reaches half-full), this time I waited until it was almost empty before filling with Premium 91 at Costco. I also added a can of Sea Form Fuel Treatment to help clean out any residue in the system - I do this periodically anyway, and this was about time.
I checked the air filter and it definitely needed replacing. Not sure why, but when I replaced it last time, I guess the filter I had chosen wasn't using the full depth of the filter box, so I made sure to replace it with a full-size Wix 49883 air filter this time. Replacing an air filter takes literally seconds and doesn't require any tools - just make sure you find the right part!
Our truck didn't come with mud guards. The roads aren't just wet with snow melt at the moment, they're also covered in salt and other chemicals designed to help prevent snow accumulation. It's bad enough having this spray up on the truck, but I wanted to minimize how much might be sprayed up on the trailer too, so I decided to add some aftermarket mud guards.
I chose the Husky Liners Front & Rear Mud Guards - they were inexpensive, easy to install and so far seem to be really helping! Clearly they won't stop everything, but they won't hurt.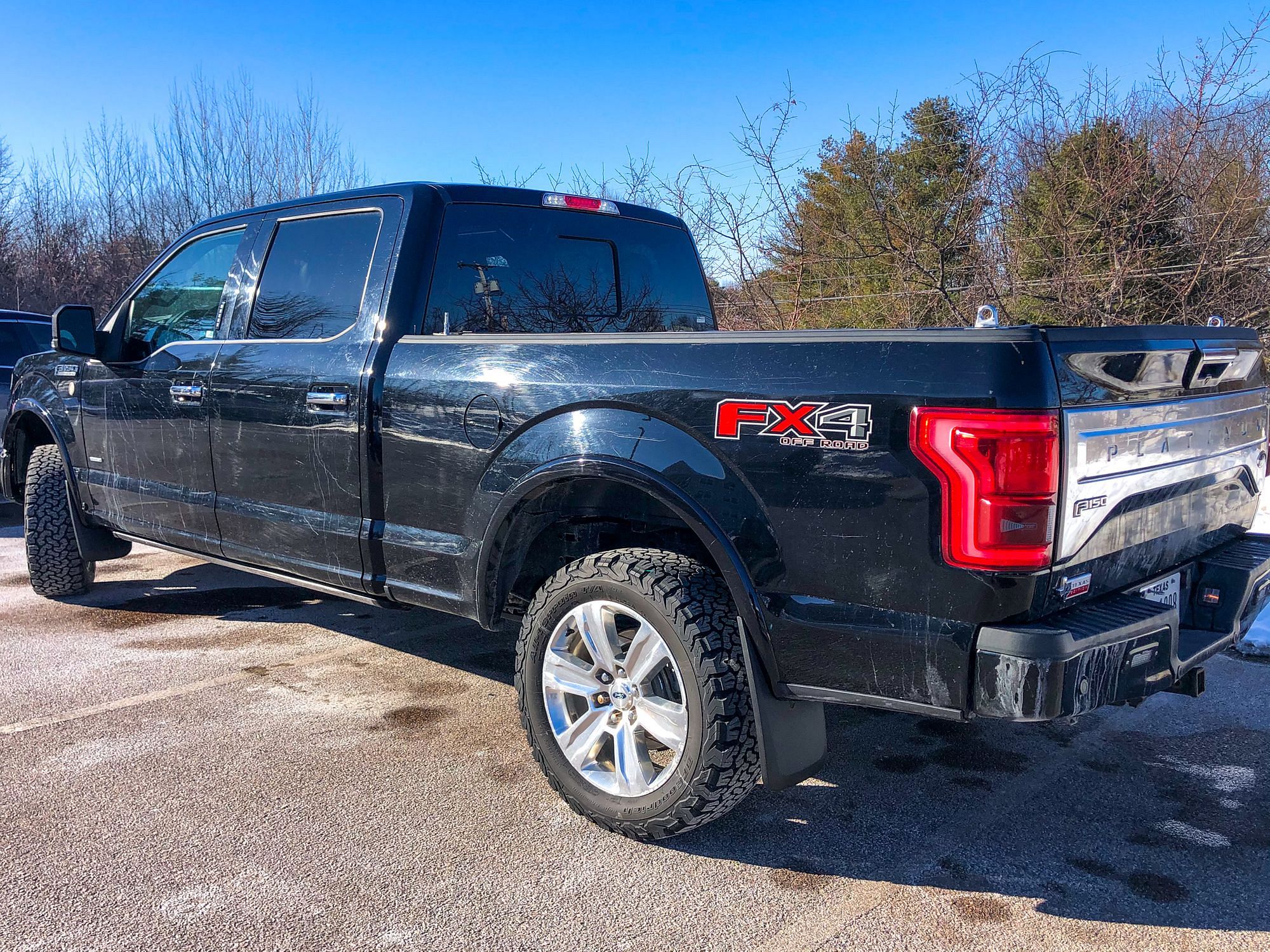 Speaking of the wheels, I also inflated all the truck tires to the right pressure to account for the extra weight of the trailer. I used our Viair 400P-RV air compressor which I have modified to plug into an 12V Anderson connector on the back of the truck. While this isn't a cheap air compressor, it's one of those things I think it's worth spending a little more on because when you need it, you need to know you can rely on it.
We wanted to clear out the truck as much as possible, partly to reduce weight, and partly because we'll be leaving the truck in various parking lots overnight and don't want to leave anything valuable inside.
Last weekend we went for a property viewing with our realtor, and were reminded of the importance of carrying recovery gear when his 4WD truck got stuck in the snow. Fortunately we had traction mats (which didn't do much in the snow though), snow chains and a tow strap so we were able to recover him.
So I went through our truck bed, removing any extra items that we don't need to take with us (e.g. my electrical tools) but kept all our recovery gear - it's important to be prepared! I also cleared up the inside of the truck cab, although I didn't bother cleaning everything as it'll soon be filthy again in this weather!
Preparing the RV
The RV has been almost completely empty for weeks now, but there was still a lot to do to get it ready for the drive. We decided to break it down into several steps:
Monday: prepare the RV for hook up
Tuesday: hook up the RV and take it on a test drive to make sure everything is OK, then re-park it at the campground
Thursday: leave for Oregon
That was the plan, but mother nature had other ideas....
On Monday, we went down to the RV. The first step was to remove the skirting.
The foam-board skirting has held up really well all winter, and having seen the temperatures since we removed the skirting, it makes a BIG difference! Removing it was straightforward - although the pieces were wedged in tight and taped, it only took us about an hour or so to remove it all.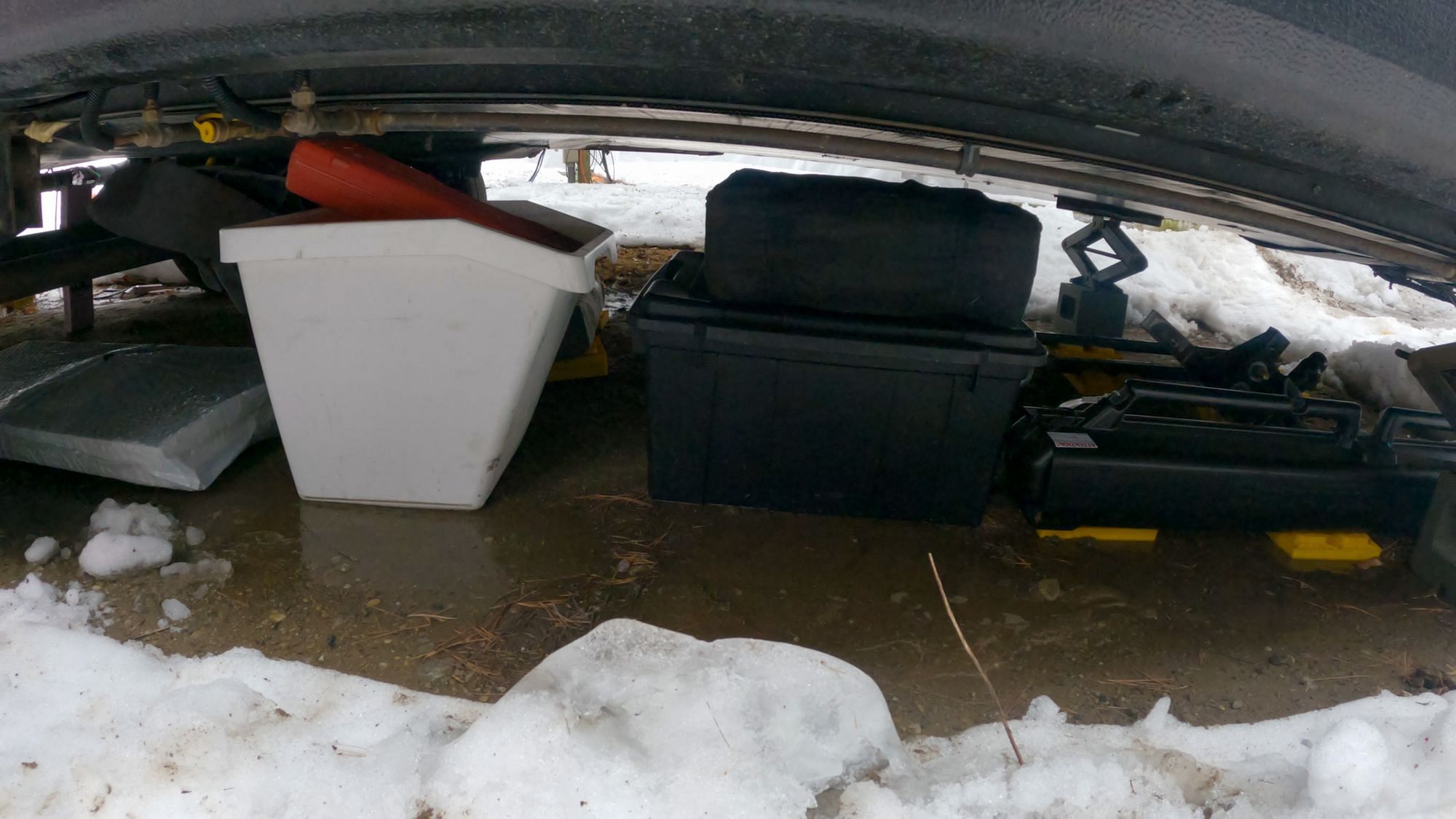 Once the skirting was removed, we were able to access the items we had stored underneath the RV all winter - our camping table and chairs, portable solar panels, hitch, etc. Anything that we didn't need for the drive to Oregon went into the truck to take to our storage unit.
Last, we dumped our tanks and disconnected our NoFreezeWaterHose heated fresh water and waste water hoses. We left the fresh tank about 1/3 full so we have water for the journey in case we need to flush the toilet.
These hoses have been AMAZING! They've been plugged in all winter and they use a variable amount of power depending on how cold it is outside. I was able to leave the grey valve open without worrying about anything freezing, and we had zero issues, even as temperatures dropped below 0°F.
We left the electrical hookup, cable internet and propane lines connected because temperatures that night were due to drop to 5°F and without skirting, the RV would be much more exposed.
Our biggest concern though was how we would get our RV out! The RV was parked in a pull-through space, but the area behind the RV was now like an ice rink - even 4WD trucks were struggling on it. In front of the RV was the main campground road, but our site drops down from the road, and it's a tight turn on a cambered corner to pull out forward. Worse yet, the ground was incredibly icy in that exact spot!
Some of our neighbors very kindly stopped by offering support should we need it. The RVer community never ceases to impress me with how kind everyone is!
On the way home, we stopped off at our storage units to drop things off, then picked up a couple of bags of sand at Lowe's to help with traction on the icy ground.
Test Drive
Originally, our plan was to take the RV on a short test drive and park it back at the RV park on Tuesday, then pick it up again on Thursday. But we were worried that once we got the trailer out, we might not be able to get it back in again! And the thought of hooking up in the cold on Thursday morning again wasn't very appealing!
On Monday night, the temperatures plummeted in Vermont and a snow squall moved over the RV park. While we had no snow at the hotel, it was about 4°F on the drive to the RV park and we arrived at 8:45am on Tuesday morning to find about 2" of snow had fallen overnight.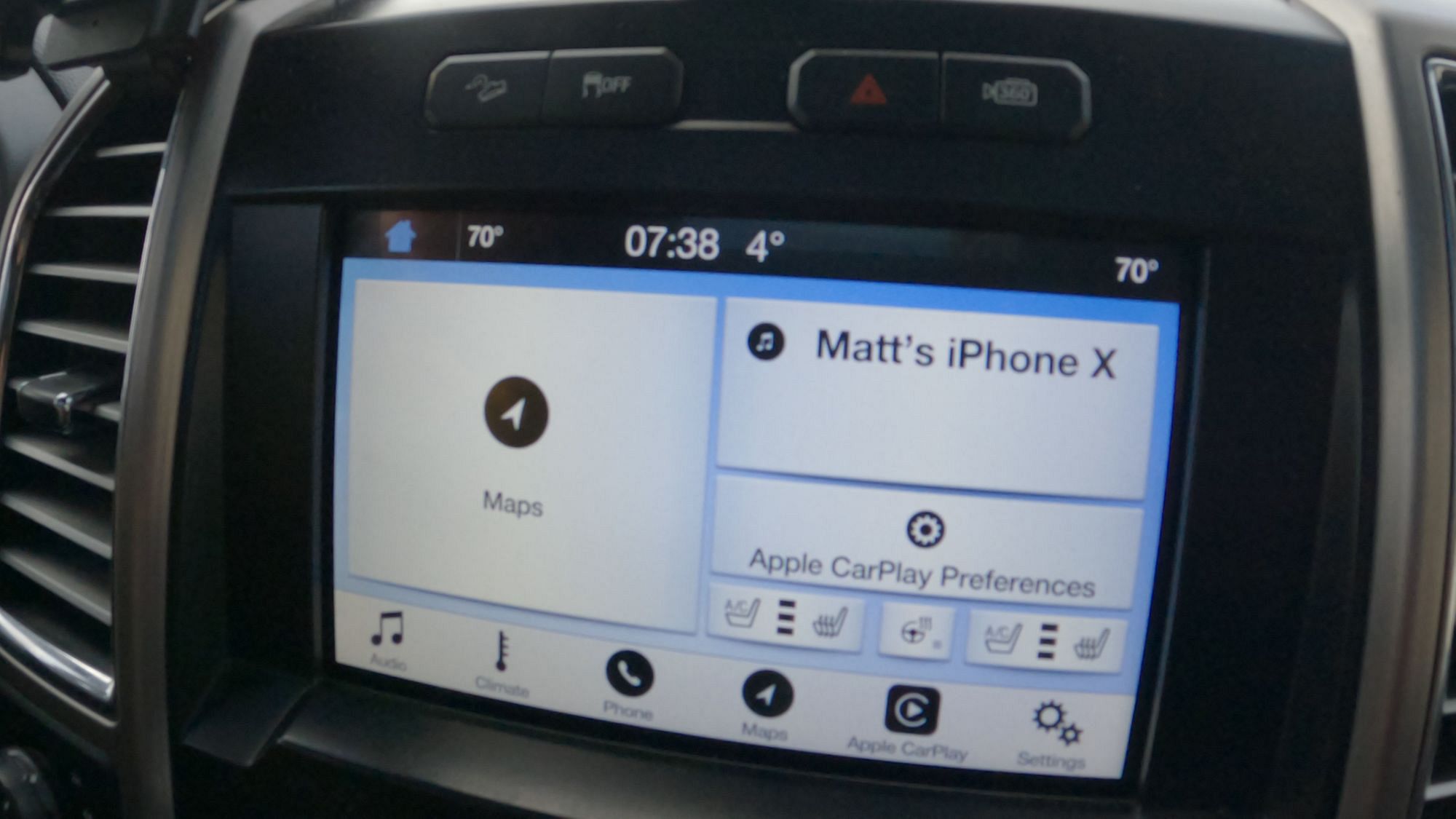 We had an appointment scheduled with the propane company for someone to come at 9am and disconnect our propane tank (they weren't keen on me doing it myself) but leave it in place since we'd be back in two weeks.
We were a little surprised when, at about 8:20am we were alerted by our security cameras that someone was approaching the RV. We were even more surprised when we arrived to find they had taken the tank completely - at least they had hooked the ones on our trailer back up again! They're going to bring the tank back once we're back.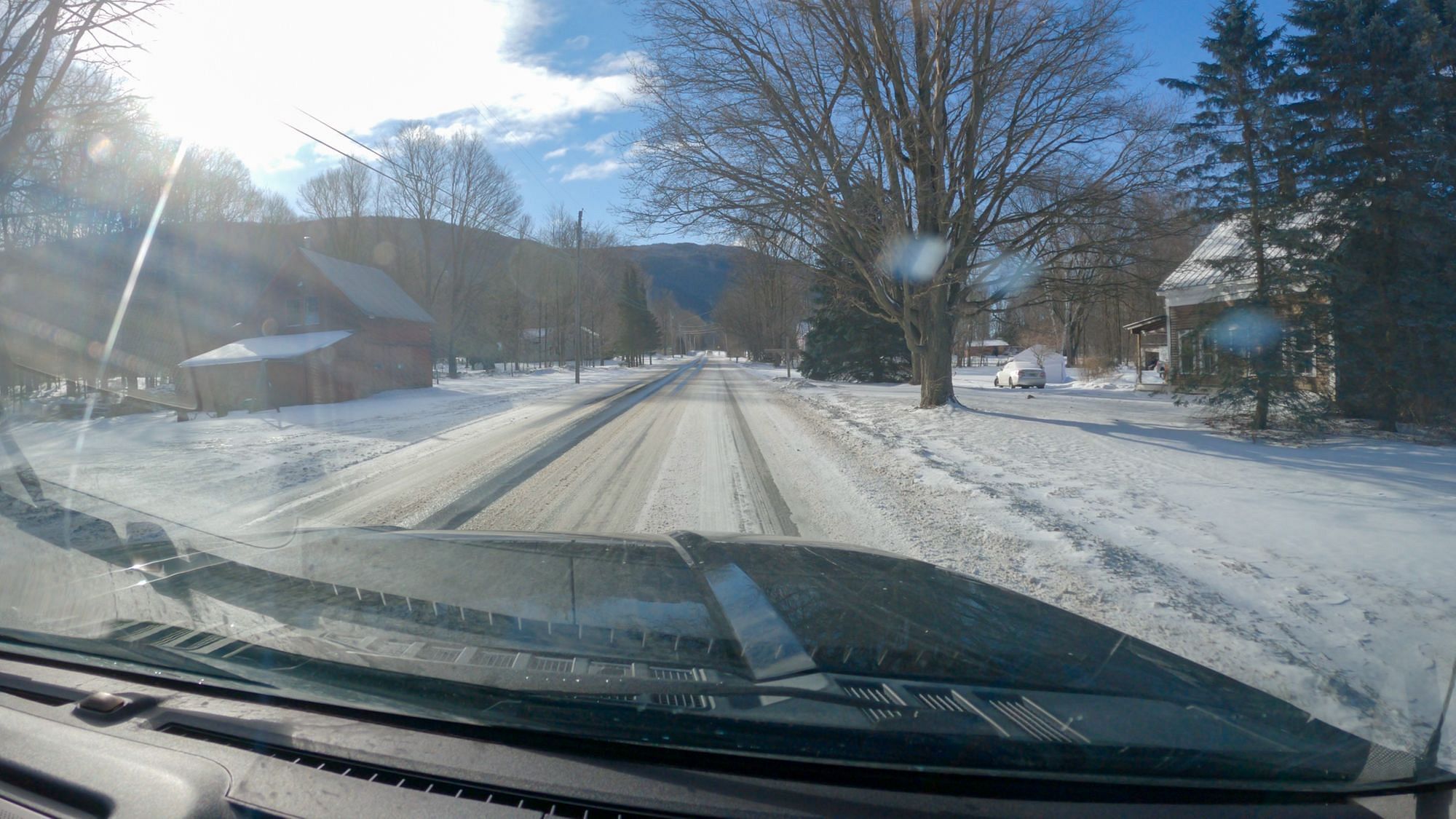 It had been warm, almost 40°F, the previous day, but the cold night had turned the ground to ice. Normally it takes us about 15 minutes to hook up the trailer, but this time it took us almost 2 hours.
The internet cable and electrical cable were frozen to the ground. The trailer chains and emergency brake cable were embedded in a block of ice - we had to chip them out with a hammer and screwdriver.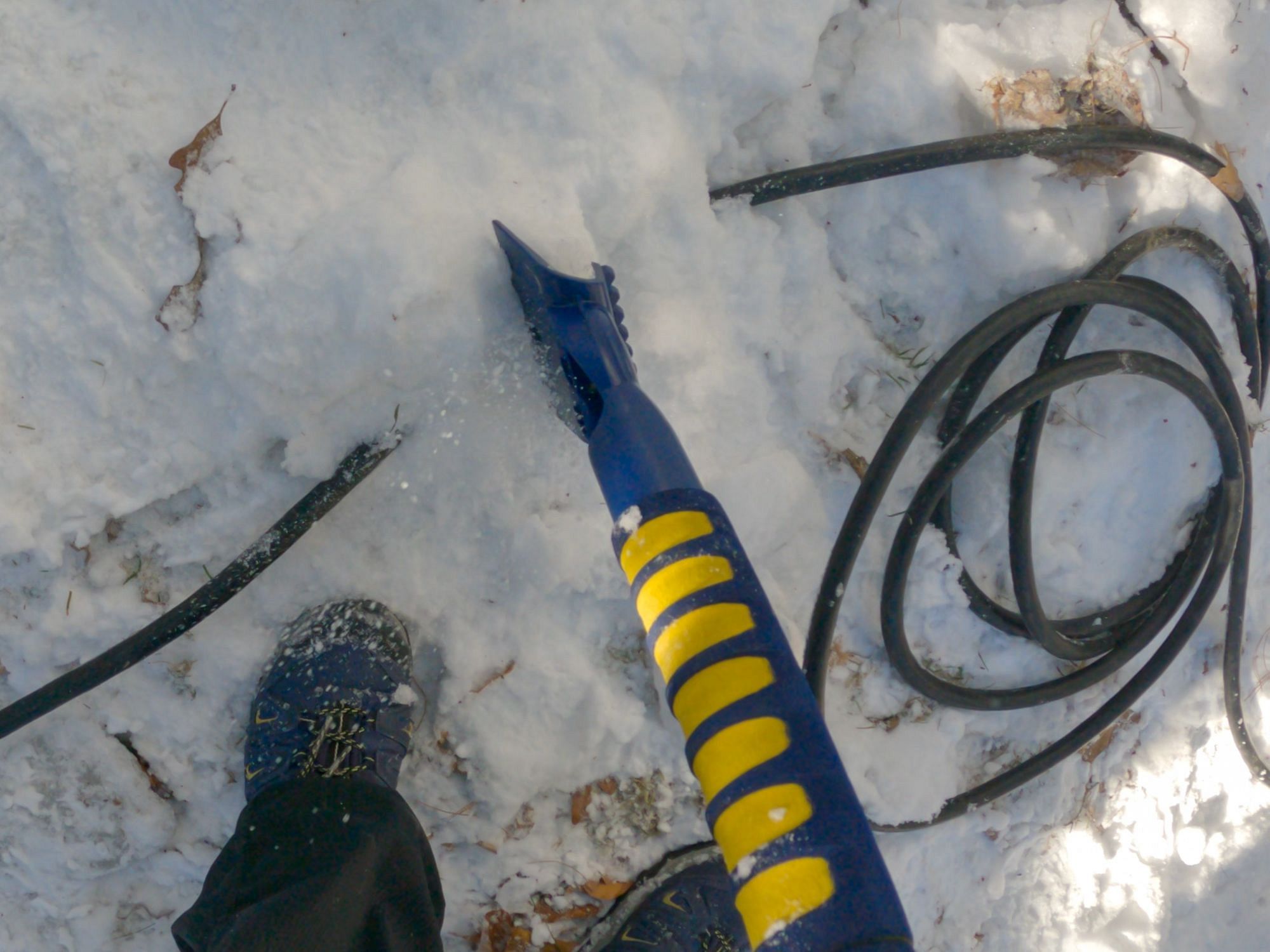 The storage bay door lock was frozen, but we found a cool trick. You can use isopropyl alcohol to thaw it, and hand sanitizer is 70% isopropyl alcohol! We squeezed some onto the key and sure enough, it opened right up!
By far the biggest struggle was removing the concrete blocks that we had placed under the stabilizer jacks. These were frozen to the ground and bashing them with a hammer was doing nothing! In the end we poured some de-icer all around the base and I was able to use our 38-inch breaker bar as a lever while Diana pounded them with a hammer!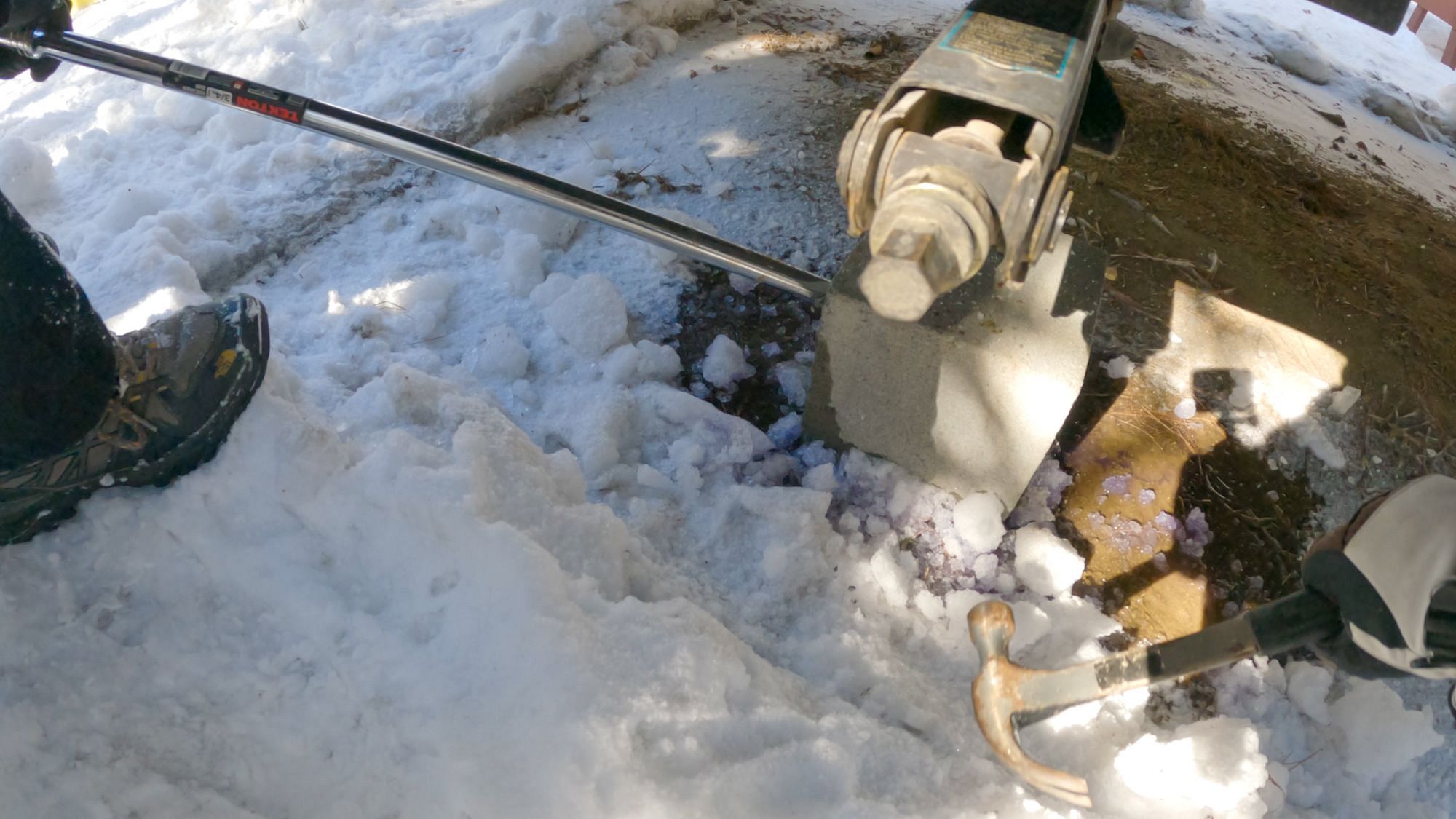 Finally, we managed to get the trailer hooked up to the truck. The TPMS showed that all the tire pressures were good, and we were ready to roll. Except, how would we get out?
Fortunately the ice from the previous day was now covered with a couple of inches of snow, so we figured we'd give it a go - which was lucky, because our bag of sand was frozen solid too!
With the truck in 4L, and Diana watching for any signs of wheel spin, we cautiously pulled forward. Amazingly, not a single wheel slipped as we pulled out, and soon we were back on the road!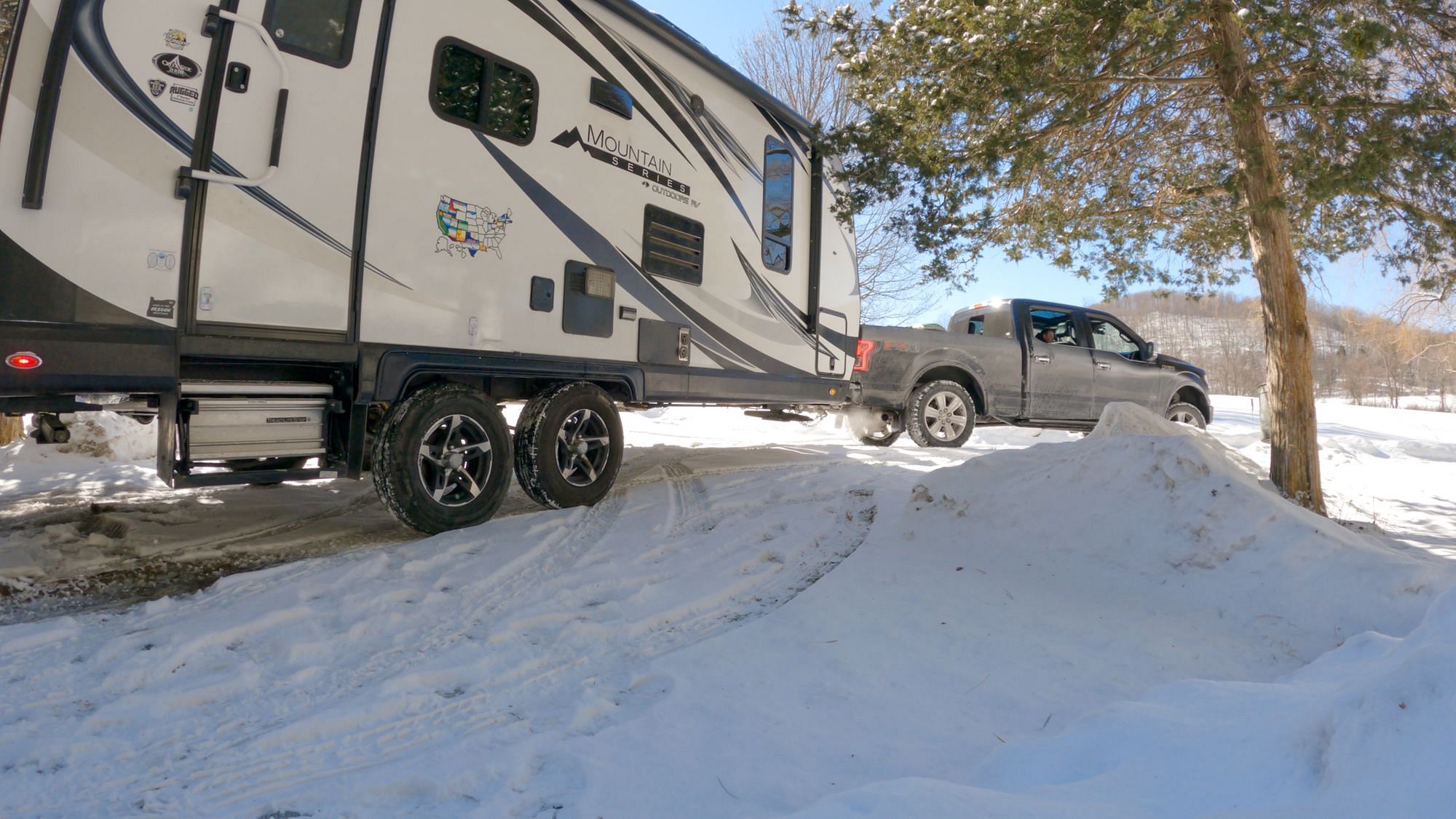 The trailer towed great, so we took it directly to our hotel (who very kindly agreed to let us park it here for 2 nights). We haven't winterized the trailer, so we left the furnace running, the 12V water tank heating pad on, and the Norcold cold weather kit is still keeping the fridge coils from freezing, even though the fridge is off. While the sun was shining, everything was fine.
But the trailer fell into shade at about 3pm on Tuesday afternoon, then it snowed that night. The batteries were down to 50% by this morning and even after clearing the solar panels we were only pulling in about 50W.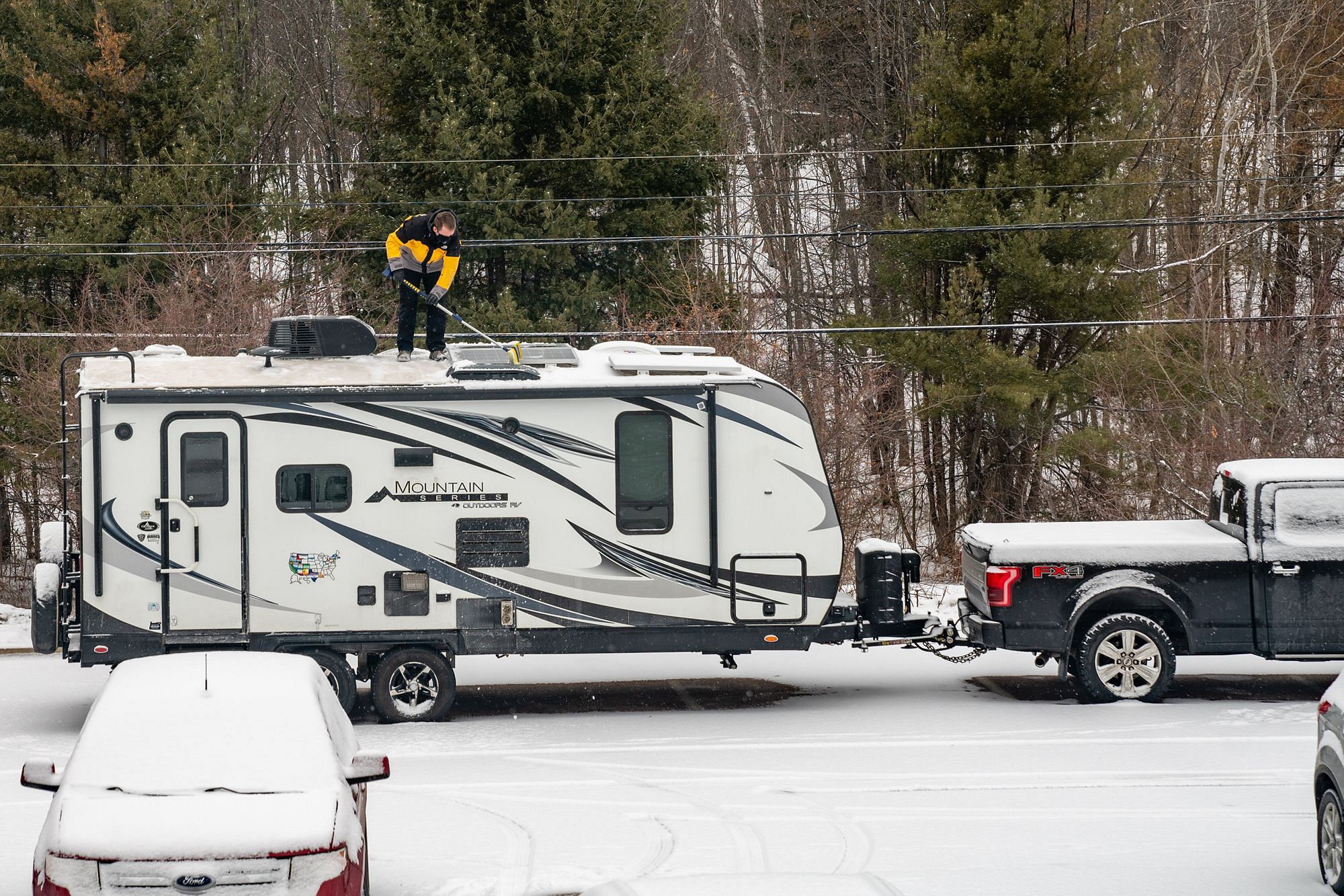 So last night we idled the truck for a while so that our REDARC DC-to-DC charger would put about 550W into the trailer and help the batteries make it through until the morning.
Itinerary
Driving all the way to Oregon and back, 5,600 miles, is a long journey by all accounts. We did consider taking our time a little more, maybe doing some skiing on the way back, but decided that our priority is to get back to Vermont to continue our land shopping.
We therefore want to make it to Oregon as quickly as possible, but we also want to be safe. We have a rough itinerary laid out, but we're keeping a close eye on the weather and road conditions and will change our plans accordingly if necessary.
At the moment though, our plan is to make the journey in 5 days, arriving in La Grande, OR around lunchtime on Monday and stopping as follows:
Thursday: Cleveland, Ohio
Friday: Des Moines, Iowa
Saturday: Cheyenne, Wyoming
Sunday: Twin Falls, ID
Nothing is booked though, and we won't book things until the last minute so we know we're going to make it! Fingers crossed everything goes smoothly!
I want to end this post by saying thank you to the staff at the Residence Inn by Marriott in Colchester, VT where we've been staying for the past 4 weeks. Moving out of our home was stressful, but we've had a wonderful stay here.
The staff have been fantastic, not only taking excellent precautions during the pandemic that have made us feel very safe, but also being very accommodating of us - from the seemingly endless number of trips with a bell cart to move things in and out of our room, to housekeeping doing a great job despite the boxes everywhere, and of course, letting us park our RV here and taking up 7 spots in the parking lot for 2 nights.
Thank you!