As an Amazon Associate we earn from qualifying purchases.
It's been two weeks since our last update, and a lot has been happening! It's scary to think that we're in May already - time is flying and it seems like there's so much to get done.
We're continuing to make progress with the tree felling (more on that later) but we're also having to spend some time to start planning the next steps - septic system design, electric service connection, well installation, site layout and foundation pouring.
Stump Removal
One of the questions that's come up a few times on our videos is: what will we do with the stumps? Removing stumps ourselves would be slow and difficult, but the crew coming to do our site work will make it look easy with the big excavator - it was incredible how quickly they were able to pull stumps when doing the driveway!
So, we're leaving the stumps about a foot above grade, and they will pull all the stumps out of the ground with the excavator. But what will we do with them then?
Stumps are notoriously difficult to burn, and honestly, we'd rather not have a giant burn pile anyway. The smaller stumps we'll take to the so-called "stump dump" at a nearby town, since while we can load them with the tractor at the property, we have to unload them by hand at the other end.
For the larger ones, we've found an area in our forest where we can pile them up and let Mother Nature take care of them - a slow but environmentally friendly approach.
Tractor Wagon
The question then becomes: how do we get the stumps half a mile into the forest? Obviously the tractor is a key component of the answer, but how will the tractor carry them?
Carrying one at a time on the pallet forks is going to be slow and awkward, not to mention that dozens and dozens of round trips into the forest is going to tear up the trails. We have a 20ft utility trailer, but that's far too large with far too low ground clearance to make it through the forest.
So for a little while now we've been on the look-out for a tractor wagon - a small trailer we can tow behind the tractor through the forest. To buy new seemed expensive and unnecessary, so we've been eagerly awaiting the coming spring for yard sales where we hoped to find one.
This week we found what we were after!
We received a tip-off by text that there was a small wagon for sale at the side of the road not too far away, so on Monday afternoon I drove by to take a look. It was old and had clearly seen better days, but the size and high clearance were exactly what we needed to tow behind the tractor through the forest.
We spoke with the seller and agreed on a price of $300 - maybe a little high considering the condition, but it was exactly what we needed and our window was rapidly shrinking.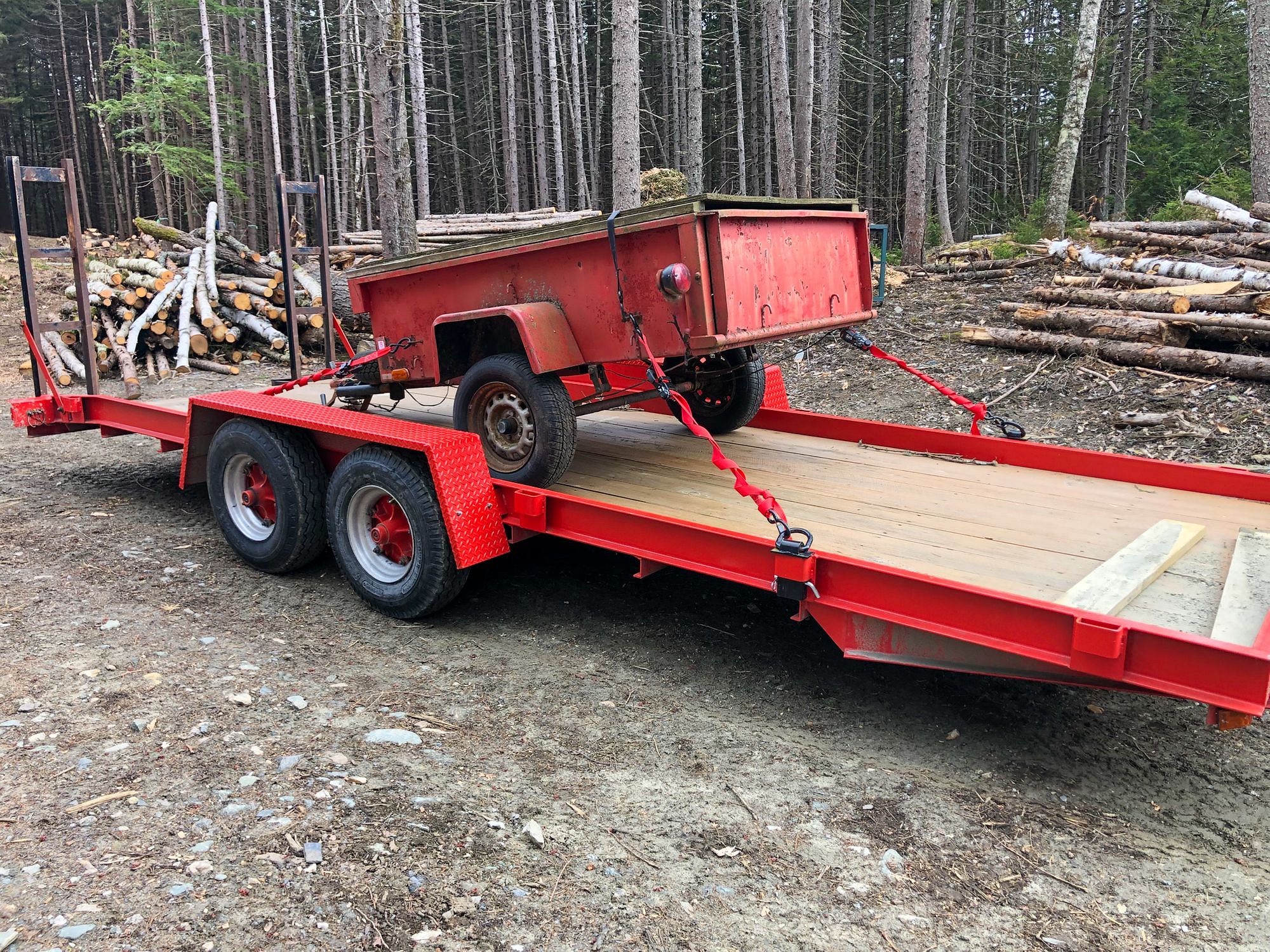 Since we'll never use it on public roads, we didn't mind the fact that the registration had long since lapsed and so rather than towing it home, we returned the next day with our equipment trailer (for its first outing of the year) and loaded it up - we managed to do it by hand using our ratchet straps to pull it up the ramps and secure it in place with the stake pocket tie downs.
We unloaded it back at the property and we're looking forward to putting it to work. As with anything like this, I'm sure its uses will exceed what we originally bought it for - hauling stumps into the forest.
Better Buildings By Design 2022 Conference
Last week, Diana attended the 2022 Better Buildings By Design Conference hosted by Efficiency Vermont in Burlington. This is a regional design and construction conference, focusing on durability, efficiency and value in both residential and commercial building.
We weren't sure how much useful it would be to use as owner-builders, but given we're trying to build an all-electric, net-zero, high-efficiency home, it seemed like a good fit for us!
Diana returned with pages of notes, new ideas for our build, useful insight from experts into several decisions we need to make, and perhaps most importantly, a list of people and companies who can help us with the project. We've already begun weaving the learnings into our build, and as the project progresses, I'm sure that will only continue.
YouTube Super Thanks
A couple of months ago we rolled over a big milestone on our YouTube channel - 20,000 subscribers! It's incredible to think that there are 20,000 people out there who are following us on our journey - first as we traveled around the country in an RV visiting the National Parks, and now as we're building our own home.
As the channel grows, YouTube gradually unlocks new features for us, and recently a new feature has appeared: Super Thanks.
You may be aware that by Liking and Commenting on a video, you help to indicate to YouTube's algorithm that the video should be promoted to a broader audience, helping us to get more views and subscribers. We share all our videos completely for free, but we do receive a small payment from YouTube for each view (less than $0.01).
People have asked us in the past how they can support us, and our answer has always been just to help share our content with their friends and family. With the new Super Thanks feature, in addition to Liking or Commenting, you can now make a monetary donation of your choosing along with your comment.
I want to stress that donating is completely optional. Our videos are still completely free to watch and we love reading all your comments - we try to respond to as many as we possibly can!
But, if you are able to do so, and you feel like you've found the video interesting or entertaining, then the Super Thanks button (found near the Like button) allows you to make a donation to us - essentially like tipping us to say thank you. Be sure to check out this week's video if you haven't already.
Crosscut Sled
Diana went to the conference on her own, her first ever time doing long solo drives in the truck! Which meant that I was somewhat stranded back at the property without the truck.
Tree felling is an inherently dangerous activity, so as a rule we won't fell trees unless both of us are on-site - even if sometimes that means me felling tress while Diana is in the RV, at least help is nearby if I need it!
So since I was unable to continue clearing the site, I turned my attention to the new table saw we had bought, with ideas for a first project.
While a table saw might be most obviously used for ripping down boards and sheet materials, in reality it's a powerful precision tool that can be used for many different aspects of woodworking - the secret ingredient is jigs.
Jigs are either off-the-shelf or DIY devices that expand the capability of a tool, holding a piece in a particular position or allowing an otherwise impossible or unsafe cut to be made safely and easily.
One of the most common jigs for a table saw is a crosscut sled, a sliding tray to hold a piece perpendicular to the saw blade, allowing you to cut across its shorter dimension at a perfect 90°. While a miter saw such as our Dewalt DHS790 may seem like the better choice, the reality is that the table saw is capable of a more accurate cut...if your jig is good!
So I set myself the task of creating a sturdy, medium-sized and highly accurate crosscut sled for our new Sawstop Jobsite Table Saw. Tiny fluctuations in dimensions due to changing humidity are the plague of precision in any jig, and given our shipping container is not exactly environmentally controlled, it was a big concern for me.
I took two big precautions - first using 3/4" phenolic-faced Baltic birch plywood (whose plastic coating would help prevent movement) for the sled itself, and ultra-stable UHMW miter bars underneath. For extra functionality, I encorporated some universal T-track into the rear fence, and added a simple flip stop for repeatable cuts (I really want to buy a Katz-Moses Stop Block when Diana isn't looking!).
To calibrate the rear fence, I followed William Ng's fantastic video using the 5-cut method. While I wasn't able to get it quite as accurate as he did in the video, I still got the rear fence accurate to within five thousandths of an inch along its entire length, meaning our 90° cuts will be accurate to about ±0.001° - good enough for now!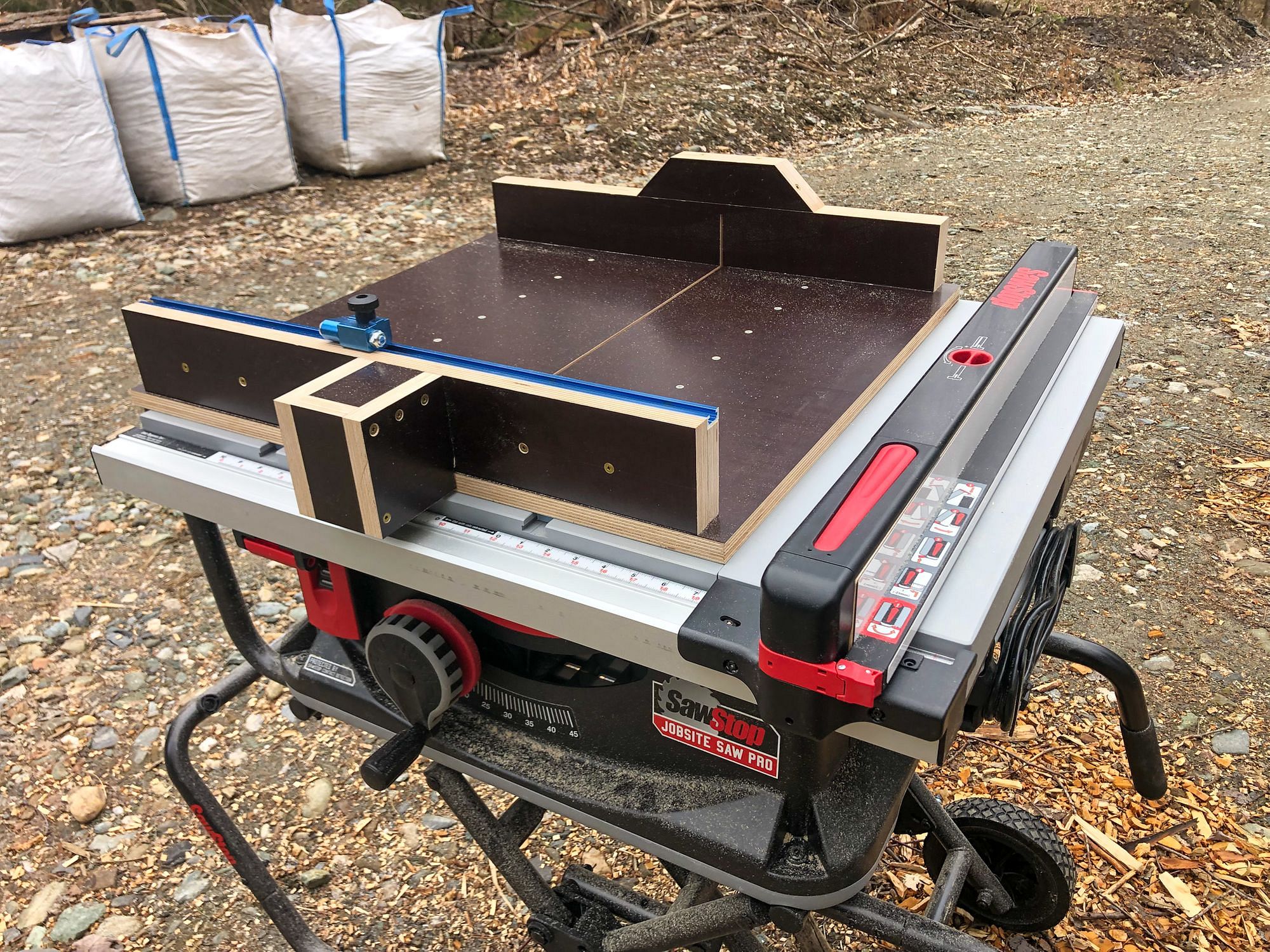 I took my time with the build, honestly enjoying the process of very slowly, carefully and methodically tackling each step. As a bonus, I even made a quick miter jig that sits on top of the crosscut sled for making perfect 45° cuts for miter joints too!
Solar Upgrade
Another project I had hoped to tackle while Diana was at the conference was to build another portable solar panel, identical to the one we already have. We had two spare panels sitting in the shipping container, and while we plan to repurpose them for our solar kiln at some point, we might as well make use of them in the interim.
Unfortunately we didn't have the parts, so last weekend I picked up some fasteners in Home Depot and ordered some more MC4 connectors from Amazon. It took me a couple of hours on Saturday morning to assemble the new portable panel once I had everything.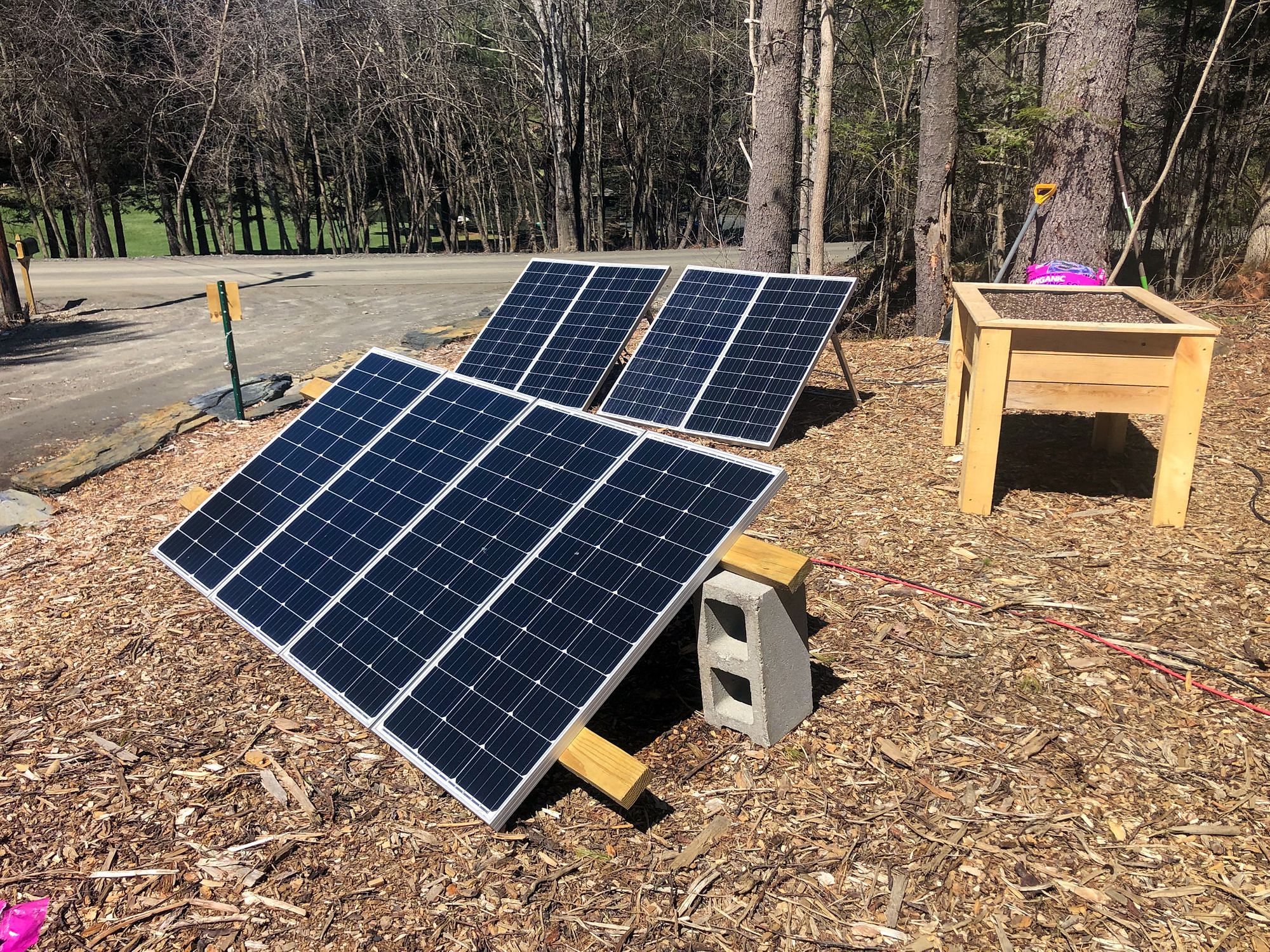 As with the first portable array, the two panels in the new array are wired in parallel. The two arrays are then wired in parallel together (so essentially four parallel panels) to our REDARC DC-to-DC charger due to its maximum input voltage.
With 800W of ground deployable solar panels freshly connected, we were treated to a perfect sunny day on Sunday. For the first time since we've been back in Vermont, we managed to return our batteries to 100% using nothing but solar alone - no small achievment given that we ran the Instant Pot multiple times that day too!
Tank Dumping Upgrade
A slightly less pleasant upgrade was to our tank dumping arrangement. It's no secret that dumping your grey and black tanks is one of the less appealing parts of RVing. Each week we have someone come round to dump our tanks, so while it's not us doing the dumping, it's still important that everything is working well.
Last week he alerted us to a small leak in one of our fittings - no doubt the result of a rubber gasket failing after almost 4 years of full-time RVing, UV exposure and temperature cycling through hot Arizona summers and cold Vermont winters.
But rather than simply replacing the fitting, we opted for an upgrade we have long been considering - swapping the de facto twist-on bayonet fittings for cam lock fittings. The person dumping our tanks has hoses with cam lock fittings, so this seemed like a perfect time.
After removing the existing fittings, I cut off the bayonet protrusions with our Dewalt Oscillating Multi-Tool, sanded them smooth and then installed first a knife valve and then a female cam lock fitting with Oatey All Purpose Cement.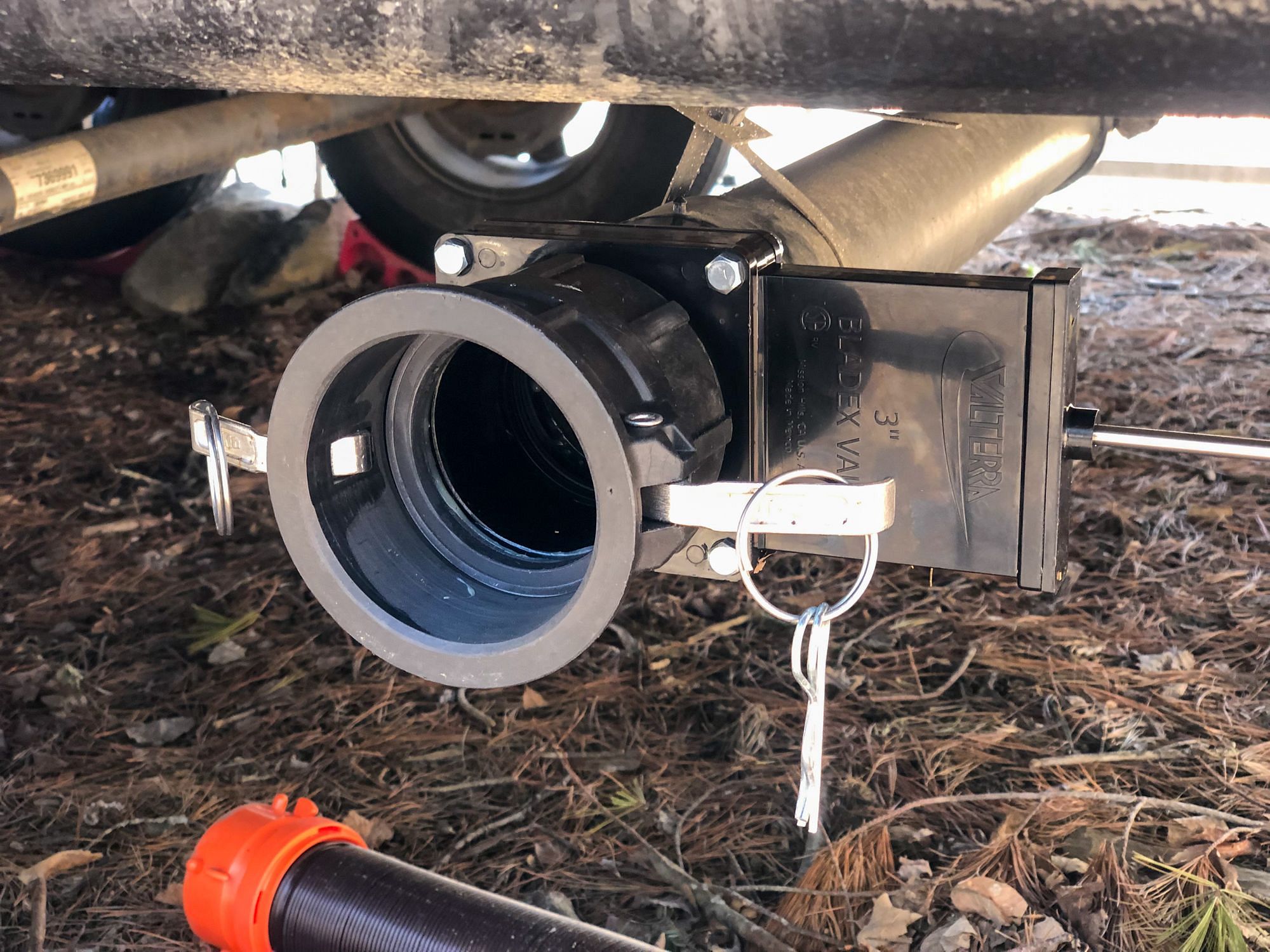 Not only is this better for our tank dumping person, but it's better in the long run for us too - our NoFreezeWaterHose uses cam lock fittings so we had to use adapters to convert it to work on our RV bayonet fittings. Using cam lock fittings directly means a completely sealed connection with no chance of leaks.
But, in case we do find ourselves needing to use a regular hose with bayonet fittings, we also bought a cam lock to bayonet adapter too.
It was a quick and easy, if not overly pleasant, Saturday morning job. The end result is a more robust and leak-free sewer system.
Site Clearing Update
The timeline for our contractor arriving to grade the site is drawing ever closer, and we need to increase the pace of tree clearing. Weather hasn't been great this week so far, but it's looking much better for the week ahead.
On Monday morning we did a count of how many more trees need to be felled, limbed, chipped, bucked and stacked in the area we need to clear - the well, house site, utility site, RV pad, septic tank location, septic leech field and sewer lines. As of Monday morning, we needed to clear about another 150 trees!
As of writing this on Thursday morning, we have felled 192 trees and created 65 cubic yards of wood chips. Having another 150 trees cleared in the next few weeks is a tall order, but if the weather co-operates and things go well then we should be able to stay on track.
One challenge we are facing is I've been suffering some discomfort in my hands - worse overnight and in the mornings before fading again. I'm getting mild trigger finger symptoms in a couple of fingers on my right hand, and both hands are aching around the joints.
This is a fairly common issue for people using high-vibration tools such as chainsaws for a prolonged period. I've bought some new anti-vibration gloves that I'm hoping will help, but otherwise stretching, hydration and getting the job over and done with is the best I can do!
Speaking of which, after non-stop rain yesterday, the sun is finally shining and it's time for us to head outside.