Vermont Travel Restrictions
Vermont has consistently had some of the most stringent travel restrictions during the pandemic. Since arriving here last November, the rule has been simple - if you leave Vermont, even for the day, you have to quarantine for 14 days (or 7 days followed by a negative test result) when you re-enter.
These travel restrictions meant that we couldn't explore nearby areas across the border into New York, New Hampshire, or Massachusetts, and in particular we couldn't meet up with friends from New York to go skiing.
But we made the most of it by using our time in Vermont to really focus on our property search, and enjoy skiing at Sugarbush and Killington.
However, last week Vermont announced a plan to relax the travel restrictions. Starting last Friday, visitors to Vermont now just need to get a negative test result within 3 days of arrival. We did a COVID test a few weeks ago to cut short our quarantine period after arriving back from Oregon - the process was ridiculously quick and easy, and we had results back the next day.
This means that we can now leave the state more easily should we want to travel, knowing we don't have to quarantine upon return.
Better yet, starting June 1st the travel restrictions will be removed altogether! This is the milestone we've been waiting for, since for some of the properties we've been looking at, the nearest Home Depot is just across the state border in New Hampshire!
Vaccinations
Continuing with COVID updates, this Monday vaccinations opened up for people aged 30+ in Vermont. We jumped on it fast and we're scheduled for our first dose on Monday next week, with our second dose planned for four weeks later.
Combined with the relaxing of travel restrictions above, if all goes well, by early June we should be fully vaccinated and able to travel again - just in time for summer!
First Hair Cut
It was around March last year when things started locking down because of the pandemic. At the time, we were boondocking in the Arizona desert.
Even if places had been open, we were still a long way away from anywhere to get a hair cut - in fact, our nearest good grocery store was about 50 miles away!
Born out of necessity, with Diana's help, I began cutting my own hair with hair clippers. After leaving the desert, we found ourselves either in very remote places or areas with restrictions on hair salons, so the habit continued.
It was always a bit nerve-wracking doing it ourselves, but with the exception of a small mishap involving a stripe being shaved up the side of my head just before Christmas (you may have noticed I was absent from videos for a couple of weeks!), it's generally gone fairly well.
But recently I've been keen to get back to a hair salon for a real hair cut. Last week I headed to our storage unit and there's a hair salon just nearby, so I went in to see if they had availability for walk-ins.
They did not, but they had an appointment free in 20 minutes - perfect! The catch? It was with a brand new hair stylist and I would be her first ever client!
Well, I figured I'd be a great first client for her - let's be honest, I had been (badly) cutting my own hair for the last 12 months so my bar was pretty low!
20 minutes later I returned, and she invited me to take a seat. I told her I had a wedding the next day so this hair cut had to be perfect! I quickly told her I was joking, but it broke the ice and I hope it helped put her at ease when I explained how I had been cutting my own hair for the past year.
She was friendly and although she was very nervous, I was happy with the end result - you'd think it's hard to mess up cutting my "hairstyle" but trust me, I've done it! I was offered a significantly reduced price because it was her first day, so I tipped generously - I hope it gives her some confidence in her new career!
Outdoor Living
I had been heading to the storage unit to pick up our 17" Blackstone Griddle - we honestly didn't expect to use it so early in the year! I also stopped by a hardware store and picked up a hose nozzle and 5 gallon bucket.
When our RV was being repaired in Oregon, they pressure washed it for us and it looked great! It stayed that way until we reached Chicago - blizzard conditions along with rush hour traffic covered our RV in dirty road spray.
So last weekend, we borrowed a long-handled brush from our neighbors (thank you!) and using some car shampoo, we washed the RV.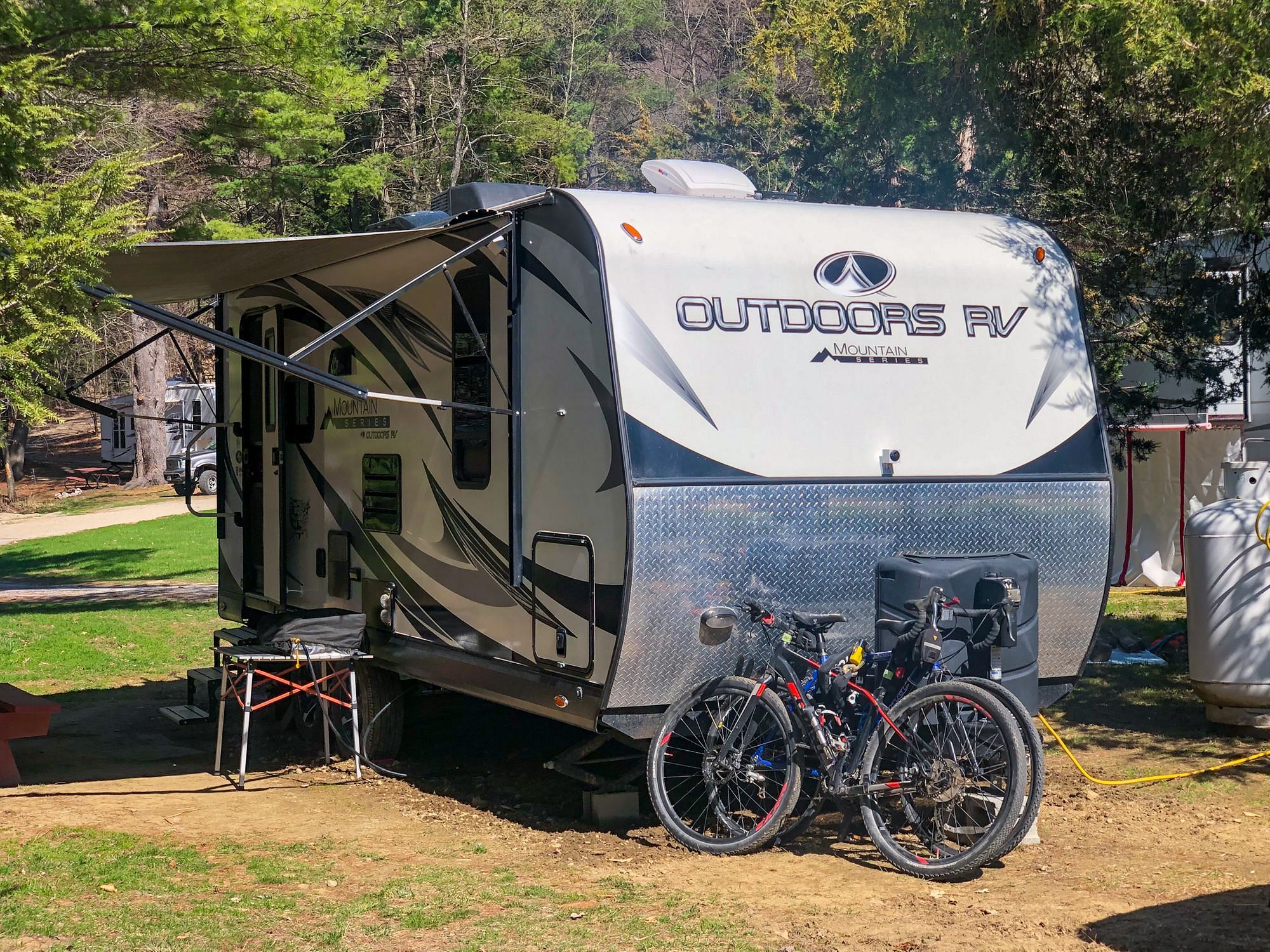 I guess the rain gods missed me washing the RV, because the past week has been really warm, sunny weather - up above 70°F at times. We've grilled outside 5 times, making the most of the warm weather while it lasts.
The mini heat wave has come to an end, for now. It's due to rain all day today, and we may even see some snow later on. But, we have the grill ready so when the weather is nice we can make the most of it and enjoy dinner outside at the picnic table.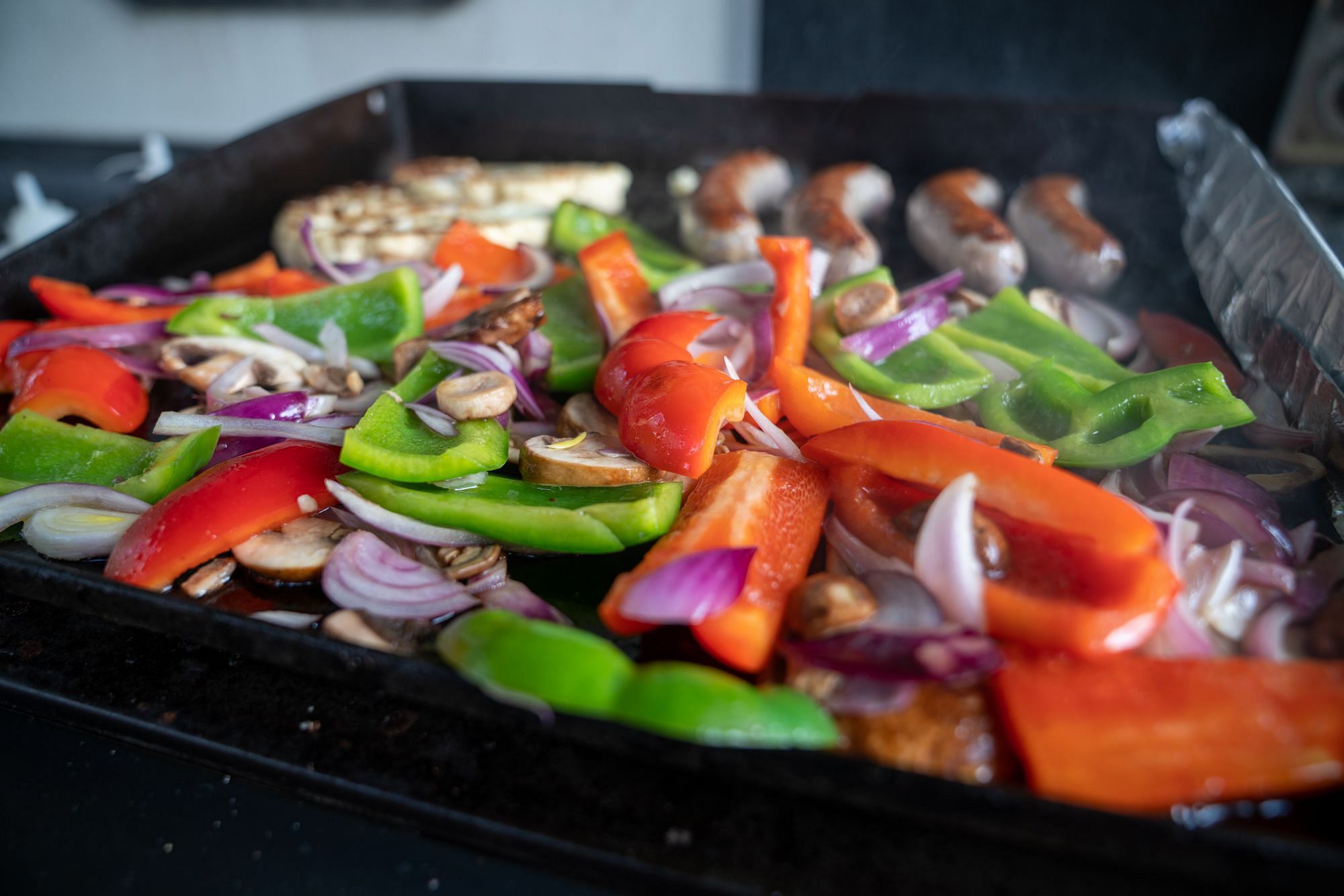 Summer Travel Plans
All this warm weather has got us thinking about our summer plans. Obviously there are lots of unknowns with the pandemic, but it doesn't hurt to start generating some ideas!
We've had so many wonderful emails and messages from followers recommending places we should go and visit in and around New England. Along with visiting friends in Massachusetts and New York, there are lots of places we want to visit and things we want to do!
It reminds me of a time shortly after Diana and I first started dating. There were all these things we wanted to do and places we wanted to visit, but somehow our weekends kept slipping away.
So we created a Google Doc and listed every weekend for the following year. Whenever we thought of something we'd like to do, we chose a free weekend on the Google Doc. We didn't necessarily book anything up front, but we had one simple rule - you can't remove something from the calendar, only move it to a different weekend.
We went from wasting weekends doing nothing to visiting somewhere amazing almost every single weekend! We would look at the calendar and get excited about the cool things coming up - booking things as we they got closer.
Maybe we'll do the same this summer - start penciling in all the things we want to do, and then rescheduling as necessary to accommodate travel restrictions and land shopping activities.
Construction Cost Estimation Course
As well as shopping for land, we're also starting to plan for what happens once we have the land. Since we're trying to buy raw land, there'll be a lot of work to do before we can even think about building the house - clearing trees, building a driveway, installing a well and septic, connecting electricity and internet, etc.
We know we're coming into this as novices - while we think we have the capability to take on this project, we don't have much directly relevant experience and there are a lot of skills we'll need to learn.
As many people have pointed out to us, it's easy for costs to spiral out of control on a project like this. While some costs are obvious (materials, tools, etc) there are a host of hidden costs - permits, insurance, etc.
A couple of months ago, after skiing at Sugarbush, we happened to spot the Yestermorrow Design / Build School on our drive home. They have a range of courses (many of which have moved online during the pandemic) covering design, construction, woodworking, and architectural craft, suitable for everyone from novices to professionals.
Last week Diana started a three-week online course called Basic Construction Cost Estimating, which covers how to break down and estimate project costs - either as an owner-builder or contractor. This should help us not only better budget for the project, but help us communicate more easily with contractors too.
So far, Diana has been really impressed, and we're already looking at some of the other courses we might want to take, including some of the much more comprehensive courses they offer covering everything from site planning and energy efficiency to framing, plumbing and electrical.
Smart RV Video
If you've been following us for a while, you may be aware that over the past few years we've been building out what we think is the ultimate DIY smart RV!
While we do have several blog posts on our website already about it, we've never done a full tour of the whole system...until now!
Check out this week's video for a video tour of our Smart RV:
Or, if you prefer reading blog posts, check out our Smart RV Tour blog post which includes a few more technical details about how it all works.
Future Video & Blog Ideas
With the weather warming up, camping season is fast approaching! As RVers who've been living full time on the road for the past few years, we've learned a thing or two about RV life!
We love sharing our story and helping others get out on the road too, so let us know in the comments below what you'd like us to share in upcoming videos and blog posts!