Introduction
Covering 517 square miles of the Sonoran Desert (colloquially known as the Green Desert), Organ Pipe Cactus National Monument is an area rich in natural beauty. But its tranquility betrays a turbulent history.
We had come from the Phoenix Area after visiting Casa Grande Ruins National Monument, Tonto National Monument and Hohokam Pima National Monument. We boondocked at Darby Well Road near Ajo, AZ for a week or so - one of our favorite ever boondocking spots.
However, to visit Organ Pipe Cactus National Monument, we chose to dry camp at the campground within the National Monument - Twin Peaks Campground. This has been voted Campendium's Campers Choice in 2017 and 2018 - it really is amazing! This put us right in the heart of the National Monument for a few nights, giving us a real chance to explore!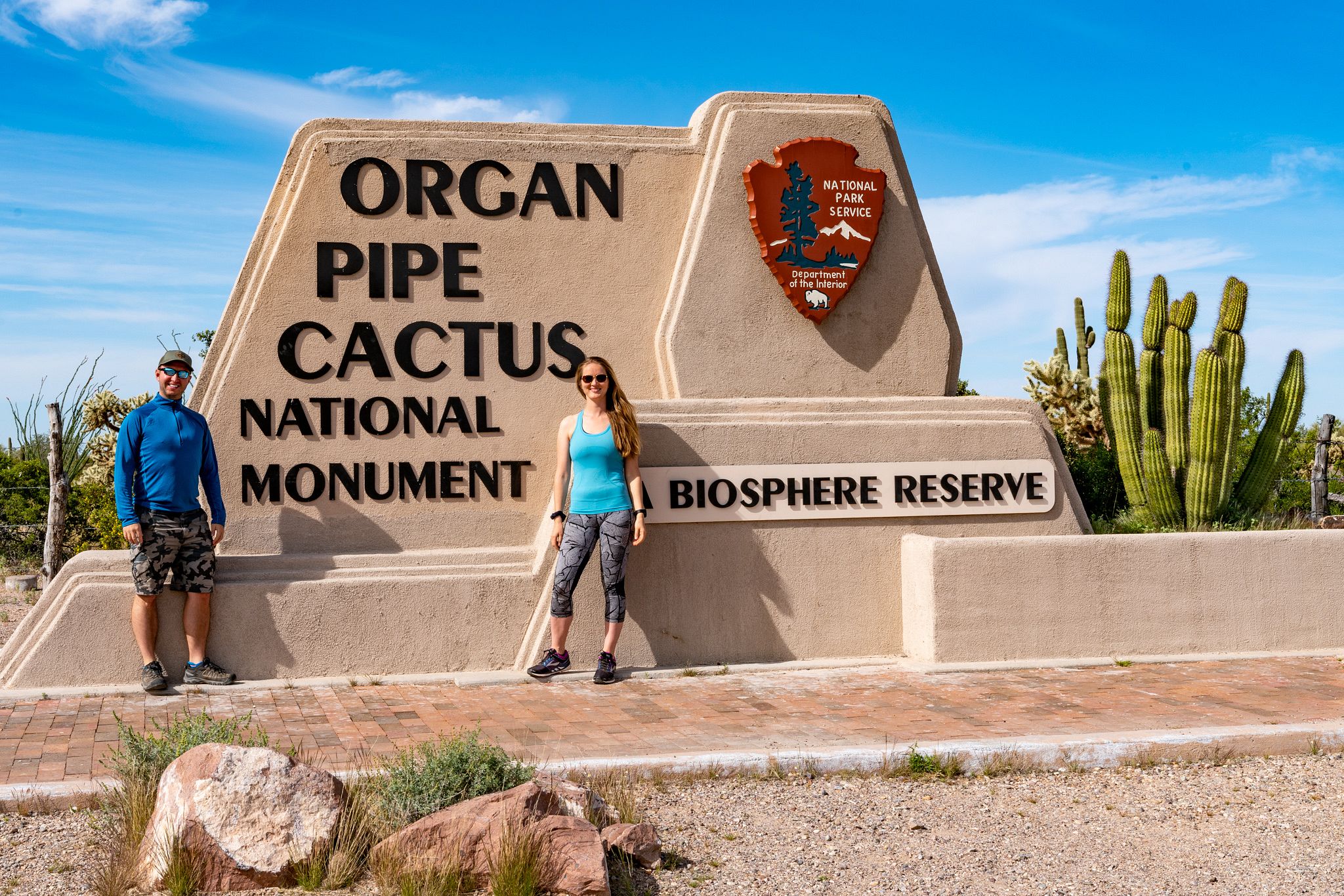 Organ Pipe Cactus National Monument was our 14th stop on our quest to visit all 419 National Park Units in the US!
Video
Location
History
Following the Mexican-American War, the Treaty of Guadalupe Hidalgo established everything north of the Gila River as belonging to the US - the area of what is now Organ Pipe Cactus National Monument was still part of Mexico. It wasn't until the Gasden Purchase in 1853 that land south of the Gila River was bought from the Mexican government for $10 million to build the Southern Pacific Railroad route to California - land that included Organ Pipe Cactus National Monument.
Almost immediately, mining activities began, later followed by cattle grazing including the Blankenship Ranch established in 1919 in what would later become part of the National Monument.
On Tuesday, April 13th 1937, Organ Pipe Cactus National Monument was established by President Franklin D. Roosevelt, in the face of much opposition from local ranchers and miners. Some ranching and mining continued, under special permits from the National Park Service. Grazing rights were finally terminated in 1959, and the last cattle were removed from the park in 1975. Mining also continued until the mid-1970s.
The 1970s piled on more protection for the area. In 1976, Organ Pipe Cactus National Monument was declared an International Biosphere Reserve by UNESCO, in 1977 US Congress declared 95% of the Monument as wilderness, and in 1978, Quitobaquito (an area of the Monument) was placed on the National Register of Historic Places.
Unfortunately, the 1990s brought less favorable events, as people and drug trafficking across the border increased dramatically. In 2000 alone, 200,000 undocumented immigrants crossed through Organ Pipe Cactus National Monument.
Sadly, the situation came to a head in 2002 when Park Ranger Kris Eggle was shot and killed by a suspected drug smuggler during a US Border Patrol operation. As a result, 70% of the Monument was closed between 2003 and 2014. The Visitor Center was subsequently renamed in his honor.
During that time, a new vehicle barrier was installed, a pedestrian fence was constructed around the Lukeville Port of Entry, new border technology was deployed and Ajo Border Patrol Station was expanded considerably - there are now 500 Border Patrol agents stationed in Ajo, a 20x increase.
Finally, on September 15th 2014, the area was deemed safe enough and Organ Pipe Cactus National Monument was fully reopened. Today, the armed guards have gone but National Park Service staff educate visitors about the area so they can decide whether they feel comfortable exploring the backcountry. Nowadays, the biggest risks to visitors are likely to be dehydration and rattlesnakes!
Organ Pipe Cactus
The scientific name for the Organ Pipe Cactus is Stenocereus thurberi - from "stenos" meaning "narrow" and "cereus" meaning "candle". It was named after George Thurber, an 19th century American naturalist. It is locally known as "pitaya dulce", Spanish for "sweet pitaya" - the pitaya is the cactus fruit.
It's common name, Organ Pipe Cactus, needs no explanation - it's multiple narrow stems rising vertically from a single short trunk, resembling organ pipes. They can live for over 150 years, and grow to 16ft tall and 12ft wide - though larger specimens have been found up to 26ft tall. Each stem grows from the tip, rarely branching, and grows approximately 2.5 inches per year.
Older plants bloom annually with 3 inch wide funnel-shaped creamy white flowers that open at night and close before morning. Their pollen is a favorite of the Lesser Long Nosed Bats who are responsible for most of the night-time pollination.
The spiny fruit ripen just before the summer monsoon period, and can be split open to reveal a sweet, red flesh filled with seeds.
Organ Pipe Cactus National Monument is the only place you can find these cacti growing wild in the United States - although they are found to the South in Mexico. It's notable as you drive north, how quickly they disappear from the landscape - just 40-50 miles north of the Monument and conditions can no longer support their growth.
Itinerary
We arrived at Twin Peaks Campground inside Organ Pipe Cactus National Monument on Monday, April 1st 2019 and stayed for 3 nights. This gave us two and a half days to explore as much as we could.
Visitor Center
As always, our first stop was at the Visitor Center to get our National Park Passport stamped and speak with the Rangers about our plans. It was also where we needed to check in for our campground reservation.
Around the Visitor Center is also a very short Nature Trail. It's only a couple hundred yards, but loops around the building where some informational signs introduce visitors to some of the things they can expect to see in the Monument.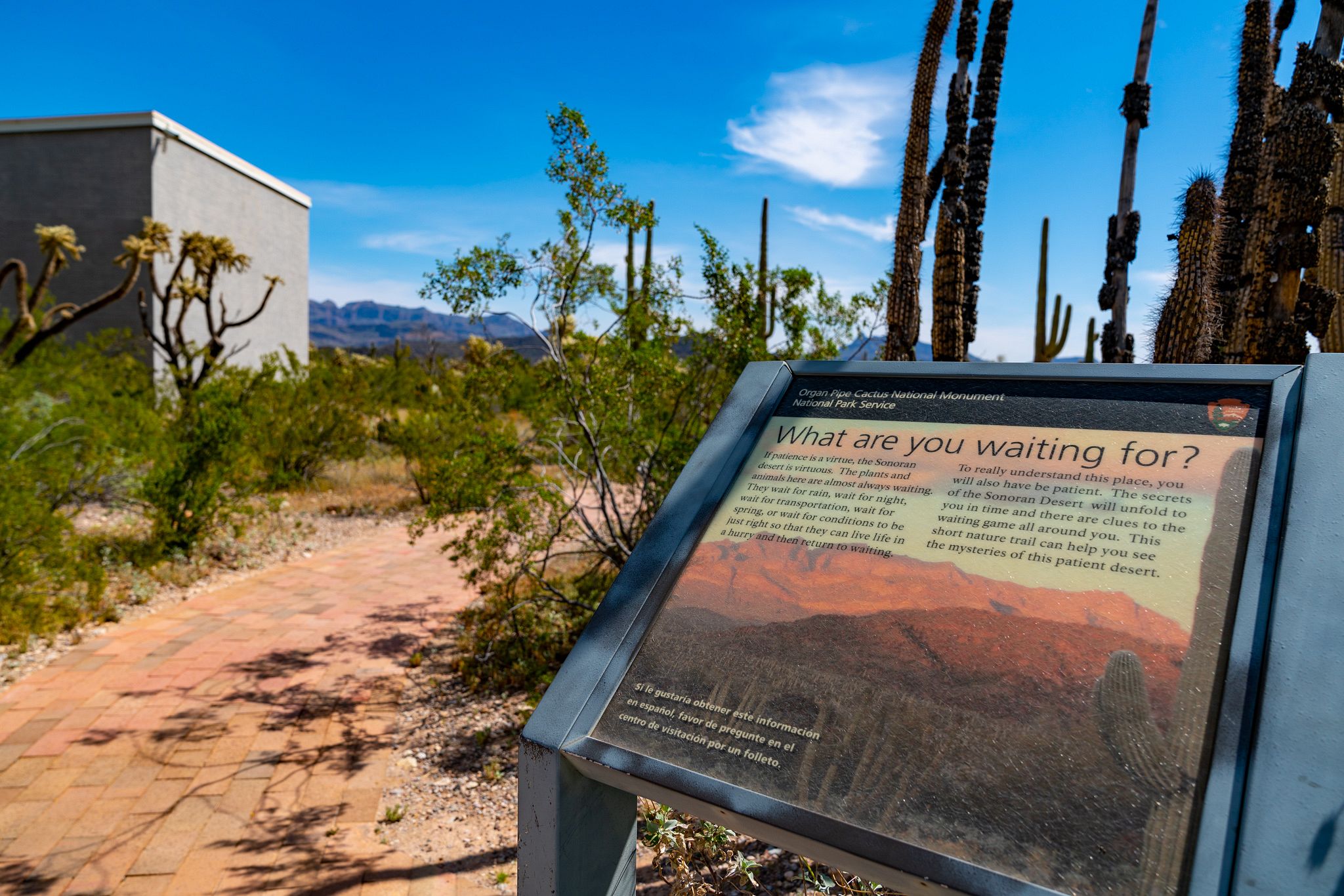 I'll save a full campground review for later in the post, but given it's dry camping with no hookups, it didn't take long at all until we were parked and set up. After a quick bite to eat for lunch, we headed straight back out.
Ajo Mountain Drive
We were heading out to drive the Ajo Mountain Drive - the most popular scenic drive in Organ Pipe Cactus National Monument. The 21-mile drive is mostly on a dirt road, but a typical 2WD car would have no problems - RVs over 24ft are prohibited, however.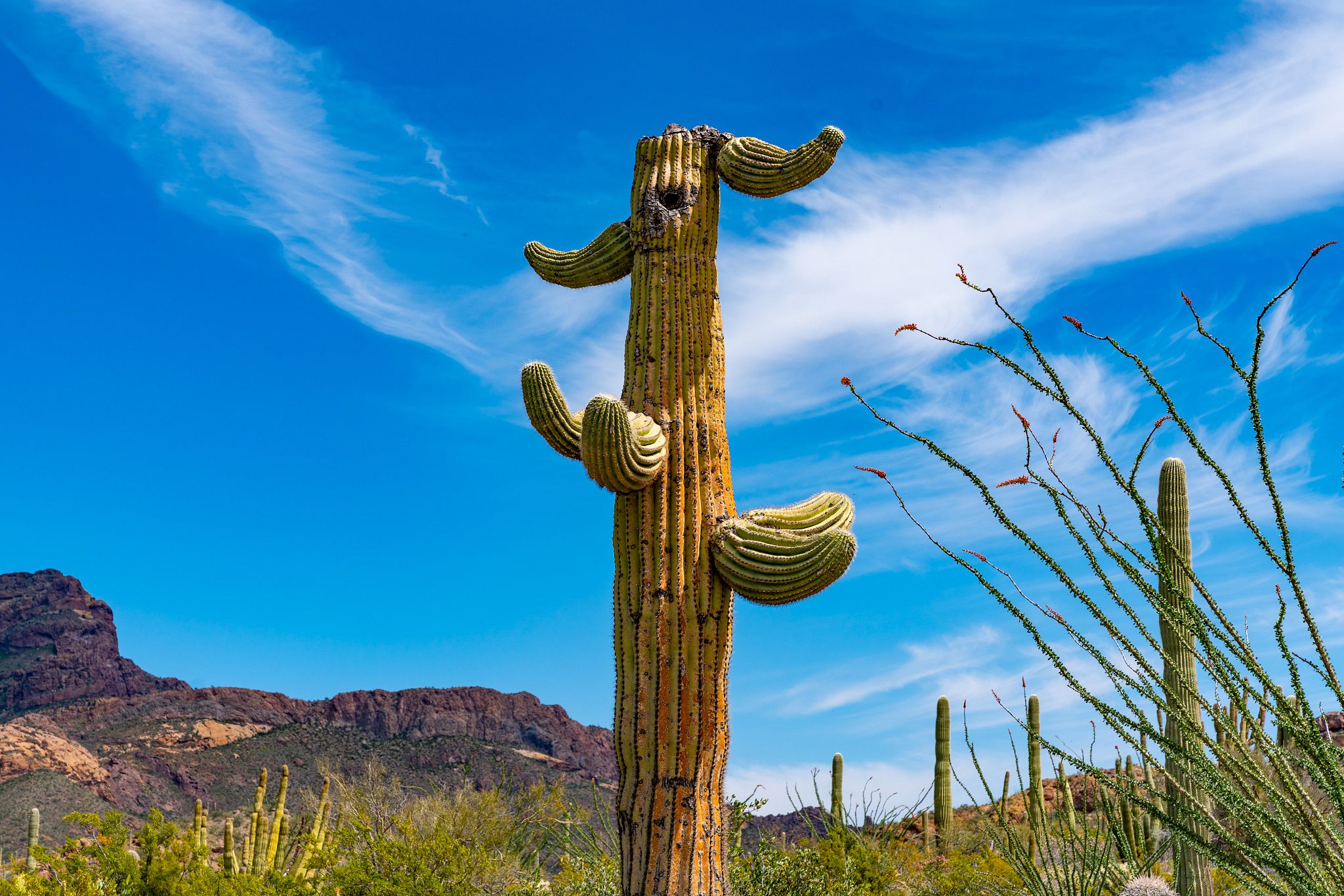 I highly recommend picking up the free Ajo Mountain Road Guidebook from the Visitor Center - it has information that corresponds to markers along the road. We stopped frequently at these markers to learn about the area and take photos.
The Ajo Mountain Drive is worth it just for the drive around, but there are also several trailheads along the road. We stopped first at Arch Canyon, a 1.2 mile in-and-out hike with views of a beautiful arch. The trail is gentle and easy-going, but does climb up into the canyon. Even though it was only early April, the sun was hot - make sure you take plenty of water!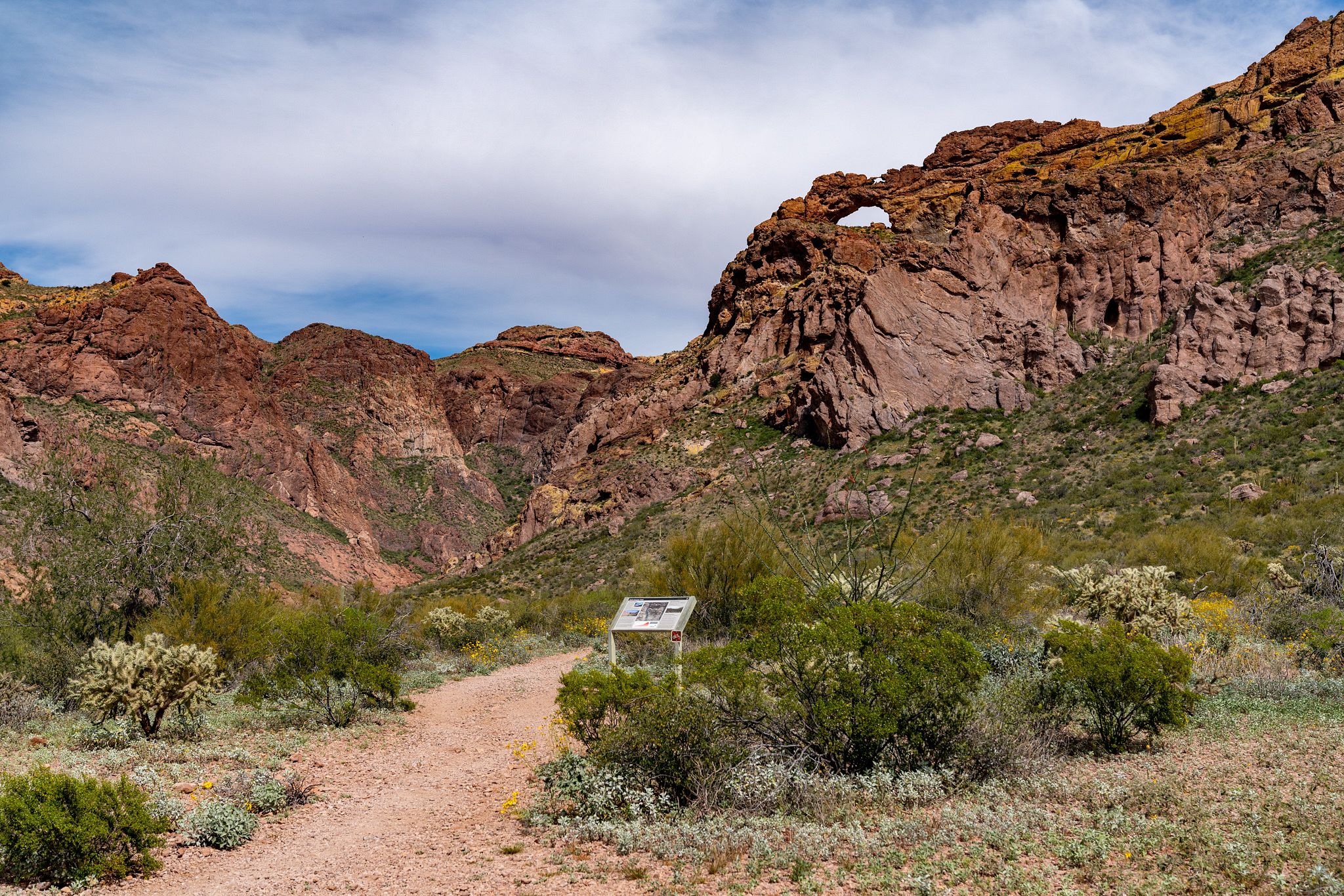 Further round, we stopped again at the trailheads for Bull Pasture and Estes Canyon. Although these hikes can be done individually, we chose to hike them as a 3-mile round trip loop. The hike up Bull Pasture was strenuous, with steep climbs up to the ridgeline where panoramic vistas of the Monument reveal themselves.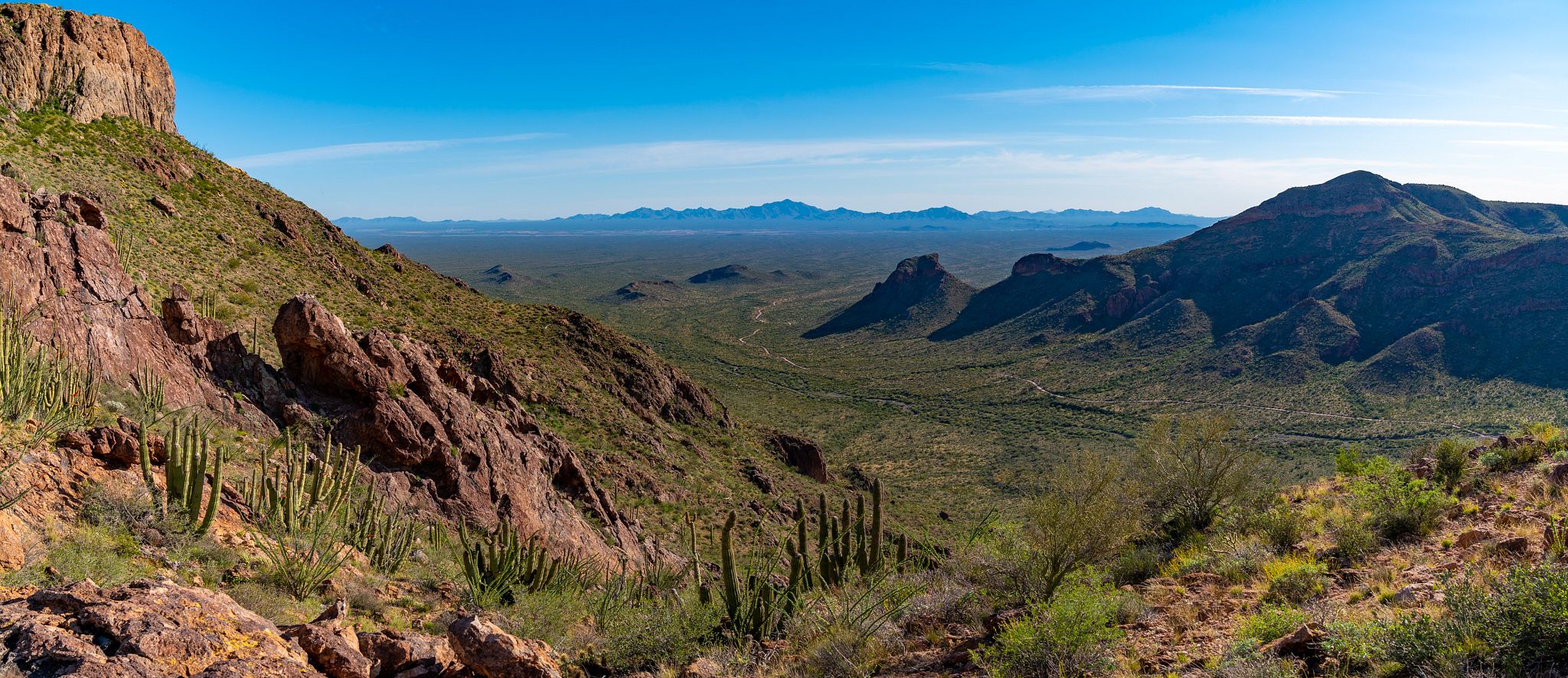 We could clearly see Mexico in the distance! From the top, we hiked back down through Estes Canyon which was no less scenic - the trail crosses several washes at the bottom as it winds its way back to the trailhead.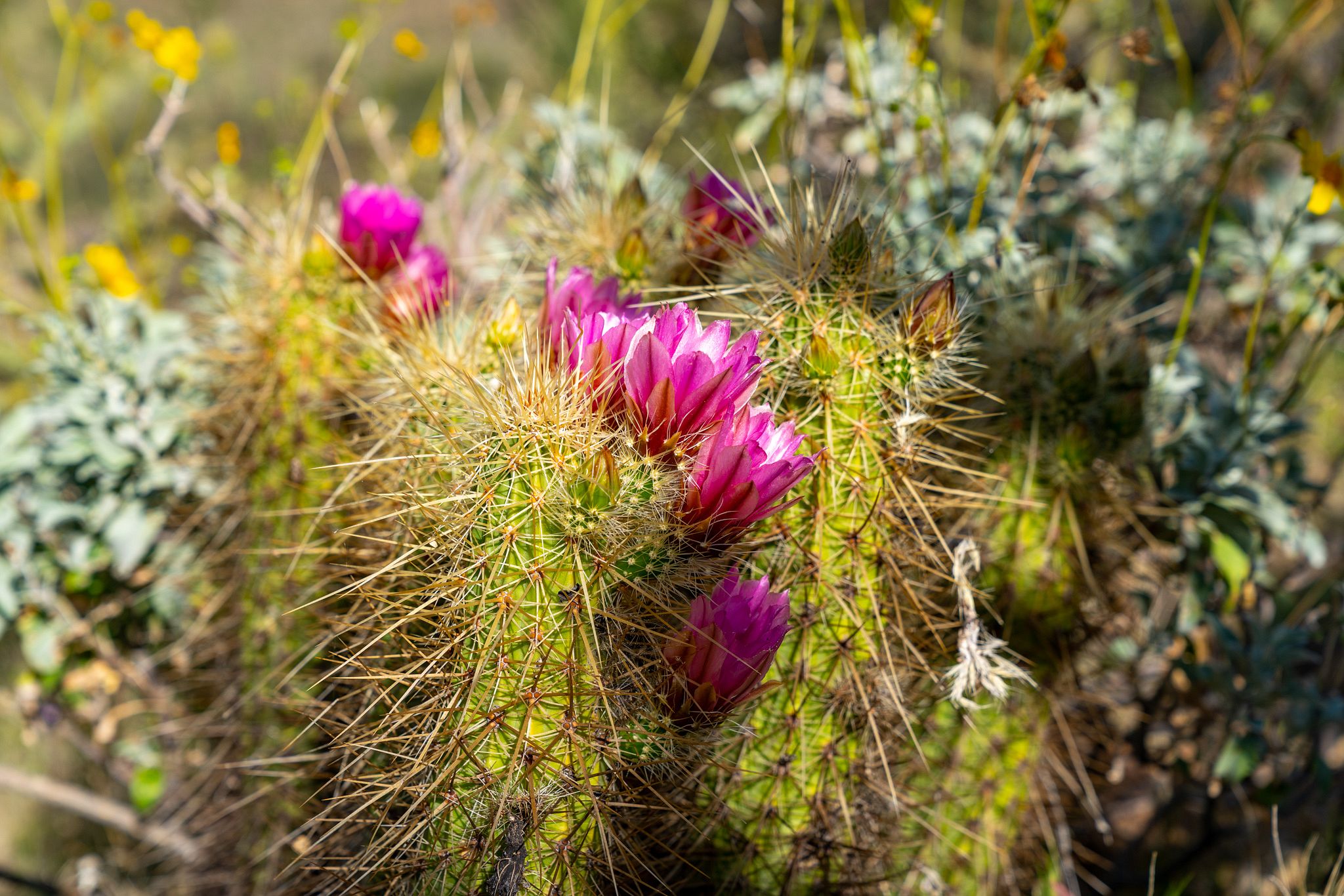 The 21-mile scenic drive and several miles of hiking was enough for us in the afternoon after a travel day, so we headed back to our campground.
Victoria Mine Trail
We set out early on Tuesday morning, both to escape the brutal heat of the midday sun, but also to enjoy the sunrise out on the trail. Taking advantage of our RV being parked in the Monument campground, by 6:15am we were out on the trail to Victoria Mine. This in-and-out trail starts right from the campground, and was a little over 5.1 miles round-trip.
We took our time, listening to the birds welcome the new day as the sunrise crept across the landscape.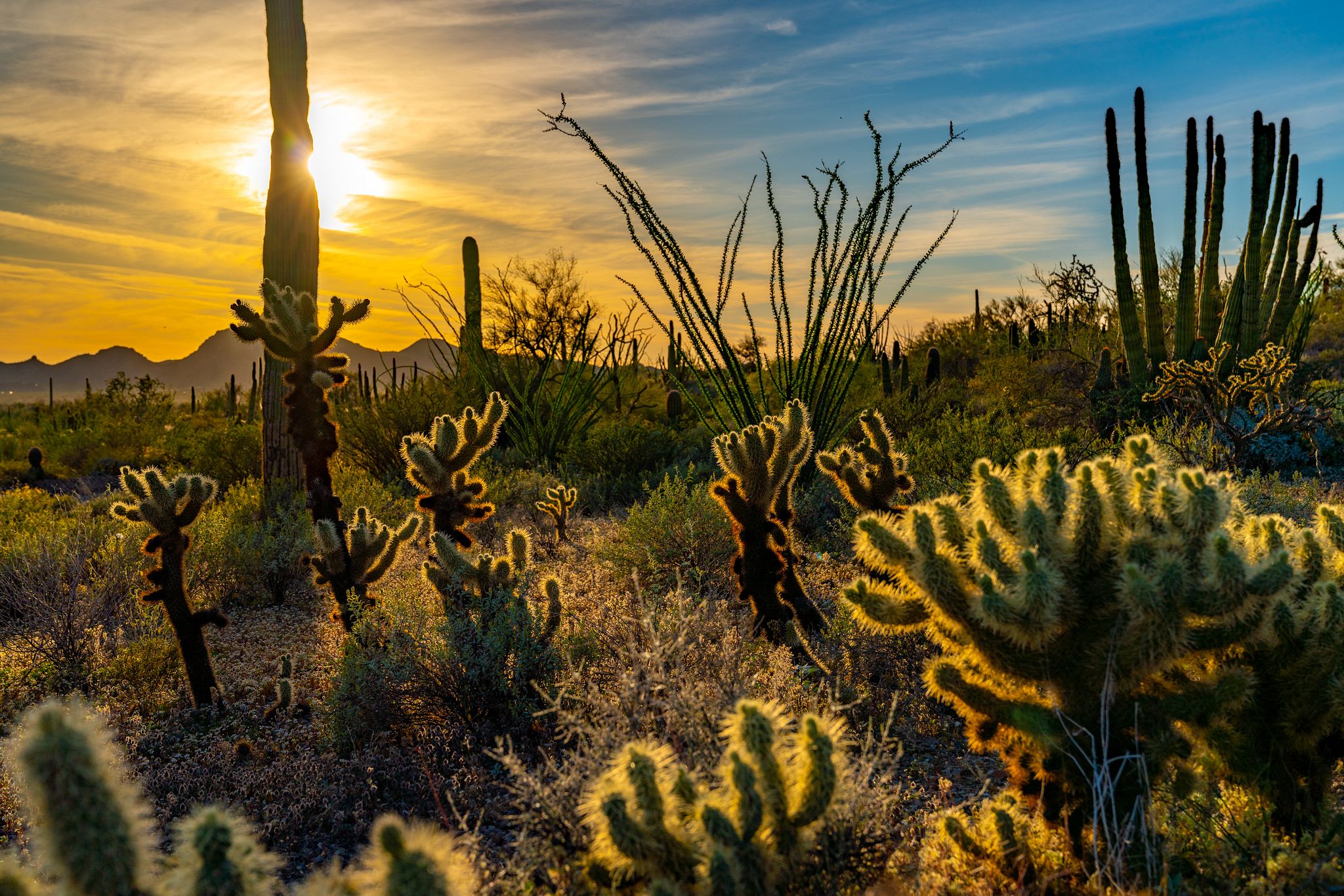 Longer hikes are also possible starting from the same trailhead, but our goal was Victoria Mine. Ruined stone buildings and closed mine-shafts are all that remain of sporadic gold and silver mining in the area, starting in 1880 and eventually ending in 1976. Although the total output from the mine represents a tiny fraction of Arizona's overall output, Victoria Mine was listed on the National Register of Historic Places to reflect its importance as one of the oldest prospecting sites in southwestern Arizona.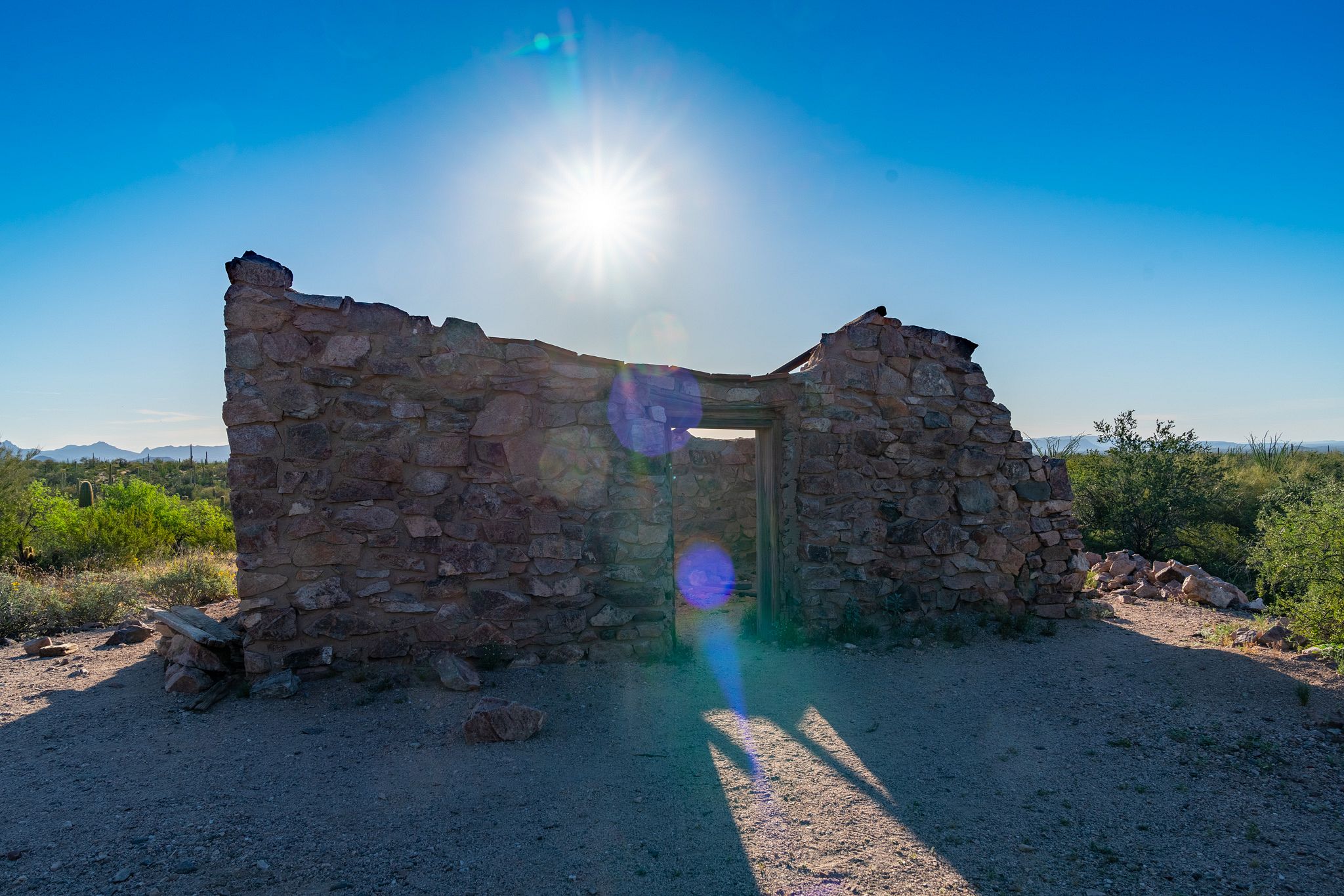 The hike back to the campground was no less stunning in the early daylight, and this is a hike I'd highly recommend. The trail was easy going, and the vast array of cacti - Saguaro, Organ Pipe, Cholla, and more - make this trail a real highlight.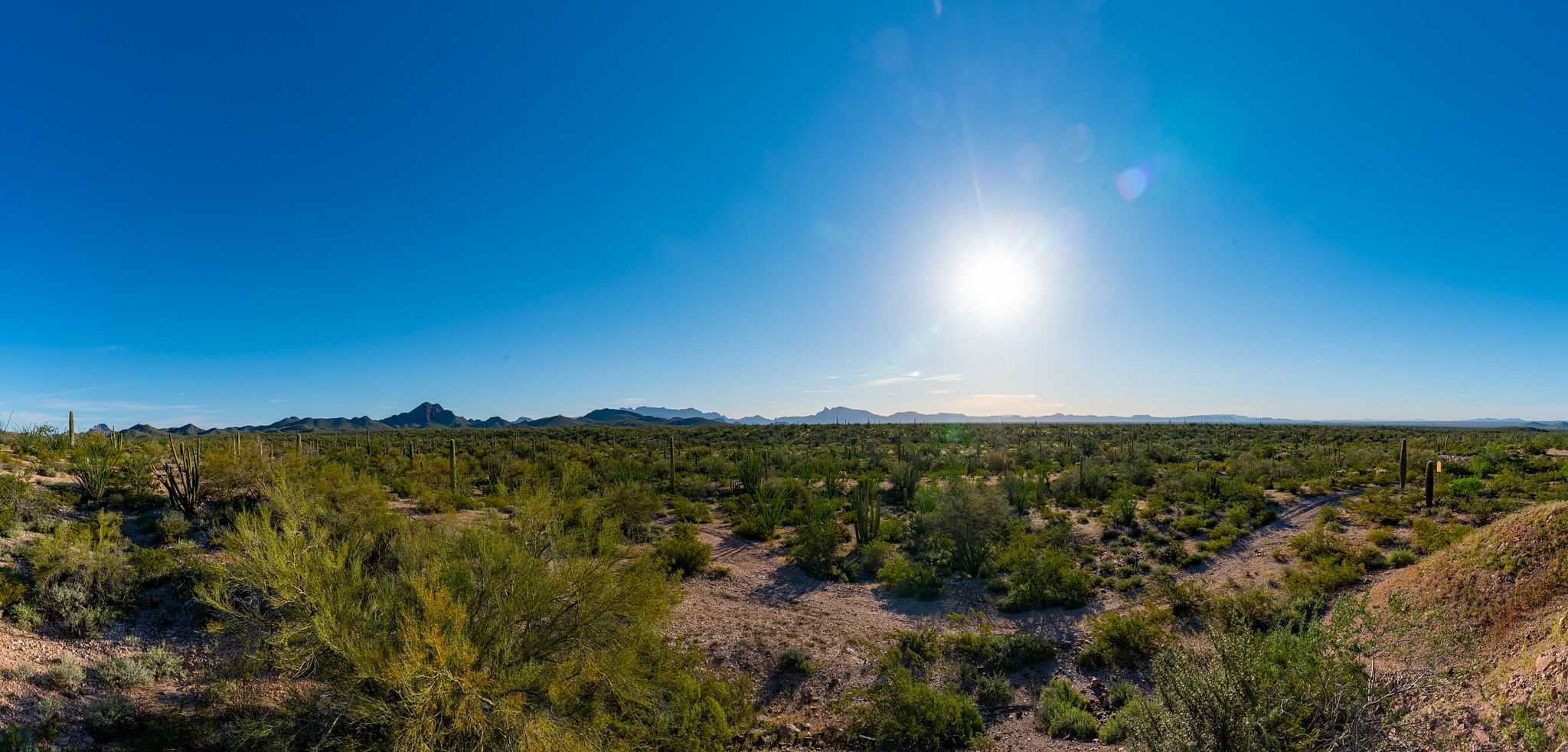 The rest of the day we spent working around the RV, enjoying the scenery and solitude.
Desert View Trail
If there's one thing better than beautiful views to make working in the RV better, it's a sunset stroll. Shortly before sunset, we headed out on the Desert View Trail, a 1.2 mile trail that climbs up the hills overlooking the campground. Information signs along the way provide information about the plants and animals of the Sonoran Desert, and particularly how many of the plants would have been used by ancient people who lived in the area.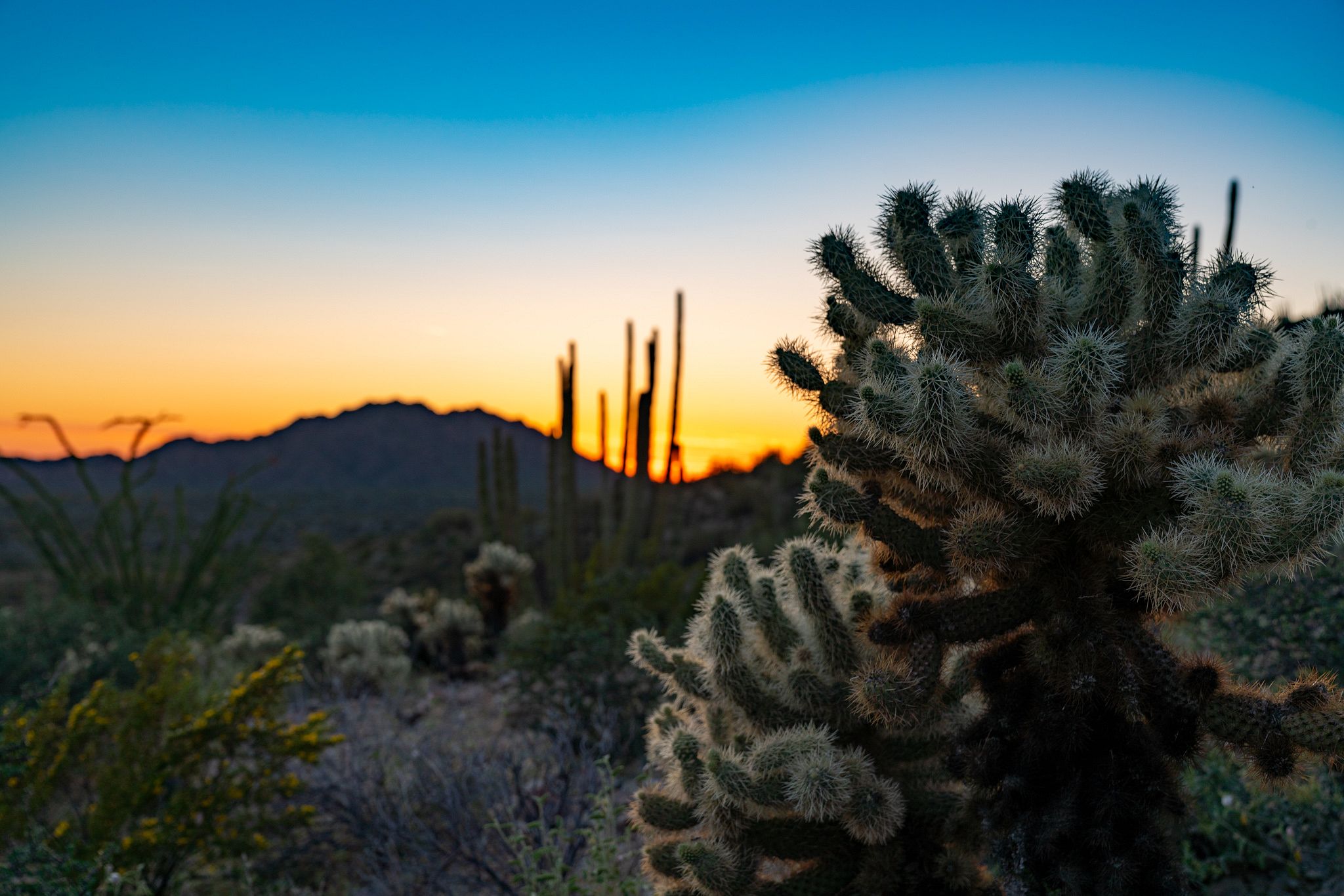 The sunset was, predictably, stunning. A perfect end to the day.
Puerto Blanco Drive
For Wednesday, our third day in Organ Pipe Cactus National Monument, we had big plans. We planned to drive Puerto Blanco Drive - a 37-mile dirt road that loops through some of the most remote and beautiful areas of the Monument.
The National Park Service recommends high clearance vehicles only after Pinkley Peak Picnic Area. To be honest, when we drove it, conditions were fine and I think most vehicles could do it, but I would definitely recommend checking with the Park staff in advance as conditions can change. Once you pass Pinkley Peak Picnic Area, the road is one-way and you're committed - so you don't want to get stuck!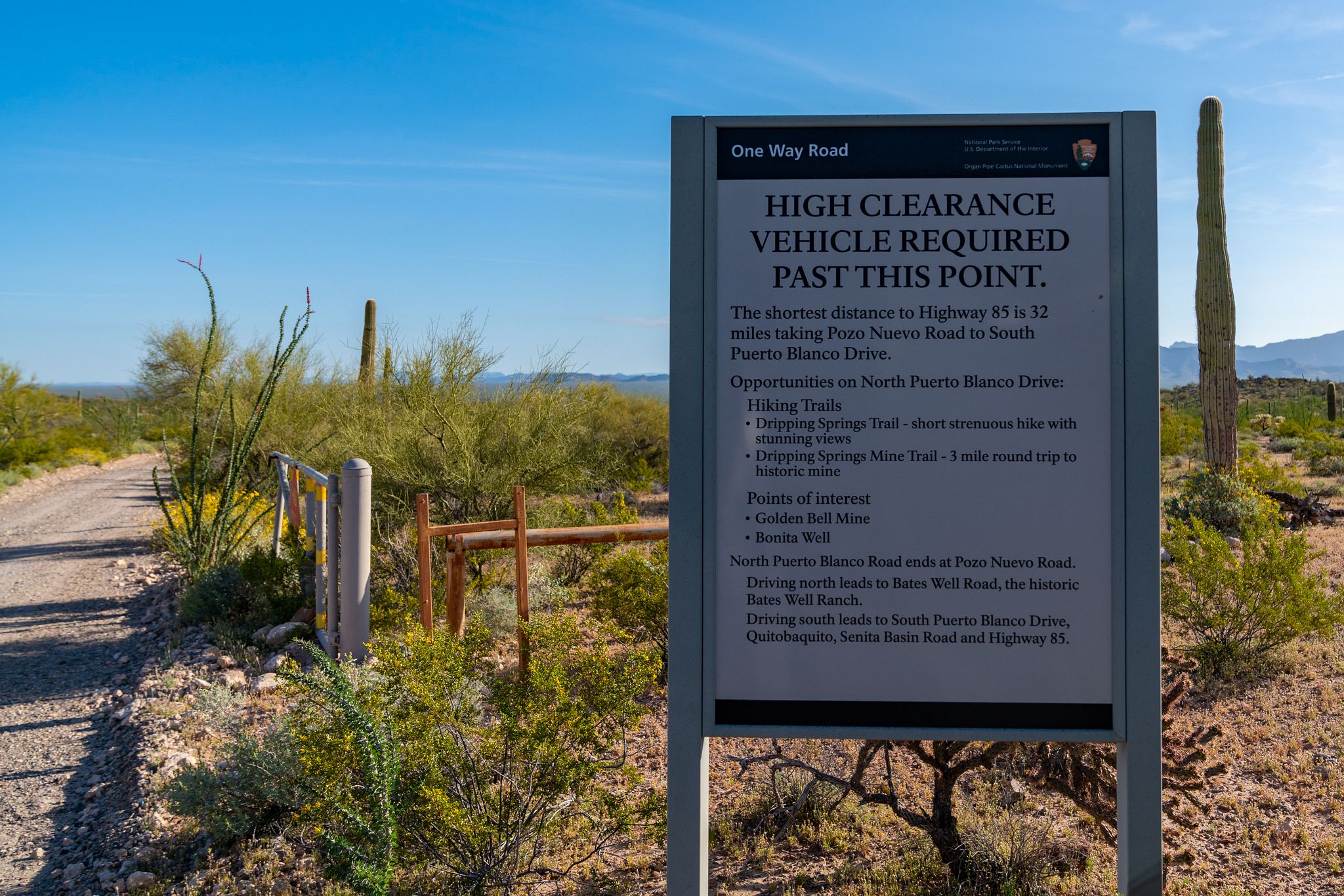 We stopped along the way for two hikes, the first at Dripping Springs. This 1.0-mile round-trip in-and-out hike leads up towards a steep, rocky section that you can scramble up to see the springs. I always think it's amazing to find springs like this in the desert. The area was literally buzzing with activity - all manner of insects and birds were enjoying the life-giving water.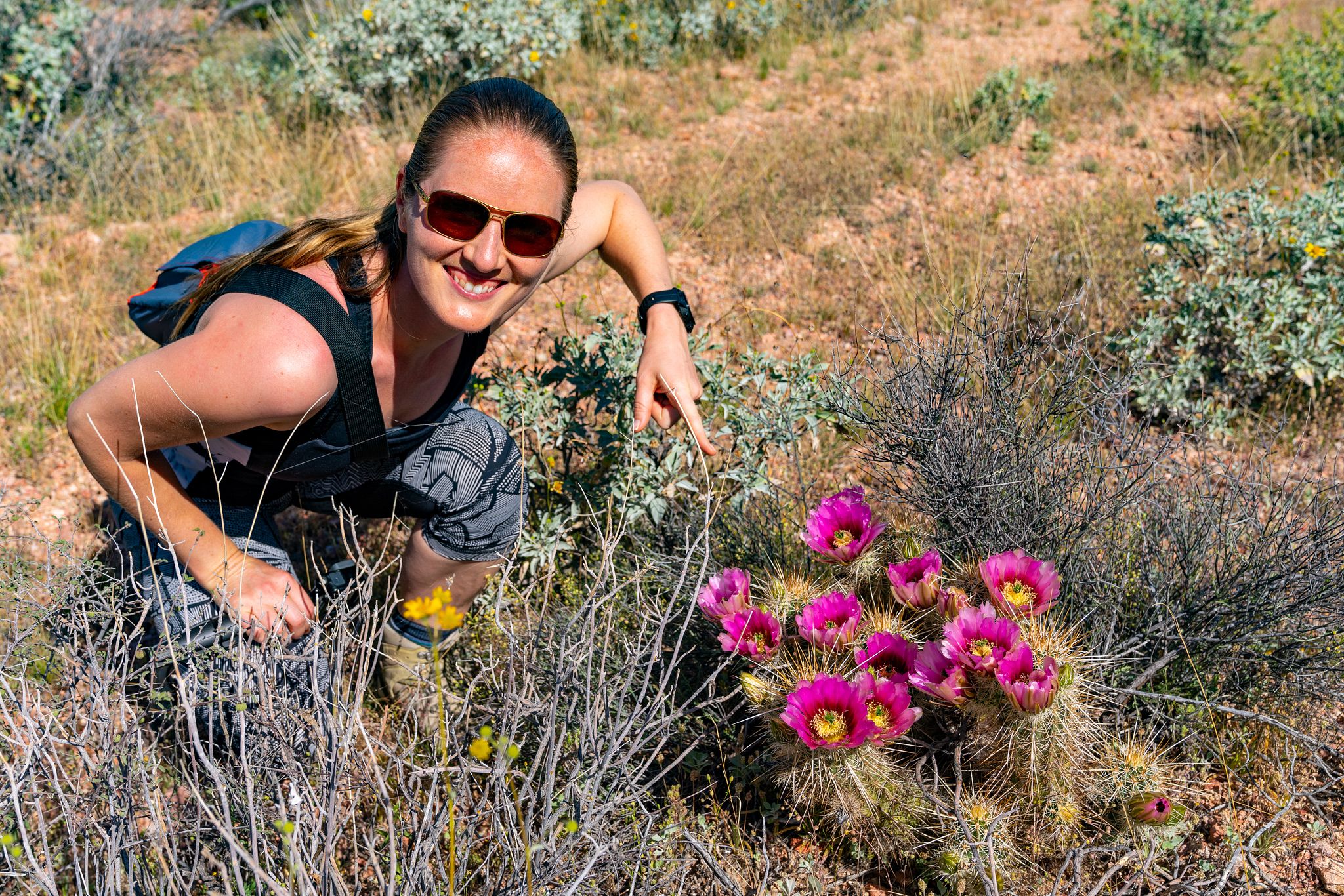 As we hiked back down, we saw a team of three Border Patrol agents walking along the trail too. This is a common sight in the area, since illegal immigration is still a major concern. There are also areas where you'll see potable water containers stacked up, marked by flags - intended to help prevent people dying of dehydration in the arid desert.
The next hike was just a little further up the road, on the back side of the same range we had just climbed to reach the spring. The 1.4-mile hike to Dripping Springs Mine was scenic, but littered with evidence of suspect activity in the area. The mine exhibited a collection of rusty tools and sealed-off mineshafts. We didn't stop for long in the late morning heat, and headed back for the comfort of our air conditioned truck!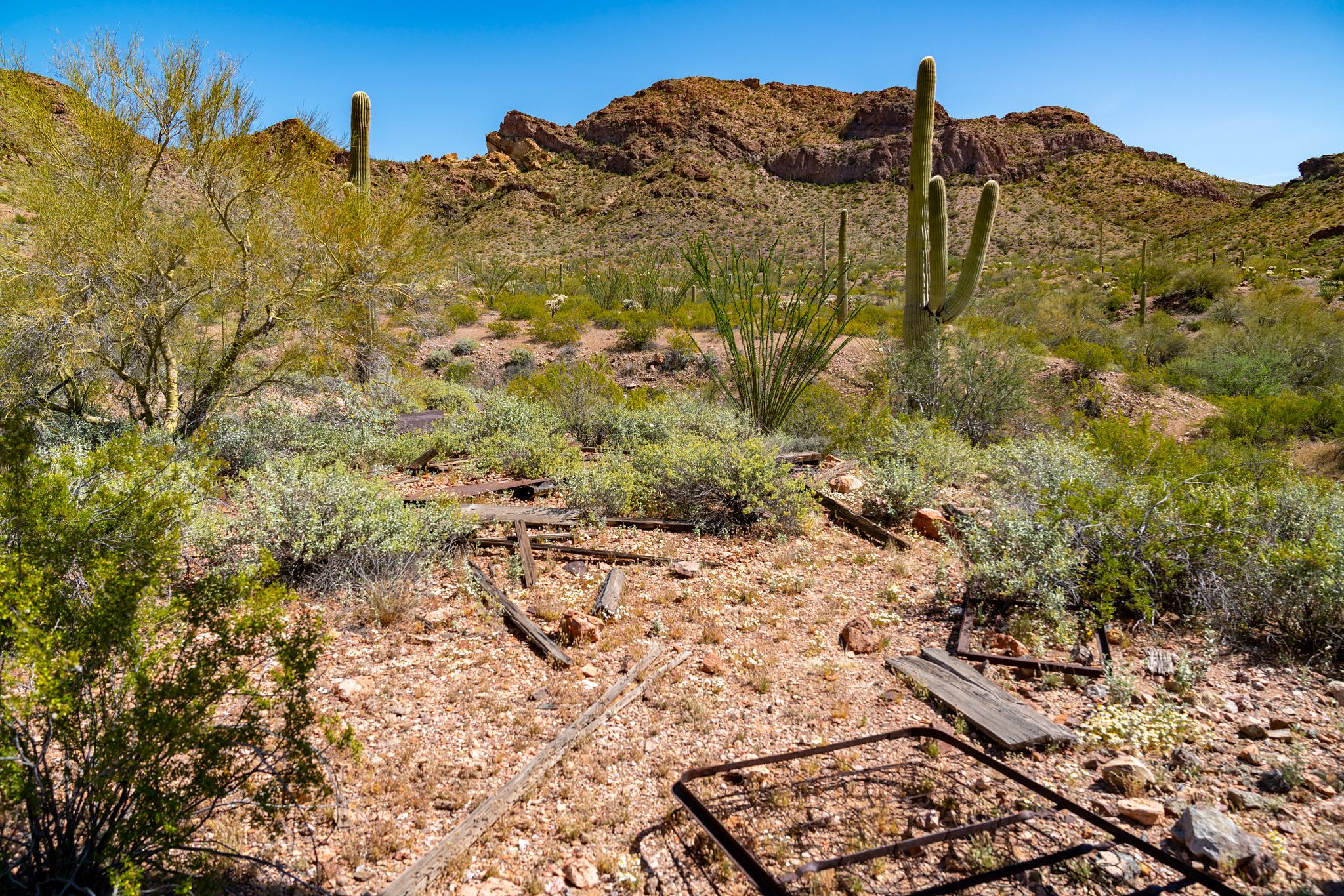 We stopped for lunch at the Golden Bell Picnic Area, and despite the partially shaded tables, we didn't stay outside for long under the blistering midday sun. Our route after lunch continued, and we took a short detour up Pozo Nuevo Road to take some photos of the camp down there.
Quitobaquito Springs
However, the real highlight of the afternoon was Quitobaqiuto Springs. It's not known exactly where the name "Quitobaquito" comes from, but it's believed to be a corruption of both Spanish and O'odham languages. The area would once have been part of a prehistoric trade route known as the Old Salt Trail, which would have run all the way to the salt beds of Sonora, Mexico.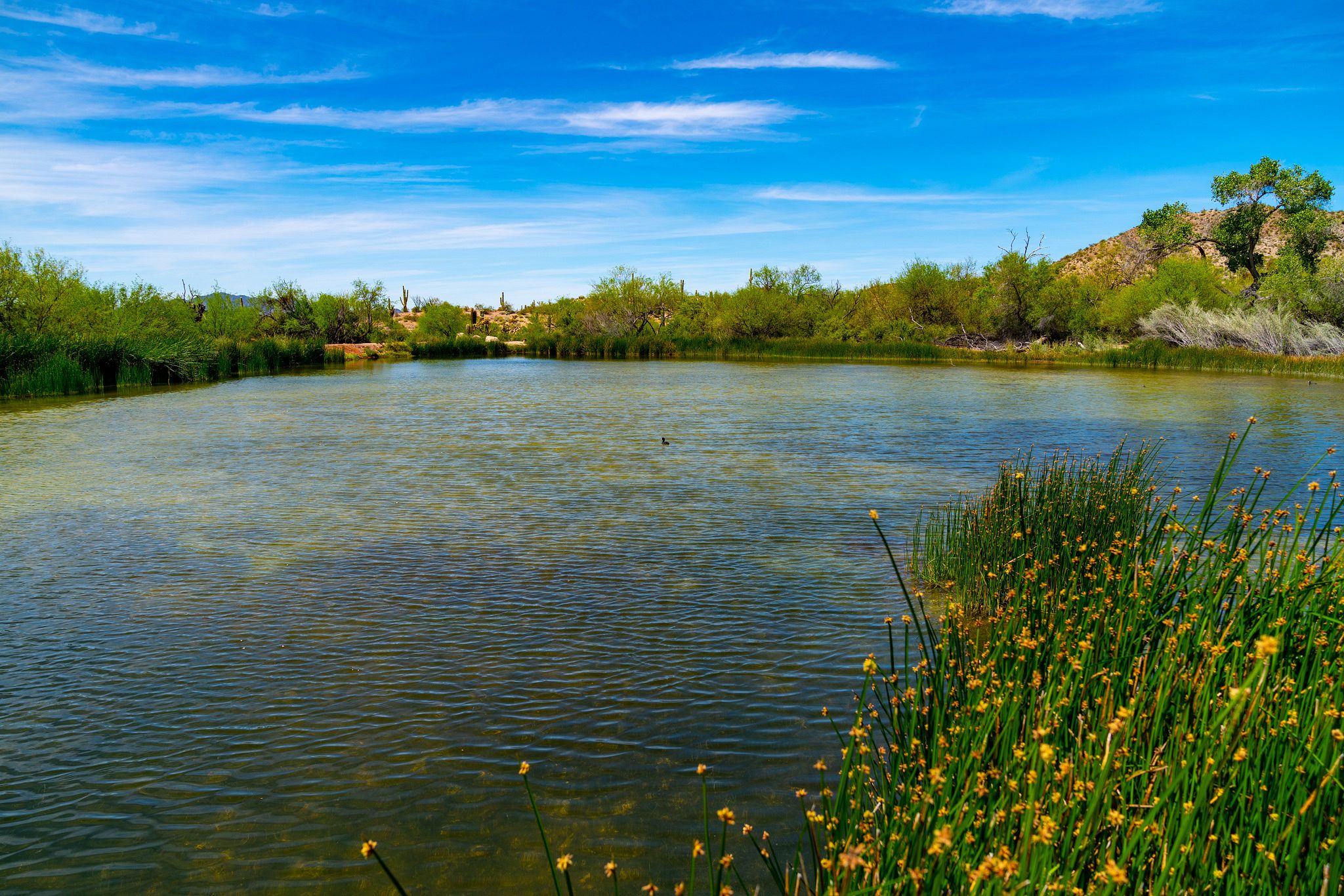 Today, however, it's remarkable for two things. First, the fact that there is an oasis in the middle of the desert. But second, for the wildlife that the oasis supports - wildlife that's not found anywhere else. These include the endangered Quitobaquito pupfish, Quitobaquito spring snail (the size of a grain of black pepper) and the Sonoyta mud turtle which isn't found anywhere else in the US.
Quitobaquito Springs is immediately adjacent to the US-Mexico International border, and you can see Mexico Highway 2 running along just the other side of the border.
Hike for Health
On the way back to the campground, we stopped by the Visitor Center to collect our Hike for Health pins. If you haven't seen this, it's a program being run at certain National Park Units where you can earn a pin for hiking a certain distance - in the case of Organ Pipe Cactus National Monument, it's 5 miles.
We showed them photos of us hiking the different trails and they awarded us our Hike for Health pins. You know us, we can't resist a challenge!
Camping
The southwest of the US is renowned for its amazing RV-friendly camping opportunities, but the area around Organ Pipe Cactus National Monument is truly special.
Darby Well Road
Some of our friends gave us exact coordinates for the spot they had stayed in while at Darby Well Road, so we headed there.
Just wow!
After 5 miles of washboard, we veered right onto a side spur that narrowed as it twisted around the cacti, and opened up, revealing an amazing camping spot. This is one of our favorite ever spots for boondocking.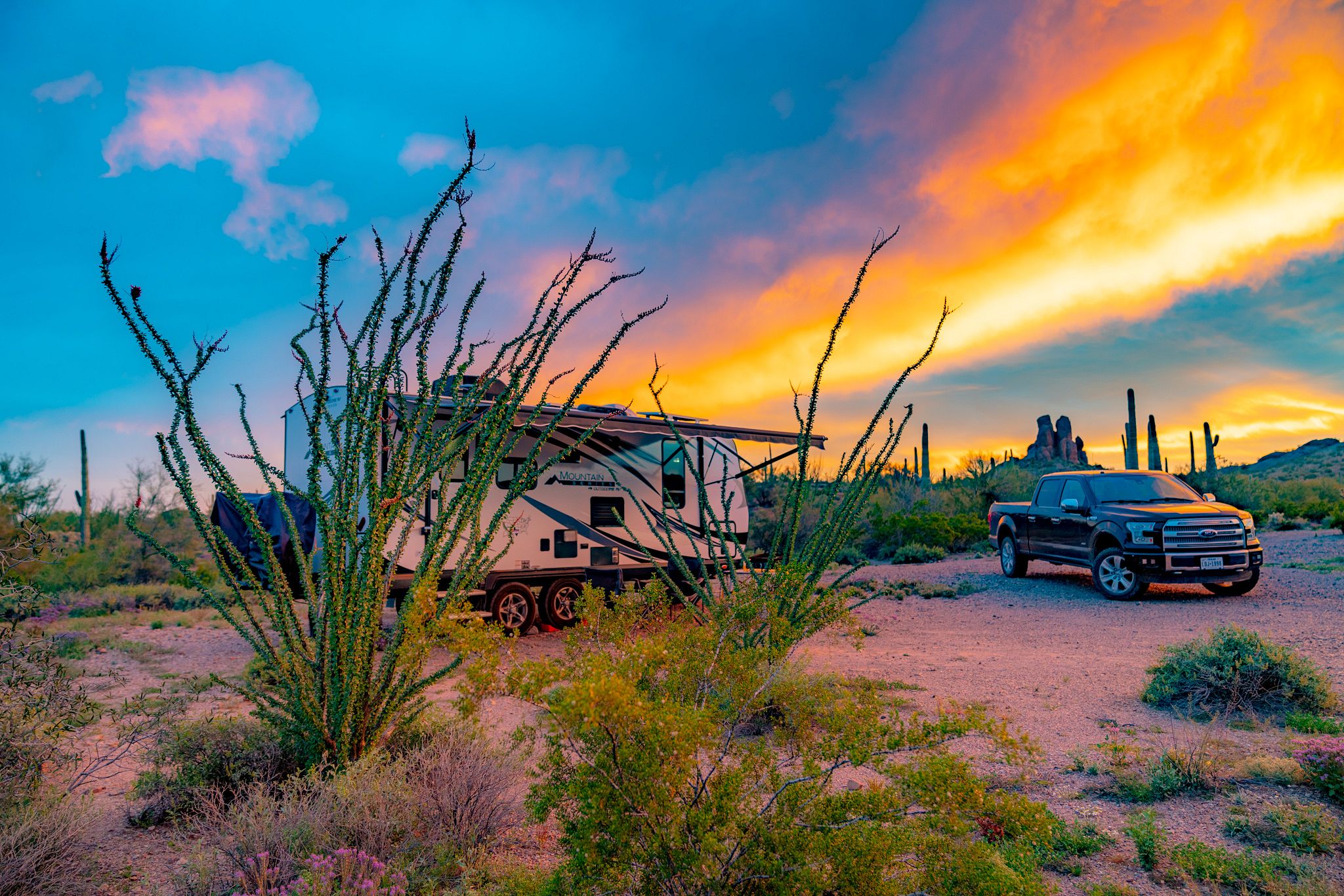 AT&T cell signal was poor (0.26Mbps down, 0.41Mbps up), but Verizon was just about usable with 3.28Mbps down and 1.59Mbps up. Not blazing fast, but fast enough for us to get work done.
There's not a lot in the area (which we love!), but the nearby town of Ajo, AZ has an unexpectedly artisanal central park with a lovely coffee shop and a few stores worth perusing.
We stayed here for 10 nights, enjoying the stunning scenery and tranquility. With barely another rig in sight for miles around, and our door opening to reveal a blooming Ocotillo, what could be better?
Twin Peaks Campground
Well, Twin Peaks Campground within Organ Pipe Cactus National Monument tried to beat it! The campground itself is actually very large, but the campsites are separated by plants such that it doesn't feel crowded.
From April onwards, they don't take reservations, but there were plenty of free sites when we arrived. The sites typically don't have any hookups, and we chose to stay in the "no generators allowed" section. At $20.00 per night, it's not cheap for dry camping, but the views make up for it.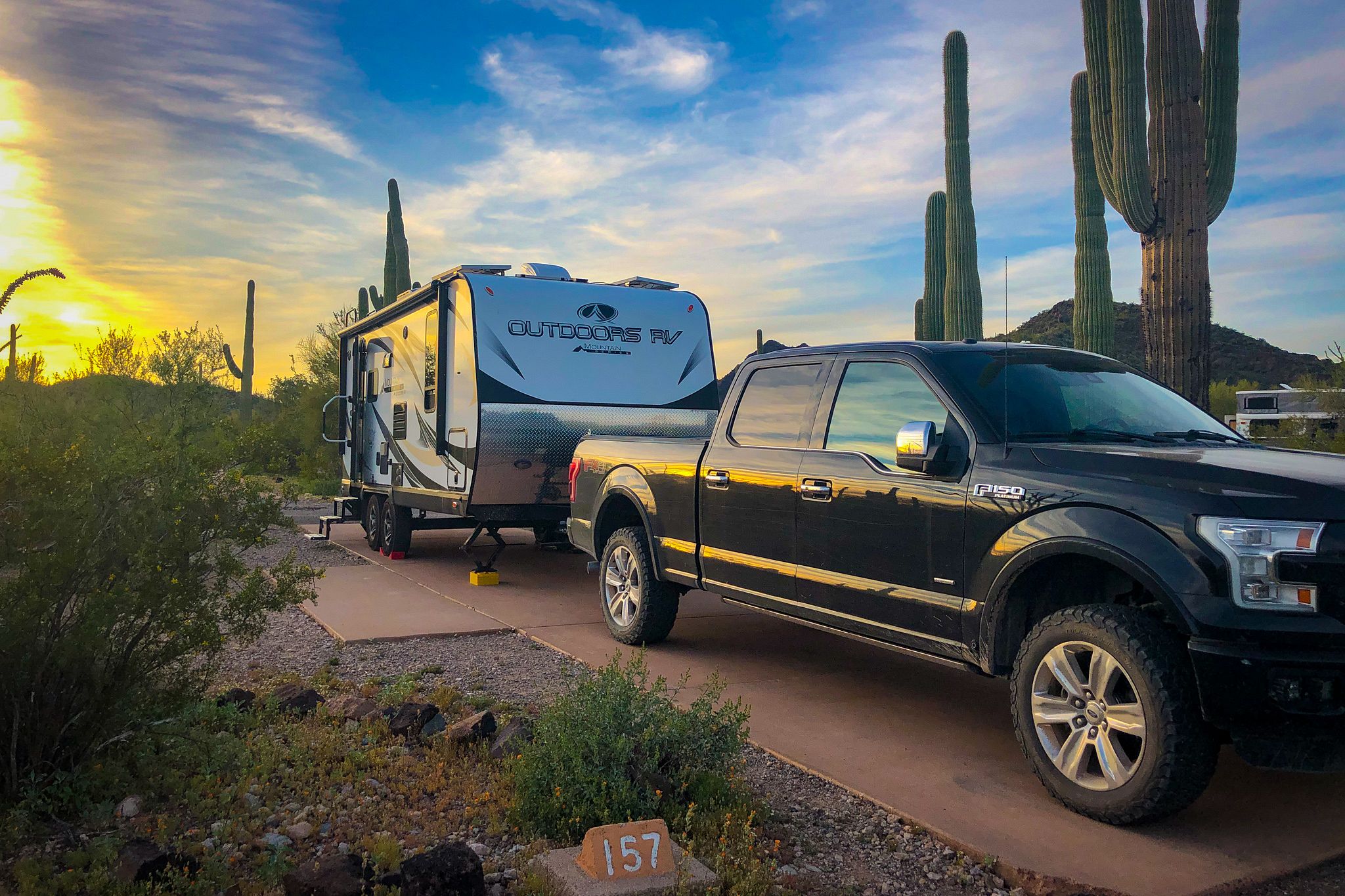 As far as campgrounds go, it's definitely one of the most beautiful! And its location inside the National Monument make it the perfect base from which to explore the area.
Conclusion
It may once have been considered the most dangerous National Park, but on our visit we didn't feel that way. Instead, we were simply in awe of the magnificent cacti, beautiful hiking trails and magical sunrises and sunsets. Take this as notice that Organ Pipe Cactus National Monument is very much back open to visit!
And when you do visit, I highly recommend staying in Twin Peaks Campground. The Monument is a long way from anywhere else, so camping onsite helps you make the most of it. While there, take your time to explore some of the scenic roads and hike the short trails - there's a lot to see!
Organ Pipe Cactus National Monument was our 14th stop on our quest to visit all 419 National Park Units across the US. Next, we'll be heading west to Cabrillo National Monument in California!
Have you been to Organ Pipe Cactus National Monument? Let us know in the comments below what your favorite parts are!