Introduction
Everyone has their own style of traveling. Some people move every day; others stay in one place for months. And when they do move, travel days often vary in length too.
Given we're trying to visit the National Parks, we typically try to find the most economic route between our stops. Normally that means travel days aren't too long - under 200 miles is fairly typical. But occasionally we have to travel further, much further!
We did this when we first moved from California to Texas. And again on our big road trip off from Colorado to Oregon and back again.
Yesterday we were at it again. This time, it was our longest travel day ever - 900 miles in just one day!
During the COVID-19 pandemic, we have been sheltering in place in the Arizona desert - boondocking off-grid in our RV. It's been great - safe, isolated, and honestly quite comfortable. Until this week.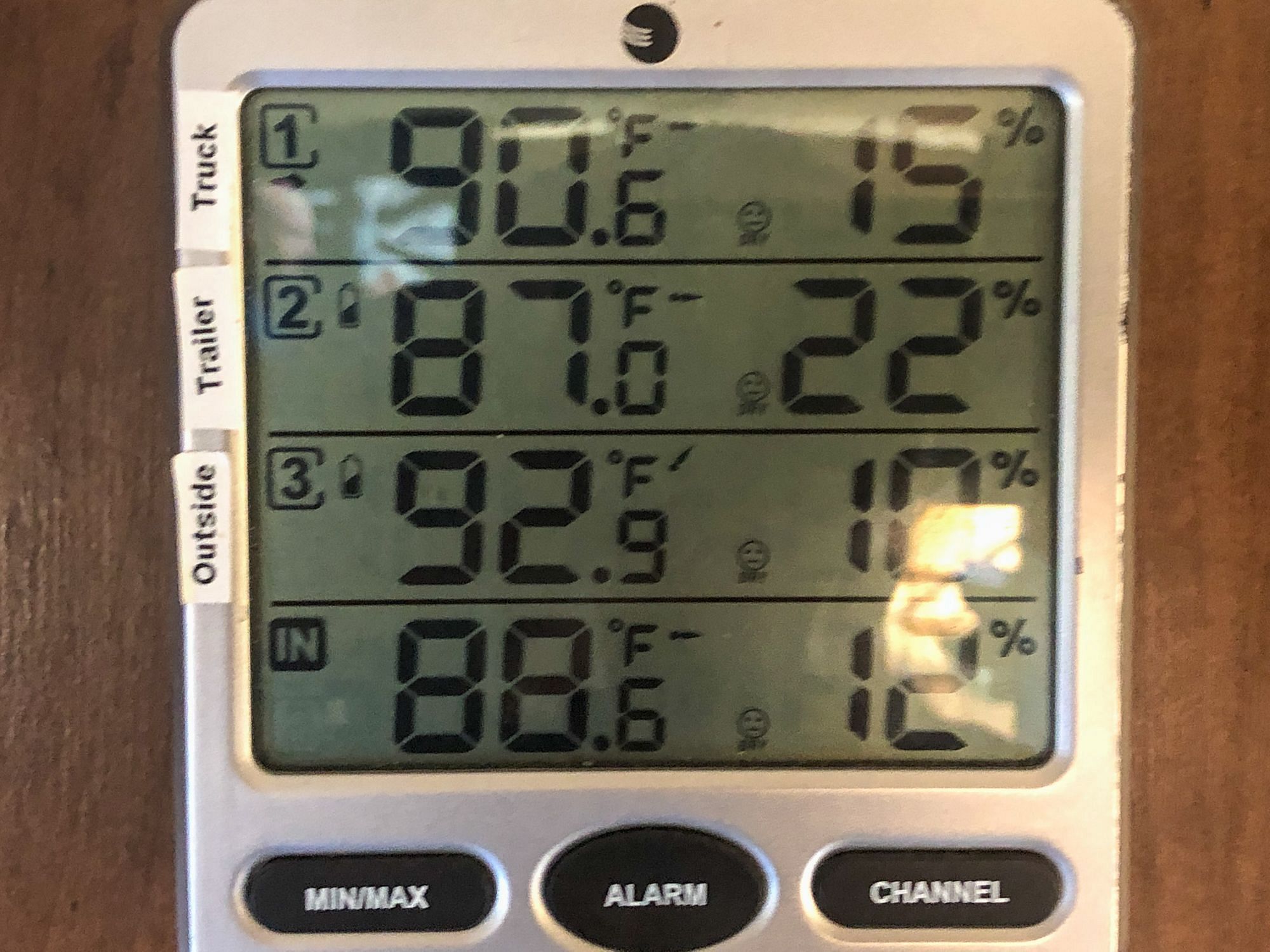 Temperatures were rising, fast. The forecast for this week had temperatures well into the 90s and that trend would only continue into the summer. We looked at our options. We could move into an RV park in Arizona - certainly possible, but the idea of spending months trapped in our RV hiding from the 110°F outside highs in summer didn't appeal.
Fortunately, a friend had invited us to join her on private land in Boise, ID. We could safely stay there for months or more if needed. We'd have access to utilities, an address to have deliveries sent to, and wouldn't be quite so alone if something went wrong.
It was a great option. There was just one problem - Boise, ID is 900 miles away from Quartzsite, AZ! Normally we would have broken the journey up into two days or more - stopping along the way at rest areas, dispersed camping spots or maybe even an RV park. But given travel restrictions and shelter-in-place orders, we felt the best option for us was to try and make it there in a day.
I want to be clear though, I'm sure we could have stopped along the way if we had to. Had something gone wrong or we had needed to stop, I'm sure we could have found somewhere. But our preference was to make the drive in one go.
Preparation
To many people, 900 miles sounds like an insane distance to drive in a day. It's like driving from tip-to-tip in the UK (Land's End to John O'Groats), and then a bit more. It's like driving from London, England to Milan, Italy. It's like driving from Key West, FL to Pensacola, FL - wow, Florida is big!
It's a long way.
Whenever we have a long driving day, we take time to prepare first. Here's how we prepared for this trip.
Route
It might sound obvious, but plan the route! Since our RV is small, we can usually use Google Maps to plan without having to worry about narrow roads, weight-restricted bridges or the like. Still, we planned the route out carefully and then went through it to see what might trip us up. We found a few things.
Google Maps wanted to route us through California. The problem is that to get into California you have to go through an agricultural inspection station, and we had several items in our RV that would have caused issues - particularly avocados and citrus fruit. Maybe we'd have made it through, but to avoid issues we detoured around, adding about an extra 30 miles.
The detour took us across the Hoover Dam. Can we cross the Hoover Dam with the RV? We weren't familiar with the area, but on closer inspection we learned that the main highway bypasses the dam now, and there are no restrictions - clear!
We would be driving through some very remote areas of Nevada - where would we stop for gas? We used Gas Buddy and Google Maps to plan out where we expected to stop for gas fill-ups, and found a few backups just in case places were closed or we needed to fill earlier than planned.
Lastly, how long would it take and when would we leave? We estimated that the total travel time was around 14 hours - a little longer once we factor in some stops for fuel, both for us and the truck! We decided to leave early - we'd try to hit the road at 4am. That should let us arrive just before sunset, before we start getting too tired.
Trailer
As any RVer knows, before moving you have to pack things away securely - unless you'd like your pantry ingredients to involuntarily coalesce on the floor!
Since we wanted to make an early start, we packed up as much as we could in the trailer the night before. We even went so far as to hook up the truck and trailer too - this was only possible because the ground was relatively level. That would let us wake up and hit the road as quickly as possible, and not worry about missing something in our hook-up procedure in the dark when we'd just woken up.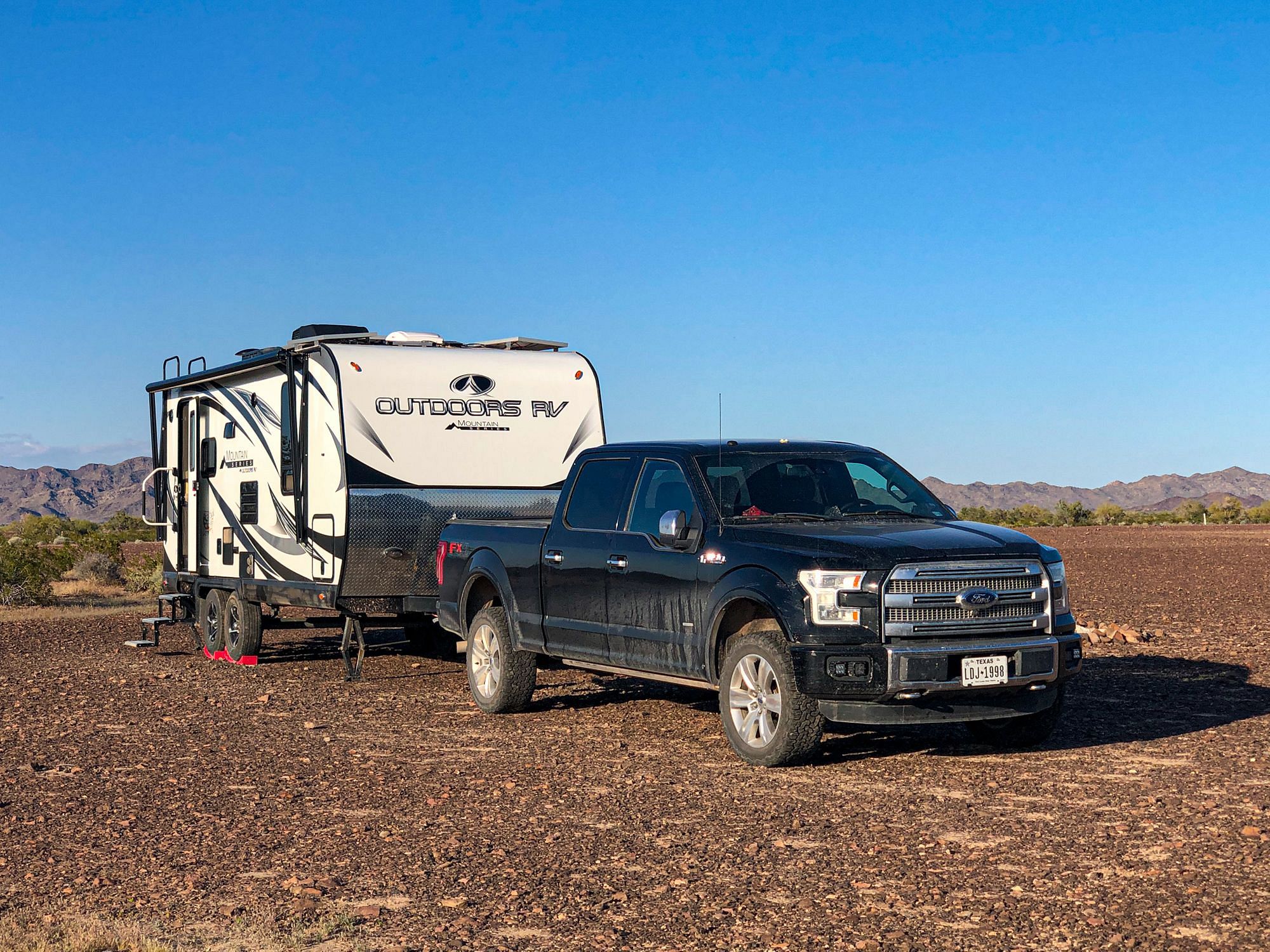 I had checked and corrected the tire pressures on the truck and trailer just a few days before anyway, so I was happy the tires were all good. Our TPMS would quickly alert us in the morning if there were an issue.
Truck
We were going to be spending a long time in the truck, so I wanted it to be comfortable. For the past month or so, while we had been staying in one location for a couple weeks at a time, we had been using the truck as overflow storage. I moved all that stuff back into the trailer to keep the truck as clean and tidy as possible.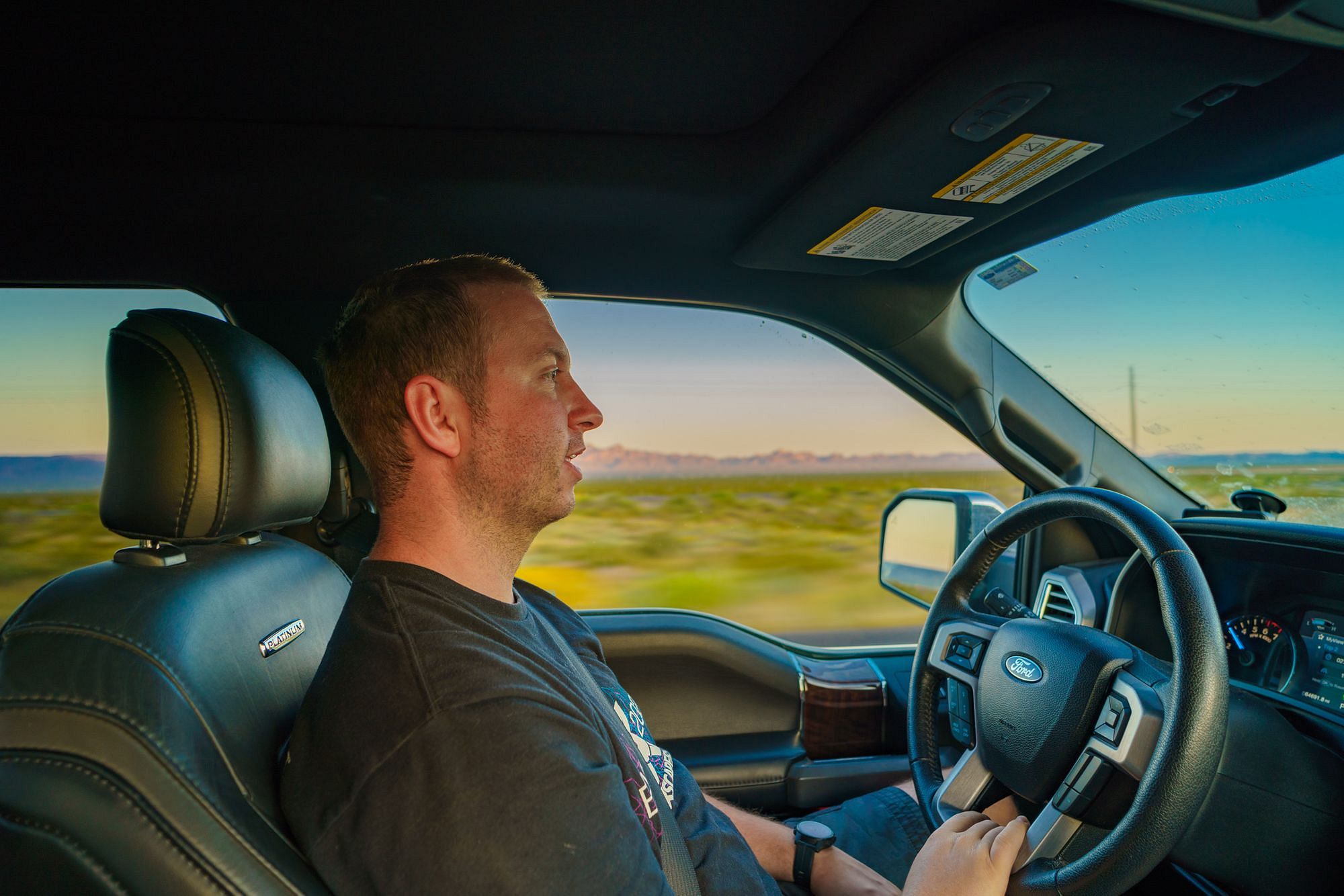 I also wanted to make sure we had everything on hand in the truck that we might need. That meant charging cables, disposable gloves (for gas stations), hand sanitizer, sunglasses, etc. Anything we might need for the long drive. We also had both our laptops and Kindles in the truck with us for the drive.
I enjoy driving but Diana is happy to drive too if necessary. As it happened, I did all the driving but Diana was ready to step in had I needed her to.
Normally for long drives we make sure we have warm clothes on hand. But since we were towing our entire house (and hence all of our clothes) behind the truck, we just brought one extra layer each in the truck.
Food
It's easy for long driving days to be fueled by chips, snacks and other not-so-nutritious foodstuffs. We didn't want to undo the hard work we've put in lately to eat healthily.
The day before, we prepared several "meals" that we could eat during the journey. Each one was something we like eating and would take minimal preparation.
Diana baked a loaf of Adventure Bread (a nut and seed based bread) to have with some avocado for breakfast and I made some egg-bites (like you have in Starbucks, in theory) for a mid-morning snack. For lunch, we made a portion of potato salad and put it in the fridge, and we made some hummus to accompany cheese and ham in some tortillas if we wanted an afternoon meal.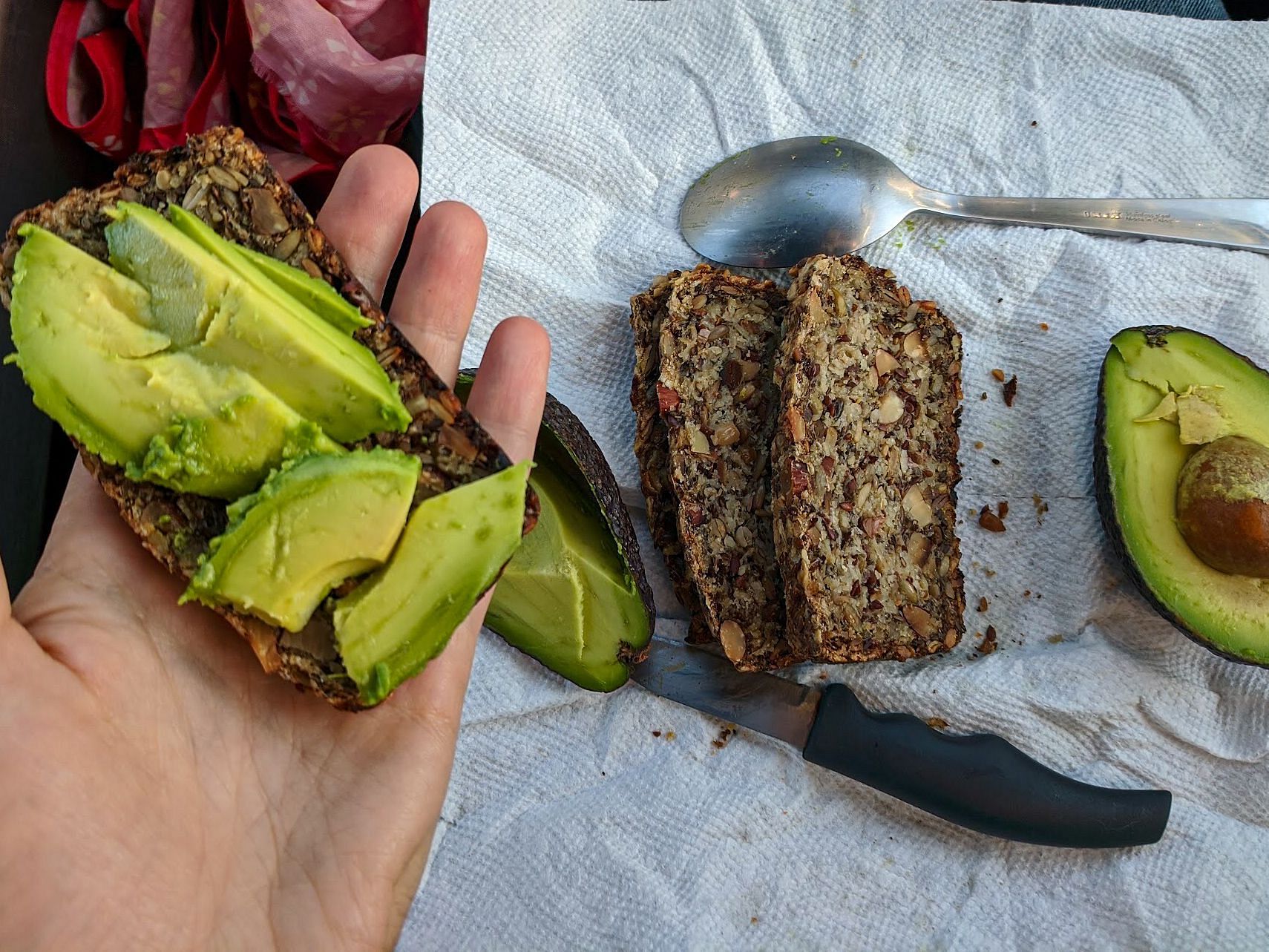 Along with the "meals", we had several quick snack options in the car - granola bars, protein bars, fruit and mixed nuts.
While all this is more food than we'd realistically need to eat for a day of sitting in a car, having meals planned out gives us something to look forward to. It also breaks up the journey - you know that, for example, the next leg is the one with potato salad!
Journey
As planned, our alarm went off at 3:45am and thanks to the preparations the previous day, checking off the last few things on our list took next to no time in the morning.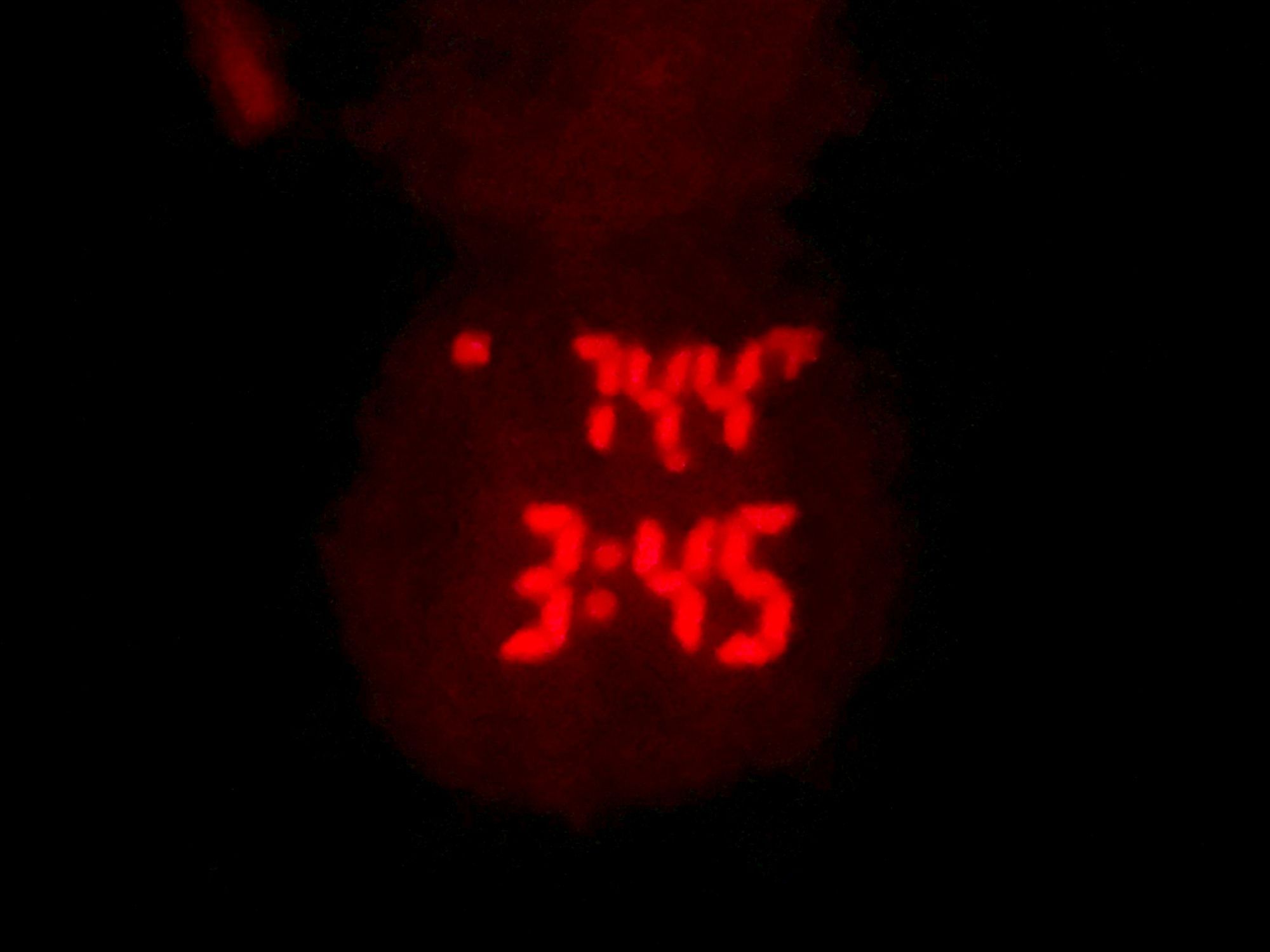 I had even left our rear-facing off-road lights turned on in the truck so that they would turn on and illuminate the trailer when I remote-started the truck.
By 4:01am we were on the road.
The first leg of our journey took us along rural highways in Arizona, and it was pitch black. There was very little traffic on the road, so we settled in.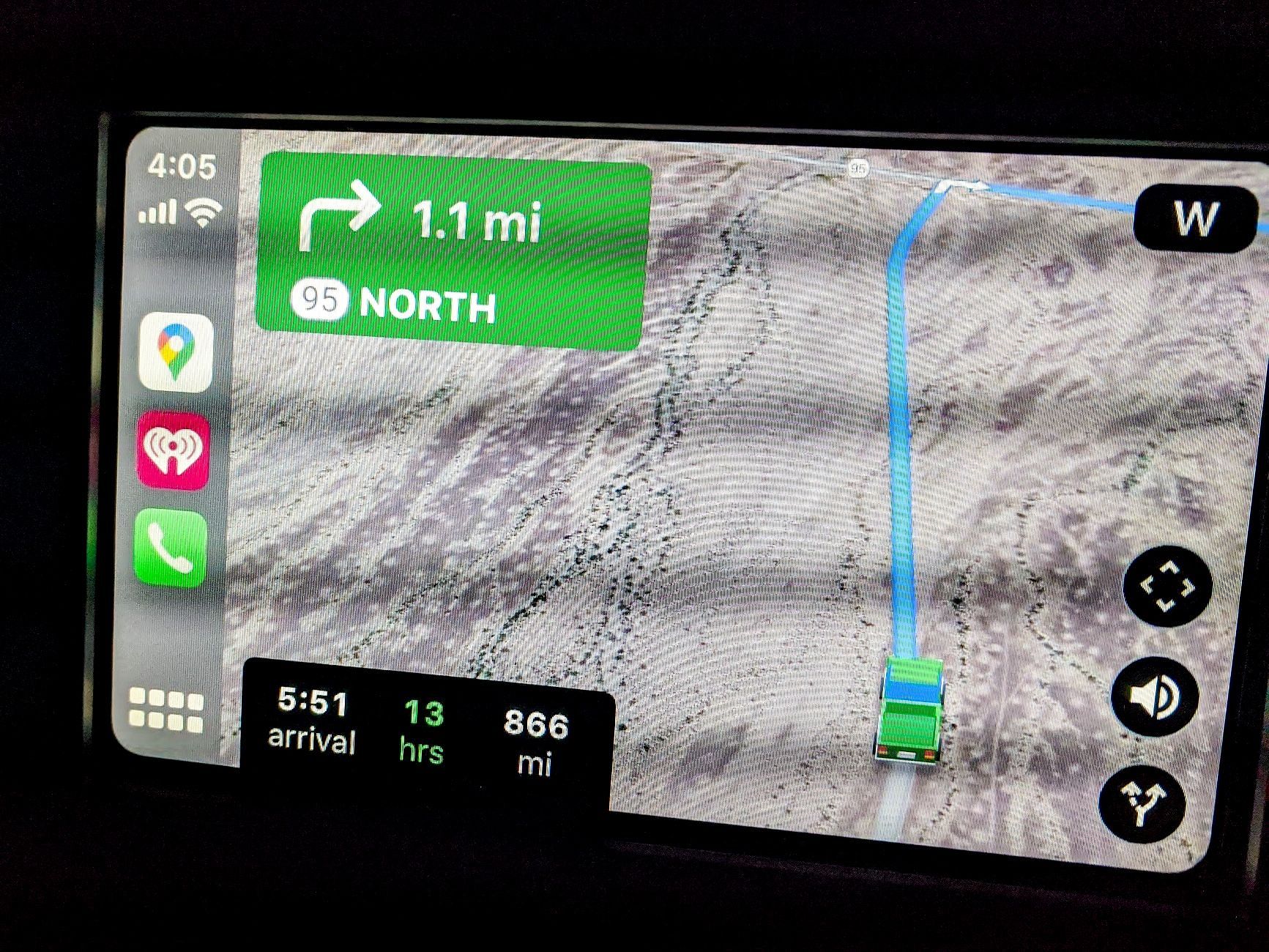 We had decided to drive as much as possible on the top half of our tank. This means we would plan to avoid letting the gas tank drop below half-full. For some long stretches this was unavoidable (the fuel economy on our truck drops significantly when towing at the speed limit), but we didn't want to risk running out of gas and being stranded.
Every couple of hours or so, we'd stop for gas. It was a chance to refuel the truck, refill drinks and stretch our legs.
And honestly, the time flew by! We were driving through some beautiful areas, and the weather was fairly cooperative - we eventually hit some rain and crosswinds on the final stretch from Twin Falls up to Boise, ID.
We finally arrived 15.5 hours after we set off, just before sunset, as planned. We had driven 899 miles in about 14 hours and 45 minutes of actual driving time - about 45 minutes of rest stops and refuelings.
Our fuel economy was low, but we knew to expect that - it's always low when towing thanks to the twin turbos. That being said, the truck and trailer both did great. The truck happily pulled us up some long steep interstate climbs at 70mph and not once did the trailer step out of line behind us despite some strong crosswinds.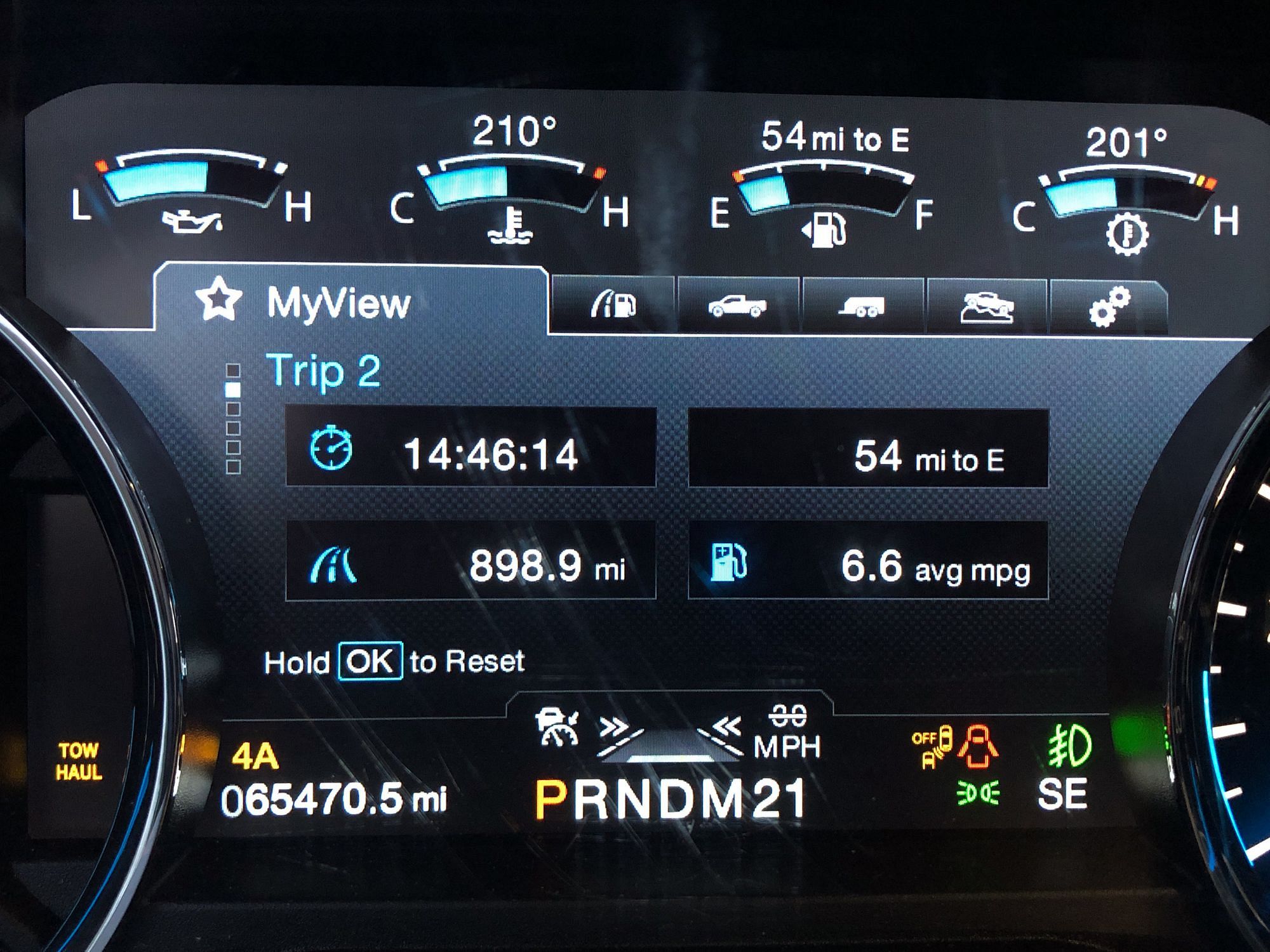 After being stuck in the car for hours on end, we felt surprisingly OK! We hadn't needed to swap drivers, and I still felt comfortable, awake and alert. We parked the trailer and for the first time in almost 4 months, connected the sewer hookup - we still haven't plugged in our water and electrical connections, but we will do soon.
Conclusion
While I doubt we're going to make a habit of 900 mile driving days, this experience proved that we can do it comfortably and safely - it's all in the preparation!
Let us know in the comments below how you prepare for a long travel day - what are your top tips?