As an Amazon Associate we earn from qualifying purchases.
RV Remodeling Supplies
For the past few weeks, we've been working on our plan to remodel our RV - painting walls, switching out hardware and building a brand new ergonomic workspace.
Last week, Idaho moved to Stage 2 of its reopening plan, and we felt comfortable heading out to start shopping for the supplies we'll need. Although the big box stores (Home Depot & Lowes) are the best place for us to get a lot the things we need, we're trying to support local businesses too.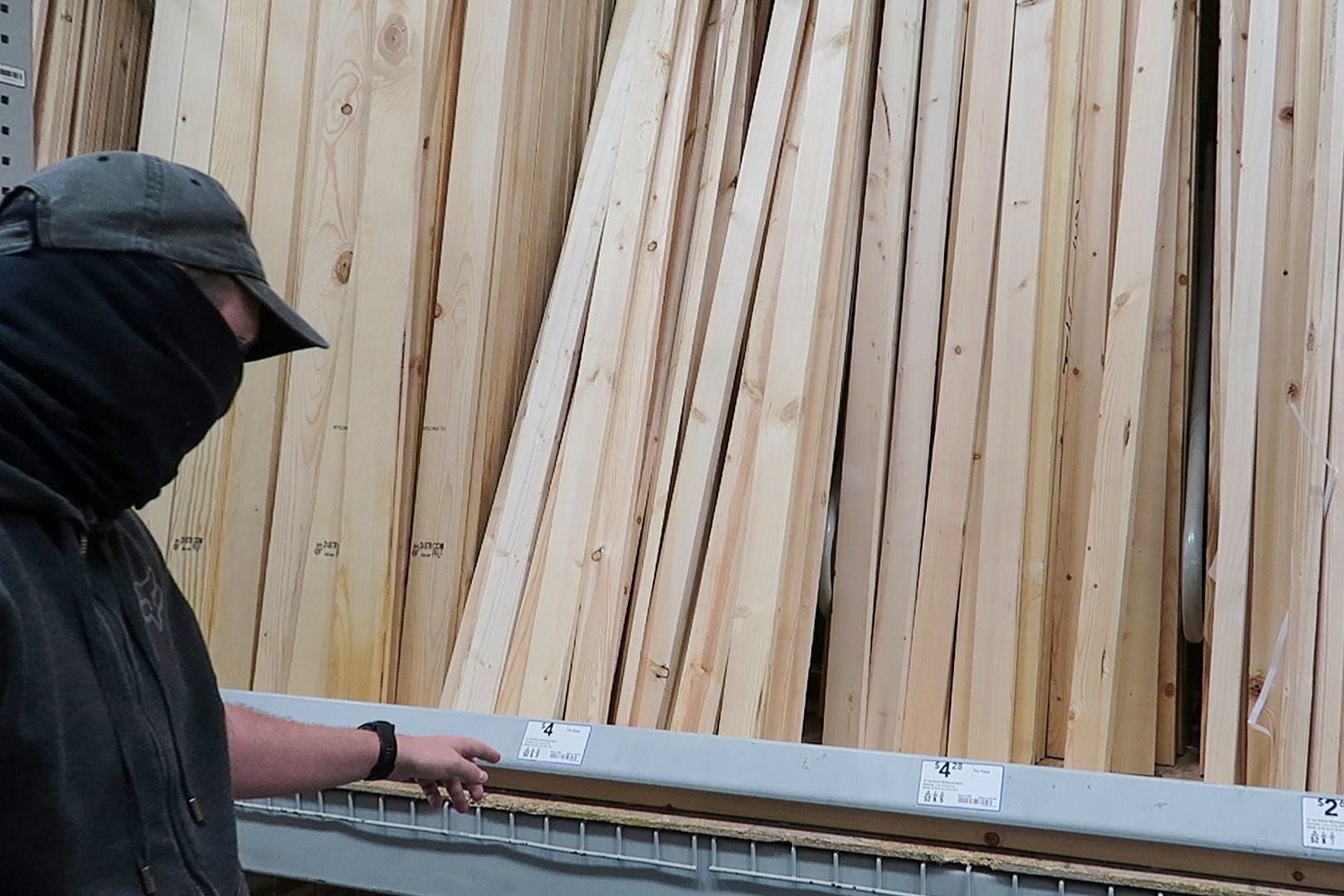 So in Boise we stopped in at Don Aslett's Cleaning Center to get their advice on the best way to clean the small piece of carpet in our slide - we've decided to keep it for now rather than replace it. They were fantastic - we've got some precleaner that we'll apply the day before, and then we'll rent a commercial-grade carpet cleaning machine from them to really get the small 8x4ft patch of carpet scrubbed clean.
We've been going back and forth on what to make the desktop surface from - either laminated sheet material or stained and clear-coated plywood. To help us make the decision, we visited Intermountain Wood Products in Boise, ID. We took in one of our existing cabinet doors and they can supply plywood made from a similar material which should make it easier for us to match the stain.
We're leaning towards a plywood desktop, and they also sell a super-durable, non-toxic, food-grade urethane clear coat that we can use to protect it. They looked after us very well!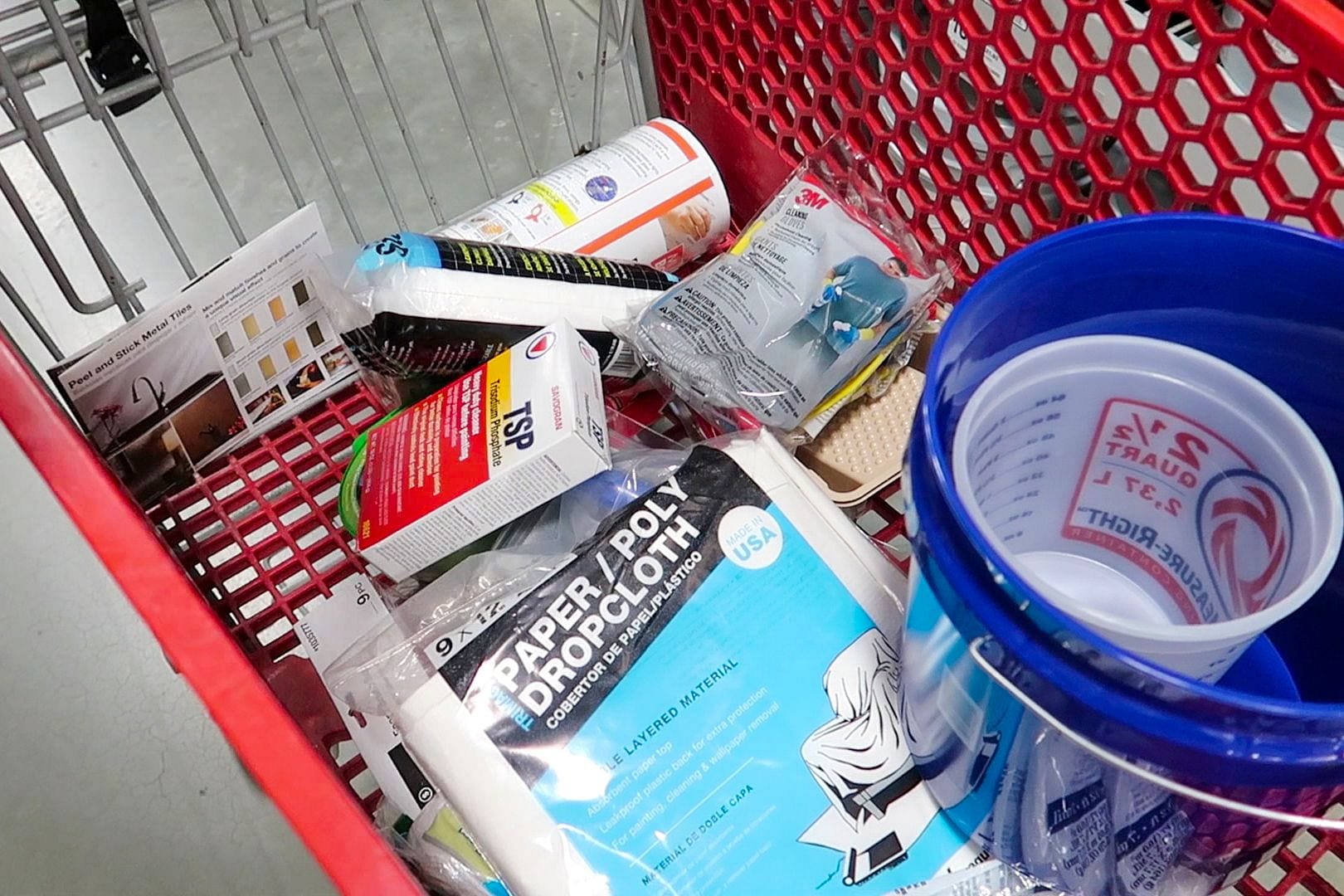 One of the biggest decisions we need to make is the choice of paint color. Based on our friend Cortni's advice, after thoroughly cleaning the walls we'll be laying down two coats of PPG Gripper primer followed by two coats of Behr Paint & Primer In One. But what color?
Cortni's advice is not to go with pure white, since we won't be painting the ceilings and they're currently an off white which will just look yellow and dirty next to pure white walls.
Which brings us to the game I like to call "50 Shades of Off-White". We picked up 38 different sample cards of colors that closely resembled our ceilings - we took in a ceiling duct cover for comparison. We've whittled it down to three - which do you think is closest?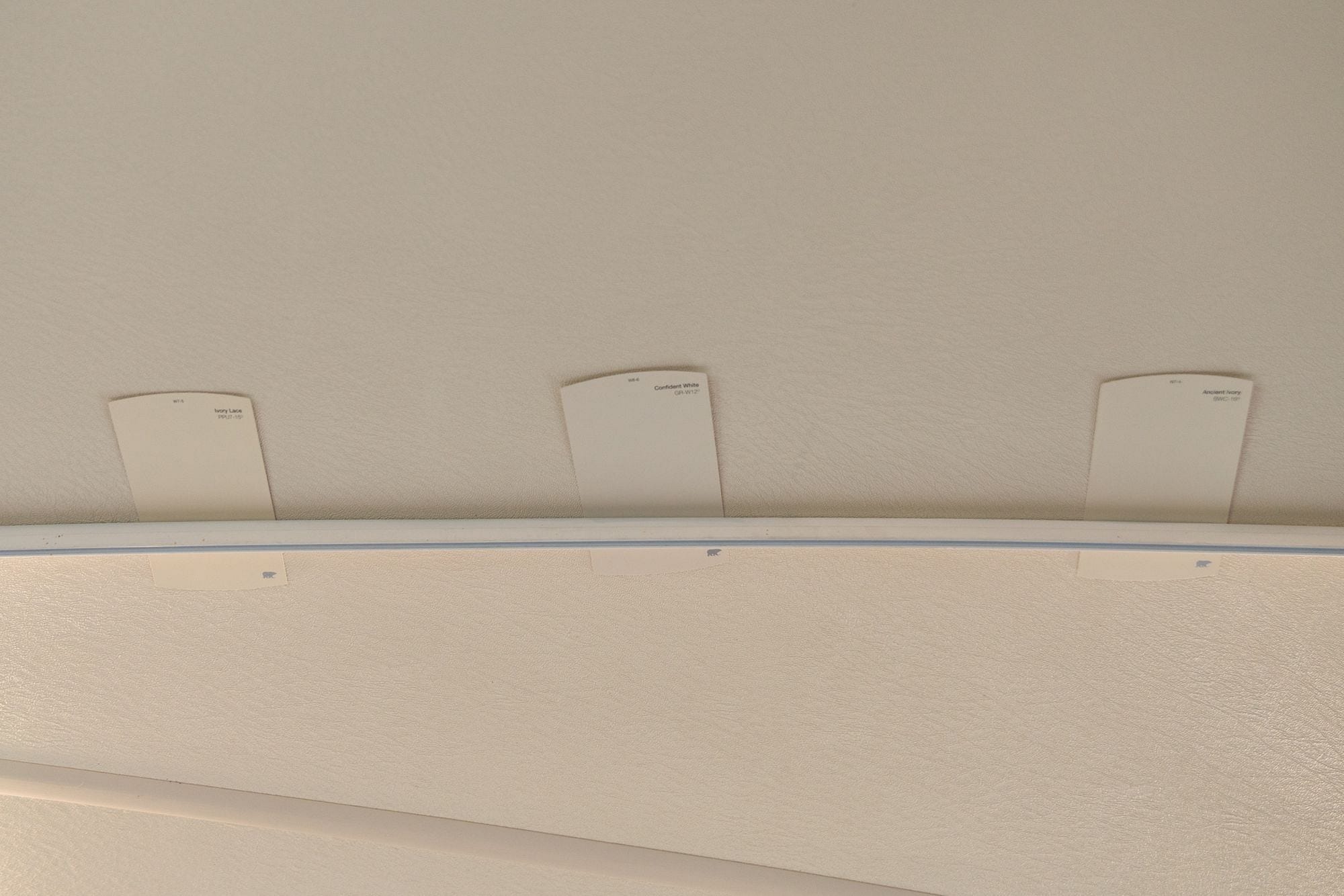 We've also picked up some wood stain that we're going to use to try and match the new cabinets and desk that we make to the existing cabinets in the RV.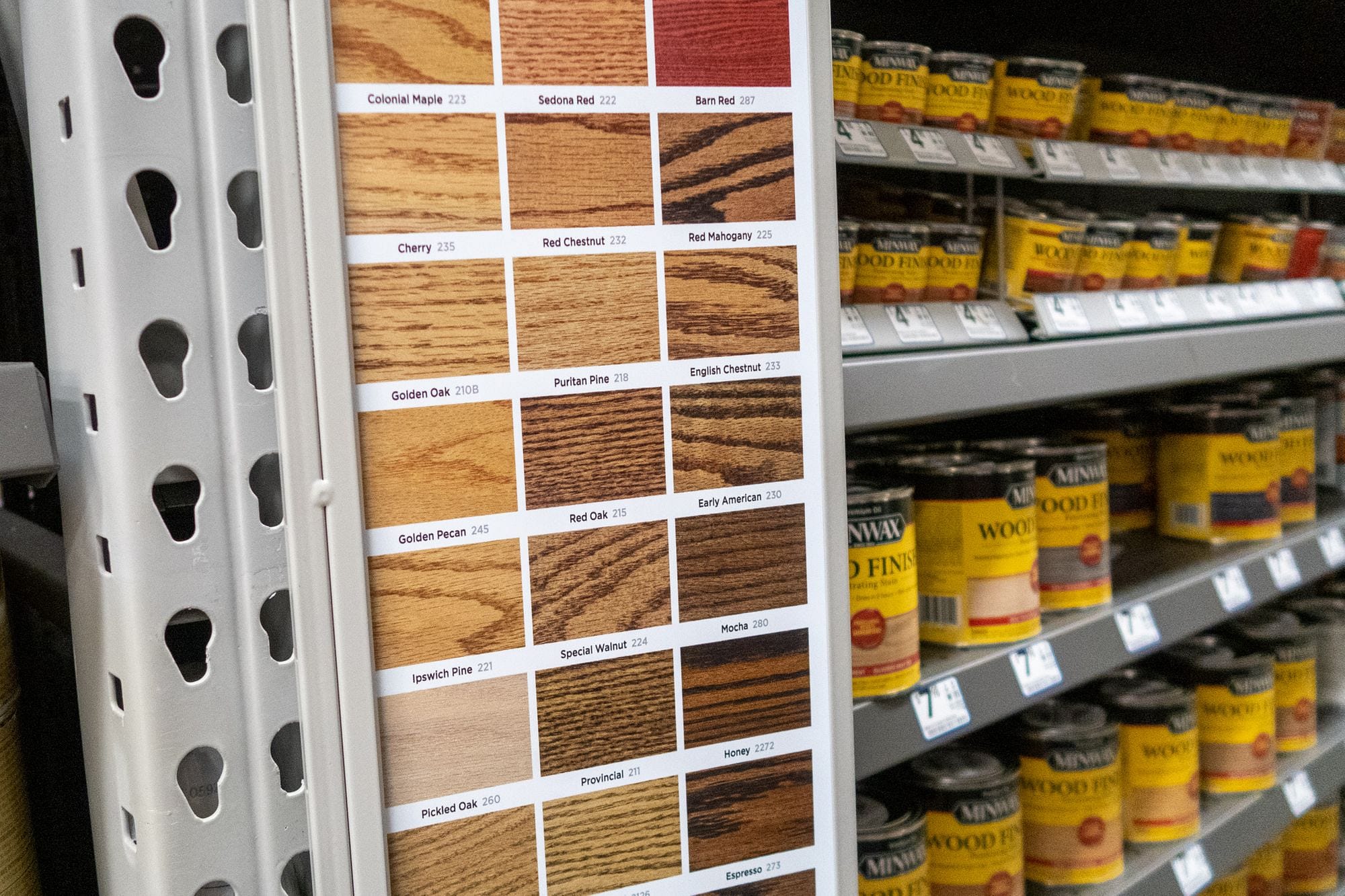 It's starting to come together though, and once we've got all the materials we need, we're looking forward to getting started!
End of our AeroGarden
This week we finally decided that our herbs were past their prime and in need of replacement. Our AeroGarden Harvest Elite has been great - it lasted 293 days (over 9 months) and until fairly recently was producing a plentiful bounty.
We really enjoyed having the AeroGarden in our RV - having fresh herbs on demand for cooking was great! Last time we had a mixed seed pod kit which gave us two types of basil, thyme, dill, mint and parsley.
We've ordered our new seed pods which should be here any day - on their way from Mexico, MO apparently. But instead of a generic kit, this time we created a custom one. We use a lot of basil and dill in our cooking, and the others far less so - plus the parsley always struggled a little bit in the shadow of the others.
So we're going to be planting 3 basil and 3 dill plants. I foresee lots of homemade pesto and potato salad in our future!
Dehydrating Bell Peppers
If you've not seen it yet, be sure to check out our comprehensive unboxing and real-world test of our new Instant Pot Air Fryer Lid for our 6qt Instant Pot. We've been using it almost daily for the past 2 weeks, trying to put it through its paces and test it out.
Honestly, we're impressed! It's not going to be the right fit for everyone - it only fits the 6qt Instant Pot so if you need to cook for more than two people, you'll probably want something larger. But for us, it's perfect!
This week we also stopped in at Costco, and picked up a big bag of six huge bell peppers. We get through so many bell peppers in egg or tofu scrambles, chili, pasta and more. We tend to keep a bag (or two) of diced bell peppers in the fridge or freezer.
But I've been really wanting to try my hand at dehydrating bell peppers, and our new Instant Pot Air Fryer Lid has that feature! After my success at creating homemade garlic powder from fresh garlic I dehydrated myself (full details in the review), I was looking forward to seeing how the bell peppers would turn out.
We decided three bell peppers and put them in the fridge as normal. The other three we diced and put on dehydrator trays in the Instant Pot, then used the Air Fryer Lid to dry them out.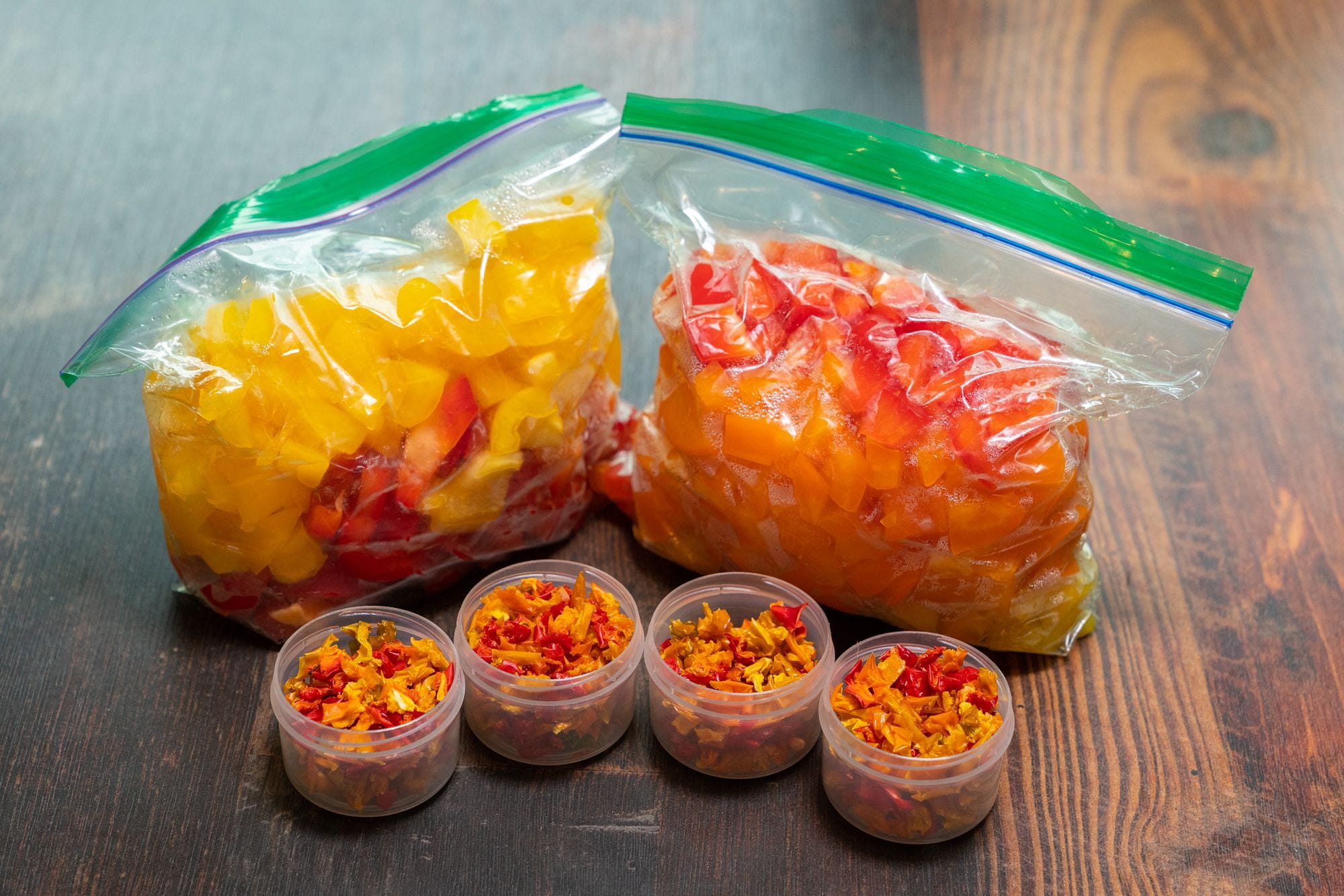 I weighed everything before and after, as well as several times during. After 14 hours of drying, they had lost 92% of their original weight and didn't seem to be getting any drier. Considering that bell peppers are roughly 93% water, I think that's pretty good!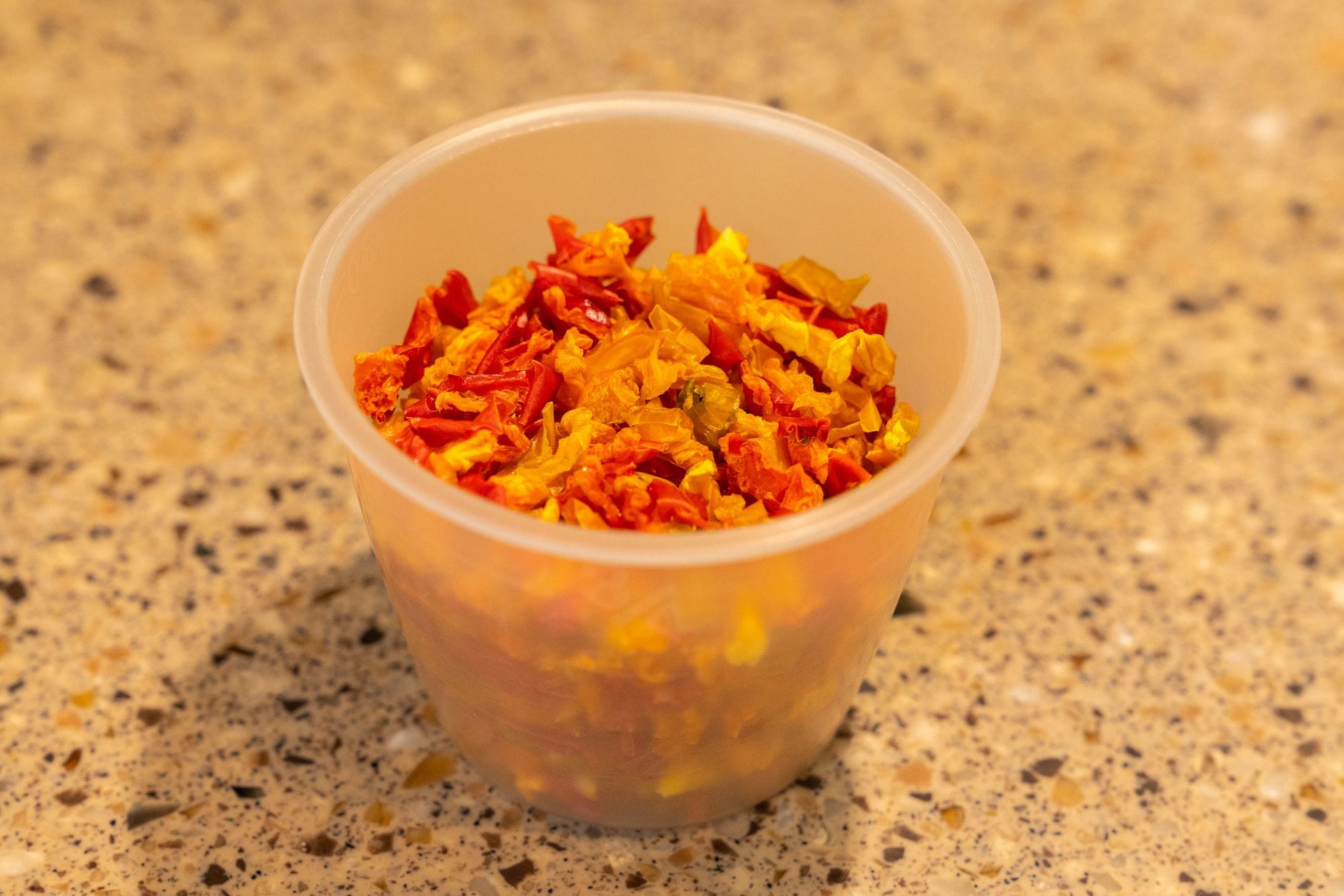 But just look how much smaller they are - three bell peppers filled just 3/4 cup! Better still, they'll apparently last for up to a year in an airtight container - saving valuable fridge and freezer space!
Not that there's any way they'll last that long with us around!
I'm weirdly excited to see what else works well in the dehydrator. I might even try some jerky, although I've never had jerky in my life (I know, I know!) so not sure I'd be the best judge for how good it is. Maybe I'll have to find a guinea pig to test on....
Let me know in the comments if you've dehydrated food before, what are your favorites? We're always looking for great new ideas!
Q&A Video
Last, but by no means least, to say a huge thank you to the 5,000 people who subscribe to our YouTube channel and all our other followers, we filmed a special Q&A video where we tried to answer as many of your questions as possible.
So if you'd like to know what the highlights (and lowlights) of almost 2 years on the road have been, whether we've thought about changing to a bigger or smaller rig, and our plans for our time in Idaho, you won't want to miss this!