As an Amazon Associate we earn from qualifying purchases.
Our property encompasses over 40 acres of Vermont forest, including softwoods like spruce and pine as well as hardwoods such as maple, ash, birch and cherry. Thanks to our sawmill and the solar kiln we're building, we'll have no shortage of lumber.
But, we don't have any dry lumber yet, and I've been itching to start working on a handful of small utility projects.
The solution: pallet lumber.
Finding Pallets
Earlier this year we ran across a book called Crafting with Wood Pallets in a bookstore in Virginia. As well as containing detailed step-by-step instructions for 25+ projects, the introduction also includes valuable information about how to find pallets and how to select ones that are safe to work with.
In short, you want to make sure the pallets have either the Heat Treated (HT) or IPCC stamp so that you know they haven't been chemically treated. You'll also want to avoid any pallets that are stained or have had something spilled on them as you don't know what that might be.
As for finding pallets, just ask! We found a Craigslist ad for a furniture company where we were able to collect about a half dozen pallets.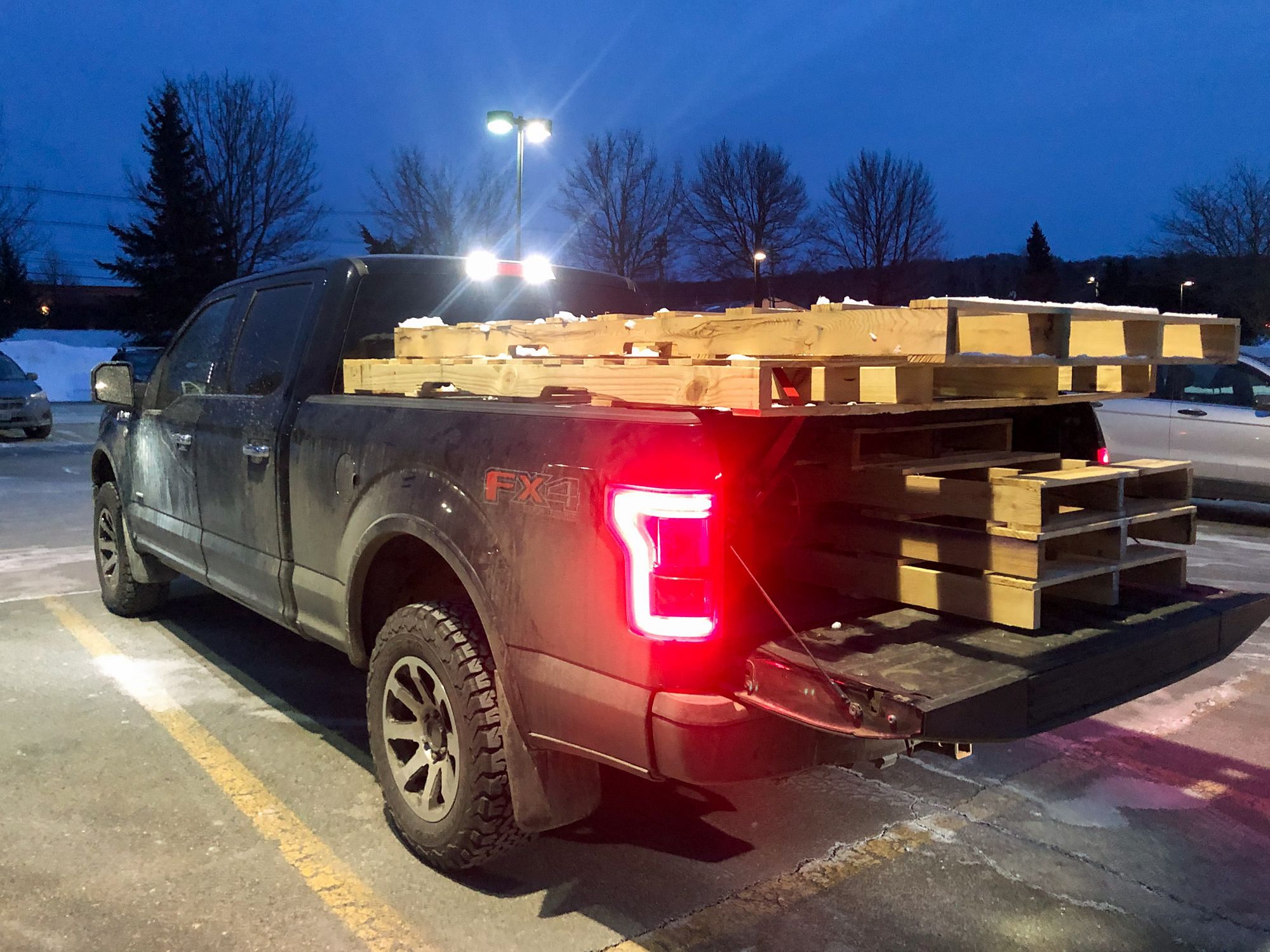 Then, at another store we visited I happened to notice a large stockpile of pallets. I inquired as to whether they were free for the taking and was told yes, but that they also had some drier and better condition pallets inside if I wanted those instead! Score - two more great pallets!
So far the pallets have cost me...nothing! And I have no doubt I'll easily be able to source more pallets in future without any issue.
Pallet Disassembly
Once you've found your pallets and brought them home, the next step is disassembly. If you search online or look for videos on YouTube, you'll find there are several methods people typically use. I decided to try out a couple of different ways and see what worked for me.
Manual
The first approach I opted for was to pry the slats off the pallet manually, one-by-one. This was slow and difficult work - those nails put up some serious resistance to my pry bar!
In most cases, as I pried the slats off, the nail stayed in the stud underneath, and the nail head was ripped through the slat, causing quite a lot of tear-out in the process. Plus I had hundreds of nails to clear up!
The advantage of this method is it doesn't require any expensive tools - just a pry bar and a claw hammer. That said, if you plan to use this to take apart a lot of pallets you may want to invest in a pallet buster.
Reciprocating Saw
We've been acquiring a lot of tools while on sale in anticipation of using them for our house build. One such tool is the Dewalt DCS382 Reciprocating Saw and the Diablo Bi-Metal Reciprocating Saw Blade Set - I was looking for an opportunity to try this out!
The concept is simple - run the saw blade through the gap between the studs and the slats, cutting straight through the nails.
In reality, it wasn't quite that easy - at least for me as a beginner at this. The first issue I ran into was the slats were incredibly tight and there wasn't a gap - I used my pry bar and hammer to open up a small gap which helped a lot.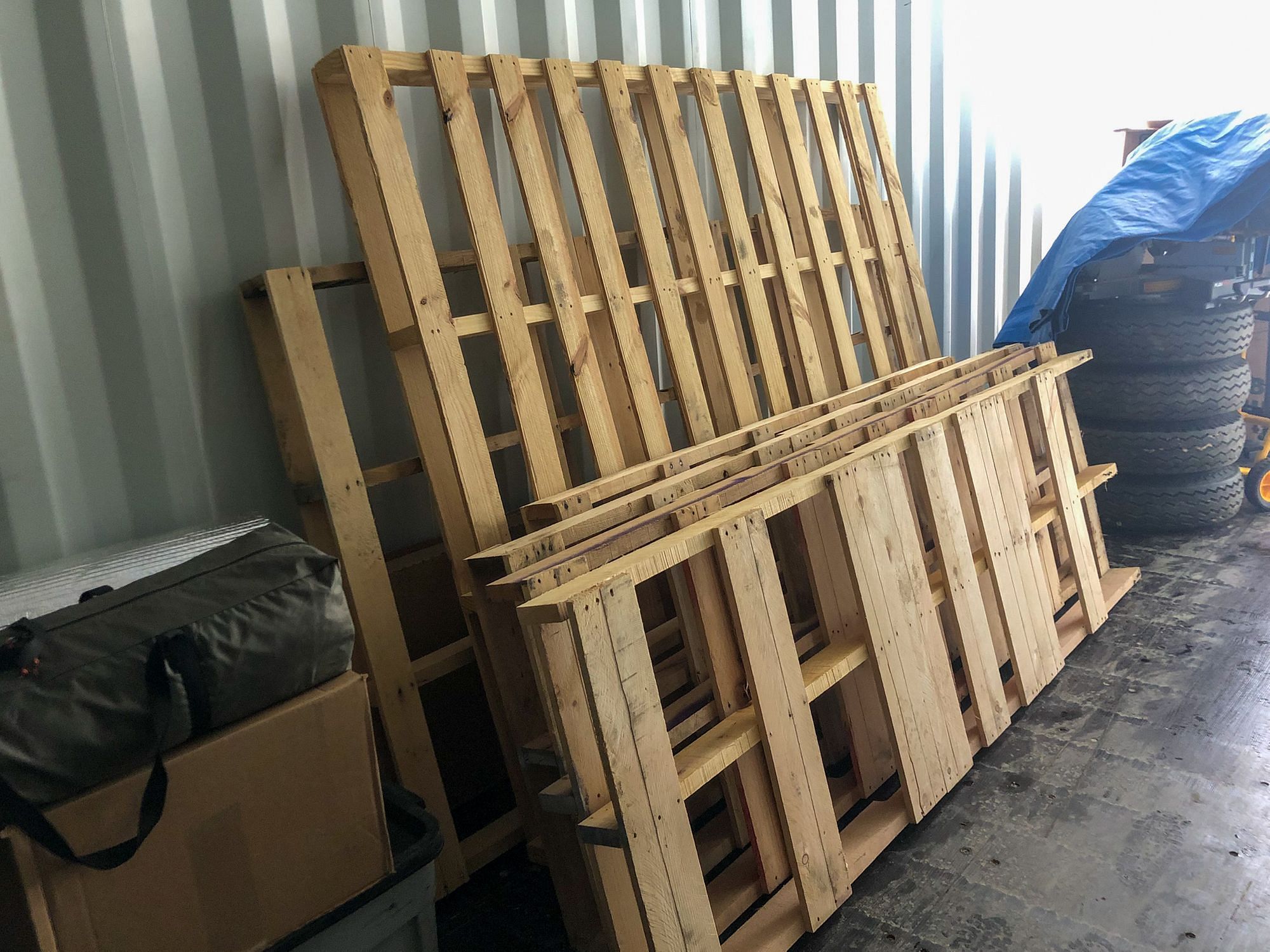 The second issue was that the pallets I was disassembling were large, and since it's easier to work from top-to-bottom, these 7ft high pallets made the job pretty tricky! But once I got into a rhythm I was soon slicing through the nails and found this method a lot quicker than prying every individual nail.
One downside of this approach is that the nails are still embedded in the wood. For the slats, I bought a nail punch set and this made very quick work of the cut nails. For the nails in the 2x4 studs, I just used the punch to set these deeper into the wood - as long as I don't need to cut the wood in those locations, that'll be fine.
Once I had disassembled all the pallets I used the steel crate that our wood chipper came in to organize all the pieces of pallet lumber.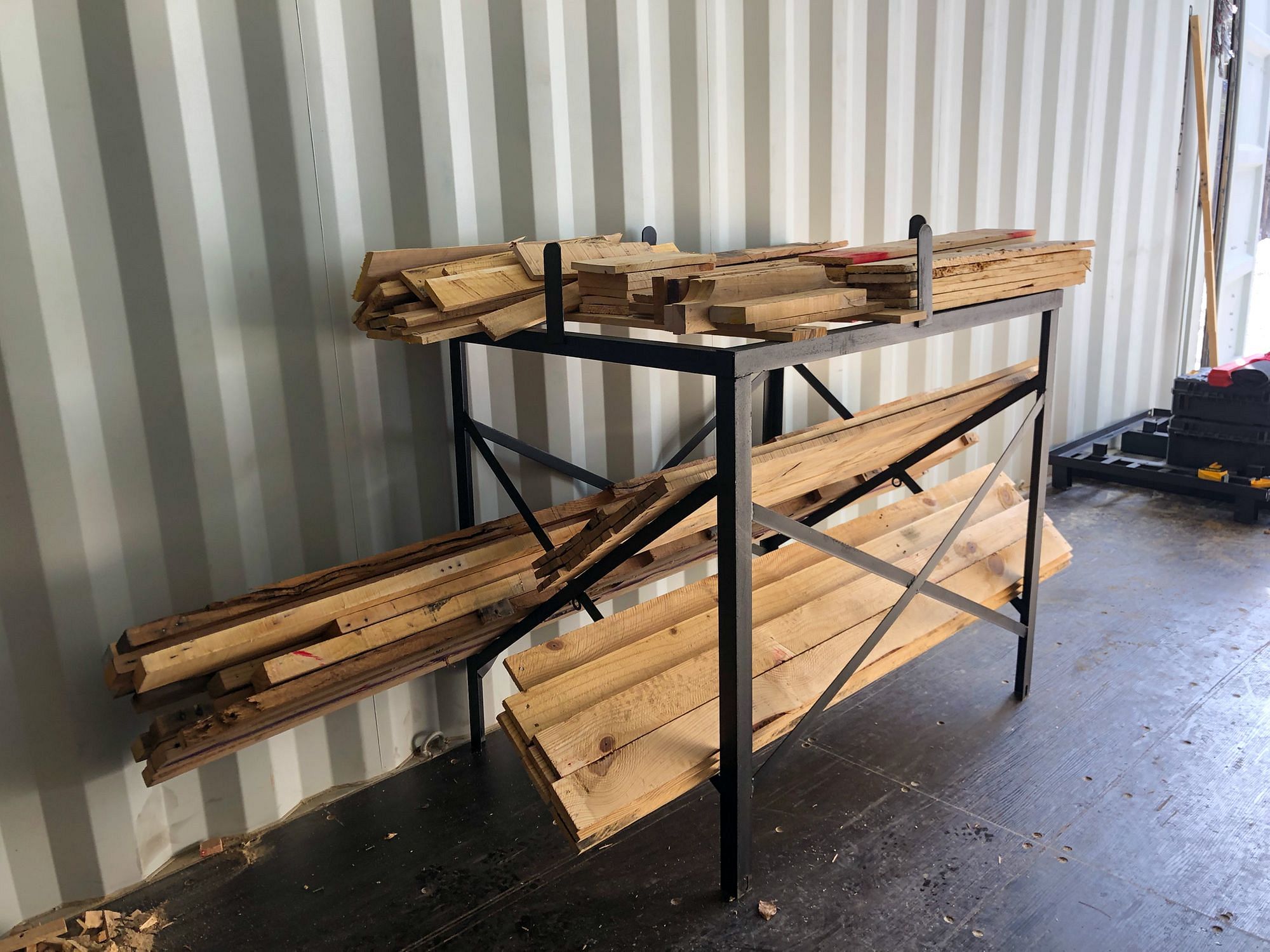 Tool Caddy
I took the inspiration for this from the book, although I didn't follow the directions very precisely - rather just looked at the photo and skimmed the instructions to get the basic idea, then ad-libbed something similar!
It's really nothing fancy - just two pallet-ends cut down and screwed together, with a cut-out for a handle and some boards underneath to form a base.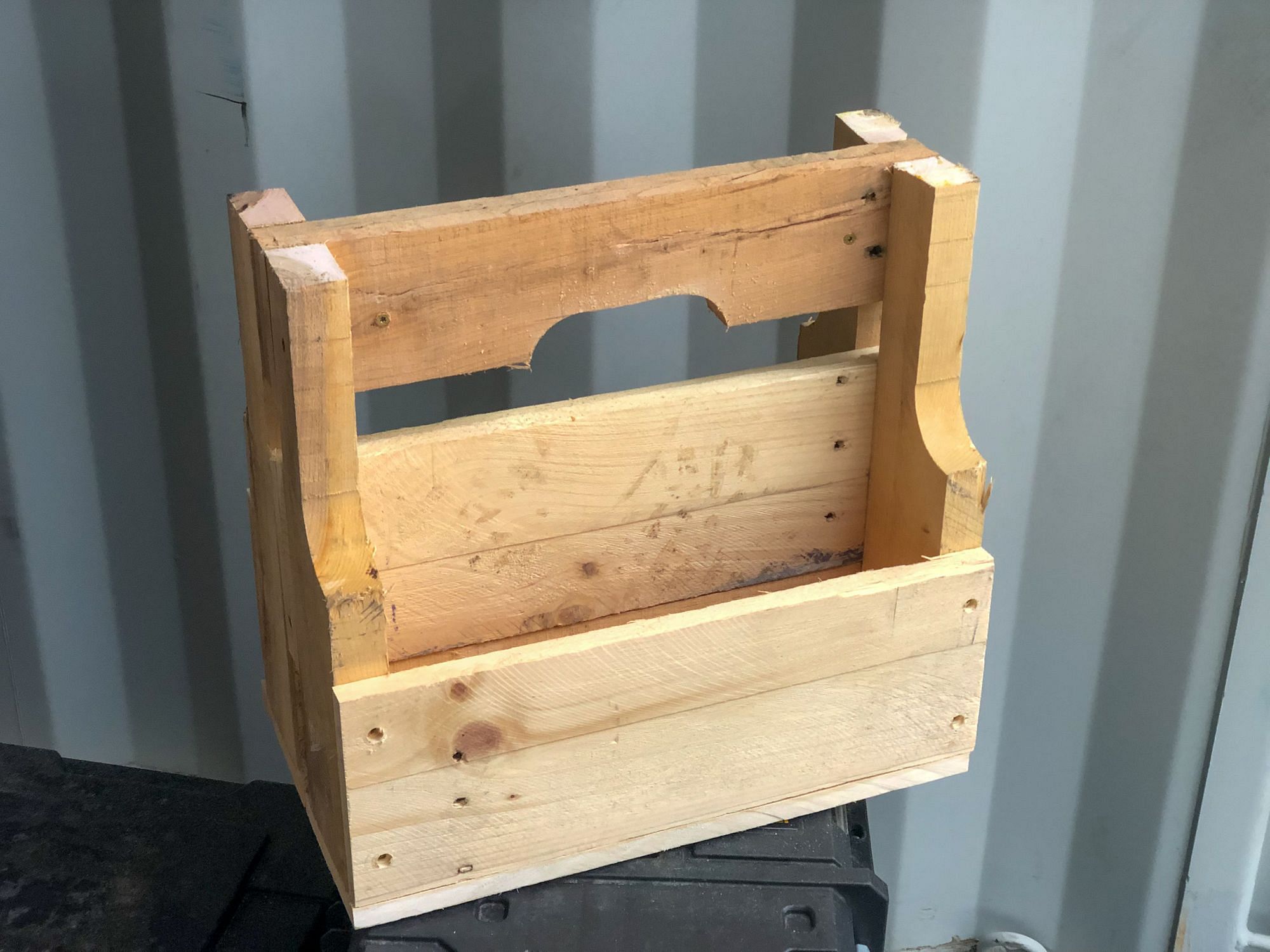 I didn't have anything specific in mind to use this for when I built it, but instead just chose it because it seemed like an easy first project. That said, I'm sure we'll find a use for it in future for organizing tools or materials.
Crate
I didn't really follow any plans for this whatsoever, although it's a pretty standard construction method for a crate - four corner posts with boards to form a base and sides.
I picked the dimensions to get as close as possible to a 30-gallon interior volume while making the most of the lumber I had available. I chose to optimize for 30 gallons as we originally planned to use it to store mixed recycling in and 30 gallons is the minimum charge at our local transfer station.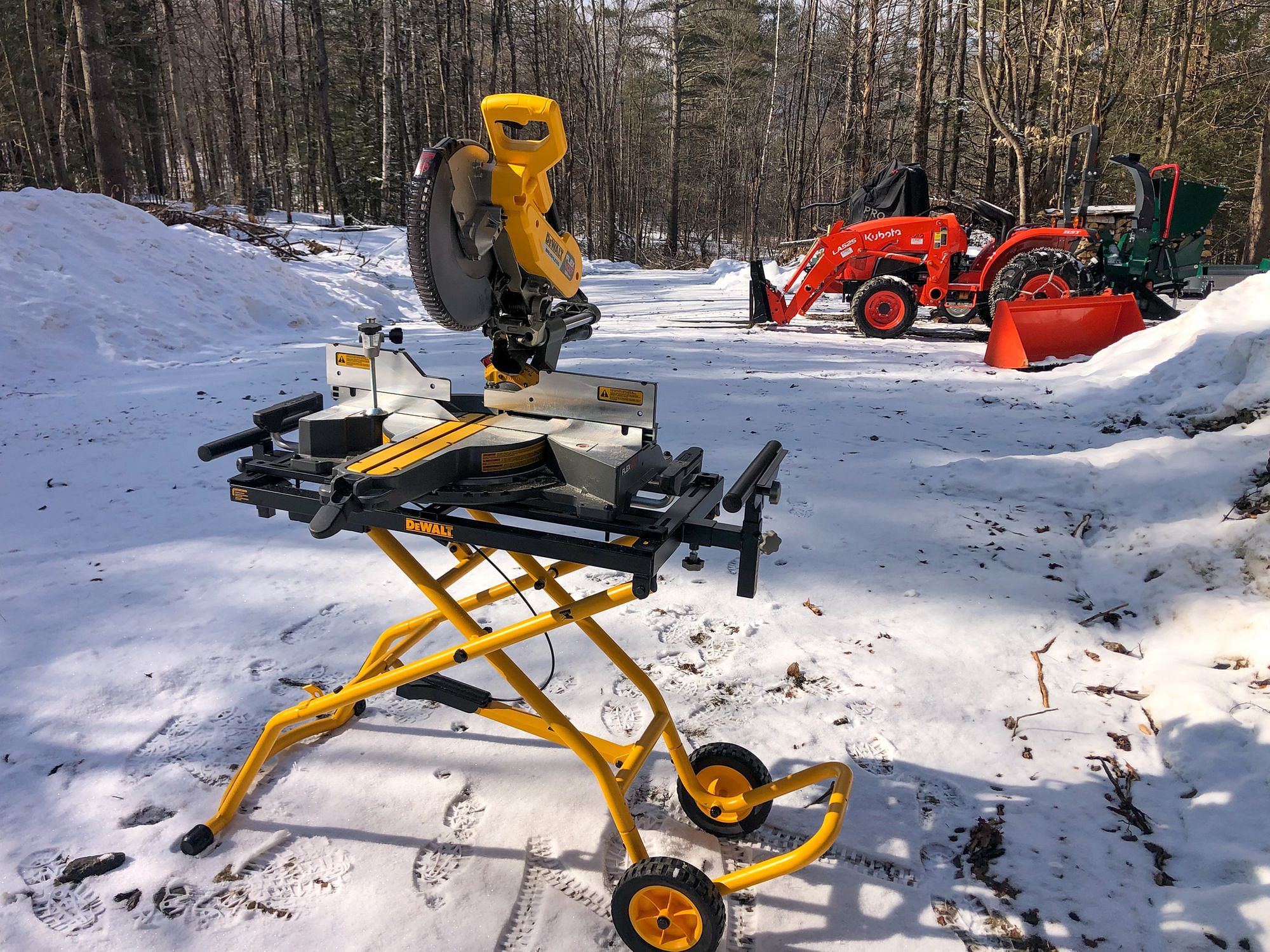 However, the end result was somewhat heavier than I was expecting, and given its strength, it's probably overkill as a recycling box. Instead we're using it for wood off-cuts that we can later throw on the camp fire.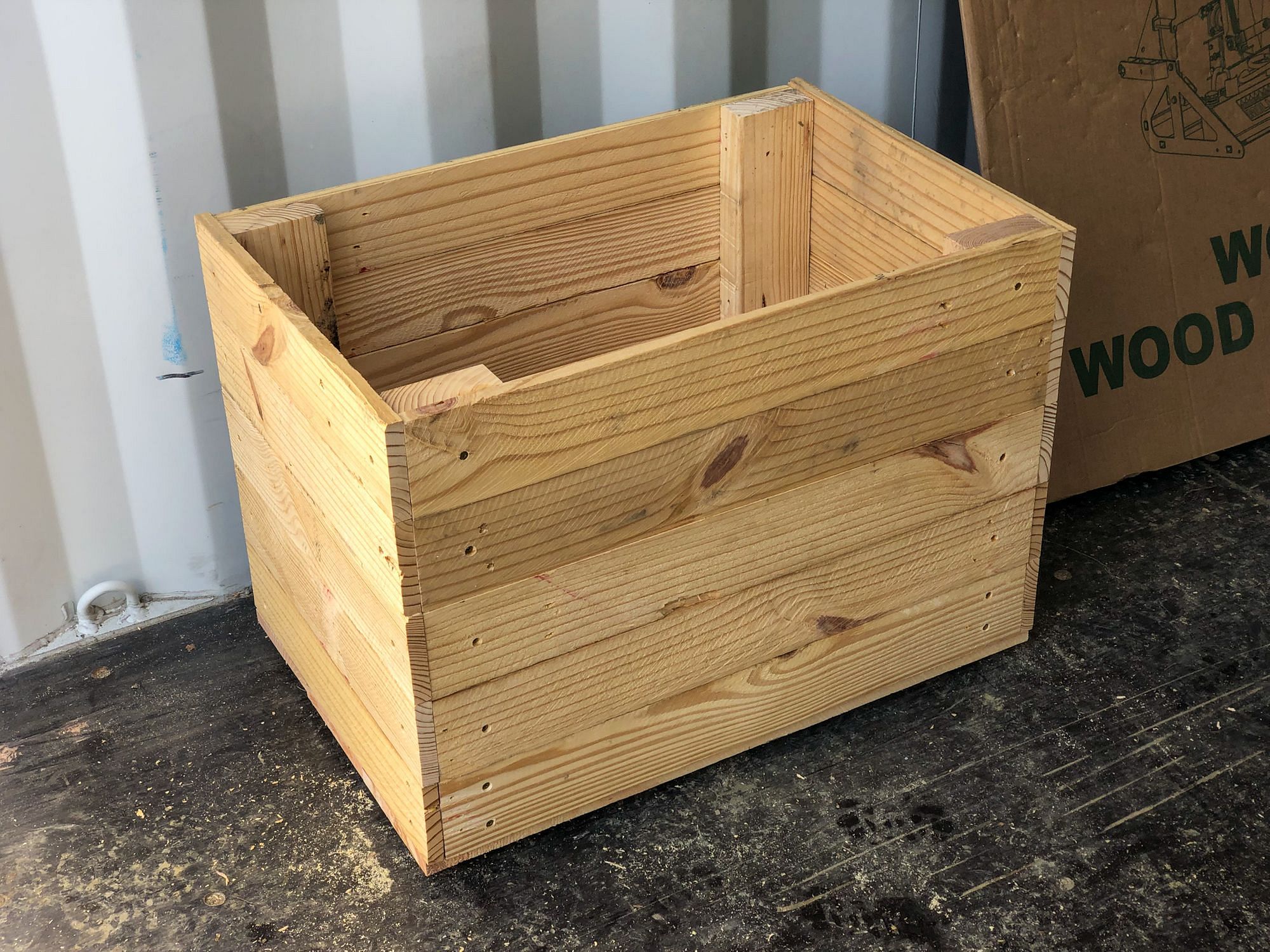 I think going forward we'll use some lightweight plastic totes for storing recycling, but I might built a pallet rack to house the totes.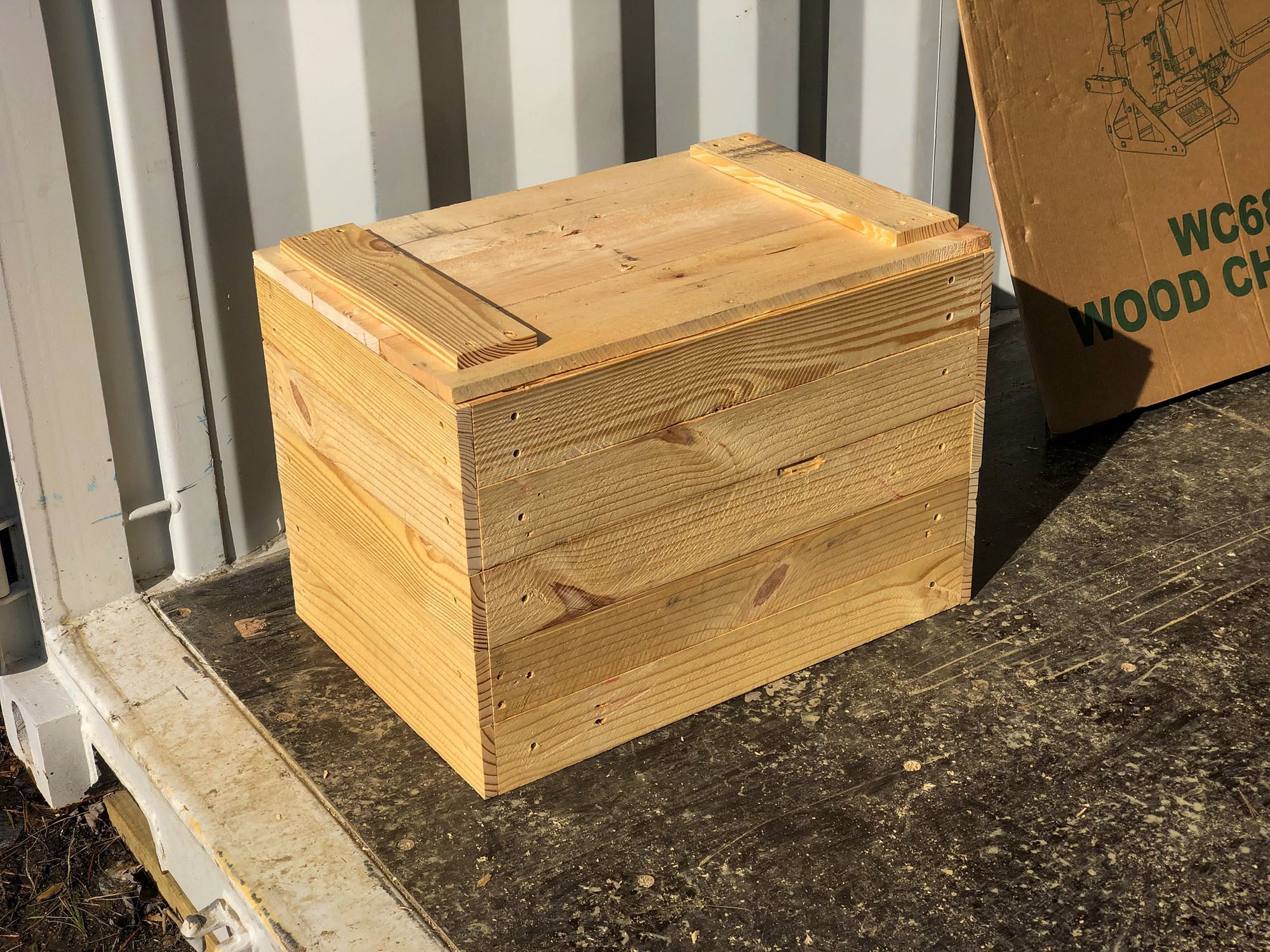 Workbench
This is my most elaborate project so far, but still using nothing but pallet wood and screws.
Our shipping container is great in that it provides us with secure, dry space for storage, and it's recently been doubling up as my mini-workshop for these projects. However, it lacks one thing - work space.
Instead, I've had to do all the disassembly, layout, cutting and assembly on the floor. While it's great because the floor is completely flat, it's also a pain working on the floor. What I needed was a workbench!
I didn't want to build anything too large or elaborate, just something to give me enough countertop-height space to work on.
I searched online for photos of DIY workbenches made from pallets, and my eventual design was inspired by aspects of various photos I found. I say "design", but in reality I just started on this without any designs whatsoever - just eyeballing the dimensions and seeing what made sense given the lumber I had at each step.
The lower shelf makes a feature out of the notches in the pallet lumber while also adding significant strength and rigidity to the workbench. Meanwhile the top is secured not to the decorative edging but some sturdy 2x4s running the length of the workbench inside the legs, meaning the whole project is really strong!
I've already used the workbench for a couple of other projects I've worked on since then. I built it to be quite narrow so it wouldn't take up too much space in the shipping container, but one unexpected benefit of this is it's easy to pull the workbench out from the wall and work on it from both sides - great when assembling parts!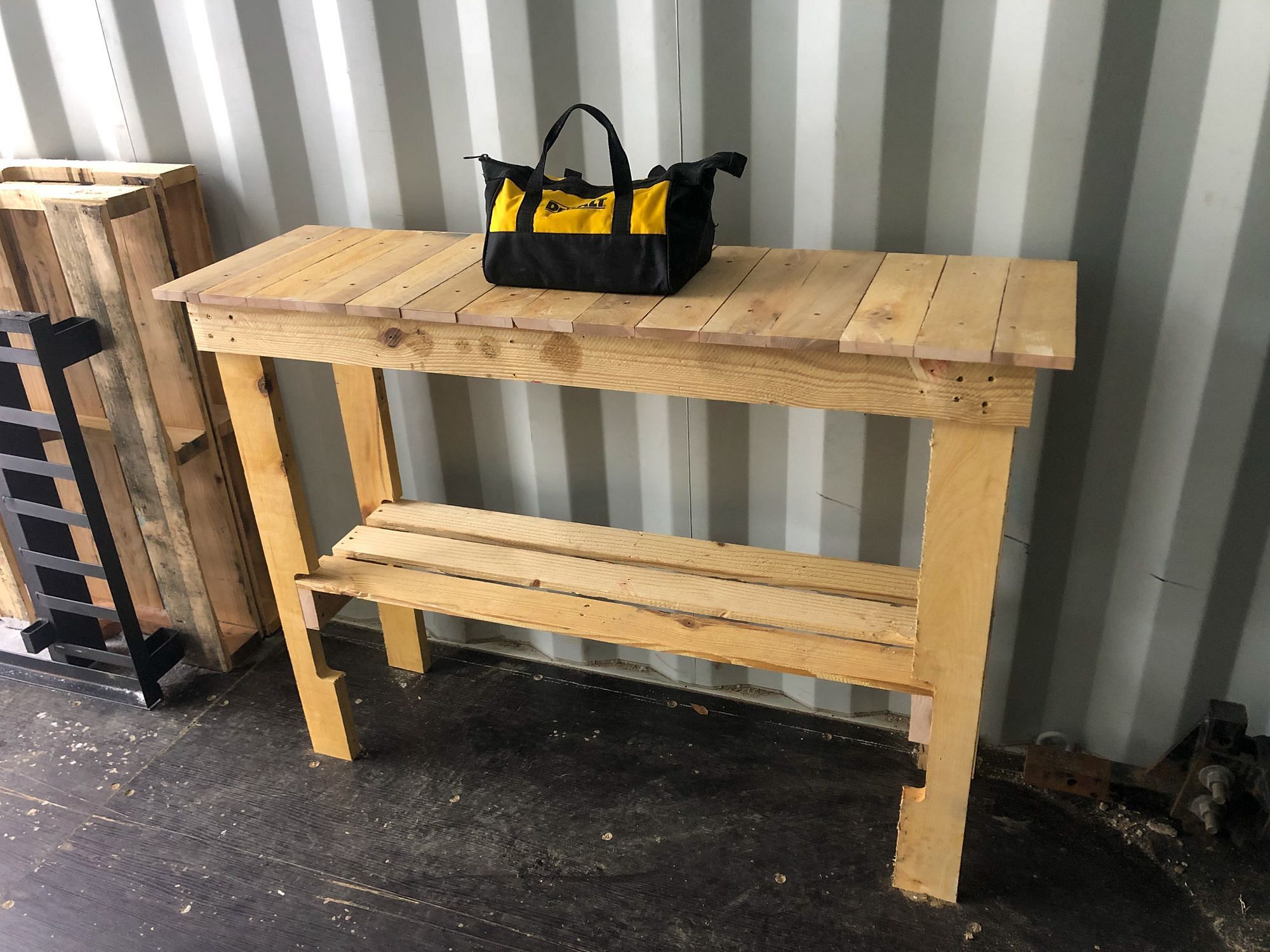 I'd love to say I have designs to share of this one, but I don't. Overall, it's about 3ft height, 4ft wide and about 16" deep.
Summary
This is my first experience of building with pallet wood and I've really enjoyed it! My initial enthusiasm about free pallets was dampened when I went to disassemble the first one and it took me about an hour! But, after refining my technique and breaking out the reciprocating saw, I can now make quick work of a pallet.
Having a stack of completely free lumber to use is such a nice feeling - especially with lumber prices as they are today! It means any project you want to build costs nothing more than time and fasteners.
Speaking of which, I just used whatever screws I found in my toolbox, and those happen to be quite expensive ones - this weekend we're hoping to find some on the discount shelf in Home Depot or at a Habitat for Humanity Re:Store.
Building with pallets is also a great way for me to practice my woodworking skills. It's been years since I did any serious woodworking, and it's great knowing that these are rough projects made with free lumber and mistakes aren't critical.
Other than some light hand-sanding on the workbench top, I've otherwise not spent any time on finishing the projects so far. We did pick up some mis-mix paint at Home Depot last week, and we have a random orbital sander so maybe in future we might get a little fancier with some projects!
If you haven't tried building with pallets before, I'd highly recommend giving it a go! It's so rewarding to use reclaimed wood from free pallets and turn it into a useful project.