Introduction
We bought our travel trailer in April 2018, and in July that year, we quit our jobs, moved out of our house in California and became full-time RVers - our 25ft travel trailer was now our home.
From the outset, we knew we wanted an RV that would give us the freedom to stay off-grid. That meant a well-built RV with large tanks and good insulation to keep us comfortable. We found that in our Outdoors RV 21RBS.
What we couldn't find was an RV with an electrical system to fit our off-grid needs, so we decided to add that ourselves. We spent a lot of time (and a not insignificant amount of money) upgrading our RV with the electrical capabilities we wanted to support us comfortably living and working full-time in our RV while off-grid.
I've written extensively about how we installed our batteries, inverter and solar panels, but in this blog post I want to focus on what we've installed, and how it's working out for us after more than 18 months on the road. Since our first installation, we have added a few more items and I'll be covering all of those in this article.
Before I jump in, one last caveat. What we have built is not the perfect RV electrical system. There are rigs out there with huge systems with thousands of Watts of solar panels and Tesla battery packs with many Kilowatt-hours of capacity that can run multiple AC units all day long.
That's not what we have. Instead, I honestly believe we have our perfect RV electrical system. This is the one that works for us. It's big enough to provide the power for everything we want to run, without being excessive. It's assembled with high-quality components and built with an attention to detail to make sure everything is as safe as possible. Considering most of the components are installed under our bed (except the solar panels, obviously!), safety was paramount to us!
In fact, we haven't had a single issue with any component, despite constant daily use and the unforgiving environment of an RV being driven along rough roads.
As an Amazon Associate we earn from qualifying purchases.
Summary
For reference, here's a quick list of the major components in our system, not including
Batteries
At the heart of our system, one of the first things we installed, are our batteries. We have 3x 100Ah Battle Born Lithium batteries, providing a total of 300Ah of usable capacity.
These were the single most expensive item we bought, but they have worked flawlessly for us. There are plenty of options out there for less money - including building your own battery pack using raw Lithium cells and a BMS, which is something we strongly considered for a while (I had drawn up schematics and everything).
However, we chose to buy Battle Born Lithium batteries, and I'm pleased we did - they have worked flawlessly. On one occasion, we took them down to 0%, and they delivered the full 300Ah capacity. On several other occasion, we've taken them down below 10% and they've always delivered.
There's no maintenance (other than periodically I like to check all connections are tight, but they always have been) and no fuss. They've been a perfect foundation for our system, and I wouldn't hesitate to buy them again.
Would 2 have been enough, or should we have bought 4?
Honestly, I think 3 really was the magic number for us! Each battery has a maximum continuous discharge rate of 100A, so we really need 3 to make the most out of our Victron 12/3000 MultiPlus inverter. As for more, while we have taken the batteries down pretty low several times, it hasn't been often enough to justify the cost (and space) of another battery.
Inverter
Since we planned not to have a generator (and we still don't), if we wanted to be able to run any 110V appliances while off-grid, an inverter was a must.
After a lot of research, I settled on the Victron MultiPlus 12/3000. Despite the name, it's actually a 2,400W inverter - the "3000" refers to the VA, or Volt-Amps. Without going into detail as to the difference between Watts and Volt-Amps (you can read up on power factor if you're interested), I do think the naming is misleading, as most people would expect it to be a 3,000W inverter.
However, we knew this going into it, and I have no regrets about our choice. It has worked flawlessly, happily running our microwave, electric kettle, and Instant Pot. With excess solar (more on that in a minute), we often run the fridge on 110V AC mode in summer. It also happily runs our 13.5k Air Conditioning unit without an EasyStart, although we did install one a couple of months ago to help reduce the initial load on our system.
We also love the Power Assist feature on the Victron MultiPlus. As an example, right now we're connected to shore power, but via a 20A connection. So I've set the MultiPlus input current limit to 18A, and the inverter will use power from the batteries to augment that if necessary - for example, if we want to use the electric water heater and Instant Pot at the same time.
My favorite feature though, by far, is how well it integrates with the rest of the Victron devices - particularly the Victron Color Control GX (CCGX). Thanks to this, we've now got remote control of our inverter - we can turn it on / off from a button in the kitchen, from our phones, or even automatically via our Smart RV home automation system when the batteries are almost full.
On the shore-power side of the inverter charger, we have protected our system with a Progressive Industries EMS-HW30C surge & electrical protector. Hard-wiring this made sense for us as it's one less thing to worry about when we hook up to shore power.
Solar Panels
We hit the road with just a 100W portable solar panel. We knew it wasn't going to be enough, but it got us started until we could figure out how much we needed.
We think we've found the sweet spot....for now.
We have 600W of solar panels mounted on the roof, coupled with a Victron Smart Solar 100/50 MPPT charger. We started with 400W at first, and then added another 200W later. While that worked great in summer and fall last year, we were a little worried about winter - rightly so as it turned out.
So we built a 200W DIY portable panel out of two 100W panels, and connected this to our REDARC BCDC1240D (more on that in a minute) which has a built-in MPPT charger.
In winter, we still bring in enough to get us through a few cloudy days. To conserve electricity we boil water on our propane stove, keep the fridge on propane mode, and use the propane water heater.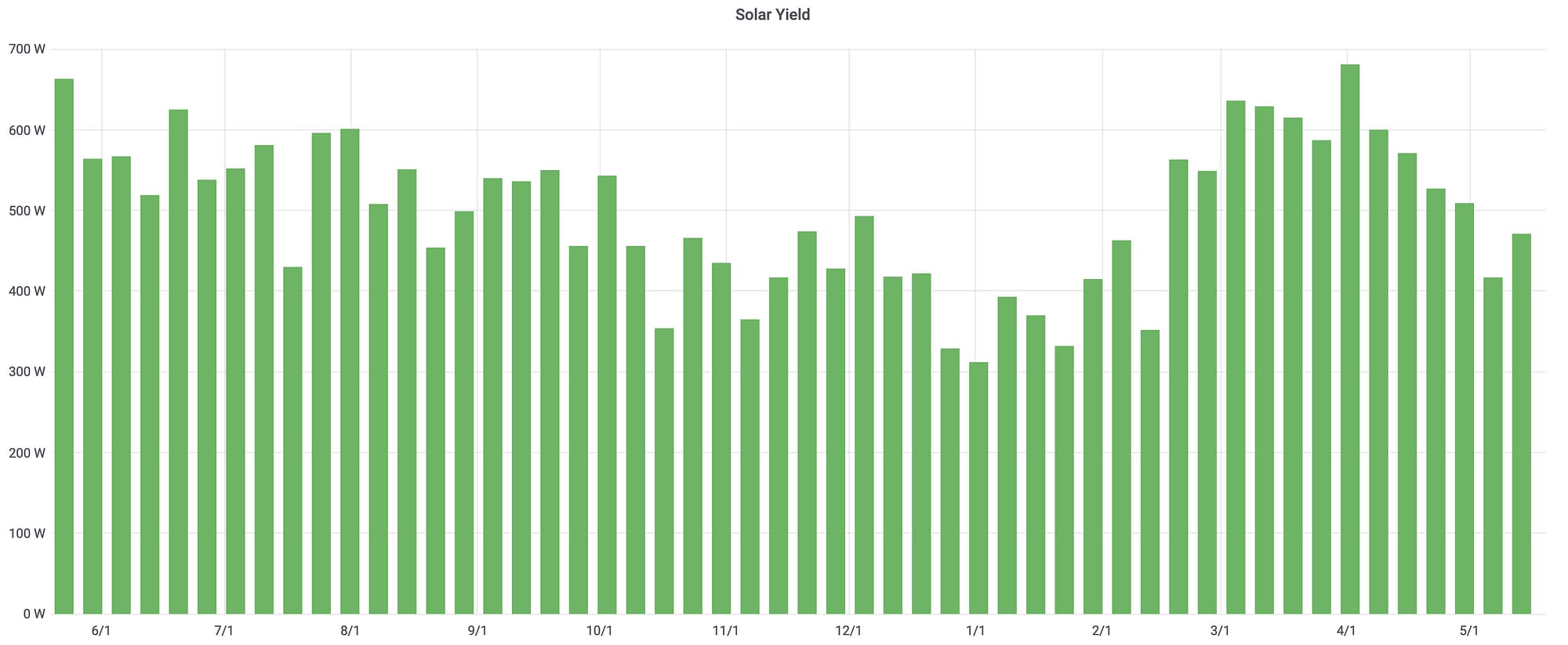 In summer, we produce far more power than we need - we switch to our electric kettle, run the fridge on AC when the batteries are almost full, run the electric water heater and use the Instant Pot and microwave as much as we want! In sunny weather in summer, we probably won't even bother deploying the portable panel as the rooftop panels will provide everything we need.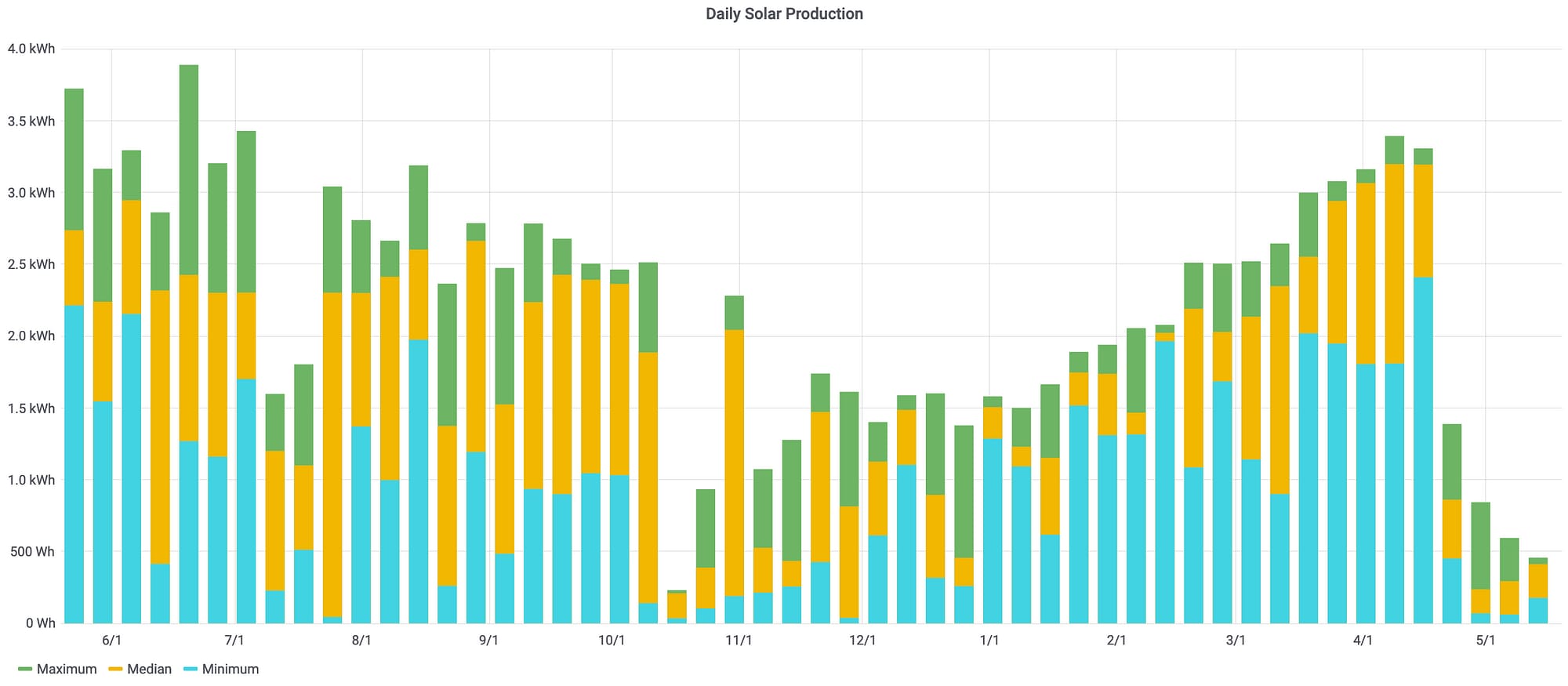 Monitoring
OK, let's get real for a minute.
As much as I say our electrical system gives us all the power we need, the fact is that we still need to be mindful of how much electricity we're using and conserve where possible. The minute we have shore power, our power consumption explodes!
In my mind, before you can conserve something, you need to measure it. In our case, that means monitoring not just our batteries, but our whole electrical system.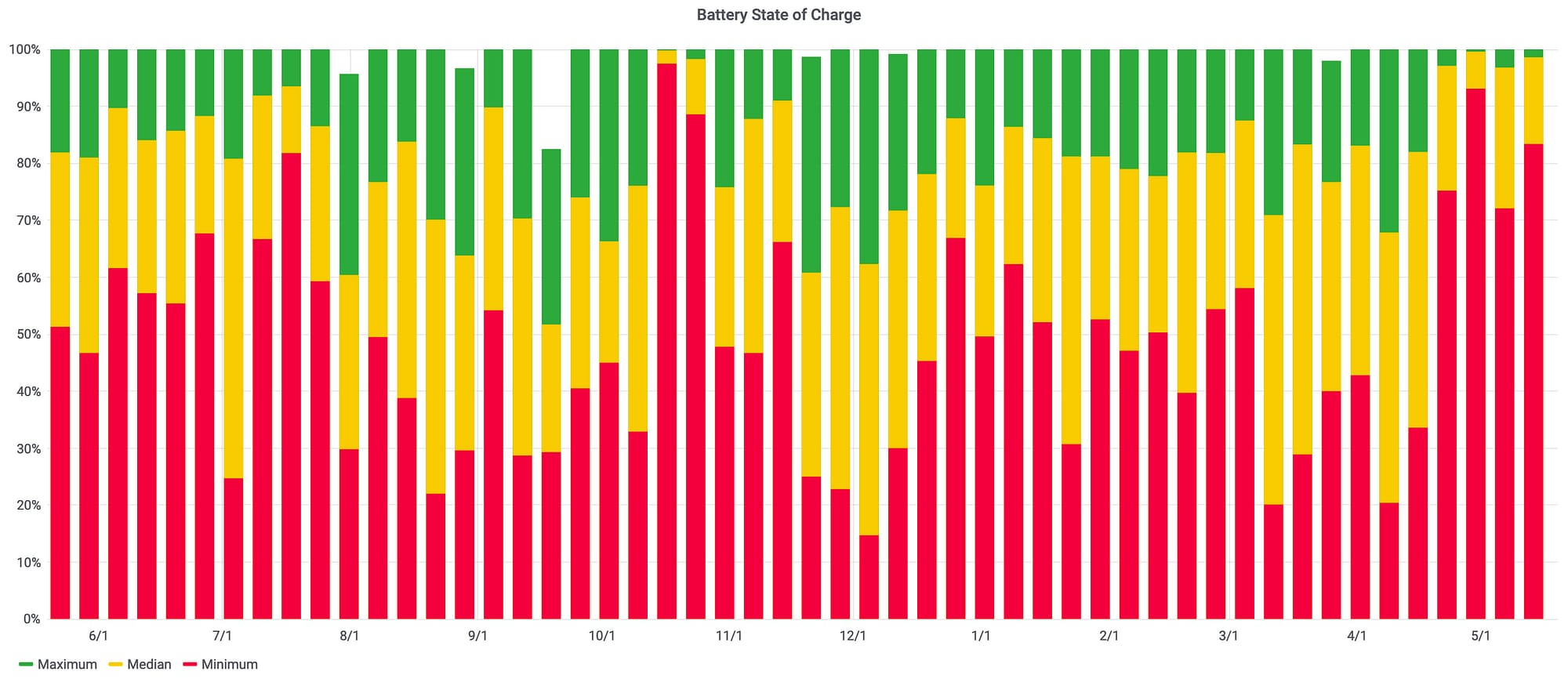 We installed the Victron BMV-712 Battery Monitor which, at the time, was considered the de facto go-to. It monitors the current flowing in and out of our batteries using a shunt, giving us an accurate measurement of our battery state of charge. We also added a battery temperature sensor which works fine, but the batteries have never got warm or cold enough to cause us any concern - I wouldn't bother adding one to your system if you have Lithium batteries with a built-in BMS.
The BMV-712 makes the battery voltage, state of charge and temperature available on your phone via Bluetooth, as well as to the other Victron components it networks with, including our Victron CCGX. If I were to do the installation again, I would probably install a Victron Smart Shunt instead of a BMV-712, since the display unit is redundant if you have the CCGX as well like we do.
In many ways, the Victron CCGX is the keystone in our system. As far as most people are concerned, the Victron CCGX is a convenient and easy-to-use color screen that lets you see exactly what's going on with your system - how much solar you're bringing in, how much AC and DC power you're using, how much you're pulling from shore power, and how your batteries are doing.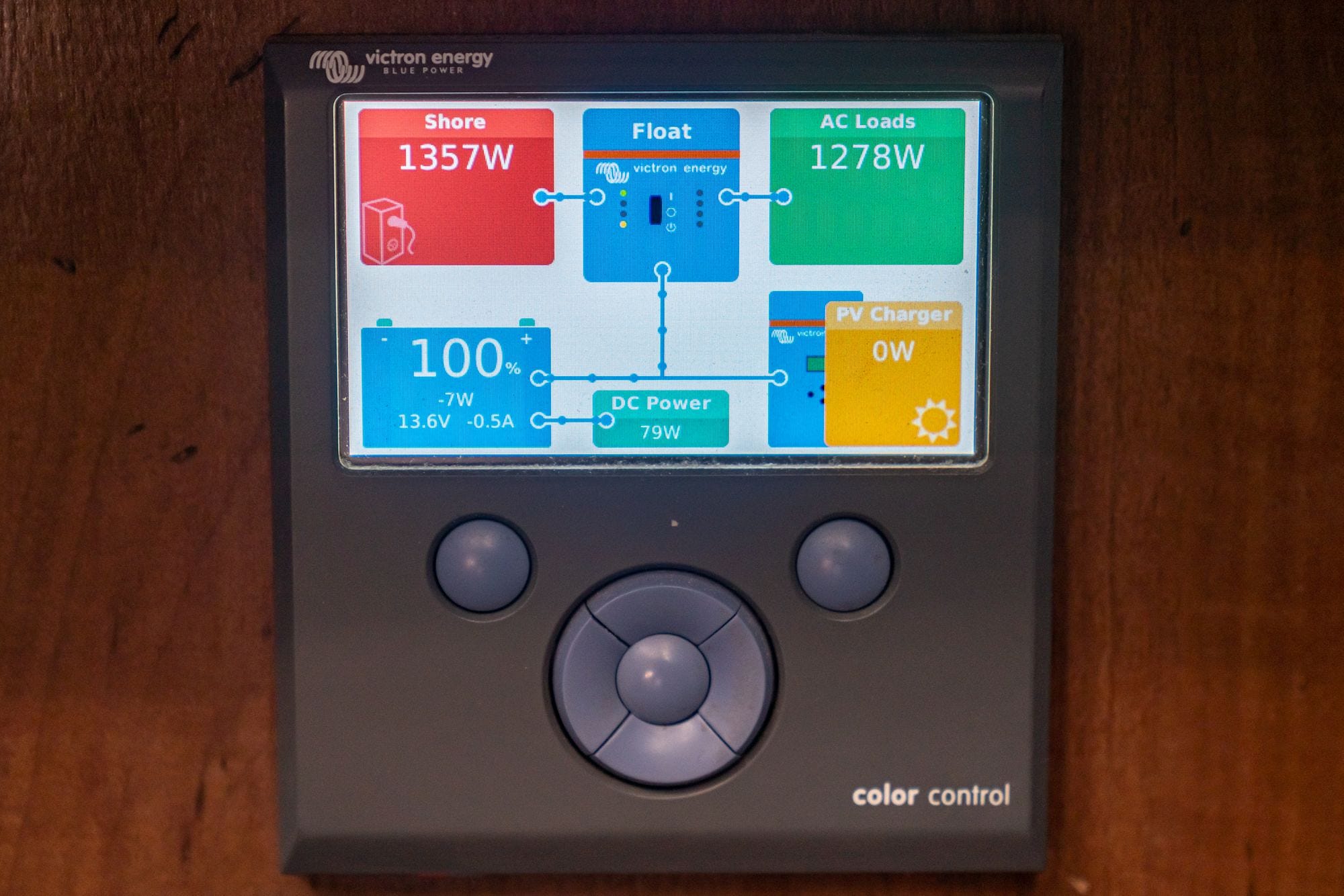 But it's so much more than that! With a GPS antenna and WiFi USB dongle, it uploads our data to Victron's cloud system called Victron Remote Monitoring (VRM). This lets us monitor (and control) our system from anywhere in the world.
Better yet, we've also integrated it into our Smart RV home automation system, giving us incredibly detailed monitoring and control of our entire RV's electrical system. Look out for an upcoming blog post where I'm going to deep-dive into some of the Victron CCGX capabilities in detail.
DC-to-DC Charger
Arguably one of the most unusual aspects of our electrical system, our REDARC BCDC1240D DC-to-DC charger lets us charge our trailer batteries at up to 40A whenever we're towing.
It was thanks to this that we were able to hit the road with so little solar. Since we were moving every few days, the batteries would get a big boost every time we hooked up the truck and drove to our next camping spot.
The standard 7-pin trailer connector offers very little in terms of charging ability - a few Amps if you're lucky. Likewise, simply running thick cable from your tow vehicle directly to your trailer's Lithium batteries can potentially overheat your alternator.
A dedicated DC-to-DC charger is the safest all round option in our opinion. Although it wasn't cheap, it's worked incredibly well for us. I've written about it extensively, including both a review of the installation as well as the charger itself.
Future Upgrades
Are we finished, or will we be doing more upgrades?
For the most part, I think we're pretty happy with things! So far, it's provided everything we've needed to comfortably live off-grid year round.
But, we've tried to stay in fairly temperate climates, and haven't yet spent a winter in the north, for example. On our relatively small travel trailer, there isn't much space to add more solar (I think we can squeeze another 200W up there), and I don't really want to have to lug around more portable panels.
Maybe if next winter we find ourselves boondocking somewhere colder, we'll have to consider a generator - something I'm keen to avoid if possible, but not idealistically opposed to if it's the right tool for the situation.
But other than that, there's nothing else I want to change. Adding more batteries would be nice, but expensive, and we honestly don't have the space to add more without significantly reconfiguring the space. Our Victron MultiPlus 12/3000 inverter can happily run everything in our 30 Amp RV and we rarely have need for more power.
For now at least, we're very happy with our entire setup!
FAQs
In almost 2 years of living full-time in our RV, we've learned so much about this lifestyle and how an appropriate RV electrical system can help make this lifestyle more enjoyable and comfortable.
If you haven't already done so, I highly recommend checking out the RV Electrical Upgrades presentation I gave at the Xscapers Annual Bash in January this year.
RV electrical basics & RV solar explained (RV Electrical Upgrades talk at Xscapers Annual Bash 2020)
However, I'd like also to try and address some of the most common questions we get asked about our system, and by people planning their own.
Can I run my RV Air Conditioning on solar power?
Yes and no.
You'll need an inverter powerful enough to run the AC unit, plus batteries to keep it running and solar panels to recharge the batteries.
Our Victron MultiPlus 12/3000 inverter can happily run the 13.5k AC unit in our RV, which pulls about 1300W when running. Our 300Ah of Battle Born Lithium batteries are enough to keep the AC running for about 2 hours. But with just 800W of total solar (between the roof and portable panel), it's a losing battle - the batteries will drain faster than the solar will recharge them.
We rarely run our AC while off-grid, but sometimes we run it for 20-30 minutes just before bed to cool things off if it's really hot in the RV.
That said, we know plenty of people with big solar arrays who can happily run their AC unit (or even multiple AC units) from solar alone. You should typically plan on having a bare minimum of at least 1500W of solar if this is something you want to do.
If you have a smaller inverter (or generator), you may need to install an EasyStart on your AC unit to reduce the Locked Rotor Amps (LRA) that create a huge power draw when you first turn it on.
Can I run my Instant Pot on solar power?
Yes - and we regularly do. Of course, you'll need to have an inverter and batteries capable of providing enough power, but it may not be as bad as you think.
The 6qt Instant Pot draws about 1,000W when running, and it uses most of the power while getting up to temperature and pressure. Once it's cooking, the heating element only turns on periodically to maintain the temperature and pressure.
We've recently bought a new Air Fryer Lid for our 6qt Instant Pot, and that draws about 1,300W while running. Although we've not used it while boondocking yet, we shouldn't have any problems running it in summer.
Can I run my microwave on solar power?
Yes, you can. Typical RV microwaves use up to about 1,500W of power (some larger microwaves may draw more) so you'll need an inverter and batteries capable of providing that amount of continuous power.
Microwaves are typically used for short bursts - rarely more than 10 minutes. So while the power draw may be quite high, once the microwave turns off, the solar panels will get back to recharging the batteries pretty quickly.
We use our microwave fairly rarely, but particularly in summer, we don't have any concerns about using it.
Can I run my fridge on solar power?
Yes, but check your fridge carefully to see how. Remember that an RV fridge that runs on propane still needs some electricity to power the pump and control board - but ours is only around 3W, so easily achieved with solar power.
Our fridge is a two-way fridge, so as well as propane it can run on AC power. However, as is common for RV fridges, it's an absorption fridge - this means it's really inefficient when running on AC and uses around 300W.
If your fridge can run on 12V DC power, then that's a great option - check to see how much power it draws though so you can size your solar panels accordingly.
If your RV has a residential fridge (which uses a compressor, unlike an absorption fridge), then you'll need an inverter to run it when off-grid. Electrical consumption can vary widely on residential fridges from as little as 100w on very efficient models, to many times that on less efficient models with an ice maker and defrost mode.
Your manufacturer's website or instruction manual should have the information you need to calculate how much power it draws, or better yet, use a device like a Kill-A-Watt to measure it.
How much power does a solar panel produce?
Solar panels are rated according to the peak power they can generate in ideal conditions. For example, a 100w solar panel should, at midday on a sunny day in summer while pointed directly at the sun, produce 100w.
And typically, that's true.
But it's not always midday, sunny and summer. From our experience and the data we've collected, we've found that a flat mounted solar panel will produce the equivalent of about 5 hours worth of peak output per day in summer, and about 2 hours in winter - both assuming sunny weather
In other words, a 100W solar panel would produce about 500Wh (~40Ah @ 12V) per day in summer and about 200Wh (~15Ah @ 12V) in winter.
You can significantly improve the output of your panels in winter by tilting them - orienting them to point directly at the sun can produce almost twice as much power as flat panels in some conditions.
How long can we camp off-grid in our RV?
We can last about 14 days before we need to dump and fill our tanks, but as long as it's sunny, we will never run out of electrical power.
On cloudy days, our solar production drops dramatically - even in summer, we don't produce enough solar power on cloudy days to offset our usage. A few cloudy days in a row is enough to drain our batteries pretty low.
In those situations, we try to conserve power as much as possible, reducing our use of the inverter and high power appliances, and switching to propane instead of electricity where possible.
How much did your RV electrical upgrades cost?
In total, we spent around $10,000 on our RV solar, batteries, inverter and other electrical items. Since we did all of the installation ourselves, that's the cost of parts, materials and tools. That includes all the wiring, fuses, breakers, switches, etc.
While it's not cheap, without it we wouldn't have been able to boondock anywhere near as often or as comfortably as we have done. If you assume an RV park costs $25 per day, then we'd have spent that much money just on campground fees in a little over a year. Since we live full-time in our RV, our electrical system has already paid for itself.
Of course, you don't have to spend that much money on an RV electrical system that lets you boondock off-grid. There are cheaper alternatives for batteries, inverters, charge controllers and solar panels - but do your research thoroughly so you know what you're getting.
You can save a lot of money by installing it all yourself like we did, but if you do decide to have a professional installer do the work for you, the labor charges can add significantly to the total cost.
Ultimately, one of the cheapest ways to get off-grid might be a generator. We didn't want to deal with the noise, maintenance, refuelling and hassle of a generator, but you can pick one up for less than $500 that will give you all the power you need. Just be sure to factor in the cost of fuel and maintenance.
Are Lithium batteries worth the cost?
It really depends. For full-timer RVers like us, the total cost of ownership over several years becomes comparable to alternatives like flooded lead acid or AGM batteries.
Not to mention the much lower weight, smaller size, safer technology and almost complete lack of maintenance required. For us, they were all major considerations - putting 600Ah of lead acid batteries on the tongue of our RV (you should only discharge lead acid batteries to 50% to maximize the longevity) would not have been feasible from a weight or space perspective on our small travel trailer.
If you only use your RV occasionally, don't have the need to run high-power appliances, have plenty of space and weight in your RV, or simply just have existing lead acid batteries that are still in good condition, then switching to Lithium batteries may not make financial sense. Ultimately, you need to decide whether the many advantages of Lithium batteries are worth it to you, and if you can afford the upfront costs.
Are solar panels for an RV worth the cost?
Solar panels can be one of the most cost effective upgrades you can do to your RV. Once they're installed, they require no maintenance or fuel - they just keep producing free power as long as the sun is shining.
Solar panels are relatively cheap (less than $1 per Watt isn't uncommon nowadays), and while MPPT solar charge controllers can be expensive, the slightly less efficient PWM controllers can be bought for much less.
So as long as you camp somewhere sunny, solar panels can at least reduce the hours spent running the generator, and maybe even offset all of your electrical needs. But in cloudy weather, or if you like to camp in heavily forested areas with limited clear skies, they might not work for you.
How many solar panels do you need?
To calculate how many solar panels you need, you first need to calculate how much power you use. Your batteries (usually) provide the power to run your devices, and the solar panels recharge your batteries.
There are a few ways to calculate how much electricity you use. The first is to do an electrical audit. This involves listing every electrical appliance you'll use (from your phone charger to your hair dryer), looking up how much power it draws, and multiplying it by the amount of time you'll use the device each day.
While an electrical audit is a great first step, it's not as accurate as measuring your real world usage. Kill-A-Watt meters allow you to measure how much power is consumed by 110V AC appliances, but you can only use it on one appliance at a time and it won't work for 12V devices or hardwired items like your AC unit.
Alternatively, if you have shore power at an RV park, you can take meter readings from the electricity meter to calculate how much power you used each day. Obviously you'll want to make sure your usage is similar to what it might be while boondocking - so think carefully before turning on the AC or electric water heater.
The best and most reliable way to calculate how much electricity you use is to install a battery monitor with a shunt, like the Victron BMV-712. This measures exactly how much electricity is flowing into and out of your batteries. This is why we hit the road with very little solar power - so we could collect data from our battery monitor and determine how many rooftop solar panels we should install.
Once you've determined how much power you use, you can calculate how much solar you need. A good rule of thumb based on our data is to assume 5 peak hours of sunshine in summer, and 2 in winter. You can find charts online that will give you more accurate estimates for different parts of the country.
Many RVers would tell you that you can never have enough solar panels. And to some extent, that's true - if you have the power available, you'll often find a way to use it. That's certainly true for us - even in summer, we can usually find a way to use the plentiful power we generate.
Is it safe to install batteries under the bed in your RV?
It is completely safe to install Battle Born Lithium batteries in an enclosed space, such as under the bed in your RV. The Battle Born Lithium batteries have a built-in BMS that will shut the batteries down in the event of any problems.
Our LiFePO4 Lithium batteries do not get excessively hot, don't vent any gasses and are completely sealed. There is also no meaningful electromagnetic radiation being emitted - if there were, our batteries would drain pretty quickly!
We have added vents to our under-bed installation location, but that's to provide airflow for the inverter and solar charge controllers which do tneed ventilation.
If you have flooded lead acid batteries, these must be installed in a properly vented location. The gases they produce are dangerous and flammable, and I would not install them under the bed in our RV. You may also need to take precautions with other battery chemistries. Likewise, if you have Lithium batteries with an external BMS, the batteries could be unprotected and un-managed if there is a problem with the BMS or its wiring to the batteries.
Safety is one of the main reasons we chose to go with Battle Born Lithium batteries.
Are Lithium batteries good in cold weather?
We often get asked if we can use our Lithium batteries in cold temperatures. Yes, absolutely!
Our Battle Born Lithium batteries can be used as normal down to 24°F. Below that temperature, the BMS will prevent them from charging to avoid damaging the batteries. But, as long as the temperature stays above -4°F, they can still be discharged. And they can be stored at temperatures even lower than that!
Since we installed our batteries under the bed and we live full-time in our RV, I don't expect our batteries to ever get anywhere near that cold!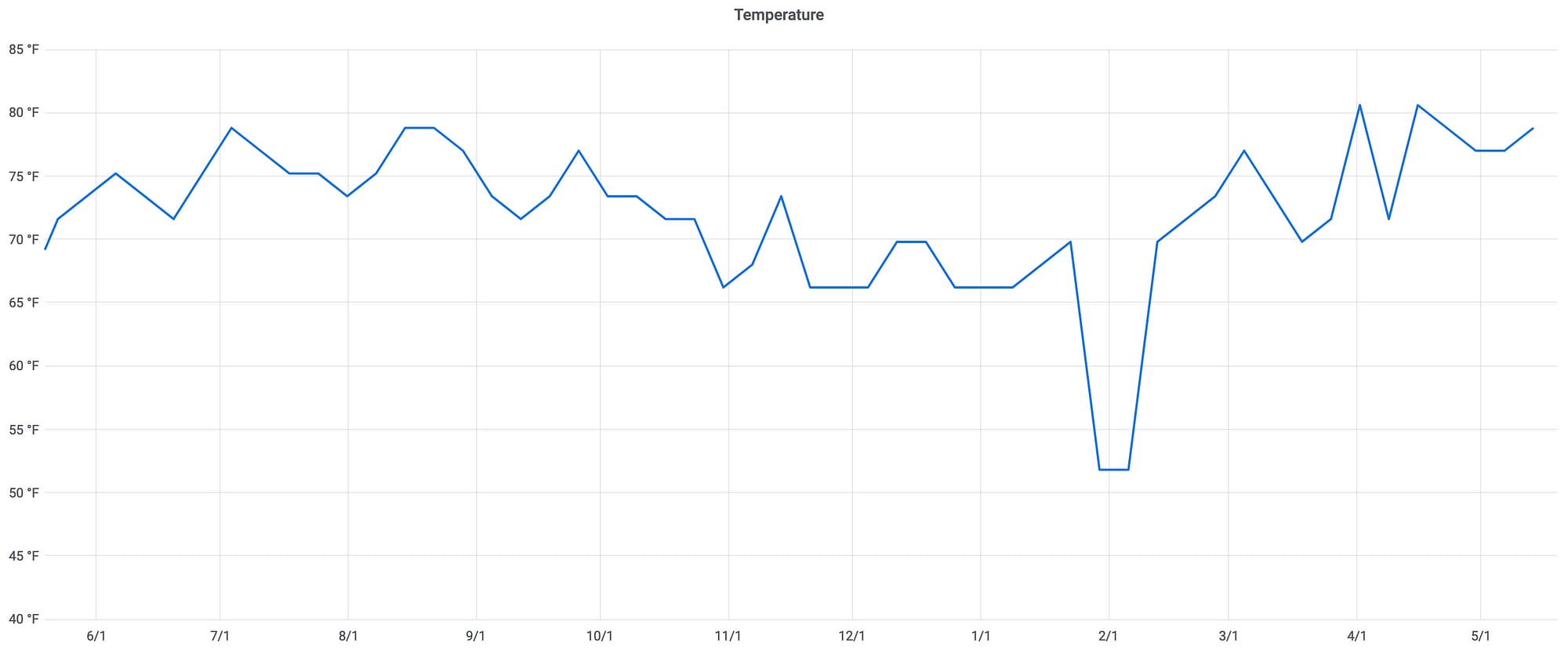 If you do plan to keep the batteries somewhere more exposed (e.g. in a metal box on the tongue) and want to camp in very cold conditions, then you may want to consider adding some supplemental heating, such as Battle Born's specially designed and thermostatically-controlled battery heating pad.
Remember that not all Lithium batteries are equal, so if you plan to buy other batteries then be sure to check what their temperature limits are, and whether the BMS will protect them.
Lastly, it's worth noting that it's not just Lithium batteries that are sensitive to very cold temperatures. The usable capacity of lead acid batteries drops significantly in cold weather, and extreme cold can be bad for other electronics too - e.g. the minimum operating temperature of our Victron Smart Solar 100/50 MPPT solar charge controller is -22°F.
Conclusion
While this has proven to be a great set up for our needs, your ideal system may be completely different. But whatever that may be, I hope that knowing a little about our system might give you a few ideas - things you might want to do the same, and others you might change.
I've been lucky enough to see a huge range of RV electrical systems during our time on the road - from friends who have been full-time RVing for almost a decade with a system much smaller than ours, to a Class A motorhome with 4,300W of solar and the entire battery pack from a Tesla Model S that can run two AC units and still charge the batteries!
Let me know in the comments what your RV solar system looks like, or if you're still in the planning stages, what you're thinking of adding.