Introduction
Following on from our visit to Walnut Canyon National Monument near Flagstaff, AZ, we continued east, broadly following the path of the Historic Route 66.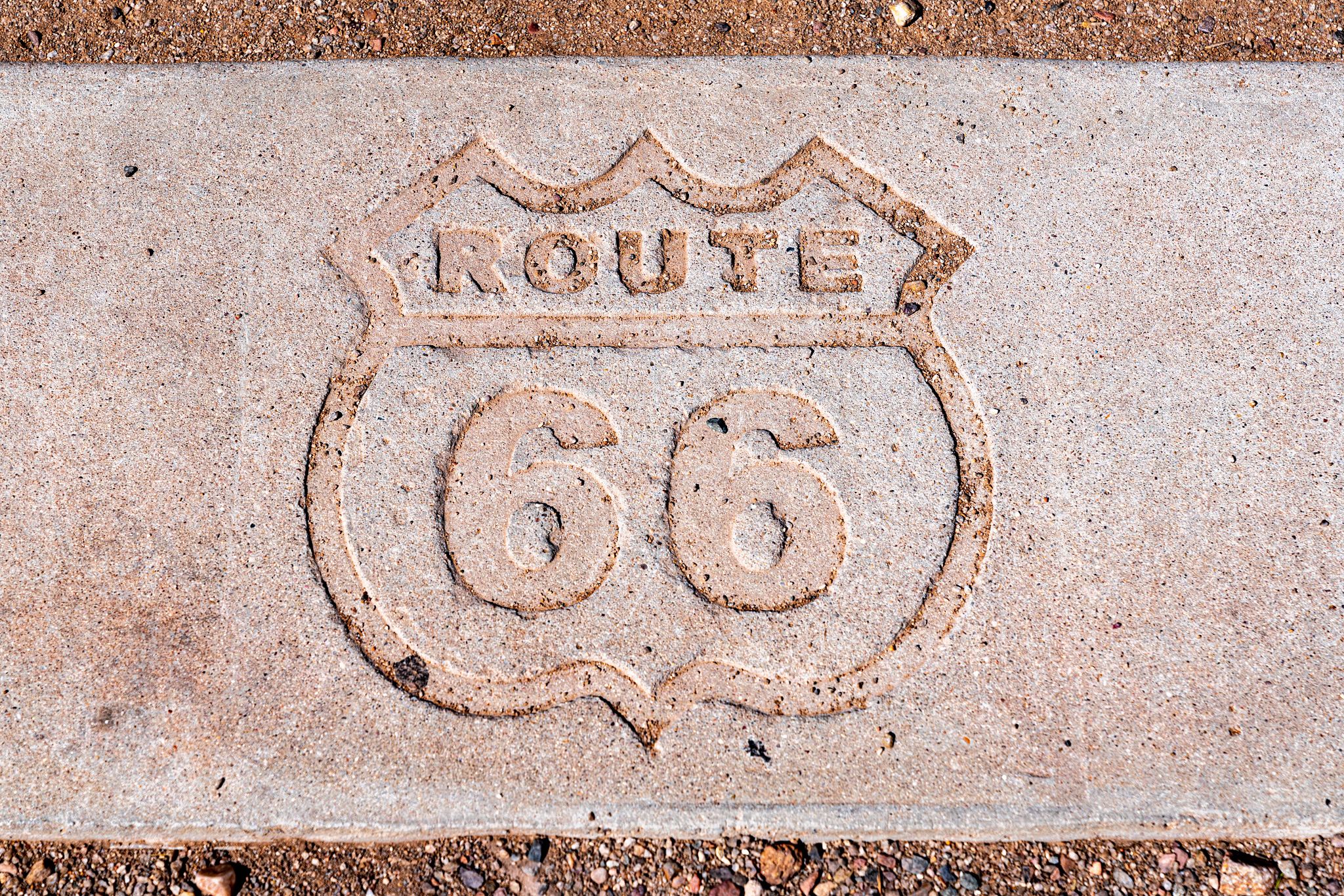 Along the way, we stopped in at Winslow, AZ, made famous by the Eagles in their 1972 song Take It Easy. Winslow used to be a thriving town when Route 66 ran through it, but as with many similar places, it was hard hit when I-40 was opened in 1977, bypassing the town.
Our destination was Petrified Forest National Park, the 24th stop on our quest to visit ALL the National Park Units in the US.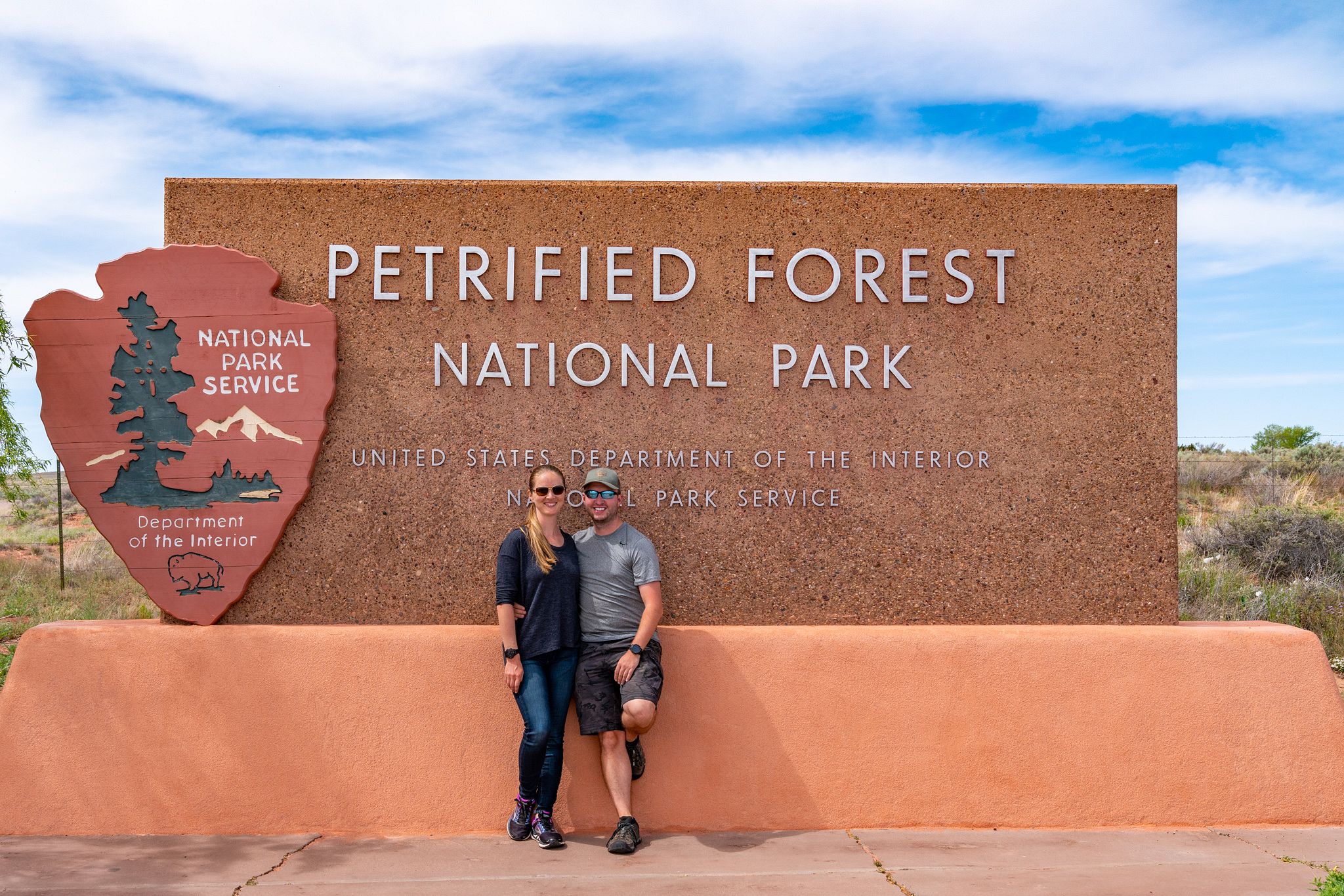 With limited boondocking in the area, we chose to stop at Sun Valley RV Resort for a few nights. Situated just off the interstate, this is a no-frills RV park, but being just 18 miles west of Petrified Forest National Park along I-40, it was the perfect base while we explored the area for a few days.
Petrified Forest National Park is one of the National Parks we visited before we bought our RV. Funnily enough, we visited on our first road trip with a rented RV back in 2016 - we rented a travel trailer from Phoenix, AZ for a 5-day circular road trip to Organ Pipe Cactus National Monument, White Sands National Park (back then, still a National Monument) and Petrified Forest National Park.
That was a fleeting visit, with just 1 day to explore. We were pleased to be back, but this time with a little more time to explore!
Location
Petrified Forest National Park is located in eastern Arizona, 26 miles east of Holbrook, AZ. I-40 runs right through the middle of the Park, which makes getting there incredibly easy!
Video
Background
Aside from obvious jokes wondering what the forest could possibly be so petrified of, you might be surprised to learn that there is no forest at Petrified Forest National Park.
Well, not a living one at least. Much of the landscape is considered badlands - arid, barren and inhospitable areas. What once would have been lush forests is now empty desert, except for the petrified trees!

Petrified Wood
What exactly is petrified wood? Well, to put it simply, petrification is the process of turning something to stone.
Around 218 million years ago, during the Late Triassic Epoch, the area would have been covered in forests, with river channels running through the area.
Trees naturally died and fell, crossing the river channels and surrounding floodplain. Periodic floods covered these logs in layers of silt.
Groundwater, rich in silica, percolated through the logs, slowly replacing the soft organic molecules with a much harder mineral: quartz. This process took millions of years!
Pure quartz is white, but impurities change its color. Iron oxides impart hues of red, yellow, orange and purple, while manganese oxides color the quartz black and grey.
Around 60 million years ago, the Colorado Plateau on which Petrified Forest National Park sits, was pushed upwards by tectonic forces. Exposed to wind and water, the rock layers were eroded - gradually exposing the petrified trees.
As the petrified tree trunks are exposed, they are left unsupported by surrounding rock. The heavy quartz is brittle, and cracks propagate perpendicular to their length - much like a piece of chalk.
The end result is a vast array of what appear to be brightly colored and carefully sawn logs - up close you can even see the detail of the wood grain. Truly incredible!
Fossils
In addition to the petrified wood, Petrified Forest National Park is also famous for its fossils.
Since the early 20th century, paleontologists have been unearthing fossils from the Late Triassic period. These include plants such as ferns and cycads, but also fauna! Giant reptiles, large amphibians and early dinosaurs have all been found here!
People
At the end of the last Ice Age, around 13,500 BCE, the first humans arrived in the park. These Paleoindian settlers found the area very different from what we see today - vast grasslands with higher rainfall and lower average temperatures. And they liked it!
They sharpened shards of petrified wood to make stone tools and spearheads for hunting game. Camps belonging to Clovis and Folsom cultures as well as other Paleoindians have been found within Petrified Forest National Park.
Starting around 6,000 BCE in the so-called Archaic Era, the climate began to warm and rainfall reduced. Megafauna such as mammoths went extinct, and the people had to diversify their diet. Archeological evidence includes stone tools such as manos and basin metates for grinding maize.
By 500 BCE, the climate resembled what we see today. Known as the Basketmaker culture, people of this time began building more permanent structures known as pithouses. They farmed crops such as corn, squash and beans.
Sivu'ovi is the largest Basketmaker II village in the park. It would have been occupied while the land was farmed and consisted of storage pits and 47 pithouses. Adamana Brown-style pottery has been found here.
Beginning around 750 CE, the Pueblo I Period saw people building more substantial structures - above-ground pueblos rather than pithouses.
Over the next 700 years or so, throughout subsequent Pueblo Periods, the area developed further. Pottery becomes more sophisticated in shape and design. Architecture evolved to include ceremonial kivas, and villages grew in population.
As with many other Ancestral Puebloan sites, the area was largely abandoned around 1400 CE as people migrated away.
Route 66
During Season 2 of our journey to visit the National Parks, we're traveling along Historic Route 66 from Los Angeles, CA.
Petrified Forest National Park is the only NPS unit that actually contains a section of the historic road.
While driving west, travelers were invited to stop at Petrified Forest National Park - right at the Painted Desert Inn.
While the road is no longer visible in the park, a line of telephone poles marks where Route 66 once ran.
Itinerary
We had planned to spend a few days in the area around Petrified Forest National Park.
Day 1: Leisurely Intro
The first day was just an afternoon, since earlier that day we had driven from Flagstaff, AZ via Winslow. Although the drive was only a little over 100 miles, when you add in the time taken to move camp (hooking and unhooking the RV), it took most of the morning.
But still, we didn't want to waste the afternoon so once our RV was set up at Sun Valley RV Resort, we headed straight over to the park.
Painted Desert Visitor Center
There are two visitor centers at Petrified Forest National Park, but we stopped first at the Painted Desert Visitor Center since this is situated at the entrance to the park just off I-40.
In addition to getting our Park Passport stamped, we always like to check in with the Rangers to share our plans and get any input from them. They always know the latest conditions so can help tweak your itinerary if necessary.
One of the most exclusive opportunities at the park is to hike around Devil's Playground. Each week just three permits are issued on a first-come-first-served basis - they cannot be set aside or reserved! We asked, but predictably all that week's allotment had already gone.
Still, with a solid plan in hand, we set out to explore.
Scenic Drive
What do you want to do after a driving day? Drive some more!
Ha, not really, but the drive that loops north from the Painted Desert Visitor Center is truly stunning. Along the way we stopped at several vista points to read the signs and take photos.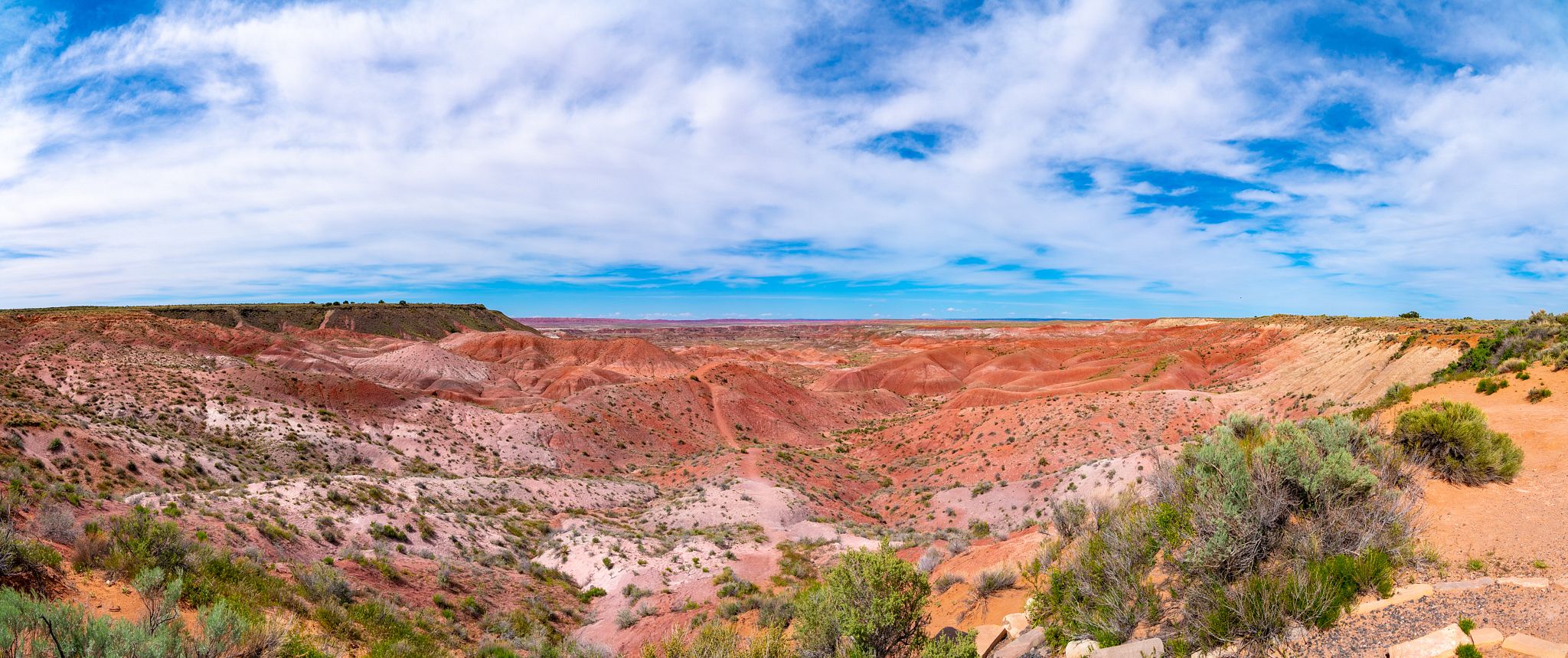 It was originally known as the Stone Tree House, and its owner Herbert David Lore operated it as a tourist attraction where visitors could have a bite to eat, purchase some American Indian craft-wares, and enjoy a cool drink.
There were even six very small rooms where people could sleep for $2-4 per night.
Since then, the building has been transferred to the National Park Service and has had a rich history - even threatened with demolition at one point! In 1976 it earned protection by being placed on the National Register of Historic Places, and now serves as a small museum.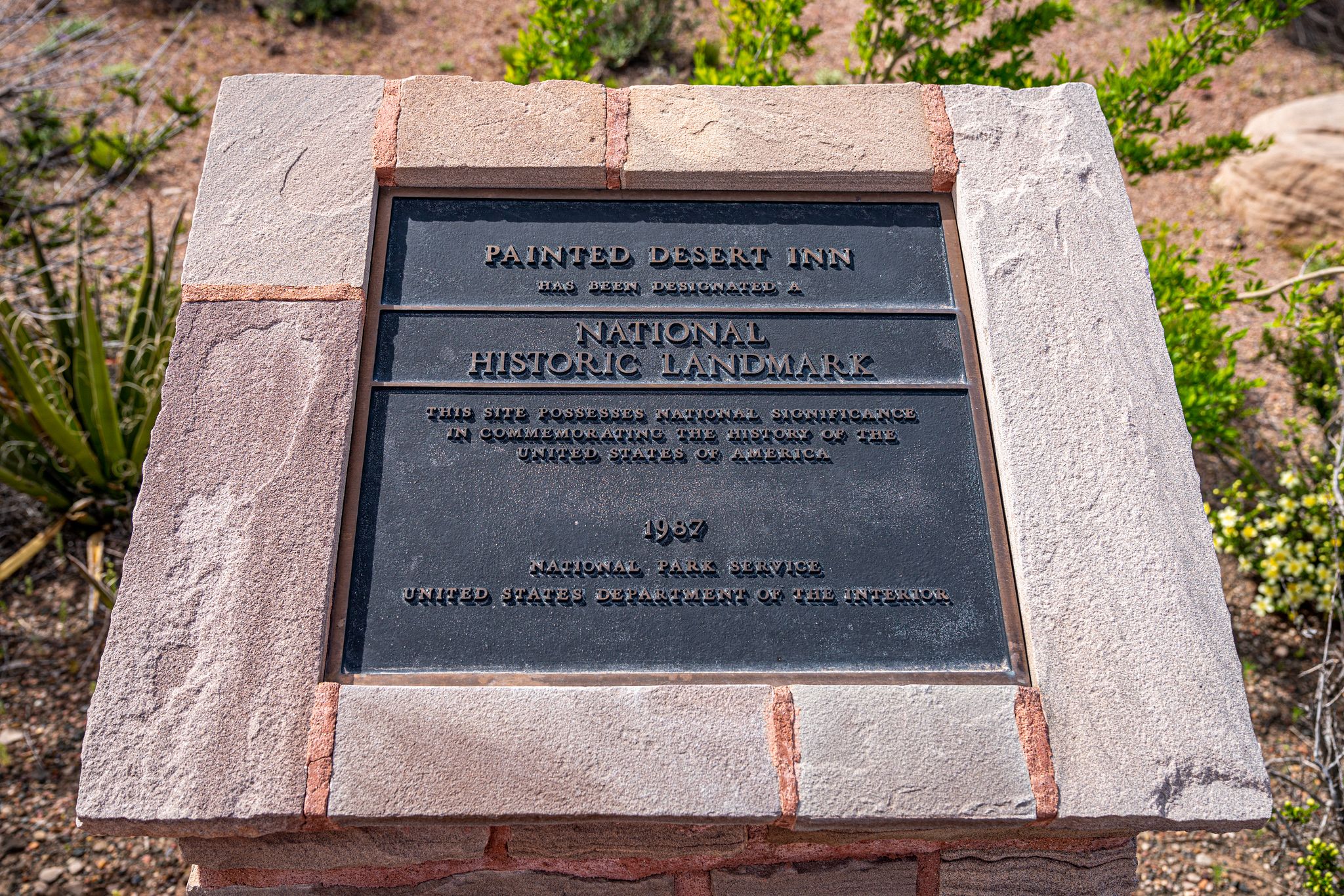 We stopped in and learned much about the building's history, its heyday as a tourist attraction along Route 66, and the subsequent restoration efforts by the Civilian Conservation Corps (CCC).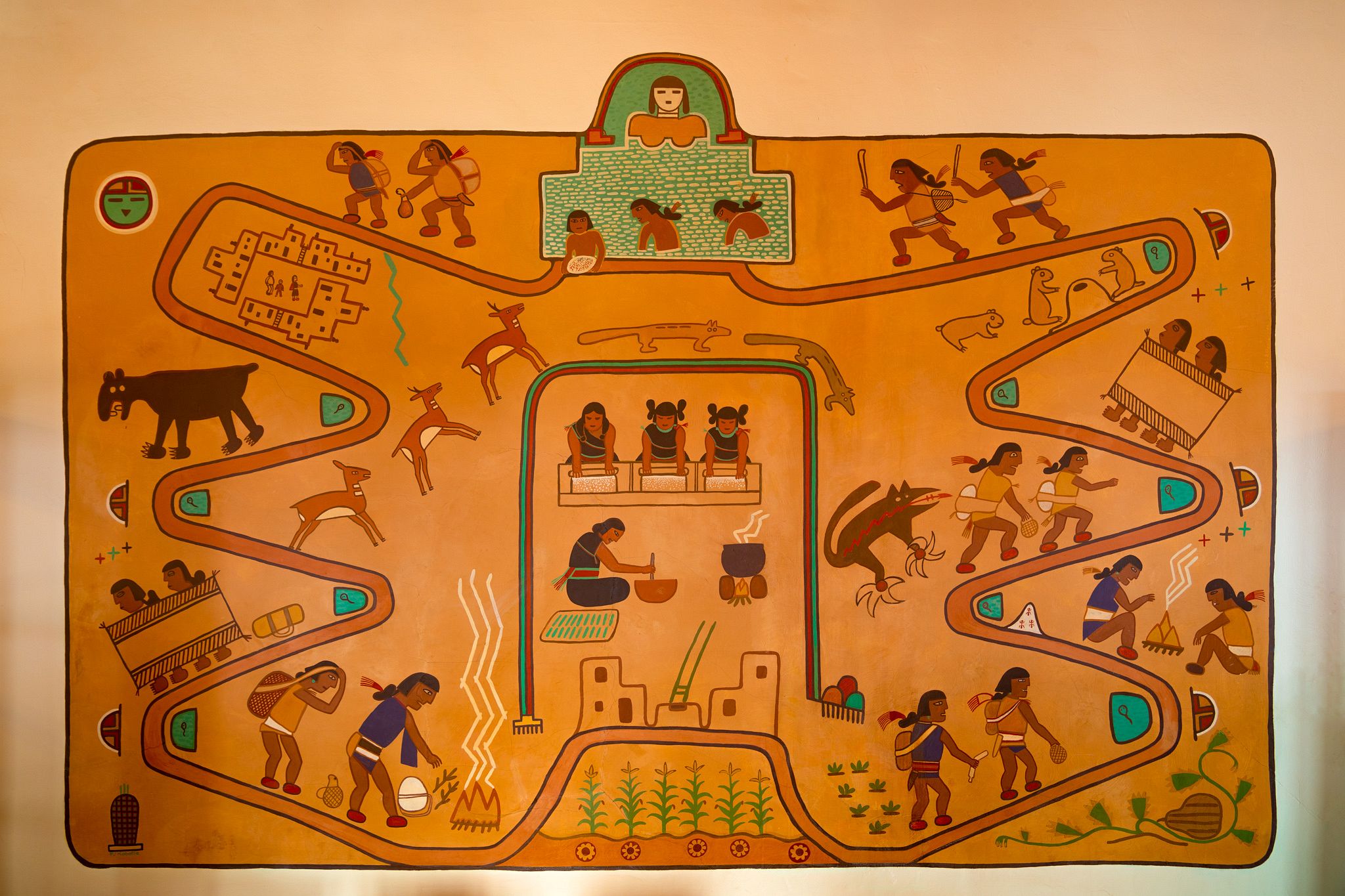 After a long day of traveling and exploring, we were exhausted - we headed back to our RV to rest before another big day of exploration...!
Day 2: Exploration
We were back in the park shortly after 9am the following morning. Our itinerary for the day was simple - make our way from the North end of the park to the South, stopping at each key attraction point along the way.
Route 66
Our first stop was the Route 66 pull-out, where the park road crosses what was once Route 66.
Commemorating the spot is the shell of a 1932 Studebaker, donated to the National Park Service by Arizona Automotive Service in Holbrook, AZ.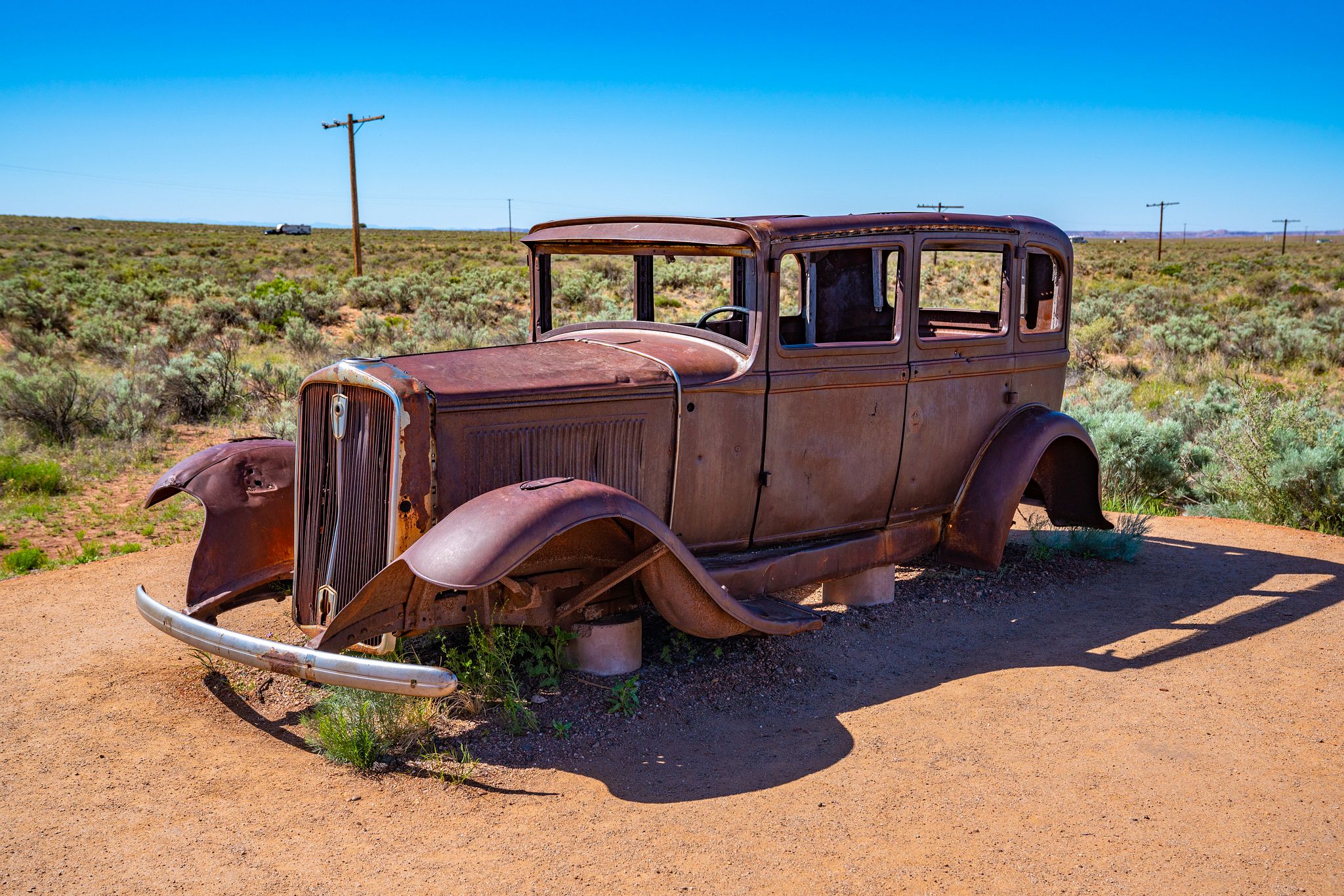 The line of telephone poles mark the roadbed of Route 66, while vehicles on its successor, I-40, are visible in the background.
Puerco Pueblo
We continued south for about 5 miles, crossing I-40 on our way to the Village on the Rio Puerco, or Puerco Pueblo as it's now more commonly known.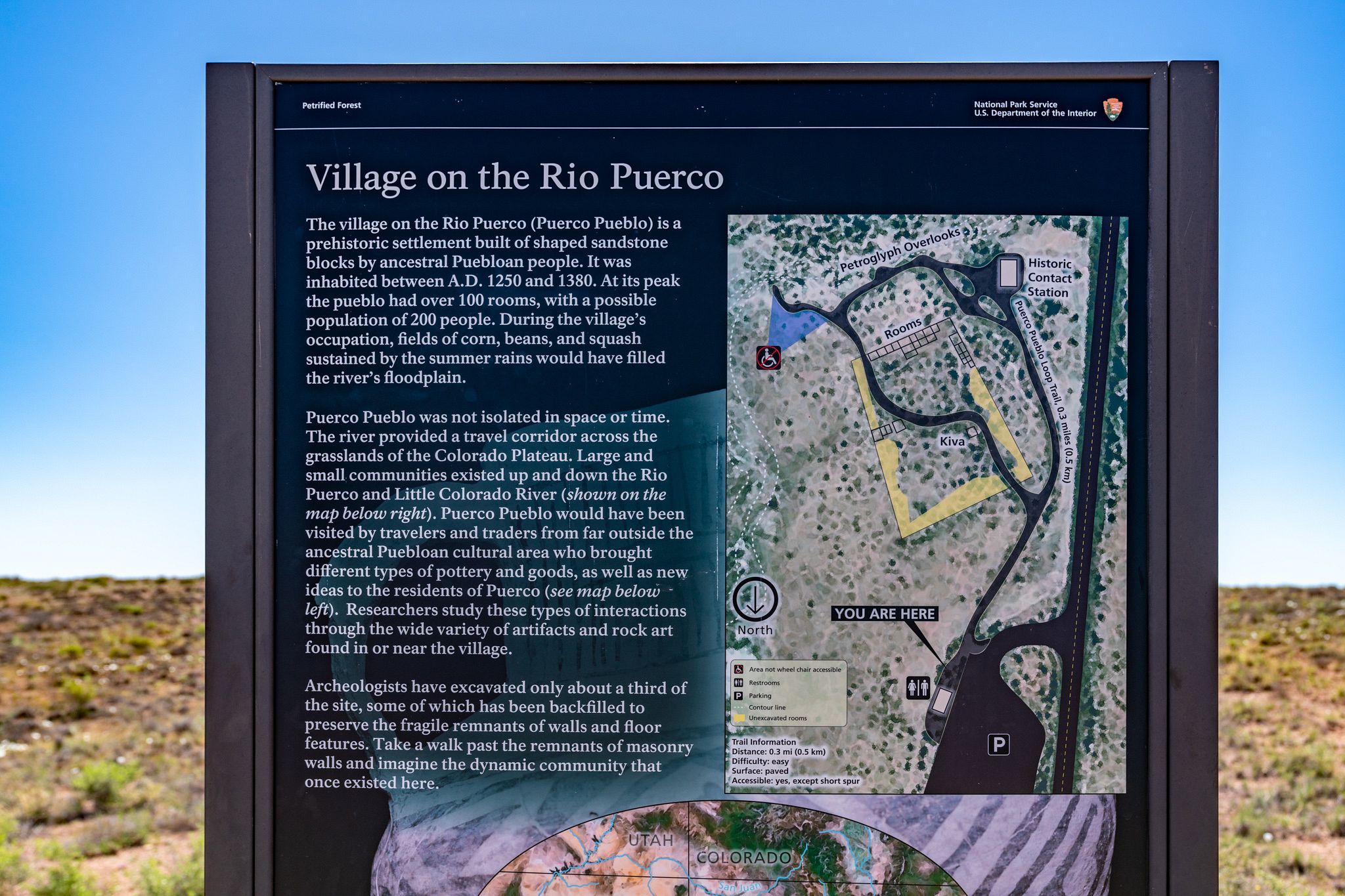 Around 1300 CE, this would have had over 100 rooms and been home to as many as 200 people, making it the largest Ancestral Puebloan village within the park boundaries.
As well as living quarters, the village had kivas, storage rooms and a large plaza where people would have gathered daily for cooking and craft making.
We followed the short, 0.3-mile trail through the ruins of the partially excavated pueblo. One of the coolest things is the Solar Marker - a petroglyph carved into a rock. For around 2 weeks around the summer solstice, light and shadow cross through the circular pattern.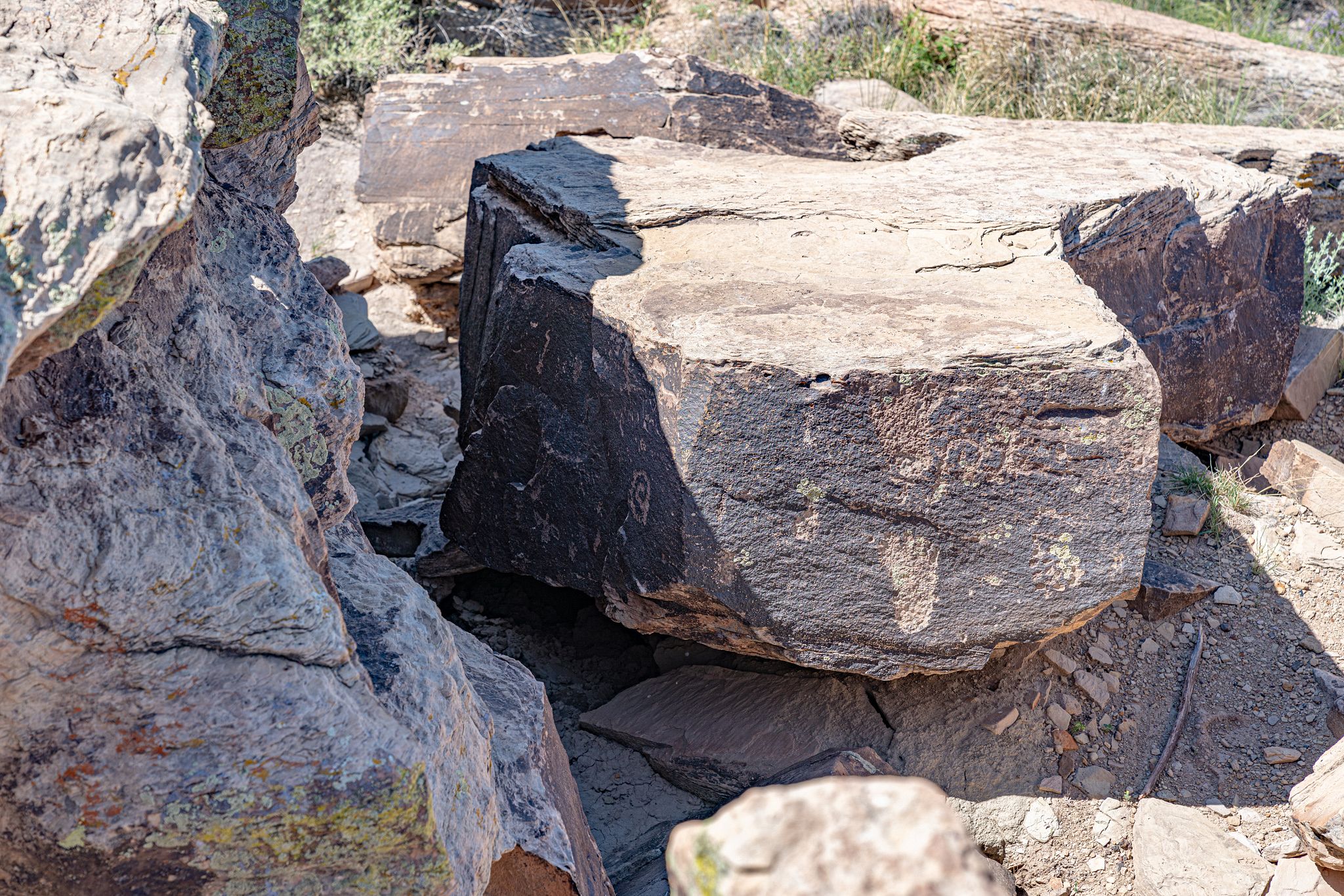 Newspaper Rock
With over 650 petroglyphs covering a group of nearby rock faces, this is neither a newspaper nor a single rock.
Neither can we read a meaningful story, since many generations of ancestral Puebloan people all contributed petroglyphs. However, there is a lot we can learn from it - family symbols, spiritual meanings and calendar events.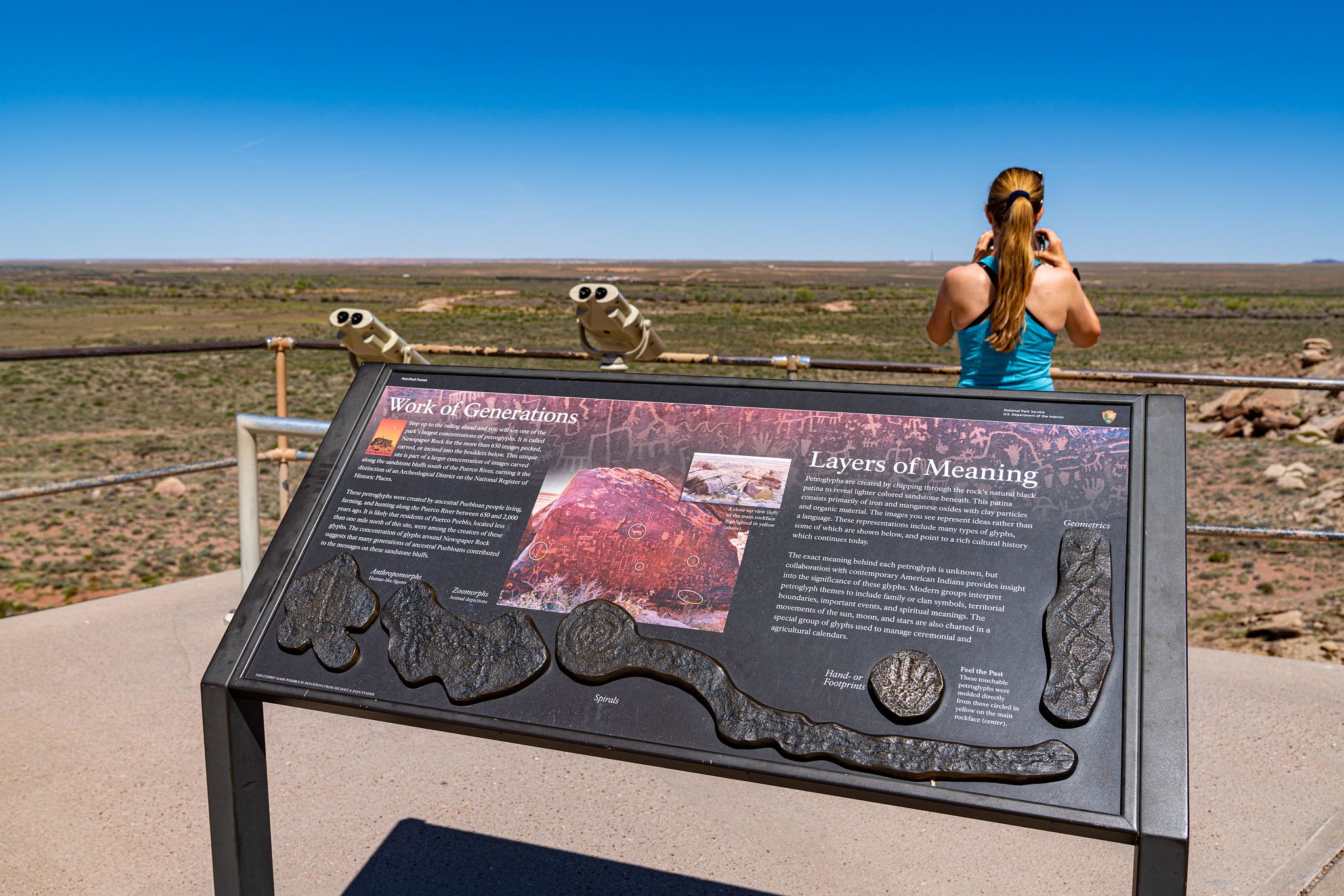 Although you can't walk to the rocks themselves (probably for the best to protect them), there is a parking lot with an overlook of the rocks. While the rocks are close enough to see with the naked eye, for a much closer view we used the free spotting scopes.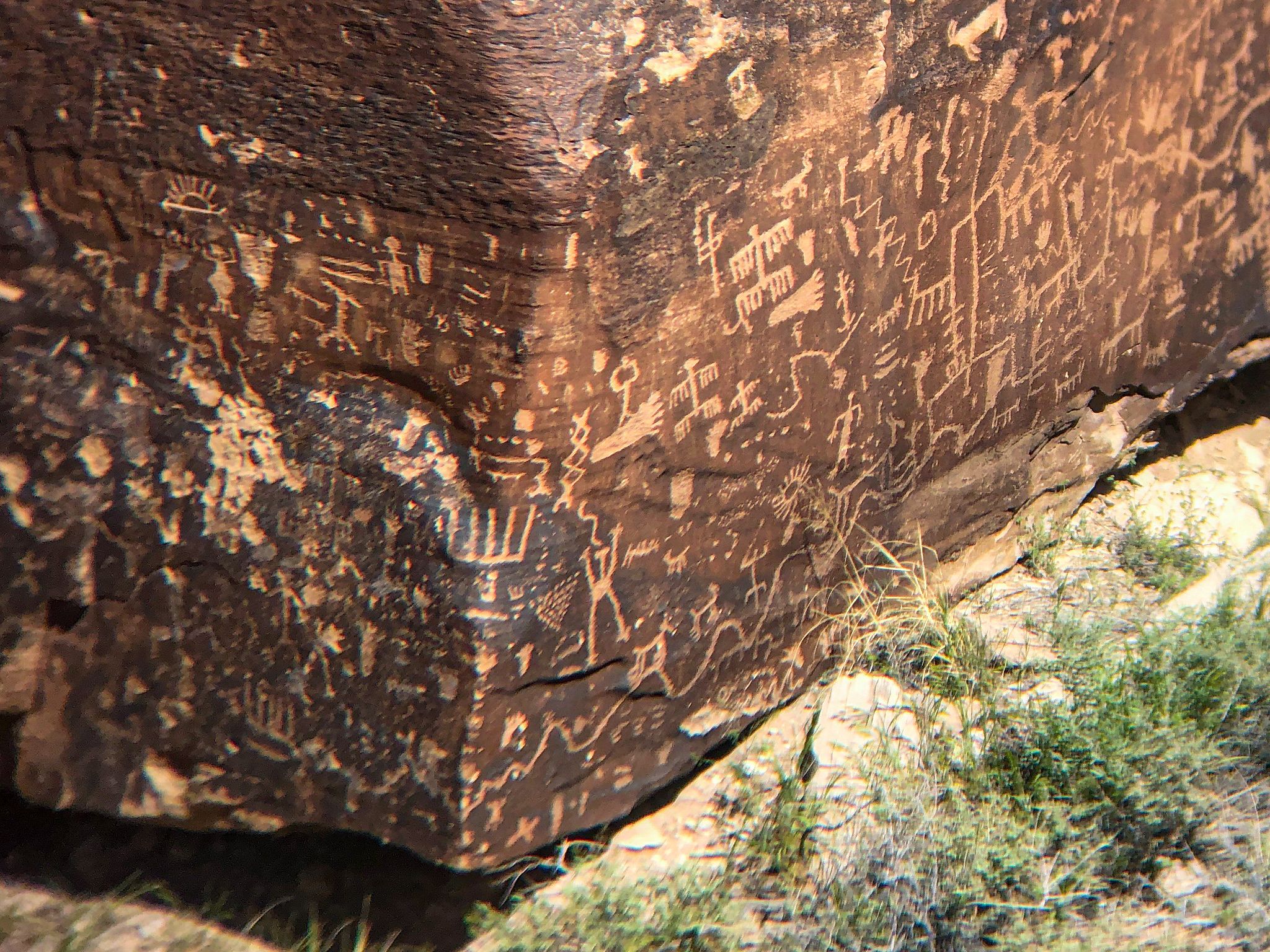 We always enjoy finding petroglyphs on our travels, but nowhere have I ever seen so many in a single spot!
Blue Mesa
Our exploration so far had been very observational - we wanted to get out and see the badlands up close!
The road to our next destination, Blue Mesa, is stunning - towering layered rocks all around. Somehow this feels alien - like you're on a different planet!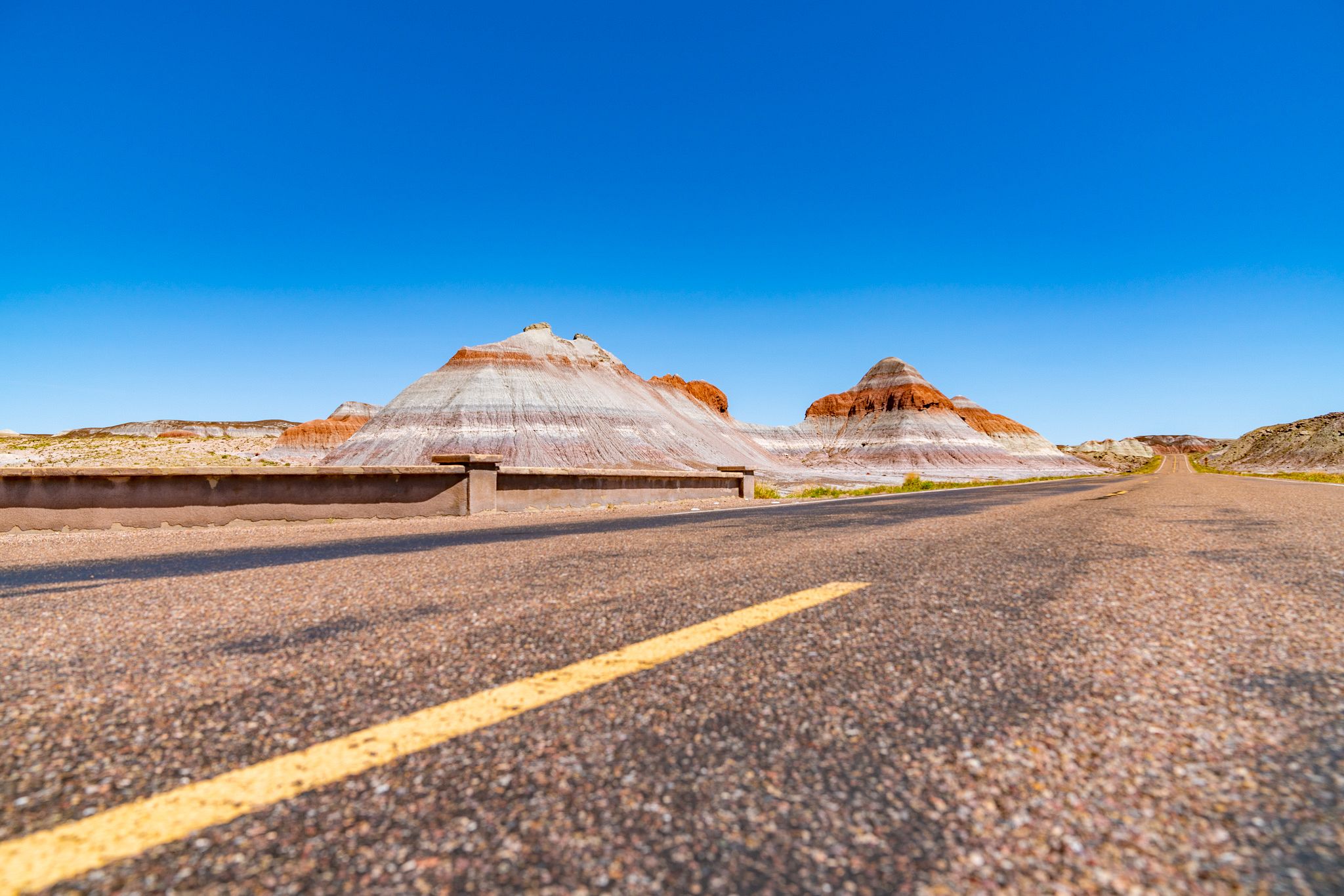 Before we hiked to Blue Mesa, we stopped at a viewpoint on the loop road on the way in. Here once stood a pedestal log - one of the most photographed sites in the park.
But in February 2005, a Ranger noticed something had changed - the log had fallen. It's a good reminder that even in this stark environment, change is always occurring. The National Parks are so regularly visited and photographed that these changes are felt and seen all the more vividly.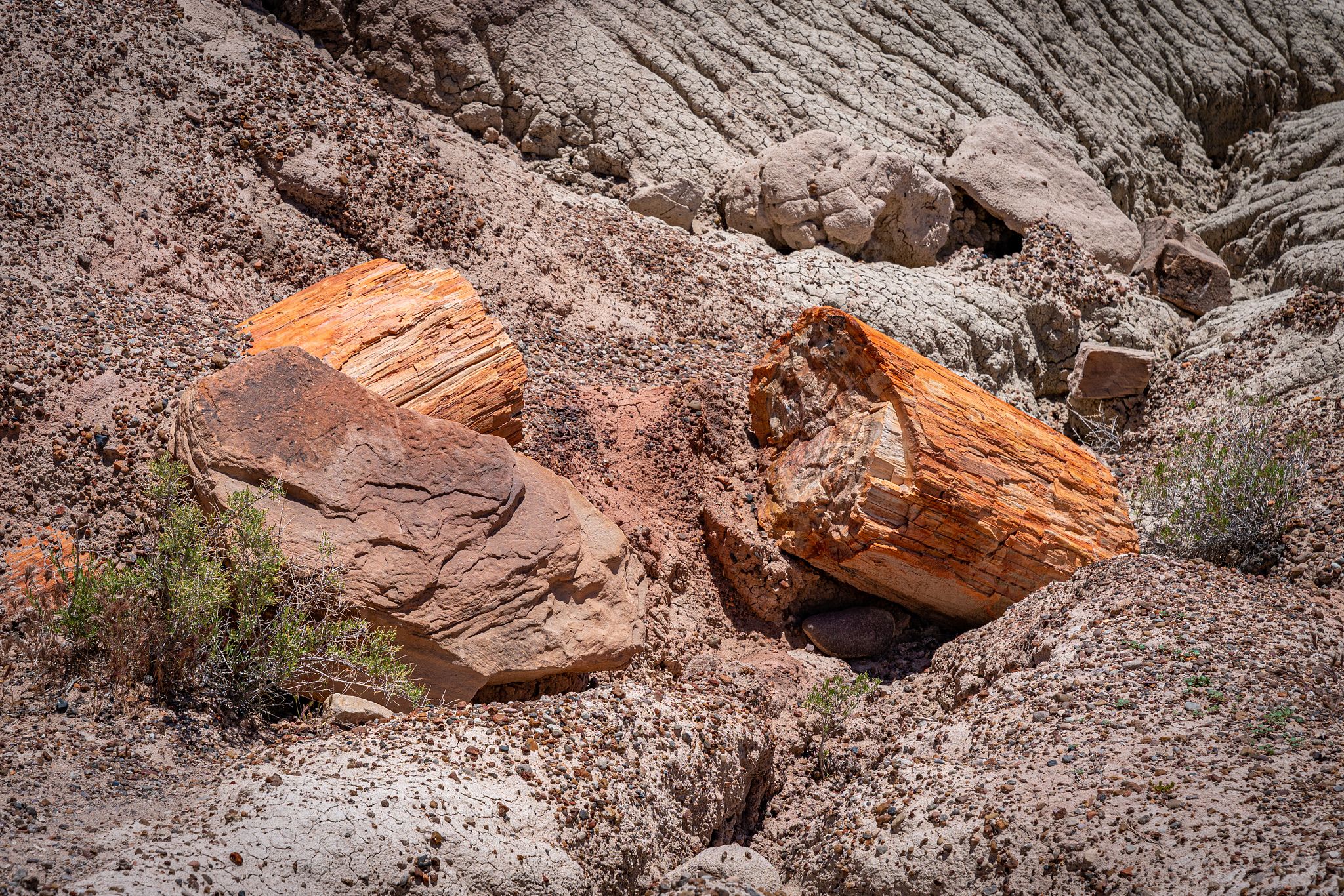 As the road loops around, there are a number of other viewpoints, and yet again, the views are simply stunning!
The Blue Mesa Trail is a 1-mile loop right into the heart of the badlands. The trail descends steeply at the start. Every step takes you deep into the badlands, and further back in time as you hike down through the multicolored rock layers.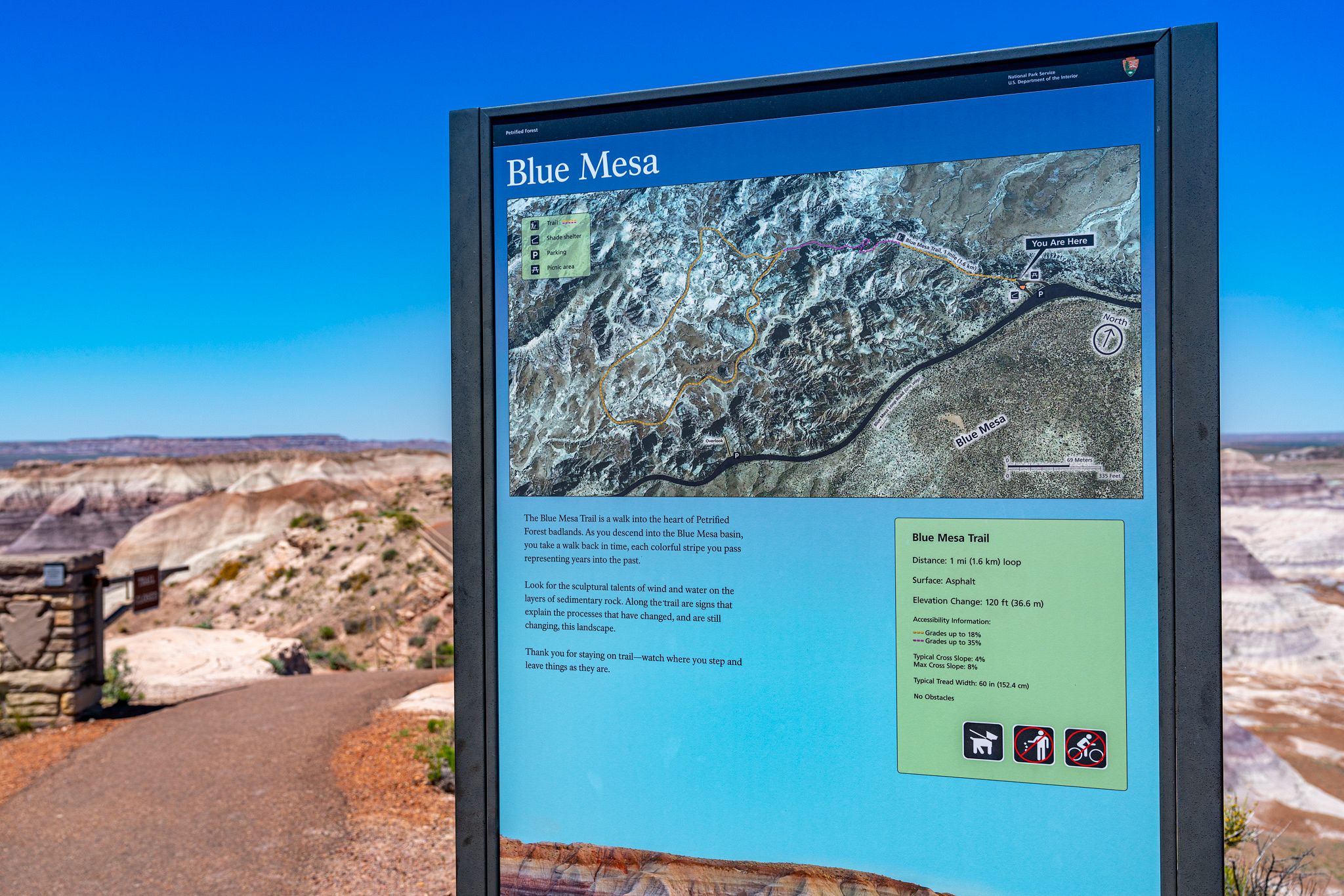 Although the total elevation change is only 120 feet, the grade is up to 35% with a cross slope of up to 8% - be prepared. Other than that, the trail is paved asphalt so it's easy going.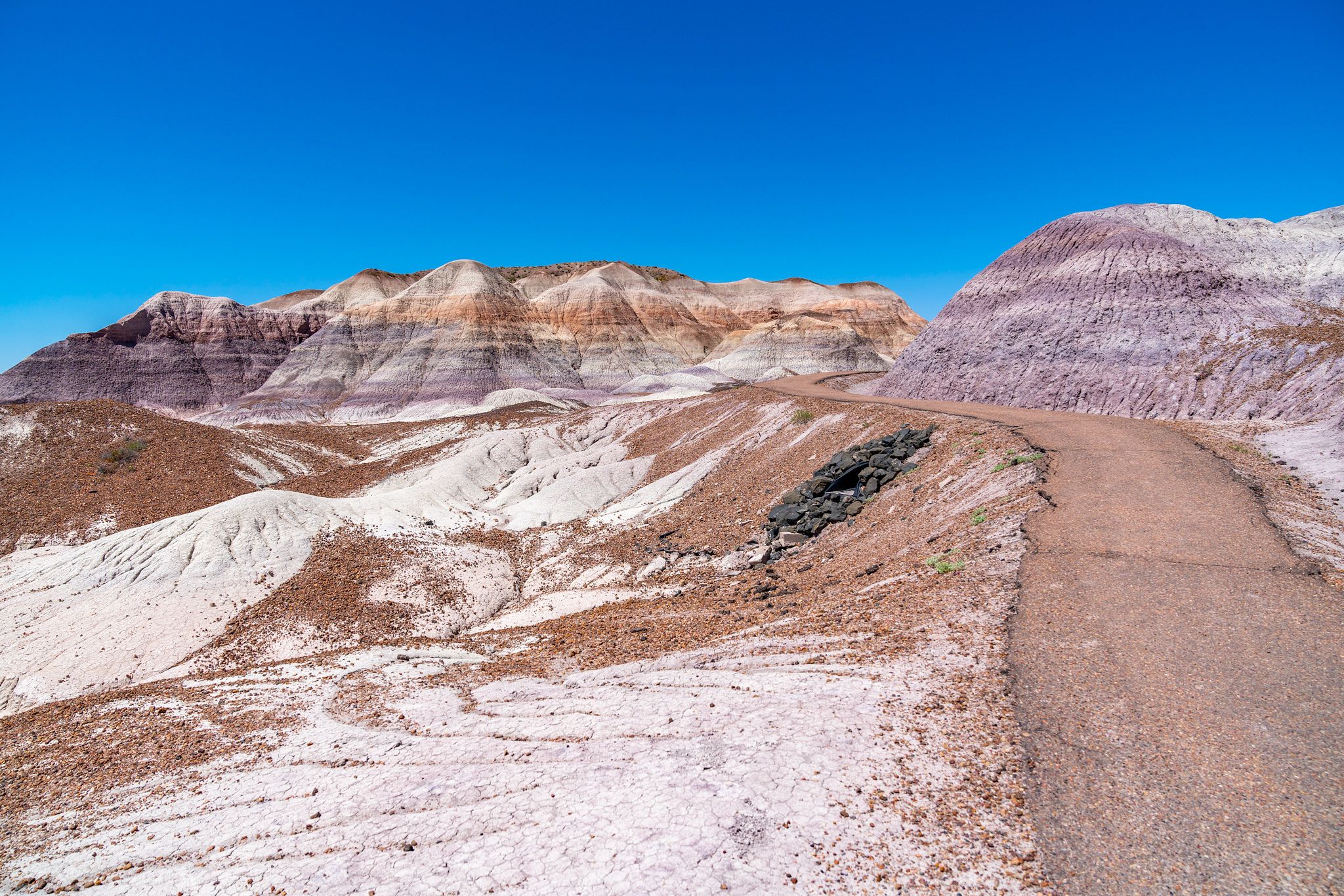 We enjoyed our stroll around the trail - hiking among the bluish bentonite clay mesas that give the trail its name. There are lots of specimens of petrified wood to see, and over the years numerous plant and animal fossils have been sound here too!
Agate Bridge
Continuing south, we made a brief stop to see the Agate Bridge - a 100ft petrified log spanning a gully. It's now supported underneath, but very cool to see!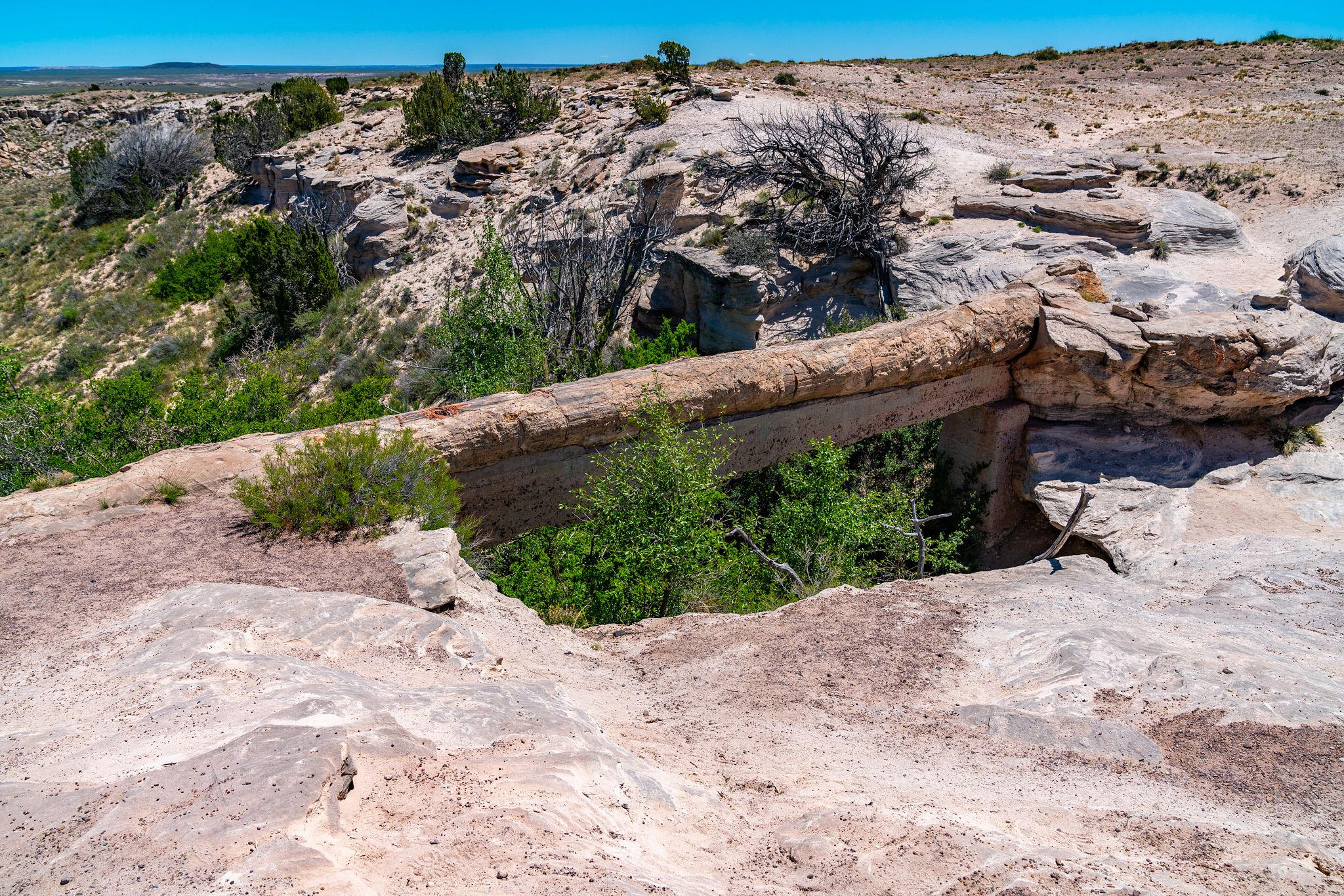 Crystal Forest
But if you really want to see petrified wood, then you need go no further than Crystal Forest, our next stopping point! On the way, we only stopped very briefly to take a couple photos at the Jasper Forest viewpoint as we'll be coming back to that later.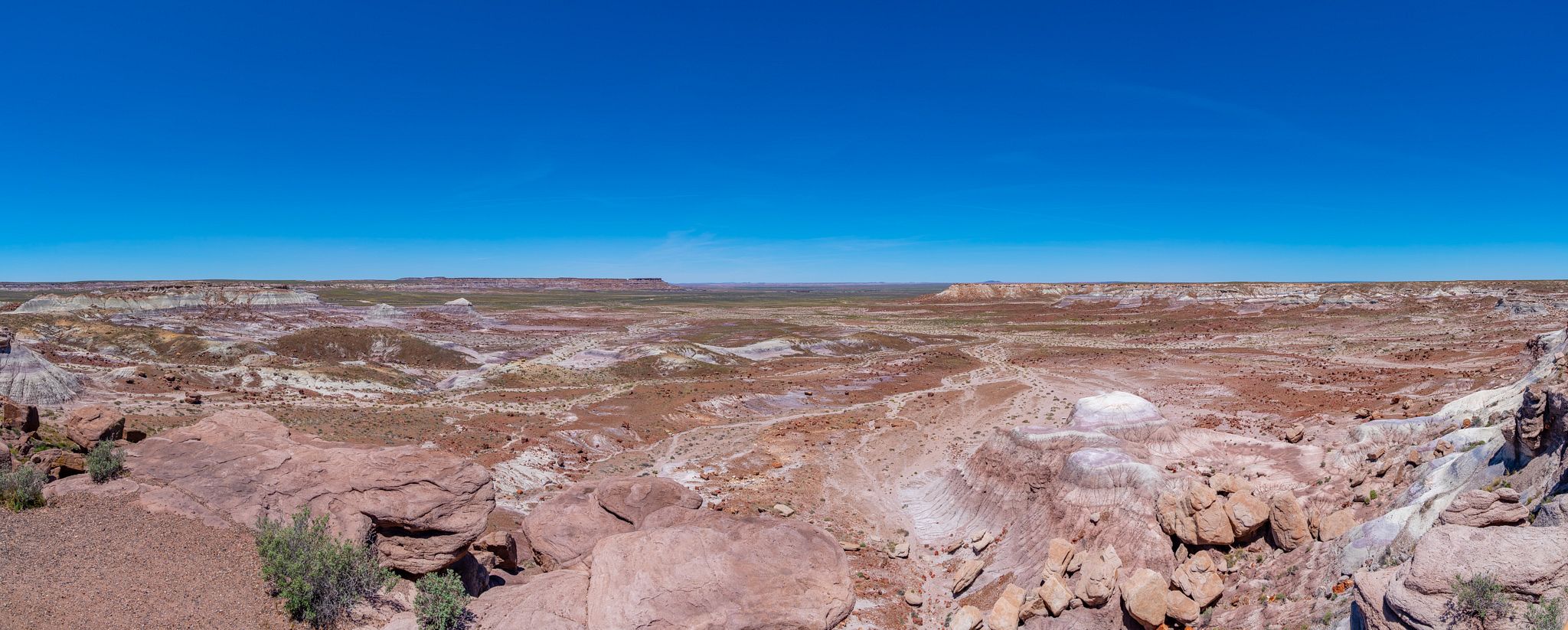 The views even just from the sun shelter near the parking lot are phenomenal - looking out across the badlands.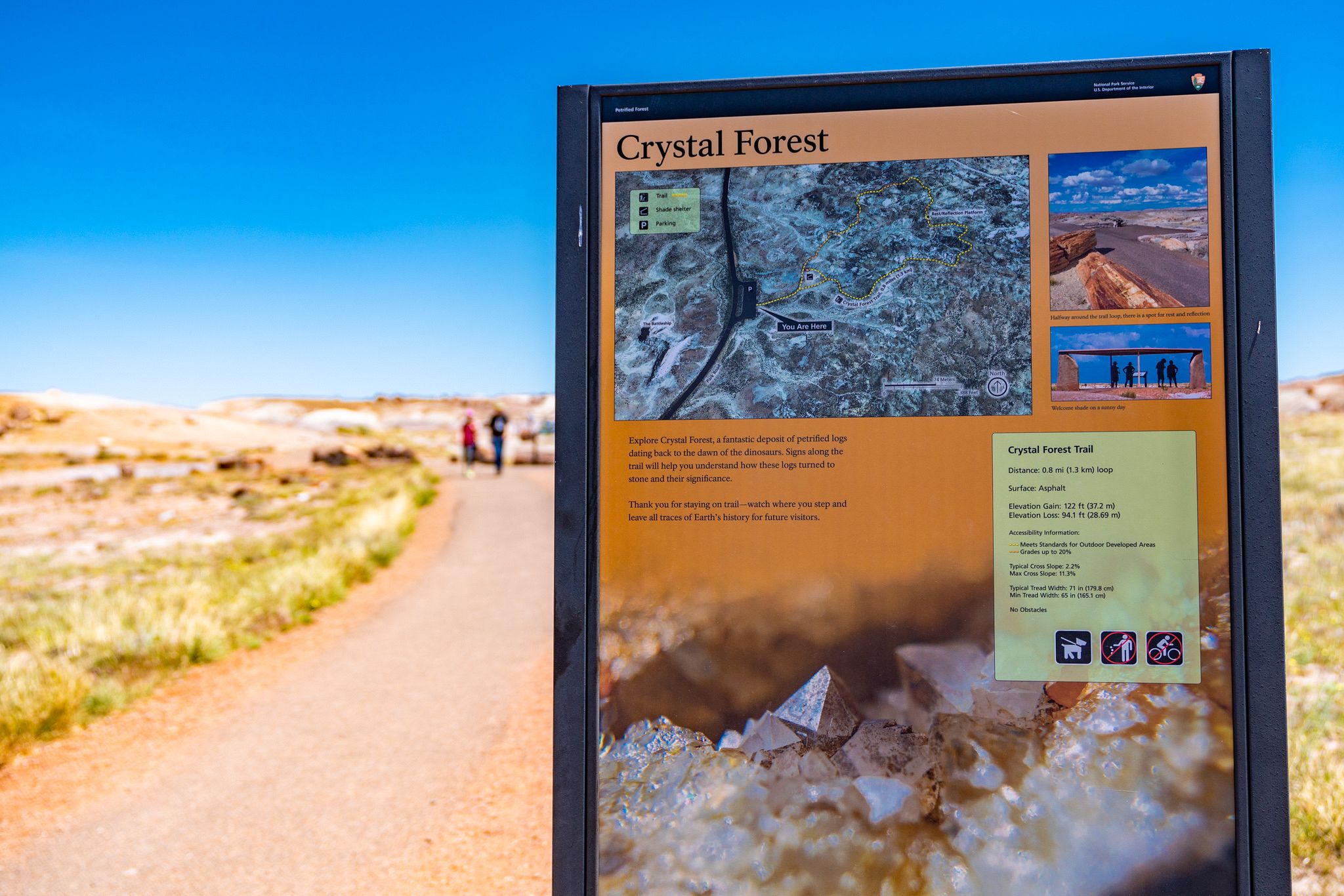 But the highlight is the 0.75-mile loop trail which meanders around thousands upon thousands of pieces of petrified wood. Everywhere you look there are logs - brightly colored in hues of red, orange, purple, white, black and more!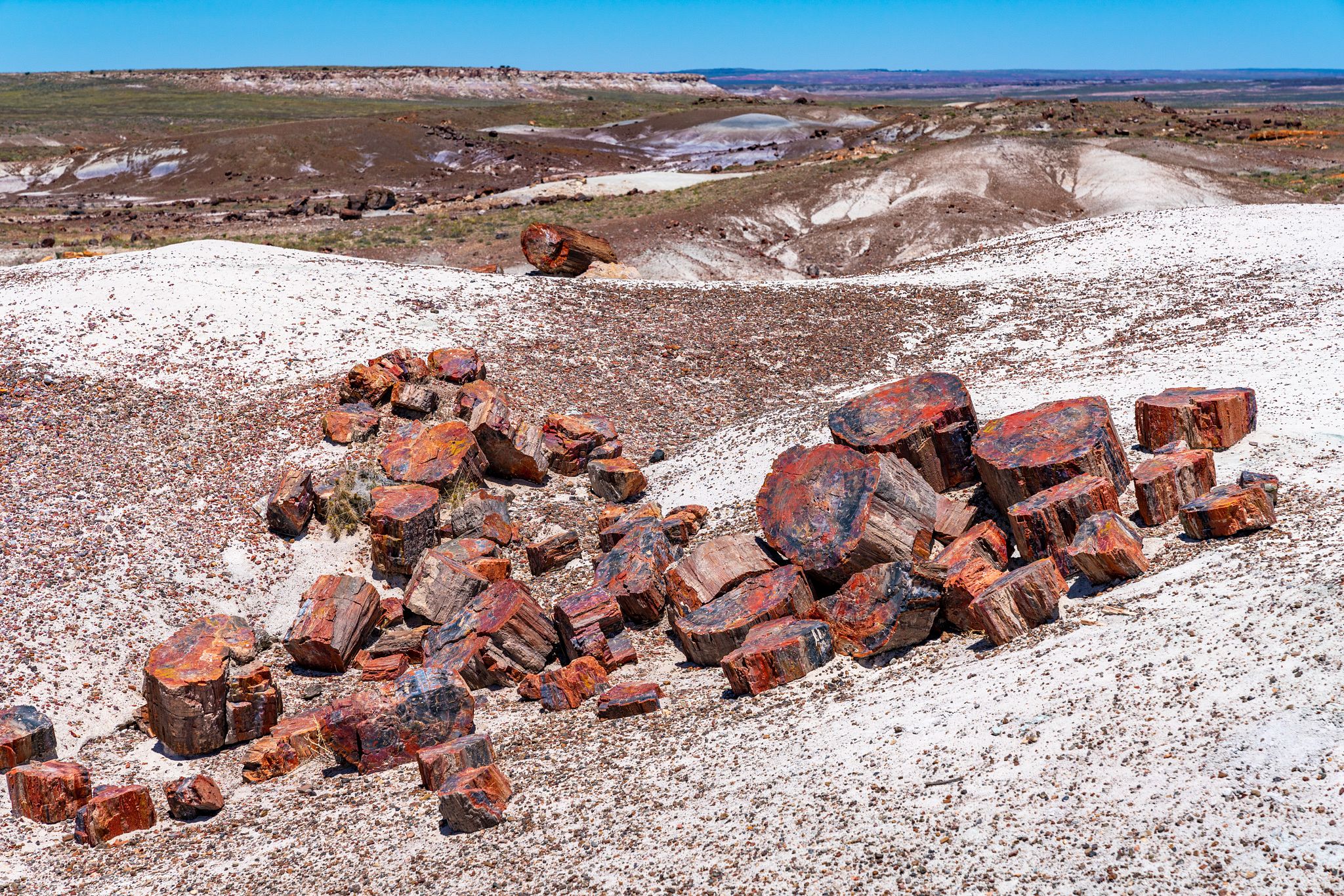 I know these are pieces of rock, but even up close its astonishing how closely the quartz resembles its woody origins - right down to the bark on the outside of the tree!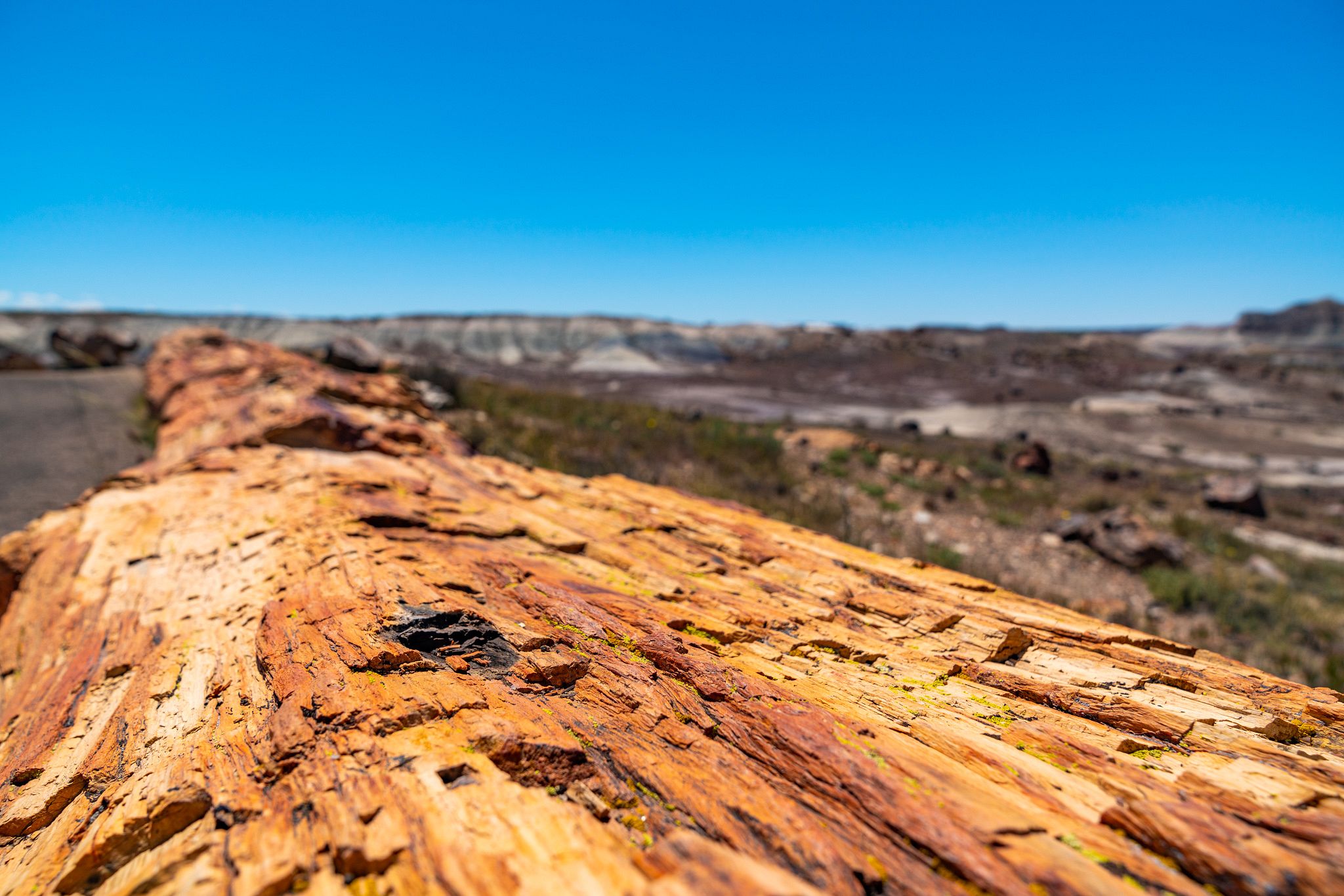 Other specimens looked like they would be more at home in an art museum - the brightly colored crystals gleaming in the midday sun.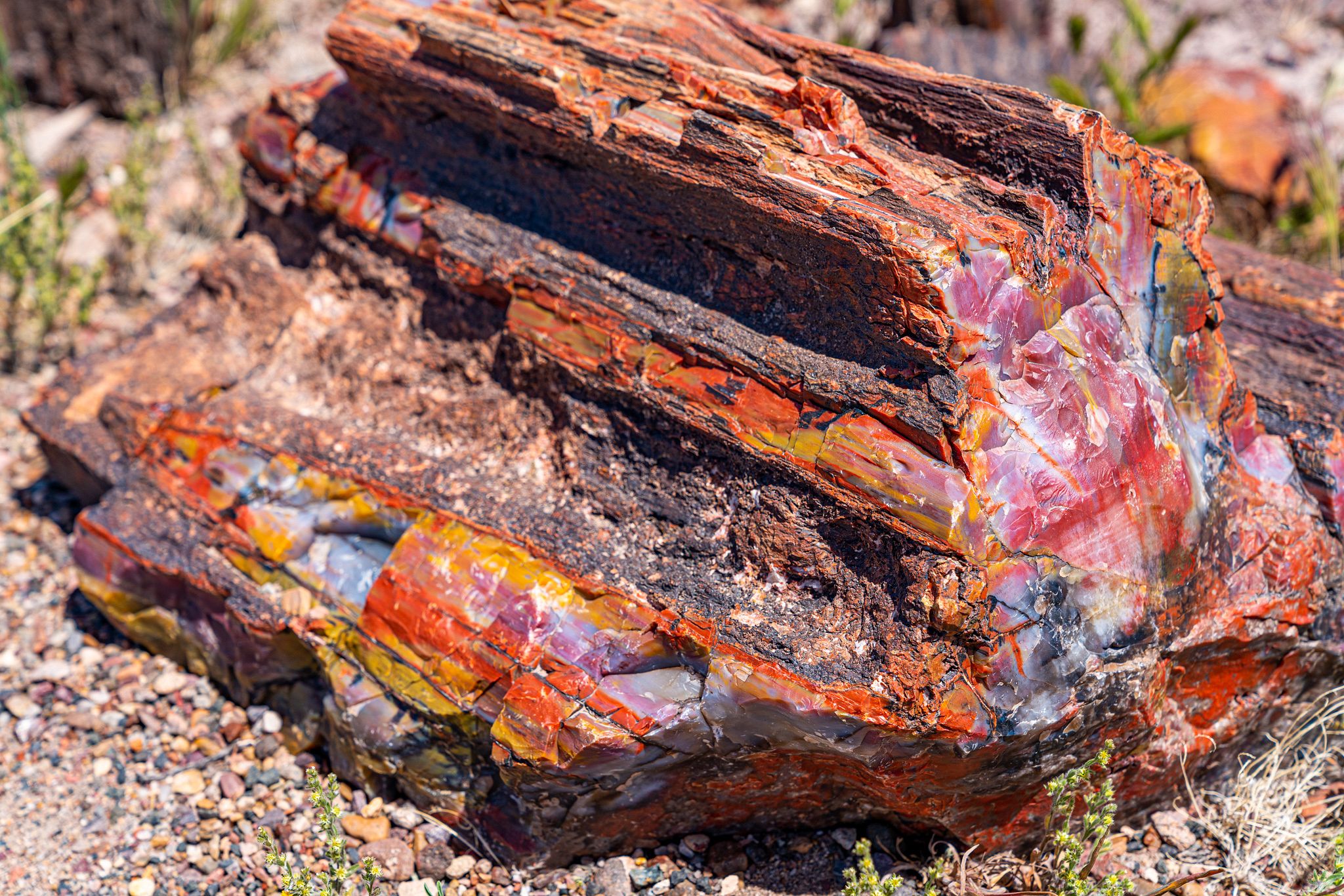 Rainbow Forest Museum & Visitor Center
It was rapidly approaching 1pm so we stopped at the picnic area just outside the Visitor Center for a well-deserved lunch. This area had several shelters offering shade from the sun as we enjoyed our lunch.
The Visitor Center itself is home to a gift shop and museum - showcasing some beautiful examples of petrified wood as well as fossils.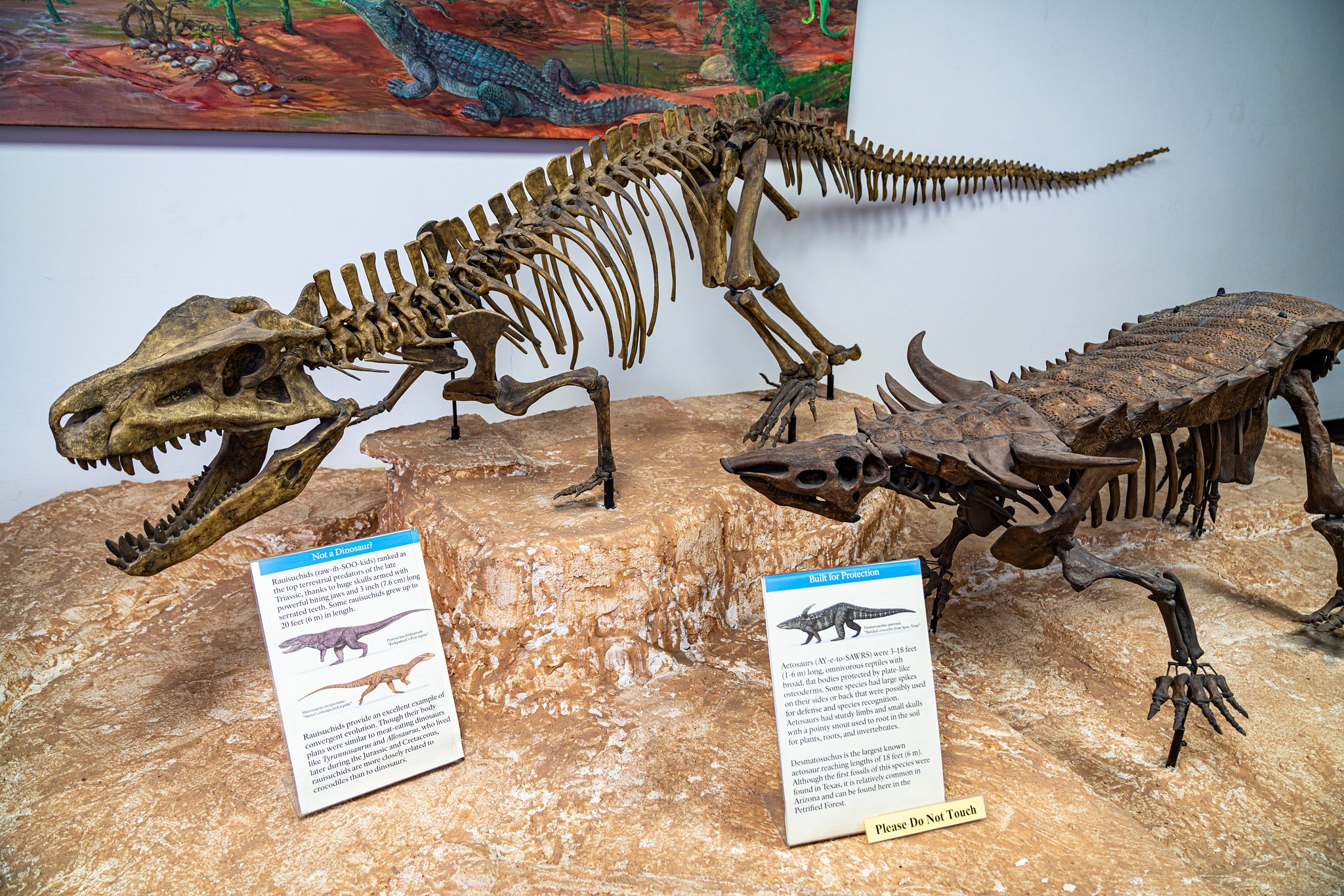 Theft of petrified wood is a serious problem in the park - please, just leave the wood in situ for others to see and enjoy!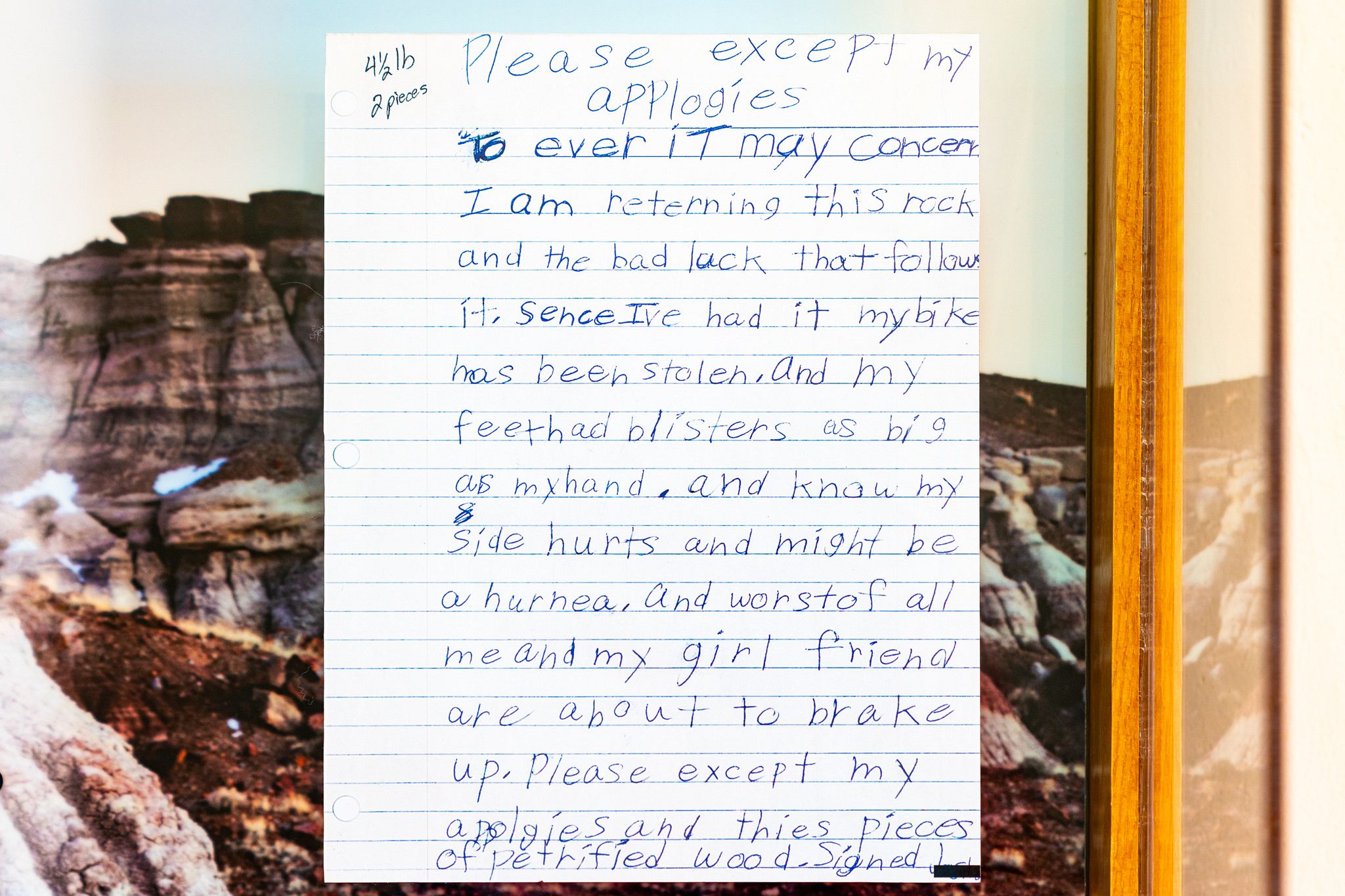 Giant Logs
Behind the Rainbow Forest Visitor Center is the Giant Logs Trail - a 0.5 mile loop trail around some truly giant petrified logs!
This area was originally the park headquarters from 1906 until 1962. And the hiking trail was once a bumpy road that cars drove on!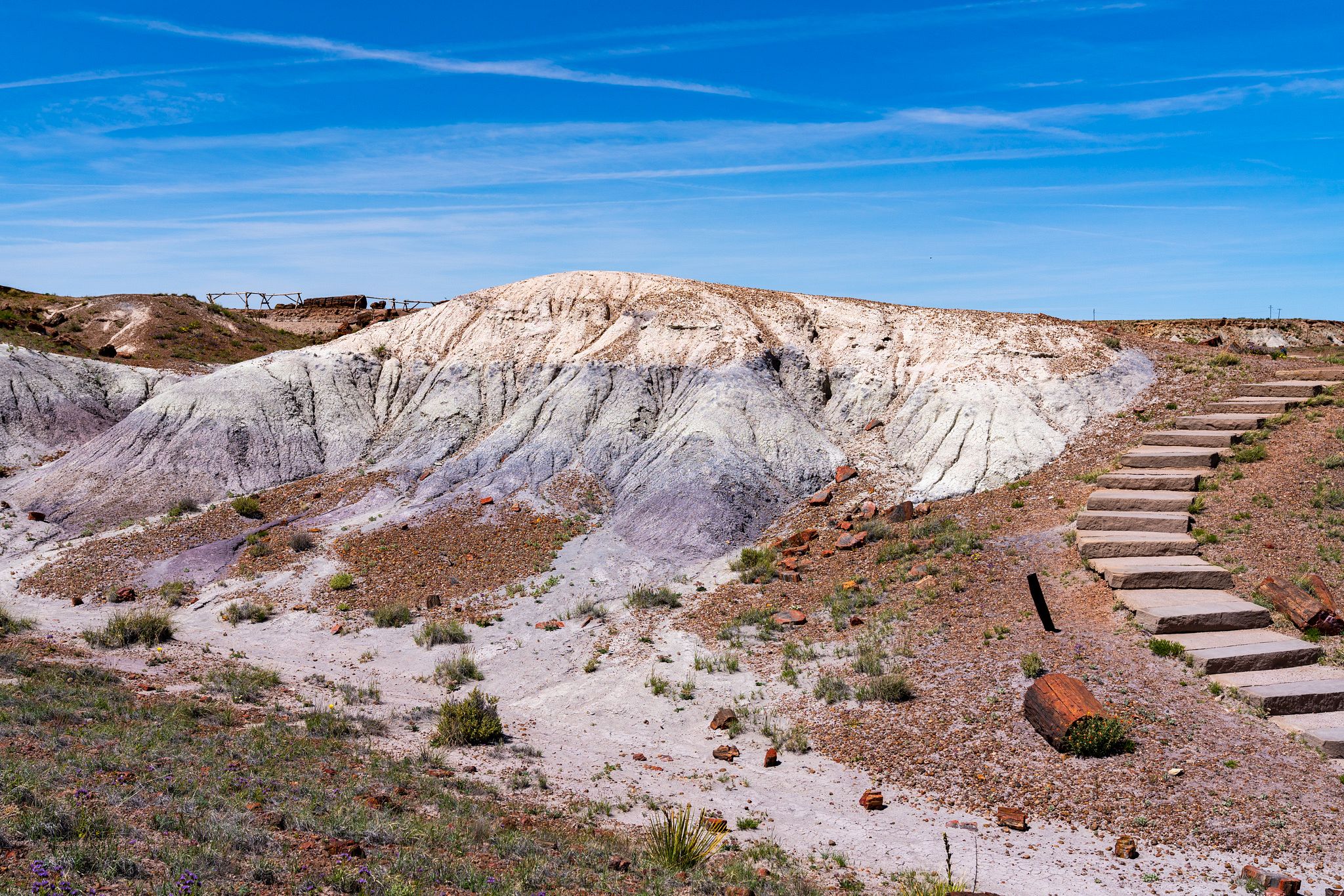 We picked up a guide book from inside and stopped next to each exhibit, learning more and the history and geology of the area.
The trail includes around 120 feet of ascent via 206 stairs in total, but if you can make the trail then I highly recommend it!
Long Logs & Agate House
Our longest and final hike of the day was to follow the Long Logs Loop with a detour up to the Agate House.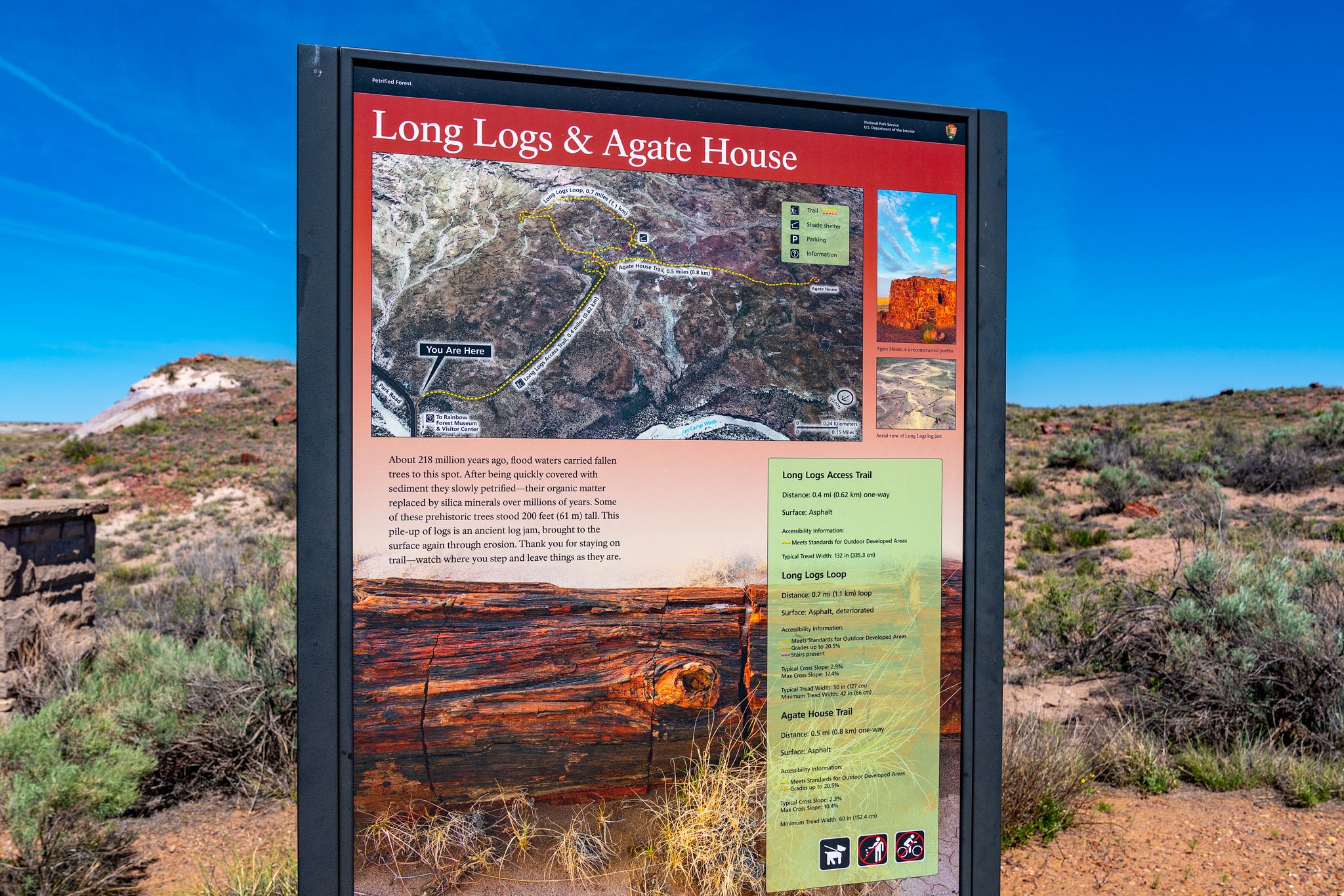 The trailhead is just a short distance from the Visitor Center, so we left the car at the Visitor Center parking lot and hiked over.
The trail begins with a 0.4 mile section up to the Long Logs Loop. From here, the 0.5 mile Agate House Trail leads south - we chose to hike there first and do the Long Logs Loop on the way back. With the exception of some deteriorated sections of the Long Logs Loop, the rest of the trail is paved asphalt.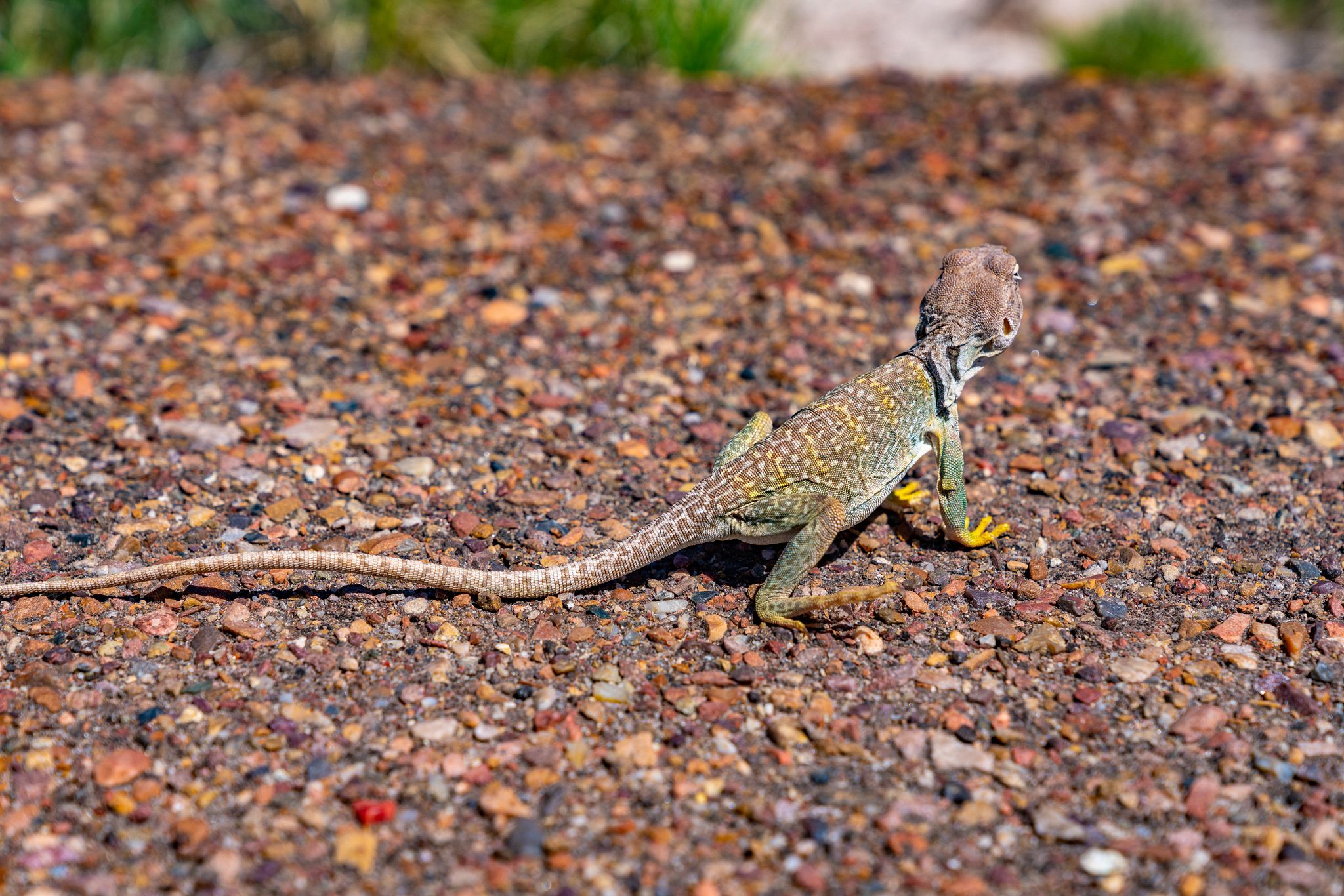 The incredible Agate House was built with agatized wood blocks and mud mortar by the Ancestral Puebloans between 1050 and 1300 CE. While it likely only housed a single family, it may have served as a central gathering place thanks to its relatively large size.
Its construction was thought to have been unique when it was first discovered by archeologists in the 1930s, but hundreds of similar petrified wood structure sites have been found in the park since then!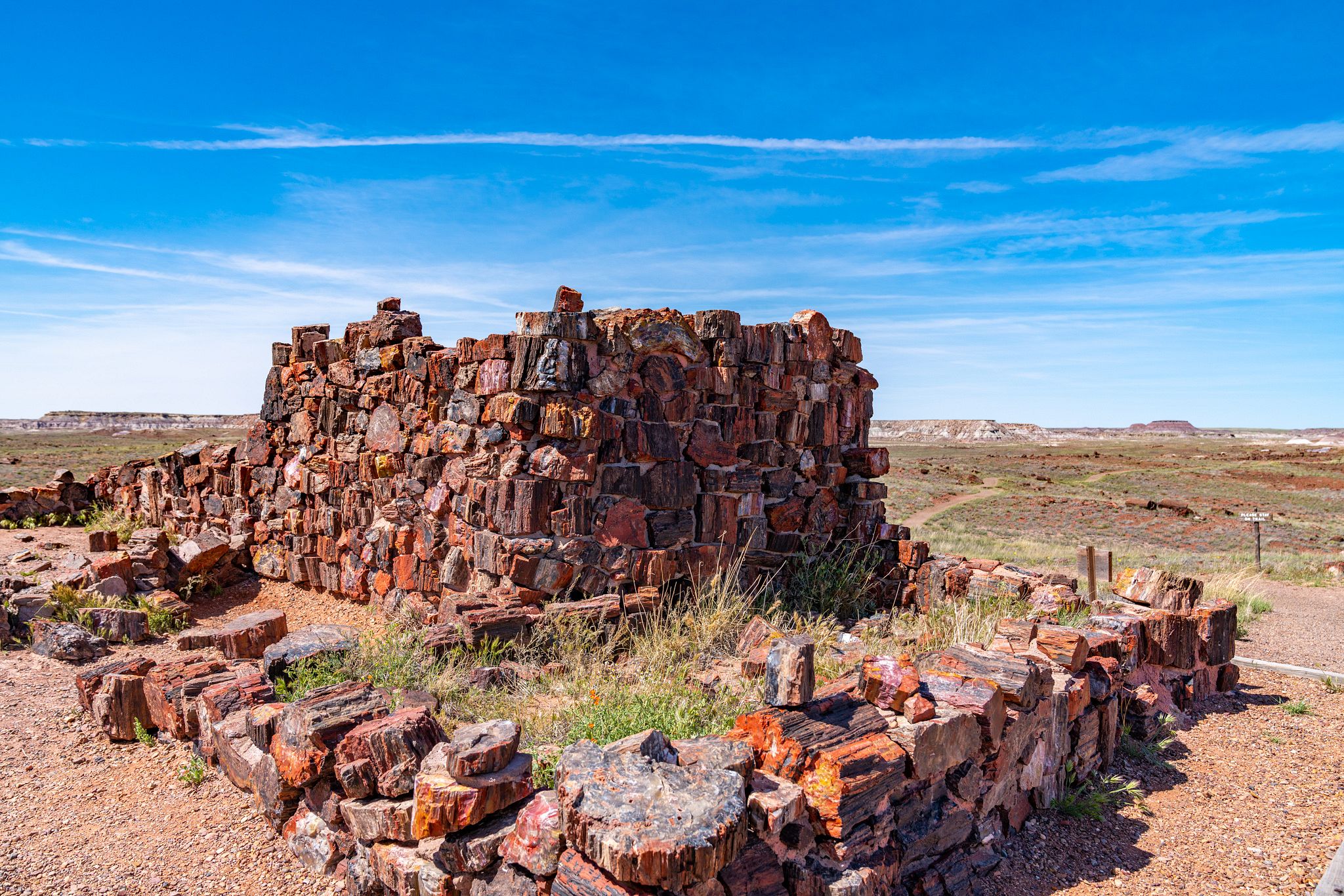 Although the site looks surprisingly intact, this isn't original. It was restored by the Civil Works Administration (CWA) in 1934. Nowadays, reconstructions are rare and the preference is to preserve sites in the state they are found.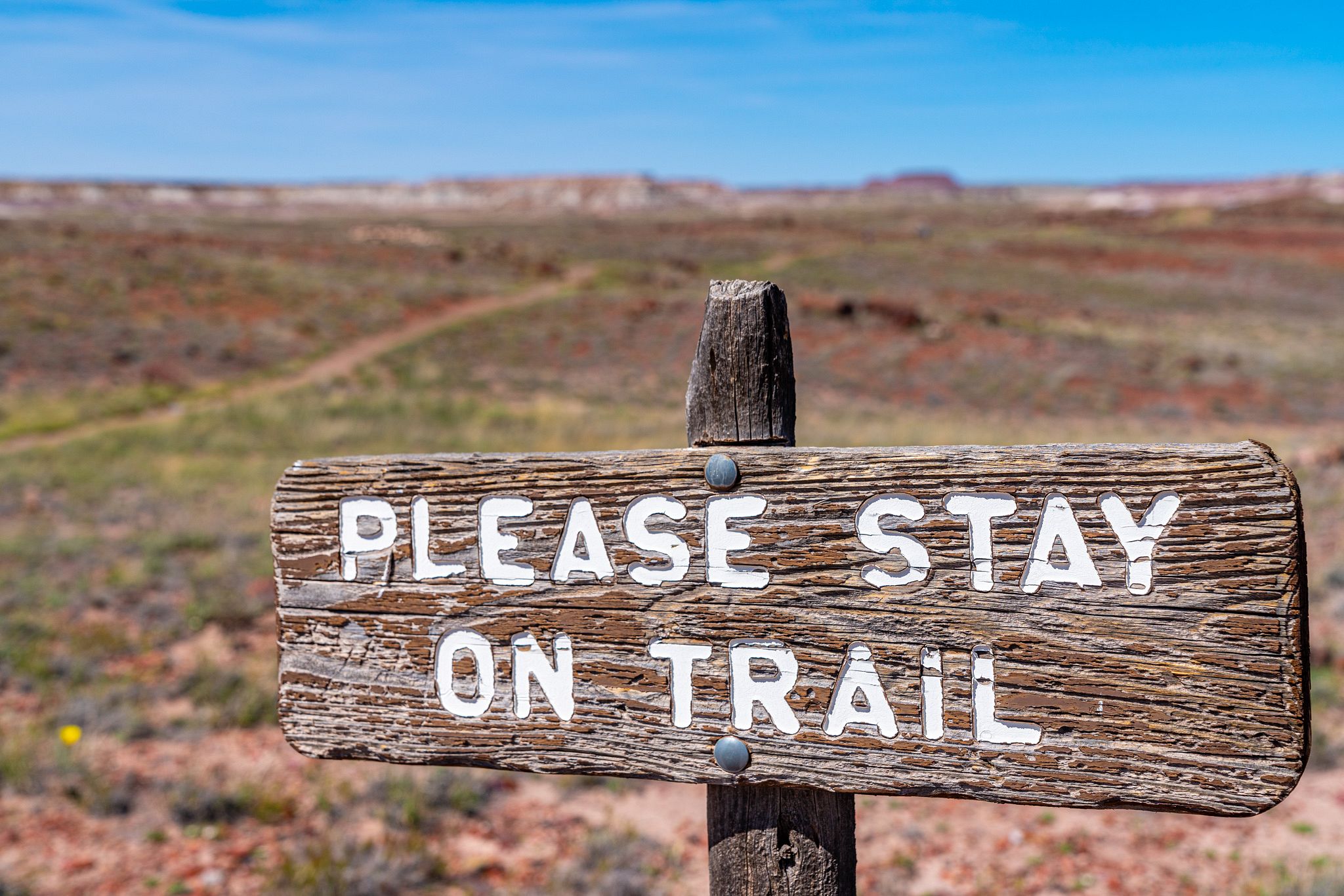 Heading back down the trail, we finished our hike with the Long Logs Loop trail. 218 million years ago, flood waters carried massive fallen trees (up to 200ft tall) to this spot. The resulting log jam was covered by silt and over millions of years they petrified.
Tectonic forces brought them to the surface, and erosion as exposed them for us to see!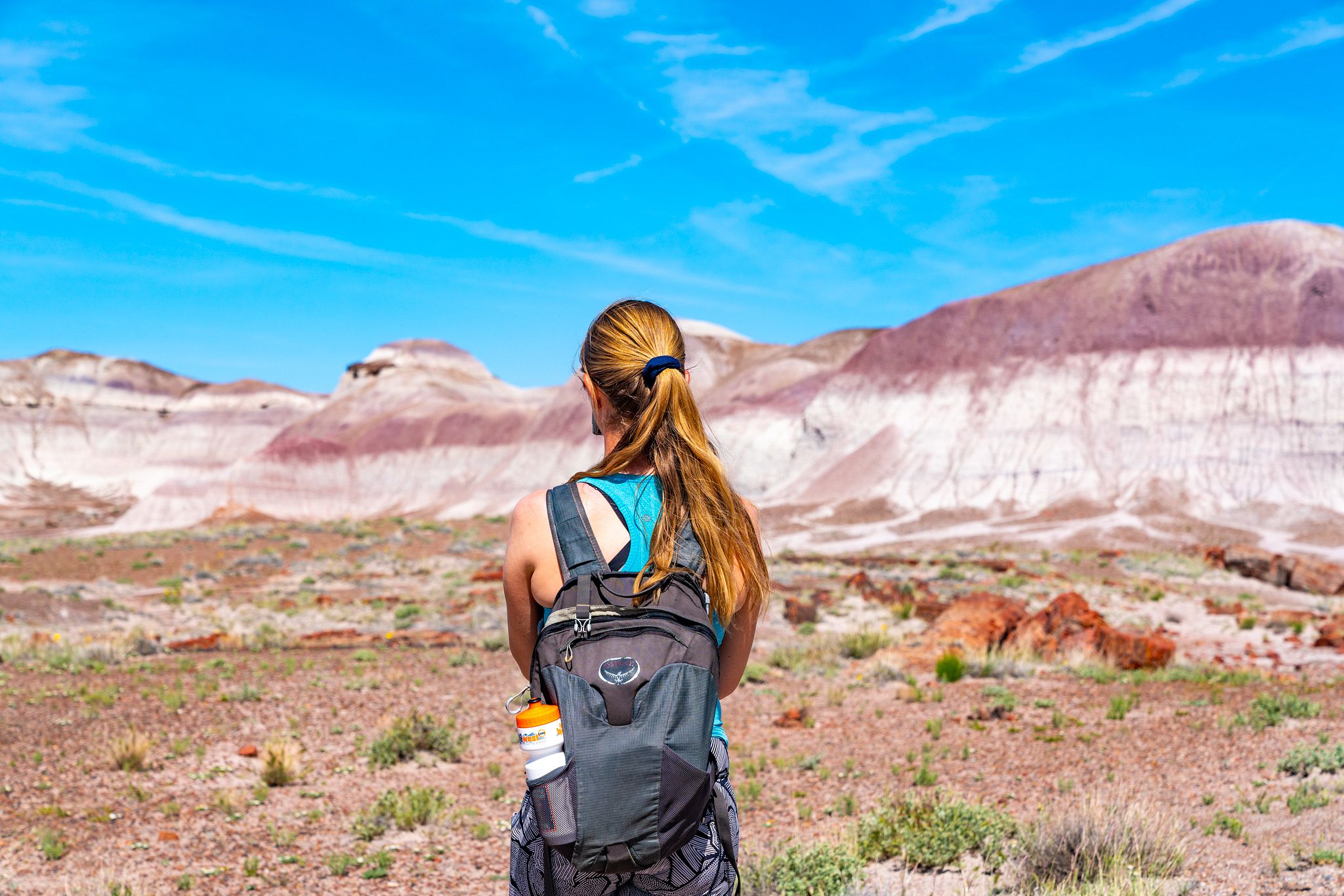 It had been a long day, but we had made it, stopping at almost every viewing spot in the park and doing each hike along the way. Time to call it a day!
Day 3: Wilderness Hiking
By this point, we had seen as much of Petrified Forest National Park as most visitors do. But we wanted more.
Sadly we hadn't been able to secure one of the three permits issued each week to hike the Devil's Playground, but there were a couple other wilderness areas we wanted to go and explore.
Onyx Bridge
To hike to Onyx Bridge, we picked up a guide from the Visitor Center. The trail is infrequently traveled and hard to spot in places, so the guide is invaluable.
During monsoon season (June through September), crossing Lithodendron Wash can be dangerous - flash floods can sweep through the area quickly. In early May, we were safe from those dangers.
It is 2 miles from the trailhead at the Painted Desert Inn to reach the Onyx Bridge, and the same on the way back. While we met a few other hikers on the first section of the hike near the Painted Desert Inn, once we were down in the badlands we didn't pass anyone else - so be prepared!
We took our time, enjoying the remoteness as we hiked through Lithodendron Wash, and eventually found our way up to Onyx Bridge.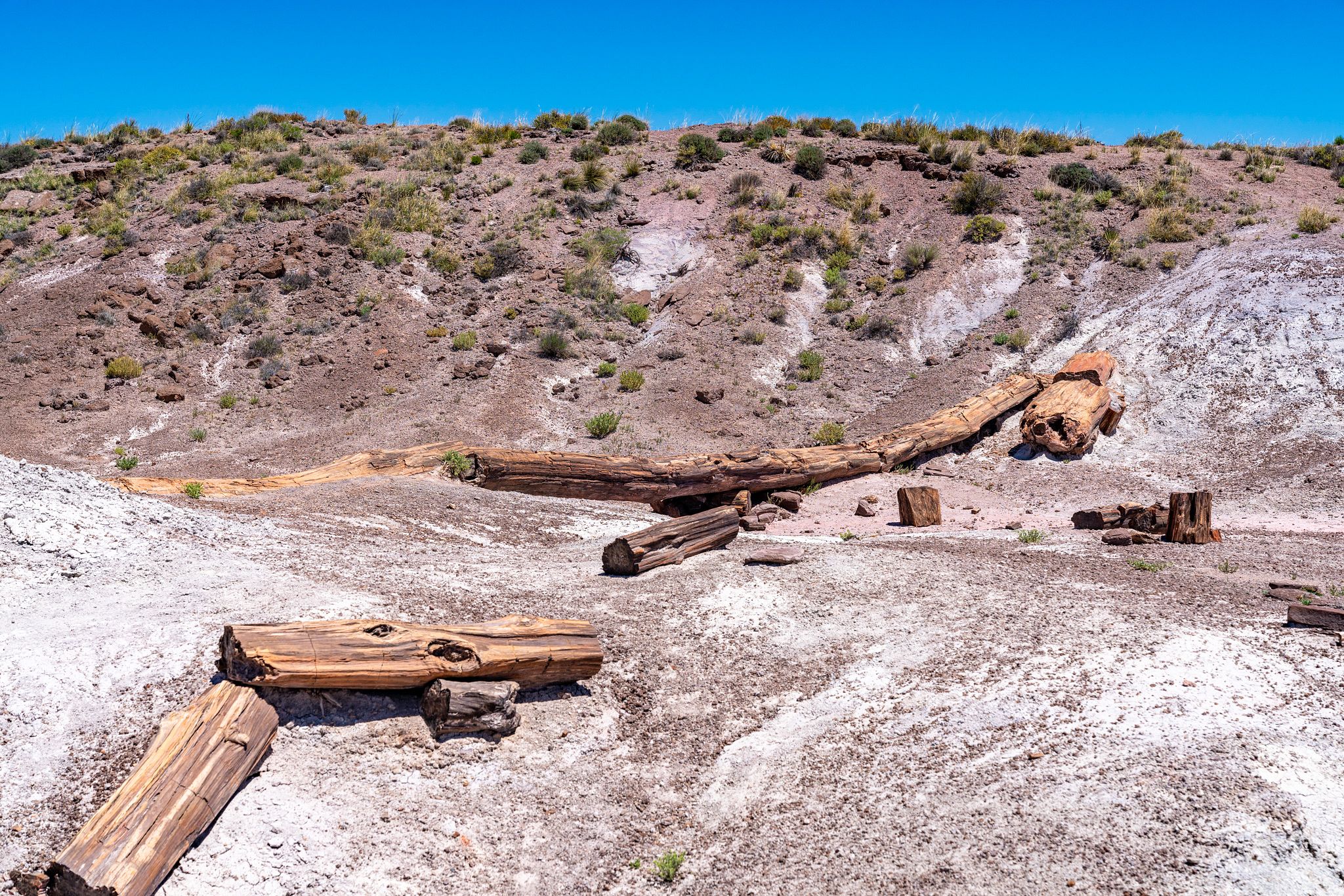 Onyx Bridge itself as a huge petrified log sitting atop a dry fall.
Navigating back was easier. Although it's possible to see Onyx Bridge from the Painted Desert Inn if you know where to look, the Painted Desert Inn is very easy to spot up on the mesa as you hike back - a constant indicator for the general direction to follow.
Jasper Forest
Our final hike at Petrified Forest National Park is another wilderness hike - out into Jasper Forest.
This is a 2.5 mile round trip along what used to be a road for cars in the 1930s. There is a parking lot at the trailhead, and while we saw plenty of people along the start of the trail, it definitely thinned out towards the end!
We used another guide book we picked up from the Visitor Center to follow this trail, but the directions are simpler than for Onyx Bridge.
This area used to be called First Forest, since back when the Rainbow Forest area was the main headquarters for the park, this would have been the first collection of petrified wood that visitors would have seen.
The road was built by the Civilian Conservation Corp (CCC) in the 1930s, but it was closed in 1965 and allowed to erode away. But along the hike, you can see many of the original stone culverts lining the road where it crosses washes - these are key markers in the guide.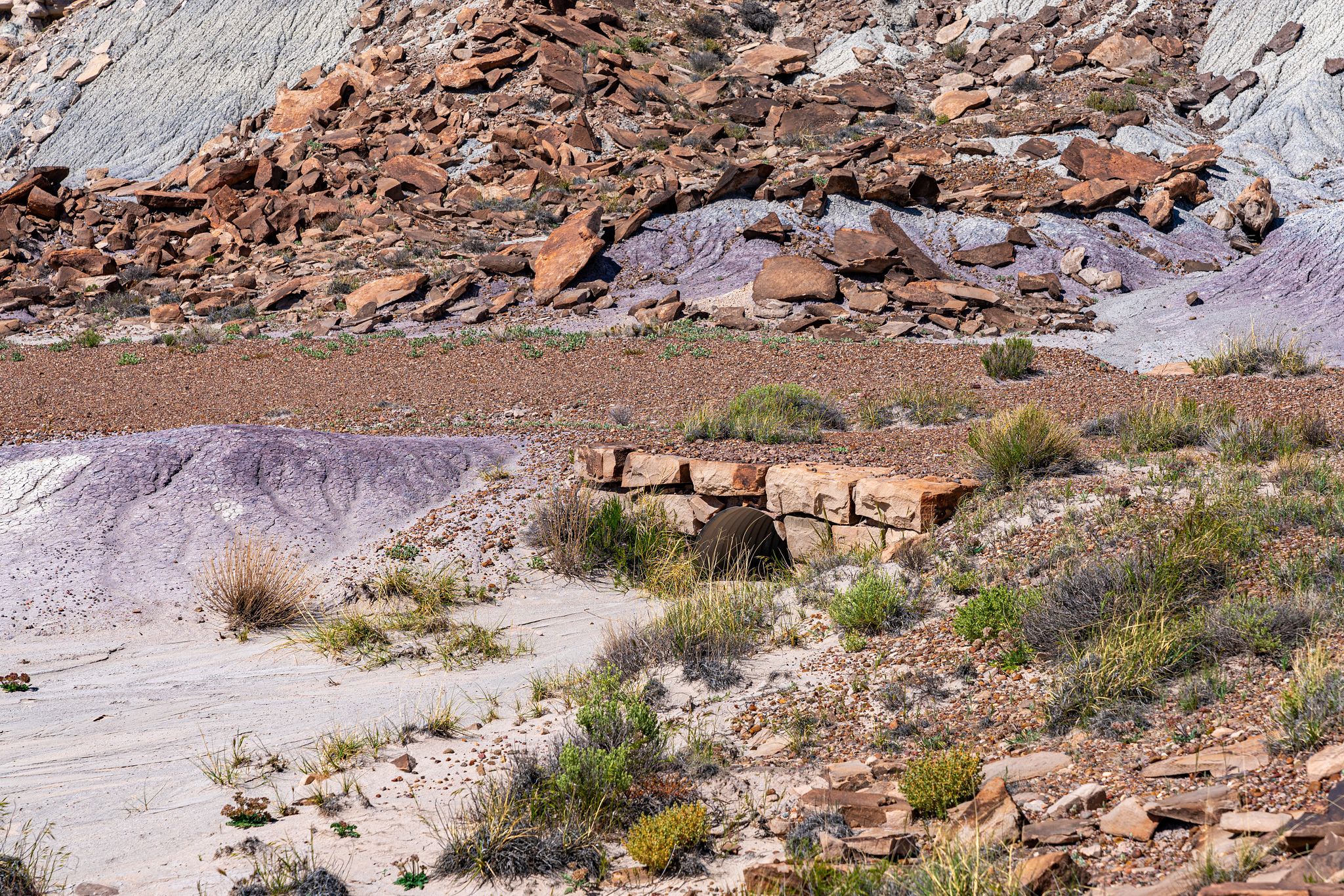 At the end of the hike is Eagle Nest Rock. While nowadays it appears to be a lone rock mound, it used to have a rock balanced on top. Unfortunately, following a period of heavy rain, it fell in January 1941.
Conclusion
Petrified Forest National Park is one of our favorites. Its other-worldly badlands full of brightly colored mesas forming the backdrop for sparkling petrified logs.
Even if you're just passing through the area on I-40, take an hour to stop and check out the Visitor Center, Painted Desert Inn and some of the viewpoints. Maybe use it as a lunch stop as travelers would have done almost a century ago!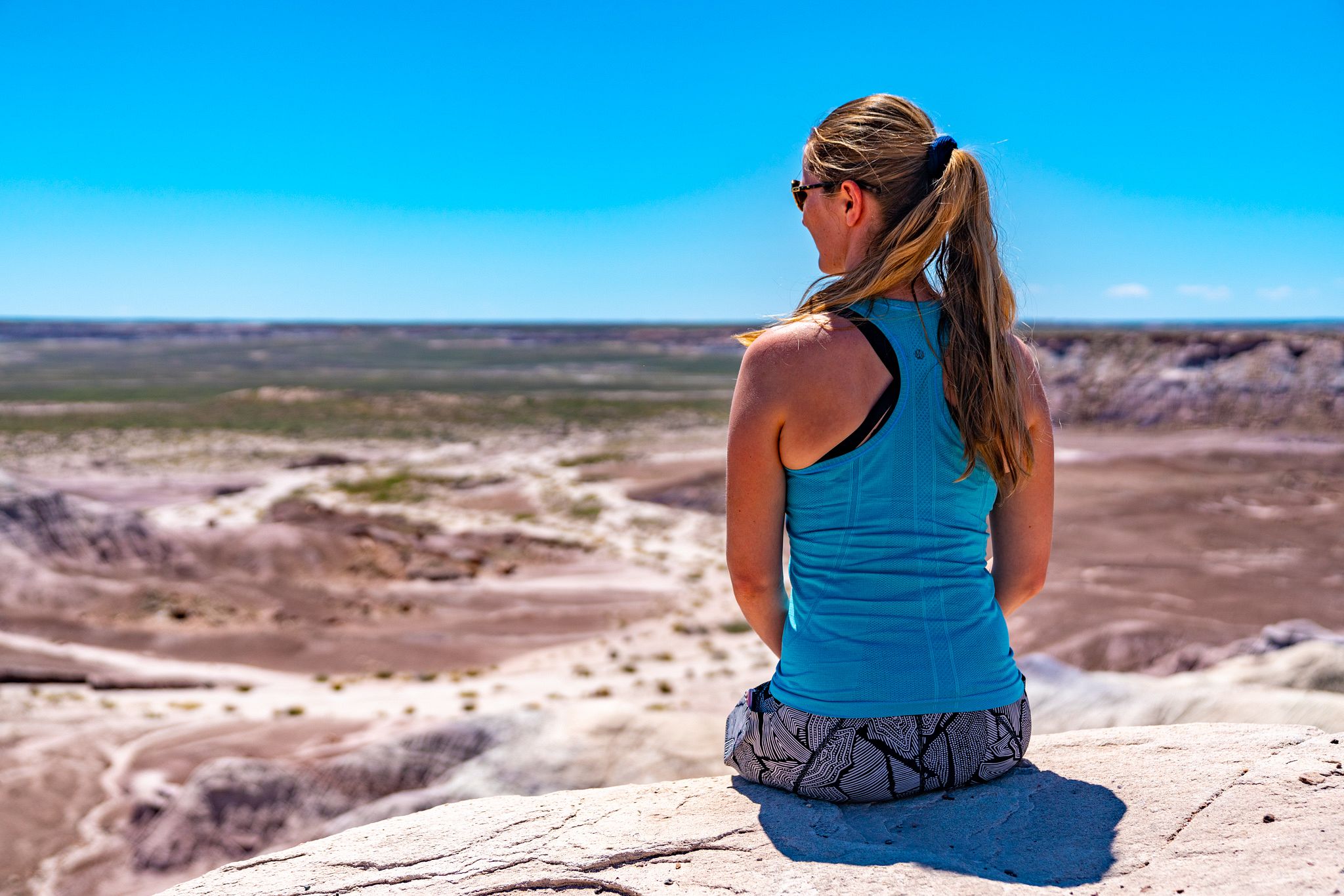 If you have a little longer, then the hikes around Puerco Pueblo, Blue Mesa, Long Logs Loop and Agate House are well worth considering.
Looking for a little more adventure? Pick up some of the wilderness guides from the Visitor Center and have fun exploring!
We spent two-and-a-half action-packed days exploring Petrified Forest National Park, but I have no doubts we'll be back to explore it some more in future!
But our journey continues east, crossing the border into New Mexico where we'll be stopping next at El Morro National Monument!