As an Amazon Associate we earn from qualifying purchases.
Our plan each day is dictated by the weather. On dry days we head out to the forest to clear trees, while rainy days keep us in the RV, either working on videos and blog posts or researching topics for the house build - this week I've been reading two great books about electrical and plumbing.
Site Clearing Update
Vermont's weather forecast is notoriously unreliable, so although we were forecast to see a lot of rain this week, we've somehow found enough dry days (or half days!) to get out and fell some trees.
Since last week's update we've felled another 25 trees, bringing our total to 137. Overall we've now accumulated 13 days (including summing up the half-days too) so we're averaging a little over 10 trees per day - not bad considering we're not just felling them but also limbing and chipping them, then bucking and stacking the logs.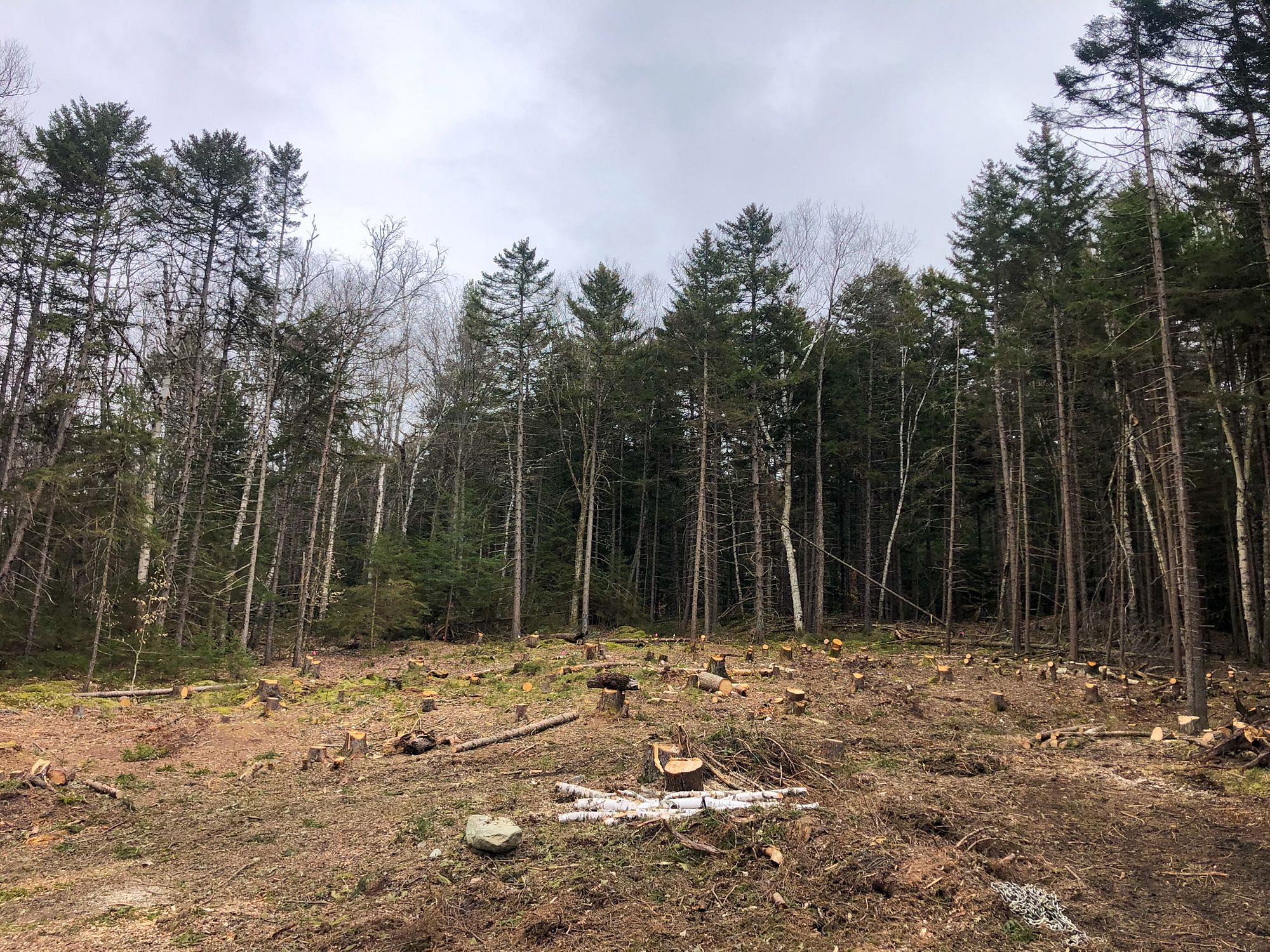 Given that we're two amateurs working with nothing but a chainsaw, tractor and tractor-mounted chipper, I think we're making good progress. While we've had some small trees this week, we've also had some larger ones too - including a 14" spruce, a 12" birch and a cherry that not only measured 10½" diameter but was so straight that we pulled a 17ft butt log from it!
Another smaller cherry also delivered us our first burl - these are prized by wood turners so we've put it to one side to save it from the chipper or firewood pile!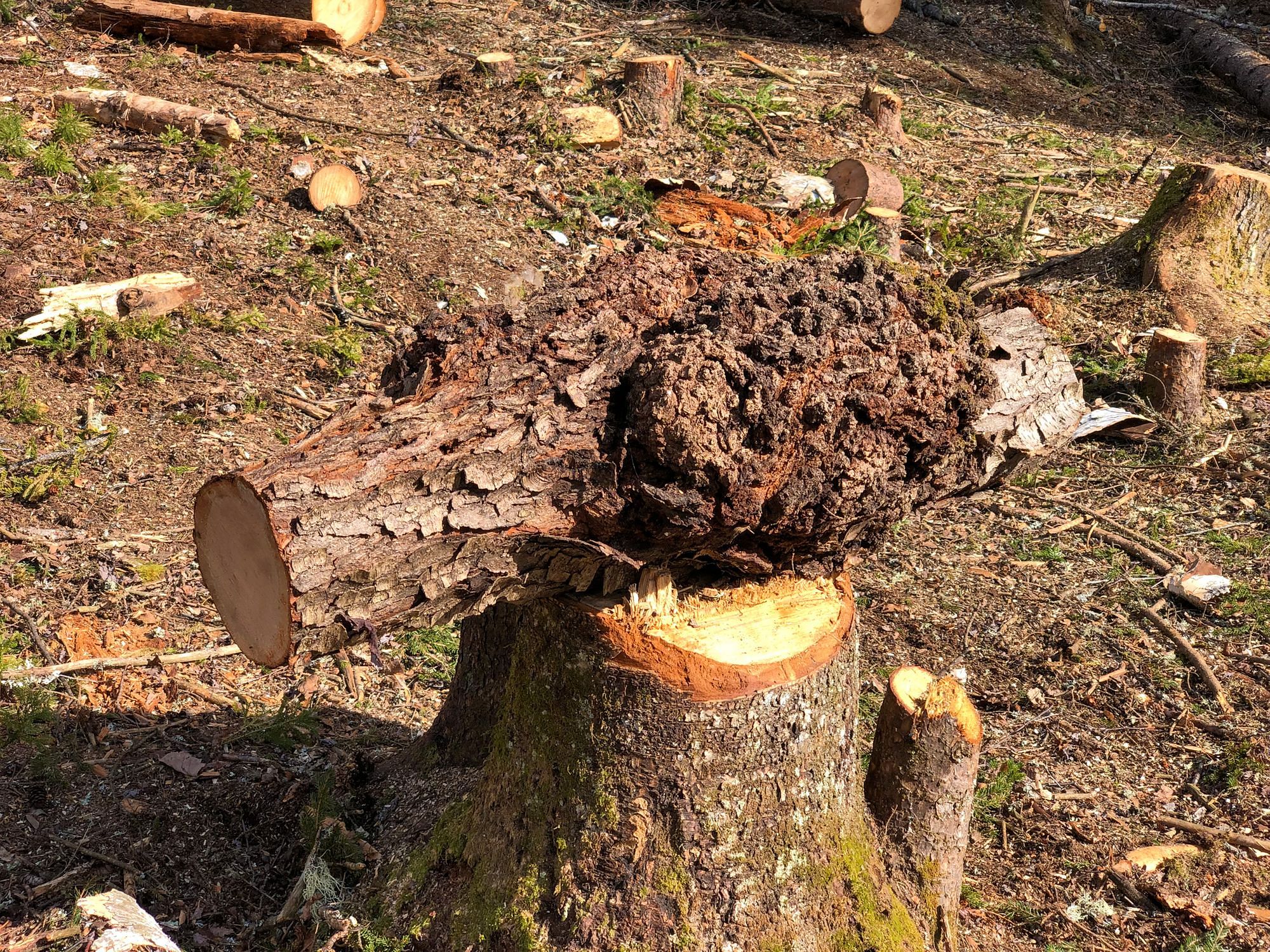 Last Friday we met with the contractor who will be coming to help us with some site work and excavation in about 4-6 weeks - the same crew who did our driveway last summer.
He was really impressed with what we've been able to accomplish and said it was one of the cleanest sites he'd ever seen! We were flattered, but it's probably not surprising given that we're not using any big tracked equipment like a logging crew might prefer.
All this work is racking up the hours on both the chipper and the tractor which rolled over 150 hours this week. Each weekend I thoroughly clean and service the chainsaw, and earlier this week we did the scheduled maintenance on both the tractor and the wood chipper.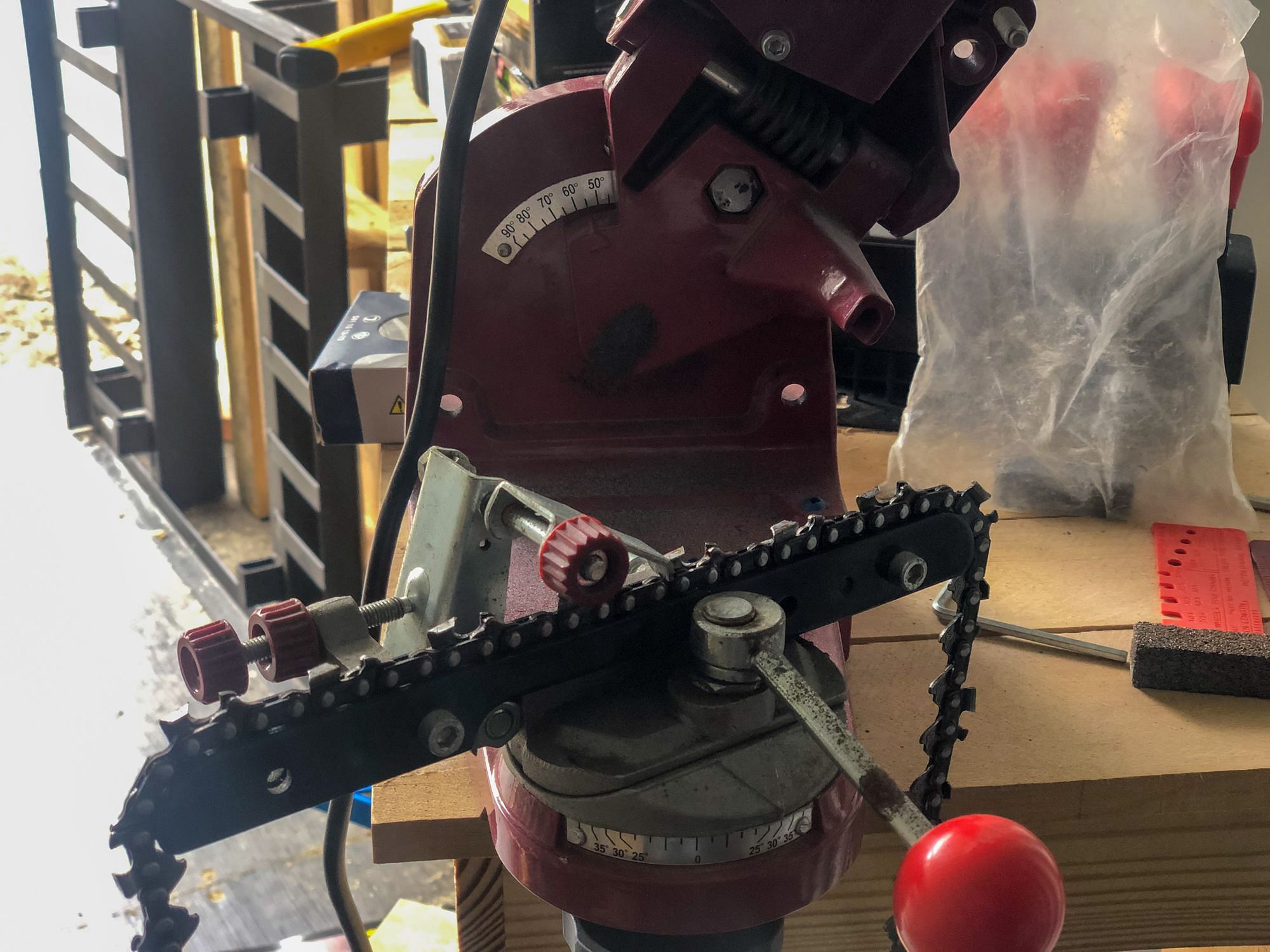 Wood Chips becoming Compost
We've also been adding to our wood chip pile (aka the mulch mountain) - another 7 cubic yards this week. We had noticed the chipper starting to struggle, so we reversed the double-sided knives to expose a new sharp edge - delivering a big improvement to performance and far fewer blockages!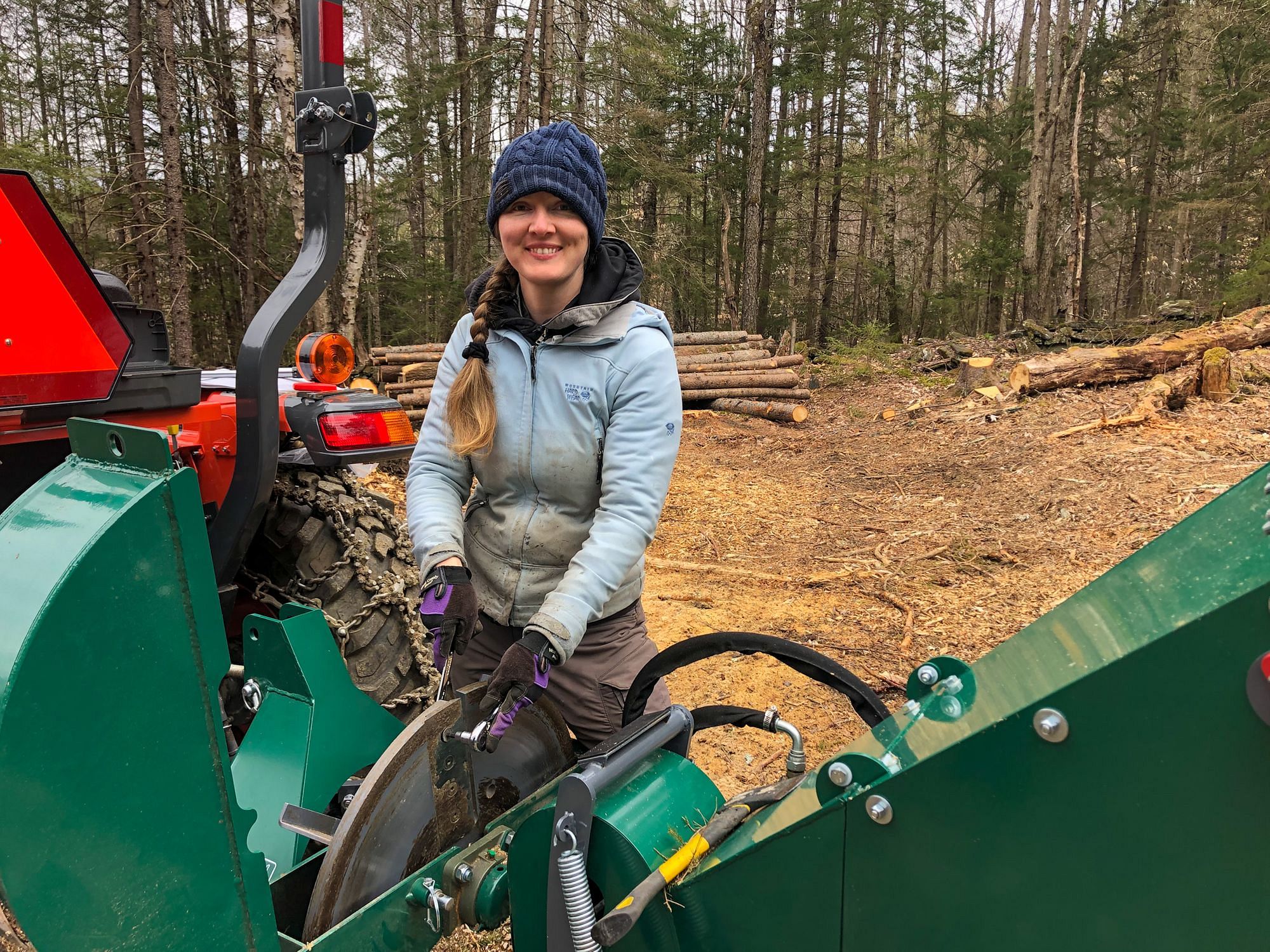 Sharpening them is something we're probably going to leave to a professional so today we ordered another set of knives from Woodland Mills so that we don't have downtime if we need to ship one set off for sharpening.
Our mulch mountain is now about 15ft by 15ft and about 6ft tall - a lot of wood chips! A big pile like that will begin to compost, generating heat as it does - industrial facilities have to worry about spontaneous combustion in their piles, but they are significantly larger than ours.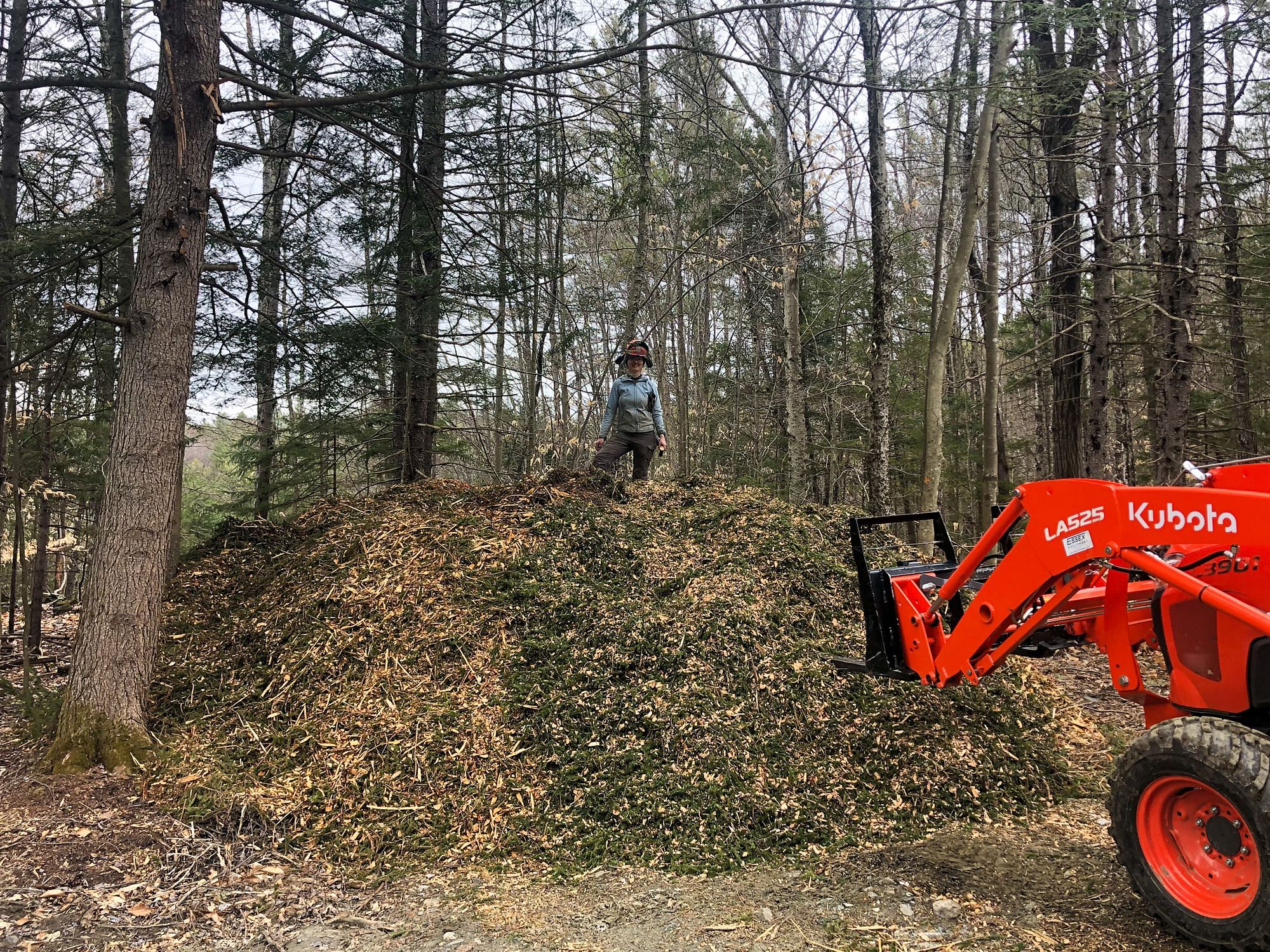 We have ordered a very heavy duty compost thermometer and probe handle, but it won't arrive until tomorrow. Earlier today we were loading up the pile and were curious as to how warm it's getting.
We didn't have to dig down very far to see steam coming out, and after digging down about a foot we used our temperature gun to take a reading.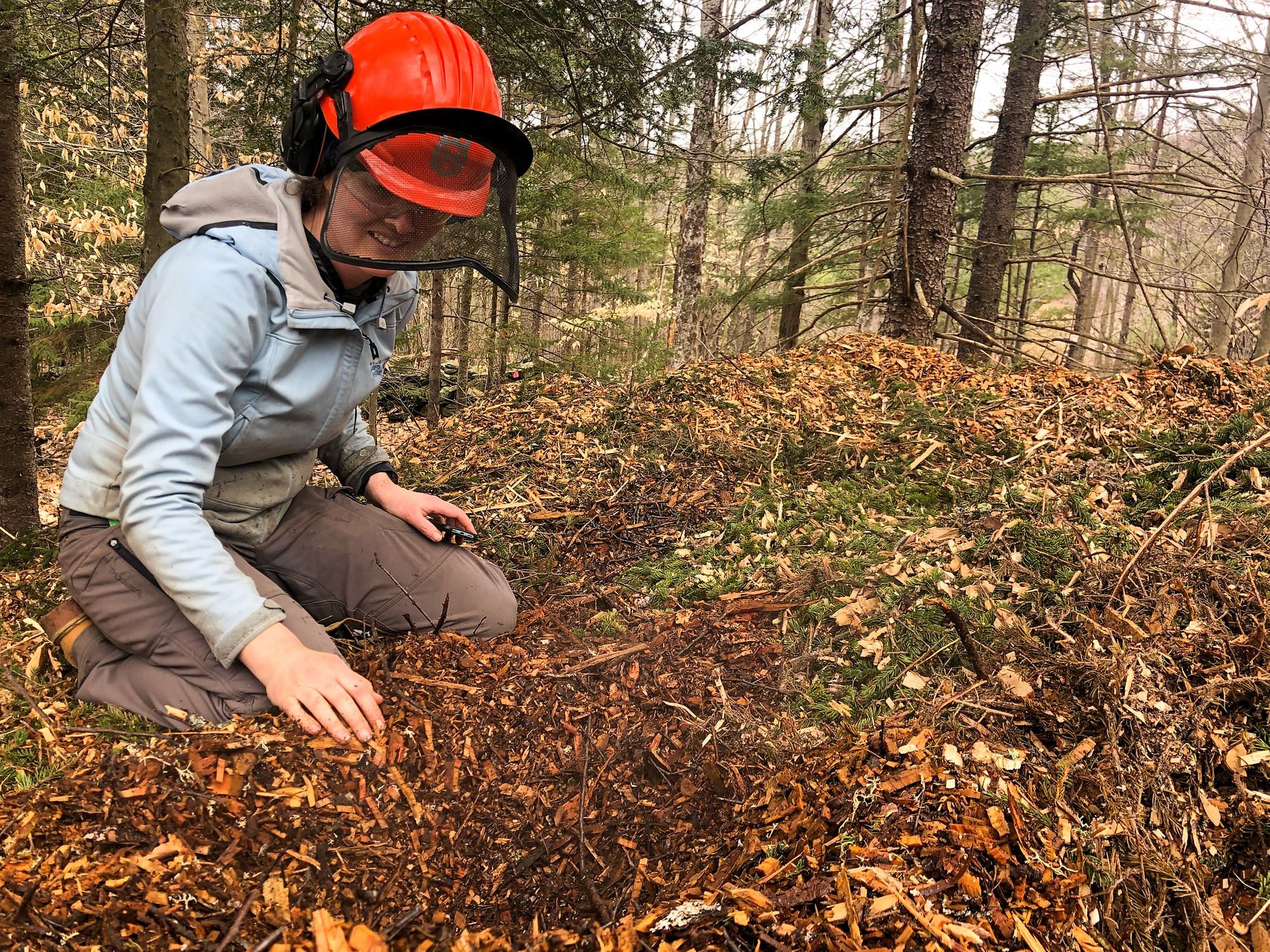 Remarkably, even though that pile has only been there a couple of weeks in freezing conditions until recently, and we have done nothing to it whatsoever, we saw the temperature jump to 127°F (53°C). That's hotter than a residential hot water system and too hot to hold your hand on for long!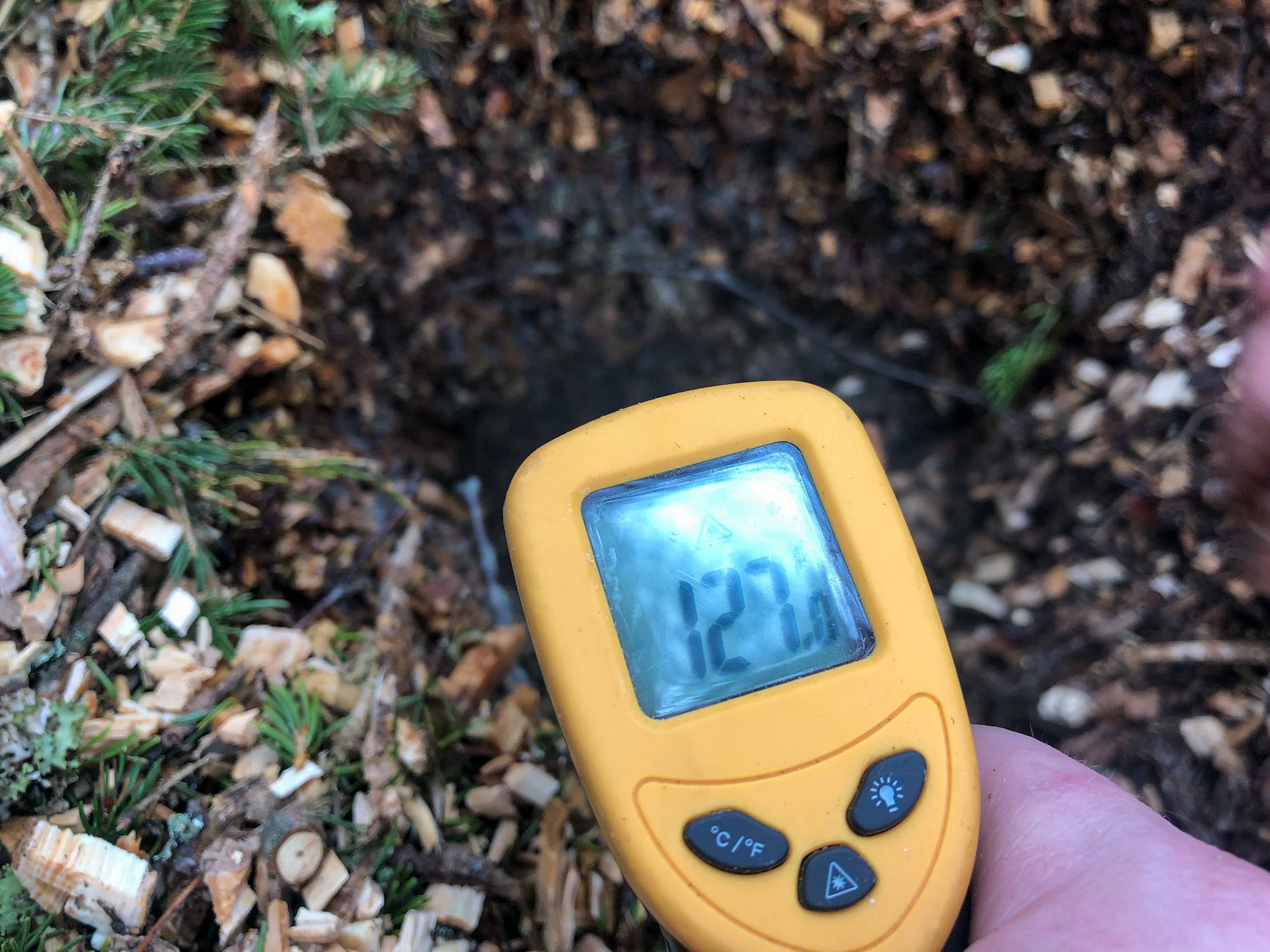 Hot composting generally happens in a range of about 130-160°F (~55-70°C) so there's a good chance we've got some good composting happening already in the middle of the pile. Needless to say, we're very excited for our compost thermometer to arrive tomorrow so we can check the temperature.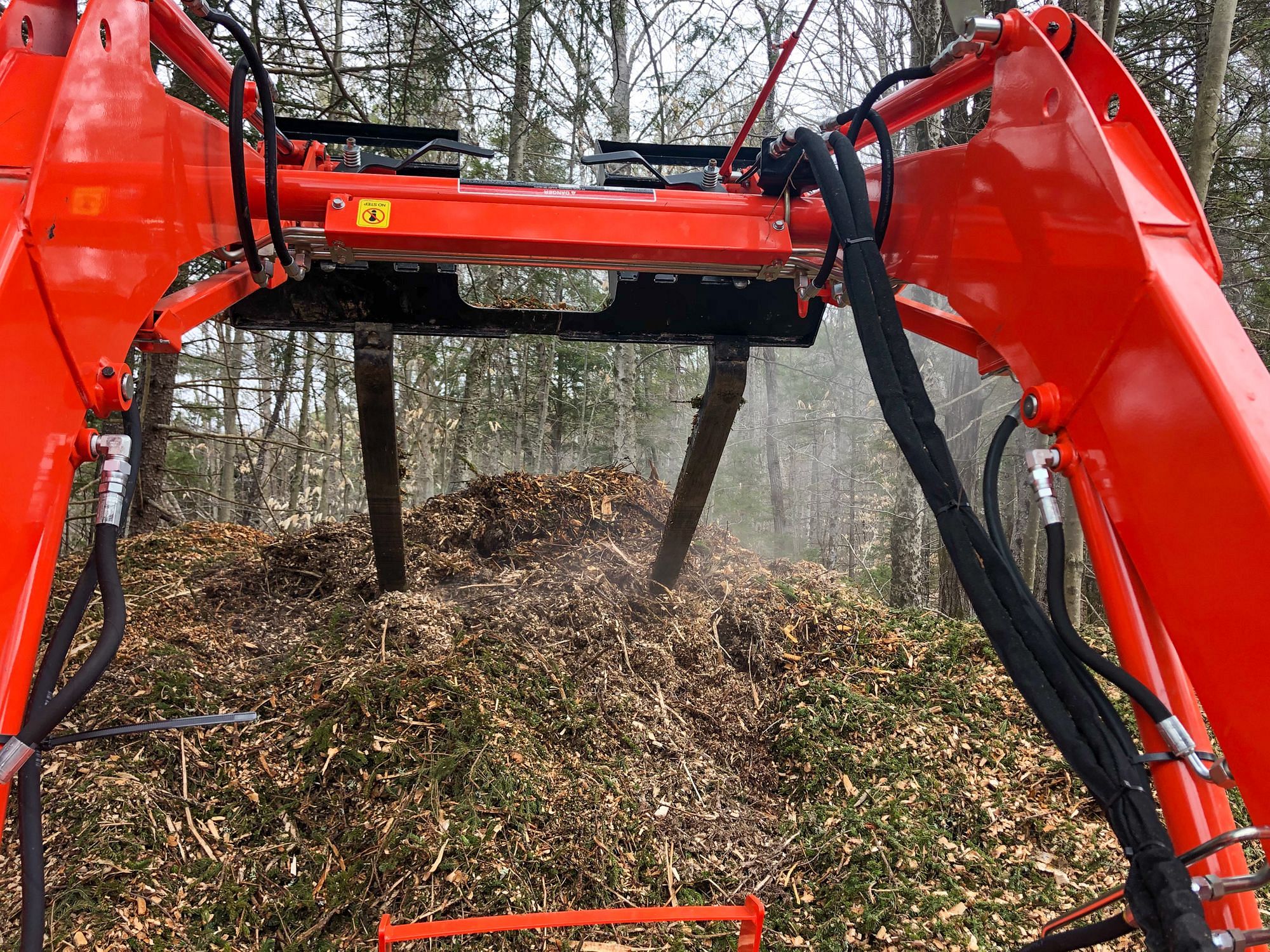 Garden Beds
Where we're located here in Vermont, we're in USDA Zone 4b, and our last frost date is in early May - a few weeks from now. So while it's too early to start planting things out just yet, it's not too early to start planning and getting things ready!
To kick us off, last weekend I built a DIY elevated herb planter - by using our own lumber for some of the parts, it cost us just $20 in materials!
Long term we want to have an extensive garden and grow much of the fresh produce we enjoy on a regular basis. However, there's a lot of site work that still needs doing, so we can't plant the garden yet without it being in the way!
Instead we've found a relatively flat, south-facing spot which we hope shouldn't be in the way, and we're going to use that to plant a single raised bed.
There are dozens of ways to build up a raised bed, but we're going to start simple - using raw spruce logs to construction a log-cabin-esque structure and building up layers inside following the principles of Hügelkultur.
We've also identified another spot near the shipping container where we want to grow some hazelnut trees. Tomorrow, weather permitting, we'll be heading out to build the raised beds and clear space for some hazelnut trees so everything is ready to go in a few weeks when the risk of frost drops off.
Birch Tapping
Although the maple sap is still running, once the maple trees start to bud the sap develops a bitter flavor making it unsuitable for maple syrup production. We managed to get one final batch of sap in our evaporator last weekend, rounding off our maple syrup production for the season.
Our final tally was 10½ ounces (300ml) of delicious, homemade maple syrup - I don't think we're a threat to the commercial producers in the area, but our experiment was a success.
Overall we boiled about 6.75 gallons (~25 liters) putting our ratio at about 1:80. While this is about half of the oft-quoted 1:40 ratio we were aiming for, I suspect this is largely due to the losses involved in such small-scale production - e.g. the residue left in pans, filters, etc.
But, it's not just maple trees that you can tap. In Latvia, Diana grew up tapping birch trees too. Rather than boiling the sap down to make syrup, they instead just drink the sap itself, or preserve it for hot summer days when it turns into a drink not dissimilar to kombucha.
I know from cutting down a few birch trees in the past week that the sap is running freely, so last weekend we tapped a birch tree. In just 24 hours we had collected over half a gallon from that one tap! I tried some and would say it tastes like mildly flavored water - I can see how it could be refreshing as a chilled drink in summer.
Boston Trip
Vermont's capital city, Montpelier is the holder of some interesting records - including the least populous state capital with a population of just over 8,000 as of 2020, and the only state capital not to have a McDonald's! Meanwhile, Vermont's largest city, Burlington, isn't much larger with a population of less than 45,000 at the 2020 census.
Needless to say, while we can find most of what we need locally, sometimes we need to travel a little further afield if there's a particular store we want to visit.
We keep a list on our fridge of things we need to buy at various stores, including those that are out of state. For a while now, our "vaguely near Boston" list has had a couple of items on it and this weekend we're off to clear the list.
One place I'm really looking forward to visiting is the Rockler store in Salem, NH - a woodworking supply store and their Salem location is our closest store. We're off to buy a couple of very exciting new tools, and a few accessories to go with them! Stay tuned next week to find out what we're picking up....