As an Amazon Associate we earn from qualifying purchases.
Survey
Before we jump in, we have a small favor to ask this week.
We want to get to know you better, and we'd really appreciate it if you'd take just a couple of minutes to take a short survey we put together!
It's just a few quick questions to help us understand which content you enjoy most and how we can improve what we do!
Click here to take our short survey.
See you back here in a couple of minutes!
Quarantine
We knew when we arrived in New York that we would have to quarantine. New York state has some of the strictest travel restrictions in the country - and it's not surprising, given how badly the state was hit early on during the pandemic.
Specifically, New York requires individuals who have spent more than 24 hours in a state or area with significant community spread of the coronavirus to self-quarantine for 14 days. The list of states that this applies to is updated regularly, and the quarantine rules are strict - you can't go out for any purpose unless it's absolutely, 100% vital.
We've spent the last couple of months in Washington state, and since Washington was on that list, we knew we'd have to quarantine for 14 days. Actually, it would only be 12 days since our last couple of days of the drive were through Ohio and Pennsylvania, both of which were exempt from the quarantine requirements.
No biggie - spending 12 days in our RV while dry camping on our friends' land is no problem. We're used to spending 10-14 days in one spot without leaving to resupply.
As required, we filled out our Traveler Health Forms the morning before we arrived in New York - after traveling through 11 states, it took a while to do! The next day we get a call from the state to follow up on our form. They were very thorough - checking our medical history as well as ensuring we had no symptoms.
They also confirmed we had everything we needed to quarantine - from adequate food to disinfectant wipes. I wonder what would have happened if we said we didn't have enough groceries - free food maybe?! We had done a meal plan on Plan to Eat for 2 weeks, but I think we could stretch out the food in our RV to last 2 months if we had to! PS, if you haven't checked out Plan to Eat yet, be sure to do so - we love it!
It turns out that Washington had been removed from the list of states with community spread on the day we left! Good news, right?!
Not so fast. Unfortunately we had spent two nights (and hence more than 24 hours) in South Dakota on our drive down, and hence we still had to quarantine - the 14 days starting from when we left South Dakota. D'oh! If only we'd realized that, we could have avoided two nights in South Dakota and hence had no quarantine period on arrival here. Oops.
The end result is that we're quarantined in our RV until Sunday this week - just a few days left to go. Each day they send us a text message asking us if we've had any symptoms. While it might feel unnecessary, I've actually been quite impressed with the handling of the situation so far!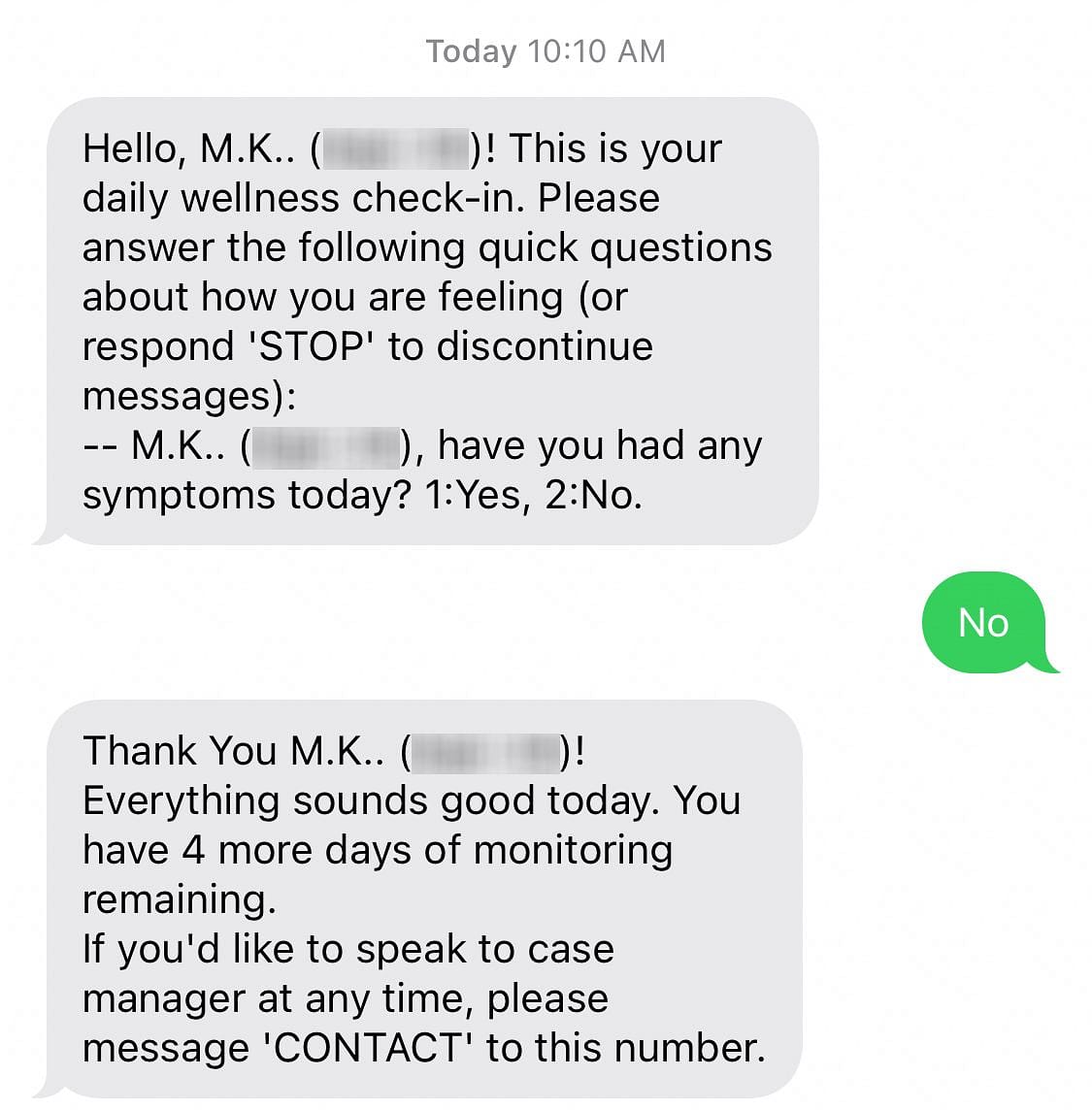 Once our quarantine is over, we're free to travel around most of New England - obviously subject to normal social distancing, mask requirements, etc.
New England Fall Colors
I say most of New England. Not quite all of it. Not Maine.
Most states with restrictions on travel are targeted at people who've recently spent time in states or areas with significant impact. Not so for Maine. Their restrictions are on residents of those states. In other words, residents of most New England states can freely enter Maine.
But while we'll have been in New York prior to a visit to Maine, we're residents of Texas. Despite the fact that we haven't been to Texas since before COVID-19 even existed in the US (we were last there in November 2019), their wording is specific.
Rather than spending another 14 days in quarantine in Maine, there is the option to take a COVID test within three days prior to arrival. As long as that comes back negative, no quarantine is required.
It just seems like a lot of hassle - we'd only be there a couple of weeks at most to follow the fall colors south.
We're still not completely decided on what to do, but our latest thinking is to focus on New Hampshire. It's closer to where we are now (a little south of Albany, NY) and would be less driving overall. We can start in northern New Hampshire in a couple of weeks and make our way south as the colors change.
Leave us a comment or drop us an email if you have recommendations for places we should visit in New Hampshire!
Solar in New England
Our friends' land is beautiful - thick forest with all sorts of wildlife roaming through. We've already seen squirrels, marmots, wild turkeys, and deer - and while we haven't seen black bears yet, they have those too. It's wonderful!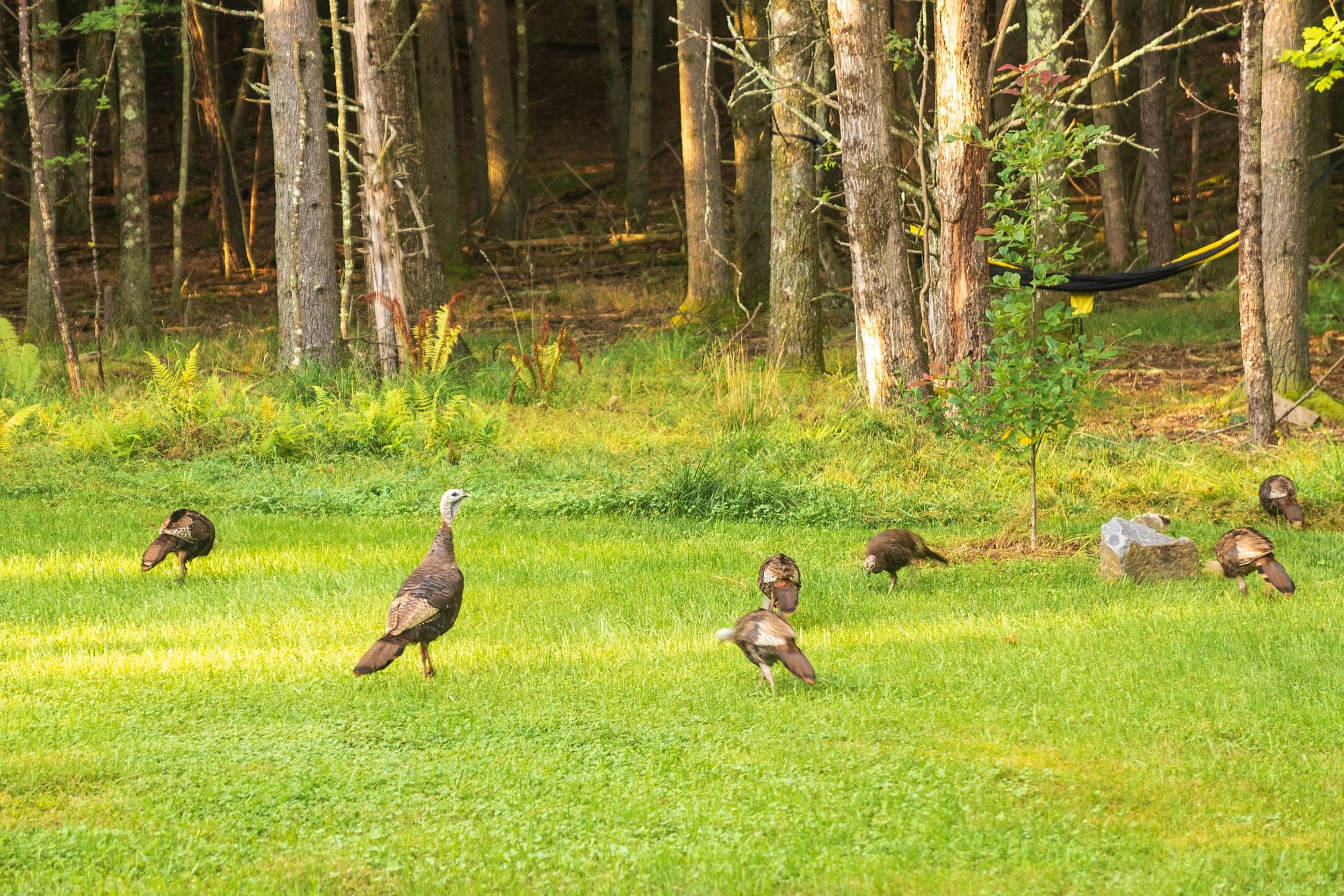 Do you know what thick forest isn't so wonderful for? Solar.
The first spot we parked in was at the edge of their property, a few hundred feet from their house - a beautiful location with a small clearing on the edge of the woodland, near their septic leach field.
Unfortunately, the clearing was to the north of us, and tall trees stood just behind us to the south. Our portable panel was able to get direct sunlight for about three hours around lunchtime, but our 600W of rooftop panels struggled to provide more than 25W.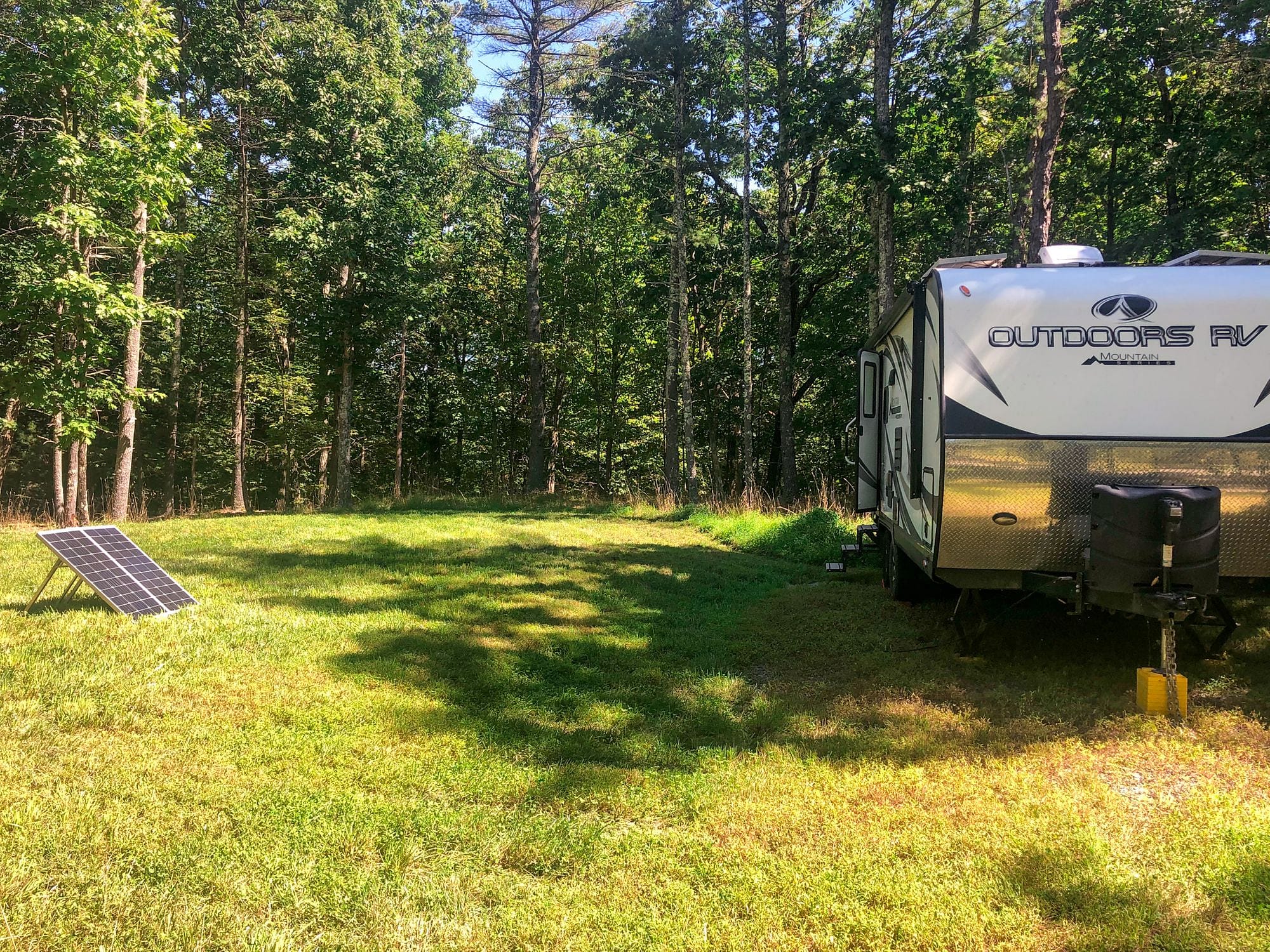 Not good. So after a couple of days we moved the trailer. Our new spot gets full sun from about 9am until 4pm - not a full day, but plenty for our needs. Plus, it's much closer to their house so we could run an extension cord if we really needed to. I think we'll be OK though - we hit 100% on our batteries yesterday.
To help us out, we've also temporarily loaned our AeroGarden to our friends so it can run in their house and save us the power - it uses a little under 10% of our battery capacity each day, so that does make a big difference!
Diana has also been using a small 500W portable inverter that we bought so she could charge her laptop in the truck while we were driving (our truck's built-in 400W inverter isn't powerful enough to charge Diana's laptop!) since that uses less power than our big inverter.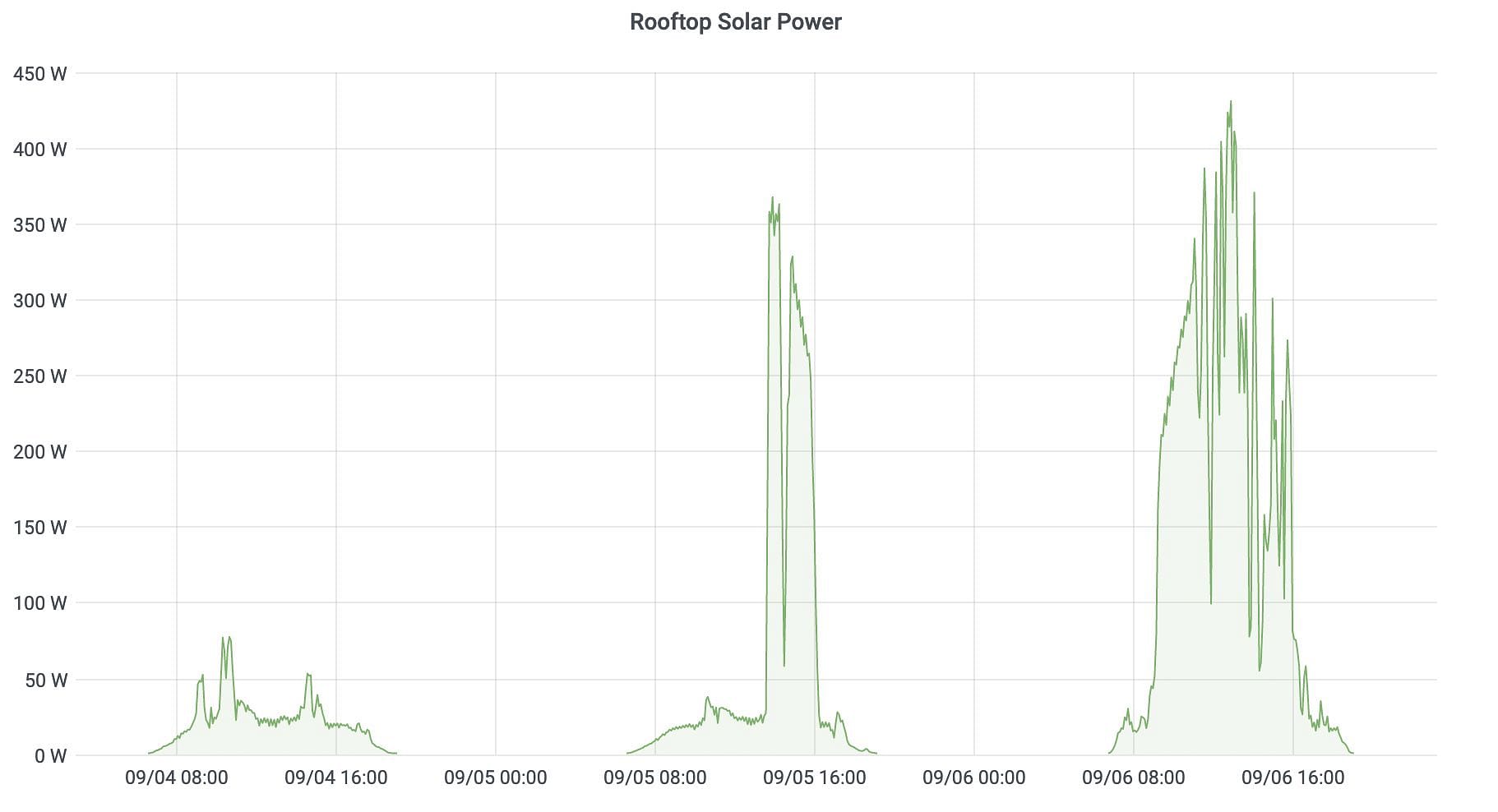 I thought I'd share this since I sometimes hear from new RVers who aren't sure how much of an impact shade has on their solar panels. I think this is a pretty clear cut example!
As you might have guessed, this also means we don't plan on doing much dry camping out here this winter. Not only are there fewer boondocking spots out here than we're used to out west, but we're also planning to spend more time in forested areas. Add in the often-cloudy New England weather and increased power needs given the colder temperatures and we'll be looking for full-hookup RV parks - not something we have much experience with!
If you can recommend any RV parks in New Hampshire or Vermont that will be open during the winter (most seem to close in early October), we'd love to hear from you - again, please leave a comment or drop us an email!
That's all for this week!