As an Amazon Associate we earn from qualifying purchases.
Introduction
Although it's named as though someone accidentally left caps lock on their keyboard, the REDARC BCDC1240D is a simple but very clever device. Let's start by decoding it's name. Made by a company called REDARC, it's a 3-phase battery charger (BC) that uses DC power (DC) to charge a 12V battery (12) at up to 40A (40) - it also has dual (D) inputs of both solar or your tow vehicle's electrical system.
Still confused?
OK, basically it's a super fast way to charge your trailer's batteries from your tow vehicle. It also has a built-in solar MPPT charger. And it's awesome!
Vehicle Charging
Now, you may be thinking that your tow vehicle is already providing power through the 7-pin connector to charge your RV's batteries. Well, you're right - but not very much.
Now it heavily depends on your tow vehicle - some modern vehicles have so-called smart alternators which don't even charge the starter battery on the tow vehicle to 100%, saving capacity for regenerative braking.
But even in a best case scenario, the 12V wires in the 7-pin connector are typically 12ga wire, which means a maximum of 15-20 Amps given the length of the wire run from the battery to the back of the vehicle. Most vehicles will have a fuse of 20-30A protecting this circuit.
In reality, depending on your tow vehicle, you should expect to get somewhere in the range of 5-15 Amps through the 7-pin connector. Enough for a maintenance charge, but not much more than that.
Lithium Batteries
And this is great...if you have lead acid batteries. Because that's what most alternators are designed to charge: they have a lead acid profile. This means they usually have a maximum charging voltage of ~13.9V, which is a good float voltage for the types of batteries used for starting an engine.
But to fully charge a Lithium battery, the maximum voltage really needs to be 14.4V to 14.6V, depending on the battery. In most situations, your alternator will be able to charge your Lithium batteries up to around 70% charged...if you drive for long enough. Not bad, but not great either.
The other problem with charging Lithium batteries with just the 7-pin connector is the time it takes. Our RV came with a fairly standard, 80Ah lead acid battery, of which 50% (or 40Ah) is usable. If our alternator was able to charge that at 10 Amps, it would take just 4 hours to fully recharge it from 50% to 100%.
But now we have three 100Ah Lithium Battle Born Batteries, giving us a total of 300Ah - and all of that is usable capacity. Even if our alternator could charge all the way to 100% at 10 Amps, it would take 30 hours of driving to do so!
DC-DC Charger
Enter DC to DC chargers, such as the REDARC BCDC1240D. These take a voltage of approximately 12V (in the case of the REDARC, it's anywhere from 9-32V) and charge your batteries the way they need to be charged - for example, with a specialized Lithium LiFePO4 charging profile.
This REDARC BCDC1240D will charge at up to 40 Amps (which it does as long as the battery is in bulk charge mode), so it could have charged our old 80Ah lead acid battery from 50% to 100% in just 1 hour. It can charge our 300Ah of Lithium batteries from 0% to 100% in 7 hours - 4 times faster!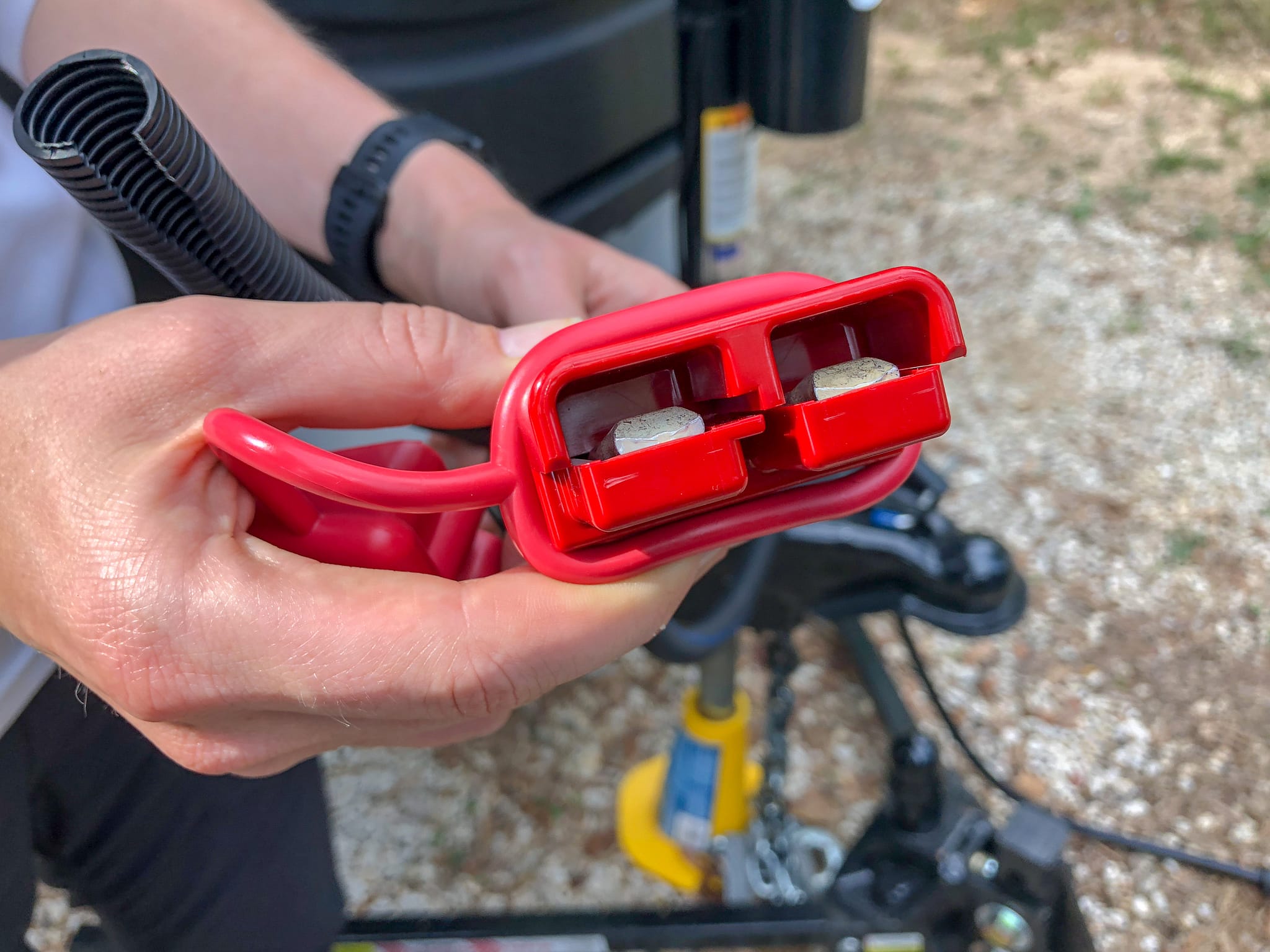 They also sell a 25 Amp version, the REDARC BCDC1225D in case that's sufficient for your needs.
And because our Battle Born Lithium batteries will bulk charge all the way to >99%, we see 40 Amps of charging current almost the entire time it's connected!
How We Use It
I'm not kidding when I say this is one of our favorite upgrades - we use it a lot! Although we have solar on the roof, we really like knowing that travel days will give us a big boost in battery charge. It's also nice to know it's there in emergencies too.
Travel Days
We currently have 600W of solar panels on the roof (6x 100W Renogy panels), which means we're pulling in anything up to 600W when we're driving anyway - we've seen up to around 45 Amps coming in when driving around lunch time on a hot, sunny summer's day.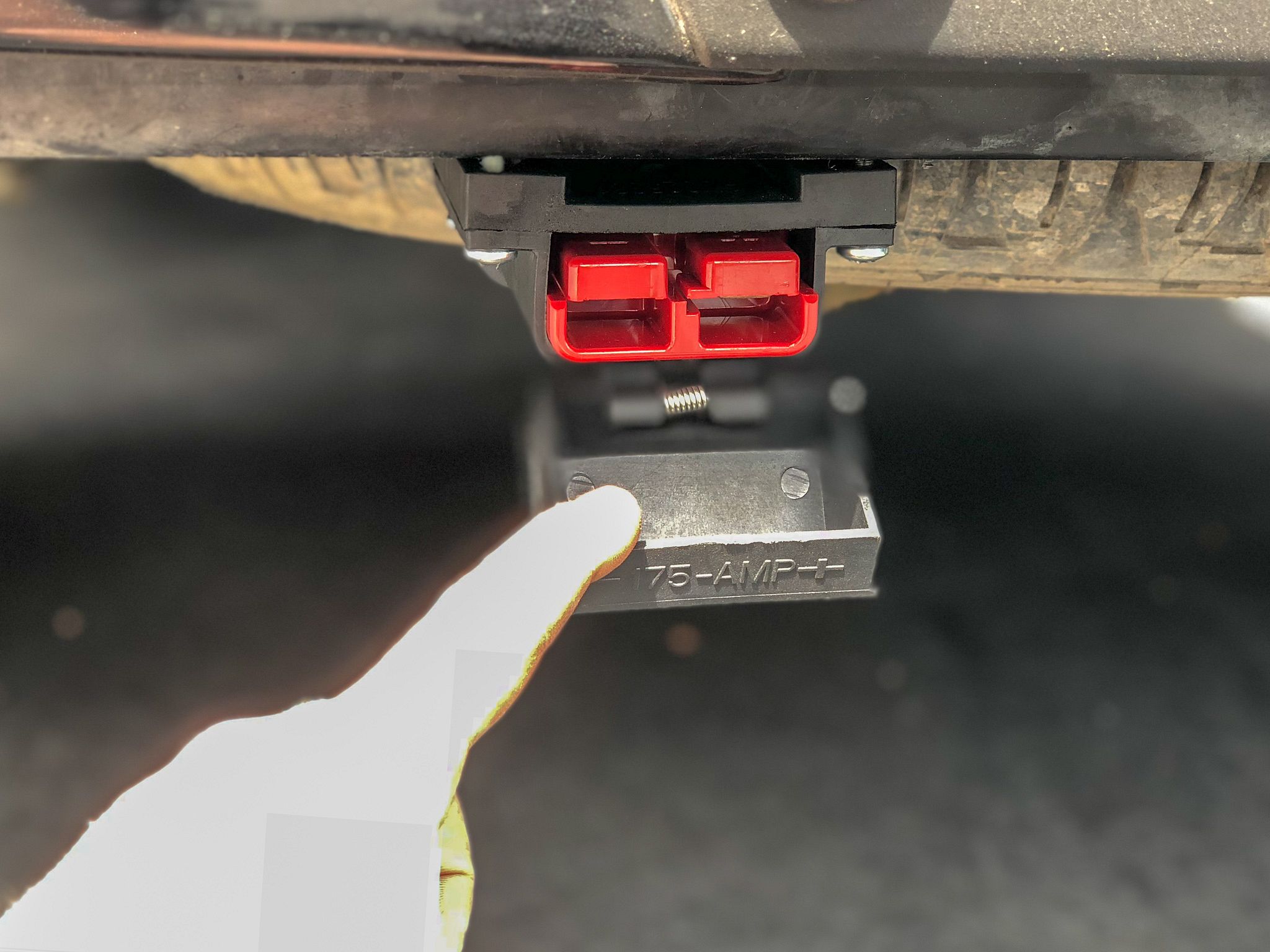 In addition to the solar, the REDARC charger gives us roughly another 40 Amps, for a total of 85 Amps charging power, or roughly 1,100W. This would fully charge our batteries from empty in just ~3.5 hours, putting in around 28% charge every hour. The REDARC charger alone puts in about 14% per hour, so even on cloudy days the batteries still pick up a lot of charge!
With all our solar and relatively large battery capacity, it's rare for our batteries to get too low. Which means it doesn't take much driving before the batteries are full. So then what do we do with the extra power? Just waste it?
Of course not!
Our two favorites are to either turn on the electric water heater, or the air conditioning - the latter we can do from our phones while driving in the truck, thanks to our Smart WiFi Thermostat.
Especially on long driving days between boondocking spots, it's nice to know that when you arrive you'll have full batteries, a tank full of hot water, and a nicely cooled RV inside. In fact, particularly in summer, after spending just 10-20 minutes outside in the hot sun setting up the trailer when we arrive at a new spot, it's really refreshing to step inside an RV we've cooled down to 68ºF inside.
Powering our electric water heater and air conditioning is only possible thanks to the 3,000W Victron MultiPlus inverter we installed in our RV, but if you have something like that then this is a huge benefit!
Emergency Generator
Although we boondock (dry camp with no hookups in the middle of nowhere) around 90% of the time, we don't own (and have never owned) a generator. We wouldn't rule out ever getting one if we needed it, we've just never needed it!
One of the main reasons for not needing a generator, is that we can always use the truck as an emergency generator. Sure, it's not going to be putting out the same power as a 2,000W or 3,000W generator will, but it's always there as a backup to give us about 550W of power if we need it.
In fact, pretty much the last time we did that was December last year, over 8 months ago. We were boondocking near Las Cruces, NM and it was cloudy and rainy almost every day for the week we were there. At the time, the only solar power we had was a 100W portable panel (nothing on the roof), so our batteries were draining each day. No problem - we just plugged in the truck and turned on the engine.
Now, running a 3.5L V6 gas engine for 550W is far less fuel efficient than a dedicated generator, and idling the engine for long periods isn't ideal. If we'd had a generator, then sure, we'd have used it - but then we'd have been carrying it around for the last 8 months without using it! That would have taken up valuable space and weight, and been yet another thing to maintain. For emergency / occasional use, this is a great solution.
Oh, as a bonus, our truck has Remote Start, which means that if the truck is plugged in then I can just start then engine from inside the RV using my key, and turn on power when needed. It's like a remote-start-stop system on a generator, but with the truck!
Solar MPPT Charger
If charging your RV batteries at super-fast speed wasn't enough for you, then you'll be pleased to know that the REDARC charger holds another nifty trick up its sleeve. Remember the "D" at the end of the product name? D for Dual. As well as charging from your tow vehicle, it also has a built-in MPPT solar charge controller.
For us, this was great! We bought the REDARC charger long before we installed any solar panels on our RV, and in fact, we chose to hit the road with just a Renogy 100W Portable solar panel.
Because the REDARC charger has an integrated MPPT charger with dedicated input for a solar panel, we were able to buy a solar panel without a charge controller - saving ourselves $ compared to an equivalent Renogy 100W Portable solar panel with charge controller.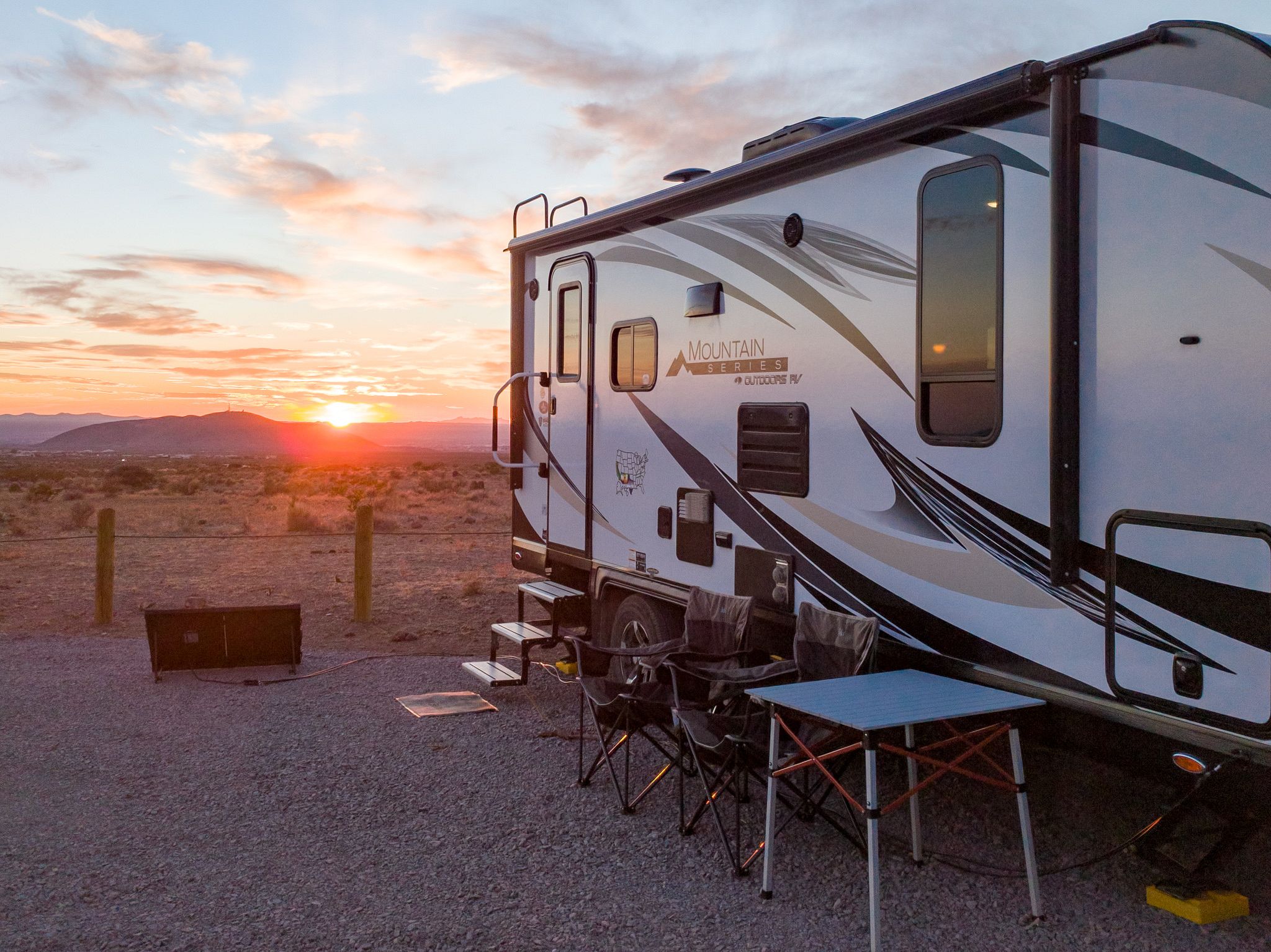 The REDARC system will prioritize the charge coming in from the solar over the vehicle charging, so if you used this for your roof-top solar panels, it would ease the load on the alternator when there is solar available. However, bear in mind that the total output of the REDARC charger is limited to 40A, so if you're pulling in 30A from the solar panels, you'll only draw 10A from the alternator - you won't get 30A from the solar panels plus 40A from the alternator.
Installation
Installing the REDARC BCDC1240D is really straightforward, but I do want to share a word of warning first: make sure your alternator can handle the extra load.
In many larger tow vehicles, an extra 40A isn't going to be too much of a big deal at all - the 210 Amp alternator in our 2016 Ford F-150 doesn't care at all, but I'd probably not want to install this in a little 1.6L Ford Fiesta. Then again, you probably shouldn't be towing with a Ford Fiesta...!
Adventurous Tip: Double check your alternator can handle the extra load. One way is to use a DC ammeter to see how much power is drawn when everything is turned on - lights, AC, heated seats, etc and compare that to the alternator specs. If you're at all concerned, check with your dealer or a qualified mechanic.
For a full step-by-step installation, check out the blog post I wrote on how we installed a 12V Anderson connector on the back of our truck, and wired the REDARC BCDC1240D DC-DC charger in our RV.
The charger does get warm while charging the batteries, and if it gets too hot then it will automatically reduce the charging power until it cools down. This was a problem for us as we installed it next to the rest of our electrical system under the bed, but it was easily solved with a 92mm computer fan stuck on top.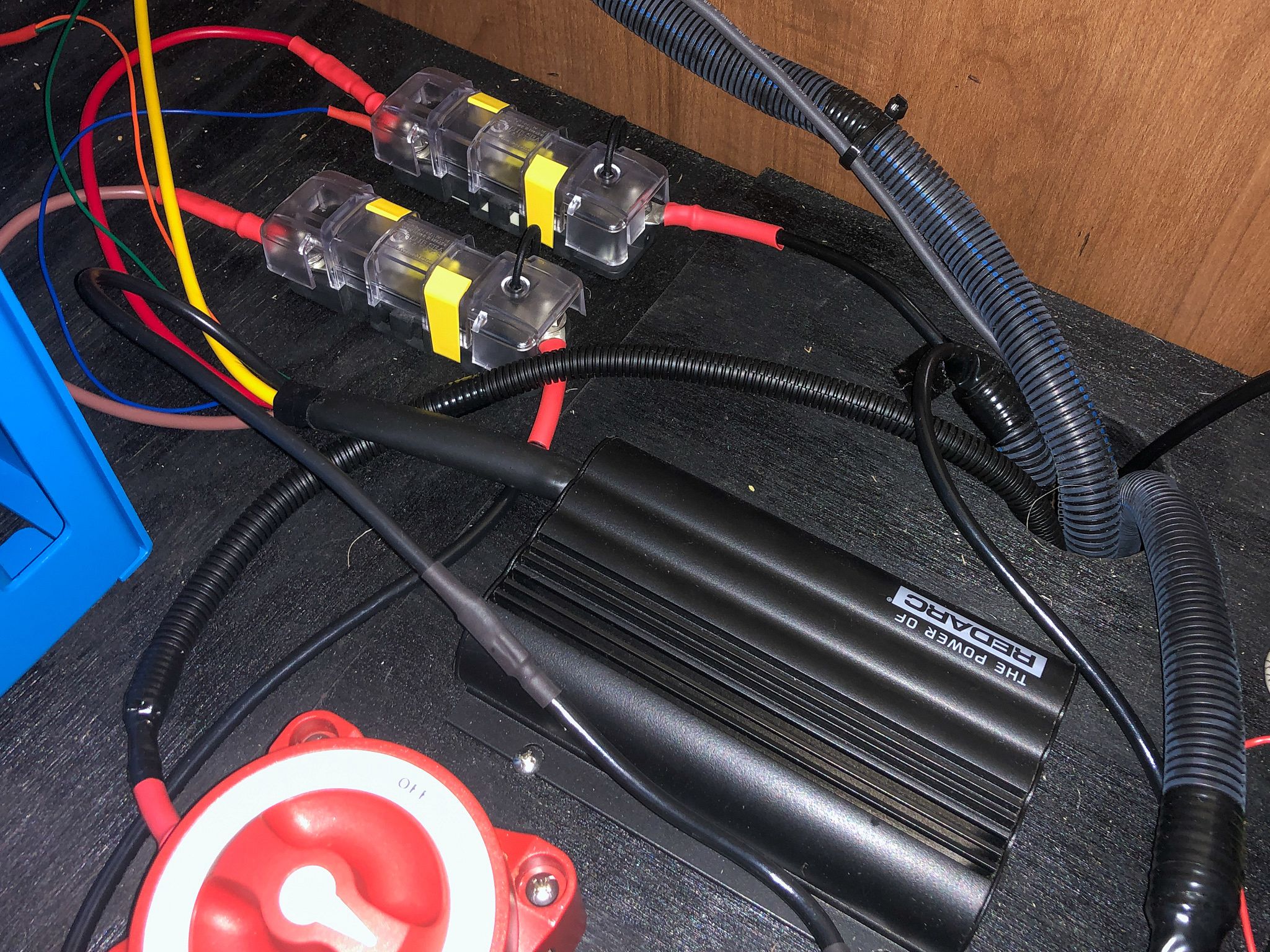 That being said, if I installed it again, I'd probably mount it on the frame rail at the front of the RV. The frame rail would act like a giant heat sink to help keep it cool, and it wouldn't mind at all being exposed to the elements - the entire unit is filled with resin, meaning it's completely waterproof and incredibly durable.
A friend of ours has recently installed one on their RV, and loves it too! Because the REDARC charger is waterproof (apparently, you could literally operate it while it's submerged underwater), he mounted it on the metal battery box on the front of their trailer - another great mounting location.
Parallel Operation
Let's suppose you're looking at this thinking: "sounds great, but 40A isn't enough for me"? Don't worry, REDARC has you covered. You can run up to 4 of these chargers in parallel, for a combined charging current of up to 160A!
By way of comparison, our Victron MultiPlus 3,000W hybrid inverter / charger only charges at 120A, so four REDARC chargers in parallel would charge our batteries faster than being hooked up to shore power. 160A is equivalent to about 2,000W of solar running at full output, or more continuous power than a Honda EU2200i generator can sustain!
Obviously you need to look really carefully at whether your alternator can put out that amount of power, but particularly if you've got a big diesel truck with dual alternators, paralleling more than 1 of these charges can really make a difference!
Conclusion
We've had our REDARC BCDC1240D installed for 12-months now. As full-time RVers who end up boondocking about 90% of the time, the extra charging power on travel days has been invaluable to us.
REDARC is a relative newcomer to the US market, having made a name for themselves in Australia. At the time we were researching charging options, the REDARC BCDC1240D was one of the very few options available.
However, more recently, Renogy has released a competitive product (albeit not waterproof), the Renogy 12V DC to DC 40 Amp On-Board Battery Charger, also available in a 20 Amp version. I've not had the chance to try it out myself, but would love to hear from those who have - please leave a comment below and let me know what you think!
When I think about how much the DC to DC charge simplifies and improves our RVing lifestyle, I'm so pleased we decided to add it. In addition to the peace of mind that we have an emergency generator if we need it, knowing we can reliably arrive at new camping spots with full batteries, hot water and a cool trailer is great!
If you had a DC to DC charger on your RV, what would that change for you? Maybe you could ditch that rarely-used generator, or save some propane by heating up water when driving. Or maybe it'd give you the extra bit of power you need to stay off-grid for longer. Let us know in the comments!