As an Amazon Associate we earn from qualifying purchases.
Most people keep their car in their garage. We've been keeping our garage in our car! Well, truck.
As full-time RVers, we don't have a lot of storage space in general. Earlier this year, prior to our trip to Oregon to have our RV roof replaced, we rented a small 5x5 storage unit. This has been great as overflow storage, but it's not in a very convenient location compared to our property.
As our house build progresses, we're accumulating more tools, equipment and materials - everything from hand tools to chainsaws, marker flags to log sealing paint. With a lack of dry, secure storage on the property (other than our driveway, it's just raw land), we've been using the truck bed as storage.
In addition to the hassle of carefully loading everything into the truck bed at the end of each day, I don't love having expensive tools bouncing around in the truck bed all the time - it's only a matter of time before something gets damaged.
What we need is on-site storage.
Why use a shipping container?
Shipping containers are sometimes known as storage containers, freight containers, sea cans, and Conex boxes. Whatever you call them, they can make great a great storage option!
Compared to a storage unit or garage, the big advantage of a shipping container is that it's on-site. Since we have the space available, this is much more convenient! We have everything on hand for whatever we happen to be working on that day.
If we used a storage unit, we'd have to take things to and from it using the truck (and maybe a trailer). This would make storing things like our tractor and sawmill much harder than with a shipping container.
When it comes to shipping containers there are a few things you'll need to choose. Here we're just talking about basic shipping containers, but if you have specific needs then there is almost no end to the customization options available - refrigeration, office setups, shelving, etc.
Shipping container dimensions
Perhaps the most obvious characteristic of a shipping container is its length. Shipping containers typically come in standard lengths of 20ft and 40ft, although other lengths are sometimes available. It's pretty obvious that a longer container can store more than a smaller one, but make sure you have room for it - a 40ft container takes up a lot of space!
Note that the length refers to its exterior dimension - the internal length will be 6-12" shorter.
A standard shipping container is 8ft 6in high, with an interior height of around 7ft 10in. Alternatively, you may choose a high cube container which is a foot taller at 9ft 6in high with an interior height of around 8ft 10in.
Most shipping containers have a standard exterior width of 8ft which equates to about 7ft 8in of usable width inside.
Typically, the shipping container will have double doors at one end. These will generally open to the full width of the shipping container but not quite the full height - about 7ft 5in for a regular shipping container and 8ft 5in for a high cube container.
Shipping container conditions
Once you've decided on what size shipping container you need, the next step is to choose the condition. Typically you'll find shipping containers used for storage graded as either Grade A, B or C.
Grade A - One Trip
It's very unusual (and expensive) to get a truly brand new shipping container. Why? Most shipping containers are made in China so it usually makes far more sense to send them over to the USA full rather than empty. Hence, the closest you usually get to a new container is known as "one trip" - that is, it's been used for one trip.
These are the best quality containers and should be in an as-new condition - almost completely free of marks or dents inside and out. They're also the most expensive.
Grade B - Cargo Worthy (CW)
One level below "one trip" is Cargo Worthy, sometimes abbreviated as CW. This means that the shipping container is used but is still in sufficiently good condition to be suitable for use in transportation. It should be wind and water tight, have a valid CSC safety approval plate and meet all its original specifications.
But it may also have a few dents, scuffs and marks, and there may be some repairs. These are perfectly good and usable containers, just not brand new.
Grade C - Wind & Water Tight (WWT)
Containers in this category are still wind and water tight (as you might guess from the name) but aren't in as good condition as those classed as Grade B. With a valid CSC safety approval plate they may still be cargo worthy, but are likely to show extensive signs of wear and tear - marks, scuffs, corrosion, scratches and previous repair work.
These are among the most common containers and can be a great option for storage.
As-Is Condition
Once a shipping container can no longer be classed as wind and water tight, it may be sold off in an "as-is" condition. They may have significant roof damage, structural damage, corrosion, poor seals or doors that don't open and close properly.
While they may be suitable for storage, they should be treated on a case-by-case basis.
Buying or renting?
Faced with all these choices, we had begun researching our options for either buying or renting a shipping container.
Our first thought had been to buy a used, wind and water tight (WWT) 20ft container and use it to store our tools and materials, but not our tractor or sawmill. A couple of years ago it was possible to pick up a 20ft WWT shipping container for around $1,500 plus delivery.
Not any more. We spoke to a number of local companies, and the going rate these days was closer to $5,000 for a 20ft WWT container! Due to the huge demand for transportation at the moment, 40ft containers are hard to find - one company said they didn't have any stock of 40ft containers to sell but if they had, a 40ft one-trip container would cost about $10,000!
So instead we looked at rental options. Fortunately these are much more reasonable. We phoned a couple of rental places nearby, and found that, at least at the moment, they're only renting almost-new containers - i.e. containers that have been used for nothing but storage rentals since their first trip from China.
We eventually decided to go with PacVan, now owned by United Rentals, who have locations all over the country. Finding a local location is important since delivery charges are related to how far they have to transport the container.
We were quoted $115 per month for a 20ft container or $140 per month for a 40ft container. For comparison, at the place where we have our 5x5 storage unit, a 10x20ft storage unit (just slightly larger than a 20ft container) would cost $130 per month and a 12x30 storage unit (the largest they have and slightly smaller than a 40ft container) would cost $250 per month!
Given the cost difference of just $35 per month to jump from a 20ft container to a 40ft container, we decided to go with the larger one - we have the space for it and the extra storage space will be useful.
There's no minimum or maximum term on the rental - we can keep it for as short or long a time as we need it.
Delivery
In addition to the monthly rental price, we also had to pay for delivery ... and pickup. The way they operate is that they charge for delivery and pickup all at once, up front. I guess that way if we ever defaulted on payment they've already been paid to pick it up - much like paying first and last month's rent on an apartment.
Delivery and pickup charges will depend on how far the container is being moved - in our case it was under $200 for each, so less than $400 total. This obviously means that keeping a container for just 1 month is pretty expensive, but we intend to keep it for 6-12 months so it's not too bad.
The whole process of ordering the container was incredibly simple, and we were given a 2-week lead time. The only other decision we had to make was which way the container should be loaded onto the delivery truck - doors at the front or back. In our case we knew the truck would have to reverse in, so we wanted the doors facing the truck cab.
Our property is on a Class III unpaved road with a couple of sharp corners so we spoke with the delivery driver in advance to make sure they had a route planned that would work.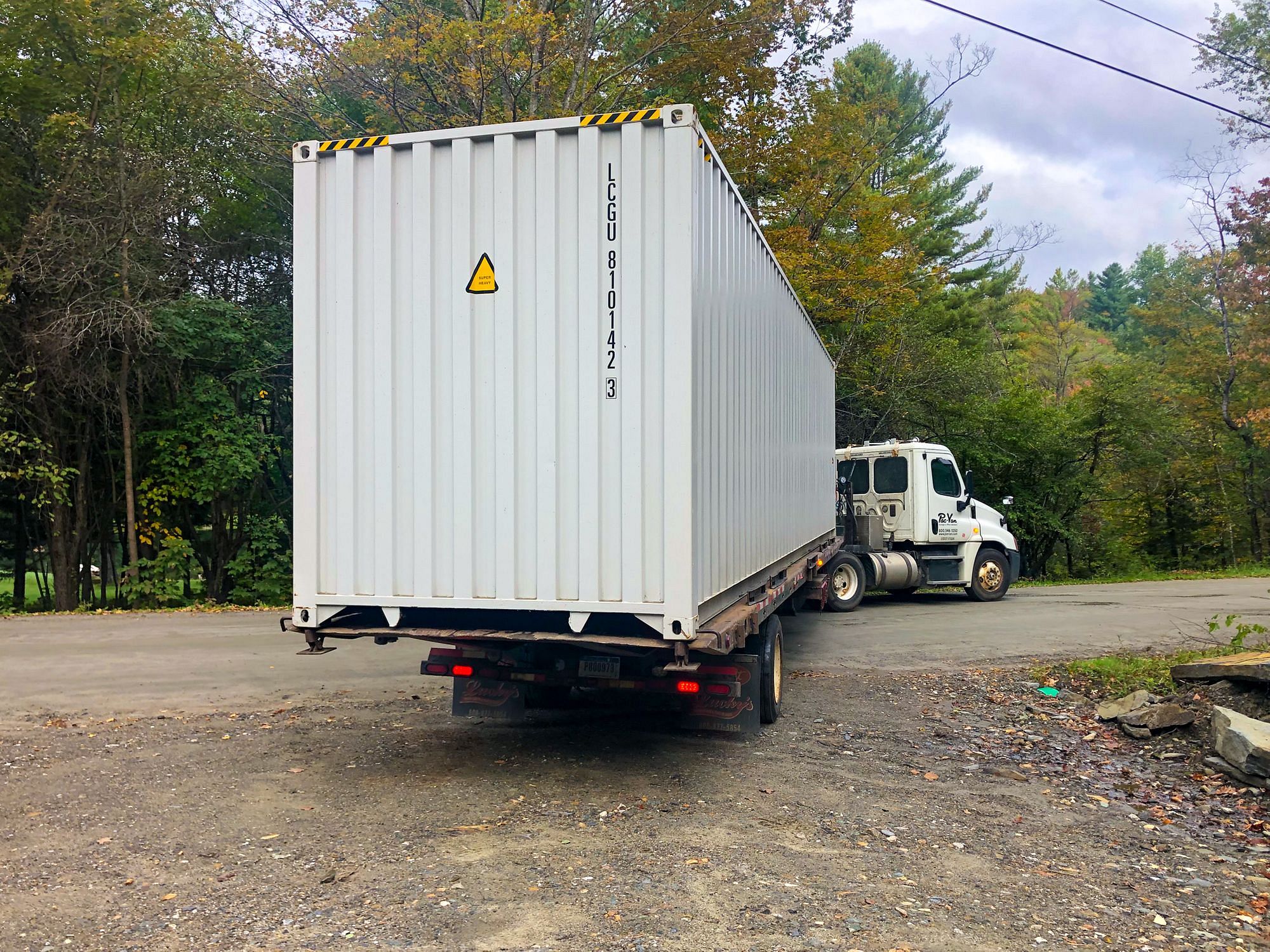 Two weeks later, right on schedule, our container was delivered. We had received a call the previous day as planned to confirm a time slot, and another call that morning when the driver was about half an hour away. We met the driver on-site and showed him the location where we wanted the container.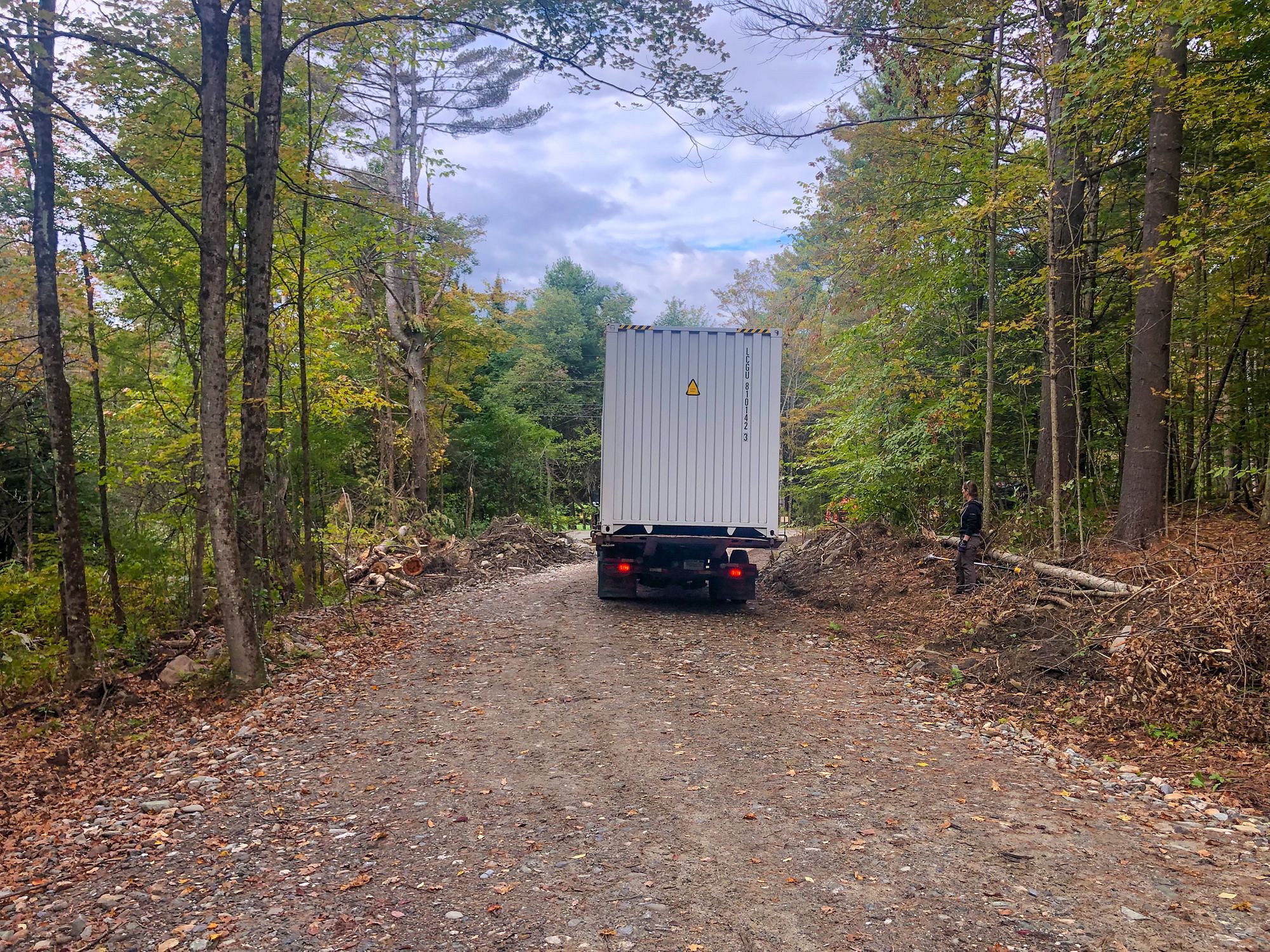 Despite some pretty epic reversing skills (and an awesome sliding mechanism on the trailer that allowed him to adjust the wheelbase for tighter turns), he wasn't able to make it all the way up to the top of our driveway - it was just too steep and loose in one section. Once our top surface is down it'll be fine, but with just the sub-base on for now it's still a little loose.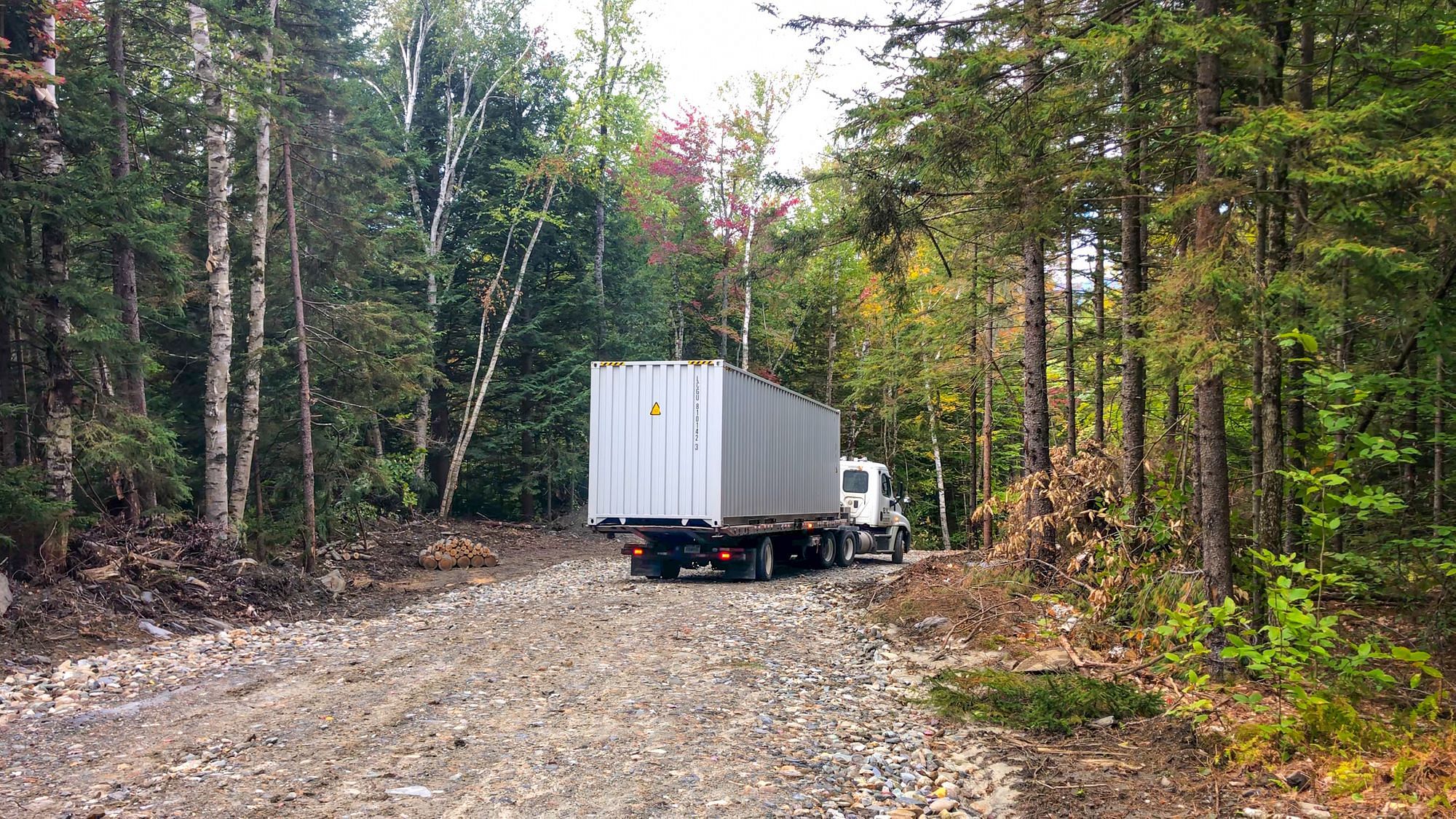 Somewhat counterintuitively (to me at least), the truck struggled reversing up there due to lack of weight since the container was empty. Our driver's concern was that even if he were able to make it up with our container (he tried a few times to no avail), he wouldn't be able to reverse back up their unloaded when it came time to pick up the container.
Fortunately we had foreseen this possibility and had a backup plan - a location further down the driveway that would also work. While not quite as flat as the section that had been cleared at the top, it would give us more space up at the house site which is no bad thing! Plus, we really didn't have a choice.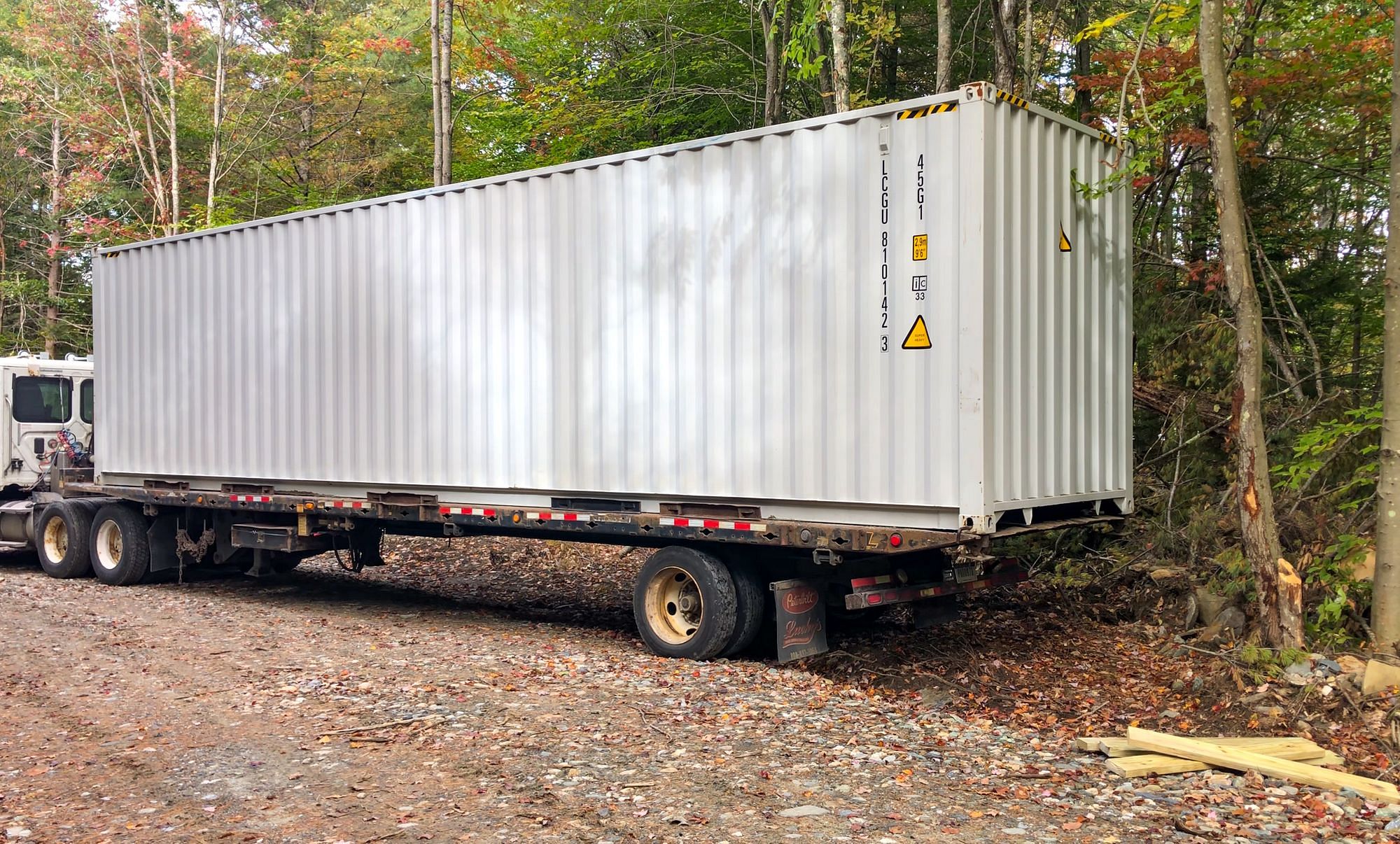 Moving a shipping container
The shipping container was offloaded by tilting the trailer and sliding the container off. It's always useful to have several pieces of blocking (we had pressure treated 2x6) on hand although in the end we didn't need it - a couple of rocks under one corner is all it took.
After sliding it off the truck, it was in a pretty good location but we wanted to slide it over a little bit more. The driver was able to use a winch and some blocking on the truck acting like a snatch block to slide the shipping container over.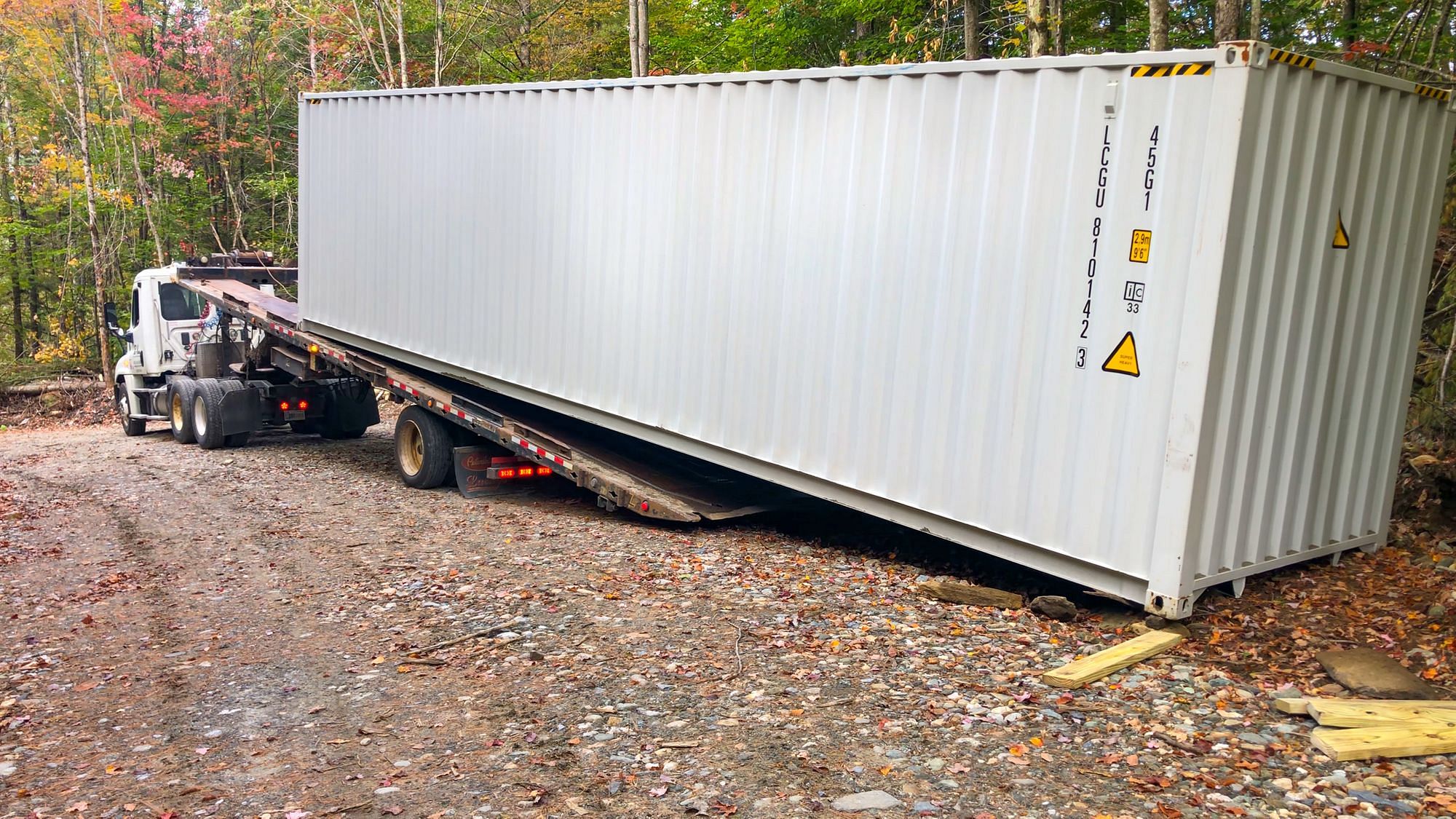 We confirmed that the container was stable, firmly supported all around, that the doors worked fine, and was clean inside. Our container had been freshly delivered from the port, so just about as new as you can get!
We signed for delivery and our driver left. After looking at it some more, we decided we wanted to move the front over another foot or so. Our driver had given us the OK to do this if we needed to. We had come prepared for this eventuality with various tow straps and a high-lift jack (ours was a 54" model from Tractor Supply Co but it's similar to this one).
Our plan was to raise the container by jacking it up under a front corner, put some round logs under and then roll it by pushing with the tractor. The container weighs in at over 8,000lbs when empty, so it's not light! In fact, it was so heavy that it snapped the steel foot on our high-lift jack. Luckily we had our 6-ton (12,000lb) bottle jack with us which had no problems lifting the container.
Once we had it raised up, we put some logs underneath and were able to easily push it with the tractor. Before lowering it we put a 2x6 under one of the front corners for better stabilization. We removed the bottle jack, and checked it for level - it was absolutely spot on.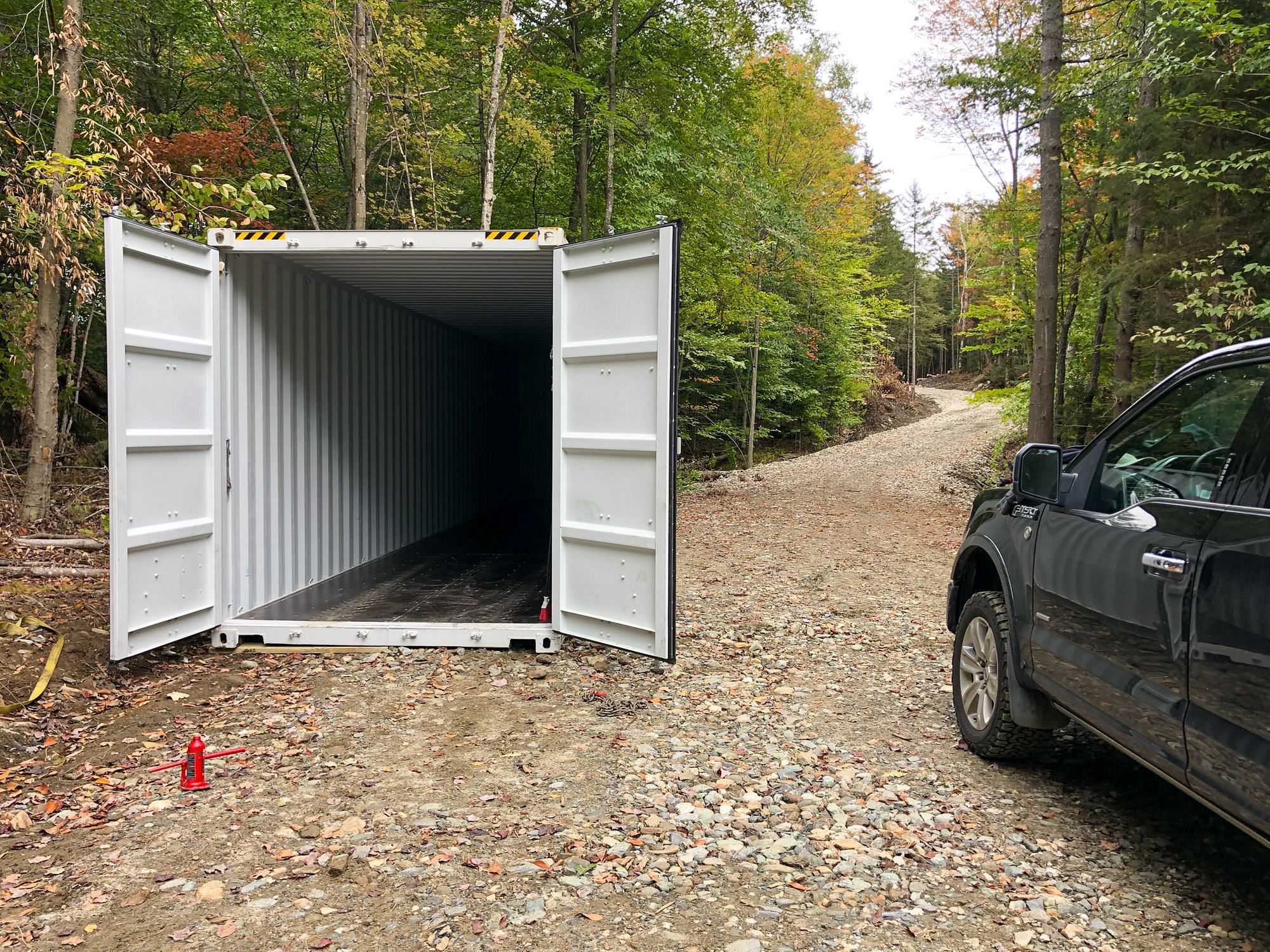 If you need to move your rented shipping container, I'd highly recommend contacting the rental company first. But if you are going to try it on your own, be very careful! Shipping containers are incredibly heavy and moving them involves significant forces.
Security
Our shipping container has a pair of doors, each one controlled by two handles attached to rods that clamp the door shut. The left door cannot be opened without the right door being opened. The handles on the right door have loops through which you could put a padlock to prevent them from being opened.
The plan is to empty our 5x5 storage unit and move everything into our shipping container. When we do, we'll likely re-use our Abus 20/70 Diskus lock from there to lock the handles.
For some additional security, we also picked up a Equipment Lock HDCDL Steel Heavy Duty Cargo Door Lock which works by clamping the rods on opposing doors together in a similar action to a wheel clamp. While no lock is perfect, this is one beefy piece of kit, weighing in at about 12lbs - it should be a good deterrent.
Another option is to simply use a chain lock, like the Kryptonite New York Fahgettaboudit Chain 1415 & New York Disc Lock we use to lock up our bikes - just make sure to wrap it tightly around the door rods.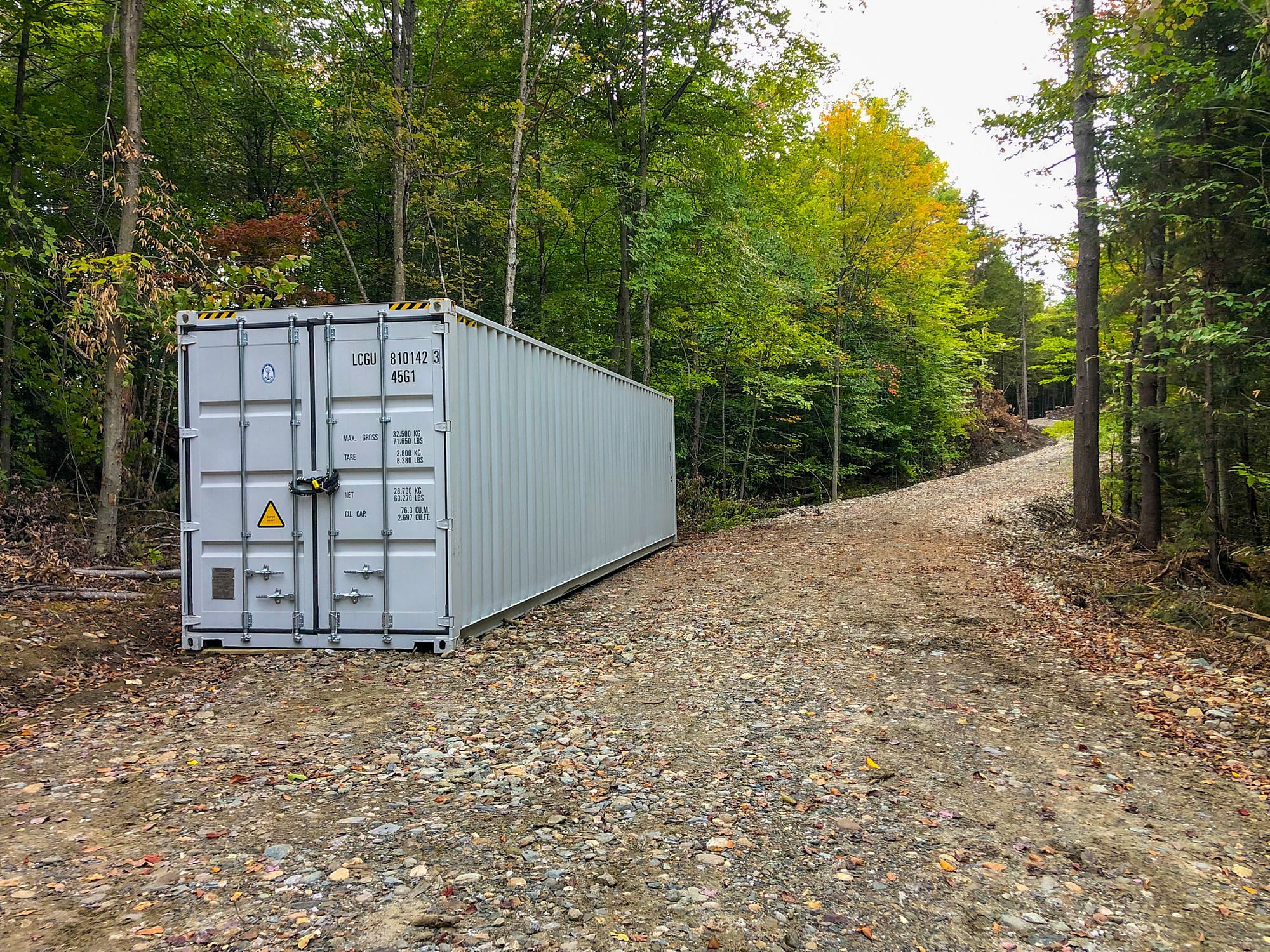 In addition to locks, we also have a bunch of trail cameras around the property which will let us see if the container attracts any unwanted attention.
Obviously you should think carefully about storing valuables in a shipping container, but with appropriate precautions, you should be able to keep things secure.
Summary
For the past several months, our truck has been full of tools and materials - both in the cab and truck bed. Unpacking and repacking has been a constant struggle, and it's not great to have all those expensive tools being jostled around all the time as we drive down the road.
Being able to move everything into the shipping container is a vast improvement - we have space to keep things organized, our tools aren't being knocked around all the time, and the truck isn't a complete mess now!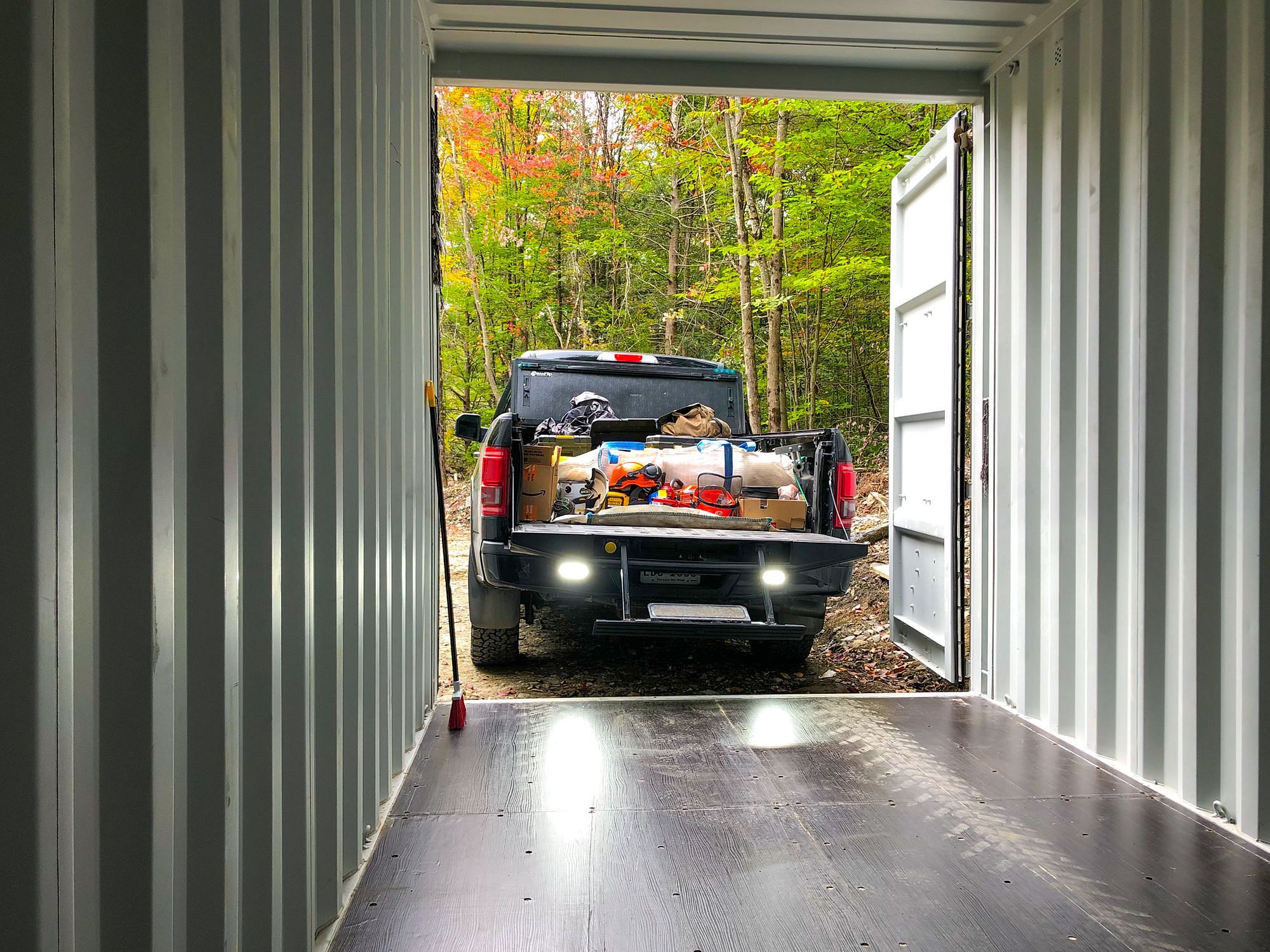 The whole process of renting a shipping container from PacVan was painless, and even though we didn't manage to locate it exactly where we wanted it, our fallback option will work just fine.
Although we didn't request it, our shipping container turned out to be a high cube container, meaning it's tall enough that we can drive our tractor in and out without lowering the ROPS.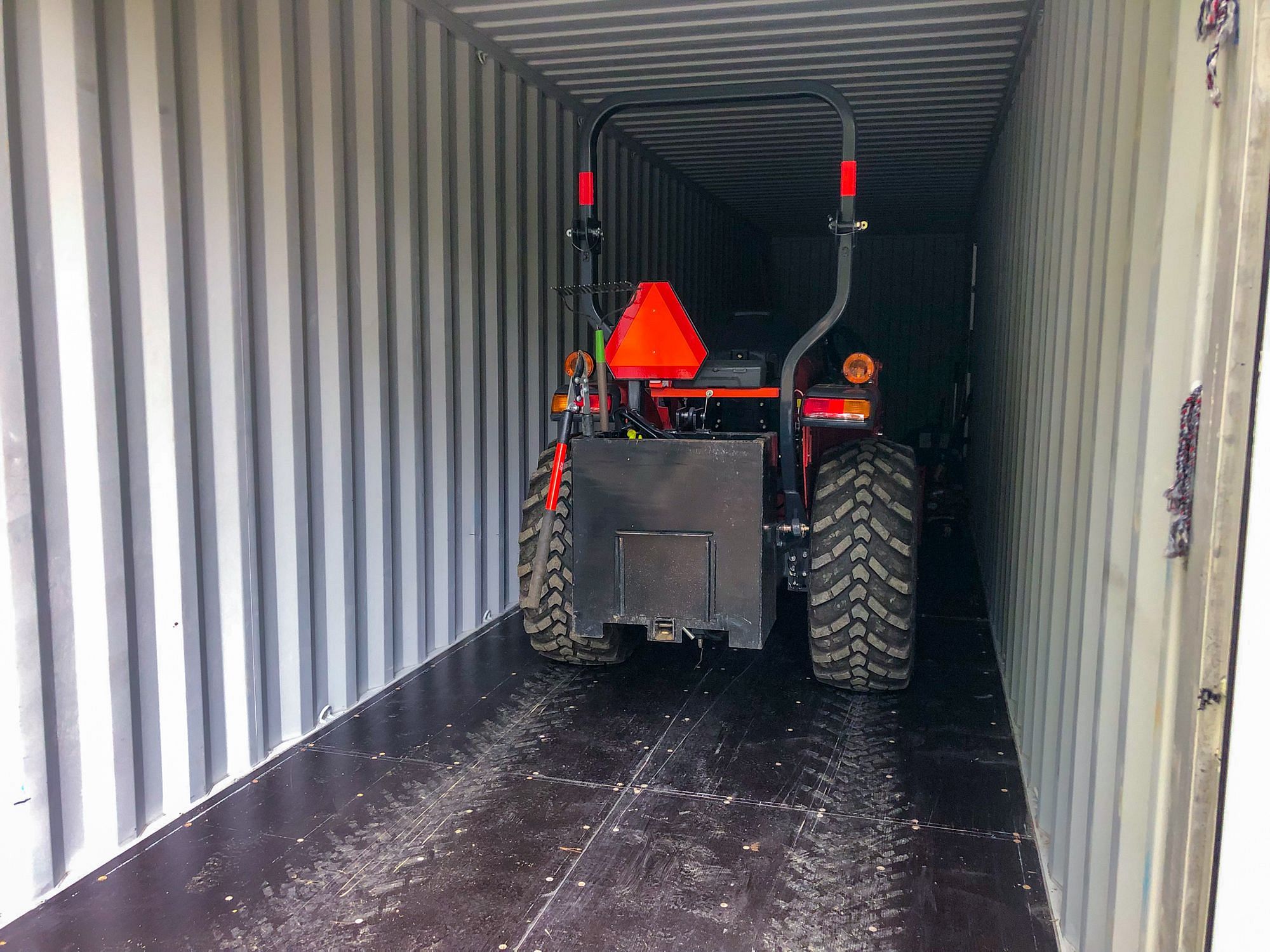 In addition to using it for storage, it also gives us a clean, dry space if we need to escape the elements. This will be great when our sawmill arrives and we need somewhere secure to store the parts, but we can also use flat space inside to assemble it. To help with this, we picked up a battery-powered work light to illuminate it. We also plan to install some shelving to help us stay even more organized.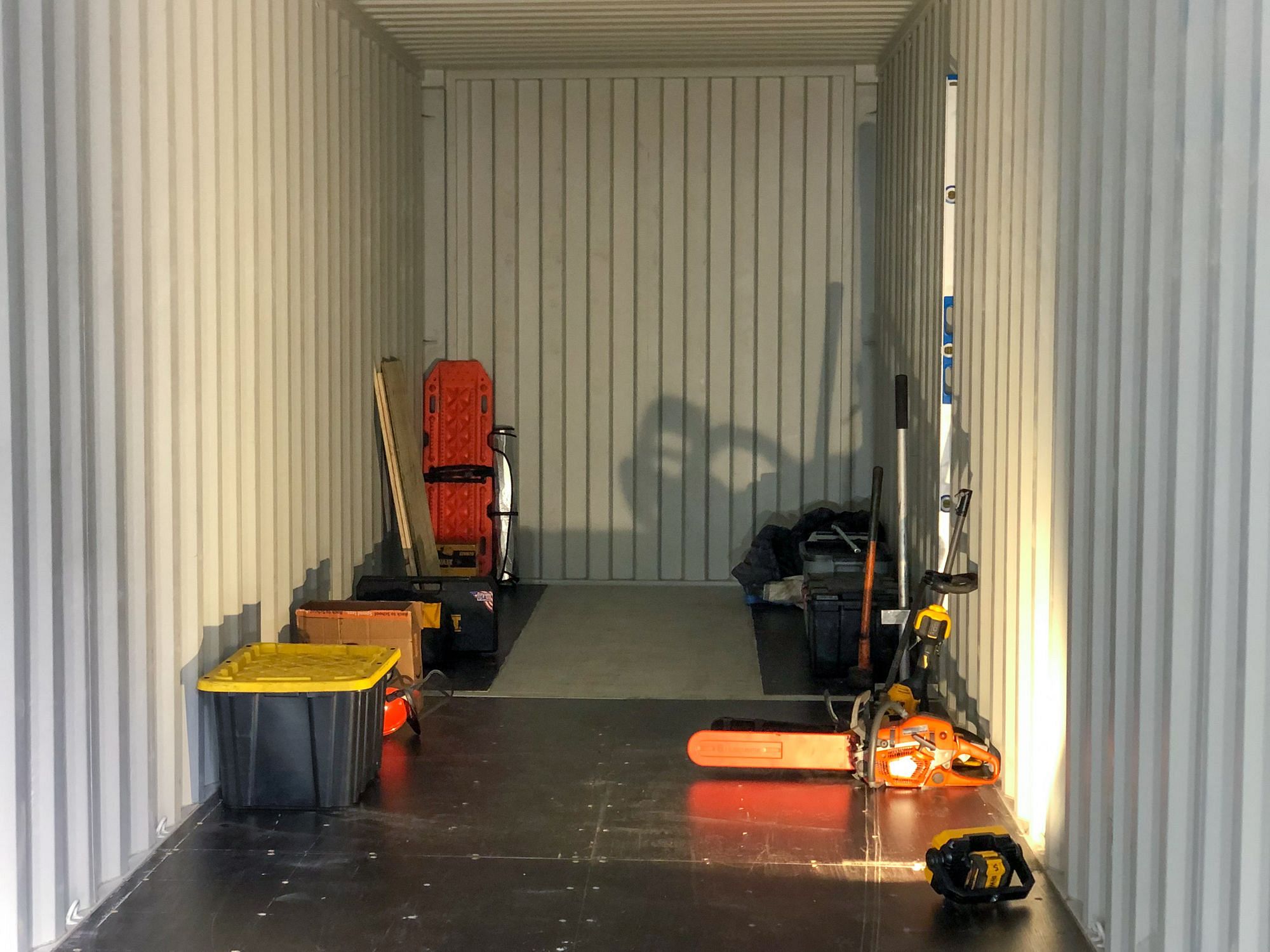 If you need some temporary dry, clean and relatively secure storage, and have the space for it, a shipping container may well be a very good option. At least at time of writing this (October 2021), containers are expensive to buy but you might still be able to find a good price on rental.