As an Amazon Associate we earn from qualifying purchases.
Since quitting our tech jobs in the Bay Area over 2½ years ago, we've been living full-time in our 25ft RV while traveling around the US exploring the National Parks. This winter we've been staying at an RV park in Vermont while we shop for land to build a house and enjoy the ski season.
In early February we noticed a drop of water fall from one of the ceiling light fittings above the bed, and upon further inspection we discovered the plywood roofing material was soaking wet and covered in mold.
Within 48 hours we had moved out of the RV and checked into a nearby hotel for a month while we assessed our options - also keen to maintain progress on our land search and not miss out on skiing!
Throughout this process, we've been working very closely with Outdoors RV, the manufacturer of our RV, to understand what happened and fix our home. In fact, after discovering the mold the first phone call we made was to the service department at Outdoors RV.
Outdoors RV have been building 2,000+ trailers for over 10 years and had never seen anything like the photos we sent them of our RV roof. While they don't typically undertake major service work at their factory, they (like us and many others) were keen to understand the root cause so we decided to take our RV all the way from Vermont to their factory in Oregon instead of using a local RV repair shop.
As I write this, less than 7 weeks after first discovering the mold, I'm pleased to say we've moved back into our RV and life is back to normal. Just a few days ago we returned from our 14-day, 6,000-mile road trip through 17 states to get the RV roof replaced.
The majority of travel trailers have roofs built very similarly to ours - wooden trusses with batten insulation to fill the cavities and a layer of membrane-covered plywood on top. While nothing we had seen suggested this problem was unique to Outdoors RV, there were understandably a lot of prospective and current Outdoors RV owners keen to know what had happened!
We promised from the start to share exactly what we found, regardless of the root cause, so here it is.
Removing the Roof
One reason we headed West so quickly was to ensure we could drop off the trailer on a Monday morning, giving them as much time as possible to work on our trailer. They were expecting us, and we arrived at 7:30am on Monday morning - slightly ahead of schedule!
When we published our blog post and video about discovering the mold, we tried to refrain from speculating too much on the root cause. Why? Well with limited ability to see up into the attic cavity, it was all just guesswork - we wouldn't know for sure what had caused the problems until the roof was removed and we could properly inspect it.
We had been hoping to be on-site at the factory to see the entire process, but due to a combination of site safety and COVID precautions, this wasn't possible. Instead we checked into a wonderful Airbnb less than 5 minutes from the factory, and their service team promised to call us to come back whenever there was something new to see - a sensible compromise.
Our first call came at lunchtime - barely an hour after we had checked into the Airbnb. They had stripped everything off the roof (solar panels, vents, AC, etc) and had the roof membrane and plywood laid out for us to see. We headed straight over.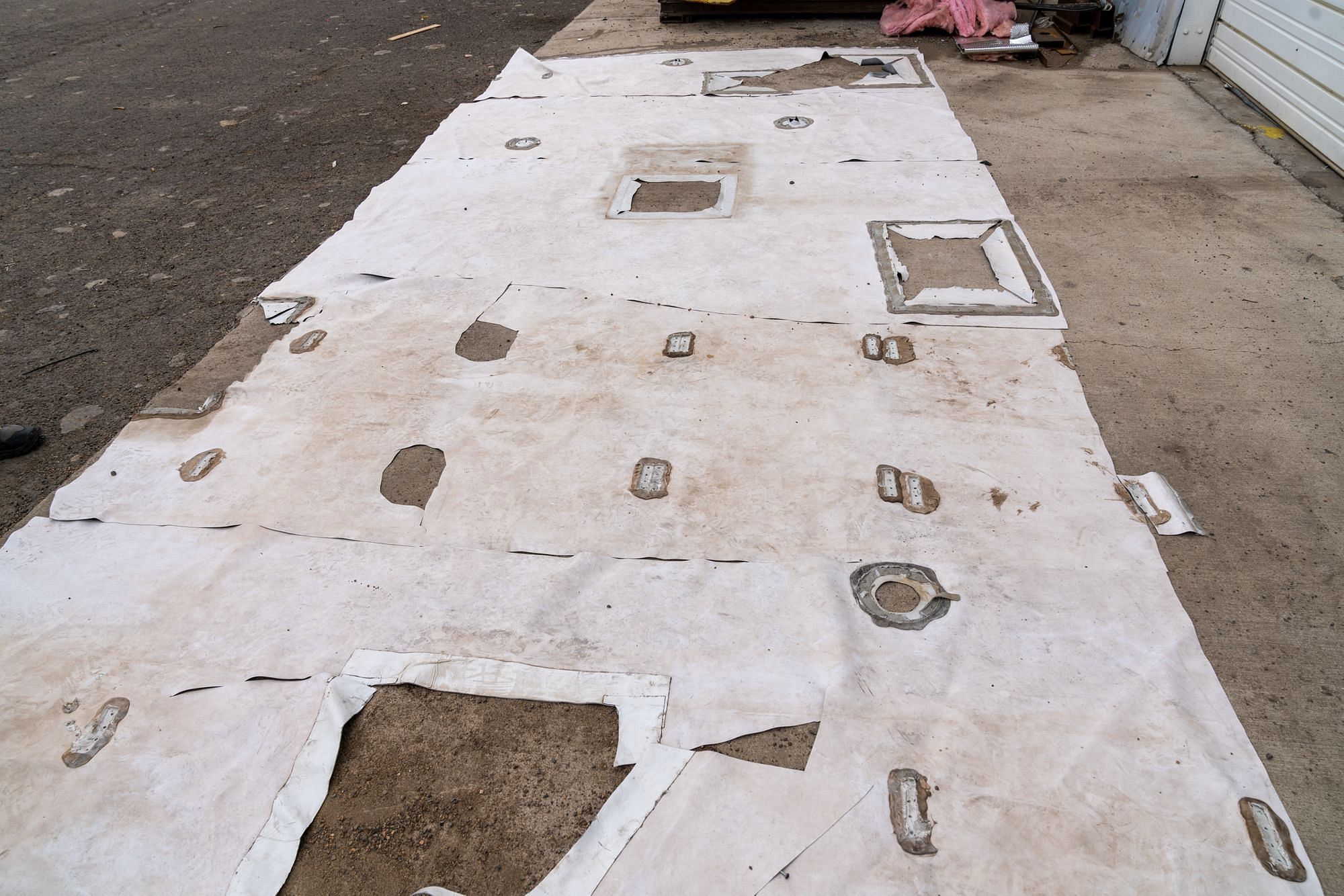 Along with their service manager and head of production, we spent a long time studying the evidence - taking photos and videos, hypothesizing about what may have happened.
Root Cause
The ⅜" plywood roof material was soaking wet from back to front, although quickly drying now it was exposed to the sunny weather. It was also visibly wavy and flimsy. Just a week prior I had been walking on the roof to clear snow and it had seemed fairly sturdy - we think that it may have been frozen solid!
The damage was largely constrained to the plywood, but a few of the roof trusses needed replacing too. Fortunately there was no damage to the walls or ceiling panels.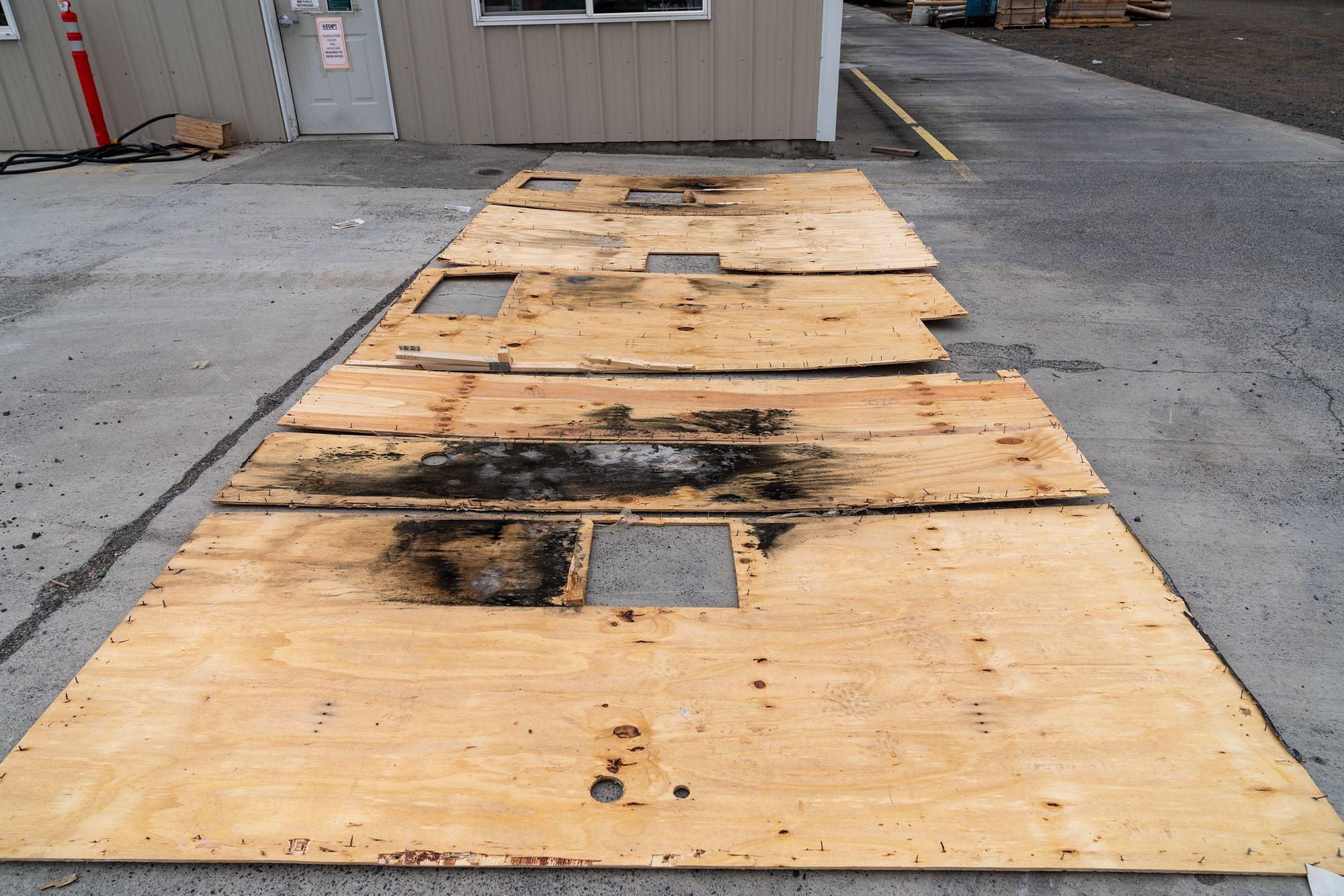 The black mold we had seen (lab tests showed it was Cladosporium) was clearly visible, although covering far less of the roof surface than we had feared it might. There was also a grey mold or mildew on the top surface of the plywood too, showing just how saturated it was!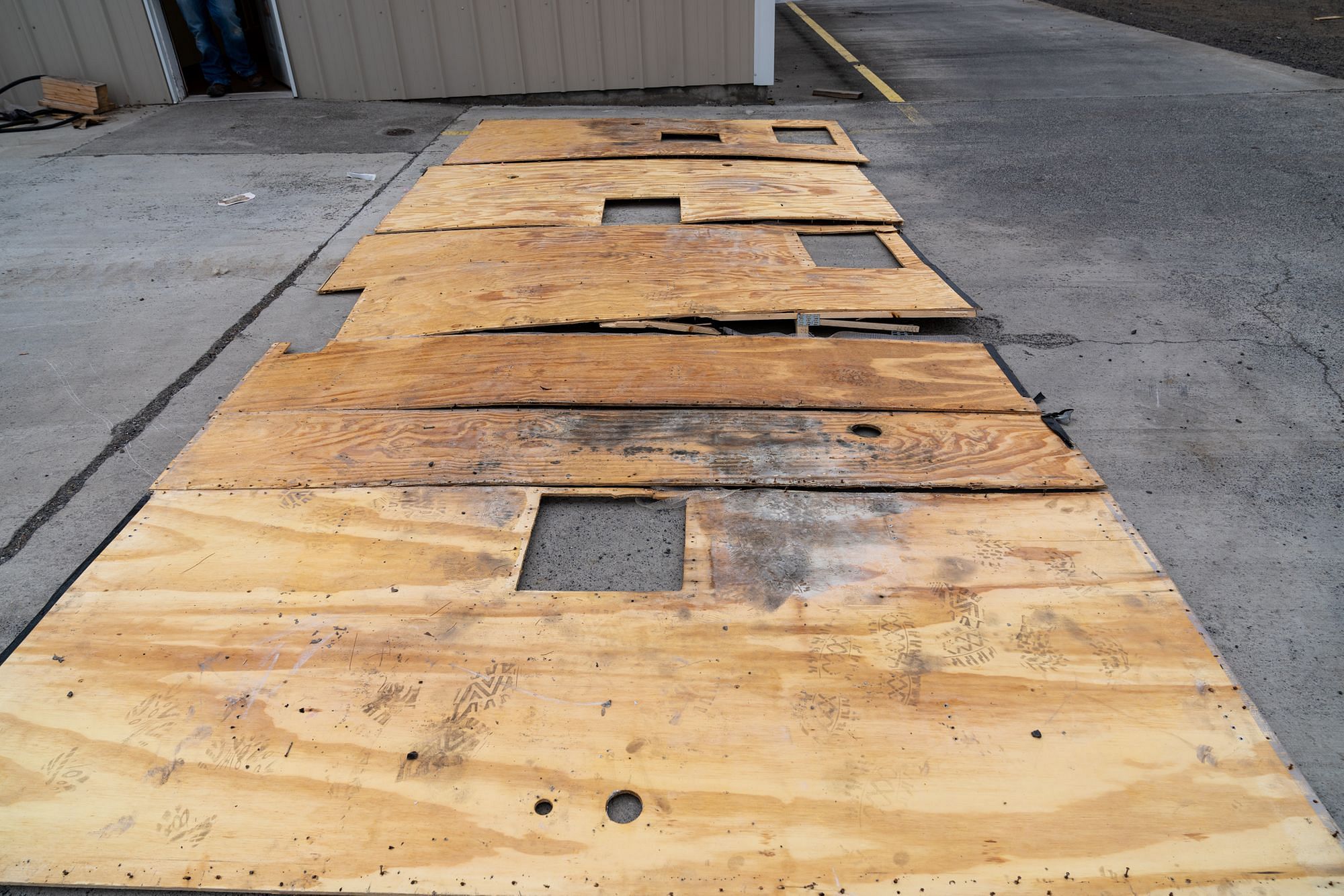 Several hypotheses were posited and subsequently disproved - we saw no evidence of tears or punctures in the EPDM membrane, and our rooftop solar panel brackets didn't appear to have caused any leaks.
To cut a long story short, it appears that our roof problems were the cause of not one, but two separate issues - likely compounding one another:
Two leaks - one around each vent fan;
Warm, humid air from inside the RV becoming trapped in the attic.
Vent fan leaks
Sealing roof fixtures is critical to avoiding leaks. When a seal is breached, it is often clearly visible as the water leaves behind a trail of dust where it found its way through. This is what we found on both of our vent fans.
The rear fan, above our bathroom, is the original factory-installed fan that our RV came with. It was installed using butyl tape underneath the fitting and then sealed with Dicor self-leveling sealant on top. This is a standard approach and the use of both a primary and secondary sealant provides redundancy to help mitigate leaks.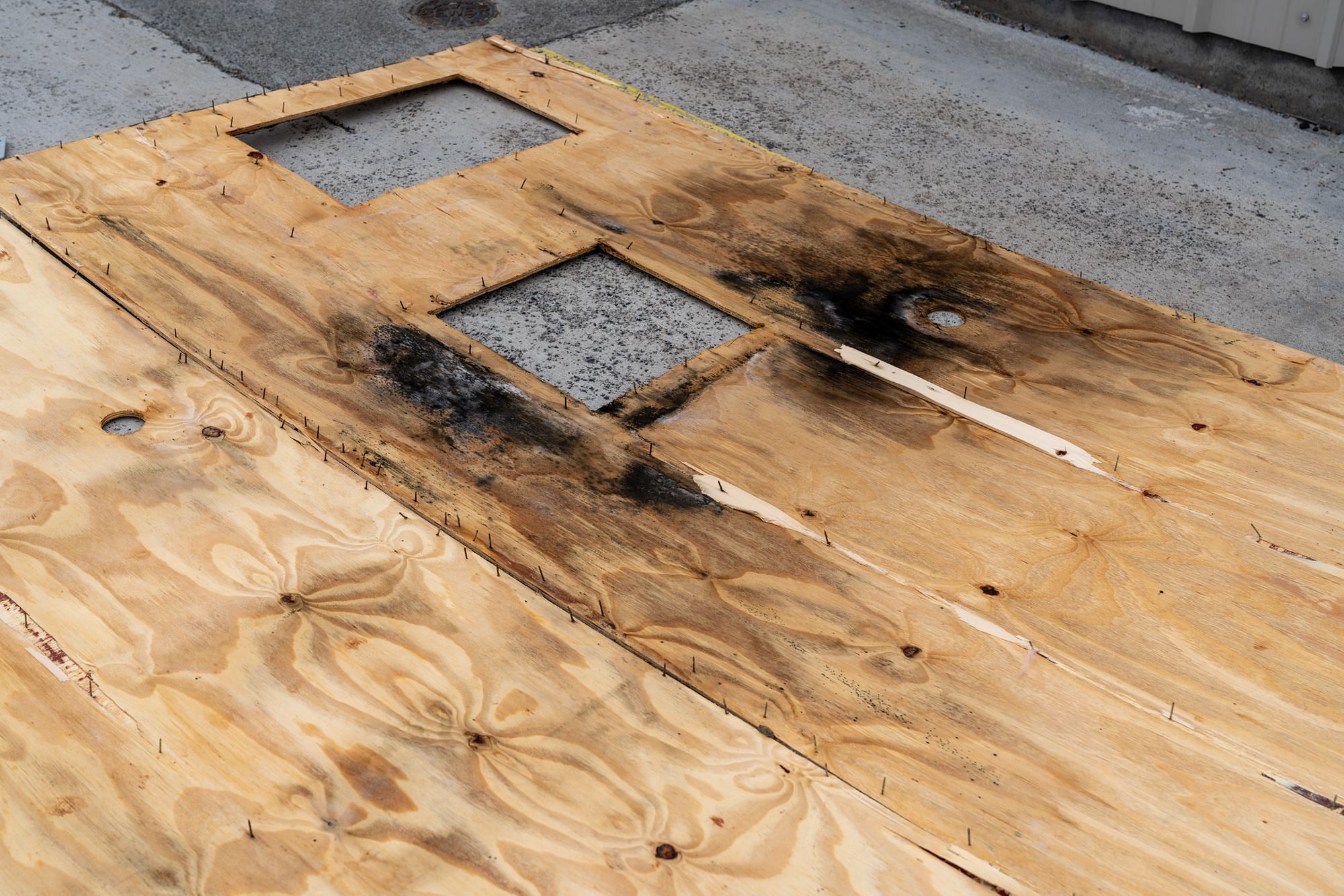 Unfortunately, in this case, both primary and secondary sealants had failed. Dicor needs regular inspection and in case any damage is found, it's critical that it is repaired - either by adding additional sealant on top if possible, or removing the entire fixture and re-installing it with new sealant.
While we do regular mainteance checks on our RV, I hadn't noticed this leak. It takes only the tiniest crack or failing in the sealant for moisture to get in, so this really underscores the importance of being hyper-vigilent in your maintenance checks.
The front fan, above our bedroom, is one we installed ourselves. It's a remote-controlled MaxxAir MaxxFan with an integrated rain shroud that not only gives us more airflow than the stock fan, but also lets us control the airflow direction and speed.
When we installed this, we also used butyl tape under the fitting, but then used Eternabond tape rather than Dicor over the top. We chose to do it this way as we had read good reviews about Eternabond tape and that it's warrantied for longer than Dicor - we thought we were using a superior approach.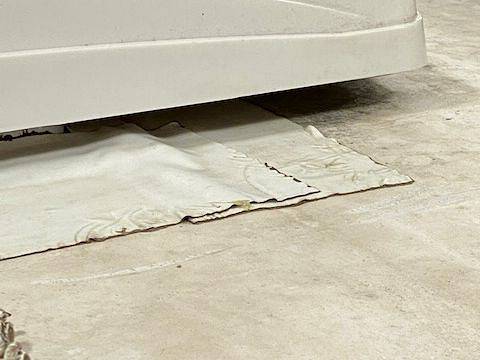 In retrospect, and in speaking with Outdoors RV, this was likely the wrong approach. Water had seeped in where one piece of Eternabond tape overlapped another.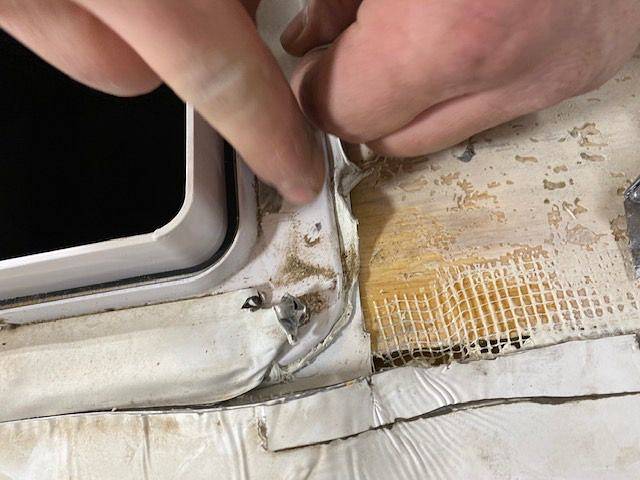 We have no idea when these leaks first began, and it's also possible that they have become significantly worse this winter due to the freeze-thaw effects in our cold climate.
RV humidity
Before discovering the leaks, the prevailing theory from Outdoors RV was that humid air from inside the RV was building-up inside the attic space. While our RV has an attic vent, the hypothesis was that this may have been insufficient given our full-time occupancy and often in fairly extreme conditions - e.g. winter in Vermont.
For cabin air to make it into the attic, the obvious vector is around the shrouds on ceiling fittings such as the fans, skylights and AC unit. These shrouds are not air-tight, and while they're not exactly loose, combined with localized air pressure differentials caused by running fans, they were obvious areas of suspicion.
It was notable that the damage was localized around the fans, located in the areas of highest humidity in the RV - the bedroom and bathroom. But was this as a result of the leaks we had previously found, or humid air being pulled in from the cabin?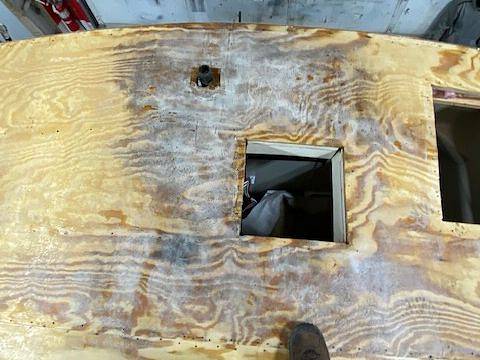 The reality is we have no way to know for sure. However, one intriguing piece of evidence is that the worst damage was between the bedroom vent fan and the location of the attic air vent on the roof. This suggests that the attic vent was working correctly to exhaust humidity from the attic, but that it was being overwhelmed - either due to full-time occupancy or the leak. Also, to be clear, it didn't appear as though the vent itself had leaked.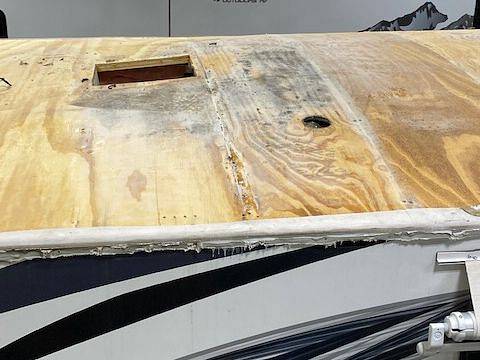 I should add that we have always been incredibly diligent about controlling humidity in our RV. During fair weather, we typically have windows open and bedroom vent running. We even installed a door latch so we can keep the door open in windy weather.
While camping off-grid in cold weather we keep a window cracked and run the bedroom vent fan overnight. In Vermont this winter, we've been running a huge 35-pint residential dehumidifier to keep things dry inside.
Compounding effect
This leads me to suspect that the majority of the issue was caused by the roof leaks - particularly since we don't see the same level of moisture damage around other ceiling penetrations like the skylights, AC units, light fittings and speakers.
As best we could tell, the roof leaks were the cause not of any manufacturing defects, but our failure to adequately maintain the sealants. A tough lesson to learn, but I think it's important to be honest about this so that others can benefit from our experience and hopefully not make the same mistakes.
Changes on the New Roof
One of our biggest concerns going into this was how we can stop it happening again? Well, since the leaks are likely the primary cause, the obvious answer is simple - be more diligent with maintenance!
But, humidity inside the RV may still have exacerbated the problem, so can we do anything to reduce the impacts of this?
Maybe. While replacing the roof, we asked Outdoors RV to make a few modifications. We don't know for sure whether these will help or not, but based on our observations there is a chance they might be beneficial - at the very least, they shouldn't hurt!
Before I jump into them, I want to reiterate something I said earlier - Outdoors RV have never seen damage like ours on one of their trailers before. In other words, as long as you don't have a leak on your roof, there's almost certainly nothing to worry about and these mods aren't likely necessary, particularly for recreational campers.
There are also a lot of modifications that we considered but chose not to implement - everything from replacing the batten insulation with closed-cell spray foam to applying a full sealant coat over the entire roof. These would have come at serious expense and honestly, I just don't think they're necessary even for our use of the RV.
MaxxAir MaxxFan in the bathroom
Showering is an obvious source of hot, humid air. In normal conditions we run the bathroom fan during and after showering. This winter we've also been using the dehumidifier in the bathroom - it's so effective that the mirror doesn't even fog up.
The problem is that we can't use the bathroom fan very easily if it's raining, and when we're dry camping we won't be able to use the dehumidifier as it draws more power than we can afford.
To solve this, we asked Outdoors RV to install a MaxxAir MaxxFan in the bathroom to replace the existing fan. The trailer came pre-wired for a wall-mounted remote control which makes this installation fairly straightforward.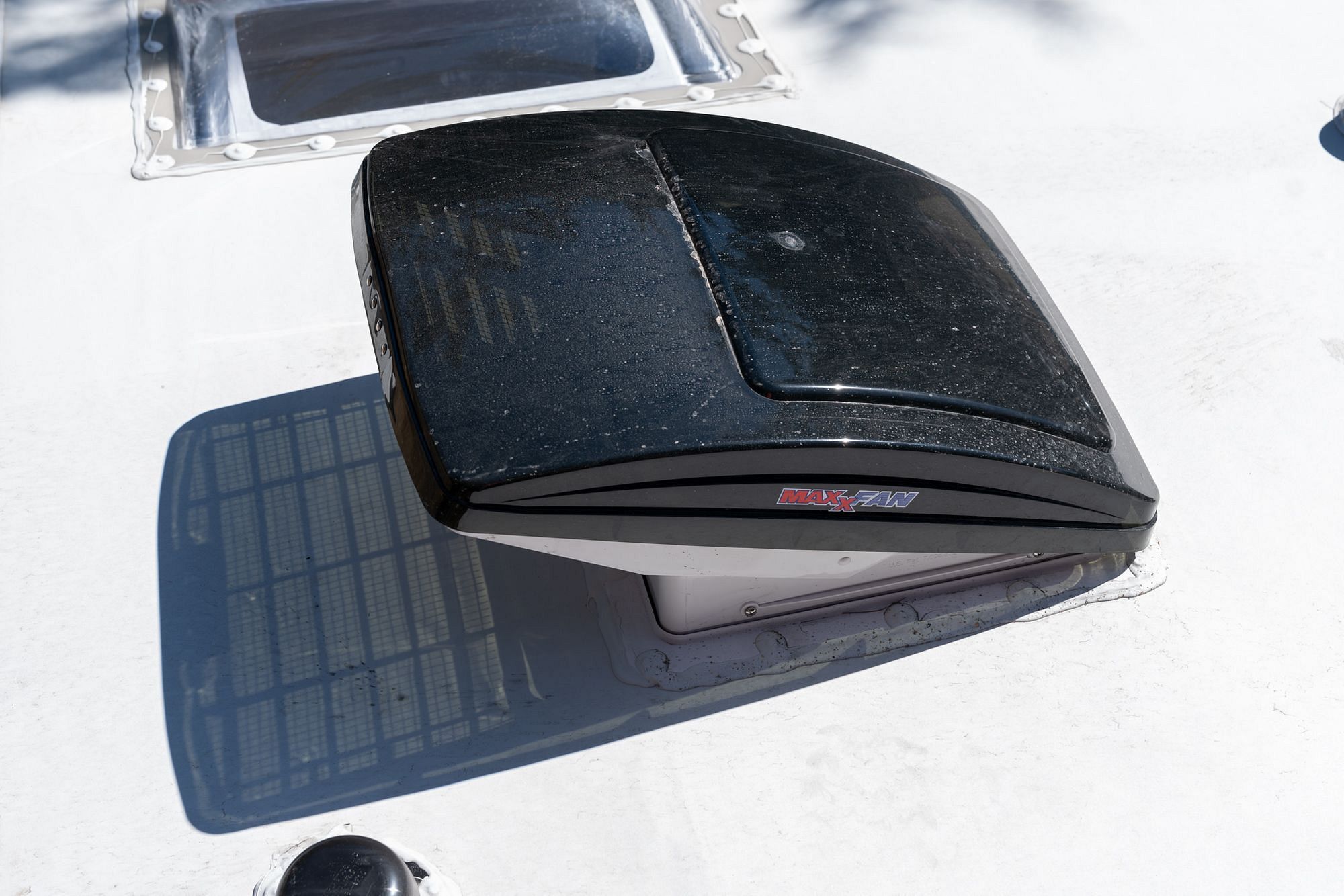 Like our bedroom fan, our new bathroom MaxxFan has an integrated rain shroud so we can use it to ventilate the bathroom during and after showering, even when it's raining outside. Unlike the bedroom fan however, the bathroom fan is exhaust only - there's a holding tank vent on the roof nearby and the last thing we want is for that air to be pulled inside the RV!
This new fan is much more powerful than the old one - with a window cracked elsewhere in the RV, it creates quite a strong airflow current. This is a mod that I'd recommend anyone who wants to improve ventiliation in the bathroom - and since Outdoors RVs typically come pre-wired, the installation should be simple.
Sealing around ceiling penetrations
The way we first discovered the mold in the roof was by removing the plastic trim piece around the vent fan in the bedroom. This exposes the attic cavity so we could see in.
It's also the route through which we think humid air is most likely to move from the RV cabin into the attic. We decided to try and seal these penetrations, but the trim pieces are designed for aesthetics, not to prevent airflow.
We asked Outdoors RV to install some foil insulation (e.g. Reflectix) behind the shrouds on both our vent fans (bedroom and bathroom), sky lights (slide and bathroom) and the AC unit. This should really help to reduce the movement of air through these gaps.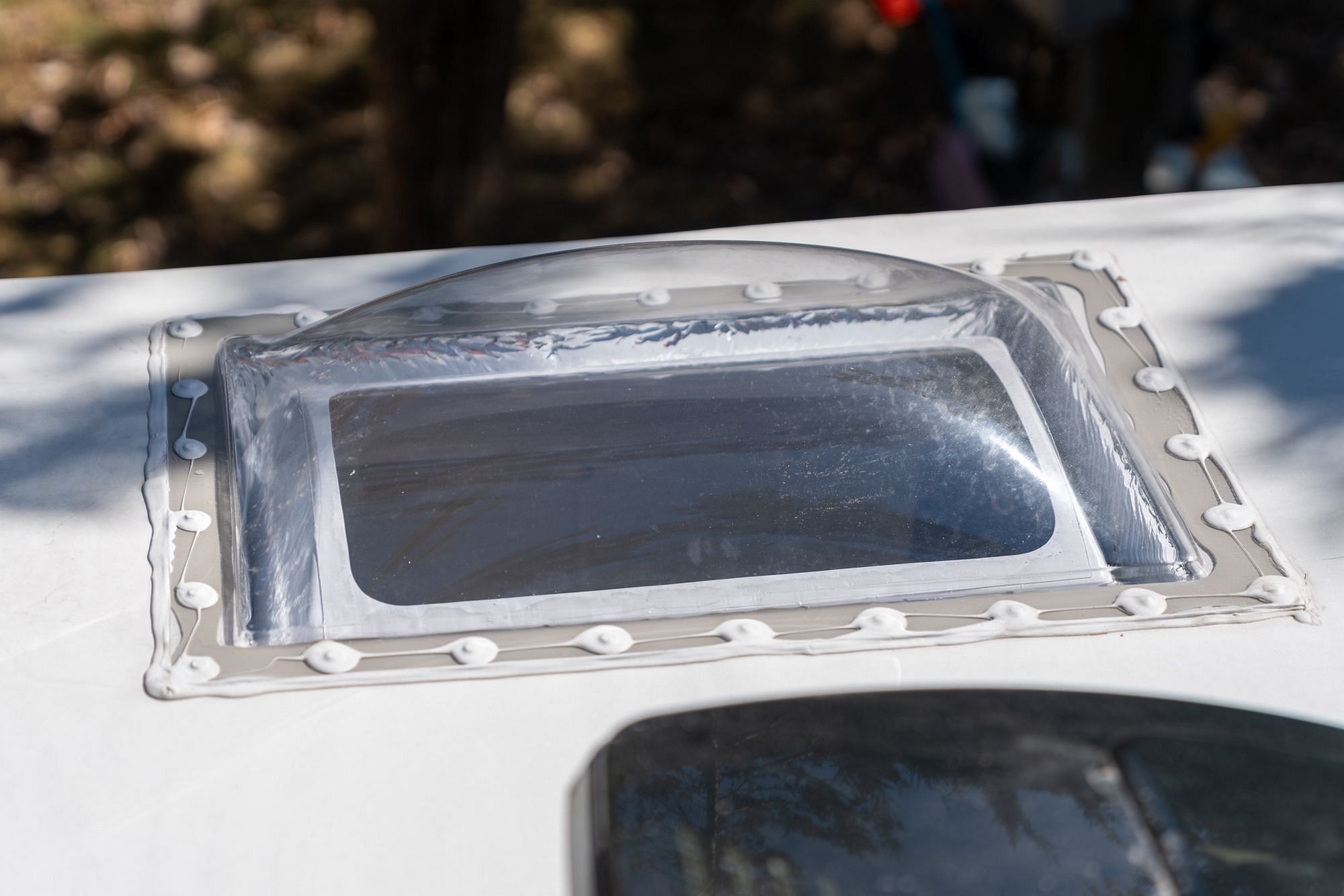 While this mod is almost certainly unnecessary for the vast majority of people, it's a cheap and straightforward modification that would be easy to DIY if you wanted.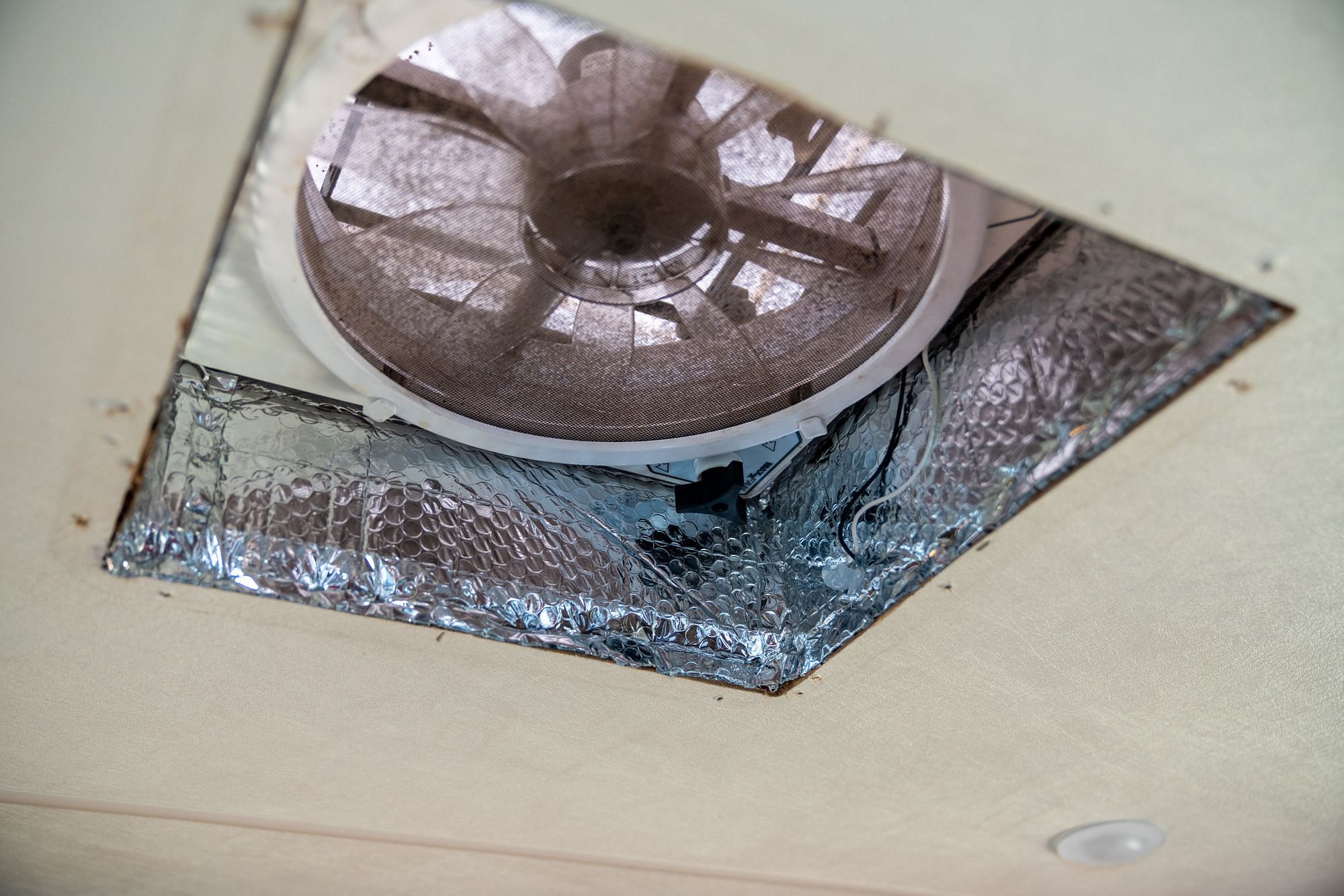 Additional attic venting
A lot of people asked if our RV came with any attic venting - the answer is yes, it did. Our 25ft RV came with a single attic vent, towards the front near the bedroom vent fan. Larger models come with two attic vents.
With two people living full-time in the RV, we figured it wouldn't hurt to have a little more ventilation - something that several people suggested to us. We didn't want to go overboard though, not least because the vents will interfere with our placement of solar panels.
Instead, we made two simple changes.
First, we relocated the attic vent into the center (looking side to side) of the trailer. Being directly behind the vent will provide a little protection from rain being blown into it while driving (a hypothesis we considered but couldn't find any strong evidence for).
More importantly however, it raises it to the high point on the roof. Our roof has a pronounced dome to it, and on the assumption that hot humid air will rise, it makes sense to move the vent to the highest point.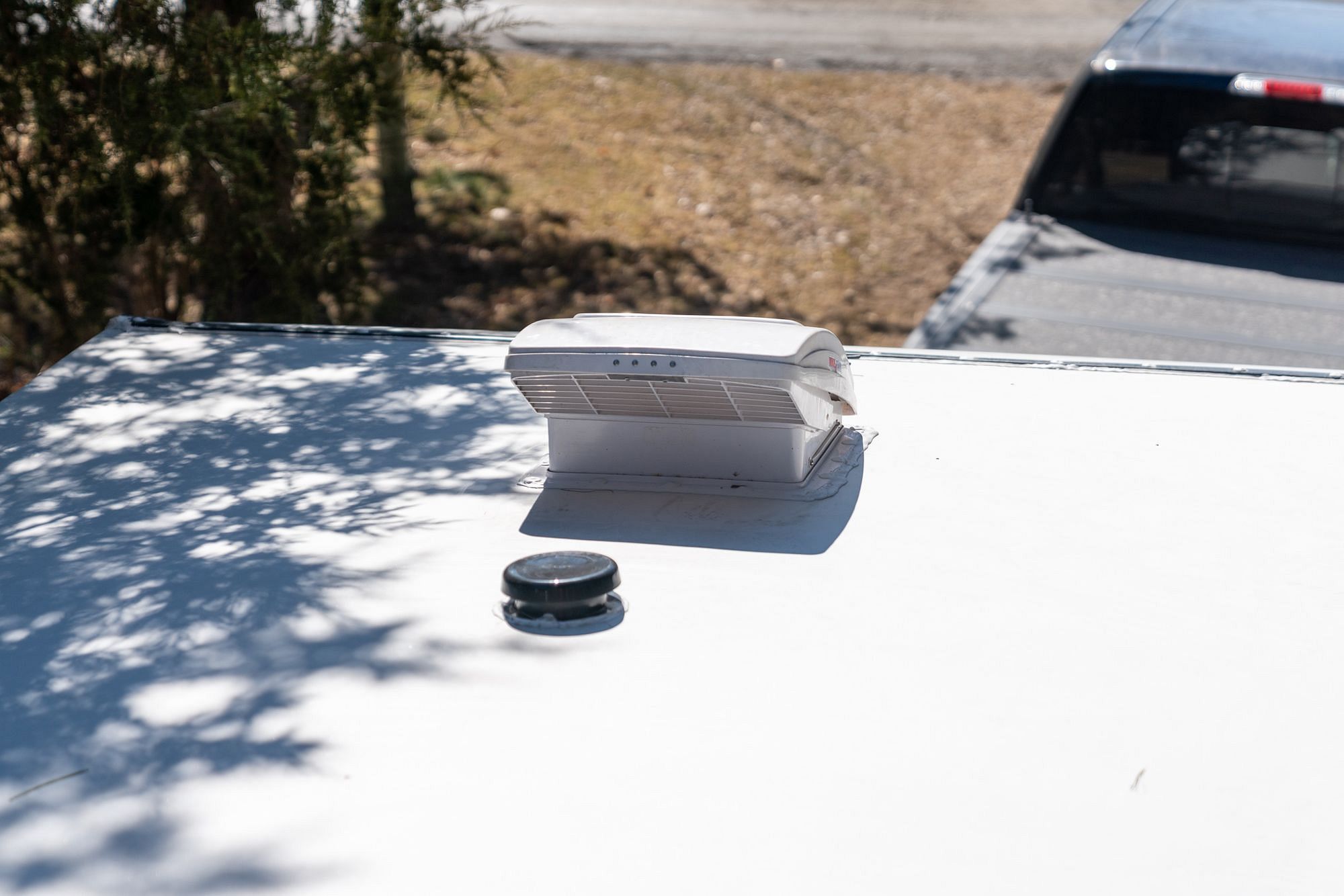 Second, we added another vent near the back of the trailer, just behind the AC unit. Not only will this help to quickly vent humid air getting into the attic from the bathroom, but we think it will also help improve airflow in the attic.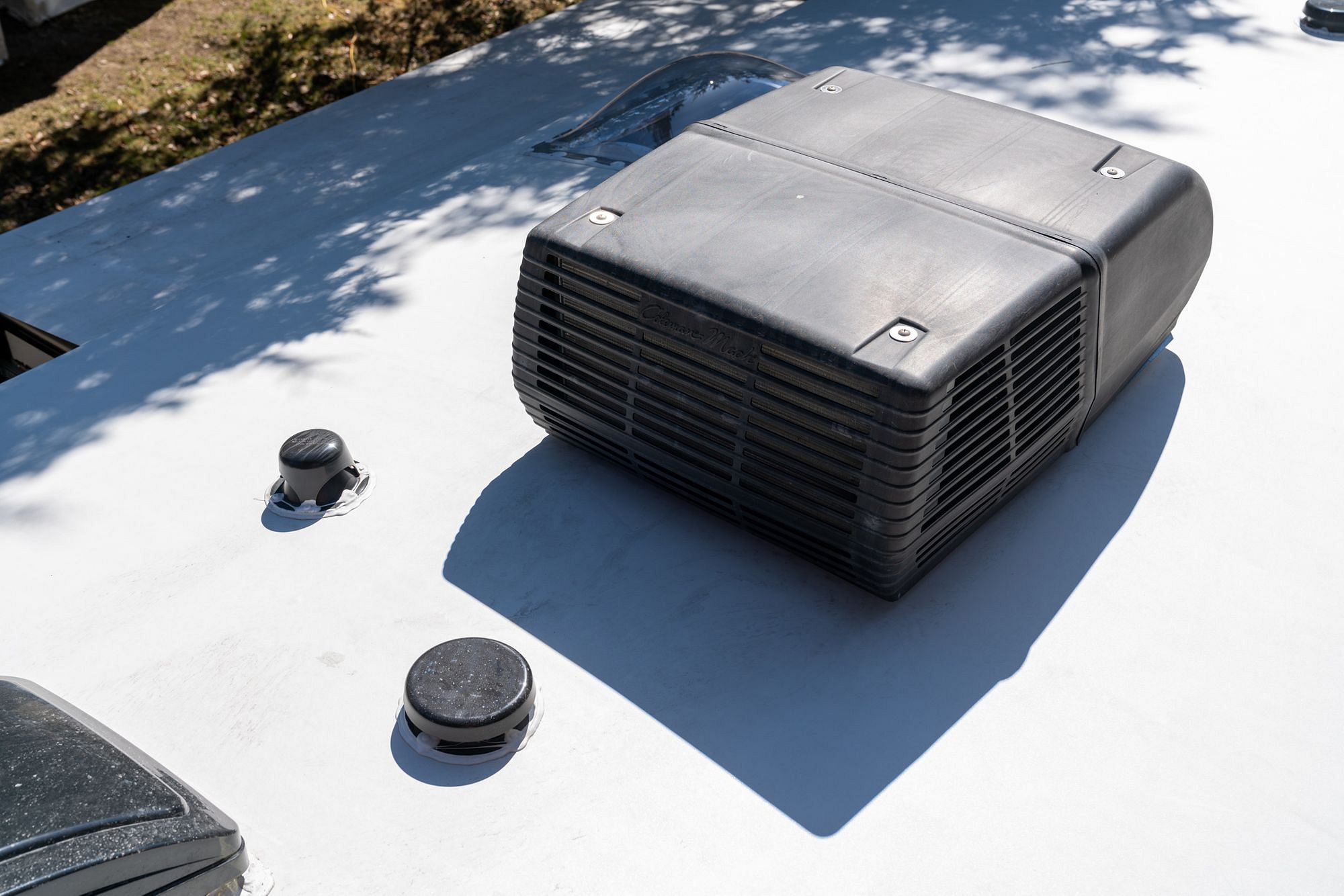 Wind blowing across the roof will create an area of low pressure (the same effect that airplane wings rely upon), which sucks air up from the vent. But where is that air coming from? Previously, this air likely would have been pulled from the RV cabin, but since sealing these gaps (see previous mod), we're trying to eliminate this. The hope is that the second attic vent will help to provide the airflow needed.
While likely not a necessary mod for most RVers, attic vents are very easy to install - the mushroom vents are readily available to buy and installation just involves drilling a hole, inserting the vent and, of course, sealing it very well!
Key Takeaways
I know a lot of people have been following this situation very closely, often out of anxiety for their own RVs. So what have we learned?
First, I'd urge people not to worry. As two people living full-time in a smaller trailer and often in somewhat extreme conditions, we put a lot more stress on our RV than the vast majority of people - particularly recreational users.
That said, here are my key aways and recommendations so you can learn from our experience.
Maintenance, maintenance, maintenance
We thought we were doing enough, but clearly we were not. Even though we were regularly (every couple of months) checking all the seals, we missed not one but two leaks.
A good starting point for a maintenance schedule is your own RV owners' manual. As for us, every month I'll be going and checking every seal on our RV - looking for even the smallest signs of damage. If in doubt, play it safe and repair it with Dicor (on the roof) or Geocel (on walls, slide, etc).
One of the best ways to check for leaks is to use a Sealtech device - not something that the average RVer is likely to own, but you may want to check to see if it's a service that a local RV repair shop can offer.
If, like us, you're planning on camping in harsh conditions (e.g. wet weather, extreme cold, etc), then maintenance is even more important. It's worth double checking everything is perfect as water will find a way in through even the tiniest cracks.
Control humidity
While we don't know how much of the problems in our roof were caused by the leaks vs humidity, controlling humidity is still critical inside an RV.
We knew this winter that we had to keep the humidity in the RV under control. Our 35-pint residential dehumidifier was running most of the time, pulling up to a gallon of water per day out of the air at times.
If you're a recreational camper, then it's likely that you're typically camping in fair weather, and not living in there 365 days per year means you're not creating as much of an issue.
Even so, taking basic steps to control humidity is essential, including:
Run your bathroom vent fan during and after showering;
Use the stove extractor fan to get humid air out of the RV;
Crack open a window and run a vent overnight to maintain airflow.
If you're a full-time RVer then you may also want to take some additional measures, including some of the mods we made during our roof replacement and / or buying an appropriately-sized dehumidifier.
Conclusion
Our RV has a brand new roof, the workmanship from Outdoors RV is spectacular, and we couldn't be happier with the end result. We dropped the trailer off on Monday morning and they handed it back to us on Thursday afternoon.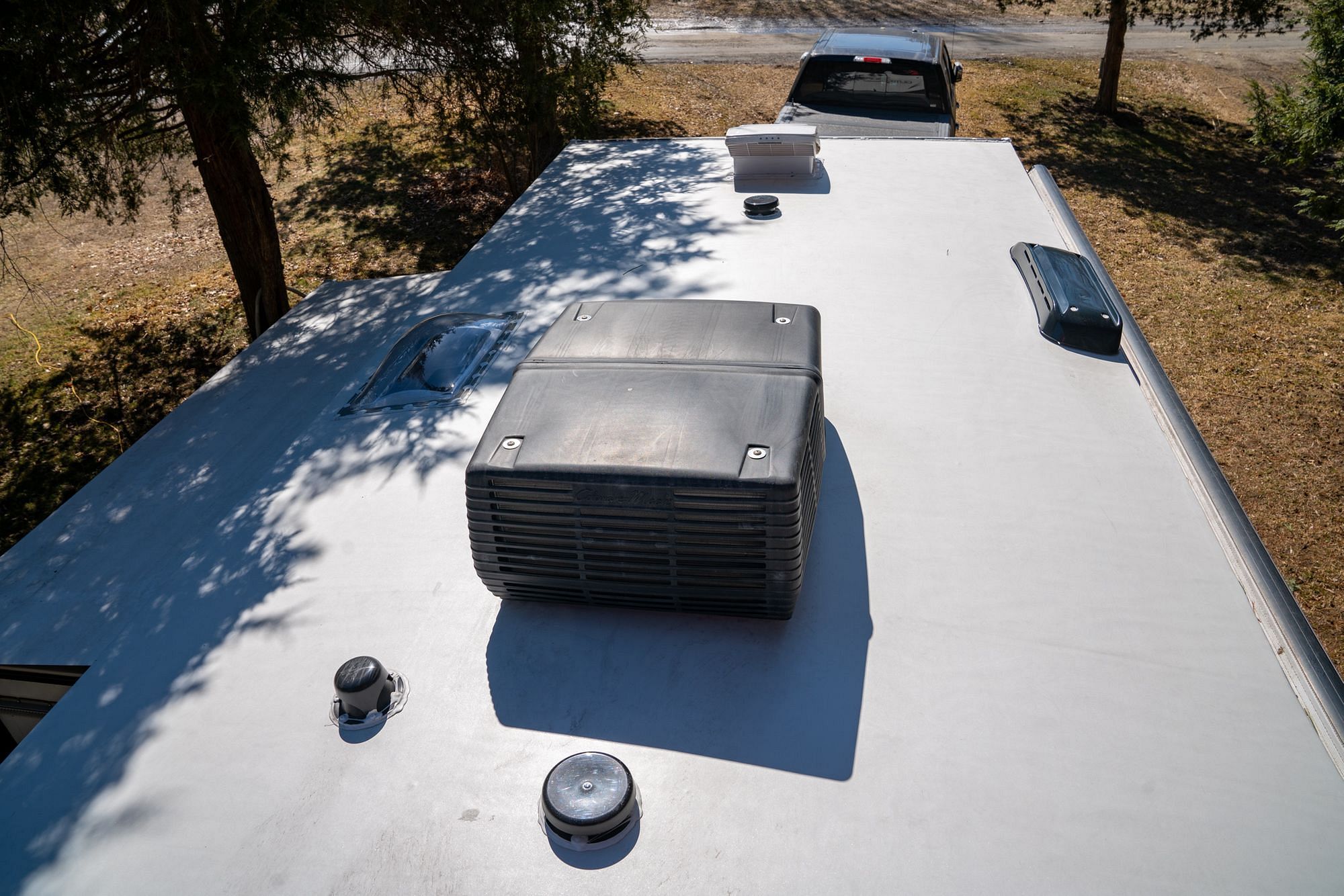 They cleaned everything with the BioCide 100 mold cleaner that we had purchased, then used the BioCide mold bomb spray too. We've been running out BioCide biomatrix air scrubber to remove any mold spores that may have survived.
We haven't yet reinstalled our solar panels, and since for the forseeable future we expect to have hookups in RV parks, we're not rushing to reinstall them. We don't know yet whether we'll install the same panels again, or maybe do something different.
While we're very happy to be back living in our RV, the last 7 weeks or so has been a rollercoaster journey. The team at Outdoors RV has been fantastic to work with, and our experience echoes what we had heard from other owners.
We've spent the last few days recovering from the long journey home - we towed our trailer the equivalent of a quarter of the way around the Earth in just 2 weeks! We've retrieved everything from our storage unit and everything is back to normal inside the RV.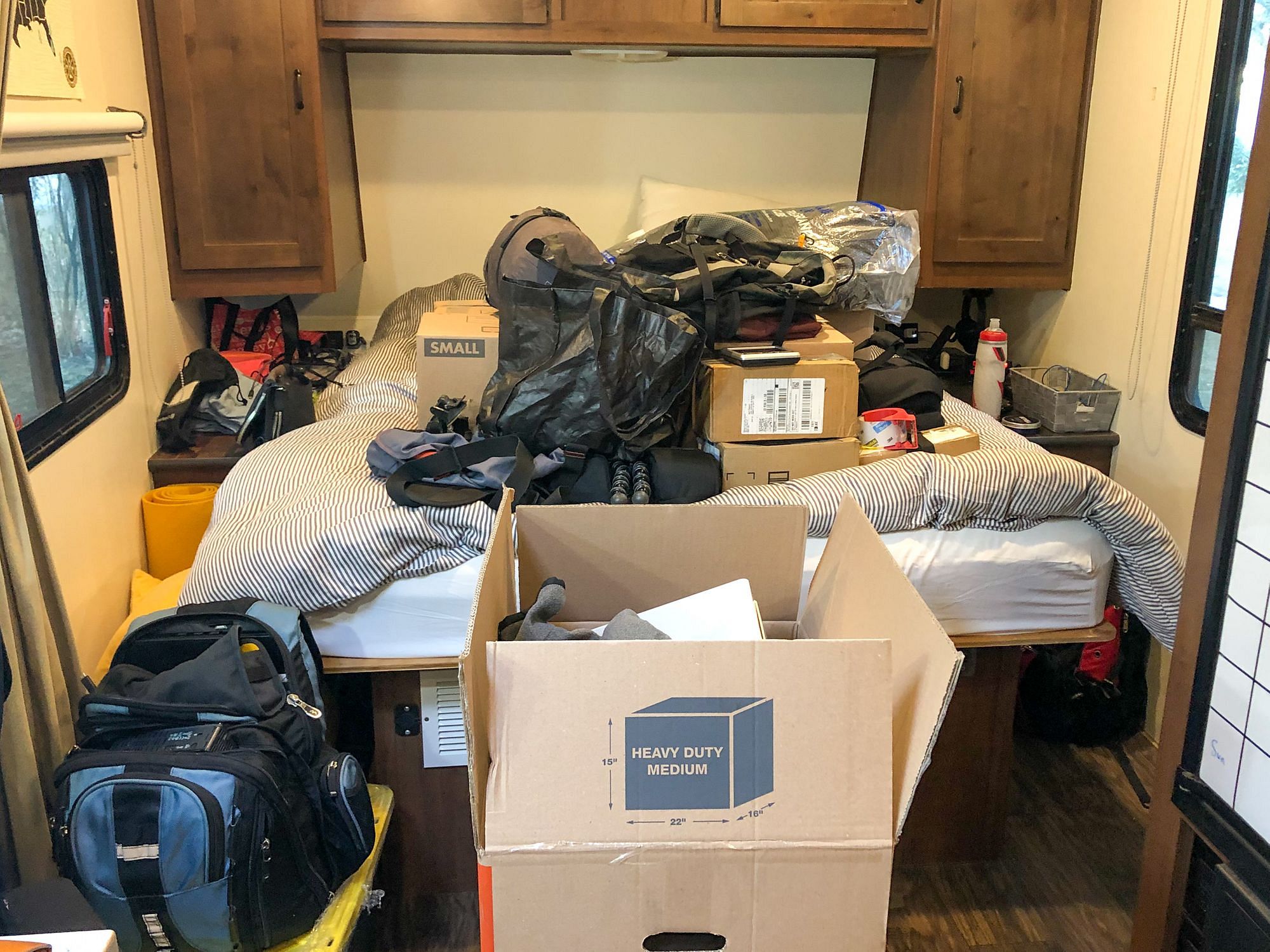 As someone who is proud of taking good care of their possessions, the fact that this whole situation appears to be self-inflicted as a result of inadequate maintenance is pretty humbling to say the least!
But that's life, and this is a good lesson learned. My hope is that by sharing our experience, we can help prevent others from making the same mistakes that we did.
I want to end by saying thank you to everyone who sent us wonderful messages of encouragement, offered us places to stay, helped us diagnose the root cause and suggested some of the mods we implemented. We were close to tears when we first discovered this issue, but the support and positivity of our community was integral in helping us get through this - thank you!