As an Amazon Associate we earn from qualifying purchases.
Can you believe it's been 2½ months since we arrived in Virginia back in December?! It seems like time has flown by, but at the same time, we've achieved so much!
But the time has come for us to return to Vermont.
Weather
The big factor driving the timing of our return to Vermont is the weather. Somewhat counterintuitively, we want to return before it warms up!
There are really two reasons for this. First, after winter in Vermont comes mud season - when the snow melts, the ground becomes incredibly soft and muddy, and frost heaves tear up the roads. This will make it difficult, if not impossible, for us to get our RV down the unpaved road to our land.
Second, we've got a lot of work to do! Our goal is to clear around an acre of trees by the time weight restrictions are lifted on the roads in the area and we can bring heavy machinery to the property, typically around mid-May.
Although temperatures over the next week are still forecast to drop as low as 1°F (-17°C) overnight, the reality is that it's beginning to warm up - now is the time to get back there!
I've been closely watching the webcams over at Middlebury College Campus to get a sense for the weather in Vermont, and as of yesterday almost all the snow had gone thanks to a few days with highs around 50°F.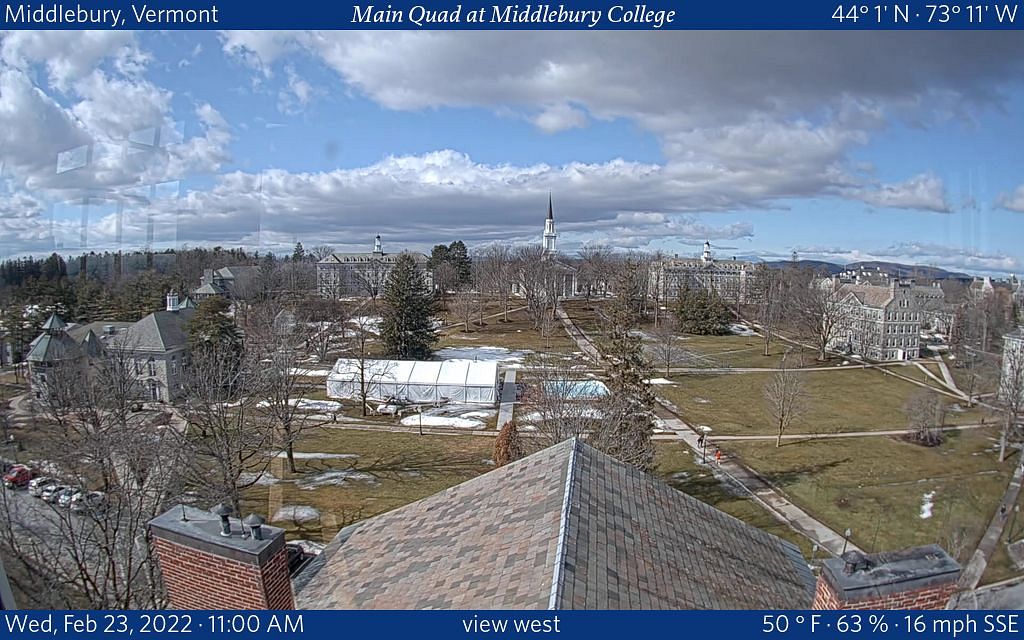 It's a similar story at our property - our neighbor has very kindly been sending us updates and this week's warm weather has been melting the snow on our driveway too. Although it's not completely cleared, it's much better than it was when we were there a few weeks ago!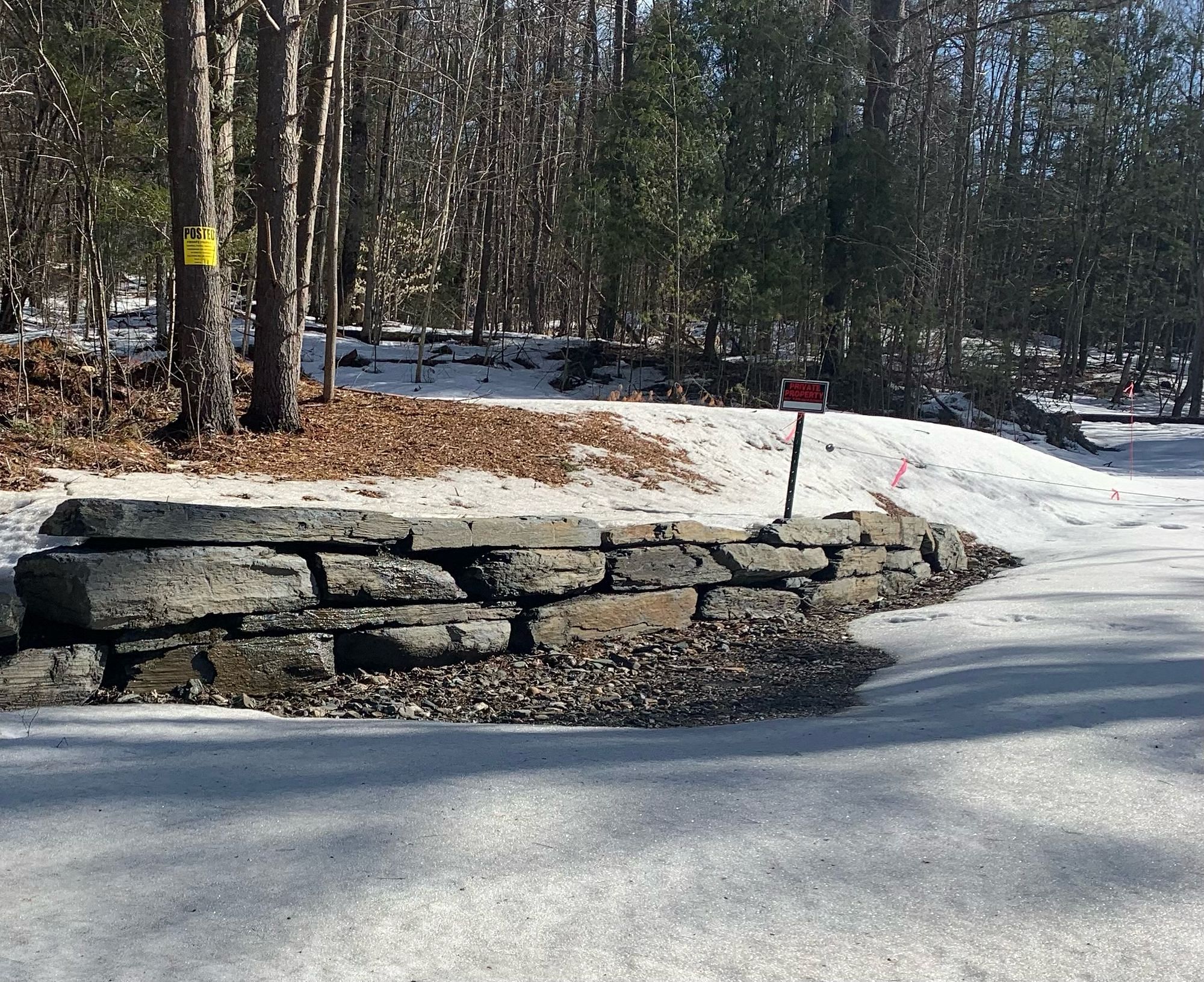 After a few warmer days this week, the temperatures are turning cold again - with daytime highs barely above freezing until Wednesday next week.
But it's not all good news. A significant winter storm is forecast to hit the area tomorrow, with some forecasts estimating 5-8" of snowfall while others are suggesting we could expect as much as 12". Far from ideal, but honestly, snow is easier for us to deal with than mud, so it's time to head back!
Itinerary
We're planning to take 3 days to get the RV from Virginia to Vermont.
On Sunday, we'll leave Virginia early in the morning and drive to our friends' house in New York where we plan to stay overnight - assuming Friday's snowfall hasn't blocked our access!
Then, on Monday we'll leave the trailer at their house and drive with just the truck to our property. Our goal is to get everything ready to return with the RV next day - mainly clearing the snow off our driveway, potentially with the help of a neighbor and their tractor-mounted snow blower!
In particular, we want to get the tractor de-winterized and back in the game because we have an ace up our sleeve - some crazy hardcore tire chains for the tractor! Installing them is a little complex, so look out for a blog post coming soon about them!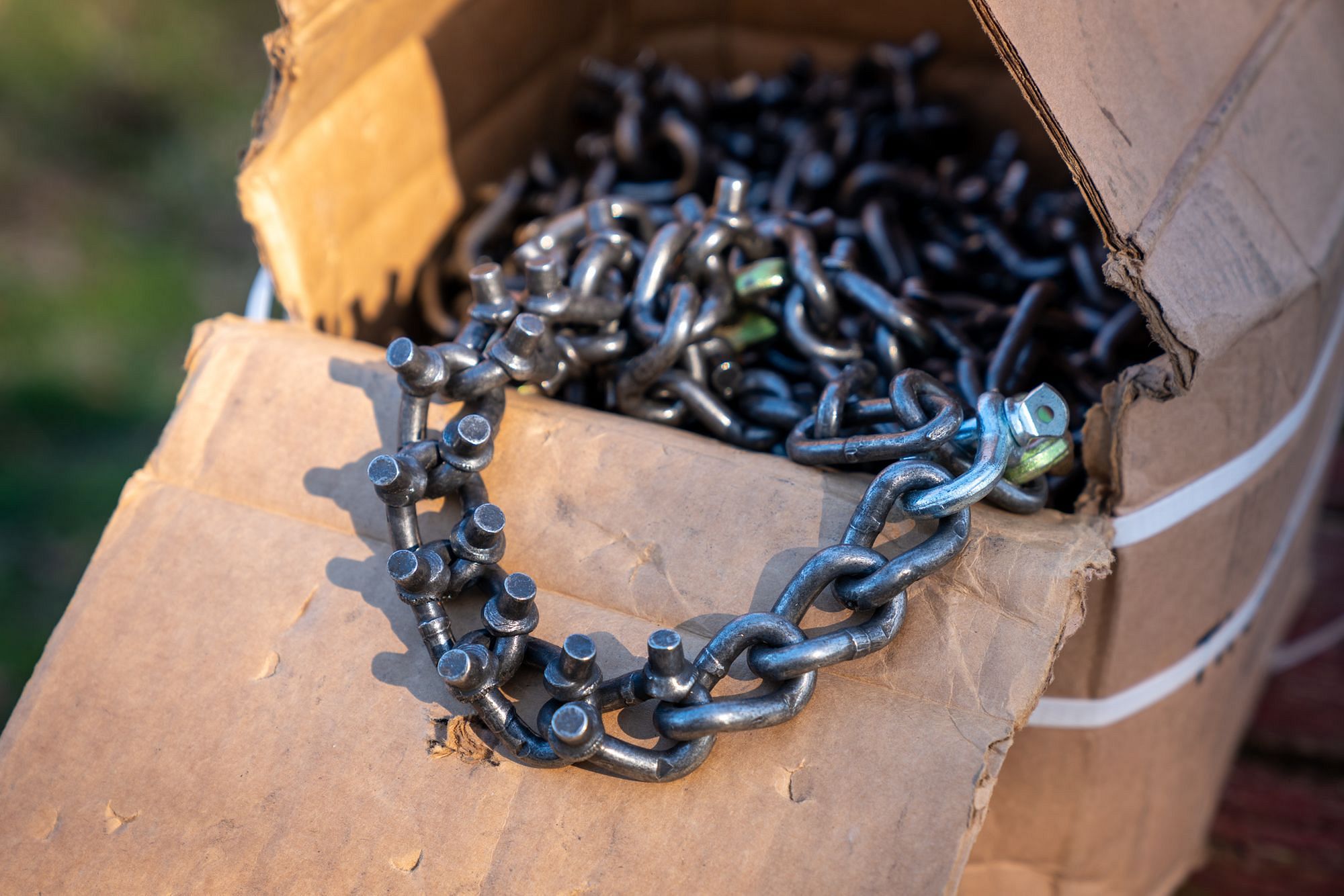 We'll then drive back to New York before returning to our property with the RV in tow on Tuesday, hopefully making it onto the land before the road thaws!
Needless to say, it's going to be a hectic few days; wish us luck!
Dry camping
When we do arrive with the RV at the property, we'll be totally off-grid. Until we install utilities this year, we have nothing on-site! So for the past few weeks, we've been getting things ready to dry-camp on our land for at least a few months while we are building.
On our big road trip a month or so ago, we took the opportunity to buy not one, but two WEN generators.
One of them we left in our storage unit, but the other we brought back down to Virginia with us so we could unbox it, make sure it works properly, and get it broken in.
Along with our ground-deployed solar panels, the generators will be our sole source of power on the property, both for keeping our RV batteries charged and running power tools at the build site.
Meanwhile, until we have had a well drilled, we'll be hauling water to the property - a neighbor has very kindly offered to let us fill up at their house. To haul water to the property we have bought a 60-gallon Aquatank II portable water bladder.
Curious about what we'll be doing for grey and black tanks? Well, there are some spoilers in our blog post above, but otherwise you'll just have to wait a little while to find out!
Preparing the RV
A couple of years ago, we were pros when it came to dry-camping - boondocking our way around the desert out west, living off-grid for weeks at a time! But since then we've become a little lax, accustomed to campground-life with full hookups.
Our current camp site has full hookups, and since this is the last time we'll have hookups for several months, we're taking full advantage!
We have a long checklist of regular maintenance tasks that we've been working through this week - including flushing our holding tanks, disinfecting our fresh tank and defrosting the fridge & freezer.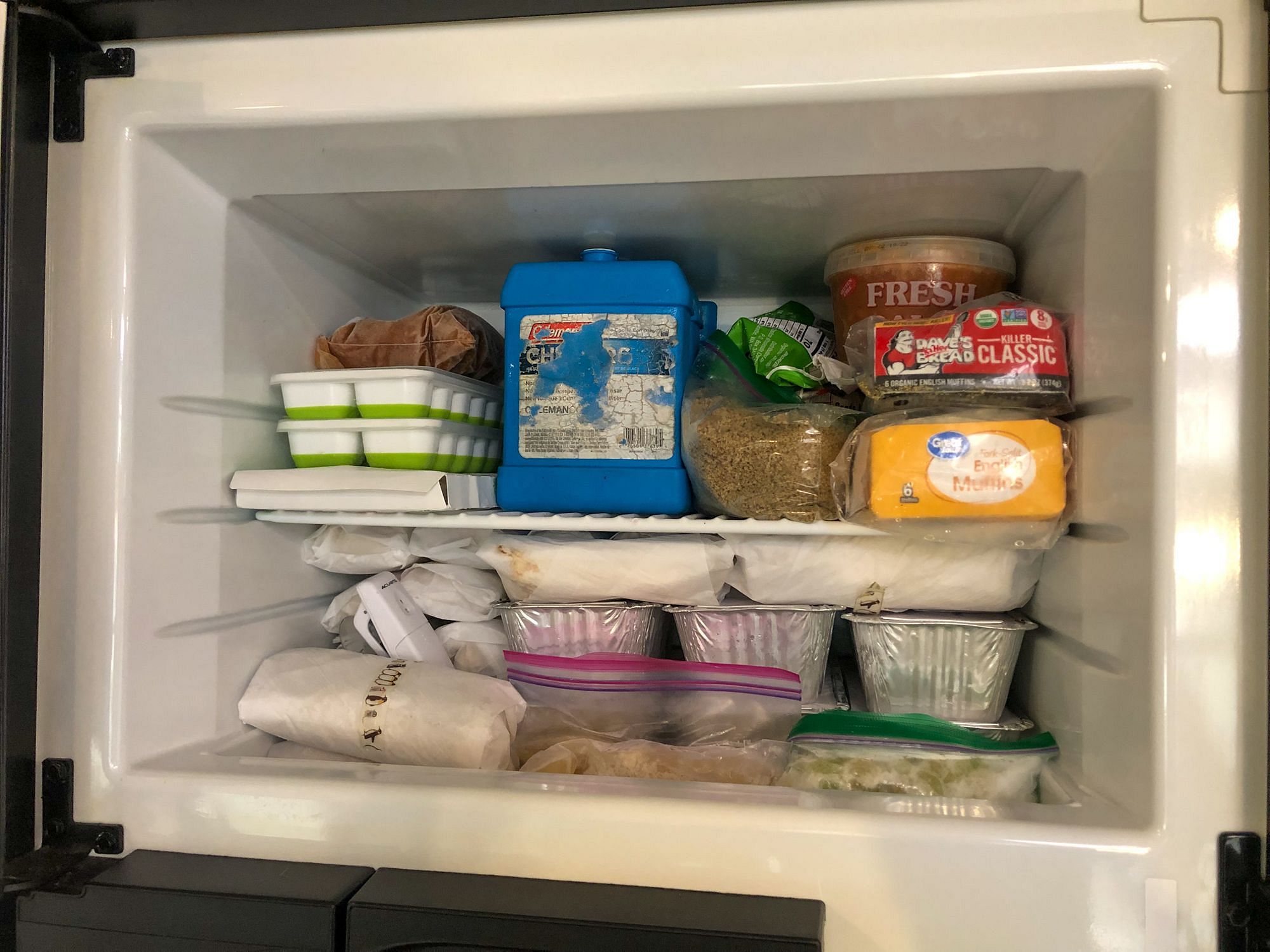 Meanwhile we've been cleaning the entire RV from top to bottom, making sure everything with a battery is fully charged, and we're as prepared as possible for our return to dry camping!
RV cooking
The next week or so is going to be more than a little hectic, and with some long driving days the last thing we'll want to do is spend ages cooking. It's so easy in those situations to turn to fast food or store-bought processed food, but we'd prefer to keep things a little healthier if possible.
So this week we've been busy cooking several freezer-friendly batch meals and portioning them up to give us some quick grab-and-go meals. We've been trying out some new recipes, including Vegan Burritos, Sweet Potato Lasagna, and Slow Cooker Shepherd's Pie.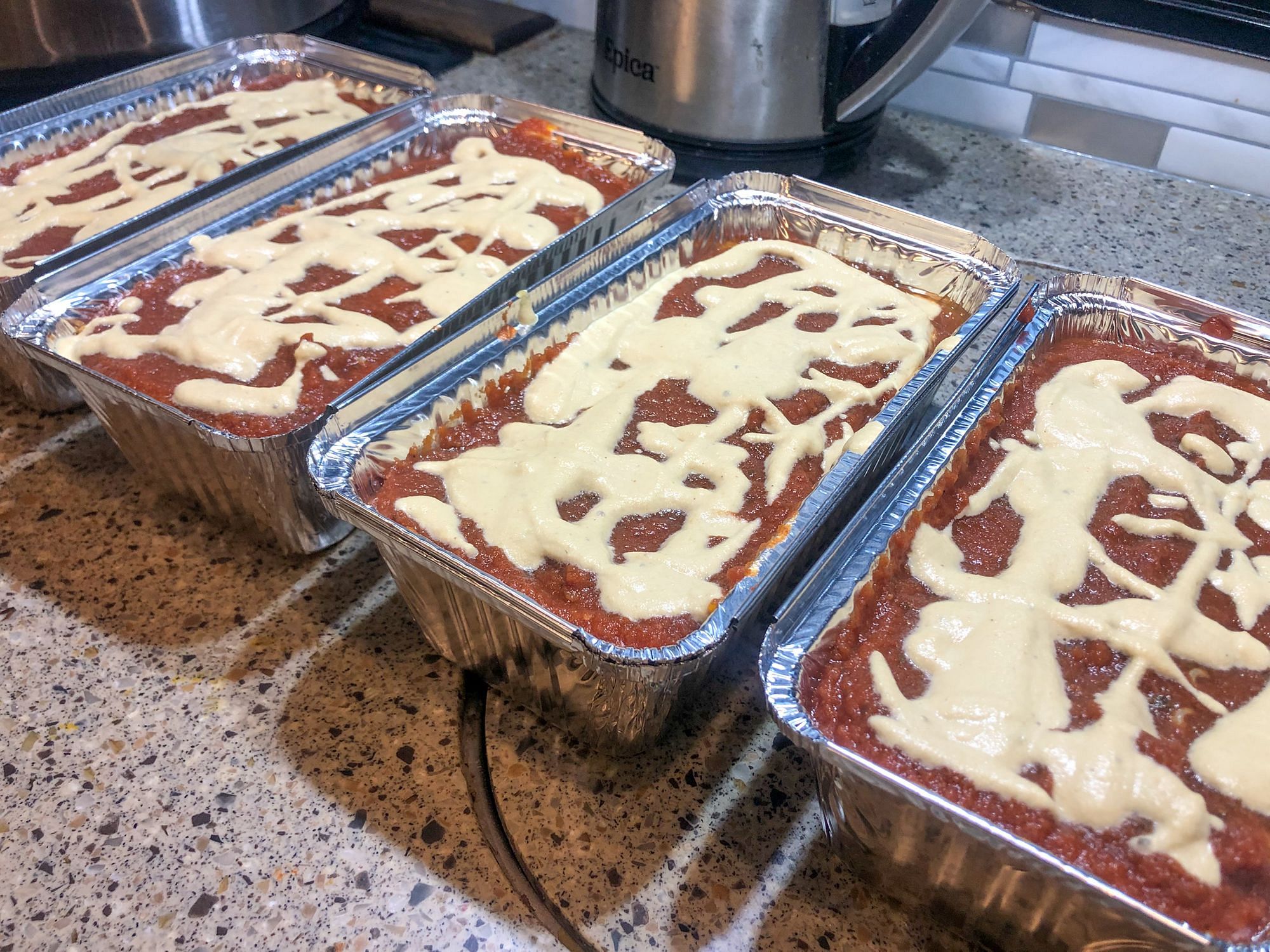 When we emptied our Texas storage unit a few weeks ago, one of the items we took out was a Japanese cookbook that I've owned for many years, but have actually never used!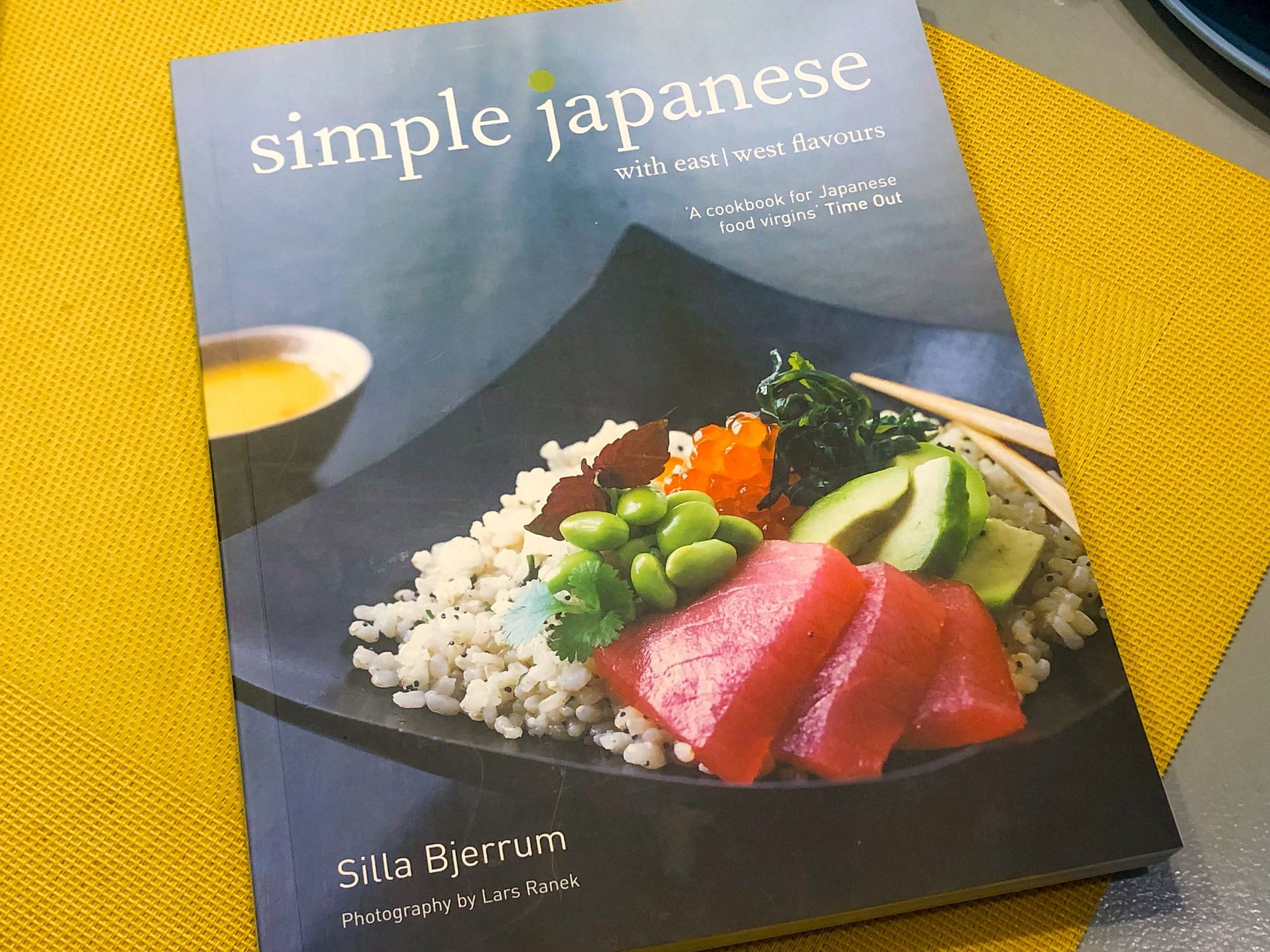 If you know Diana, you know she loves sushi (one of our first dates was at a Japanese restaurant and she was very much judging me on whether or not I liked sushi!). So we've been trying out a few sushi recipes from the book, and while I don't think we'll be rivaling a professional chef any time soon, we were very pleased with our efforts. And costing about $2.50 for 8 rolls, they're significantly cheaper than a restaurant too.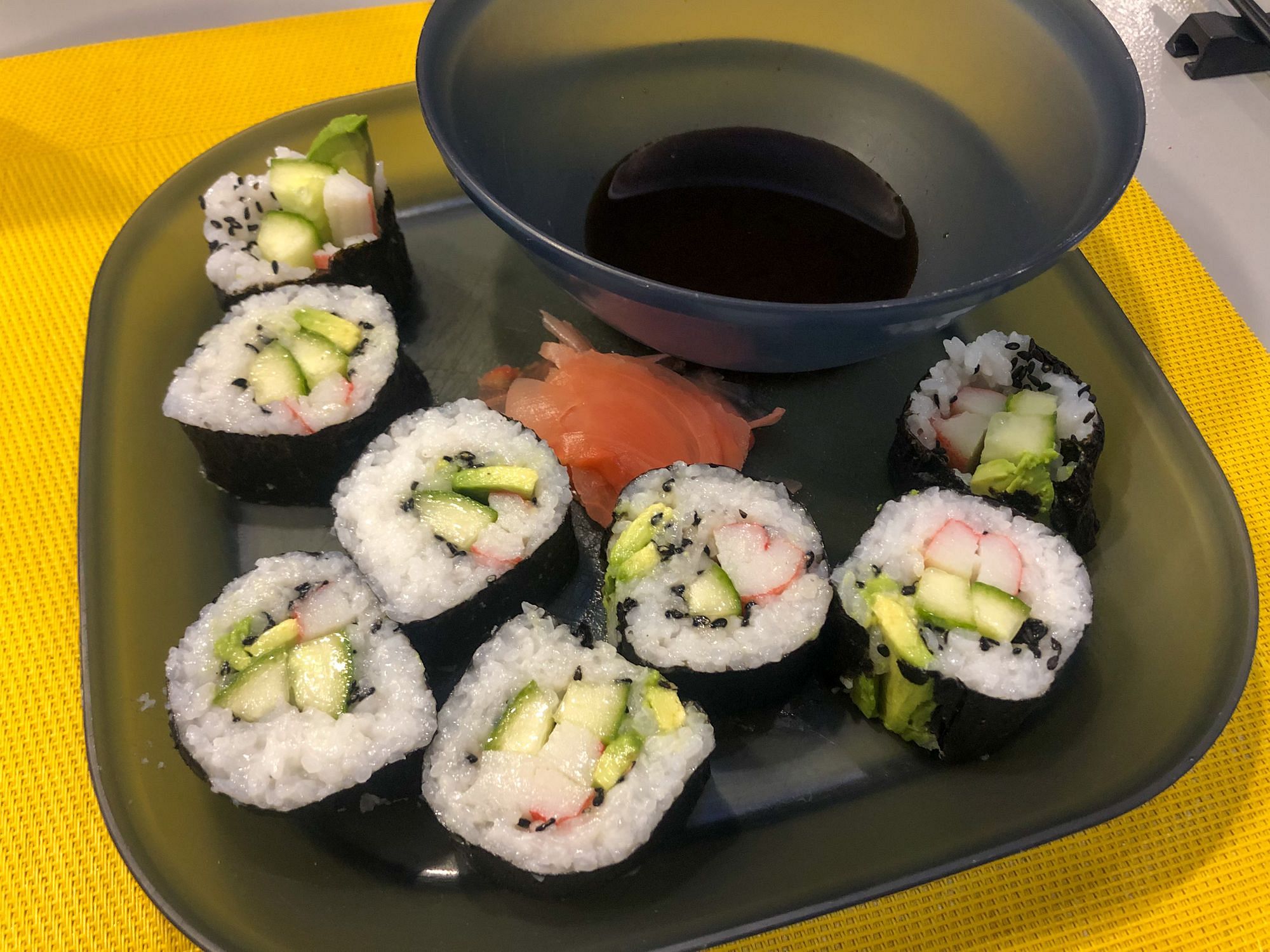 While oatmeal is typically our go-to breakfast during the week, at the weekend we like to splurge a little and opt for some variant toasted English muffins with fried eggs. We've been making our own sourdough bread for a while now, and recently Diana's begun experimenting with Sourdough English Muffins too.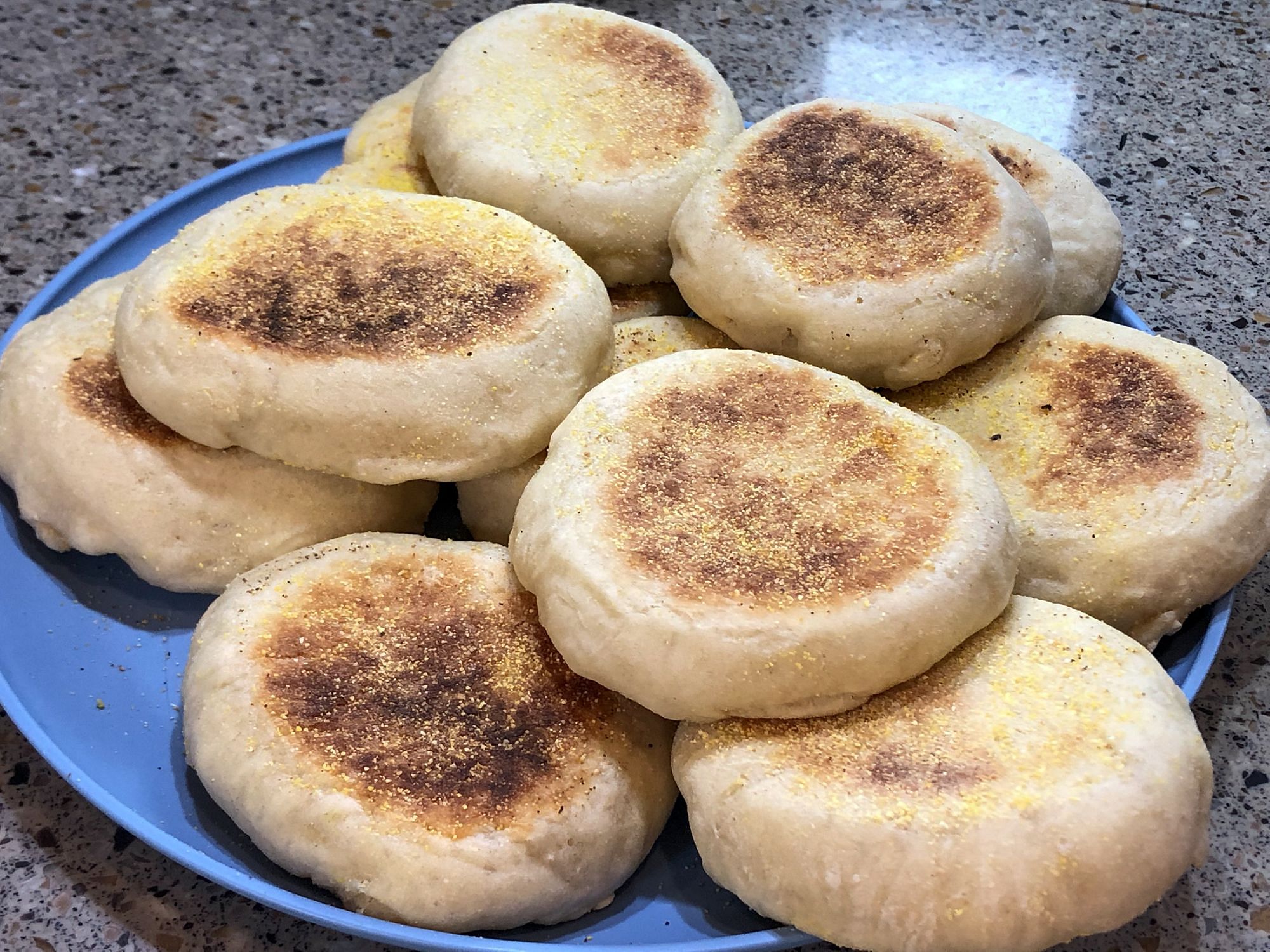 They look so good but they taste absolutely amazing - better yet, they're a fraction of the cost of store bought English muffins (costing about $0.75 to make 6 muffins) and we know exactly what goes into them.
You, Me & the RV
Last weekend we had some very special visitors - Phil & Stacy, aka You, Me & the RV!
We had a chance to catch up with them down in Tampa at the RV Supershow a few weeks ago, but there was so much going on that we didn't get to spend as much time with them as we would have liked. But they were passing through Virginia and decided to stop by so we could spend the weekend catching up.
We went for lunch on Saturday and spent hours just chatting away, updating each other on what's been going on. If you haven't already done so, you have to check them out! They're wonderful people, and in addition to producing amazing content on their website and YouTube channel they also do some phenomenal work raising money for charity.
Then on Sunday morning they came to hang out at our RV and we cooked some of our homemade sourdough English muffins and fried eggs for breakfast!
It really was wonderful to spend time with them again - a reminder to us just how much we missed the amazing community of RVers that tends to congregate out west when we headed to New England 18 months ago.
As we've said before, our new property project doesn't mean the end of our RV traveling, and we're eager to get back out on the road!
But first, we have a house to build!