I had promised Matt a relaxing vacation sitting by the pool and doing nothing.
Two years later it finally happened.
If I am not kept in check, we end up planning a very-busy-kind-of-vacation that needs a "vacation" after the vacation. The Thanksgiving vacation two years ago was a trip around Jamaica's coast line staying at four different places. The Thanksgiving vacation last year was a roadtrip from San Francisco to the Grand Canyon National Park and back through Phoenix.
So the plan for this year's Thanksgiving was this: spend a week in Hawaii at the same hotel the whole week and relax by the pool and beach. Even so, I still managed to sneak in one day at the Hawaii Volcanoes National Park.
Because we didn't have much time to plan the trip ahead of the time the plan for the week was very simple. Spend the whole week at one hotel and relax. One of those days spend at the Hawaii Volcano's National Park. As it is on the other side of the island, rent a car for two days from the hotel. Places to see: black sand beach with turtles and Ike's trail in the park. That's it. The rest we winged it.
Day 1 - Arrival to Big Island, Hawaii
Sunday, November 20, 2016
We took Uber to SFO airport for a 4pm flight. I had a kale salad at the airport. After the travel in the weeks before this trip, it reminded me how much I like SFO airport. It is probably the only airport in the world where you can get a healthy kale salad.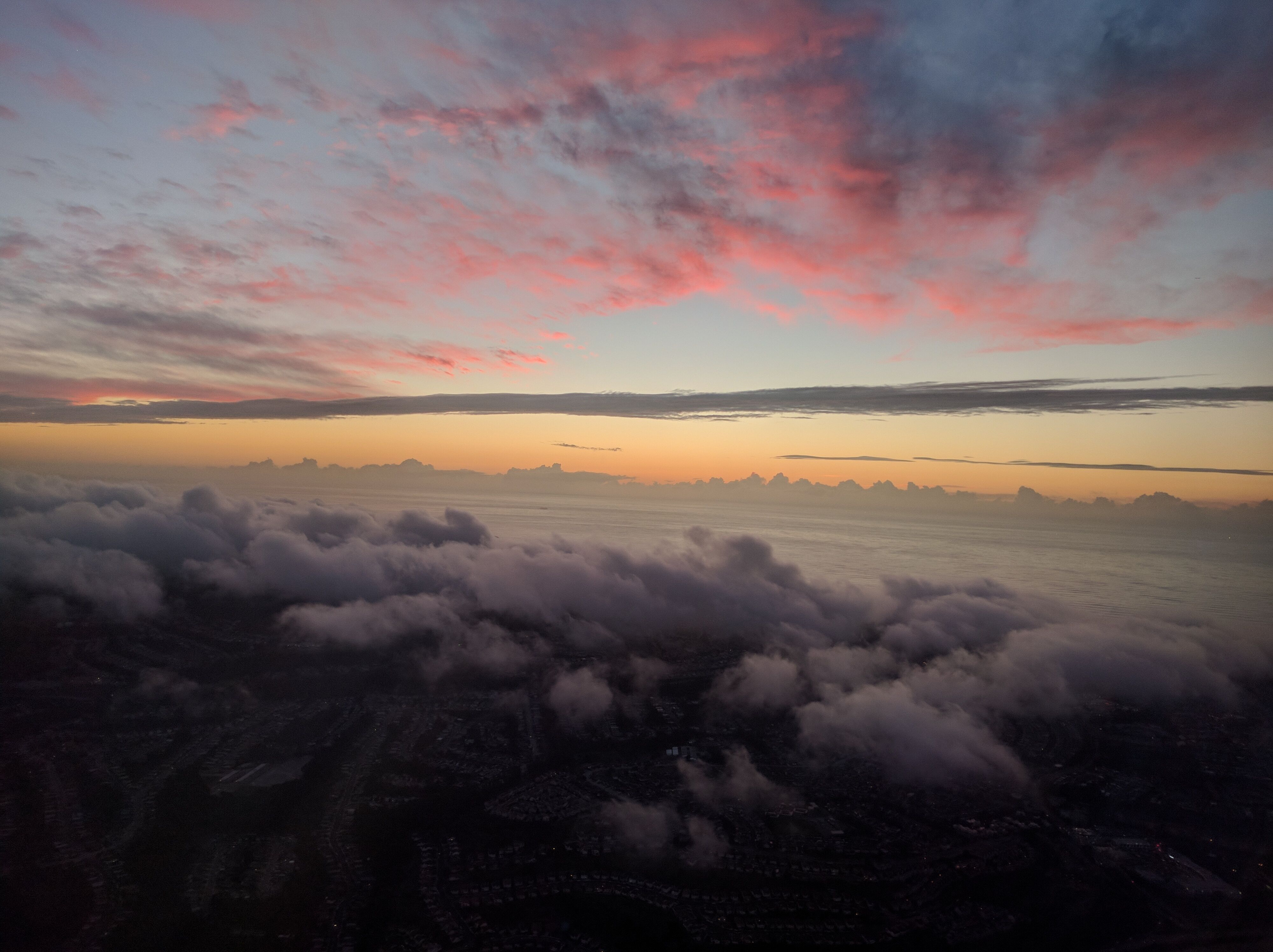 We arrived at the Mauna Lani Bay Hotel & Bungalows and at the hotel check-in we were offered Guava juice; a nice touch compared to cocktails or champagne at other hotels. I am already excited! In the room we found a welcome note from the General Manager next to a fruit bowl. Yay!
It was late by the time we arrived at the hotel but we still were hungry, so we headed downstairs for a light dinner at the bar. The vegetable fried rice was good, but the Dragon roll was so-so - it had too much mayo and it didn't quite taste like real crab.
Day 2 - Stargazing at Mauna Kea
Monday, November 21, 2016
We woke up at 6am, and saw this beautiful sunrise. Yay for the jet lag!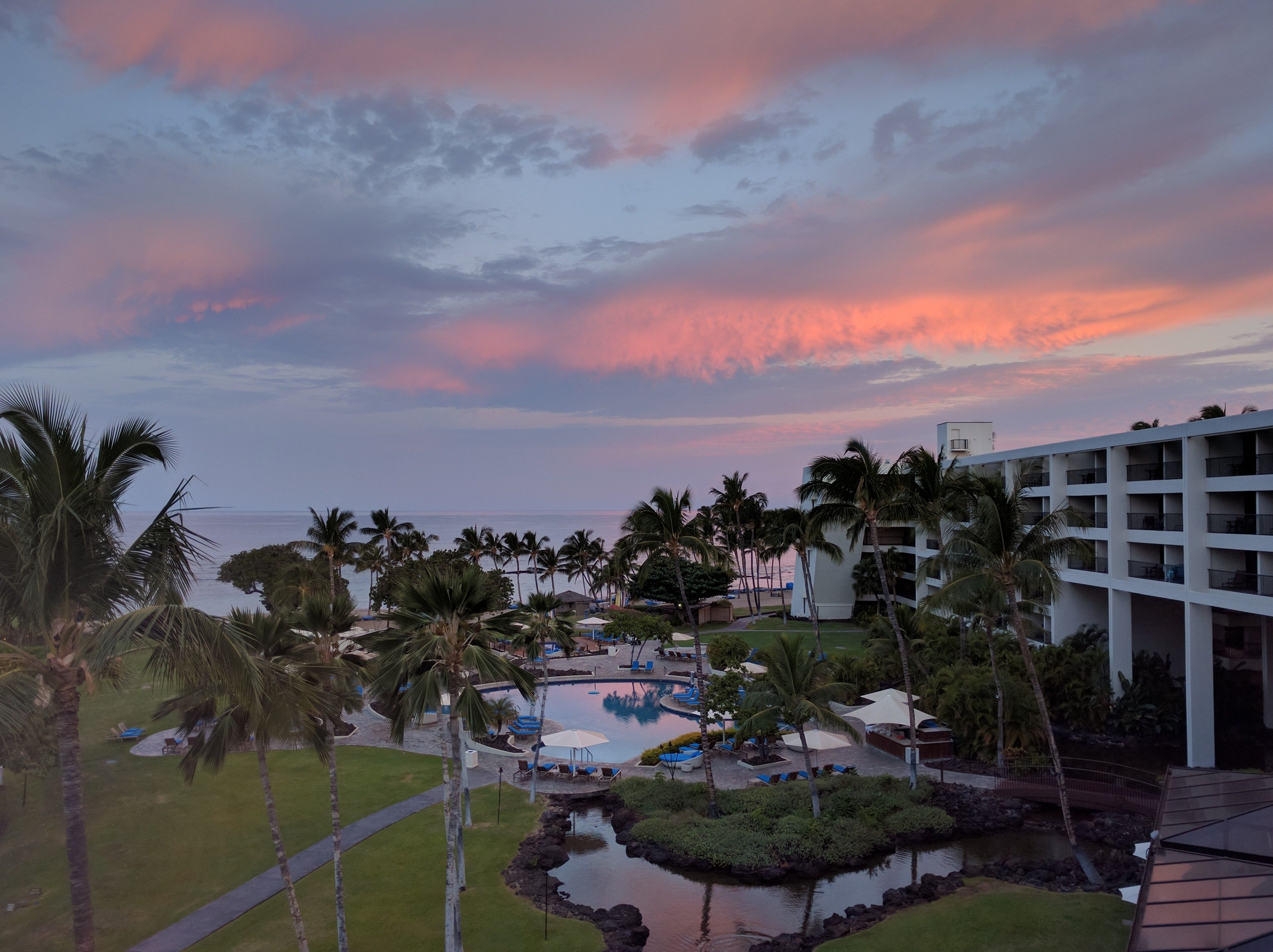 Finally it was light enough to see that the ponds around the hotel have fish in them. Some of them even can be seen jumping out of the water!
We spent the morning chilling out by the pool. Later we picked up the rental car from a car rental desk at the hotel and went to get some groceries for tomorrow's hike and snacks for a picnic tonight.
At 3pm we set off to drive up the Mauna Kea volcano.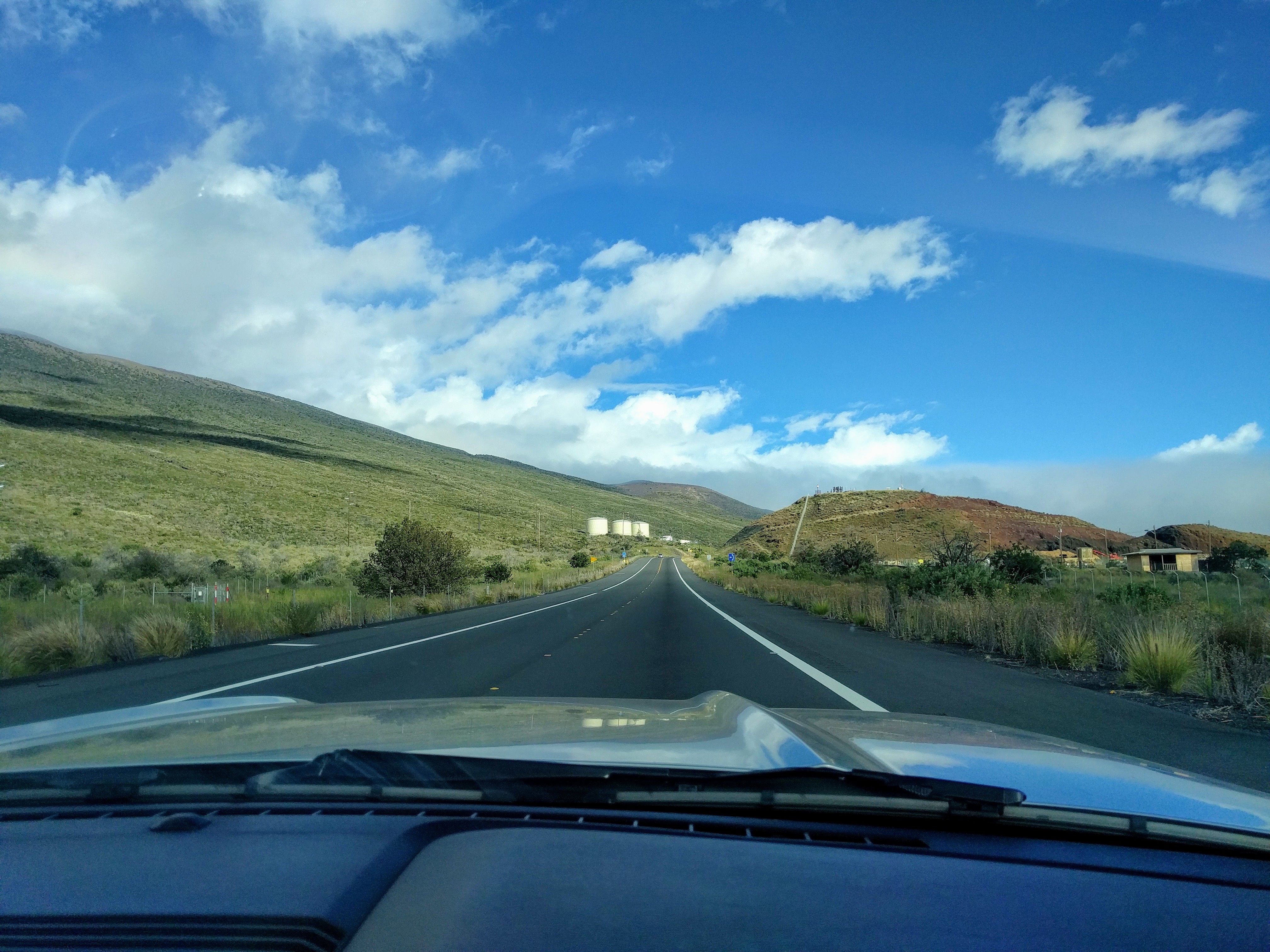 Mauna Kea is the highest point on the Big Island at 13,803ft elevation and has a dozen observatories on the top. There is a visitor center at ~9000ft.
As we started driving more inland and towards the mountain it started raining. Matt had rented a convertible and we were determined to keep up the convertible roof down as much as possible. Eventually we saw this beautiful rainbow.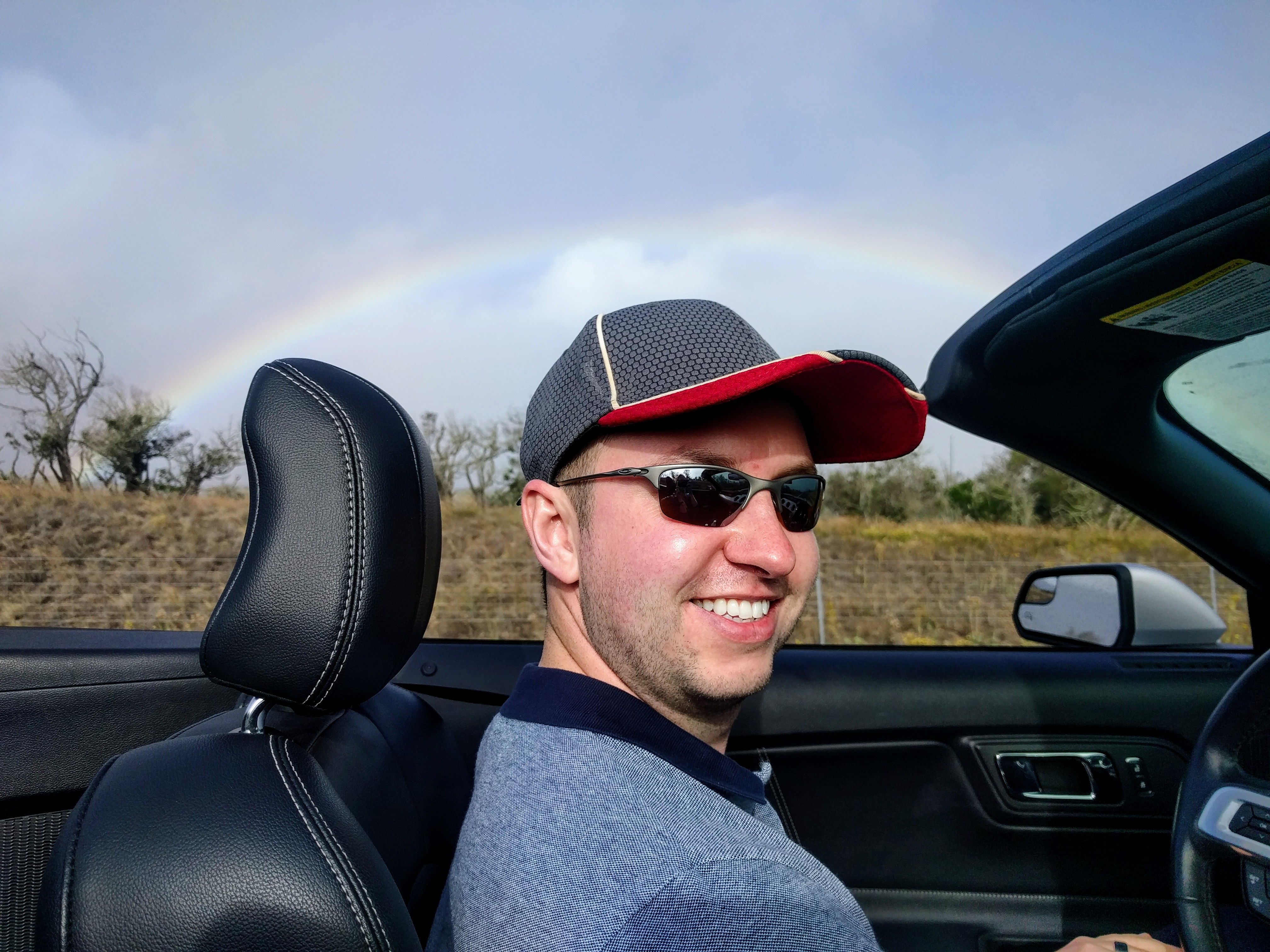 We received mixed information ahead of time about whether it is possible to drive to the very top of Mauna Kea without a 4WD. In the map it looked like the road is a paved. Some people said it's doable, and some said it's not.
Once we got to the visitor center the confusion cleared up. It is NOT allowed to drive up without a 4WD, especially in this whether. It gets cold at the top and icy and it's a winding road to the top. Also it is NOT paved all the way. Only the top part is paved in order to reduce the dust for the observatories. Apparently not enough money to pave the whole way.
We hung out at the visitor center. Unfortunately we didn't see the sunset because it was rainy and foggy. We had the picnic in the car (as it was raining). Then at 6pm we watched a movie about Mauna Kea inside the visitor center.
By 7pm it was dark and the ranger star program started. Unfortunately it didn't clear up so they didn't uncover the telescopes. Yet we still managed to see the Milky Way, Venus and Mars with a naked eye.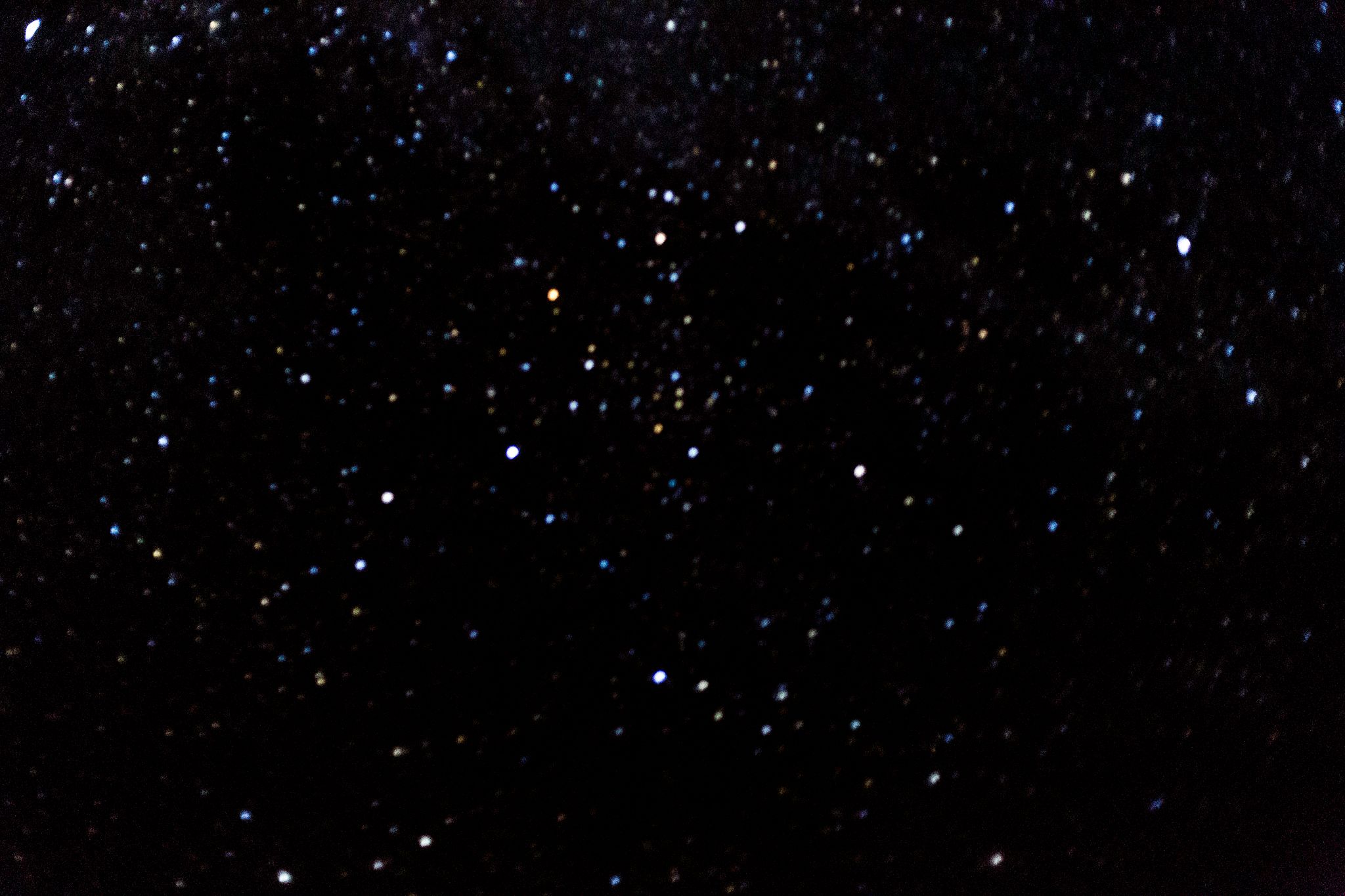 Day 3 - visiting Hawaiʻi Volcanoes National Park
Tuesday, November 22, 2016
We got up bright and early. We got rewarded with this beautiful sunrise.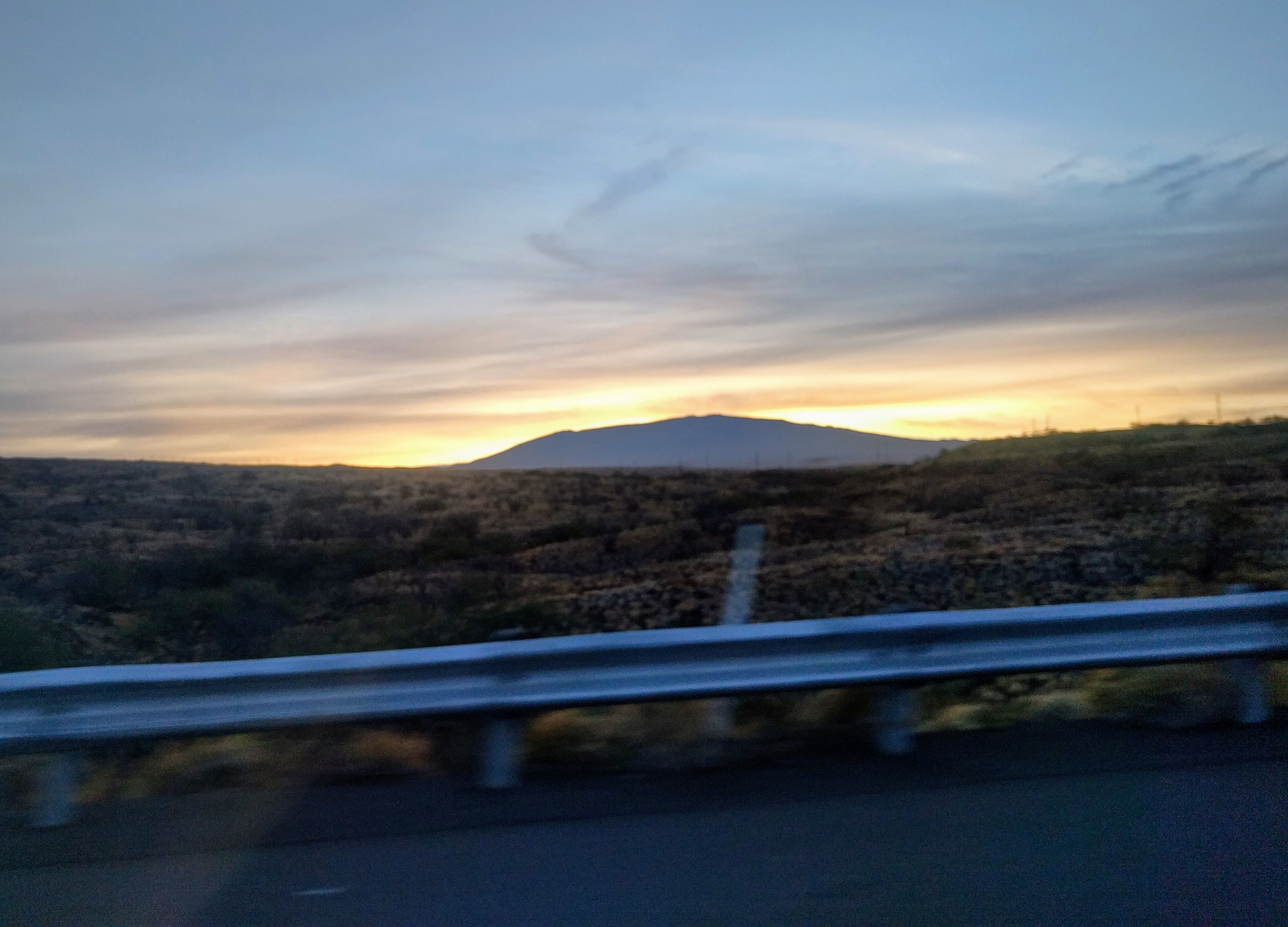 Matt splurged and got a Mustang as a rental car. If you have never tried driving in a convertible (as it was for us), Hawaii is a fantastic place to try it.
Next on agenda: a roadtrip around the island and visiting Hawai'i Volcanoes National Park.
What surprised us the most were the microclimates of the island. The morning started off with a nice weather, but as we drove around the island on the east side it was rainy, cold and wet with a very big temperature difference between east and west side.
We got to the visitor center slightly before its opening at 9am. Then we asked the rangers about the current conditions. Unfortunately weather around there is very unpredictable and rangers couldn't predict whether it will clear up or not.
We got our cancellation stamps in the National Park Passport book.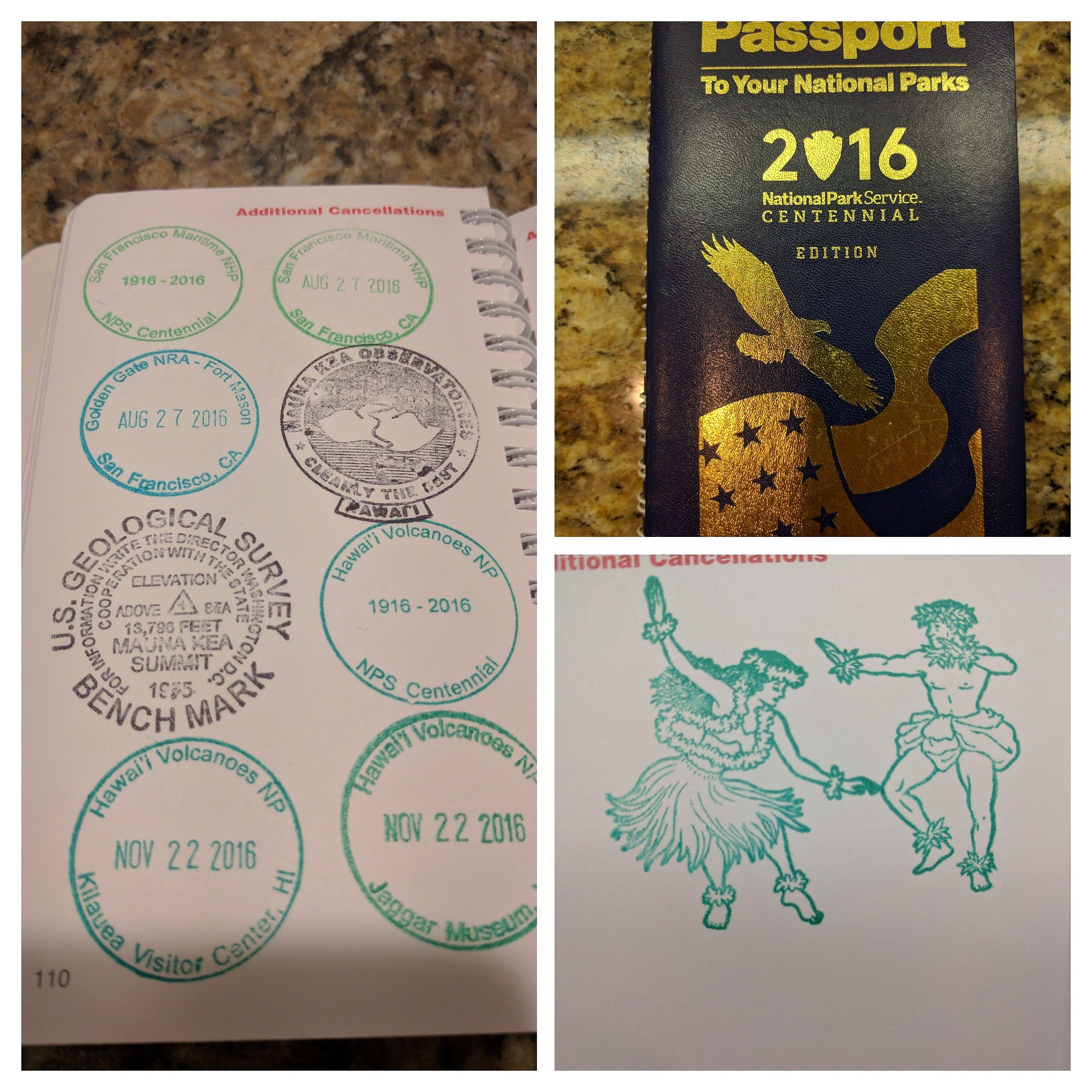 Most of the time we don't try to plan out carefully our days in National Parks ahead of time as depending on trail and weather conditions best laid out plans may not materialize. So usually we check in with the rangers and see what they recommend for that day. We did the same at this NP.
After the park ranger's recommendation we visited the Jagger Museum, where amongst fog and mist we saw lava spewing up in the middle of the crater. Quite a unique view!
We did Lava Tube hike, then drove down the Chain of Craters Road to see the Sea Arch.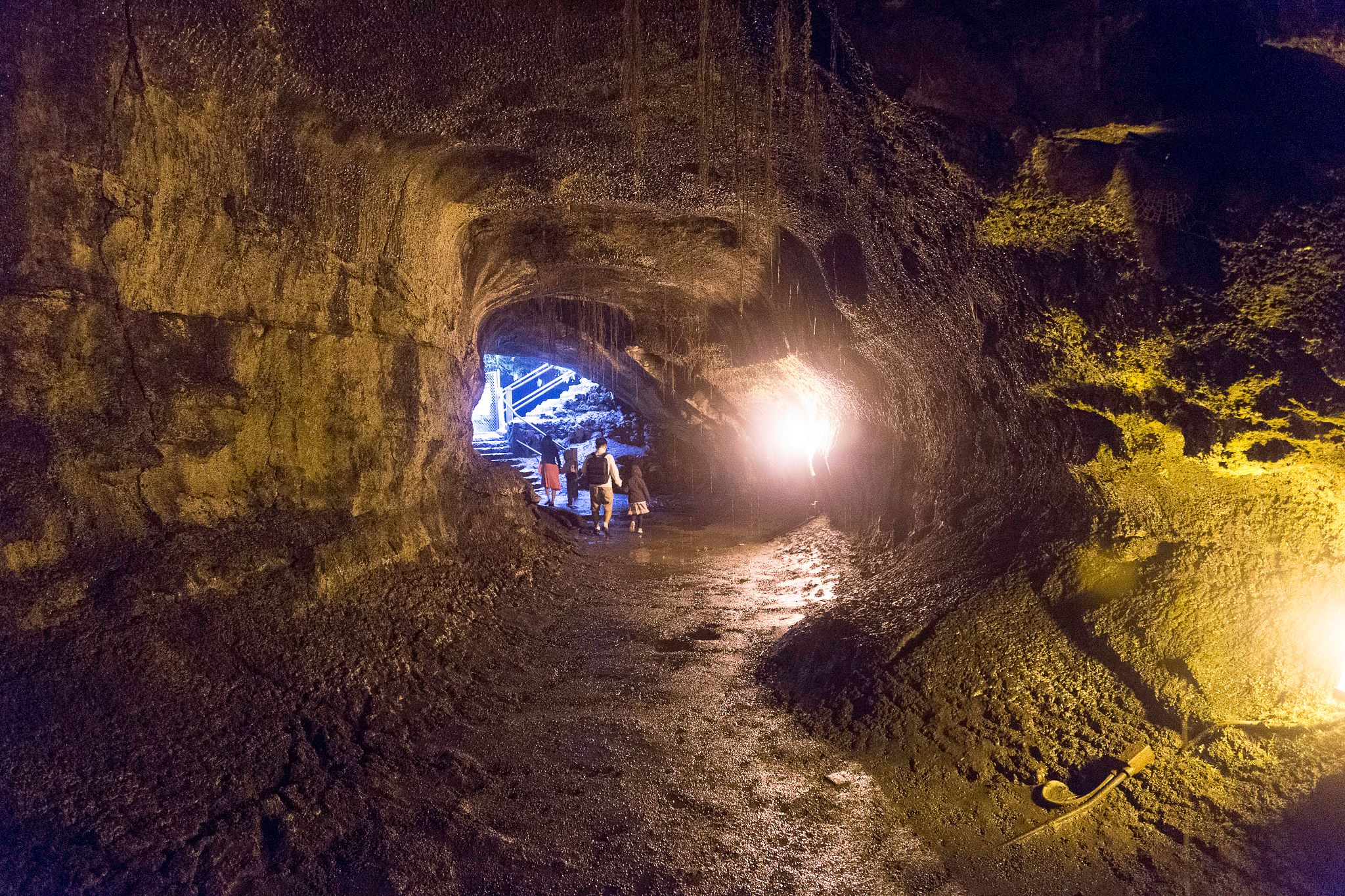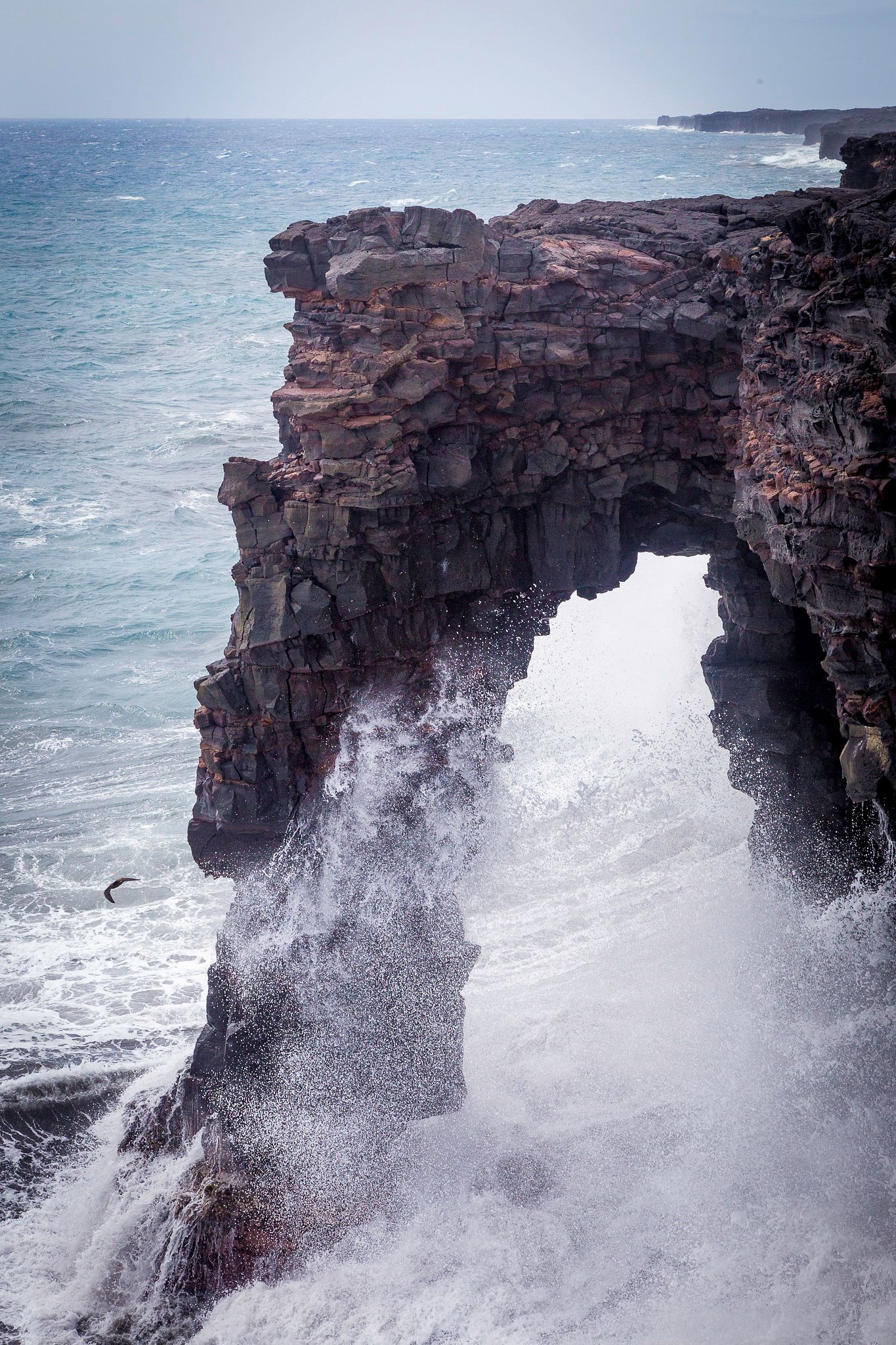 As it was raining and we weren't quite prepared for a rainy weather we did a shorter version of the Kilauea Iki trail hike which descends into an older crater.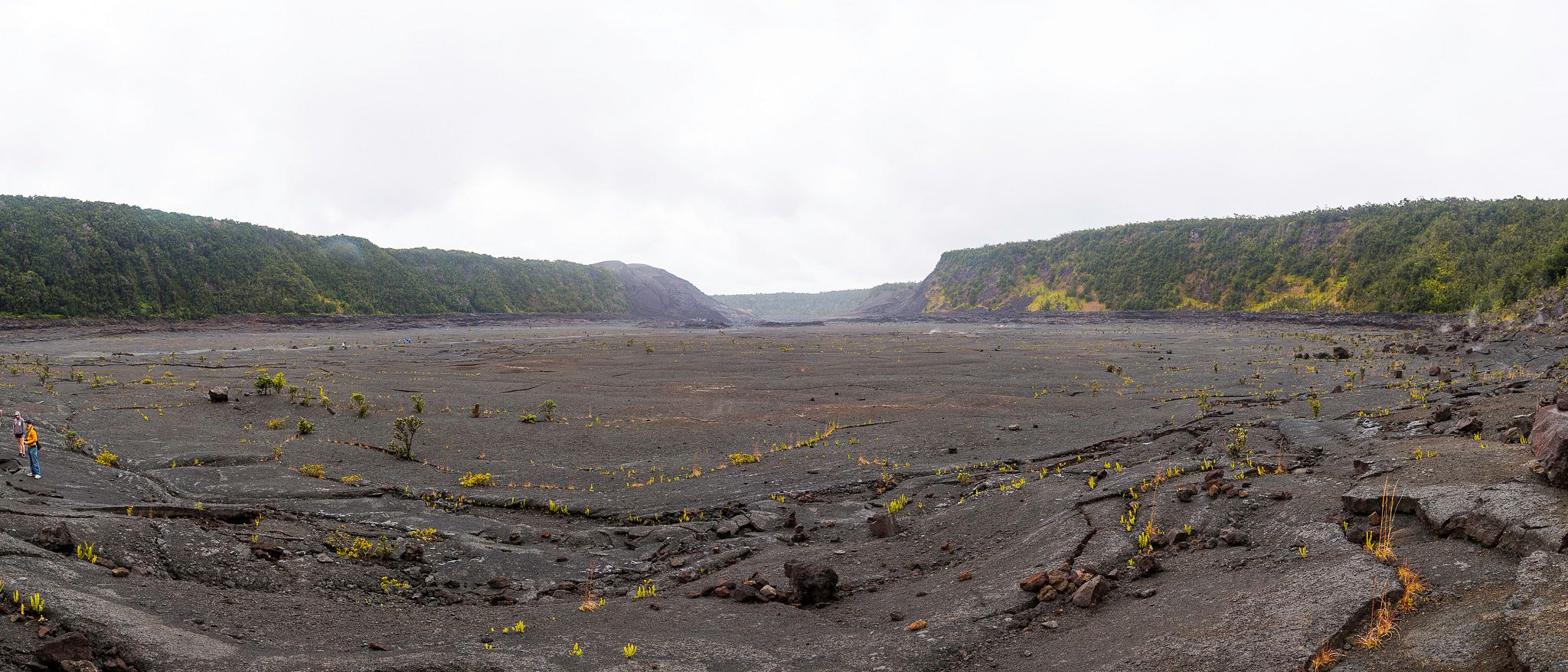 After the Hawai'i Volcanos National Park we continued our drive along the island and stopped by the Black Sand Beach after Natalya's recommendation.
I was so excited to see turtles!!!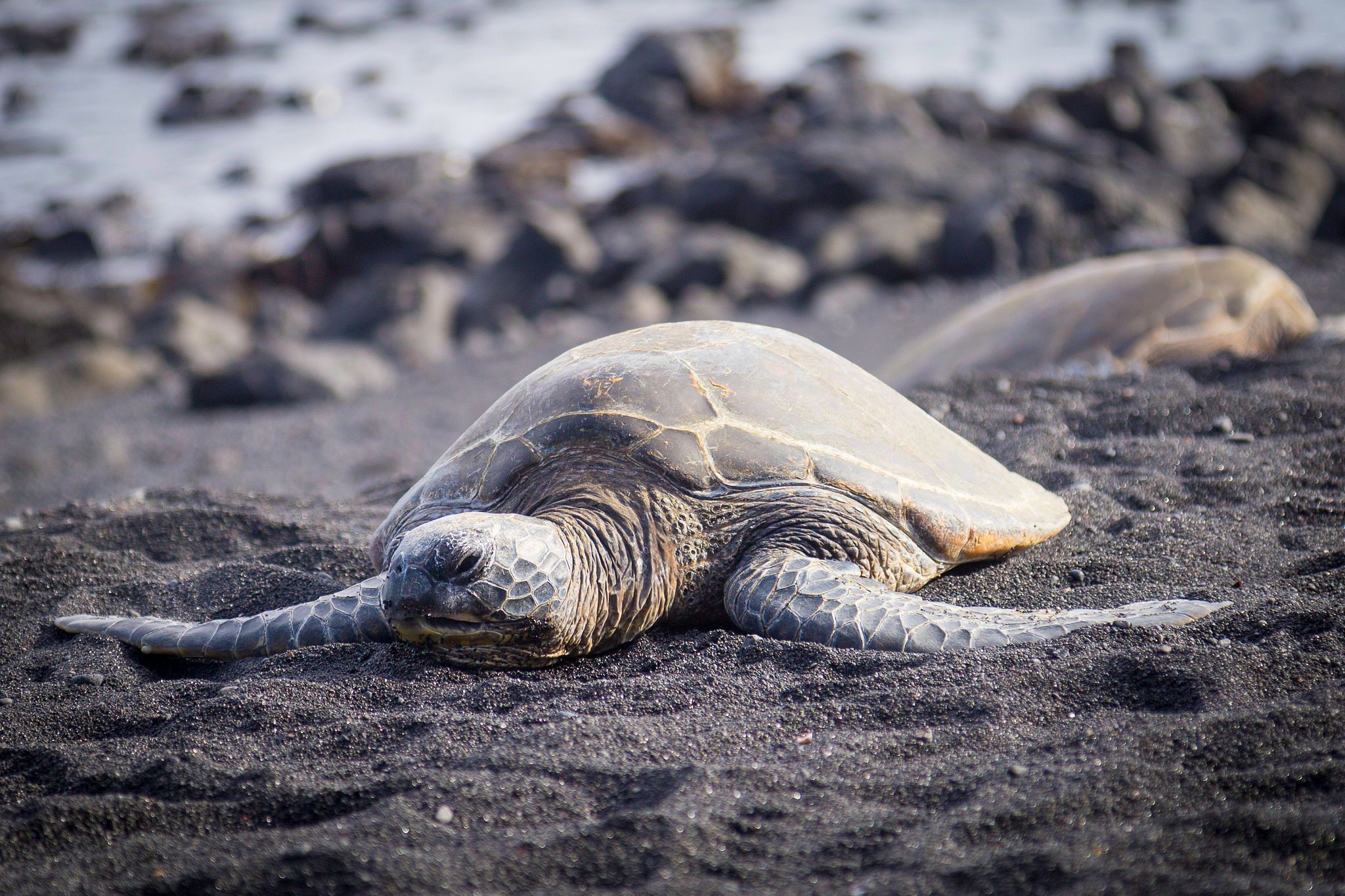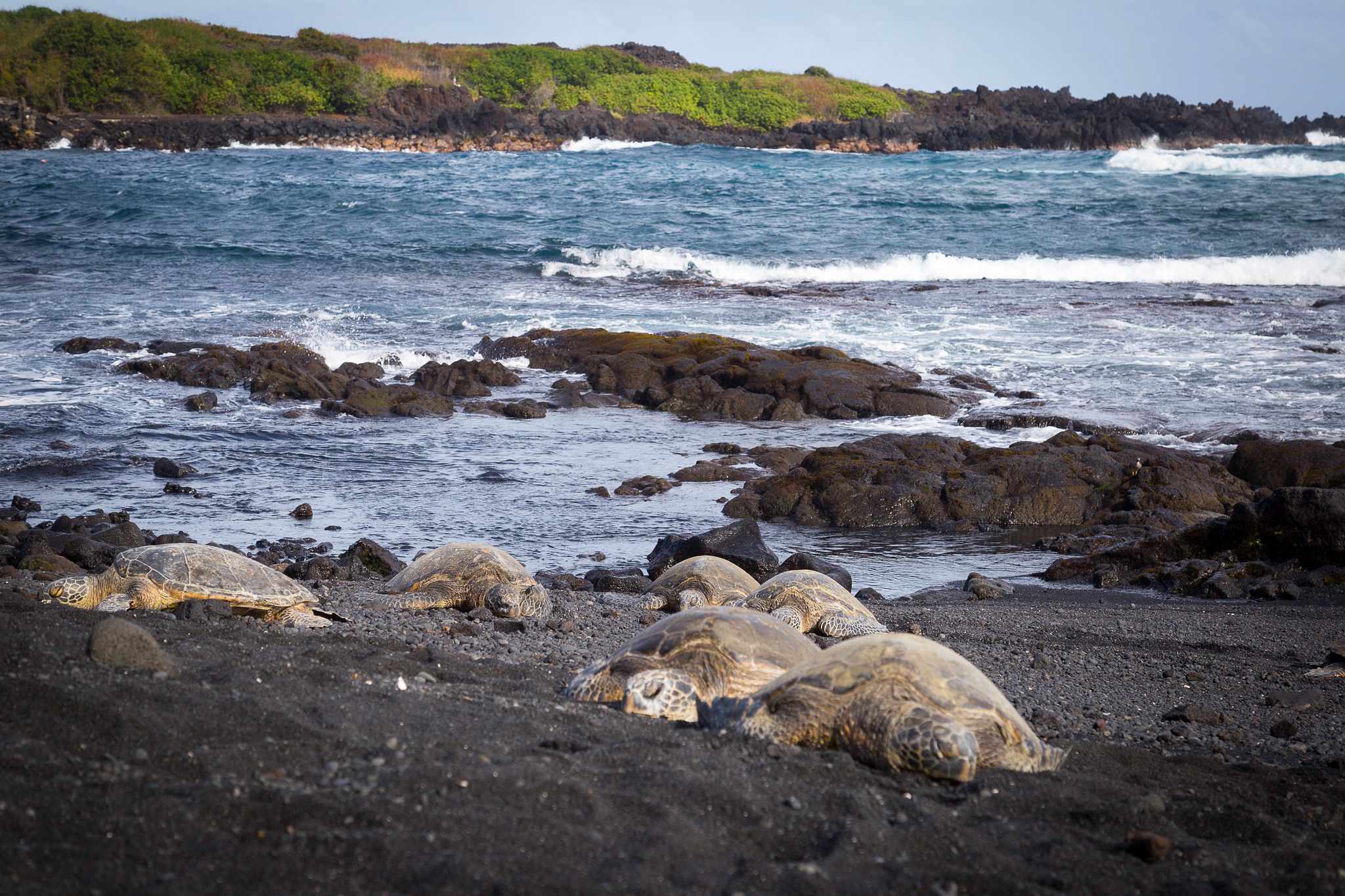 Next was a short stop at the Puʻuhonua o Hōnaunau National Historical Park. Unfortunately we got there two minutes late after 4:30pm and the Visitor Center was closed and we didn't get the cancellation stamps.
After 320 miles on the road we got back to the hotel absolutely shattered and ended up ordering overpriced room service for dinner.
Here is a Google Map of the roadtrip and other places we visited during this trip.
<span data-mce-type="bookmark" style="display: inline-block; width: 0px; overflow: hidden; line-height: 0;" class="mce_SELRES_start"></span>
Day 4 - chilling by the pool
Wednesday, November 23, 2016
We had a lazy day laying by the pool. In the afternoon we managed to get a workout at the gym and a swim in the lap pool.
We had dinner at Tommy Bahama's restaurant with a nice sunset view. Tommy Bahama is a clothing line so it was surprising to see that they also have a restaurant. After perusing Wikipedia about it, turns out for a brand, which is all about lifestyle, an attached restaurant and a bar in few places around the world does make sense.
Day 5 - snorkeling
Thursday, November 24, 2016
We started the day with breakfast at the hotel. Then I did a video chat with my parents and showed them the views.
On today's agenda was snorkeling. We started off with just the snorkel, but then we got the fins too. Fins definitely make swimming faster!
I am also happy to report that the swimming lessons I had been taking in October had paid off and I was way more comfortable in the water and could swim for longer.
The fish were amazing! So colorful!
After that, we did more suntanning and even got to squeeze in a gym workout.
For Thanksgiving dinner we did the hotel's special Thanksgiving Buffet, which was actually quite good. I demolished a lot of crab legs!
Day 6 - opening a coconut with no proper tools
Friday, November 25, 2016
For breakfast we walked over to the nearby shops area and I had acai bowl. It was next to a grocery store so this was my chance to get a coconut. Will we be able to open it in a hotel room without any tools?
Matt assured me that he has had practice with opening coconuts and was sure we would get it open.
First he started with a pen knife and drilled two holes to get the water out. So delicious! Then it was my turn. I put it in a paper bag and banged it on a metal corner of a lounge chair on the balcony. and eventually the coconut gave in!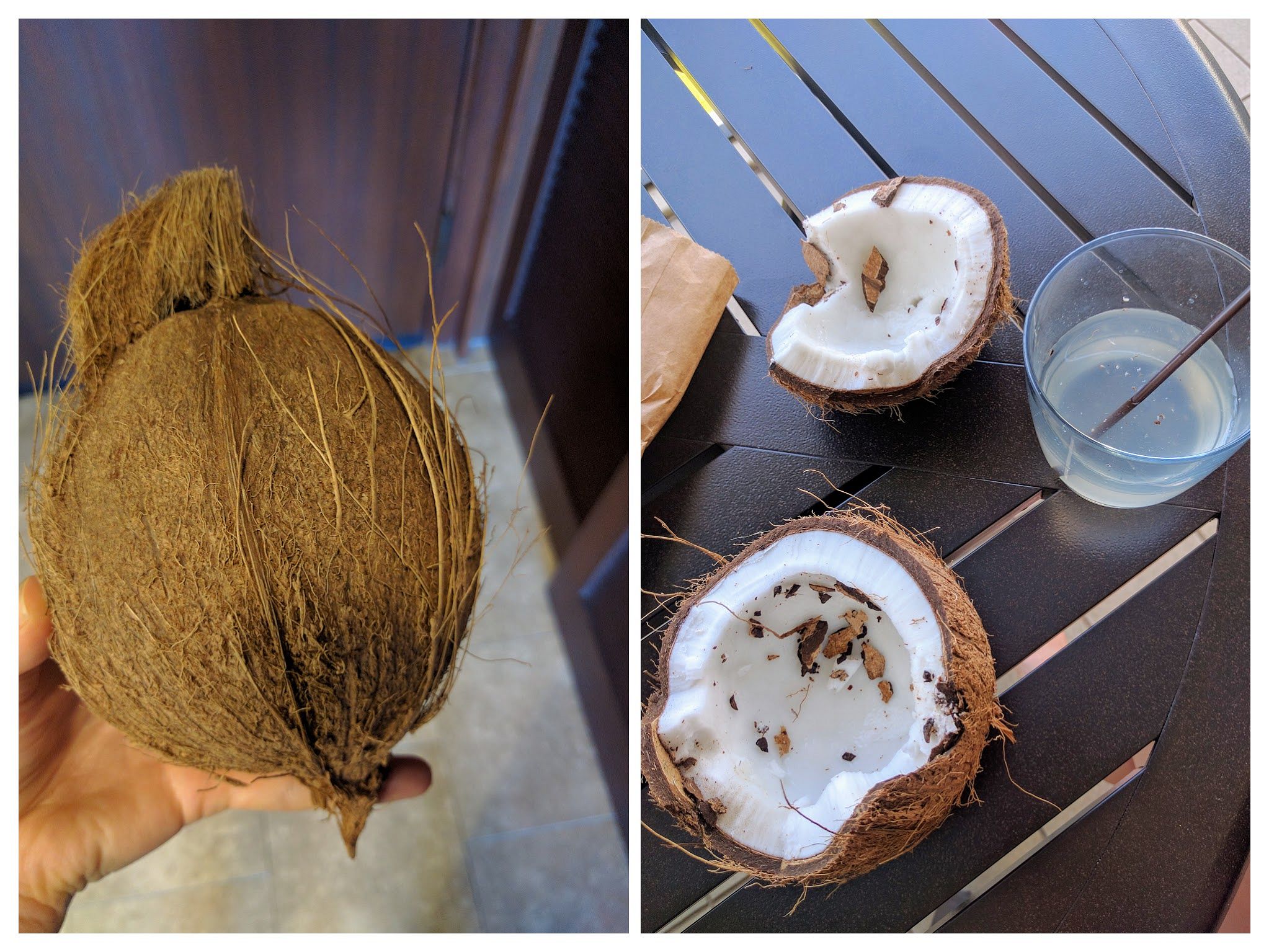 In the afternoon I went for a run along the beach.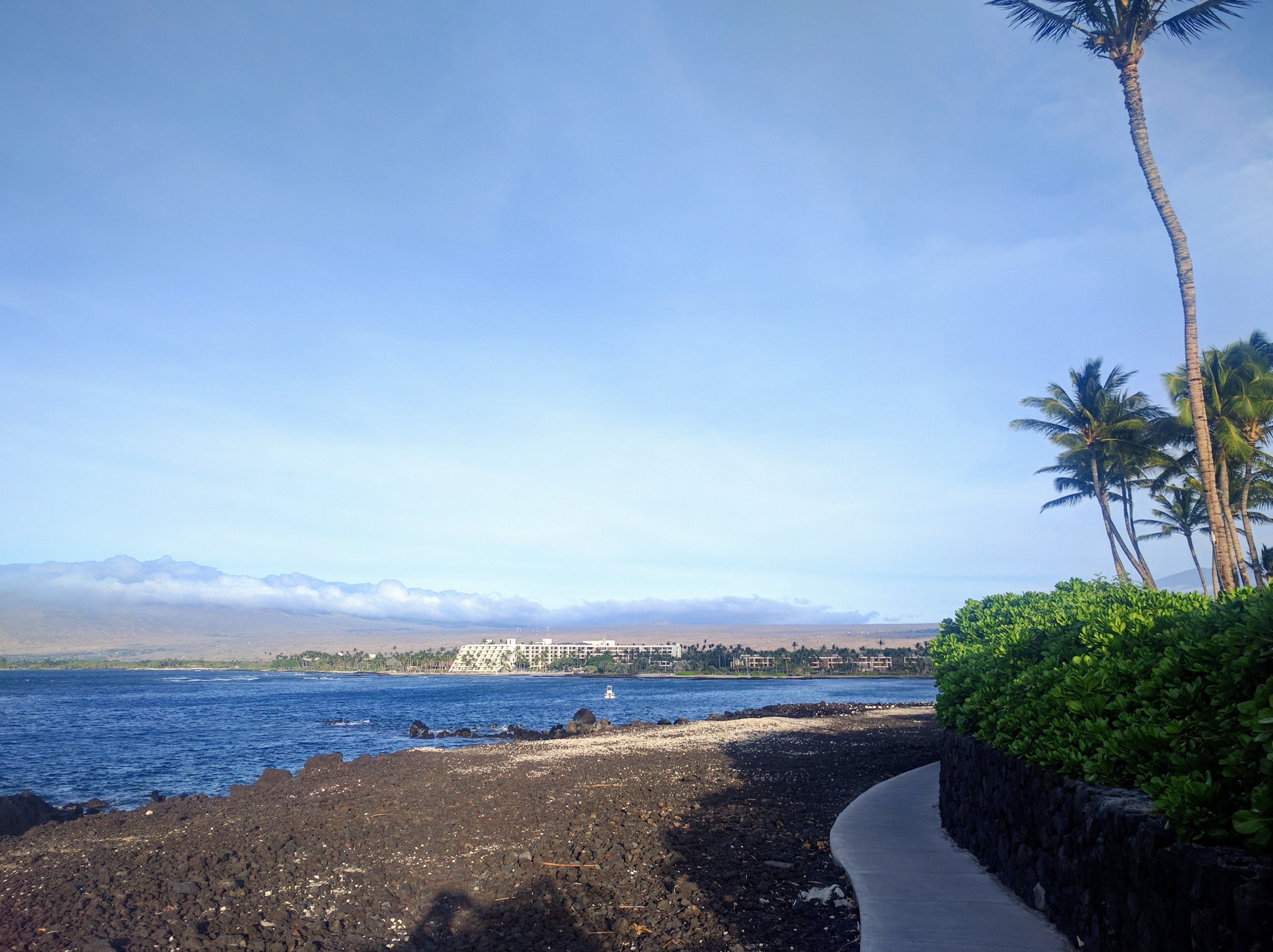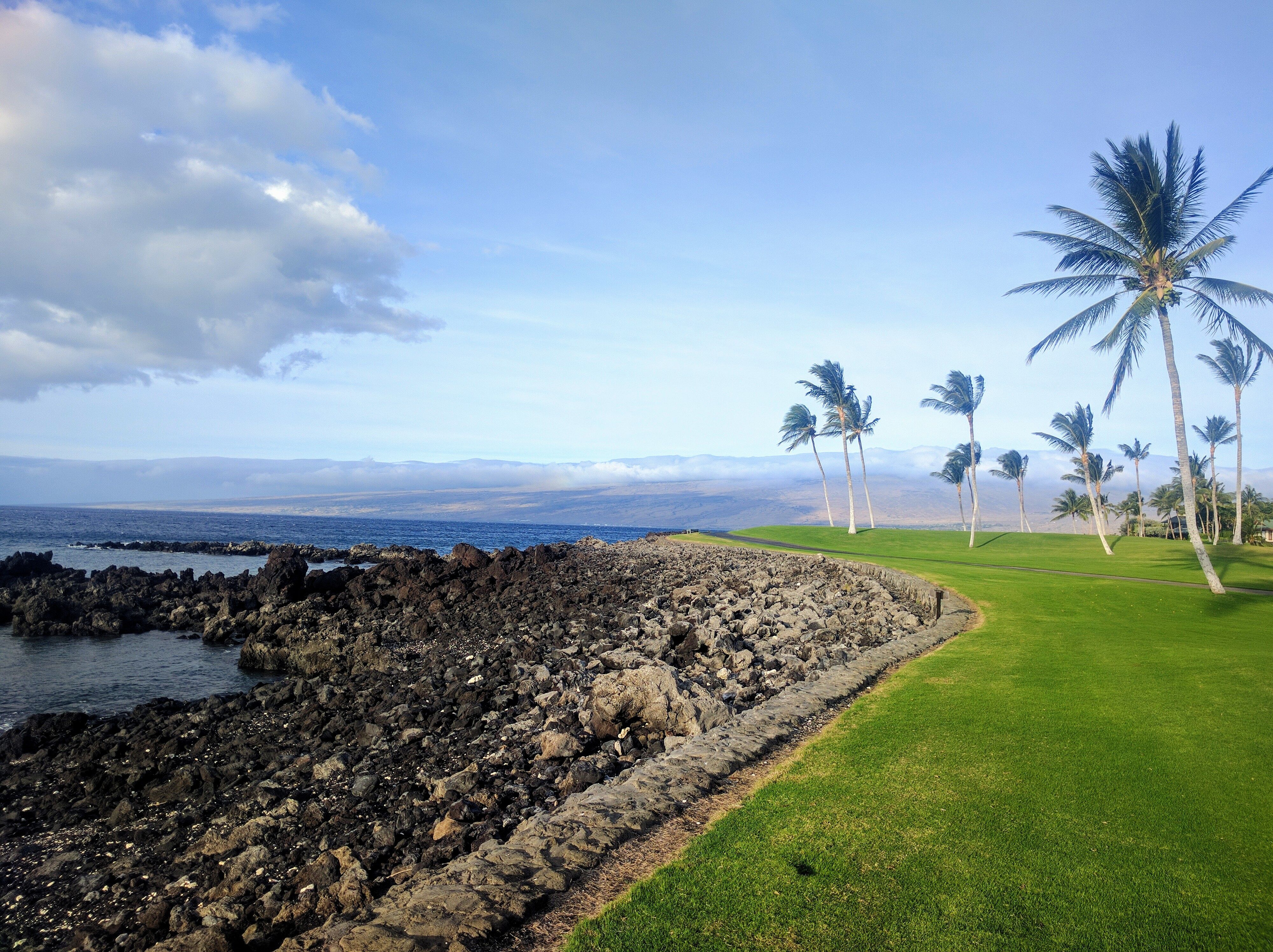 Day 7 - sunset photo walk
Saturday, November 26, 2016
Today's highlight was taking a walk along the beach at sunset time, taking photos and finding some turtles too!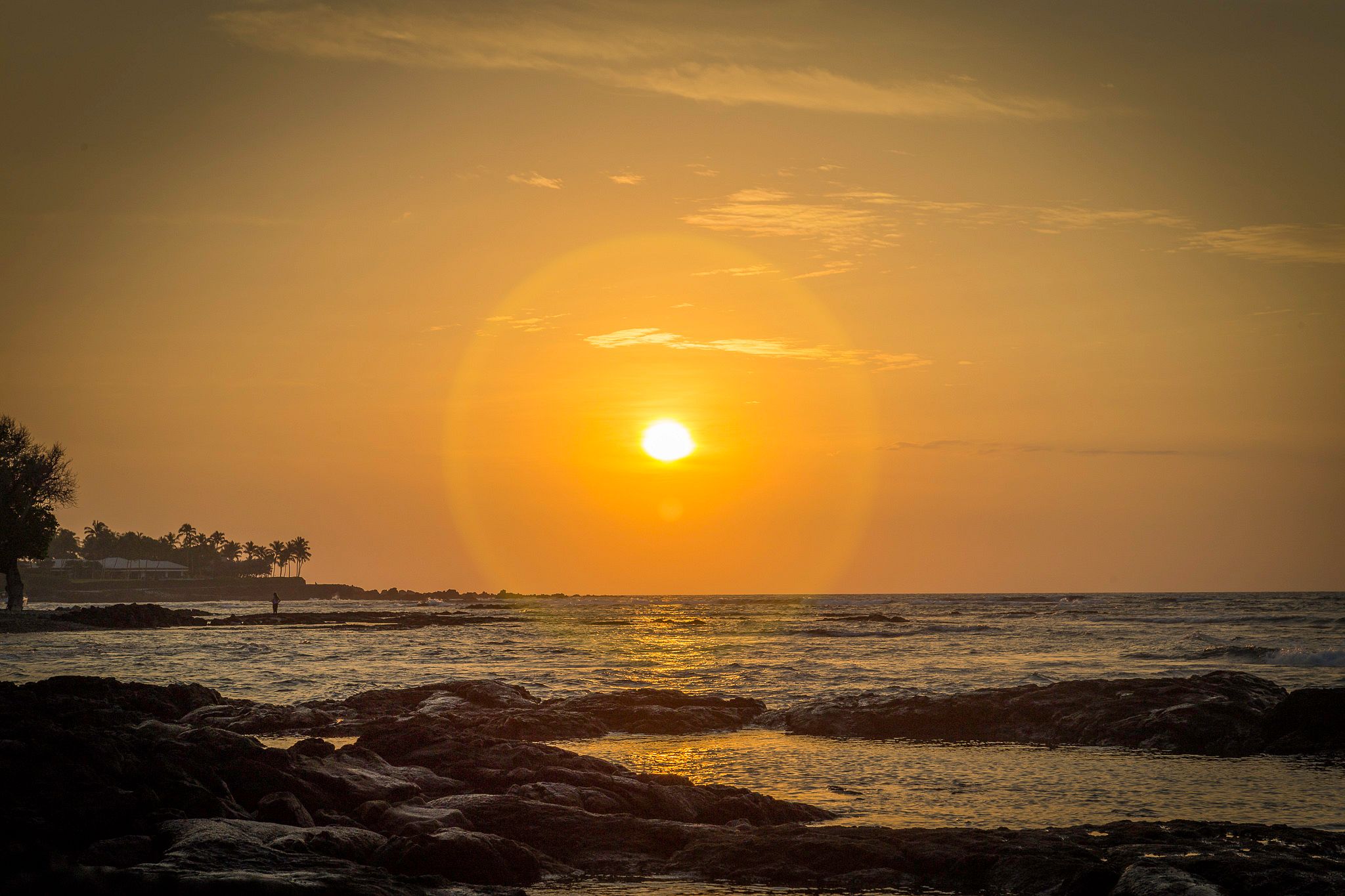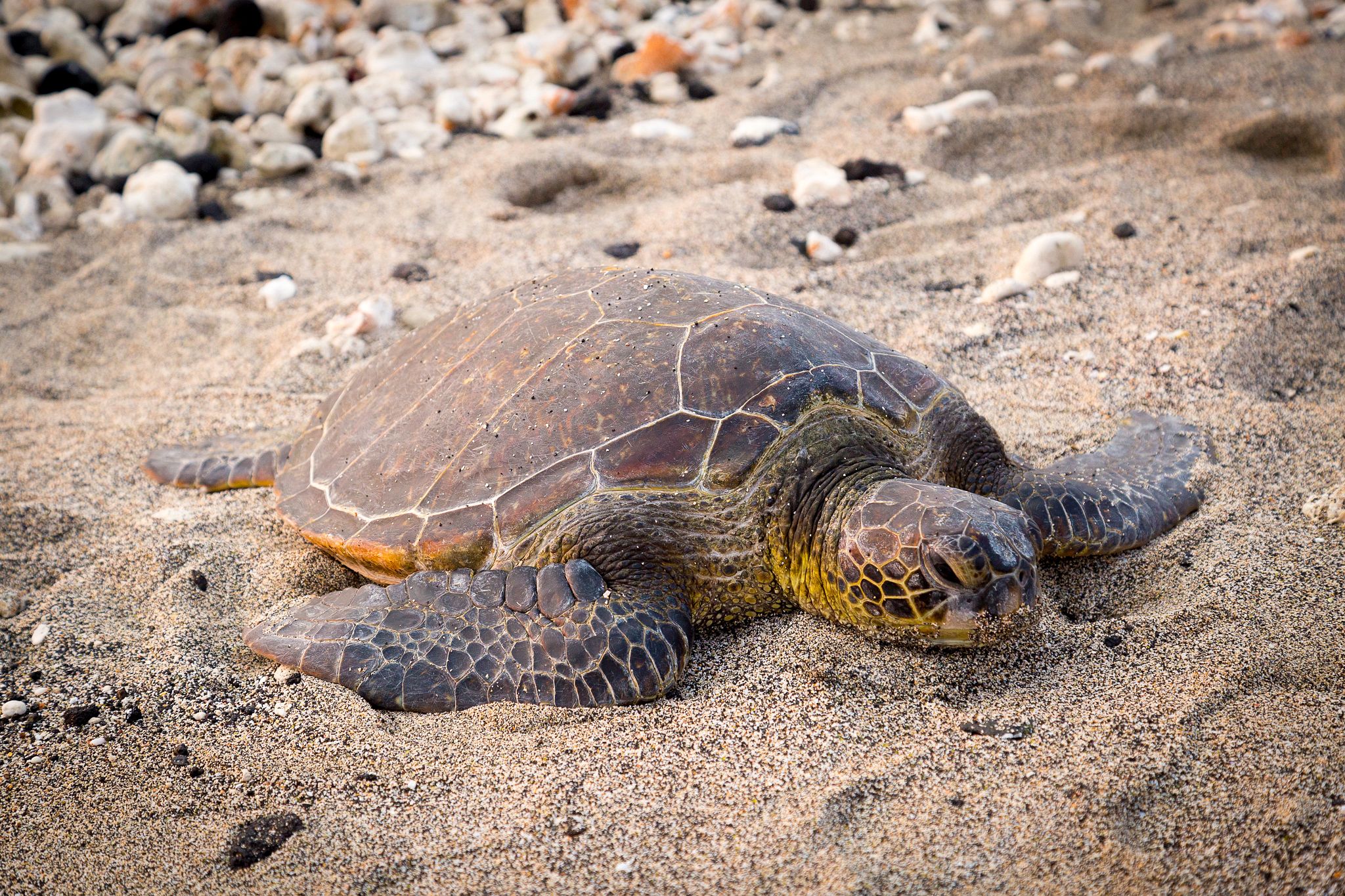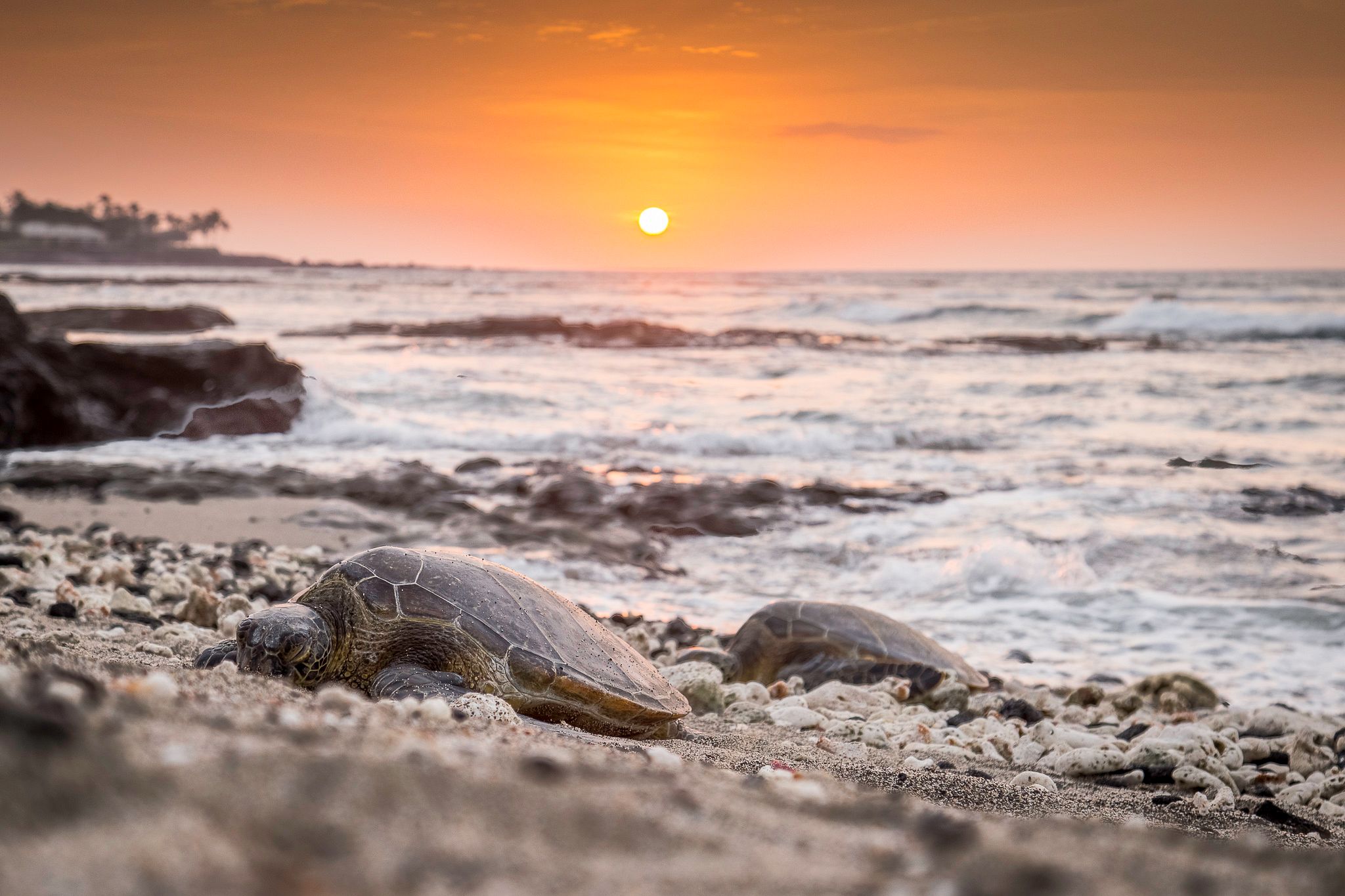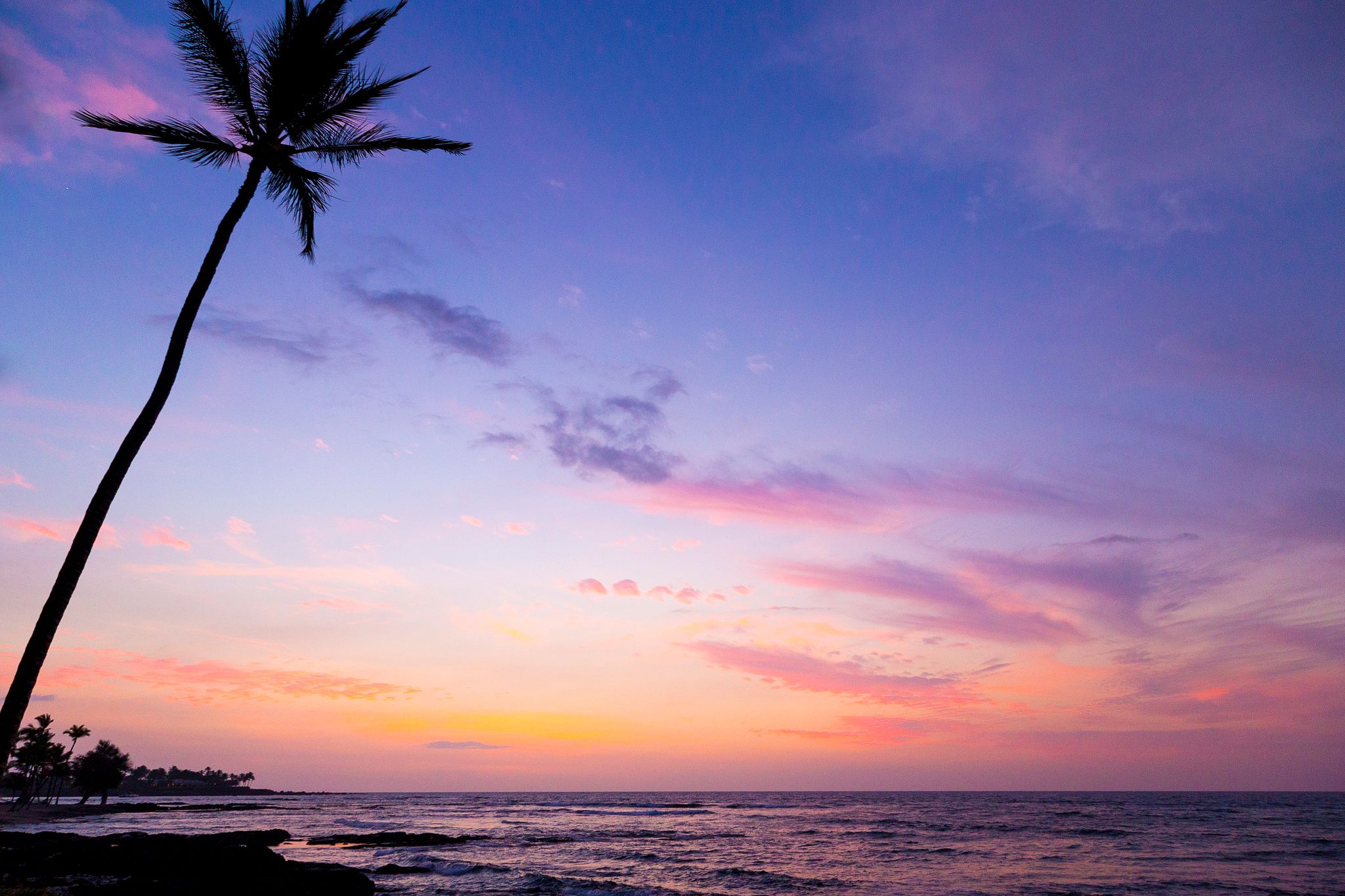 We had dinner at the Canoe House, which was the best meal of the trip. The Canoe House restaurant is in absolutely gorgeous open air setting right by the ocean.
Day 8 - departure
Sunday, November 27, 2016
Our flight was at 10 pm and Matt worked his magic and got us late checkout at 8 pm! So we had another day to hang out at the hotel. We did more suntanning and walks along the beach.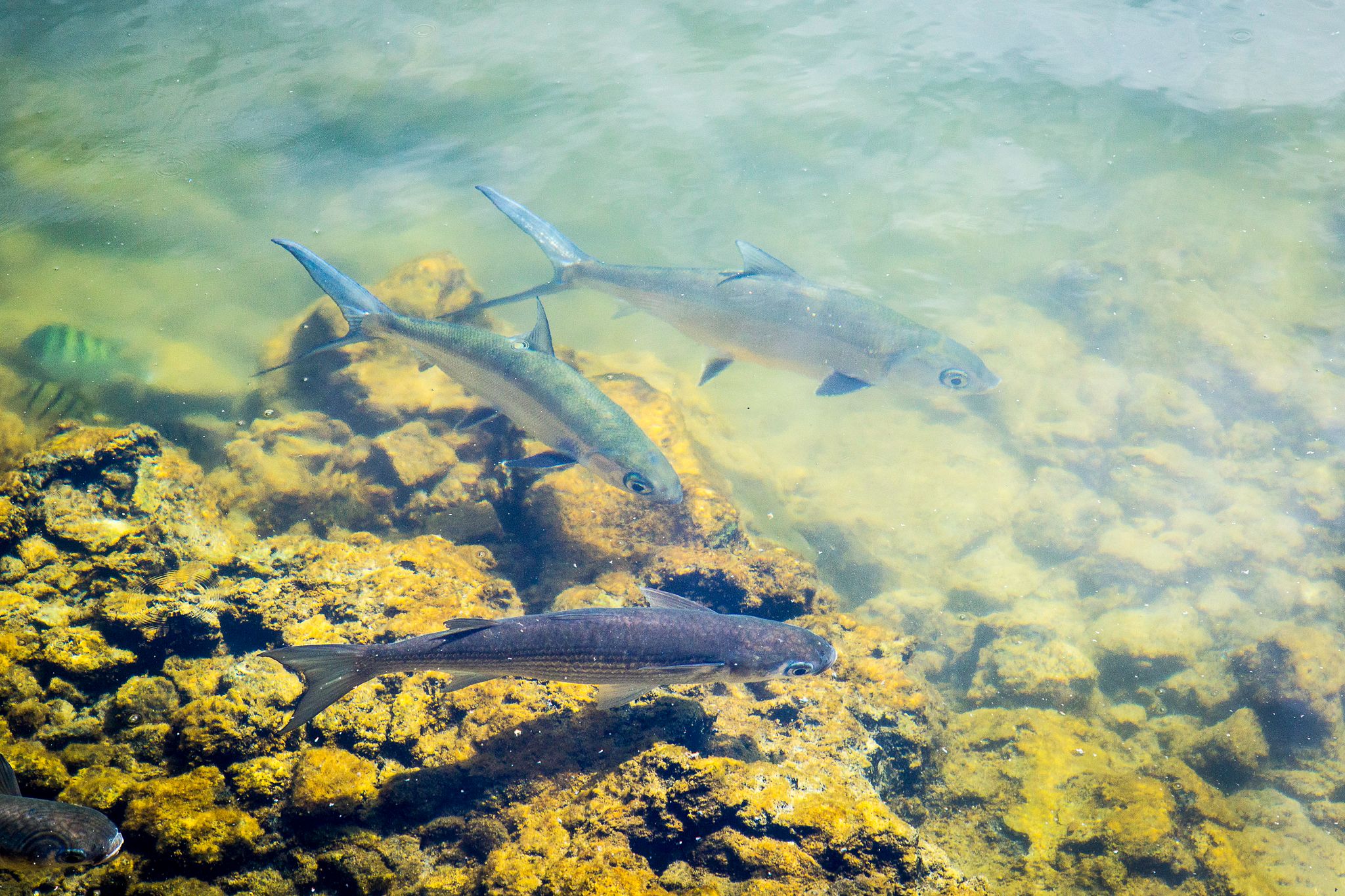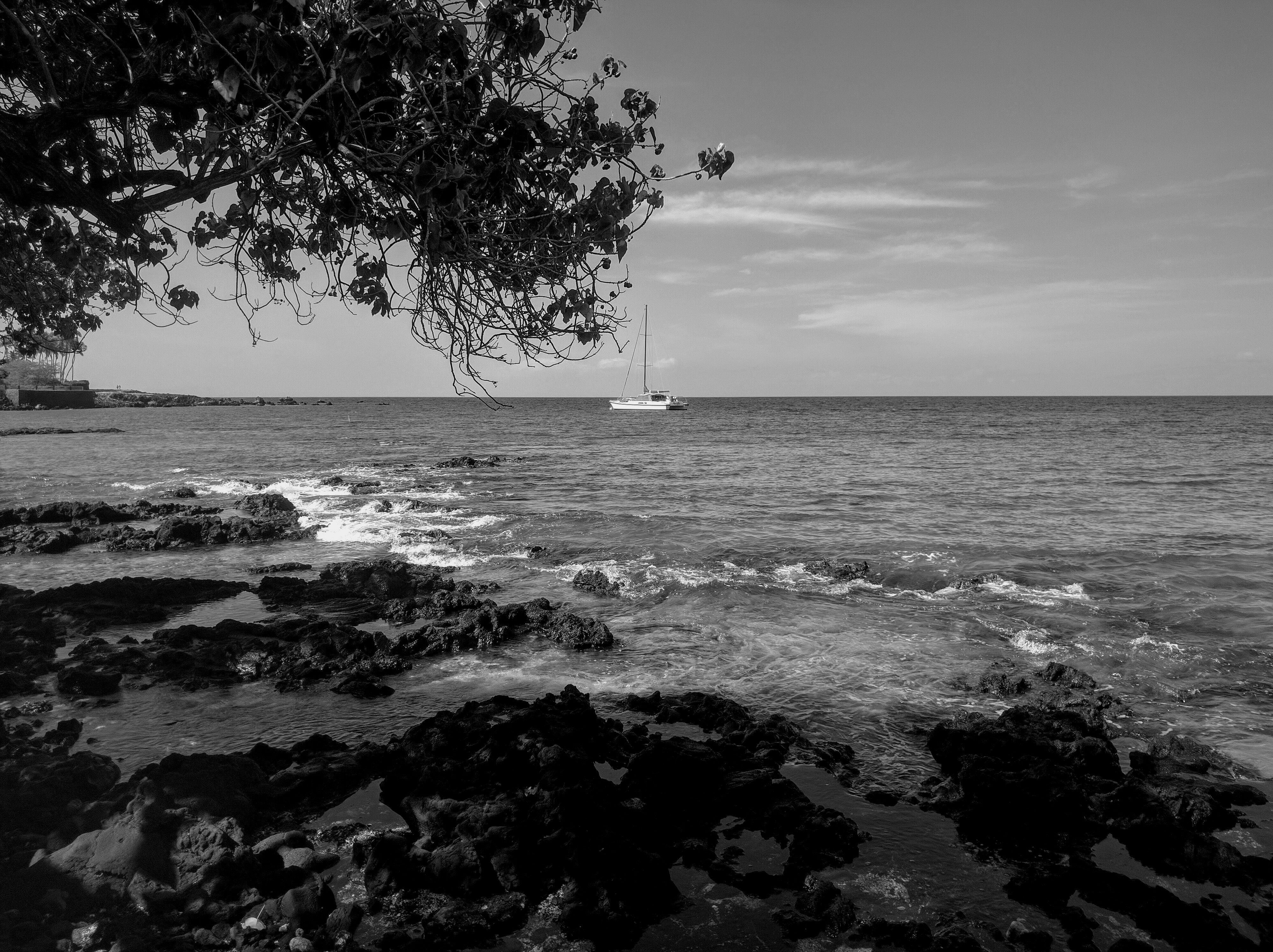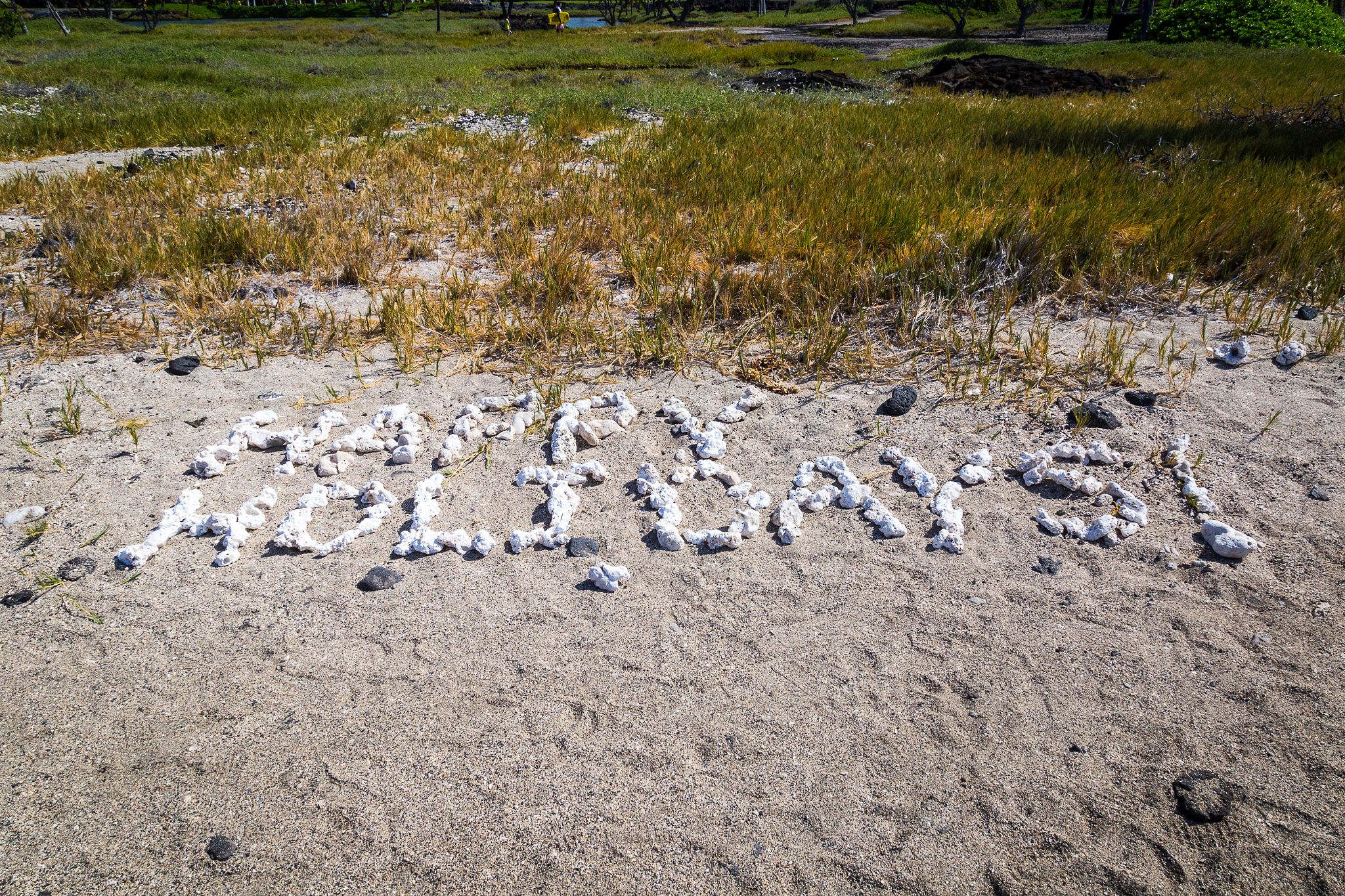 Summary of the trip in numbers
6470 miles traveled on airplanes
100 miles traveled with uber or taxi
320 miles driven in a Mustang around the island
2 miles run along the beach by Diana
If we were to do this again
Here are few tips for you or our future selves if we go to the Big Island again.
Visiting Hawaii
Make dinner reservations at least few days in advance. I would also probably do research ahead of time of where to have dinners as I am a very picky eater.
Visiting at any time of the year will do. The temperature difference at different times of year is less than 10 degrees.
Rent a 4WD if you want to be able to drive up to the top of Mauna Kea.
Visiting the Hawai'i Volcanos National Park
Do a boat tour from which you can see lava spewing into the sea.
Pack for any weather including rain, it really is unpredictable.
At the Sea Arch hike 4 miles further along the road to potentially reach lava fields.
Learn More
Finally, make sure to check out these videos on YouTube, and don't forget to subscribe to our channel to be notified when we publish new videos!