OK, I'll admit, the roofing work is a little misleading. Yes, I've been installing a roof, but not on our house. I again joined COVER Home Repair to volunteer for a roof repair project.
COVER Home Repair
COVER is an organization founded in 1998 and based out of White River Junction, VT that brings together volunteers and homeowners to tackle urgently needed home repair projects for low-income homes in the local area. Specifically, they focus on winterization, access ramps and roof replacements.
In addition to the project work, they also operate a store in White River Junction (a little like the Habitat for Humanity ReStores). We've dropped in there before and picked up a few things.
They're not a faith-based group and all you need to do to help is turn up - all tools and training are provided on-site. For me, in addition to helping out people in urgent need of support, it's a great way to meet new people and learn new skills.
I joined a roof repair project last fall, and this last week I joined once again - this time at a home in Lyme, NH to replace a metal roof.
Without going into specifics, the homeowner was a lovely woman with fascinating stories to tell about her own life, her home and the local area she had grown up in. Due to rain, the normally two-day project was condensed down into just one day, and with the ever-present threat of rain looming over us, we worked fast! It took us barely an hour to remove the old, leaking metal roof.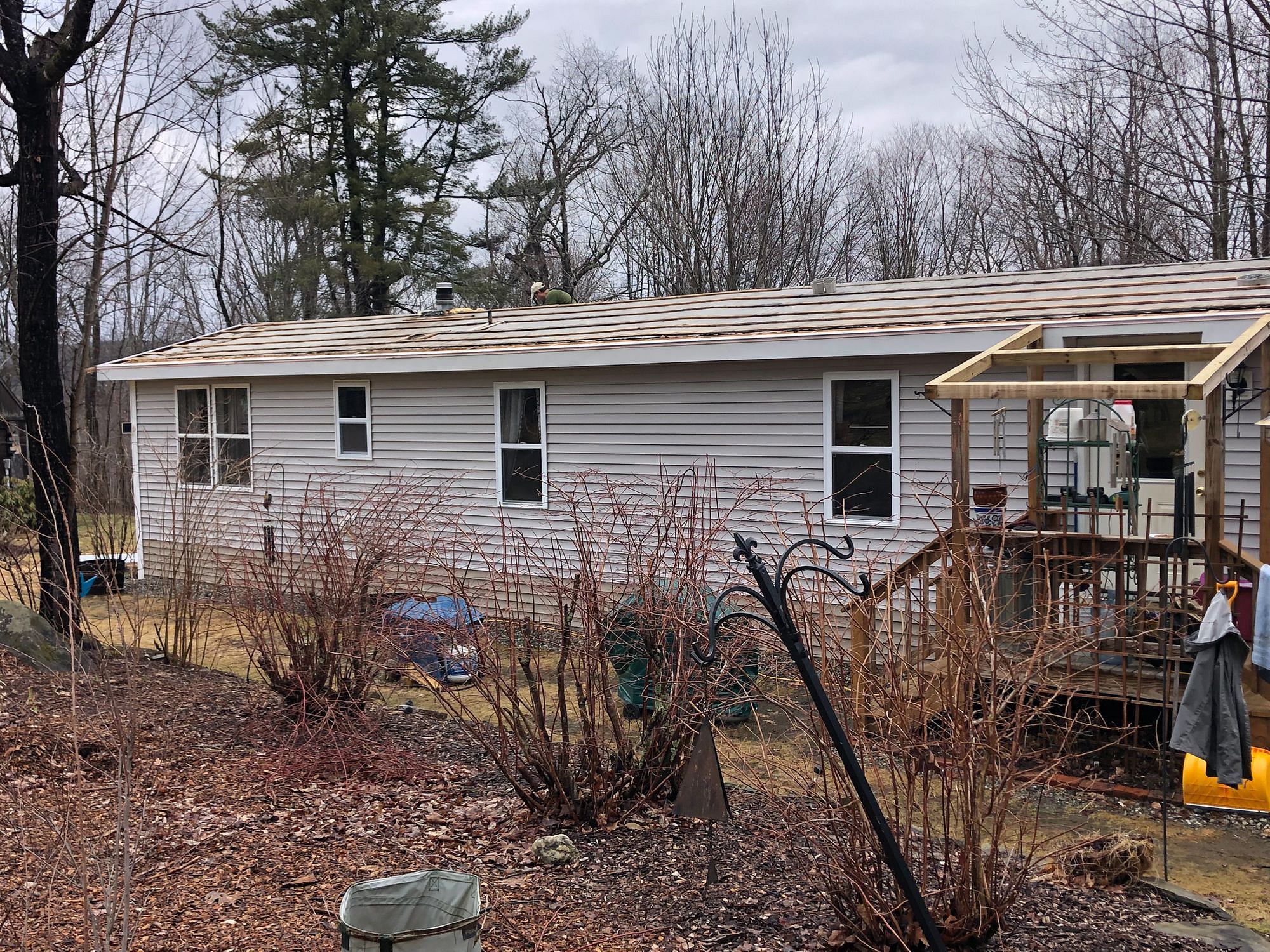 I asked the coordinating staff what would happen to the roof sheets and was told they typically take them away and recycle them on the homeowner's behalf. I asked if, with the homeowner's consent, I could take them instead - they agreed, as did the homeowner!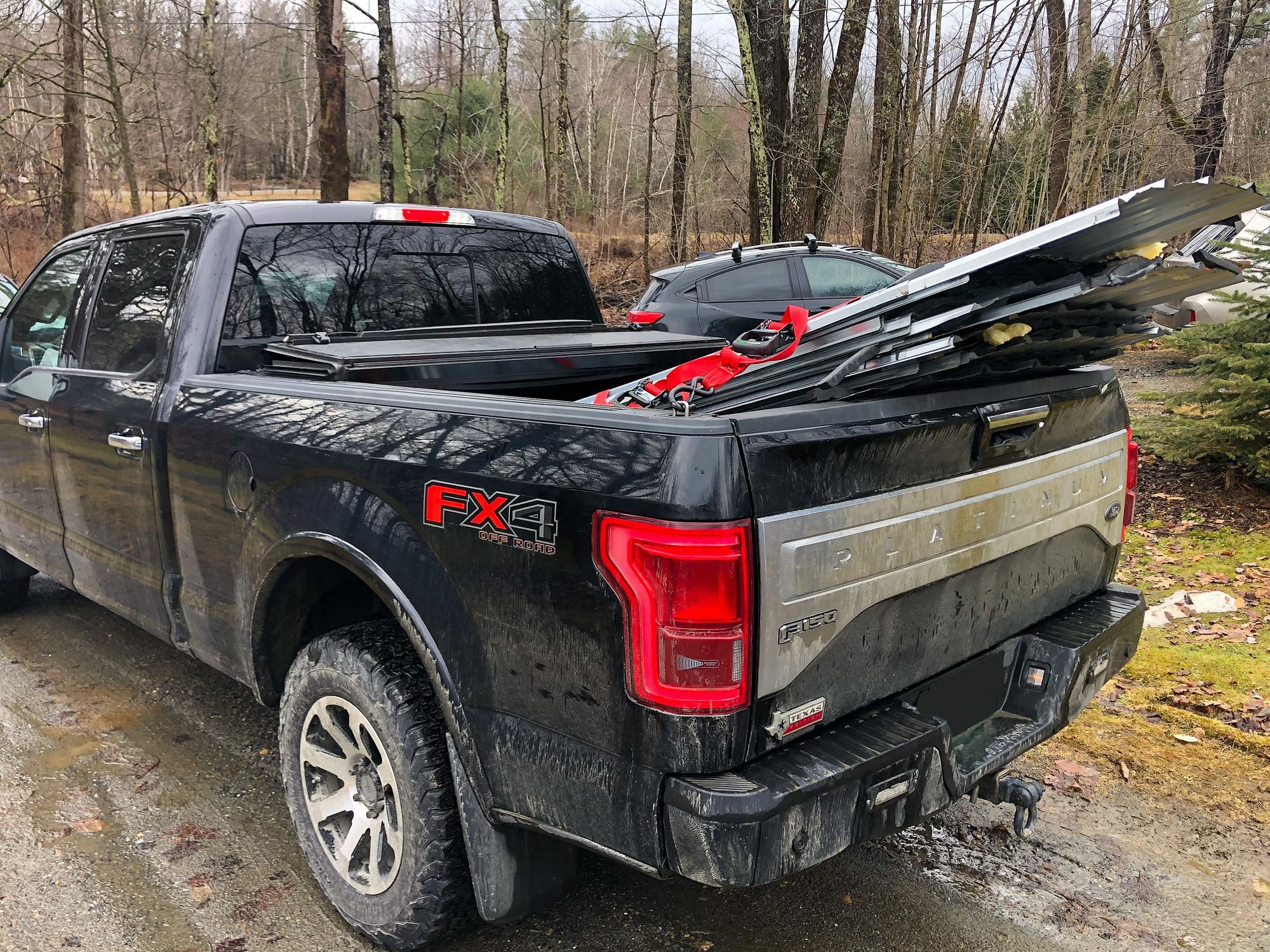 There are a whole bunch of uses we have for metal roofing sheets on our property, for instance covering our lumber and firewood piles - a few screw holes won't matter at all! The staff were honestly relieved not to have to load and then unload all the roofing sheets later, so with the help of some other volunteers, we loaded all the full-size roofing sheets into the back of my truck!
I lost count of how many roofing sheets we loaded into the truck, so it wasn't until I arrived back at home and had to unload (on my own) that I took a full inventory. We are the proud new owners of 41 metal roofing sheets, each measuring about 3½ feet by 7 feet! They're now neatly stacked awaiting future projects.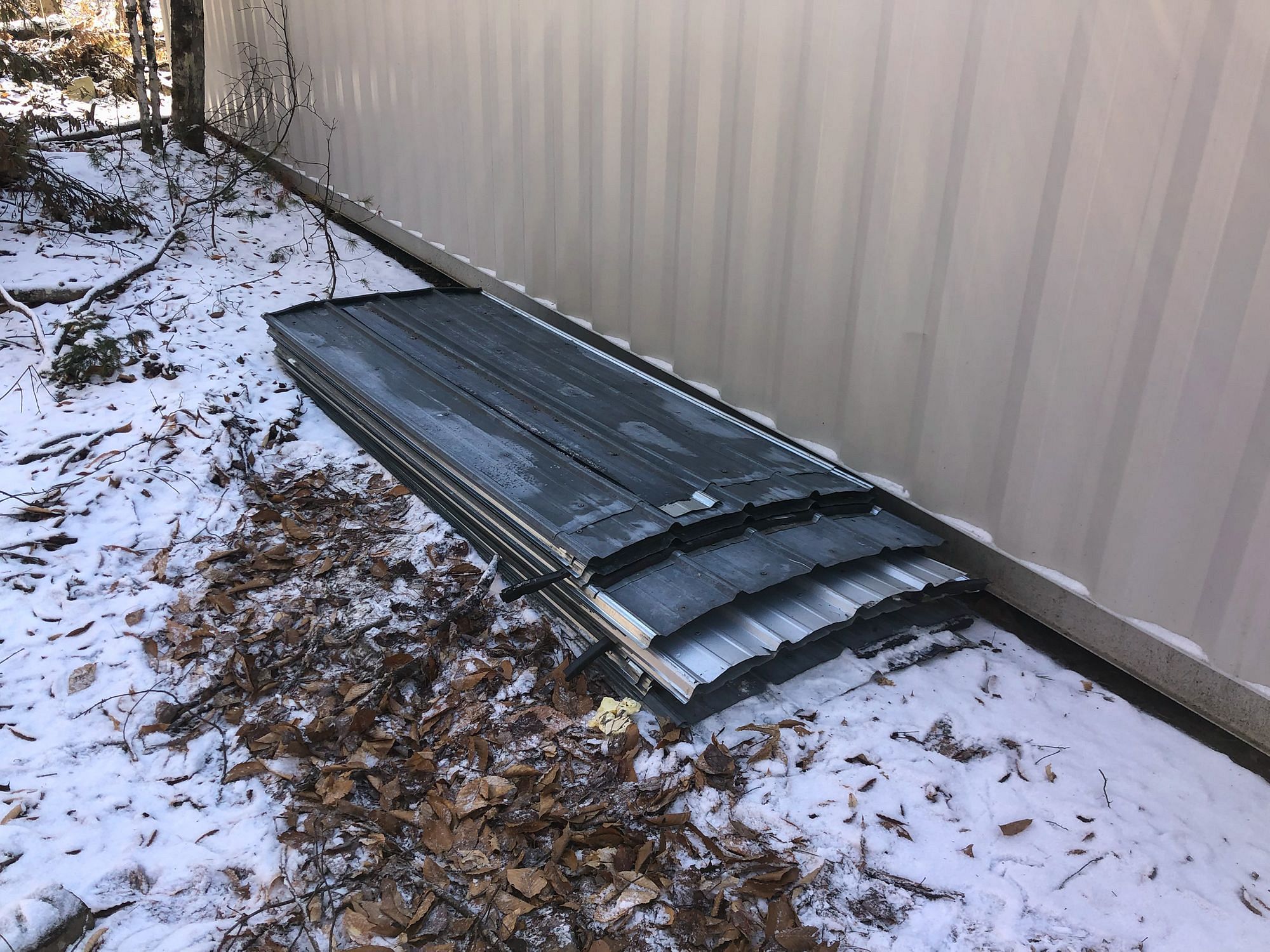 As if that wasn't enough, I brought home something else too. The homeowner had a wonderful rustic garden, including some wildly spreading raspberry plants that she was looking to re-home. She dug some canes up and potted them, insisting that volunteers took some home with them. We already planned to start growing raspberries so I was happy to oblige.
All in all, it was a great day. We successfully installed an entire new roof on the homeowner's home, met some wonderful people, saved a load of roofing sheets for a second chance at life, and brought home some raspberry plants too. We also made a donation to support COVER in their continued mission.
If you live in the vicinity of White River Junction, VT and are interested in helping out in your community, I highly recommend you check out COVER Home Repair. If roofing isn't your thing, they do other ground-based projects too - and they're always looking out for volunteers in their store. And if you're based further afield but are looking for a good cause to support, they always appreciate donations through their website.
Wright's Mill
One of the things I love about COVER is meeting new, interesting people and learning from them about the local area. I was chatting with the coordinator about lumber and he mentioned a local sawmill that was worth checking out.
The mill, called Wright's Mill, is based a couple of miles south of White River Junction, VT and all they do is produce rough-sawn hemlock boards. In this area, hemlock is a good option for a wood where some level of rot-resistance is required - it's not in the same league as cedar or redwood, but is more readily available.
At the end of the day, after the build, I gave a ride back to White River Junction to another of the volunteers - a great guy I met at the last project and has been following our journey ever since (no names, but you know who you are!). We were both intrigued by this sawmill (which doesn't show up at all on Google Maps) so we decided to take a detour and see if we could find it.
We knew roughly where it was, and sure enough we soon saw some big lumber piles at the side of the road. We stopped and chatted with the owner, learning all about their operation in the process.
They're open to the public and sell everything from 4/4 and 8/4 boards all the way through to custom-cut beams, and with prices starting from just $1.25 per board-foot for green rough-sawn 4/4 hemlock boards it's good value, especially in today's market!
Directions: Wright's Mill is located about 1-mile south of I-89 on US-5, just south of Lansing Building Products. They're open Monday-Friday 9-5pm and Saturday 8-12.
Since my truck bed was already full of metal roofing sheets, I wasn't looking to buy any boards at the time, but made a mental note that this was a good place to come in future if we needed hemlock (we will likely mill some ourselves in future, but it's always good to have options).
As it turned out, I would be returning less than a week later....
Starting a Garden
Although our big focus this year is the building work, there are lots of little side projects we want to work on too. One of these is to start thinking about a garden.
We love eating fresh vegetables and while we're not vegan or vegetarian, our diet has become increasingly more plant-based over the last few years. We try hard to find locally-grown, quality produce - in fact, this week we collected our first share from a spring CSA (Community Supported Agriculture) program at a local organic farm.
But better than buying locally-grown produce is to grow it yourself! While we don't expect to ever grow 100% of what we eat, there are some basic staples that we would love to grow ourselves.
While Diana and I have some experience with growing fruits and vegetables from when we were younger, there's much we don't know - not least learning about what grows well in our climate and soils here in Vermont. So this year we want to begin experimenting with gardening - an extension of last year's tomato growing experiment.
We want to keep things simple, so our plans are modest. There are lots of challenges for us to learn about and overcome, such as:
Protecting our plants from the local fauna - particularly the deer
Dealing with the acidic soil on our property (especially from the pine and spruce areas)
How much watering our plants need (water is a scarce resource for us at the moment)
We've decided to experiment with some raised beds, and in particular start learning more about Hügelkultur, a permaculture technique that uses decaying wood products (e.g. logs, stumps, etc) as the base of mounds or raised beds.
There are as many ways to build raised beds as there are to build houses and, flat sunny space is in short supply on our property at the moment so whatever we build will be temporary. We're going to start by trying to build a raised bed out of simple spruce logs - we won't even bother removing the bark. We'll fill them with a mixture of woody material and a soil-compost mix and give it a go.
Meanwhile, I'm going to build a 2x3 ft elevated planter to put near the RV that we can use to grow herbs so they're on close hand for cooking. It'll be easily movable (with the tractor) so we can relocate it in future.
I mocked up a simple design on the computer, and needed some rot-resistant 1x4 boards. We don't have any 1x4 boards milled yet, and the spruce and pine we've been milling isn't very rot resistant. But wait...Wright's Mill! Yesterday we stopped by Wright's Mill and picked up seven 1x4 boards for just $23 that I can use for the planter build. That's today's project....
Tree Felling Update
The tree felling has continued this week, and things are really taking shape. This week we've felled 22 trees (112 total so far) and added another 9 cubic yards to our mulch mountain which now totals 39 cubic yards (minus the amount we traded for local eggs last week), or a little over 1,000 cubic feet!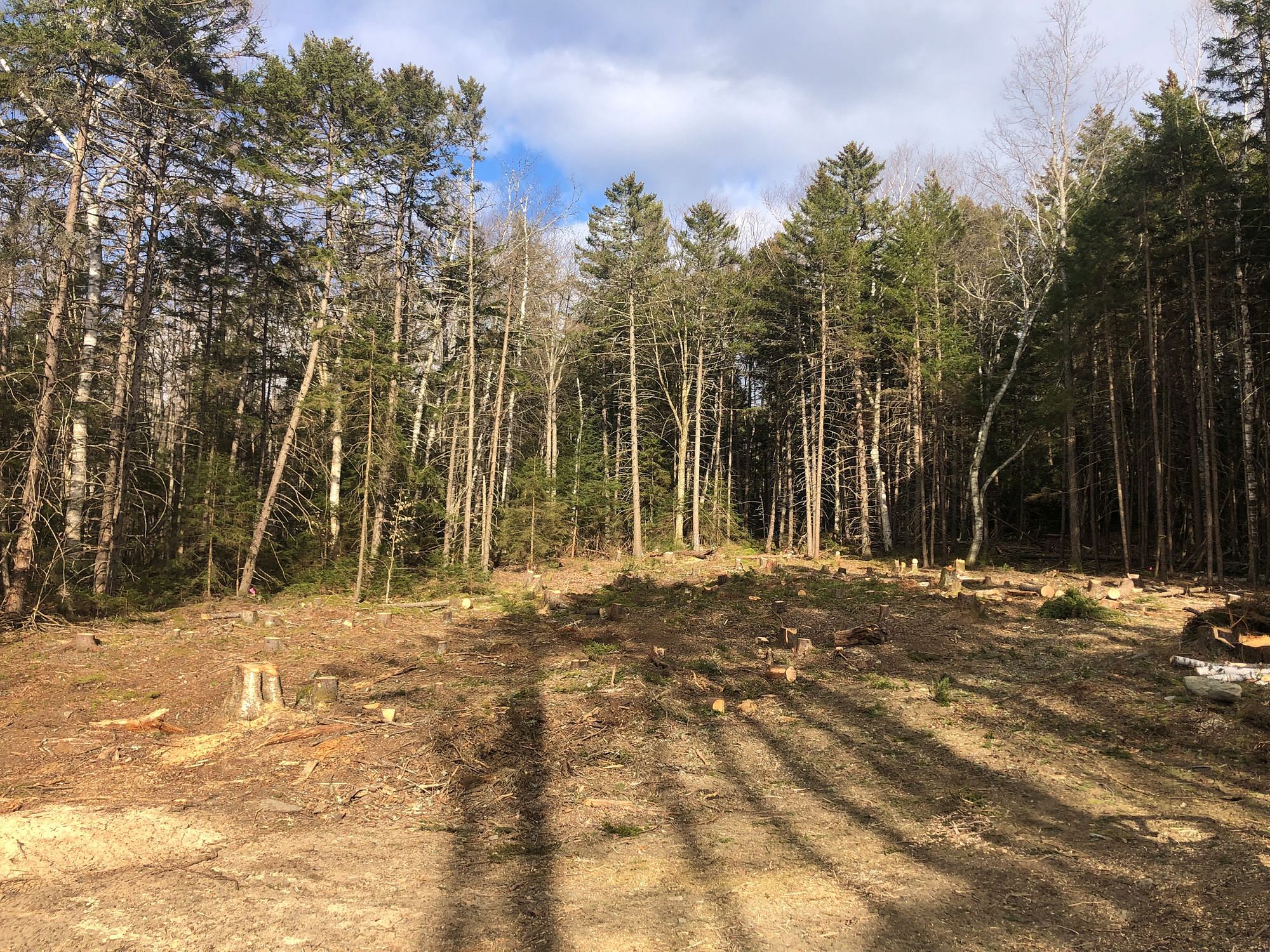 Progress was a little slower this week, but we had some trickier situations to deal with. We had a couple of large spruce and pine trees that had a lot of foliage and chipping those took quite a while (hence why our tree-to-woodchip ratio is high).
We also had to deal with a couple of heavy leaners including a fairly large spruce leaning the wrong way - worse yet, the trunk was partially rotten. Fortunately with some persuasive wedge-hammering we brought it down safely.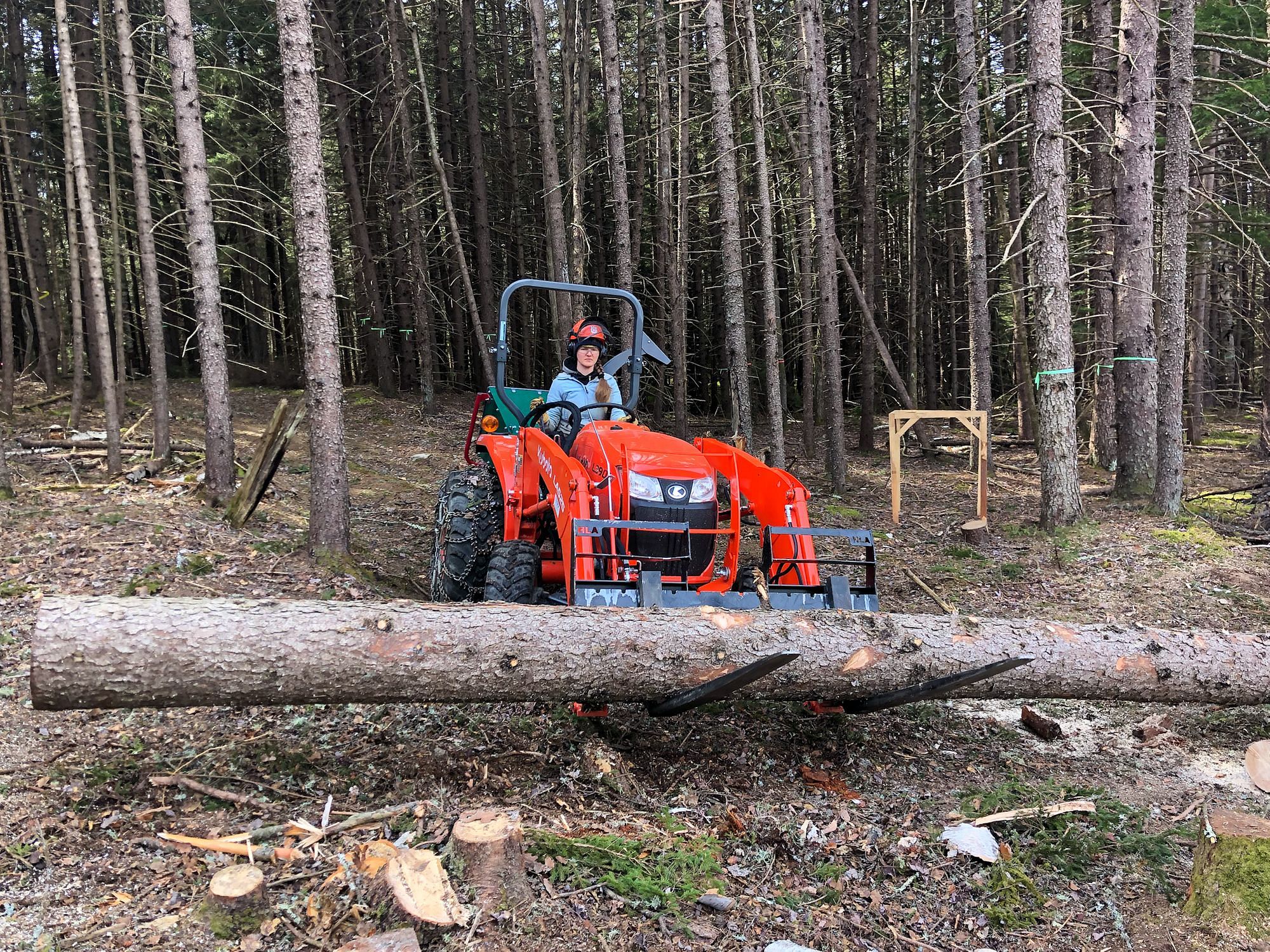 This week we brought down our first cherry tree - a tall, beautiful tree with a nice long straight section at the base. Unfortunately its branches snagged within the crown of a neighboring spruce as it fell so we had to use the tractor with some straps and chains to bring it down safely.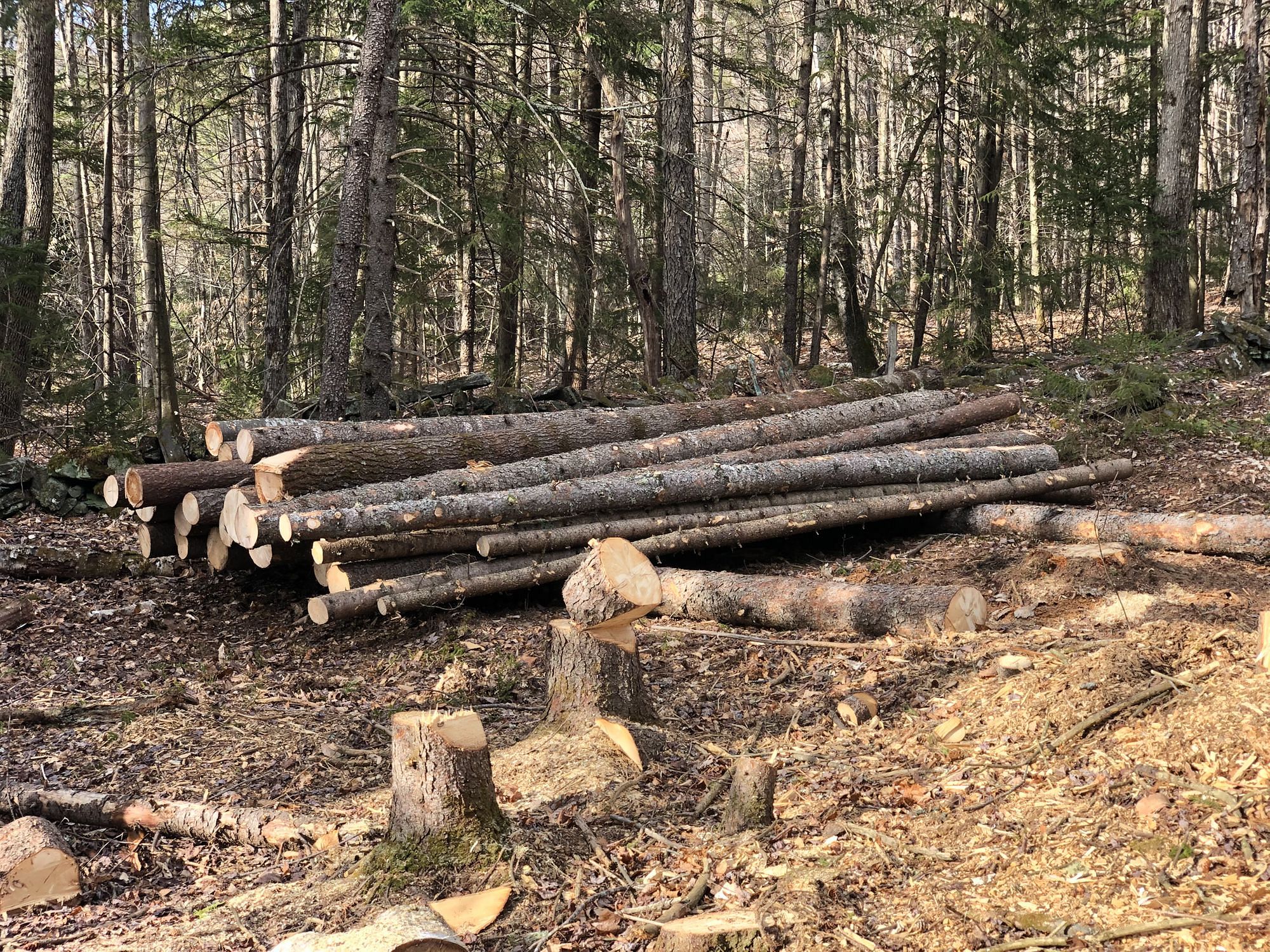 However, the upshot of the clearing this week is that we've now completely cleared the footprint of the utility building, as well as a good chunk of the driveway alongside it (an extension of what we have already).

Yesterday and today are rainy days so no more forestry work this week, but next week we hope to clear the entire house site so we can then move our focus to the septic system.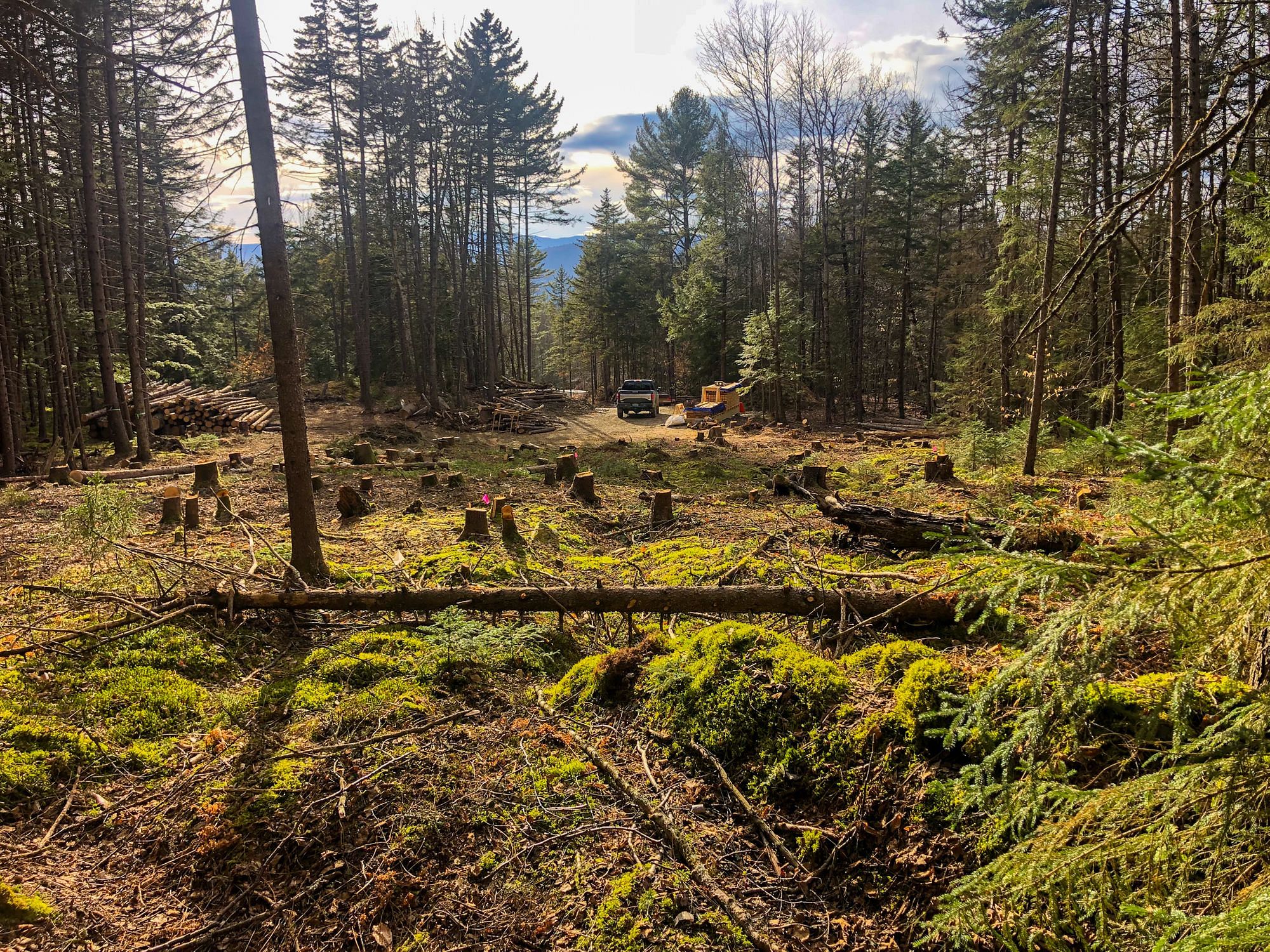 Maple Syrup
The cold temperatures in late March really inhibited our maple sap production, but despite that we still managed to collect enough to make our first ever homemade maple syrup.
But last week the temperatures warmed up and the sap started flowing. By Sunday we had collected another couple of gallons - enough to fire up the campfire and start evaporating. After boiling off most of the liquid outside, we moved it inside to finish and ended up with another 4oz or so of maple syrup.
The sap has continued to run this week and we will probably do another boiling this weekend. It might be our last of the season since it won't be long until the trees start budding and that negatively impacts the flavor of the sap.
This time of year is a great time to walk the property and find trails that are otherwise overgrown and invisible. We took a stroll up through the property last weekend to see what we could find...and made a few discoveries!
The first was this absolutely MASSIVE birch tree. It's hidden way at the back of our property, and while we had first seen it in winter just before we left last year, I had forgotten just how huge it really is.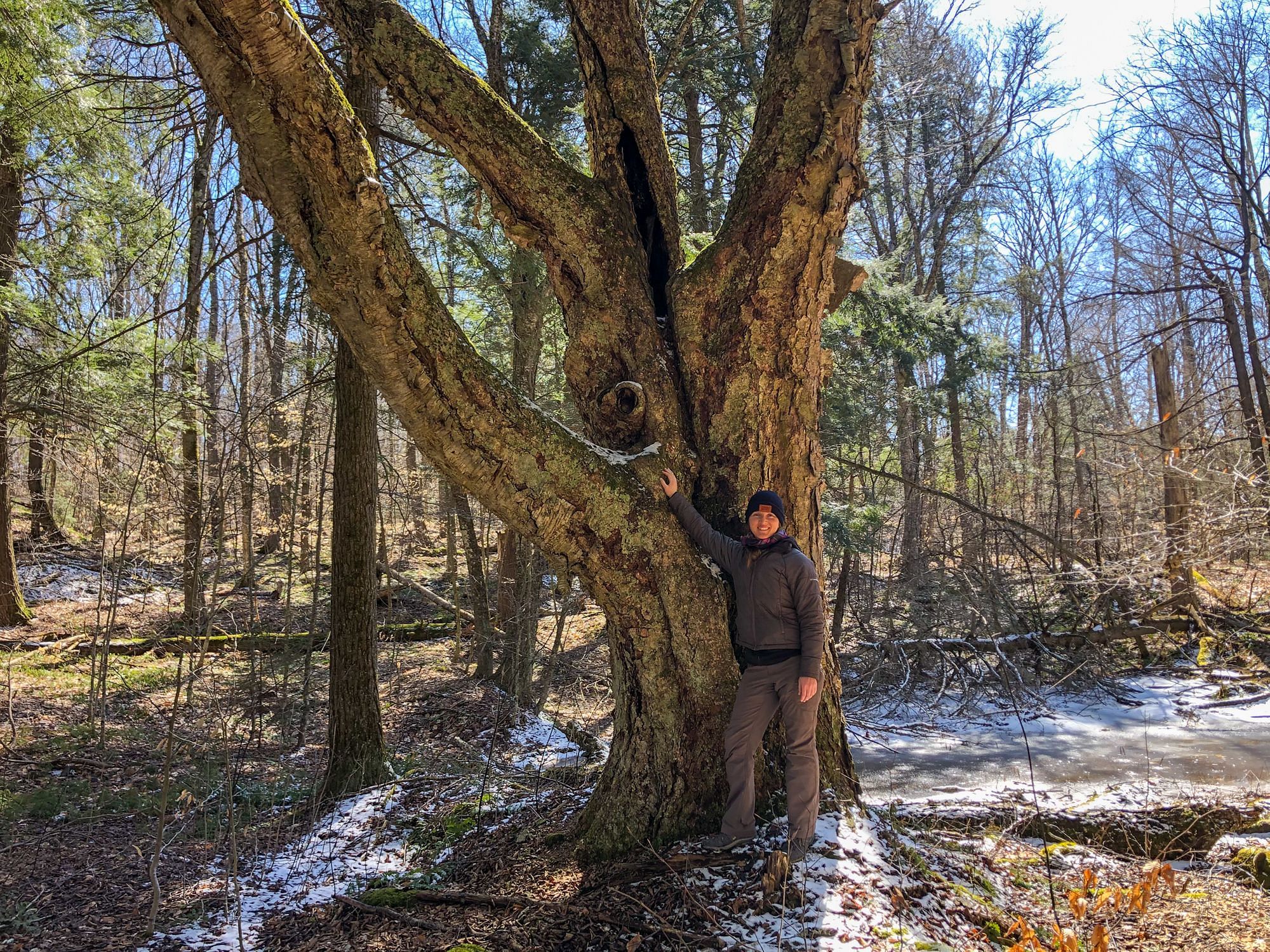 The second was the ruins of an old sugar shack - the name given to a building where maples syrup is made! We knew from old forestry documents that it existed, but we had never been able to find it. But on our hike we had seen what looked like it could have been an old trail. We followed it and stumbled upon the sugar shack!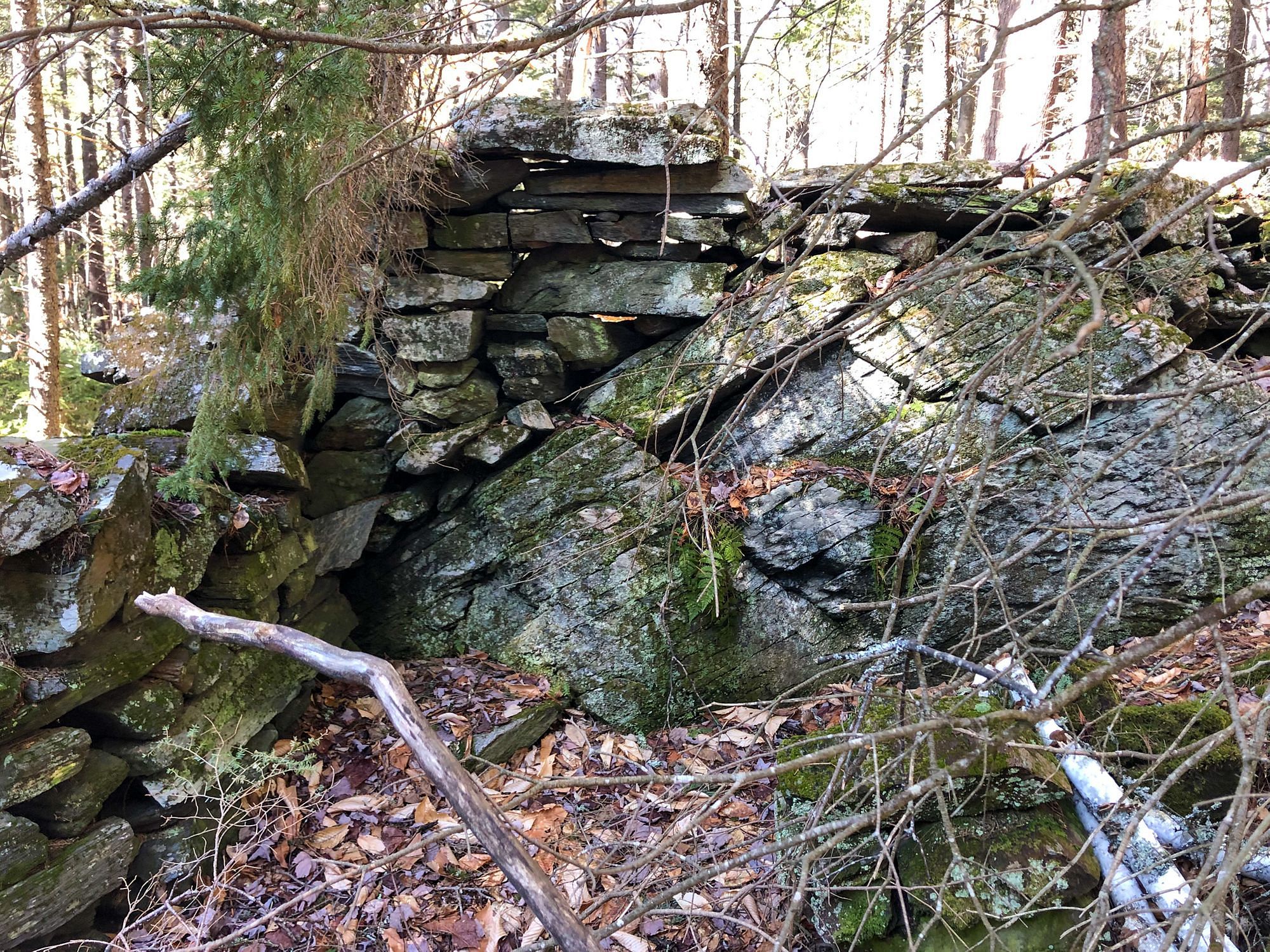 There's not much to the building - just the remains of some crumbling stone walls - but the rusty old evaporating pans are still there inside. We left it untouched for now but recorded the location so we can return to it in future and see what relics we can uncover.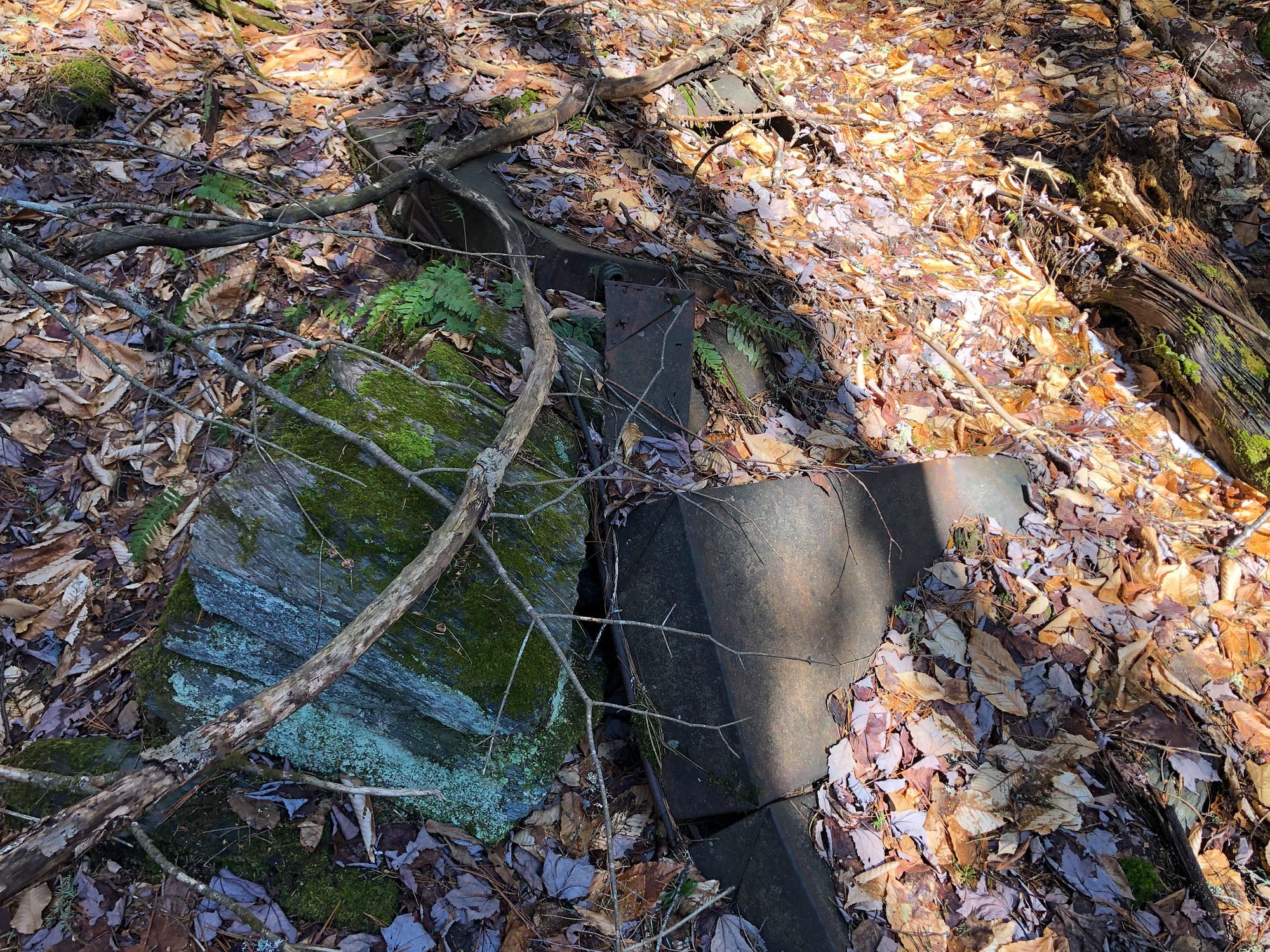 For now though, it's time for me to head up to the shipping container (aka my temporary workshop) and start work on the herb planter. And if the rain clears for long enough this weekend, we will try to get the raised beds built too. As always, lots to do!