As an Amazon Associate we earn from qualifying purchases.
We're no strangers to off-roading with our Ford F-150, and over the years have collected a number of accessories and done several modifications to the truck to improve its off-road credentials.
Several years ago I added a Smittybilt receiver hitch D-ring and shackle to the back of the truck that I often keep installed when we're not towing. It acts as a useful attachment point for a tow strap or chain in case we need to help out a stranded vehicle or need recovery ourselves.
A couple of weeks ago the truck rolled over 100,000 miles, which I'm using as an excuse for a few more upgrades - not least since we're now officially Vermonters and I want to make sure the truck is well set up for the local road conditions, particularly in winter.
My latest such upgrade is to replace the OEM front tow hooks with Rough Country D-rings and shackles.
Ford OEM Tow Hooks
My truck is a 2016 Ford F-150 Platinum, and as the name might suggest, it has a fair number of chrome trim and accent pieces around the bodywork, including chrome front tow hooks.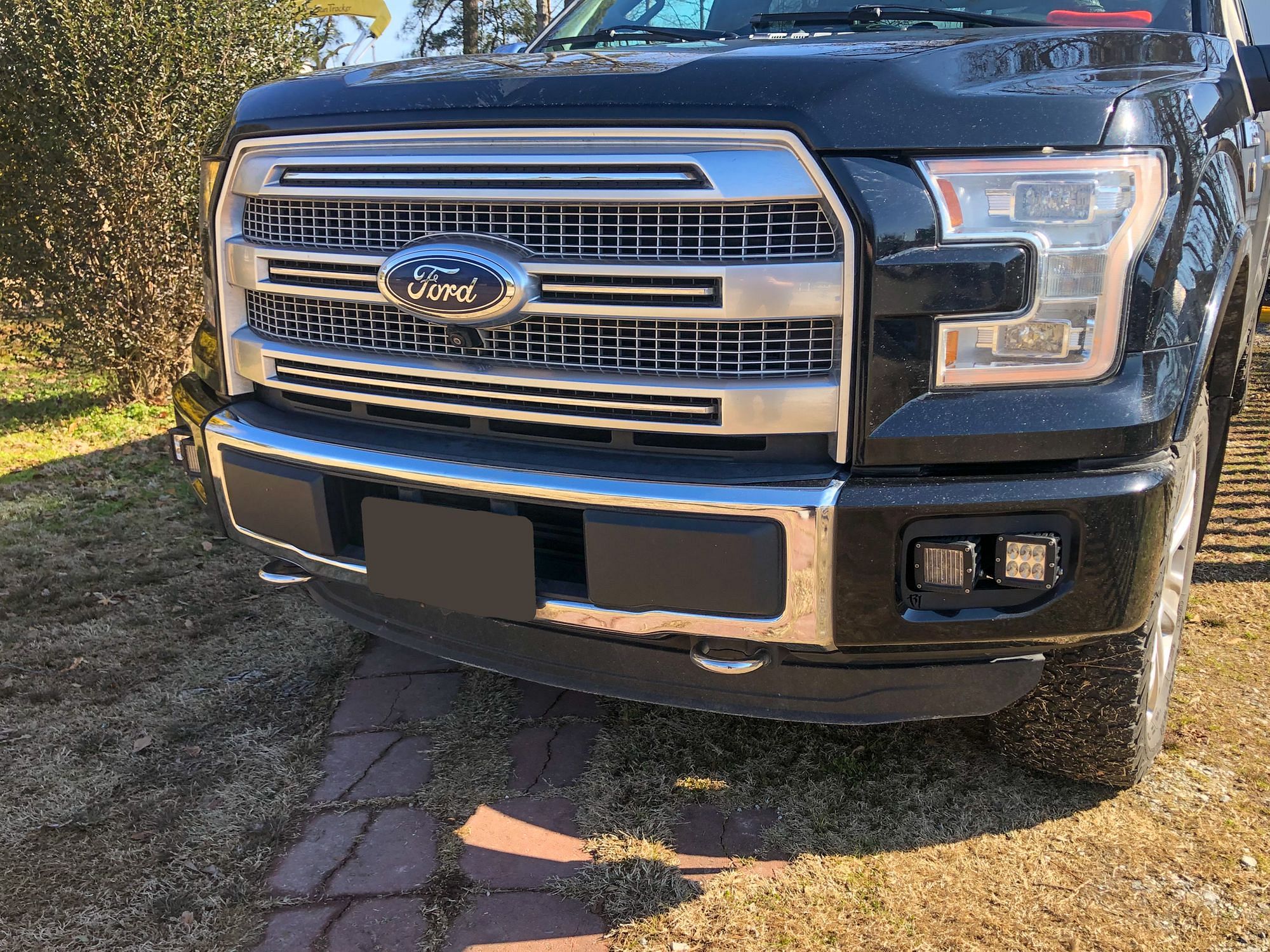 Honestly, I think they look pretty good, but there were two reasons I wanted to upgrade them.
Corrosion
Vermont is infamous for using some incredibly harsh chemicals on its roads that will wreak havoc with any unprotected metal surfaces. Many Vermonters elect to have the underside of their vehicles sprayed with a protective coating to help minimize the corrosive effects of the road chemicals.
While the chrome itself doesn't corrode, it only takes a small chip or crack in the chrome plating to expose the steel underneath - and that will rust...fast!
Not only are the tow hooks mounted low down at the front of the truck where they're particularly susceptible to impact, especially off-roading, but the chrome plating can be easily damaged when attaching a metal tow hook.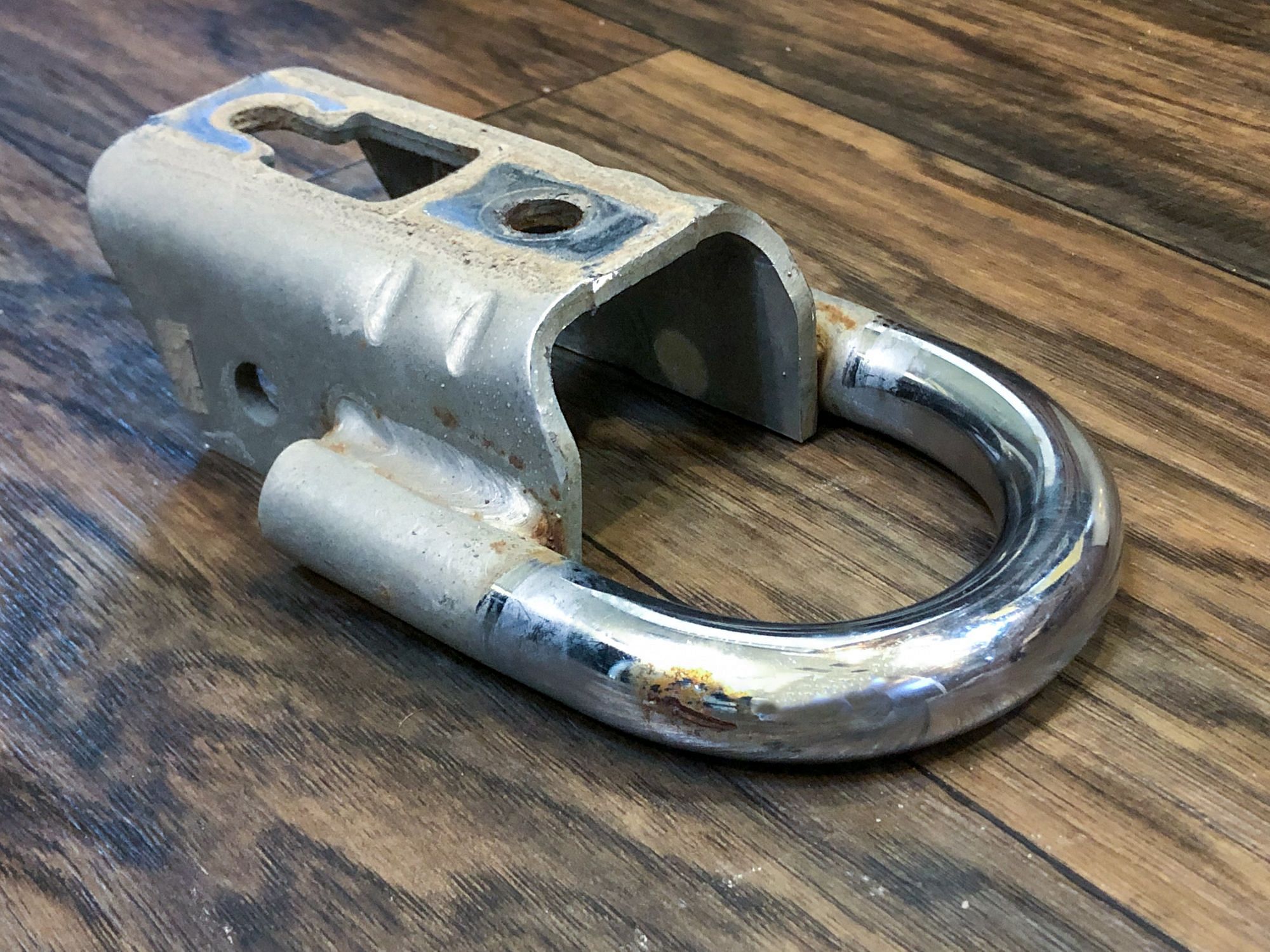 And that's exactly what happened to mine - the chrome hooks have some chips in which are beginning to rust. Honestly, it's more aesthetic than functional, but it doesn't look great!
While shackles are also liable to corrosion if the protective paint coating becomes damaged, that can usually be addressed with some touch up paint, and they're cheap enough to replace if not.
Convenience
The chrome tow hooks are fixed - they don't move or open. This means that to attach to the hooks you either need to hook onto it or loop something through it.
This is totally achievable, and it's exactly we've done each time we've had to use the tow hooks - like when we had to help our realtor recover his truck that was stuck in a snow bank!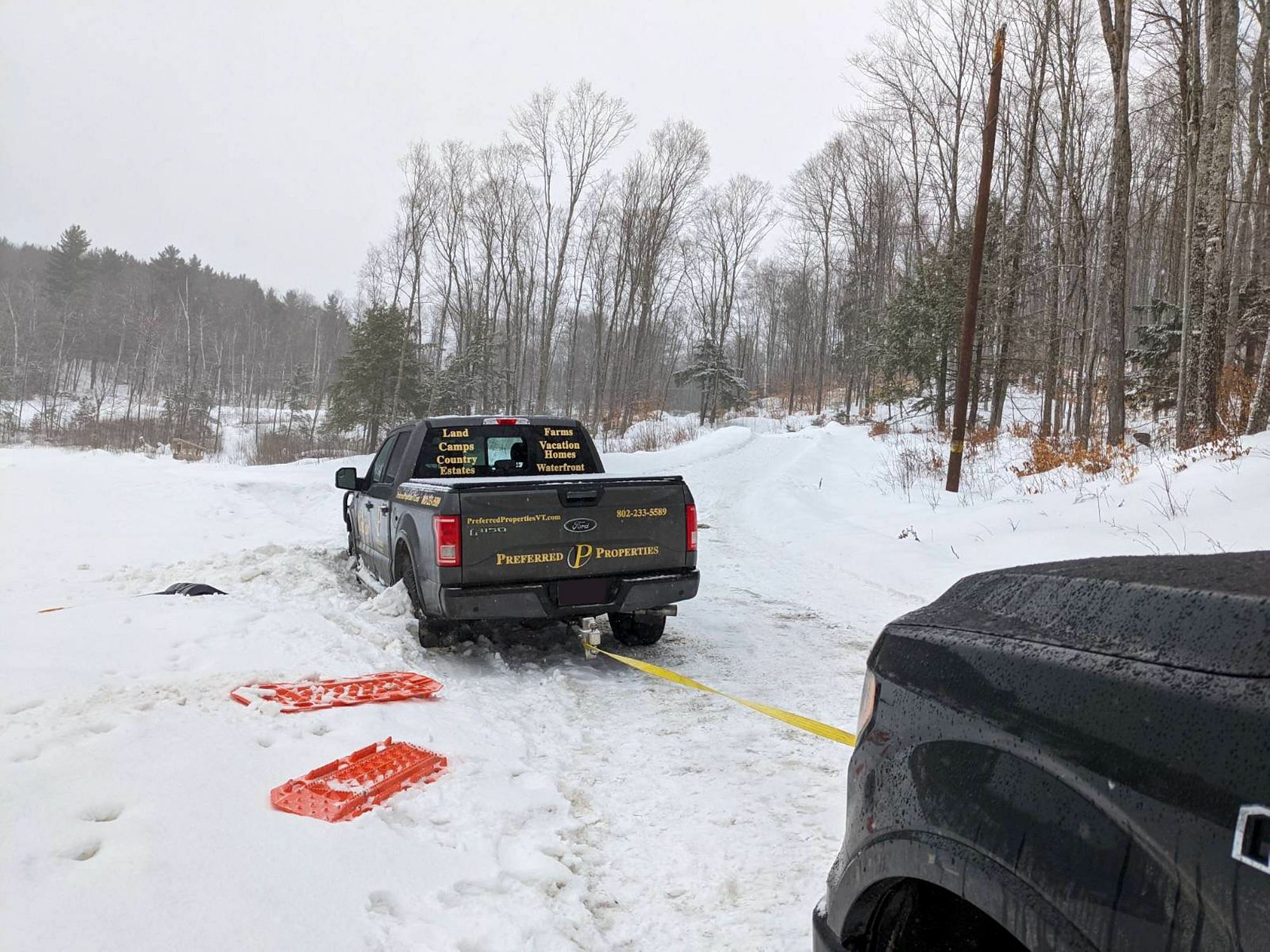 But personally, I find shackles so much more convenient. I can loosen the pin, loop a strap or hook through, and reinsert the pin.
Rough Country Tow Hook Shackle Mount Kit
After researching various options online, I chose to go with the Rough Country Tow Hook Shackle Mount Kit, specially designed for a 2009-2020 4x4 F-150.
The kit includes two shackle mounts and two D-rings, each with a protective plastic shield and two rubber washers to stop things rattling - a nice touch compared to the D-ring on the back of the truck! Everything is powder coated in black and looks really good.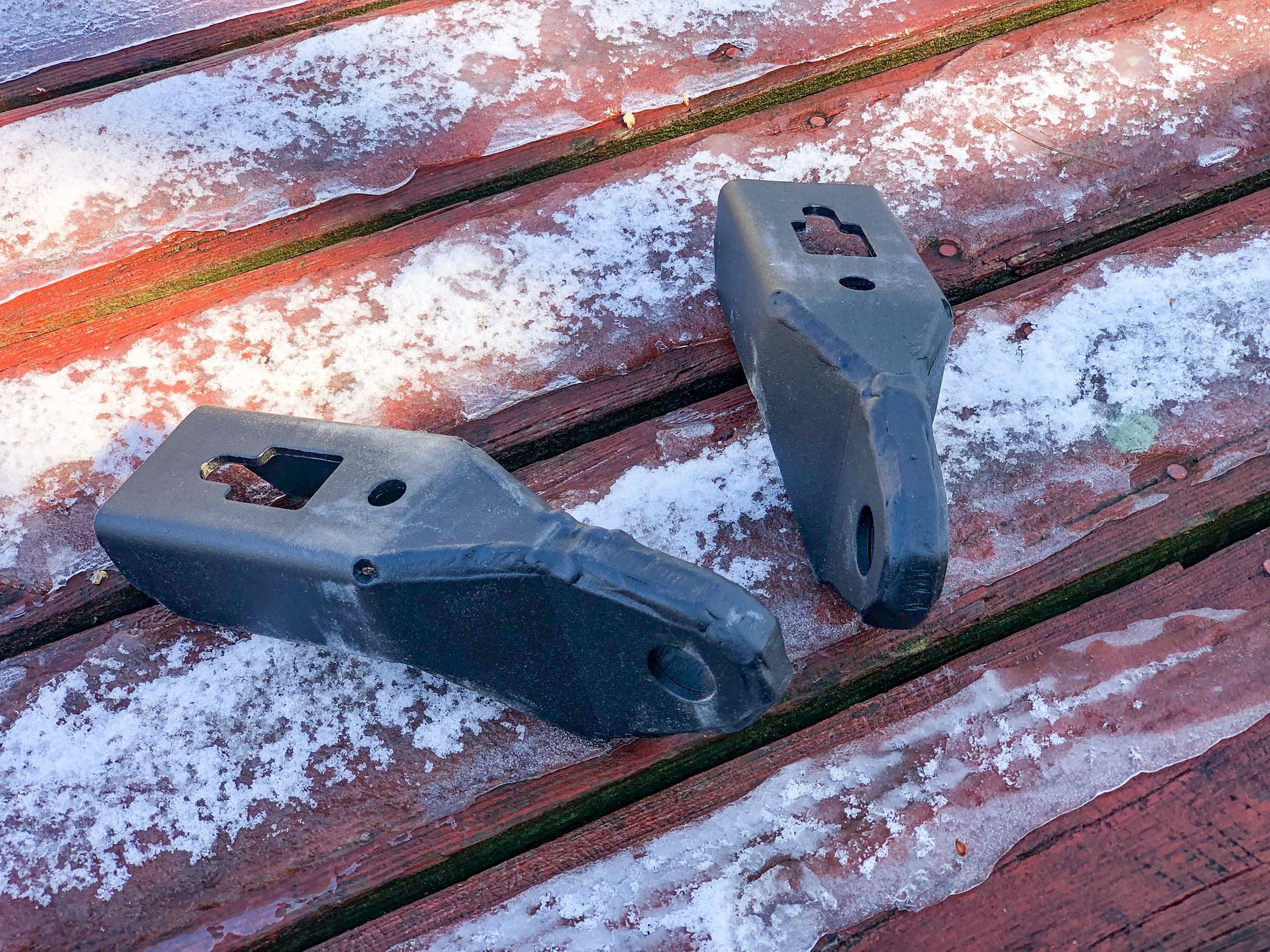 What's not included is any hardware since, at least on 4x4 trucks, you can reuse the existing bolts from the OEM tow hooks.
I ordered the kit online from Amazon and it turned up a few days later.
Installation
Installing the kit is fairly simple with only basic tools, and there's no need to remove the front bumper, air dam or any other components. But, there is a trick to it!
Tools
The OEM hooks are installed using 15mm bolts so you'll need a 15mm socket for these - you may also need a longer 15mm socket or socket extension to easier access to the front bolt.
You'll also want a strong set of pliers, or locking pliers like I used, and a flat head screwdriver to un-clip the plastic shroud.
Process
The actual process to install the new hooks is relatively straightforward, and once I worked out what needed doing, it only took me about 15 minutes to get both installed.
However, the hardest part by far is removing the OEM plastic shroud around the OEM hooks. I messed around for about 20 minutes trying to work out how to remove it before giving up and searching on YouTube for the solution.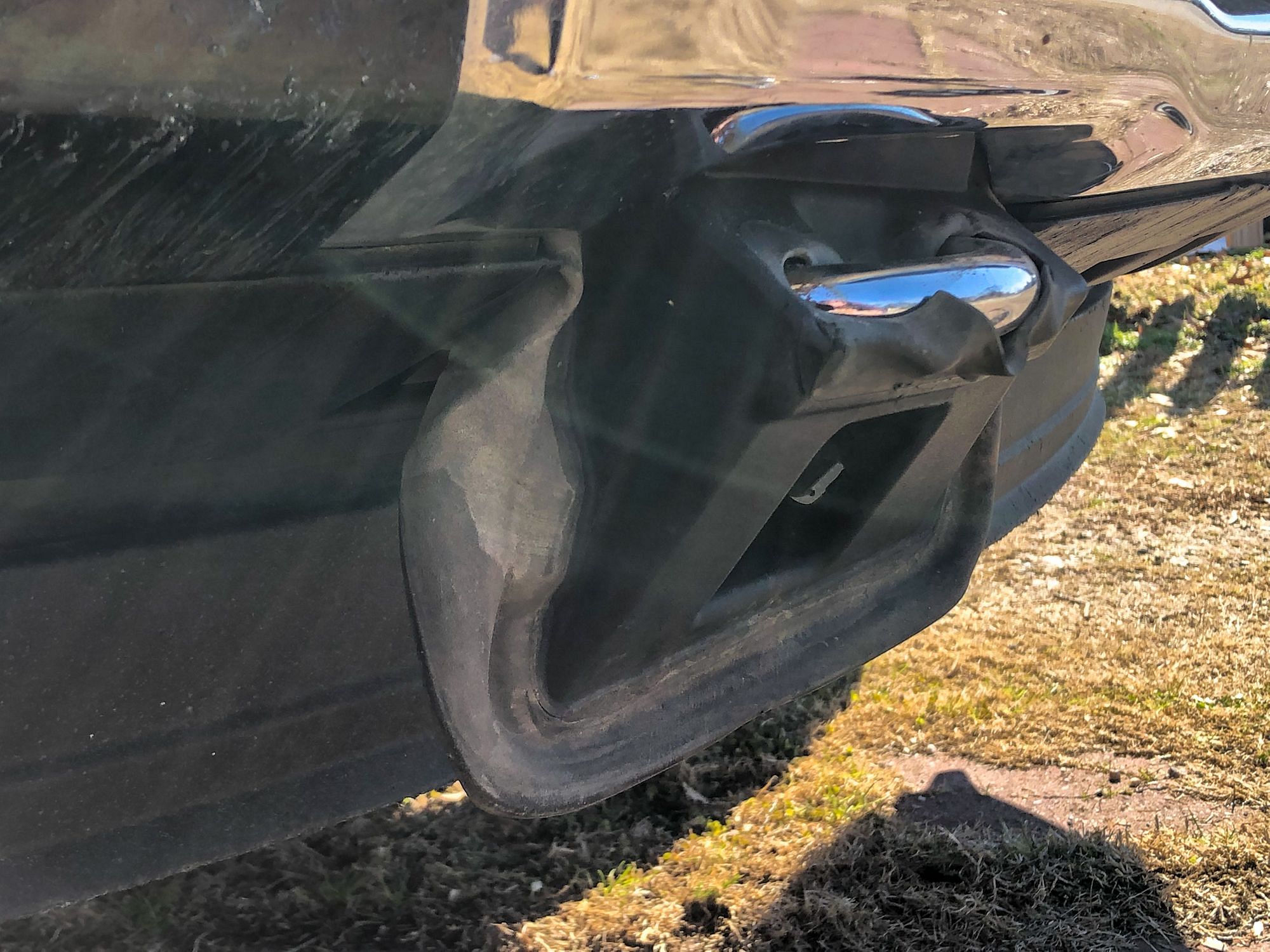 So, to save you the time and frustration, I highly recommend watching this video by Andrew Does Life:
The video above and the instructions provided with the kit do a good job of explaining the installation in detail, but in general the process on each side is:
Unclip and forcibly remove the OEM plastic shroud
Loosen the rear bolt about 1/4"
Remove the front bolt entirely
Remove the OEM tow hook
Position the new tow hook and tighten both bolts to secure it in place
Install the shackles and rubber washers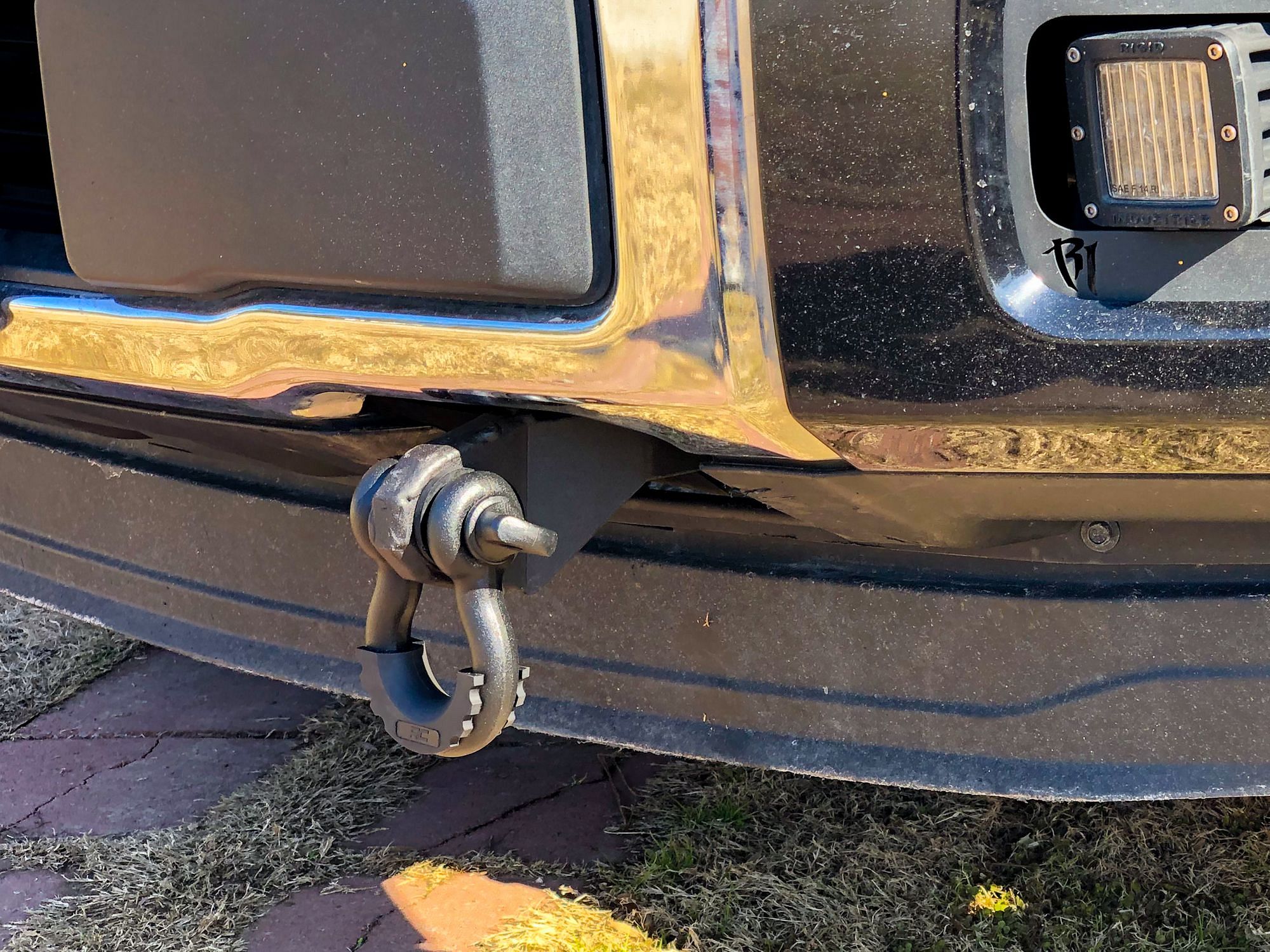 Summary
I'm really happy with the end result. The rubber washers do a good job of preventing the D-rings from rattling around, and in fact they provide enough resistance to hold the D-rings firmly in one place.
Top tip: Put a screwdriver through the hole in the end of the pin to help tighten it and ensure it doesn't come loose. Keep an eye on it for tightness periodically as well, especially for the first few drives after installing it as everything settles.
This was a quick and easy modification and I would highly recommend checking out the Rough Country Tow Hook Shackle Mount Kit if you want to upgrade the tow hooks on your F-150.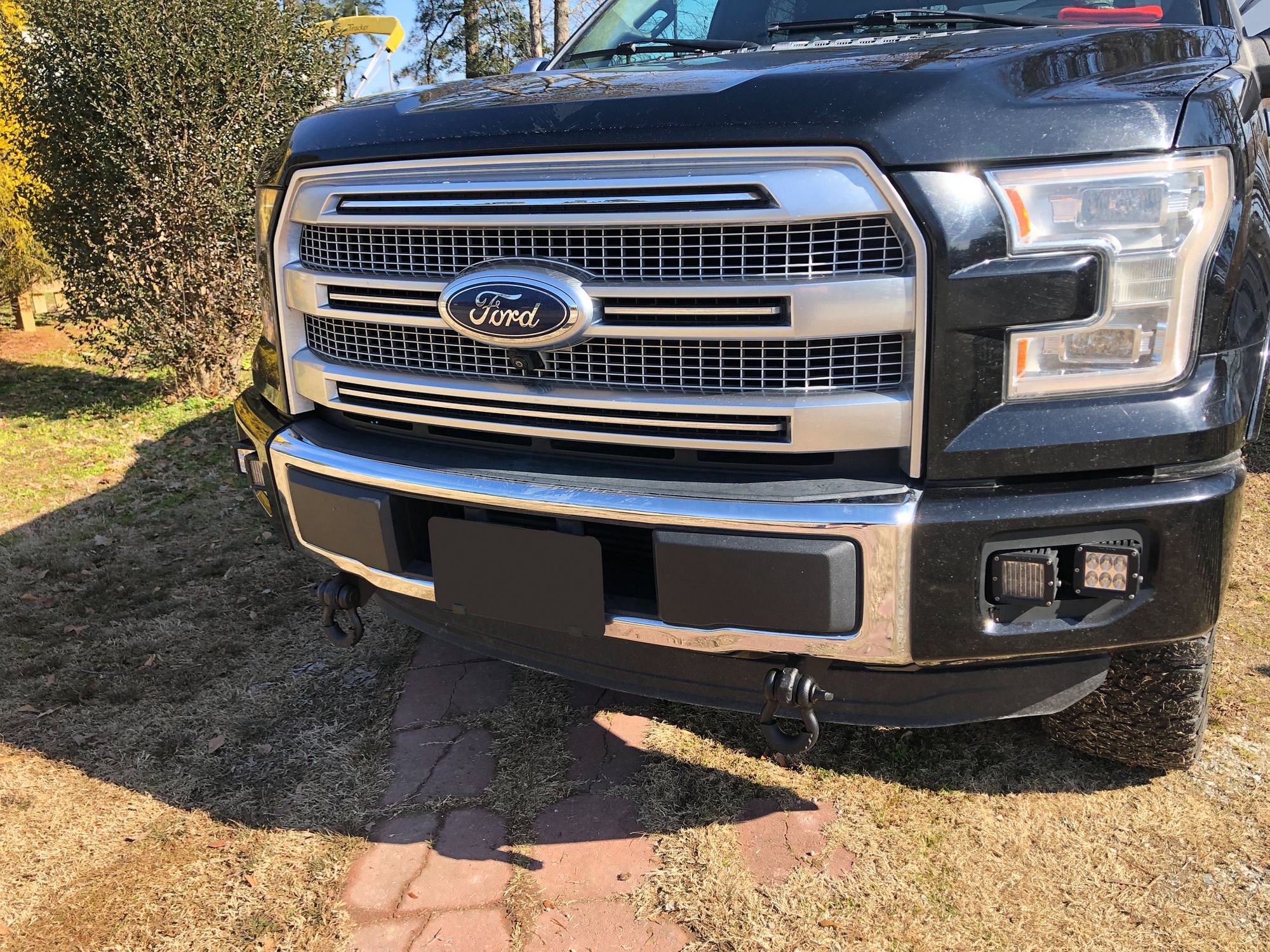 Personally, I think the new tow hooks look great, but they also deliver more functionality. I have no doubt we'll end up using these to drag things around our property, as well as aid in vehicle recovery!