Introduction
Before we started our full-time RV journey in July 2018, we had spent almost 2 years researching which RV to buy. We had never owned an RV before so we rented several to learn more about what worked for us.
One thing we quickly settled on is that we wanted a well-built RV. There are a lot of cheaper RVs, especially in the travel trailer world, that are designed for weekend warriors and just aren't built for full-time living.
Eventually, we landed upon Outdoors RV. Sturdy, 4-season construction, large holding tanks and high clearance were just a few of the features that drew us in, and touring their factory sealed the deal.
The only thing we didn't love was the decor, but we're more "function over form" kind of people, so we rolled with it (pun intended!). However, after 2 years of full-time living in the RV, we decided enough was enough - time for a big remodel!
That was 6 months ago, so we thought this would be a great opportunity to take you through how things have been since. Have things held up to full-time use as we moved from Idaho in the summer with temperatures over 100°F to Vermont this winter with temperatures as low as 3°F? Has the paint peeled? What do we think of our custom-built ergonomic workspace?
Video
If video is more your thing, then check out our video over on YouTube to see us walk through the RV and see what worked and what didn't:
Bathroom
Our RV has a dry bathroom (as opposed to at wet-bath in some smaller RVs) and while it's been the perfect size for us, we wanted to brighten it up a bit.
To do this, we painted the walls with Confident White paint from Home Depot, covering up the brown wallpaper underneath. Around the sink, we installed a peel-and-stick backsplash and a new faucet.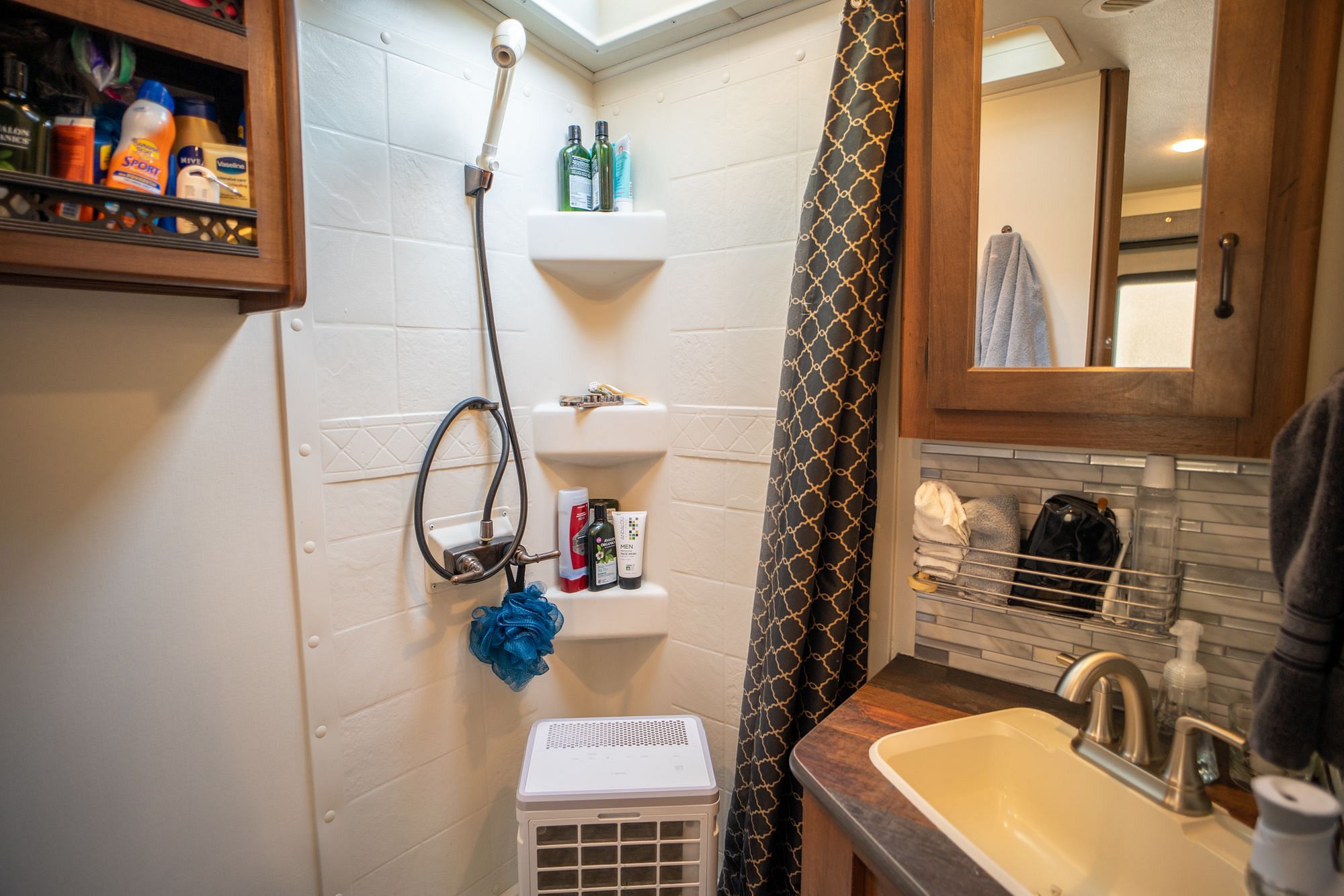 If we were going to have problems with paint peeling, it'd likely be in the bathroom with regular daily swings in humidity and temperature from showering. We have had no issues whatsoever. The paint doesn't seem to mind splashing water from the shower, and any fears that our peel-and-stick would turn into peel-and-stick-and-peel were unfounded - it's been perfect!
If I could find fault anywhere, it would be that it's a bit too sticky! We weren't able to get hold of the peel-and-stick edge trim when we did the remodel (I think supply chain problems due to COVID), so we just caulked the edge instead. Even so, it's still a dust magnet so if we did it again, I'd definitely try and install that edge trim.
The new faucet has also been a significant upgrade from the old one - the taller stance much more usable than the lower faucet we used to have, not to mention the vastly improved aesthetics and build-quality.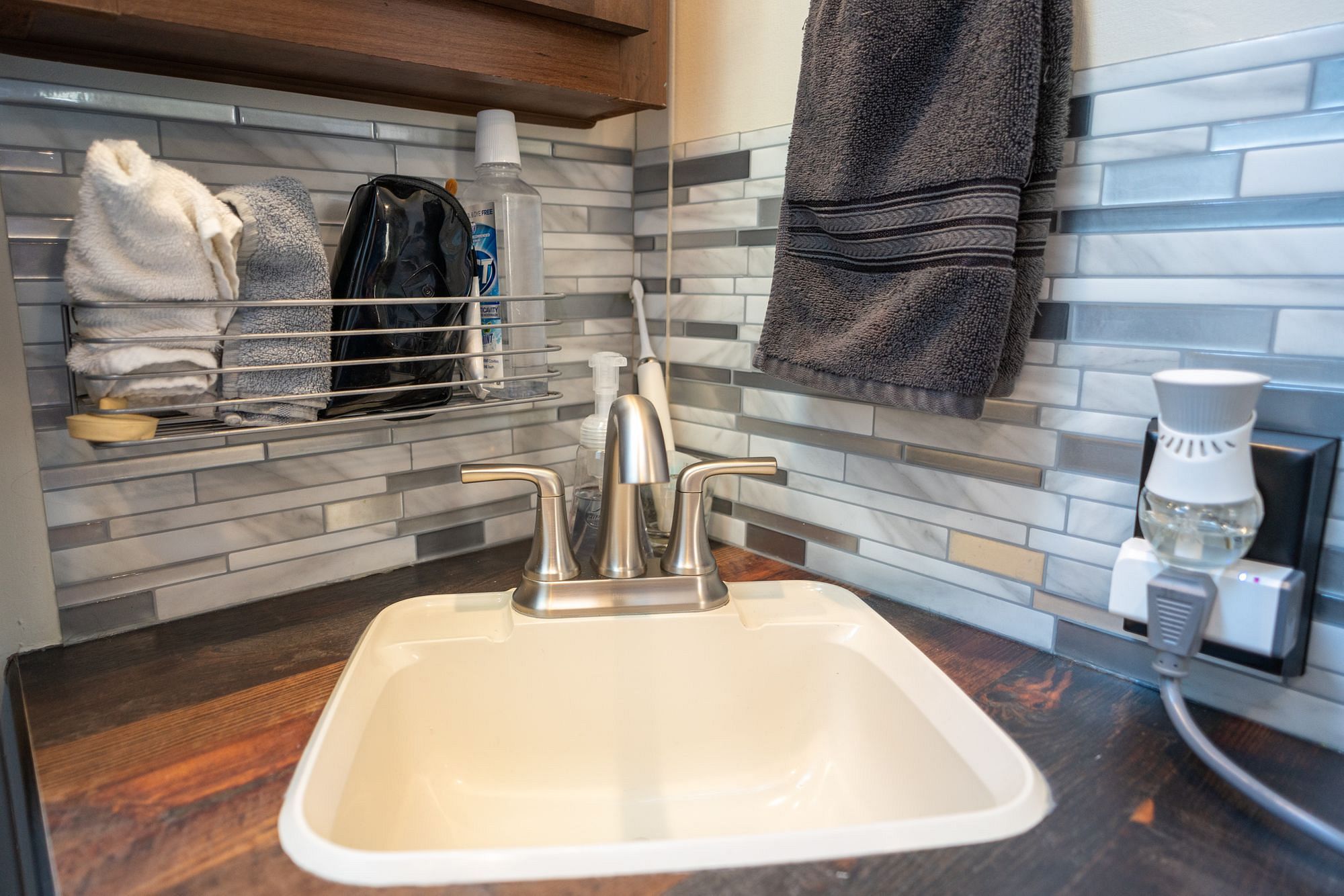 Overall, things have worked out great in here! Especially with the short winter days we have now, and a skylight all-too-often covered in snow, we really appreciate the white walls which make it seem much bigger and brighter.
Office
Upgrading the office space in our RV was one of the primary drivers for doing the remodel. We both work full-time from the RV and while we appreciated the giant dinette that the RV came with, the bench seats were less ideal.
To solve this, I custom-designed and built an ergonomic workspace to go in our slide - the first time I've ever attempted something like this! It has integrated storage, power outlets and cable management, as well as a giant desk-top and space for ergonomic office chairs.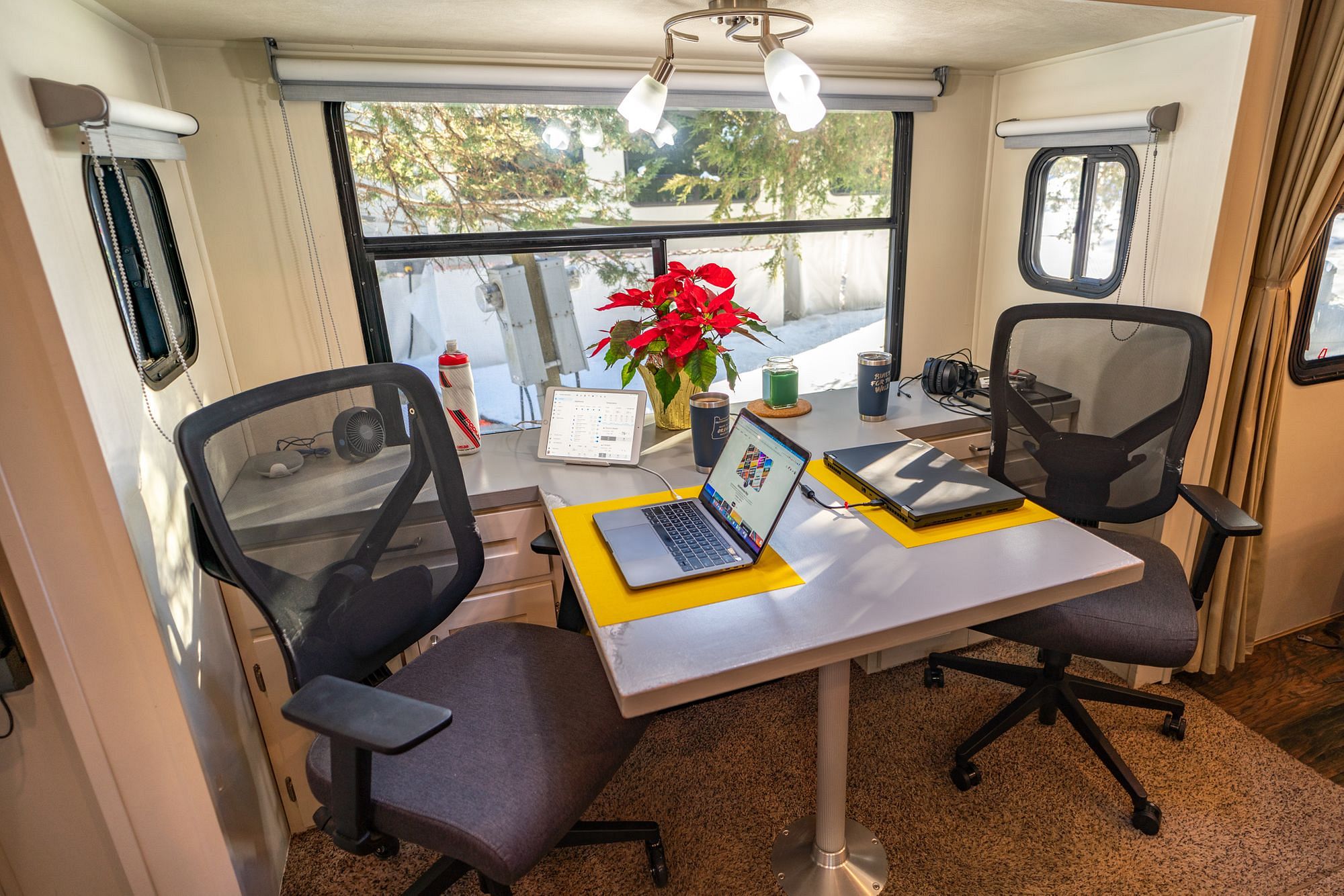 This desk has been a game-changer for us. I used to work from the bed because I found the bench seats too uncomfortable, but I'm much happier with our office chairs. The storage has been invaluable, giving us overflow pantry space for dry food this summer during prolonged quarantine periods.
We've only really had two issues. The first is the chairs - rolling up the slope at the threshold of the slide a few weeks ago, I caught one of the wheels at the wrong angle and it broke off. I've since replaced all 5 wheels with much stronger wheels, so fingers-crossed these hold up better.
The second, and larger issue, is the paint on the desk. We weren't sure how best to finish the desk top (it's plywood edged with red oak) and settled on priming and painting it. Despite following all the manufacturer instructions to the letter (we painted it and let it cure for several days in the dedicated painting booth at Cortni's shop), the paint is nowhere near as durable as we had hoped.
It's particularly noticeable at the edges where our forearms rest while we work on our laptops. It's as if the paint hasn't fully cured - it's still soft and you can peel it with a fingernail. Worse yet, the paint is even rubbing off on the chairs, leaving white stains on the arms and backs of those too.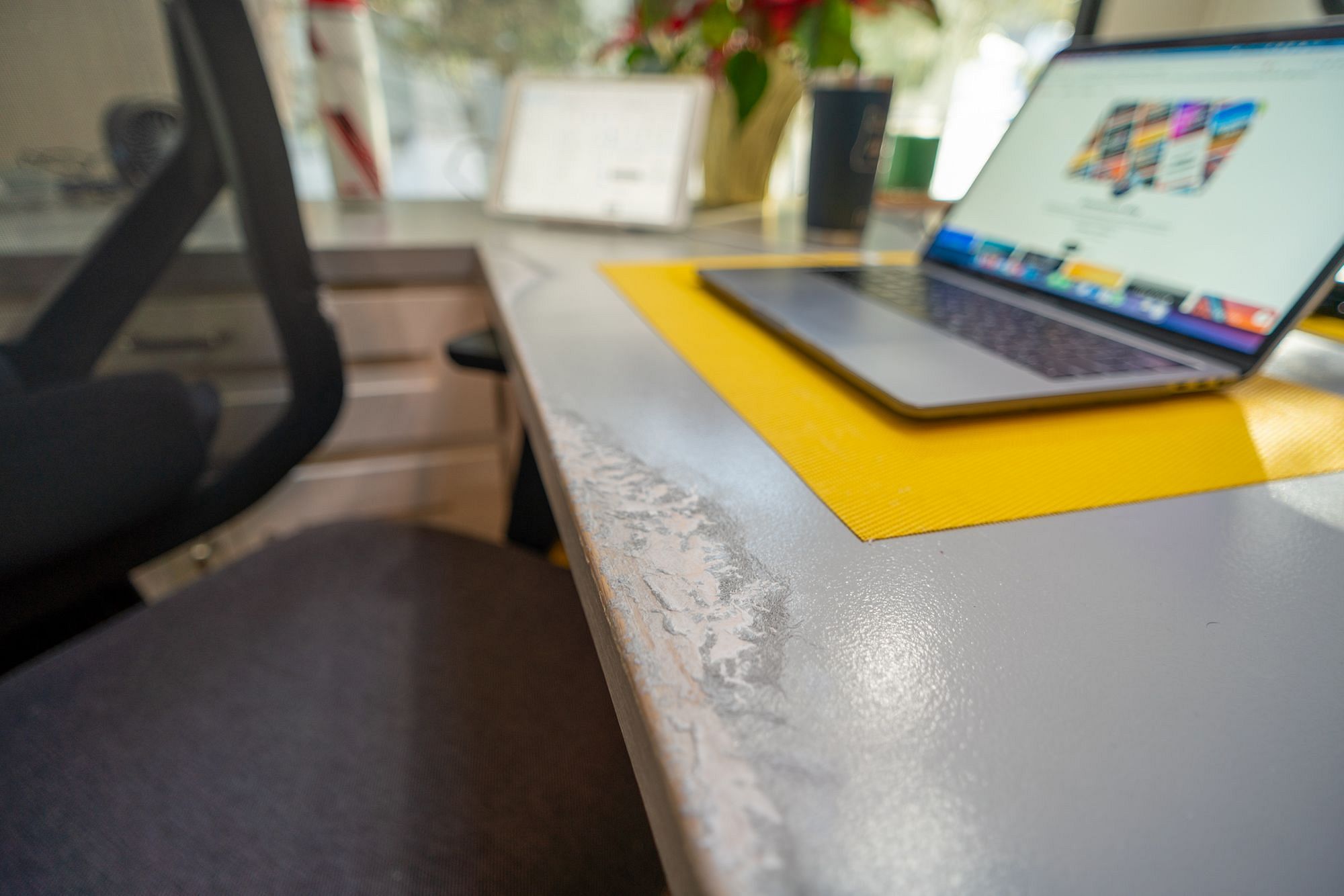 I'm not sure why this happened - quite possibly it's user error and I hadn't properly prepared the surface, but we did try to do everything correctly, or maybe there was an issue with this particular paint.
Either way, we're not impressed, but we're also not sure what to do. We don't have the tools or facilities on the road to strip it and refinish it, so for now we're just not worrying about it. Let us know in the comments if you have a good solution though - we're all ears!
Other than the desk paint and the broken chair wheel, we LOVE this new office. Along with the white-painted walls, new light fixture and new blinds (Bali roller shades), it's a much brighter area, not to mention significantly more comfortable. Having integated USB outlets has been invaluable in reducing the number of chargers and cables that were always littered around the place - although I wish we'd done more than just two USB outlets on each side!
Bedroom
The big changes in the bedroom were painting the walls and the new blinds.
We used the same Confident White paint for the walls throughout the trailer - our goal being to match the existing off-white ceiling rather than opting for a pure white which would make the ceiling look yellow in contrast.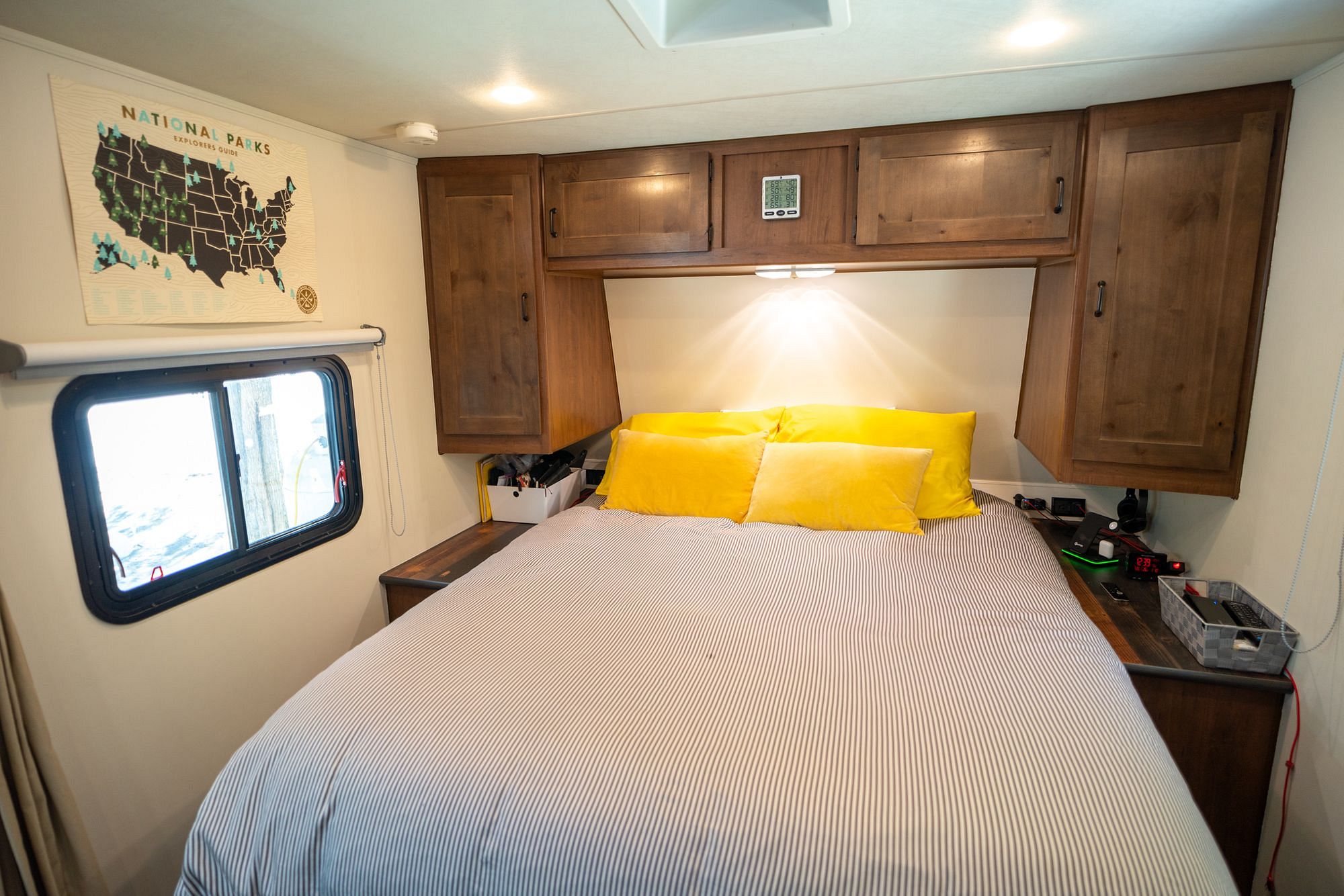 The color match was perfect, and it's an almost seamless transition between the walls and ceiling. When you're sitting on the bed looking down the trailer, it just feels so much bigger and more spacious - we love it!
And, as we said about the bathroom, nowhere have we seen any issues with the paint peeling or otherwise flaking off, even as we've camped in places where temperatures have swung from over 100°F to almost 0°F, and humidity has gone from 100% to as low as 10% at times.
I've heard some people concerned about white walls in RVs, particularly with regards to keeping them clean. Honestly, we've just not found that to be an issue. Maybe it helps that we don't have children or pets to worry about, but we just don't find our walls get very dirty! And if we do accidentally get a mark on the wall, it's easy to wipe off with a damp cloth - this is usually due to my tragic track-record of putting teabags in the trash can in the kitchen.
As for the blinds, these are residential Bali roller shades - you can buy them at Home Depot but we found them cheaper at Costco online. They're made of blackout fabric and since we ordered them oversized by about 3" on either side, they do a great job of blocking out the light - far better than our original RV blinds!
We chose not to order them with the valances which seemed unnecessarily expensive for a small piece of trim, but it does mean they look a little unfinished. If we did it again, perhaps we'd fork out the extra cash for the valences.
Kitchen
Last, but not least, the kitchen. Here we added the same backsplash as in the bathroom, again using MusselBound adhesive to provide extra adhesion. It was fiddly to put on (it took us a whole day to do just this small section!) but it seems as though it was time well-spent as we've had zero issues whatsoever with it - no peeling, lifting or anything else, even behind the stove and sink.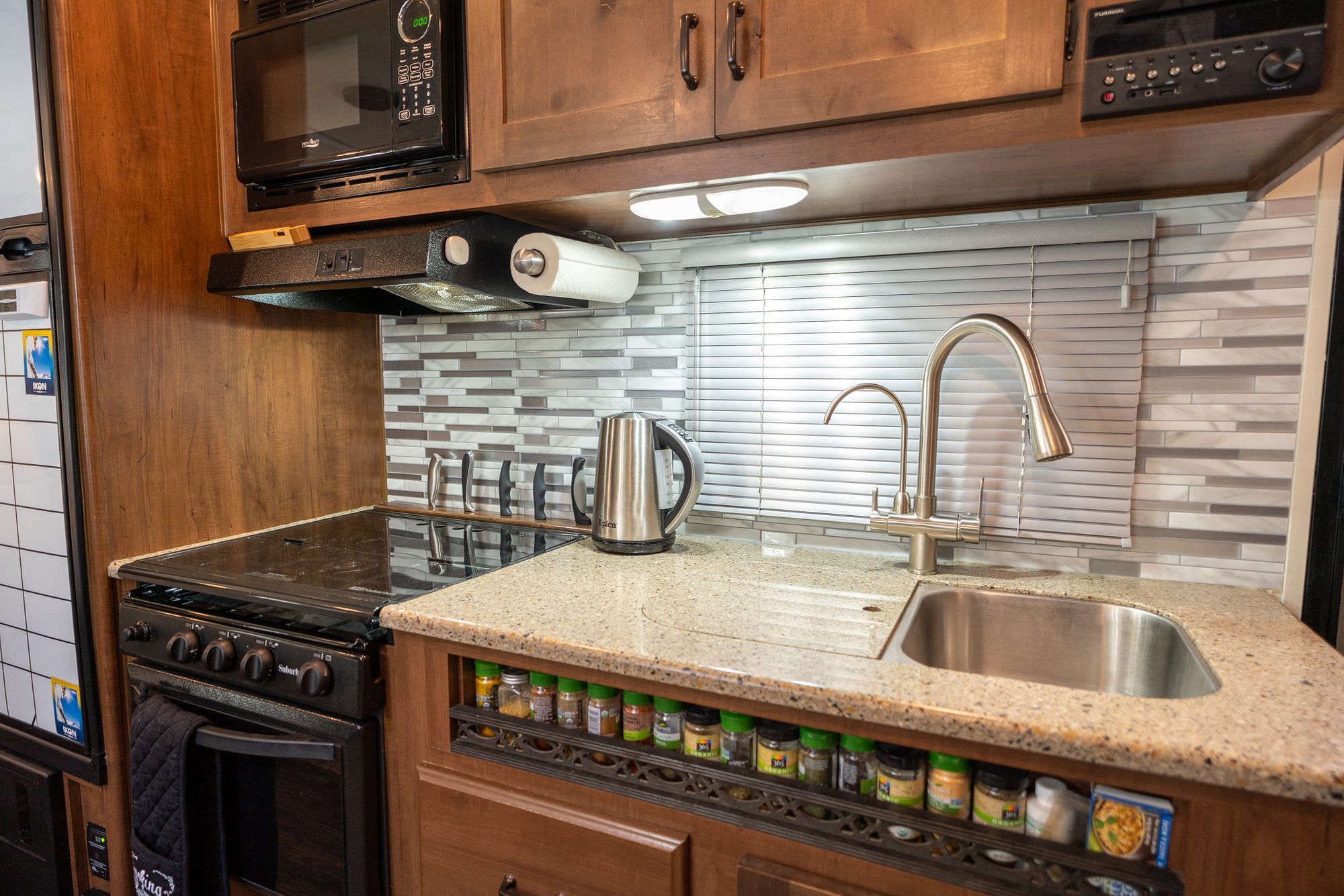 Replacing the brown walls with grey backsplash made the existing lights look really yellow, so we swapped out the stove hood bulb and pancake light for higher color temperature LEDs. These are also much brighter, and make the space look open and inviting.
Finally, the upgraded blind. We splurged on a blind from Hunter Douglas to replace our old kitchen blind. The new one is so much stronger and more durable - we can easily wipe it down without damaging it, unlike the old one! It also fits in really nicely with the new look and feel in the kitchen.
Summary
Overall, we're delighted with our the remodel turned out. Not only has it made our relatively small, 25-ft travel trailer feel so much larger inside, but more importantly to us, it's made the space even more usable. The feature-packed desk has given us loads of usable storage, and along with the ergonomic office chairs has made it a really comfortable place to work.
While there are a few things we would change if we did it again (most notably the paint finish on the desk), we're really impressed at how it's holding up. Concerns about paint not adhering to the walls, or the peel-and-stick tile peeling off seem to be unfounded, even after 6 months of traveling with huge swings in temperature and humidity.
I honestly believe this is testament to how much time and energy we put into this rebuild - not just the time spent doing the work itself, but also the time spent researching everything thoroughly.
If this has inspired you to do some updates on your RV, check out our original remodel blog post which has all the details in about how we did it and the products we used:
Better yet, head on over to YouTube and see the complete remodel video series: