As an Amazon Associate we earn from qualifying purchases.
If you're planning on camping in your RV in cold weather, there are lots of things you need to think about. We've recently been preparing our RV so that we can stay warm and comfortable while we're living in it this winter.
One of the most important things you can do is to install RV skirting.
What is RV skirting?
Skirting your RV means filling the gap between the bottom of your RV and the ground. Without this, cold air will blow underneath your RV, potentially freezing your pipes and increasing your heating bills as your RV loses heat underneath.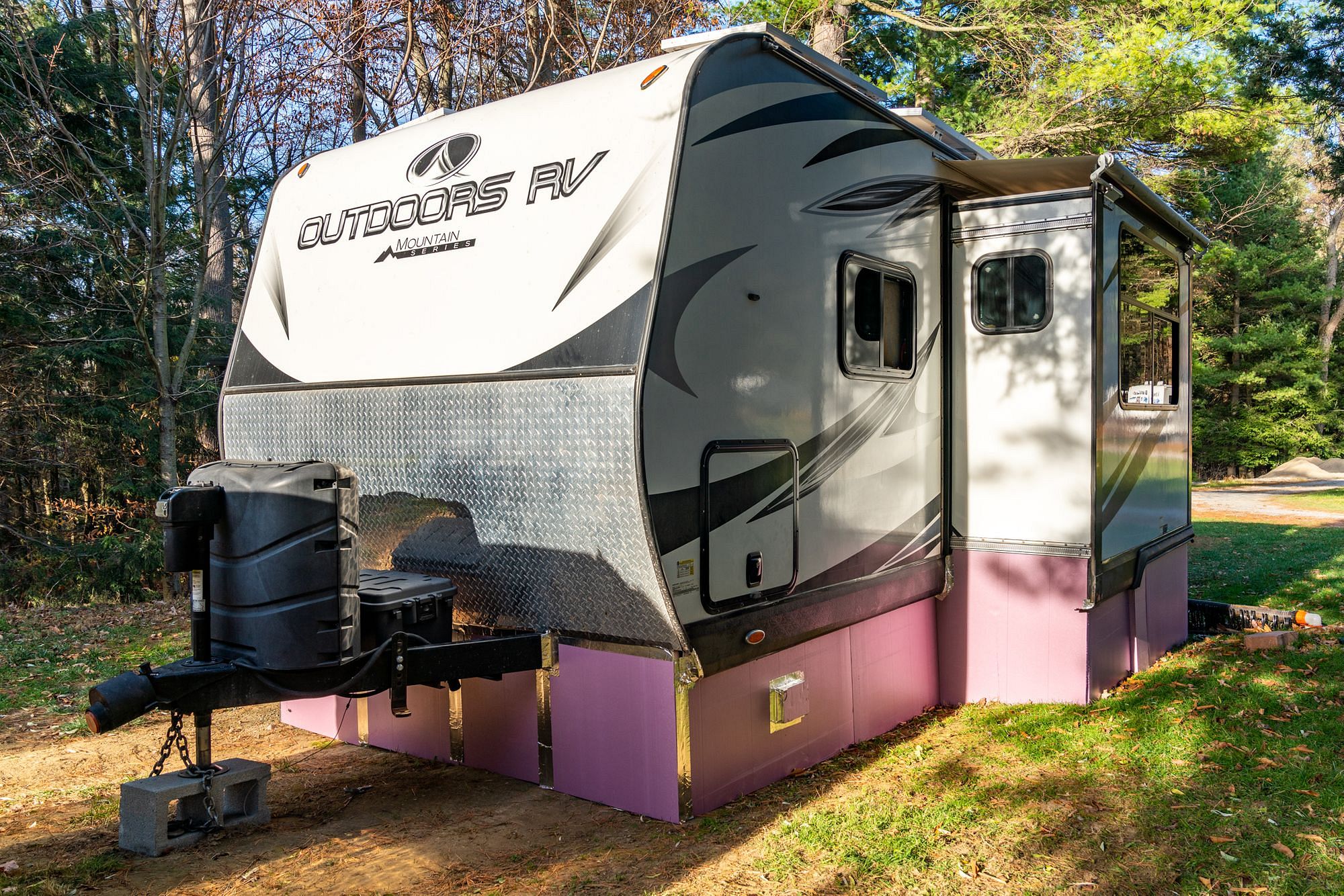 While RV skirting doesn't completely stop heat loss through the floor of your RV, it certainly helps. The goal is to seal it up as much as possible, creating a pocket of static air underneath your RV.
Why we chose foam board
There are many ways to skirt an RV, from DIY solutions, to off-the-shelf packages (such as EZ Snap), to custom-fitted skirting costing thousands of dollars!
I highly encourage you to research all the options available to you - your needs may be different to ours. We've also heard of some RV parks which have restrictions on which types of skirting they'll allow, so be sure to check that out too!
Using the calculator on the EZ Snap website, we'd have needed the 80ft version which would have cost over $800 for the basic kit! A custom-fitted skirt could cost thousands of dollars. If you've been following our blog for a while, you'll know that we always strive for quality, but we're also not afraid to get our hands dirty with some DIY too.
As I looked into DIY options, there were several approaches that I found recommended:
straw or hay bales
vinyl
plywood
foam board
I quickly discounted straw or hay bales - it's not something we have any experience working with and they can easily attract mice and other vermin. No thank you!
Commercial products tend to use vinyl, but there's nothing stopping you buying vinyl yourself (apparently old billboard material works great!) and making your own. There are many advantages to vinyl - it's reusable, lasts a long time and easily contours to fit your RV.
But I was concerned about it flapping around in the wind and being noisy, plus seemed like it might be a little fiddly to attach. We don't know where we might spend winter next year, nor do I really want to be carrying around a bundle of vinyl skirting on the road. Plus, I wasn't keen on attaching screwing or gluing studs to our RV, so we'd be relying entirely on tape to hold it up.
That left me looking at the rigid skirting options - plywood or foam board. Our RV is pretty square-edged (unlike, for example, an Airstream) so either of these would have worked well. One concern about foam board is that it's so light, it can easily be blown down by wind. Plywood is much stronger, but also more challenging to cut and more expensive - especially at the moment!
I was looking for a low cost but effective solution to skirt our RV this winter, so we chose to go with the foam board.
How to install RV skirting
We bought five sheets of foam insulation board at Home Depot. Each one is 4ft by 8ft and 1.5" thick and cost about $25. We chose this thickness as we felt it would be sturdy enough for our needs. While bulky, they're really lightweight and we even managed to transport them in our RV on our way to our final winter camping spot.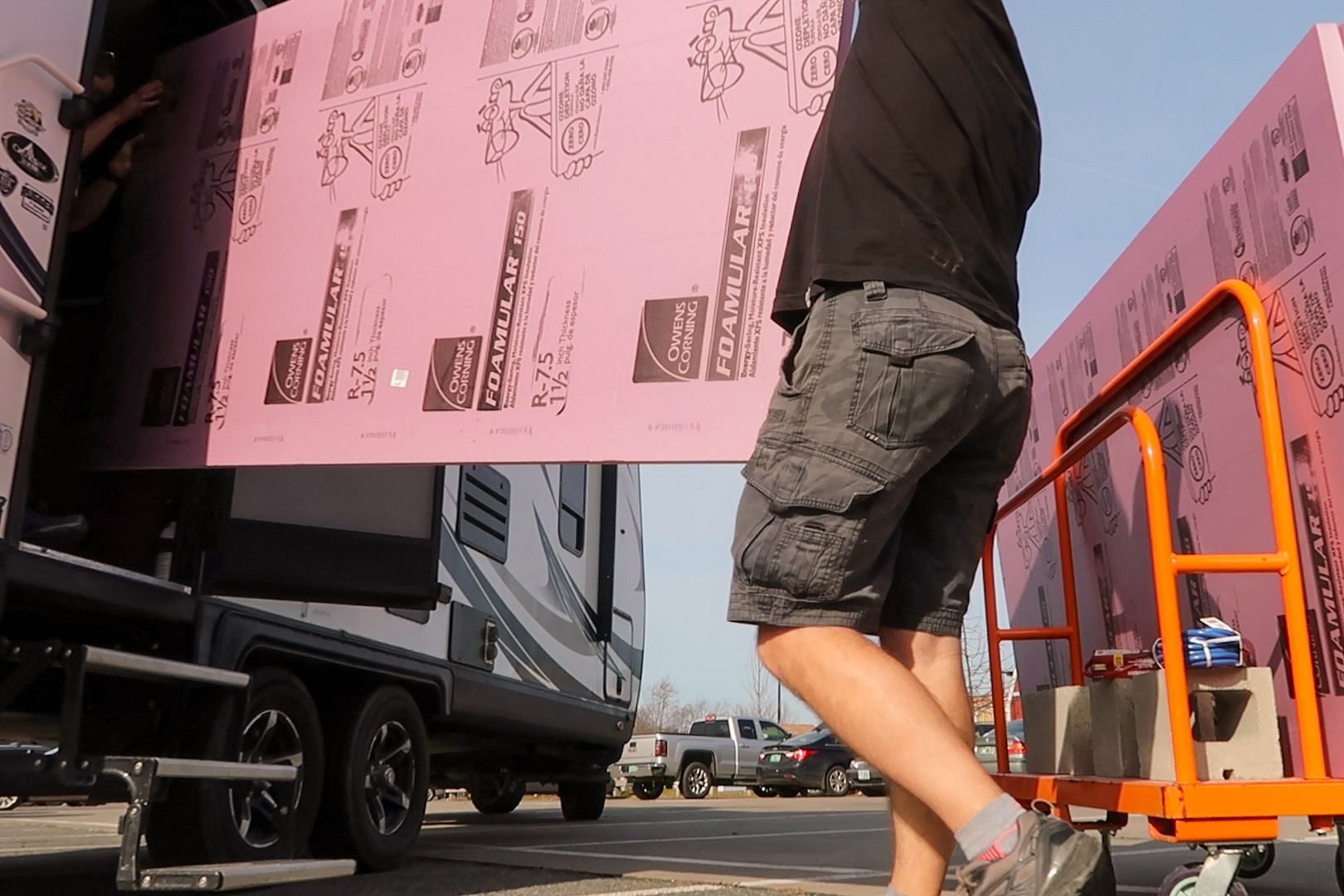 We also bought a 5o-yard roll of 3" Nashua Extreme Weather Foil Tape, which is rated down to -30°F.
Foam Boards
Our RV has black plastic trim down each side, allowing us to wedge the foam board under the trim to hold it in place and then taping it to seal up any gaps.
For most of the cuts, we used a utility knife to score the board and then snapped it, but for some sections we found a serrated carving knife also worked really well. A longer blade on a utility knife would probably cut all the way through quite easily.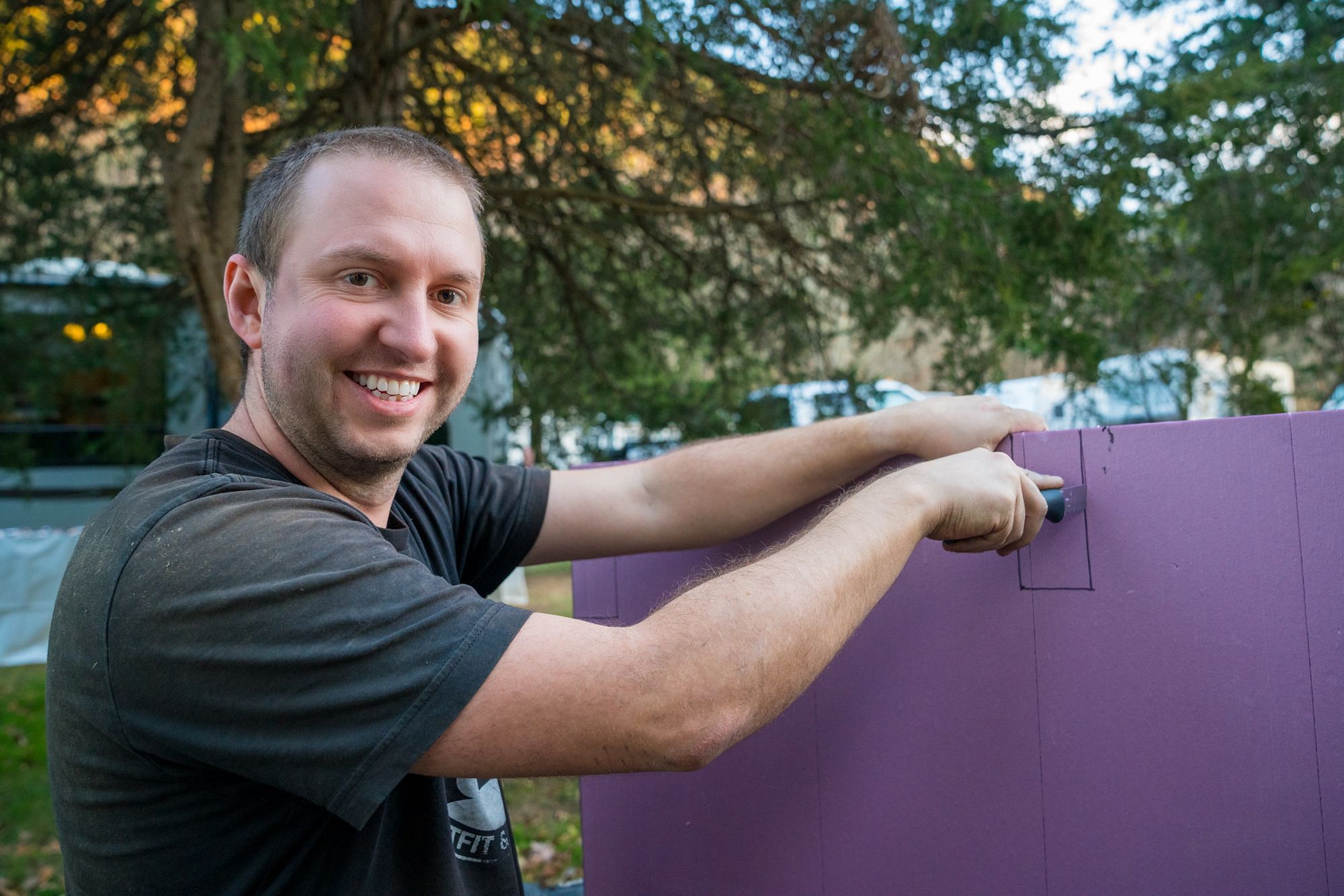 Our camping spot is slightly sloping, so the back of the RV is about 28" off the ground whereas the front is about 20". We started at the front corner, and carefully measured the height. We always kept the square edge at the top of each board and the slope on the ground - that way the sides of the board would be plumb and each board would mate nicely with its neighbor.
Foil Tape
We chose to tape most of the boards from the back - that is, from underneath the RV. While the foil tape shouldn't leave any residue when we remove it, by taping from the back it doesn't matter since it won't be visible anyway. Plus, the tape will be better protected from the elements, and we can tape the seams between boards on the front as well for double strength!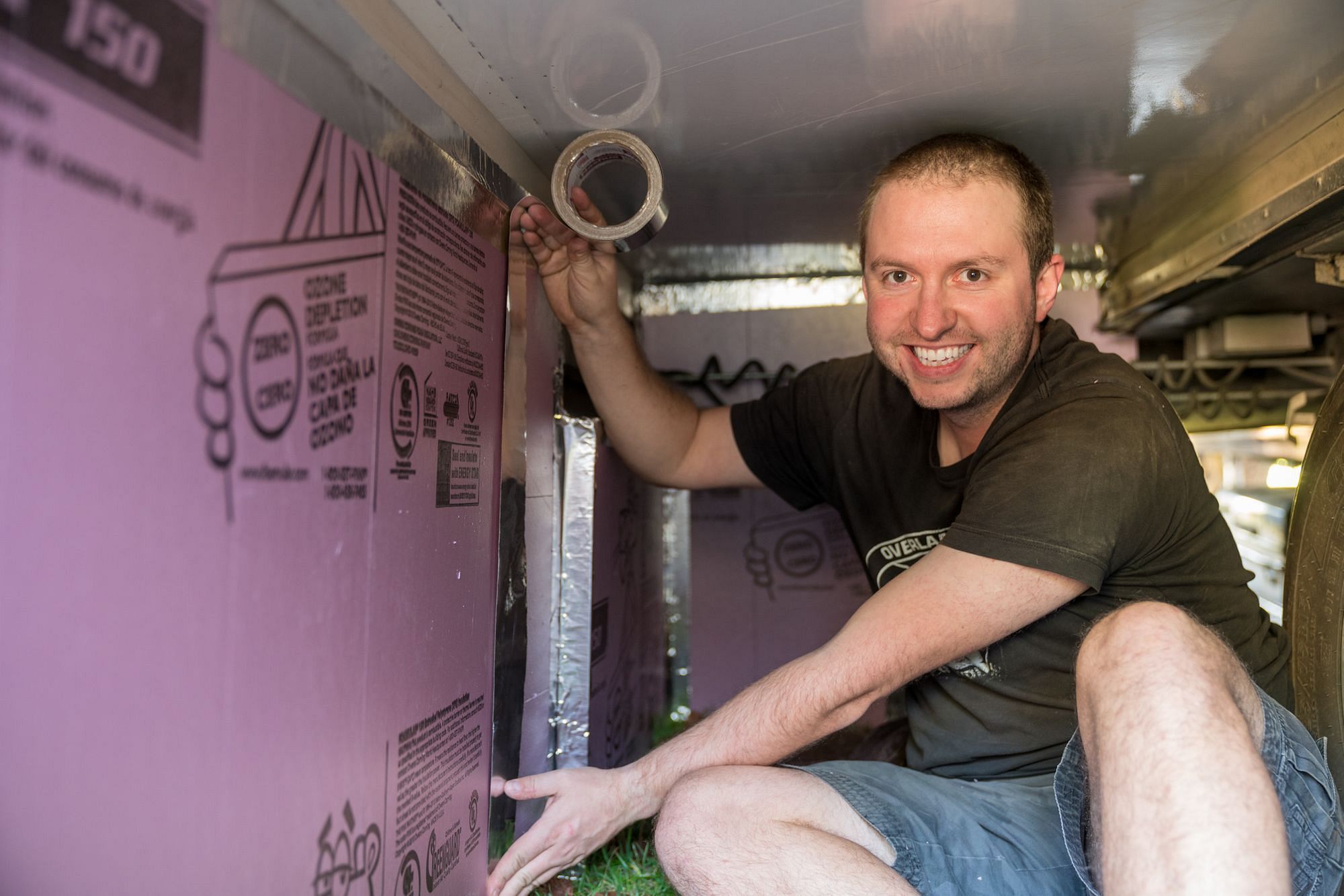 I was really impressed with the Nashua Extreme Weather Foil Tape. It can be easily cut with scissors or a knife, and while you can tear it by hand if necessary, it certainly doesn't feel fragile. The adhesive is strong enough that it easily stuck to the foam boards and even the dusty trim on our RV without the need to clean it. Only time will tell if it holds up to the winter conditions, but I'm feeling pretty confident about it.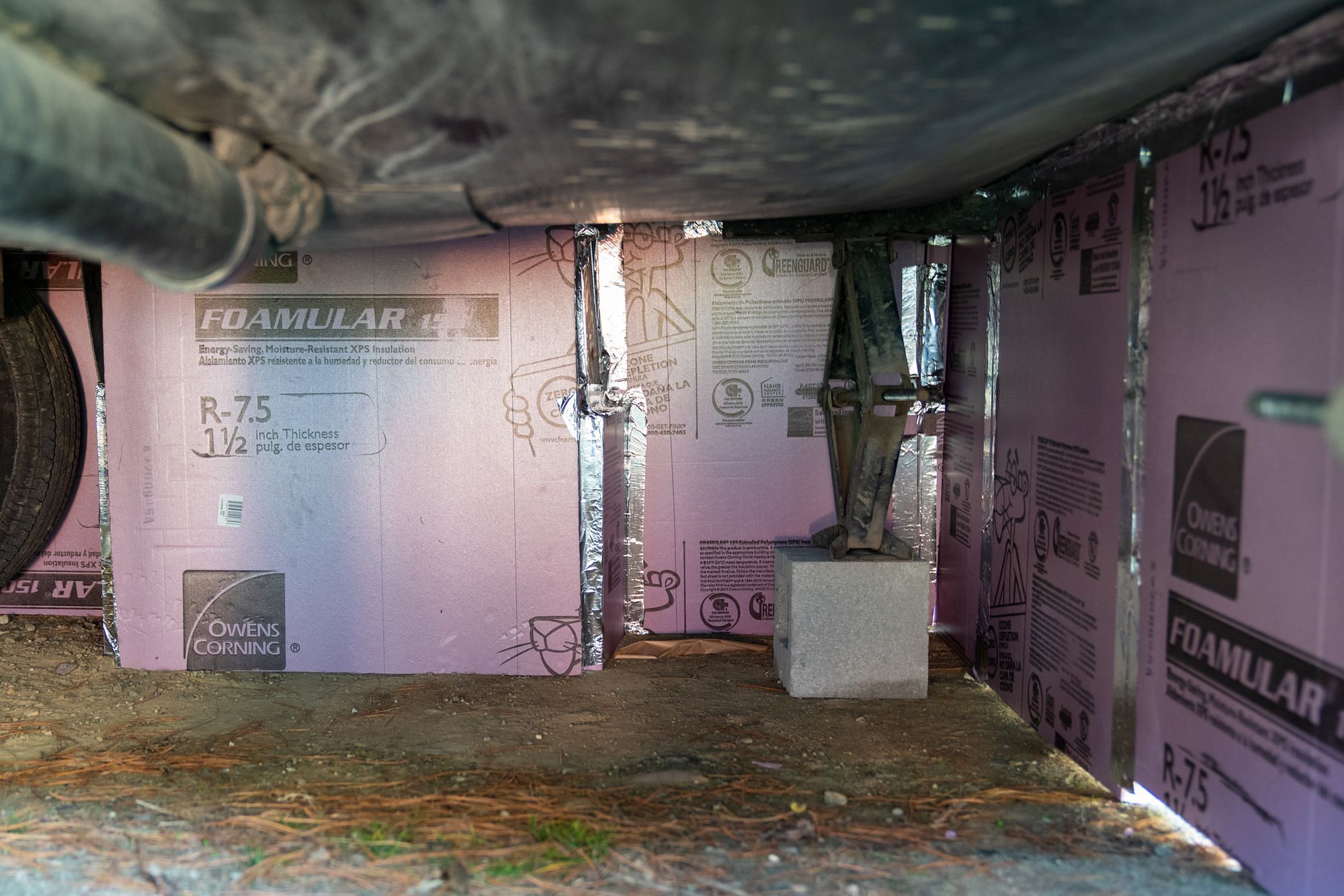 I'm also glad we bought the 3" wide version. It means there's a nice big overlap on both sides of the join, even if you didn't get it completely straight. Plus, we were able to use it to help cover up some of the odd-shaped holes and gaps as we went.
Slides & Steps
I spent a lot of time crawling around underneath the RV - not just to tape the boards in place, but also because we chose to use the space under the RV to store things that we won't be using this winter (e.g. our hitch) to give us a little more space in the truck bed and storage bay.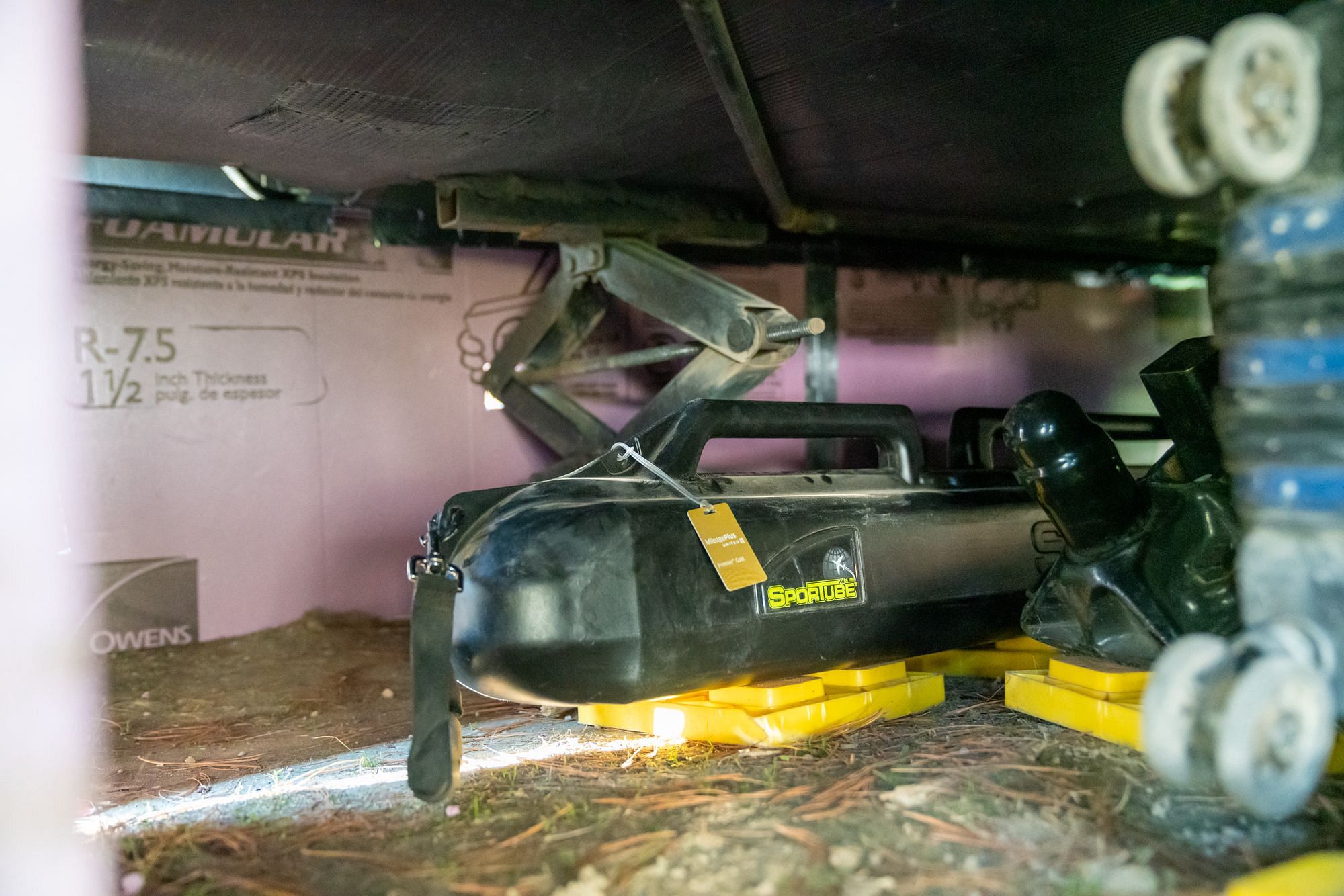 On the straight sides of the RV, the boards went up really quickly. But around the steps and slide out things were a little trickier. Here, we worked together - Diana from one side and me from underneath the RV, trimming pieces to fit and taping them securely in place.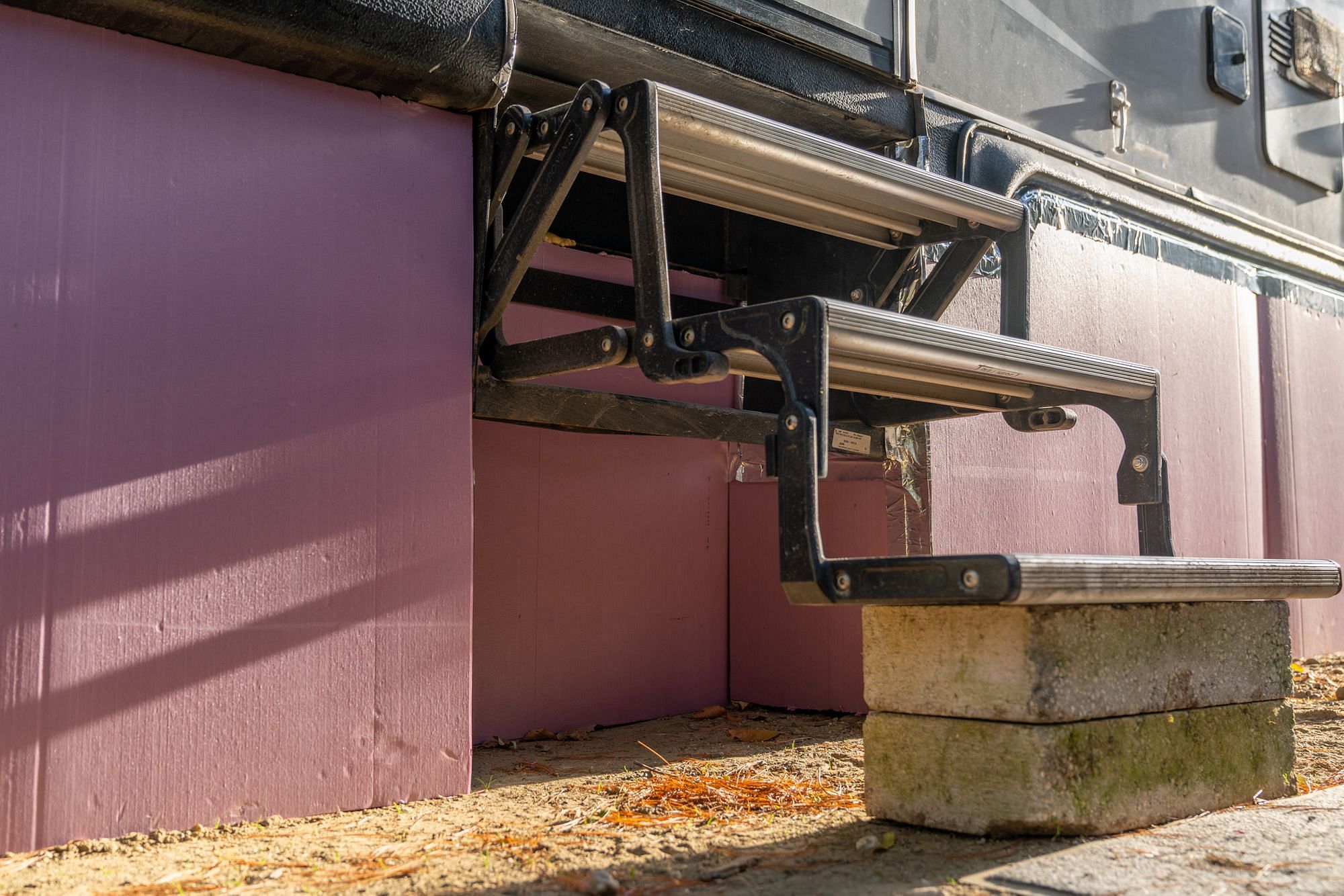 We worked on the skirting over the course of a few days, but it should take less than a day if you have two people working on it. Doing it alone is certainly possible, but it's much easier with two people.
Sewer Connections
The trickiest section by far was skirting around the sewer connections - we can't just seal these up as we'll need to get to the valve handles to dump the tanks during the winter.
Before skirting this area, we installed our NoFreezeWaterHose fresh water hose and sewer hose. We settled on these after a lot of research and while we the real test will be this winter, so far we've been impressed - they seem really well constructed!
If you need some cold-weather hoses (theirs are rated down to -40°F), use the discount code ADVENTUROUSWAY at checkout for an extra 5% off your order.
We installed the skirting panels as normal, but cut sections out that I (let's face it, it's going to be me, not Diana!) can reach through to control the valves. We then covered each cutout with a slightly larger piece of foam board, using tape at the top to form a hinge.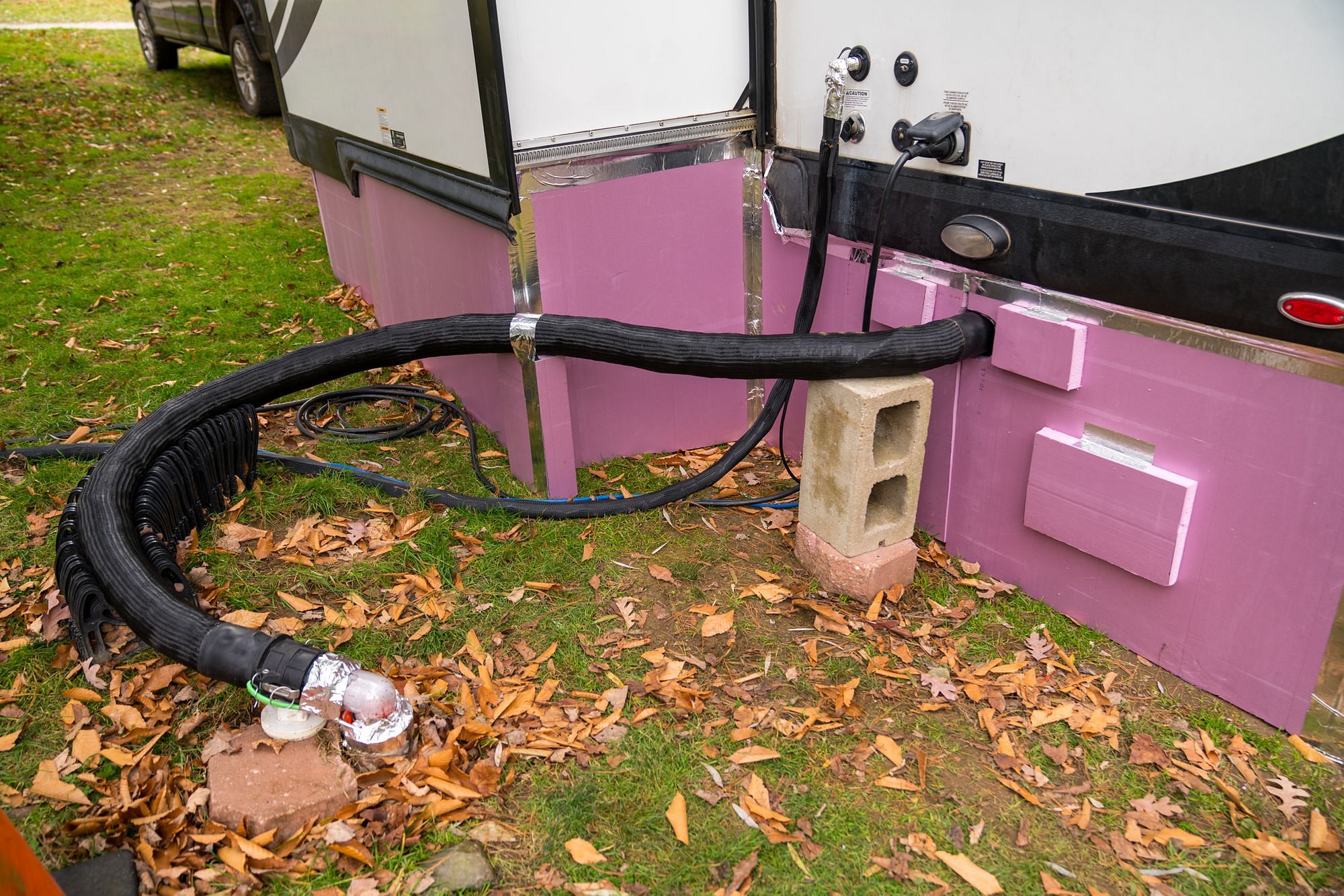 The larger door on the lower right gives us access to the GFCI breaker and smart plugs that the heated hoses are plugged into, just in case we need to get in there!
We still need to reinforce those hinges with a little more foil tape, loosely tape the doors down at the bottom, seal up around the sewer hose, and cover the vertical seam there too...but we ran out of tape! Another roll is arriving soon so we'll finish off those last few bits, and tape up some of the other seams around the trailer from the outside for extra strength.
Does it make a difference?
We certainly hope so!
But, in typical fashion for us, we want to measure it! To this end, we've installed a number of temperature sensors to help us monitor different areas of the RV.
We've installed one temperature sensor on the axle in the middle of the void underneath the trailer, behind the skirting. Comparing this to our temperature sensor outside will show how much of a difference the skirting makes.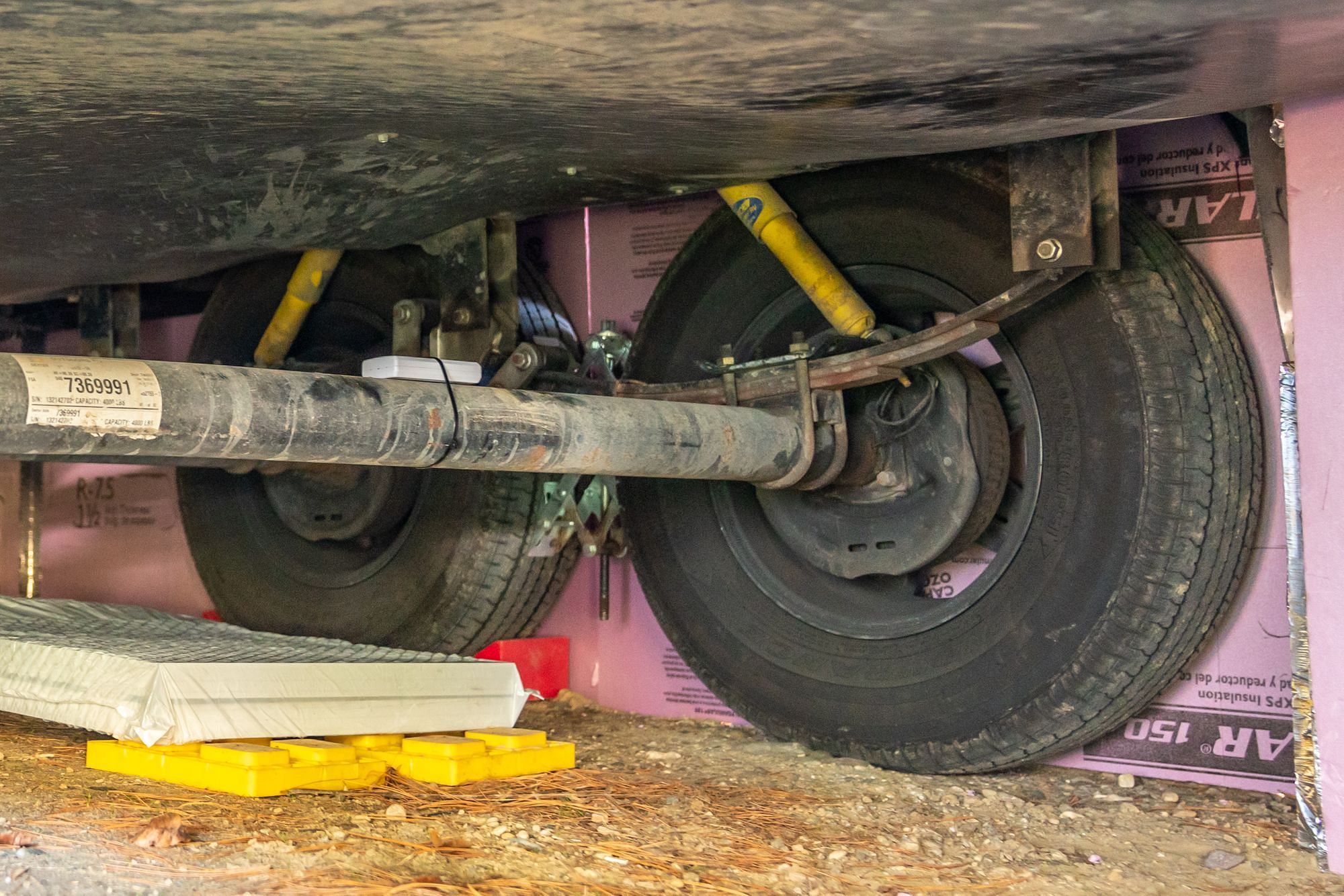 We've also added a temperature sensor in the underbelly - the section of the trailer between the trailer floor and the coroplast layer. The sensor is positioned right next to the holding tank valves so we can see if there's any danger of these freezing.
Summary
While it took a little while to install, we're really pleased with the end result. The pink board may not be the most visually appealing, but it honestly doesn't look as garish as I was concerned it might.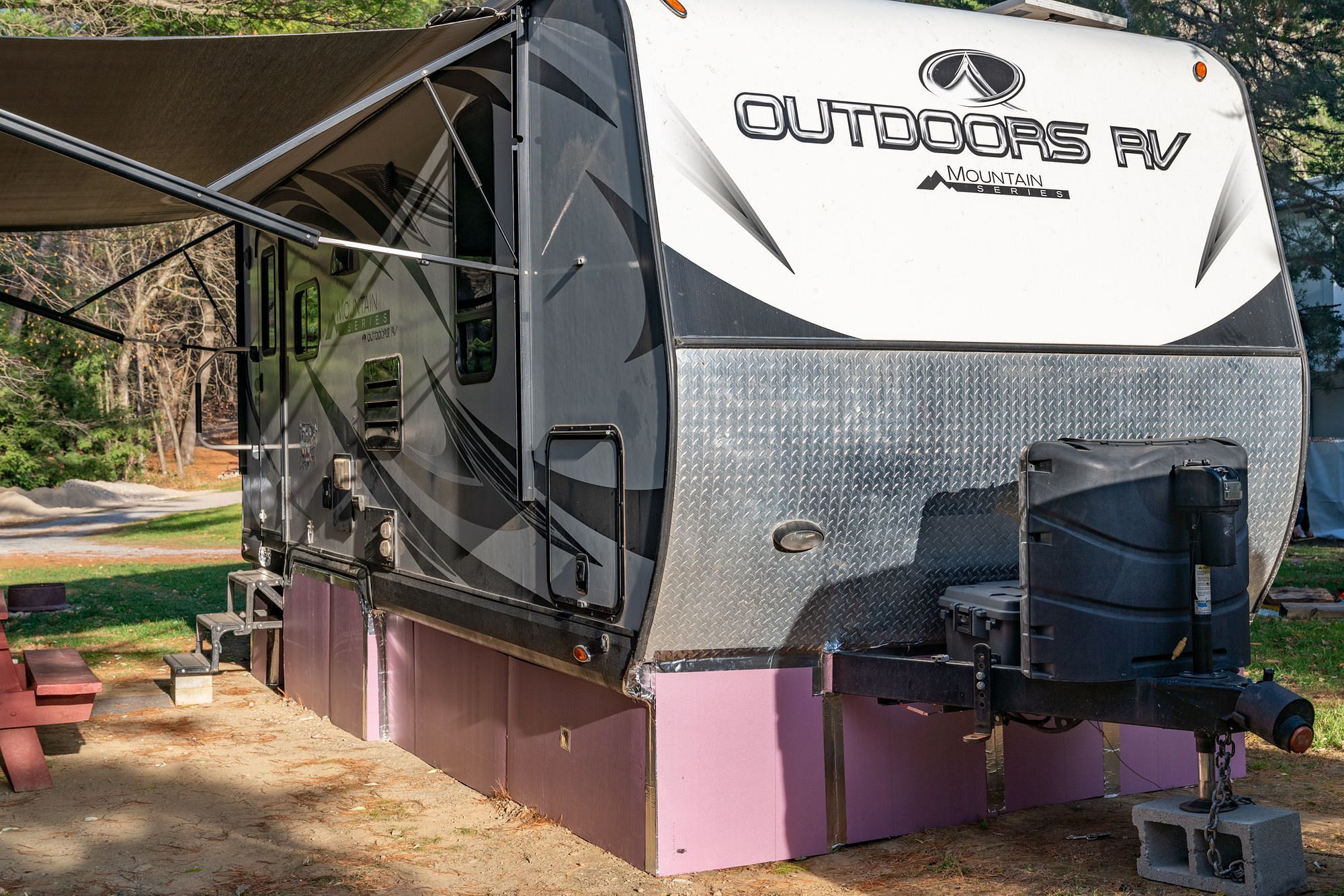 Plus, this was much cheaper than the commercial alternatives! We spent about $160 on foam board and foil tape - which makes it about 5x cheaper than the EZ Snap system, and way cheaper than a custom-fitted option!
Most people in the RV park are skirting their RVs one way or another - some using foam board and some using vinyl. It'll be interesting to see during the winter how each method fares.
At the moment, we're feeling cautiously optimistic. We're due some snow next week as temperatures drop below freezing, and hopefully we can pack the snow around the bottom of the boards to fill in the tiny gaps that are still exposed.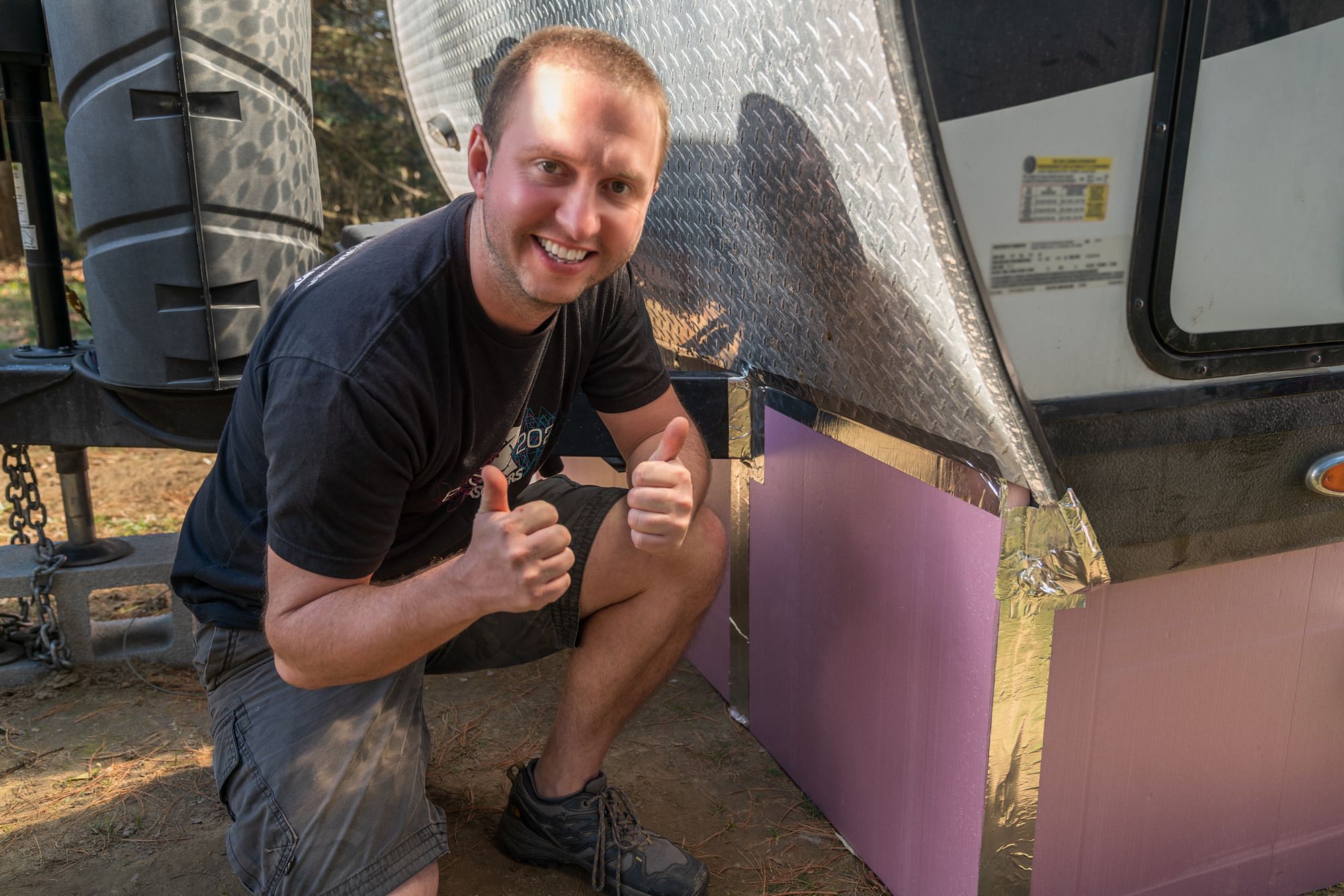 Since we've only just installed the skirting, it's too early to tell how much of a difference it's making, but we'll be sure to report back through the winter with progress updates!