As an Amazon Associate we earn from qualifying purchases.
Introduction
This wasn't supposed to happen.
At the start of February, we mounted 400W of solar panels on the roof of our RV to complement the 100W portable panel we started with. It was working great - enough power, even in early Spring, to keep us off-grid most of the time.
In fact, for 2 months from mid-February until mid-April, we only had 1 night with hookups - and that was mainly because it was cheaper to spend a night in an RV park near where we were boondocking in Tucson, than it would have been to drive to the dump station and back!
And then, disaster.
We were dry camping at Emma Wood State Beach in California. Diana was at a dance tournament in LA for the weekend, and I was camping in the trailer alone.
I woke up on Monday morning to find our portable solar panel was gone. Stolen in the night. The thieves hadn't even bothered to unplug it, they'd just cut the electrical wires and the cable lock it was secured with!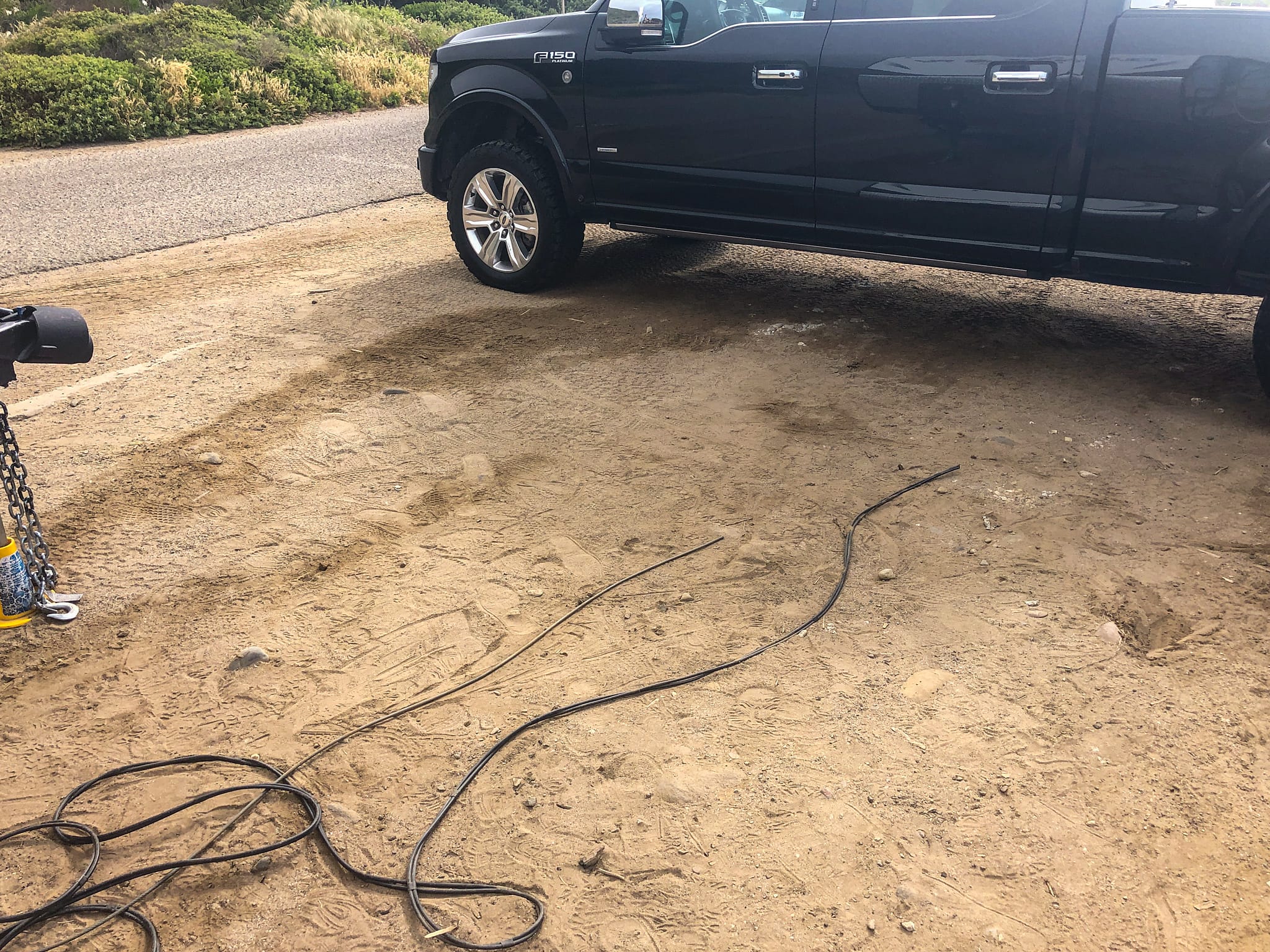 As disappointed as we were, we had a problem - we were partially relying on that 100W portable panel to generate power, especially for cloudy days. It wasn't an emergency, but longer term we needed to find a way to replace that lost solar capacity.
Portable vs Rooftop Solar
The question was really whether to replace the stolen portable panel with another portable panel, or with more panels on the roof. We weighed up the pros and cons of each.
Advantages of buying a new portable solar panel:
It can be tilted and pointed at the sun for maximum solar capture;
Even if the RV is shaded, we can position the portable panel in sunlight;
We could buy one and have it connected very quickly - almost no installation.
Advantages of adding more rooftop solar:
No packing up and re-deploying each time we move site;
Don't have to keep moving it during the day;
Less likely to be stolen again (!!);
Less than half the price per 100W of solar panel.
After weighing up the options, we eventually decided to install two more 100W solar panels on the roof, taking our total from 400W to 600W. Allow me to explain our rationale.
Portable panels are significantly more expensive than panels to mount on the roof - over double the price. So much more expensive in fact, that two 100W panels and the necessary brackets worked out just about the same price as a single 100W portable panel. We figured 200W flat on the roof, bearing in mind we don't intend to tilt the panels, would give us at least as much power output as a 100W portable panel, but without the hassle of setting it up every time we move and turning it during the day.
Also, although we wanted to replace it reasonably soon, we weren't in a desperate rush - the 400W we had would keep us going, and the truck charger was always there as a backup in case we needed it.
Lastly, when we mounted the panels on the roof, we designed the system in such a way that it would be straightforward to add more capacity - as long as we added 200W at a time. The Victron SmartSolar MPPT 100/50 Charge Controller is rated up to 750W, so we'd still be comfortably within the limits there. And we had measured the roof and knew there was space for up to ten panels up there - actually, we had even marked on the roof where the next pair of panels could go!
Plus, this doesn't stop us buying a portable panel in future if we change our mind!
Ordering Parts
Since we had plenty of leftover materials from installing the original 400W on the roof (wire, terminals, zip ties, etc), all we had to buy was two new 100W Renogy Solar Panels to match our existing panels, and two packs of the Renogy Curved Z-Brackets.
We weren't planning to stay in California for long, and the next time we were in one place long enough to order the items was a couple weeks later in Flagstaff, AZ.
Last time we had ordered everything from Amazon, but the solar panels were just too large to fit in the Amazon Locker at the Whole Foods in Flagstaff. So we ordered the brackets from Amazon, but ordered the solar panels from Walmart.
Ordering the panels from Walmart actually worked out really well. They were delivered for free, 2 days later to the Walmart store in town. I went to pick them up, and a member of staff wheeled them on a cart all the way to my truck in the parking lot!
Installation
We carried the panels around in the back of the truck for another couple weeks before we found ourselves in a boondocking spot with good enough weather to start preparing the panels. Unfortunately the dry weather didn't last, and we postponed the installation of the panels on the roof for another couple weeks until we were dry camping in Albuquerque, NM in mid-May.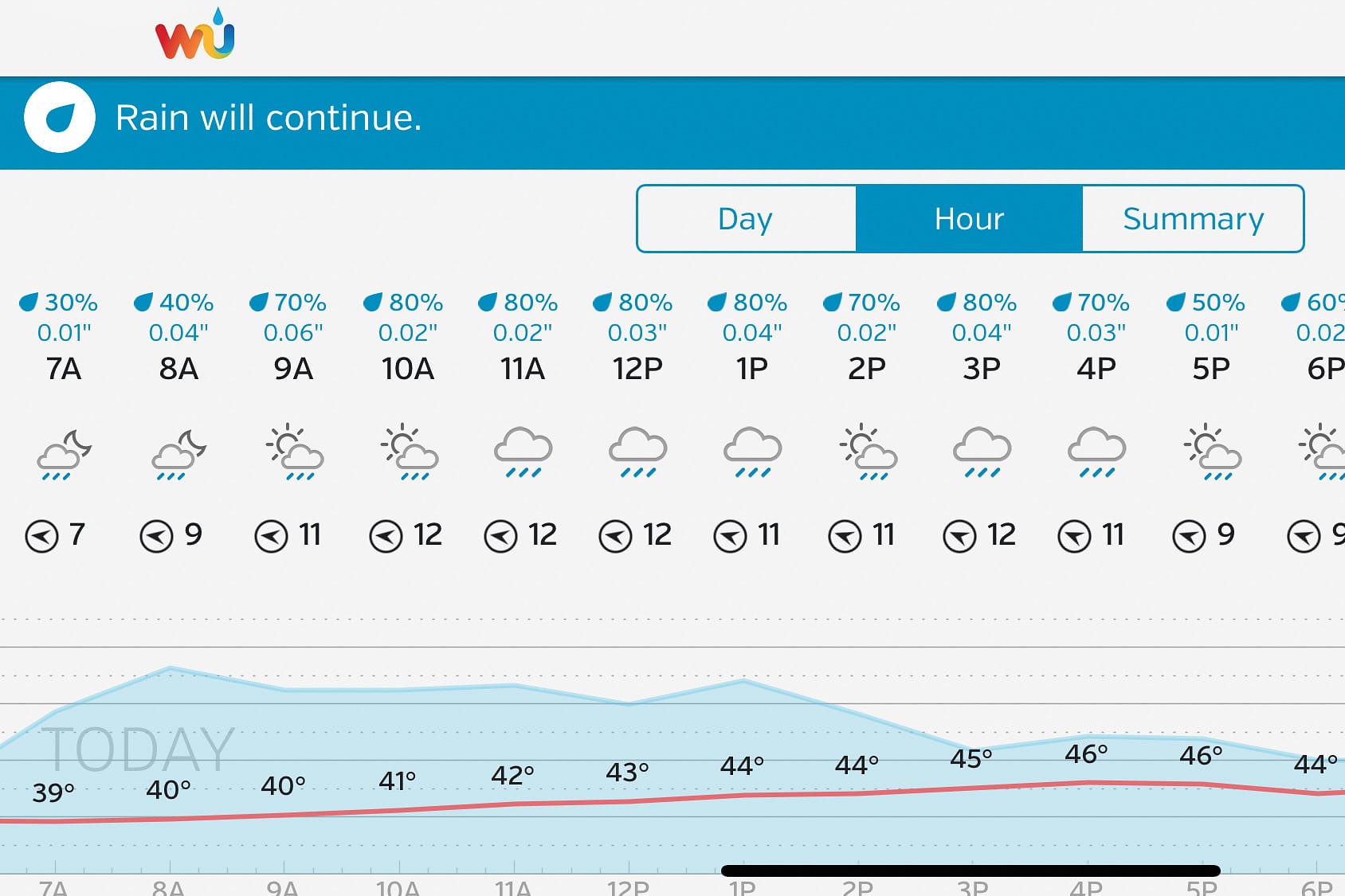 I won't repeat all of the installation steps since most of it was simply a repeat of what we did in Part 3 when we installed the original 400W of solar panels on the roof.
There were a few differences though, which I'll share here in case you run into the same issues.
Remember also that unless you cover your solar panels during the installation, the system is live. I disconnected the DC breaker on the input side of the MPPT solar charger, and then removed the 15A fuses from the two existing panel strings. That made everything safe to work on.
Relocating Existing Panels
Although we had marked where the next pair of panels might fit on the roof, it wasn't quite that simple. The layout of our roof meant we could have four panels side by side in a line, but the prime spots were in the middle. When we just had two panels in that line (the other two being at the front), we put those in the middle.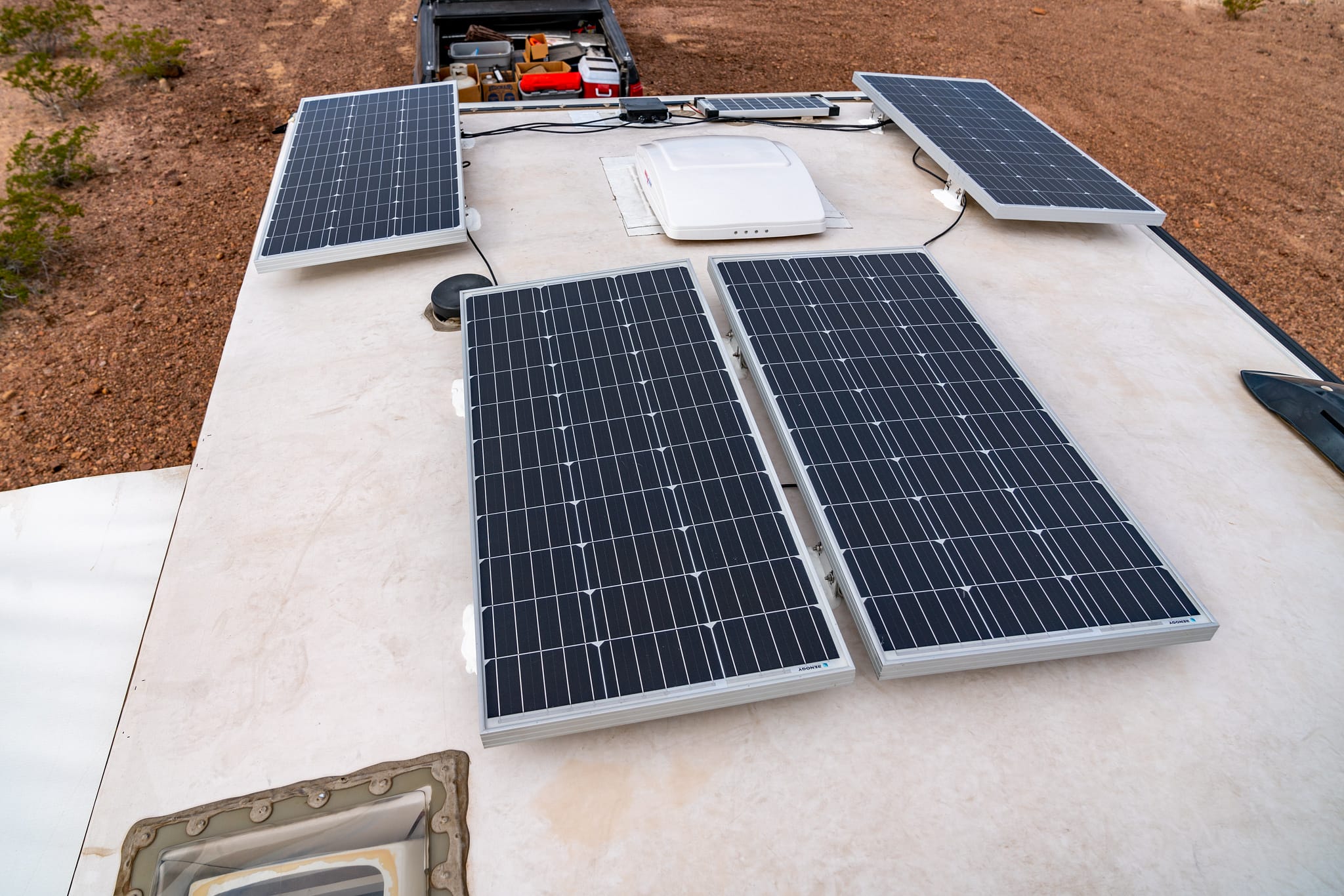 But now I was adding two more panels, I wanted to shift the panels over so one pair would be on one side, and one on the other. Given the curve on the roof, that would keep both panels in a pair on a more similar tilt, which should help output a little. It'd also make the wiring more intuitive.
It's not complicated to move the panels - we left slack in the wiring for this very reason - but it's just fiddly. As last time, I'd recommend a couple of 10mm ratchet wrenches to make the job easier. I freed the two existing panels, and then re-mounted them like I had before, just one space over.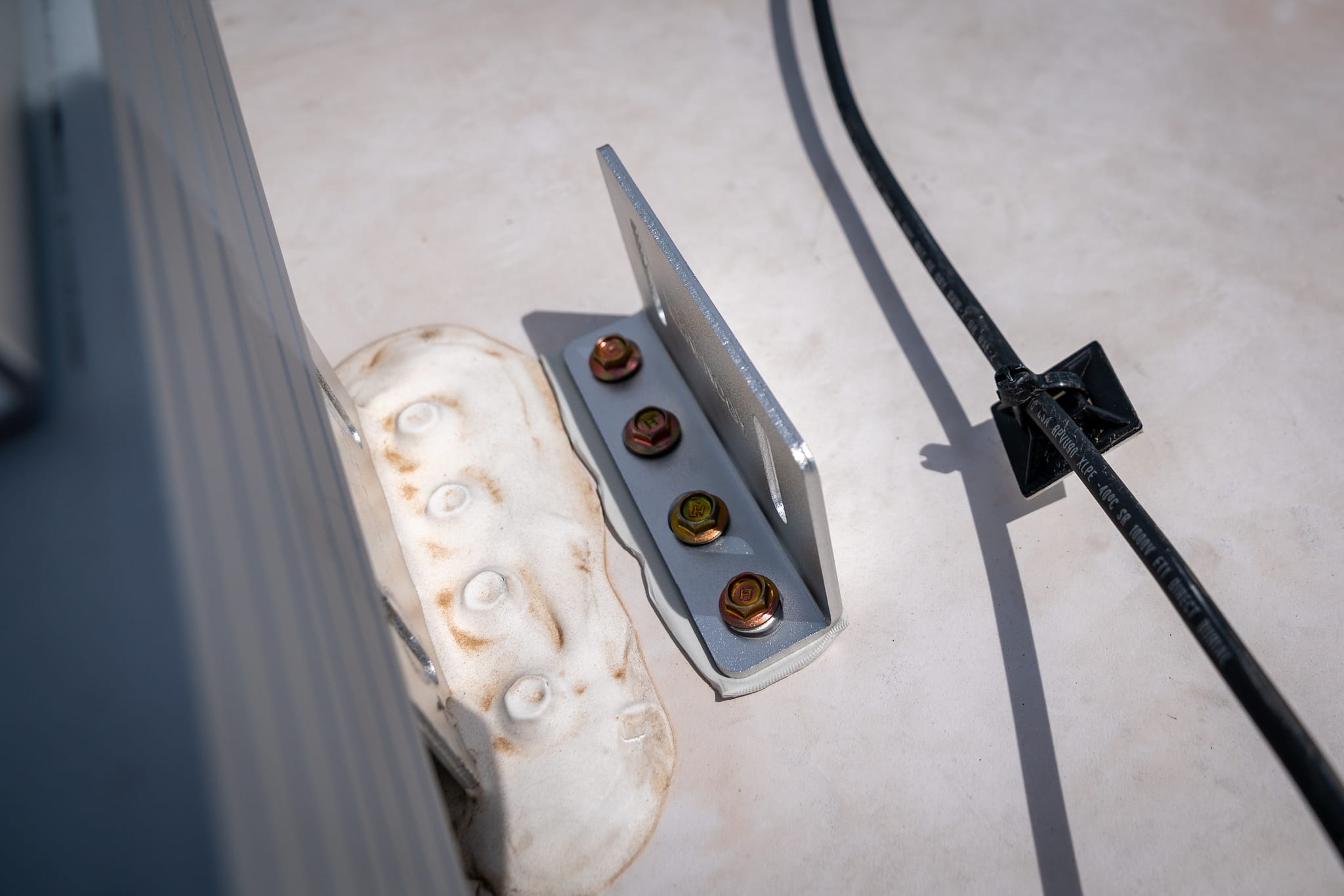 This left one space with brackets already in position, and one space for new brackets to go in. Just take your time, measure twice, and it'll all work out OK!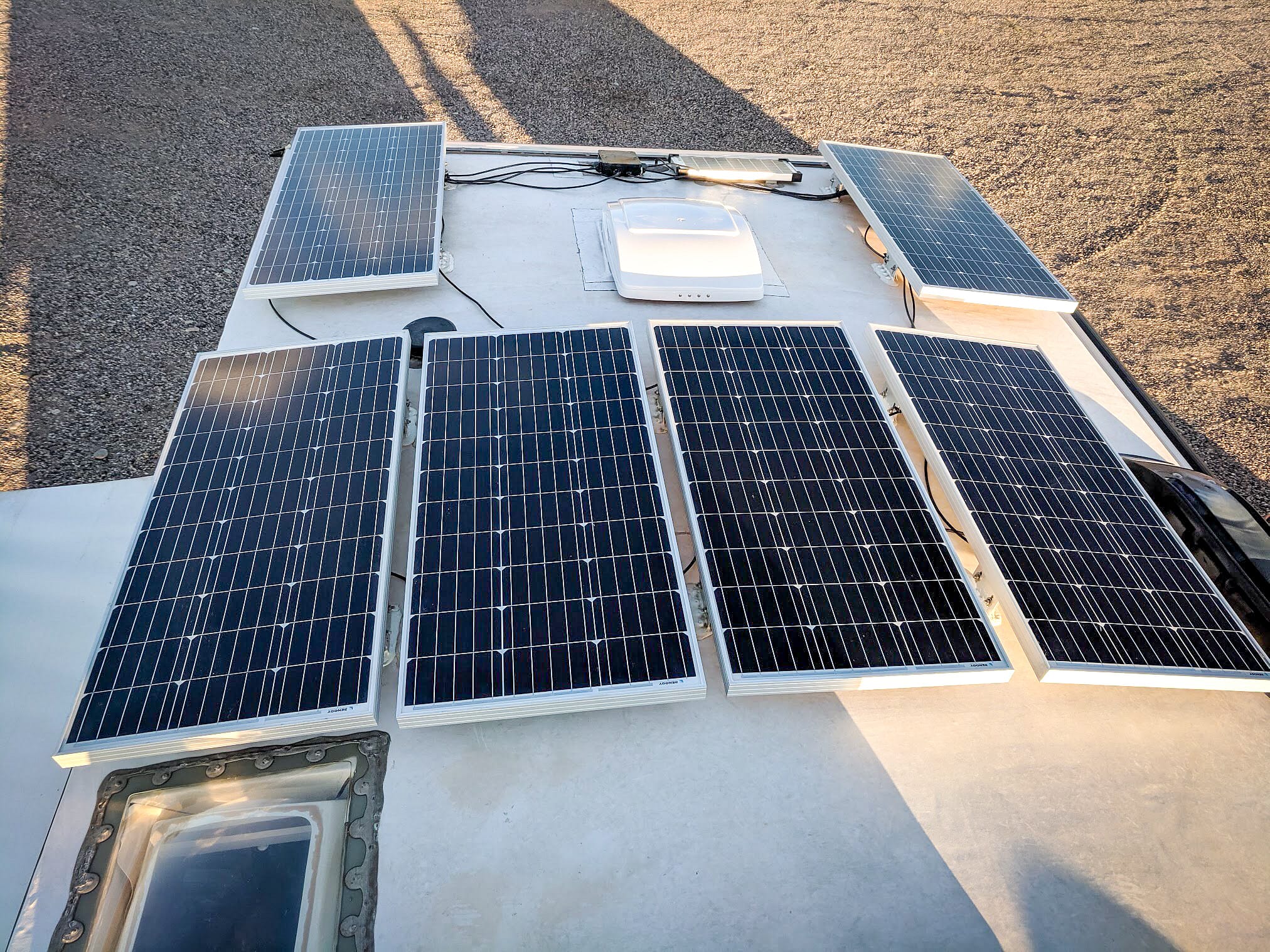 Combiner Box Knockouts
You may remember from Part 3 that we replaced the factory-installed combiner box with the AM Solar Roof C-Box. This accepts 1/2" Liquid Tight connectors in the sides, up to 6 in total. We were already using four of these ports (positive and negative from the two strings), but we needed to cut out two more for the new pair of panels.
Again, nothing hard here, but the box starts to get a little full, so be careful - you don't want to drill through your wires!
Conclusion
Installing two more 100W panels on the roof of our RV brought our total rooftop solar capacity up to 600W. Based on the data we collect, the 200W on the roof was able to offset the power we had been generating from the 100W portable solar panel - a true comparison is hard given that by the time we had installed the rooftop panels, it was a month later and we were nearly 1,000 miles away!
Having had the full 600W solar array on the roof now for 3 months, I must say, it's really nice. As long as we have some sunshine, we have plenty of power coming in.
Unlike the portable panel, we don't have to pack it away each time we move, and then redeploy it again - we don't even think about it. In fact, one benefit we hadn't considered is that we're generating power from it even when driving - I do not recommend leaving your portable solar panel out while driving!
Maybe in the future, if we need more power (perhaps for a little boost on cloudy days in winter), we'll consider adding a portable solar panel (although there is still more space on the roof). Nothing we've done on the system precludes that, and it could be a handy backup to have. But for now, we're very happy with our 600W of rooftop solar power!
This post is the last in our RV Solar series. My goal was to walk you through the journey of discovery that we embarked on when we looked at adding solar to our RV. We've learned so much, and I hope that our experience can help you decide what's right for you, and you can learn from our mistakes!
Adding solar to your RV can be intimidating at first, especially if you're not familiar with electrical concepts. But there's a whole community of people out there who can help you and guide you through - if you think it might be right for you then don't be afraid to give it a go!
Let us know in the comments if you have any questions, and I'll do my best to answer them!