After heading north from Tumacácori National Historical Park, we arrived in Tucson, AZ just days before the government shutdown of December 2018. We had already decided we didn't want to visit any National Parks during the shutdown, that left us a choice: squeeze the visit into a couple days before Christmas, or wait until after the shutdown.
We chose to wait.
We already had plans to be in Quartzsite, AZ for New Year, and as it turned out, we didn't make it back to Tucson until February.
Introduction
If you've never been to Saguaro National Park or the area around Tucson, AZ before, there are a couple things you should know.
First, there are Saguaro everywhere. In the mountains, alongside the road, in people's backyards. Everywhere. They're a protected species, so their removal (or more often, relocation) is strictly controlled. Which is great, because these things are beautiful!
Second, Saguaro National Park is split into two regions: the Tucson Mountain District (TMD) on the West, and Rincon Mountain District (RMD) on the East. Each comes within about 10-miles of the city center. Bear this in mind when you're trip planning.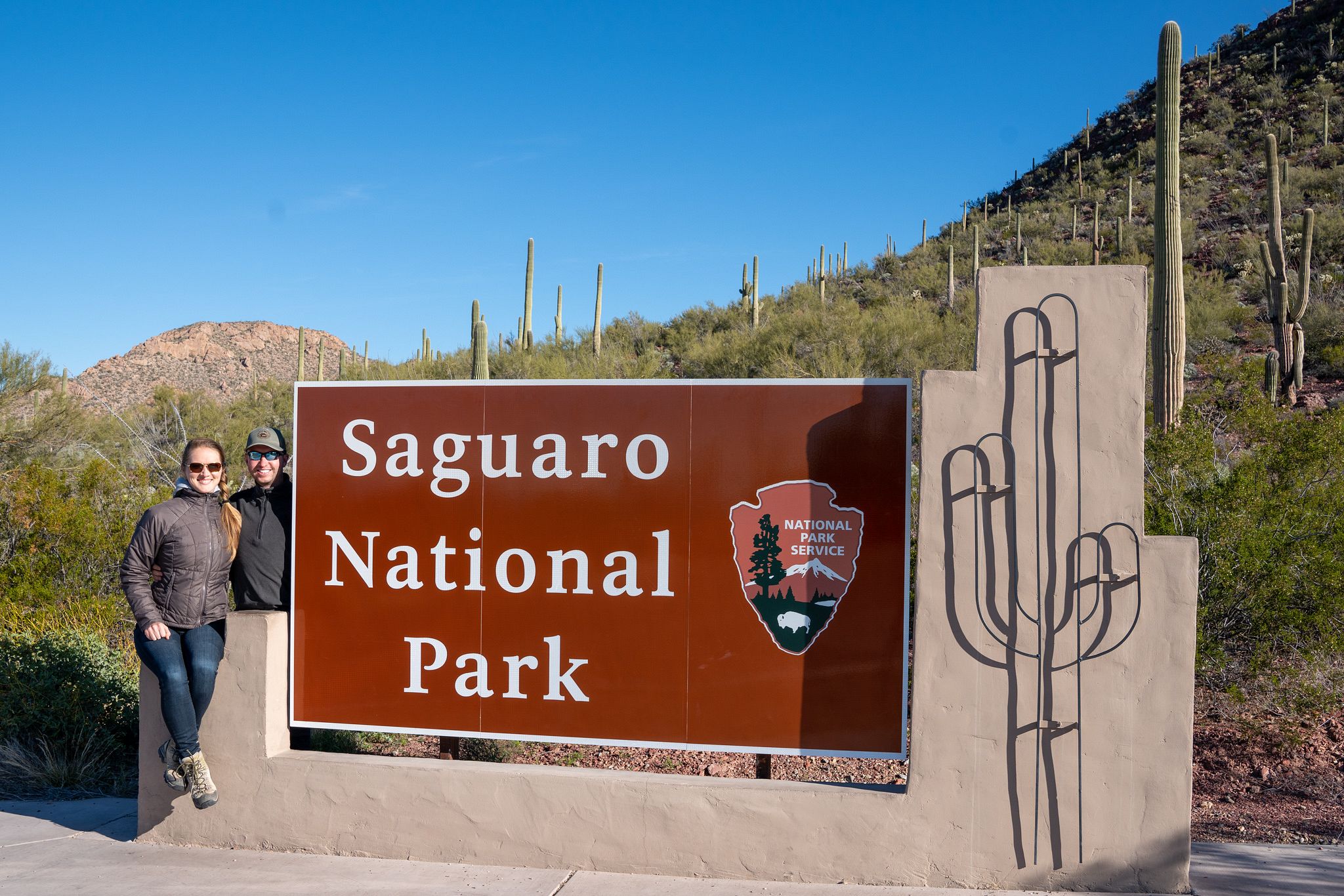 We arrived back in Tucson in mid-February, and chose to stay at the Gilbert Ray Campground just outside Saguaro National Park. Although normally we choose to boondock wherever possible, we couldn't resist this campground. Whenever we had mentioned to our RVer friends that we were visiting Saguaro NP, they all told us that we had to stay at Gilbert Ray Campground. Plus, it has been a Campendium Campers' Choice campground for 2 years in a row! Keep reading to find out what we thought.
We spent a week at Gilbert Ray Campground, using the time to explore both the east and west sides of Saguaro National Park. But we chose to stay around the Tucson area for another week or two afterwards, and I'm sure glad we did. We woke up one morning to snow, and we simply had to go back to see some snow-covered Saguaros! Magical.
Saguaro Cacti
It should come us no surprise that Saguaro National Park is named after the Saguaro cactus - or Carnegiea gigantia in Latin, which loosely translates as giant cactus. Yeah, no kidding!
It's impossible to visit Saguaro National Park without learning lots of fun facts about the Saguaro cacti. I won't spoil all the surprises, but here are a few of our favorites.
The Saguaro is native to the Sonoran Desert in Arizona, and is the largest cactus in the US. Although some do have the quintessential "double-armed" shape, they in fact come in all shapes and sizes! As many as 25 arms can grow on a single plant, but some never grow any arms - and the first arm typically doesn't grow until the Saguaro is at least 75 years old. So when you see one with lots of arms, it's old, very old! In fact, they can live over 150 years!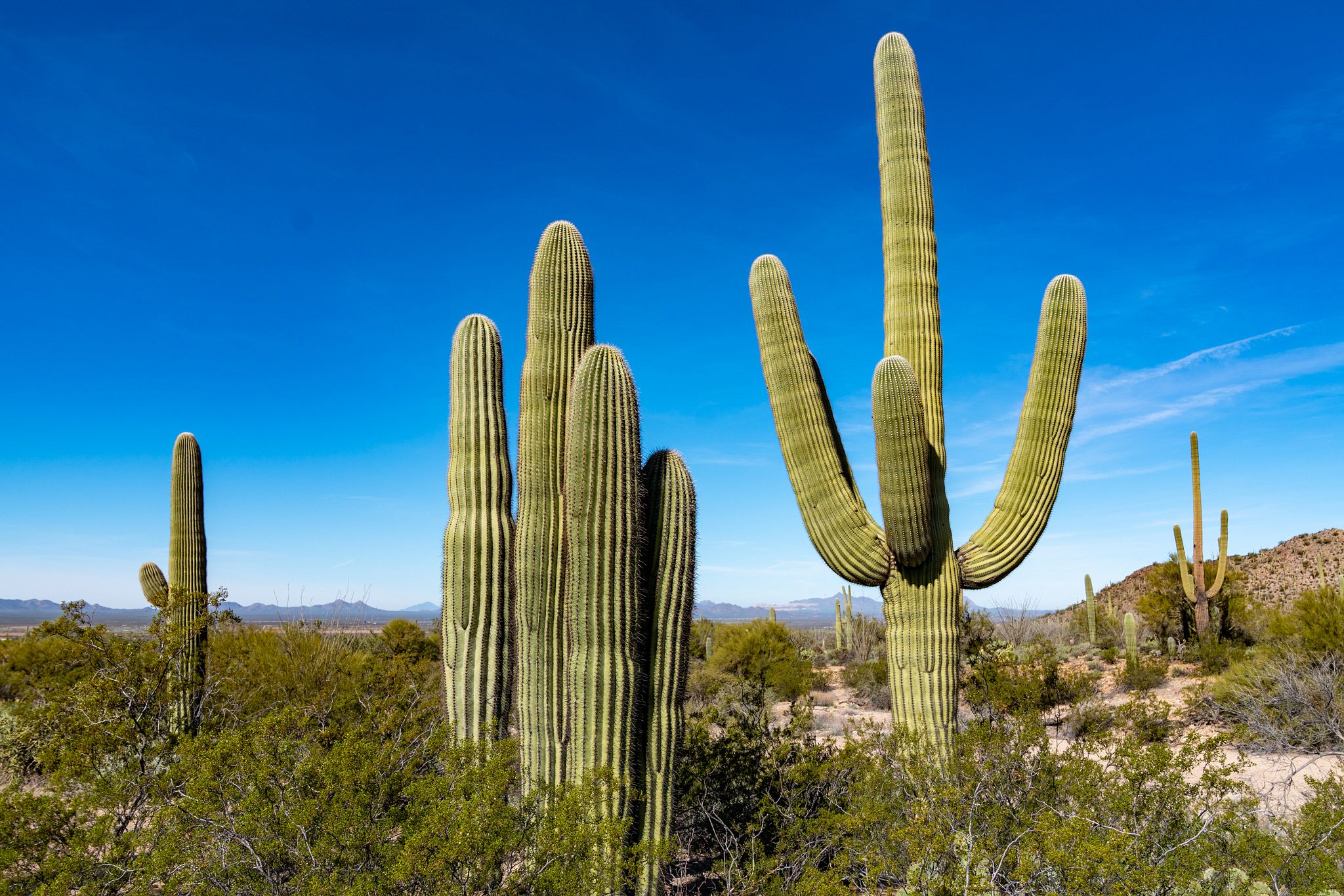 They survive in the desert by absorbing and storing rainwater, particularly during the summer and winter monsoons. To do this, they have a root system which extends outwards by roughly the same distance as the plant's height - and some are over 40ft tall! But the roots on even the tallest Saguaros are shallow, less than 6 inches below the surface. This is because the flash floods and monsoon rains wash quickly over the surface, not penetrating deep into the soil - so breadth, rather than depth helps them absorb the most rainwater.
So where do they store all this water? In their trunk and arms. It's thought that the cacti grow new arms when conditions are right, and water is plentiful. In the wettest parts of the year, the accordion-like structure of the Saguaro expands, filling with water. During the dry months, the Saguaro uses this water store to survive, and the trunk shrinks as the accordion tightens. But a large Saguaro, full of water can weigh in at well over 4,000lbs!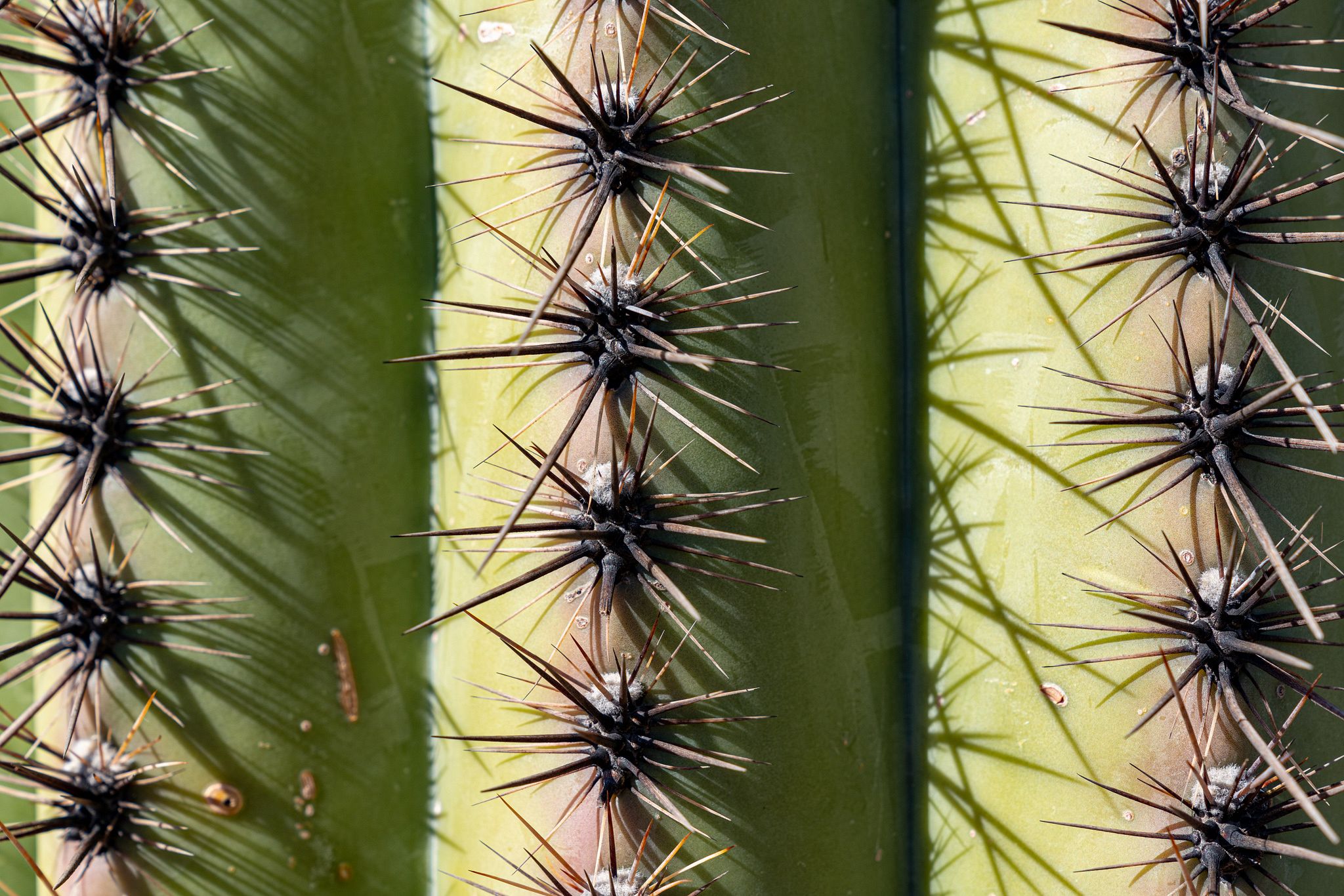 Our Visit
Enough background, let's get into our visit!
We decided to start with the west area, since that was nearest us, and explore the visitor center and some of the trails. Then we'd explore the east area - some cycling and hiking - and finish our week with a moonlit hike.
Saguaro West: Tucson Mountain District
At barely a third the size of the eastern district, Tucson Mountain District may be the smaller of the two, but it still packs a punch.
As always, we started our visit with a trip to the Visitor Center, stopping by the entrance sign for the obligatory cheesy photo op! After stamping our National Park Passport and buying a sticker for it, we went into the theater room to watch a 15-minute movie titled Voices of the Desert. I won't spoil the surprise, but I suggest watching through to the very end - well worth it!
Afterwards we had a slow stroll along the Cactus Garden trail that weaves around the back of the Visitor Center. This short trail ends in a small garden area with many species of plants, all clearly signed so you can learn about what you should expect to see in the desert. We took lots of photos and tested ourselves to see if we could identify the many different varieties of Cholla!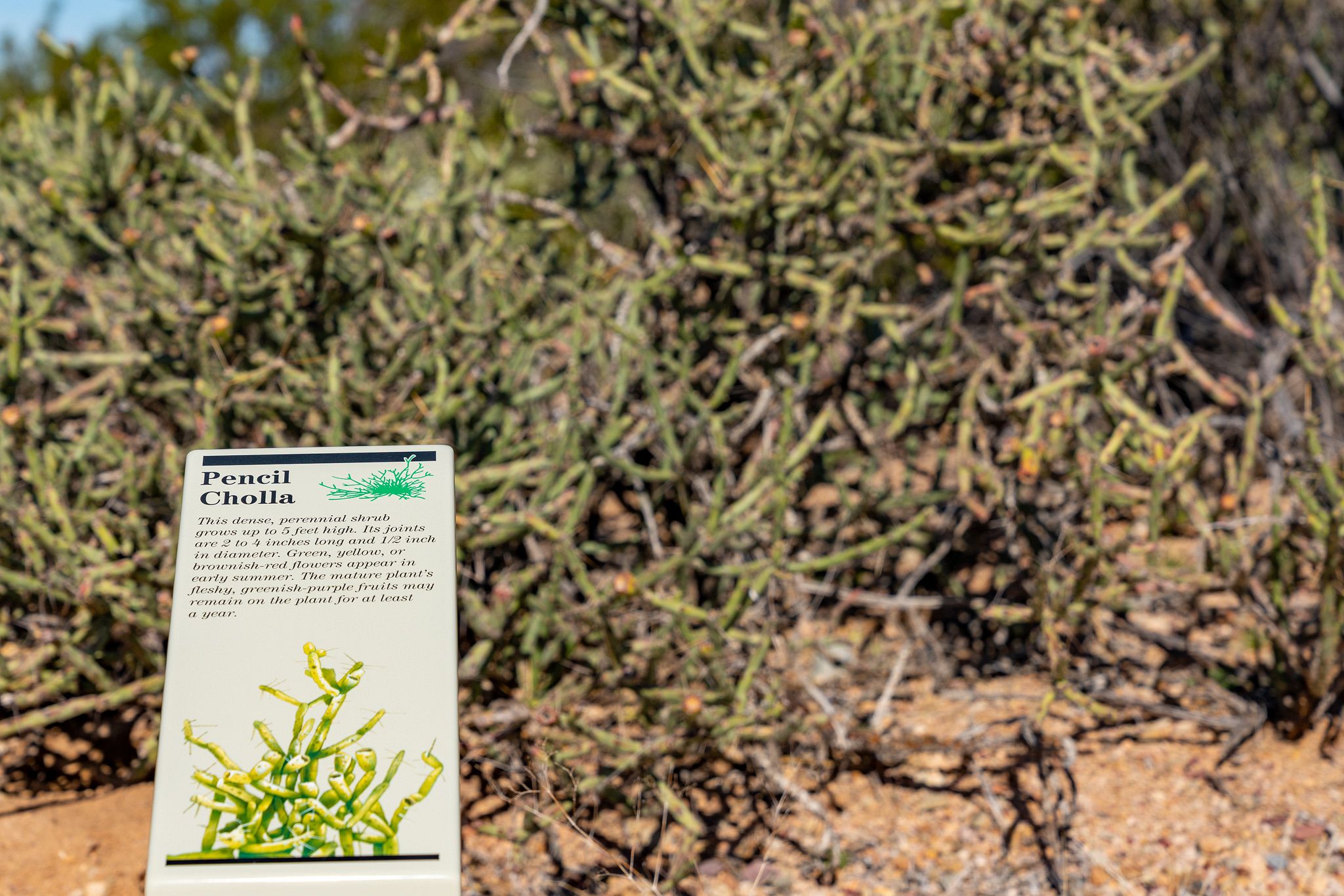 Next up was one of the free, interpretative Ranger talks. We love these because they provide a fun and information-rich way of learning about what the Park has to offer. Many of the facts I shared about the Saguaro cactus in my introduction, came from what we learned from the Ranger. Using the Visitor Center's panoramic vista, we were shown examples of cacti in various stages of development. Programs run regularly, and different topics are covered - I'd thoroughly recommend trying to attend one.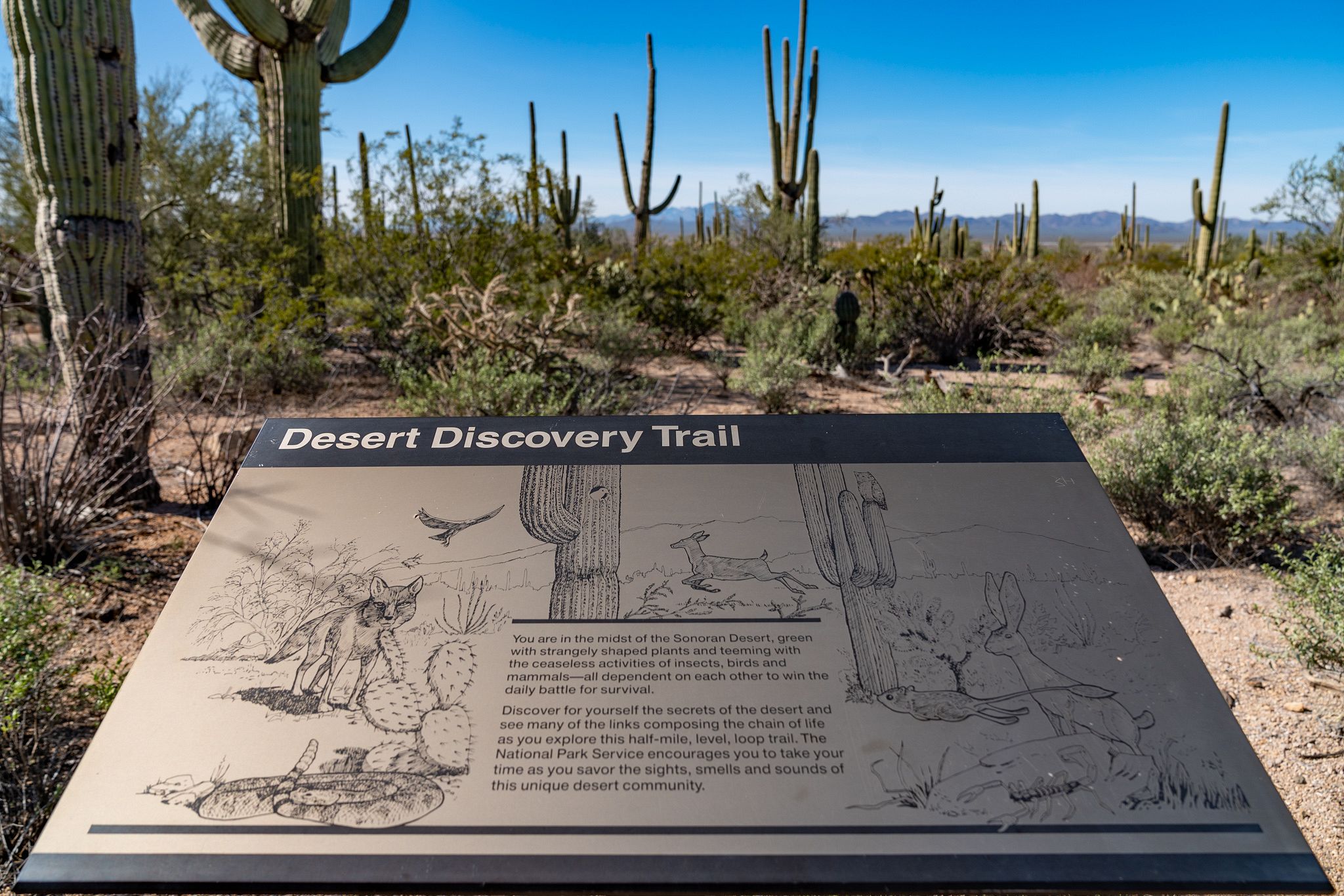 With new information fresh in our minds, we headed out to hike the Desert Discovery Nature Trail. This is a short (0.5-mile), easy trail that winds its way amongst the Saguaro. It offered a great opportunity to get up close and personal with the cacti!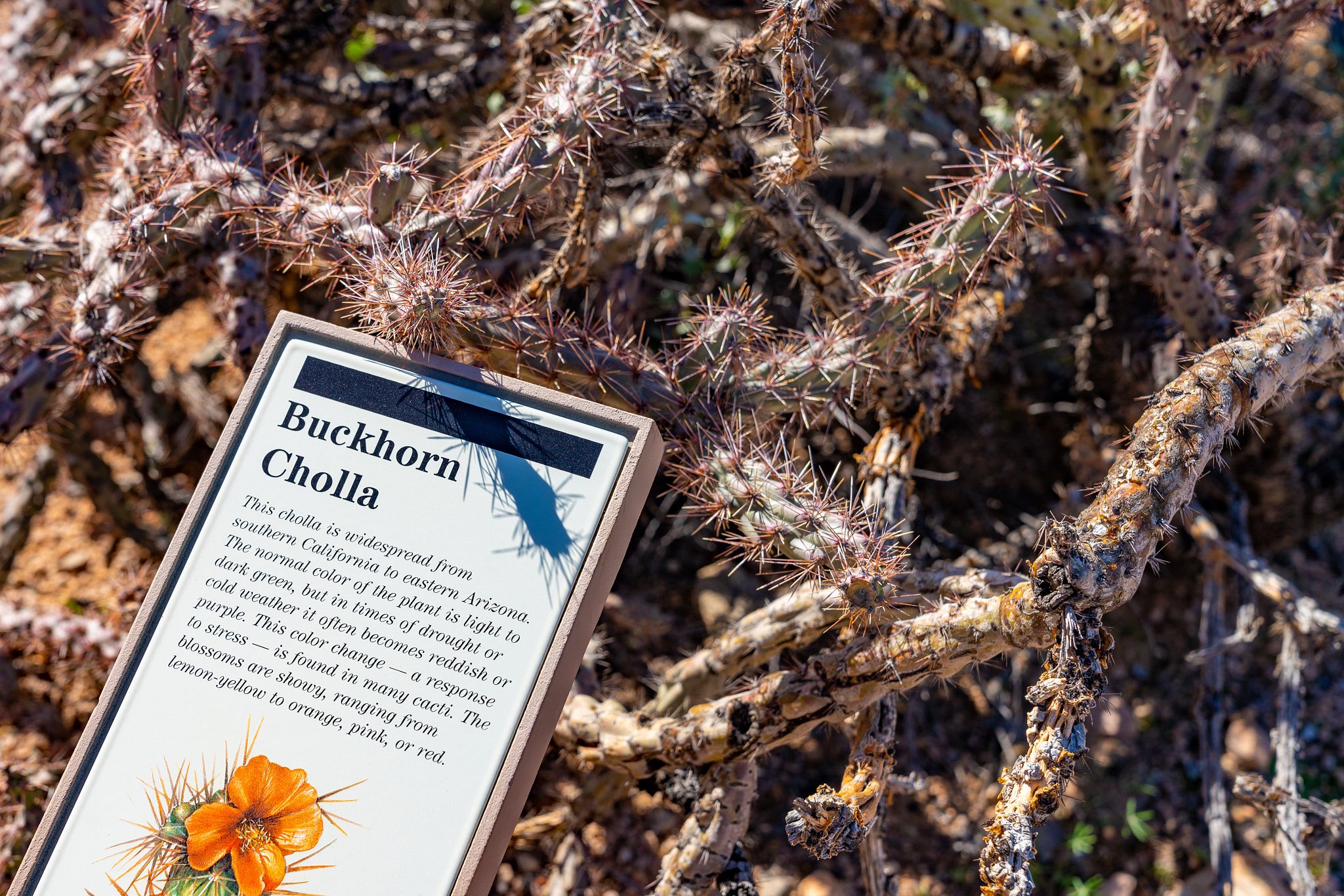 But we wanted more. So we decide to drive up the Bajada Scenic Loop road. This is an unpaved road, unsuitable for oversize vehicles. It was in disappointingly good condition - we even saw a 2WD Ford Fiesta ST driving it! No off-roading fun for me!
But there are a couple of highlights worth stopping at along the way. The first is the Valley View Overlook Trail - a 0.8-mile hike to the top of the ridge with incredible views across the Avra Valley below, and Picacho Peak State Park to the North.
The second stop is the Signal Hills Petroglyphs Trail. This easy, 0.5-mile trail climbs to a rock pile at the top of the hill. Shortly after we arrived at the top, a group of 4 people arrived too. The sign says there are petroglyphs nearby, but after looking around, they couldn't see them, and turned to leave.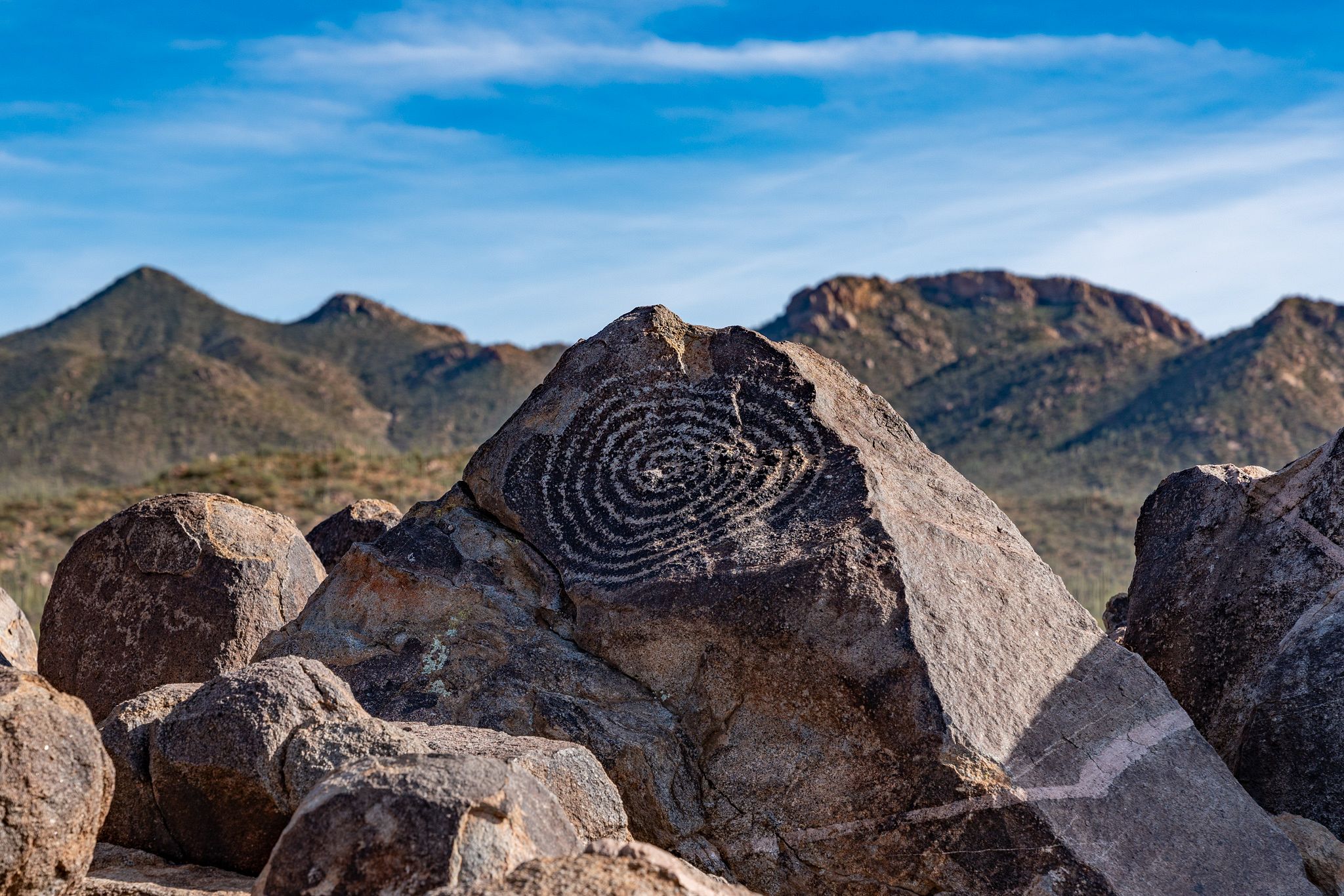 But we knew better - we actually visited Saguaro National Park a few years ago, albeit just for the day on our way through. But we knew exactly where the petroglyph were - and once you've seen one, you can't help but see dozens more. So we showed the group, and they were elated - we had a fun long conversation and they took loads of photos!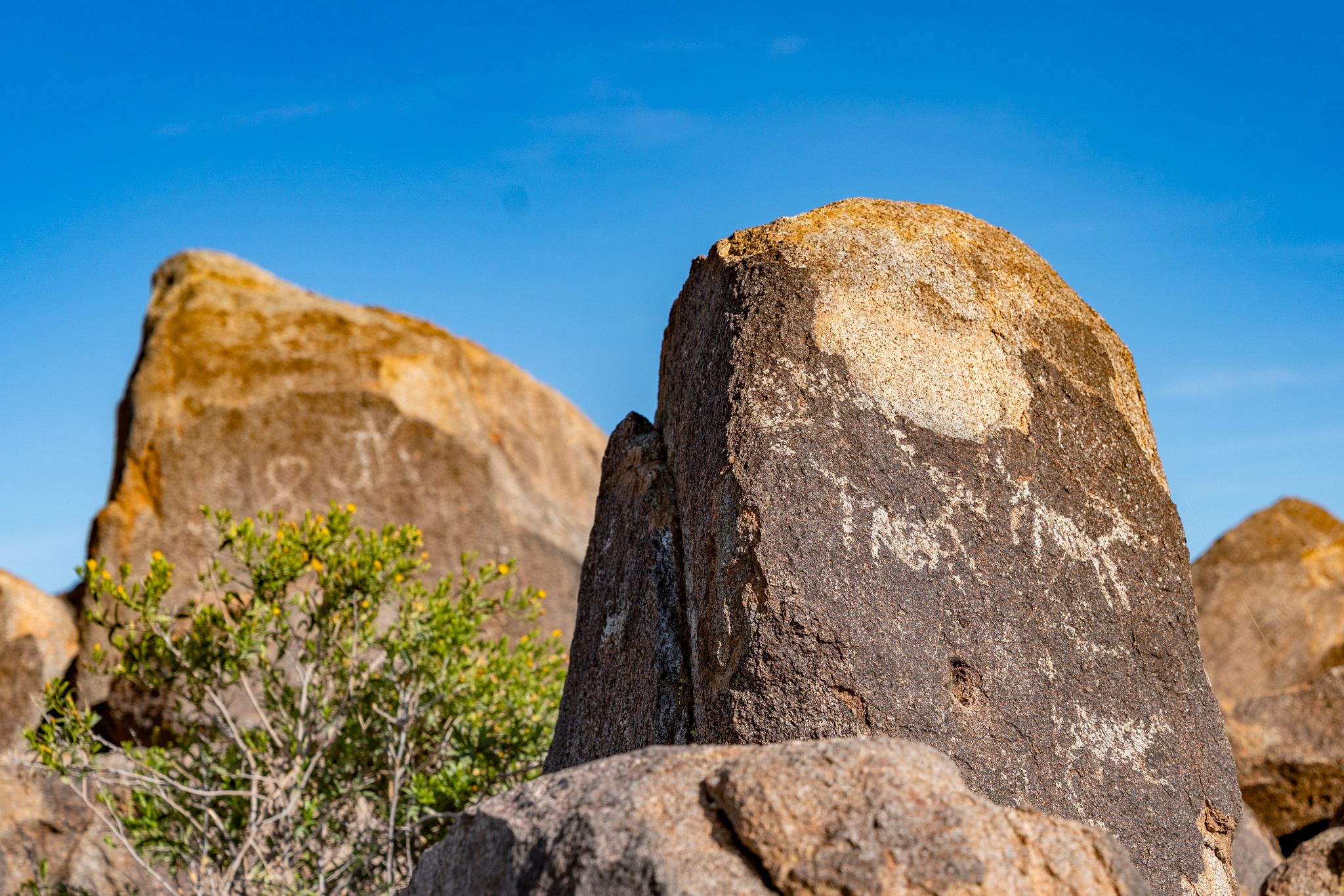 Adventurous Tip: Some of the petroglyphs are quite small, but easily visible. Take your time and you'll find them soon enough!
By now it was lunch time, so we headed back to the RV and had a late lunch - enjoying the beautiful surroundings in Gilbert Ray Campground.
Our last activity of the day was to go and watch the sunset. We drove a short distance up West Gates Pass Road to the trailhead of Gates Pass Trail. Although we didn't plan on hiking the trail, the views from here looking west towards the setting sun were simply stunning!
Adventurous Tip: Get there early! We arrived not too long before sunset and it was busy - in fact, we got the very last space in the parking lot.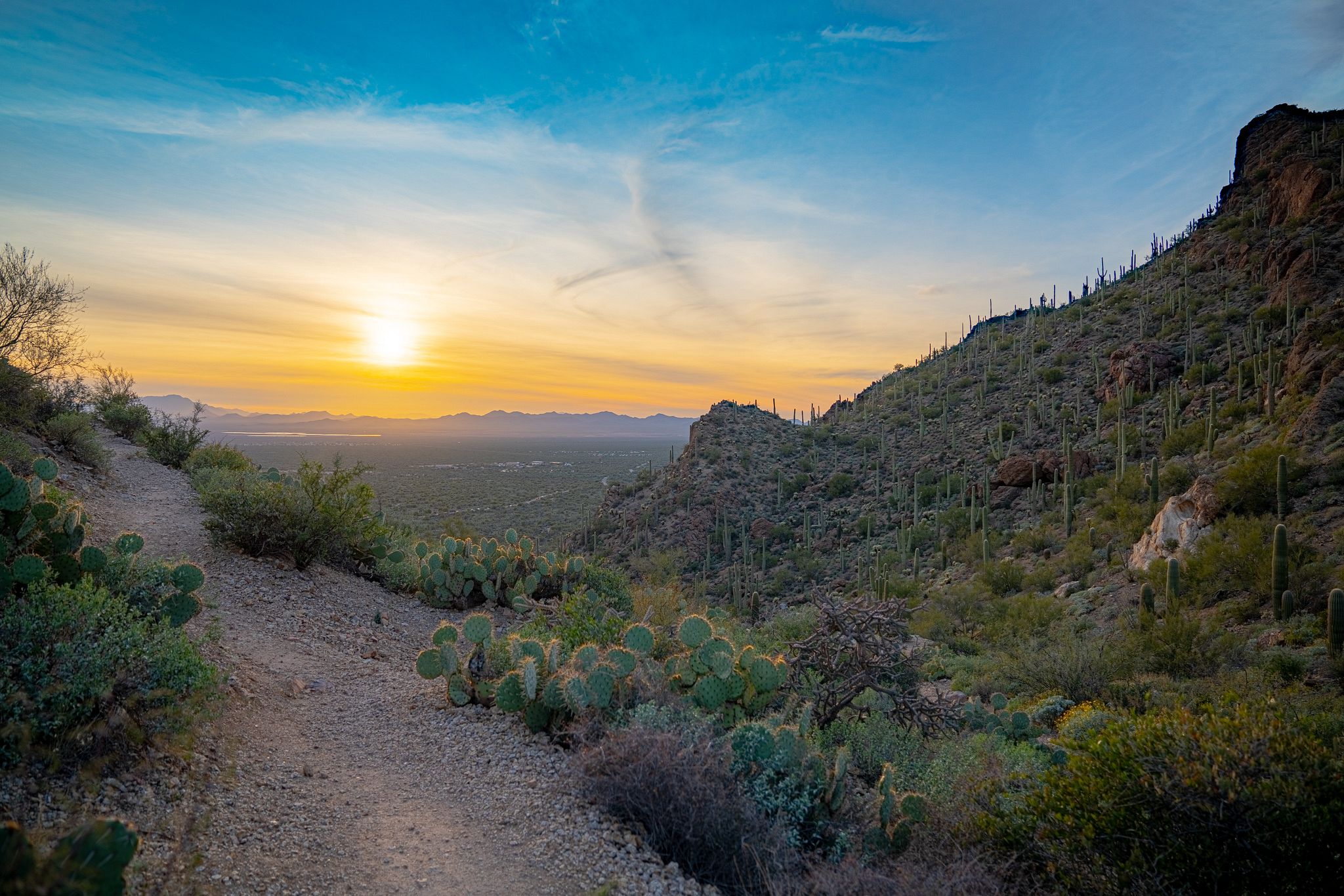 Although we hadn't done any long hikes, it felt like we had accomplished a lot - a good first day!
Saguaro East: Rincon Mountain District
Having spent the first day exploring the west, it was time to head to the east side!
The Rincon Mountain District is over twice the size of the Tucson Mountain District on the east, and there are miles and miles of hiking trails. But that wasn't the plan for us.
Rincon Visitor Center
We arrived at the Rincon Visitor Center reasonably early the next morning - right around 9am when the Visitor Center opens. We spent a little time browsing around the Visitor Center and reading the exhibits, before watching the scheduled short film about the monsoon rains in the Tucson area. A ranger was also present and we were able to ask questions afterwards too.
Shortly after the film finished, there was an interpretative ranger talk about the flora in Saguaro National Park. We were shown slides of various plants and flowers - we were amazed to hear that new species were constantly being discovered in the park.
Cactus Forest Loop Drive
After more than an hour in the Visitor Center, it was time to head out….for our first bike ride since we hit the road! Yes, after over 6 months of lugging our bikes around on the back of our RV, we were finally going to use them for a proper bike ride together!
The Cactus Forest Loop Drive is an 8-mile scenic drive through some of the most stunning scenery in Saguaro East. Although many people choose to drive it, the route also makes for a beautiful bike ride. At only 8 miles, it's not a long route, but it is hilly - in fact, we were warned by several people to go slowly down first downhill at the start of the ride, since there's a sharp turn at the bottom which has caught many riders off guard.
We store our bikes on a rack on the back of our RV, but they fit nicely in the back of the truck cab without removing any wheels. So we unloaded them, changed into our cycling gear, and hit the road.
About a mile down the road, our truck drove past us. It pulled in at a viewpoint just ahead. Wait, what?!
Turns out that it wasn't our truck, but it was EXACTLY like our truck. Down to the tires that the owner had upgraded, same as ours!
We had a fun chat with the people in the truck, enjoying the stunning scenery together as we shared travel stories and took photos for one another. The people we meet on the road are an integral part of the journey, and although it's not something we often talk about in our blog posts, we really enjoy these interactions.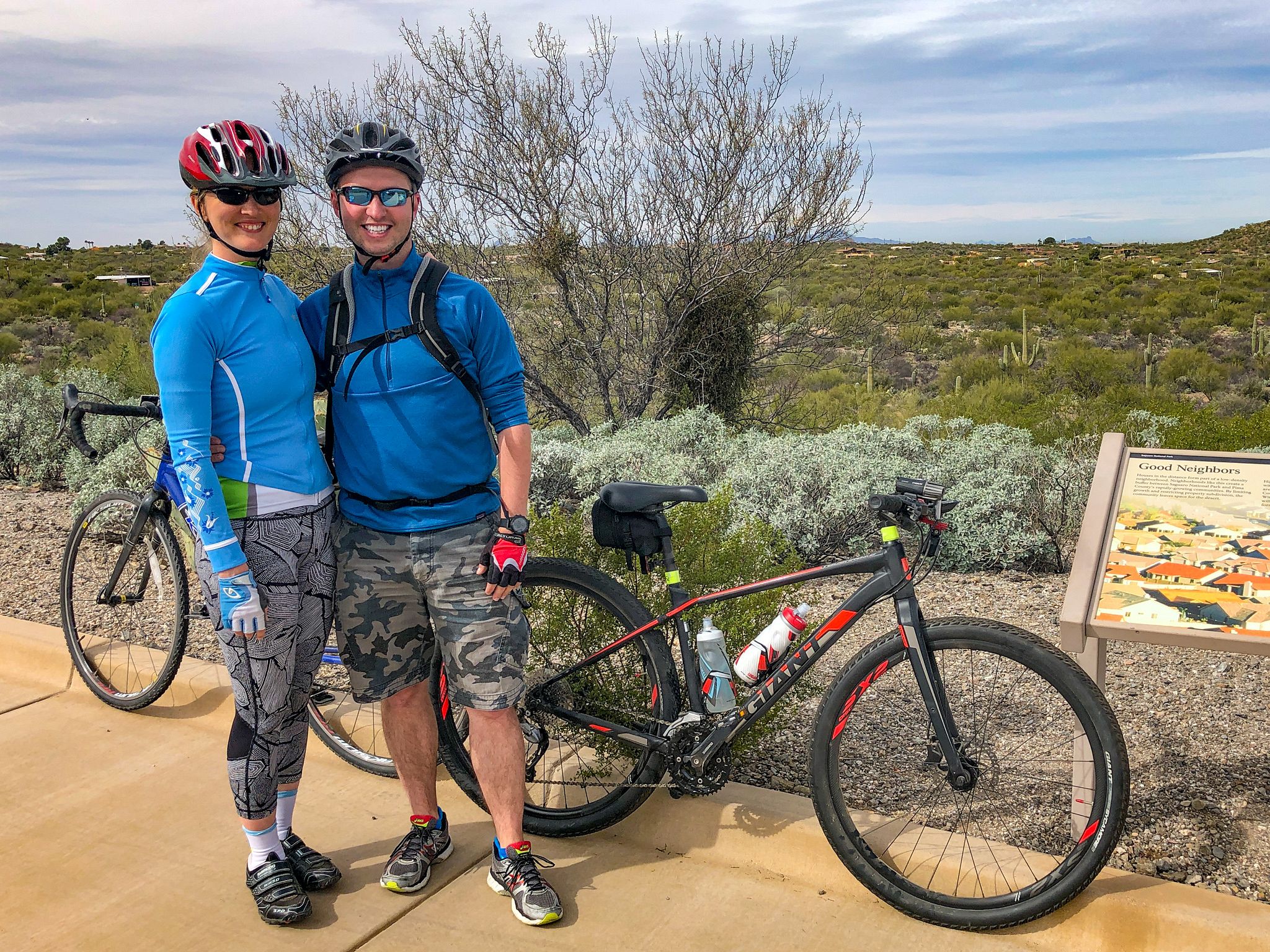 Further up, we stopped at the Desert Ecology Trail. With no bike lock, we chose instead to walk our bikes around this 1/4-mile footpath. There are informational signs along the way, which told us about the plants and animals of the Sonoran Desert - much like the Desert Discovery Trail in Saguaro West.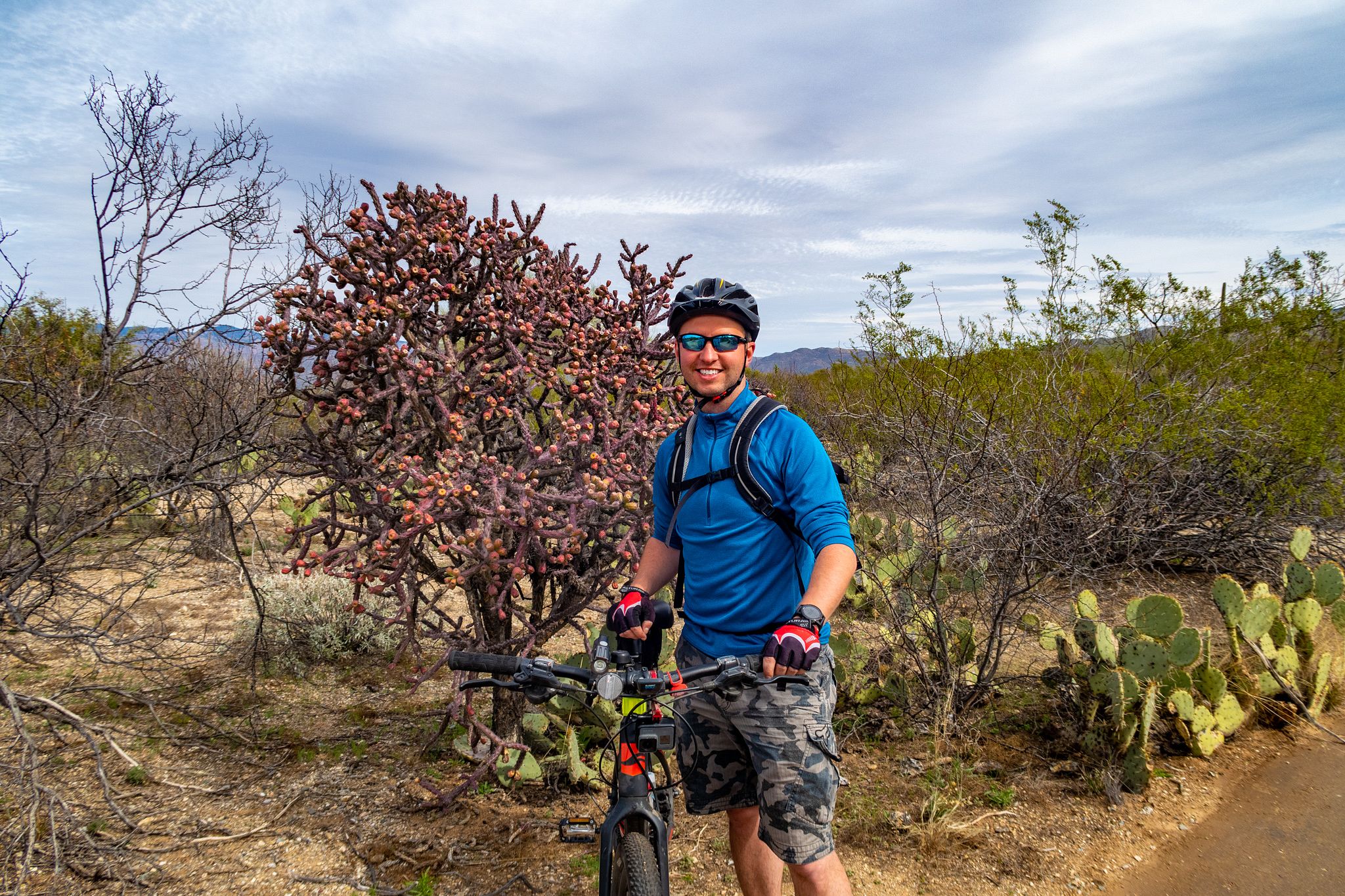 There are other hikes which begin from the road, but we couldn't do those without locking up our bikes. Certainly if you drove, they'd be good fun. The Cactus Forest Trail is a 2-3 mile round trip, and the Freeman Homestead Trail is a 1-mile trail to an old homestead and Saguaro grove.
As the road wove around the cacti, there were plenty of hills in and out of washes, and following the contours of the area. We were in no rush, so we took our time, stopped frequently, and enjoyed the views.
We made it back to the Visitor Center by early afternoon - just in time for lunch. We didn't find any picnic tables, but a nice bench nestled in the desert garden outside the Visitor Center worked perfectly!
Tanque Verde Ridge Trail
We had ambitious plans for Thursday - to hike up the Tanque Verde Ridge Trail. This strenuous trail starts from the Javelina Picnic Area and climbs 4,000ft over 9 miles to Tanque Verde Peak at the top.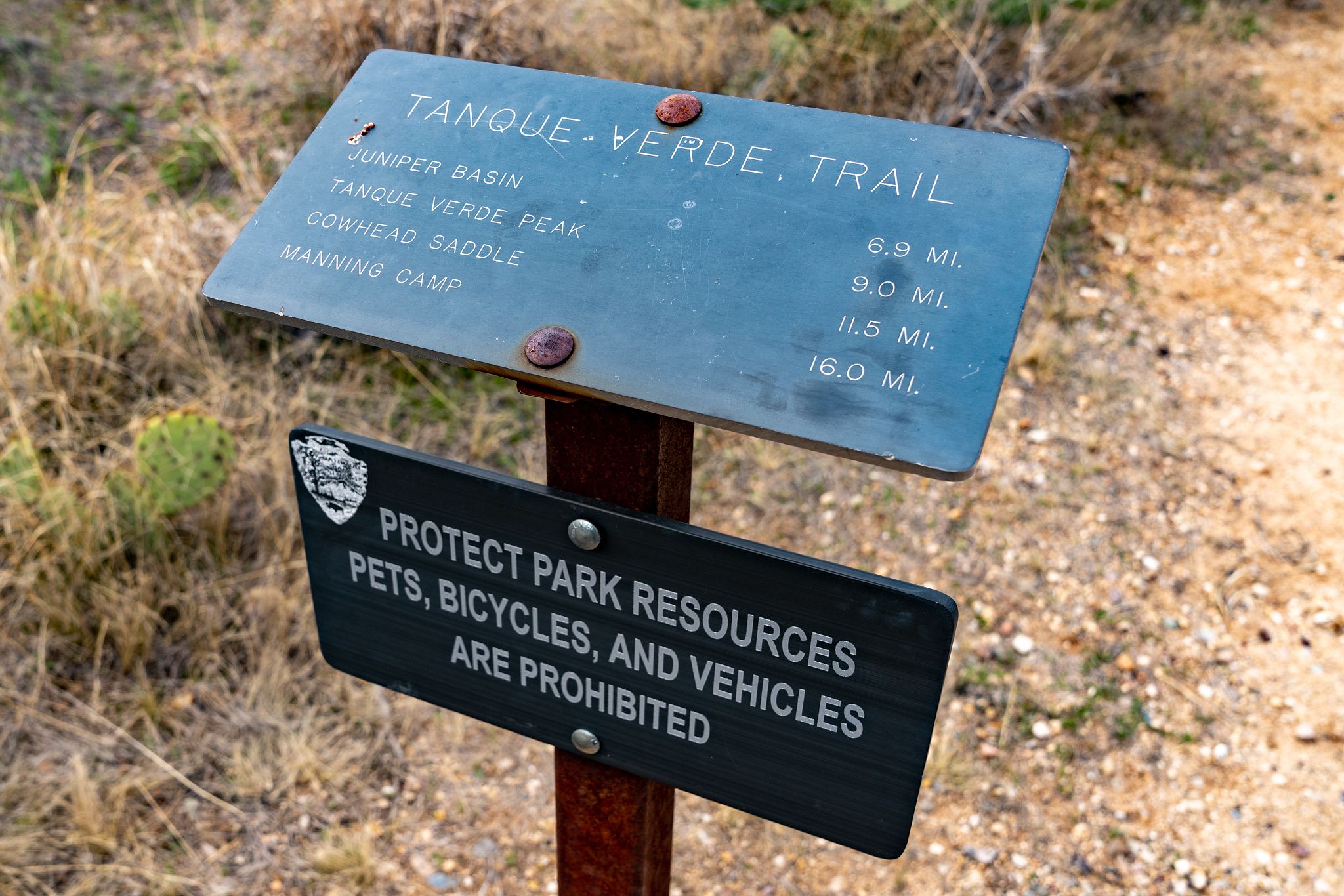 That's a little more than we wanted to hike, but since it's an in-and-out trail, we were free to hike as much as we wanted before turning around. We set off relatively early, around 9am from the parking lot, and after about 0.75 miles joined the ridge. Once on the ridge, the views just get better and better the more you climb!
Around 2.5 miles up, we heard a noise and stopped. We spotted a couple of deer up the hillside. They had seen us and were staring straight at us. Very slowly, we took out our cameras and started filming. We stayed still on the trail but they didn't like our presence - they were stomping their feet and flashing their tails.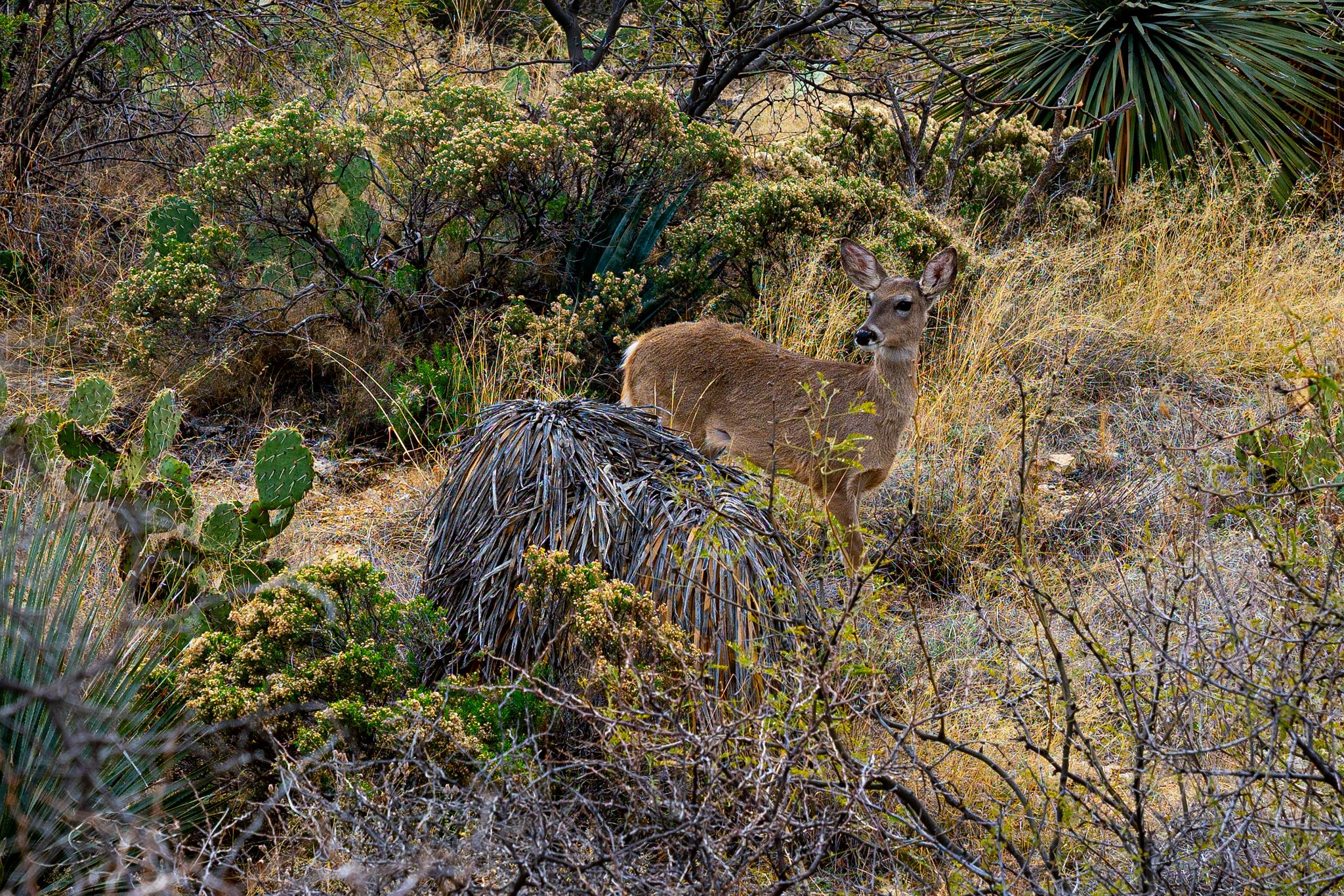 But the strangest thing was the sound - they made these huffing / blowing sounds. We found out later from a Ranger that these behaviors are designed not only to alert other deer in the area to a potential danger, but to try to startle a hidden predator (e.g. us!) into giving away our position.
Eventually the deer bounded off up the hill and over the ridge. We felt very privileged to have seen that display close up though!
We continued just a little further up the trail to an area known as "the Dome". This is a large, exposed rocky surface, and after climbing over 1,500ft in a little under 3 miles, we decided it would make a good turnaround point. So after a quick snack (OK, more like we devoured all the food we brought for lunch!), we headed back down.
We were a little quicker on the way down, and overall we hiked 5.6 miles with 1,575ft of elevation gain in a little under 3 hours of hiking time (just over 4 hours of elapsed time, factoring in breaks). It's definitely a more strenuous hike, but if you're up for it, the views are make it worthwhile!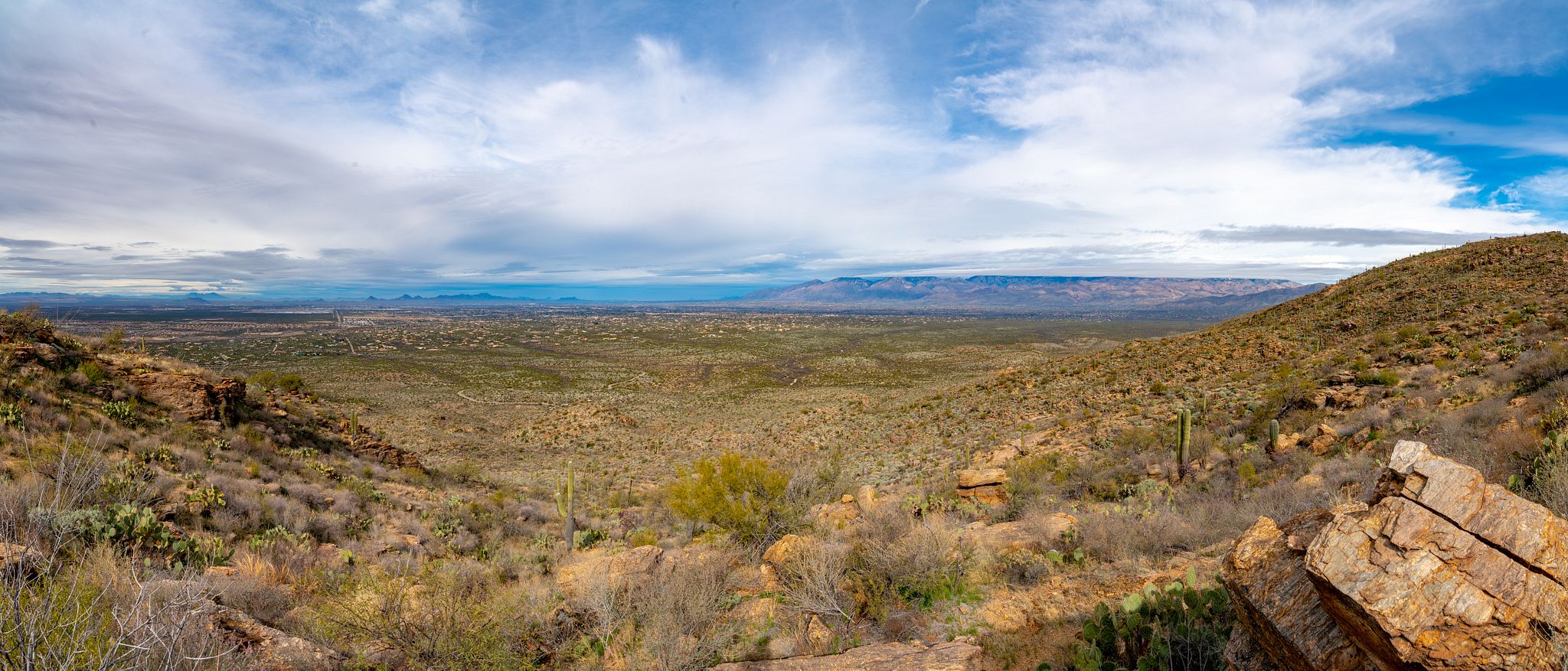 Wasson Peak Full Moon Hike
Back on the west side of Saguaro National Park, we had something a little special planned for Friday...
The National Park Service runs a series of Moonlight Programs, and we had reserved free spots on the Wasson Peak Full Moon Hike. This 7-hour, 8-mile hike starts mid-afternoon and climbs 1,700ft to the highest point in the Tucson Mountains: Wasson Peak.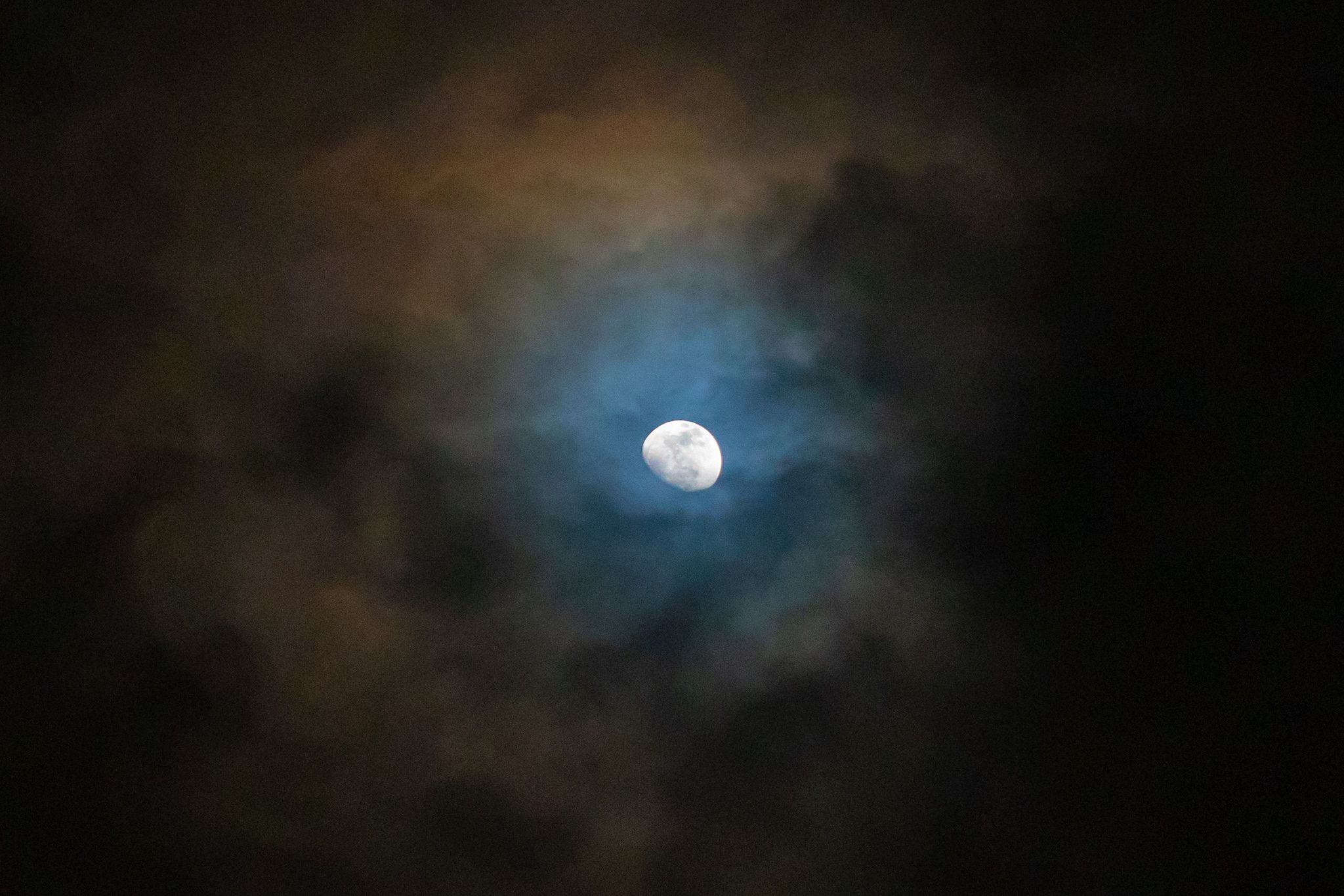 We joined the group and set off - the trail easy and the pace slow as we stopped regularly to learn about the desert flora. Although we are novices at identifying the plants and flowers around us, the rangers, volunteers and several other members of the group did a fantastic job of accurately identifying everything we saw!
The hike is timed so that you arrive at the peak just before sunset. We had to pick up the pace a little to make it there in time, and unfortunately clouds had rolled in and limited our view from the top. There was, however, still something romantic about being on top of the mountain at sunset.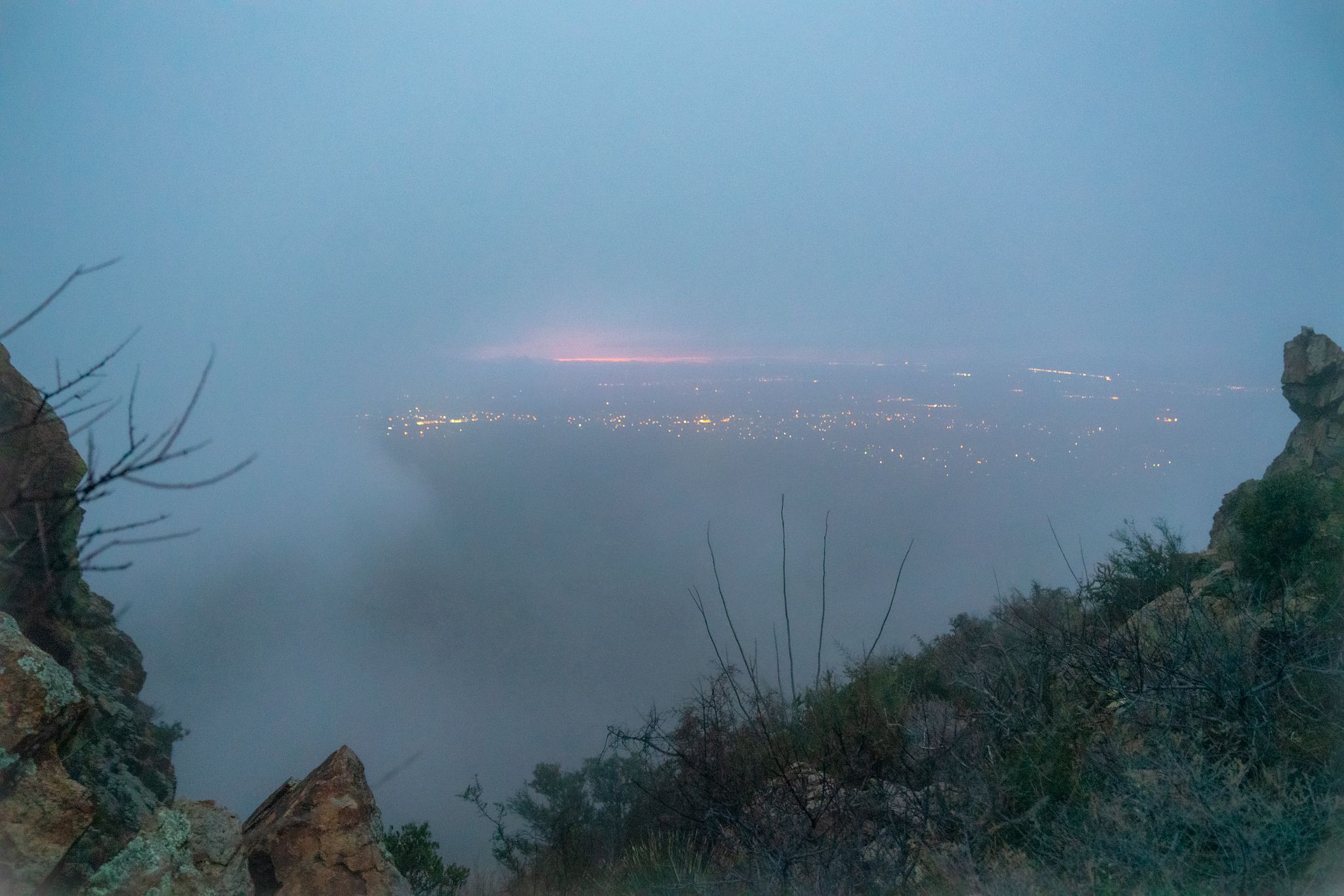 As well as the cloud, it was also windy, so we tried to move briskly on the way down, despite the darkness. Although we all carried flashlights, we chose not to use them and instead rely on our eyes adjusting to the dim light - it was actually much easier than we expected!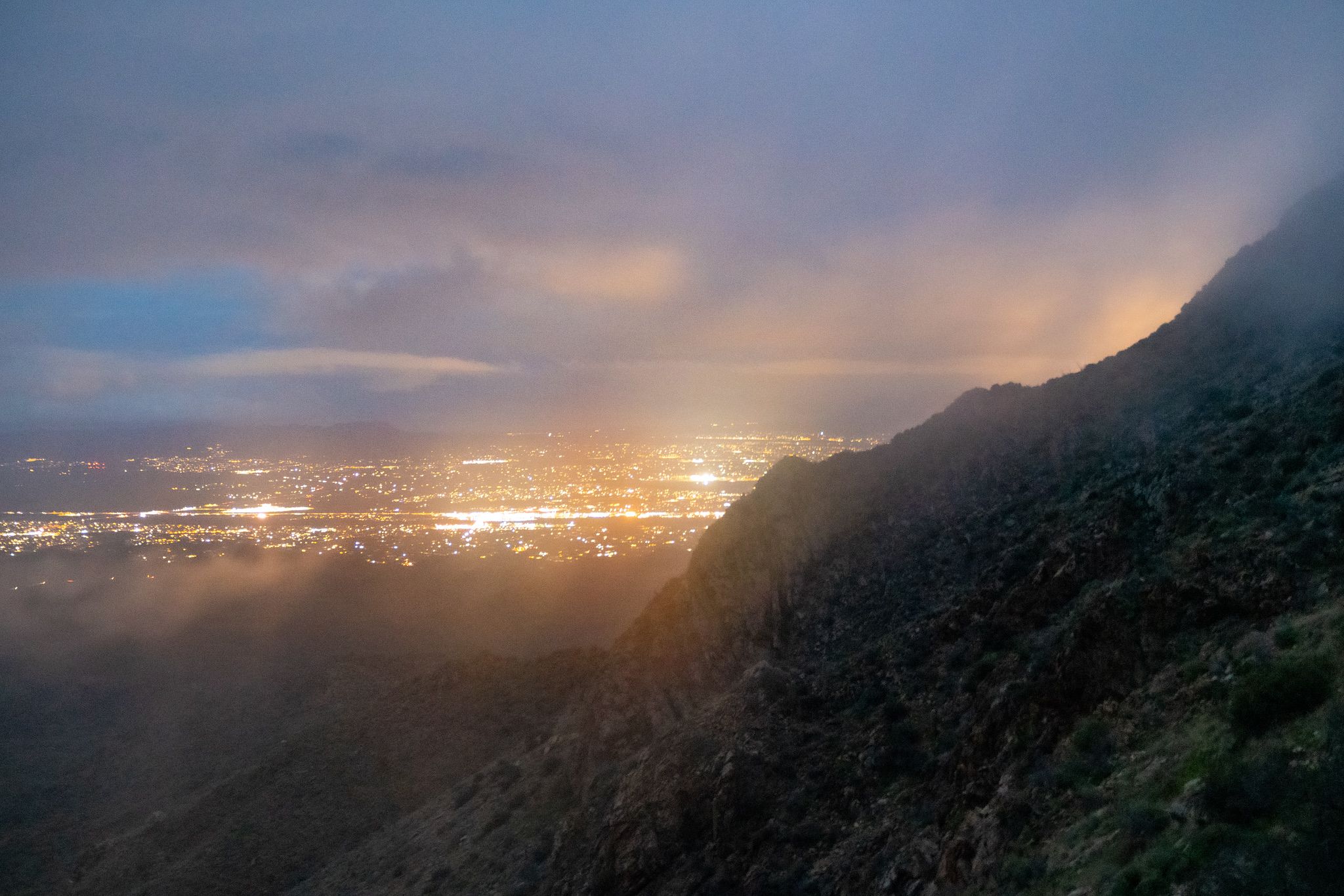 On a longer hike like this, we had plenty of time to chat with other members of the group. Several were local, and it's a great way to discover other places to visit in and around the area. In fact, it was through one of these conversations that we learned about the POWWOW program and ended up collecting 46lbs of fresh produce for just $12 the next day!
Although the hike is an easy pace, the NPS classifies it as difficult because of the rough terrain (especially near the top) and the fact you're hiking in the dark. It is certainly one of the most memorable hikes we've ever done though, and I'd recommend it without hesitation!
Saguaro in the Snow
We decided to stay in the Tucson area for another couple of weeks to catch up on some work and run some errands in town. I'm so glad we did! The following Friday, February 22nd, we woke up to a very unexpected site - snow!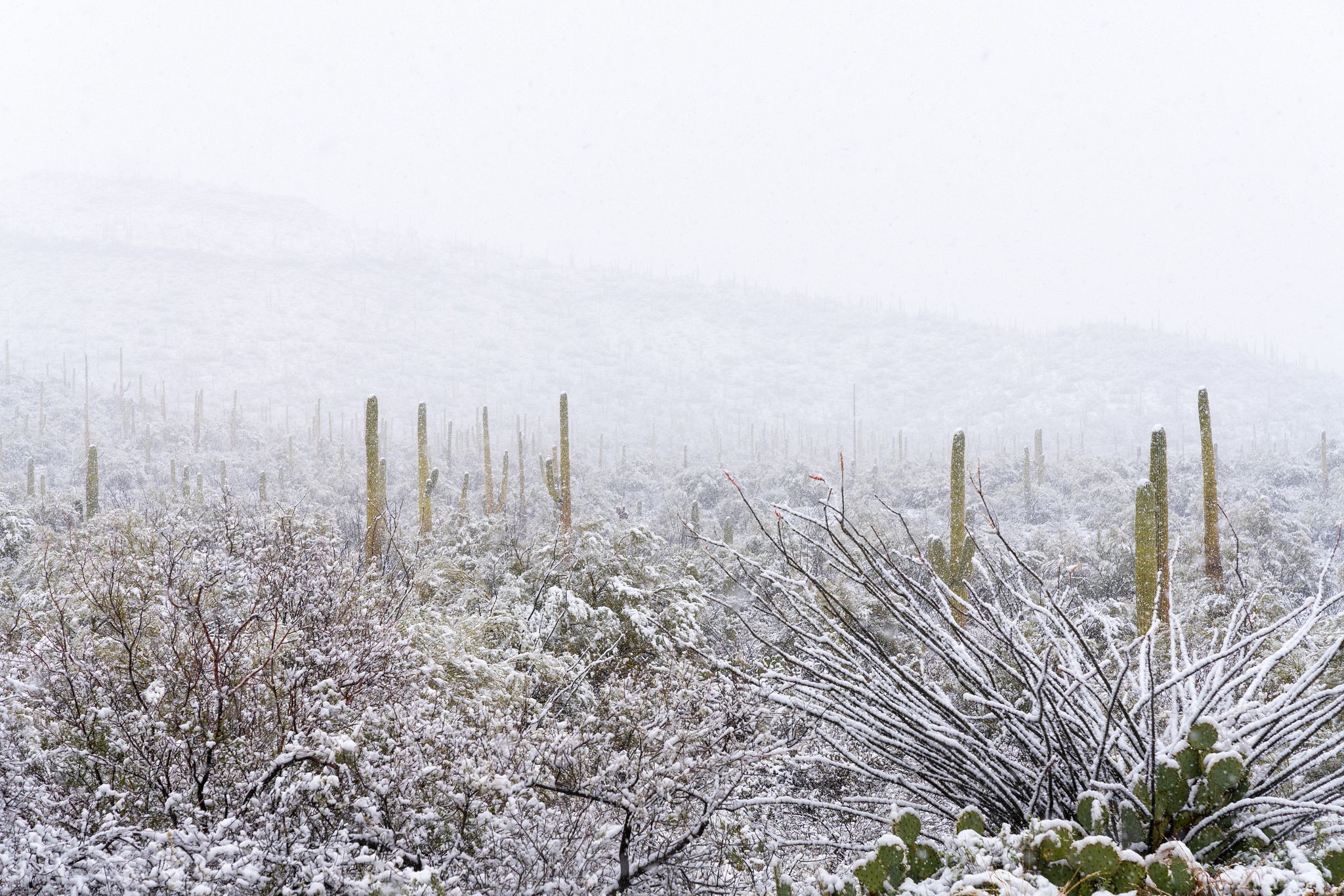 We had long dreamt of seeing Saguaro National Park in the snow - it's a very rare opportunity, but we had lucked out! We didn't waste a minute - we packed our gear into the truck and drove up to Saguaro West.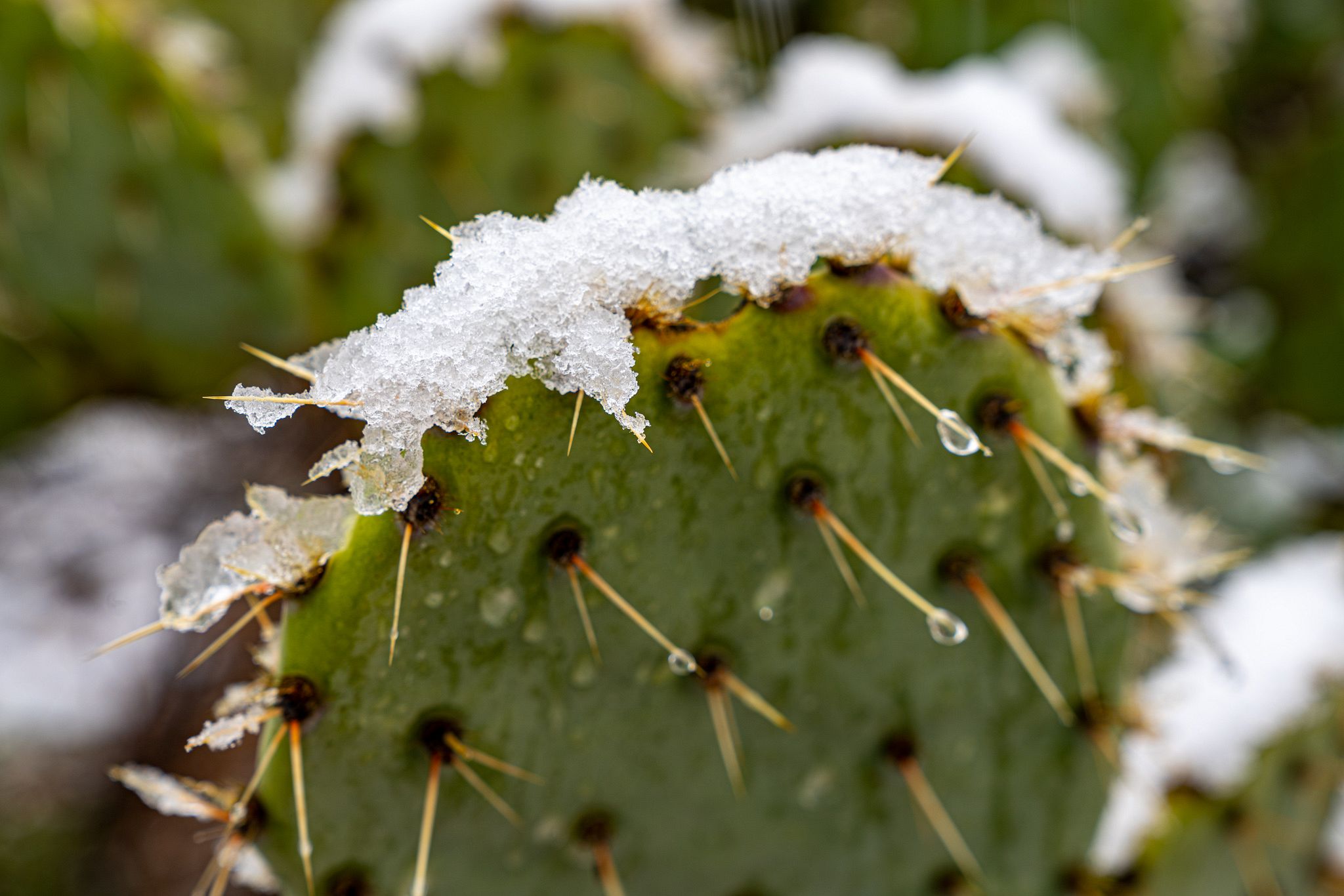 With no real plans, we just enjoyed driving through, hiking some of the short trails again, and taking photos of Saguaro cacti covered in snow! Magical.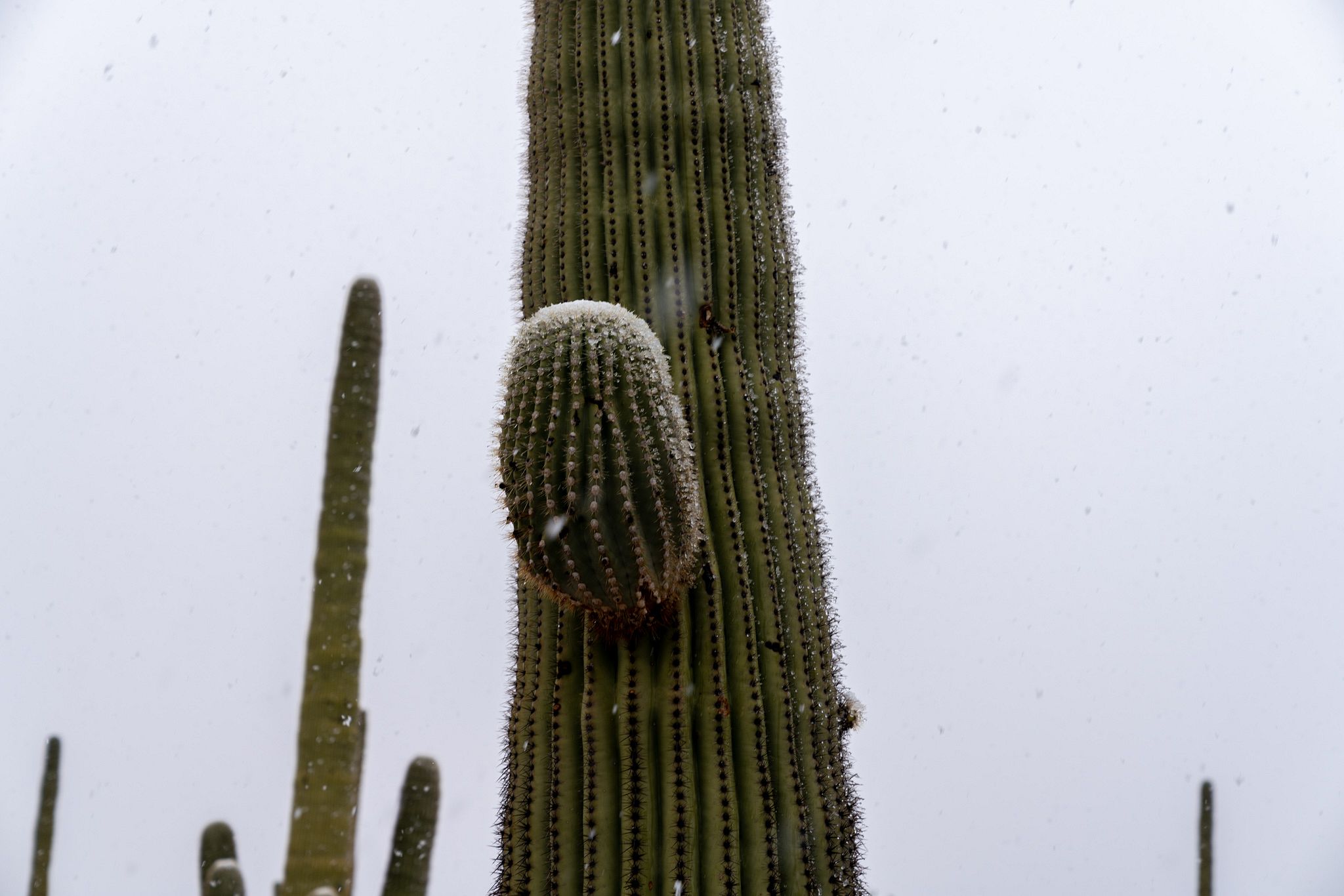 Other Activities
With a population of around 1 million, there's lots going on in the Tucson area. As full-time RVers who spend most of our time boondocking in fairly remote areas, we embraced being near a large city for its wide array of stores, Amazon lockers, and movie theaters.
That being said, I want to specifically call out the Arizona-Sonora Desert Museum. This is located very close to the west district of Saguaro National Park, and is very highly regarded. We visited several years ago and loved our time there. Far more than just a museum, it includes a zoo, a natural history museum and a botanical garden - a great destination for anyone, with or without kids.
Camping
Since we were in the area for just over 4 weeks, we camped in various locations. We started our stay at Gilbert Ray Campground. A Campendium Campers' Choice winner for the past 2 years, this is a stunningly beautiful campground. They do not take reservations, and each morning while we were there we saw a line of cars waiting to get in as soon as it opened - so get there early!
At $20 per night with 30 Amp electrical hookups but no water or sewer (a dump station is available on site), it's not cheap, but the sites are spacious, and the scenery makes it worthwhile. They have a maximum stay of 7-days, but you can renew one day at a time until your 7 days are up, which worked out well for us.
From there we moved to Snyder Hill - infamous amongst many boondockers. This is a no-frills boondocking spot - it can be very crowded, has noise from the road, and lots of broken glass on the floor. However, we had stayed there before and felt OK staying there again - and its proximity to Tucson made it a sensible choice for us.
We stayed at Snyder Hill for almost the full 14-days allowed by the BLM, but spent a night in Justin's Diamond J RV Park just down the road to dump tanks (and charge our batteries) half way through. We learned first hand just how useful it can be to have a small trailer, when we found out they only had 1 space left - and it was tiny! We managed to squeeze in, and it worked fine for one night.
After being in the area for a while, we moved about 50 miles North to an area near Cattle Tank Road known as Desert Peak. We struggled with cell signal here, but it was enough to get work done. There was a lot of target shooting going on nearby which wasn't overly pleasant, but other than that it's a nice area.
The shooting did however lead to one of our scariest RVing experiences so far though! About 8pm one evening while we were inside watching a movie, I noticed flashlights shining through our blinds. Assuming someone was up to no good, I opened the door to confront them to find a man pointing a handgun directly at me while shining a flashlight in my face.
"Sir, step out of the RV!"
As my eyes adjusted to the light, I could see two uniformed police officers standing behind marked vehicles in front of me. I did as I was told and asked what was going on. Apparently my British accent eased their concerns and they lowed their guns. It turns out they were investigating nearby shooting after dark (which turned out later to be allowed) and my truck with Texas plates was worthy of investigation. Pretty scary though!
There are plenty of other boondocking opportunities in the area, as well as RV parks too.
Conclusion
The Saguaro is the definitive symbol of the desert in the southwest, and Saguaro National Park itself is no less memorable.
Saguaro National Park checks all the boxes - hiking, cycling, flora, fauna, geography and so much more. When combined with visits to some of the other nearby attractions, including Tumacácori National Historical Park just 45-minutes south of Tucson, it would make an excellent destination for a week or two.
From here, our journey will continue up I-10 towards Phoenix, where there are a plethora of National Park Units for us to visit, starting with Casa Grande Ruins National Monument.